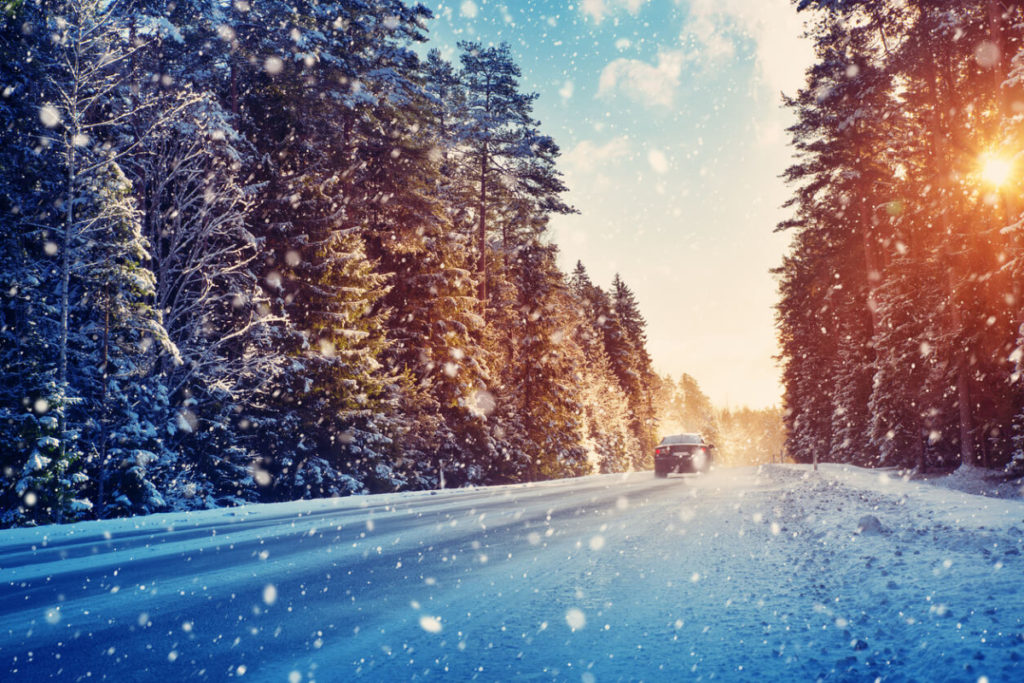 These 10 winter road trip ideas are the perfect way to spend your last remaining vacation days of the year.
Whether you're looking to play in the snow or enjoy a sunny day at the beach, an adventurous road trip is the perfect way to end the year.
Some of the links in the post are affiliate links. If you make a purchase through these links it helps to support this site at no extra cost to you.
10 Winter Road Trip Destinations
These 10 Winter Road Trip Destinations are intended to inspire a fun and adventurous road trip during your time off over the holidays.
I've included destinations on both the east coast and west coast of the United States, so hopefully you'll find a destination that inspires you.
I encourage you to add other stops to your winter road trip and make it your own. Spontaneity is the best part of a road trip, so embrace your sense of adventure.
As with any road trip, be sure to look into weather and winter driving conditions before you head out. For some destinations you may need snow chains depending on the route you select.
No matter the destination you choose, travel with an open mind and you never know what you'll find.
Traveling Soon? Don't forget your travel insurance.
Travel insurance is now more important than ever.
Travel insurance is probably less than you think it is. (Ex. For a week in Spain next month I'm paying less than $62.00.)
Travel insurance covers a lot more than you think it does.
It's better to have it, than need it and wish you'd bought it.
See for yourself. Check prices here.
1. Yosemite National Park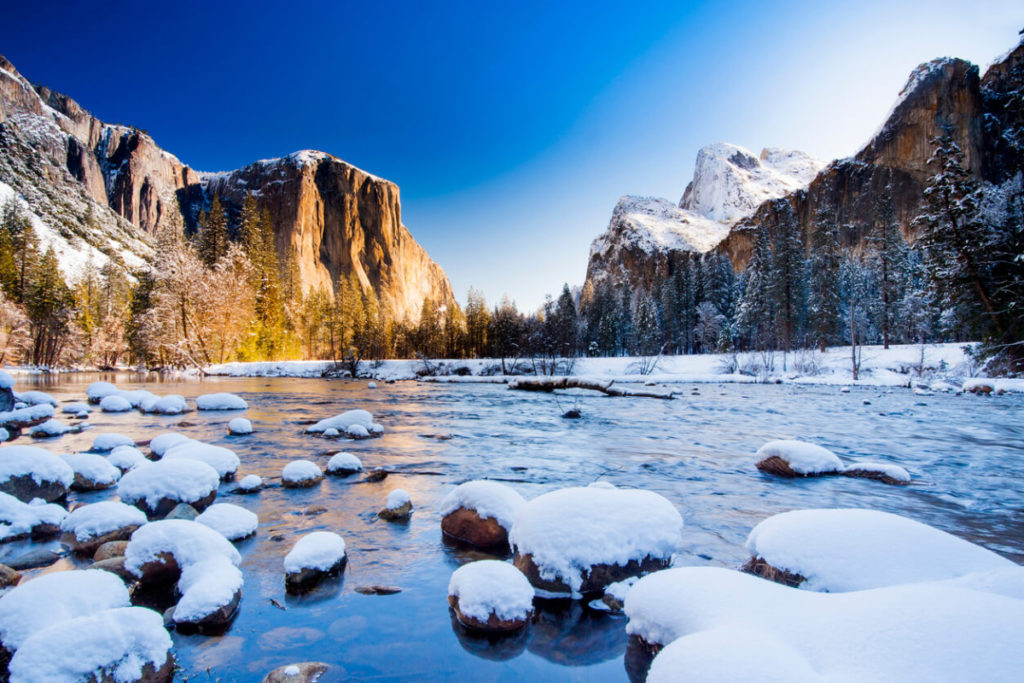 One of my own favorite winter road trips on the west coast is a Yosemite road trip. I absolutely love exploring National Parks, and in my opinion, Yosemite is one of the most beautiful parks in the country.
If visiting Yosemite during the winter be sure to bring warm clothing and to dress in layers. You'll also want thick socks and hiking boots to keep your feet warm on the trails.
If entering the park from the west, be sure to stop at the Mariposa Grove of Giant Sequoias and to take a walk around Wawona before heading down to Yosemite Valley.
The road to Mariposa Grove closes around the end of November, but you can still snowshoe or cross country ski along the trails.
Don't forget to stop at Tunnel View on your way into the valley. This is one of the best photo spots in the park and you don't want to miss it.
Many of Yosemite's biggest attractions like Half Dome, El Capitan, the Mist Trail, and Bridal Veil Falls, can all be seen and enjoyed from Yosemite Valley. So after you get checked into your accommodations, get back out there and enjoy this beautiful park.
If you're looking for other natural beauty near Yosemite, consider stopping by Lake Tahoe as well.
Lake Tahoe is a fun destination any time of year, but especially in winter. You can find all kinds of outdoor winter activities from skiing to snowboarding to sledding.
2. Yellowstone National Park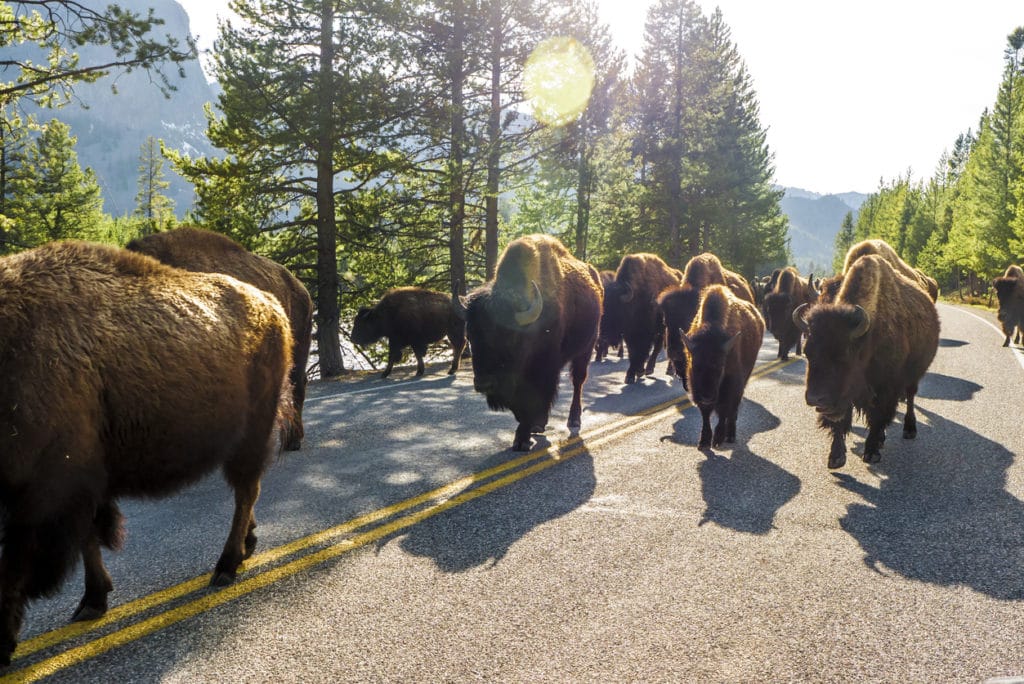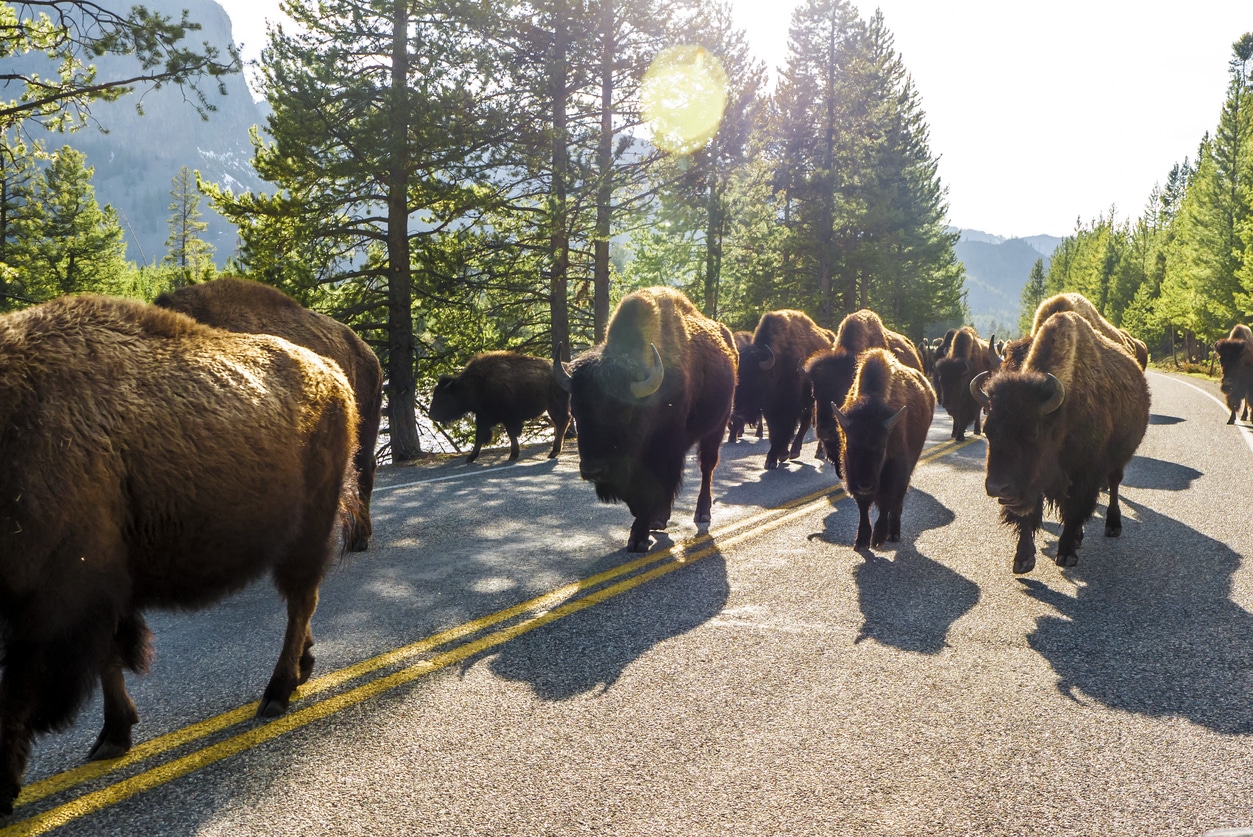 Those of you who love wildlife as much as I do will really enjoy Yellowstone National Park. If you happen to be coming from the North, I recommend a Billings to Yellowstone road trip so you can travel along the Beartooth Highway.
The Beartooth HIghway will take you along a moutainous stretch of highway with incredible views of Montana andy Wyoming along the way.
Once you make it to Yellowstone I encourage you to make your way through the park slowly to soak up all that natural beauty.
Some of my favorite things to see in Yellowstone were the Bison in Lamar Valley, Mammoth Hot Springs, Grand Canyon of the Yellowstone, Upper Geysir Basin, and of course, Old Faithful.
If you can afford to stay at the accommodations inside the park, I encourage you to do so. Prices can be as high as $200 to $300 per night, but you'll have more time in the park this way.
At night, be sure to get outside if you're lucky enough to be visiting on a clear night. The area near Old Faithful is a populuar spot for stargazing.
If you're a morning person, get up for the sunrise. You can enjoy a peaceful morning with many areas of the park all to yourself. Well, you and the animals.
3. Pacific Coast Highway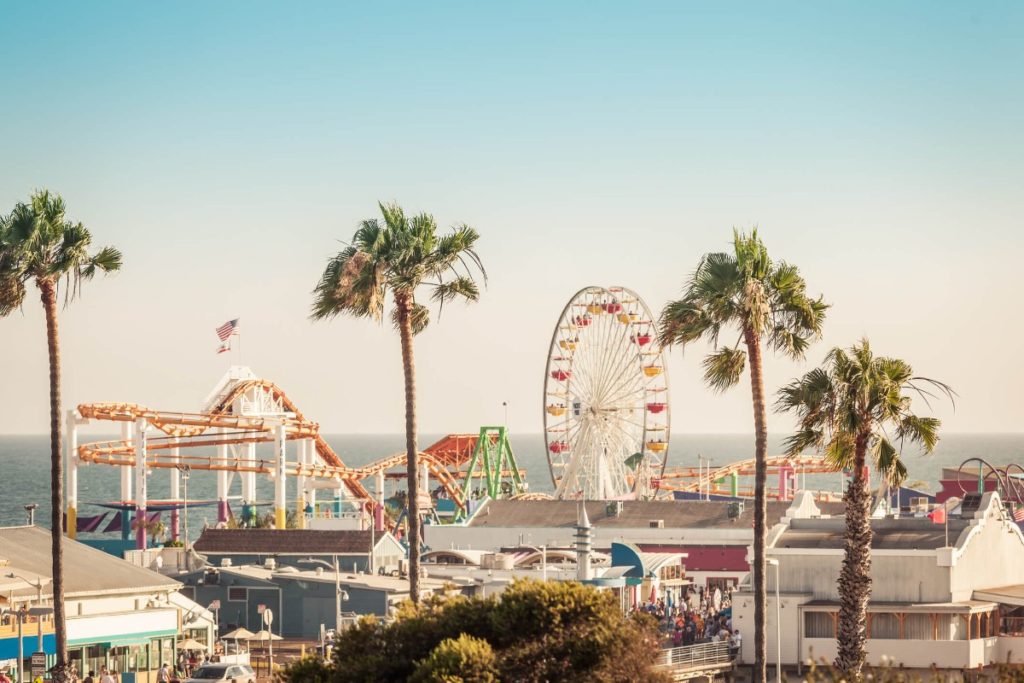 If you're looking for a winter road trip with a little more sunshine, head to the Golden state and drive the Pacific Coast Highway (PCH).
An SF to LA road trip will take you south along the PCH to view the stunning California coastline. It's a beautiful drive from start to finish and you'll get to see some of the state's best destinations.
I recommend a few days in San Francisco before heading south. While in San Francisco you can see the Golden Gate Bridge, Fisherman's Wharf, the Haight Ashbury District, North Beach, and Golden Gate Park.
After leaving the city, this road trip will take you to Half Moon Bay, Santa Cruz, Monterey, Big Sur, Pismo Beach, Santa Barbara, and Solvang just to name a few.
This road trip is best done over a few days, I suggest at least three days once you depart San Francisco. The best stops for an overnight are in Monterey, Big Sur, and Santa Barbara.
Once you arrive in Los Angeles, be sure to visit Santa Monica, Venice, Melrose, Griffith Park, and the downtown Arts District.
4. Columbia River Gorge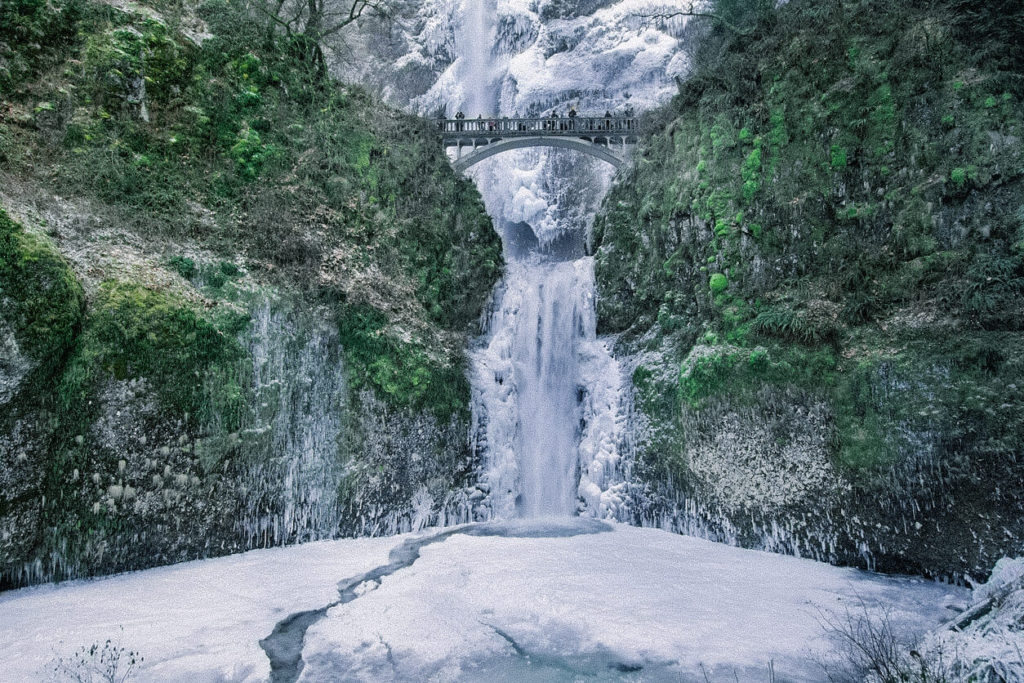 The Columbia River Gorge is a perfect winter road trip destination for those in the Pacific Northwest.
The Columbia River Gorge is situated along the Columbia River in between the states of Washington and Oregon. If you love the outdoors, this is the place to be, especially in the winter.
Some of the biggest attractions in the area are Latourell Falls, Bridge of the Gods, Stonehenge Memorial, and Wahkeena Falls. For impressive views of the Columbia River Gorge area, make your way up to Crown Point.
The most popular stop along the Columbia River is the famous Multnomah Falls, which is the tallest waterfall in the state of Oregon.
Depending on the weather during the time of your visit, the waterfall may be frozen over, but its beautiful no matter the time of year.
Popular outdoor activities in the Columbia River Gorge in winter are cross country skiing, snowshoeing, sledding, and hiking. Be sure to dress warm for the cold weather.
If you make Portland your starting point, be sure to visit the city's many great restaurants and breweries before you head out. It's a fun city you don't want to miss.
5. Miami, Florida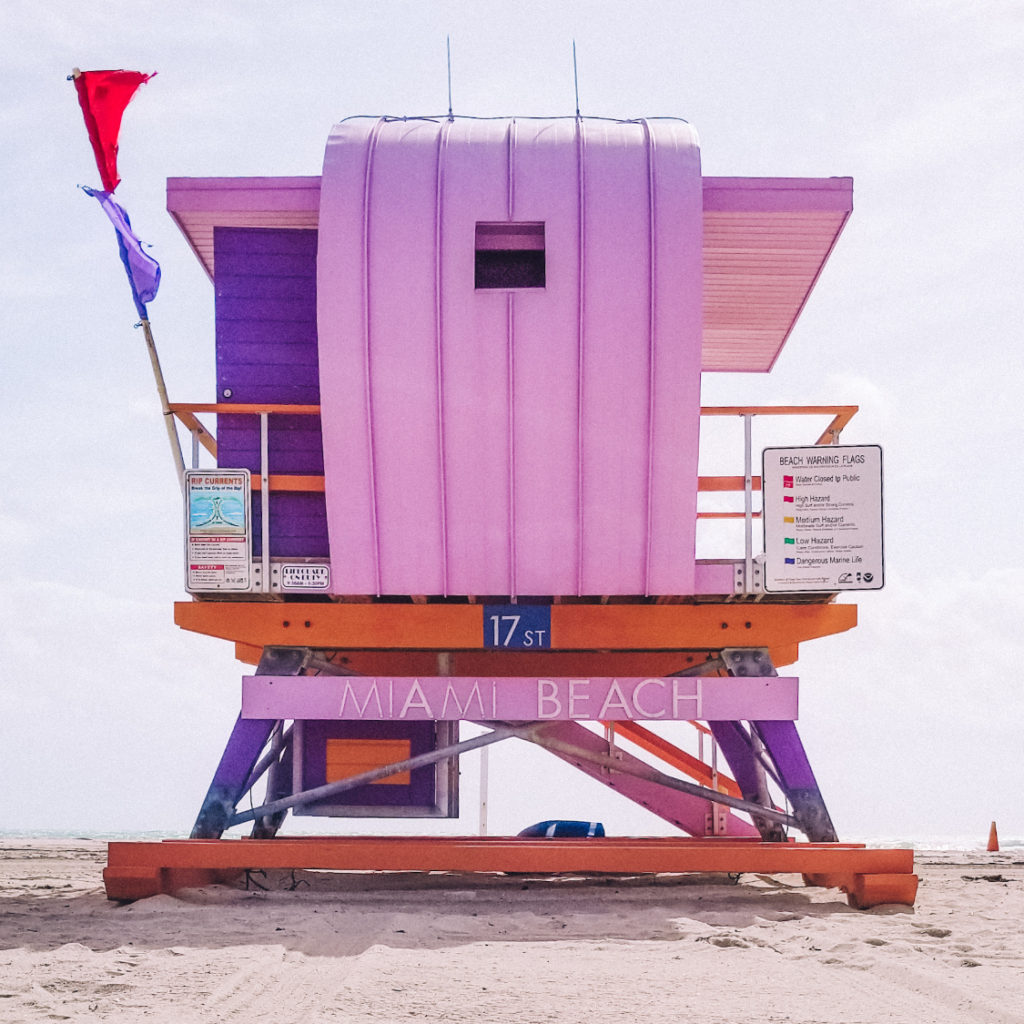 If you're looking for sunny beaches on your winter road trip, make Miami Beach your destination. With temperatures in December averaging in the high 70s and low 80s, you can end the year soaking up the sun on one of the country's prettiest beaches.
Nearby South Beach is home to some of the most impressive Art Deco architecture in the world. Get up early to enjoy a peaceful walk along Ocean Drive. You'll have the beach on one side and the pretty pastel Art Deco buildings on the other.
Miami is also a great destination for food. There are lots of impressive restaurants in Miami Beach, South Beach, and Miami proper. One of my favorites was Planta South Beach. It was so good I actually went back again the next night. Get the dumplings.
I also recommend a food tour in Little Havana. You'll get to learn about Cuban culture, the history of the neighborhood, meet some locals, and of course, sample some incredible Cuban cuisine. The mojito was my favorite. What can I say?
If you're interested in street art, head over to Wynwood Walls, its an outdoor musuem featuring street art from local and international artists.
Finally, don't forget to spend a day or two at the beach. Most hotels in Miami Beach will have beach chairs and towels ready for you. Arrive early to get a good spot.
If you'd like even better beaches, head to Key West in the Florida Keys for a day or two. This is where you'll find the sparkling blue waters with white sandy beaches.
6. Washington D.C.
If you you're looking for an east coast winter road trip, consider making your way to the nation's capital Washington D.C.
D.C. is a fun city to visit any time of year, but it's especially nice under a fresh blanket of snow.
While in D.C. I recommend making visis to the many musuems along the National Mall, the Lincoln Memorial, the Capital Building and the White House.
If you've been to D.C. before you should consider doing day trips to Arlington National Cemetery or Gettysburg.
I also recommend exploring the Georgetown neighborhood if you have the time. It's a beautiful part of the city to walk around in with cute restaurants and cafes, a historic university, and of course, some really spectacular houses.
If you happen to be traveling from New York City, you may also wish to make stops in Newark, Philadelphia, and Wilmington. Each of these cities is worth exploring for a day or two as well, especially Philadelphia.
7. Grand Canyon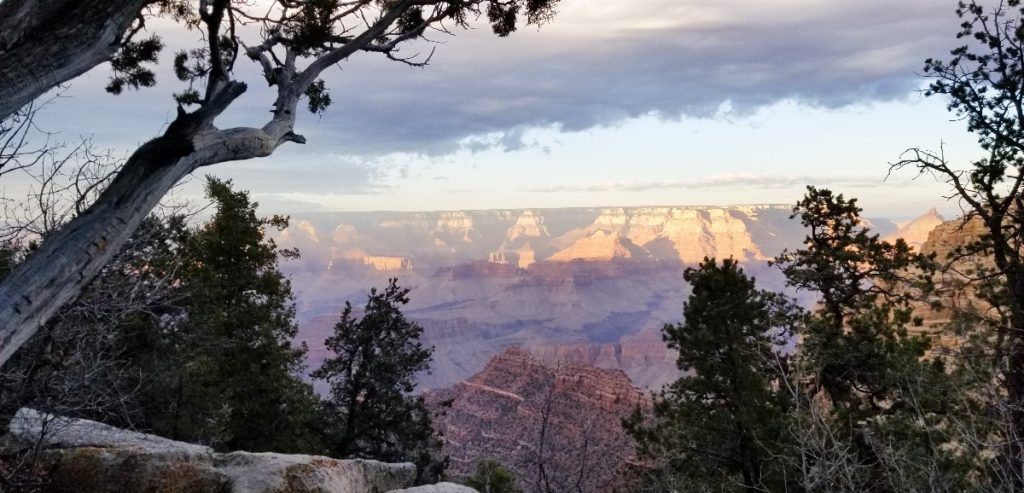 A Grand Canyon road trip is always a great idea, especially in the winter. You'll get to experience one of the most unique national parks in the country, but without all the crowds.
If you're really lucky, you might even get a little snow. But either way, the Grand Canyon is perfect during the winter months.
Some of my favorite things to see at the south rim of the Grand Canyon are the Desert View Watchtower and lookout, the Abyss, and Hermit's Rest Viewpoint.
You absolutely must catch at least one sunset and one sunrise during your time at the Grand Canyon. Plan to catch your sunset at one of the park's most western viewpoints like Hermit's Rest.
I would plan to catch sunrise at Desert View if you can, but really any viewpoint is good for sunrise.
If you're driving to the Grand Canyon from Los Angeles, consider stops in Palm Springs, Joshua Tree and Sedona.
If you'd like to explore more of the Southwestern United States, consider heading into Utah to visit Zion National Park, Bryce Canyon, Arches National Park, Monument Valley, and Salt Lake City.
8. Sedona, Arizona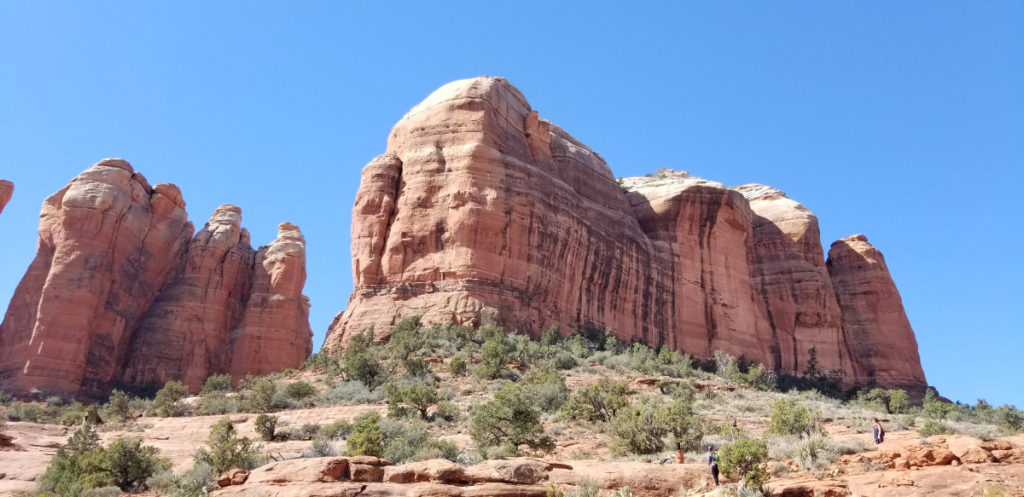 If you're looking for a relaxing vacation and some natural beauty, consider an Arizona winter road trip to Sedona.
Sedona, Arizona is best known for its massive red rock formations and spiritual wellness retreats. It's stunning desert landscape makes it a popular destination for hiking, biking, and trail running.
The most popular destinations in Sedona are Cathedral Rock, Slide Rock State Park, and Chapel of the Holy Cross Cathedral.
Sedona is also known as an excellent location for stargazing. In fact, due to the minimal light pollution, it's one of the best places in the country for both stargazing and astralphotography.
If you get a clear night sky during your visit, you must head outside for a while and enjoy the view. Don't forget the wine.
9. Las Vegas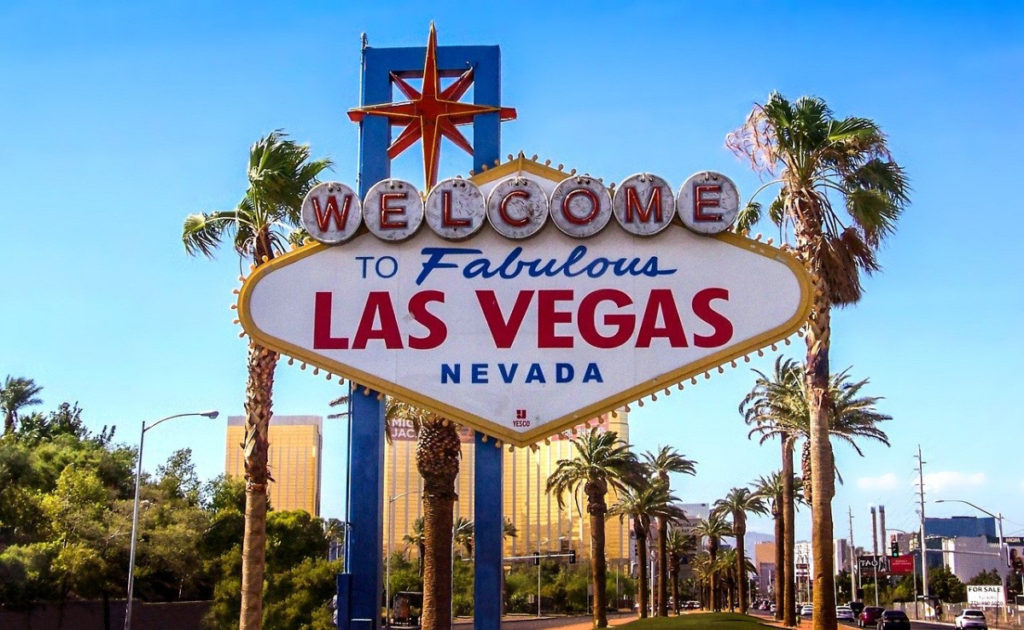 If you're looking for a place to party and really let loose during the long winter months, make your way to sin city.
While Vegas is well known for its casinos and dance clubs, it also has great restaurants, tons of live music venues, musuems, and natural beauty just a short drive away.
You can wake up to a fancy breakfast at the hotel then spend the day lounging around the pool.
In the afternoon, pay a visit to the Mob Musuem or Neon Musuem. If you've been to these spots already, consider a drive out to Hoover Dam, Death Valley National Park, or Area 51 instead.
At night, make reservations at a 5 star restaurant then head out for cocktails at one of the city's many bars. I recommend Frankie's Tiki Room.
10. Palm Springs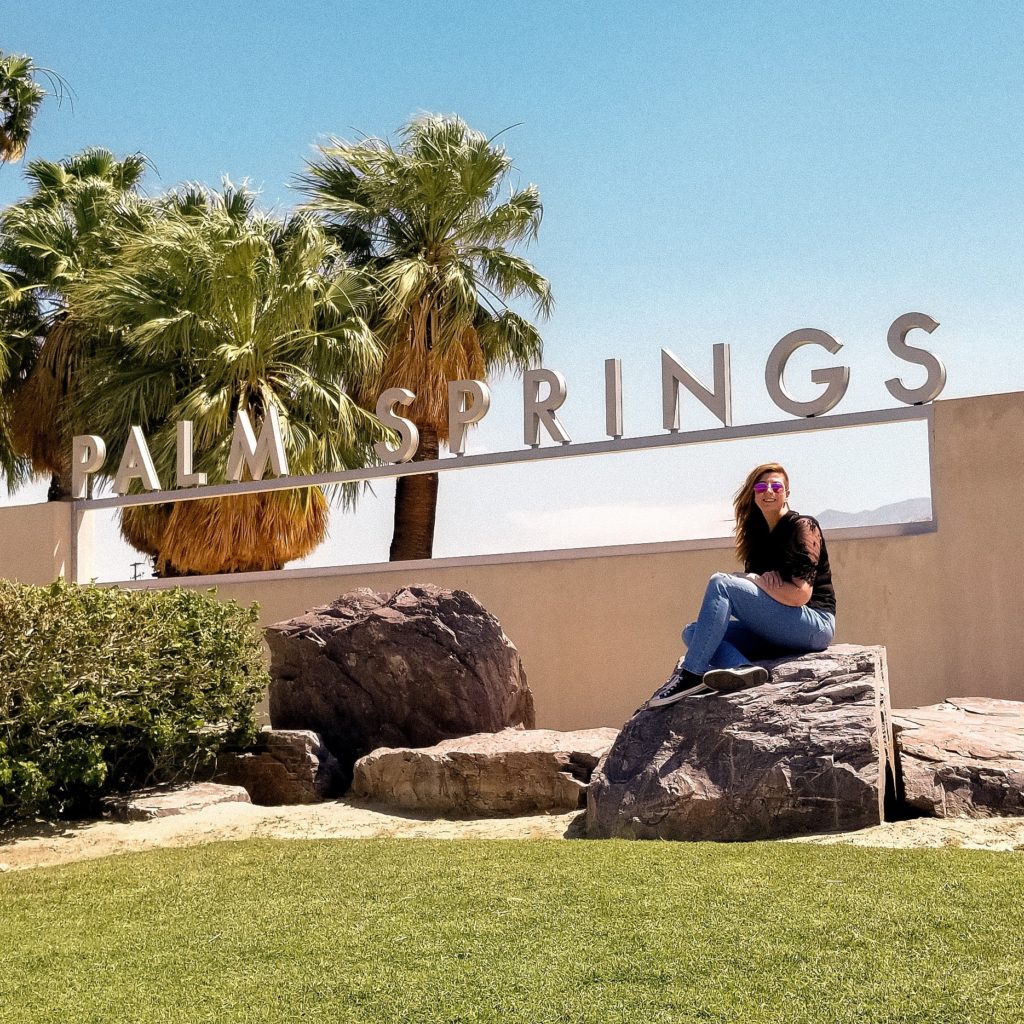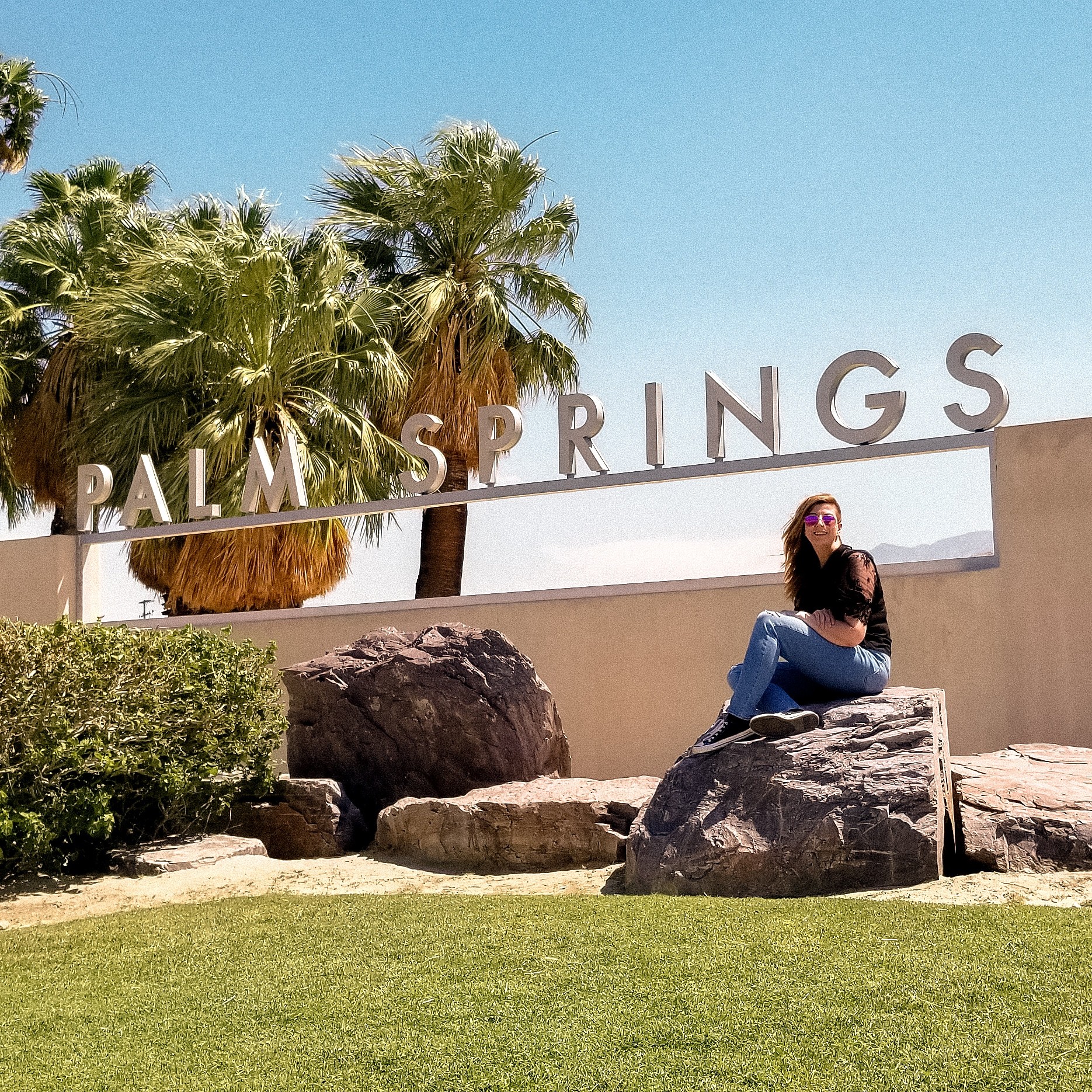 For a more relaxing winter escape, consider enjoying a few days in Palm Springs. You can spend your days lounging at the pool while sipping fruity cocktails.
For those into art and architecture, consider an architecture tour to see all the incredible mid-century modern homes dotting the neighborhoods of Palm Springs. The history of Palm Springs is fascinating, so the tours are well worth your time.
In the evenings, head out to Palm Canyon Drive for dinner and drinks. You'll find plenty of great dining options and some really fun bars. I recommend the Tonga Hut if you're into tiki bars with strong drinks.
I hope you've found some inspiration from these 10 Winter Road Trip Destinations in the USA. If you enjoyed this post, please consider sharing it. Thanks for reading.
If you're looking for the best wineries in Sedona then you've come to the right…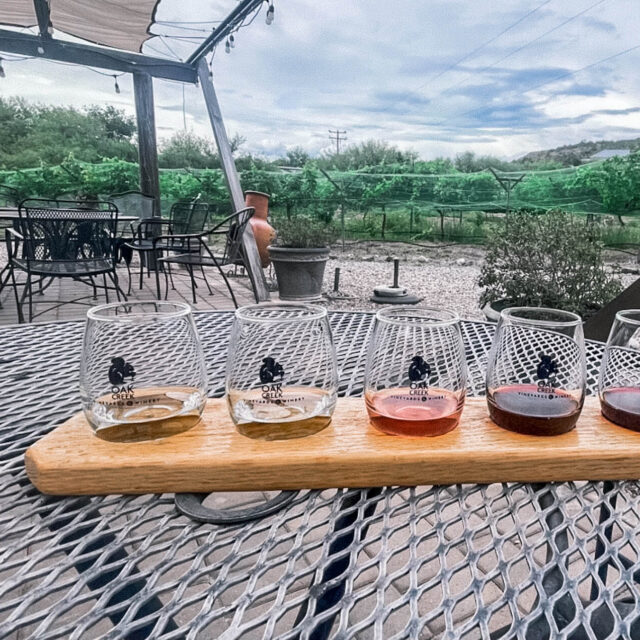 The drive from Flagstaff to Sedona is one of the most beautiful drives in the…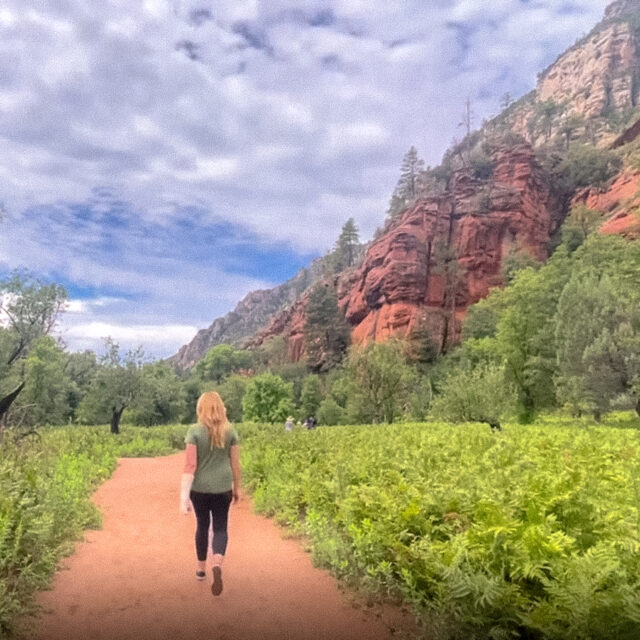 The meteor crater in Arizona makes for a fun and unique stop when visiting popular…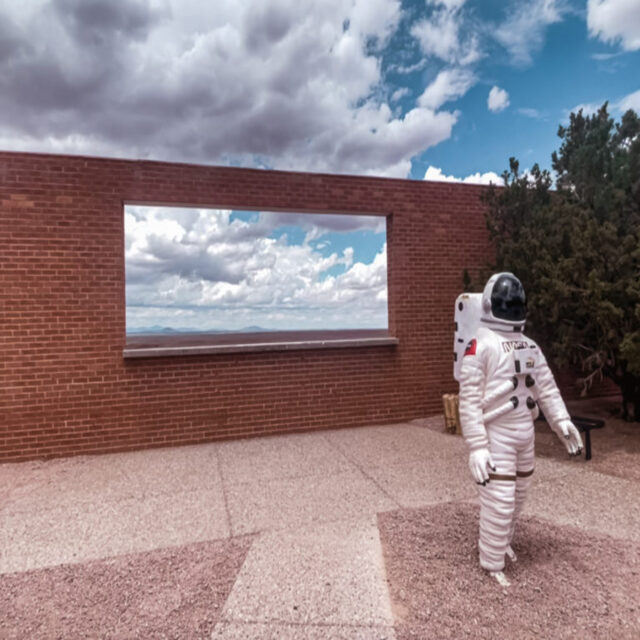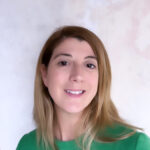 Eden Fite
Part-time Traveler | Dog Lover | Avoider of Crowds
I help busy people find creative ways to travel more.