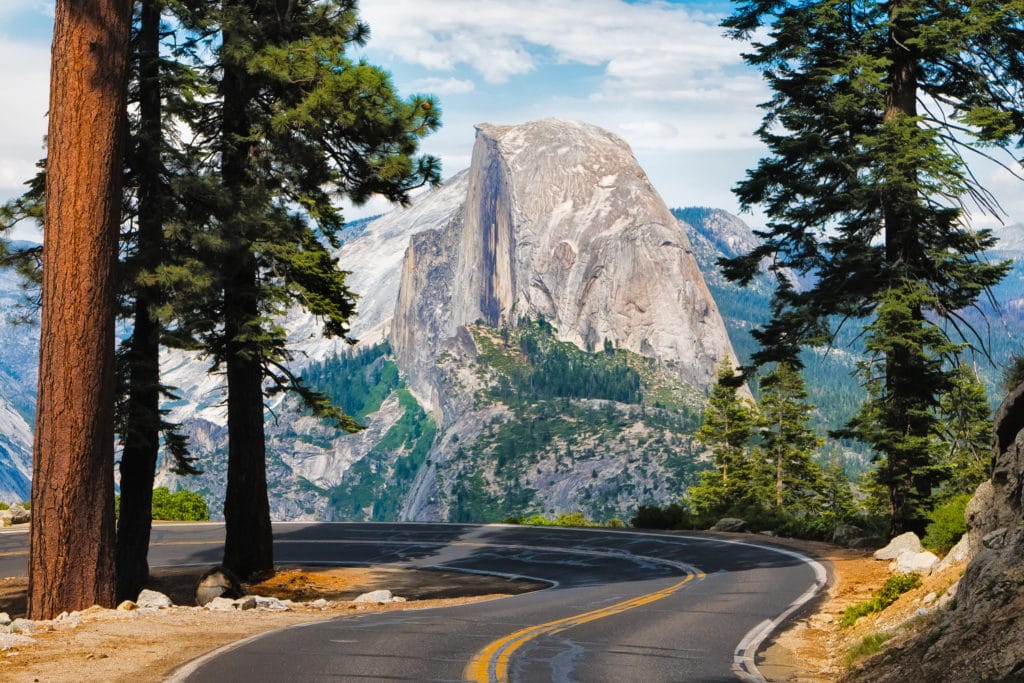 Yosemite National Park is located in California along the majestic Sierra Nevada mountains.
It's famous for its massive rock formations, waterfalls, and giant Sequoias. Late spring or early summer is the best time to visit Yosemite, right before the big crowds show up. 
If you love road trips and enjoy visiting national parks, you're in the right place. This road trip will take you to all the most popular spots in Yosemite, along with several most never see. 
At almost 1,200 square miles, there's a lot to see and do in Yosemite. However, most visitors to the park spend the majority of their time in Yosemite Valley.
While you don't want to miss this area of the park, I recommend making the effort to see the vast majority of the park that remains unseen by most visitors. 
So how do I see the rest of the park you ask? By making your very own Ultimate Yosemite Road Trip. 
Yosemite Road Trip – Important Information
Several important things to keep in mind before you begin your journey:
Both the Tioga Pass and Glacier Point roads are currently CLOSED due to an early snowfall but may reopen again for a short while before closing for the season. These roads usually reopen in late May. You can check the National Park Service website for updates here. Once cleared, these roads typically remain open until mid November. 
There are very few gas stations in Yosemite and these are located near the entrances to the park. It is recommended that you fill up your tank before you enter the park. There are no gas stations in Yosemite Valley. 
Emergency road service is available in the park 24 hours a day by calling 209-372-8320.
Yosemite Road Trip Details
This Yosemite road trip begins at the entrance to the park on Highway 41 just north of Oakhurst. This road trip includes 15 stops inside the park.
The road trip can last as long as you want it to, but I'd be sure to have at least 3 full days to visit all 15 stops. At the end of the road trip, you can leave the park from whichever exit you choose. 
Navigation inside the park: Most guests will be able to use Google Maps to navigate their way through the park.
The stop names included in this road trip can be found in Google Maps.
In the event that your reception inside the park is so bad, you cannot use Google Maps, you can use the park map you received from the ranger station when you entered the park. 
If you're looking for a place to spend the night outside the park, there is a Best Western hotel in the town of Oakhurst.
Make your reservation as soon as possible. The hotel sells out fast, especially during the busy summer months.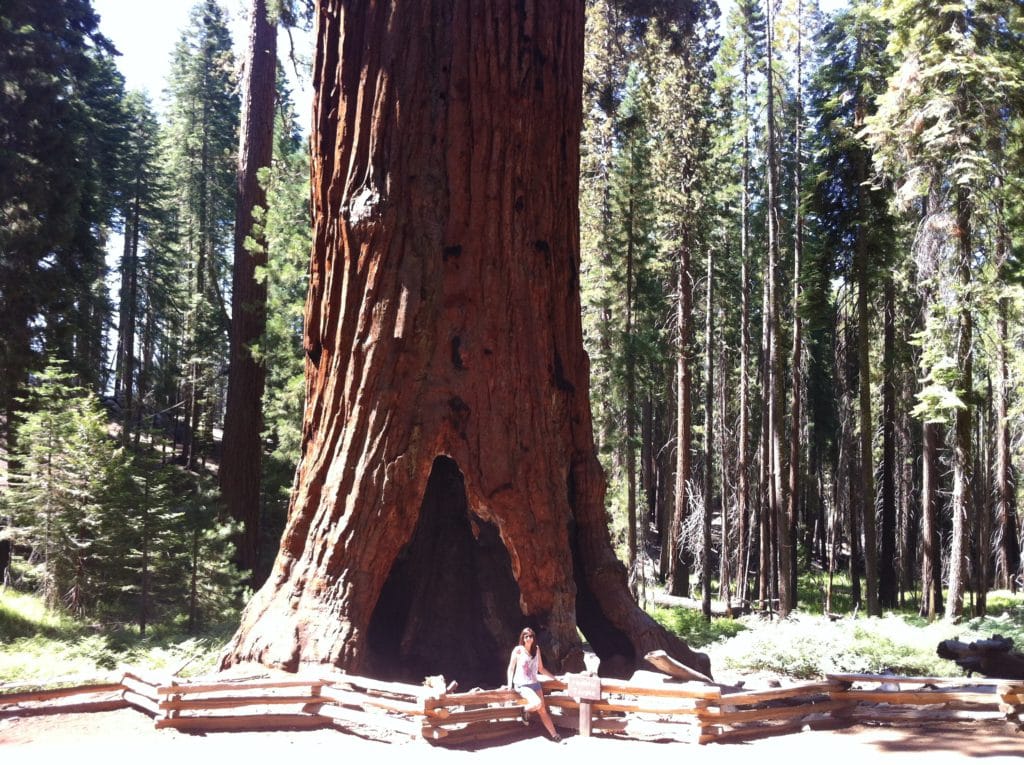 Stop 1: Mariposa Grove of Giant Sequoias
The Mariposa Grove of Giant Sequoias will be the first stop on your Yosemite road trip.
It's located just inside the park's south entrance. Park your car at Tuolumne Grove trailhead, walk 500 feet down the hill, and look up to see some of the tallest trees in the world standing before you.
One of the oldest and most famous trees, the Grizzly Giant, can be found a bit further down the trail. In addition to being one of the oldest trees, the Grizzly Giant is also the second-largest tree in the grove. 
As you continue your walk into the grove you will see the Faithful Couple trees up ahead. These two trees grew so close together their trunks have fused at the base.
You'll also want to keep an eye out for the Columbia tree. At 285 feet tall, this is the tallest tree in the grove and the tallest tree in Yosemite.
You'll find all these trees along with the two and a half-mile trail that winds through the grove. When you're done, the trail takes you right back to the parking lot.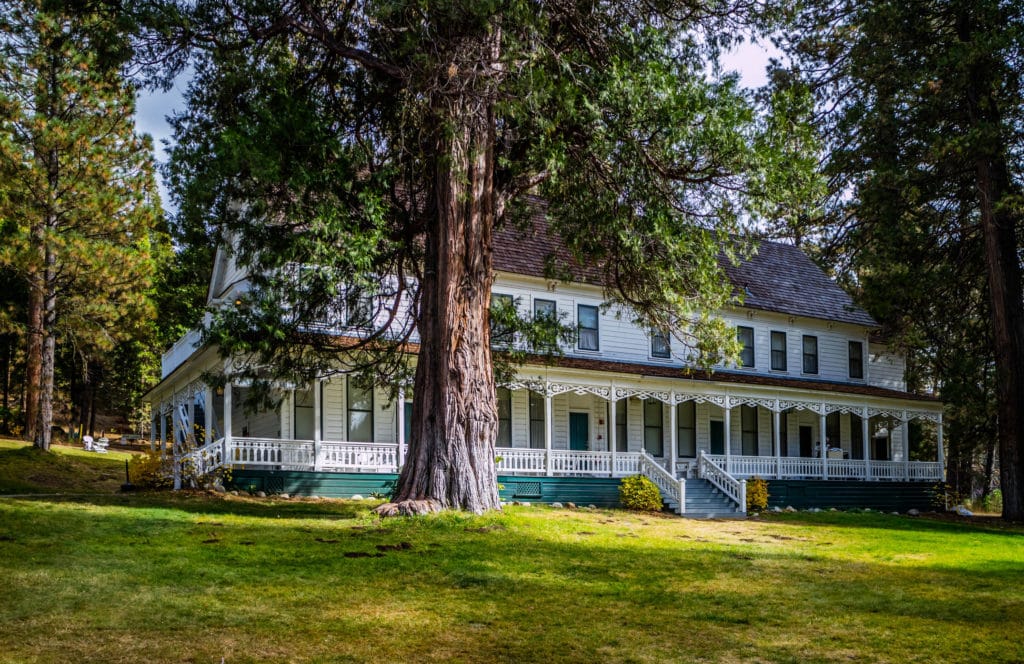 Stop 2: Wawona Hotel
Just a few minutes further up the road towards Yosemite Valley, you will find the historic Wawona Hotel.
The hotel was a former mountain resort built during the Victorian-era in 1856. Today the hotel features 104 rooms decorated with antique furnishings, a spacious dining room, outdoor swimming pool, 9 hole golf course, and riding stables.
During the summer months have a popular Saturday night barbeque with music and entertainment which I highly recommend if your timing is right. 
The Wawona Hotel is a National Historic Landmark and worth taking the time to explore. Take a walk through the hotel and the grounds outside.
It's a beautiful area and also a great spot to grab lunch if you're hungry. To be honest, this is probably the last good meal you will have inside the park unless you brought your own food.
So if you can get into the restaurant at the Wawona Hotel, I encourage you to do so.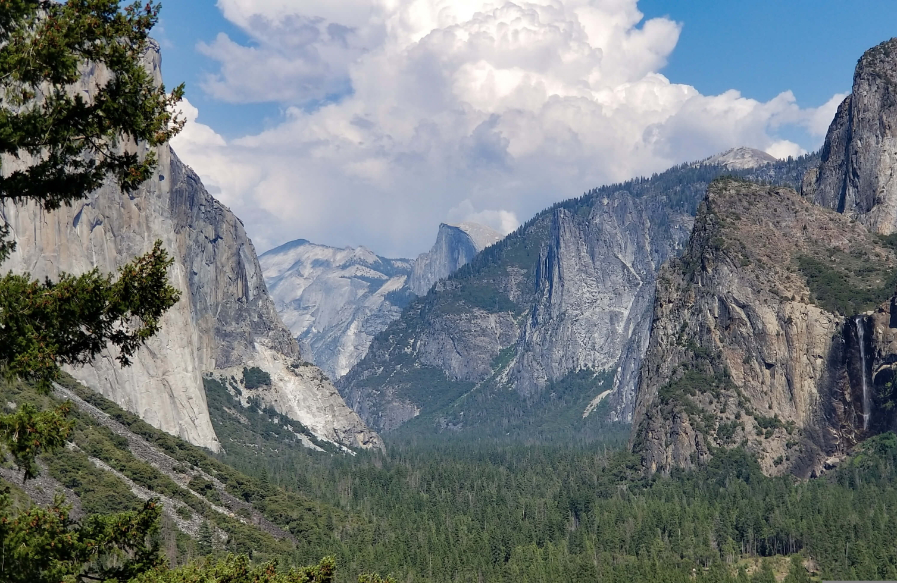 Stop 3: Tunnel View
A stop at Tunnel View is a must on your way into Yosemite Valley. This is your first opportunity to get those sensational photos you've been hoping for.
This view of Yosemite Valley is stunning and probably the most famous viewpoint in the park.
From the lookout at Tunnel View, you can see the massive face of El Capitan on the left, Half Dome jutting up in the distance, and Bridalveil Fall flowing over the high cliffs on the right.
This is the stuff postcards are made of and you are likely to get some of your favorite vacation photos from this location. If you're an early bird, plan a visit to Tunnel view at sunrise for a truly extraordinary experience.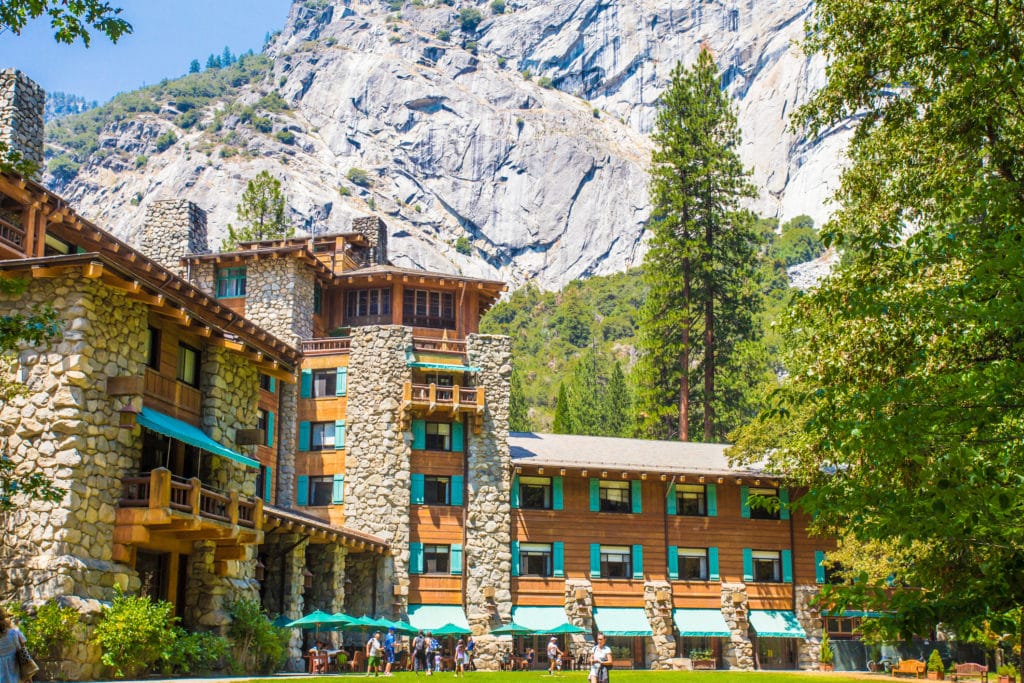 Stop 4: Yosemite Valley Lodging
After leaving Tunnel View you will make your way into Yosemite Valley.
Depending on the time of year of your visit, you may experience traffic congestion once you reach the valley floor.
Be patient and just enjoy the view as you drive alongside the roaring Merced River to your Yosemite lodging. 
You'll have several options for lodging in Yosemite Valley. Here are the most popular Yosemite National Park lodging options:
If you'd like to avoid the summer crowds and not have to worry about traffic and parking, Yosemite in November is absolutely magical. Plus, you can often get deals on park lodging this time of year.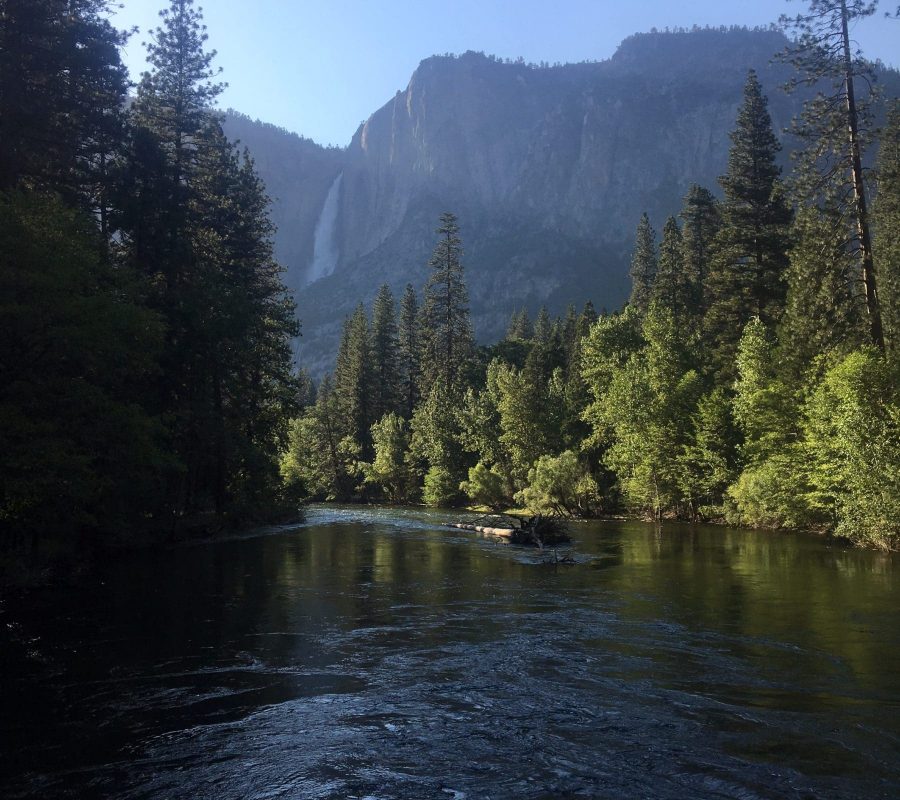 I strongly encourage you to begin looking for accommodations as soon as you know you will be visiting Yosemite.
Many accommodations will sell out when they go on sale a year in advance. Though, I have snagged a reservation at the last minute on multiple occasions due to cancellations.  
So back to the Yosemite road trip itinerary! Once you've gotten settled into your accommodations, let's head out and explore.
There is tons to see and to in Yosemite Valley. If it's hot out, put on your swimsuit and grab a towel and let's head to the river.
Stop 5: The Merced River
Once you get settled into your accommodations for the night, head down to the Merced River.
If you're looking for a peaceful way to spend the afternoon, grab your swimsuit, water shoes, and towel and head to one of the designated swimming areas.
Be sure to pack a lunch or bring food for the grill. There are plenty of picnic areas along the river. 
If you're looking for more adventure, there are sections of the river where you can go tubing. I recommend bringing your own tube if you have one.
The park does not always have the rental booth open and sometimes they run out. Make sure you bring the heavy-duty kind meant for rivers, you will get kicked out quickly if you bring a swimming pool float.
Temperatures in Yosemite Valley frequently get into the 90s in the summer, so having a fun way to cool off will be much appreciated. 
Always pay attention to the park rangers when you're in or near the river. The water can turn from calm to rapids quickly.
There are several rescues made from the Merced River every year and you do not want to be one of them.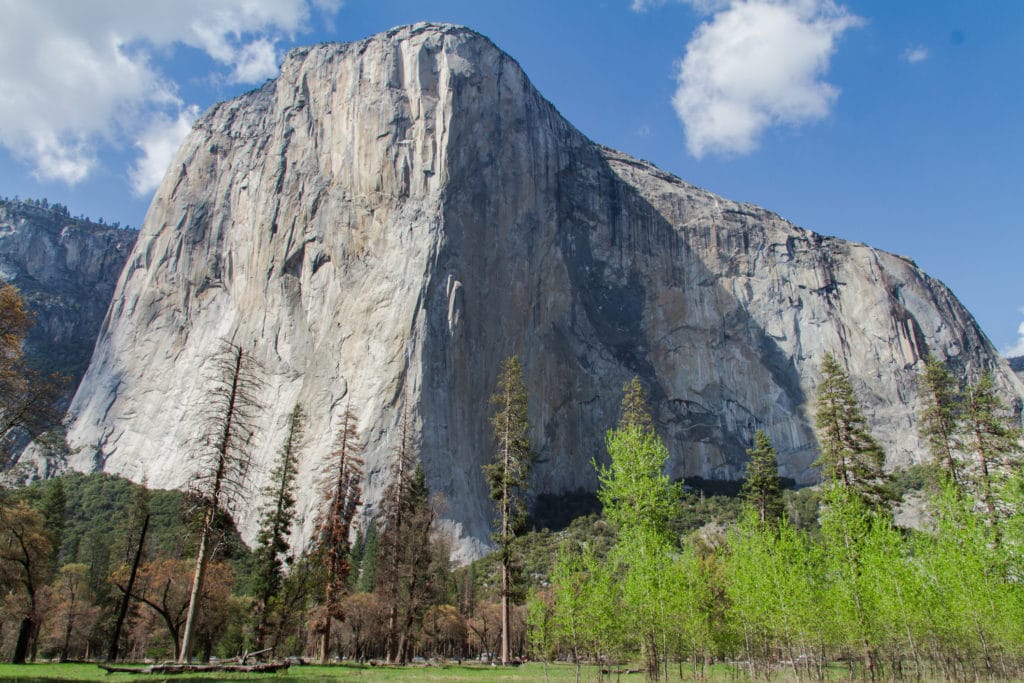 Stop 6: Valley Tour to Bridalveil Fall, Yosemite Falls, El Capitan, and Half Dome
After you've spent time checking out the Merced River, complete your tour of the main sights in Yosemite Valley.
You can view Bridalveil Fall, Yosemite Falls, El Capitan, and Half Dome by taking a walking tour through the valley.
You can do this on your own or as part of a guided tour. I recommend just walking around on your own so you can explore as you wish and take your time.
You can always join a tour later if you want to know more about the history and features of the park.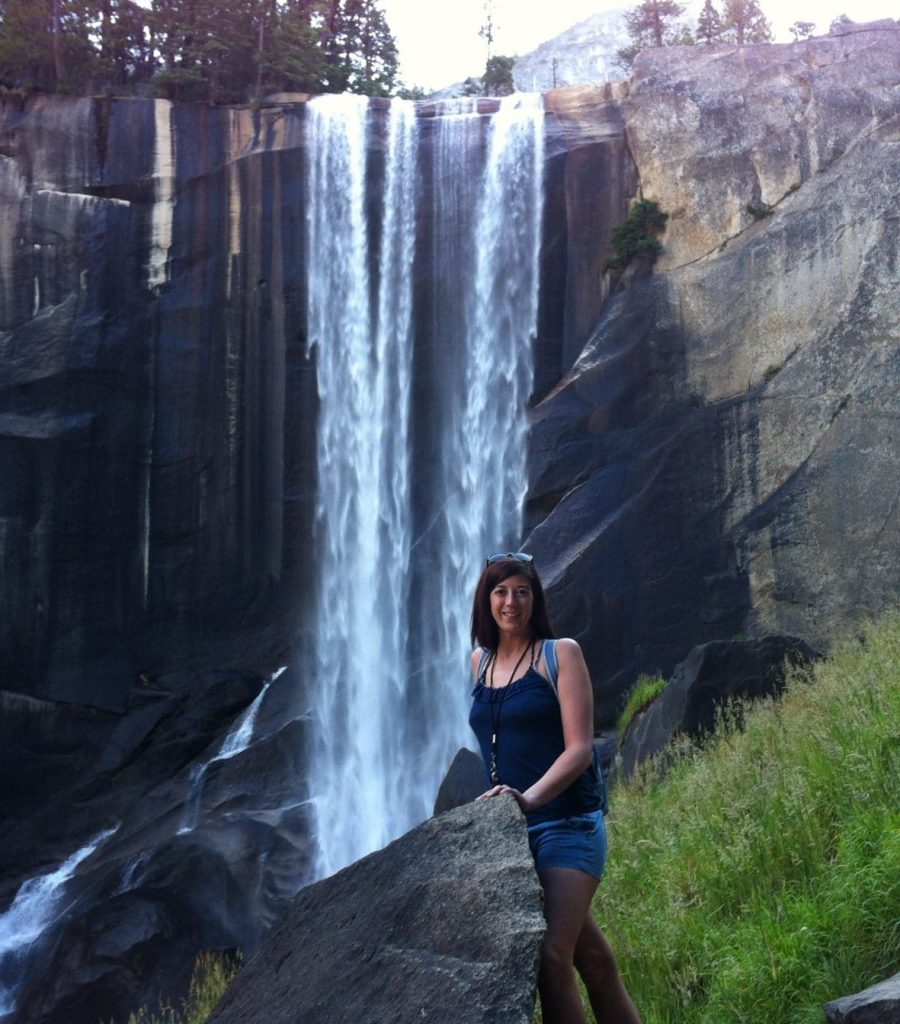 Stop 7: Mist Trail to Vernal and Nevada Falls
Another highlight in Yosemite Valley is the Mist Trail. I recommend tackling this hike on the first morning you wake up in the park.
This is one of the most popular hikes in all of Yosemite and for good reason. The path will take you on a steep climb alongside the massive Vernal Falls and Nevada Falls.
You can find the trailhead for this hike at shuttle stop 16 near Happy Isles. You should know that this hike is entirely uphill and very strenuous. Come prepared and be in good shape before you begin. 
To reach the top of Nevada Falls the hike is seven miles round trip and will take about four to five hours.
To reach the top of Vernal Falls, the hike is three miles round trip and will take about two to three hours. If you just want a close up of the falls and not the full hike experience, you can hike up to the Vernal Falls footbridge.
The hike up to the footbridge is two miles round trip and will take between one and two hours. While the footbridge is only a mile up the trail, it is a very steep mile. Be in good shape for this as well. 
Be advised that the trail gets much more difficult once you get beyond the footbridge.
To reach the top of Vernal Falls you will need to climb over 600 stairs with mist from the waterfall spraying you along the way.
Be sure to have plenty of water and proper shoes. As strenuous as this hike is, it's also one of the most beautiful hikes you'll ever do. 
If you're looking for a much easier hike, consider the Mirror Lake hike instead. This one is about 2.4 miles roundtrip and is mostly flat.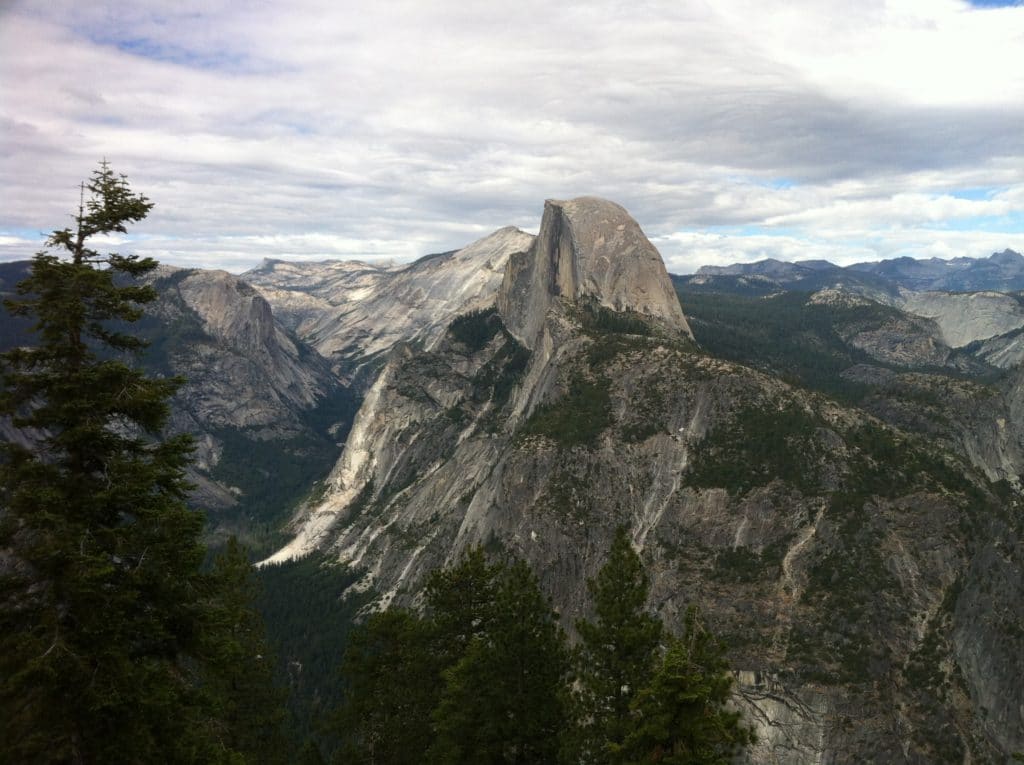 Stop 8: Glacier Point
After your long hike on the Mist Trail, it's the perfect time to hop back in the car and give your legs a rest.
Heading back outside Yosemite Valley, you'll make your way to Glacier Point, another popular lookout spot.
You can reach Glacier Point from the valley in about one hour. From this lookout, you get one of the best views of Half Dome in the park.
You can also see sections of Yosemite Valley, Yosemite Falls, and parts of the high country. The views here rival those at Tunnel View, so you can bet you'll get some extraordinary photos.
Crowds can be heavy here in the summer, so I recommend making the drive in the late afternoon when crowds have thinned out. Be careful not to arrive too late though.
As the sun begins to set you'll get lots of shadows making it challenging to get nice photos. 
When making this drive, please do so safely and keep your eyes on the road. There are lots of deer in this area, especially as you get closer to Glacier Point.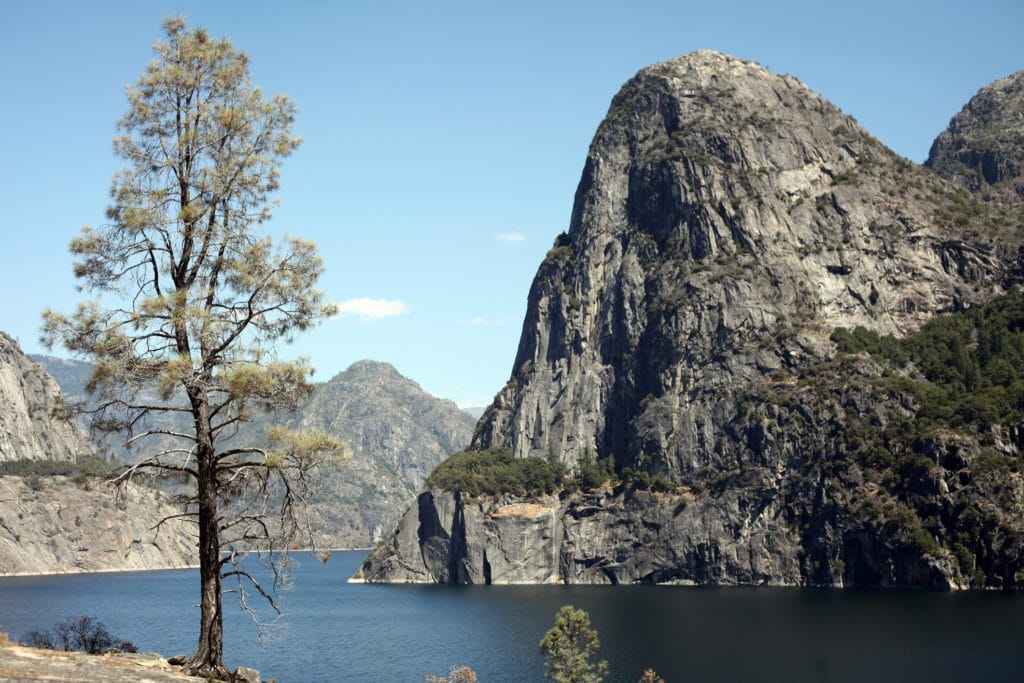 Stop 9: Hetch Hetchy Valley and Reservoir
You'll find the Hetch Hetchy Reservoir about 90 minutes outside of Yosemite Valley along Big Oak Flat Road.
This is a beautiful area of the park perfect for hiking and getting away from the crowds. Despite its incredible beauty, it is not frequently visited by most park visitors.  
Once you've arrived in Hetch Hetchy you can go hiking, bird watching, fishing, and backpacking. There are also several points of interest including the O'Shaughnessy Dam, Wapama Fall, and Smith Peak.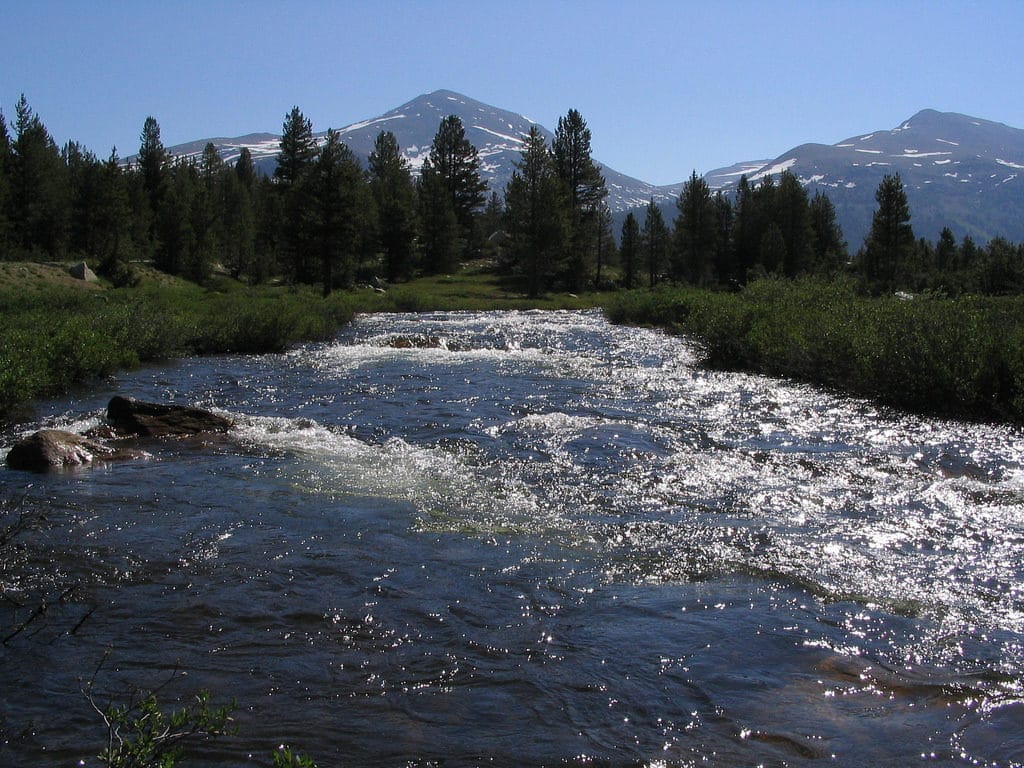 Stop 10: Tuolomne Meadows
Tuolumne Meadows is located on the eastern side of Yosemite and is one of the highlights of your Yosemite road trip.
Here you will find incredible views of the high country, green meadows, pristine lakes, mountains, and miles of hiking trails.
The famous Pacific Crest Trail can be accessed from this part of the park.
In addition, there are dozens of other hikes, of varying length and difficulty that can be accessed off Tioga Pass road.
Soda Springs and Parsons Lodge or Gaylor Lakes are some of the shorter hikes, while Cathedral Lakes, Mono Pass or Glen Aulin are the longer hikes.
If you really want to get out and explore the high country, you can hike to Vogelsang High Sierra Camp.
For those intending to complete these long distance hikes, backpacking gear will be necessary. Be sure to do your research and plan ahead before setting out on these trails.
For those setting out on shorter hikes, be sure to pack a lunch, some snacks, and plenty of water for this trip. You will not find food or drinks along the way.
I also suggest bringing a sweater or jacket. While it's 90 degrees in Yosemite Valley, temperatures in the high Sierras can get quite cold, even in the summer. 
If you get an early start, you can get to Tuolumne Meadows and back to Yosemite Valley by late afternoon or early evening. 
Details for driving the Tioga Pass to Tuolumne Meadows
To get to Tuolumne Meadows from Yosemite Valley, you need to take the Tioga Pass road. The Tioga Pass is a mountainous stretch of highway running through the high Sierra Nevadas.
This route is only open in the late spring and summer, as it is typically covered in snow the remainder of the year and closed to all traffic.
If you're fortunate enough to be visiting Yosemite while the Tioga Pass is open, I highly recommend taking the time to see Tuolumne Meadows. 
The drive from Yosemite Valley to Tuolumne Meadows is about 90 minutes without stops.
However, you will not get there in 90 minutes because you will want to stop quite a bit. There are many beautiful lookouts and things to see.
Take your time on your Yosemite road trip and enjoy having this part of the park mostly to yourself. 
Final Night in Yosemite Valley
After returning from your drive out to Tuolumne Meadows you will return to Yosemite Valley.
This is your final night and your last stop on the Ultimate Yosemite Road Trip. Take a walk through the park at sunset before grabbing a healthy dinner.
Then spend a relaxing evening with a cocktail or glass of wine by the fire. If it's a clear night consider joining the Starry Night Skies Over Yosemite tour that begins at 9:00 p.m. 
Final Thoughts
All of the above stops on the Ultimate Yosemite Road Trip can easily be done in three or four days.
Make all the stops you want as you're driving around. The best part of any road trip is that there's no schedule to keep. 
If you prefer to visit Yosemite without all the driving, there are plenty of great Yosemite tours available as well.
They will handle all the details and all the driving so you can just relax and enjoy the park. 
Ideas for Other National Park Road Trips
If you've got more time, there are so many other amazing places to visit in the U.S.
If you're looking for other National Parks trips to take, here are some excellent ideas for National Park road trips on the West Coast of the United States.
Distances to Yosemite National Park from popular nearby destinations
San Francisco to Yosemite road trip distance:  4 hours 30 minutes
Big Sur to Yosemite road trip distance: 5 hours
San Jose to Yosemite road trip distance:  4 hours 10 minutes
Los Angeles to Yosemite road trip distance:  6 hours
San Diego to Yosemite road trip distance:  8 hours 20 minutes
Phoenix to Yosemite road trip distance:  11 hours 30 minutes
Seattle to Yosemite road trip distance:  16 hours
Grand Canyon to Yosemite road trip distance:  9 hours 45 minutes
If you'd like to try another one of my favorite road trips, consider the Sea to Sky Highway Road Trip in Vancouver, Canada. It's one of the most beautiful stretches of highway you'll ever see. 
Related Posts
Yosemite National Park is located in California along the majestic Sierra Nevada mountains. It's famous…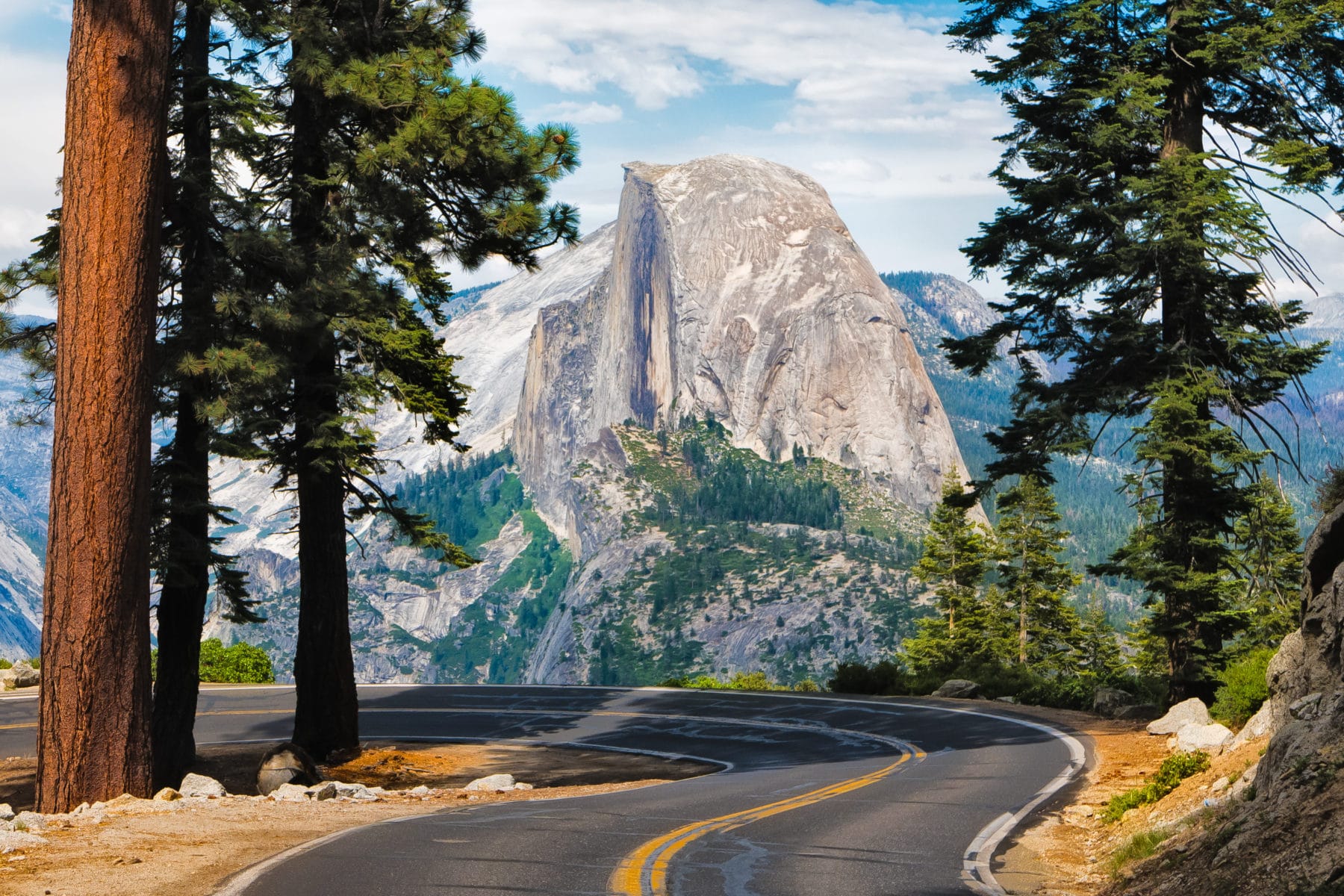 Photo by Agaliza If you're planning a visit to Yosemite National Park, you absolutely must…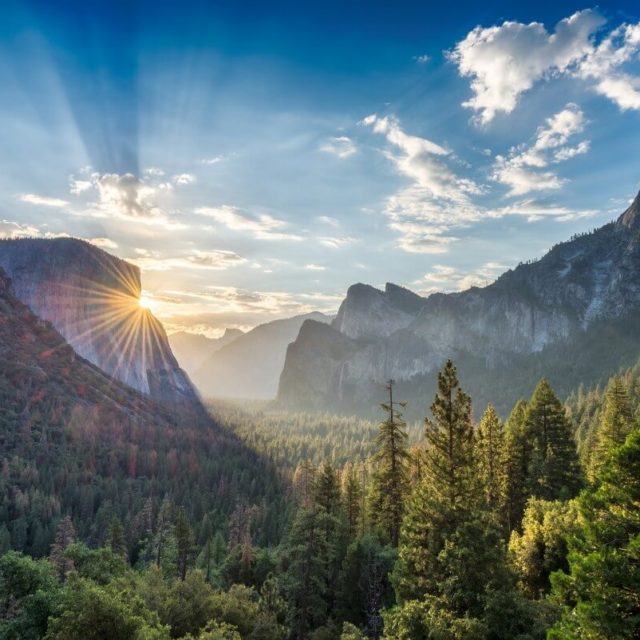 Photo by Cheri Alguire If you're looking to tackle the Mirror Lake Hike in Yosemite,…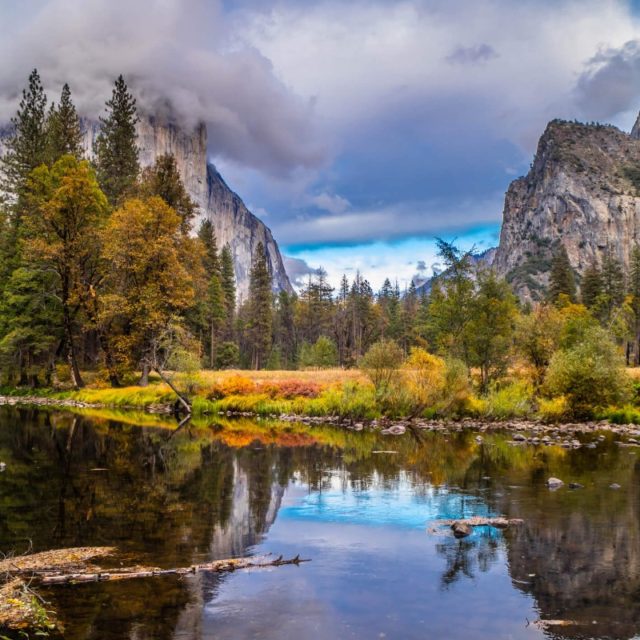 Book Your Trip
Find the best flight deals by using Google Flights, then book direct with the airline. This is the search engine I use to compare flights and prices before booking my own trips.

BOOK YOUR ACCOMODATION
I recommend searching for hotels through Booking.com to compare hotels on amenities, location, and price. If you are a member of a hotel's rewards program, always book direct with the hotel. If you are not loyal to a specific hotel brand, using Booking.com for the best price.

TRAVEL INSURANCE
Travel insurance is more important than ever. For just a few dollars a day you can protect yourself and your trip. I personally use World Nomads, but whomever you choose, don't skip out on travel insurance. It can literally save you thousands of dollars.


Want to save it? Pin it.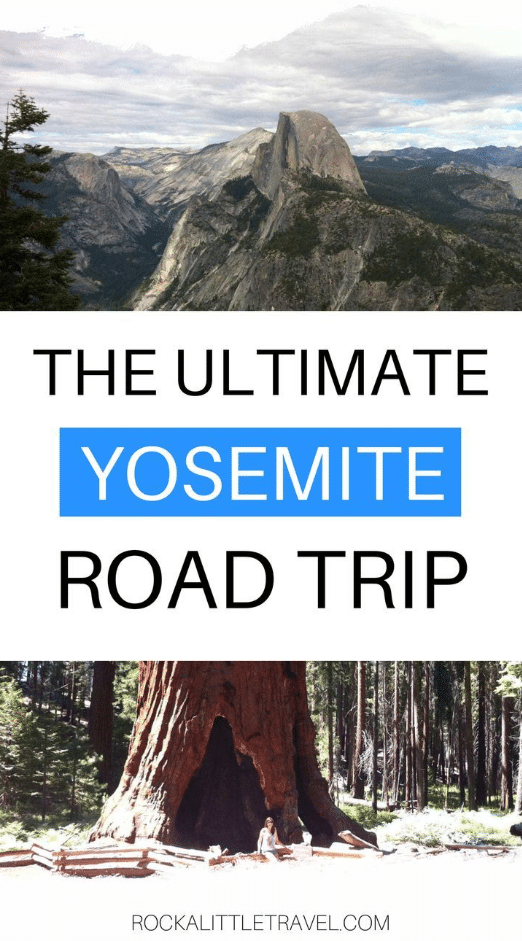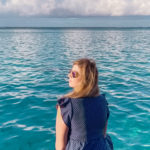 Eden Fite
Part-time Traveler | Dog Lover | Avoider of Crowds
I help busy people find creative ways to travel more.