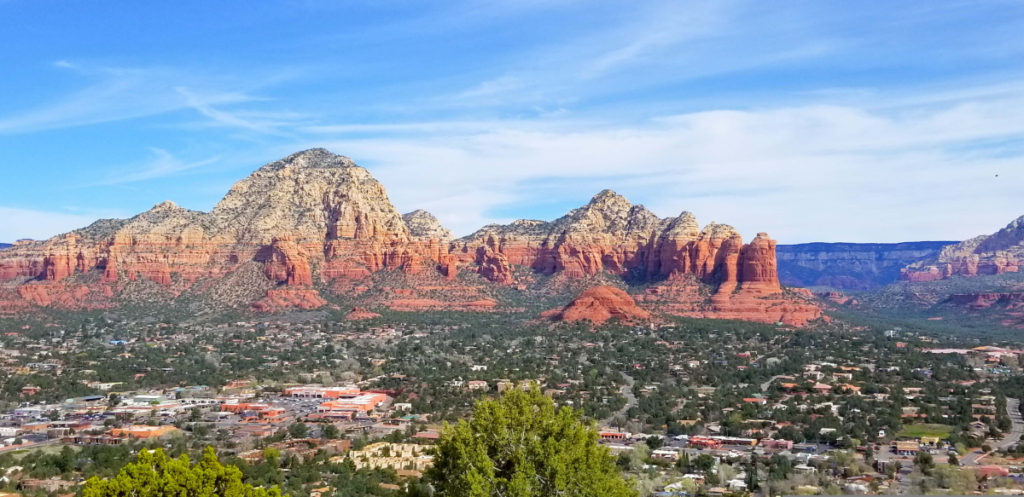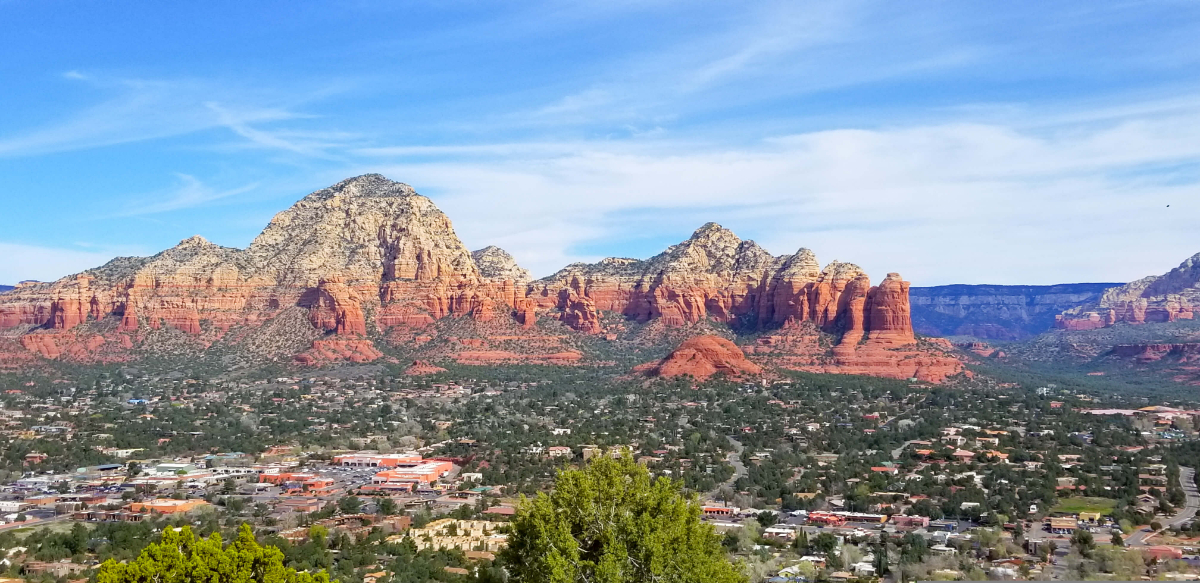 I love Arizona. Its red rock meets desert landscape gets me every time. If you'll be spending any time in Scottsdale during your trip to Arizona, then you must make room in your schedule for a Scottsdale to Sedona day trip.
To be honest, just the drive alone is worth the effort, but there are also plenty of incredible things to see in Sedona, not to mention a few fun stops along the way.
In my opinion, a Scottsdale to Sedona day trip is the perfect addition to your Scottsdale itinerary. It will give you a chance to see more of the state and allow you to enjoy some time away from the city and out in nature.
Some of the links in the post are affiliate links. If you make a purchase through these links it helps to support this site at no extra cost to you.
A Scottsdale to Sedona Day Trip Itinerary
For the purposes of this post, I'll assume you've already spent a few exciting days enjoying all that Scottsdale has to offer.
If not, my favorite things to do in Scottsdale are to hike Camelback Mountain, have cocktails poolside at your resort, shop the local boutiques, and have dinner and drinks in Old Town Scottsdale.
Once you've thoroughly explored Scottsdale, you'll be ready for the impressive change of scenery in Sedona.
Traveling Soon? Don't forget your travel insurance.
Travel insurance is now more important than ever.
Travel insurance is probably less than you think it is. (Ex. For a week in Spain next month I'm paying less than $62.00.)
Travel insurance covers a lot more than you think it does.
It's better to have it, than need it and wish you'd bought it.
See for yourself. Check prices here.
How to get from Scottsdale to Sedona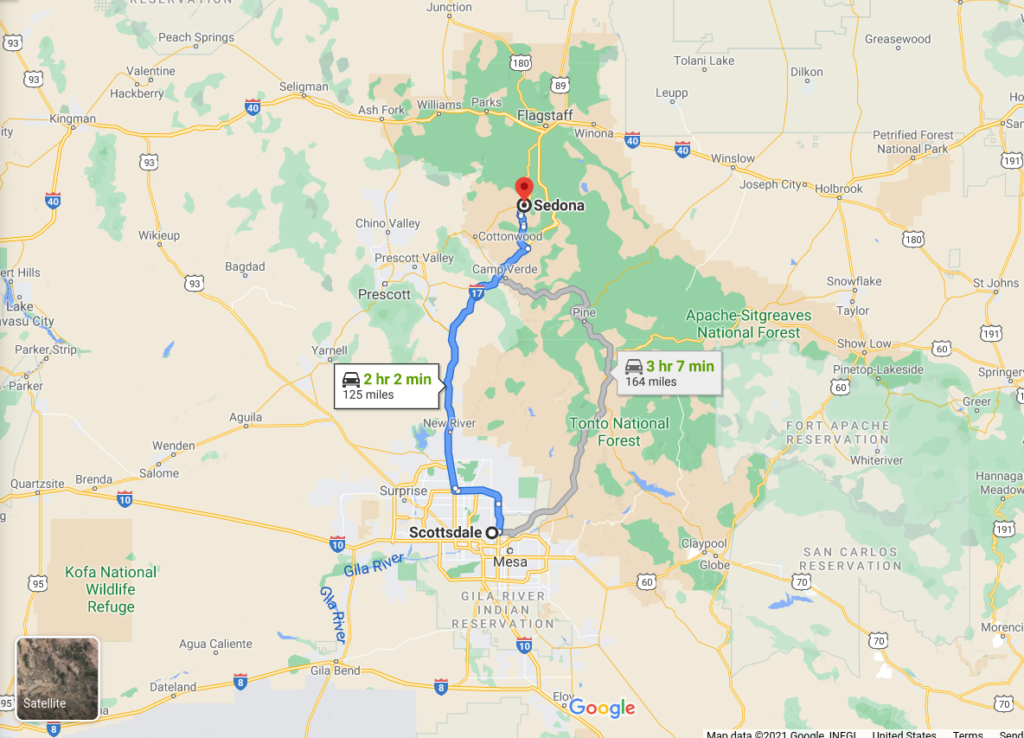 Sedona is located about 2 hours north of Phoenix. The Scottsdale to Sedona drive time is also about 2 hours. From Scottsdale, you'll make your way to Interstate 17 and head north.
From Interstate 17 North you'll merge onto Highway 260 for a bit. You'll exit Highway 260 just before Cottonwood and make a right onto Route 89, which will take you into Sedona.
For planning purposes, here are estimated drive times between popular destinations in Arizona:
Phoenix to Sedona: 2 hours
Scottsdale to Flagstaff: 2 hours 14 minutes
Scottsdale to Phoenix: 26 minutes
Flagstaff to Sedona: 55 minutes
Sedona to Grand Canyon National Park: 2 hours 12 minutes
Scottsdale to Grand Canyon National Park: 3 hours 32 minutes
Sedona to Scottsdale: 2 hours
What to see from Scottsdale to Sedona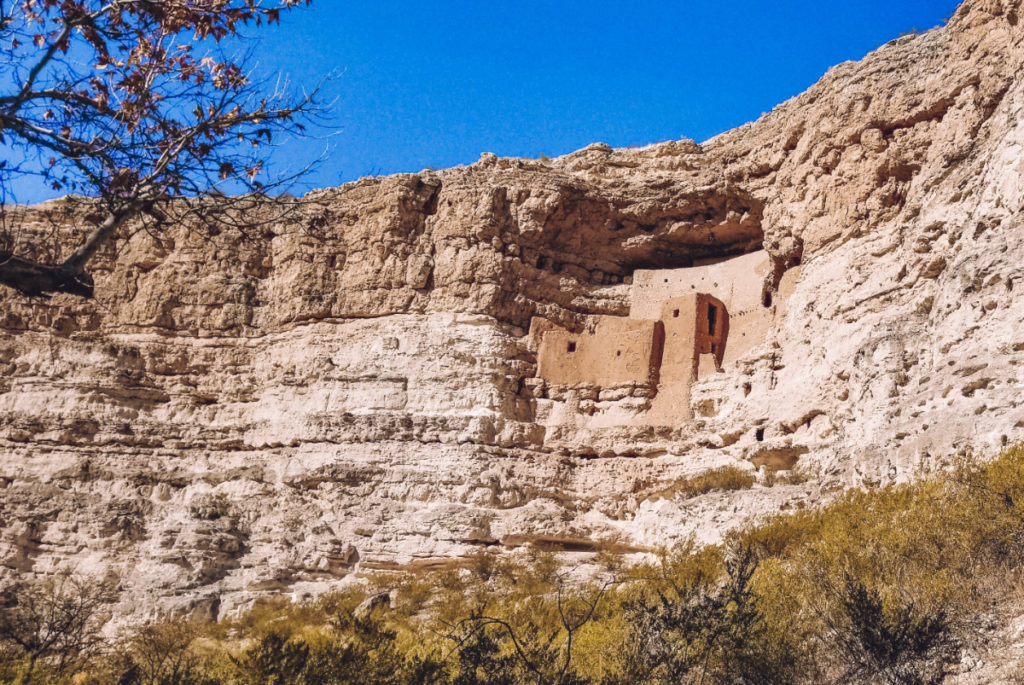 If you're wondering what to see from Scottsdale to Sedona, I've included a few interesting stops below. Remember the drive is only two hours, so you may not want to (or need to) make too many stops.
Montezuma Castle National Monument: Visitors can view pre-Colombian cliffside dwellings built into a limestone cliff (pictured above). Montezuma Castle is located off Interstate 17 about 90 minutes north of Scottsdale.
Agua Fria National Monument: Visitors can see over 450 Native American structures including large pueblos and petroglyphs. Agua Fria is located off Interstate 17 one hour north of Scottsdale.
If neither of these stops sounds interesting you, just drive straight to Sedona. There's so much to see and do in Sedona, you'll be glad to have more time there.
Best Sedona Arizona Attractions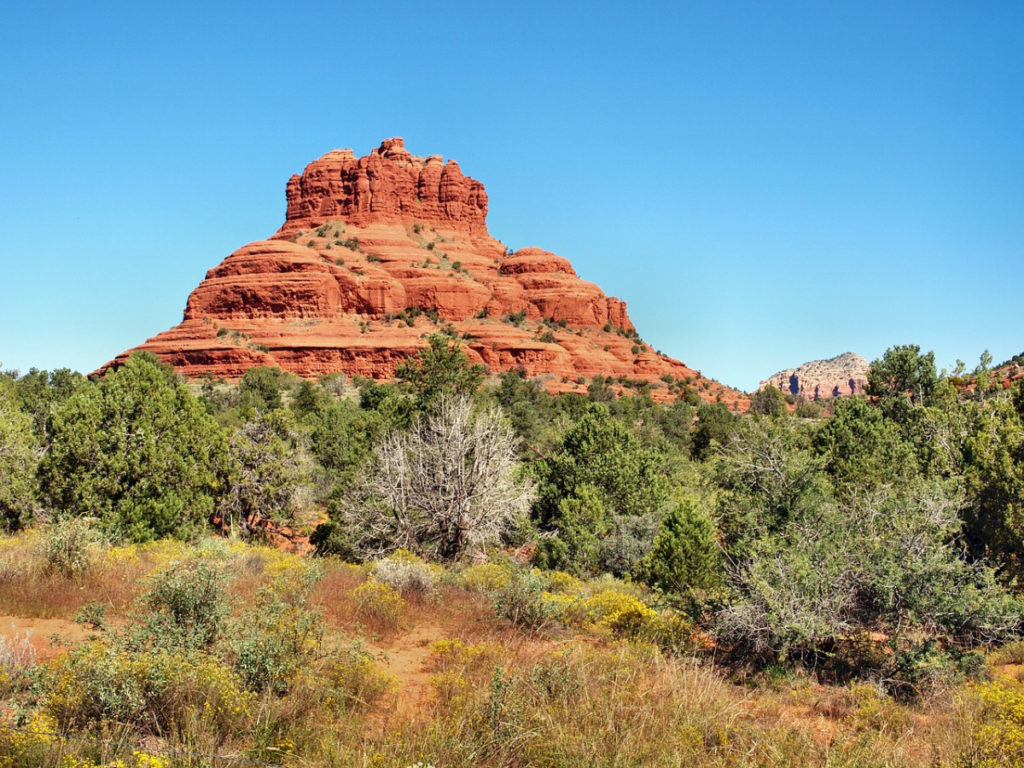 Now that you've finished the drive it's time to enjoy all the cool things to do in Sedona. Even if you're just in town for a few hours, you'll still have time to see plenty of Sedona in one day.
The Sedona Arizona attractions and sights listed below are in order as you would encounter them when driving into the city from the west based on the directions above. I listed them this way to make the best use of your time and prevent you from having to drive back and forth.
As always, make your trip your own. Move things around, skip what doesn't interest you, and add in unique experiences that will make the trip special for you.
Stop 1: Red Rock State Park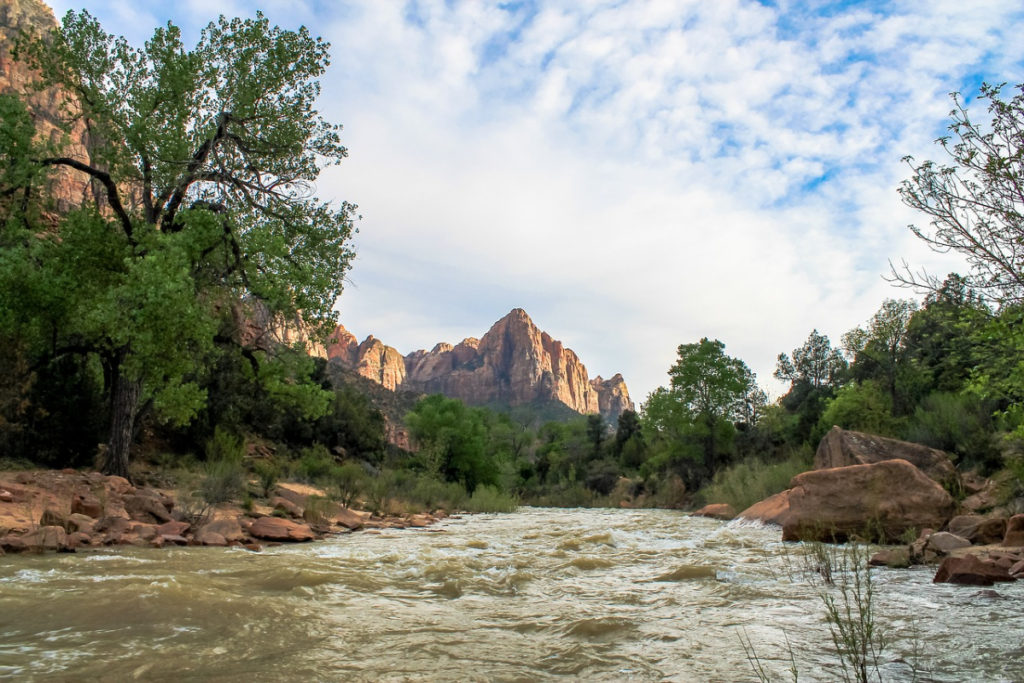 Red Rock State Park is a popular place for hiking and enjoying the surrounding red rock formations. There are several miles of hiking trails within the park that are considered easy to moderate difficulty making them suitable for just about any ability.
While mountain biking is prohibited on most of the park's trails, there are some Forest Service trails running through the park that are bike friendly. Ask at the Ranger Station where to access these if you've got your bike with you.
Stop 2: Sedona Airport Scenic Overlook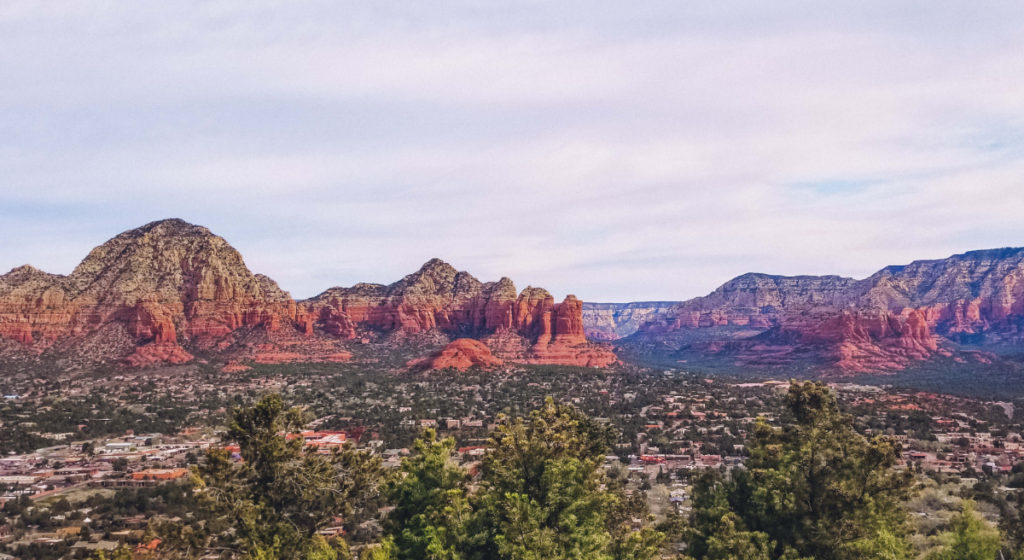 The Sedona Airport Scenic Overlook is a popular spot to watch a Sedona sunrise or sunset, but honestly it's perfect anytime of day. This overlook is where you'll find some of the best views of Sedona, so don't skip this one.
There are several trails in the area for those that want to go hiking, but you can also just drive to the overlook as well. You'll find a large parking lot at the top of the hill. The cost to park is about $3.
Stop 3: Pink Jeep Tours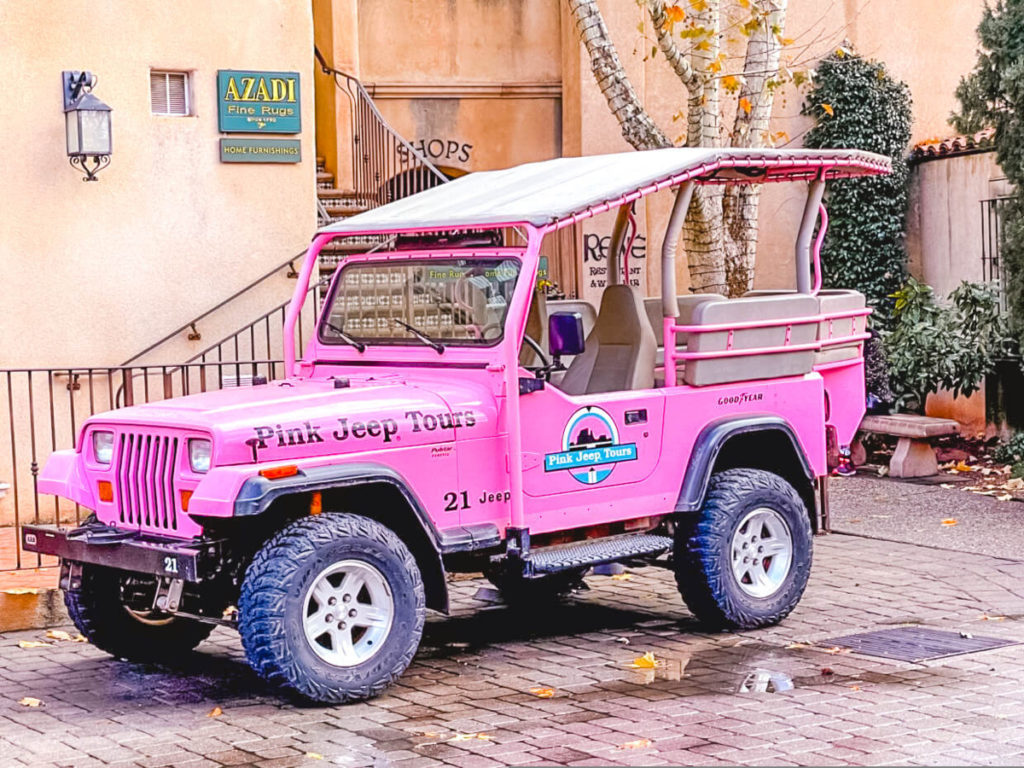 The Pink Jeep Tours in Sedona are really popular and they have all different tours to choose from.
The Pink Jeep Tours will take you off roading in the desert where you can learn about the red rock formations, desert wildlife and plantlife. There are also tours that will take you up to Grand Canyon National Park or out to the desert in the evening for stargazing.
I think these are a great option if you want a break from driving, or you just want to learn more about the area.
Stop 4: Oak Creek Canyon
Oak Creek Canyon is a river gorge located a short drive north of Sedona. It's often described as a mini Grand Canyon. I'm not sure I'd go quite that far, but it is beautiful and worth a visit if you're in Sedona.
Popular activities in Oak Creek Canyon are hiking, swimming, and fishing. Apparently there is a natural water slide near the swimming hole as well. I haven't seen this yet but will be visiting again soon and plan to try it out.
Stop 5: Tlaquepaque Arts Village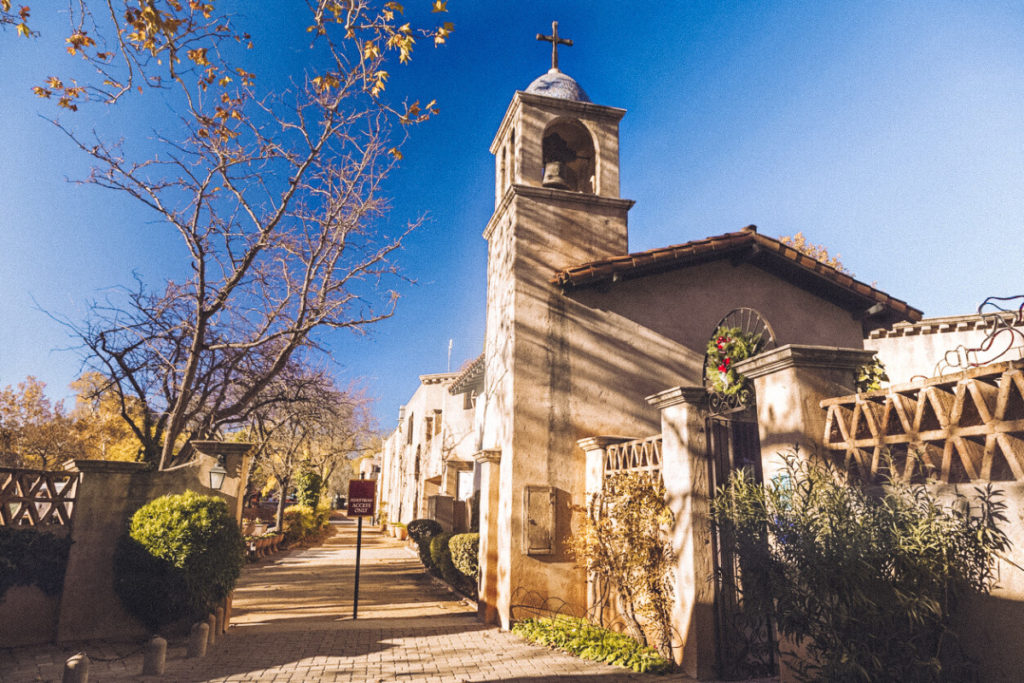 Tlaquepaque is an arts and crafts village in the heart of Sedona. Here you'll find local boutiques and art galleries. You can find everything from clothing and jewelry to paintings by local artists.
This is the perfect place to pick up souvenirs or a special item to bring back home with you. There are also a few restaurants, a brewery and a winery if you're so inclined.
Stop 5: Chapel of the Holy Cross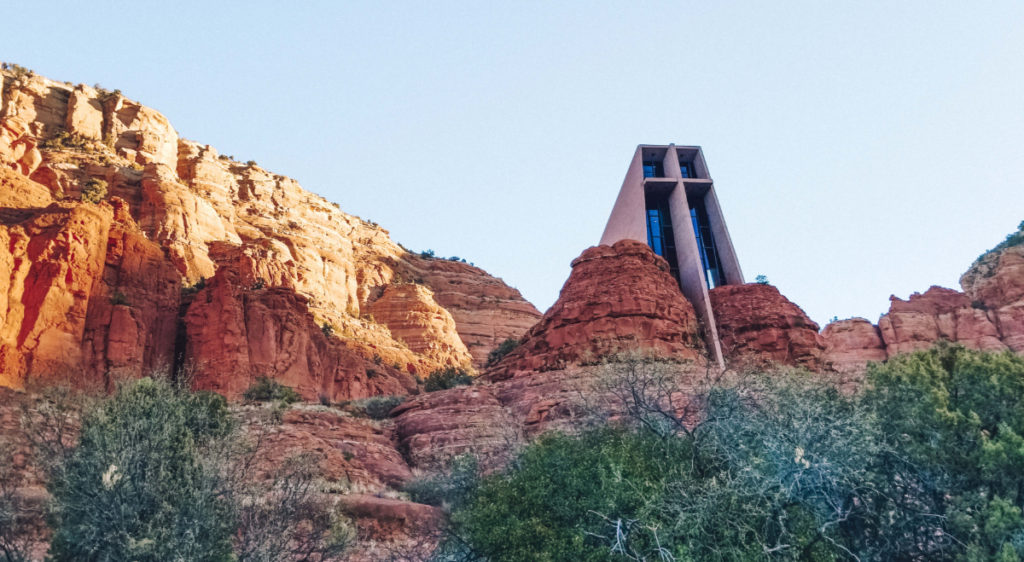 Chapel of the Holy Cross is a small Roman Catholic church built into the Sedona red rocks. The chapel is a popular location for weddings but is open to the public during the day time.
You'll find Chapel of the Holy Cross in a residential neighborhood just off Highway 179. This neighborhood is absolutely beautiful. If you have a few minutes, take a quick drive around to see what I mean.
Stop 7: Cathedral Rock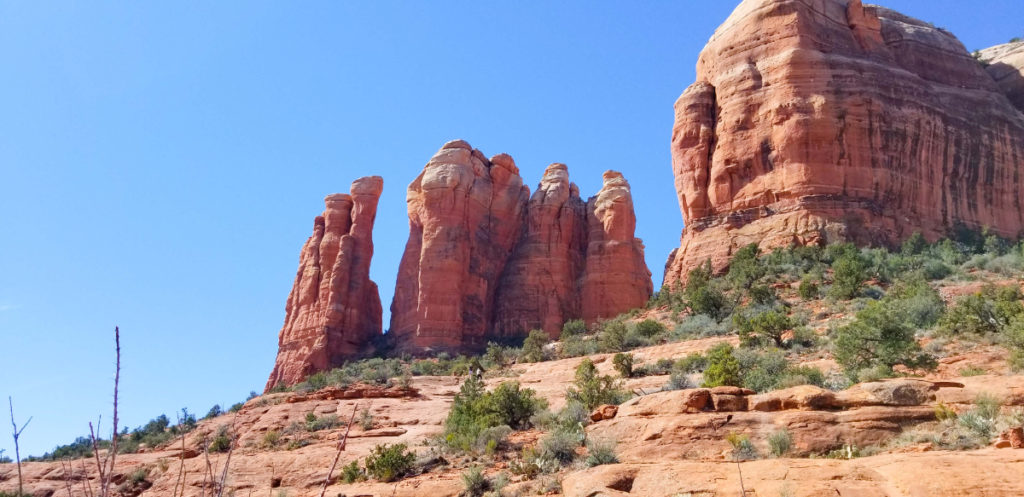 If you only have time for one hike during your Scottsdale to Sedona day trip, make it Cathedral Rock. This is such a fun hike and Cathedral Rock is just gorgeous. It's even better up close as you hike up to the base.
The Cathedral Rock Trail is just .7 miles and will take you about an hour to reach the top. There are some steep sections, so you'll want to be in good shape to tackle this one. It should take you under an hour to get down, so leave about 2 hours for the full hike.
Be sure to have your cell phone or camera on you for the hike. The views up top are just stunning. So is Cathedral Rock itself actually, so you'll want to take lots of pictures.
Also, bring lots of water. The Arizona desert can get HOT. I recommend starting this hike in the morning or early evening so you're not hiking up during the hottest part of the day.
Stop 8: Bell Rock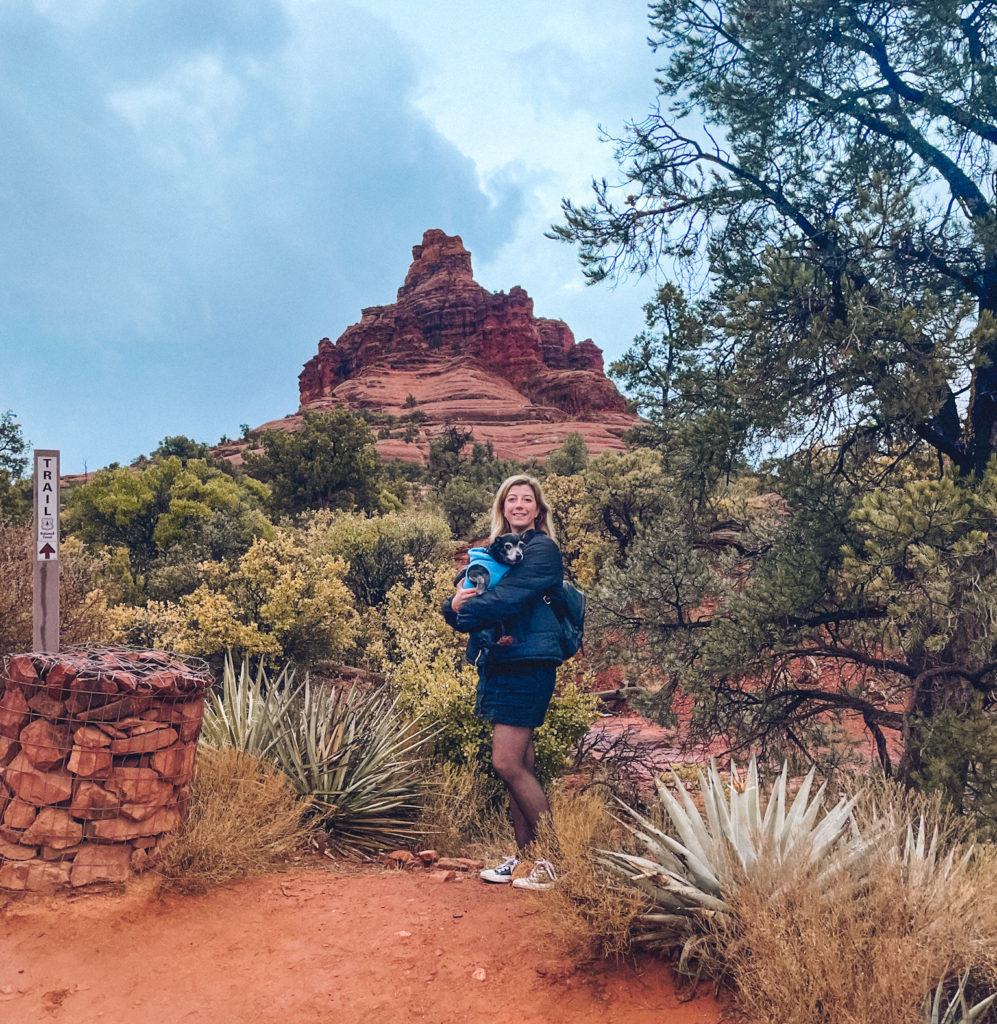 One of the last stops I recommend making on your Scottsdale to Sedona road trip is to Bell Rock. No hiking or climbing necessary for this one. You'll have an incredible view just steps from the parking area.
Those wanting a closer look can hike the Bell Rock Trail. This is a relatively easy 1.5 mile round trip hike that will take you up near the north face of Bell Rock.
As with Cathedral Rock, try to start this one early to beat the crowds and the heat. Again, don't forget water and your camera.
I hope you've found this Scottsdale to Sedona Day Trip Itinerary useful in planning a trip of your own. If you'd like to support this blog please consider sharing this post. As always, thanks for reading.
Book Your Trip
Find the best flight deals by using Google Flights, then book direct with the airline. This is the search engine I use to compare flights and prices before booking my own trips.

BOOK YOUR ACCOMODATION
I recommend searching for hotels through Booking.com to compare hotels on amenities, location, and price. If you are a member of a hotel's rewards program, always book direct with the hotel. If you are not loyal to a specific hotel brand, using Booking.com for the best price.

TRAVEL INSURANCE
Travel insurance is more important than ever. For just a few dollars a day you can protect yourself and your trip. I personally use World Nomads, but whomever you choose, don't skip out on travel insurance. It can literally save you thousands of dollars.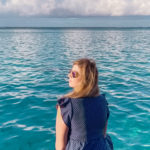 Eden Fite
Part-time Traveler | Dog Lover | Avoider of Crowds
I help busy people find creative ways to travel more.