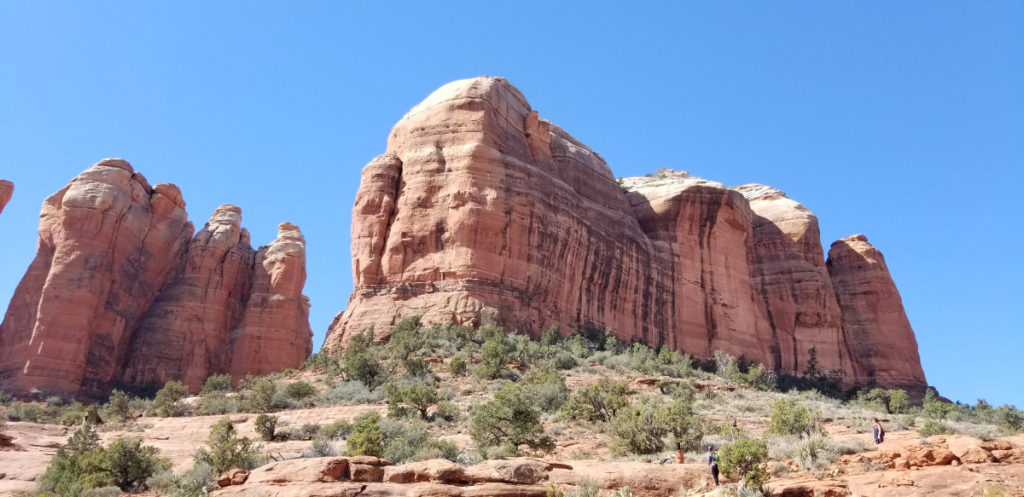 You're so lucky! Even if you must tackle Sedona in One Day, you're going to just love it. Sedona is amazing.
Sedona is known for its stunning red rock formations, spiritual wellness retreats, outdoor adventure opportunities, and excellent restaurants and wineries.
This itinerary will help you make the most of your Sedona day trip in Arizona's most beautiful city. No long lines and no reservations, just the highlights.
No matter your interests, you're sure to enjoy your short time in Sedona.
Some of the links in the post are affiliate links. If you make a purchase through these links it helps to support this site at no extra cost to you.
An Easy Sedona in One Day Itinerary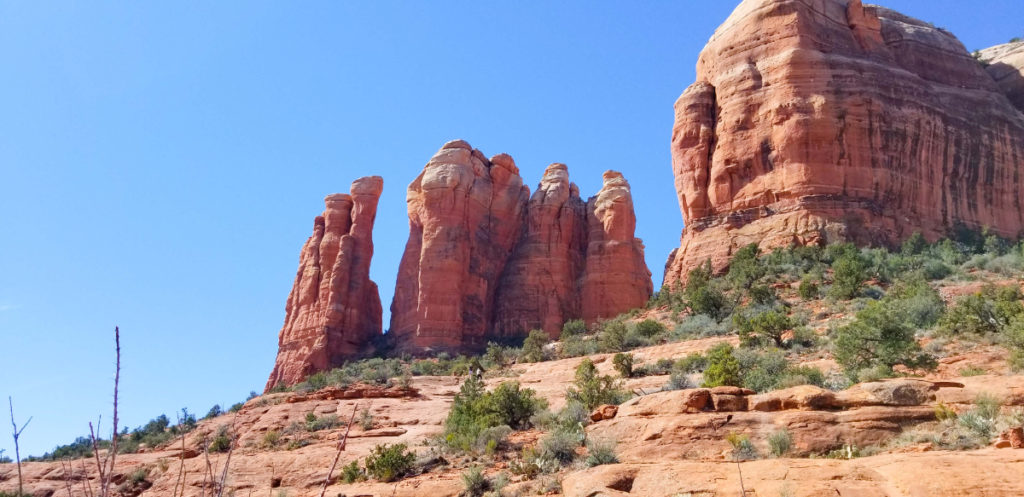 This Easy Sedona in One Day Itinerary is meant to be enjoyed at your own pace in a single day. Select the stops and attractions that sound most fun to you and make this visit your own.
To be honest, even just driving through Sedona is worth your time. The Arizona landscape is just beautiful, so I believe you'll enjoy your time here no matter what you choose to do.
The list below is in order starting with the activities I would recommend you tackle first, such as viewing the sunrise and hiking. The list ends with dinner and stargazing in the evening.
Above all, just enjoy your visit.
Traveling Soon? Don't forget your travel insurance.
Travel insurance is now more important than ever.
Travel insurance is probably less than you think it is. (Ex. For a week in Spain next month I'm paying less than $62.00.)
Travel insurance covers a lot more than you think it does.
It's better to have it, than need it and wish you'd bought it.
See for yourself. Check prices here.
Courthouse Butte and Bell Rock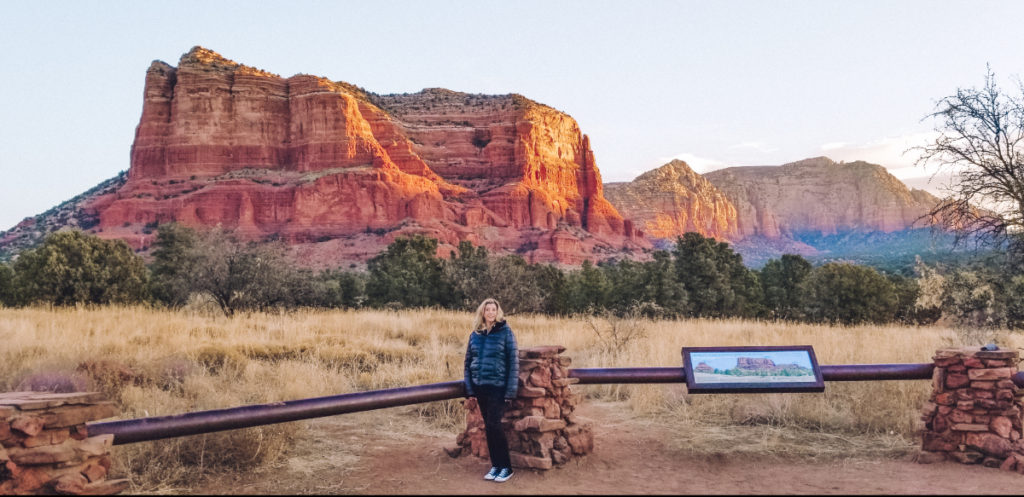 Courthouse Butte and Bell Rock are beautiful at any time of day, but especially at sunrise. This is one of my favorite stops in the early morning. If you arrive around sunrise, you will most likely have the place to yourself.
There is also an extensive series of hiking trails in the area for those looking to add some physical activity into their Sedona in one day itinerary.
You can enjoy anything from a short 15 minute stroll to a two to three hour strenuous hike to the summit of Bell Rock. No matter which you choose, the views are gorgeous.
One of the most popular hikes is the Bell Rock Pathway. This hike is 7 miles round trip and is relatively easy with close up views of both Bell Rock and Courthouse Butte.
I'm also told that Oak Creek Canyon in Slide Rock State Park is a great spot to be for sunrise as well. You'll find Oak Creek Canyon about 22 minutes north off Highway 179.
If you do visit Oak Creek Canyon, consider hiking the West Fork Trail while you're there. This is an easy 6 mile round trip hike and considered to be one of the most beautiful hikes in the country.
If you prefer to have someone else show you the sites, you can join one of the popular Red Rock Pink Jeep Tours. You'll see these jeeps everywhere in Sedona. I haven't tried one yet, but have heard only good things.
Keep in mind that if you are visiting National Park forest land that you will need to purchase a Red Rock Pass. You should see a ranger station or kiosk when this necessary. The Red Rock Pass is just $5 for a single day.
Chapel of the Holy Cross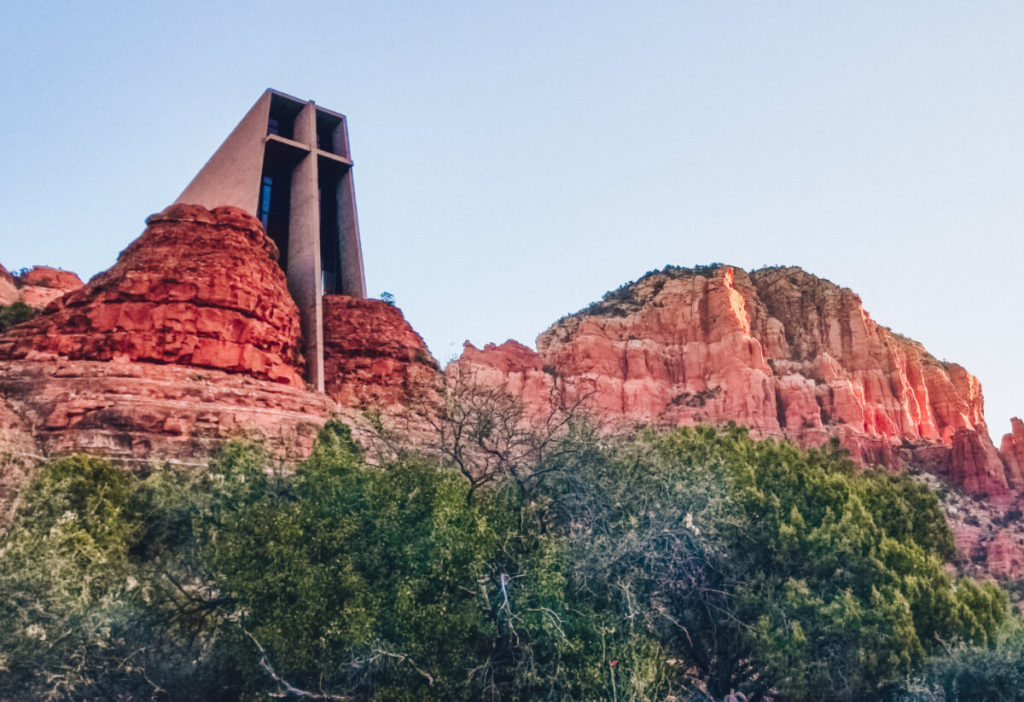 The Chapel of the Holy Cross is a Catholic church built right into the sides of Sedona's red rock cliffs. The church was built in 1957 on land that is part of the Coconino National Forest.
In 2007, the Chapel of the Holy Cross was designated as one of the Seven Man Made Wonders of Arizona through a statewide election.
Today, the chapel is primarily a tourist destination admired for its impressive architecture. Whether you are religious or not, the chapel is worth a visit.
The Chapel of the Holy Cross is open daily from 9:00 a.m. to 5:00 p.m. A prayer service is held every Monday at 5:00 p.m. Admission is free of charge.
Sedona Airport Scenic Lookout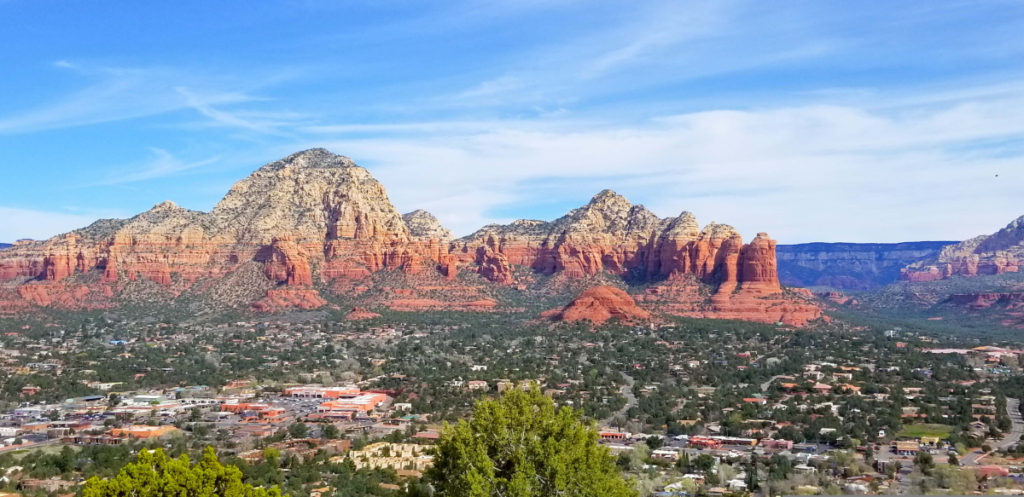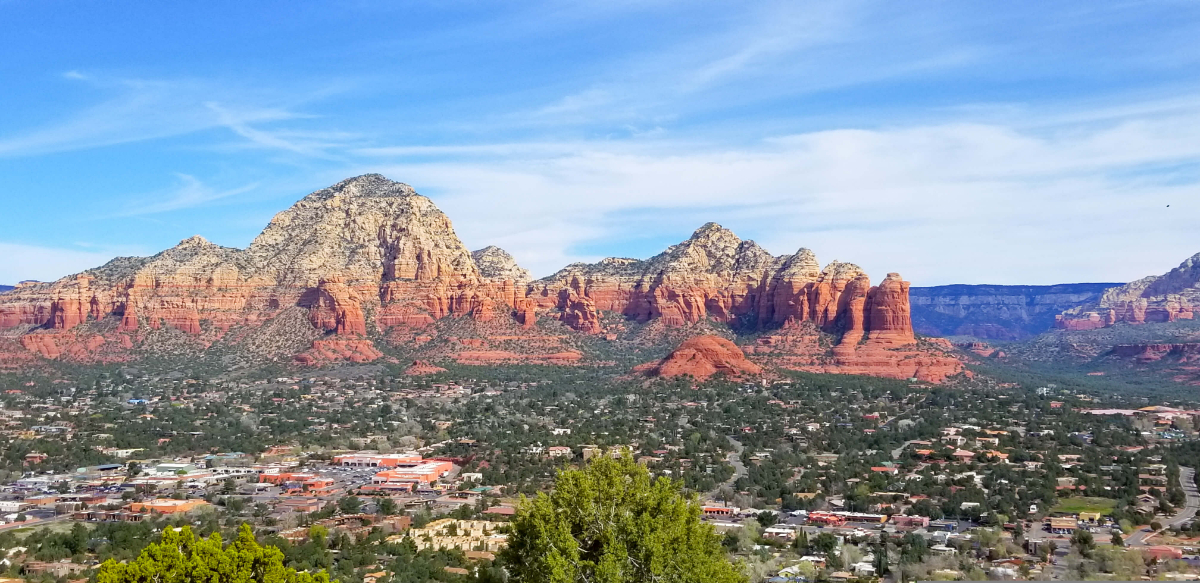 The Sedona Airport Scenic Lookout is a popular destination for both tourists and locals for several reasons.
First, the views from the hilltop are beautiful. You can see the surrounding town with massive red rock formations in the background.
Second, the hilltop is the perfect vantage point for sunrise and sunset. If you're looking for a beautiful place to catch the sunrise or sunset, this is it. Many others agree, so you'll likely have to share the spot.
Finally, there are several hiking trails around the area popular with those looking for the nearby Airport Mesa Vortex. More on that below.
Red Rock State Park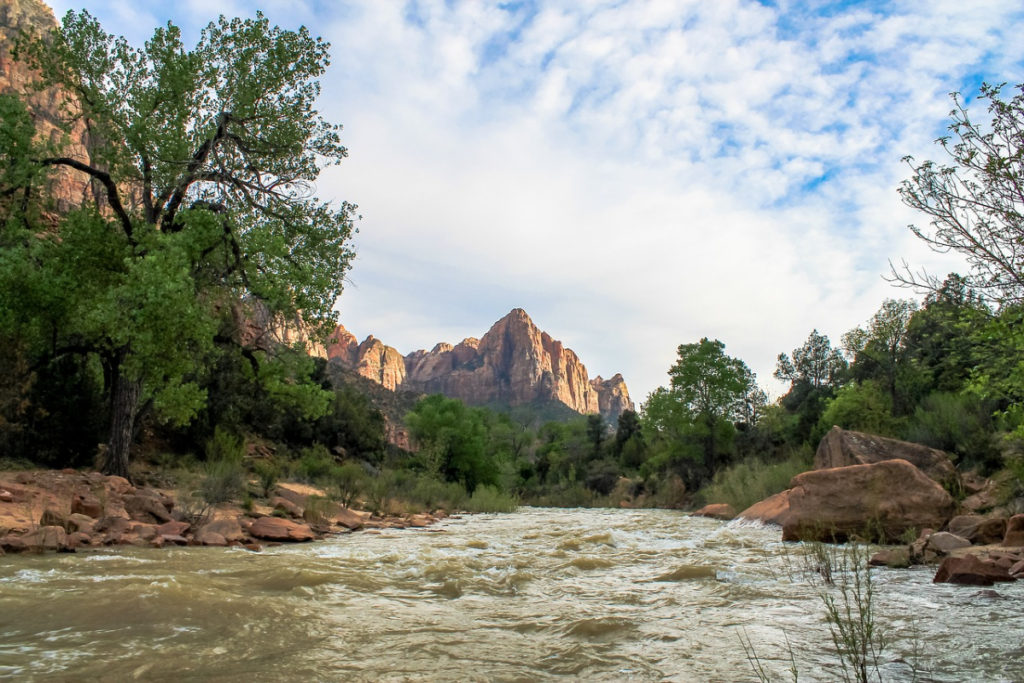 Located just 20 minutes south of Sedona is Red Rock State Park. This 286 acre nature preserve features red rock formations, a creek, and trails for hiking, biking, and horseback riding.
Mountain biking is also extremely popular on the park's trails. Those interested in mountain biking will find bike rentals in and around Sedona if you don't have your own.
If you happen to be into birds, the park is also home to a large number of bird species.
You can find more information on the parks various activities in the park's visitor center. The Park is open daily and admission is $7 per adult.
Tlaquepaque Arts and Crafts Village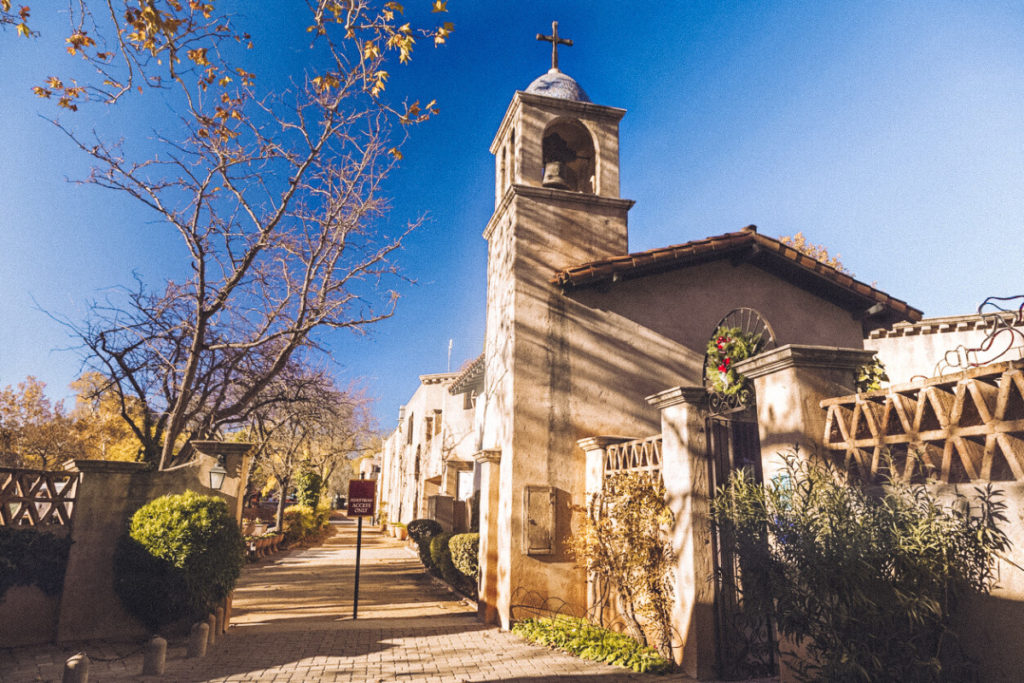 If you're looking to do any shopping during your one day in Sedona, make your way over to the Tlaquepaque Arts and Crafts Village.
Here you'll find dozens of shops selling everything from locally inspired fine art, jewelery, clothing, and specialty items.
There are also several restaurants in the village serving everything from Mexican cuisine to local wine to ice cream.
Tlaquepaque Arts and Crafts Village is open daily from 10:00 a.m. to 6:00 p.m. The restaurants are typically open later but hours vary.
Vortex sites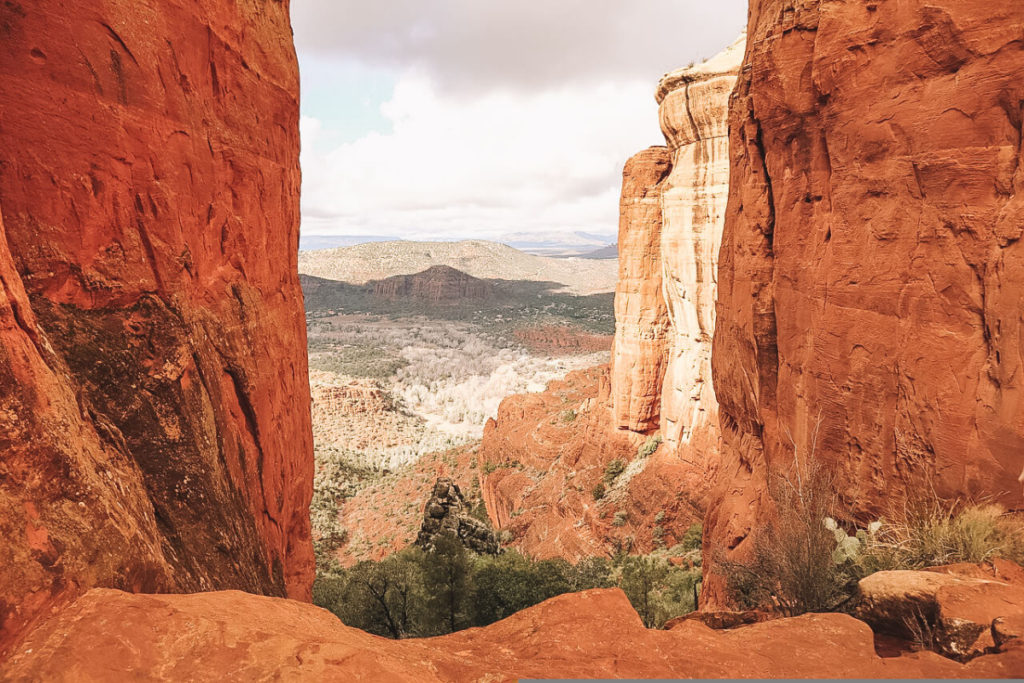 A vortex is thought to be a center of swirling energy that benefits healing, meditation, and self exploration. There are multiple vortices in Sedona and people come from near and far to experience them.
While technically the entire city of Sedona is considered an energy vortex, there are a handful of locations considered to be more powerful.
Here are the most popular energy vortex sites in Sedona:
Airport Mesa
Cathedral Rock – Red Rock Crossing
Bell Rock
Boynton Canyon
I have personally visited all of the above vortex sites except for Bynton Canyon. I am not sure about the spiritual healing effects, but the views are more than worth the effort to visit.
If you're interested in learning more about the vortex sites in Sedona, I recommend taking the Sedona Vortex Jeep Tour. On the tour you'll learn all about the vortices and exactly where to find them.
Elote Cafe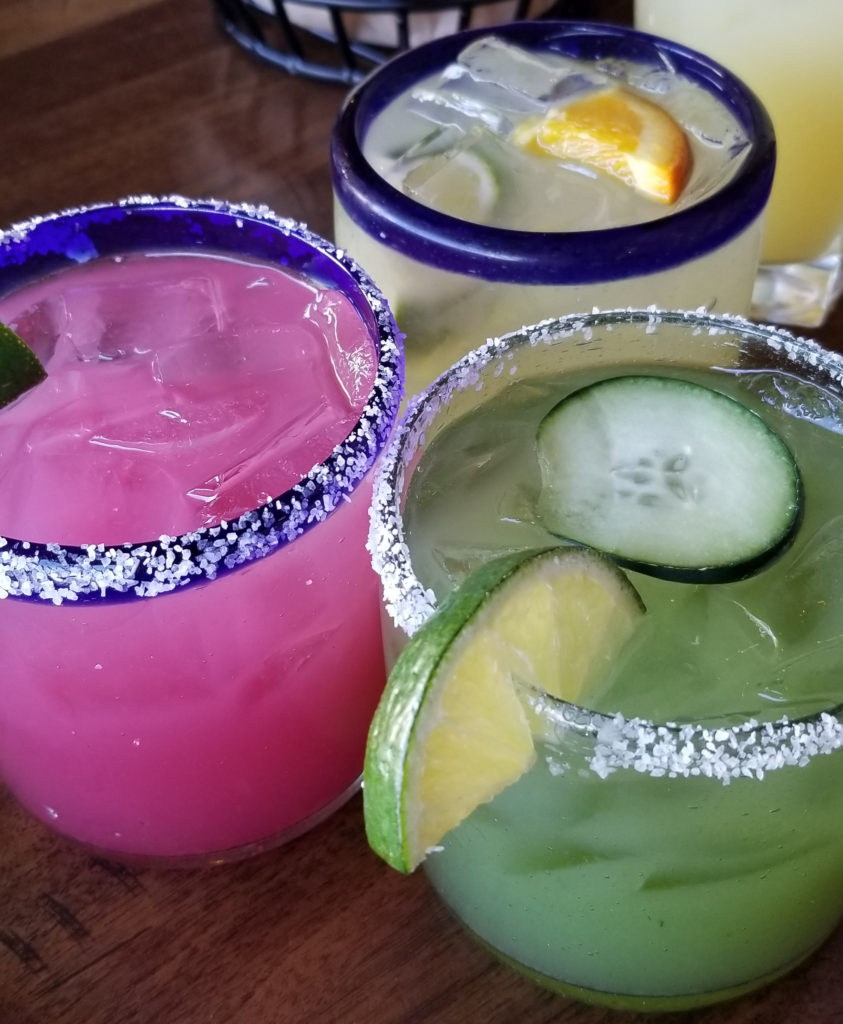 Elote Cafe is one of the most famous restaurarants in Sedona. The restaurant serves fresh, authentic southern Mexican meets American southwest cuisine overlooking the red rocks of Sedona.
The restaurant's chef, Jeff Smedstad, spent 20 years traveling through Oaxaca, Veracruz, Puebla, and the American southwest. It is from these travels where he sought inspiration for Elote Cafe's exceptional menu.
I highly recommend the Elote appetizer and Prickly Pear Mezcal Margarita. I honestly don't think you'll be disappointed with any of your selections, it's all really good.
Travel Tip: The wait for a table can get long in the evening. People will often line up outside the door before they open. Don't let that stop you. Just enjoy some cocktails at the bar while you wait. I believe they are also taking reservations through Open Table.
Elote Cafe is open Tuesday through Saturday from 5:00 p.m. until close.
Stargazing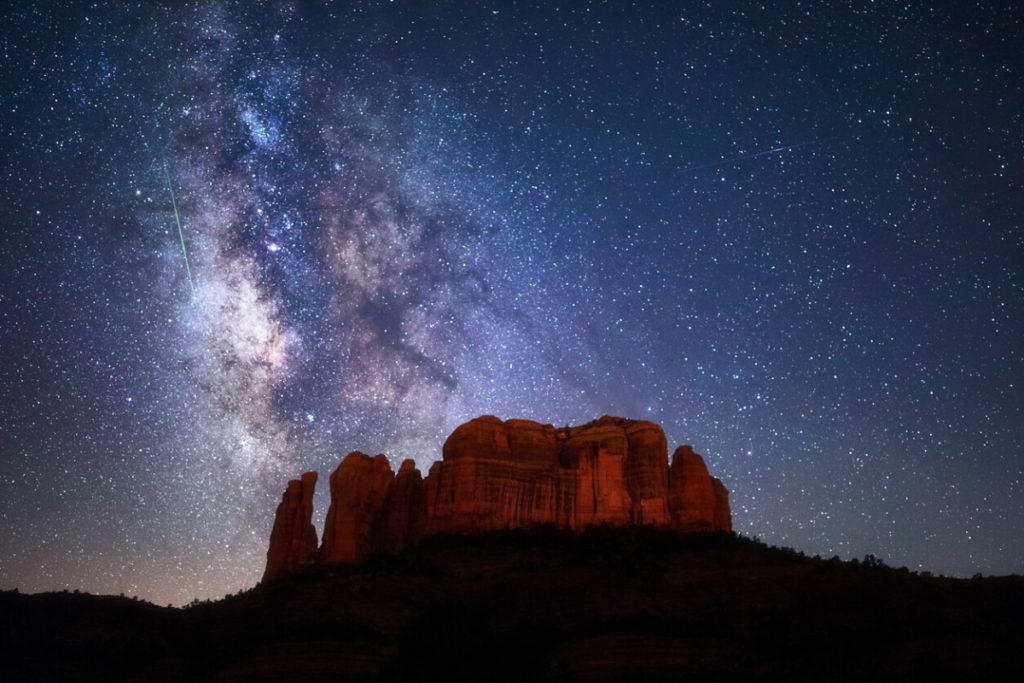 Sedona is one of the best places in the world for stargazing. In fact, in 2014 the city received its official designation as the 8th International Dark Sky Community from the International Dark Sky Association.
Fancy title aside, the desert in and around Sedona gets really dark with very little light pollution. So if you're lucky enough to be visiting on a clear night, be sure to step outside to enjoy the stars in the night sky.
For the best stargazing opportunities, plan your visit between September and June. July and August are the rainiest months with the most cloud cover, so you'll limited clear skies if you visit then.
Some of the most popular spots for stargazing in Sedona are:
Two Trees Observation Area
Turkey Creek Trailhead
Dry Creek Road
Boynton Canyon Trailhead
Crescent Moon Picnic Site
If you prefer to have a guide while stargazing, there are several stargazing tours offered in Sedona as well.
Day trips from Sedona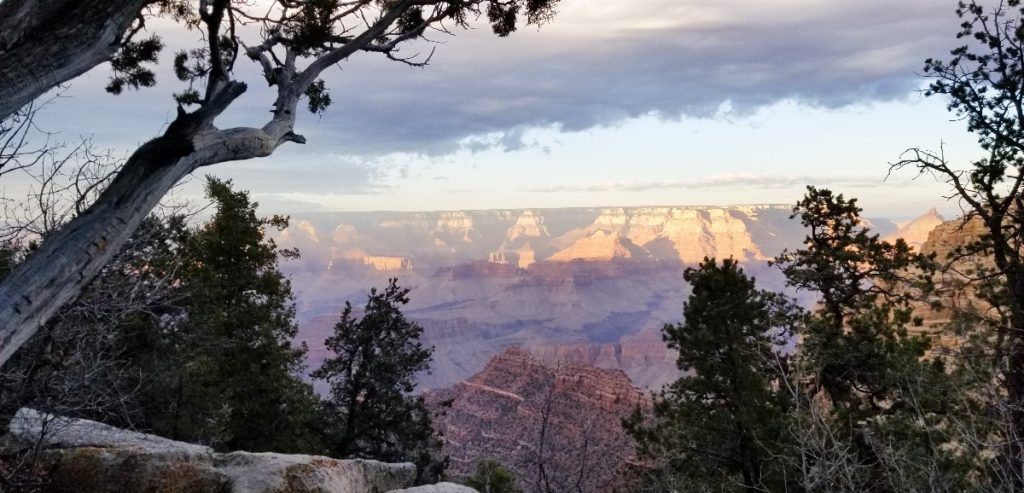 If you're looking for ideas on where to head next, here are a few popular options for day trips from Sedona:
Grand Canyon – Driving time is about 2 hours 10 minutes
Phoenix – Driving time is about 2 hours
Scottsdale – Driving time is about 2 hours
Antelope Canyon and Horseshoe Bend – Driving time is about 3 hours 30 minutes
Las Vegas – Driving time is about 4 hours 30 minutes
Zion National Park – Driving time is about 4 hours 45 minutes
I hope you've enjoyed this Easy Sedona in One Day Itinerary. If you'd like to support this blog please consider sharing this post. Thanks for reading.
If you're looking for the best wineries in Sedona then you've come to the right…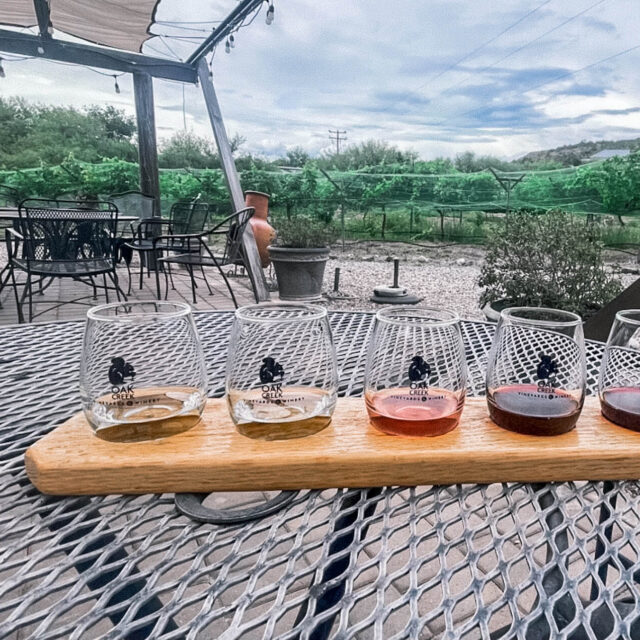 Book Your Trip
Find the best flight deals by using Google Flights, then book direct with the airline. This is the search engine I use to compare flights and prices before booking my own trips.

BOOK YOUR ACCOMODATION
I recommend searching for hotels through Booking.com to compare hotels on amenities, location, and price. If you are a member of a hotel's rewards program, always book direct with the hotel. If you are not loyal to a specific hotel brand, using Booking.com for the best price.

TRAVEL INSURANCE
Travel insurance is more important than ever. For just a few dollars a day you can protect yourself and your trip. I personally use World Nomads, but whomever you choose, don't skip out on travel insurance. It can literally save you thousands of dollars.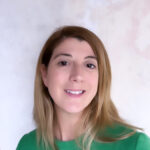 Eden Fite
Part-time Traveler | Dog Lover | Avoider of Crowds
I help busy people find creative ways to travel more.