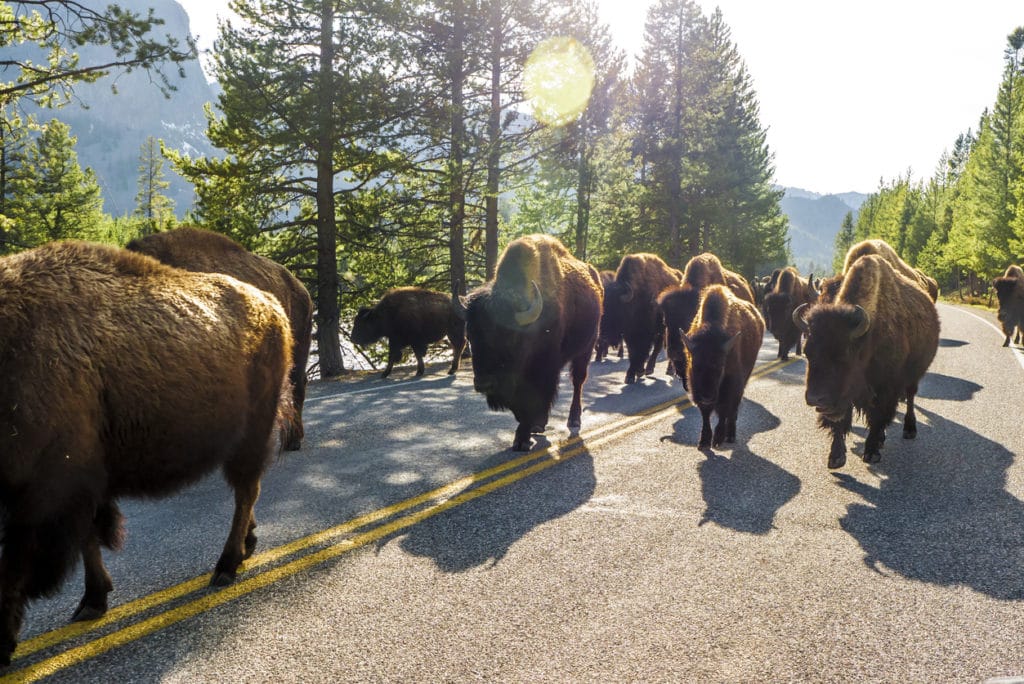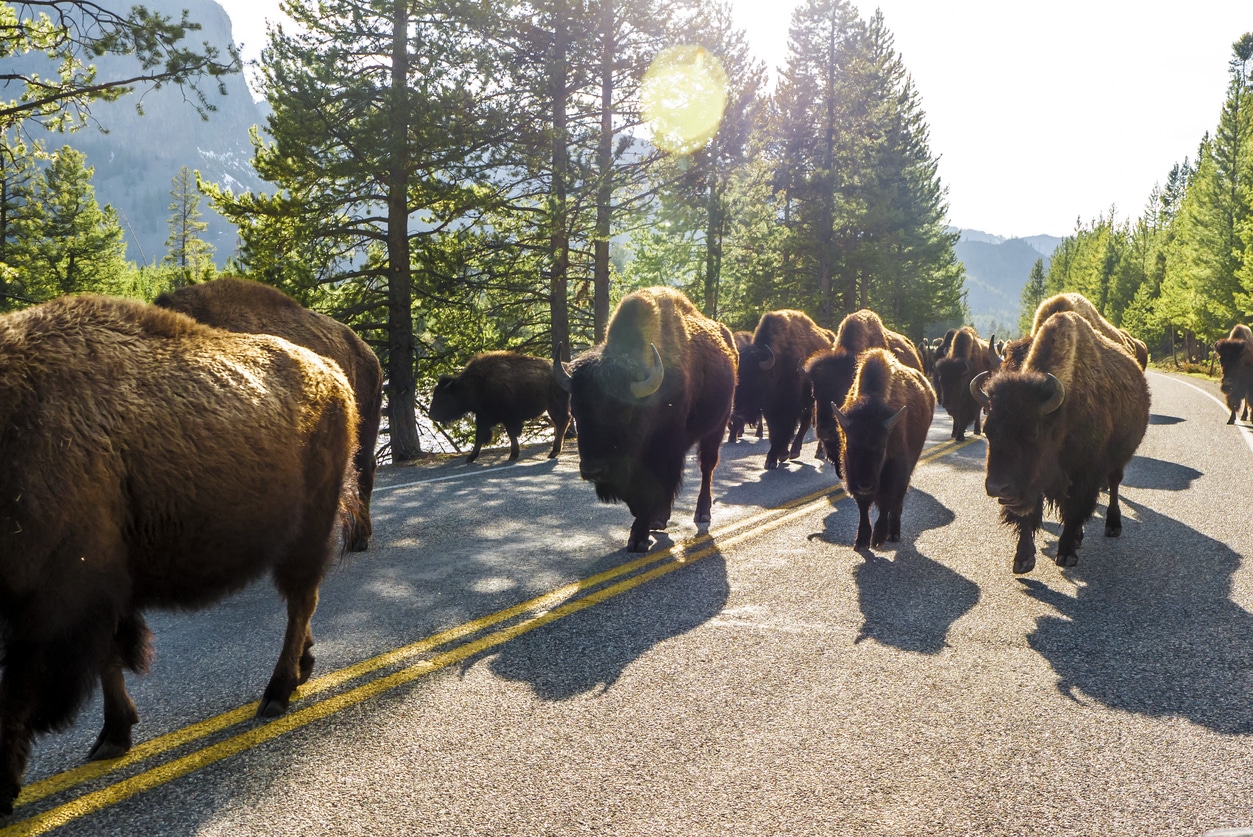 Yellowstone National Park has been delighting visitors with its stunning scenery and impressive wildlife since 1872.
Yellowstone is known for it's herds of bison, natural hot springs, pristine lakes and rivers and of course, the Old Faithful geyser.
If you're lucky enough to be making the drive from Montana, this Billings to Yellowstone road trip will take you along the famous Beartooth Highway.
This 68 mile stretch of highway runs from Red Lodge, Montana to just outside the northeast entrance of Yellowstone National Park.
For those not from the United States, Yellowstone is located in the American west in the northwest corner of the state of Wyoming.
At more than 3,400 square miles, there's plenty of ground to cover on this Billings to Yellowstone road trip. So get excited, you're about to have an incredible time.
Yellowstone Road Trip Details
This Billings to Yellowstone road trip begins in Billings, Montana and ends at the Old Faithful geyser in Yellowstone National Park.
The road trip can last as long as you want it to, but it's possible to complete as a day trip if you keep moving at a reasonable pace. I did this same Yellowstone road trip myself, leaving from Billings at 7:00 a.m. and ending at Old Faithful around 5:30 p.m.
At the conclusion of the road trip, you can leave the park from whichever exit you choose, or stay the night inside the park and explore more the next day.
A word of warning, lodging is Yellowstone is expensive and you'll likely need to book months in advance. I'll offer some ideas on where to find more affordable lodging at the bottom of this post.
A quick word on navigation. Most guests will be able to use Google Maps to navigate their way through the park. To be safe, have your Google Maps already up and running before you enter the park so you're not trying to load anything in the event reception is weak.
The stop names included in this road trip can be found by searching in Google Maps.
In the event that you have no reception inside the park, you can always just use the park map provided to you at the ranger station when you paid your entrance fee. 
These park maps are always free and include enough detail to get you where you want to go.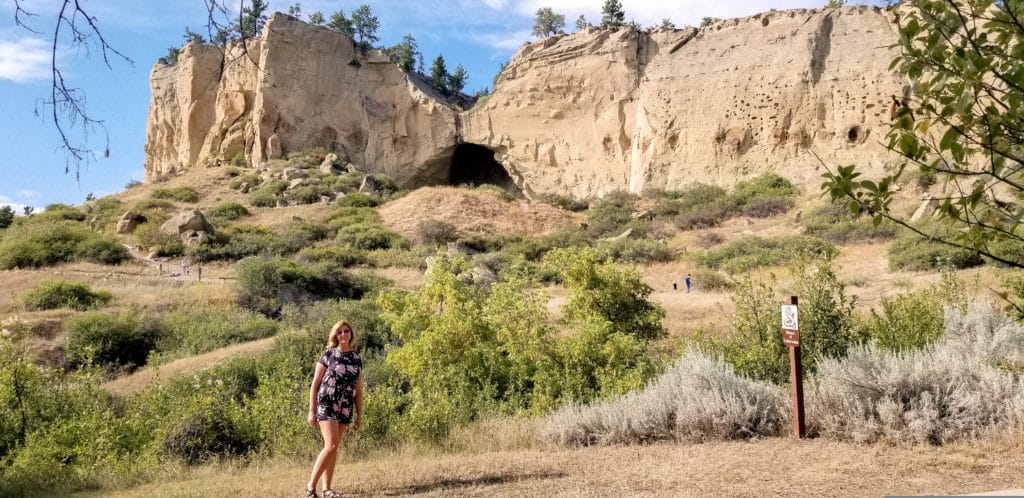 Stop 1: Billings, Montana
Before you depart from Billings, make sure you spend some time exploring the city. Billings has a fun downtown district where you can find local coffee shops, restaurants, and bars. In fact, there are several breweries in the small downtown area, so consider a DIY brewery tour while you're in the area.
If you're looking for a place with good food for dinner and drinks, I recommend Last Chance Pub. Their burgers, salads and ciders are fantastic, making this the perfect last stop on your brewery tour.
Some of the best things to do in Billings MT are found outdoors. There are several parks dotting the city providing various activities. You can even try fly fishing along the Yellowstone River.
If you're into history and art, consider visiting the city's Yellowstone Art Musuem, or heading over to Pictograph Caves State Park with pictographs dating back about 2000 years.
If you like wine tasting as much as I do, head over to Yellowstone Cellars and Winery. They have a large tasting room where you can sample a flight or simply enjoy a glass or two (or three). The owners and staff are really friendly, so don't be shy about striking up a conversation.
Don't forget to buy a bottle or two for the road, you can thank me later.
Next Stop: Red Lodge, Montana
You can get to Red Lodge by heading southwest along Highway 212. The drive will take approximately 1 hour and 10 minutes.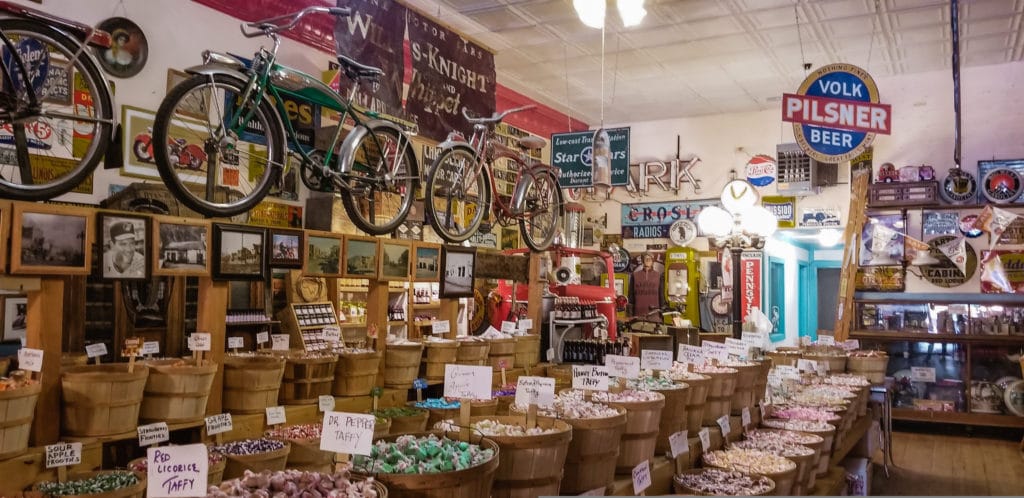 Stop 2: Red Lodge, Montana
You'll come across the small town of Red Lodge, Montana about an hour south of Billings.
The highway runs right through the center of the town, so it's a convenient stop with plenty of options for snacks or a restroom break.
Red Lodge is home to a candy shop, cafes, pizza parlors, and ice cream shops. There's even a saloon if you're so inclined.
I can personally recommend Coffee Factory Roasters for fresh coffee, lattes, and bagels. They roast their own coffee in house and have hot toasted bagels which are perfect for enjoying in the car.
If you'd like to get some fun snacks for the road head across the street to the Montana Candy Emplorium. It's an old time candy store with an impressive variety of candy, from tootsie rolls to root beer barrels, to homemade fudge. It's worth a stop, trust me.
Next Stop: Yellowstone National Park
You can get to Yellowstone National Park's northeast entrance by taking the Beartooth Highway south of Red Lodge. The drive will take approximately one hour and 20 minutes.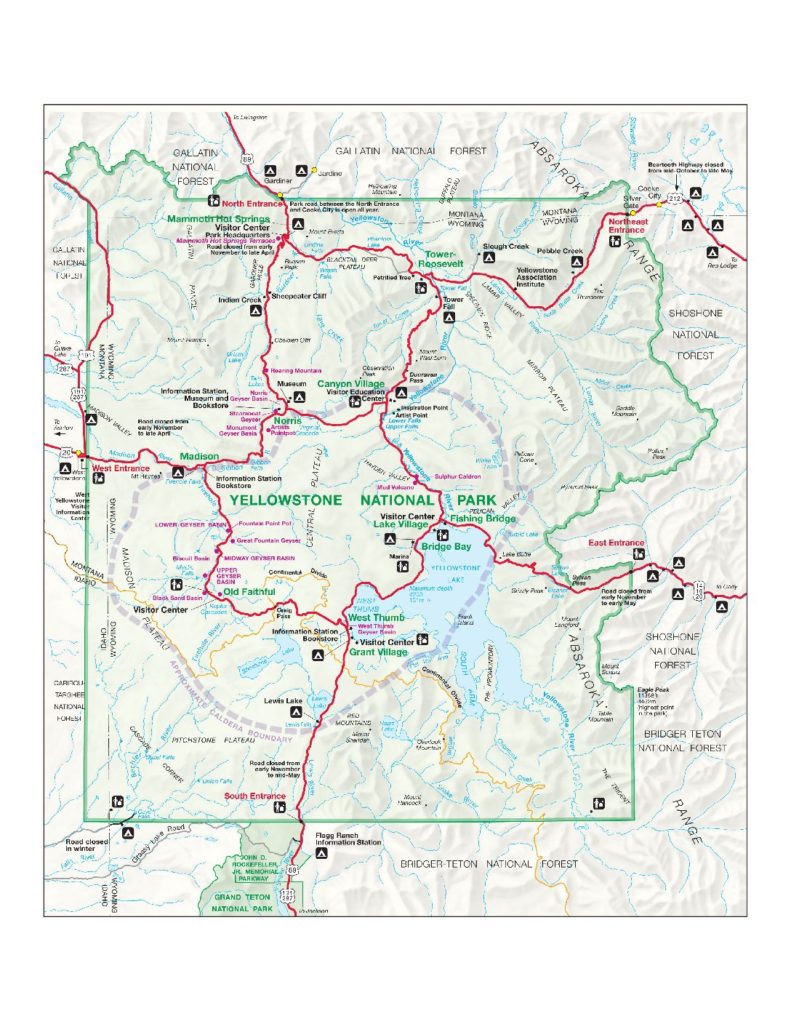 Yellowstone Park Map
I'm including a map of Yellowstone here so you can get an idea of where you'll be as you enter the park. You'll enter at the top right corner of the map from the park's Northeast Entrance.
Looking at the map you can see the road inside the park is shaped like the number 8, or two circles stacked on top of each other. This Billings to Yellowstone road trip will take you through the majority of both circles, starting out along the northernmost route.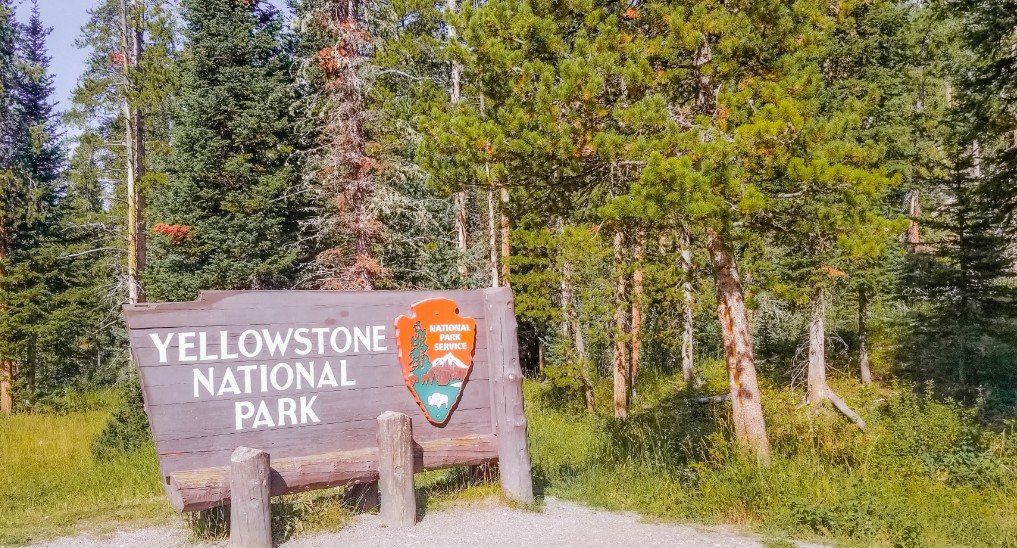 Stop 3: Yellowstone Northeast Entrance
Once you officially enter the park you'll be asked to pay a small fee ($25 per vehicle). You'll then be given a parking pass and a large map. Once you pull away from the main gate, proceed southwest along the main park road (Grand Loop Road).
Please be sure to drive slowly through the park at all times. Many of the animals in Yellowstone can be found along the roadways, often crossing them even in the middle of the day.
The animals ALWAYS have the right of way. Do not attempt to go around the animals when they are crossing the road. You are expected to stop and wait until they have fully crossed the road.
Next Stop: See the Bison
To get to the area where you can see the bison, you'll continue heading southwest along the park's northernmost road.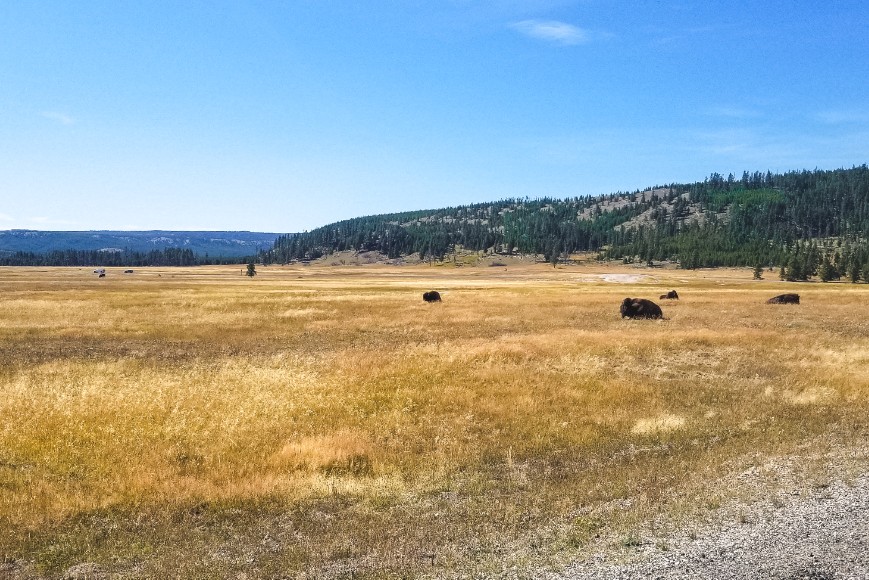 Stop 4: Pull over to see the bison
After about 20 minutes you'll arrive at an area called Lamar Valley. This is the time to keep an eye out for local wildlife, especially bison.
It is estimated there are about 5,000 bison in Yellowstone National Park. They travel in herds, so you'll always find several moving together.
It is common to see bison along the roadways in Yellowstone, and you'll want to give them their space. Male bison can weigh anywhere between 1,000 to 2,200 pounds, so you do not want to get caught blocking their path.
Many visitors will pull over to the side of the roadway to view the bison. You're welcome to get out of your vehicle if you're not blocking the road, just be sure to keep a distance of at least 25 yards (75 feet) between you and the animals.
Also, do not think you can outrun a bison just because of their massive size. Bison can run about three times faster than humans. This is a battle you will not win. Be respectful and keep a distance.
Next Stop: Mammoth Hot Springs
You'll find the Mammoth Hot Springs along the northwest corner of the park about an hour or so from the northeast entrance.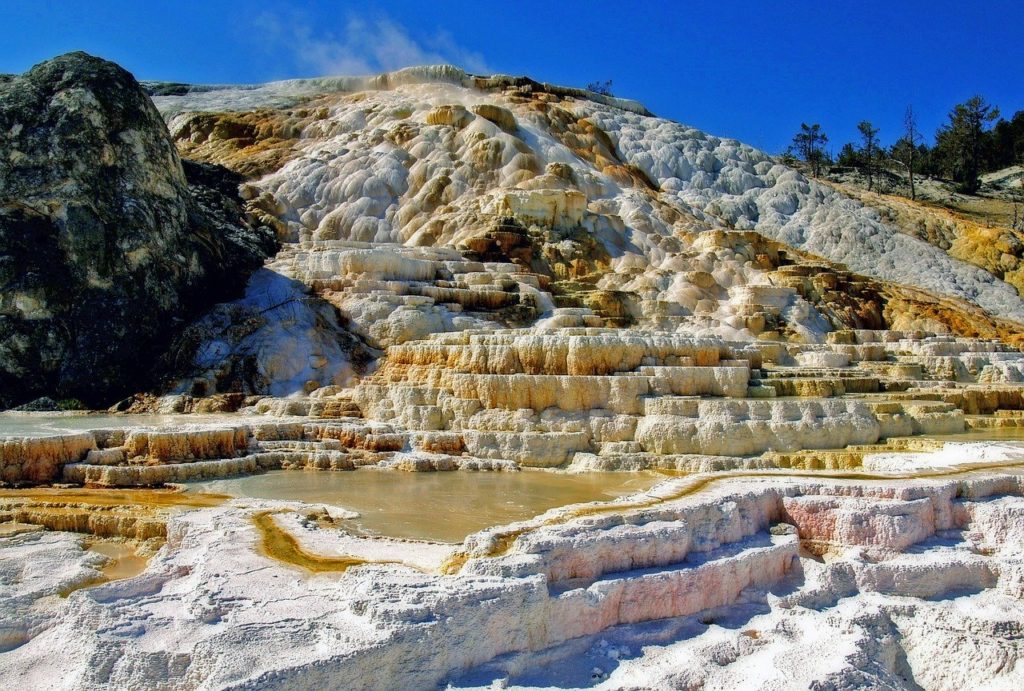 Stop 5: Mammoth Hot Springs
The Mammoth Hot Springs are a geothermal area created by a volcanic explosion that occured over 600,000 years ago.
The Mammoth Hot Springs are often described as looking like an inside out cave, or like tiered pools of water cascading down a hillside.
Visitors can view the approximately 50 hot springs from either the upper or lower boardwalk. Be sure not to step off the boardwalk as you're viewing the hot springs as the average water temperature is around 160 degrees Farenheit.
Next Stop: Obsidian Cliff
You can get to Obsidian Cliffs in west Yellowstone by driving south along the park's main road from Mammoth Hot Springs. The drive will take approximately 20 minutes.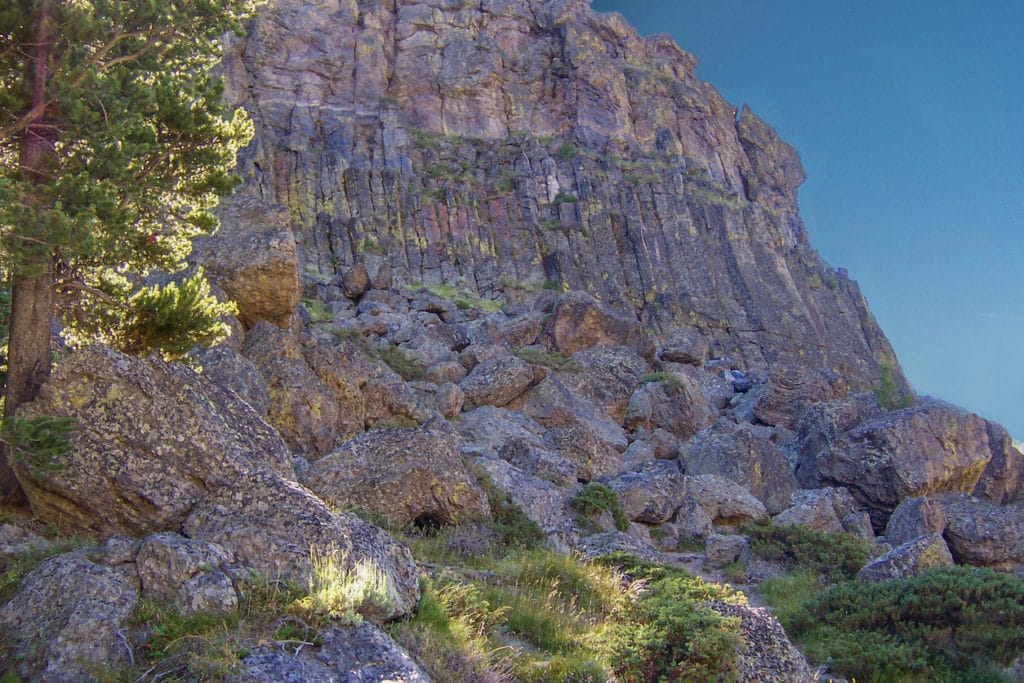 Stop 6: Obsidian Cliff
Obsidian is a naturally occurring volcanic glass formed when felsic lava extruded from a volcano cools rapidly with minimal crystal growth.
According to the National Park's website, Obsidian was first quarried from this cliff for toolmaking more than 11,000 years ago.
It is also the United States' most widely dispersed source of obsidian by hunter-gatherers and has been found along trade routes from western Canada to Ohio.
The Obsidian Cliff was designated a National Historic Landmark in 1996.
Next Stop: Grand Canyon of the Yellowstone
Next you'll continue south along Grand Loop Road until you hit Norris Canyon Road. Here you'll turn left to cut across the park heading east.
When you reach Grand Loop Road (remember it circles around the park) you'll make another right. Take Grand Loop Road South to Rim Road where you'll make a left.
The drive from Obsidian Cliff to the Grand Canyon of the Yellowstone is approximately 35 minutes.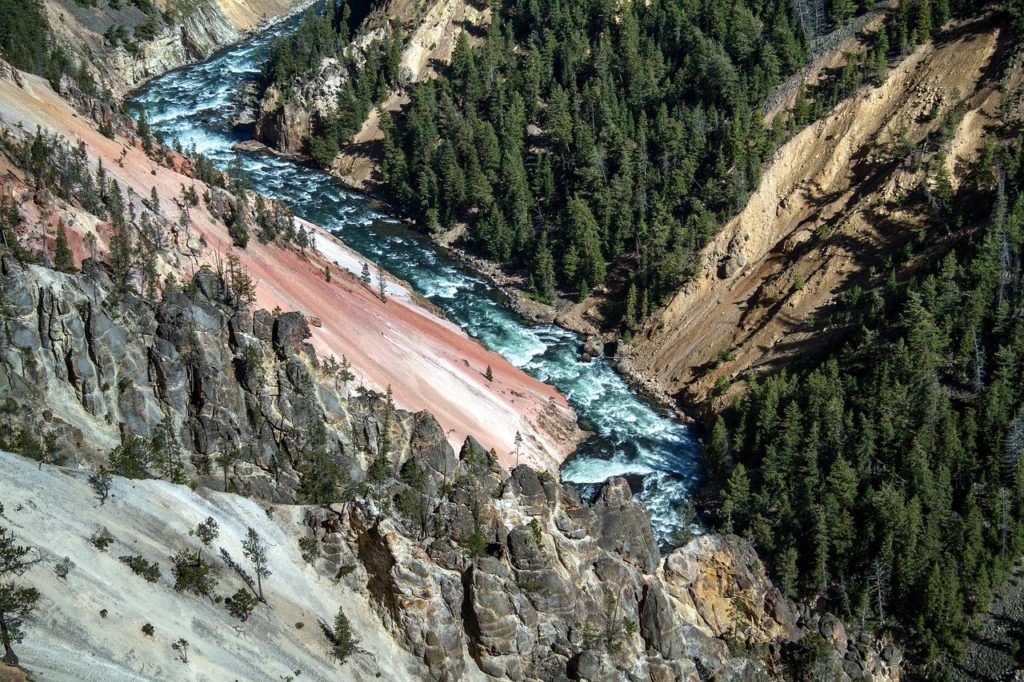 Stop 7: Grand Canyon of the Yellowstone
The Grand Canyon of the Yellowstone was formed over hundreds of thousands of years of volcanic and geothermal activity. Today, its steep canyon walls and dramatic colors make it one of the most popular destinations in the park.
The Grand Canyon of the Yellowstone is over 1000 feet deep and 20 miles long. Two waterfalls can be seen cascading down the sides of the canyon, the upper falls, and lower falls.
Visitors to the park can view the canyon from a variety of overlooks. There are also a number of trails and walkways that wind along the rims and down pathways into the canyon.
You'll see several overlook points along Rim Road where you can get different views of the canyon. I recommend stopping at them all. Then head out to Inspiration Point (about a 7 minute drive) before turning back around.
Next Stop: Mud Volcano
From Inspiration Point you'll make your way back east along Rim Road to Grand Loop Road. You'll make a left on Grand Loop Road and head south about 25 minutes to Mud Volcano.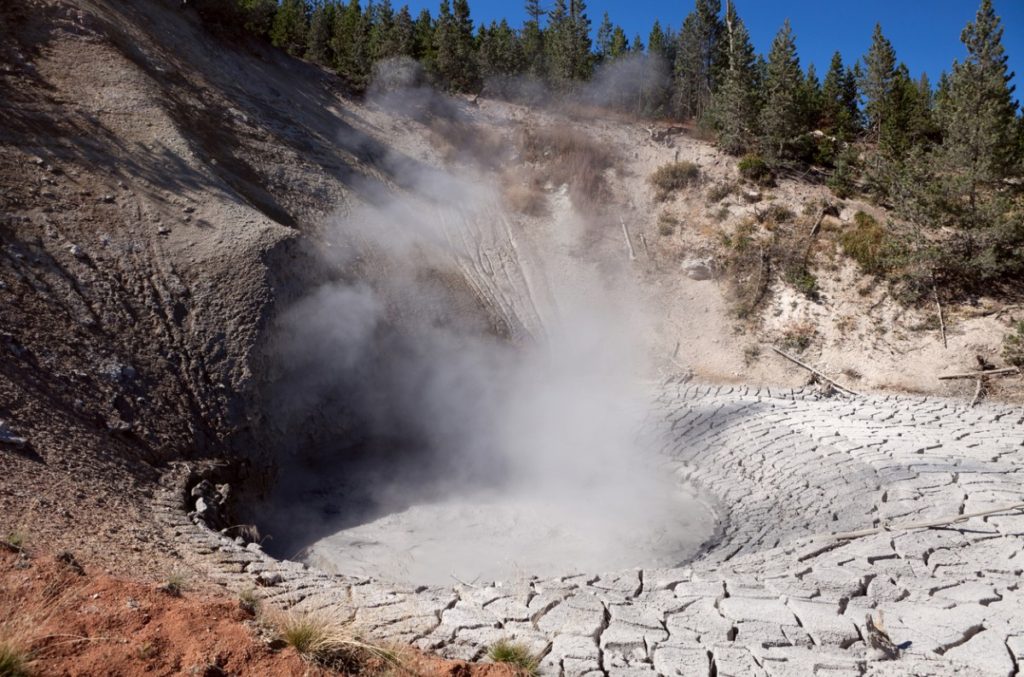 Stop 8: Mud Volcano
Mud Volcano is yet another geothermal area inside Yellowstone National Park. This is essentially an area of muddy hot springs located next to a volcano vent.
You can wander along the various paths in this area to see several points of interest including the Mud Cauldron, Mud Geyser, Churning Cauldron, Black Dragon Cauldron, Grizzly Fumarole, Mud Volcano, and Dragon's Mouth Spring.
Be sure to read the signage along the various paths to learn about the significance of each area.
Next Stop: Yellowstone Lake
You'll arrive at Yellowstone Lake after driving about 11 minutes south along Grand Loop Road. When you hit the lake, make a right to drive along the north side of the lake heading west towards the Bridge Bay Marina parking area.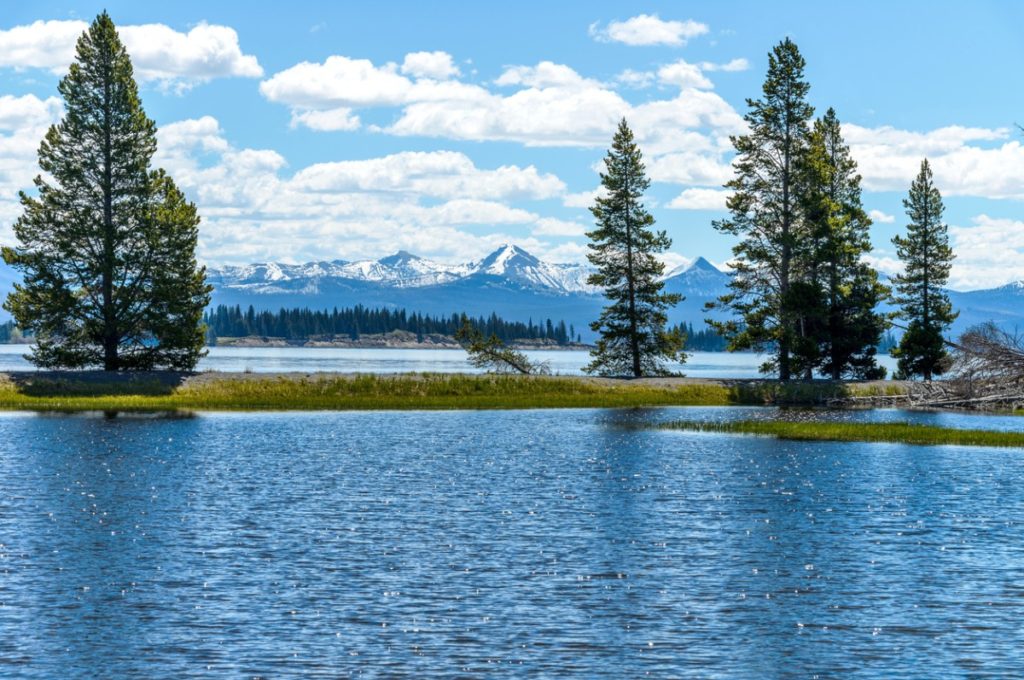 Stop 9: Yellowstone Lake
Yellowstone Lake is the largest body of water in Yellowstone National Park and covers 136 square miles. It's pristine and beautiful making it a nice place for a walk and to just enjoy the view.
The lake is also a popular place for boating. You can find Yellowstone Lake boat rentals at Bridge Bay Marina. From the marina you can join a scenic cruise around the lake, join a guided fishing cruise, or rent your own boat. Rates for rental boats start at $59 per hour.
Next Stop: Upper Geyser Basin
From Yellowstone Lake you'll continue west on Grand Loop Road to Upper Geyser Basin. The drive will take approximately one hour. Feel free to make stops along the way if anything catches your eye.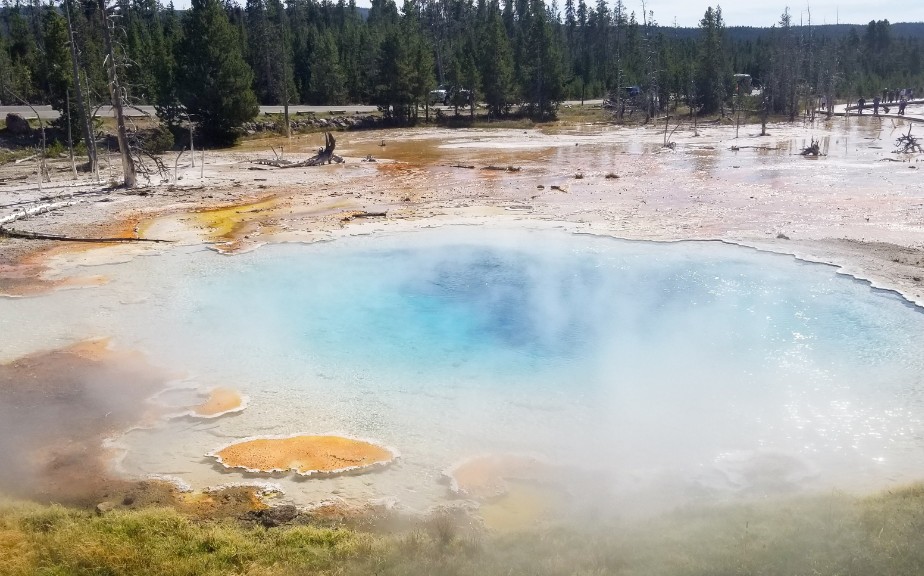 Stop 10: Upper Geyser Basin
Upper Geyser Basin was one of my favorite stops inside Yellowstone. This is where you'll find the Old Faithful Geyser, but the area is also dotted bright blue geothermal pools.
This is the perfect stop for photographers as the contrast of colors is spectacular.
Visitors to Upper Geyser Basin can enjoy this stunning geothermal area by walking along the cement paths and boardwalk trails that surround the area. There is signage along the way that will provide information related to the history of the area.
Upper Geyser Basin is home to not only the most geysers in the world, but also some of the largest geysers in the world.
For visitors interested in a hike around the area, consider taking the Upper Geyser Basin Trail. This is a 2.1 mile hike that will lead you past Old Faithful, Castle, Grand, Daisy and Riverside Geysers.
I recommend saving your viewing of the Old Faithful Geyser for the end of your hike around Upper Geyser Basin. I think it makes the perfect end to your Billings to Yellowstone Road Trip.
Next Stop: Old Faithful Geyser
Once you've finished exploring the Upper Geyser Basin, walk back to the Old Faithful Geyser and grab a seat while you wait for the next eruption.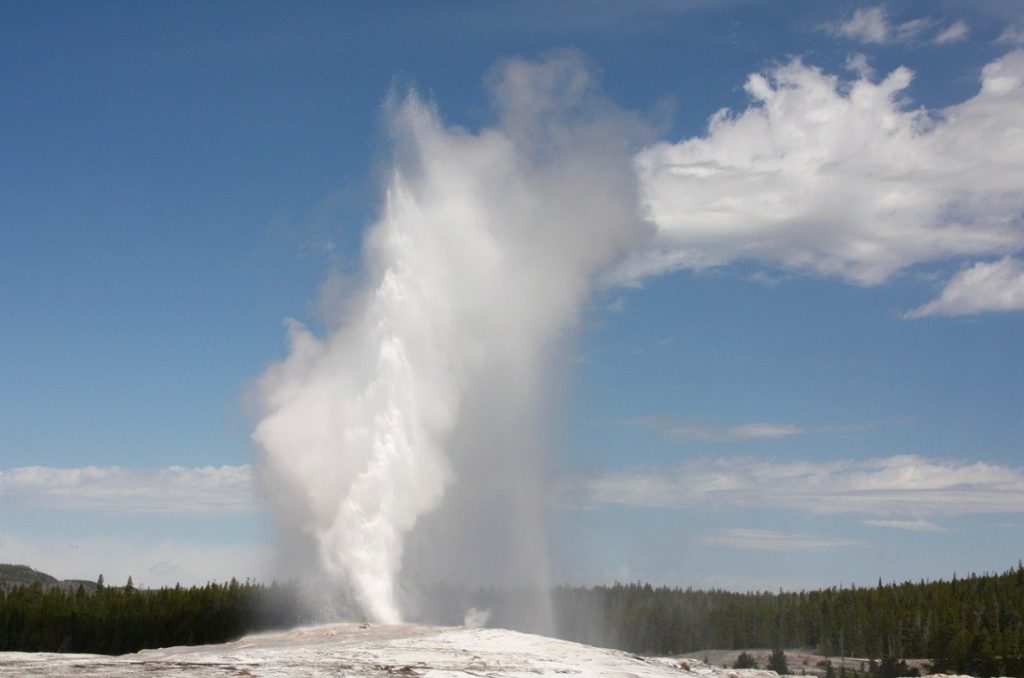 Stop 11: Old Faithful Geyser
The Old Faithful Geyser is the most popular attraction in Yellowstone National Park.
You can find the Old Faithful Geyser in Upper Geyser Basin in the southwest corner of the park. Visitors will find a Visitor Center, large parking area, a seating area around the geyser, souvenir shops, and a few restaurants.
There are prediction times posted in most of the buildings in this area so you can time your viewing of the eruption of the Old Faithful Geyser.
Currently, Old Faithful erups about 20 times per day with the intervals falling anywhere from 60 to 110 minutes apart. The height of the eruptions will vary anywhere from 100 to 180 feet, but average around 130 to 140 feet high. Eruptions will last anywhere from 1 minute and 30 seconds to up to five minutes.
When you first arrive at the Visitor Center, I recommned checking the next predicted eruption time and then plan accordingly. You can wander around the shops or grab something to eat. I personally recommend picking up an ice cream cone to enjoy while you await the next eruption.
Be sure to have your camera ready, as the eruption will come without warning.
Where to stay in Yellowstone
As I mentioned earlier in this article, there are several hotels inside Yellowstone National Park. However, they can be expensive and are often booked up months in advance.
Here are the nine lodging options inside Yellowstone:
Roosevelt Lodge Cabins
Old Faithful Snow Lodge and Cabins
Old Faithful Lodge Cabins
Old Faithful Inn
Mammoth Hot Springs Hotel and Cabins
Lake Yellowstone Hotel
Lake Lodge Cabins
Grant Village Hotels
Canyon Lodge and Cabins
All lodging within the park can be booked at the Yellowstone National Park website.
For more reasonable lodging options, consider staying in one of the major cities just outside Yellowstone National Park. Some of your best options are going to be in Billings, Bozeman, Jackson Hole, Idaho Falls, Salt Lake City, or Cooke City.
Since National Park travel is expected to be extremely popular this year, I encourage you to begin making your hotel reservations now.
Don't forget to check those hotel reviews before booking that reservation. Hotels with extremely low prices near Yellowstone should be suspect.
Distances to Yellowstone National Park from popular nearby destinations
Billings Montana to Yellowstone Northeast Entrance:  2 hours 30 minutes (131 miles)
Bozeman to Yellowstone North Entrance: 1 hours 45 minutes (88 miles)
Jackson Hole to Yellowstone South Entrance: 1 hour 5 minutes (48 miles)
Idaho Falls to Yellowstone West Entrance: 2 hours 6 minutes (117 miles)
Salt Lake City to Yellowstone West Entrance:  4 hours 52 minutes (329 miles)
Las Vegas to Yellowstone South Entrance:  11 hours 36 minutes (753 miles)
Denver to Yellowstone South Entrance:  8 hours 20 minutes (509 miles)
Lincoln to Yellowstone East Entrance:  13 hours 15 minutes (838 miles)
Omaha to Yellowstone East Entrance:  14 hours (893 miles)
Bismark to Yellowstone Park Northeast Entrance:  8 hours 20 minutes (543 miles)
Grand Tetons to Yellowstone Park South Entrance: 1 hour (33 miles)
Where is the closest airport to Yellowstone
There are several airports in the vicinity of Yellowstone National Park, including Billings, Salt Lake City, and Denver. The closest airport to Yellowstone will be in Billings, Montana. The drive from Billings Airport to Yellowstone is about 130 miles, or approximately 2 hours and 30 minutes.
If you'd like to try another one of my favorite road trips, consider heading west to try the Ultimate Yosemite Road Trip. In my opinion, it's one of the most beautiful National Parks in the US.
I hope you've enjoyed this Ultimate Billings to Yellowstone Road Trip itinerary and that it's helped you plan a trip of your own. If you enjoyed this post please consider sharing. It really helps me a lot. Thanks for reading.
Book Your Trip
Find the best flight deals by using Google Flights, then book direct with the airline. This is the search engine I use to compare flights and prices before booking my own trips.

BOOK YOUR ACCOMODATION
I recommend searching for hotels through Booking.com to compare hotels on amenities, location, and price. If you are a member of a hotel's rewards program, always book direct with the hotel. If you are not loyal to a specific hotel brand, using Booking.com for the best price.

TRAVEL INSURANCE
Travel insurance is more important than ever. For just a few dollars a day you can protect yourself and your trip. I personally use World Nomads, but whomever you choose, don't skip out on travel insurance. It can literally save you thousands of dollars.


Want to save it? Pin it.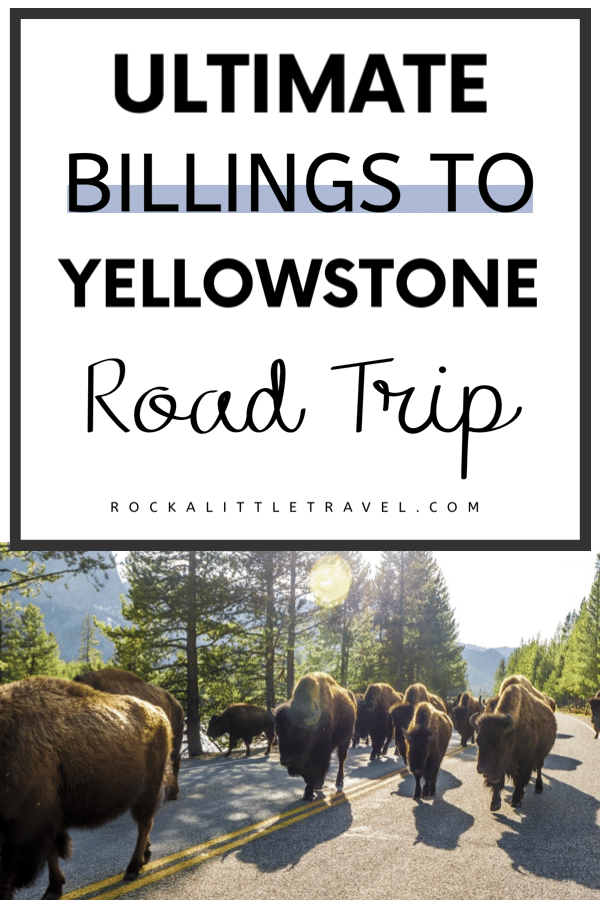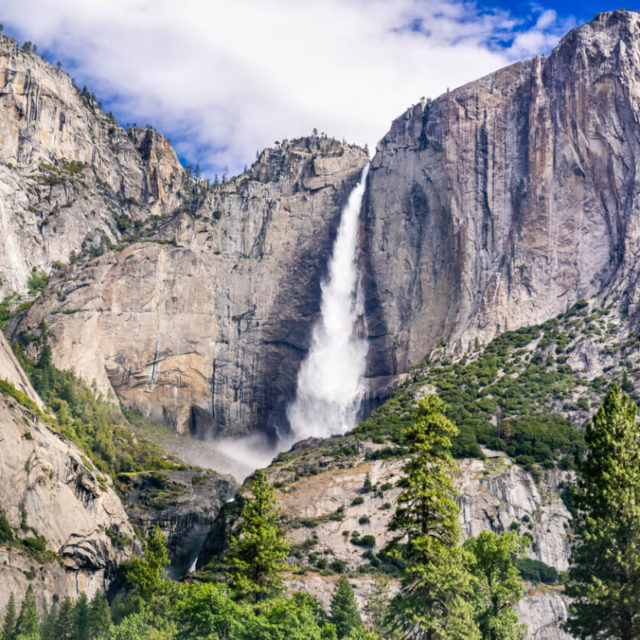 Photo by Andrei Stanescu at iStock When is the best time to visit Yosemite National Park? If you're asking this question, this may be your first …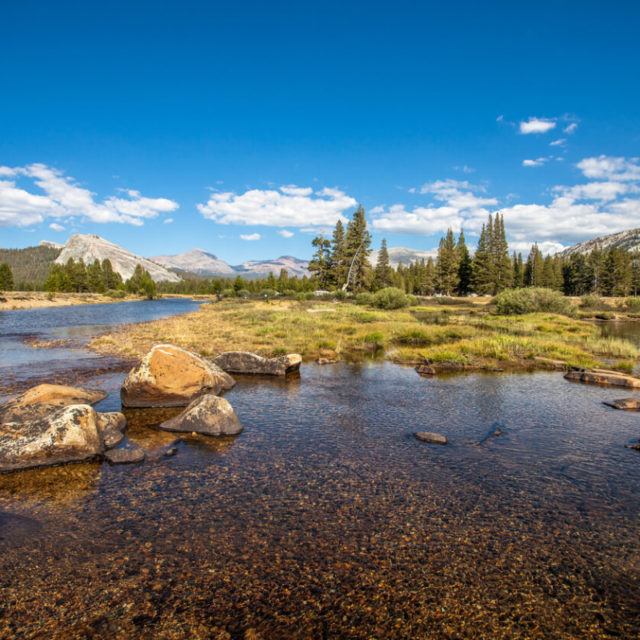 Photo by Pocoloco at iStock Visiting Yosemite is one of my favorite things to do when I'm looking to escape the city life down in Southern …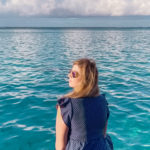 Eden Fite
Part-time Traveler | Dog Lover | Avoider of Crowds
I help busy people find creative ways to travel more.