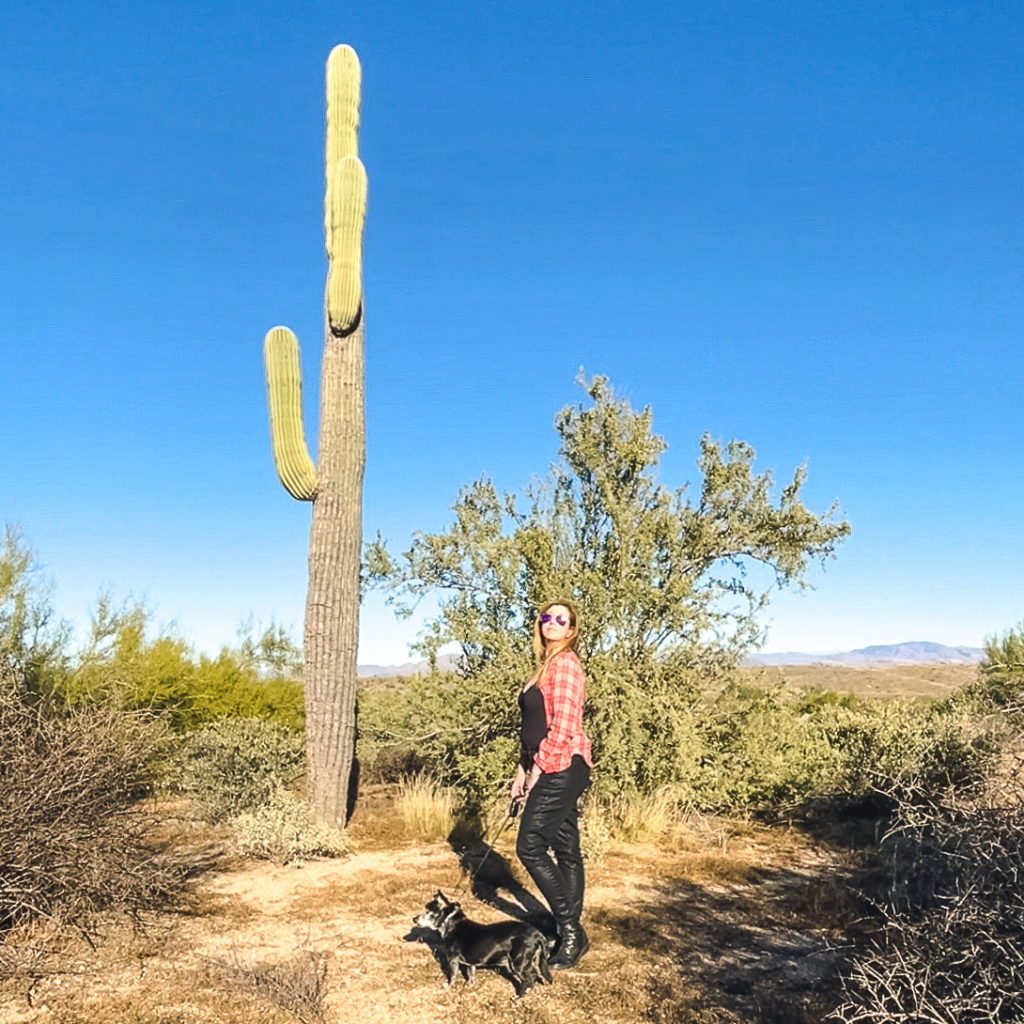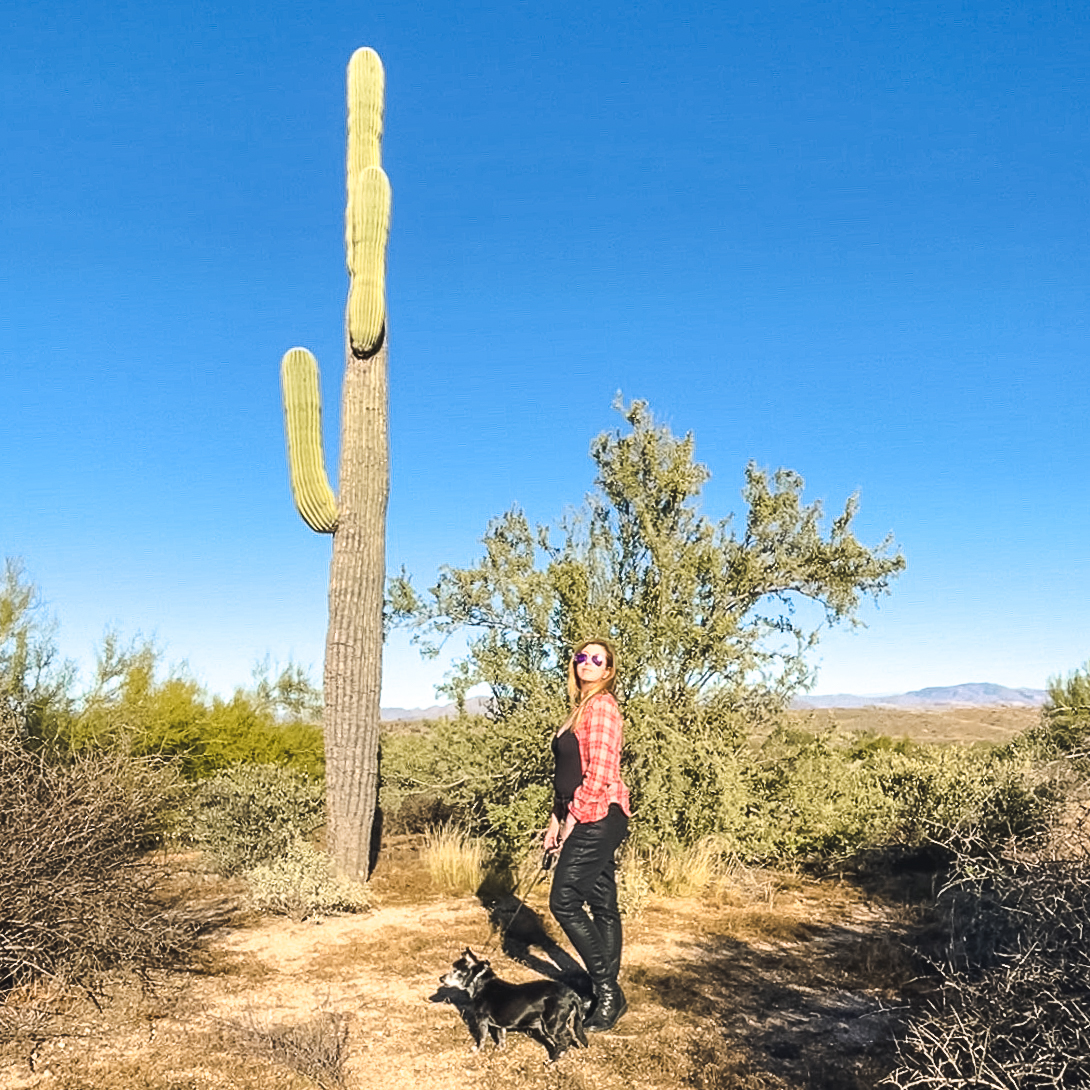 This guide to the best things to do in Scottsdale will help you plan your first visit to the city.
I include information on finding fun and interesting things to do along with my recommendations on the best restaurants and hotels in Scottsdale.
Whether you're looking to enjoy a relaxing weekend getaway at a local resort, or prefer a more active vacation exploring natural spaces in the outdoors, I assure you, Scottsdale won't disappoint.
I've visited Scottsdale at least a dozen times in recent years so I know the city well. That being said, even after all those visits I'm still discovering new things to do.
Are you ready to learn about all the best things to do in Scottsdale? Great, let's get go.
Some of the links in the post are affiliate links. If you make a purchase through these links it helps to support this site at no extra cost to you.
Best Things To Do in Scottsdale AZ
Any visitor will find plenty of fun things to do in Scottsdale. This city has so much to offer no matter your interests. Whether you're here for a weekend getaway, or just passing through on an Arizona road trip, you'll find plenty of Scottsdale activities to enjoy during your visit.
I think Scottsdale stands out as a destination mostly because of its beautiful surroundings. Well, that and the year round perfect weather.
Those who enjoy spending time outdoors will really enjoy visiting the area. There are so many opportunities to get outside and enjoy activities like hiking, biking, rock climbing, and golfing.
Those who prefer to get to know the region's food and culture will find no shortage of great museums and restaurants.
Finally, those who just want to relax and enjoy the sunny weather will find dozens of resort pools to choose from, where they can sunbathe poolside while sipping fruity cocktails.
If you're wondering when is the best time to visit Scottsdale, I recommend visiting in the springtime. This is when the city truly comes alive and when you can expect the best weather. It will be warm enough to enjoy a day at the pool, but not so hot you can't stand being outside.
You should also know that Major League Baseball holds its annual Spring Training in the Scottsdale area. Spring Training is held in February and March each year and brings hundreds of MLB players and teams to the city, not to mention thousands of fans.
If you're a baseball fan, tickets to games can be purchased online and are usually available the day of.
Traveling Soon? Don't forget your travel insurance.
Travel insurance is now more important than ever.
Travel insurance is probably less than you think it is. (Ex. For a week in Spain next month I'm paying less than $62.00.)
Travel insurance covers a lot more than you think it does.
It's better to have it, than need it and wish you'd bought it.
See for yourself. Check prices here.
1. Old Town Scottsdale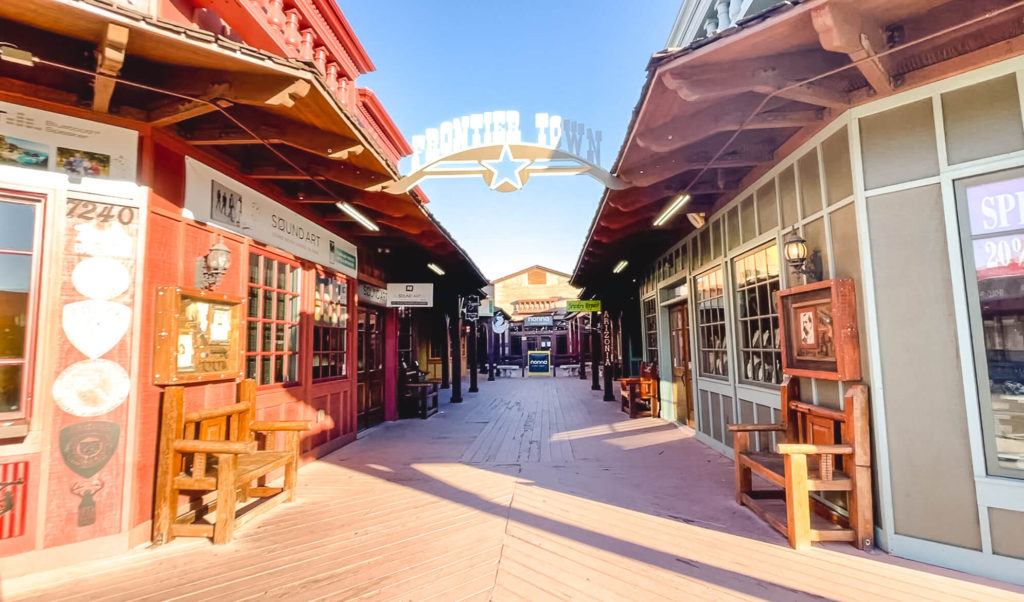 The Old Town area is the heart of the city of Scottsdale. This is where you'll find many of the city's best restaurants, cafes, bars, and local boutiques.
The neighborhood has an Old West theme to it, so you'll find many local businesses selling Southwestern and Old West style items. Even the local bars and restaurants stay in character. The Rusty Spur Saloon is one such example, which I talk about in more detail down below.
I recommend planning your visit to Old Town Scottsdale around mealtime. This way you can dine at one of the local restaurants, then go for a walk around the neighborhood afterwards. I share my favorite restaurants down below, so you'll have a few good options to choose from.
While in Old Town be sure to stop by Western Spirit – Scottsdale's Museum of the West. The museum educates visitors on life in the Old West and its impact on the area today.
2. Camelback Mountain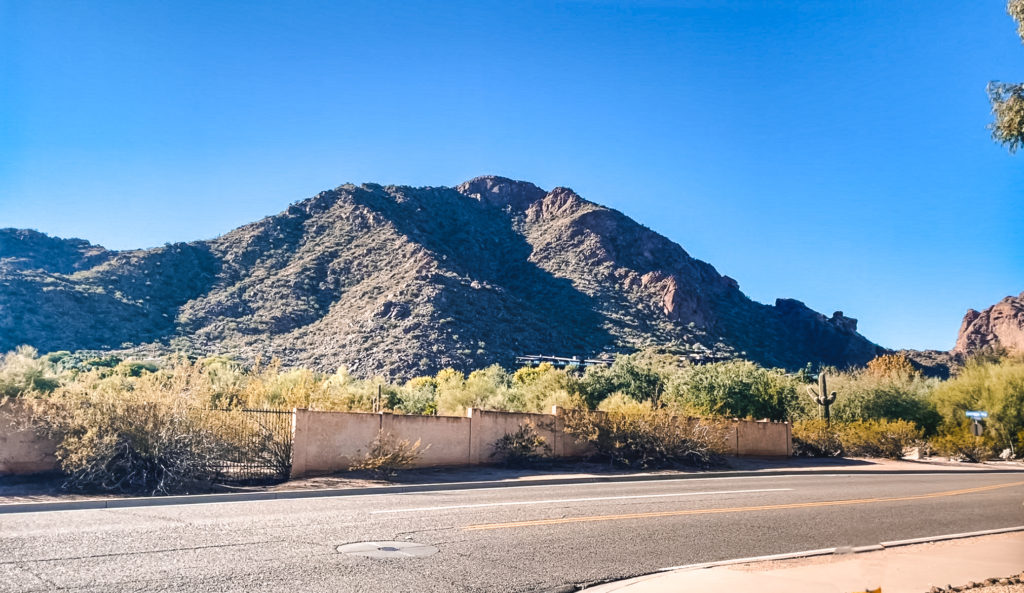 One of my favorite free things to do in Scottsdale is hike Camelback Mountain.
Camelback Mountain dominates the skyline in Scottsdale and creates the perfect background for this lively cosmopolitan city.
Camelback Mountain stands at 2,706 feet tall and is popular with both locals and visitors alike for hiking and rock climbing.
There are two trails that wind up to the peak of Camelback Mountain. Hikers can choose either the Echo Canyon Trail which is 1.14 miles in length or the Cholla Trail, which is 1.4 miles. Both of these hikes are considered strenuous as there are many steep sections that require scrambling over rocks and boulders.
It will take the average hiker between two to three hours for the there and back hike. I recommend arriving at the trail head in the early morning to beat the midday heat and crowds.
You'll want to have good hiking shoes and plenty of water before setting out on this hike.
3. Taliesin West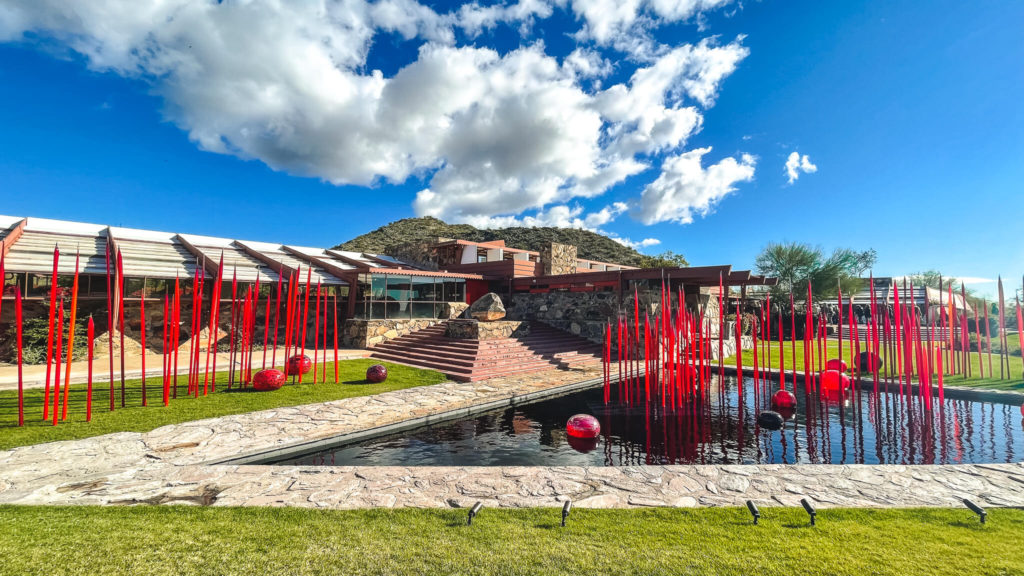 If you're at all into architecture, or just enjoy looking at nice homes, I encourage you to consider a visit to Taliesin West.
Taliesin West is the former summer home of famous architect Frank Lloyd Wright. The home is currently open for guided tours and also hosts a school for architecture.
The home itself is beautifully built into the surrounding Sonoran desert landscape with some truly thoughtful and unique design aspects. You really do have to see this place in person.
The guided tours offered at Taliesin West are also excellent. I think if you're going to visit, you should plan to attend a guided tour.
Learning about Mr. Wright's design style and hearing all the interesting facts and stories from his life are what make the visit here so memorable. He was a fascinating person who lived an extraordinary life.
You'll notice in the photo above that there are red glass reeds in the water and lawn in the front of the home. These glass structures are part of an art exhibit at the property by notable glass artist Dale Chihuly called Chihuly in the Desert.
Chihuly in the Desert at Taliesin West runs until June 19, 2022.
You can find information on tours and tickets for Taliesin West here.
4. Scottsdale Resorts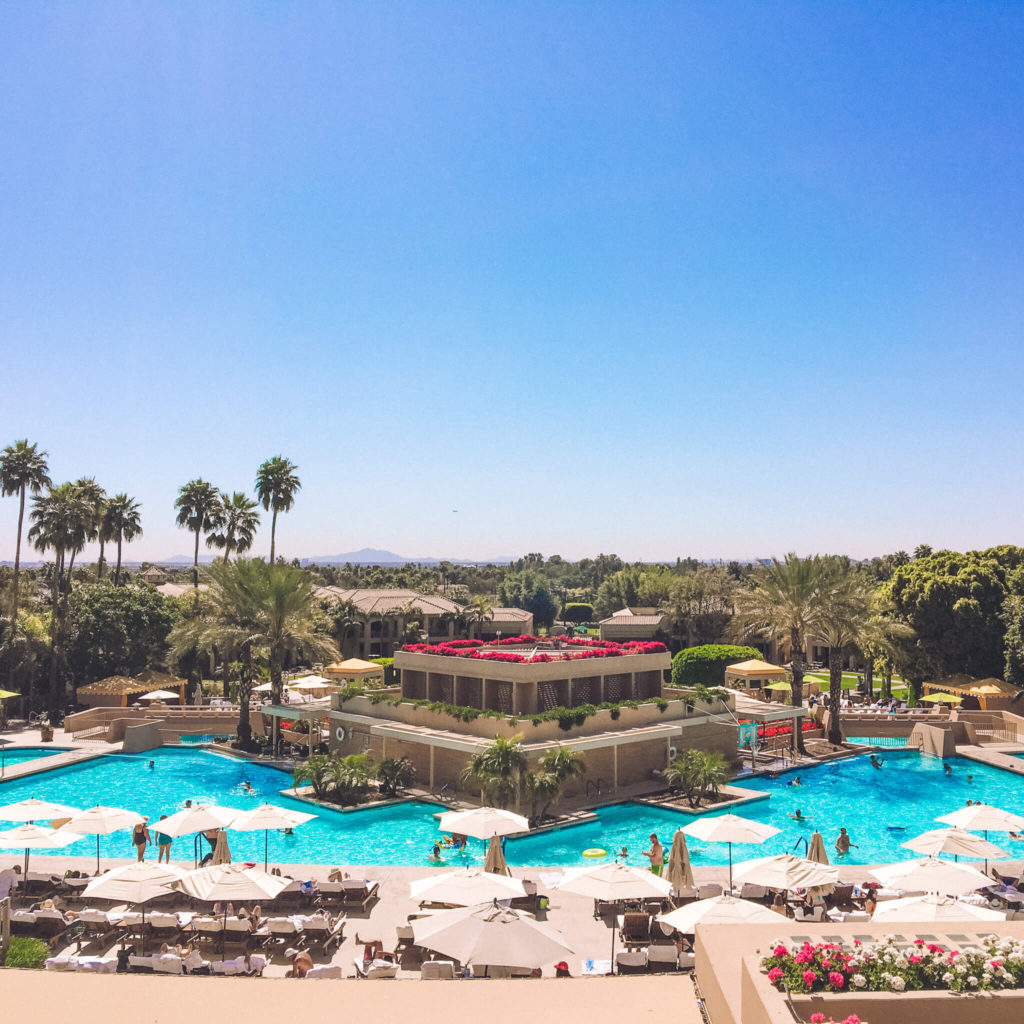 Scottsdale is a resort town through and through and you'll find a wide variety of resorts here for just about any budget.
When looking for a resort in Scottsdale I recommend finding the one with the best pool area, as you will probably spend a significant amount of time there, especially in the spring and summer months.
Also, Scottsdale is an easy town to get around in. I've rarely encountered traffic here, if ever. So if you find a hotel you like that's a bit out of the city center, don't think that will be an inconvenience. You'll have no trouble getting around and visiting all the places you want to see.
After staying in many of the hotels and resorts in and around Scottsdale, here are a few of my favorite places to stay when I'm in town.
Budget Friendly
Hotel Adeline: Trendy hotel near Old Town Scottsdale with a large pool and surprisingly comfortable rooms. They even have a hidden speakeasy with excellent cocktails.
Mid Range
The Scott: I stay at The Scott often when in Scottsdale. They have a really fun bar area with great food. They also have a large pool with plenty of room to spread out. The rooms here are really nice.
W Scottsdale: Like all W hotels, this one has a younger clientele and a bit of a party atmosphere. The hotel has a popular pool area along with a great restaurant and bar.
Luxury
The Phoenician: This is my favorite hotel in Scottsdale. The pool area is huge and the property is gorgeous and sits right at the base of Camelback Mountain.
The Four Seasons Scottsdale: Absolutely beautiful property away from the hustle and bustle of the city. This hotel has one of the best patio lounges for viewing the sunset with a fruity cocktail in hand.
I hope you've found a hotel you like up above, but if not you can find plenty more options here.
5. Rusty Spur Saloon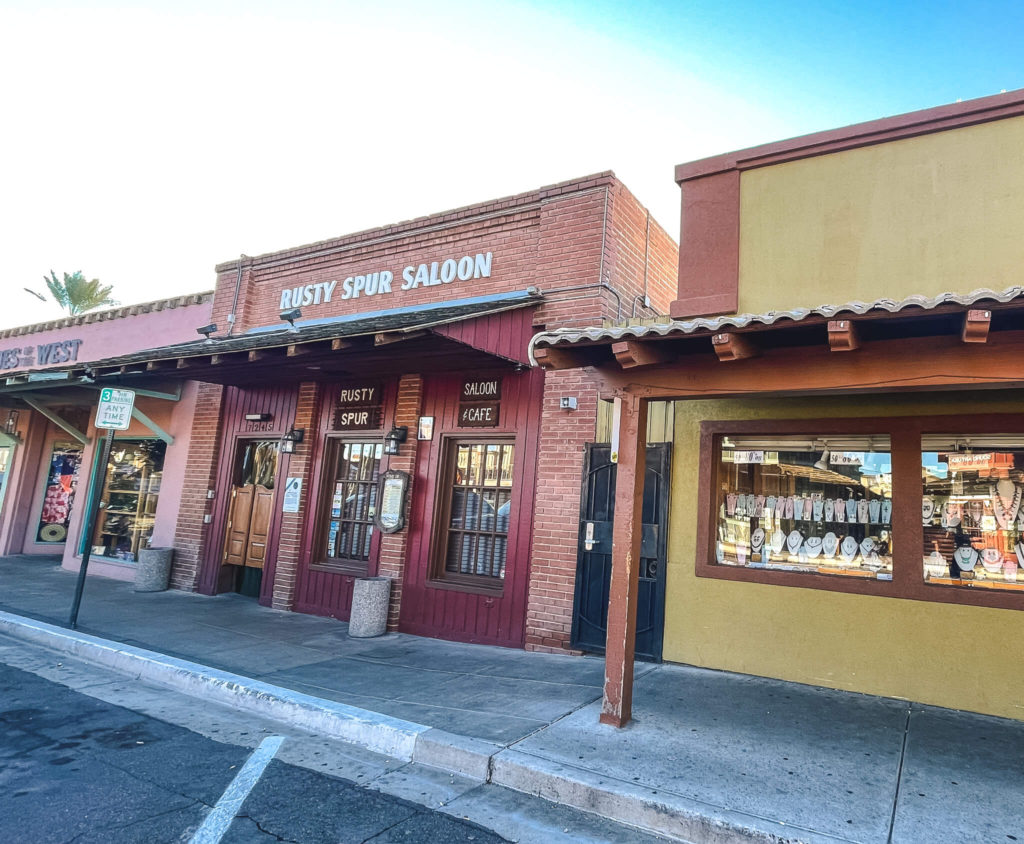 I just recently discovered the Rusty Spur Saloon and it has quickly become one of my favorite things to do in old town Scottsdale.
Like the rest of Old Town Scottsdale, the bar features an Old West theme with lots of decorations and memorabilia covering the walls inside.
Rusty Spur Saloon features a full bar with a wide variety of cocktails on offer and several beers on tap. They also have a full kitchen menu with a variety of appetizers and burgers.
In the late afternoons and evenings they have live music from local musicians seven days a week.
The evenings here can be really fun. Bring a group of friends, order some cocktails and sit back and enjoy the music.
The Rusty Spur Saloon is open daily at 10:00 a.m.
6. Butterfly Wonderland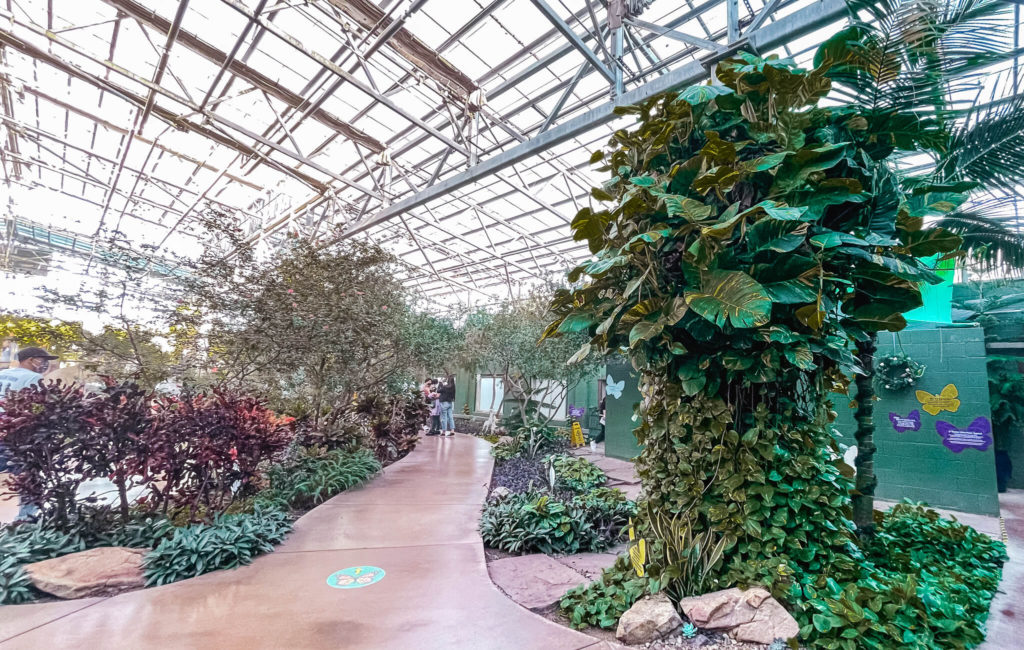 Butterfly Wonderland is one of the largest butterfly conservatories in North America and is one of the most unique Scottsdale attractions. It is home to thousands of fluttery butterflies from all around the world.
When visitors first arrive at Butterfly Wonderland they are escorted into a large theater to view a short 10 minute 3D video about the lives of butterflies. The video is well done and provides lots of information about the life cycle of butterflies. It's pretty cool to see them all in 3D as well. This will be especially fun if you have kids with you.
After the video you leave the theater and are free to roam around and enter the conservatory. The conservatory area is huge with plenty of room to explore.
Once inside you'll see all sorts of colorful butterflies of all different shapes and sizes. This is a fun spot to visit, especially if you're looking for a place to cool off during the hot Scottsdale summers.
Butterfly Wonderland is open 365 days a year from 9:00 a.m. to 5:00 p.m.
7. OdySea Aquarium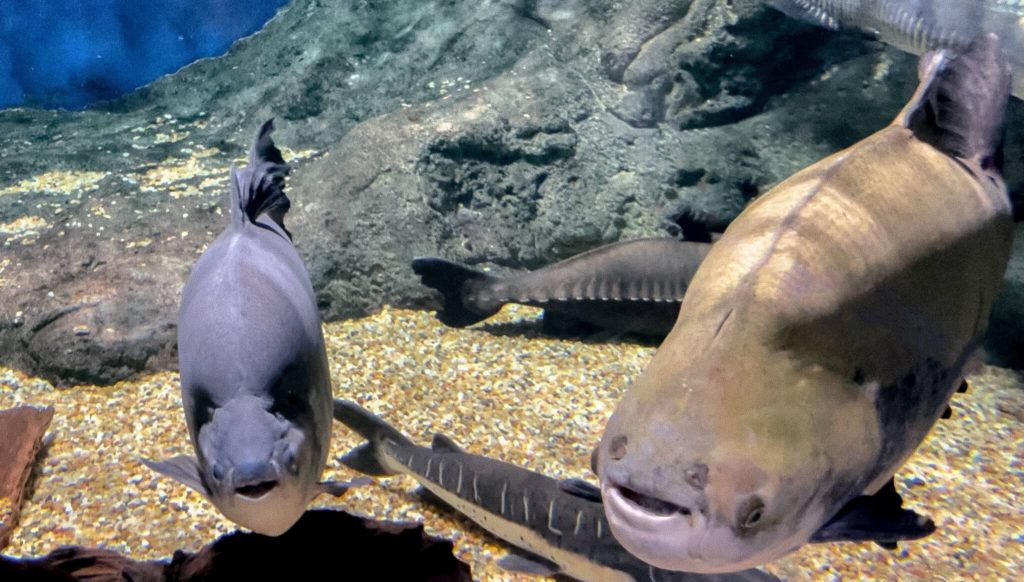 OdySea Aquarium is the largest aquarium in Arizona and home to more than 65 exhibits and 370 species.
This multi-level aquarium is the perfect place to escape Scottsdale's hot temperatures during the summer months. Both kids and adults will enjoy a visit here, there really is a lot to see.
Some of my favorite exhibits featured sea turtles, sting rays, and sharks. They even have a sloth exhibit with at least one sloth that I could find. He was fun to watch despite the slow movements.
Some of the most popular exhibits at the aquarium are the otter exhibit and penguin exhibit. I could spend hours at either of these exhibits. Both otters and penguins are on the playful side and so much fun to watch.
OdySea Aquarium is open daily from 9:00 a.m. to 7:00 p.m.
8. Pinnacle Peak Park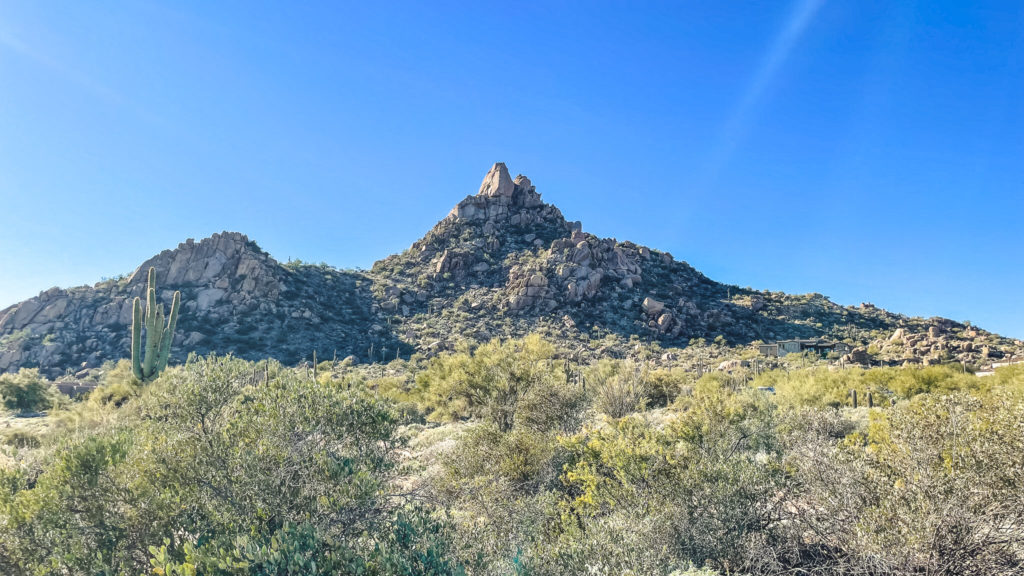 Pinnacle Peak Park is another local favorite hiking spot in Scottsdale. The park features 150 acres of natural space with a highly trafficked 1.75 mile hiking trail.
The tallest point on Pinnacle Peak stands at 3,169 feet tall, though the trail does not go quite that high. You can expect an elevation gain of around 1,300 feet on the trail.
Most hikers complete the out and back hike in under two hours.
As with all hiking trails in Scottsdale be sure to bring plenty of water, sunscreen, and a hat. It is also recommended to begin your hike early in the day to avoid the midday sun and heat.
Pinnacle Peak Park is open daily and hours vary be sunrise and sunset times. Be sure to check the park's website for current opening and closing times. As a general rule you can expect the park to open around 7:00 a.m in the winter and around 5:00 a.m. in the summer.
10. McDowell Mountain Regional Park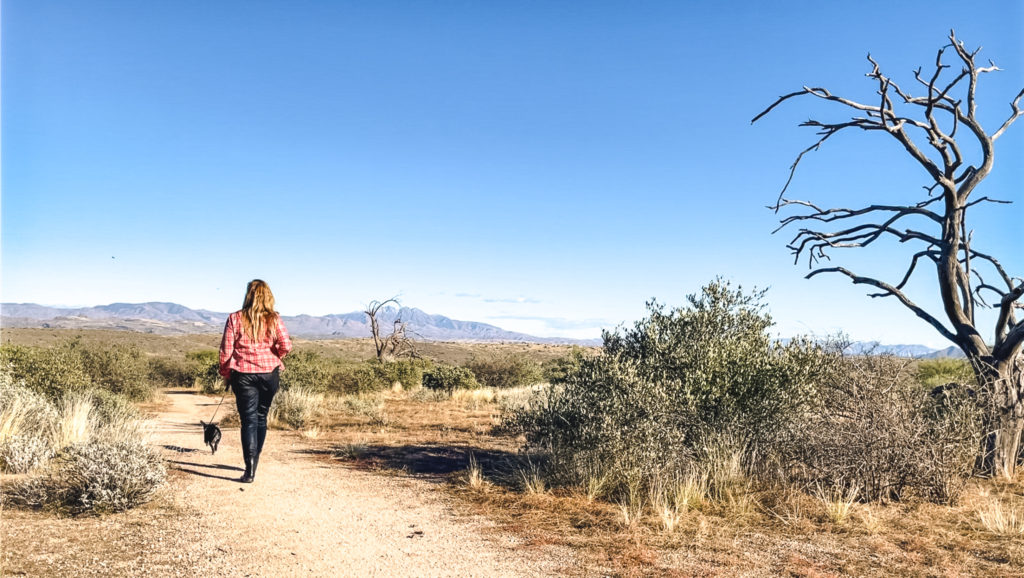 I just discovered McDowell Mountain Regional Park on my most recent visit to Scottsdale and loved it immediately. It was the gorgeous desert landscape that did it for me. This park seemingly goes on for miles in all directions when you're out on the trails.
This park is popular for hiking, biking, horseback riding, and camping. Plus, the park is extremely dog friendly, so you'll see plenty of dogs of all kinds during your visit.
I visited in the park during the middle of the day on a weekend and only saw a handful of people. It seems the park is spacious enough to allow distance between guests, which is nice. That being said, I would plan your visit for early mornings to beat the heat and midday sun.
McDowell Mountain Regional Park is open from May to October from 5:00 a.m. to 9:00 p.m. and from November to April from 6:00 a.m. to 8:00 p.m. Overnight camping is permitted in designated campgrounds. Reservations required.
Things to Do in Scottsdale Arizona With Extra Time
If you have extra time or you'll be in town for a long time, here is a list of other city attractions you may wish to check out. Many of the activities below are good for the whole family if you're looking for ways to entertain the little ones.
Stillman Railroad Park
Penske Racing Museum
McDowell Sonoran Preserve
Musical Instrument Museum
Southwest Wildlife Conservation Center
Scottsdale Fashion Square Mall
Civic Center Mall
Desert Splash Adventures
Arizona Cowboy College
Octane Raceway
Best Restaurants in Scottsdale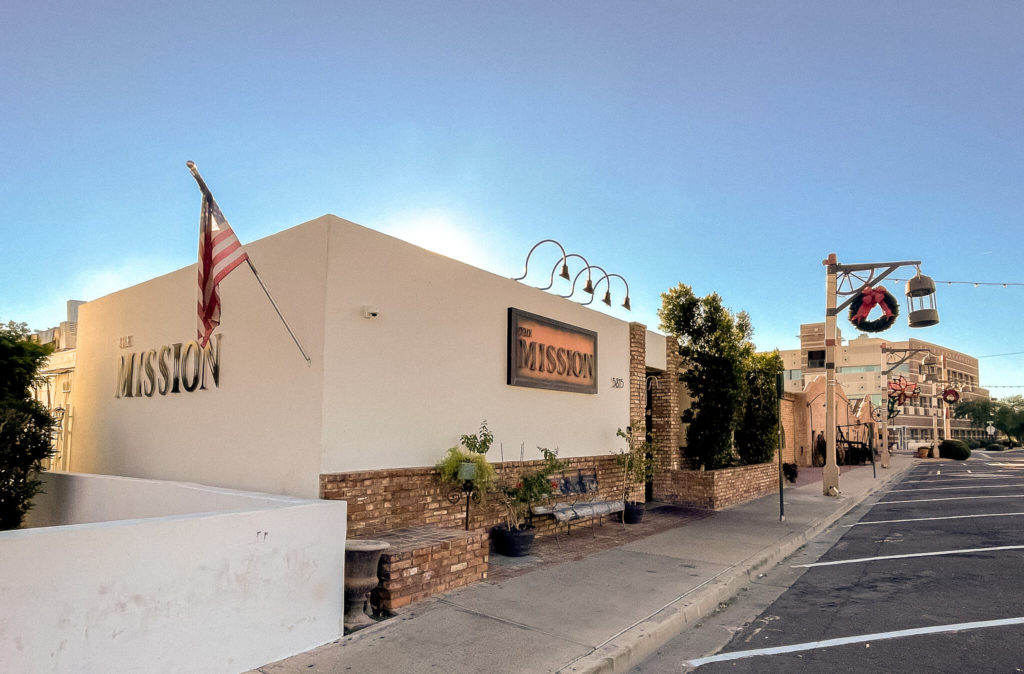 There are honestly so many great restaurants in Scottsdale that it's hard to narrow down the list. However, after a dozen or so visits to the city, I certainly have my favorites.
Here are the best restaurants in Scottsdale according to me. Most of these restaurants are located in the Scottsdale Civic Center or Old Town area.
The Mission
Roaring Fork
Defalcos Italian Grocery
Maple and Ash
Pomo Pizza
Pasta Brioni
Olive and Ivy
Bourbon and Bones
You may have noticed my list of best restaurants in Scottsdale leans Italian. Since Italian cuisine is my favorite, I tend to seek out great Italian restaurants wherever I go. However, no matter the type of food you're looking for, you'll find no shortage of great options in Scottsdale.
I hope you've enjoyed this guide to the best things to do in Scottsdale AZ and that I've inspired you to plan a trip of your own. Thanks so much for reading.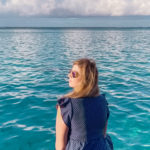 Eden Fite
Part-time Traveler | Dog Lover | Avoider of Crowds
I help busy people find creative ways to travel more.