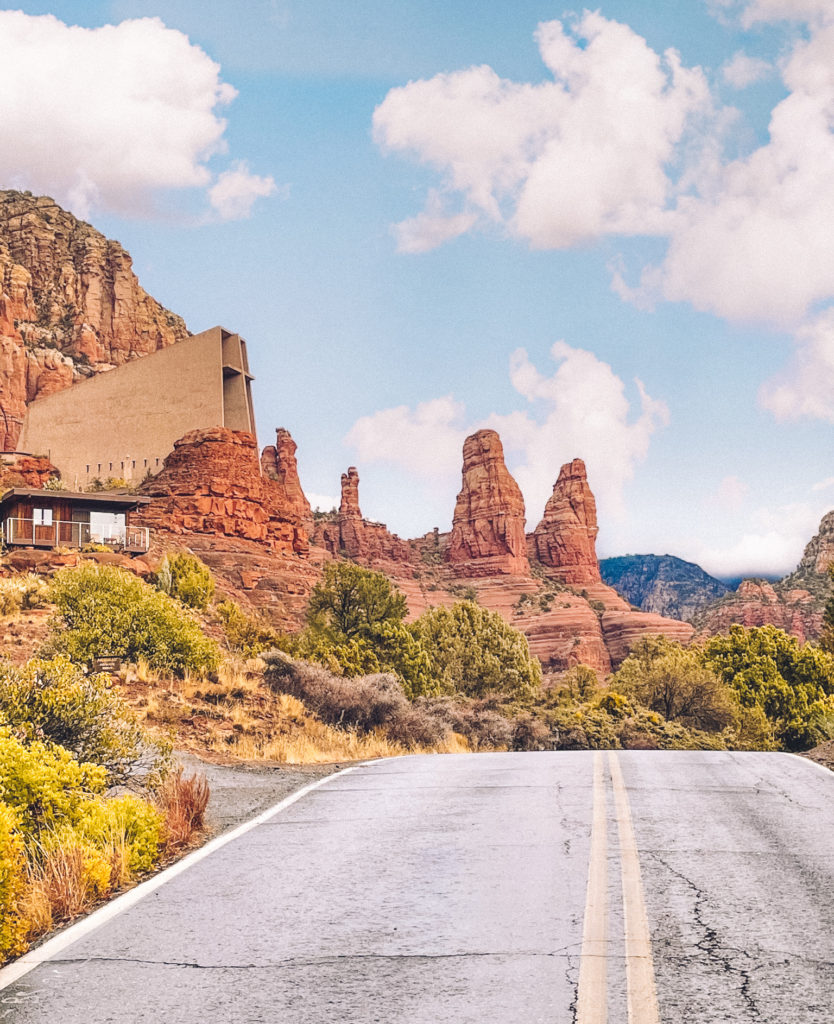 A road trip in Arizona is the perfect way to explore this unique and diverse southwestern desert state.
What I love most about Arizona is it's vast desert landscape and abundance of red rock, both of which make it one of the most photogenic places in the country.
Sure, the USA is home to many other beautiful places, but none that bring the magic like Arizona does. Am I a little biased? Probably. I live in neighboring California and have been fortunate to visit Arizona often, always leaving with a desire to return again soon. Which I do.
If you're considering planning your first trip to Arizona, a road trip really is the way to go. The state's roads are easy to navigate and the main attractions are all within a few hours or less when driving.
The destinations in this Arizona itinerary were selected based on my own past trips and what I enjoyed. I think you'll enjoy them too. So let's go.
Some of the links in the post are affiliate links. If you make a purchase through these links it helps to support this site at no extra cost to you.
The Ultimate Arizona Road Trip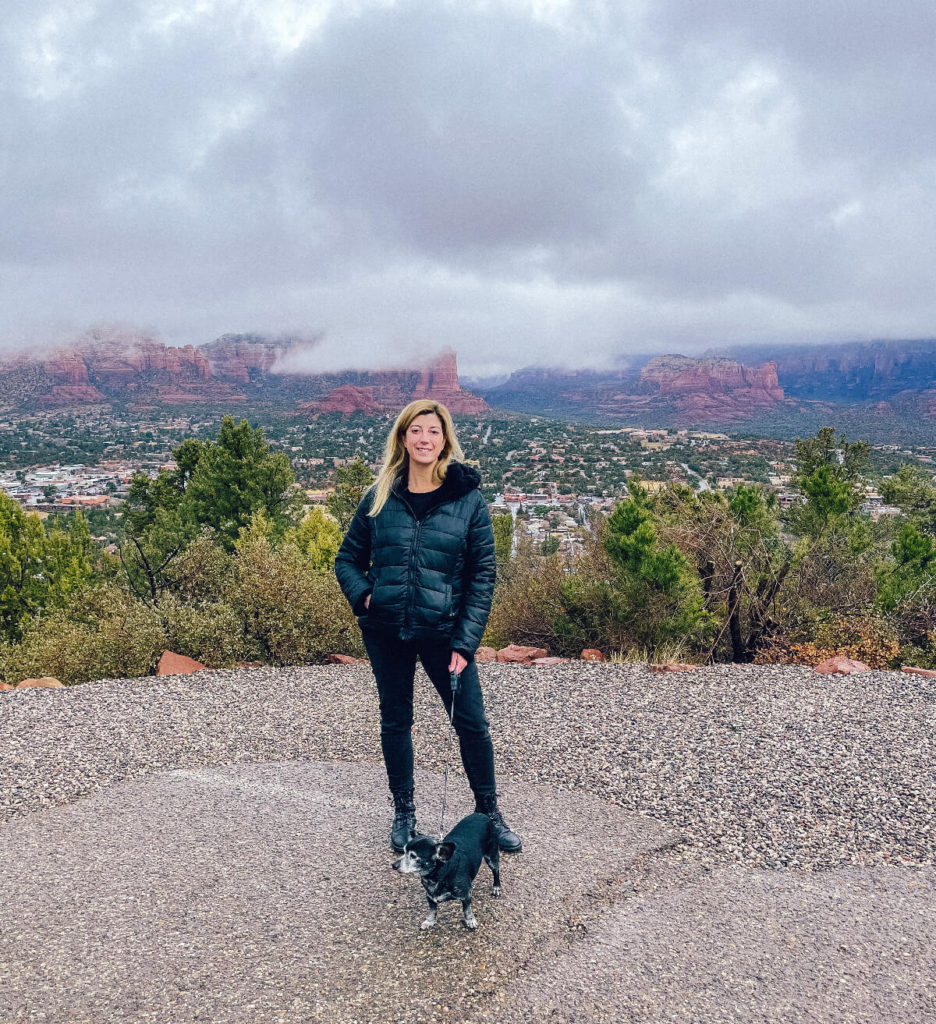 This Arizona road trip will take you across the state to 12 unique destinations. This road trip itinerary begins and ends in Phoenix as this is where the state's largest airport is. However, you can mix and match these stops as you see fit with your own schedule.
I include drive times between locations. These are of course, estimates. Your own drive time may vary.
As with any road trip, I encourage you to leave time for spontaneity. If you see something interesting, pull over and check it out. That's what road trips are all about.
For those of you short on time, each of these destinations could also work as individual road trips from Phoenix completed as a day or weekend trip. A Phoenix to Grand Canyon road trip would be especially fun and easy.
Above all else, please drive safe and have fun exploring this beautiful place on your ultimate road trip in Arizona.
Traveling Soon? Don't forget your travel insurance.
Travel insurance is now more important than ever.
Travel insurance is probably less than you think it is. (Ex. For a week in Spain next month I'm paying less than $62.00.)
Travel insurance covers a lot more than you think it does.
It's better to have it, than need it and wish you'd bought it.
See for yourself. Check prices here.
Stop 1. Phoenix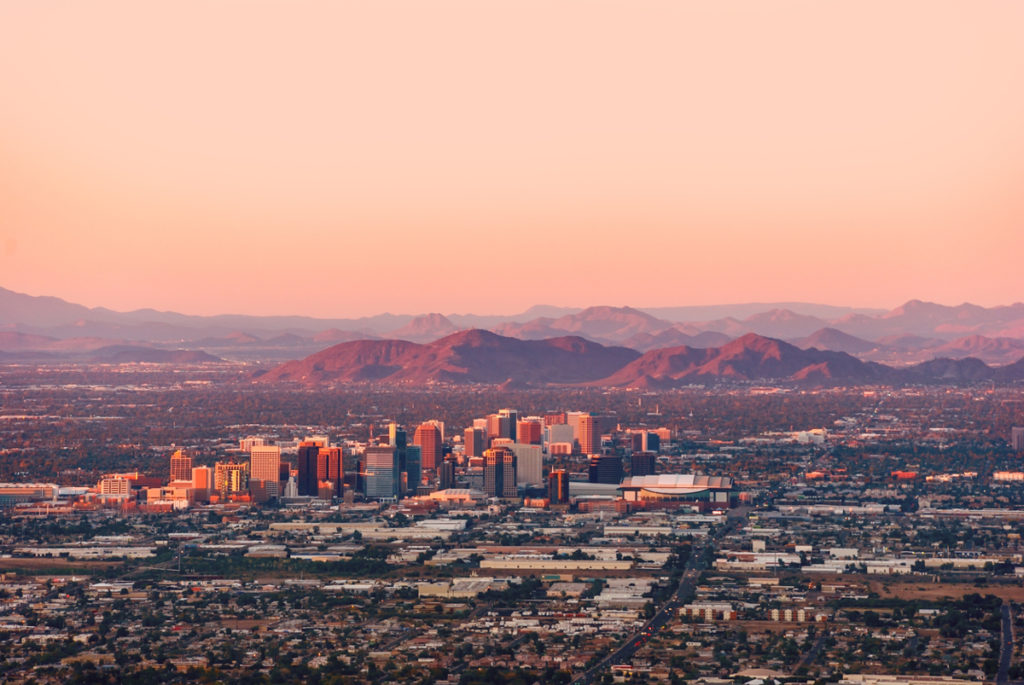 Phoenix is the capital city of Arizona and home to plenty of things to do for first time visitors. As a rather artsy state, Phoenix is also home to many great museums.
My favorite things to do in Phoenix include visiting the Phoenix Art Museum, the Heard Museum, Wrigley Mansion and Taliesen West.
Those looking to spend time outdoors can enjoy a local hike in the nearby mountains, visit Dobbins Lookout or Tres Rio Wetlands.
The city is also home to many excellent restaurants and bars to check out in the evening.
If you're feeling adventurous, you can also try a hot air balloon ride over the city.
Next Stop: Saguaro National Park
Drive Time: 2 hours 15 minutes
Stop 2. Saguaro National Park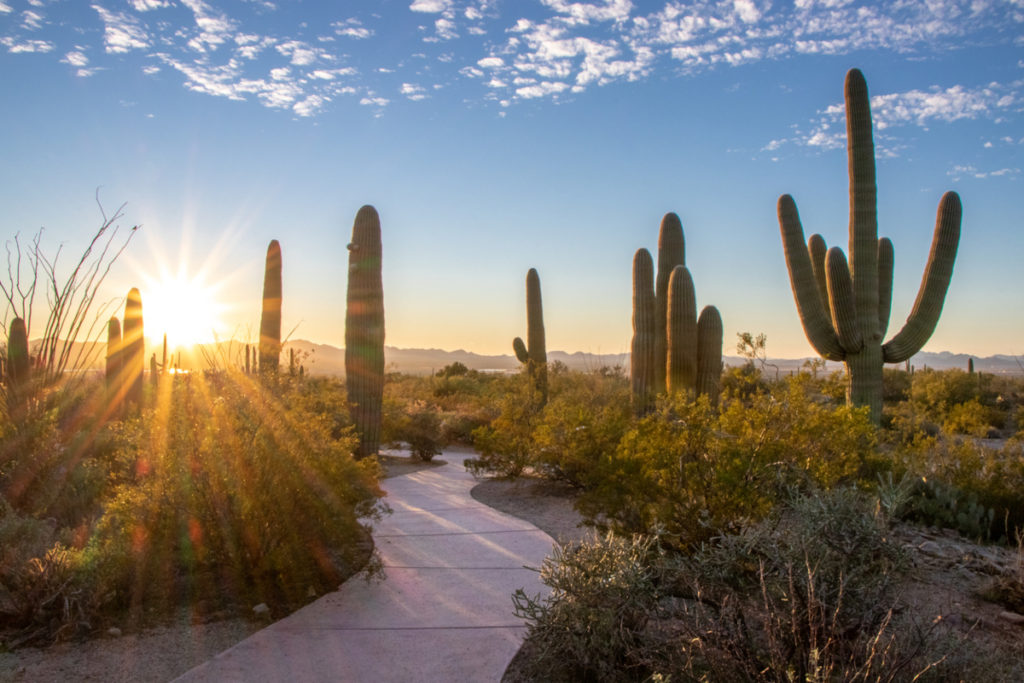 Saguaro National Park is located just a few hours south of Phoenix, and if you love cacti and desert landscapes half as much as I do, you're gonna love this place.
The park is broken up into two distinct sections, one is west of Tucson, the other is east of Tucson. The western side is more popular with visitors as there is more to do. However, both sides of the park are worth visiting. Be advised, it is an hour drive between the two sections of the park.
Besides admiring the many majestic Saguaro cacti, visitors can also enjoy driving the 6 mile Bajada Loop Drive, hiking the Valley View Overlook Trail, walking the Desert Discovery Nature Trail, viewing the Petroglyphs, and hiking up to Wassen Peak.
The park also has two visitor centers, one in each section of the park, where you can learn about the park's habitats and local wildlife.
Next Stop: Tombstone
Drive Time: 1 hour 10 minutes
Stop 3. Tombstone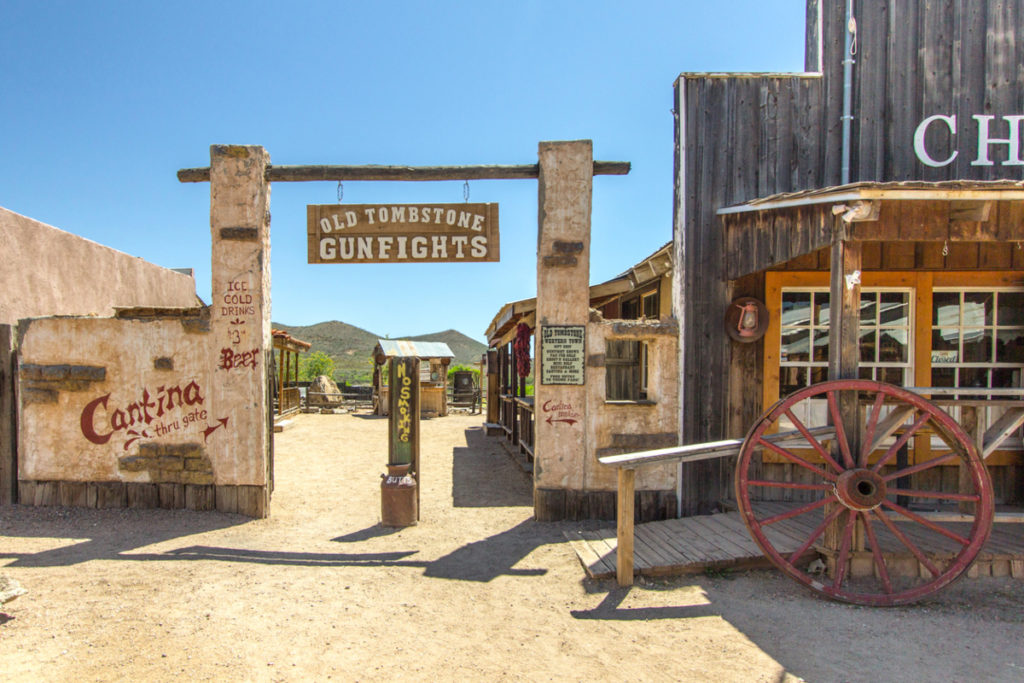 Tombstone is a former old west town located in southeastern Arizona.
Visitors to Tombstone can enjoy walking down historic Allen Street where they can visit the Bird Cage Theatre, the Tombstone Art Gallery and the famous OK Corral. You'll also find local shops, restaurants, and saloons along Allen Street.
Boothill Cemetery is also located nearby. The cemetery is believed to hold over 200 graves, many unmarked. This cemetery is the final resting place for many of those who were victims of hanging, lynching, or shootouts in the town's old wild west days.
Nest Stop: Scottsdale
Drive Time: 2 hours 50 minutes
Stop 4. Scottsdale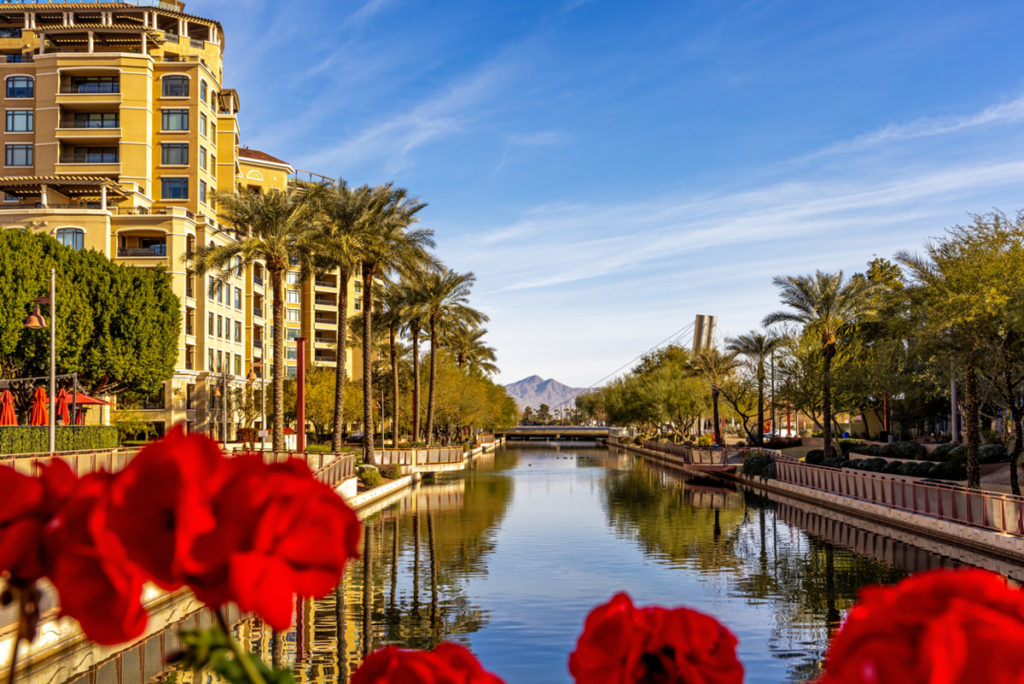 To get to Scottsdale you'll be heading back north to just east of Phoenix. You are backtracking a bit but exploring the southern part of the state is worth it in my opinion.
Now about Scottsdale.
Scottsdale is a sunny resort town popular for girlfriend getaways, bachelorette parties, and spa weekends. You'll find fancy resorts with impressive pools all around town. A few of my favorites are the Andaz, Phoenician, and the Scott Resort.
In addition to sipping cocktails poolside, first time visitors to Scottsdale can explore Old Town Scottsdale, hike Camelback Mountain, go shopping at the city's local boutiques, and enjoy the city's many great restaurants and bars.
Scottsdale is best visited in the spring or fall when temperatures are mild. If planning a spring visit, you can also attend Major League Baseball's annual Spring Training which takes place in the area every February and March.
Next Stop: Petrified Forest National Park
Drive Time: 3 hours 30 minutes
Stop 5. Petrified Forest National Park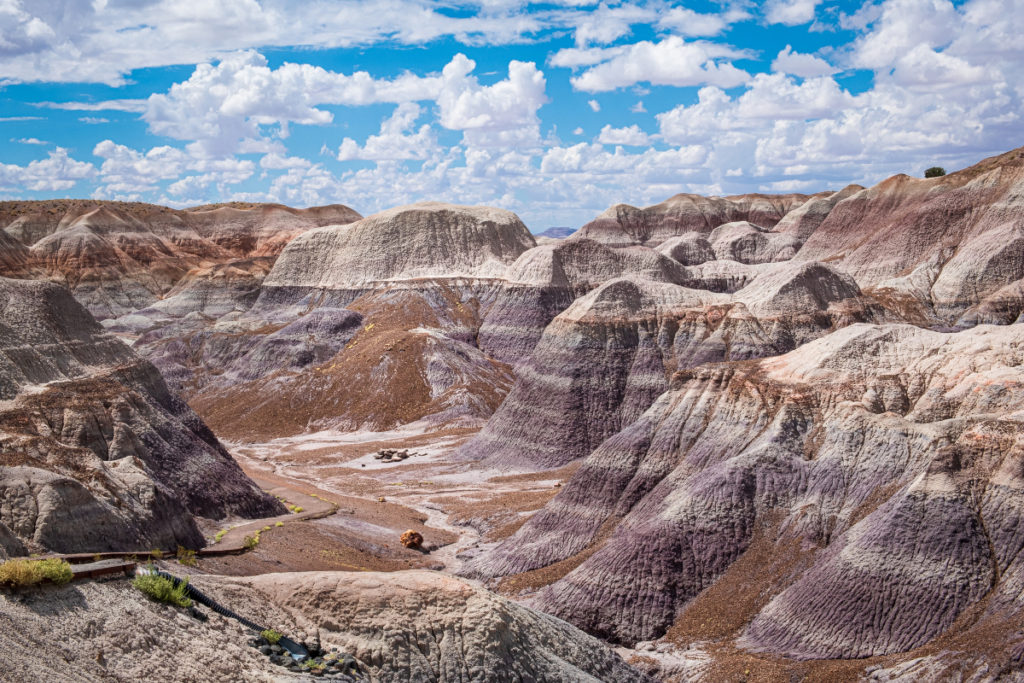 Petrified Forest National Park is located a couple hours northeast of Scottsdale. The park is known for its petrified wood and colorful landscape.
This national park can be visited in just a few hours and most major attractions and lookouts are easily accessed by car. The main park road winds through the park stretching 28 miles and takes visitors to the main attractions and lookouts. The drive can be made in about an hour or so, longer if you make lengthy stops.
In addition to driving the main park road loop, you can also enjoy hiking, biking, horseback riding, and back country camping.
Be advised this park is only open from 8:00 a.m. to 5:00 p.m., so you will not be able to capture sunset or sunrise during your visit. However, this is one of the most pet friendly national parks if you enjoy traveling with any four legged friends. Pets are welcome just about everywhere in the park, except inside the buildings.
Next Stop: Monument Valley
Drive Time: 3 hours
Stop 6. Monument Valley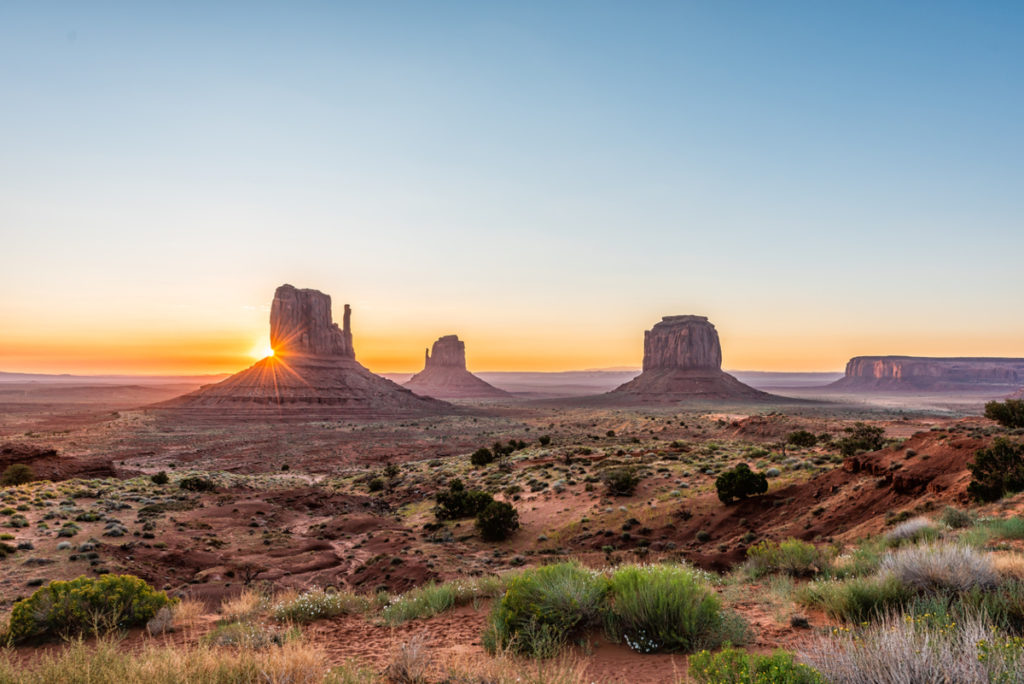 Monument Valley is located on Native American land right on the state's border with Utah. The area is known for its iconic red rock formations dotting the landscape and is a top destination for photographers from around the planet.
The best things to do in Monument Valley include viewing the massive red rock formations, hiking, biking, and photography.
Since Monument Valley is on tribal lands, you'll want to join a guided tour with a local Navajo guide to see the best areas. Non guided visitors are limited to certain areas of Monument Valley, which is why using a local guide is recommended here. It's also a great way to learn more about the area and support the local community.
For accommodations in Monument Valley there are two options, Goulding's Lodge and The View. Goulding's is the slightly more affordable option with rooms around $200/night. The View offers rooms closer to $250/night. Rates will vary with the seasons.
Next Stop: Antelope Canyon
Drive Time: 2 hours
Stop 7. Antelope Canyon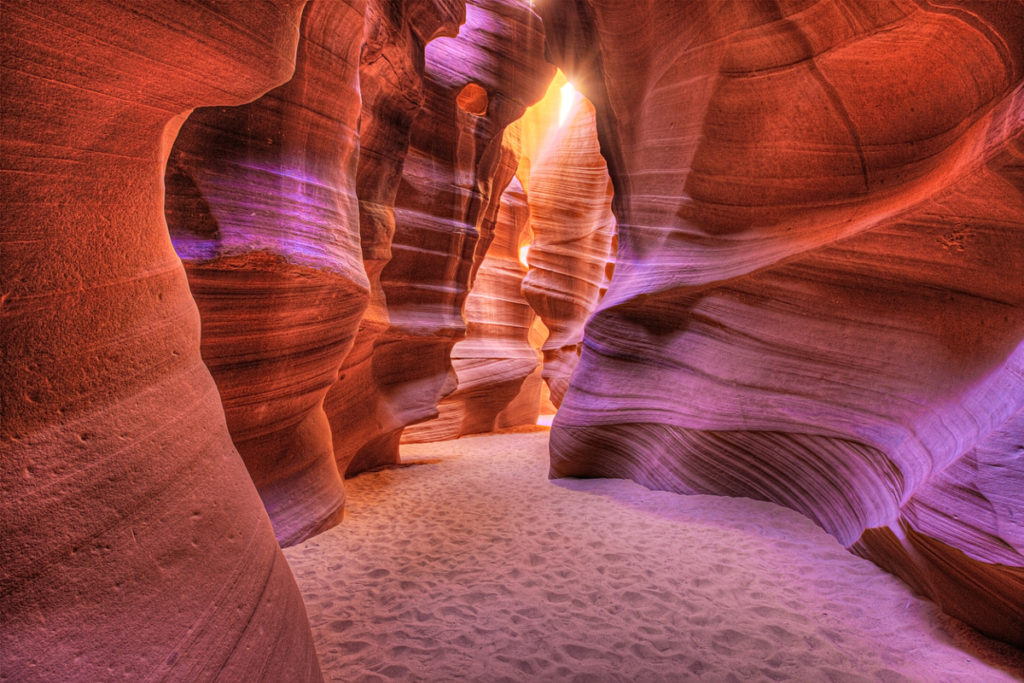 Antelope Canyon is a large red rock slot canyon located just east of Page, Arizona. The slot canyon consists of two different sections, Lower Antelope Canyon and Upper Antelope Canyon, both of which can be visited on a guided tour.
As with Monument Valley, Antelope Canyon is on tribal lands so access is restricted to those on a guided tour. You can find guided tours for Antelope Canyon here.
I highly recommend selecting an early morning time slot when possible. This will help you to avoid crowds and get better pictures.
Next Stop: Horseshoe Bend
Drive Time: 20 minutes
Stop 8. Horseshoe Bend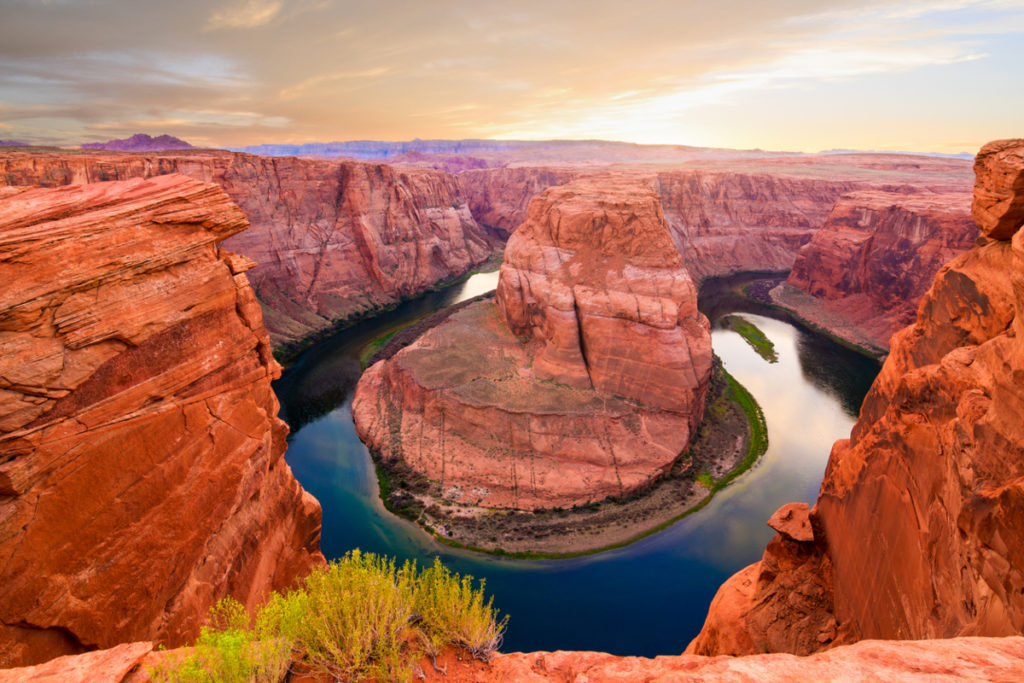 Horseshoe Bend makes for a relatively quick stop between Antelope Canyon and Grand Canyon National Park.
At Horseshoe Bend you can enjoy the view and take some photographs. There isn't much else to do here, but the view alone is worth the stop.
To visit Horseshoe Bend you'll park in the parking lot which costs $10 to park. From there you'll hike up the short trail to the overlook. The trail is less than a mile and will take about 10 minutes or so depending on your walking speed.
To avoid crowds here weekdays and early mornings are your friend. Horseshoe Bend is open from sunrise to sunset, so arrive at sunrise for the best light and fewest people.
If you're interested in another quick stop before heading to the Grand Canyon, you can also visit Lake Powell which is about 10 minutes north. Lake Powell is a man made reservoir along the Colorado River and is a popular spot for boating and kayaking.
Next Stop: Grand Canyon National Park
Drive Time: 2 hours 30 minutes
Stop 9. Grand Canyon National Park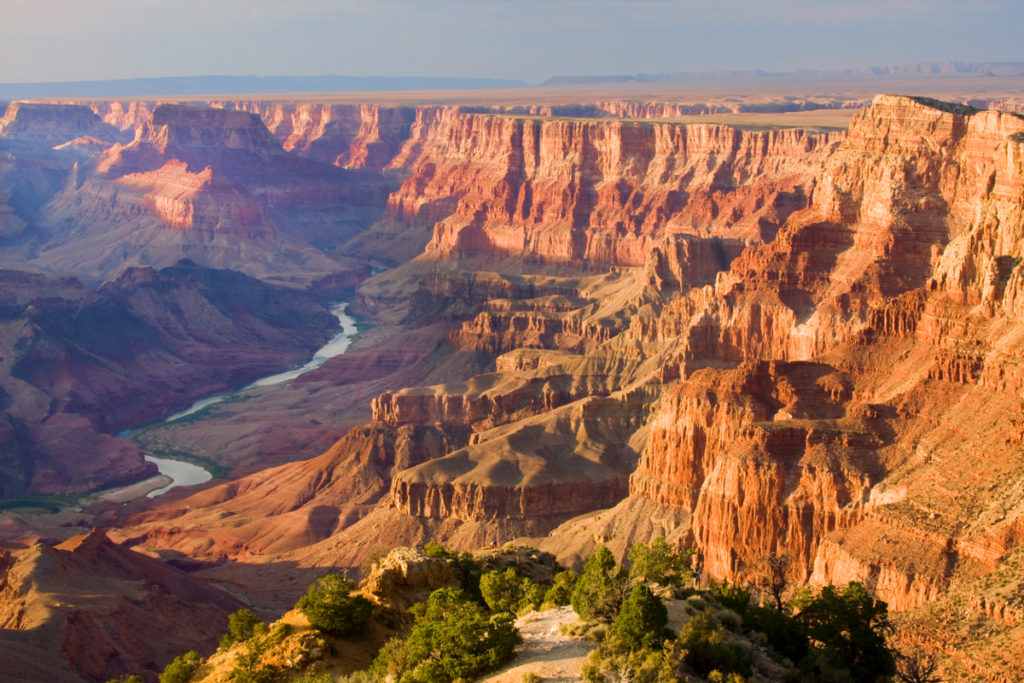 Grand Canyon National Park is one of the most visited national parks in the country. The many overlooks dotting the park's south rim offer breathtaking views of the canyon from all angles. Grand Canyon is definitely one of the must visit parks in the US National Parks system. There's no other place like it.
I think the best way to experience this park is on a mini Grand Canyon road trip. This way you can easily drive from one lookout to the next at your own pace.
I recommend starting at the easternmost lookout in the morning and timing your last lookout on the western side for sunset. You can enjoy some hiking and exploring Grand Canyon Village during the middle of the day. With this route you'll get the best lighting in the morning on the east side, and a beautiful sunset in the evening on the west side.
If you have more time to enjoy the park, you can also hike into the bottom of the canyon or even go rafting down the Colorado River. You'll want to be in shape for this hike, but it sure is beautiful.
You'll want to plan ahead for your Grand Canyon visit to secure hotel reservations. If you plan to stay inside the park you'll need to book well in advance. However, there are also plenty of hotels just outside the park's south entrance to choose from.
During my visit I stayed at the Grand Hotel at the Grand Canyon and loved it. I paid less than $100/night and was more than happy with this hotel. The hotel is located just 10 minutes south of the Grand Canyon South Rim entrance and is a much more affordable option than staying inside the park itself. It was also a lot nicer.
Next Stop: Sedona
Drive Time: 2 hours 10 minutes
Stop 10. Sedona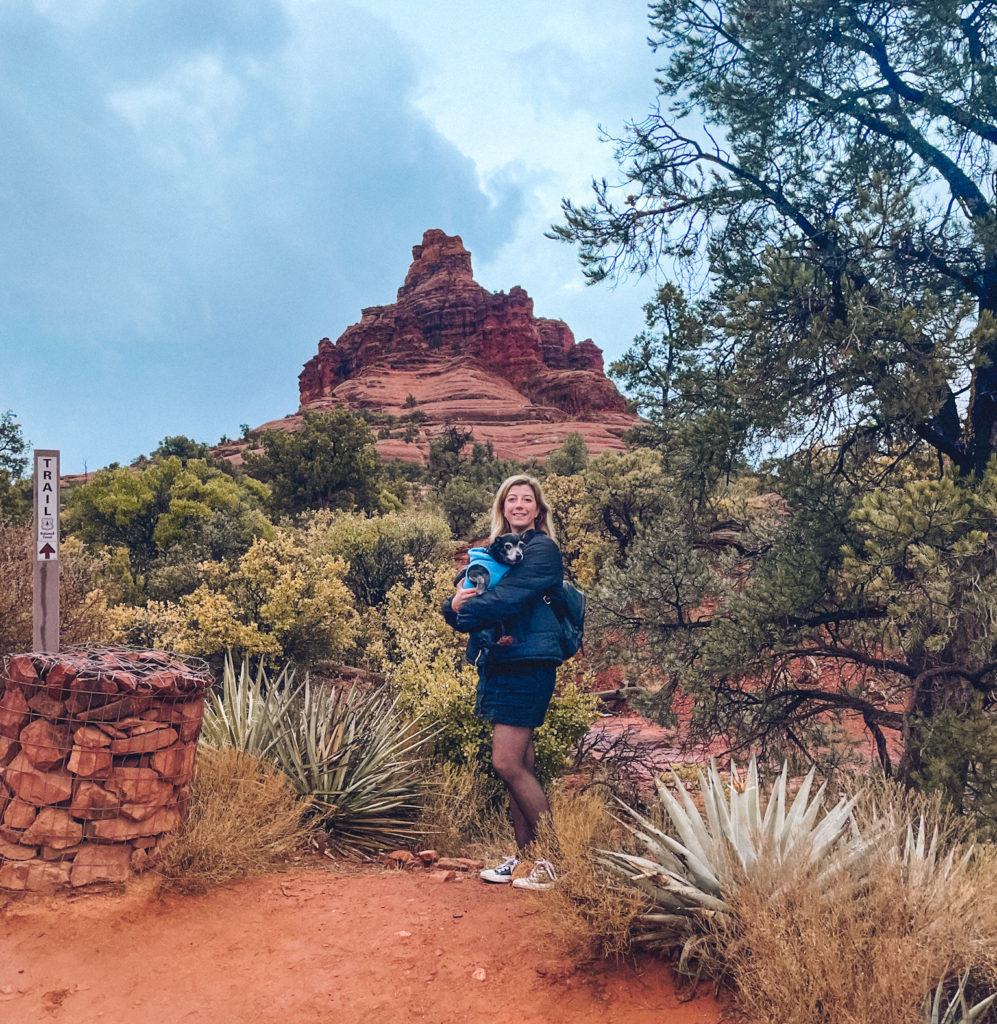 Sedona is easily one of my favorite destinations in Arizona. Whether you've got one day in Sedona or plan on sticking around for a while, you'll have plenty of things to see and do to keep you entertained.
After many visits here, I think the best thing to do is simply enjoy the scenery. Sedona is home to dozens of massive red rock formations which you can see easily just driving through the area.
The city's iconic desert landscape is what gives Sedona its magic. In my opinion, I think everyone should visit at least once in their lifetime, it's a place you have to see to believe.
Some of my favorite things to do in Sedona include hiking around Bell Rock (pictured above), hiking Cathedral Rock, stopping by the Sedona Airport Scenic Lookout, Chapel of the Holy Cross, Oak Creek Canyon and visiting Red Rock State Park.
For the best experience, enjoy these spots in the early morning so you can catch a Sedona sunrise.
In the evenings, be sure to check out some of Sedona's many great restaurants. Elote Cafe is always a popular choice.
After dinner, once it gets dark, head away from the city lights to view the night sky. Sedona is an official Dark Sky Community, so the stargazing here is incredible on a clear night.
If you're looking for some fun guided tours while in Sedona you can find plenty of options here. They even have day tours that take you up to the Grand Canyon.
While I don't think there is a best time to visit Sedona, fall and spring will give you the best weather.
Next Stop: Jerome
Drive Time: 40 minutes
Stop 11. Jerome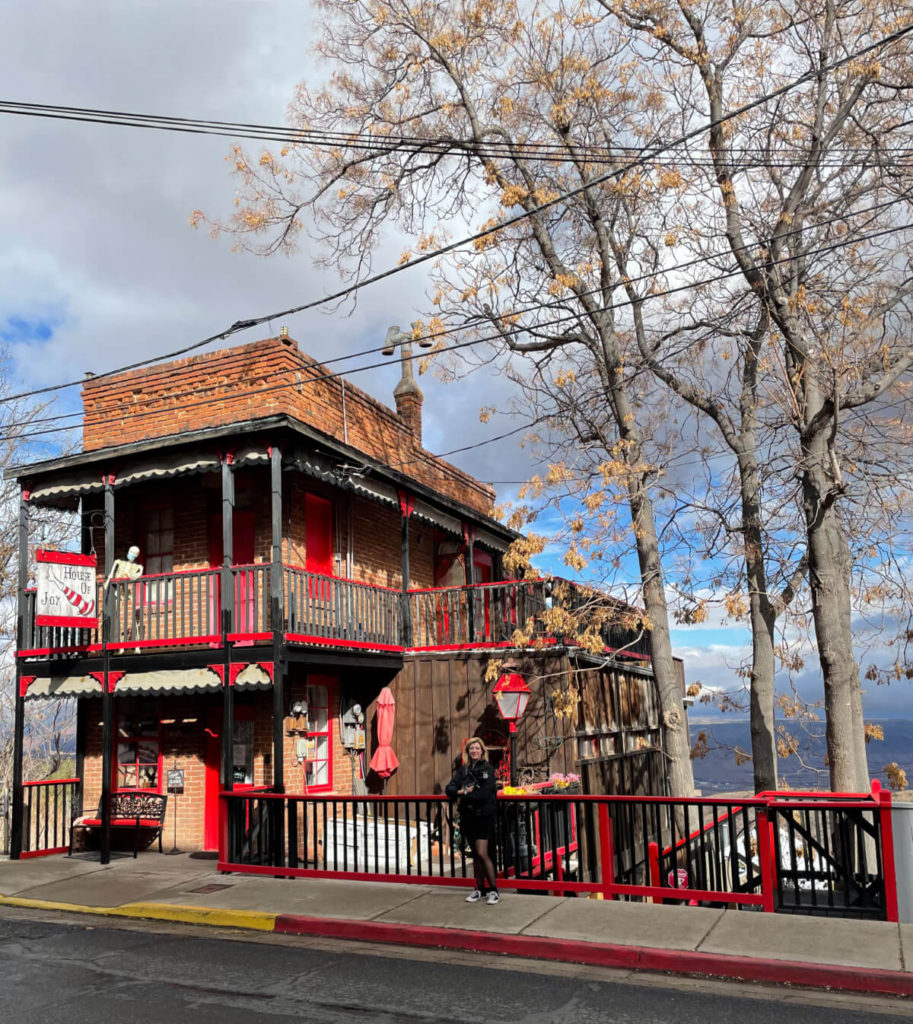 Jerome is a hillside town located just a short drive from Sedona. It's an old mining town and is rumored to be haunted. In addition to its haunted past, it's also an artsy town home to many local artists and musicians.
The best things to do in Jerome are to explore the town's Main Street, visit the local shops, make a stop at Gold King Mine and Ghost Town, and pay a visit to the historic and haunted Jerome Grand Hotel.
Jerome can be easily visited as a day trip from Sedona in just a few hours. While in Jerome I recommend doing the following, explore the town on foot with stops at some of the local boutiques, visit the Jerome Sliding Jail, Jerome State Historic Park, Gold King Mine and Ghost Town, and the Jerome Grand Hotel.
If you're looking for a fun and unique guided tour during your visit, check out this Jerome Ghost Tour.
Next Stop: Montezuma Castle National Monument
Drive Time: 40 minutes
Stop 12. Montezuma Castle National Monument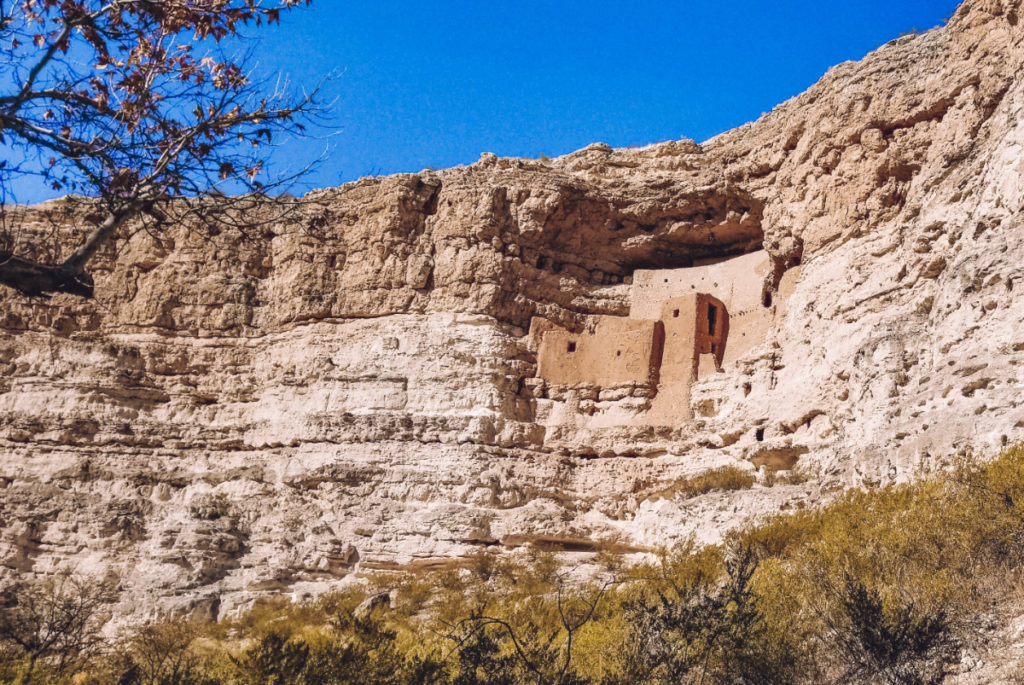 Montezuma Castle National Monument is located just south of Sedona on the way back to Phoenix.
The monument is a well preserved limestone cliff dwelling once home to the Sinagua people. Visitors can explore the visitor center where they can learn about how the cliff dwellings were made and what life may have been like for the Sinagua people.
While Montezuma Castle is a relatively quick visit, it's an interesting place to see and well worth the time to stop.
Next Stop: Back to Phoenix
Drive Time: 90 minutes
I hope you've enjoyed this guide to the Ultimate Arizona Road Trip and that I've inspired you to book a trip of your own. If you liked this guide please consider sharing it. Thanks so much for reading.
Save it for later.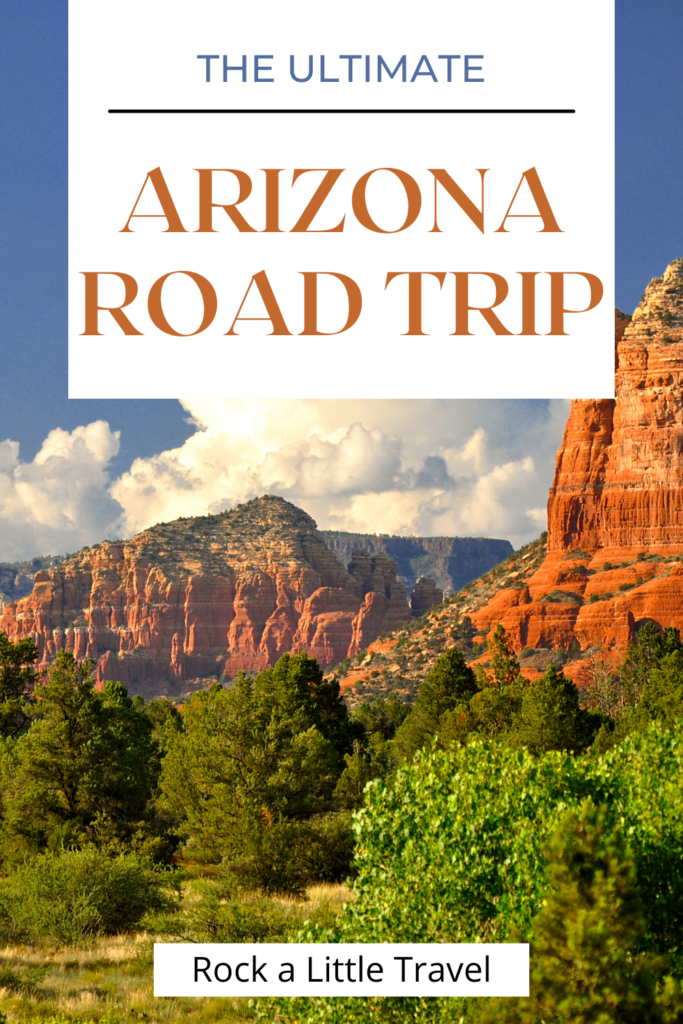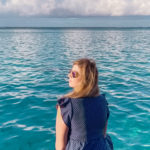 Eden Fite
Part-time Traveler | Dog Lover | Avoider of Crowds
I help busy people find creative ways to travel more.