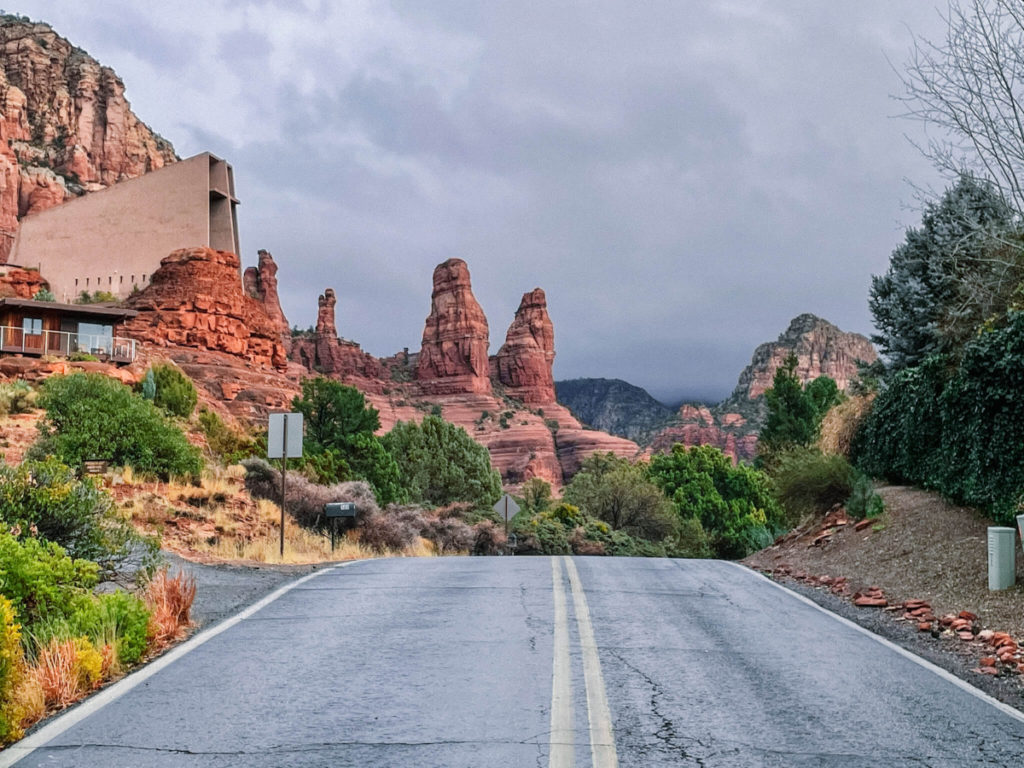 The Phoenix to Sedona drive may just be one of the prettiest in the world. If you're lucky enough to be making the trek and its your first visit, you're in for a pleasant surprise.
The drive is just 2 short hours, but you'll be met with some of the most stunning desert landscapes you've ever seen.
While the iconic red rock formations steal the show as you near the outskirts of Sedona, there is still plenty to see along the way.
If you're up for a little adventure on your Phoenix to Sedona road trip, you don't want to miss the stops below.
Having been to both Phoenix and Sedona dozens of times over the past several years, I'm excited to share my favorite stops with you.
I promised a Phoenix to Sedona road trip is one you won't soon forget.
Some of the links in the post are affiliate links. If you make a purchase through these links it helps to support this site at no extra cost to you.
The Ultimate Phoenix to Sedona Road Trip Itinerary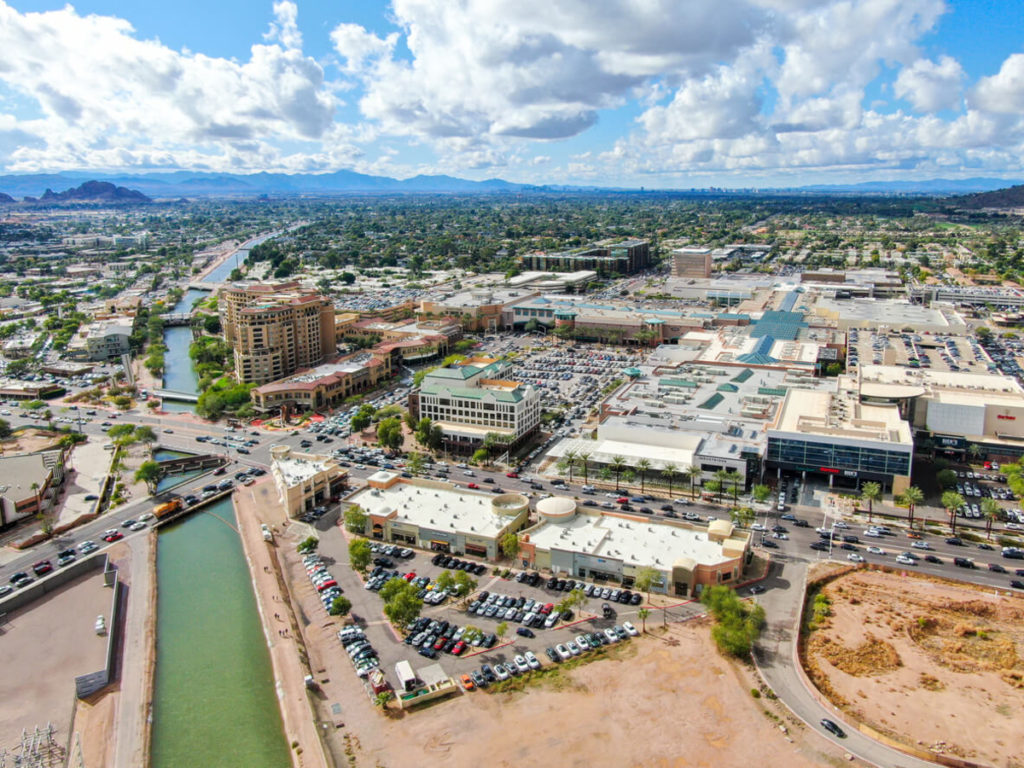 This Phoenix to Sedona drive makes for one of the best road trips in the country.
There are not many places in the world where you can go from a lively and cosmopolitan city like Phoenix, then be surrounded by breathtaking landscapes like those of Sedona in just a few short hours.
Honestly I make this drive every year and it never gets old.
The Red Rock Scenic byway runs along Arizona State Route 179 up to Sedona and it's my favorite stretch of highway in the entire world. I'm pretty sure you're going to love it too.
Without further ado, let's get to exploring my favorite places between Sedona and Phoenix.
Traveling Soon? Don't forget your travel insurance.
Travel insurance is now more important than ever.
Travel insurance is probably less than you think it is. (Ex. For a week in Spain next month I'm paying less than $62.00.)
Travel insurance covers a lot more than you think it does.
It's better to have it, than need it and wish you'd bought it.
See for yourself. Check prices here.
Phoenix to Sedona Drive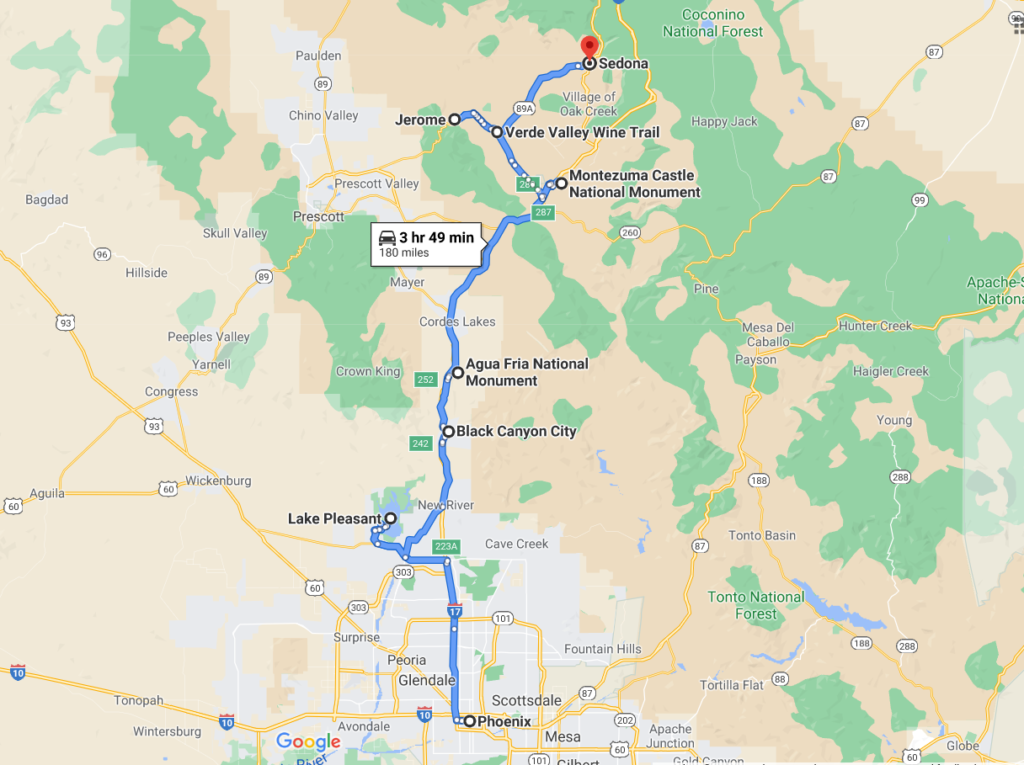 Sedona is located about 2 hours north of Phoenix if you drive straight without stopping. From Phoenix airport to Sedona the drive is also about 2 hours.
Sky Harbor International Airport is just about 10 minutes from downtown Phoenix by car.
If you make all 10 stops listed below on this day trip itinerary, the drive itself will take about 6 hours but I promise the stops are worth it.
If one of these stops doesn't sound fun to you, just skip it. In my opinion, I would not skip Montezuma Castle National Monument or Jerome. These are my favorite stops and you'll quickly see why once you visit.
While Jerome is a little out of the way, it's definitely worth it. Jerome is awesome, you'll see.
If you don't have a car or simply don't want to drive, you can experience this same trip on a guided day trip to Sedona. This is a full day tour that includes pick up and drop off from your hotel.
While there is no train from Phoenix to Sedona, you could Uber from Phoenix to Sedona if you just don't want to drive or take a guided tour.
You can expect an Uber from Phoenix to Sedona to cost around $200, but please don't forget to tip your driver.
Drive time Phoenix to Sedona
The drive time from Phoenix to Sedona is 2 hours without stops.
Stop 1: Phoenix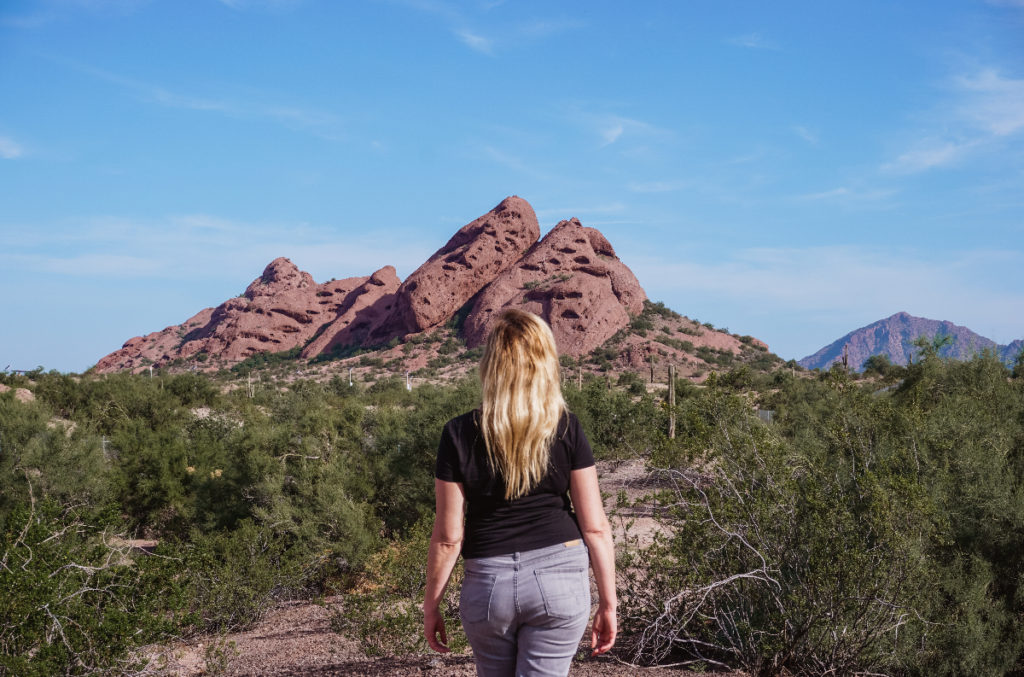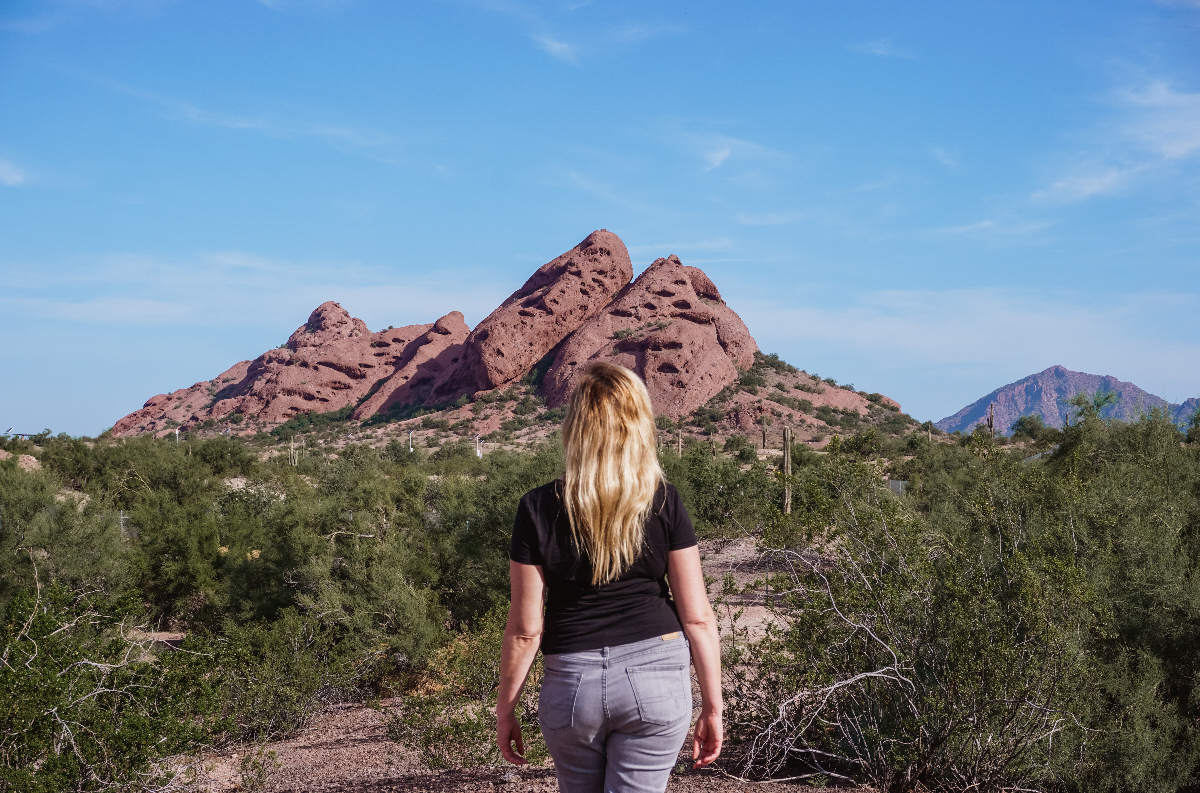 Since you're starting out in Phoenix, I'll assume you've already had some time to enjoy the city.
However, if you're looking for things to do in Phoenix don't miss the Wrigley Mansion, the Heard Museum, Japanese Friendship Garden, or the local hikes and wine tasting.
If you're looking for a unique guided tour in Phoenix, here are a few Phoenix area tours to get you started. Those of you looking for little adventure or wanting to celebrate a special occasion should consider a sunrise hot air balloon ride.
You can't beat the views from a hot air balloon over Arizona.
After you've finished exploring Phoenix, plan to get an early start on your Phoenix to Sedona road trip. You've got lots to see.
Phoenix to Lake Pleasant Regional Park distance: 46 minutes / 42 miles
Stop 2: Lake Pleasant Regional Park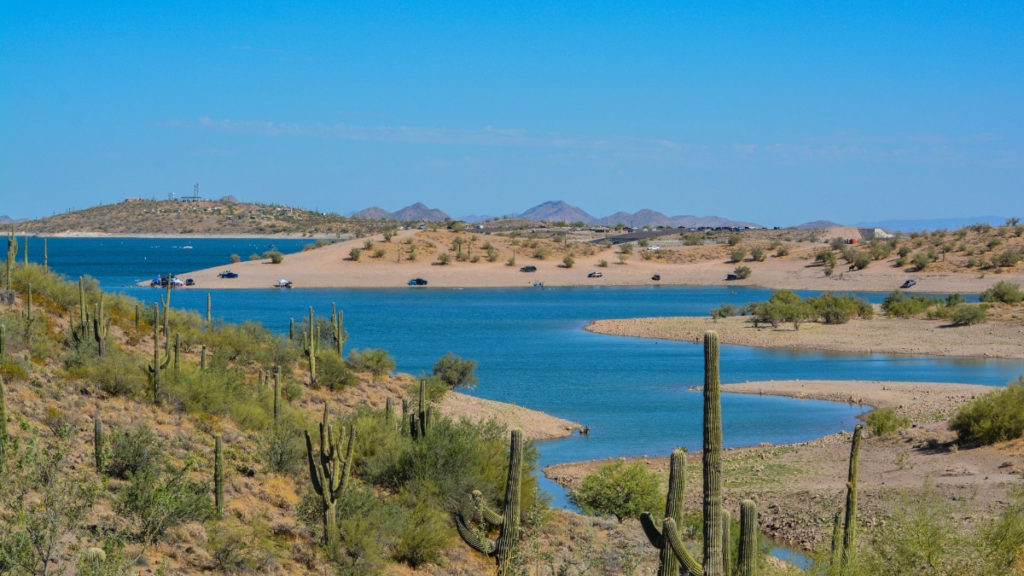 Lake Pleasant is a large public park just north of Phoenix. It's about 45 minutes north of downtown off Interstate 17.
I recommend a short stop at Lake Pleasant because its a beautiful park, but also because its a great opportunity to get in a little exercise before your road trip. The park has several trails and walking paths for you to choose from.
For those looking to stick around and enjoy the park for a while, you can also enjoy boating, fishing, swimming, and even SCUBA diving. There are also places to camp or have a picnic.
Arrive early to avoid the heat and the crowds.
Time for stop: 1 hour
Lake Pleasant Regional Park to Black Canyon City distance: 35 minutes / 30 miles
Stop 3: Black Canyon City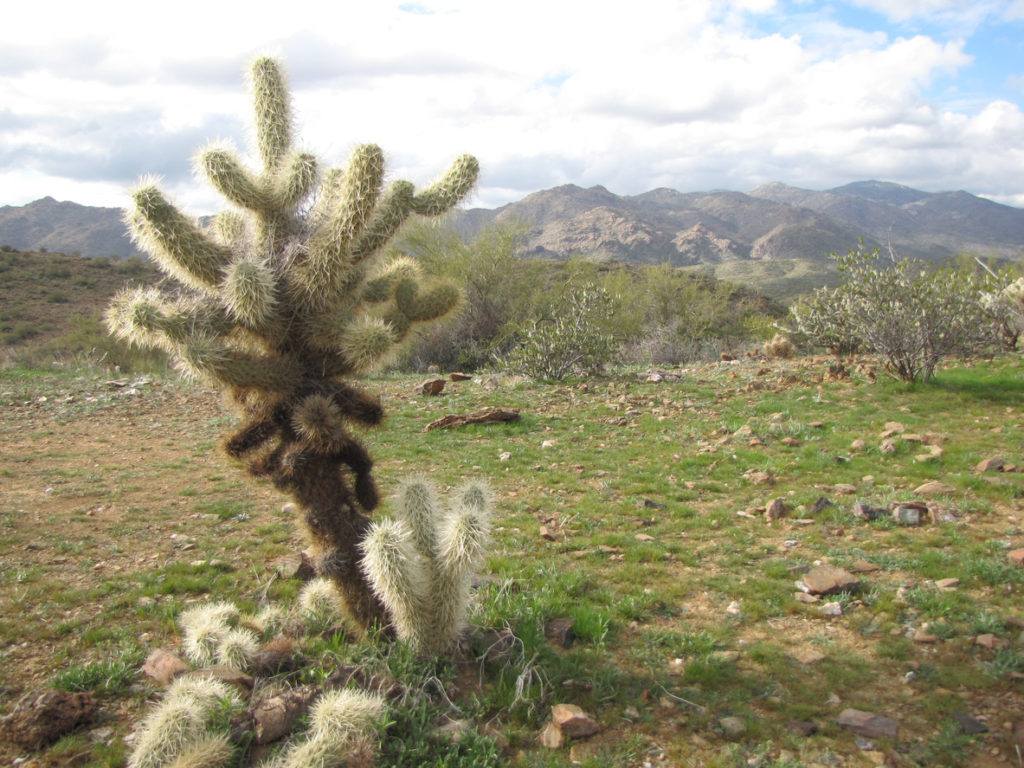 Black Canyon City is a former Old West town from the 1800s located about 40 minutes north of Lake Pleasant. It's a good stop if you're looking to grab something to eat or take a quick break from the road.
If you've got your mountain bike with you, consider checking out the Black Canyon Trail. This is an 80 plus mile mountain biking trail running through the sonoran desert. The trail is a former route used by Native American travelers and traders.
To be completely honest, I visited Black Canyon City on my recent drive from Phoenix to Sedona and wasn't all that impressed. I did spot a cow eating grass on the edge of the road though, which was the highlight of my drive through the town.
Time for stop: 15 minutes if just driving through.
Black Canyon City to Agua Fria National Monument distance: 18 minutes / 13 miles
Stop 4: Agua Fria National Monument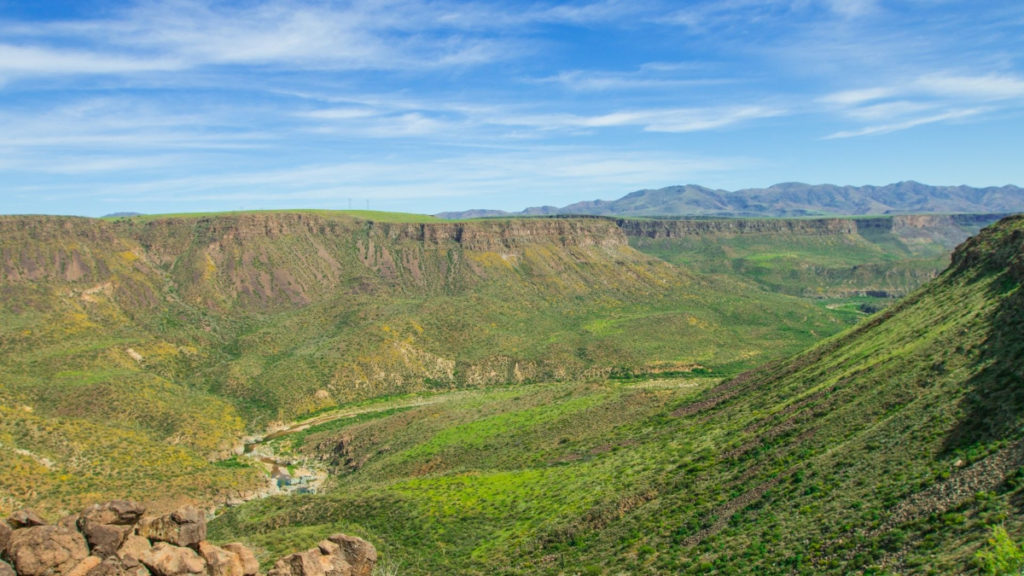 Agua Fria National Monument is a large nature preserve covering 113 square miles. Visitors to Agua Fria can see over 450 Native American structures including large pueblos and petroglyphs.
Agua Fria is also home to two mesas and the Agua Fria river and canyon. The preserve is home to an abundance of wildlife incuding bobcats, coyotes, mule deer, javelina, and a whole bunch of other small critters, reptiles and birds.
At Agua Fria you can enjoy hiking, biking, fishing, and horseback riding. There are also camping and picnic spots available.
Agua Fria is located off Interstate 17 about 20 minutes north of Black Canyon City.
Time for stop: 30 minutes to one hour.
Agua Fria National Monument to Montezuma Castle National Monument distance: 36 minutes / 36 miles
Stop 5: Montezuma Castle National Monument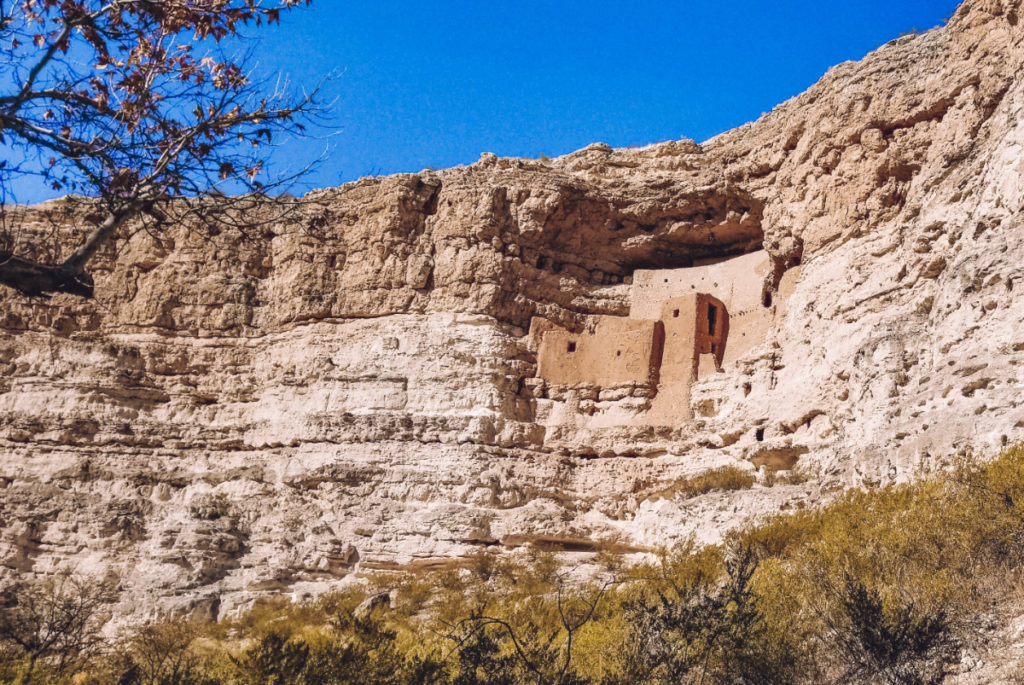 Montezuma Castle National Monument was one of my favorite stops on the way up to Sedona. Visitors to the monument can view pre-Colombian cliffside dwellings built into a limestone cliff (pictured above).
The dwellings date back to 1100 to 1425 AD. The main dwelling shown above was five stories with 45 to 60 rooms. Even more impressive is that it was constructed over the course of three centuries.
There is also a gift shop and several exhibits located in the visitor center where you can learn more about Montezuma Castle and the people who lived there. Short guided tours are also available.
Montezuma Castle is located off Interstate 17 about 45 minutes north of Agua Fria National Monument.
Time for stop: 30 minutes
Montezuma Castle national monument to Tonto Natural Bridge State Park distance: 1 hour/ 53 miles
Stop 6: Tonto Natural Bridge State Park
If you have extra time to spare on your scenic drive from Phoenix to Sedona, consider making the one hour detour over to Tonto Natural Bridge State Park.
Tonto Natural Bridge State Park is located near Payson Arizona and is reported to be home to the world's largest natural travertine bridge.
For those wondering, a natural travertine bridge is one formed naturally from the area's iconic red rock. This particular bridge stands 183 feet high over a 400 ft long tunnel.
In addition to the Natural Bridge this park is also home to three hiking trails and a picnic area. There is also plenty of opportunity for spotting local wildlife.
Time for stop: 1 hour
Tonto Natural Bridge State Park to Jerome distance: 90 minutes / 73 miles
Stop 7: Jerome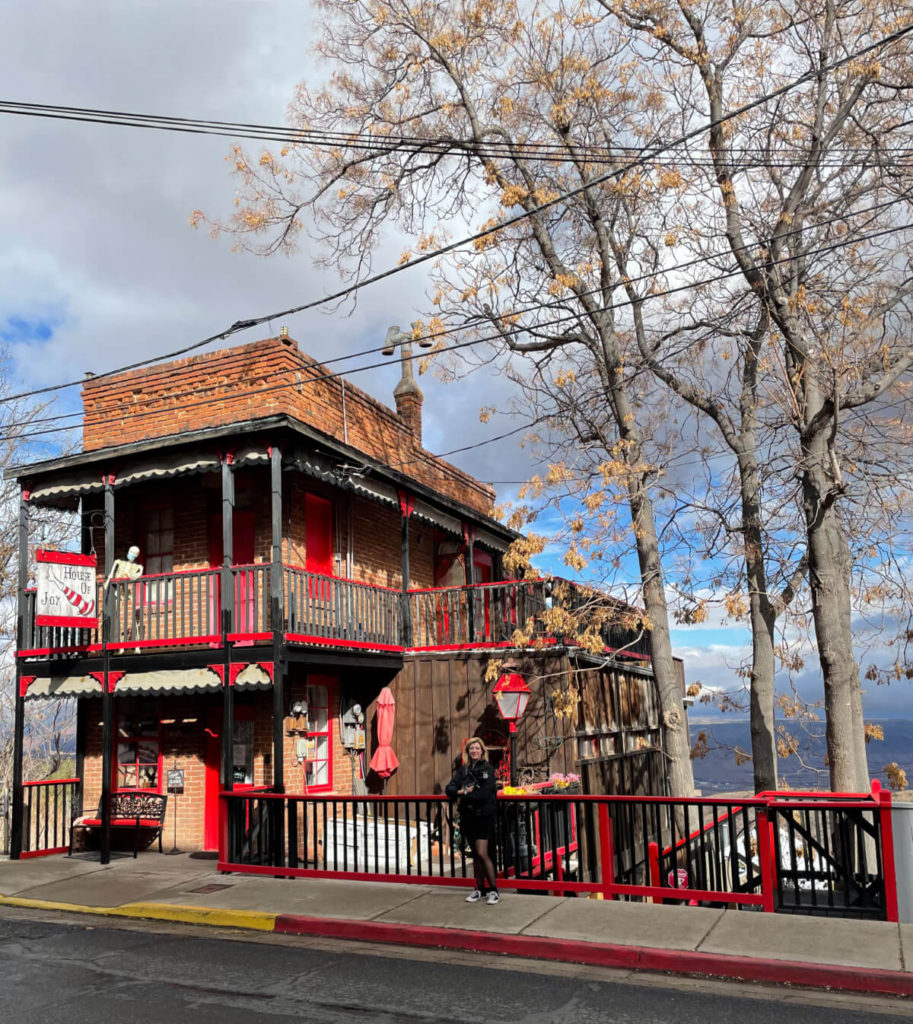 I said it before and I'll say it again. Jerome is awesome.
The town of Jerome is famous for being designated the largest ghost town in America. It was also a roaring copper mining town in the 1920s and 1930s. Unfortunately, due to decreased demand for copper, the Phelps Dodge Mine closed in 1953, taking most of the city's jobs along with it.
Today, Jerome is a beautiful hillside tourist town home to musicians, artists, and shop owners. Visitors will enjoy exploring the small downtown where you can find boutique shops, art galleries, restaurants, and bars.
if you'd like to know more about what I'd recommend for your time in Jerome, check out my post on the Best Things to do in Jerome Arizona.
Before you leave, be sure to stop at the haunted Jerome Grand Hotel. You can't miss it, the famous hotel sits at the very top of the hill. Ghost tours are available to hotel guests, inquire in advance.
Jerome is located 45 minutes west of Montezuma Castle National Monument. If you'd like a guided tour around the city you can find one here.
Time for stop: 1 hour
Jerome to Tuzigoot National Monument distance: 15 minutes / 7 miles
Stop 8: Tuzigoot National Monument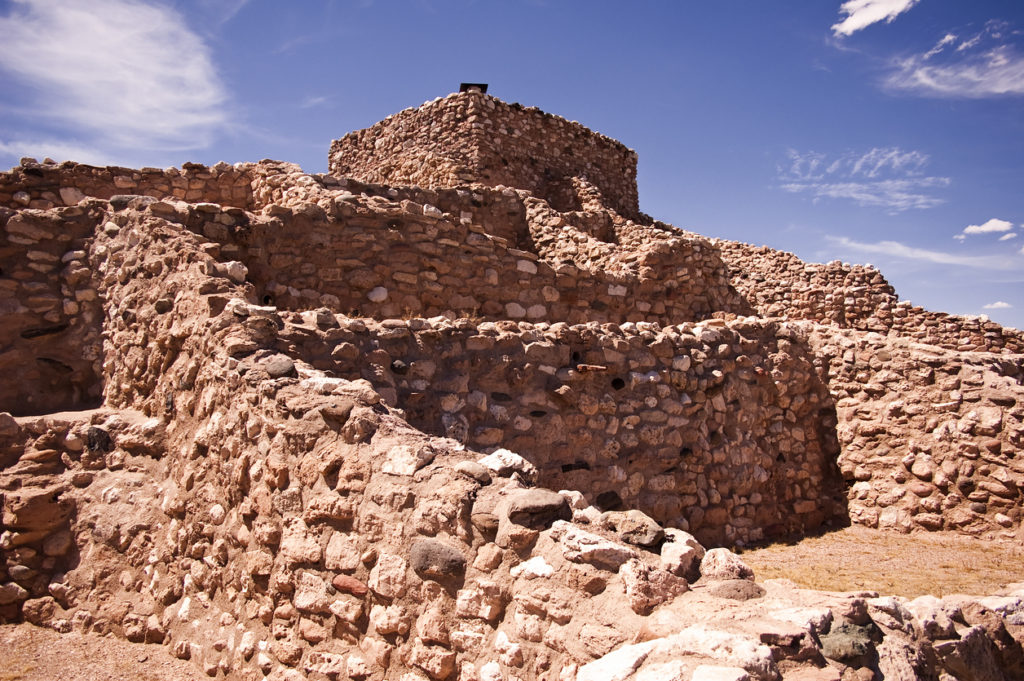 Tuzigoot National Monument is the location of a former Pueblo that was home to the Sinagua people.
Visitors to Tuzigoot National Monument can explore the remnants of the former Pueblo, walk along the Tavasci Marsh, and visit the Tuzigoot Museum.
Inside the Tuzigoot Museum you can learn about the lives of the sinagua people, how the Pueblo was built, and what their lives might have been like during the time they lived at the Pueblo.
Time for stop: 1 hour
Tuzigoot National Monument to Verde Valley distance: 15 minutes / 6 miles
Stop 9: Verde Valley Wine Trail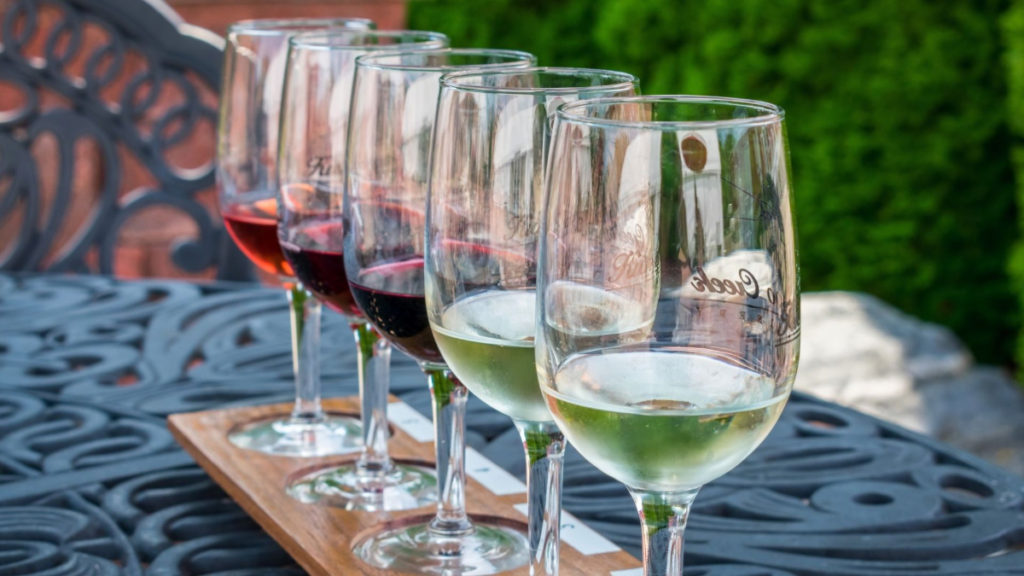 For your wine tasting pleasure, the Verde Valley Wine Trail is located 20 minutes east of Jerome in Cottonwood.
Make your way to Main Street in Old Town Cottonwood and you'll be walking distance to all six wineries and tasting rooms located in town. Wine tasting has never been easier, seriously.
Here is a list of the six wineries you'll find in Cottonwood.
Fire Mountain Wines: This one may be permanently closed. Will update here soon.
I haven't been to these wineries but did visit Page Springs Cellars, which is a bit closer to Sedona and loved it.
But, if I were visiting agian, I would hit up two to three of the wineries at the top of this list based on what looks cool when I walk by (Yes, I'm suggesting you pick a winery based on how it looks from the outside. I'm not a somelier over here so I aim for ambiance.)
Then, I would visit Merkin Vineyards Osteria last because I'm a sucker for authentic Italian. Plus, it would be a good idea to soak up all that wine before driving into Sedona.
Time for stop: 1 hour (or as much time as you need).
Verde Valley Wine Trail to Sedona distance: 25 minutes / 19 miles
Final Destination: Sedona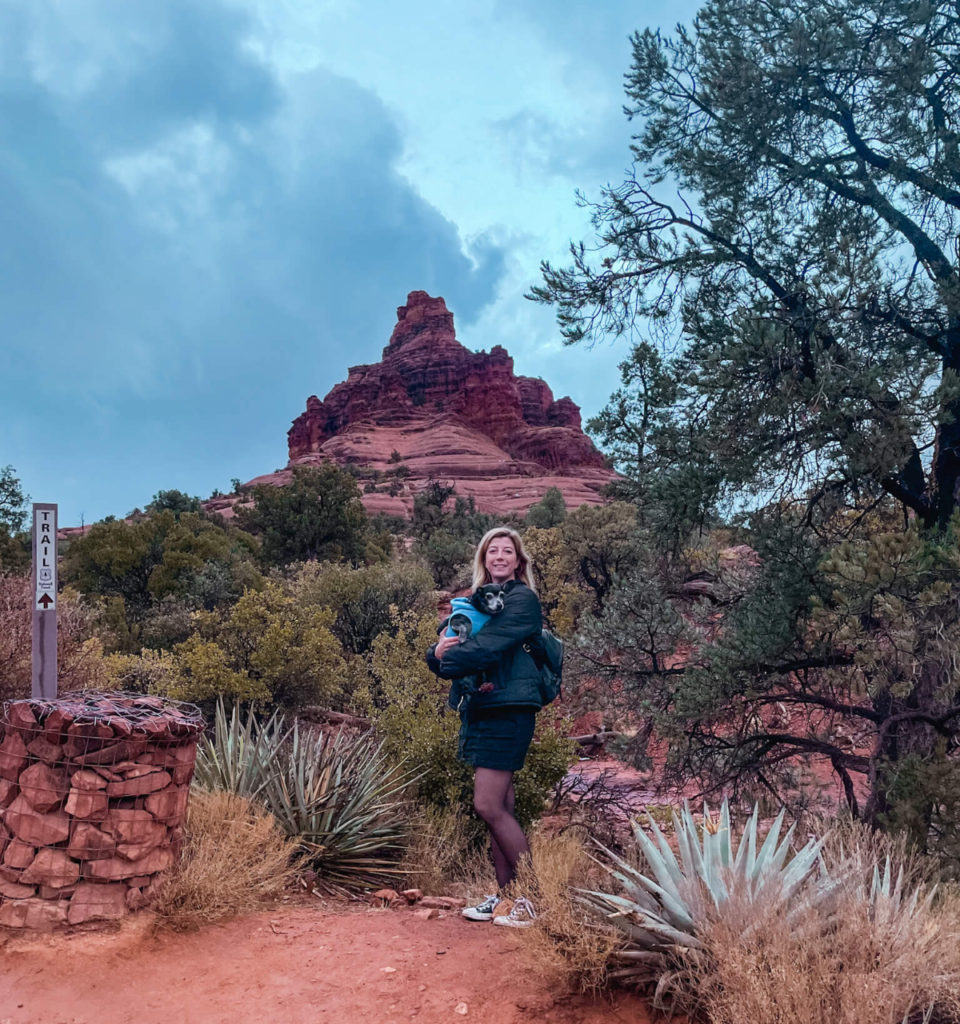 After you've finished up on the Verde Valley Wine Trail, make your way to your final destination in Sedona. Once you're settled in, there are a million ways to enjoy a day in Sedona.
If you're interested in exploring more of the local wines, head to the beautiful wineries in Sedona along Page Springs Road. My personal favorite is Javelina Leap.
If this is your first visit don't miss Chapel of the Holy Cross, Bell Rock, Cathedral Rock Trail, Slide Rock State Park, Oak Creek Canyon, or the pink jeep tours.
Chapel of the Holy Cross is an active Roman Catholic chapel, so be sure to be respectful if services or wedding ceremonies are in progress.
My personal favorite stops are Bell Rock and Oak Creek Canyon. Bell Rock is perfect for an early morning hike or to enjoy stargazing late at night. Bring your camera to get pictures of those beautiful red rocks.
Oak Creek Canyon is sort of a mini Grand Canyon (very mini), but its incredibly beautiful.
If you'd like a guided tour of Sedona you can find one here.
Sedona is about 20 minutes northeast of Cottonwood.
I hope you've found this Phoenix to Sedona Road Trip Itinerary useful in planning a trip of your own. If you'd like to support this blog please consider sharing this post. As always, thanks for reading.
Frequently Asked Questions
Is the drive from Phoenix to Sedona safe? Yes, I found it to be very safe. Interstate 17 is a pretty straight shot up to Sedona, so the drive is not complicated.
Is the drive from Phoenix to Sedona scary? No, not really. The highway is a little windy as it goes through some hills but for the most part the road is straight and flat.
Can I rent a car? Yes, you can make a Phoenix to Sedona car rental reservation and pick up your car from the airport.
How can I get to Sedona without a car? From the airport there is a Phoenix to Sedona shuttle service. Advanced reservations are required.
What is the distance from Flagstaff to Sedona? 29 miles, or about 50 minutes
What is the distance from Phoenix to Sedona? 117 miles, or about 2 hours.
What is the distance from Phoenix to Flagstaff? 144 miles, or about 2 hours 10 minutes.
Can you fly from Phoenix to Sedona? Yes. If you're rich, you can charter a small plane and fly to Sedona. I have no idea how much this costs.
If you have any other questions, head over to my contact page and send me a message.
Related Posts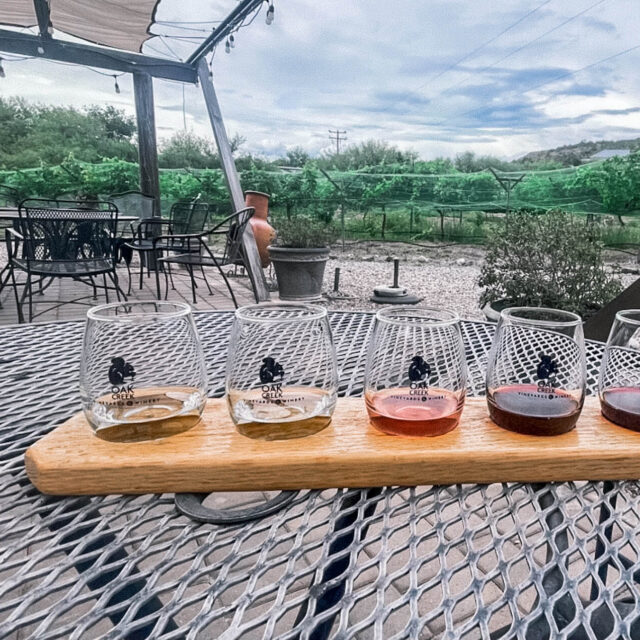 If you're looking for the best wineries in Sedona then you've come to the right…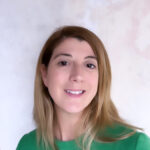 Eden Fite
Part-time Traveler | Dog Lover | Avoider of Crowds
I help busy people find creative ways to travel more.