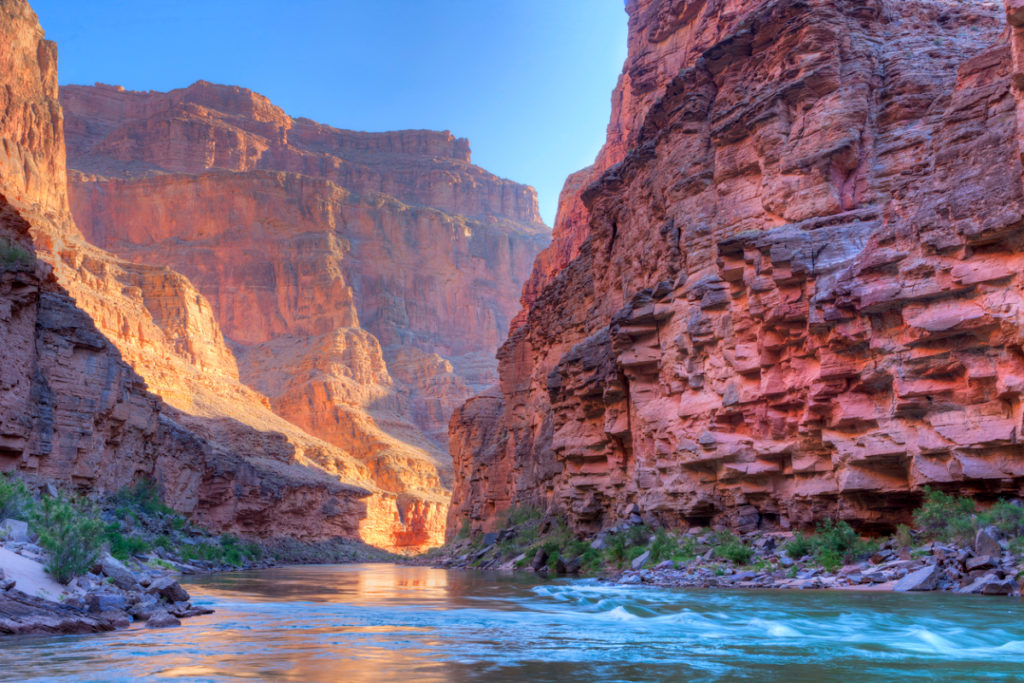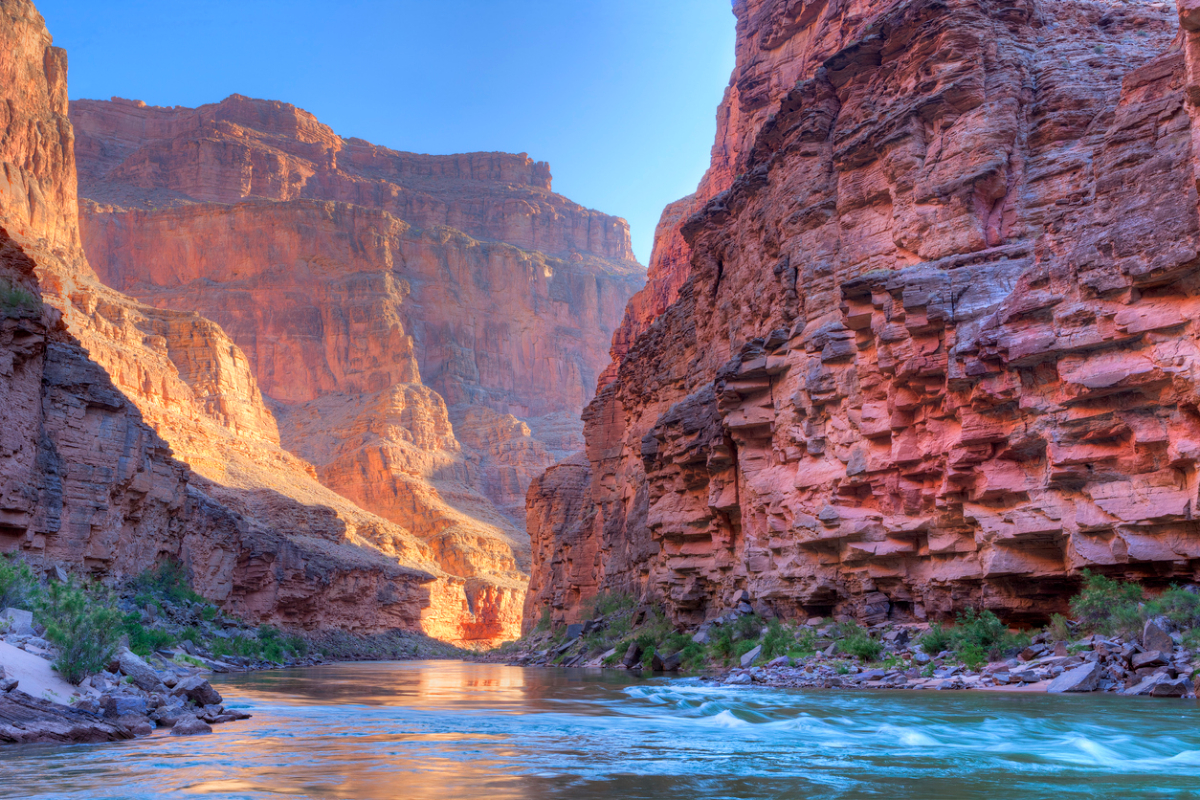 A Sedona to Grand Canyon road trip is the perfect way to add a little adventure into your Sedona vacation.
The South Rim of the Grand Canyon is located 3 hours north of Sedona making it a relatively easy day trip or road trip opportunity. Believe me, if you've never been to the Grand Canyon before, it's totally worth it.
Once you arrive at Grand Canyon National Park, you'll have plenty to see and do, even if you only plan to visit for the day. I'll include my favorite things to do at the Grand Canyon down below, but once you're there, I'm sure you'll have no problem filling up your day.
So if you're ready, gas up your car and let's get this Sedona to Grand Canyon road trip under way.
Some of the links in the post are affiliate links. If you make a purchase through these links it helps to support this site at no extra cost to you.
Sedona to Grand Canyon Road Trip Itinerary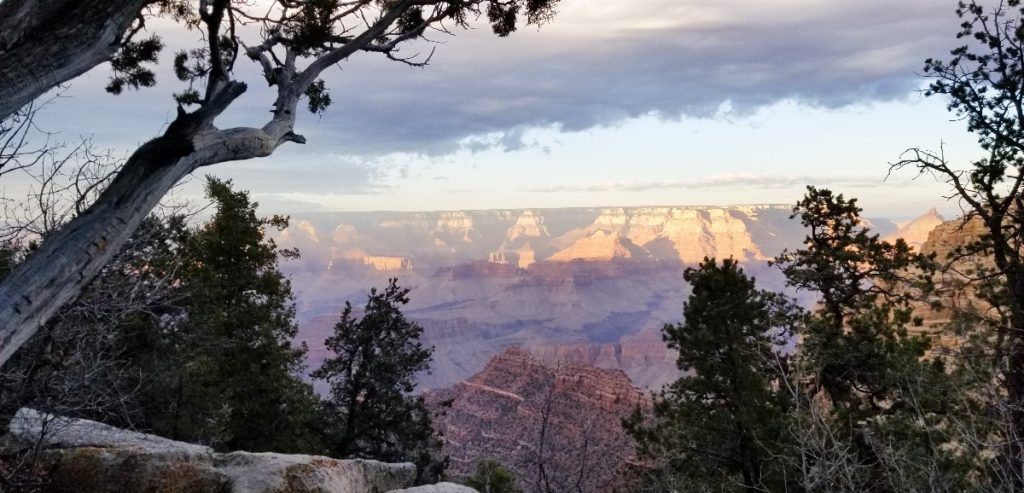 A few quick notes on this Sedona to Grand Canyon itinerary. This post assumes you've already spent at least one day in Sedona (hopefully more) enjoying all the sights.
If not, I encourage you not to miss Chapel of the Holy Cross, Bell Rock, Red Rock Crossing, Red Rock State Park, Sedona Airport Scenic Lookout, or stargazing at night.
You'll want to get an early start on the day of your road trip to the Grand Canyon. I would leave by 7:00 a.m. at the latest to ensure you have a full day to visit the park and enjoy a few stops along the way.
The drive north on State Route 89 is absolutely beautiful, so I'm including a few stops between Sedona and Flagstaff in case you want to get a closer look.
In the event that you don't have a car or don't want to drive, you can also take a one way Grand Canyon Railroad tour from Sedona. It's a little pricey, but its definitly a unque experience.
Traveling Soon? Don't forget your travel insurance.
Travel insurance is now more important than ever.
Travel insurance is probably less than you think it is. (Ex. For a week in Spain next month I'm paying less than $62.00.)
Travel insurance covers a lot more than you think it does.
It's better to have it, than need it and wish you'd bought it.
See for yourself. Check prices here.
Stop 1: Oak Creek Canyon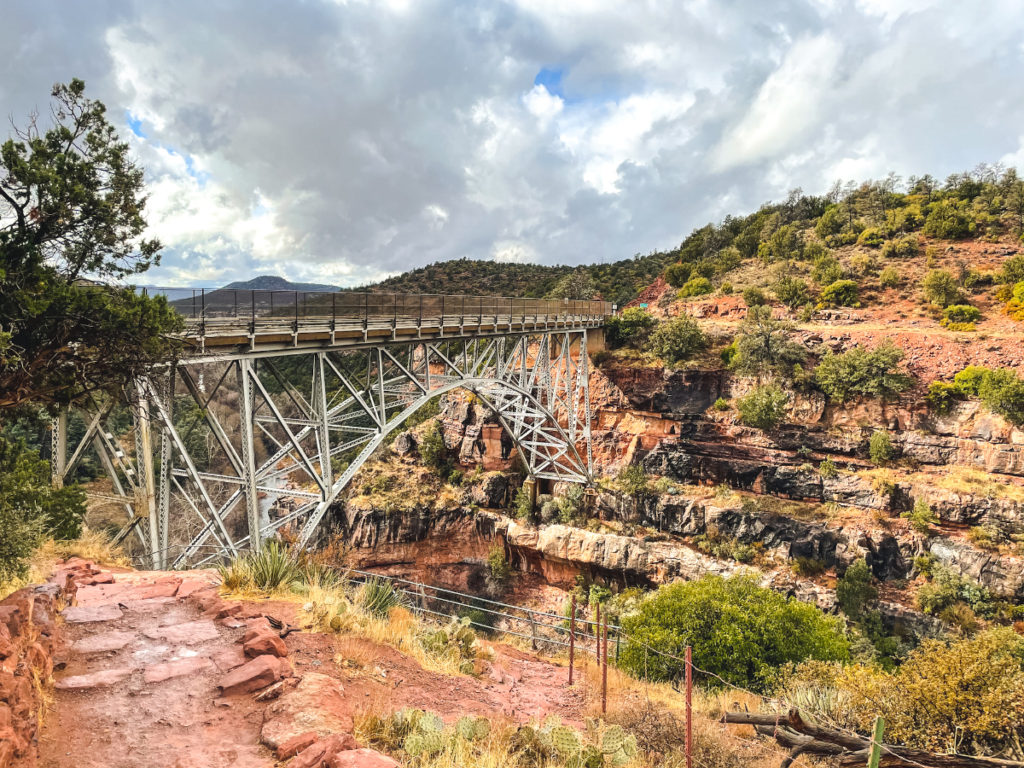 Oak Creek Canyon has been described as a sort of "mini Grand Canyon" and is located about 12 minutes north of Sedona. If you haven't already visited Oak Creek Canyon while you were exploring Sedona, now is the perfect time to stop for a quick look.
As you're driving north out of Sedona you'll cross the Midgley Bridge pictured above. Just past the bridge on the left you'll find a small parking lot. Try and find a spot and walk down the stairs to the overlook.
It's absolutely beautiful and definitely worth the quick stop.
Next Stop: Slide Rock State Park
Distance: 10 minutes (5.2 miles)
Stop 2: Slide Rock State Park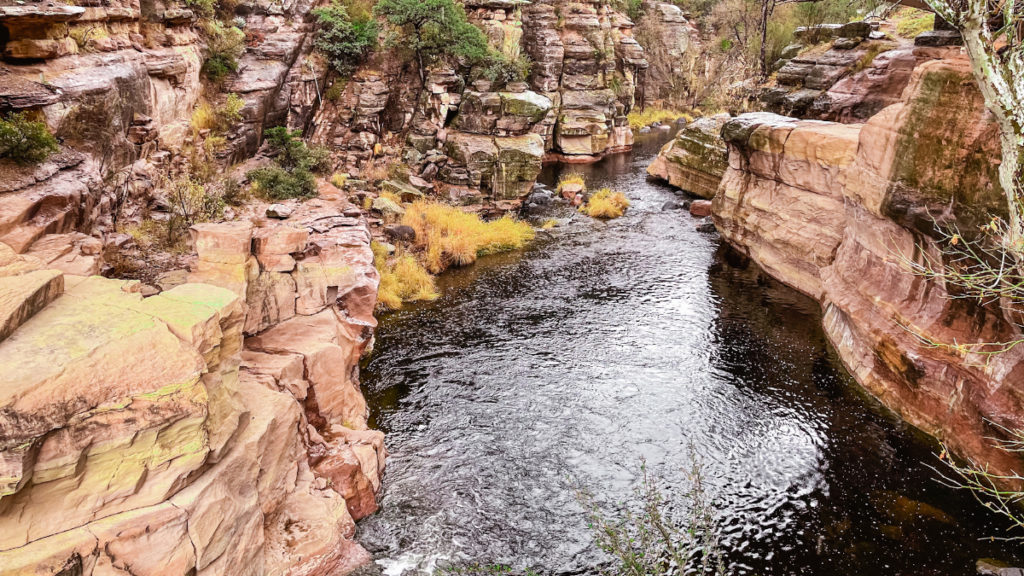 Slide Rock State Park is another easy stop that's totally worth the extra effort. The park is home to a famous swimming hole in Oak Creek. Even better, there's an 80 foot long sandstone water slide, which is of course where the park gets its name.
Even if you don't have time to swim or enjoy the water slide, this section of Oak Creek is worth seeing.
Park your car in the park's main lot and head over to the paved walkway to the right of the ranger station. You'll take this paved walkway about 10 minutes or so until you see the stairs for Slide Rock on your right.
At the bottom of the stairs you'll be able to continue on the rocks towards the swimming hole and slide rock.
Bring good shoes for this one, the rocks can get slippery.
I estimate this stop at Slide Rock State Park will take about 30 to 40 minutes. If you're in a hurry to get to the Grand Canyon, you could easily make this stop about half that time if you move at a brisk pace and don't linger too long at the swimming hole.
Next Stop: Grand Canyon South Rim Visitor Center
Distance: 2 hours 45 minutes (107 miles)
Stop 3: Grand Canyon South Rim Visitor Center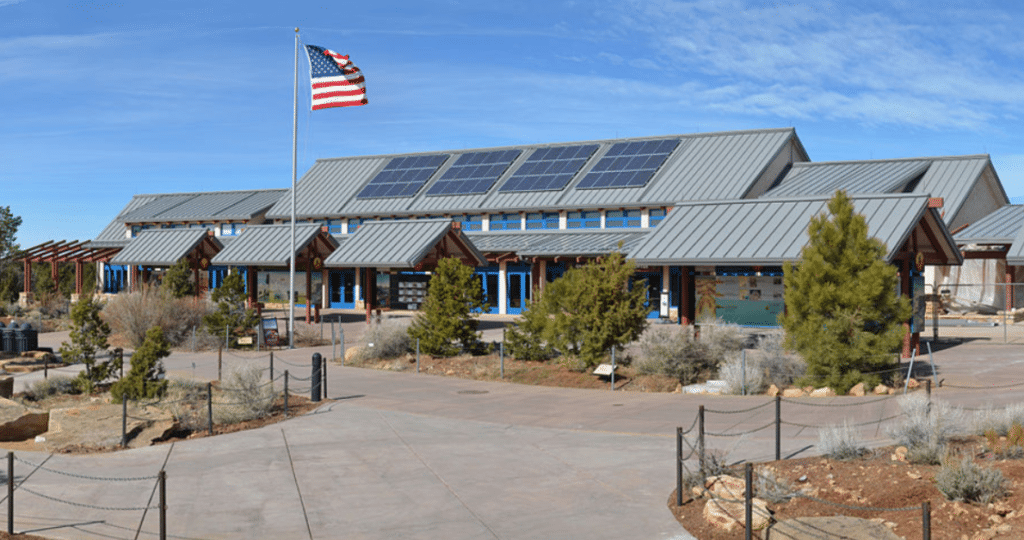 Once you've made it into Grand Canyon National Park, make your way over the Visitor Center and find a parking spot.
At the Visitor Center you can get information about the park, Grand Canyon tours, and use the restroom after your long drive. This stop will also put you near one of the park's best lookouts over the canyon. That stop is next.
Next Stop: Mather Point Lookout
Distance: 5 minute walk
Stop 4: Mather Point Lookout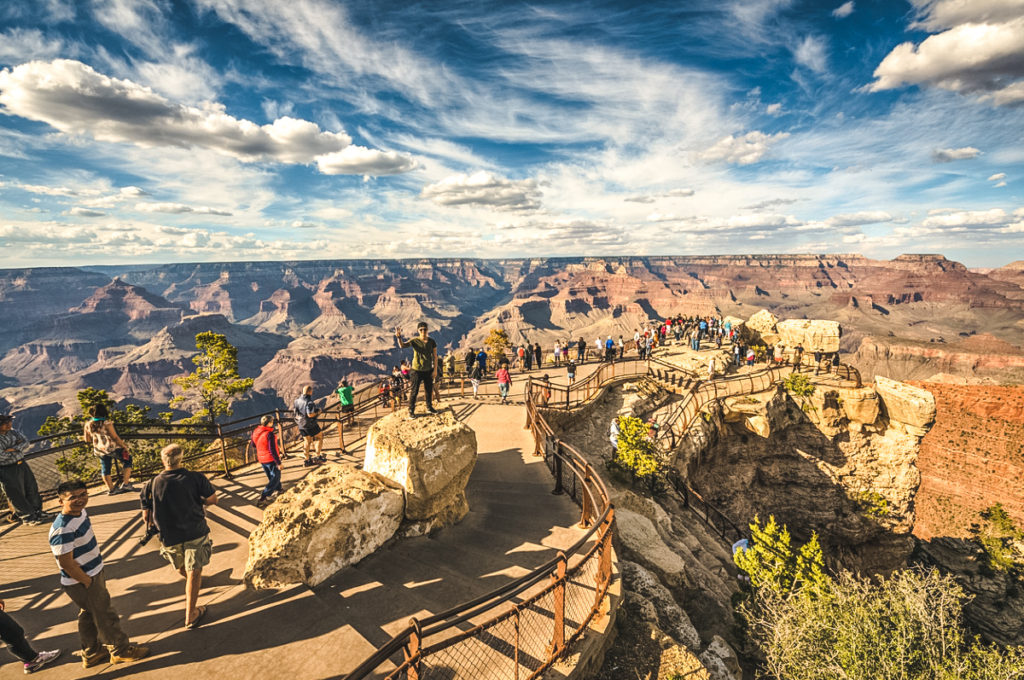 The views from Mather Point Lookout are incredible and this is one of my favorite lookouts at the Grand Canyon.
The downside is that it's also one of the busiest due to its proximity to the Visitor Center and Grand Canyon Village. You'll have the opportunit to escape the crowds a bit later. For now, just enjoy the view.
Next stop: Grand Canyon Village
Distance: 5 minute drive / 20 minute walk
Stop 5: Grand Canyon Village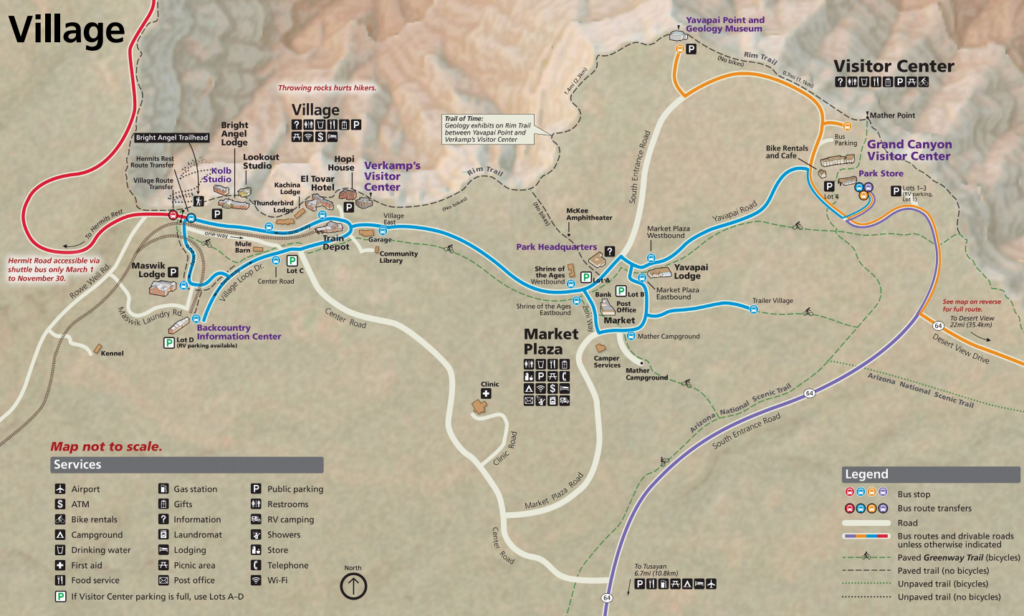 Grand Canyon Village is where you'll find most of the park's lodging and restaurants. If you'll be staying the night inside the park you can get checked into your room. If not, you may want to get lunch at one of the park's restaurants.
You can also walk around the village and see the historic buildings and the old Grand Canyon Railroad Depot. The Grand Canyon Railway is actually still in operation with trains running between the Grand Canyon and Williams, Arizona.
You can also find gift shops, ice cream, and a variety of other services.
Once you've settled into your room or had grabbed some lunch, make your way back to the car so you can drive along the rim of the canyon to the other lookout points.
Next stop: Desert View Watchtower
Distance: 44 minutes (23 miles)
Stop 6: Desert View Watchtower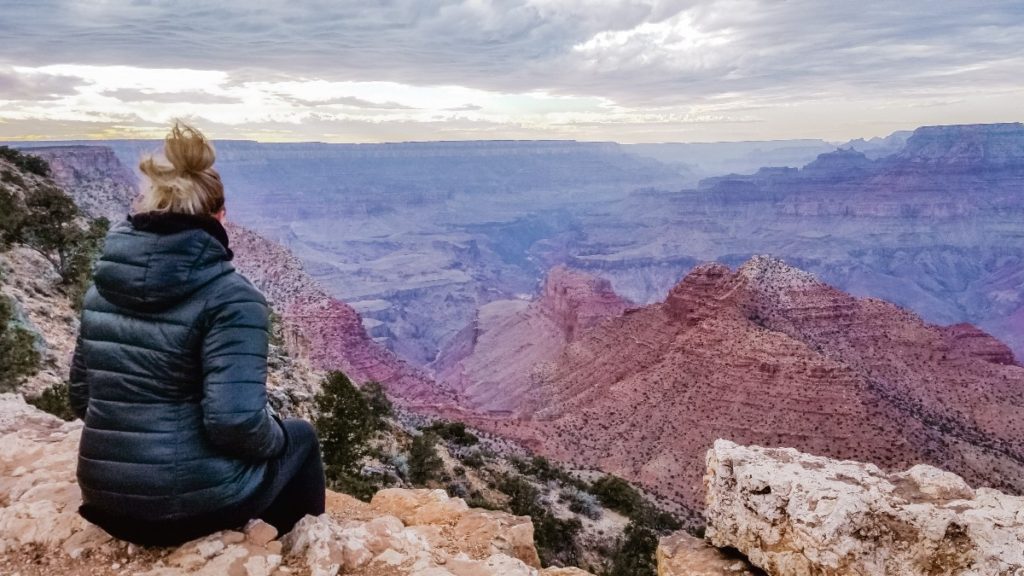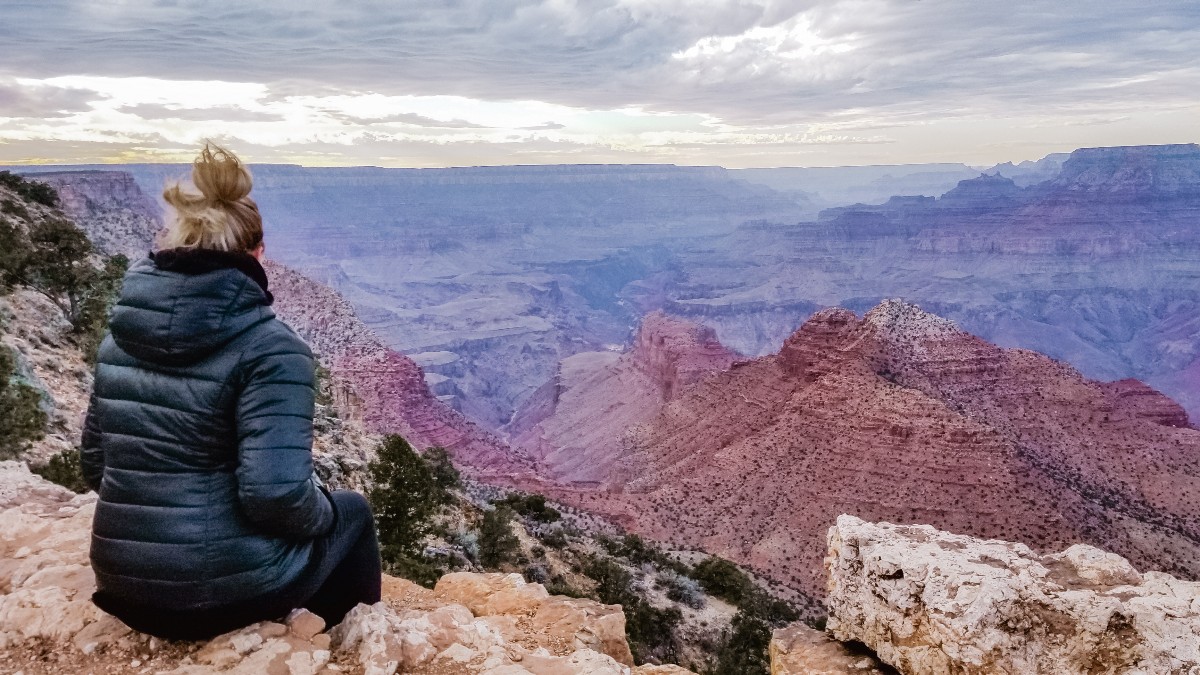 The Desert View Watchtower is the easternmost lookout inside Grand Canyon National Park and my favorite place to go when I visit.
I find the crowds are usually fairly light on this side of the park, and you can't beat that view.
Once you find a parking spot, walk over to the left of the watchtower and find a place to sit along the edge of the canyon. Don't worry, it's not a steep drop right here, but do be careful.
It's actually quite peaceful in this spot, I could sit here for hours. If you're looking for a good sunrise spot, this would be my choice.
Once you're done taking in the view, make your way back over to the watchtower.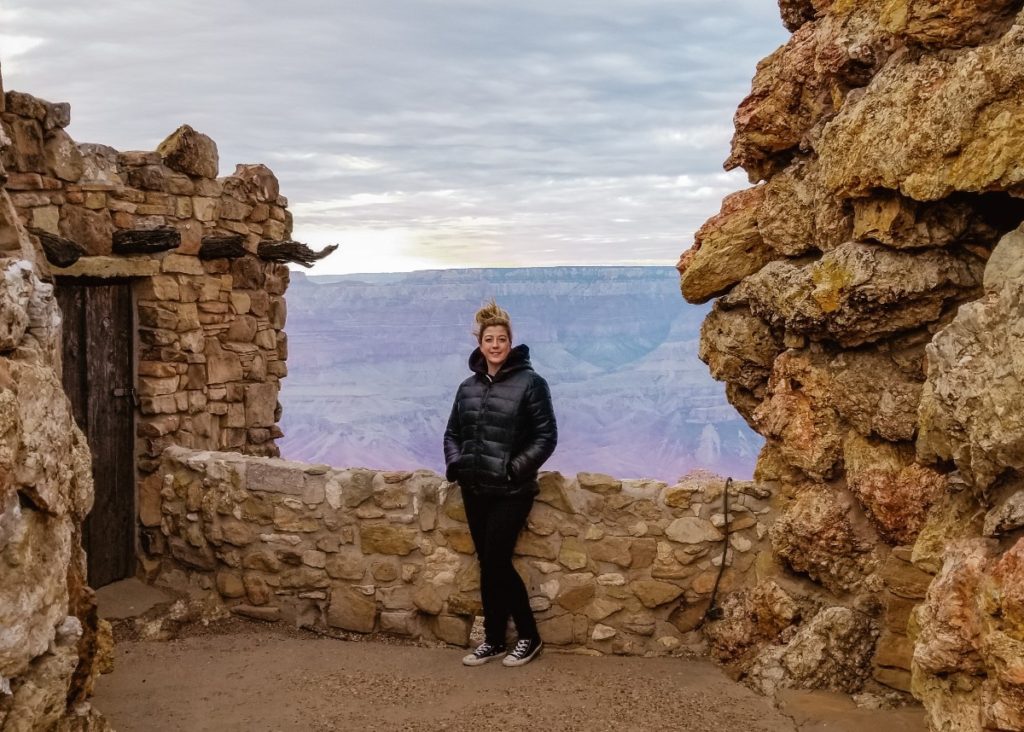 You can get some good photos in and around the watchtower. To the right of this picture you will find stairs to climb to the top of the watchtower.
Take your time to explore a bit, then head back to the car.
Next Stop: Tusayan Museum and Ruins
Distance: 8 minutes (3.6 miles)
Stop 7: Tusayan Musuem and Ruins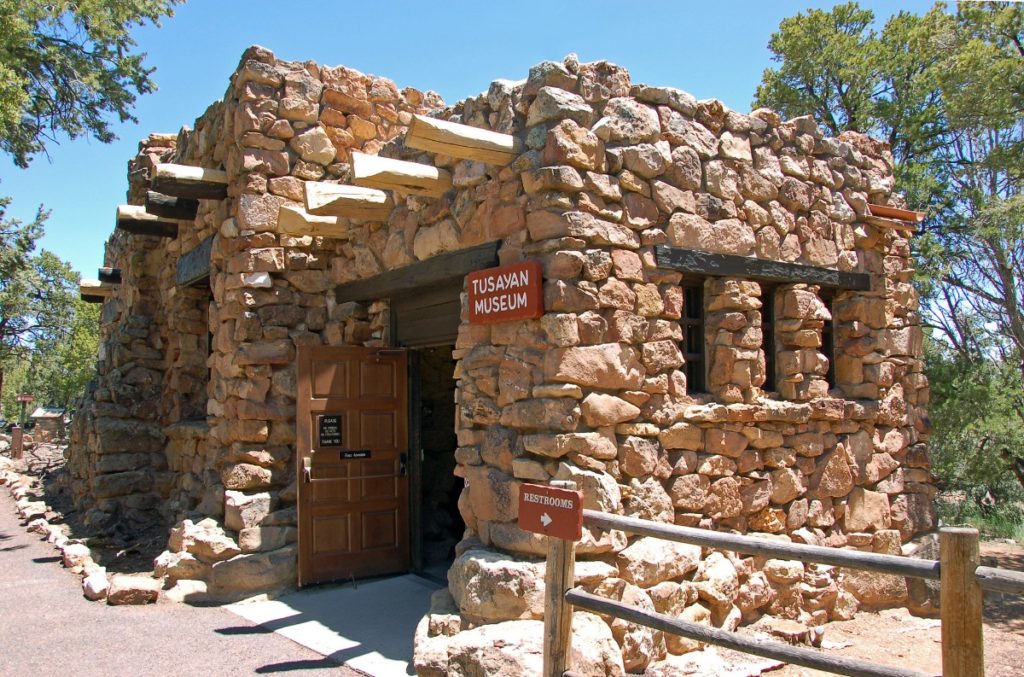 Tusayan is one of over 4,000 archaeological sites located within Grand Canyon National Park.
The Tusayan Museum and Ruins is a former Pueblo Indian site. Visitors can tour the musuem and ruins and learn about the history of the area which dates back to around AD 1185.
Next stop: Grandview Point
Distance: 17 minutes (11 miles)
Stop 8: Grandview Point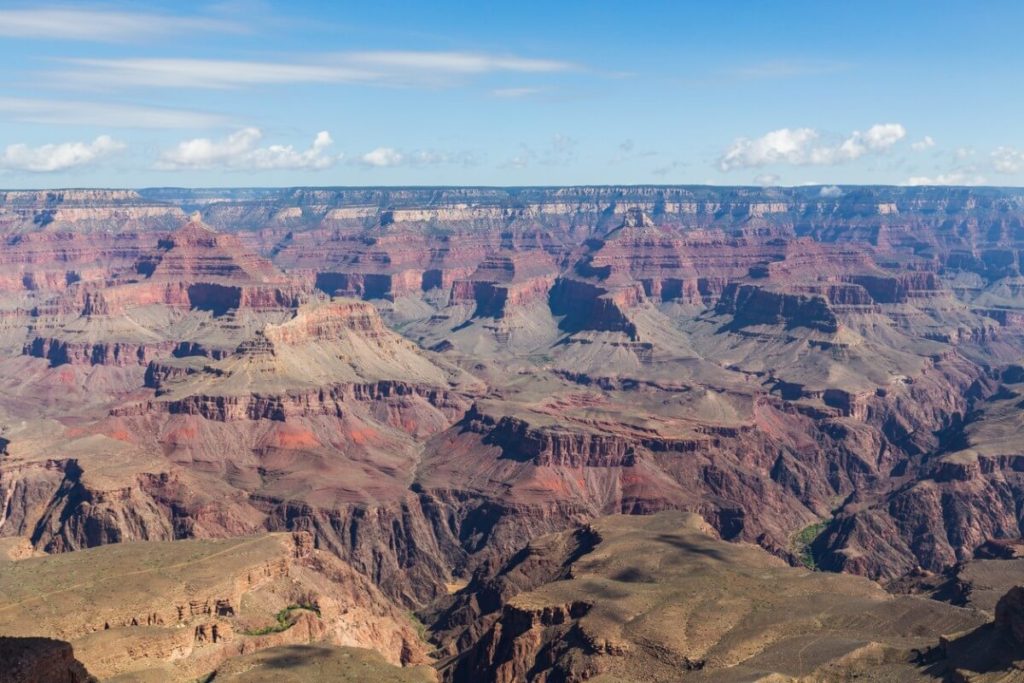 Grandview Point is where you can see vast sections of both the eastern and western portions of the Grand Canyon. You'll also get to see the Colorado River down below.
If you're looking for an extremely challenging hike, the notoriously difficult Grandview Trail can be accessed from this lookout.
Next stop: The Abyss
Distance: 39 minutes (17 miles) – **See below for details.
Stop 9: The Abyss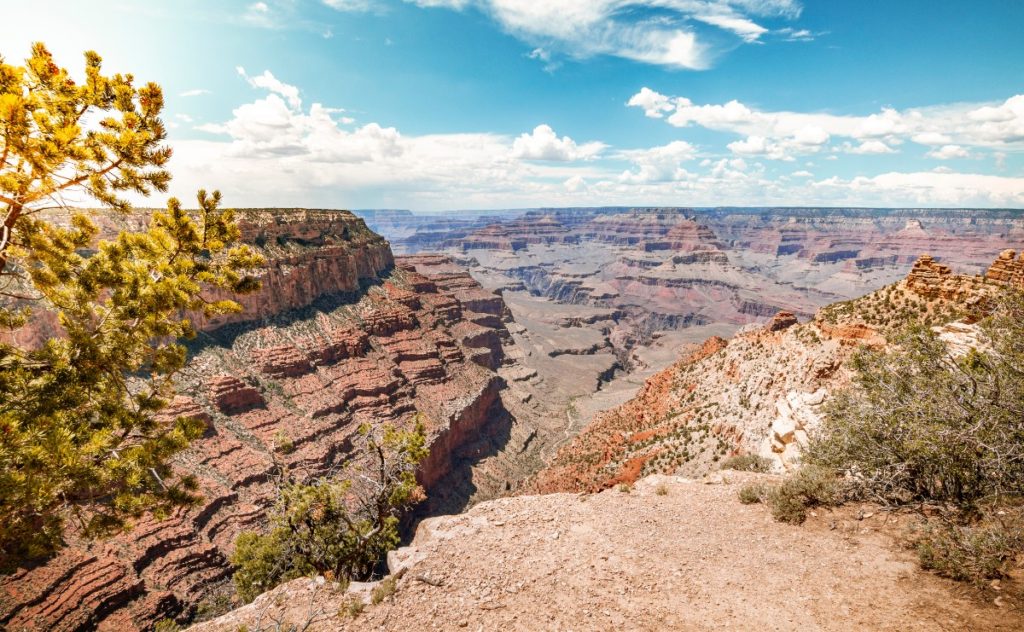 The Abyss lookout is located west of Grand Canyon Village along Hermit Road. This road requires taking a shuttle if you're visiting the park between March and November. You will take the Red Shuttle from Grand Canyon Village.
Here is a map of the Red Shuttle stops along Hermit Road. The Abyss will be the 6th shuttle stop.

If you're visiting the park from December to February, you may drive your personal vehicle on Hermit Road.
The Abyss is known for its stunning red rocks and steep canyon views.
Next stop: Hermit's Rest
Distance: 9 minutes on shuttle (3.1 miles)
Stop 10: Sunset at Hermit's Rest Viewpoint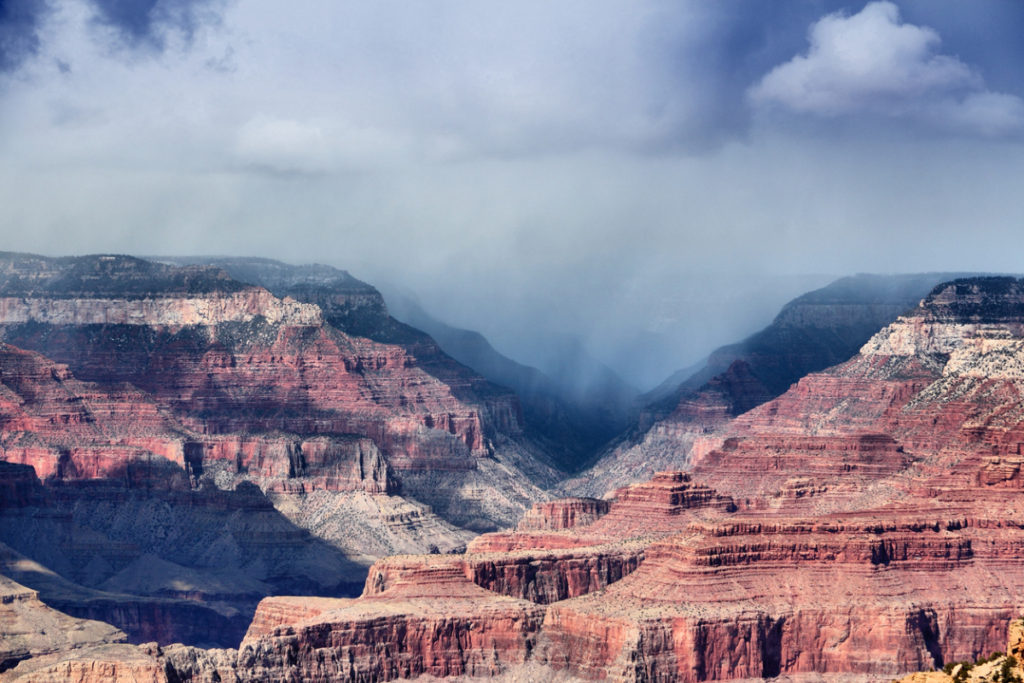 If you can time it right, try to catch sunset at Hermit's Rest. This is the lookout closest to the west rim and looks westward over the canyon. For the best photos, arrive in time for golden hour.
Final Thoughts
If you have extra time, consider taking a Grand Canyon day tour organized by the park. The tours are incredibly interesting and you'll learn a lot about the Grand Canyon.
If you have even more time to spare, consider taking a trip up to the North Rim, the Little Colorado River Gorge, or nearby Horseshoe Bend. All are worth a visit if you've never been.
Be sure to stop at Cameron Trading Post on your way out of the eastern section of the park if you still want souvenirs.
I hope you've enjoyed this Sedona to Grand Canyon Road Trip Ininerary and that I've helped inspire your next trip. If you'd like to support this blog please consider sharing this post. As always, thanks for reading.
Book Your Trip
Find the best flight deals by using Google Flights, then book direct with the airline. This is the search engine I use to compare flights and prices before booking my own trips.

BOOK YOUR ACCOMODATION
I recommend searching for hotels through Booking.com to compare hotels on amenities, location, and price. If you are a member of a hotel's rewards program, always book direct with the hotel. If you are not loyal to a specific hotel brand, using Booking.com for the best price.

TRAVEL INSURANCE
Travel insurance is more important than ever. For just a few dollars a day you can protect yourself and your trip. I personally use World Nomads, but whomever you choose, don't skip out on travel insurance. It can literally save you thousands of dollars.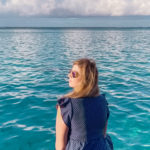 Eden Fite
Part-time Traveler | Dog Lover | Avoider of Crowds
I help busy people find creative ways to travel more.