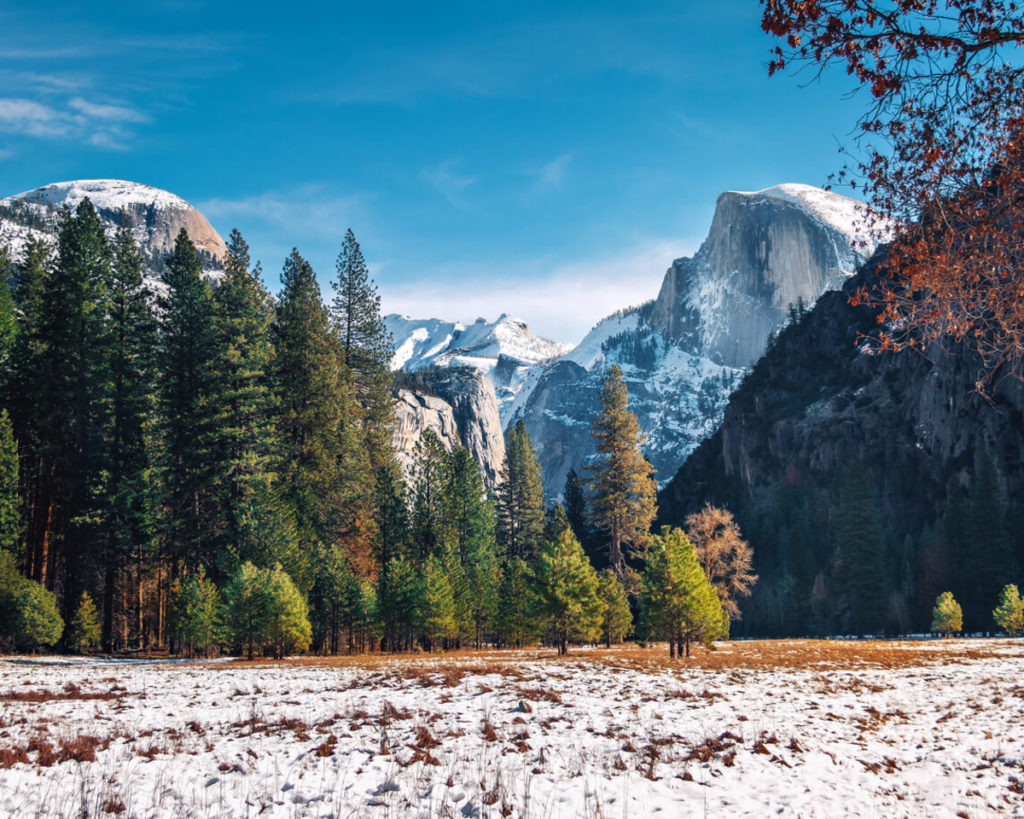 If you're looking for a few reasons to visit Yosemite in winter, I've got you covered. I believe Yosemite National Park is the perfect winter destination, and I think you're going to love it too.
Yosemite is a completely different place in the winter compared to the rest of the year. So even if you've visited Yosemite before, visiting Yosemite in the winter is guaranteed to be a whole new experience.
Be sure to pack your winter jacket and warm, fuzzy boots. Trust me, you'll need them.
This post will highlight the best reasons for visiting Yosemite in Winter including the best activities to do in the snow and why I think winter is the perfect time to visit.
Let's get started.
Some of the links in the post are affiliate links. If you make a purchase through these links it helps to support this site at no extra cost to you.
Yosemite in Winter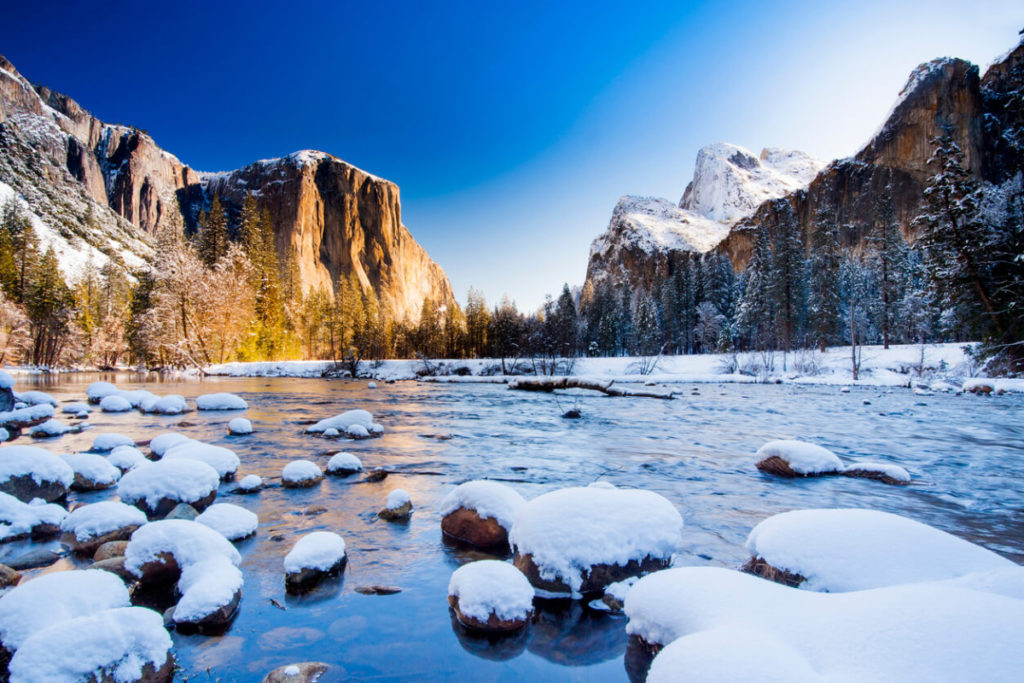 Before we get into my favorite reasons to visit Yosemite in winter, I'd like to give you some information for planning your visit during the winter months.
As I'm sure you're aware, yes it does snow in Yosemite National Park. Due to the snowfall, visitors to the park during the winter months will be required to have snow chains for their vehicle. You should also know how to use them.
You are not required to have the snow chains on your vehicle when you enter, but they should be inside your vehicle. I recommend checking the National Park Service website for current road conditions before you enter the park.
You should also be aware that some areas of the park will be closed during the winter months. For example, Tioga Road, Mariposa Grove Road, and Glacier Point Road will all be closed to vehicles in the winter.
This means you will not be able to drive along the Tioga Pass to Tuolumne Meadows or drive to Glacier Point.
Despite these closures, there are still plenty of things to do in Yosemite to keep you entertained during the winter months.
Here are my 9 Reasons to Visit Yosemite in Winter.
Traveling Soon? Don't forget your travel insurance.
Travel insurance is now more important than ever.
Travel insurance is probably less than you think it is. (Ex. For a week in Spain next month I'm paying less than $62.00.)
Travel insurance covers a lot more than you think it does.
It's better to have it, than need it and wish you'd bought it.
See for yourself. Check prices here.
1. To play in the snow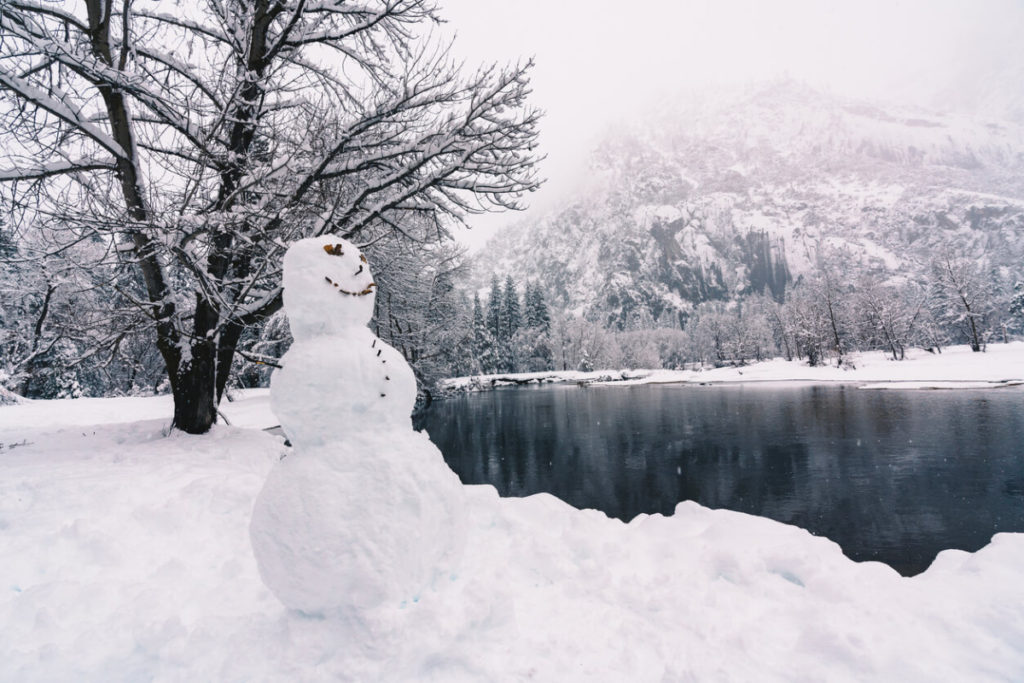 Who doesn't love snowball fights and making snowmen?
If you're lucky enough to be visiting the park after a fresh snowfall, be sure to enjoy some time just playing in the snow.
You should also plan a long walk around the Valley floor. You never know what kind of wildlife you might get to see. It's easier to spot many of the animals in the snow.
2. To enjoy the park without crowds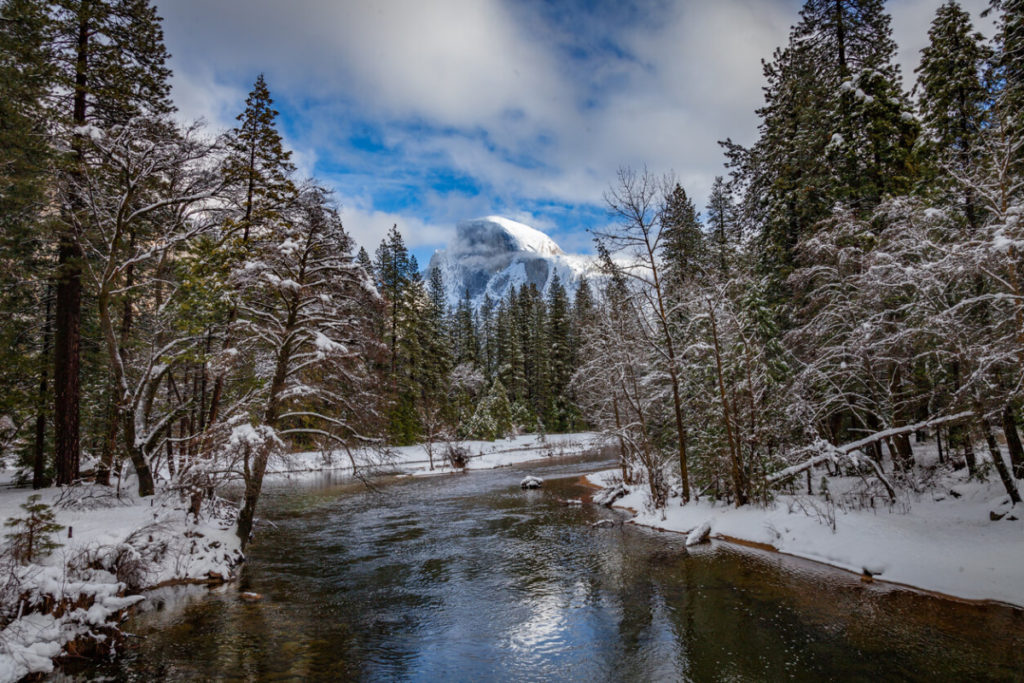 Winter is the least busy time of year to visit Yosemite National Park, especially in January and February after the holidays are over.
If you do any hiking this time of year, you'll often find yourself alone on the trails. If you've been looking to enjoy the outdoors all to yourself, winter in Yosemite is the perfect opportunity.
Be advised that during most years there are special events for Thanksgiving, Christmas, and New Year's Eve. These events are cancelled this year but you may wish to avoid the holidays in the future if you're looking to avoid the crowds.
3. For the cross country skiing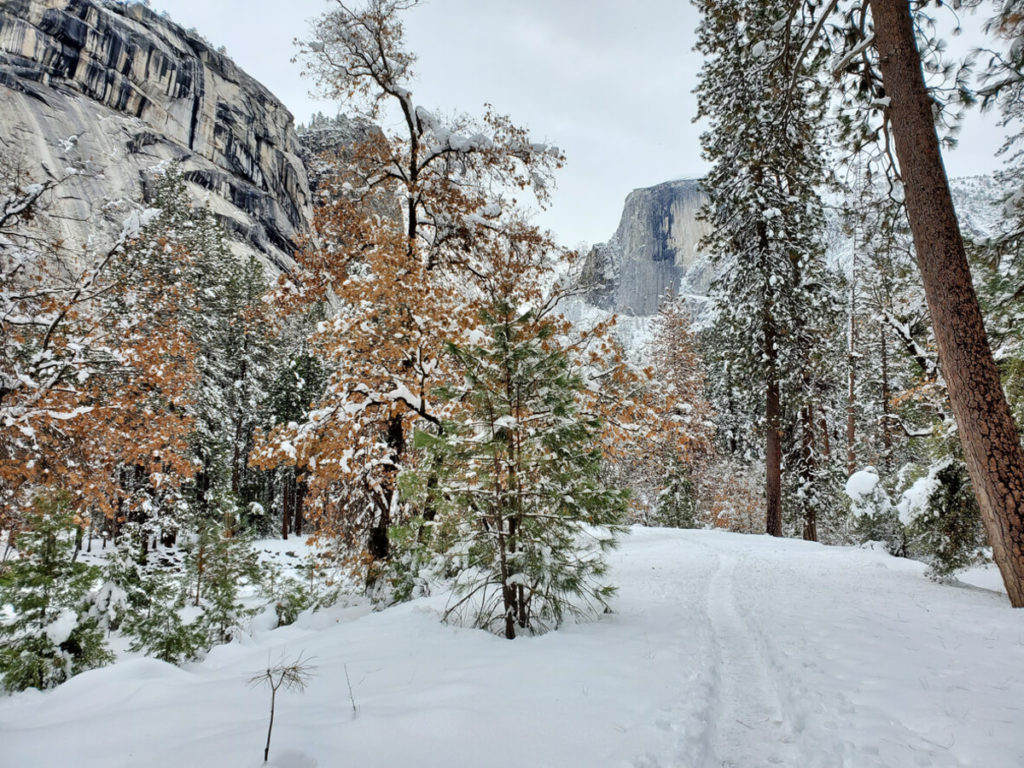 Once there is enough snowfall in the park you'll be able to enjoy some cross-country skiing around the park's many trails.
Near the Badger Pass Ski Area, there are over 90 miles of marked trails. One of the most popular trails leads from Badger Pass to Glacier Point, which is 21 miles round trip.
Cross-Country Ski rentals are available at Badger Pass and will cost $28.50 per adult for the day. The rental fee covers skis, boots, and poles.
Visitors can also head to the Yosemite Cross-Country Ski School for lessons. The school also offers guided tours and overnight excursions to Glacier Point.
4. For the gorgeous winter views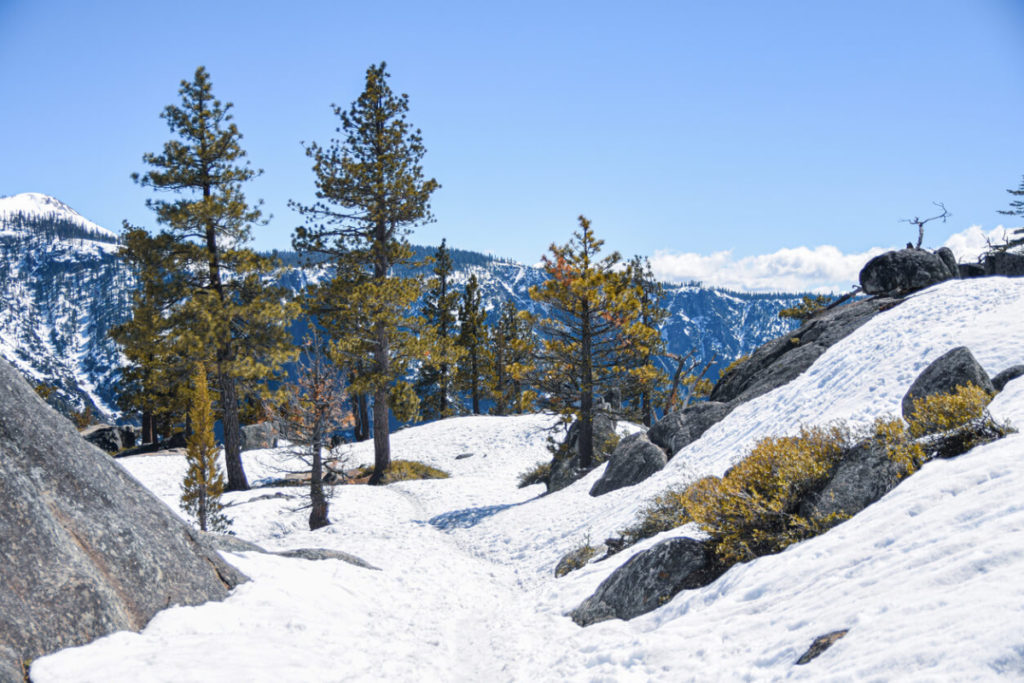 Nothing beats seeing all of Yosemite's famous attractions under a fresh blanket of snow.
Some of my favorite areas to visit in the winter are Mariposa Grove, Wawona, Mirror Lake, Vernal Falls, Nevada Falls, Yosemite Falls, and Tunnel View.
Try to catch a Tunnel View sunrise if you get the chance. It's so peaceful in the early morning and worth the effort to see the park at this time. It's an experience you won't forget.
5. To have the trails to yourself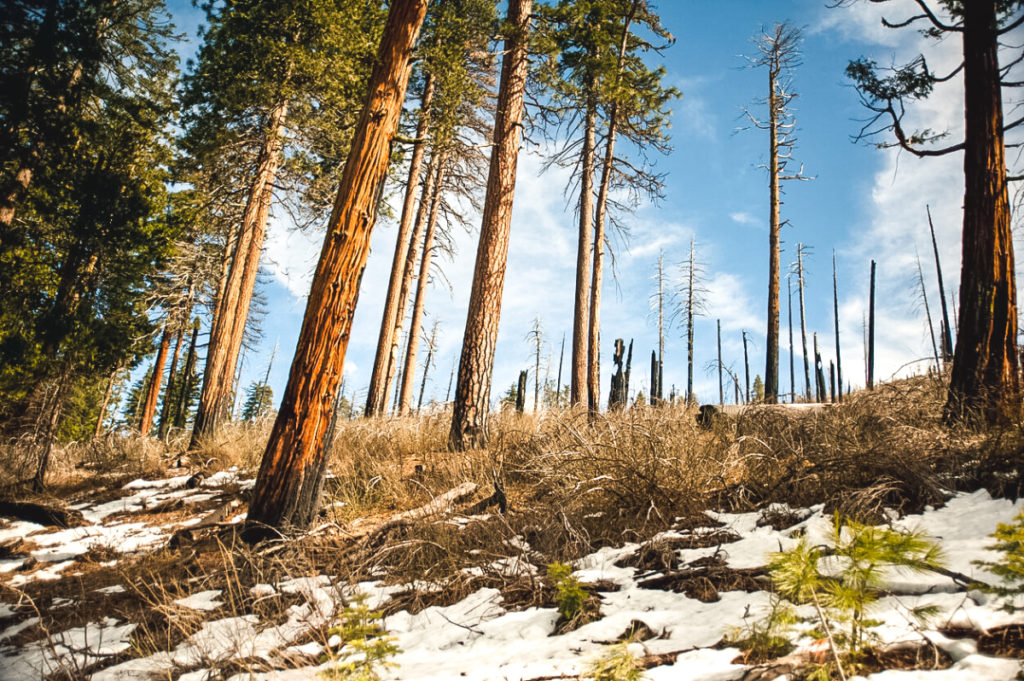 If you enjoy hiking like I do but prefer to have the trails to yourself, then Yosemite in the winter if for you.
As with any time of year, plan to hit the trails early. Since the days are shorter you'll want to be sure you are able to return before sunset.
An early start will also mean you'll likely be one of the only people (or one of the few people) on the trails.
7. To go skiing, snow boarding, or tubing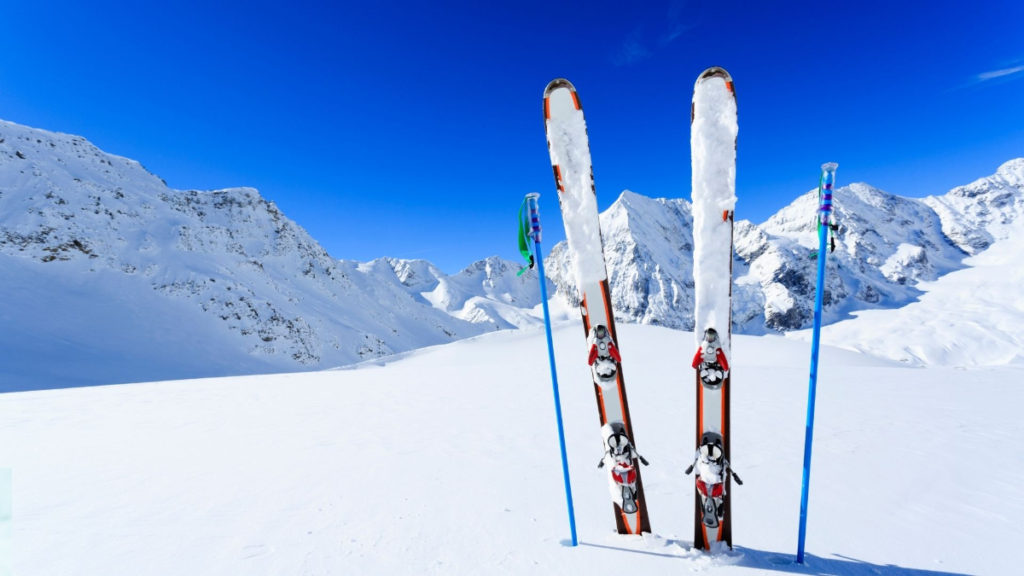 If you're visiting Yosemite in winter be sure to head up to the Badger Pass Ski Area to try all the fun winter activities. At Badger Pass you'll be able to go downhill skiing, cross country skiing, snow boarding, sledding, snow tubing and snowshoeing.
I say try them all. Snow tubing is my personal favorite.
If these winter activities are not your style, you can also go ice skating at the Curry Village ice rink. Tickets to the outdoor ice rink are $11.00 per person and $4.50 for skate rentals.
8. To see winter wildlife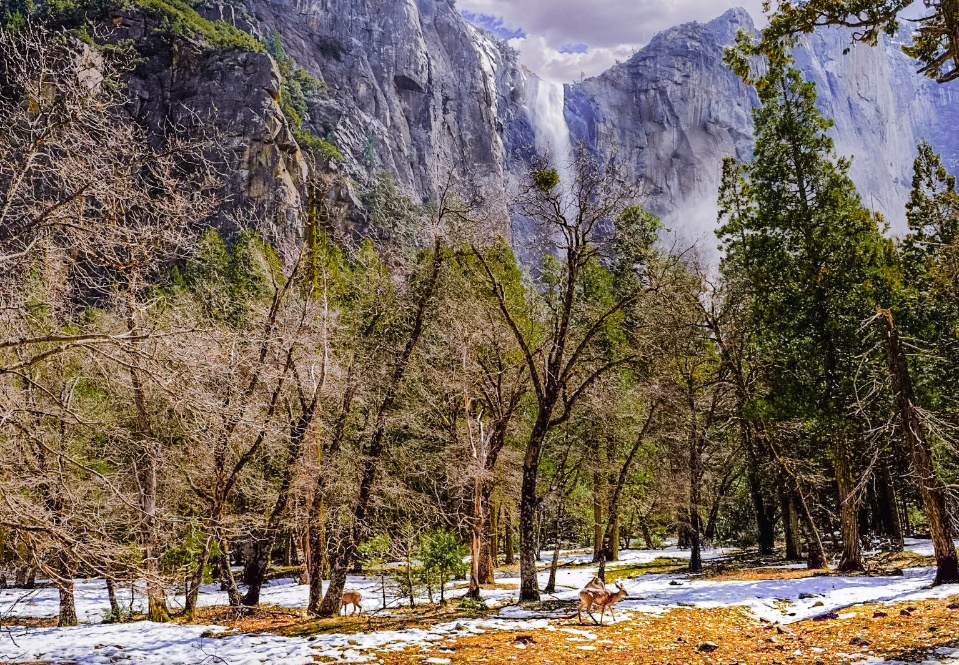 As you would expect, you will see different animals during the winter months as opposed to the summer or sping months.
During the winter, you will have the chance to see the following animals (if you're lucky):
Coyote
Bobcat
Deer
Bald Eagles and other birds
Getting up early will be your best bet for improving your chances of seeing wildlife. Be out the door just before sunrise and take a walk around the valley floor near the Merced River and the meadows.
9. To just enjoy the park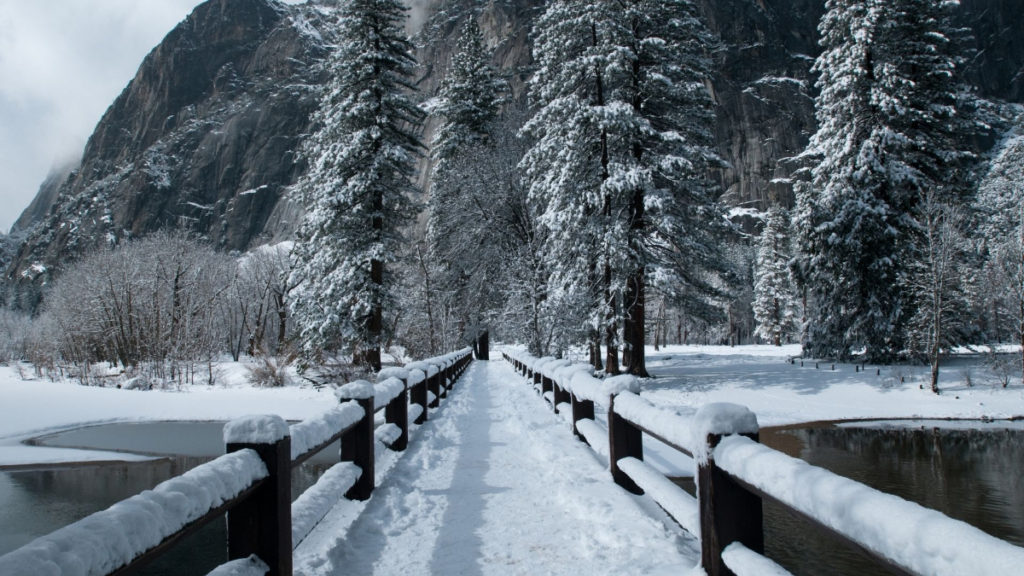 Maybe saying "just enjoy the park" seems obvious, but I find that many of us (myself included) often overbook our time and try to do too much.
I encourage you to find as much time as possible to just sit somewhere and enjoy the view and your surroundings.
Put your phone down, put your camera down, and just sit.
10. To save money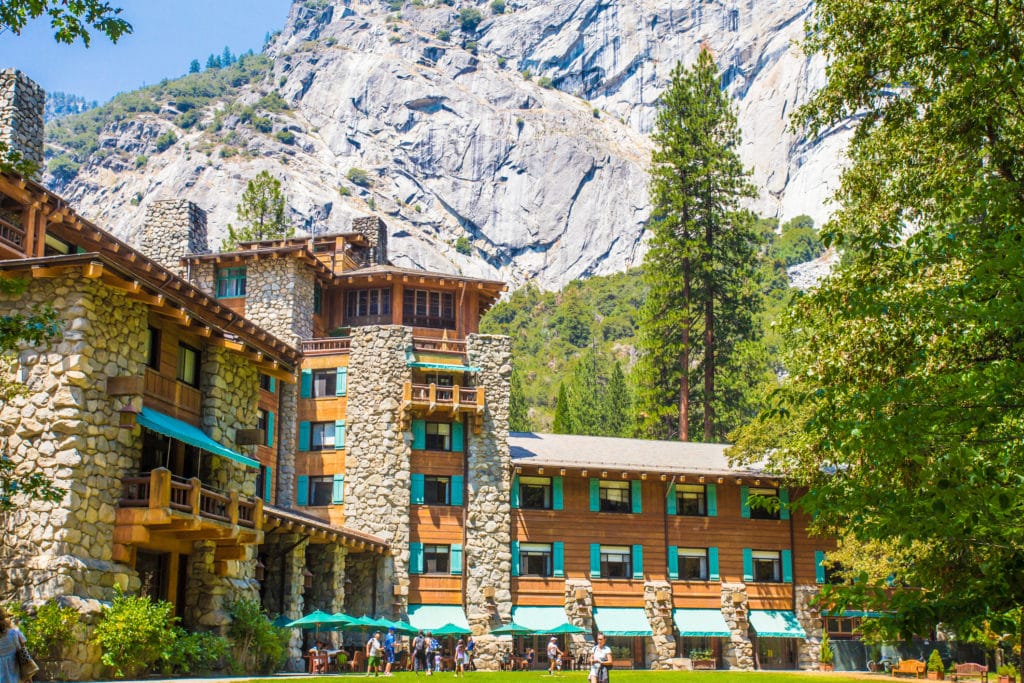 I had to add this one in at the end because it can be a major factor for many of us. Unfortunately, visiting National Parks can be very expensive.
Lodging in National Park hotels if often upwards of $200 per night and many hotels are much closer to $500 per night. That is out of reach for many Americans, which is unfortunate to say the least.
But, if you're willing to visit the park in winter, you can save a ton of money. Yosemite often offers specials for lodging during the fall and winter. This year (2020) they offered buy two nights get the third night free. I couldn't pass this up so I booked a room for myself this January.
Just something to keep in mind if you want to save a little money. Even lodging outside of the park will be reduced this time of year, including popular destinations like Bass Lake in Mariposa County. Even in Fresno, which is where I usually stay the night before I arrive in Yosemite.
Yosemite Winter Lodging
Yosemite in winter lodging options will be limited since some campgrounds will be closed. However, due to reduced demand you should have no trouble getting a room when booking your trip.
Here are the lodging options available in Yosemite in winter time:
The Ahwahnee Hotel: Expensive but fancy. By expensive I mean about $500 per night.
Yosemite Valley Lodge: Much less expensive but still nice.
Wawona Hotel: Bit more rustic and located 45 south of Yosemite Valley
Curry Village: Camp grounds and tent cabins in Yosemite Valley
Upper Pines Campground (Yosemite Valley)
Camp Four (Yosemite Valley)
AirBnbs in Yosemite: These are inside Yosemite National Park.
I hope you've enjoyed reading about my favorite 10 Reasons to Visit Yosemite in Winter. If you'd like to support this blog please consider sharing this post. Thanks for reading.
Book Your Trip
Find the best flight deals by using Google Flights, then book direct with the airline. This is the search engine I use to compare flights and prices before booking my own trips.

BOOK YOUR ACCOMODATION
I recommend searching for hotels through Booking.com to compare hotels on amenities, location, and price. If you are a member of a hotel's rewards program, always book direct with the hotel. If you are not loyal to a specific hotel brand, using Booking.com for the best price.

TRAVEL INSURANCE
Travel insurance is more important than ever. For just a few dollars a day you can protect yourself and your trip. I personally use World Nomads, but whomever you choose, don't skip out on travel insurance. It can literally save you thousands of dollars.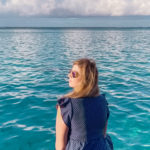 Eden Fite
Part-time Traveler | Dog Lover | Avoider of Crowds
I help busy people find creative ways to travel more.