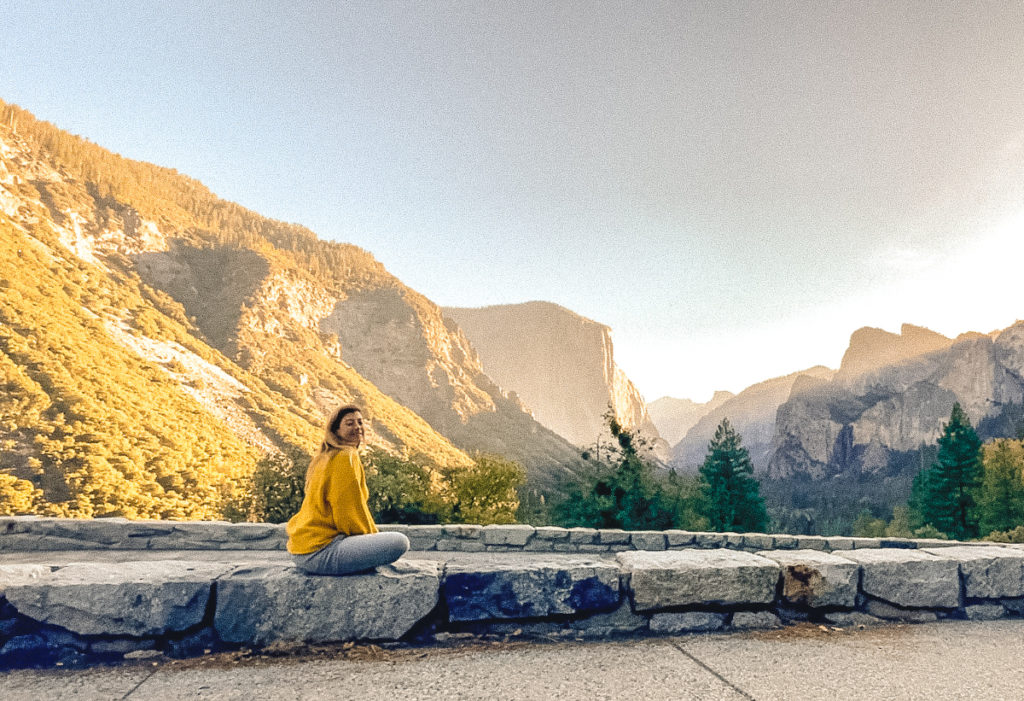 Yosemite in November is absolutely magical. Don't believe me? Keep reading.
With fall in full swing in Yosemite in November, you'll get to experience the park in ways most never do. Like most other US National Parks, November is often one of the least busy times of year.
What that means for you though, is that you'll have a lot more space in this big beautiful park all to yourself.
But there's so much more to love about November in Yosemite than just having more space. Keep reading to see why I love fall in Yosemite National Park, and why I think you'll love it too.
Some of the links in the post are affiliate links. If you make a purchase through these links it helps to support this site at no extra cost to you.
Yosemite in November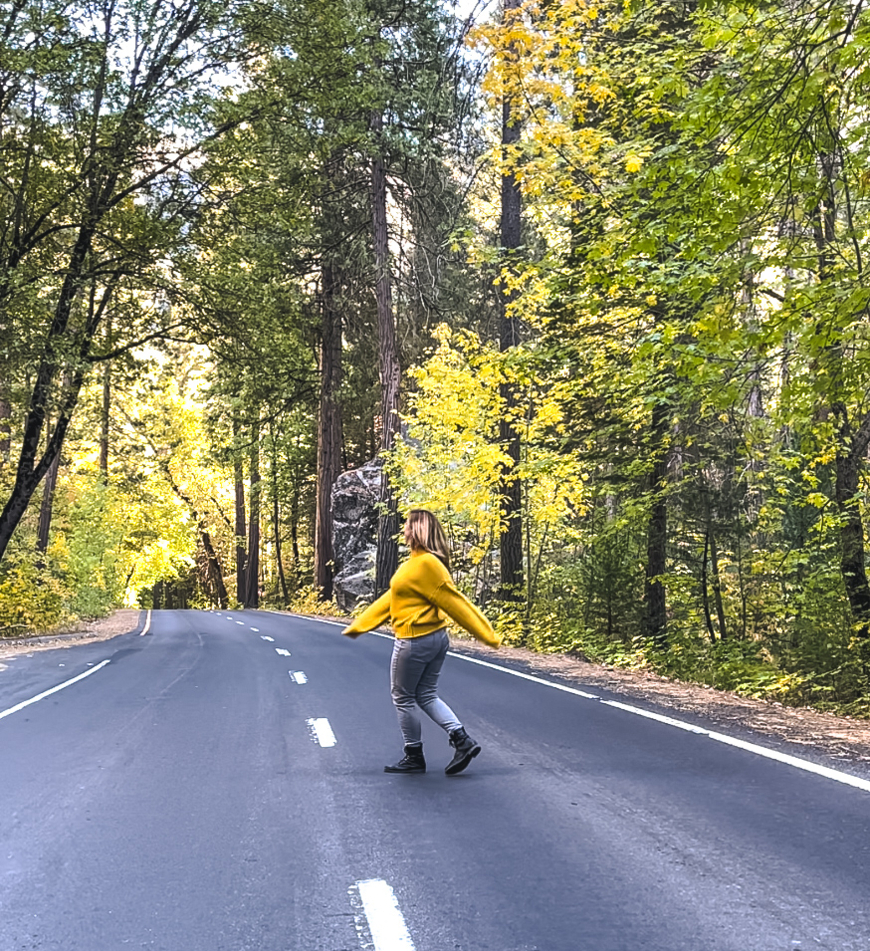 This post is intended to share my own favorite reasons for visiting Yosemite National Park in November. There are certainly many more reasons to visit the park during the fall months, but these are just a few of my favorite.
In general, November offers the last few weeks of the year where visitors will have full access to the park before some of the main roads are closed for the winter season.
During my own visits to the park I enjoy taking a Yosemite road trip to all the different areas of the park, as far away from the crowds as I can get.
I love having vast areas of Yosemite all to myself. It's magical. It's beautiful. It's what keeps bringing me back year after year.
November is also the time of year when the crowds are gone and the fall colors arrive, so what's not to love?
A quick note: Since you are visiting in late fall and winter is just around the corner, you are advised to have tire chains in your vehicle in the event you get caught in a winter storm. You'll also want to be sure you know how to use them, just in case.
Traveling Soon? Don't forget your travel insurance.
Travel insurance is now more important than ever.
Travel insurance is probably less than you think it is. (Ex. For a week in Spain next month I'm paying less than $62.00.)
Travel insurance covers a lot more than you think it does.
It's better to have it, than need it and wish you'd bought it.
See for yourself. Check prices here.
1. Fall Colors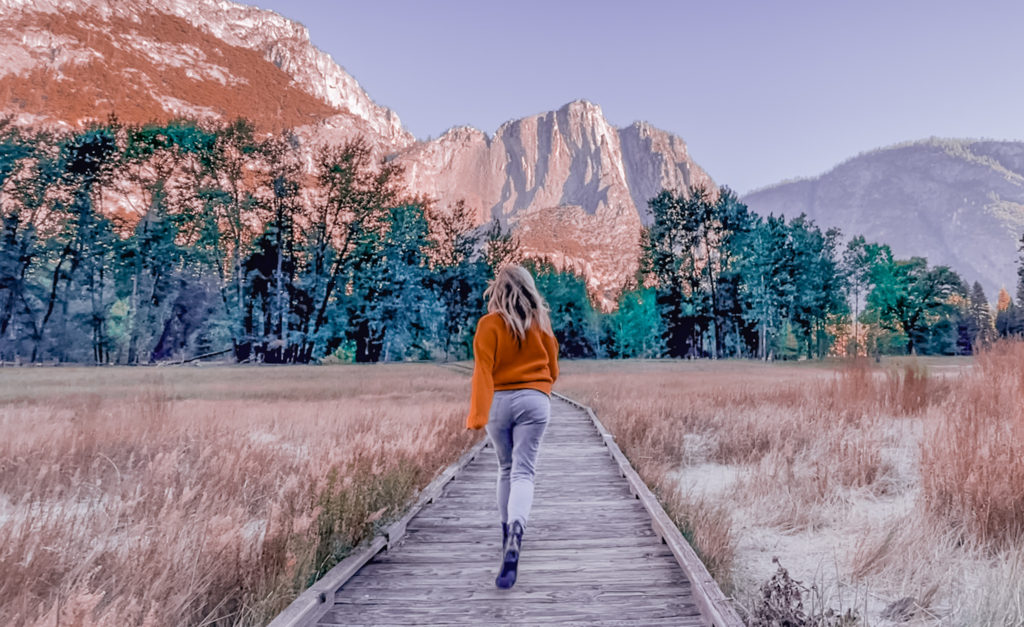 You'll find fall colors in Yosemite from late October through the month of November. Yosemite's fall colors often stick around until the first major snowfall of winter.
For the best chance to see fall colors I recommend planning your visit during the first two weeks of November. This way you'll most likely avoid that first snowfall.
Where to Find Fall Colors in Yosemite
Here are some of the best locations to spot fall colors in Yosemite in November.
Yosemite Valley
In Yosemite Valley you can expect to see lots of bright and golden yellows from the big leaf maple and black cottonwood. You'll also find dark reds and oranges on the bushes and shrubs. You'll spot many of these colors as you enter the valley floor on the main park road.
Glacier Point Road
Along Glacier Point Road you can expect to see mostly yellows and some oranges from the bushes, shrubs, and quaking aspen.
Wawona
Wawona is a great place for spotting fall colors. Here you can expect to see yellows, oranges, reds and pinks scattered across the big leaf maple, dogwoods, black cottonwood, shrubs, and bushes.
Tuolumne Meadows
You can expect to find lots of bright and golden yellows in the meadows from the Indian hemp and various grasses.
Tioga Road
You'll see bright oranges and yellows on the various trees and bushes lining the roadway.
In addition to the locations mentioned above, the drive into Yosemite Valley along Wawona Road is also quite colorful. I saw plenty of bright oranges and yellows along the roadway during my recent visit.
2. Tioga Road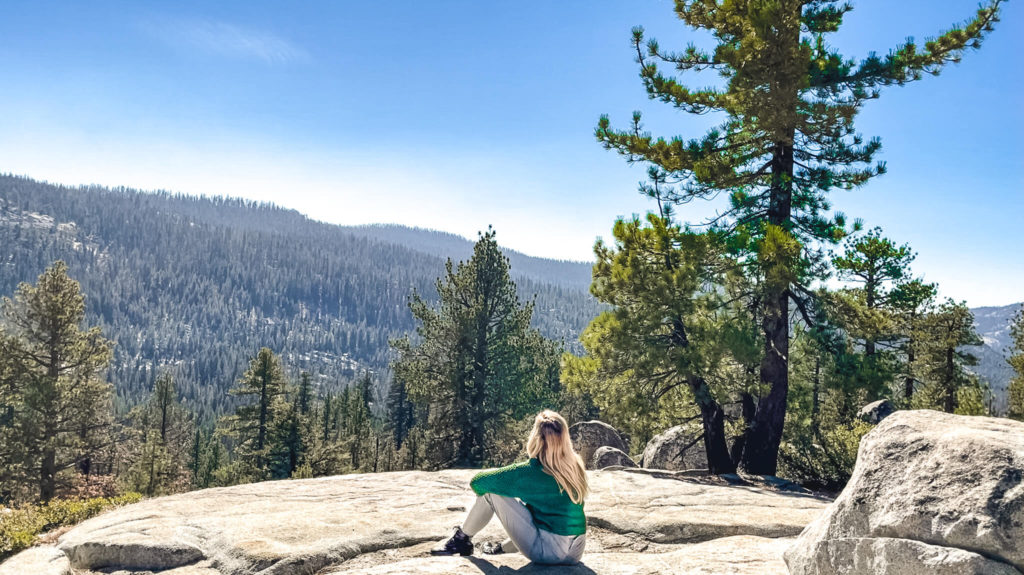 Tioga Road, also commonly referred to as the Tioga Pass, is one of my favorite things to do in Yosemite in November.
I discovered Tioga Road during a visit to Yosemite in the summer of 2017. It was a hot, crowded day in the park and my friend and I decided to explore outside Yosemite Valley to see if we could get away from the crowds and heat. Boy did we ever!
The drive along Tioga Road is absolutely gorgeous, it's literally straight out of a postcard. Tioga Road will take you out of Yosemite Valley, up into the Sierras, and out to Tuolumne Meadows.
Due to its elevation, Tioga Road is closed during the winter and spring due to snowfall. However, the road usually remains open through the middle of November.
If you'd like to experience Tioga Road like I did, plan your visit for the first two weeks of November.
Also, you'll definitely want to dress in layers for this activity, as the higher elevation is much colder than the lower elevations around Yosemite Valley.
To be sure the road is open, you can check the National Park Service website for the most up to date information on road closures in the park.
3. No Crowds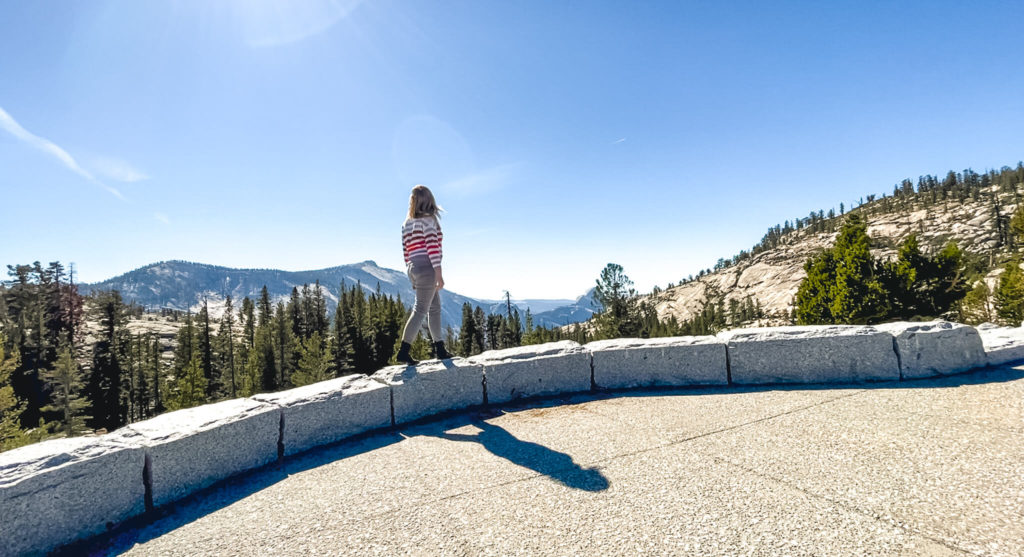 As I alluded to a few times up above, November in Yosemite is perfect for avoiding crowds. According to the National Park Service, the months of November through March receive the fewest visitors of the year, averaging just 3-4% of annual visitors per month.
What that means for you is more space, peace and quiet, and virtually no crowds anywhere in the park.
What I loved most about visiting Yosemite in November, was how peaceful the park was even during the middle of the day. You can find quiet moments even at the park's biggest attractions.
While the water levels are at their lowest in late November, I love hiking sections of the Mist Trail and the Lower Yosemite Falls trail this time of year. Less people makes both of these trails more enjoyable.
The park is a great place to visit in November if you're looking for some time outside in nature, and the opportunity for some reflection. I couldn't imagine a more beautiful place for it.
4. Sweater Weather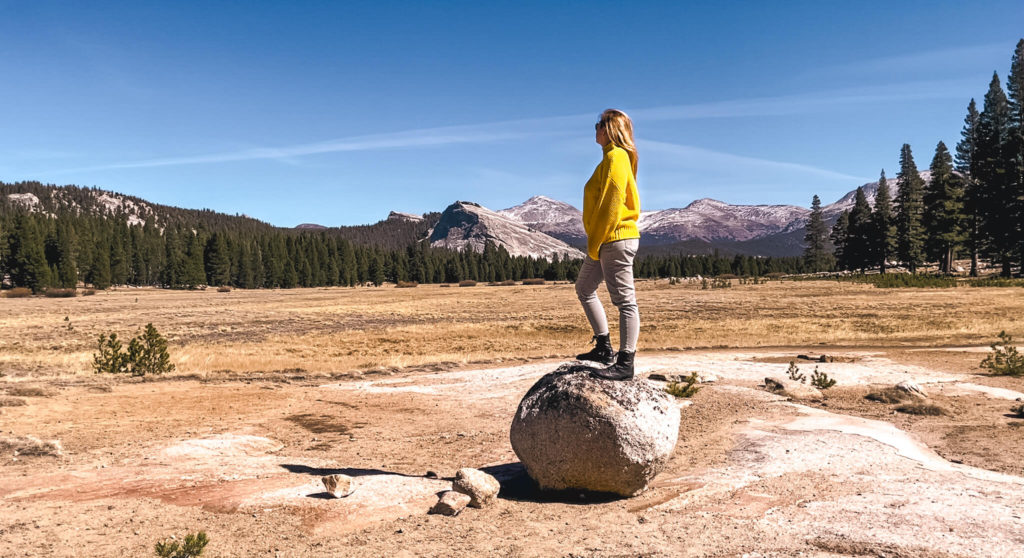 Average temperatures in Yosemite in November range in the 40s and 50s, which is also known as "sweater weather." Which means in my opinion, November is just a cozy time to visit the park.
You'll have some cloudy days, some gray days, and some downright cold days, but for the most part you'll have comfortable mild temperatures.
Visiting Yosemite in late November is more likely to bring about colder temperatures as you are getting closer to the winter months.
The weather in November is also perfect for hiking, not too hot and not too cold. But mostly, you can take pictures all around the park in cute sweaters like I did.
5. Gorgeous Views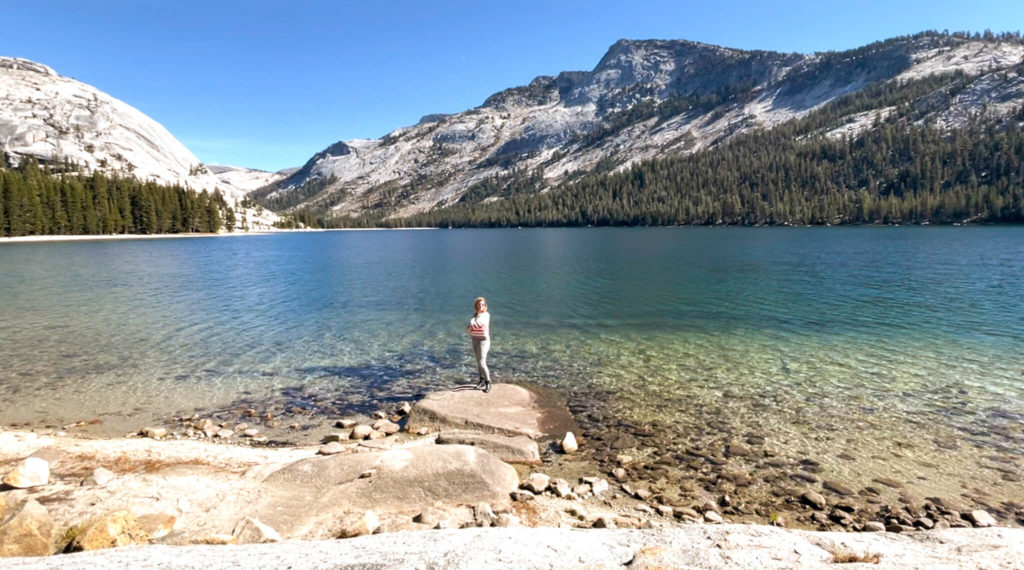 Yes I know, one can argue there are gorgeous views in Yosemite year round. They would not be wrong.
However, in my opinion the views and the scenery of Yosemite are far more enjoyable with fewer people around.
It's much more enjoyable taking in the splendor of Tenaya Lake when you're the only one there. It feels magical, to be in a place so beautiful, with nobody else is around. It's like being the only one in on the secret.
You'll find similar opportunities like this throughout the park in November, but especially in the more remote areas like Tioga Road or Tuolumne Meadows.
6. Accommodation Deals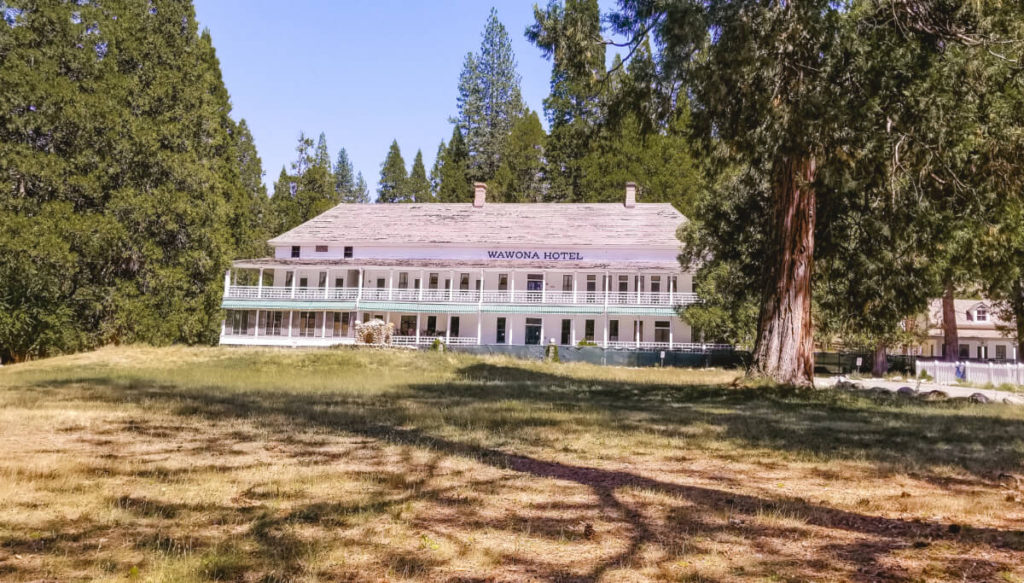 If you're looking to save some money on those notoriously expensive park hotels, November is about the time when you start to see those deals advertised.
As of November 2021, here is what you can currently find as far as deals on Yosemite lodging:
Wawona Hotel: Stay two consecutive midweek nights and save 30% off your stay.
Curry Village: The fall sale at Curry Village offers heated tents starting at $99/night or unheated tents at $79/night.
The Ahwahnee: Third night free for stays between January 4, 2022 – March 10, 2022.
Yosemite Valley Lodge: Third night free for stays between January 4, 2022 – March 10, 2022.
If planning a visit to take advantage of these fall and winter sales, you'll want to make your reservations early. As you can imagine, the most desirable travel dates sell out quickly.
7. No Traffic and Lots of Parking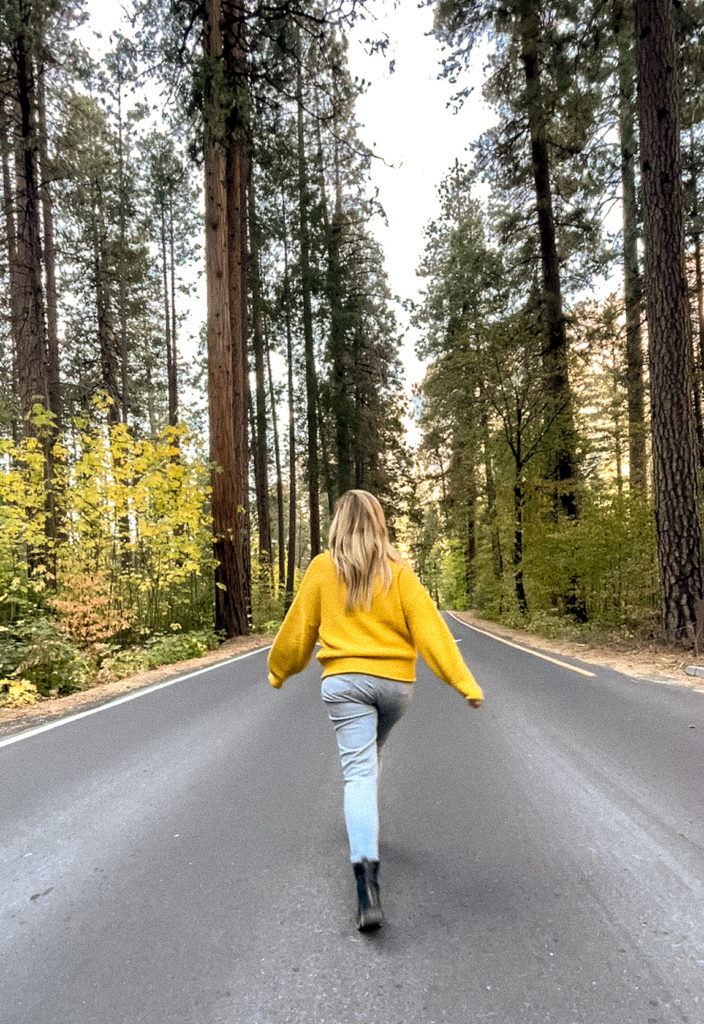 Another benefit to visiting Yosemite in November is the lack of traffic. The photo above was taken on Southside Drive, the main park road, in the middle of the day. You'd never be able to get a photo like this in the summer months. Not to mention with those pretty fall yellows.
Like many national parks, congestion on the main roadways and parking lots is insane in the summer months. Visiting during the fall comes with none of that added stress and inconvenience.
Also, no need to worry about losing your parking space or getting stuck in a traffic jam.
8. Glacier Point Road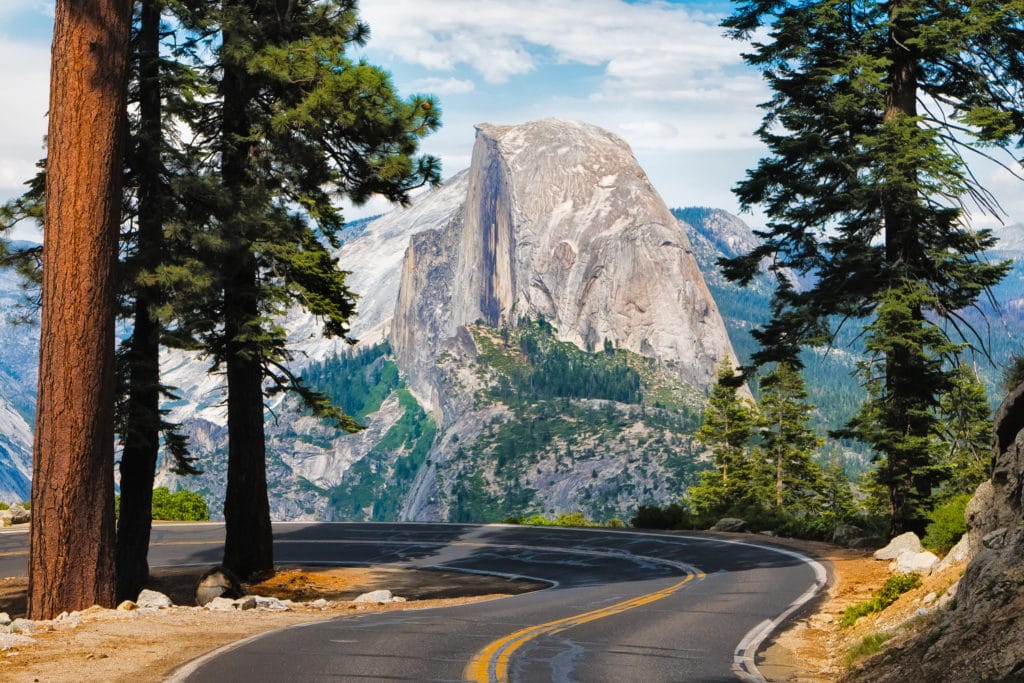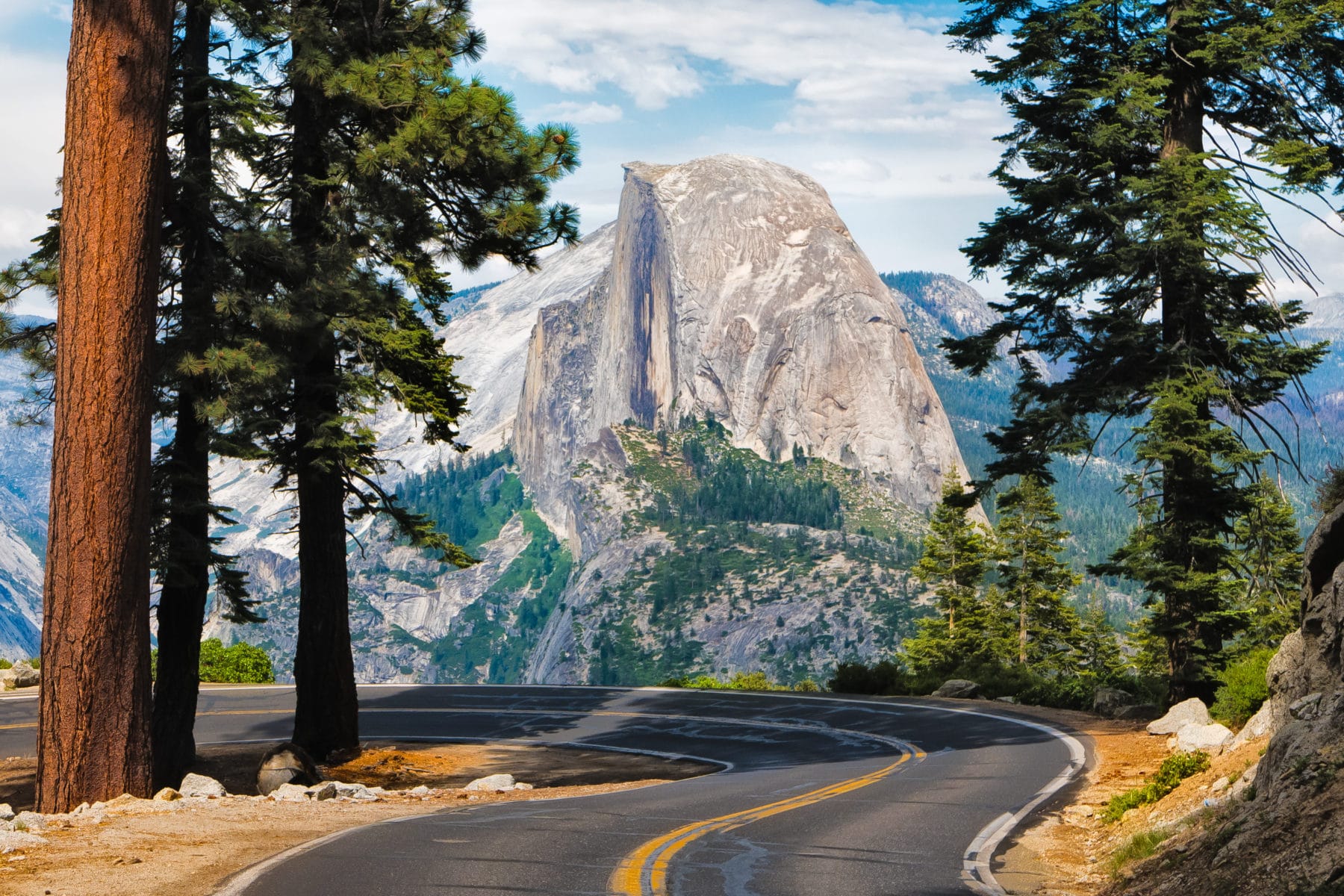 Glacier Point Road is typically open through mid November, though this of course varies depending on the weather patterns each year.
If you plan your visit for the first week or two of November, you will most likely have the opportunity to make the drive out to Glacier Point.
As an added bonus, you'll get to see all the splendid fall colors as you make your way to the Glacier Point overlook.
In the event you arrive in the park and find that Glacier Point Road is closed, you may wish to consider a challenging day hike up to the overlook. I do recommend being in shape for this one though.
To hike up to Glacier Point, you'll find the Four Mile Trail in Yosemite Valley located near Sentinel Rock. The trail is about 4.7 miles each way and is very strenuous, with an elevation gain of about 3,200 feet. The hike will take anywhere from three to four hours one way.
You can check the current status of Glacier Point Road on the National Park Service website.
If the road is open, there are also bus tours you can join that take you up to the Glacier Point overlook if you don't feel like driving. While the tours are not running in 2021, it is likely they will return for summer 2022.
9. Mariposa Grove of Giant Sequoias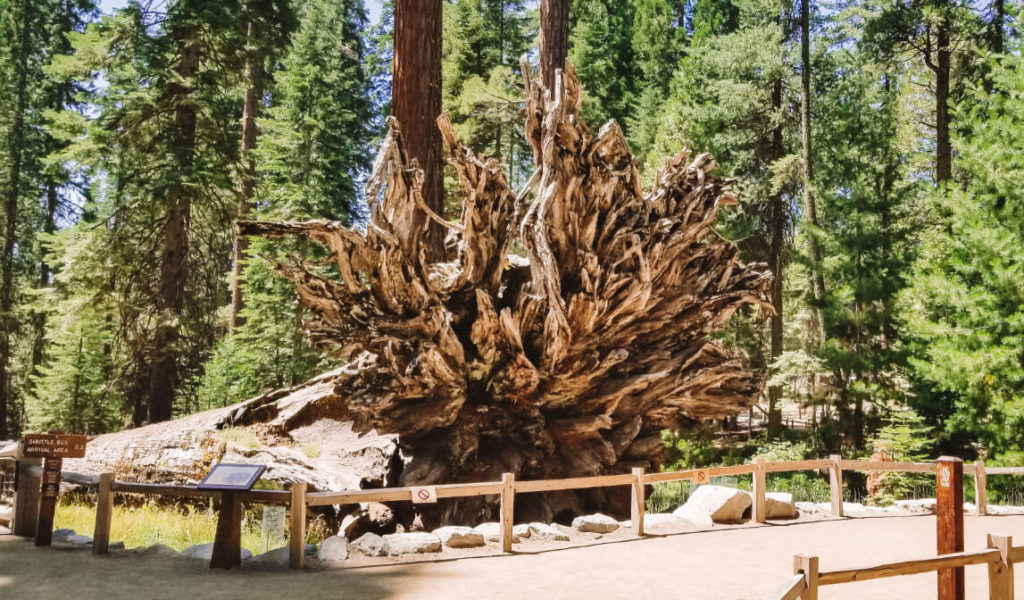 The Mariposa Grove of Giant Sequoias is another area of the park that is often packed during the park's high season.
However, come November you'll have far fewer people to contend with, especially if you are willing to get up early.
The parking lot and visitor center for the Mariposa Grove is about 2 miles away, so you'll have to hike the Washburn Trail to get here. The trail is 2 miles and moderately difficult but definitely worth the time and effort to get there.
Once you arrive in the Mariposa Grove, you'll be surrounded by beautiful giant Sequoias. You'll find several paved paths to follow that wander through the grove's many Sequoia trees.
10. Yosemite Sunrise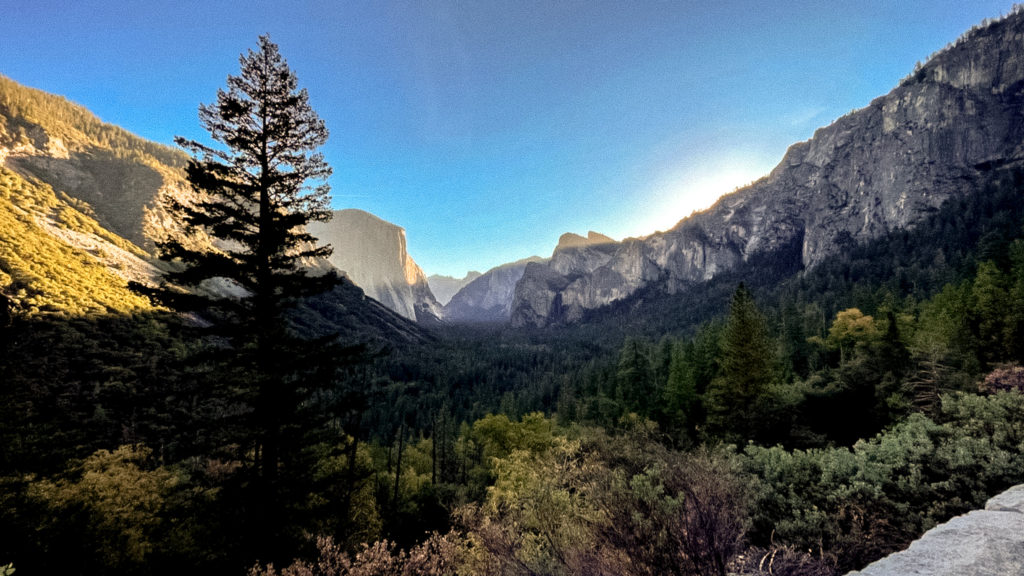 One of my favorite tips for visiting Yosemite anytime of year is to get up early for sunrise, but in November it's even better.
I love waking up early for a fall sunrise. The weather is chilly on November mornings in the park, so you get to get bundled up and head out to witness one of the most beautiful sunrises in the park.
In my opinion, the Tunnel View sunrise is absolutely incredible. You get to witness the first rays of sunlight hit the valley floor and light up El Capitan, Half Dome and Bridal Veil Falls (if flowing).
If you're planning to wake up for a Yosemite sunrise, get ready the night before so you don't forget anything. I also recommend bringing a thermos with hot coffee or hot cocoa to enjoy while you wait for the sunrise. Bring a blanket too, just in case.
I hope you've enjoyed this guide to 10 Reasons to Visit Yosemite in November and that I've inspired you to plan a fall visit of your own. If you liked this post please consider sharing it. As always, thanks for reading.
Related Posts
Yosemite in November is absolutely magical. Don't believe me? Keep reading. With fall in full…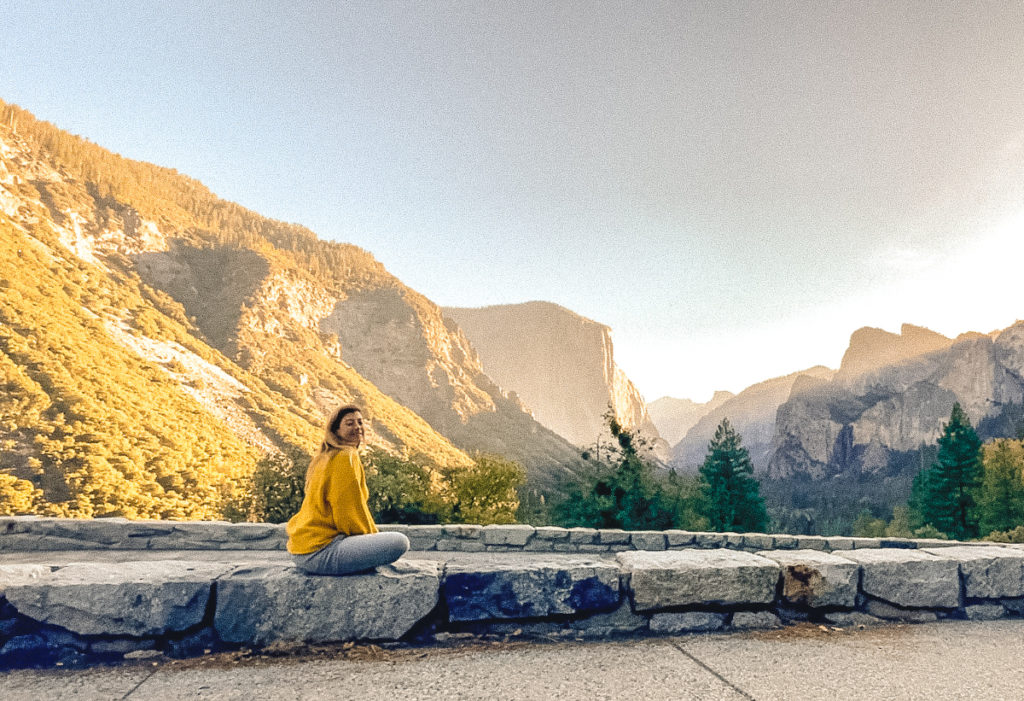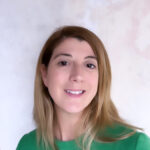 Eden Fite
Part-time Traveler | Dog Lover | Avoider of Crowds
I help busy people find creative ways to travel more.