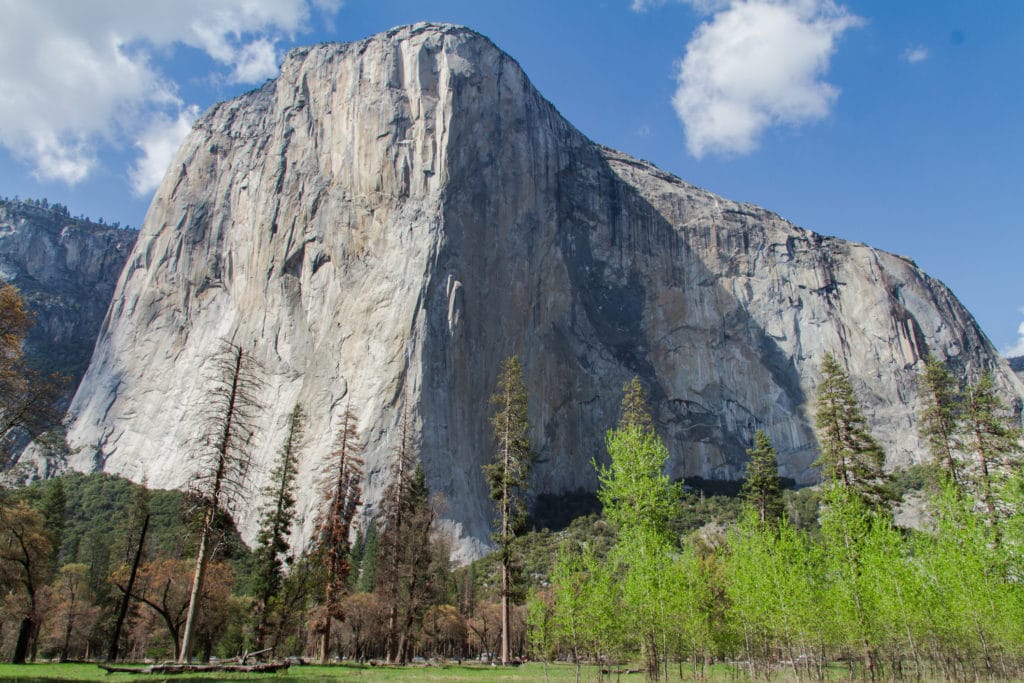 Looking for the best AirBnB Yosemite rentals that are actually inside the park? If so, this post will help you narrow down your search.
I put together this list of the best AirBnB Yosemite rentals to help you select a convenient location from which to explore the park.
If this is going to be your first visit to Yosemite National Park, I recommend spending at least three days exploring the many attractions inside the park. If you're short on time, a Yosemite Road Trip is the perfect way to cover a lot of ground in just a day or two.
I believe these 10 Best AirBnBs Yosemite Rentals would all make a perfect base camp while you explore the park, so I hope you find one that works for you.
Above all else, have a fantastic time in Yosemite.
Some of the links in the post are affiliate links. If you make a purchase through these links it helps to support this site at no extra cost to you.
PLEASE NOTE: All outbound links to AirBnB have been removed from this website due to their unethical business practices and lack of professionalism towards bloggers.
You are encouraged to book your Yosemite accommodation through Booking.com instead.
10 Best AirBnB Yosemite National Park Rentals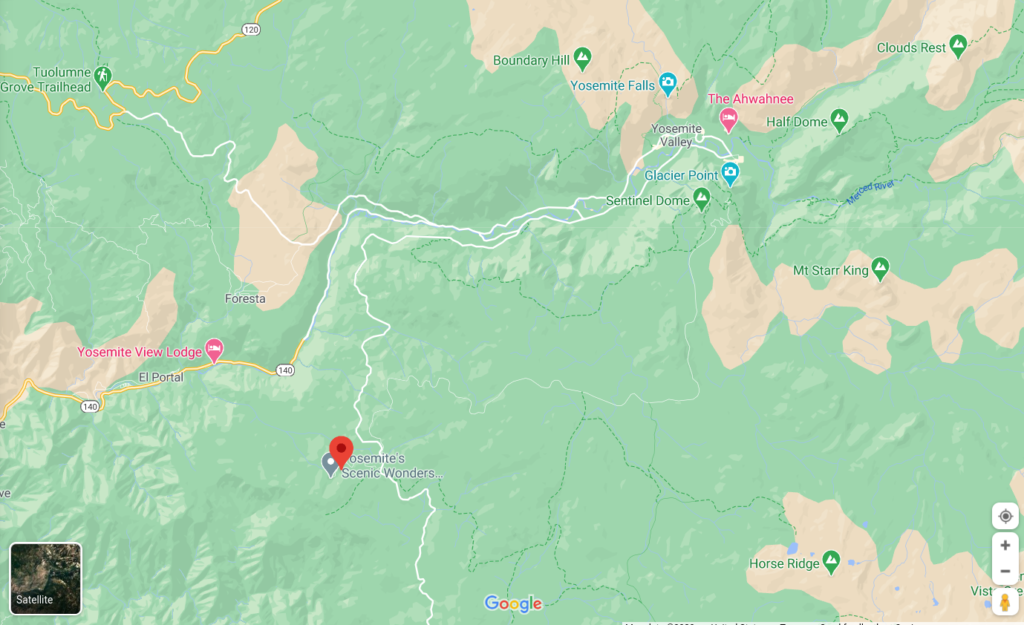 The 10 AirBnB Yosemite Rentals listed below are all located inside Yosemite National Park in an area called Yosemite West.
Yosemite West is located just off the park's main road (Highway 41) and just before the turn off for Glacier Point Road. From the AirBnB Yosemite vacation rentals listed below, the drive to Yosemite Valley will take about 25 to 30 minutes.
Yosemite West is about 40 minutes from the Arch Rock Entrance and about 35 minutes from the South Gate Entrance. If you're making the drive from South Lake Tahoe, the drive will be about 4 hours and 30 minutes.
In putting together this list, I focused on finding both modern and affordable rentals. To be honest, this was easier said than done. Due to their location inside the park, the prices reflect that convenience. Also, many of the rentals available are a bit dated or rustic.
That being said, I think I came up with a decent list of modern meets affordability. This list starts with the most affordable option and ends with the most expensive. Prices range from about $131 per night to about $504 per night, not including taxes and fees.
Please keep in mind prices will fluctuate significantly throughout the year. You should expect much higher prices during the busy summer months, which may not be the best time to visit Yosemite.
For lighter crowds and more affordability, considering planning your visit for spring or fall.
Traveling Soon? Don't forget your travel insurance.
Travel insurance is now more important than ever.
Travel insurance is probably less than you think it is. (Ex. For a week in Spain next month I'm paying less than $62.00.)
Travel insurance covers a lot more than you think it does.
It's better to have it, than need it and wish you'd bought it.
See for yourself. Check prices here.
1. Rustic Loft Cabin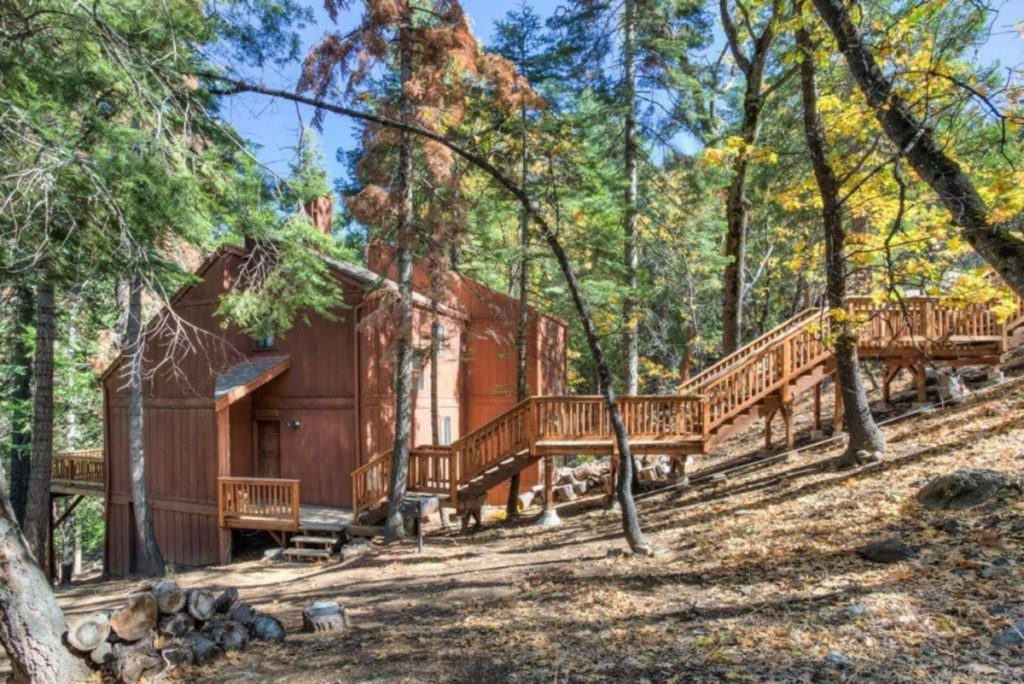 I'm including this loft style cabin due to its affordability and location inside the park. However, you are not getting anything fancy with this one. If you're looking for a great deal on accomodations inside Yosemite park, this is the one.
The cabin comes with one bedroom, three beds, a loft area, full kitchen and one bathroom. There is also a large outdoor deck to enjoy the view.
Sleeps: 4 guests
Size: 1 bedroom with loft / 1.5 bathrooms
Price starting at: $131/night
2. Spacious King Suite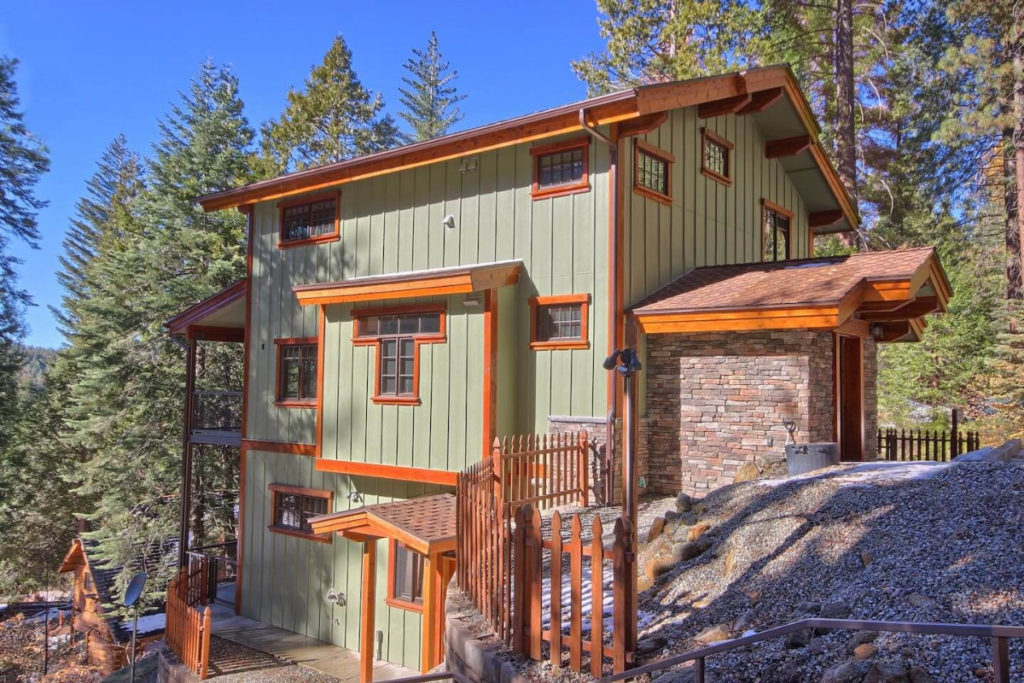 This is another affordable option inside the Yosemite park gates and has received dozens of rave reviews. In fact, I couldn't find a single negative guest review.
This cozy and well-appointed studio suite features an open floor plan, a king size bed, living room, and full kitchen. There is also a private deck with a BBQ grill and table and chairs.
Sleeps: 2 guests
Size: Studio / 1 bathroom
Prices starting at: $199/night
3. Alpenglow Cabin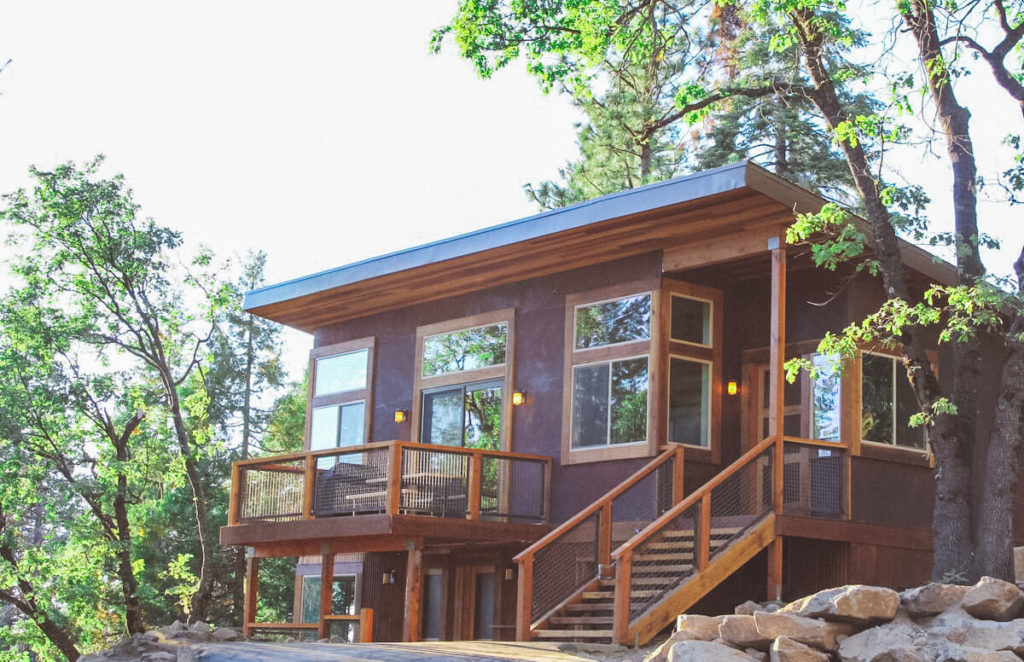 Bright and spacious two bedroom cabin with two bathrooms and a well stocked kitchen. This unit is perfect for couples traveling together or a large family.
This unit features plenty of large withdows throughout along with a wooden deck and patio for enjoying those incredible Yosemite views.
Sleeps: 8 guests
Size: 2 bedrooms / 2 bathrooms
Prices starting at: $275/night
4. Climber's Retreat
This is one of the most spacious Yosemite AirBnB vacation rentals inside park gates at this price. This two story duplex features a full kithcen, 3 bedrooms, 2 bathrooms, two living rooms, and parking for up to 3 vehicles.
This unit also comes with upscale amenties such as flat screen tvs, a Blue Ray player, and satellite television.
Sleeps: 6 guests
Size: 3 bedrooms / 2 bathrooms
Price: $275/night
5. Blue Sky Lodge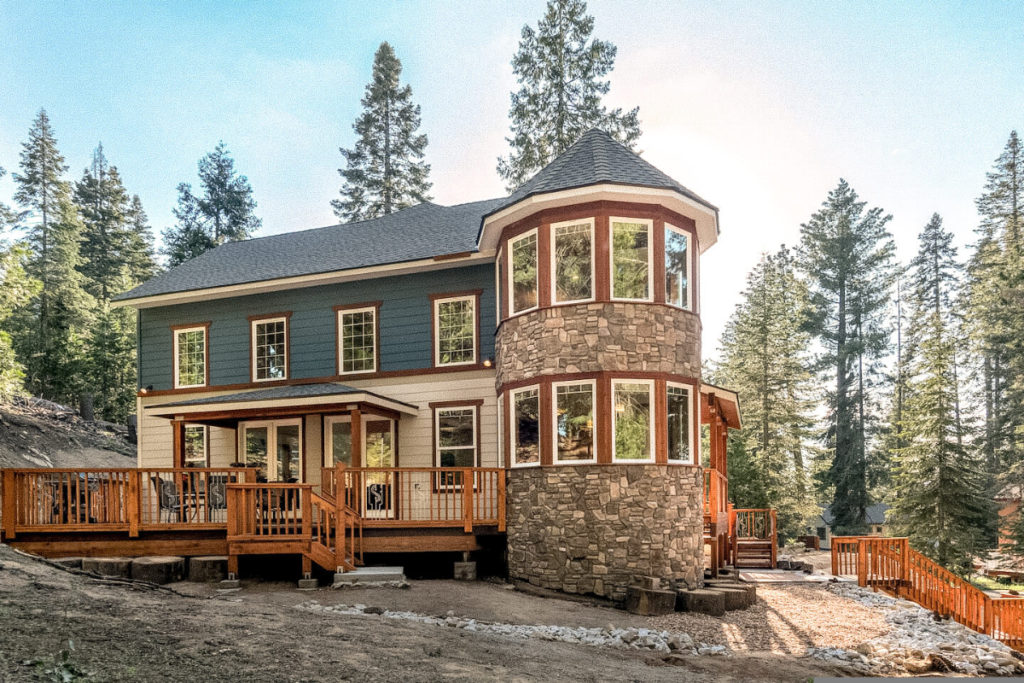 This is a spacious two story Art Deco style home comfortable for a large family or group of friends traveling together.
This place features 3 bedrooms, 2.5 bathrooms, and a full kitchen. There is also a large wooden outdoor deck to enjoy the view.
The house description mentions no wifi or satellite televsion, though there is a flat screen tv and Blue Ray player. Be prepared to bring your own entertainment for the evenings.
Sleeps: 7 guests
Size: 3 bedrooms / 2.5 bathrooms
Prices start at: $275/night
6. Alpine View Townhouse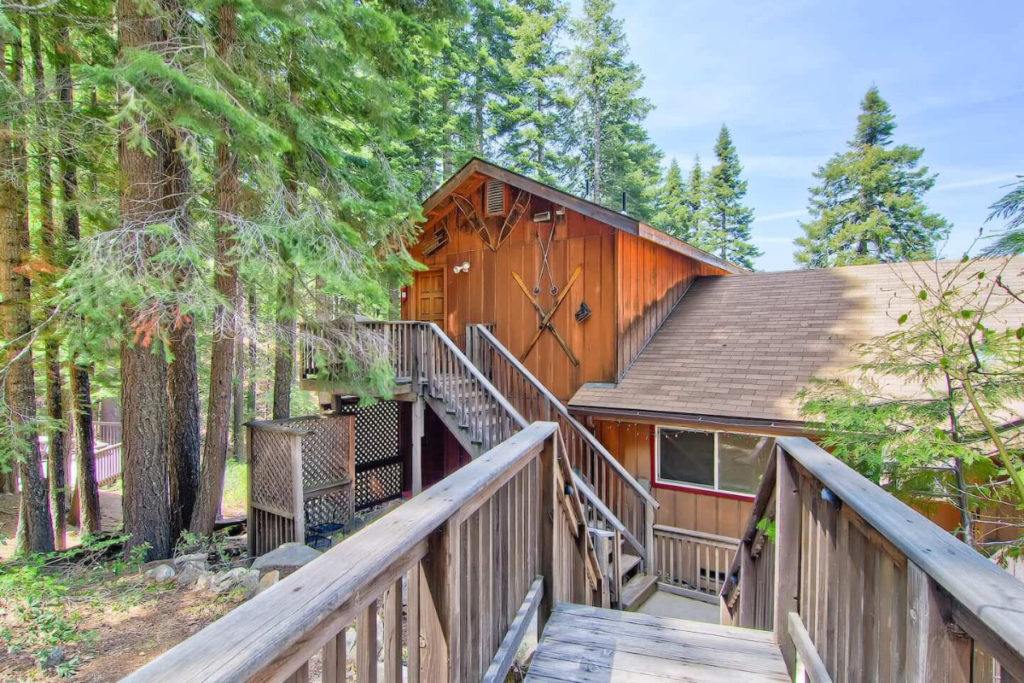 This is a clean and spacious two level duplex with 2 bedrooms and 1.5 bathrooms. I highly recommend this one if you'll be doing any long hikes.
There is a jacuzzi on the outdoor patio which is perfect for soaking in the evenings after a long day of climbing or hiking.
This rental also comes with a full kitchen stocked with coffee and tea.
Sleeps: 4 guests
Size: 2 bedrooms / 1.5 bathrooms
Prices start at: $275/night
7. Craftsman Cottage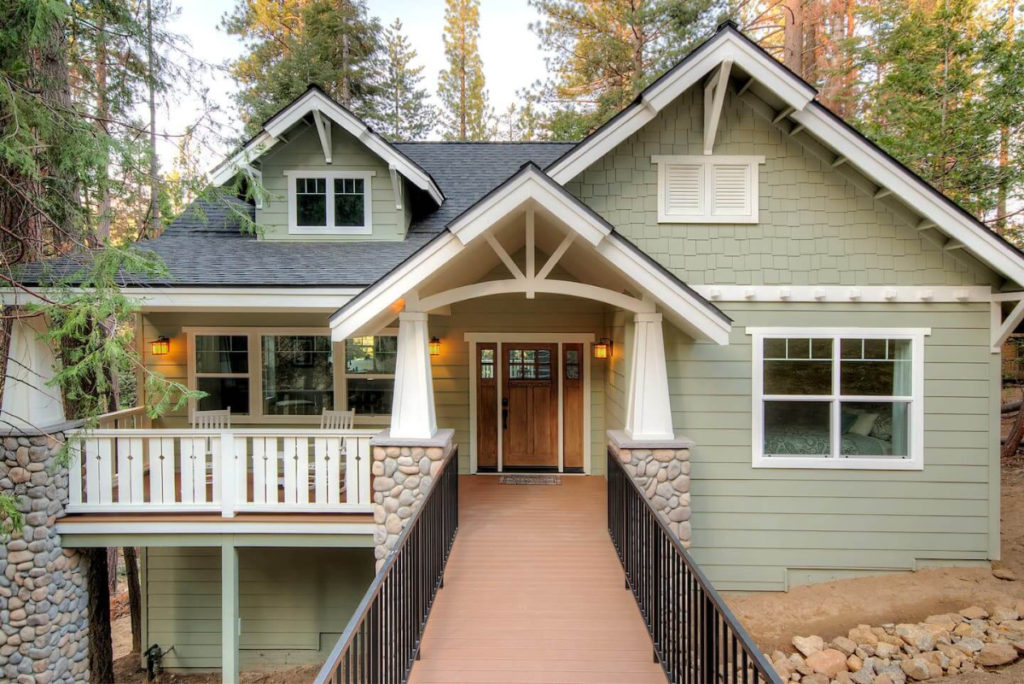 Beautiful, bright and airy Craftsman style home with 3 bedrooms and 2 bathrooms. This rental also comes with a full kitchen, flat screen tvs, and outdoor deck.
This rental would be perfect for large families or groups of friends traveling together. There is no satellite TV and only very limited wifi, so come prepared with your own entertainment.
Sleeps: 8 guests
Size: 3 bedrooms / 2 bathrooms
Prices start at: $300/night
8. Two King Bedrooms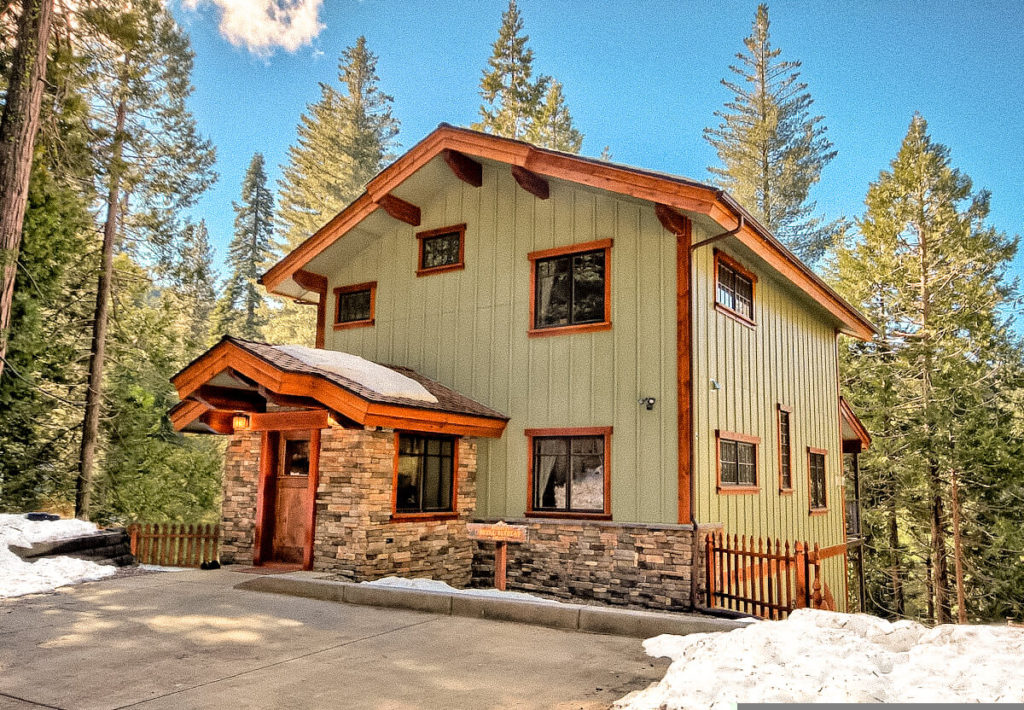 This is a modern and spacious two level duplex featuring 2 king bedrooms and 2 bathrooms. This rental is perfect for two couples traveling together.
The rental comes with a full kitchen, flat screen tv, and Blue Ray player to enjoy in the evenings. There is also a large outdoor deck with a grill for preparing meals outdoors and enjoying the view.
Sleeps: 5 guests
Size: 2 bedrooms / 2 bathrooms
Prices start at: $329/night
9. Juniper Retreat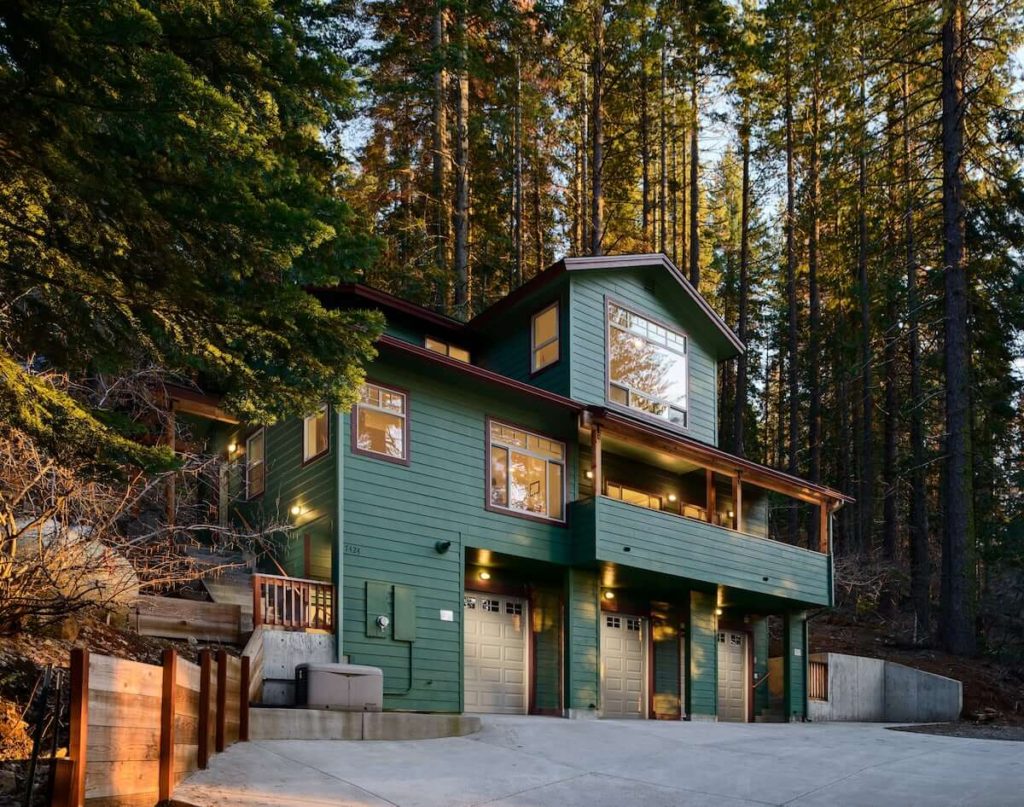 This is a 2 bedroom, 2 bathroom apartment located in a remote section of Yosemite West. This would be a perfect choice if traveling with another couple or group of friends to split the cost.
The unit features a full kitchen, large oudoor deck with grill, and plenty of space for parking.
Sleeps: 6 guests
Size: 2 bedrooms / 2 bathrooms
Prices start at: $425/night
10. Modern Luxury Cabin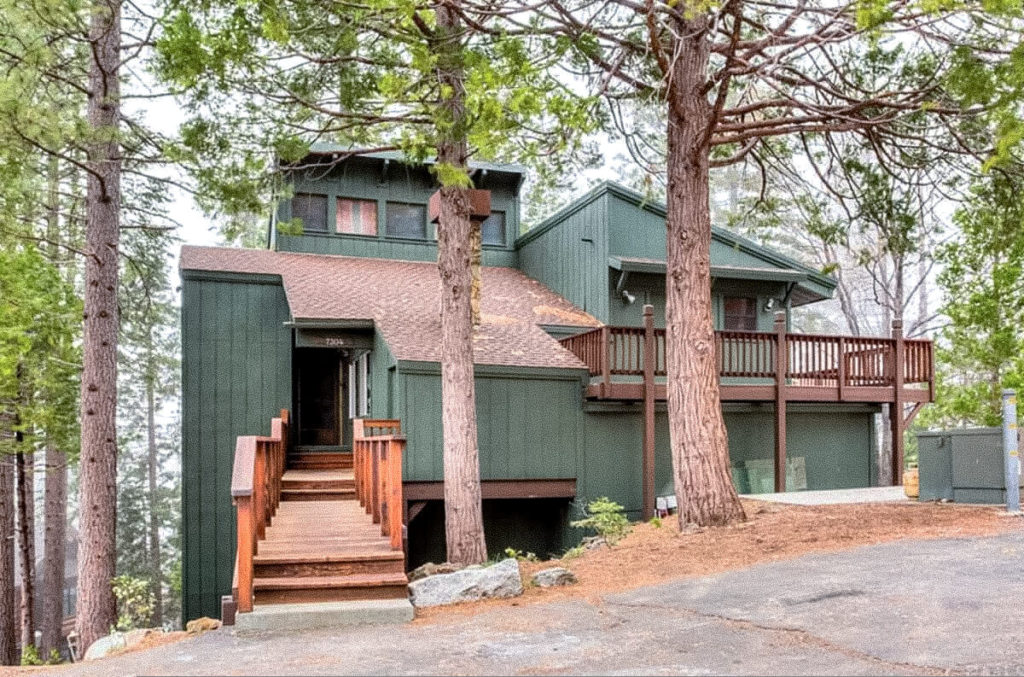 If you're looking for something fancy, this is the rental for you. This home was remodeld in 2019 and features upscale furnishings thoughout, 2 bedrooms, 2 bathrooms, full kitchen, and wrap around deck.
You're not going to find a more modern AirBnB rental inside the boundaries of the park than this one. However, as you'd expect, you're going to have to pay for that. Check the link below for current pricing and consider sharing it with a group of friends.
Sleeps: 6 guests
Size: 2 bedrooms / 2 bathrooms
Prices start at: $504/night
Quick Note: Many national park vacation rentals located inside park borders, such as AirBnBs, are managed by rental companies and not individuals. This is also the case here in Yosemite.
With that, you will notice many of the listings above are managed by the same host. It is my understanding this host is employed by the management company and not the owner of all these properties. Or, maybe he's rich and bought up everything in Yosemite, you never know. 🙂
But just to clarify, I have no personal or financial relationship with this person or company. The properties included above are solely based on what I like and look for in a place to stay and I thought others might like them too.
Additional Considerations
Due to the remote location of AirBnB national park rentals, I'd like to mention a few additional considerations to keep in mind when making a reservation.
In most cases, you should expect to have no cell phone service inside the park.
Plan ahead to have printed copies of the address and entry instructions for your AirBnB prior to arrival. There is a good chance you will not be able to access your email once inside the park.
Keep in mind that when hotels and AirBnB rentals advertise wifi, that it will not be of the speed and quality you have at home. Under most circumstances, you will not be able to stream movies or Netflix. Bring entertainment for the kids from home.
Most of the accomodations listed have limited amenities compared to AirBnB rentals outside the national parks. For example, do not expect shampoo, conditioner, or a bottle of wine waiting for you when you arrive. This is more of a logistical and cost issue than anything else. It's not that the host is not grateful for your visit.
Pick up your groceries, snacks, drinks and alcohol outside the park. You will have limited access to groceries inside the park, and you do not want to pay Yosemite Valley prices. Don't forget ice.
Finally, keep an open mind and remain flexible. You're visiting a remote and rugged environment, sometimes things do not go as planned. Just go with the flow and enjoy your time in this beautiful location.
I hope this post has helped you find the best AirBnBs in Yosemite National Park for your upcoming visit. If you'd like to support this blog please consider sharing this post. Thanks for reading.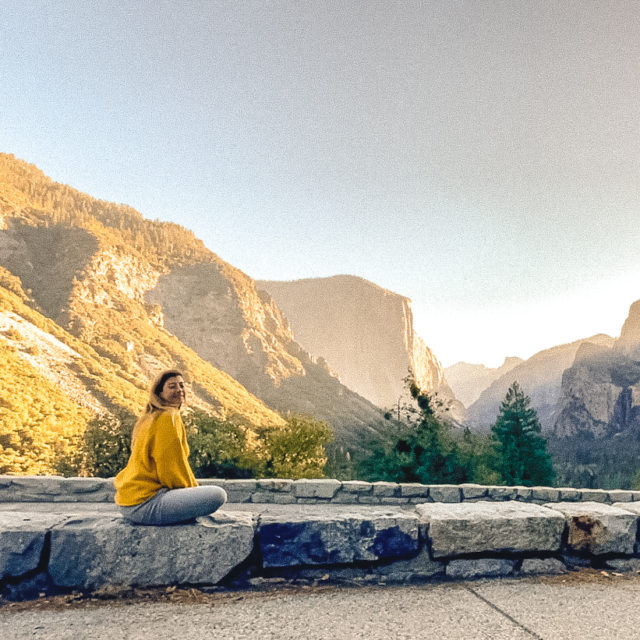 Yosemite in November is absolutely magical. Don't believe me? Keep reading. With fall in full swing in Yosemite in November, you'll get to experience the …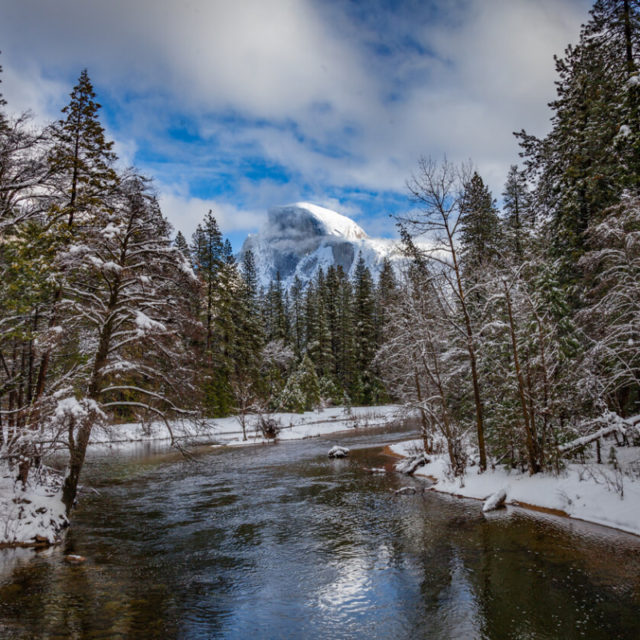 Photo by Kenny Borenstein at iStock Is Yosemite open? Yes, Yosemite National Park is currently open to visitors. I am updating this information daily, but please …
Book Your Trip
Find the best flight deals by using Google Flights, then book direct with the airline. This is the search engine I use to compare flights and prices before booking my own trips.

BOOK YOUR ACCOMODATION
I recommend searching for hotels through Booking.com to compare hotels on amenities, location, and price. If you are a member of a hotel's rewards program, always book direct with the hotel. If you are not loyal to a specific hotel brand, using Booking.com for the best price.

TRAVEL INSURANCE
Travel insurance is more important than ever. For just a few dollars a day you can protect yourself and your trip. I personally use World Nomads, but whomever you choose, don't skip out on travel insurance. It can literally save you thousands of dollars.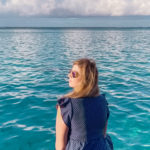 Eden Fite
Part-time Traveler | Dog Lover | Avoider of Crowds
I help busy people find creative ways to travel more.