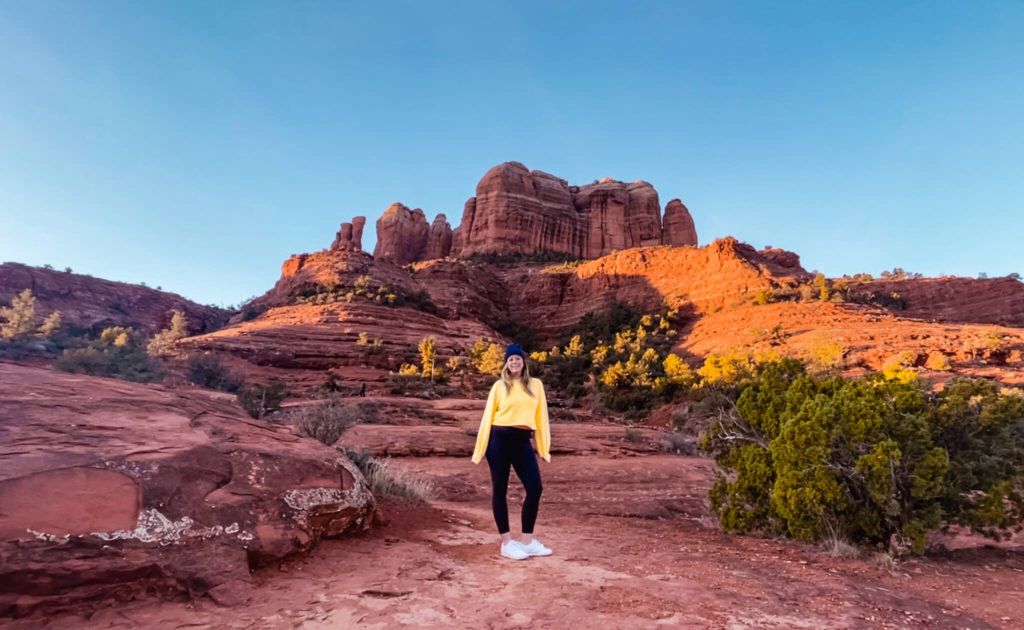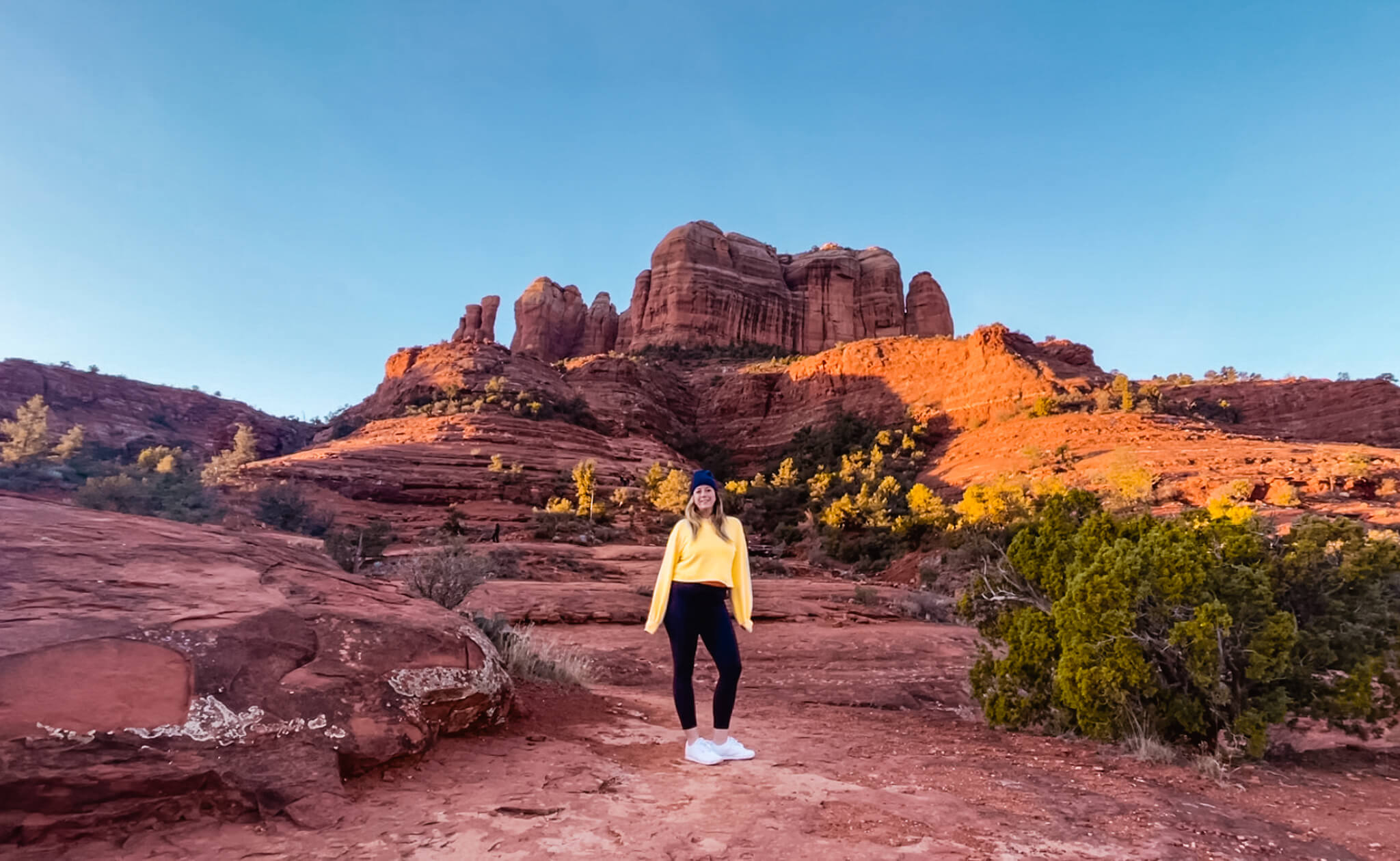 Day trips from Phoenix make the perfect way to explore the best of Arizona during your visit.
In fact, I based myself in Phoenix on my most recent trip to Arizona and had such a great time exploring nearby places I'd never visited before.
What's great about Phoenix, and Arizona in general, is that there is so much to see and do without having to travel too far.
From downtown Phoenix you'll be within a few hours drive of places like the Grand Canyon, Sedona, and Saguaro National Park. Even the famous city of Tombstone is under three hours away.
In this guide you'll find my favorite fun day trips from Phoenix along with links to book guided day tours to each destination, just in case you want to leave the driving to somebody else.
Okay, let's get to those day trips, shall we?
Some of the links in the post are affiliate links. If you make a purchase through these links it helps to support this site at no extra cost to you.
Day Trips from Phoenix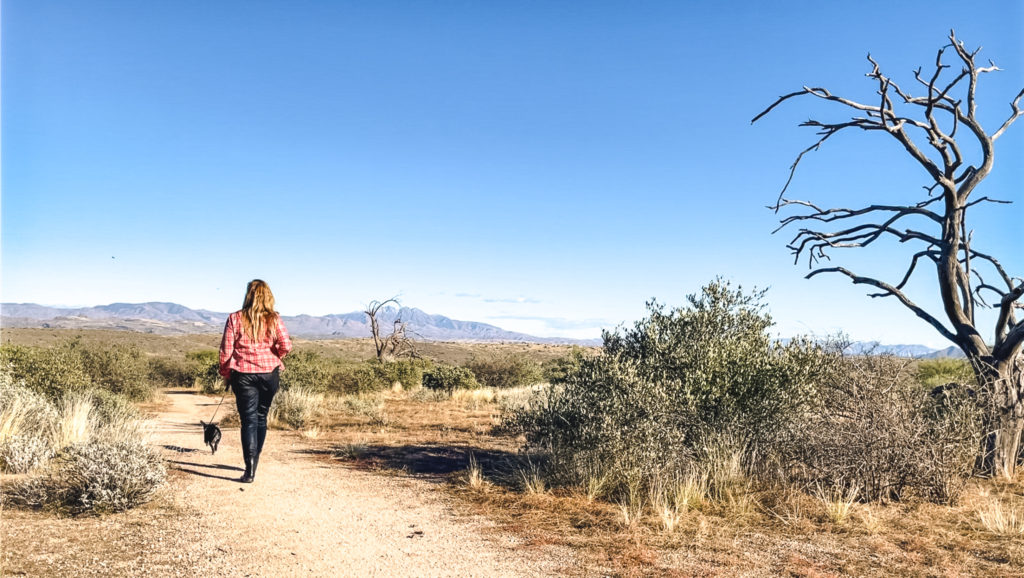 Down below I've included the best Phoenix day trips based on my own experience from many past visits to Arizona.
I think any of the day trips below will make for a good time, but you'll want to choose your own adventure based on your own personal likes and dislikes.
If you've decided to rent a car during your visit, you can easily drive to any of the locations below. However, if you prefer not to rent a car and leave the driving to someone else, click on the blue buttons to see information about guided day trips to each destination.
The guided day trips are booked either through Viator (Trip Advisor) or Get Your Guide, both of which I have used extensively on my own travels.
Whichever way you choose to explore Phoenix and greater Arizona, you're going to have a fantastic time. Arizona is beautiful and full of unique natural attractions. You really can't go wrong here.
I truly hope you enjoy your trip.
1. Phoenix to Sedona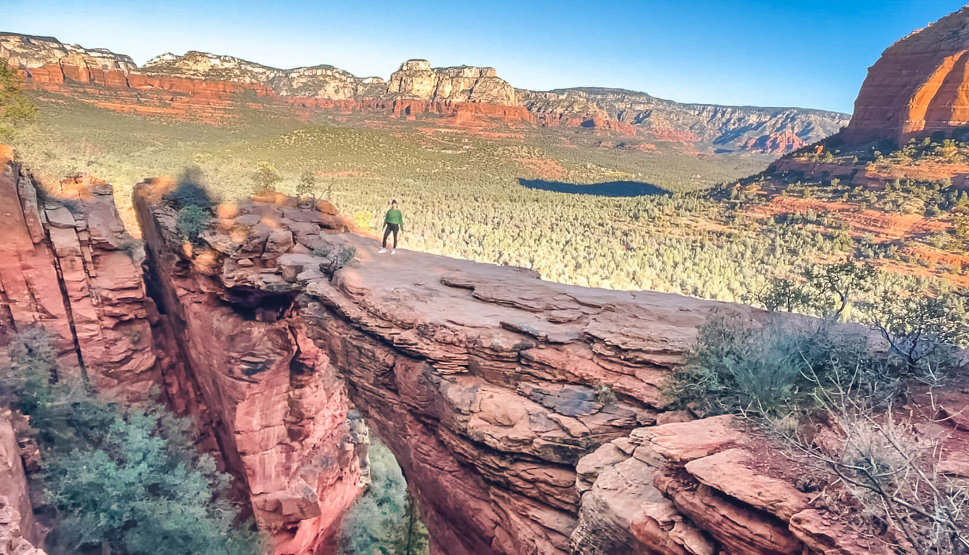 Sedona has been one of my favorite destinations in the United States for several years. I've returned often always looking to see and explore just a little more.
Enjoying a Sedona sunrise is one of my favorite activities while I'm here. There's so many incredible places in Sedona to enjoy the sunrise. If you're an early riser like I am, this is something you don't want to miss.
Some of the biggest attractions in and around Sedona are Cathedral Rock, Bell Rock, Devil's Bridge, Oak Creek Canyon, and the always popular Sedona Airport Scenic Overlook. 
There are also multiple state parks in the area including Slide Rock State Park and Red Rock State Park.
You'll also want to be sure to drive along the Red Rock Scenic Byway that passes Oak Creek. This is one of the most beautiful stretches of highway in the country.
Visitors to Sedona can also enjoy the city's many great restaurants and wineries. Seriously, there's no shortage of fantastic food and drinks here, I can promise you that. 
Some of my favorite restaurants are Elote Cafe for Southwestern cuisine, and Cucina Rustica for authentic Italian. Both of these restaurants make for a fun night out with friends or your partner. 
If you're into astrophotography, or just enjoy stargazing, head to the Airport Scenic Overlook or Bell Rock Trail on a clear night. From either of these locations you'll have incredible views of the stars, planets, and even the Milky Way, depending on the time of year of your visit.  
2. Phoenix to Grand Canyon National Park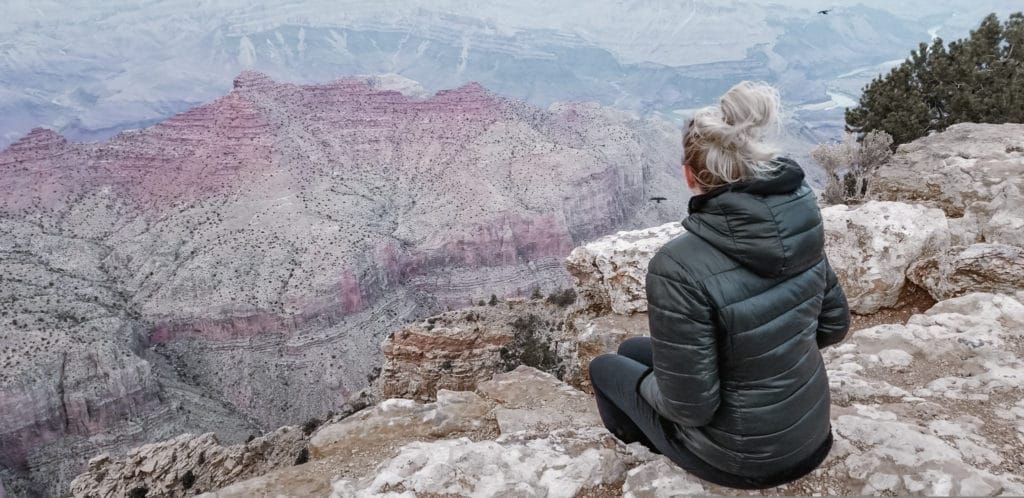 If you're never been, a Grand Canyon day trip from Phoenix is the perfect opportunity to see this natural landmark.
The Grand Canyon is well worth the 3 – 4 hour drive, especially if you're booking a tour and someone else is doing the driving. 
The main activities on a Grand Canyon day trip include enjoying the incredible canyon views, and maybe even a little hiking.  You'll find all variety of hiking trails along the south rim of the Grand Canyon including some short and easy hikes, and also some not so easy hikes.
For an easier hike, you can walk the Rim Trail from the Grand Canyon Visitor Center heading west. While you're at it, don't miss a quick stop into the Grand Canyon Visitor Center. Here you can learn a bit about the history of the canyon and what's on offer during your visit to the park. 
If you have a nice camera, you'll want to bring it along for this trip. Getting sharp images of the canyon can be difficult with an iPhone due to the distances, but you'll get beautiful pictures nonetheless. 
If you're making the drive from Phoenix to the Grand Canyon on your own, try to plan your visit to the park so that you're there for either sunrise or sunset. 
There's nothing like seeing a sunrise or sunset over the Grand Canyon. Plus, these are the best times for lighting if you're looking to get nice photos to remember your trip by. 
3. Phoenix to Jerome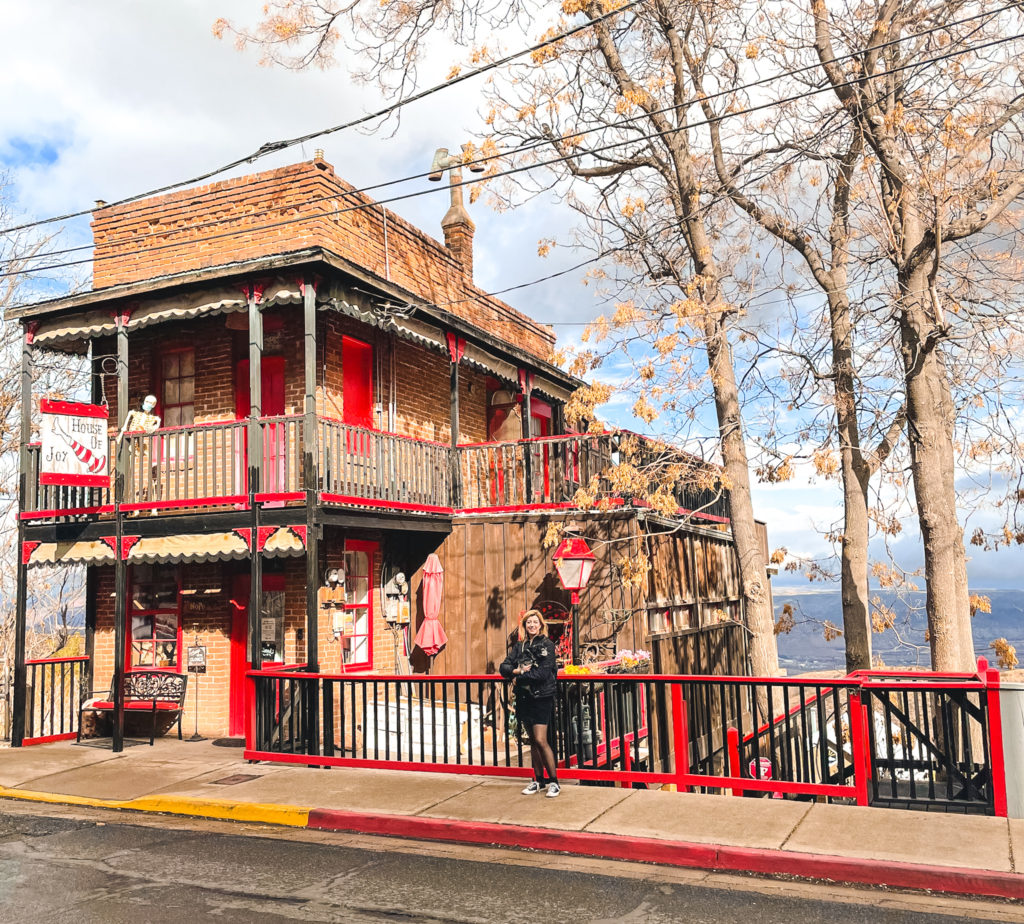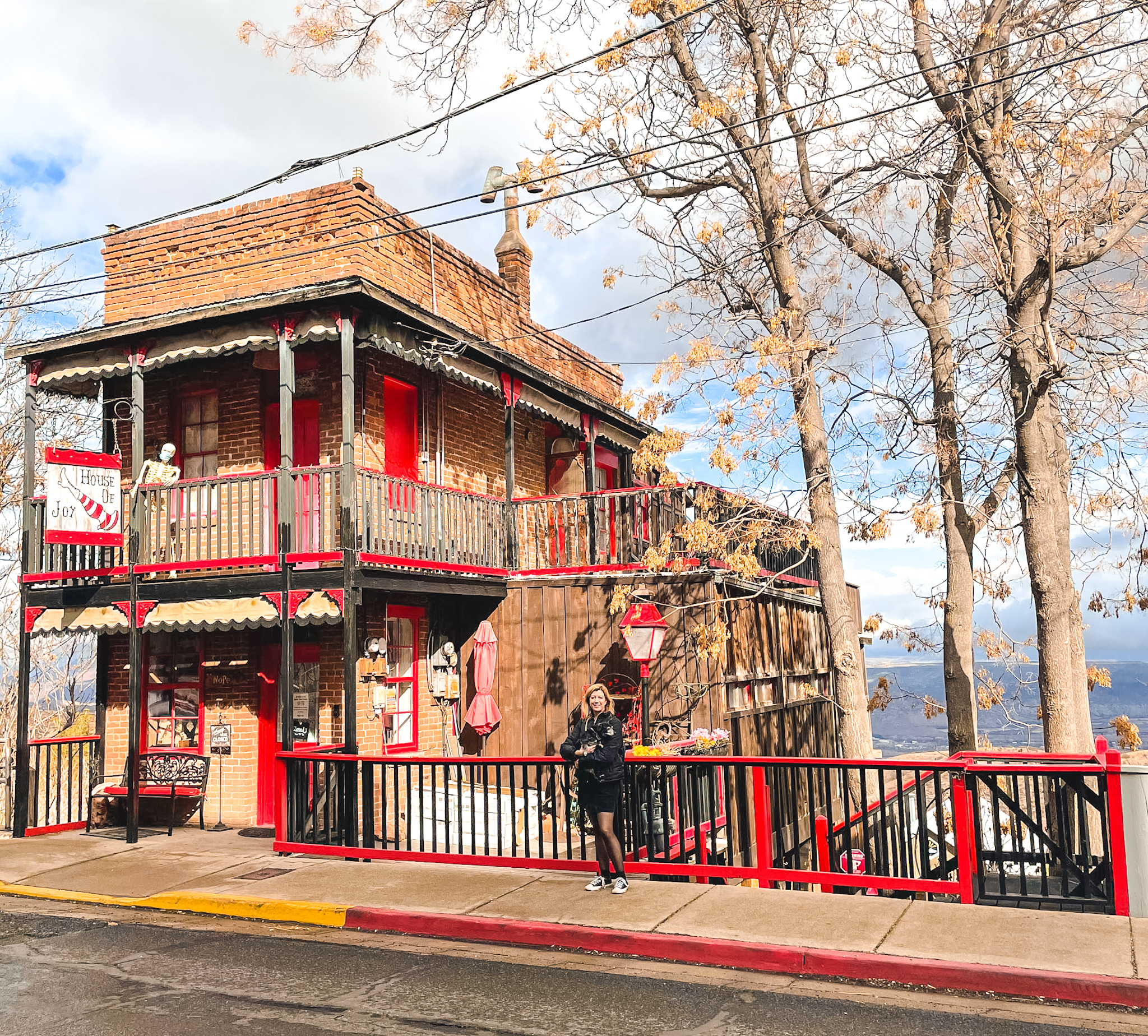 If you're looking for a unique day trip from Phoenix consider making the drive up to Jerome or booking a Jerome day tour. 
 The town of Jerome is famous for its history as an Old West mining town, and it also happens to be haunted. More on that later. 
Besides being haunted, Jerome is artsy and quirky and just a fun place to spend a day. Visitors will find local art galleries, boutiques, wineries, and a handful of great local restaurants as they explore the town.
Besides wandering into the local shops, visitors to Jerome will also want to visit the Jerome Sliding Jail, Jerome State Historic Park, and Old King Mine and Ghost Town.  
Afterwards, when you're ready to learn about Jerome's haunted history, head up the hill to the historic Jerome Grand Hotel. The hotel was featured in the television show Ghost Adventures and has a very interesting haunted history. 
If you're interested in learning all about Jerome's haunted history, I highly recommend the Jerome Ghost Walk. It's an hour long waling tour to all the famous haunted spots in town.
4. Phoenix to Scottsdale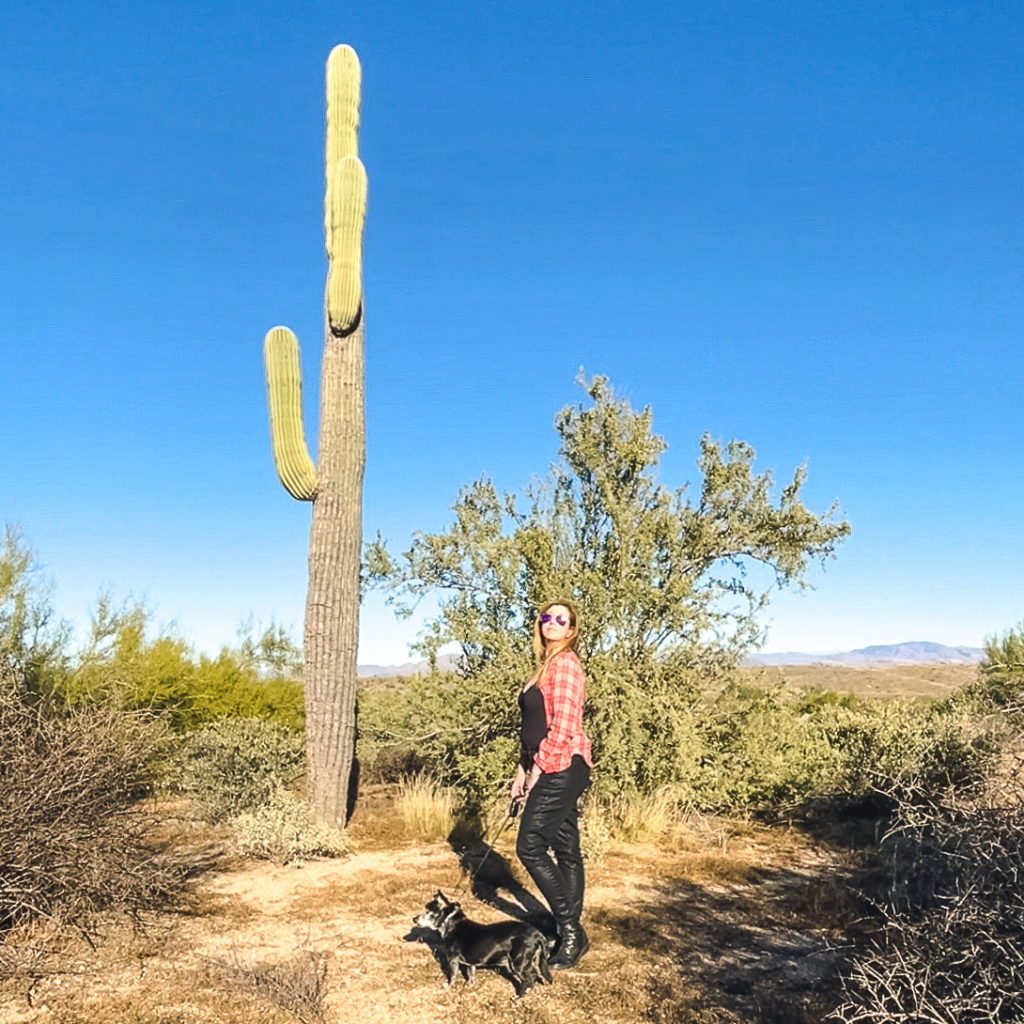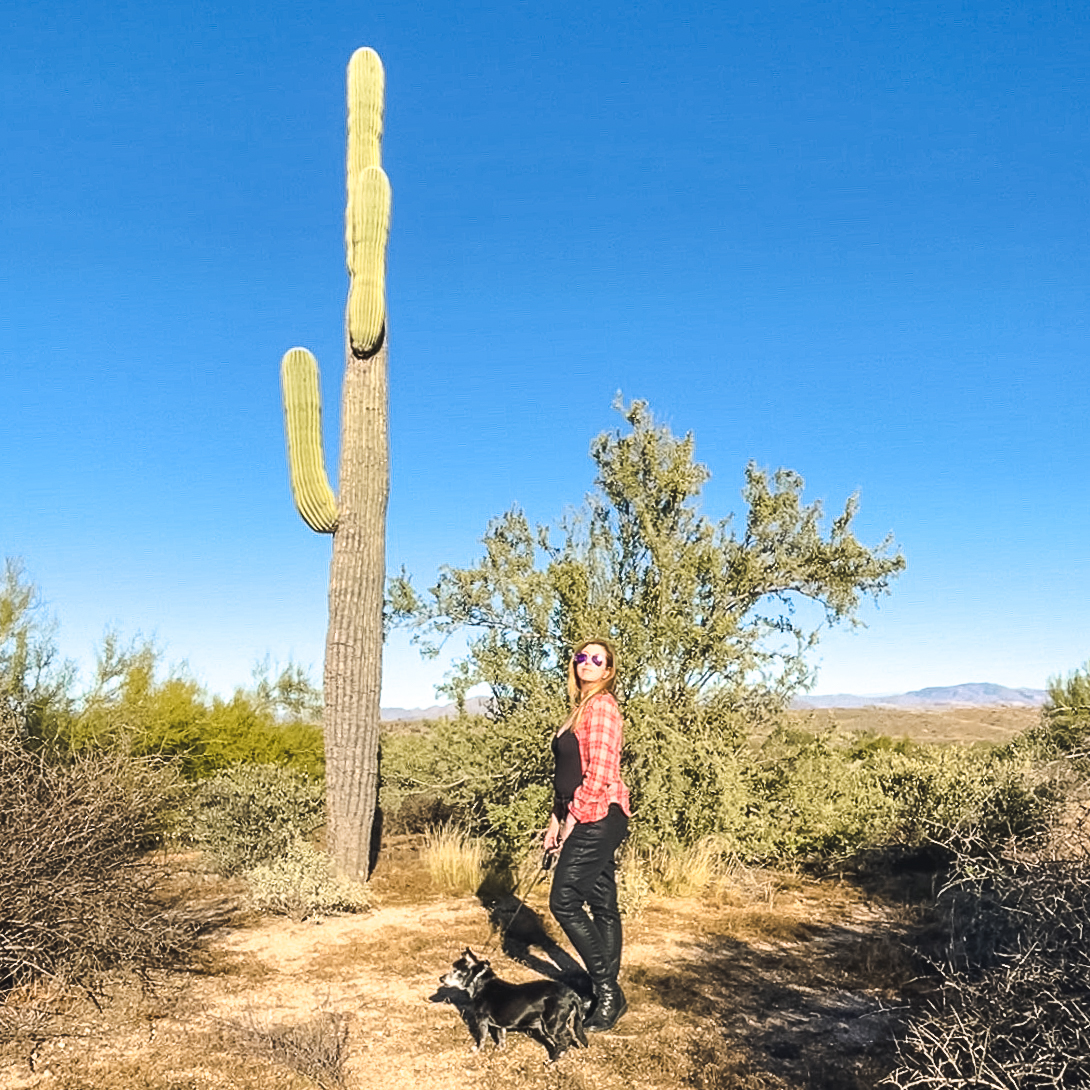 Scottsdale is one of my favorite cities in Arizona and a place I return to time and again. In fact, I've been visiting Scottsdale at least once a year for the past several years, sometimes even more.
My mom and sister and I visit annually for a mother and daughter weekend getaway every spring. We love coming back each year to reconnect and enjoy Scottsdale's year round gorgeous weather. 
Some of my favorite things to do in Scottsdale include hiking Camelback Mountain, spending time in Old Town Scottsdale, stopping into the Rusty Spur Saloon for live music, and dining at one of the city's many great restaurants. The Mission and Pomo Pizza are two of my favorites. 
If you're looking for indoor activities on a hot day head to the OdySea Aquarium or Butterfly Wonderland. These are especially great options if you happen to have kids with you. 
5. Phoenix to Tombstone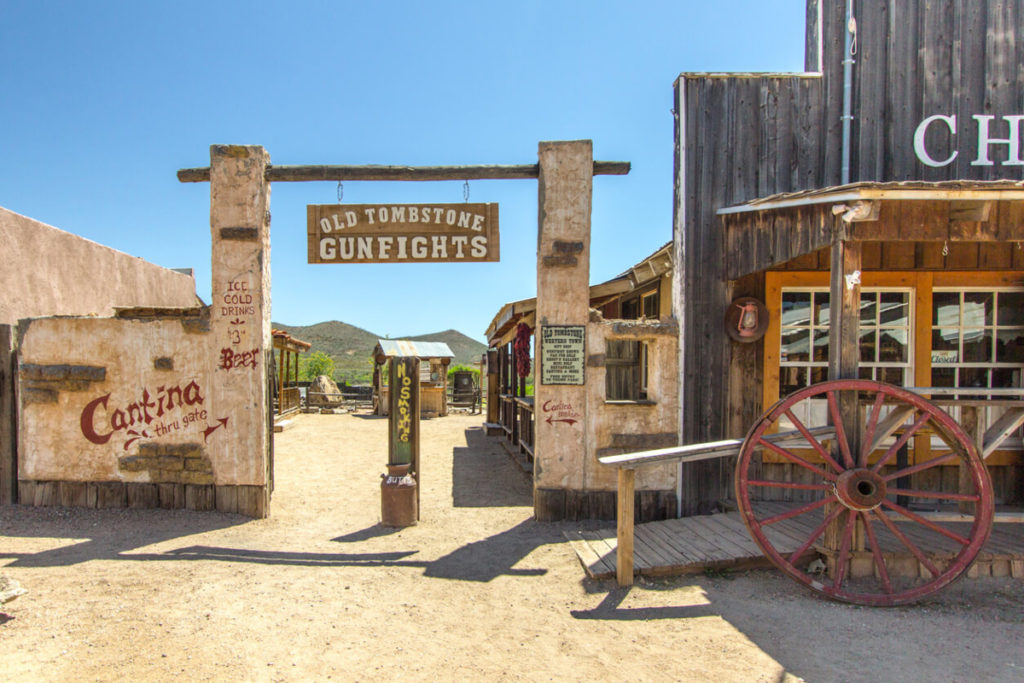 Tombstone is an Old West town known for being the location of the infamous OK Corral shootout between Virgil Earp and a band of outlaws on October 26, 1881.
Today, visitors to Tombstone will enjoy walking down historic Allen Street where they can visit the Bird Cage Theatre, the Tombstone Art Gallery and the famous OK Corral.
Along Allen Street you'll also find several local shops, restaurants, and saloons.
I also recommend a visit to Boothill Cemetery located nearby. The cemetery is believed to hold over 200 graves, many unmarked. This cemetery is the final resting place for those who were victims of hanging, lynching, or shootouts in the town's old wild west days.
I think Tombstone makes a fun and quirky day trip from Phoenix, but you definitely don't need to spend a full day here. A few hours should do it.
6. Phoenix to Saguaro National Park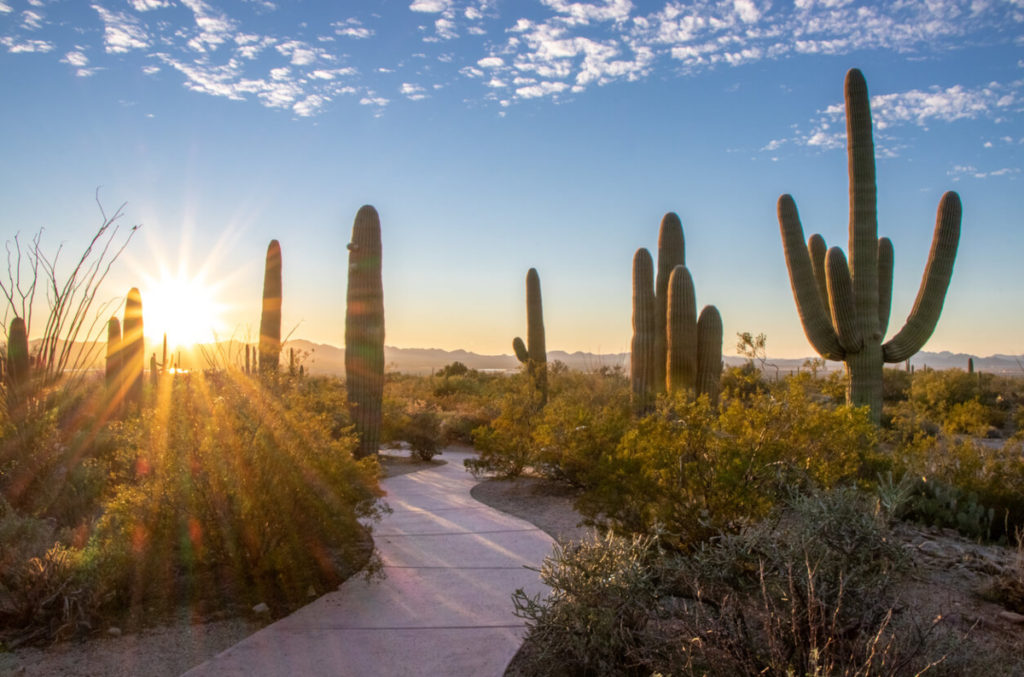 Saguaro National Park is a cactus lover's dream. This park is filled with native Saguaro cacti and is located just 2 hours south of Phoenix.
The park is broken up into two different sections broken up by the city of Tucson.
The is more to do on the western side of the park so that is the section with the most visitors. Though, I believe both sides are worth a visit.
In addition to enjoying the abundance of Saguaro cacti, you can also drive the 6 mile Bajada Loop Drive, hike the Valley View Overlook Trail, walk the Desert Discovery Nature Trail, view the Petroglyphs, and hike up to Wassen Peak.
Saguaro National Park also has two visitor centers where you can learn about the park's habitats and local wildlife. You'll find one visitor center in each section of the park.
To my knowledge, there are no guided day trips into Saguaro National Park. If you'd like to visit you'll want to have a rental car for this one.
After visiting Saguaro National Park, I also recommend a visit to nearby Tucson Mountain Park. You'll find lots of hiking trails, wildlife, and of course, more cacti.
7. Phoenix to Montezuma Castle National Monument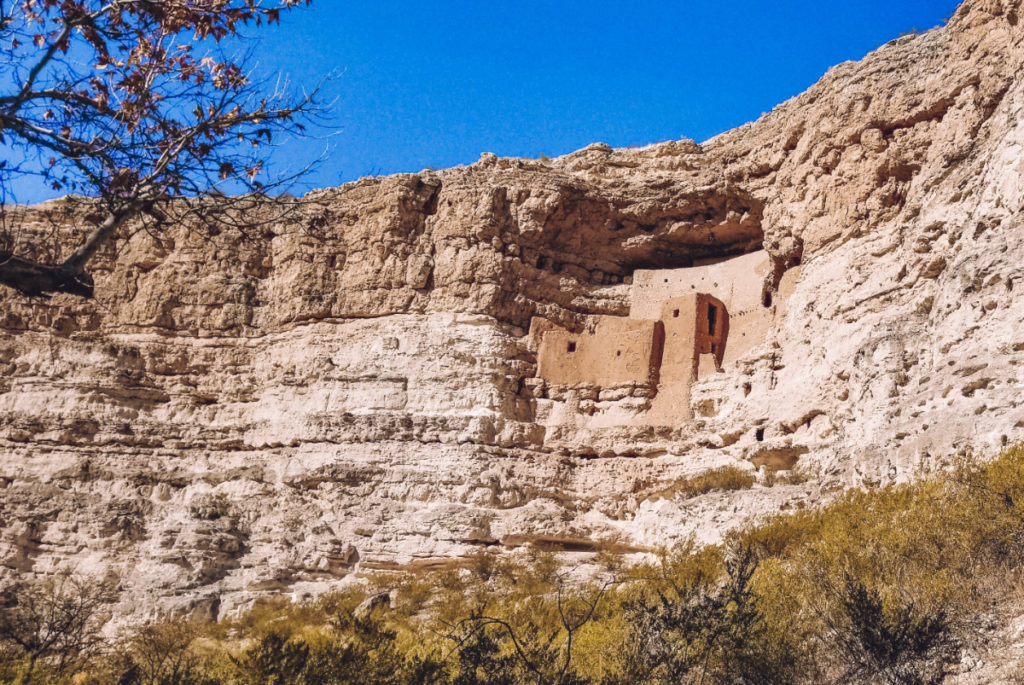 Montezuma Castle National Monument is the location of a historic well preserved limestone cliff dwelling. The cliff dwelling was once home to the Sinagua people who used to live in the area and dates back to about AD 1100 to 1425.
Visitors to Montezuma Castle can explore the visitor center to learn about how the cliff dwellings were made and what life may have been like for the Sinagua people.
Since Montezuma Castle makes for a fairly short excursion, the guided tour below also includes a visit to Sedona and Jerome.
8. Phoenix to Saguaro Lake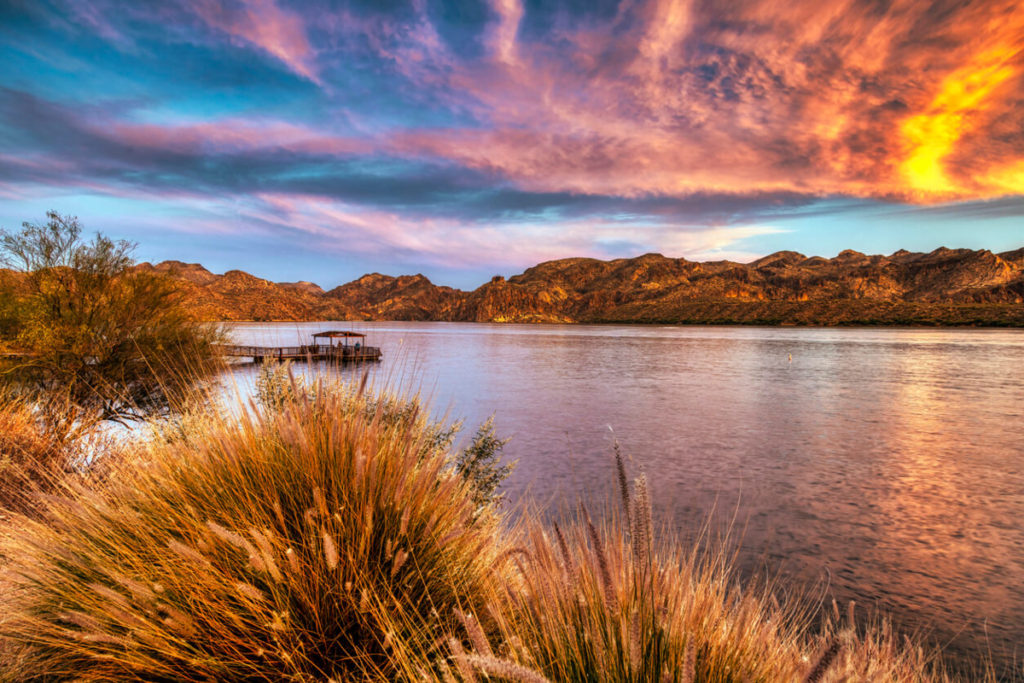 One of the most popular short day trips from Phoenix AZ is to Saguaro Lake.
Saguaro Lake is a large reservoir situated along Arizona's Salt River. You can find Saguaro Lake about 50 minutes east of Phoenix near Tonto National Forest in the state's Sonoran Desert.
The lake is a popular destination for outdoor activities including stand up boating, fishing, paddle boarding, and kayaking.
if you'd like to enjoy some time out on the water you can book a Saguaro Lake kayaking tour which includes pick up from your hotel in Phoenix.
9. Phoenix to Meteor Crater National Landmark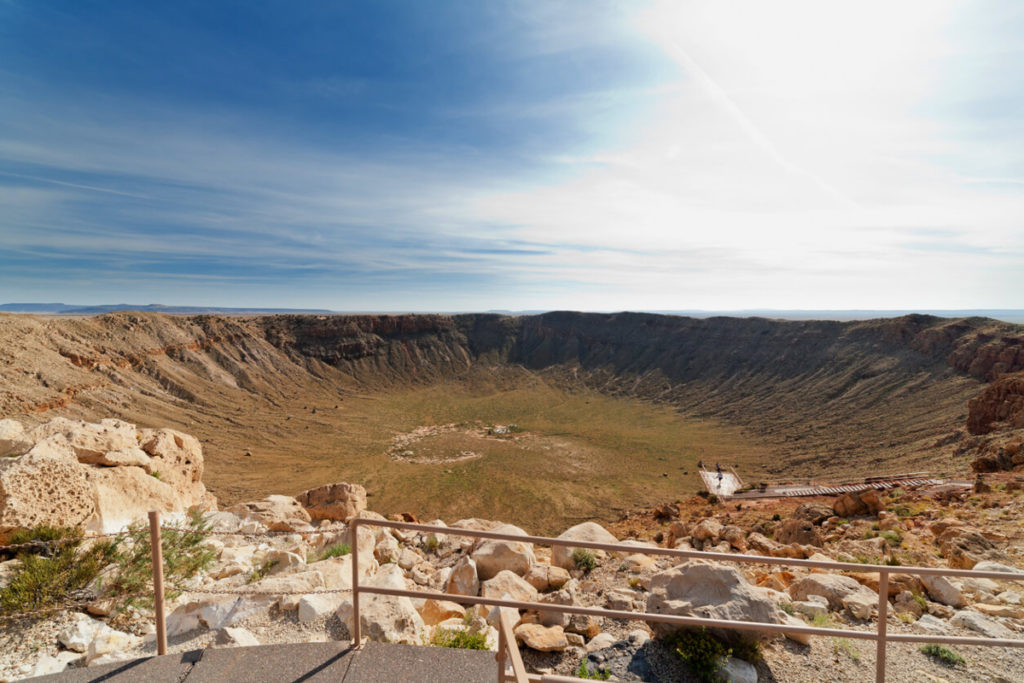 Perhaps one of the most unique day trips from Phoenix is to Meteor Crater National Landmark.
Meteor Crater National Landmark is the site of a meteorite crash site that is believed to have occurred over 50,000 years ago.
Those wishing to learn more about the meteorite crash can join a guided rim tour. The tours are about 45 minutes and you can learn all about the meteorite crash and the science behind it.
Also on site you'll find a Space Museum that tells the story of the meteorite crash and includes interactive hands on exhibits.
Meteor Crater National Landmark is located about 2 hours and 45 minutes north of Phoenix. There are no guided tours to Meteor Crater National Landmark, so if you'd like to visit you'll need a car for this one.
10. Phoenix to Horseshoe Bend and Antelope Canyon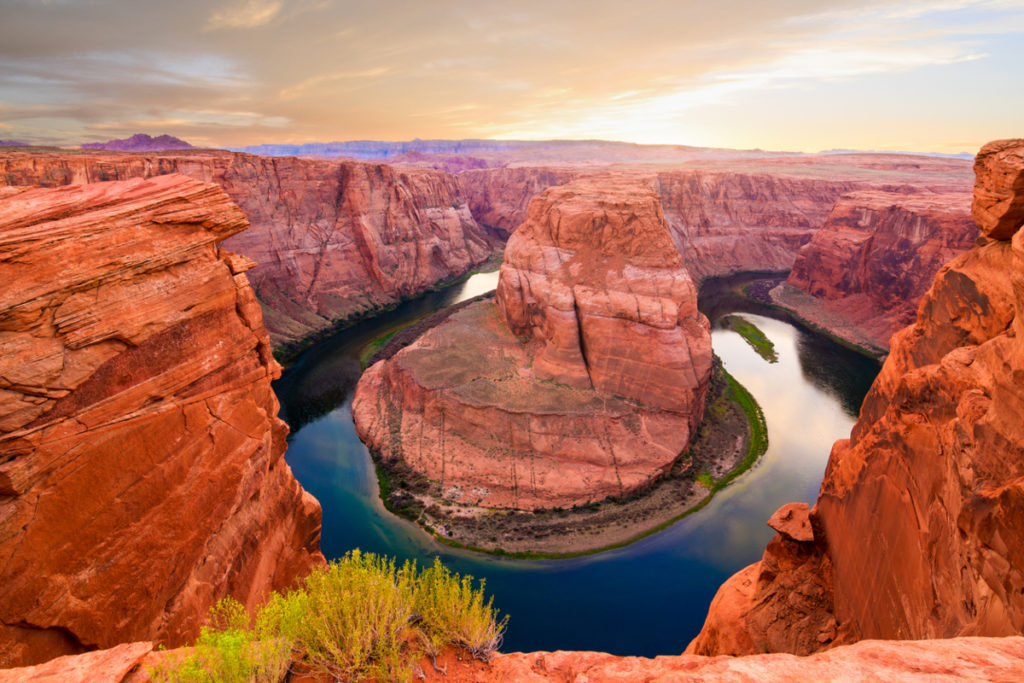 Horseshoe Bend and Antelope Canyon are two of the most impressive attractions in the state of Arizona. If you have the time in your schedule I highly recommend this one.
Horseshoe Bend is pictured above and is a gorgeous viewpoint along the Colorado River in northern Arizona.
Antelope Canyon is an extremely popular slot canyon located on Navajo land in northern Arizona. Its canyon walls are a bright orange color making them incredibly photogenic.
Fair warning, the guided tour linked below is priced higher than the other tours I include in this guide. Antelope Canyon tours are all expensive because you can only visit with an authorized tour company.
Antelope Canyon is on Navajo land and the cost of your tour includes money to protect the land and canyon.
If you'd like to save money on this one you can rent a car and make the three hour drive yourself. I do recommend booking the Antelope Canyon tour in advance though, as you will still be required to enter with a tour company upon arrival.
11. Phoenix to Joshua Tree National Park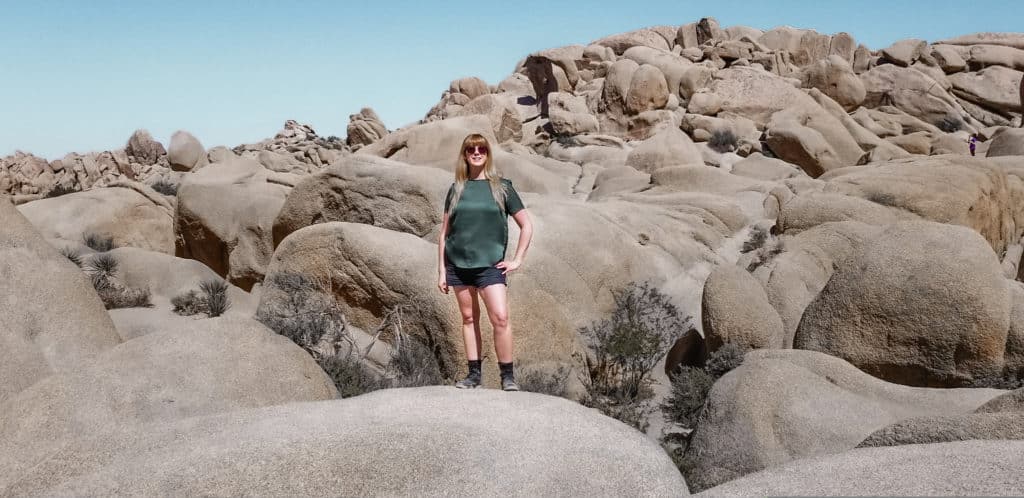 Joshua Tree National Park is an extremely popular destination in the eastern part of southern California. The park is known for its abundance of Joshua Trees and large boulders dotting its unique desert landscape.
While there are no guided trips into Joshua Tree (that I could find), the drive on your own from Phoenix will take about three and a half hours.
This makes for an ambitious day trip from Phoenix, but it can be done. You can see much of Joshua Tree National Park in a single day, especially if you're willing to get an early start.
12. Phoenix to Petrified Forest National Park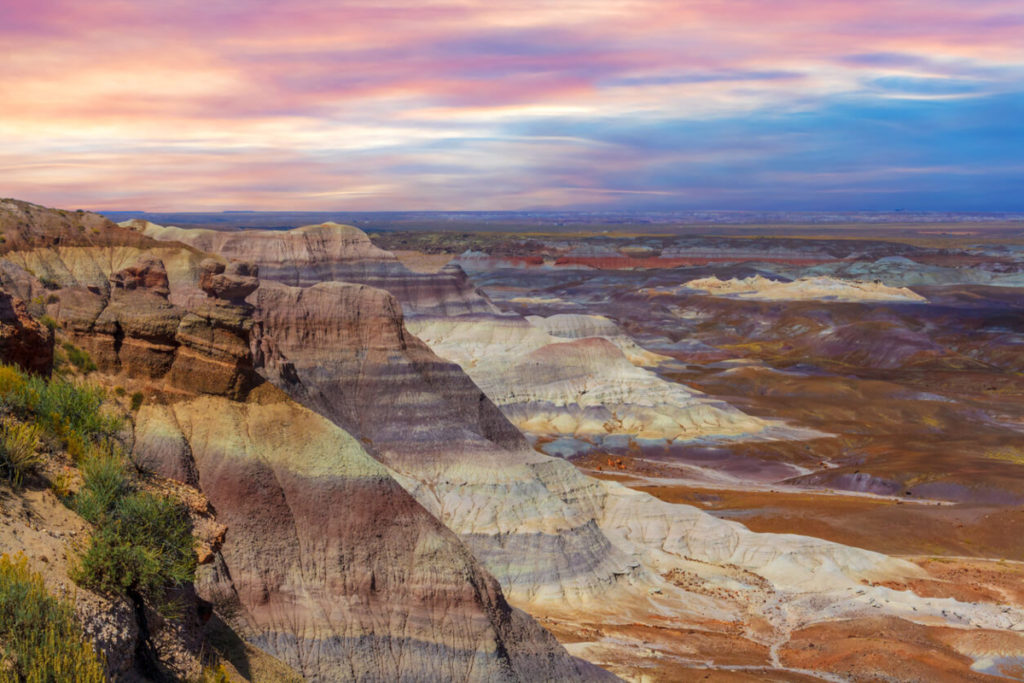 Petrified Forest National Park is located in northeastern Arizona about three hours and 30 minutes east of Phoenix. The national park is known for its petrified wood and colorful landscape.
Petrified Forest National Park can be visited in just a few hours and most major attractions and lookouts are easily accessed by car.
The main park road winds through the park stretching 28 miles. The road takes visitors to the park's main attractions and lookout points. The drive through the park can be made in about an hour or so. This of course depends on how long you stop at each location.
Other popular activities in Petrified Forest National Park include hiking, biking, horseback riding, and back country camping.
If you're a dog owner you'll be happy to learn that this is one of the most pet friendly national parks in the country. Pets are welcome just about everywhere in the park, except inside the buildings.
Be advised this park is only open from 8:00 a.m. to 5:00 p.m. You will not be able to capture sunset or sunrise during your visit.
This park will also have to be visited on your own. There are no guided tours running to Petrified Forest National Park.
I hope you've enjoyed this guide to the best day trips from Phoenix and that I've inspired you to book a trip of your own. As always, thanks so much for reading.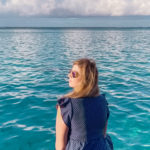 Eden Fite
Part-time Traveler | Dog Lover | Avoider of Crowds
I help busy people find creative ways to travel more.