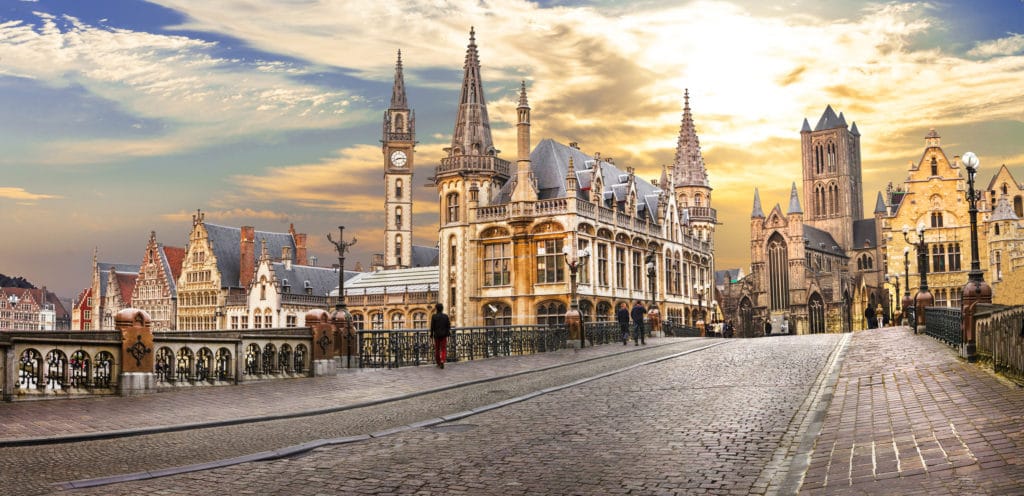 If you're going to visit Belgium, you absolutely must make time to spend at least one day in Ghent.
Like Bruges to the north, the city is filled with well-preserved medieval architecture.
Plus, there are tons of small canals winding around the city. Sort of like Venice, but different.
It's a worthwhile city to explore, especially if you're staying in nearby Brussels. It makes a perfect day trip, and I recommend the whole day if you've got the time. 
That being said, no matter how much time you've got, you're going to love it here.
Here are some of the best things to do with one day in Ghent.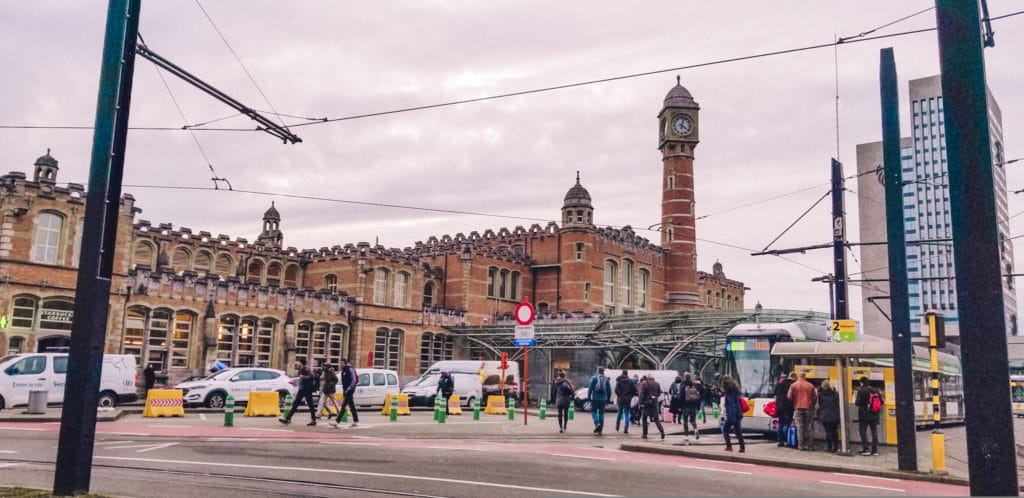 Brussels to Ghent
Getting from Brussels to Ghent could not be much easier.
Ghent is located just north of Brussels and is easily reachable by car or train.
Trains from Brussels to Ghent run frequently throughout the day, so there is no need to plan this trip in advance as there will always be a train headed in the right direction.
You can get from Brussels to Ghent in about 30 minutes.
Tickets for the train are about 11 Euros and can be purchased at the train station. 
You will start at the Bruxelles Midi station and exit the train at Gent-Sint-Pieters. 
Once you arrive in Ghent, the city is best explored on foot.
The main city center is fairly compact with many areas being pedestrian-only.
As you exit the Gent-Sint-Peters station through the main exit, you can catch Tram 1 to the city center.
The ride will be about 10 minutes. You can purchase a ticket from the machine near the stop, or once you get on the tram. 
10 Fun Things to Do with One Day in Ghent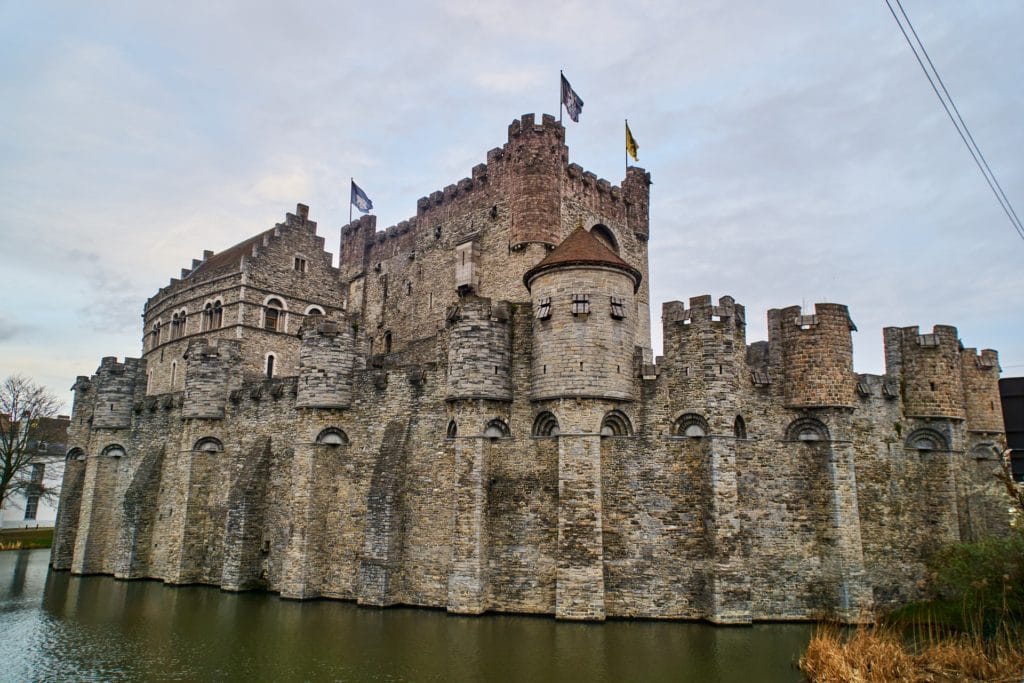 1. Gravensteen Castle
The Gravensteen Castle is a very cool looking medieval castle found in the Ghent city center.
The castle dates back to 1180 and was formerly the residence of the Counts of Flanders.
After 1353, the castle became used for many other things including a mint, a cotton factory, and even a prison.
Restoration of the castle was completed in 1903. Today, the castle is a popular landmark, museum, and tourist attraction. 
The Gravensteen Castle is open daily from 10:00 a.m. to 6:00 p.m. They are closed on some dates around Christmas and New Year's.
Tickets can be purchased on-site up to an hour before closing. Admission is 10 Euros for adults. Lower priced tickets are available for younger and older visitors.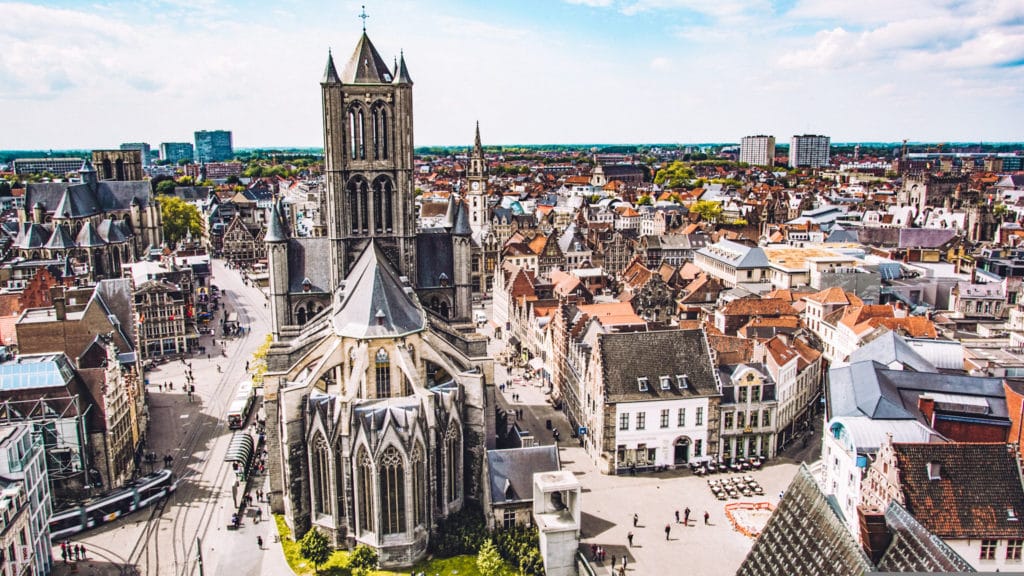 2. Belfry
No Ghent travel guide would be complete without a visit to the famous Ghent Belfry.
The Belfry of Ghent is one of the three medieval towers found in the Ghent city center. The other two towers are part of the Saint Bravo Cathedral and Saint Nicholas Church.
The Belfry of Ghent stands at almost 300 feet tall and is the tallest Belfry in the country. It was rebuilt over the years to make room for more bells.
The Belfry was previously used to tell the local time (through the sound of the bells), as a watchtower, and as a place to store important documents. It has also been designated a UNESCO World Heritage Site. 
You can visit the Belfry of Ghent daily from 10:00 a.m. to 6:00 p.m. The last ticket of the day is sold at 5:30 p.m. Admission is 8 Euros for adults.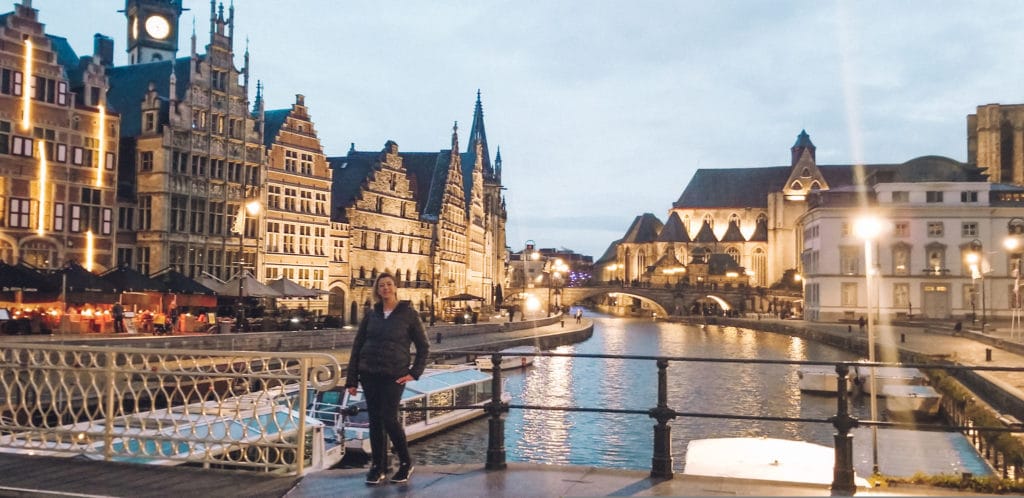 3. Saint Micheal's Bridge
Saint Michael's Bridge is the perfect spot in the city to get some pictures to remember your Ghent day trip.
The bridge is neo-gothic and was built in 1910. It crosses over one of the Leie River and provides one of the best views in the city.
You can admire Ghent's medieval architecture and see many of the city's main attractions from this bridge.
If you're traveling solo, be sure to ask a local to snap a picture of you like I did! The locals here are super friendly, so don't be shy.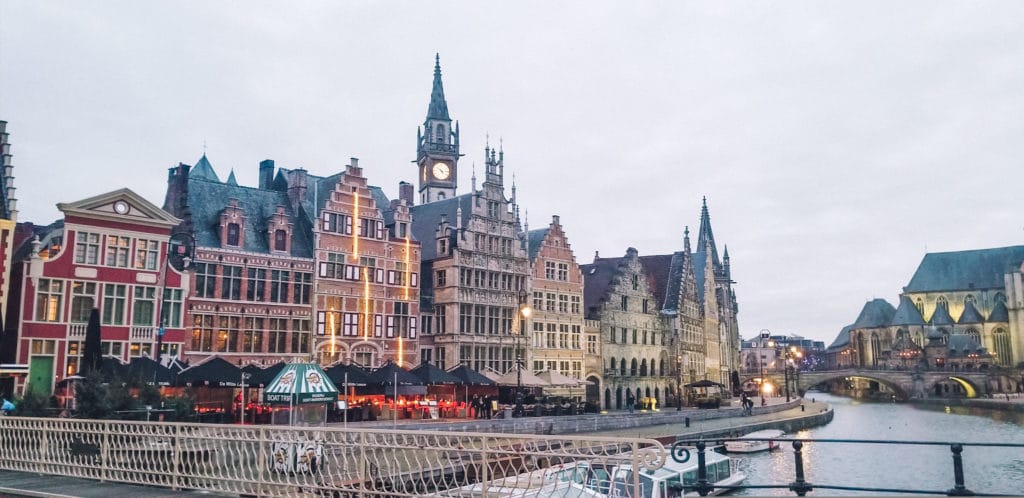 4. Explore Korenlei and Graslei
Korenlei and Graslei are two walkways that run along the Leie River near the Saint Micheal's Bridge.
The views from these walkways are beautiful and you'll find tons of cafes and restaurants here.
Most, if not all, will have patios out front so you can enjoy the view while you eat your meal.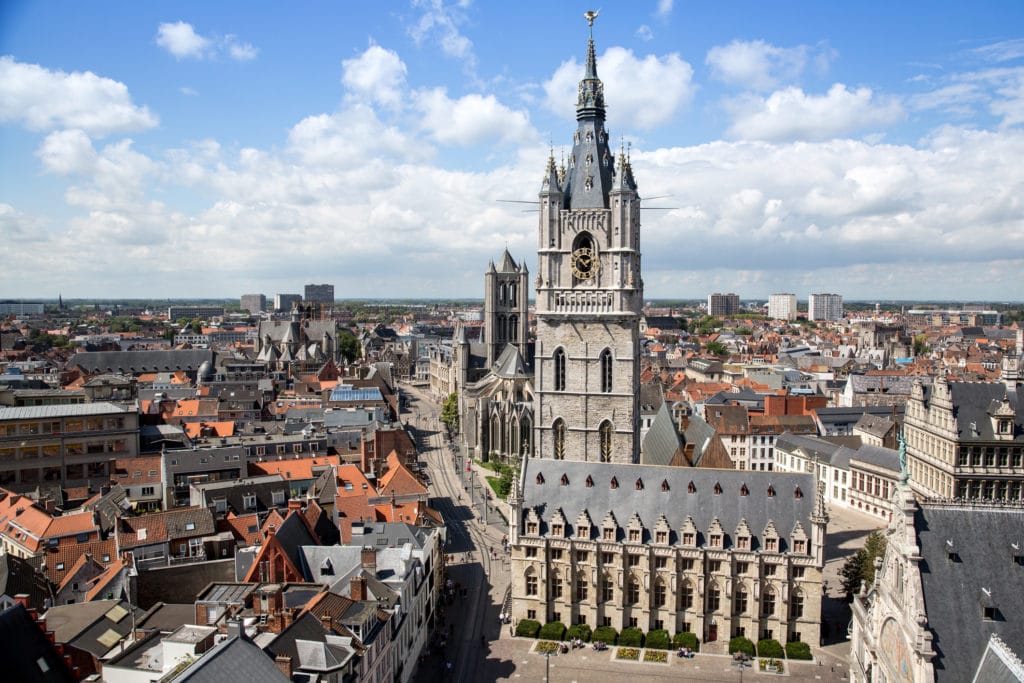 5. Saint Bavo's Cathedral
Even with just one day in Ghent, you're going to want to make time for church.
Saint Bavo's is a beautiful gothic cathedral located in the Ghent city center.
The cathedral's bell tower stands about 292 feet tall. The building of the gothic church began in 1274, but there have been additions and upgrades ongoing over the centuries.
Inside the cathedral, there is a famous altarpiece called Adoration of the Mystic Lamb by Hubert and Jan Van Eyck. The work was finished around 1432 and is considered a masterpiece of European art.
Both the artwork and cathedral draw crowds, so if you can arrive first thing in the morning or late in the day, you'll have a better experience. 
Saint Bavo's Cathedral is open daily from 8:30 a.m. to 5:00 p.m. Admission to the cathedral is free. There is no extra cost to view the Adoration of the Mystic Lamb altarpiece.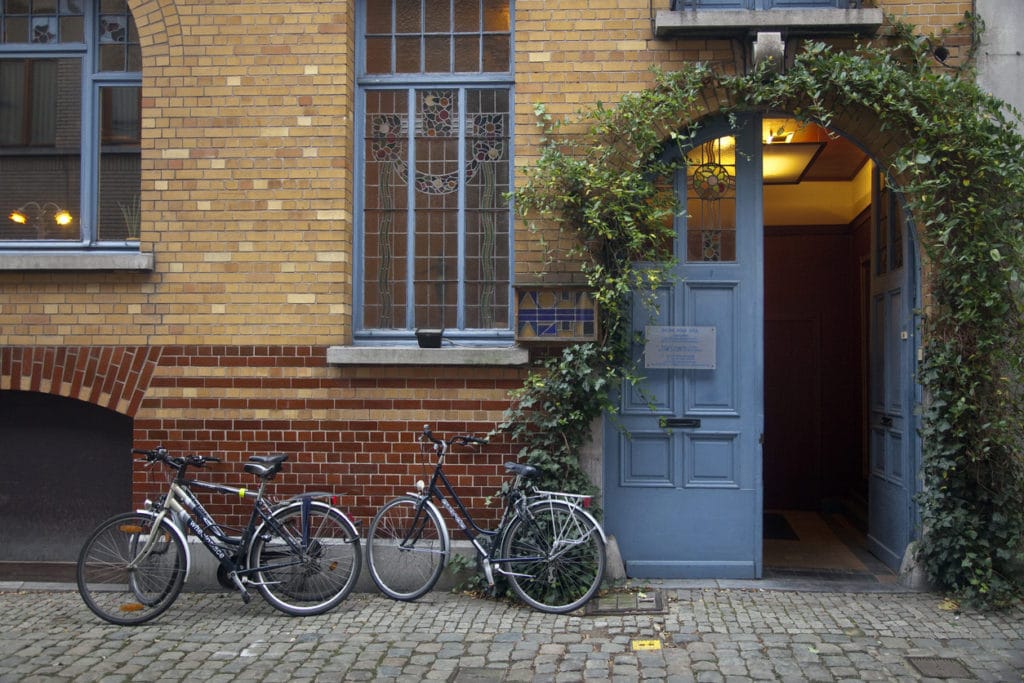 6. Explore Patershol
Patershol is a beautiful cozy neighborhood located just north of the city center near the Gravensteen.
The neighborhood is home to many trendy bars and restaurants. It makes a great place to visit after you've finished seeing all the sights during your one day in Ghent.
When your day is ending, head to Patershol to wind down and have dinner and drinks.
You'll find restaurants serving cuisine from all over the world, so I recommend just wandering through the streets to see what piques your interest.
The neighborhood isn't too large, so this will not be a daunting task, but you'll still have plenty of options to choose from.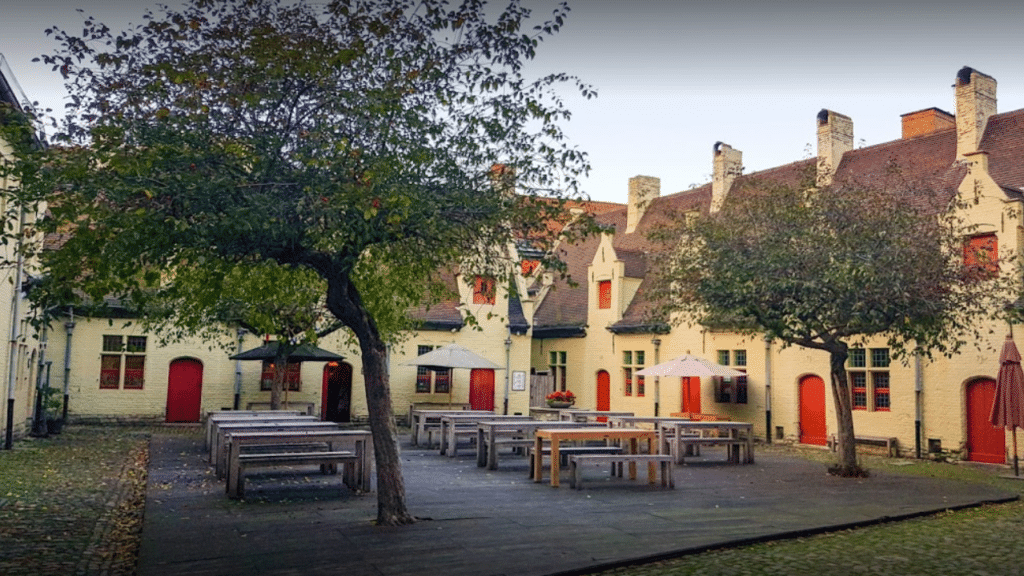 7. The House of Alijn
The House of Alijn museum shows daily life in 20th century, Flanders.
The exhibits focus on the customs, traditions, and rituals of people from the recent and distant past.
Through their exhibits and storytelling, they do an excellent job showing that ordinary life is not always so ordinary.
After you've finished seeing the museum, head to the courtyard where you find a traditional pub serving local beers. 
You can visit the House of Alijn Monday through Friday from 9:00 a.m. to 5:00 p.m. and Saturday and Sunday from 10:00 a.m. to 6:00 p.m.
The museum is closed Wednesdays and some holidays. Admission is 6 Euros for adults. Tickets are purchased at the museum's entrance. 
If you enjoy museums, you may also wish to visit the Ghent Design Museum located just up the street.
It is the only musuem in Belgium with an international design collection, and is home to some very unique pieces ranging from art nouveau to the avant garde.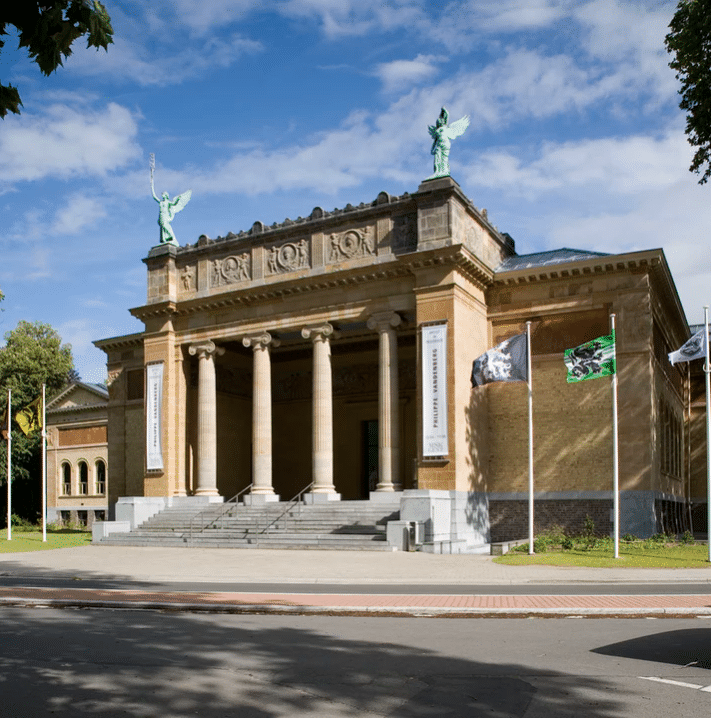 8. Visit the Msk
The Msk is a fine arts museum with an impressive collection.
The museum has a large permanent collection of pieces from the Middle Ages to the Mid 20th Century.
In January 2020, the museum opened an exhibition of Van Eyck's works titled An Optical Revolution. The Van Eyck exhibition will run from February 1, 2020, to April 30, 2020.
If you are planning to be in Ghent during this time I highly recommend purchasing tickets in advance.
In addition to the special exhibitions, the museum focuses on Flemish art from the Southern Netherlands.
The exhibitions and art at the Msk are always worth a visit if you've got the time. 
You can visit the Msk from Tuesday to Friday from 9:30 a.m. to 5:30 p.m. and from 10:00 a.m. to 6:00 p.m. on Saturday and Sunday.
The museum is closed on Mondays and major holidays around Christmas and New Year's. Admission to the Msk is 8 Euros for adults.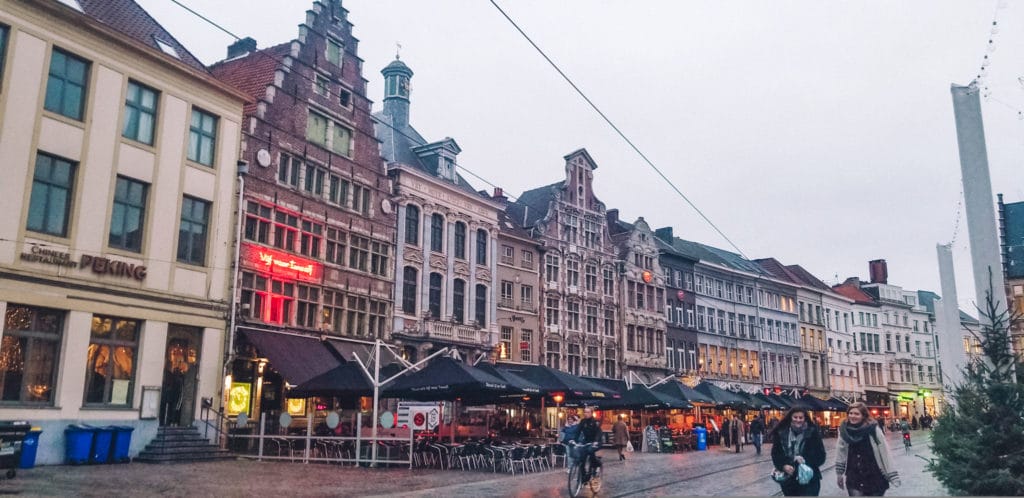 9. Explore the Ghent city center
All the main things to do with one day in Ghent for first-time visitors can pretty much be found in the Ghent city center.
All of the above-mentioned locations are either in or adjacent to this area.
Even if you don't want to see some of the places recommended above, the Ghent city center is beautiful and famous for its unique architecture.
You'll be surrounded by medieval towers, a castle, winding canals, plus tons of shops and restaurants all along the pedestrian-friendly cobblestone streets.
You can honestly spend one entire day walking through these streets and not get bored. Just make sure to have your camera handy.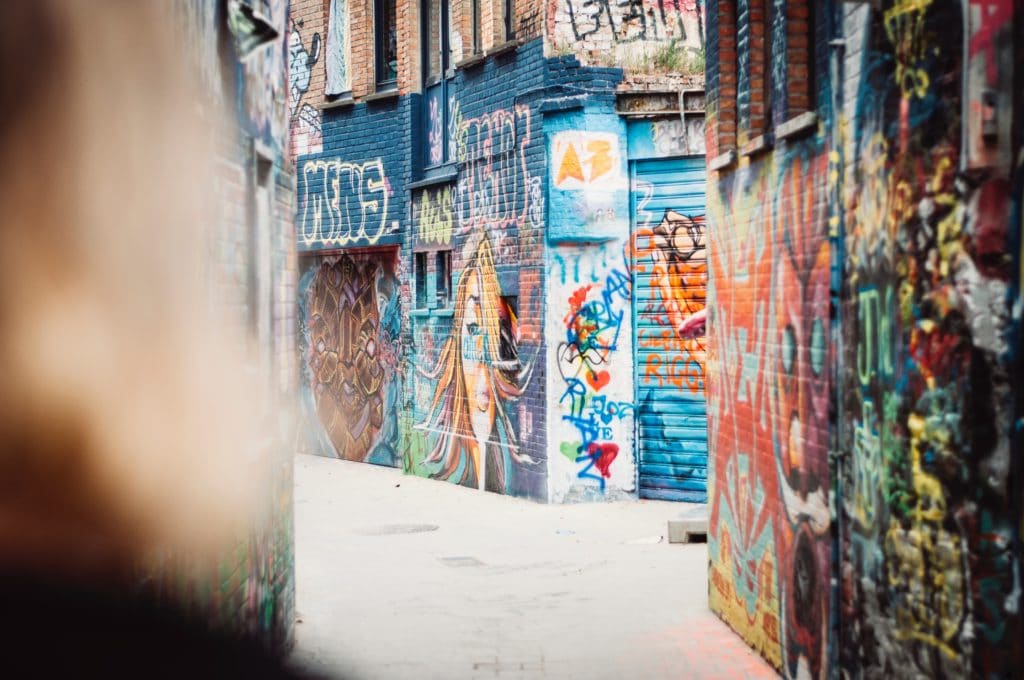 10. Take a walk down Graffiti Street
If you enjoy street art, you're going to love Ghent, Belgium.
The city is a popular place for graffiti and street art, and you can find a ton of it right in the city center. There's actually an entire street dedicated just for street artists.
Graffiti Street runs about two blocks or so and is found right along the northern edge of the city center. Plug "Graffiti Street" into Google Maps for walking directions.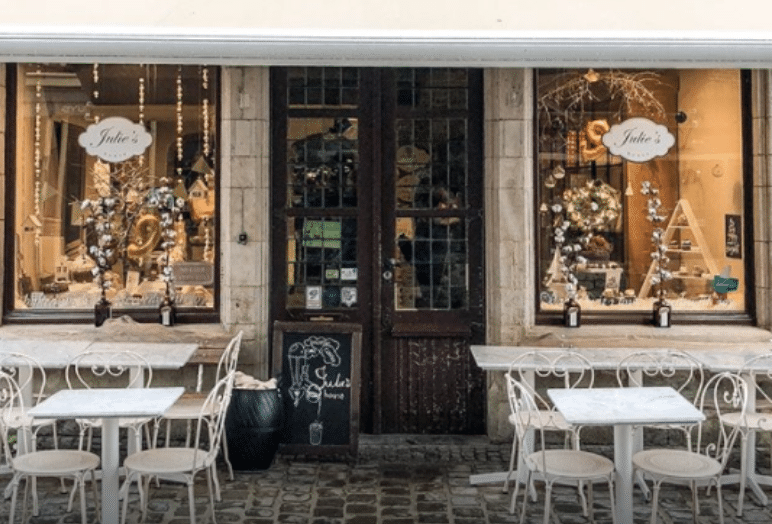 Where to eat in Ghent
There are great restaurants and cafes to be found all over Ghent. Here are a few of my recommendations to get you started:
If you're looking for a fun and lively place to grab something to eat and have drinks, consider stopping into Patrick Foley's Irish Pub and Restaurant.
They serve burgers, nachos, salads, ribs, and more. Plus, you can enjoy your meal with beer and whiskey.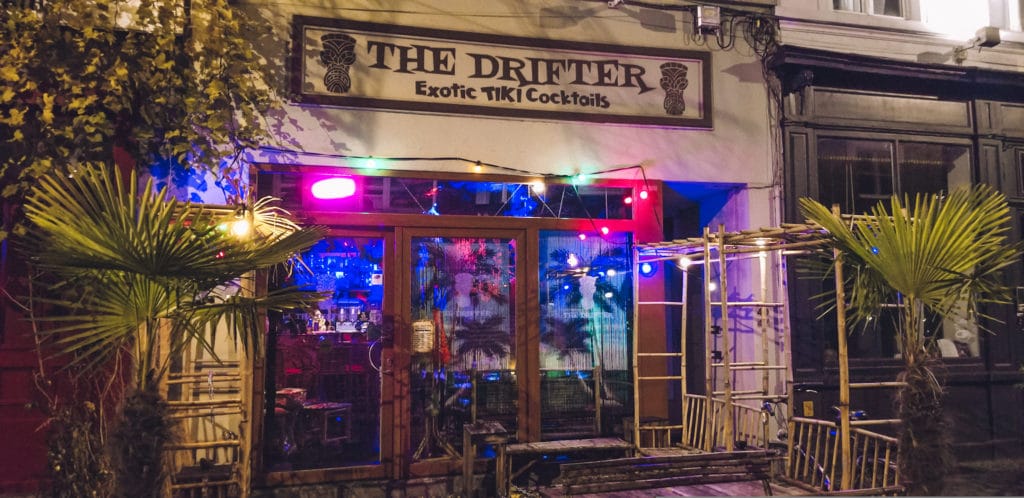 Ghent Nightlife
Aside from being a super charming city with incredibly photogenic architecture, Ghent also has some great spots to grab drinks at the end of the day.
Here are some of my top recommendations for cocktails once your one day in Ghent itinerary is complete: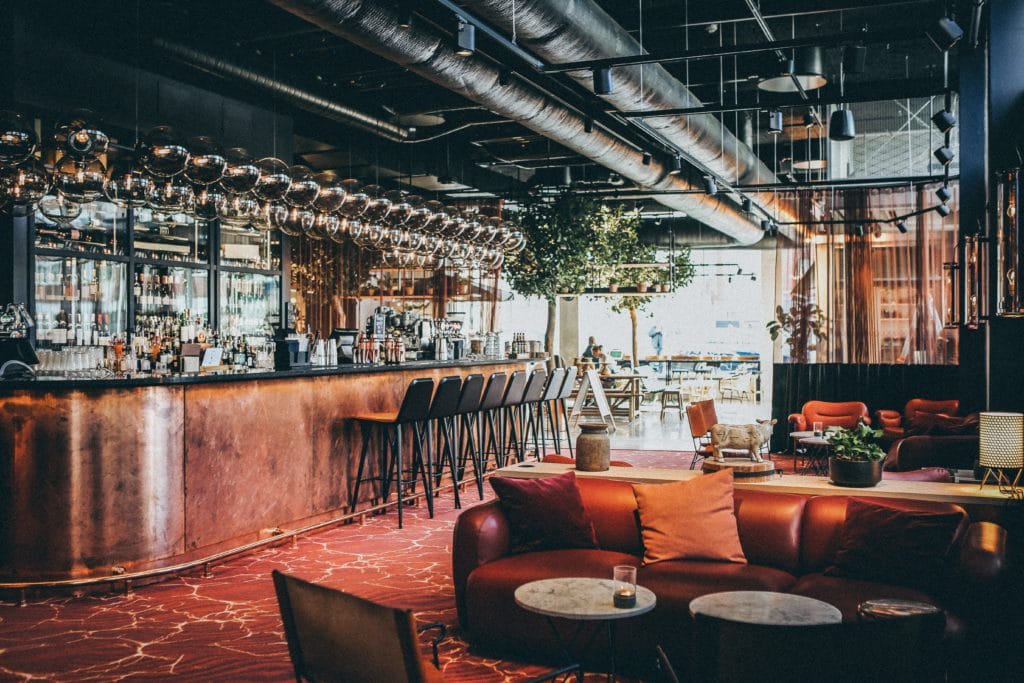 Where to stay in Ghent
There are many comfortable hotels to choose from when visiting Ghent.
Like most major cities, you can find accommodations in any price range.
Here is a shortlist of some of my recommended Ghent hotels:
Budget
Mid-range
Luxury
If you're lucky enough to continue exploring Belgium, be sure to make time for lovely Bruges. To help you plan your trip be sure to read 10 Fun Things to do in Bruges. 
I hope you've enjoyed my guide to the best things to do with one day in Ghent and that you found it helpful in planning a trip of your own. If you enjoyed this post, please consider sharing it. It really helps me a lot. Thanks for reading.
Book Your Trip
Find the best flight deals by using Google Flights, then book direct with the airline. This is the search engine I use to compare flights and prices before booking my own trips.

BOOK YOUR ACCOMODATION
I recommend searching for hotels through Booking.com to compare hotels on amenities, location, and price. If you are a member of a hotel's rewards program, always book direct with the hotel. If you are not loyal to a specific hotel brand, using Booking.com for the best price.

TRAVEL INSURANCE
Travel insurance is more important than ever. For just a few dollars a day you can protect yourself and your trip. I personally use World Nomads, but whomever you choose, don't skip out on travel insurance. It can literally save you thousands of dollars.


Want to save it? Pin it.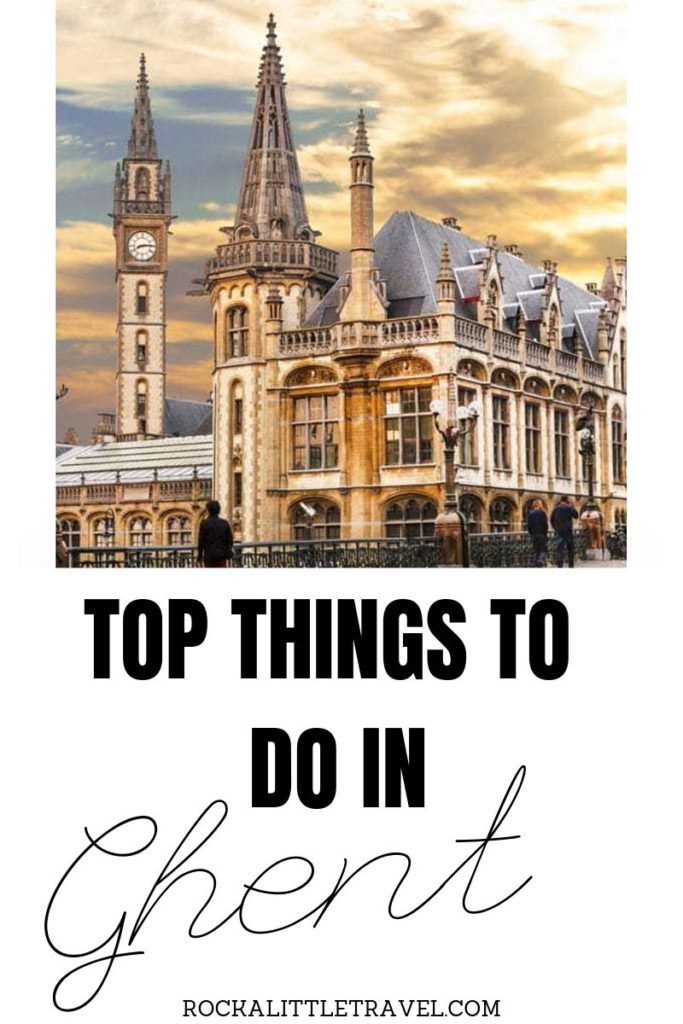 Related Posts
Photo by Xantana from iStock Belgium in Winter is the perfect time to visit if…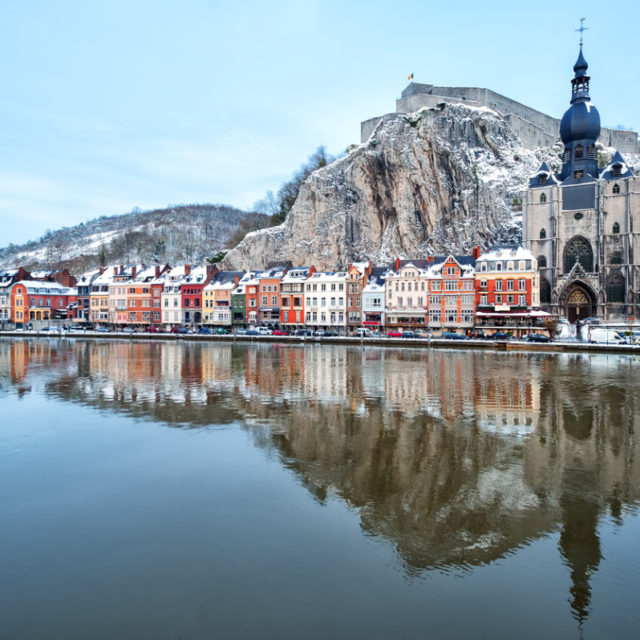 Even with just one day in Brussels, you're sure to fall in love with this…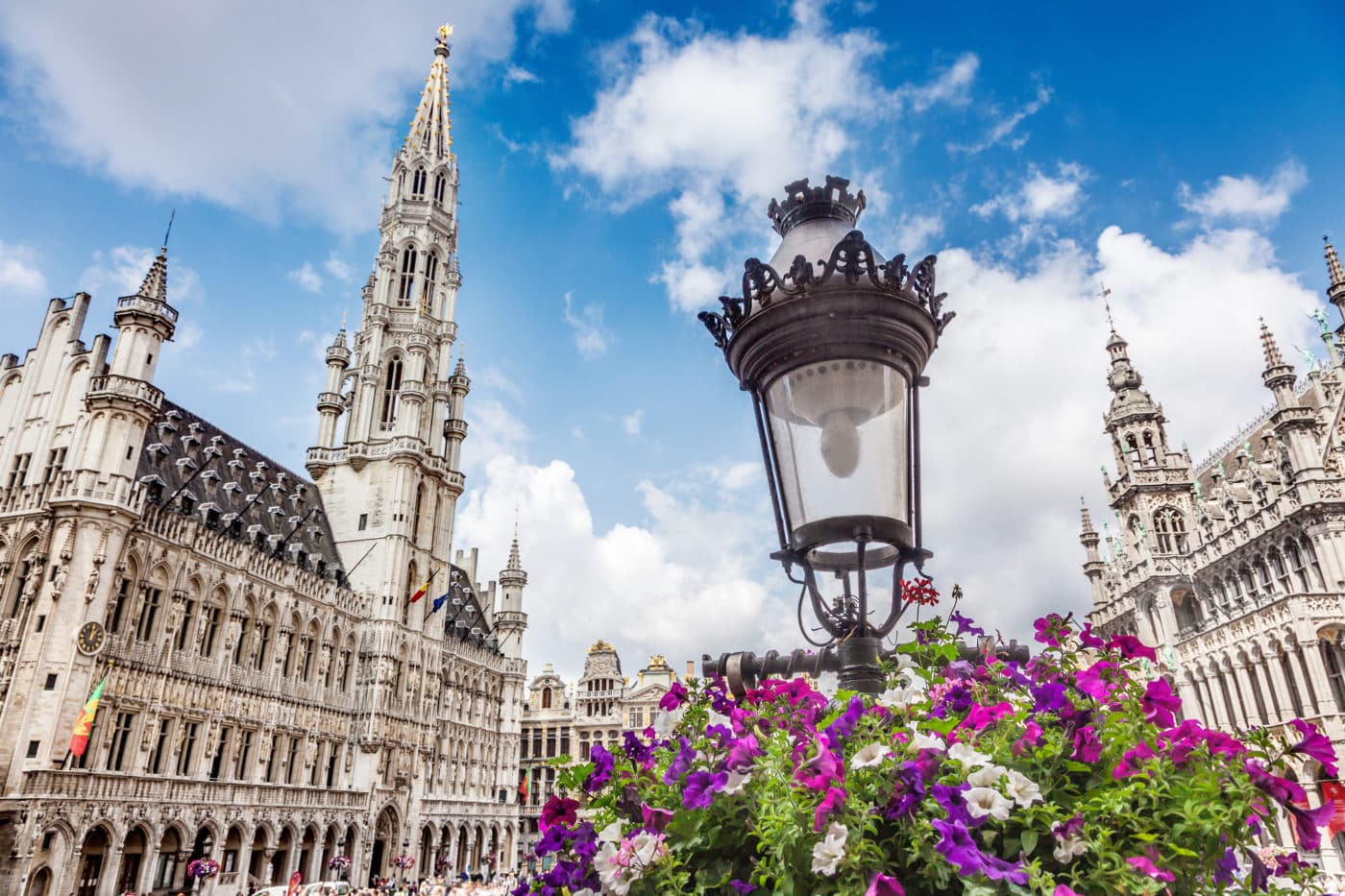 Photo by Shutterstock This Ultimate Belgium Road Trip will take you to some of the…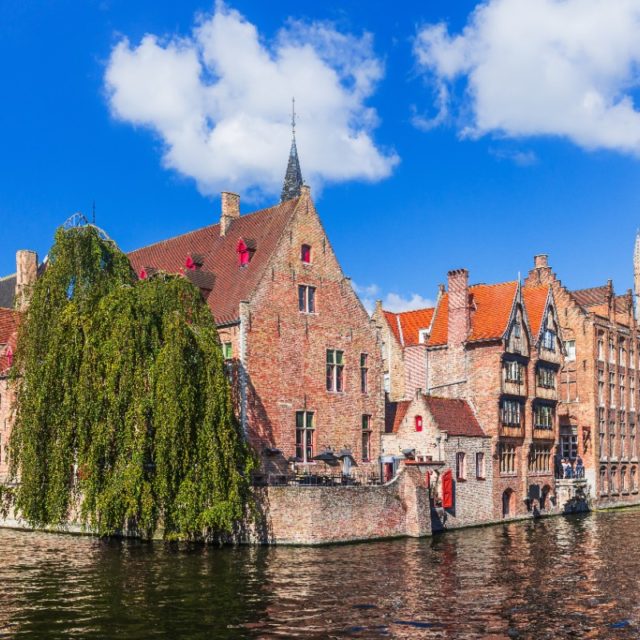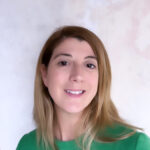 Eden Fite
Part-time Traveler | Dog Lover | Avoider of Crowds
I help busy people find creative ways to travel more.