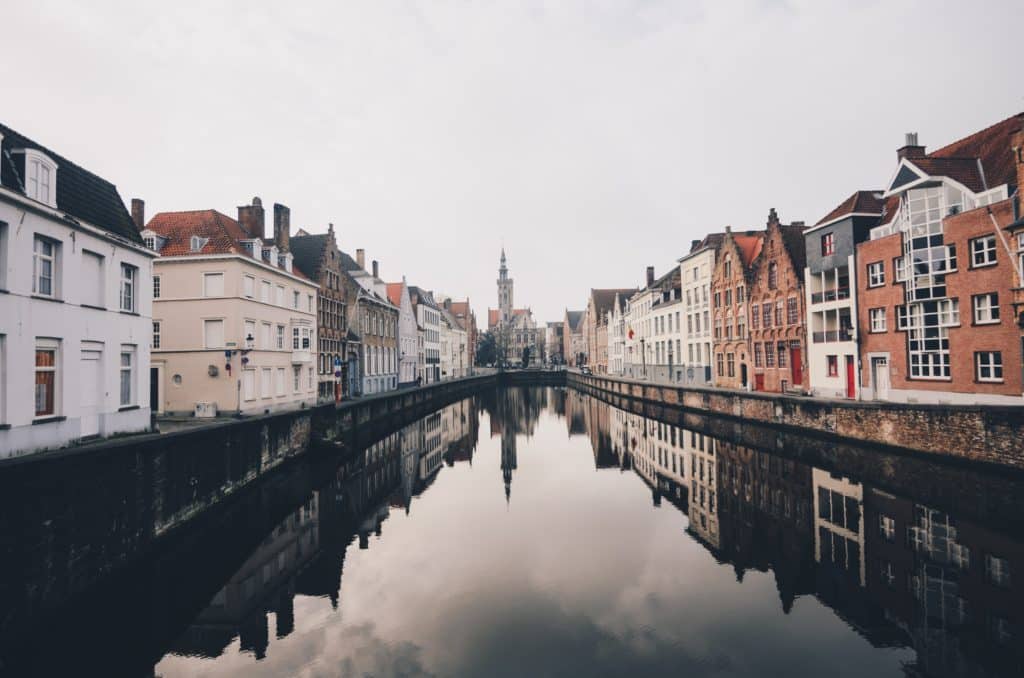 Bruges is a popular stop for tourists when visiting Belgium. The town is known for its Venice like canals, medieval architecture, and pretty cobblestone streets. 
Bruges is filled with museums, great food, and lots of fun activities to keep you entertained during your visit. 
Here are 10 fun things to do in Bruges to make your visit a memorable one.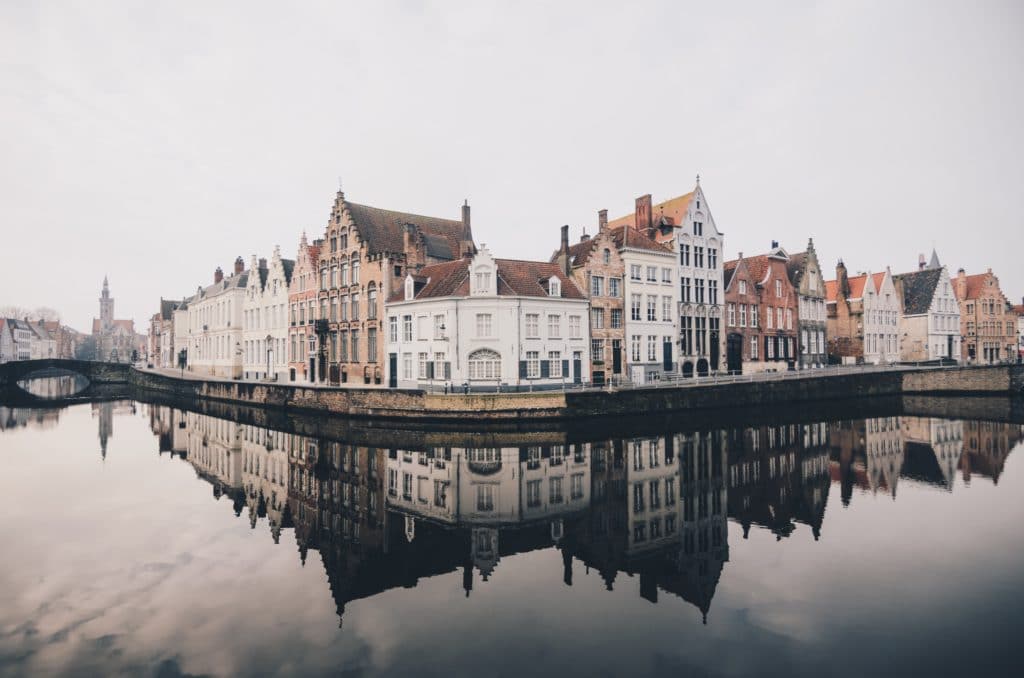 1. Take a Canal Cruise
Canal tours in Bruges take you on a 30-minute boat ride through the city's waterways. You can catch a ride at any one of the five landings located throughout the city.
The canal tours run daily between March and mid-November from 10:00 a.m. to 6:00 p.m. The last departure of the day leaves at 5:30 p.m. Tickets for a tour of the canal cost 10 Euro per person.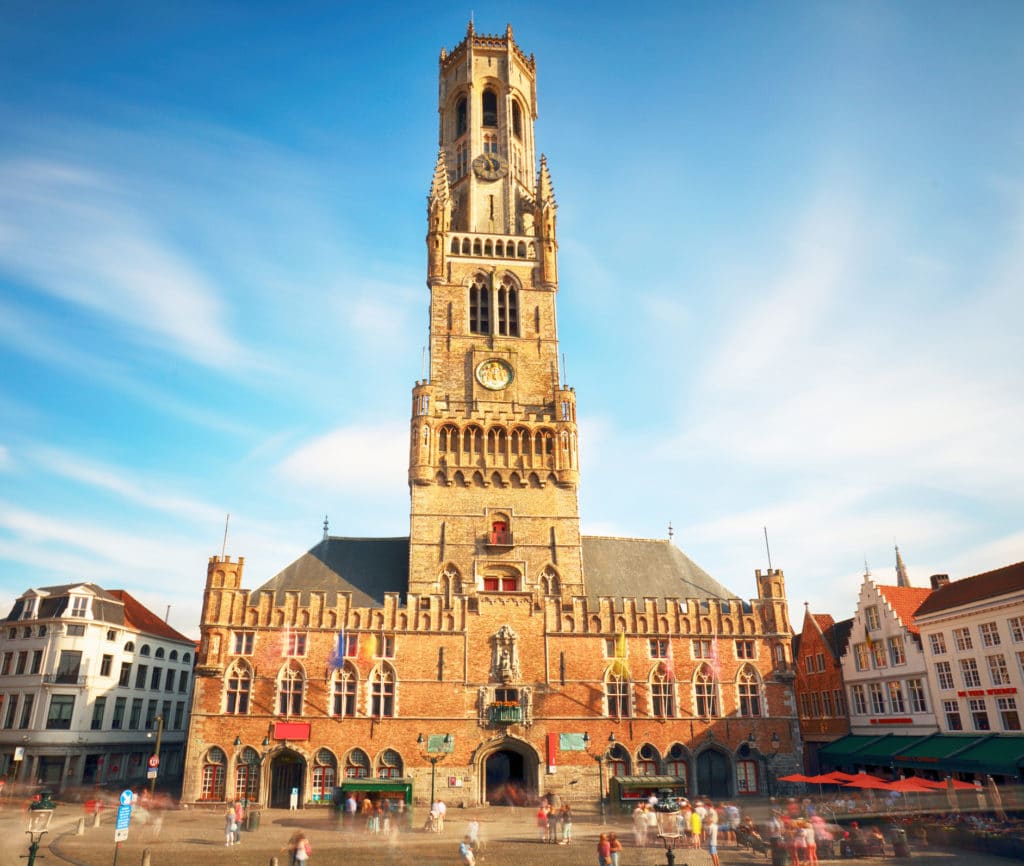 2. The Belfry of Bruges
The Belfry of Bruges is a medieval bell tower that dominates the skyline near Market Square.
The structure was previously used as a treasury, while the bell tower served as an observation post.
The bell tower contains a narrow staircase of 366 steps that will take visitors to the top of the tower. The tower itself stands 83 meters high.
Admission to the bell tower is 12 Euro per person and is open daily from 9:30 a.m. to 6:00 p.m.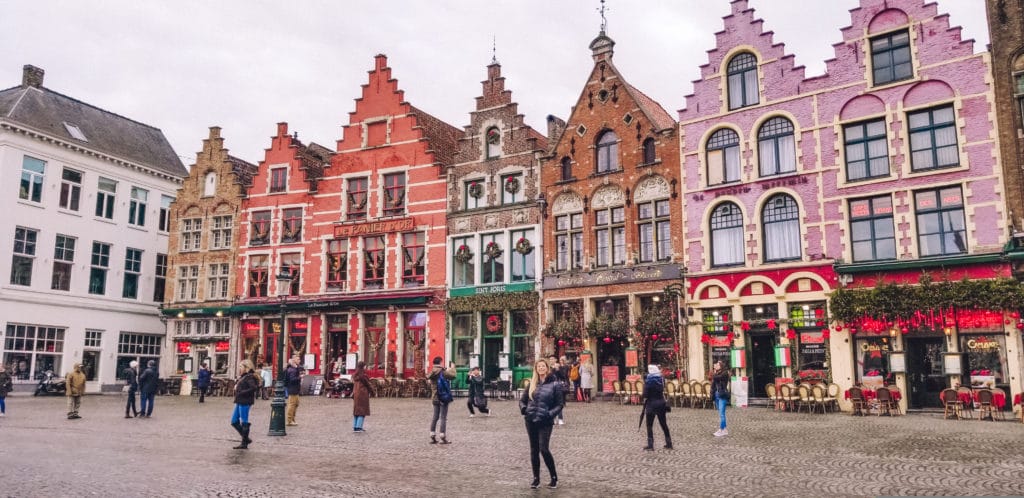 3. Market Square
Market Square is the main plaza in the center of Bruges. Here, you will find cafes serving traditional Belgian dishes, local government buildings, museums, and the Belfry of Bruges (more on that later).
The colorful cafe buildings pictured above are iconic to the city of Bruges, and you will likely see tons of people taking photographs here.
This is also the location for many events and festivals, including the annual Christmas market in December.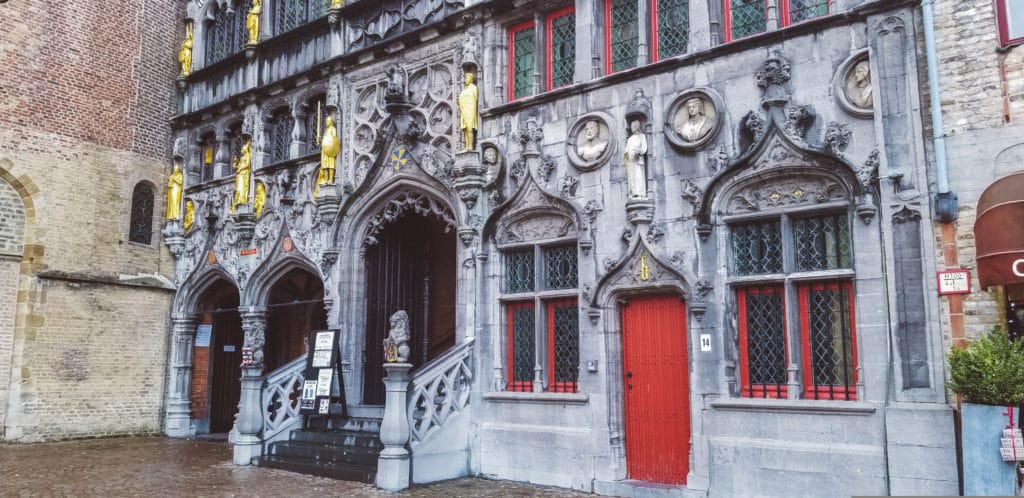 4. Basilica of the Holy Blood
The Basilica of the Holy Blood is a Roman Catholic Basilica near Market Square in the center of Bruges. The structure was built as a chapel in 1157.
The basilica is believed to house a vial containing a cloth with the blood of Jesus, reportedly brought to the city after the 12 century.
The Basilica of the Holy Blood is open to visitors daily from 9:30 a.m. to 12:30 p.m. and 2:00 p.m. to 5:30 p.m.  Admission is 2.50 Euro.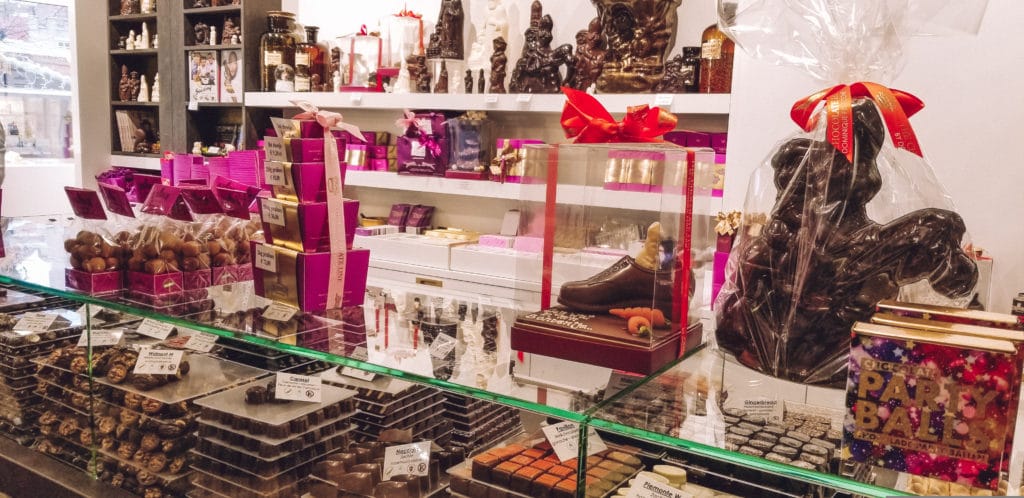 5. The Chocolate Line
The Chocolate Line is considered one of the best chocolate shops in Belgium. Their chocolates are served at some of the top restaurants in the country and have won awards and recognition from all over the world.
Visitors can watch the chocolate being made through the large windows at the back of the entry way to the shop. The staff will also provide samples if you can't decide which flavors you'd like to take with you.
They offer a variety of package sizes to stock up on chocolates to take home with you (or devour back in your hotel room). They also have an entire wall filled with pre packaged gift boxes to give to friends and family as souvenirs.
I definitely recommend picking up a few of these, they were a big hit with my friends when I returned home.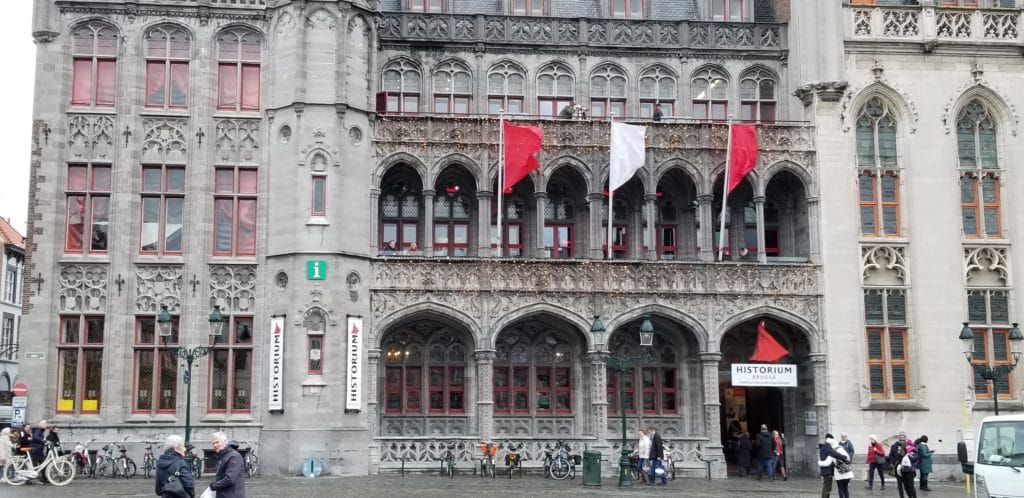 6. The Historium Bruges
The HIstorium Bruges can be found in Market Square. It's a museum-like attraction that immerses the visitor in a historical interactive experience, explaining the unique medieval history of the region.
It's a fun experience and will give you a good perspective on the historical significance of the city. Tickets to the HIstorium are 17.50 Euro for adults and 11 Euro for children.
The tickets can be purchased online in advance or just by showing up. The Historium is open daily from 10:00 a.m. to 6:00 p.m.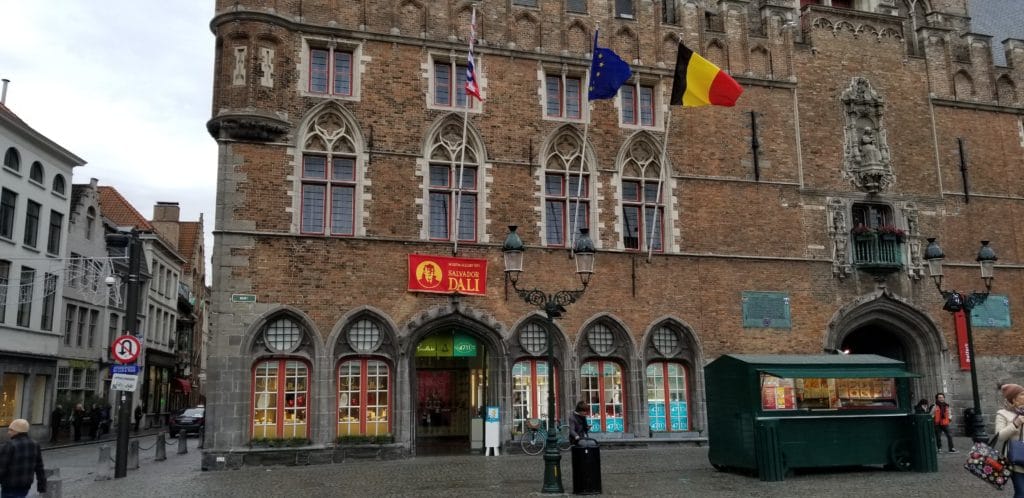 7. Salvador Dali Gallery
The Salvador Dali Gallery is also located right in Market Square. The gallery collection consists of dozens of original works by the artist, including illustrations, graphics, and statues.
The gallery itself is decorated boldly with mirrors and bright pink paint. A visit here is the perfect way to slow the pace of your day.
Take your time and consider participating in the audio tour if you'd like to learn more about the artist and his works on display.
The gallery is open daily from 10:00 a.m. to 6:00 p.m.  Admission is 10 Euro.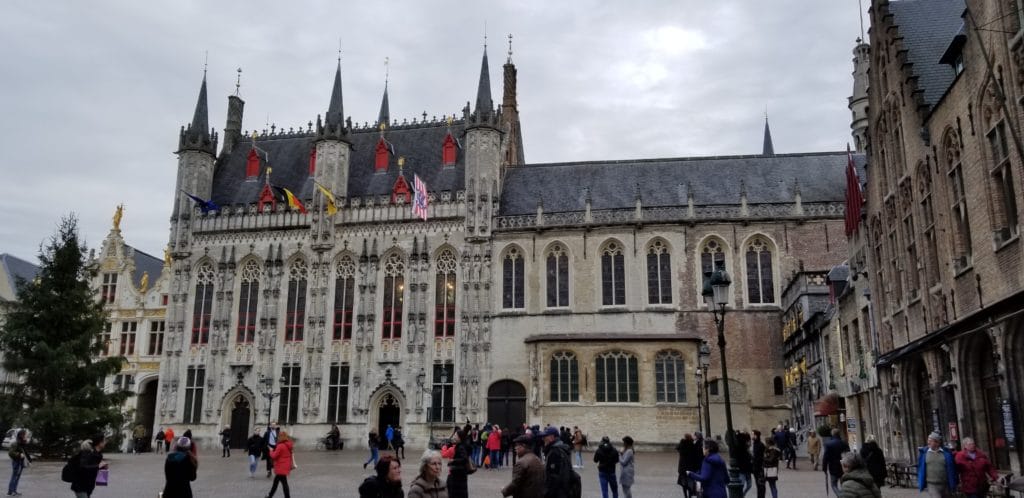 8. Bruges City Hall
The Bruges City Hall is located in Burg Square, a short walk from Market Square.
It is said to be one of the oldest city halls in the entire Netherlands region, having been built between 1376 and 1421. Both the inside and outside of the building are beautiful, displaying the unique gothic architecture the era was known for.
There is a free exhibit on the ground floor inside city hall and a small museum upstairs. It's worth checking out the inside, even if you don't have time for the museum.
The Bruges City Hall is open Monday through Friday from 8:30 a.m. to 12:00 p.m. and 2:00 p.m. to 5:00 p.m. They are closed on weekends.
Admission to City Hall itself is free of charge. If you'd like to visit the museum inside, admission is 6 Euro per person.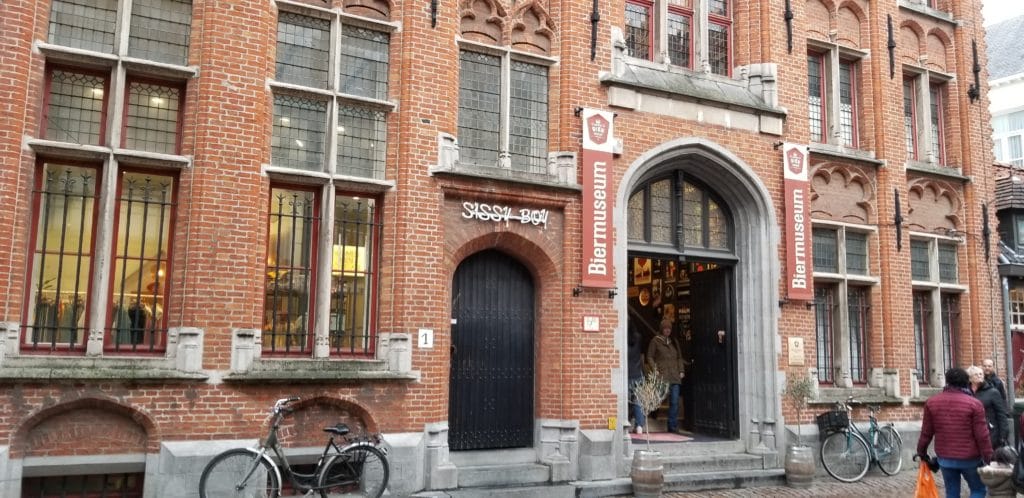 9. The Beer Museum
The Bruges Beer Museum (Beirmuseum) is found between City Hall and Market Square.
You can learn everything you ever wanted to know about beer, including what it's made with, the brewing process, food pairings, and more. They have 16 different beers on tap for you to sample during your visit.
If you're not interested in learning about the beer-making process, you can just grab a spot at the bar and order a pint. There's even a great view overlooking Market Square.
The Beer Museum is open daily from 10:00 a.m. to 6:00 p.m. Admission is 16 Euro per person which includes three beer samplings.
If you'd like to visit without the samples, admission is 10 Euro per person.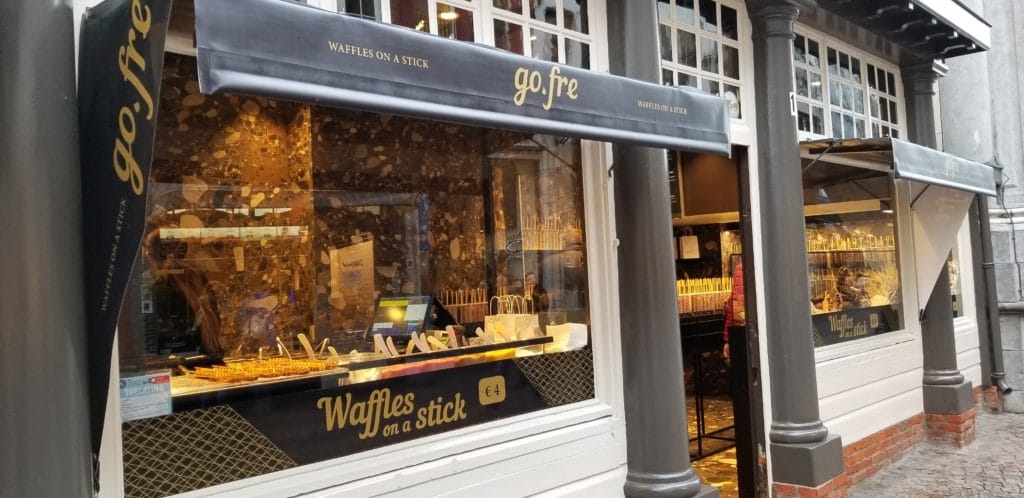 10. Try all the waffles
No matter where you go in Belgium, you can bet there's a great spot for waffles nearby.
While in Bruges, there are a few places that consistently receive rave reviews from both tourists and locals.
Here is a brief list of some of the most popular spots to get waffles in Bruges:
Chez Albert: This should be your first choice while in Bruges, these waffles are famous. Chez Albert is open daily from 10:00 a.m. to 6:00 p.m.
Lizzie's Waffles: Lizzie's Waffles is open from 11:00 a.m. to 5:00 p.m. Wednesday through Sunday. They are closed on Monday and Tuesday. 
Carpe Diem: Carpe Diem is open Wednesday through Sunday from 7:00 a.m. to 7:00 p.m. 
All of the waffle shops above are located very close to the city center and Market Square. You will find them easily in Google Maps with the walking directions selected. 
If you're planning your trip to Belgium, don't forget to also read about the top things to do in Brussels.
How to get to Bruges
The easiest way to get to Bruges from Brussels and most other nearby towns is to take the train.
From Brussels, the train will take about one hour and 15 minutes. Trains depart frequently throughout the day and will cost about 15 Euro each way. 
If you have a car and prefer to drive, the roads are safe and easy to follow. The trip will take you about one hour and 15 minutes. 
Where to stay in Bruges
You can find accommodations suitable for any budget in Bruges. Below is an option from each price point to give you an idea of what's available:
Budget
Hotel Fevery: Hotel Fevery is a 3-star budget eco-hotel located about a 12-minute walk from Market Square. The rooms are comfortable and the hotel focuses on providing quality while remaining conscious of their impact on the environment. 
Moderate
Con Ampere Bed and Breakfast: The Con Ampere Bed and Breakfast features a beautiful terrace, complimentary breakfast, and free wifi. The hotel is located a short walk from Market Square. 
Luxury
Hotel Duke's Palace: This 5-star hotel offers spacious, elegantly appointed rooms, a bar, and restaurant, well-manicured grounds, and a spa. The hotel is only a 5-minute walk to the center of town.
The Pand Hotel: The Pand Hotel is a 26 bedroom boutique luxury hotel that was formerly an 18th-century carriage house. The hotel is elegant and cozy, just steps from Market Square. 
Book Your Trip
Find the best flight deals by using Google Flights, then book direct with the airline. This is the search engine I use to compare flights and prices before booking my own trips.

BOOK YOUR ACCOMODATION
I recommend searching for hotels through Booking.com to compare hotels on amenities, location, and price. If you are a member of a hotel's rewards program, always book direct with the hotel. If you are not loyal to a specific hotel brand, using Booking.com for the best price.

TRAVEL INSURANCE
Travel insurance is more important than ever. For just a few dollars a day you can protect yourself and your trip. I personally use World Nomads, but whomever you choose, don't skip out on travel insurance. It can literally save you thousands of dollars.


Want to save it? Pin it.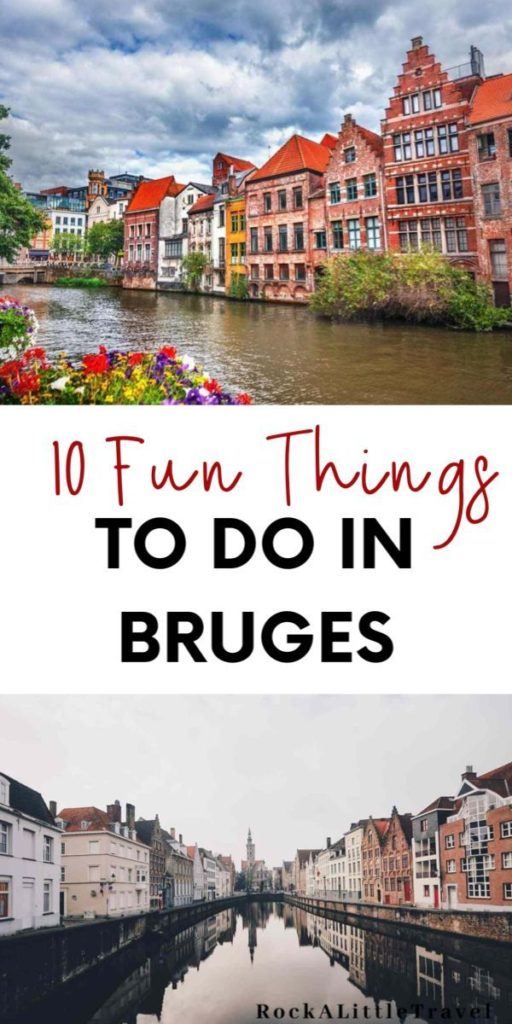 Related Posts
Photo by Xantana from iStock Belgium in Winter is the perfect time to visit if…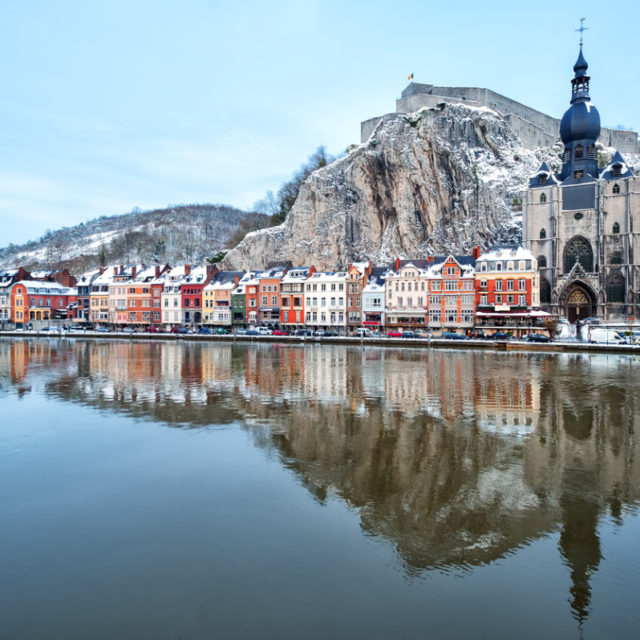 Even with just one day in Brussels, you're sure to fall in love with this…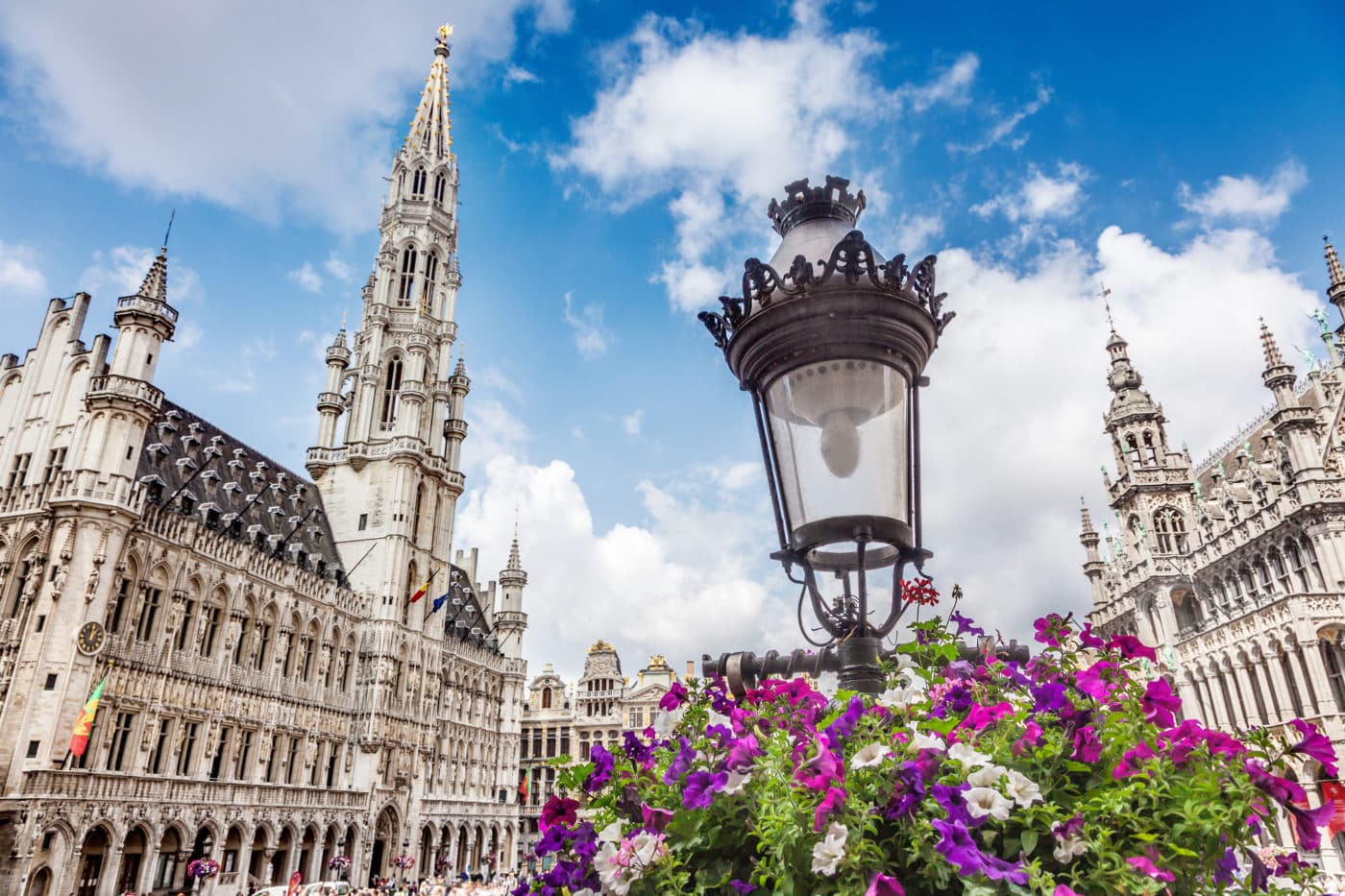 Photo by Shutterstock This Ultimate Belgium Road Trip will take you to some of the…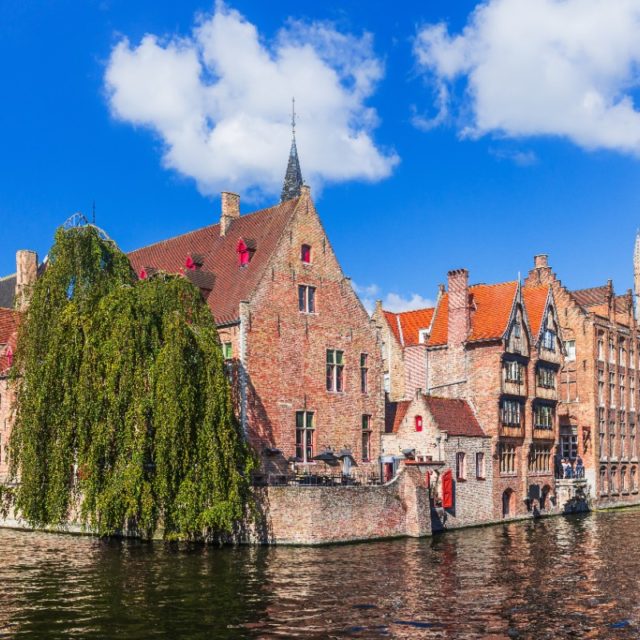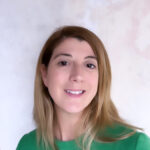 Eden Fite
Part-time Traveler | Dog Lover | Avoider of Crowds
I help busy people find creative ways to travel more.