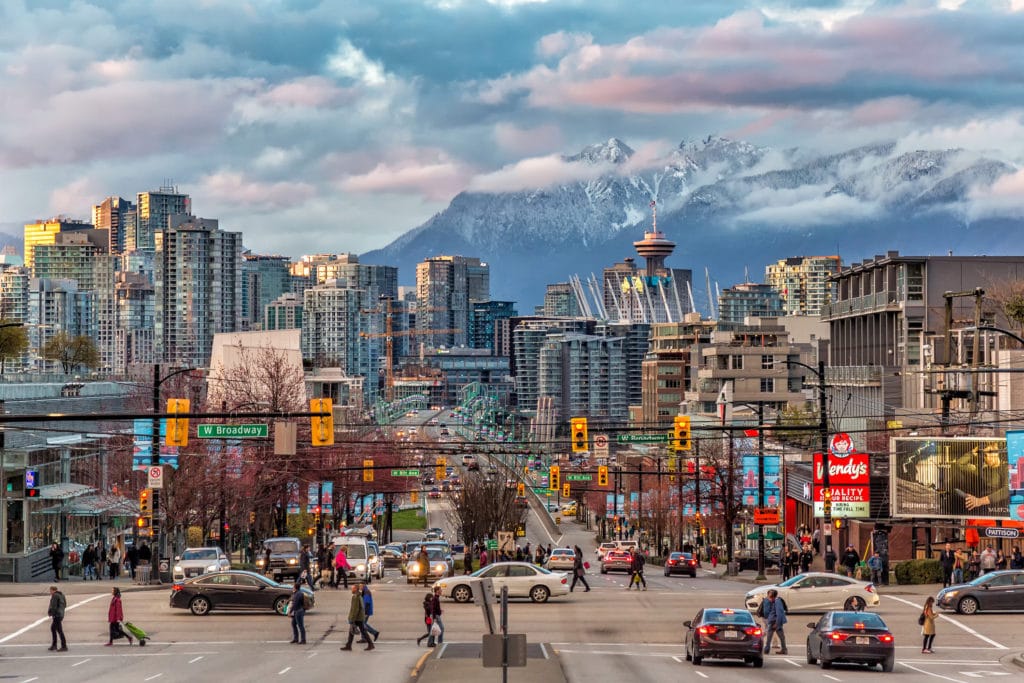 Exploring Vancouver in one day can be the perfect beginning to a longer trip through Canada, or even just a quick stop before hitting the Sea to Sky Highway up to Whistler.
Vancouver is nicely situated between the mountains and the sea, making it an ideal location for city travelers and adventure seekers alike.
If you're short on time but full of ambition, you can see many of the amazing things this city has to offer, even with just one day in Vancouver.  
To help you cover as much ground as possible in Vancouver in one day, I've put together this list of must-see places along with some useful tips.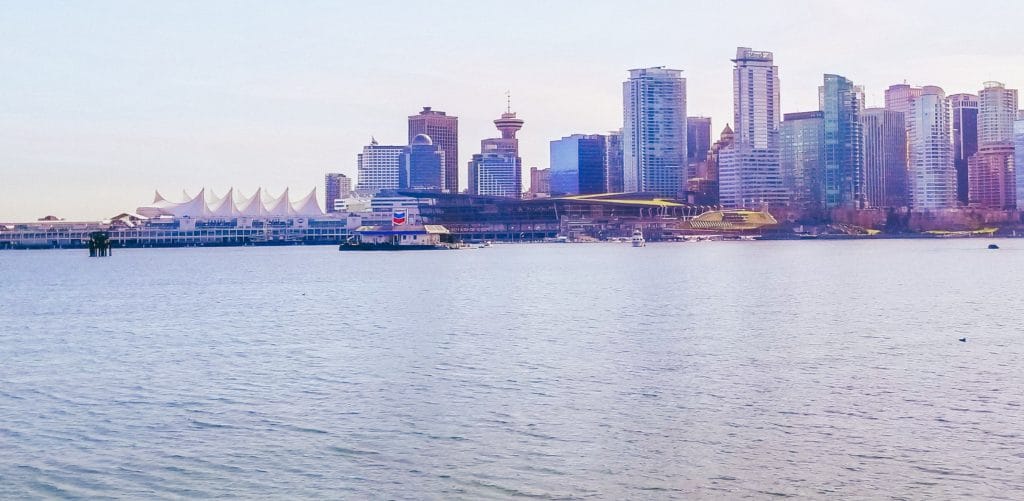 Where is Vancouver?
Vancouver is located in western Canada just north of the Washington state border in British Columbia.
Flights into Vancouver from nearby Seattle or Portland are short, about one hour, and mostly affordable.
You can usually find these flights for less than $100 USD.
If you're coming from farther away, Vancouver's international airport is located only about 20 minutes from downtown Vancouver. 
Tip: The places you'll want to see in Vancouver in one day are a bit spread out. I highly recommend renting a car from the airport.
I promise it'll be worth the extra bit of money, not to mention a huge time saver. Having a car will also help you see as much of Vancouver in one day as possible. 
Top 10 Things to Do in Vancouver in One Day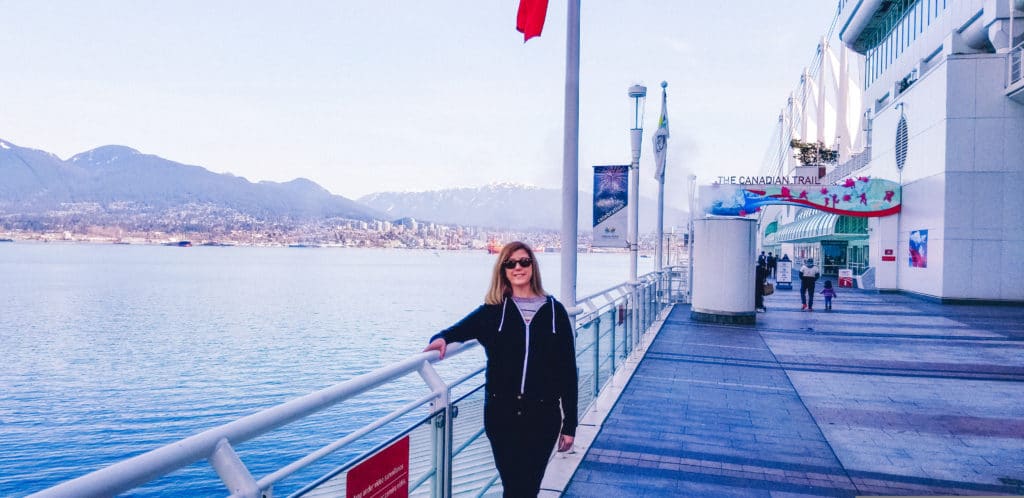 1. Visit Canada Place
Canada Place is a large pier located on the waterfront in downtown Vancouver.
The pier juts out into the Burrard Inlet and is the perfect place to get a view the city and surrounding mountains.
As I'm sure you've guessed, it's also a great spot for photos.
Tip: Just about all of Vancouver is beautiful and photogenic. Make sure you are too. What I mean is, wear something you won't regret being photographed in all day.
This is also where cruise ships dock during their Vancouver stops, so you may run into large crowds from time to time depending on the season.
Up on the 2nd level, there is a really cool ride called Flyover Canada.
The ride simulates you flying over the country from coast to coast. I didn't get to try it during my visit, but I really wish I had.
You can purchase tickets online for Flyover Canada for $28.05.
Tip: It can get a bit windy and chilly as you make your way to the end of the pier. Bring a light jacket with you to stay warm.
There are restrooms located on the 2nd floor near Flyover Canada, so take advantage of the facilities before you head out to your next stop.
Tip: If you want to get a view of Vancouver from up high, make the short 5 minute walk over to the Vancouver Lookout.
The Vancouver Lookout is an observation deck that sits about 550 feet above the city. The surrounding views are incredible as you can see all of Vancouver, the surrounding mountains, and the ocean.
Admission to the observation deck is about $18.25 per person.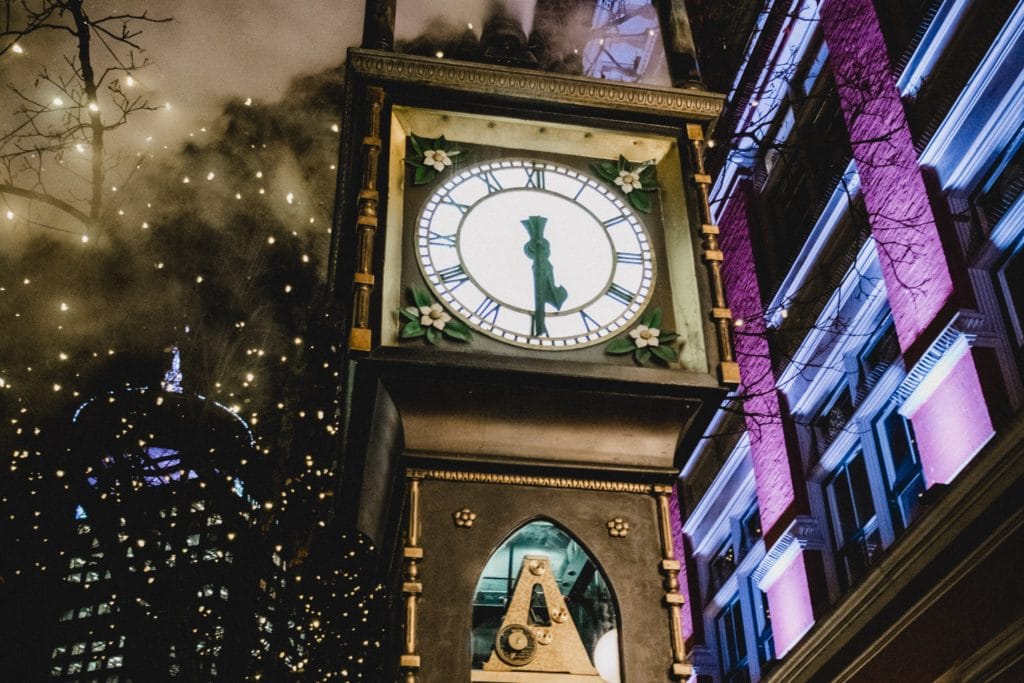 2. Hang out in Gastown
If you're planning a fun night out with some drinks, head to Gastown.
Gastown is found just east of Canada Place south of the train station that runs along the waterfront.
This neighborhood is known for its whistling steam clock (pictured above) and its trendy bar and restaurant scene.
You'll also find plenty of souvenir shops, art galleries, and coffee shops.
This is a fun area to walk around in at night to see the steam clock lit up and stop into some (or many) of the cocktail lounges and wine bars.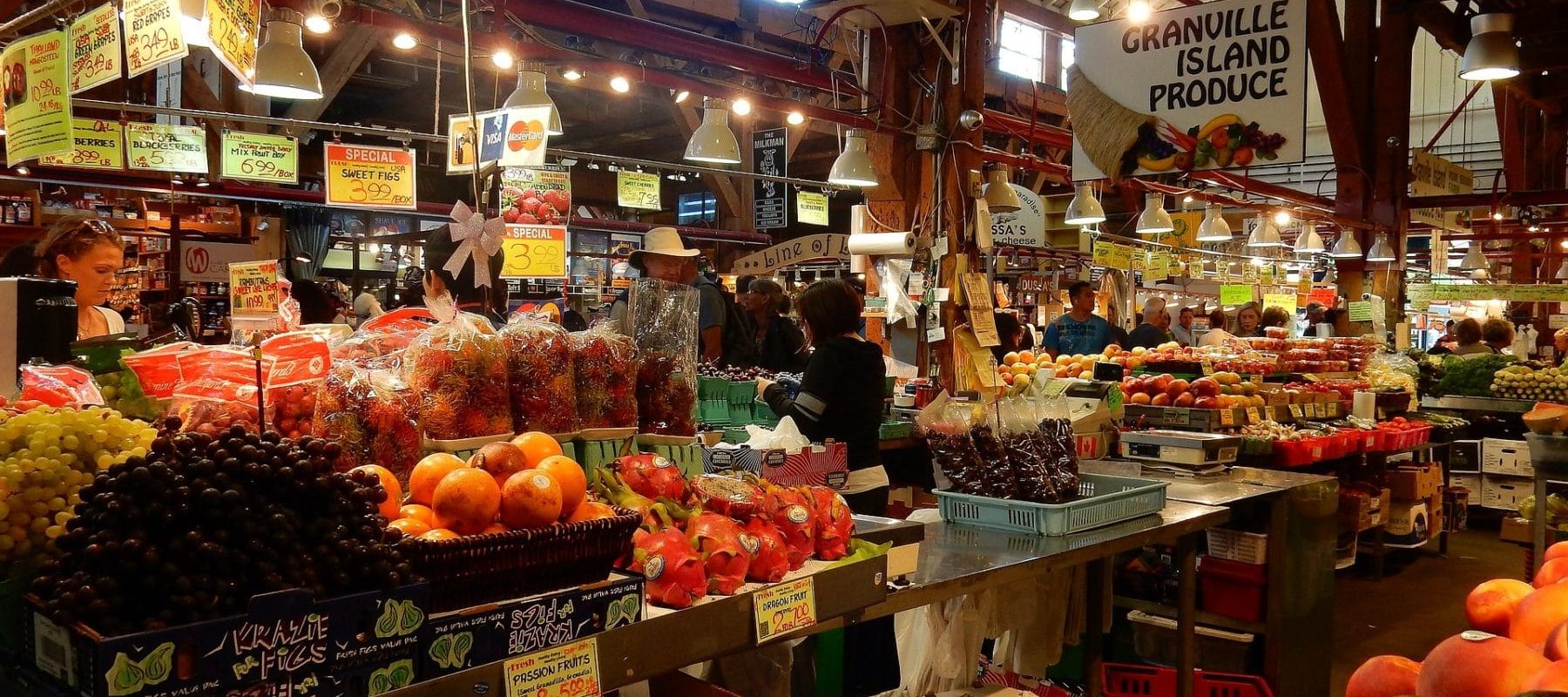 3. Granville Island Public Market
Granville Island is a shopping district in Vancouver and one of the top things to do while exploring the city. This is especially the case if you love finding excuses to try great food.
Also, Granville Island is actually a peninsula and not an island, but we'll play along.
Granville "Island" is home to a very popular public food market with over 50 vendors.
You can find everything from fruits and vegetables, to homemade gelato, to freshly made donuts. 
This is a great place to head when you're hungry and looking to try some sweets and discover local restaurants.
The island is also known for its large artist community.
If you'd like to support local artists, visit one of the island's many art galleries or theaters.
The island is also home to its own Granville Island Brewery. The brewery is open daily and tours are available throughout the day on a first come first serve basis.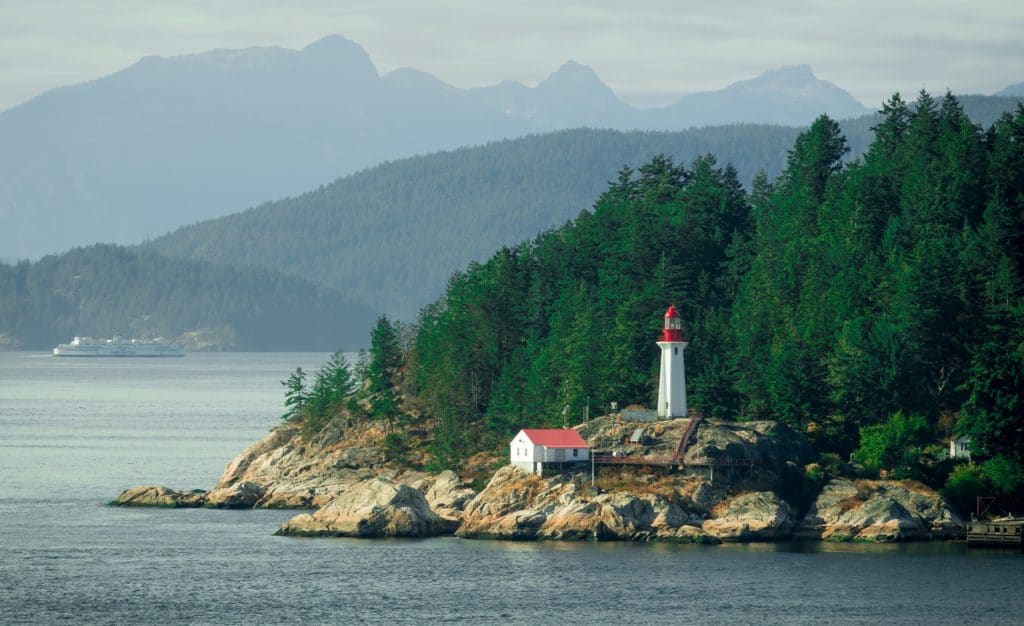 4. Go Hiking at Lighthouse Park
Lighthouse Park is a peaceful neighborhood park found in West Vancouver across the Lions Gate Bridge.
You can get there in about 30 minutes from downtown Vancouver. Lighthouse Park makes a perfect stop for those wanting to add some physical activity to their Vancouver in one day itinerary.
If you arrive early, there will be plenty of parking, though finding a spot later in the day will be challenging.
The park consists of about 182 acres of rainforests, hiking trails, and the Point Atkinson Lighthouse found along the shore.
The park is full of massive trees creating plenty of shade along the trails.
Most people bring their dogs to the park too, so if you're like me, you'll be overjoyed watching all the dogs running past you on the trail.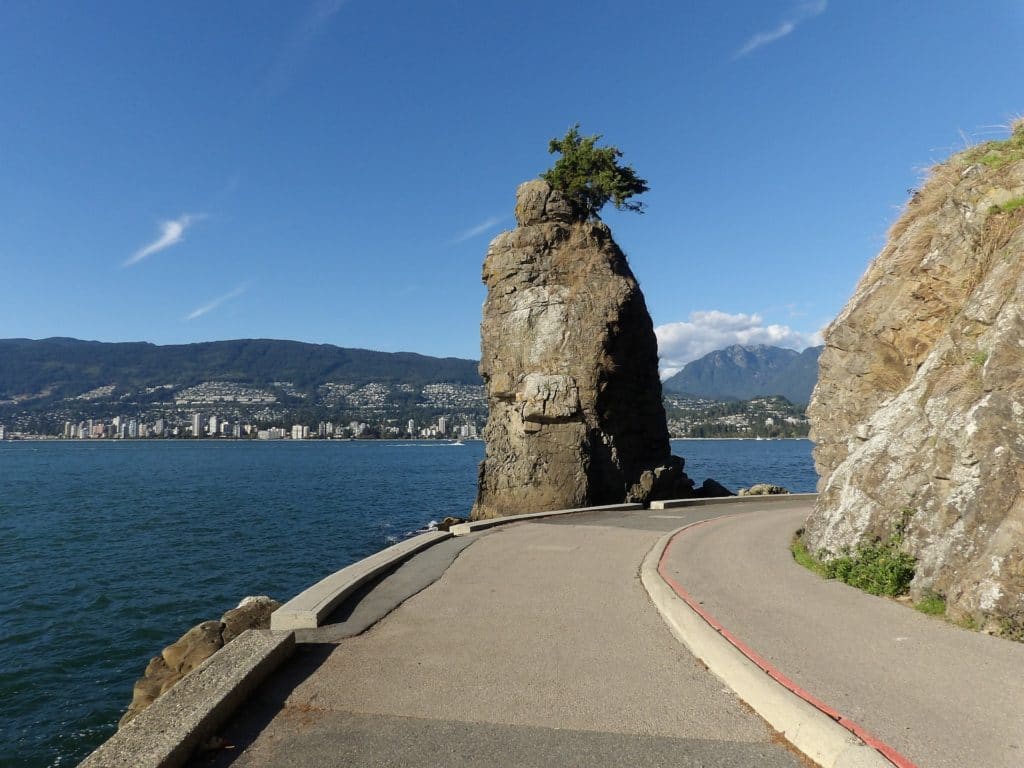 5. Explore Stanley Park
Stanley Park is a majorly popular public park just north of downtown and is a must see even if visiting Vancouver in one day.
The park is one of the largest city parks in North America at over 1,000 acres.
The park itself is almost entirely surrounded by water, creating beautiful views no matter where you are.
The seawall surrounding the park has a busy biking and running trail, popular with locals and tourists alike.
You can rent a bike inside the park for just a few dollars if you'd like to tackle the 5.5 mile trail.
I recommend setting aside at least a couple hours to explore Stanley Park.
There are plenty of activities and things to see and do inside the park.
Visitors can go swimming, hiking, biking, see the various wildlife including plants, animals, and trees, visit the totems or aquarium, and even ride a train.
If you have a car, navigating through the park will be easy and there is plenty of parking at the various attractions.
You can pick up a parking pass at a machine in any of the lots. Parking will cost just a few dollars for two to three hours. 
If you're looking for more outdoor time during your visit to Vancouver, consider going for a hike or bike ride in Queen Elizabeth Park.
Queen Elizabeth Park is located about a 10 minute drive south of downtown Vancouver.
Another great option nearby is Grouse Mountain located in North Vancouver.
Grouse Mountain is a great destination in the winter for those wanting to spend time skiing, snowboarding, or sledding.
For those of us who are a little less adventurous, there's also a sky ride that will take you up to the top of the mountain on an enclosed tram.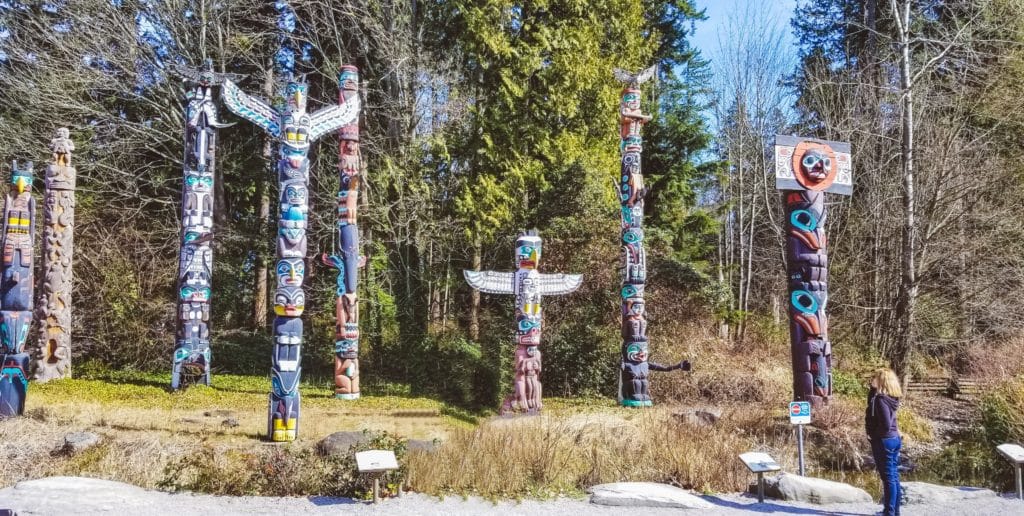 6. View the Totems
Located on the southeastern side of Stanley Park, you will find an area dedicated to first nations art and totem poles.
The nine totems are actually one of the most visited attractions in Vancouver.
The city began collecting the totems back in the 1920s, purchasing four from Vancouver Island's Alert Bay.
A few years later they purchased several more from the Haida Gwaii (Islands of the Haida people).
These original totems are no longer on display and have since been moved to museums. 
The totems you see in Stanley Park today are replicas of these original totems, some of which have been recreated by Haida artists.
These replicas have also been hand carved and painted. This was one of my favorite stops inside Stanley Park and highly suggest making time to stop here.
There is also a bike rental area here, so this makes the perfect first stop if you're planning to bike the seawall or park trails. 
7. Meet the animals at Vancouver Aquarium
You can also find the Vancouver Aquarium inside Stanley Park.
The aquarium features marine, air, and land animals from around the world.
Some of the highlights include the butterflies, sea otters, and penguins. There's even a rain forest exhibit with birds and sloths. 
The aquarium is open daily from 10:00 a.m. to 5:00 p.m.  In the summer extended hours are from 9:30 a.m. to 6:00 p.m. A single adult ticket is about $38. You can purchase tickets ahead of time by visiting their website.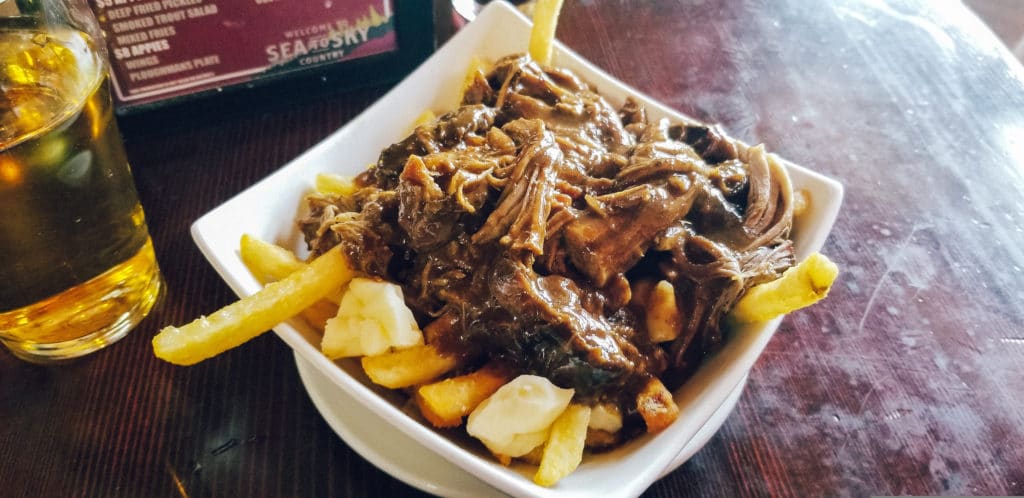 8. Try the Poutine
One of my favorite things about visiting Vancouver is getting to eat all the poutine I can handle for the duration of my visit.
Actually, if you're in the country long enough, I suggest trying it from several different places.
Each restaurant will have their own take on this local favorite, so be sure to enjoy as many varieties as you can.
Here is a quick list of some popular favorites for poutine in Vancouver: Mean Poutine, Belgian Fries, and Wallflower.
I also mention a few others in my Restaurants in Vancouver section below. 
The photo of the delicious poutine above is actually from Howe Sound Brewing in Squamish, which is about one hour north of Vancouver on the Sea to Sky Highway.
If you make it up there, you must stop in to try their poutine. It was fantastic.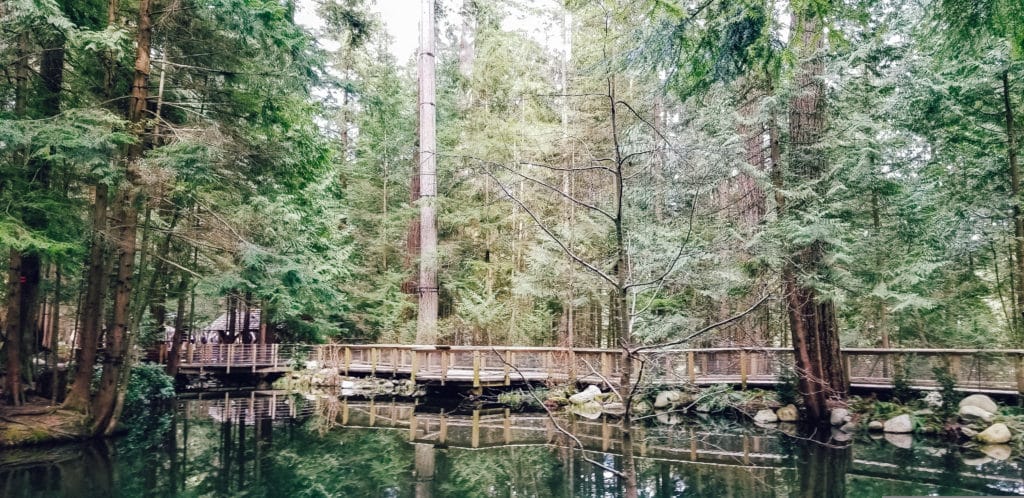 9. Walk Around the Tree Tops Adventure and Living Forest
The Tree Tops Adventure and Living Forest is located inside the Capilano Suspension Bridge Park about 20 minutes north of downtown Vancouver. 
While the park is famous for its suspension bridge, there are lots of other things to see during your visit as well.
On the opposite side of the suspension bridge, you'll find long wooden walking paths taking you through the forest floor.
You'll also find plenty of signs with information posted about the plant life and wildlife in the area.
Tickets to Capilano Suspension Bridge Park are about $47 for adults. You can purchase tickets online ahead of time at their website.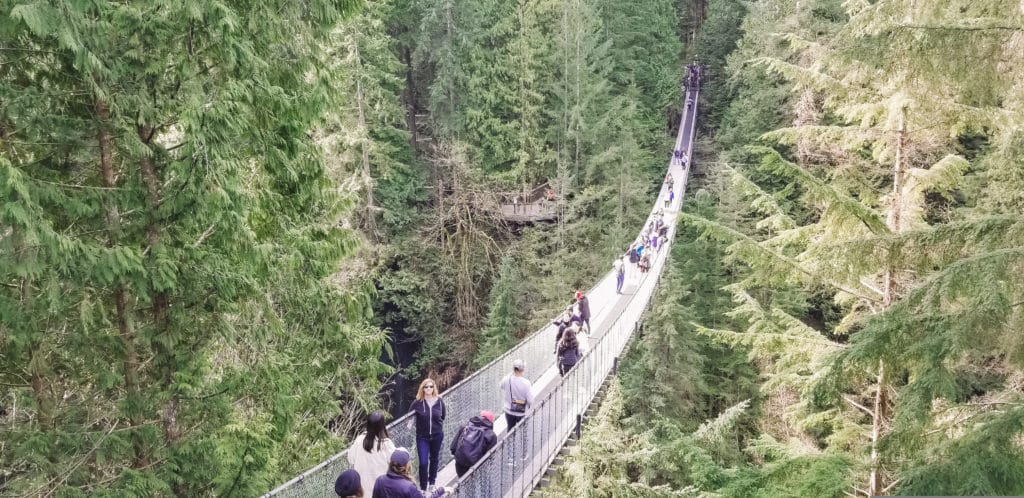 10. Walk Across the Capilano Suspension Bridge
The Capilano Suspension Bridge is the most popular attraction in the Capilano Suspension Bridge Park, not to mention one of the busiest tourist attractions in Vanvouver.
The bridge spans 450 feet across the Capilano River and measures 230 feet high. The view from the bridge is beautiful, so take your time going back and forth to enjoy the scenery.
I recommend planning your visit to Capilano Suspension Bridge Park either at the very beginning or the very end of your Vancouver in one day itinerary.
The suspension bridge is very popular with tourists, so if you want lighter crowds while crossing the bridge visit when it's less busy.
You will also get better pictures if you visit at these times as well. My visit was in the late afternoon and I definitely saw fewer people crossing the bridge near closing time. 
Restaurants in Vancouver
Vancouver is a busy town with an exciting food scene. Many of their hottest restaurants feature fusion cuisine, seafood, or local favorites.
Since you'll be visiting Vancouver in one day, I figure that gives you at least three chances to sample some of the amazing places to eat and drink in Vancouver.
Try to branch out a bit and give something new a go while you're in town. Here is a shortlist of my suggestions: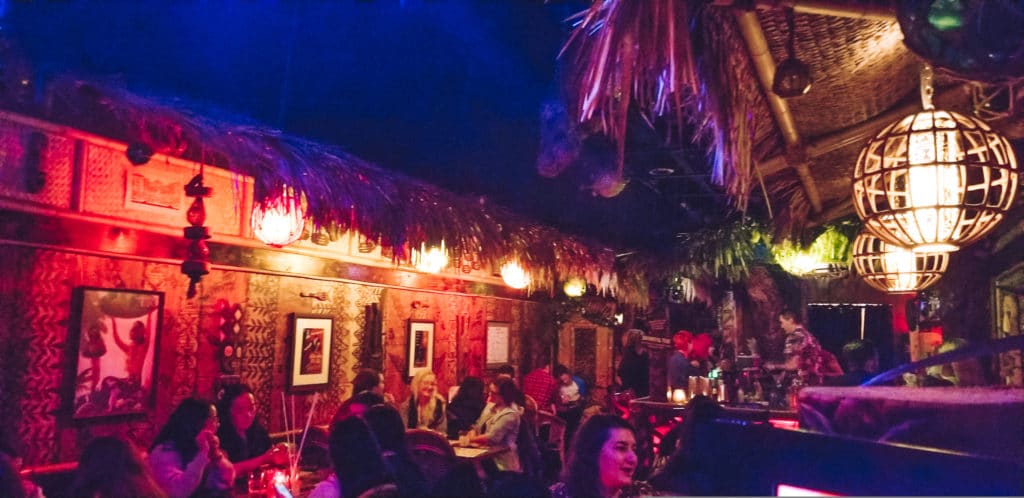 Vancouver Nightlife
Vancouver has several fun neighborhoods spread across the city that make great destinations for a night out.
From rock n roll bars to tiki bars, to dive bars, you'll always find a great spot for drinks in this city. Here is a shortlist of some of the places I recommend: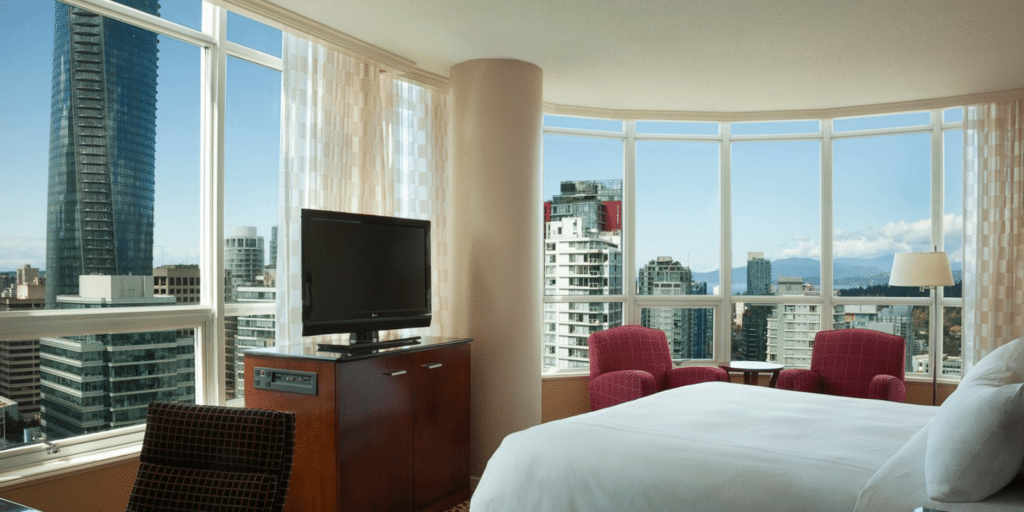 Hotels in Vancouver
If you're looking for a place to stay after exploring Vancouver in one day, you'll find plenty of hotel options right in downtown.
From high-end luxury to the super affordable, you'll have no problem finding a hotel for any budget in Vancouver. 
To get you started, here is a shortlist of some of my recommended Vancouver hotels:
Budget
Moderate
Luxury
I hope you've found this Vancouver in One Day travel guide helpful in planning your own visit. If you enjoyed this post I would love it if you shared it. It really helps me a lot. Thanks for reading.
Book Your Trip
Find the best flight deals by using Google Flights, then book direct with the airline. This is the search engine I use to compare flights and prices before booking my own trips.

BOOK YOUR ACCOMODATION
I recommend searching for hotels through Booking.com to compare hotels on amenities, location, and price. If you are a member of a hotel's rewards program, always book direct with the hotel. If you are not loyal to a specific hotel brand, using Booking.com for the best price.

TRAVEL INSURANCE
Travel insurance is more important than ever. For just a few dollars a day you can protect yourself and your trip. I personally use World Nomads, but whomever you choose, don't skip out on travel insurance. It can literally save you thousands of dollars.


Want to save it? Pin it.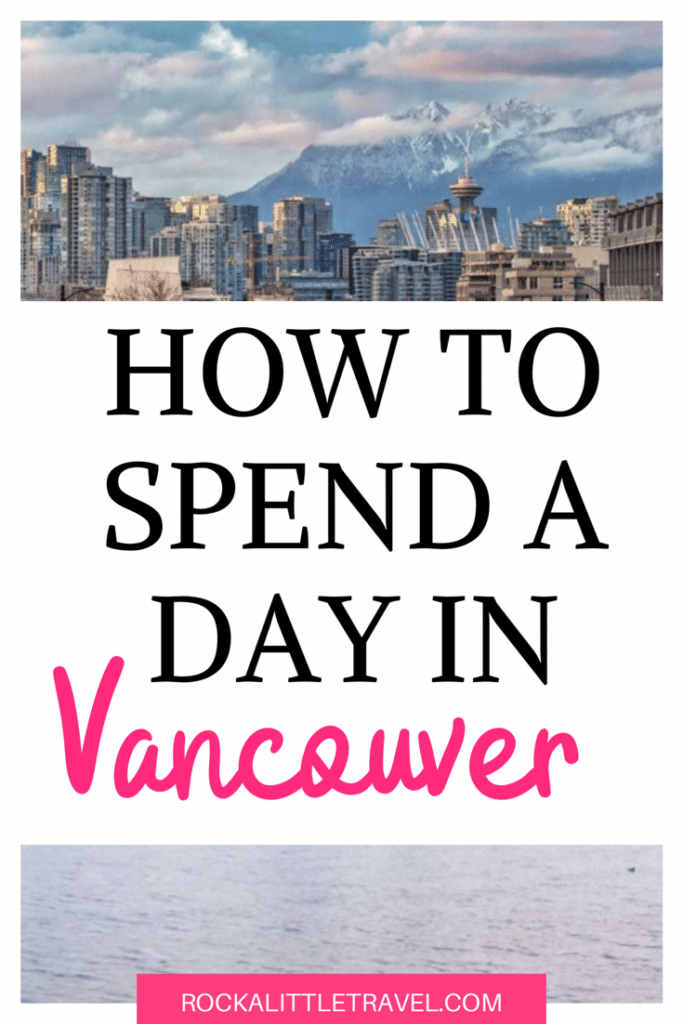 Related Posts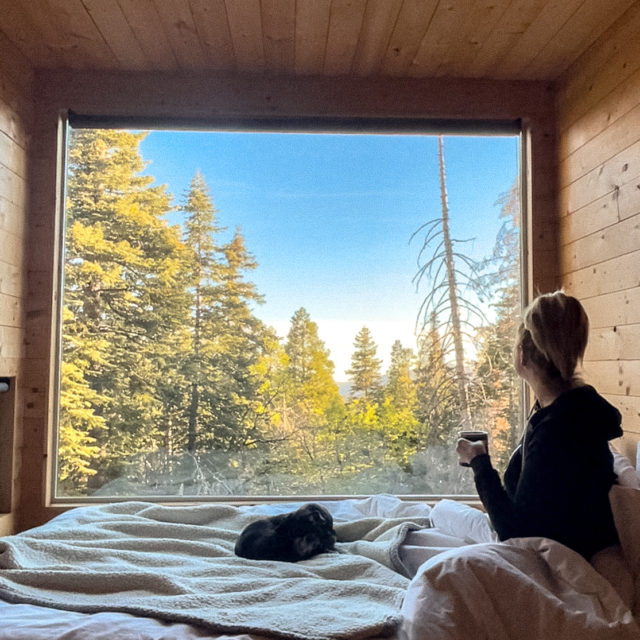 Is Getaway House Big Bear is worth the hype? Let's find out. Just last week I booked a last minute stay at Getaway House …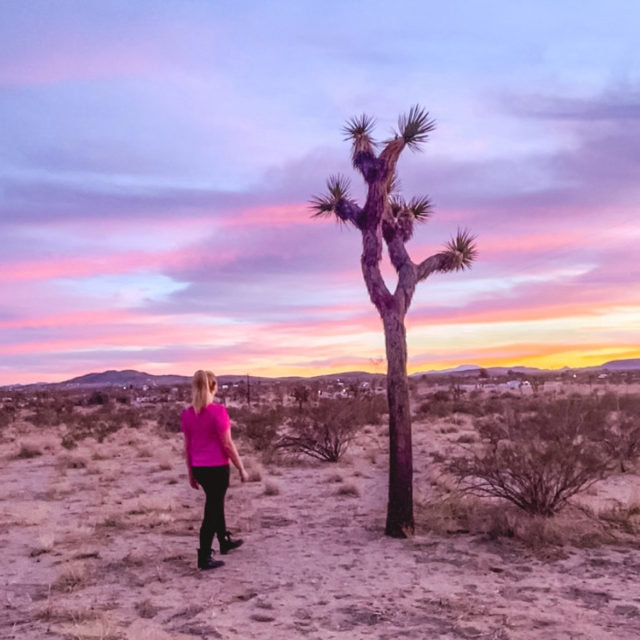 While the best time to visit Joshua Tree National Park depends on what you're looking for, there are a few important considerations when planning your …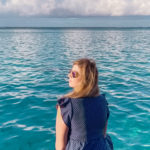 Eden Fite
Part-time Traveler | Dog Lover | Avoider of Crowds
I help busy people find creative ways to travel more.