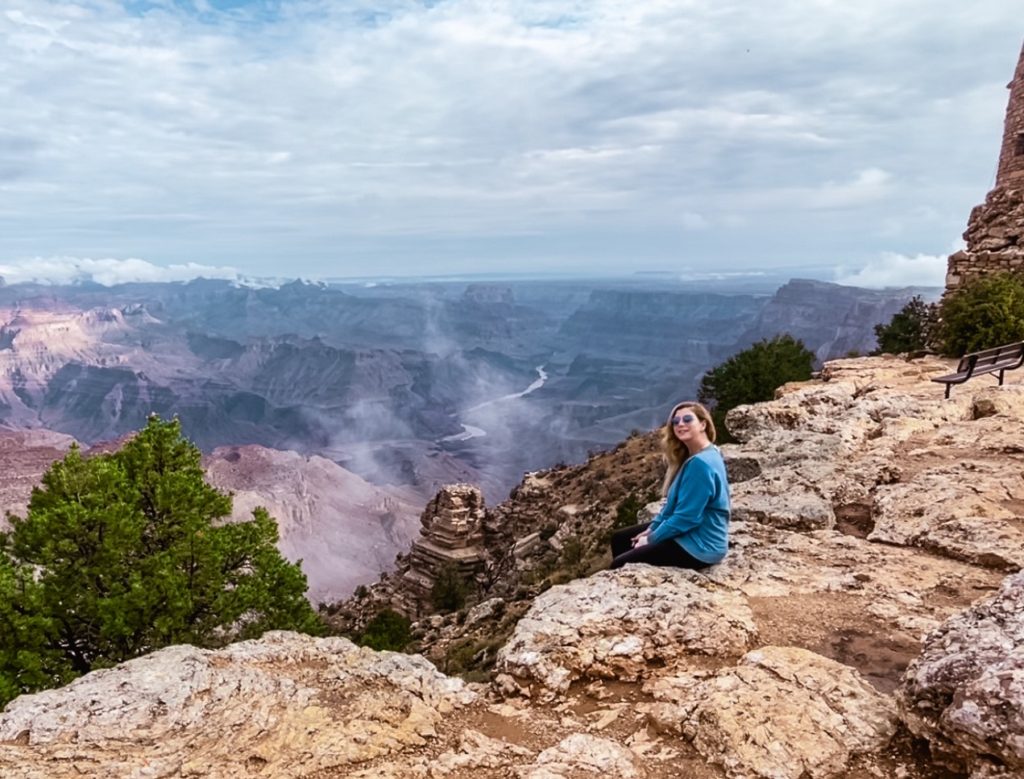 A Grand Canyon sunrise if the perfect way to begin your day while vacationing at Grand Canyon National Park.
In my opinion, I think the time just before and just after sunrise in the Grand Canyon are the most magical. Not only is seeing a sunrise over the Grand Canyon a beautiful experience, but those early morning hours offer some of the best moments in the park.
The Grand Canyon is a quiet and peaceful place during the morning hours. If you're willing to get up early enough to experience a Grand Canyon sunrise, you'll find that you'll have many sections of the park all to yourself.
Sunrise at the Grand Canyon is also the best time to spot local wildlife. You'll be surprised what you can see in the early morning, even in the most popular areas of the park.
In this blog post I'm going to share my best tips for catching an epic Grand Canyon sunrise. I'll also share my favorite viewpoints along the Grand Canyon's south rim for watching the sunrise.
Some of the links in the post are affiliate links. If you make a purchase through these links it helps to support this site at no extra cost to you.
When is sunrise at the Grand Canyon?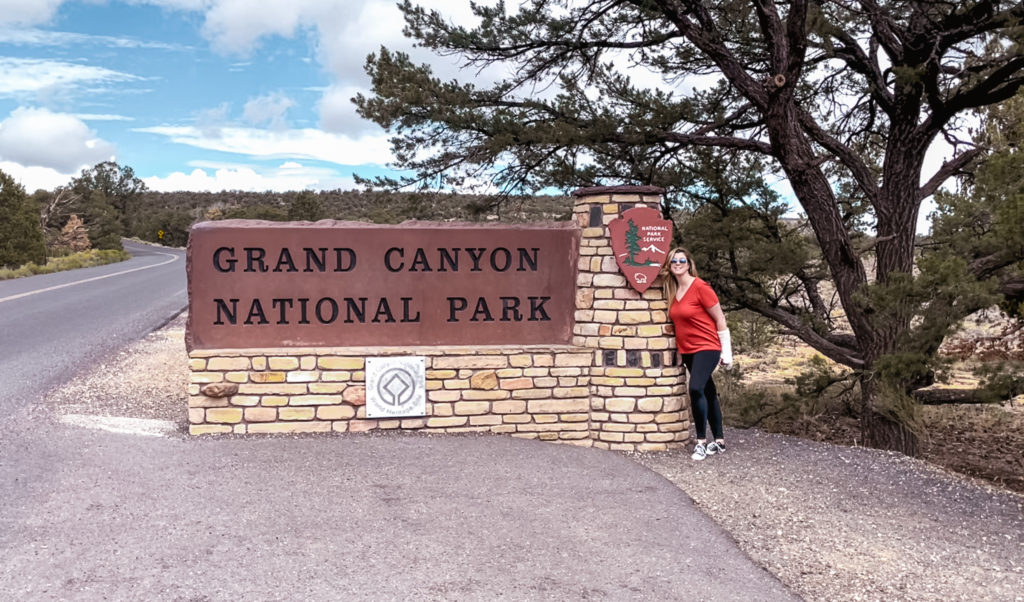 As you already know, sunrise times fluctuate throughout the year, getting earlier during the summer months and later during the winter months.
Since the Grand Canyon is located in the US state of Arizona, you'll be in Mountain Time Zone (GMT) during your visit.
Down below I include the approximate sunrise times for the first day of each month of the year:
January: 7:39 a.m.
February: 7:29 a.m.
March: 6:58 a.m.
April: 6:14 a.m.
May: 5:35 a.m.
June: 5:13 a.m.
July: 5:15 a.m.
August: 5:35 a.m.
September: 6:00 a.m.
October: 6:23 a.m.
November: 6:51 a.m.
December: 7:20 a.m.
Please remember that the earliest sunrise of the year will be in June near the Summer Solstice and the latest sunrise of the year will be in December near the Winter Solstice.
Long story short, check the exact Grand Canyon sunrise time during your visit to be sure you get up on time and don't miss it. If you have an iPhone, you can use the weather app to see when the sunrise time is listed. You can also just Google it.
With such an early wake up time, is the Grand Canyon sunrise worth it? Absolutely it is. Sunrises at the Grand Canyon are some of the best in the USA in my opinion. 
10 Tips for Catching an Epic Grand Canyon Sunrise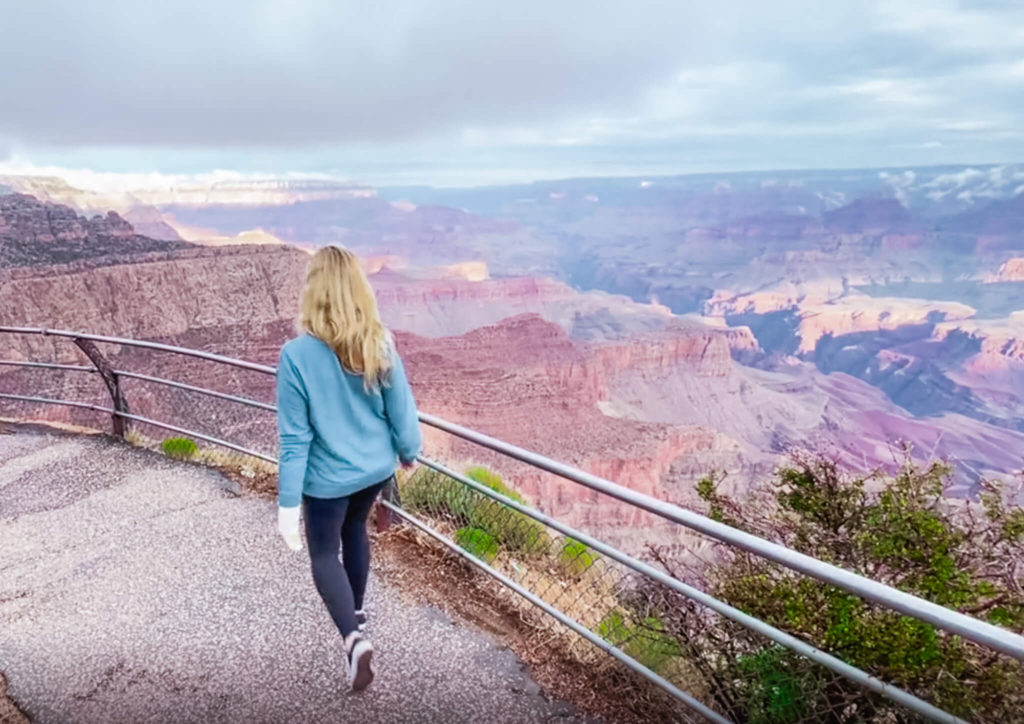 During my recent visit to the Grand Canyon from Sedona I planned the entire trip around finding the best Grand Canyon sunrise spots.
Since I was visiting in June, this also meant I was faced with the earliest sunrise times of the year.
So basically, I spent my week at Grand Canyon National Park getting up around 4:00 a.m. to be out the door and ready to explore the park by sunrise. And let me tell you, I had the best time.
For this trip I spent the majority of my time exploring along Desert View Drive which leads east from the Grand Canyon Visitor Center out to Desert View Watchtower at the easternmost viewpoint.
You can also explore west of the Grand Canyon Visitor Center along Hermit Road. Though do be aware that Hermit Road is closed to personal vehicles during the winter months and is only accessible via shuttle or one of the hiking trails.
In an effort to share what I learned during my own trip, here are my 10 best tips for catching an epic Grand Canyon sunrise.
1. Look up the Grand Canyon sunrise time the night before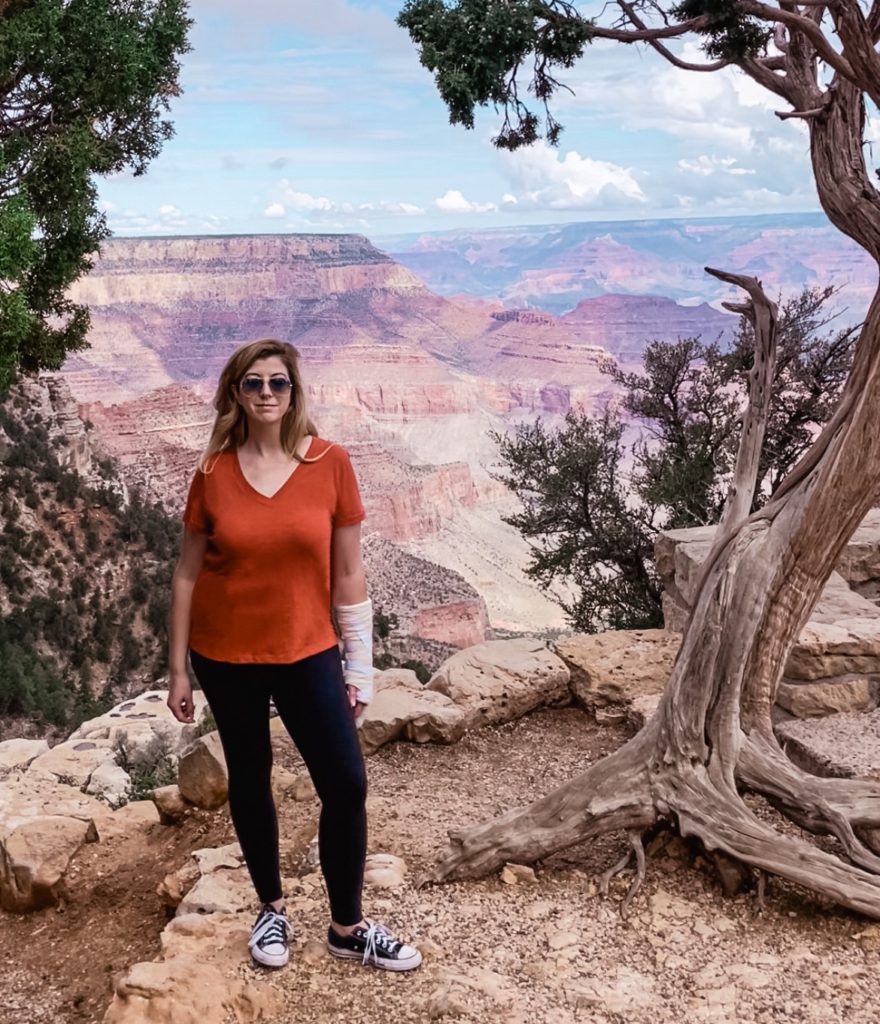 Before you head off to bed, be sure to check for the next day's sunrise time so you can set your alarm clock accordingly.
You'll want to schedule your morning so you can be out the door at least 45 minutes before sunrise. This way you'll have some time to drive to your destination and get set up before the sun comes up over the horizon.
Honestly though, if you can get out the door earlier, I recommend doing so. The more time you have the better.
Keep in mind you'll likely be interested in catching a Grand Canyon sunset during your visit as well, so be sure to check the sunset times in advance too.
Once you identify the Grand Canyon sunset time, arrive at your chosen viewpoint at least 30 minutes before sunset so you don't miss it.
2. Check the weather the night before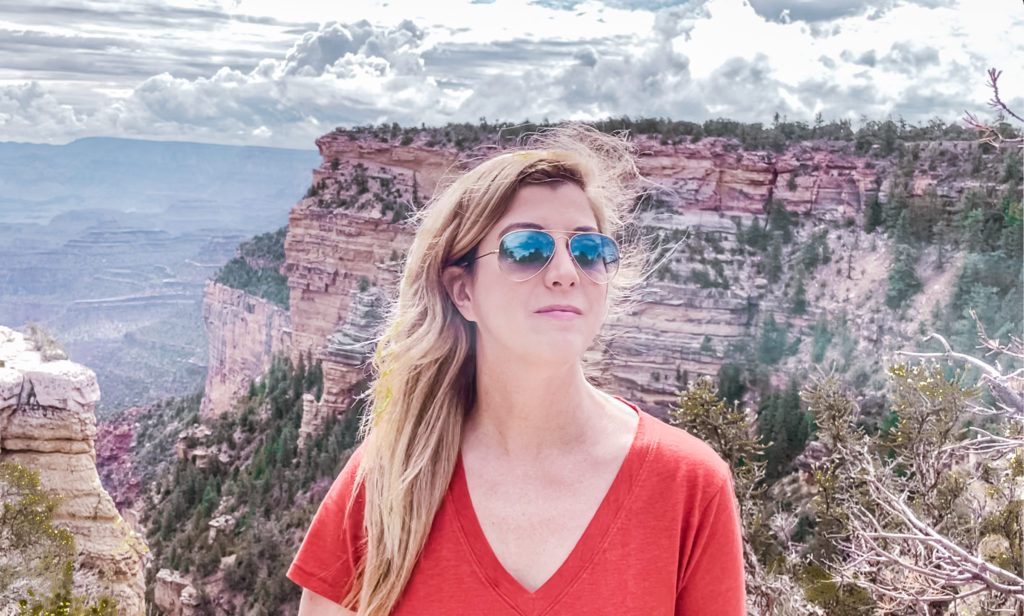 Another very important step the night before is to check the next day's weather. If the weather forecast is cloudy and rainy, you're not going to witness much of a sunrise.
In all honesty, I've made this mistake more times than I can count and have lots of gray photos from all around the world to show for it. While I still had fun experiencing and exploring those destinations, I definitely didn't get the photos (or views) I had hoped for.
So do yourself a favor and make sure you'll actually see the sun if you're planning to get up before dawn to enjoy a sunrise.
If the forecast is cloudy and rainy, hold off on setting that 4:00 a.m. alarm until another day.
3. Have a destination in mind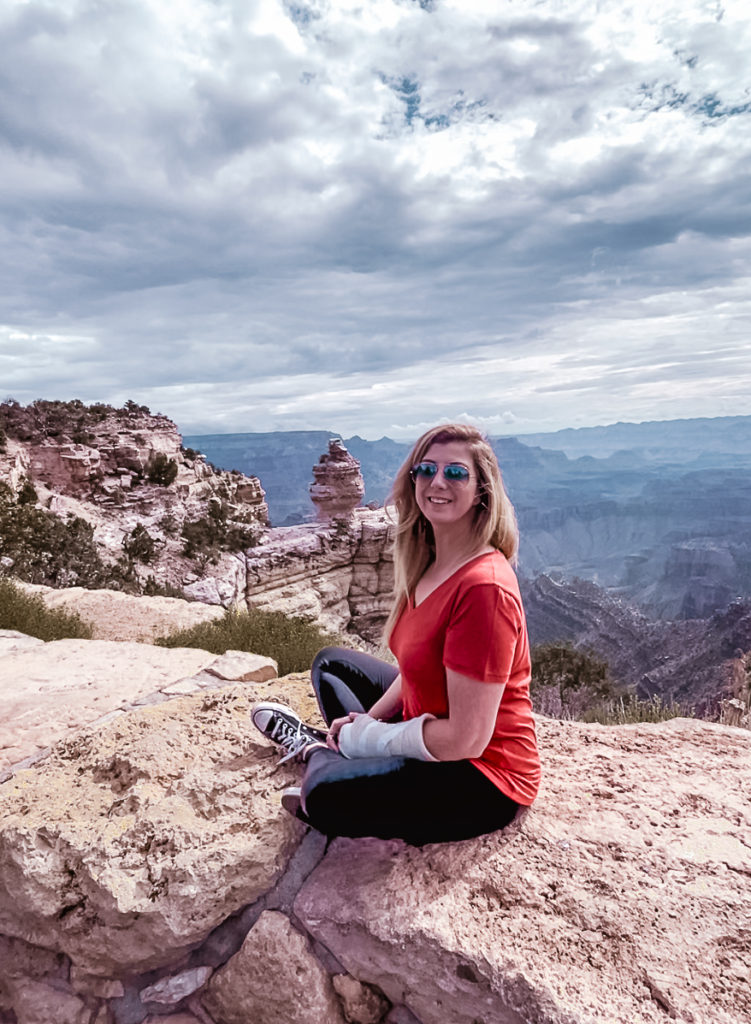 Since you'll be getting up so early and time will be of the essence, you'll want to have your destination determined in advance. This will help prevent you from wasting time in the morning trying to figure out where to go.
If you have your destination decided in advance, you can figure out how long it will take to get there so you can plan ahead and make sure you leave on time.
I also recommend having at least one backup destination selected as well. You never know if something might go wrong with the first one. There could be too many people, construction, too cold, etc.
Make sure you've identified a second choice so you have options in case you want to move. There are plenty of options to choose from at the Grand Canyon South Rim.
You can also do what I did, which is to take a mini road trip along the Grand Canyon's Desert View Drive. This way you can see all the viewpoints.
I discuss my favorite Grand Canyon sunrise spots down below.
4. Dress in layers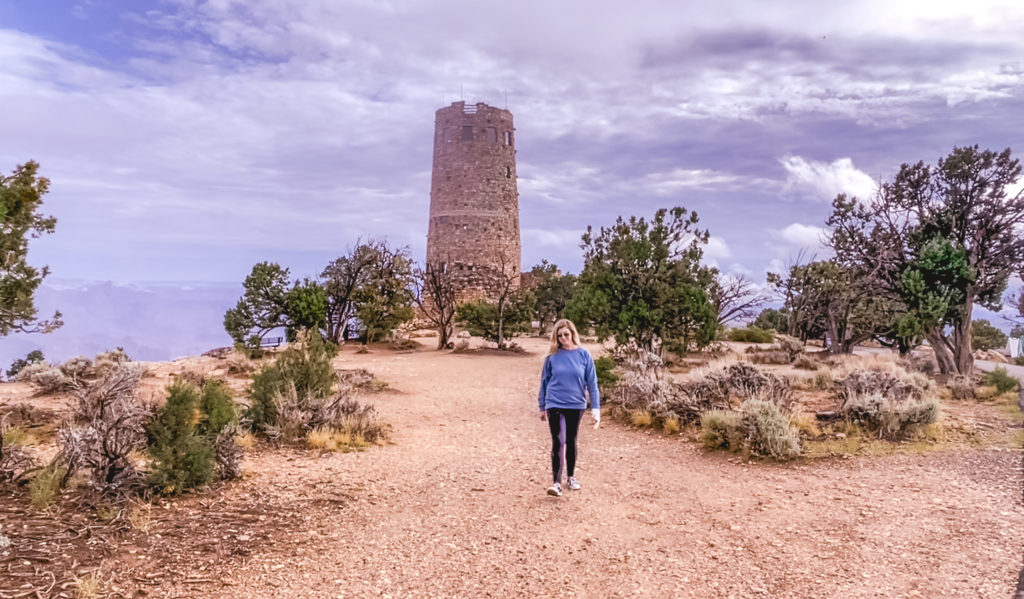 Grand Canyon mornings can be chilly, especially if visiting in the fall or winter. Plan to wear multiple layers so you can take some layers off if you need to as the sun comes up.
I often bring a hat, gloves, and a scarf along with me as well. Even if I don't want to wear them, I'll toss those items in the car just in case. More often than not, I end up using them.
If I know I'm going to be sitting in one place for a while, I'll also toss a blanket into the car. There have been so many times I was so happy to have a blanket to wrap up in, especially waiting for a sunrise during the fall months.
If nothing else, at least you'll have a soft surface to sit on while you wait for the sun to come up.
5. Watch for wildlife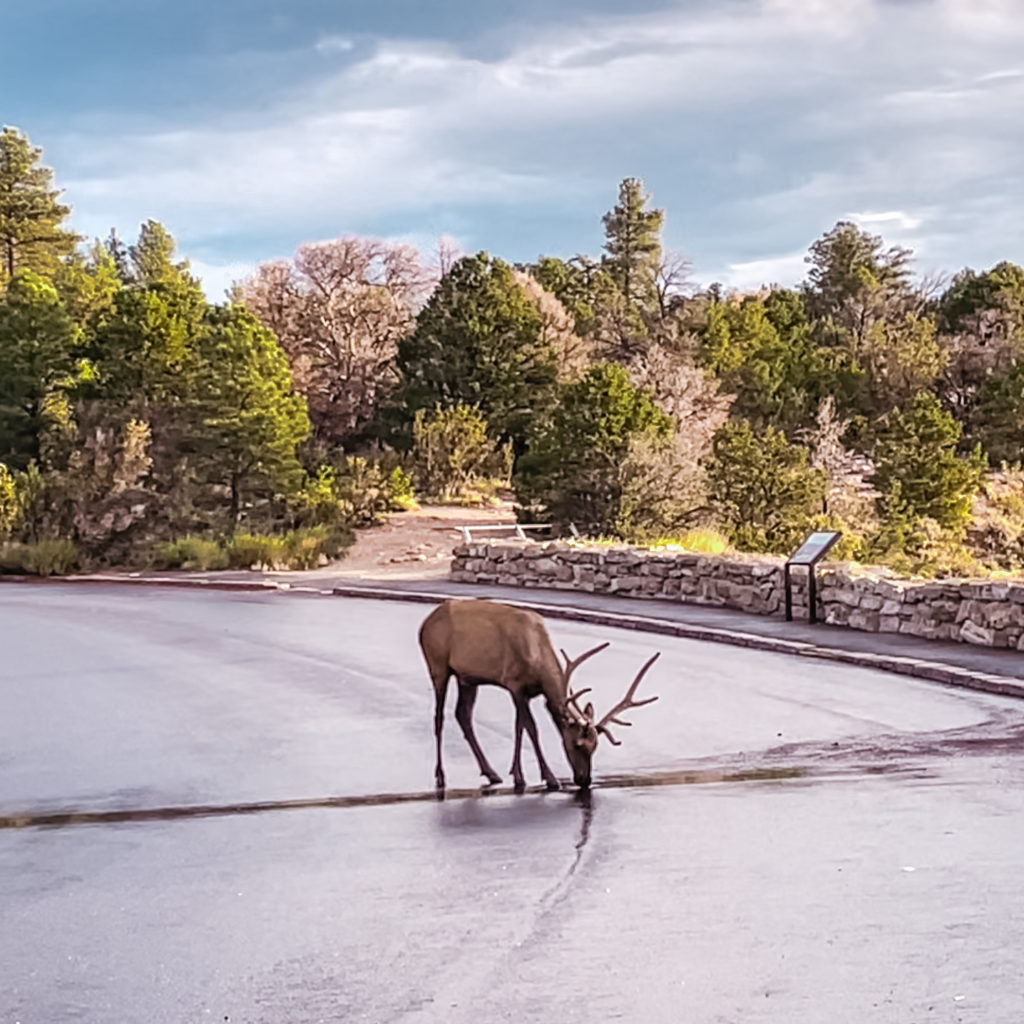 The early morning hours at Grand Canyon National Park are often the most active for park wildlife.
With this in mind, please drive slowly and keep an eye out for animals as you're driving around.
The Grand Canyon is home to all sorts of wildlife including Bighorn Sheep, Bison, Elk, Mule Deer, Skunks, Mountain Lions, Ringtails, Javelinas, and more. Also Squirrels, lots and lots of Squirrels.
When you encounter wildlife, please do not approach them, especially not with your vehicle. If you see an animal and you'd like to watch for a while, pull over away from the animal and watch from a distance.
Park wildlife use the early morning hours to get food and water because there are fewer people around to disturb them. Let them be so they can take care of their needs.
6. Bring your good camera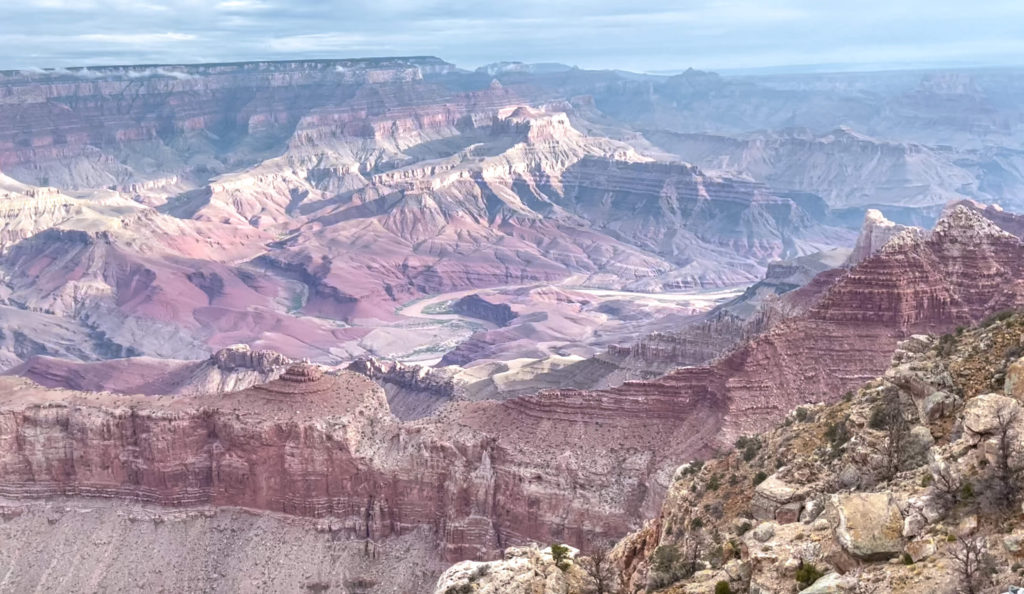 To be completely honest, I forgot my camera at home when I left for this trip. As a result, all the photos you see in this post are taken with my iPhone.
While I'm actually impressed with the quality of the photos, an actual camera with a nice lens is probably a better choice at the Grand Canyon.
I definitely recommend packing your camera, a few lenses, and an extra SD card or two before heading off on your trip to Grand Canyon National Park. It's such a beautiful place, you're going to be glad you have your camera once you get here.
Maybe place your camera bag by the door the night before, so you don't forget yours like I did.
7. Consider hiking Bright Angel Trail at sunrise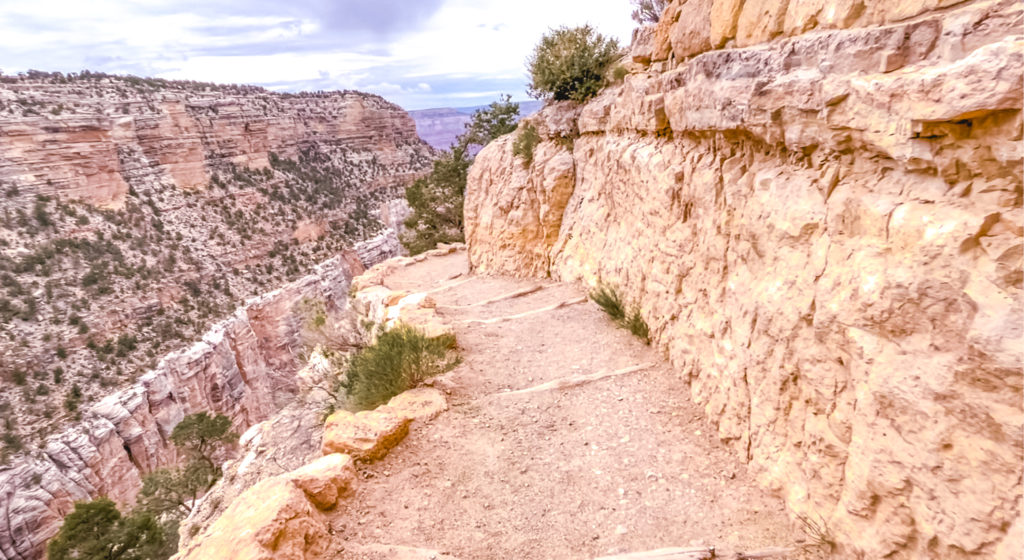 Bright Angel Trail is one of the most popular and most beautiful hikes inside Grand Canyon National Park. The trail is located at the South Rim and begins near Grand Canyon Village and descends down into the bottom of the Grand Canyon.
This is considered a strenuous hike which winds down to the Colorado River and Phantom Ranch. If you go all the way to Phantom Ranch, the trail is 9.9 miles each way. Remember, while the way there is all downhill, you will have to hike the second 9.9 miles completely uphill.
Phantom Ranch is a guesthouse located inside the canyon which is a popular place to stay for hikers looking to spend time inside the canyon, as well as those hiking rim to rim.
The Bright Angel Trail has some of the best and most unique views of the Grand Canyon and is especially beautiful at sunrise.
Even if you're not interested in a 20 mile strenuous hike during your visit to Grand Canyon National Park, you could still take a shorter hike to enjoy the sunrise, then turn around and head back up before getting too far.
If nothing else, the Bright Angel Trail is a great way to get your daily workout in before enjoying the rest of your day at the park.
Another popular option is to take the 7.1 mile South Kaibab Trail out to Skeleton Point for 360 degree views of the Grand Canyon.
The South Kaibab Trail trailhead is located at Yaki Point, located east of the Grand Canyon Visitor Center. To access Yaki Point you'll need to to either take the Grand Canyon shuttle bus, or take the Rim Trail.
8. Walk the Rim Trail at sunrise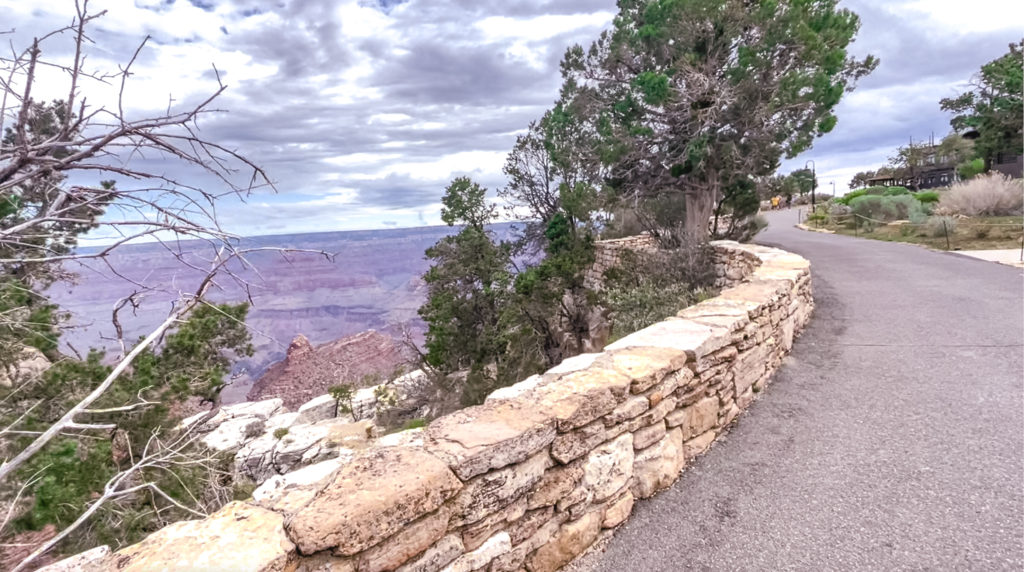 If you're looking for a much easier alternative to the Bright Angel Trail or South Kaibab Trail, you can always opt for a walk along the Rim Trail.
The Rim Trail winds along the south rim of the Grand Canyon and is mostly flat and paved, making it accessible for just about anyone.
If you're staying in Grand Canyon lodging, the Rim Trail is located just outside your hotel, you can't miss it.
If attempting to enjoy the sunrise along the Rim Trail, be sure you are walking east towards the sunrise.
9. Go explore the park after sunrise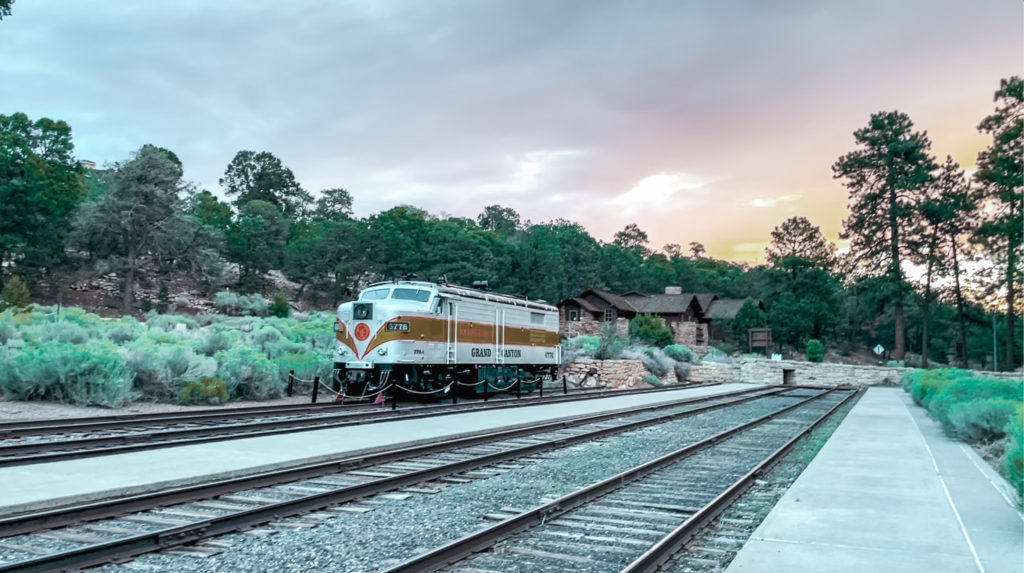 The best time to explore some of the Grand Canyon's most popular and crowded attractions is just after sunrise. Since most park visitors are not getting up that early, you'll have many of the biggest attractions in the park all to yourself if you arrive early enough.
If you're up early for sunrise at Grand Canyon, take the opportunity to visit normally crowded destinations like the Grand Canyon Railroad and Grand Canyon Visitor Center.
Mather Point is also a great option in the early morning. In fact, enjoying a Mather Point sunrise is a great way to see the park's most popular view point, without all the crowds.
10. Bring snacks and water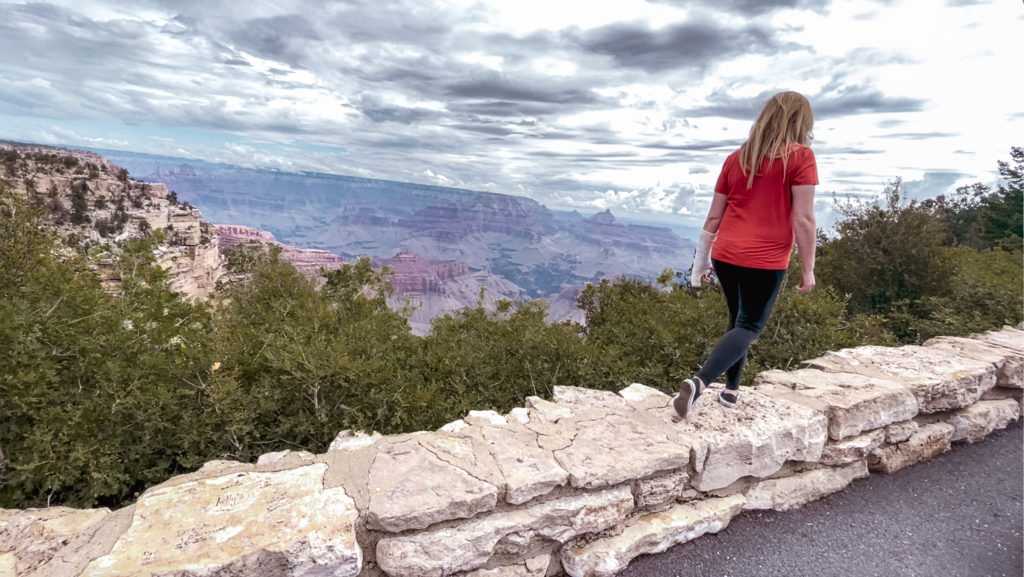 For a visit to any of the Grand Canyon's national parks, I always recommend packing food, snacks and drinks for your trip.
You'll definitely want to have snacks and water with you when getting up to explore the park at sunrise. There are not many food options inside the park, especially not in the early morning.
Plus, if you've been to a National Park before, you know the food isn't the best, and it's always expensive. So do yourself a favor and just pack your own food and drinks to enjoy during your visit. You'll save both time and money and likely eat healthier food.
There are no options to purchase food outside of Grand Canyon Village, so if you're driving along Desert View Drive or Hermit Road, you will not have any options for food.
Grand Canyon Sunrise Spots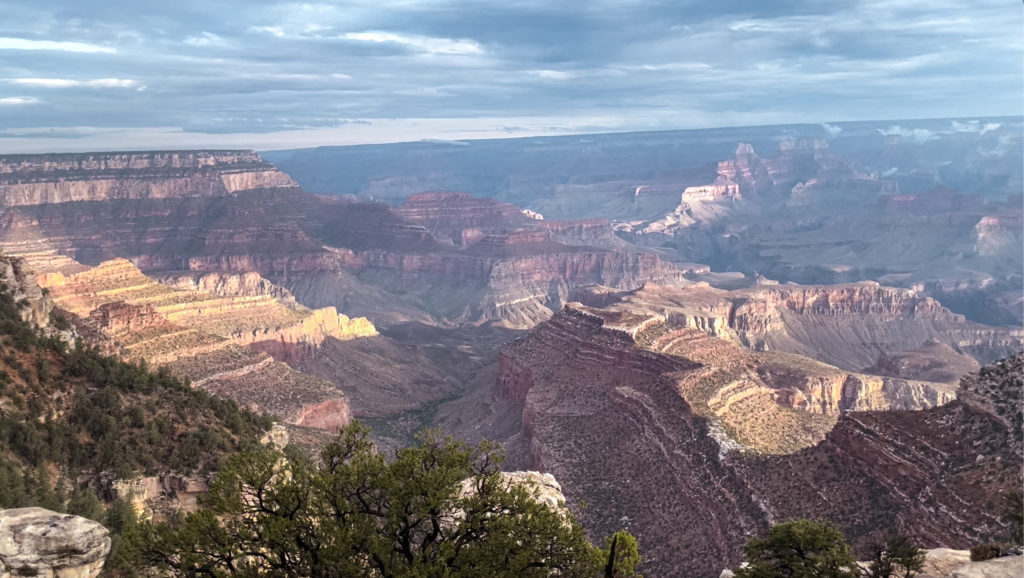 There are many great options for watching the sunrise in Grand Canyon National Park. I'm including a list of my favorites down below.
Hopi Point: Located west of the Visitor Center and great for both sunrise and sunset.
Pima Point: Located west of the Visitor Center and great for sunrise.
Yaki Point: A Yaki Point sunrise never disappoints. Located east of the Visitor Center. Must access via the Grand Canyon shuttle.
Bright Angel Trail: A beautiful Grand Canyon sunrise hike into the bottom of the canyon. Trailhead is located off the Rim Trail east of the Visitor Center.
Duck on a Rock: This one is not east facing but I just love this viewpoint. You'll also find lots of local wildlife here in the early morning. This makes a good stop before heading further east to another view point.
Grandview Point: One of my favorite Grand Canyon sunrise locations inside the park. You will not be disappointed here, I promise.
Navajo Point: Located east of the Visitor Center with excellent east facing views. You can even see the Watchtower from this viewpoint.
Desert View Watchtower: Located in the easternmost section of Grand Canyon National Park. The sunrise views from here are incredible.
Frequently Asked Questions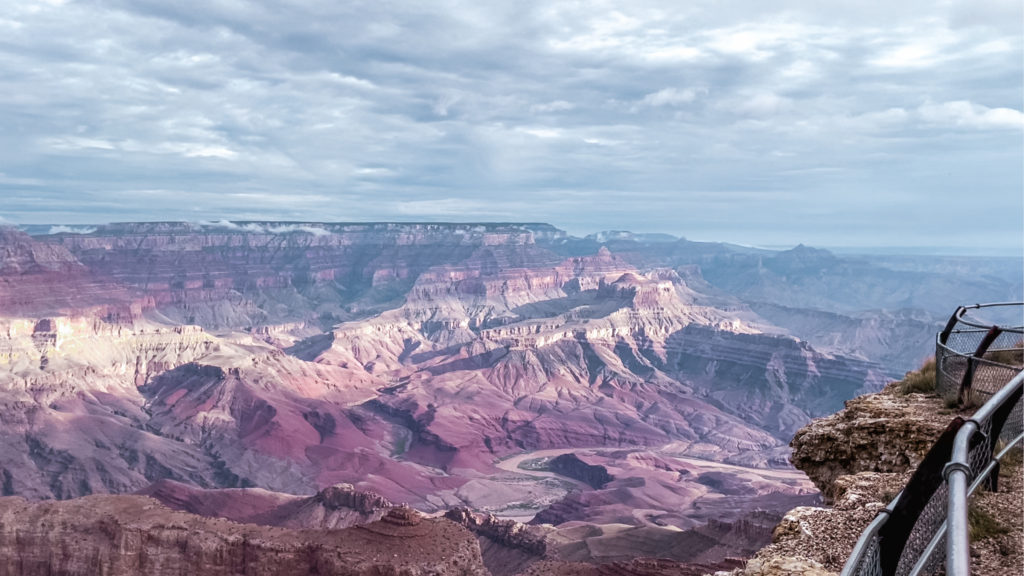 I hope you've enjoyed this guide to catching an epic sunrise at the Grand Canyon and that I've inspired you to plan a visit of your own. As always, thanks for reading.
Related Posts
If you're looking for the best wineries in Sedona then you've come to the right…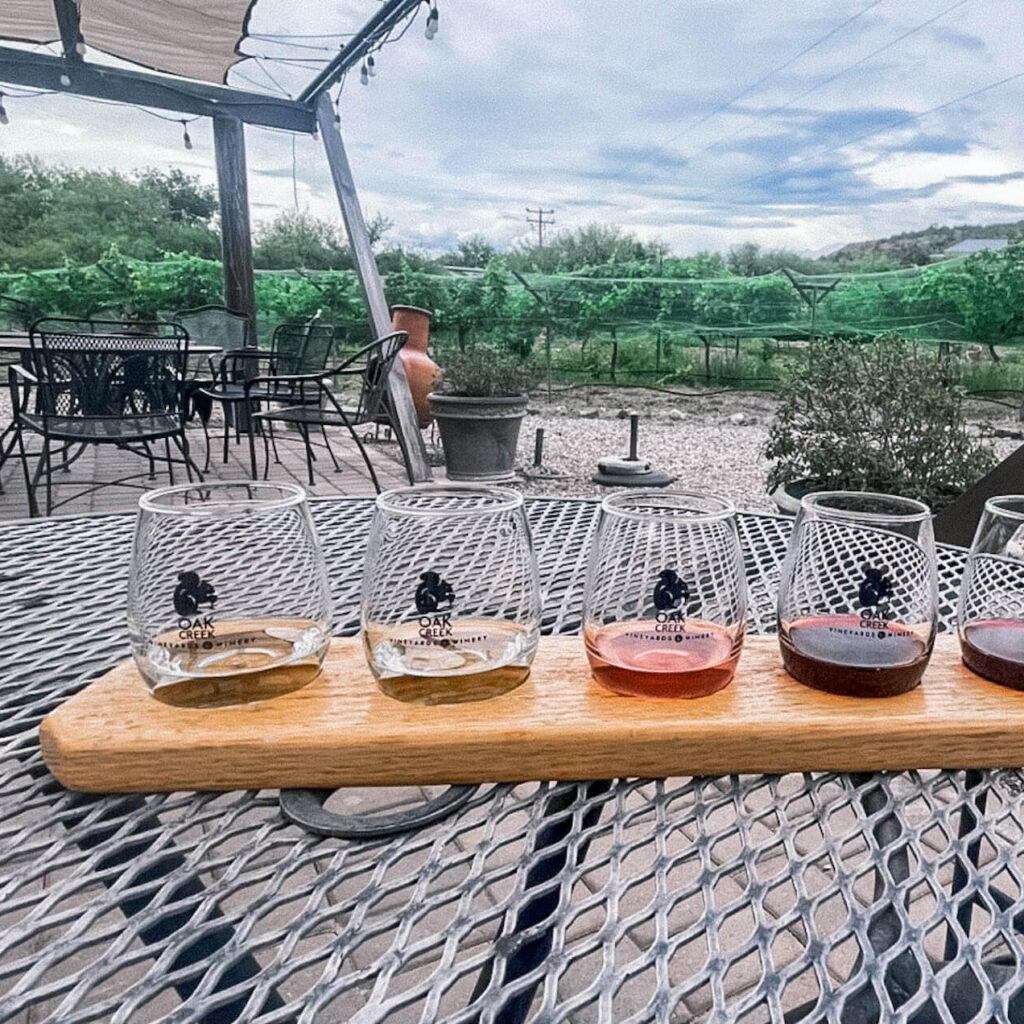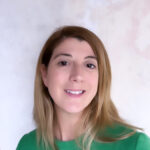 Eden Fite
Part-time Traveler | Dog Lover | Avoider of Crowds
I help busy people find creative ways to travel more.