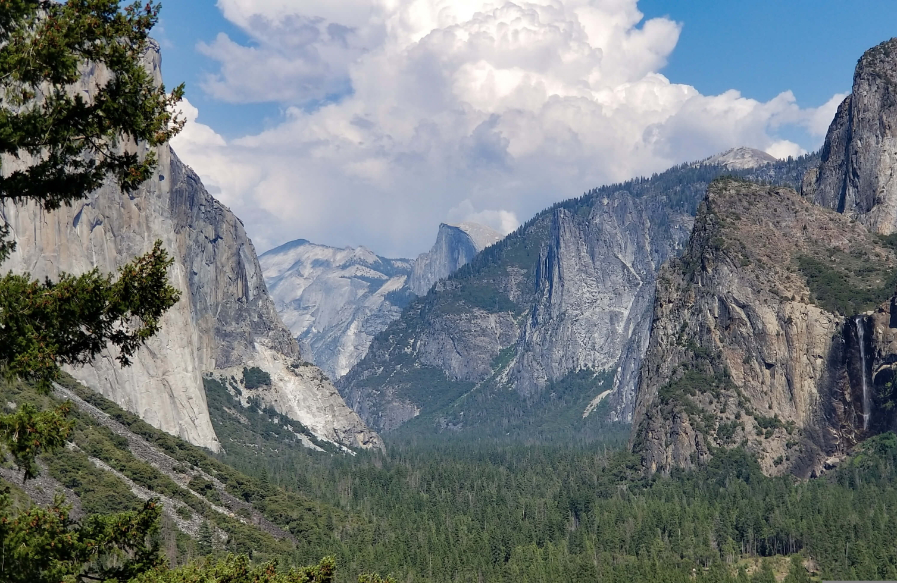 Are you planning a San Francisco to Yosemite road trip and looking for some fun stops along the way?
If so, this easy San Francisco to Yosemite National Park itinerary will help you add a little adventure to the relatively short drive.
Let's get started.
Some of the links in the post are affiliate links. If you make a purchase through these links it helps to support this site at no extra cost to you.
San Francisco to Yosemite Road Trip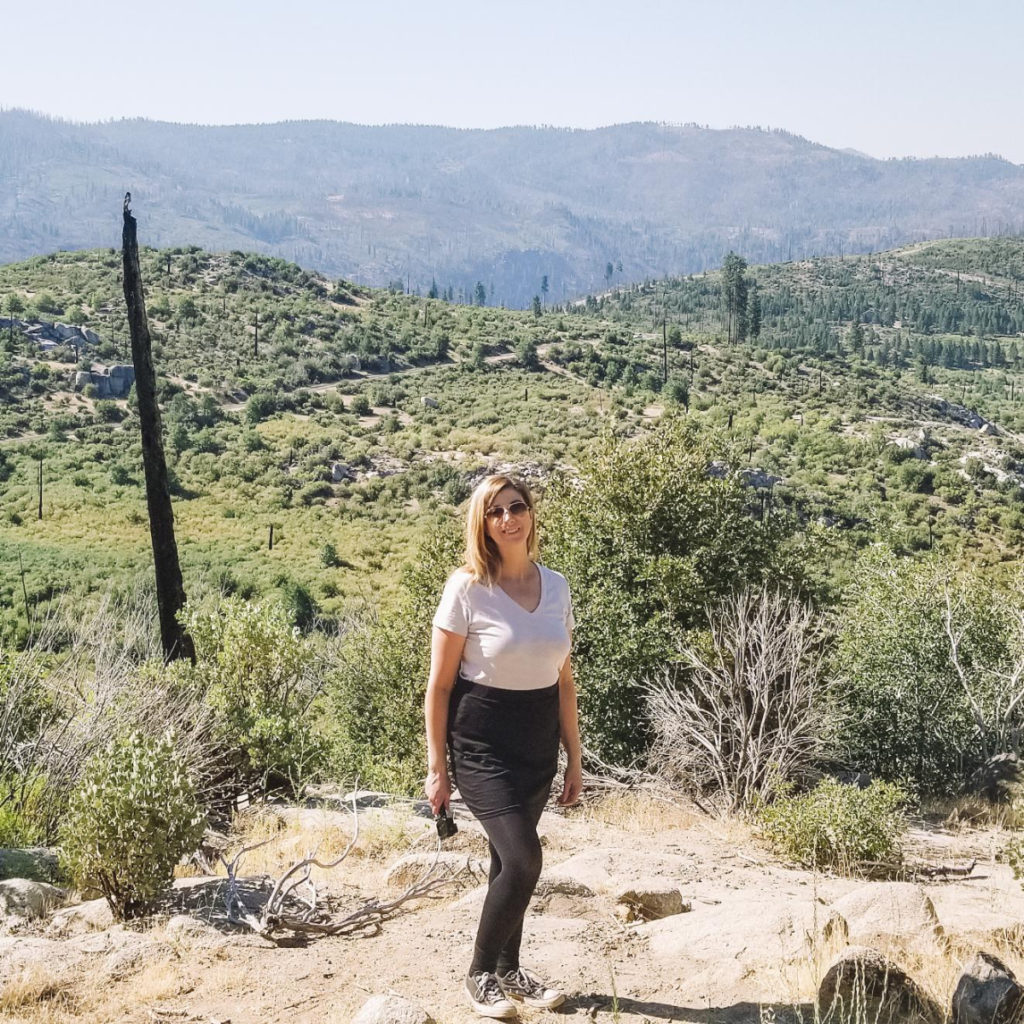 This San Francisco to Yosemite road trip itinerary will take you from the Bay Area to the park in one day, stops included.
The drive to Yosemite from San Francisco is only about 3 hours and 20 minutes. This itinerary includes three stops intended to show you a few interesting things along the way that you otherwise may have missed.
However, for those short on time or just anxious to get to Yosemite, you can easily make this drive without stops.
Traveling Soon? Don't forget your travel insurance.
Travel insurance is now more important than ever.
Travel insurance is probably less than you think it is. (Ex. For a week in Spain next month I'm paying less than $62.00.)
Travel insurance covers a lot more than you think it does.
It's better to have it, than need it and wish you'd bought it.
See for yourself. Check prices here.
Stop 1: San Francisco
You're lucky to be starting in San Francisco, which is one heck of a fun city. If this is your first visit to the city, I recommend spending a few days here before moving on to Yosemite.
However, no matter how much time you spend exploring San Francisco, there will always be more to see.
I used to live just south of San Francisco so I've spent a lot of time in this city. Here are a few of the things I like to do in San Francisco over the course of a day:
Get brunch and mimosas at one of the city's popular breakfast spots.
Spend the early afternoon in Golden Gate Park or at the Academy of Sciences.
In the late afternoon I'll do a little shopping near Powell and Market Streets.
After shopping I'll hop on the cable car to head down to Fisherman's Wharf.
From Fisherman's Wharf I'll make my way over to the Buena Vista for Irish Coffees.
After a few too many Irish Coffees I'll head up to North Beach and enjoy the sunset from Coit Tower.
After sunset, I'll make my way over to the Mission to have dinner and drinks at one of the neighborhood's many trendy restaurants.
At night, I'll try to catch a show somewhere, either live music or a movie.
This is just one example of a day I would have in the city, but there's so much to see and do in San Francisco.
You may also wish to consider a drive over the Golden Gate Bridge, walking along Haight Street for thrift shopping, or biking along the Embarcadero.
Stop 2: Oakland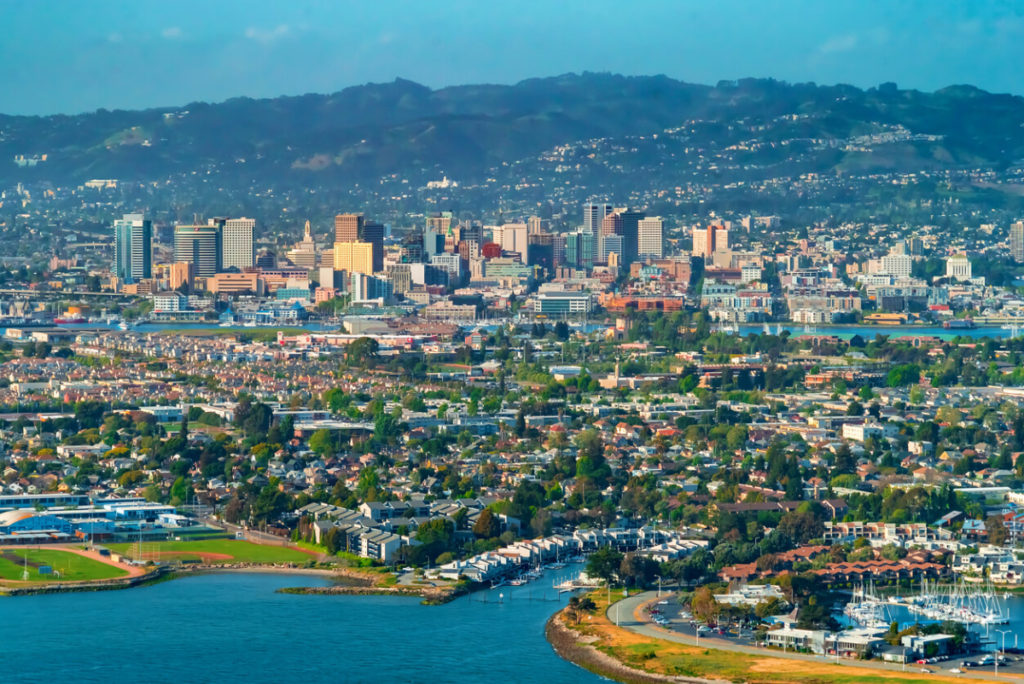 Yes, I am including Oakland in this itinerary even though it's just over the bridge. Why you ask? Because it's technically on the the way between SF and Yosemite, and also because I think Oakland is often overlooked but has a lot to offer.
If you're up early, head across the bridge to get brunch at The Gastropig in downtown Oakland. They have a pork centric menu but also plenty of vegetarian options as well. You can also get beer, mimosas, and ciders.
After breakfast, make the short 10 minute drive over to Jack London Square. Here you can enjoy a walk along the waterfront. If you have a little extra time, consider renting a kayak or canoe to take out on the water.
Next Stop: Oakdale
Drive Time: 90 minutes
Stop 3: Oakdale
You'll come across Oakdale about 90 minutes east of downtown Oakland where the 120 and 108 highways intersect.
Oakdale goes by the self-proclaimed title of Cowboy Capital of the World due to its history as an Old West town.
One of the main attractions in Oakdale is the city's Cowboy Musuem where you can see exhibits about the region's Old West heritage. If you're into Old West history, The Cowboy Musuem is worth a quick stop.
Oakdale also sits along the Stanislaus River, so its a popular spot for river rafting and kayaking. Sunshine Rafting or River Journey can help with your rafting or kayaking adventure. Both companies offer trips for about $35 to $40 depending on the day and size of your group.
If you plan to stay in town until dinner and want to try something a little different, consider making a reservation for the Sierra Dinner Train.
You'll get to enjoy a round trip ride on the historic River Fox Train while enjoying dinner and drinks. There are also special event nights for the holidays, beer nights, and murder mystery nights.
Next Stop: Groveland
Driving Time: 55 minutes
Stop 4: Groveland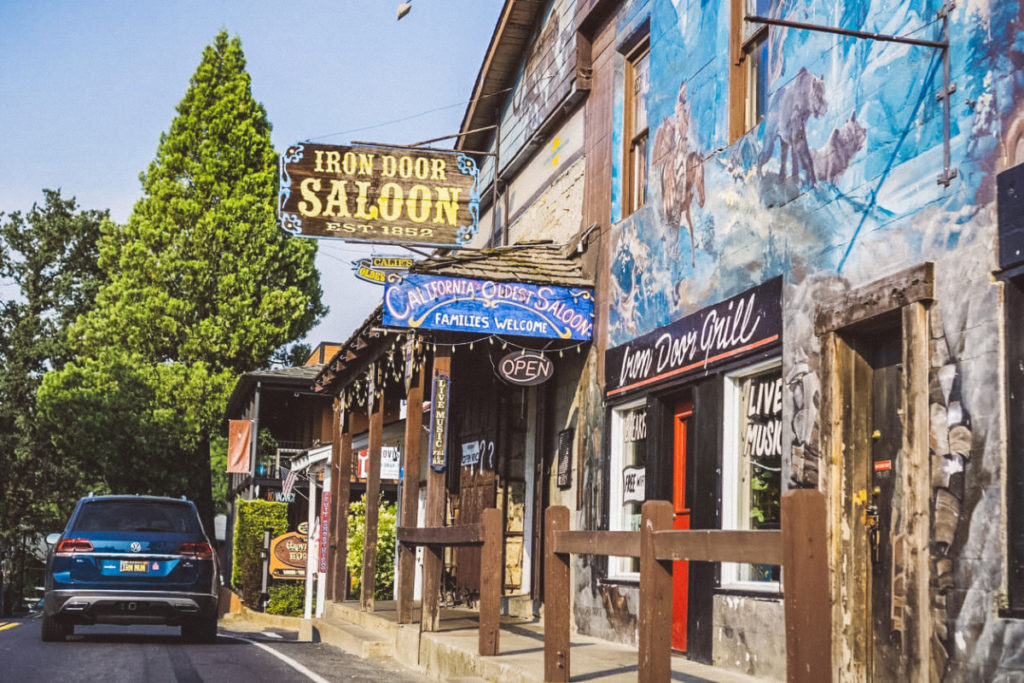 Located about 55 minutes east of Oakdale you'll find Groveland. The town of Groveland is famous for its Iron Door Saloon, reportedly California's oldest saloon.
According to the saloon's website, the Iron Door Saloon was built sometime before 1852. Since that time it has operated as both a saloon and at times, a brothel. It is reported the saloon also operated illegally during Prohibition.
Today, the Iron Door Saloon is a popular stop for travelers on the way to Yosemite. They serve draft beer, cocktails, and mimosas and are open for breakfast, lunch and dinner. You'll find breakfast burritos, burgers, wings, and appetizers on the menu.
The Iron Door Saloon also has live music on some nights of the week.
Besides the Iron Door Saloon, the only other activity I would recommend in Groveland would be to go swimming in the Rainbow Pool.
The Rainbow Pool is a natural swimming hole in Stanislaus National Forest located about 17 minutes east of Groveland along Highway 120.
Next Stop: Yosemite National Park
Driving Time: 30 minutes
Stop 5: Yosemite National Park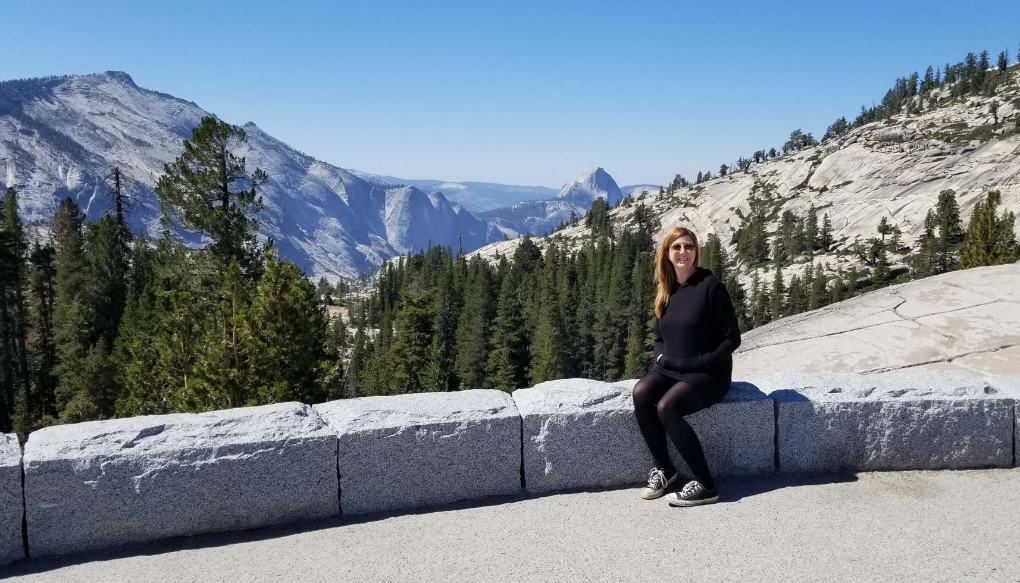 You've made it!
Yosemite has been my favorite of the national parks since my first visit back in 1999. Since that time, I've returned multiple times and recommend it as a destination to anyone traveling to northern California.
If you've been to Yosemite before, then you already know what I'm talking about. If this is your first visit, I just know you're going to love it.
No matter how many days you have to enjoy and explore Yosemite, it will be totally worth the drive, I promise.
Some of my favorite things to do in Yosemite are to visit the Mariposa Grove of Giant Sequoias, enjoy sunrise at Tunnel View, sit and watch Yosemite Falls, hike out to Mirror Lake, or take the park road up to Glacier Point in the late afternoon.
If hiking isn't your thing, you can see a lot of this park on a Yosemite Road Trip within the park itself. In fact, I think you actually get to see even more of the park if you use your car to get around from place to place.
If you're visiting during the summer months, be sure to take a drive along the Tioga Pass. Not many people do this and its absolutely stunning.
For those that don't feel like driving around the park, you can also take one of the tram tours offered in the park.
I've personally taken the Valley Floor tour which I definitely recommend. They also offer a Glacier Point tour as well, and probably a few others.
No matter what you decide to do while in Yosemite, this is one of the most beautiful road trips you'll ever take, so just enjoy it.
Other popular stops close to Yosemite
If you plan to continue your road trip, here are the driving times to popular nearby attractions.
Lake Tahoe – 5 hours
Big Sur – 4 hours 10 minutes
Sequoia National Park – 2 hours 45 minutes
Death Valley National Park – 6 hours
Joshua Tree National Park – 6 hours 20 minutes
Grand Canyon National Park – 11 hours
Zion National Park – 10 hours
I hope you've enjoyed this San Francisco to Yosemite Road Trip itinerary and that you've found it useful in planning a trip of your own. If you would like to support this blog please consider sharing this post. Thanks for reading.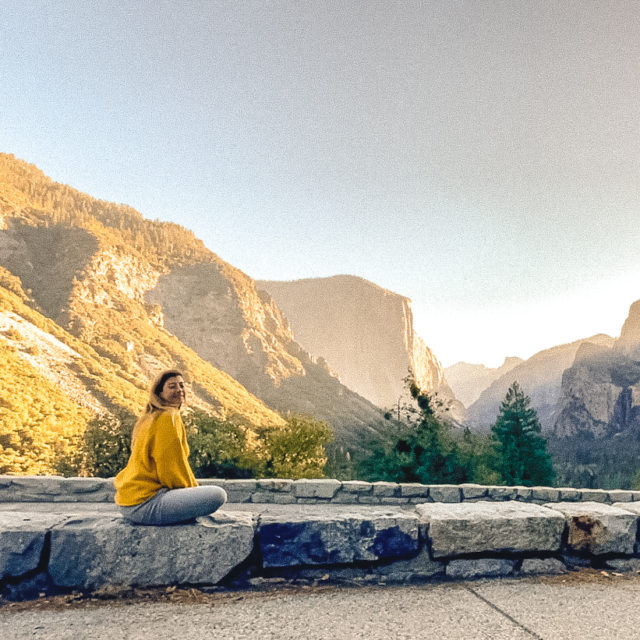 Yosemite in November is absolutely magical. Don't believe me? Keep reading. With fall in full swing in Yosemite in November, you'll get to experience the …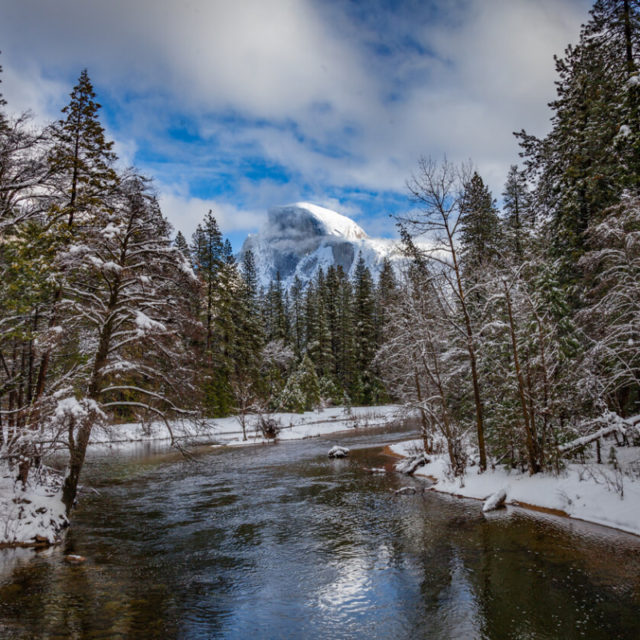 Photo by Kenny Borenstein at iStock Is Yosemite open? Yes, Yosemite National Park is currently open to visitors. I am updating this information daily, but please …
Book Your Trip
Find the best flight deals by using Google Flights, then book direct with the airline. This is the search engine I use to compare flights and prices before booking my own trips.

BOOK YOUR ACCOMODATION
I recommend searching for hotels through Booking.com to compare hotels on amenities, location, and price. If you are a member of a hotel's rewards program, always book direct with the hotel. If you are not loyal to a specific hotel brand, using Booking.com for the best price.

TRAVEL INSURANCE
Travel insurance is more important than ever. For just a few dollars a day you can protect yourself and your trip. I personally use World Nomads, but whomever you choose, don't skip out on travel insurance. It can literally save you thousands of dollars.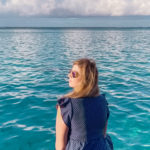 Eden Fite
Part-time Traveler | Dog Lover | Avoider of Crowds
I help busy people find creative ways to travel more.