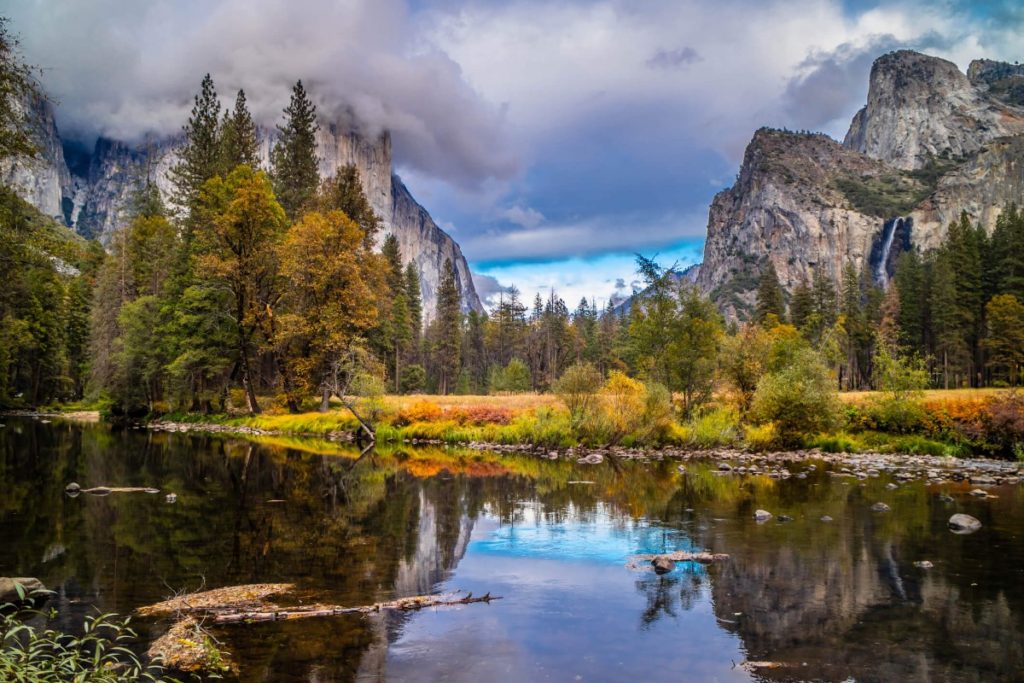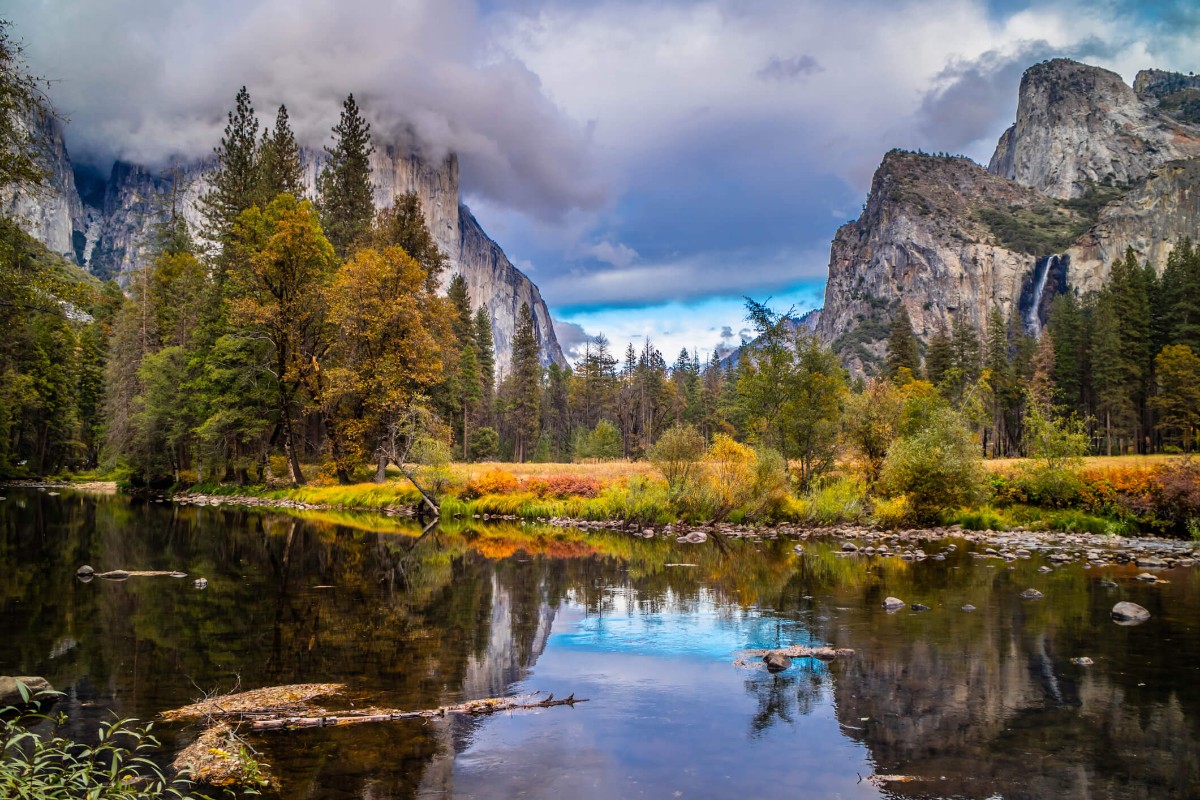 If you're looking to tackle the Mirror Lake Hike in Yosemite, you've come to the right place.
I just returned from a Yosemite road trip last month, and the Mirror Lake Hike was one of my favorite parts of the trip. This is a hike I'd been meaning to complete for the past few years, and finally got the chance.
I'm happy to finally be able to share what I've learned so you can complete the Mirror Lake Hike in Yosemite too.
Mirror Lake is known for its beautiful reflections of the surrounding rock formations and is a popular hike for park visitors.
The Mirror Lake Hike is one of the easiest hiking trails in the park, so it's perfect for families with young children. Even dogs are permitted on the paved trail.
When you're ready, lace up your sneakers, grab your reusable water bottle, and let's hit the trail.
How to get to the Mirror Lake Hike Trail Head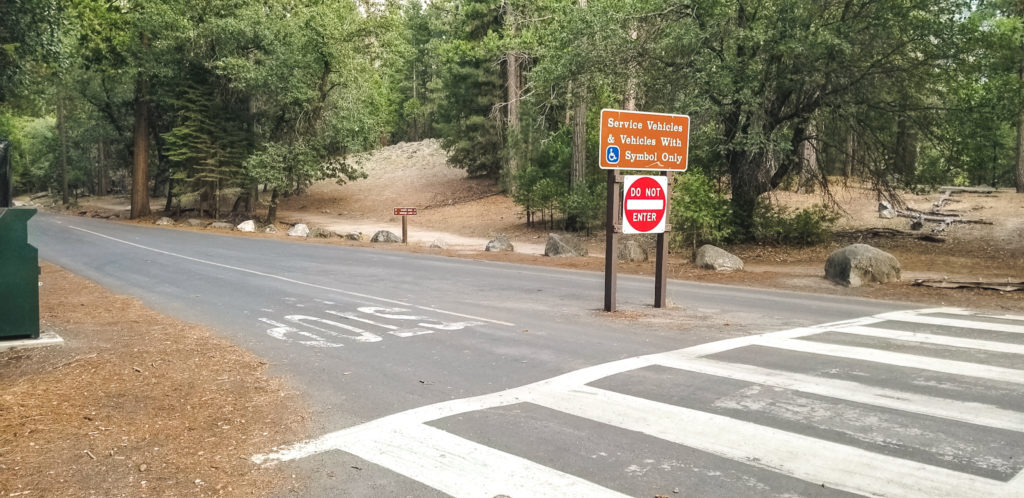 The photo above shows the entrance just before the Mirror Lake Trailhead. You'll find the actual trailhead just a few minutes down the path.
The Mirror Lake Hike Trail Head is located just off the Yosemite Valley Loop Trail near Shuttle Stop #17 in Yosemite Valley. This is about a 12 minute walk from Curry Village.
You can either take the free shuttle, walk, or bike to the trail head. Park shuttles run every 15 minutes or so.
Quick Note: Shuttles are not currently running in Yosemite Valley due to Covid – 19. A permit is also required to enter the park through at least the end of 2020. You can find information on how to obtain a Yosemite permit by visiting the Recreation.gov website.
On the Yosemite Valley Shuttle Map above you can see Mirror Lake on the upper right hand side of the map. Just below Mirror Lake, you can see the marker for Shuttle Stop #17.
Bicycles are permitted on the paved access road but not on the dirt trails. Park Rangers use this access road as well, so remain alert for park vehicles.
How long is the Mirror Lake Hike?
It depends on which part of the trail you plan to complete.
If you are planning to hike just from the main road to Mirror Lake, then the hike is 1.2 miles each way, so 2.4 miles round trip. This will take you about 1 hour.
If you are planning to hike to Mirror Lake and complete the Mirror Lake Loop Trail, then the hike will be about 5 miles round trip. This will take you about 2 to 3 hours.
What to expect on the Mirror Lake Hike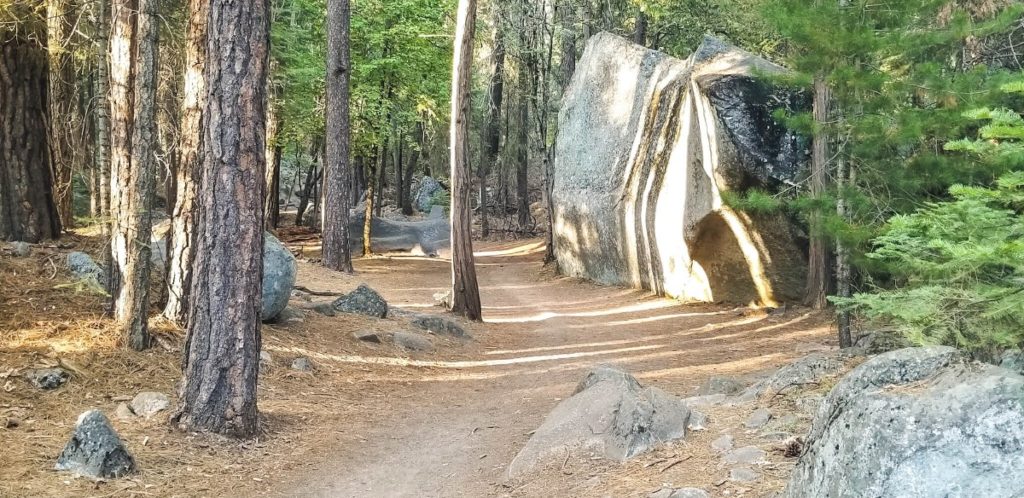 The Mirror Lake Hike is an easy hike, no matter your fitness level. Whether you choose to do the out and back hike (2.4 miles) or the full Mirror Lake Loop Trail (5 miles), the trail is relatively flat with a small elevation gain of 100 feet.
The first section of the trail will be along the paved road along side Tenaya Creek. Once you reach the dirt trail, you'll be on a peaceful path around the lake lined with trees, boulders, and rocks.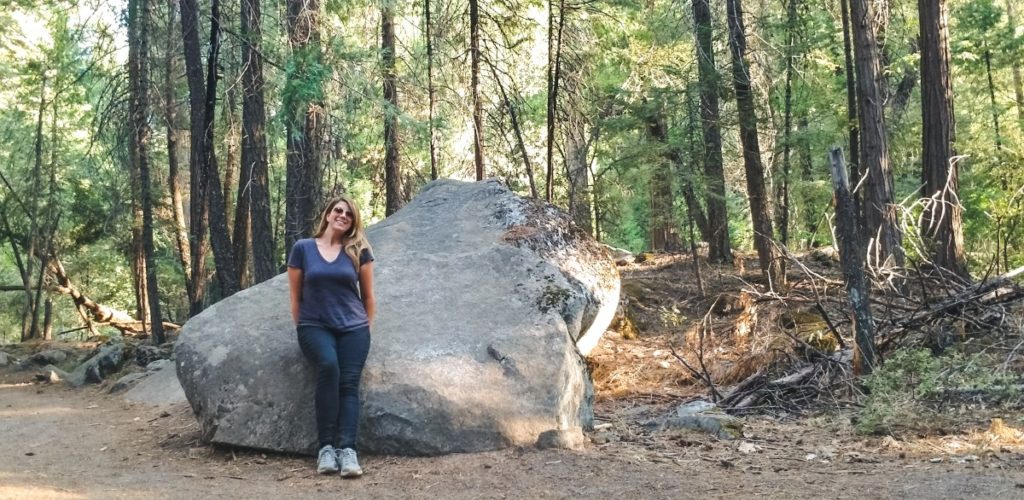 I thought all the big boulders were really cool so I stopped several times along the way to get some pictures.
I was really fortunate to visit when the park was not that busy. As of September 2020, reservations are required to enter the park, so it was nice to have the trail all to myself.
How to prepare for the Mirror Lake Hike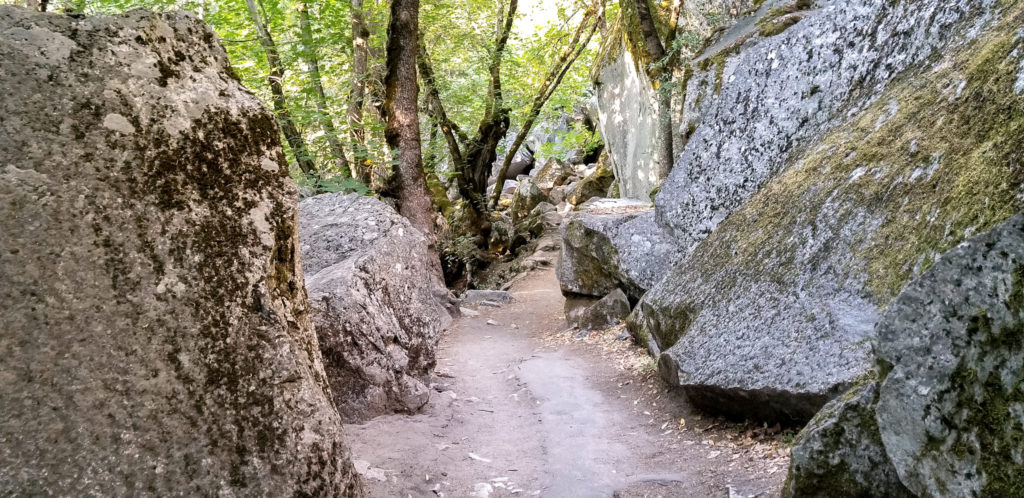 Overall the Mirror Lake Hike is fairly safe. As with all hiking trails, you should be sure to wear proper hiking shoes and bring plenty of water. Don't forget to wear sunscreen.
You'll find two restrooms along the trail but there are no fresh water sources, so bring more water than you think you'll need.
The biggest hazards along the trail are the large rocks and boulders that you'll be stepping over. Keep your eye on the trail in front of you and you should be fine.
This section of the park is also a Mountain Lion habitat. It is advised to not hike alone or jog on the trail. If you do, just remain aware of your surroundings.
If you happen to come across a Mountain Lion, make yourself appear larger and make a lot of noise. Do not run away, unless you want to get chased. Instead, back away slowly and continue moving away until you're at a safe distance.
Best time of year for the Mirror Lake Hike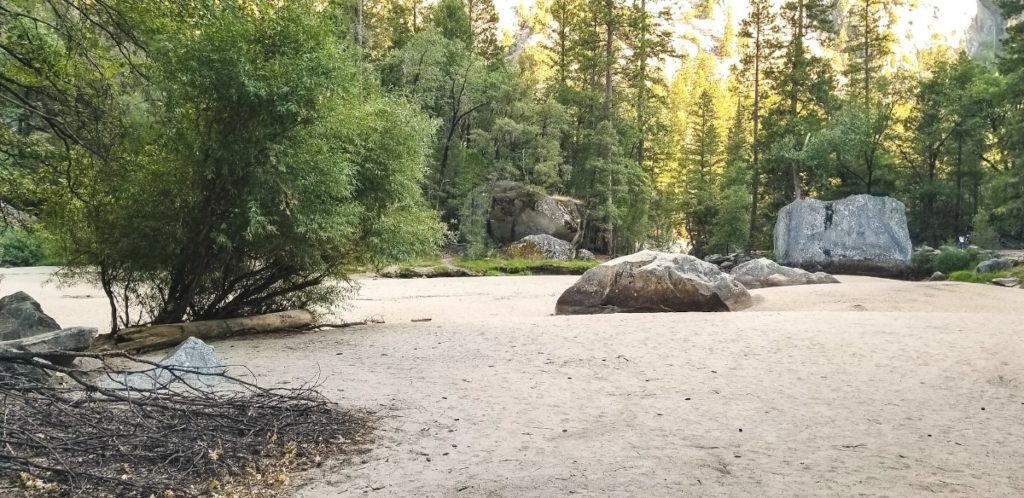 Short answer, Spring and early Summer if you'd like to see the lake.
If you visit during the late Spring or early Summer, you should come across a beatiful mirrored lake at the end of the trail. However, if you do this hike in the late summer or fall, you'll arrive at the sand pit pictured above. It's still beautiful here, but you will not find water.
If you visit during the winter months, you may get to experience the park with snow on the ground. I've yet to personally experience Yosemite in Winter, but really hope to do so one day.
The best time to visit Yosemite for waterfalls, lakes and rivers is late May or early June. Come during the week to avoid the crowds.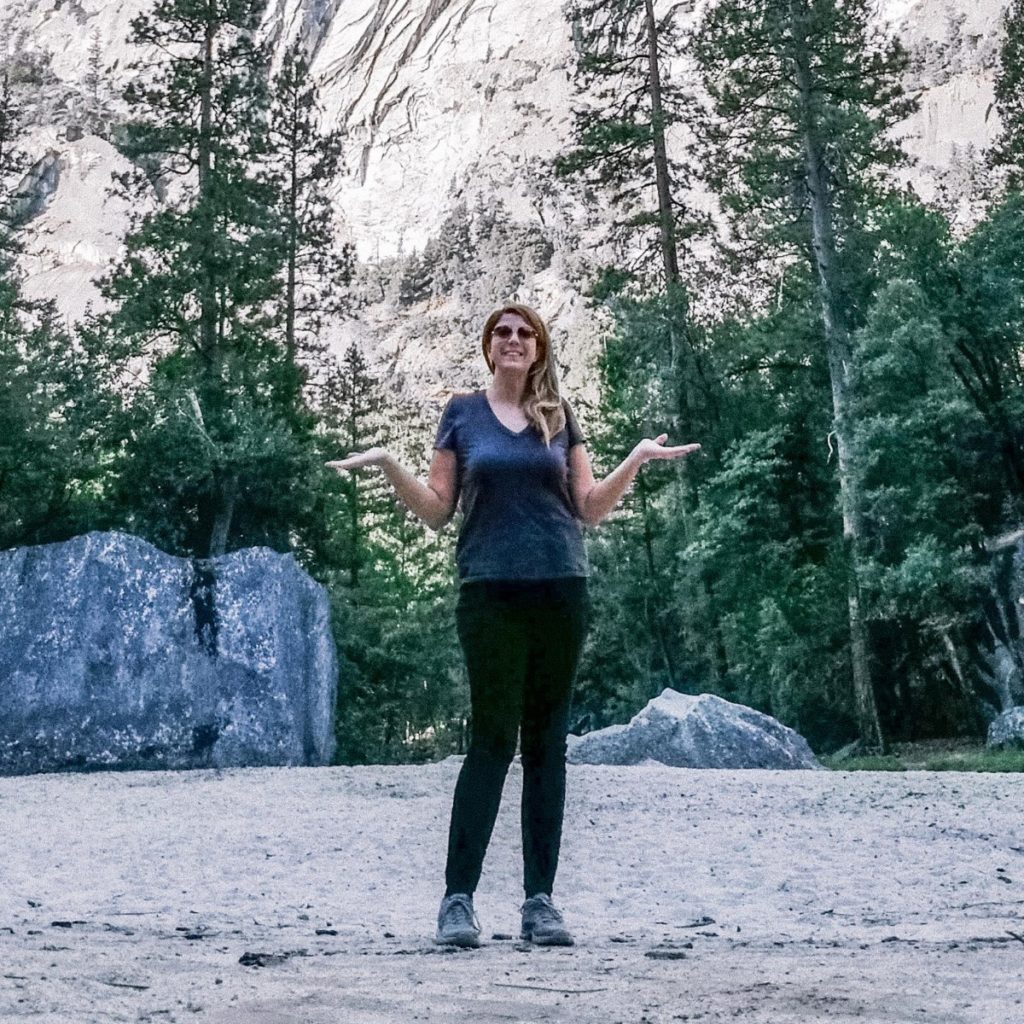 Truth be told, I forgot to account for the fact that I was visiting Yosemite at the end of summer. So I completed this hike with the hope that I could get some photos of the lake for this post you're reading now.
Instead, I was greeted with a dry lake bed, but that's okay. I got some fun pictures anyway. Besides, Yosemite is beautiful no matter the time of year, so this hike is worth it either way.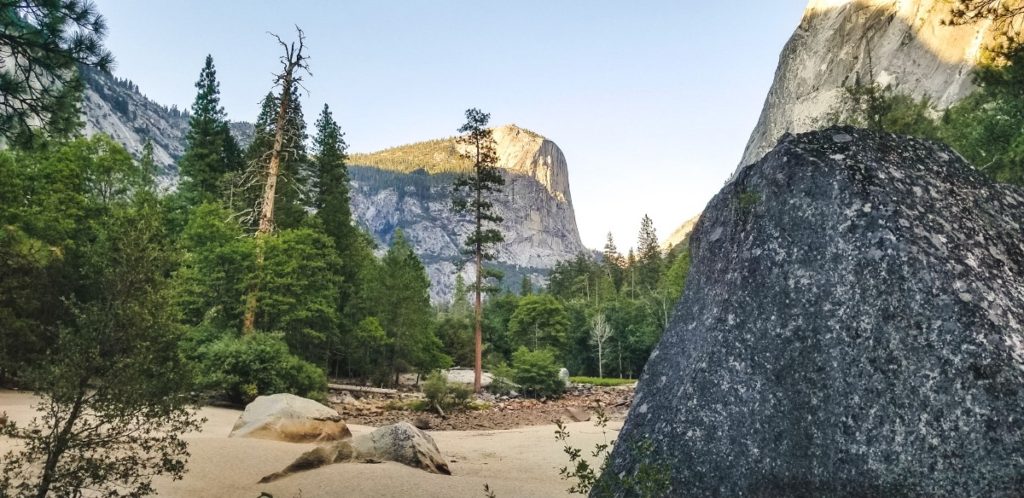 Regardless of the time of year you visit, or whether you arrive at a beautiful mirrored lake or a dry creek bed, you'll find yourself standing in the shadows of North Dome and Half Dome.
Off in the distance, you'll see Mt. Watkins at the end of Tenaya Canyon.
If you're a more experienced hiker and looking for a bigger challenge, consider hiking the Snow Creek Trail. You'll find the turn off for the Snow Creek Trail about a mile beyond Mirror Lake.
The Snow Creek Trail climbs steeply out of Tenaya Canyon through a series of steep switchbacks leading up to the rim of the canyon. This is a strenuous hike and will take about six or seven hours. I haven't done it, but I'm told the views from the top are incredible. No doubt they are.
Other popular hiking trails from Yosemite Valley are the Mist Trail up to Half Dome, Vernal Falls, or Nevada Falls, and the Yosemite Falls Trail. Both of which are steep and strenuous, but offer incredible views of the park's waterfalls.
I hope you've enjoyed this Ultimate Guide to the Mirror Lake Hike in Yosemite. If you'd like to support this blog please consider sharing this post. Thanks for reading.
Book Your Trip
Find the best flight deals by using Google Flights, then book direct with the airline. This is the search engine I use to compare flights and prices before booking my own trips.

BOOK YOUR ACCOMODATION
I recommend searching for hotels through Booking.com to compare hotels on amenities, location, and price. If you are a member of a hotel's rewards program, always book direct with the hotel. If you are not loyal to a specific hotel brand, using Booking.com for the best price.

TRAVEL INSURANCE
Travel insurance is more important than ever. For just a few dollars a day you can protect yourself and your trip. I personally use World Nomads, but whomever you choose, don't skip out on travel insurance. It can literally save you thousands of dollars.


Want to save it? Pin it.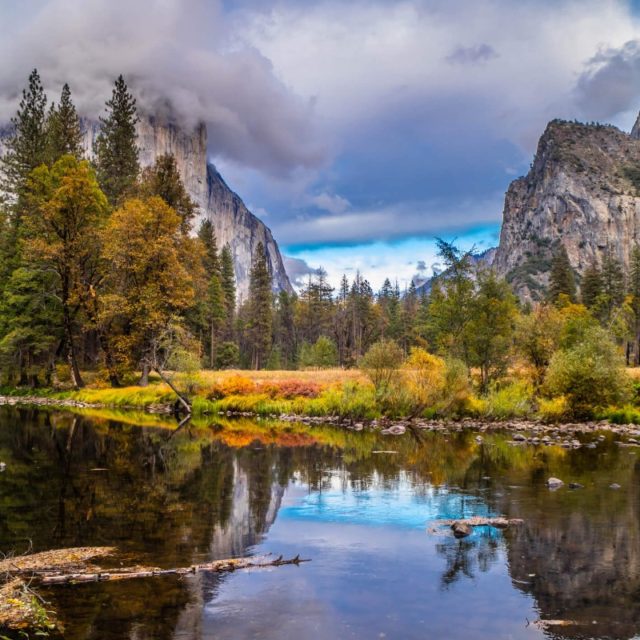 Photo by Cheri Alguire If you're looking to tackle the Mirror Lake Hike in Yosemite, you've come to the right place. I just returned from a …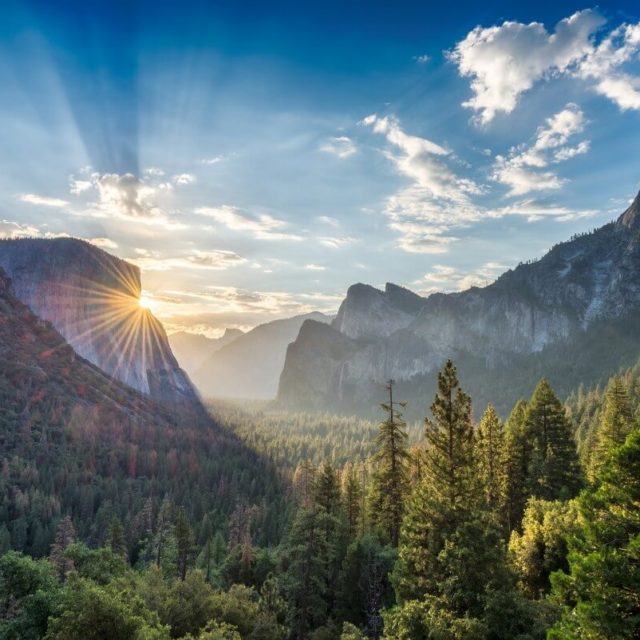 Photo by Agaliza If you're planning a visit to Yosemite National Park, you absolutely must catch a Tunnel View sunrise. Tunnel view Lookout is one of …