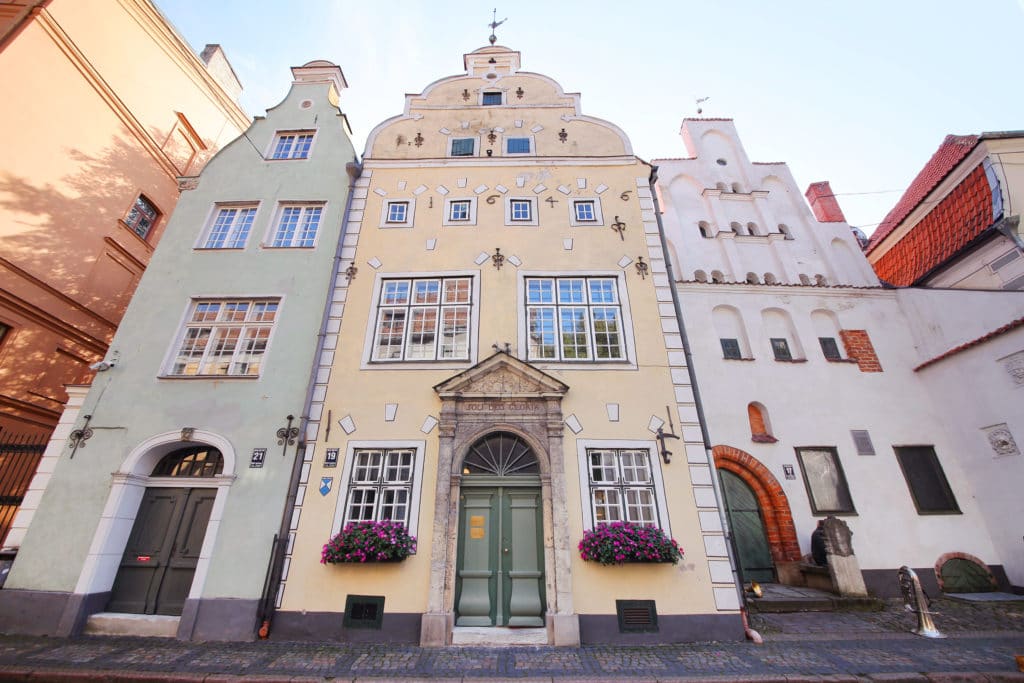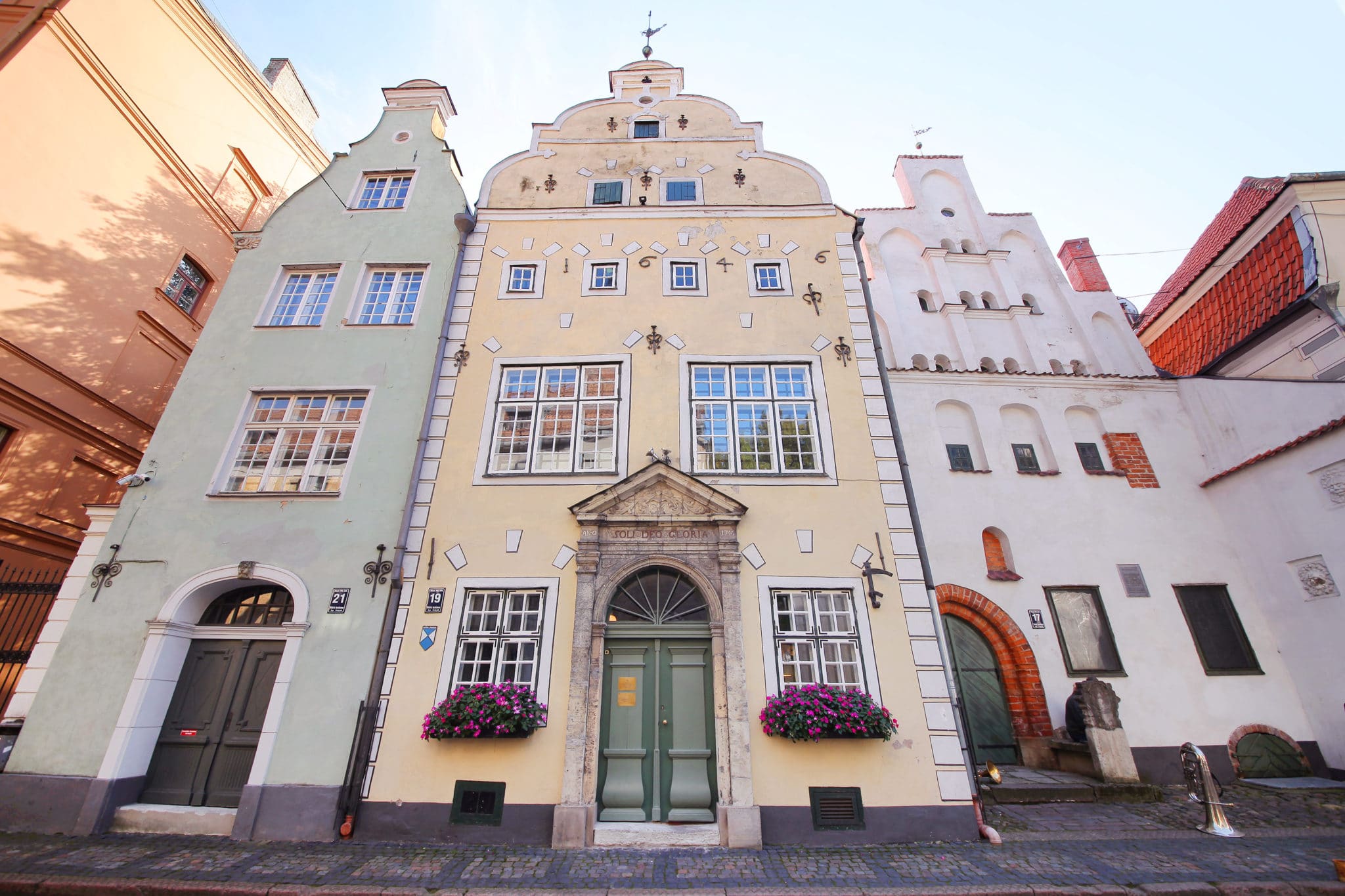 I'm not gonna lie, I didn't have high expectations while planning my trip to Riga last year.
But I gotta tell ya, after just one day in Riga, I was hooked.
Riga is one fun city. It's got a beautiful historic center, a lively bar and cocktail scene, and an up and coming restaurant scene.
Pair all that with it's low key cool Art Nouveau and Beer Districts, and you've got the making of a great vacation destination.
I put together this itinerary for those of you short on time but who want to see as much of this amazing city as possible in just one day.
Fortunately, Riga is a very walkable. You can get just about anywhere in the city on foot.
So lace up your sneakers, grab your phone and camera, and let's get going.
Top 14 Things to Do with One Day in Riga
To get through this list of what to see in Riga in one day, you'll need a comfortable pair of walking shoes and a phone with Google Maps, or a similar application.
You'll be using Google Maps to get walking directions to take you from place to place.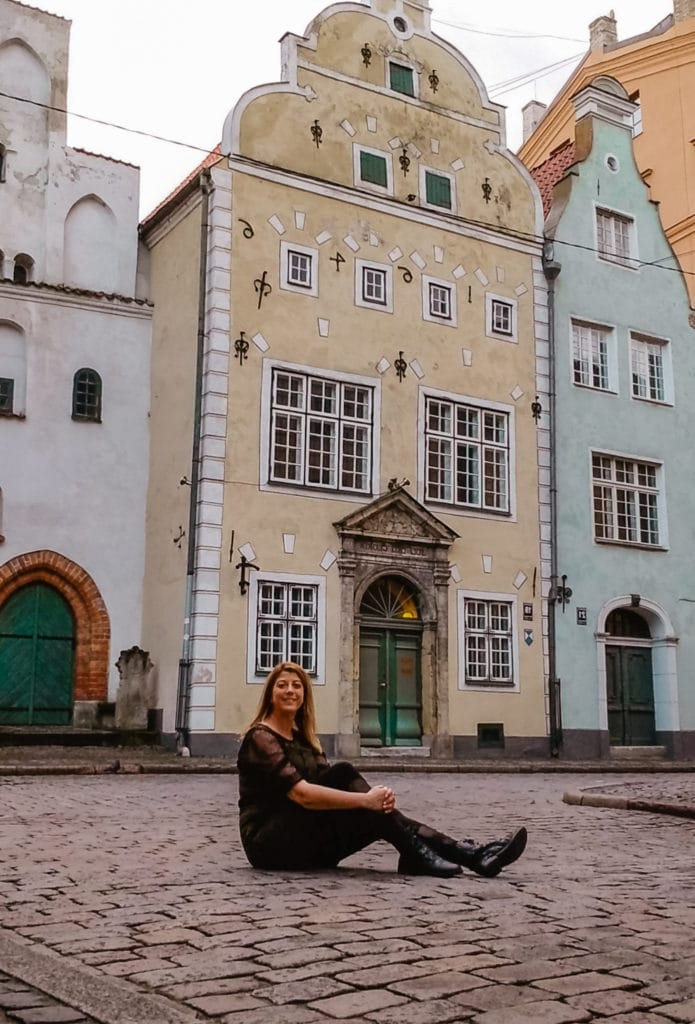 1. Get a picture with the Three Brothers
A Riga one day itinerary would not be complete without a visit to The Three Brothers.
The three houses that make up the Three Brothers represent different development periods in the city of Riga. 
The oldest is the white house which was built in the 15th century. The yellow house was constructed around 1646, and the green house was built towards the end of the 17th century. 
If you would like to get pictures of The Three Brothers, plan to arrive on the early side so you have time to set up your shots and not have to worry about crowds.
You can find the Three Brothers in the historic city center, Google Maps will help you navigate your way.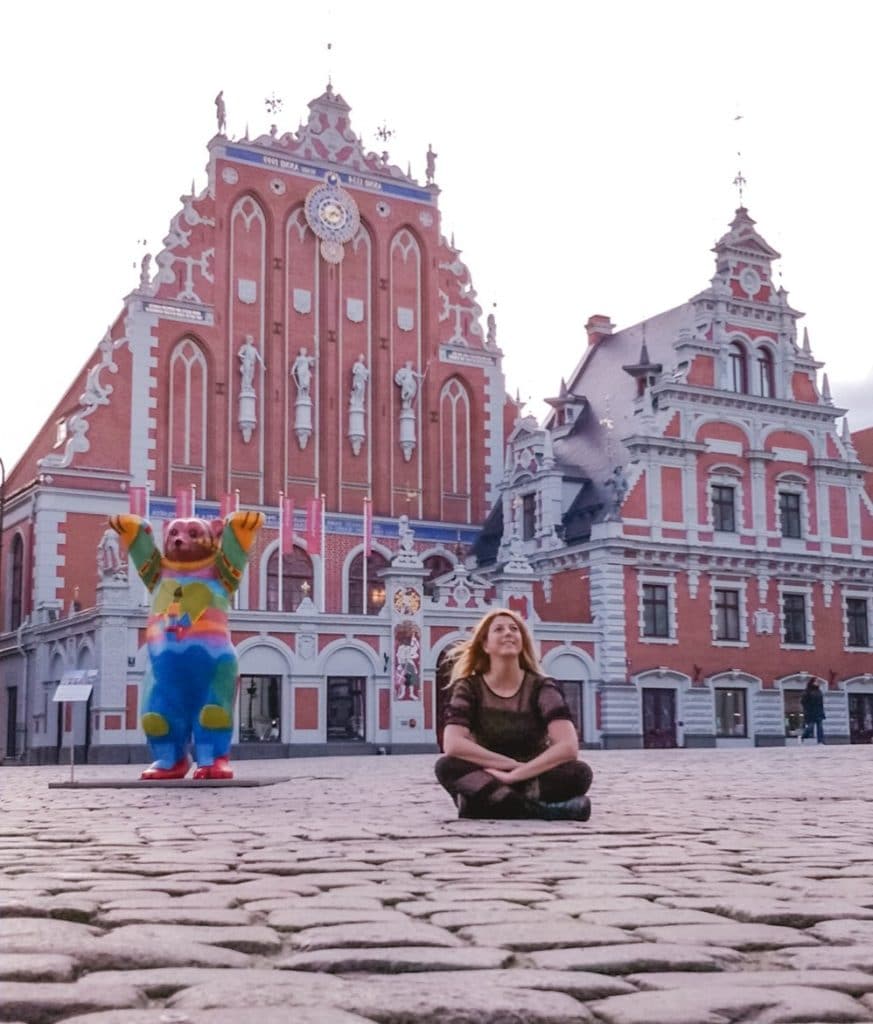 2. See the House of the Black Heads
The House of the Black Heads is a famous landmark in Riga's Old Town area.
The building was originally constructed during the early 14th century, though it had to be rebuilt after it was destroyed in World War II. 
The original building was constructed as a gathering place for various Riga public organizations.
In the 17th century, the Brotherhood of the Blackheads, a guild for unmarried merchants, ship owners, and foreigners in Riga became the sole occupant of the building.
The space was intended to promote entrepreneurship and be used for banquets and meetings for its members.
Today the space is used for exhibitions, concerts, and other events. The facade of the building is the highlight of the town square and is one of the most popular destinations for visitors to Riga.
I recommend arriving early if you'd like to get pictures. The square in front of the building gets very busy during the day.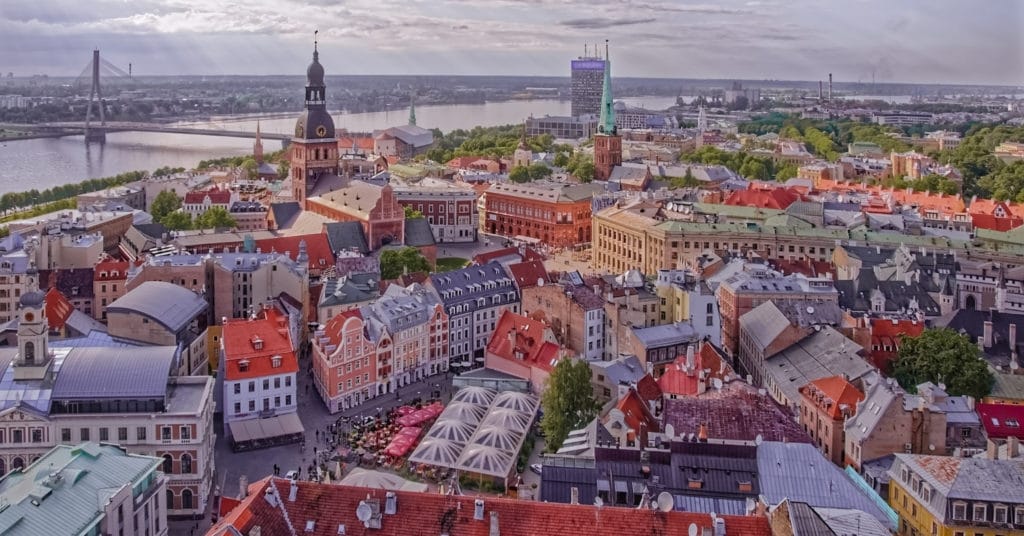 3. Climb to the top of St. Peter's Church
Visitors can find the best view of Riga from the top of the St. Peter's Church bell tower.
The view from the top will give you a bird's eye view of the surrounding city center, the Daugava River, and Town Hall Square. On a clear day, it's the perfect spot to capture a photo of the city.
The church itself is an important example of medieval architecture and was designated a UNESCO World Heritage Site in 1997. 
In the past St. Peter's was a Catholic church but has since been converted to a Lutheran church.
It was originally built in the 13th century but underwent a series of reconstructions over the years. 
I include a visit to St. Peter's Church bell tower on the early side because you'll get better pictures before the sun is directly overhead. However, another option would be to move your visit to the bell tower later in the day.
Depending on the weather and time of year of your visit, you may be able to end your 1 day in Riga by watching a beautiful sunset over the city.
St. Peter's Church is generally open from 10:00 a.m. to 6:00 p.m. Tuesday through Sunday. They are closed on Mondays.  However, hours do vary depending on the time of the year and holiday celebrations.
You are encouraged to visit their website prior to your visit in order to time your visit properly and ensure you will have access to the bell tower. Admission for adults will be 9 Euros.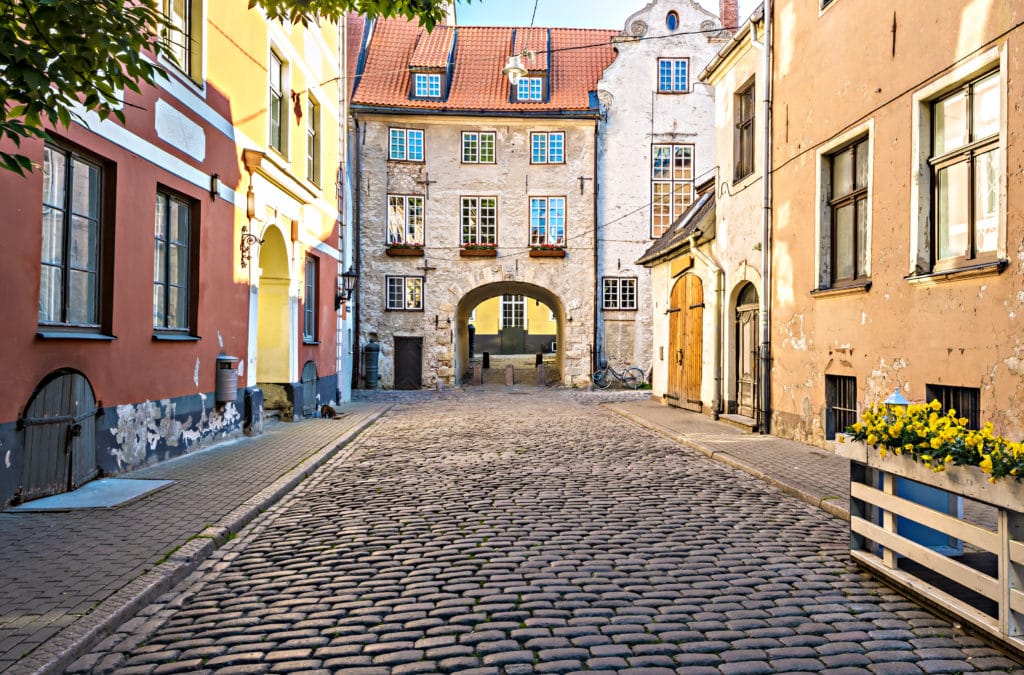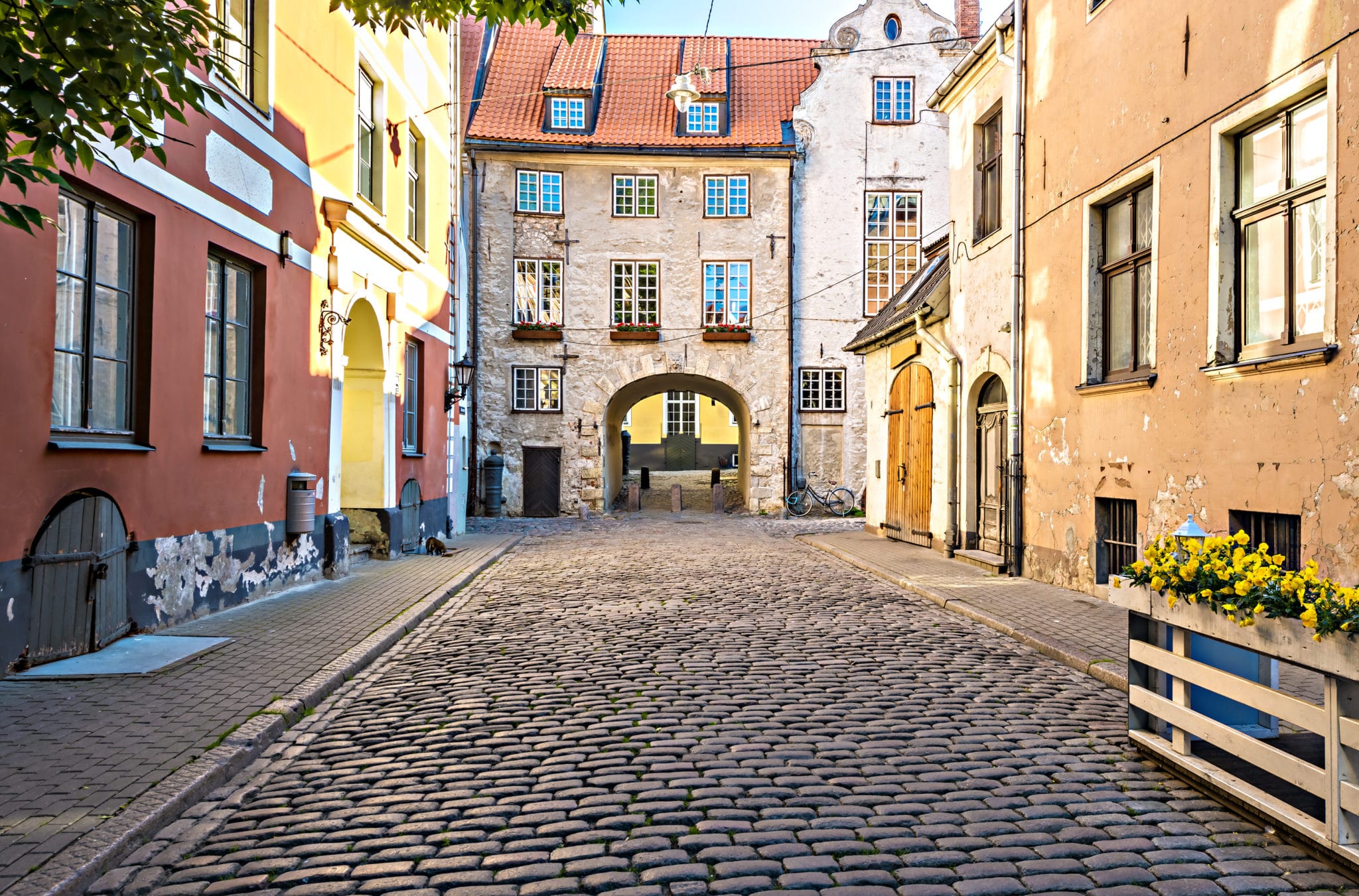 4. Walk through the Swedish Gate
You can find the historic Swedish Gate in Old Town Riga. The gate is part of the city's old town walls that circled the old city for protection back in Medieval times.
The Swedish Gate was built in 1698 after the Swedish – Polish War when the Swedish Kingdom took control of the city.
Today, the Swedish Gate leads to a few narrow cobblestone streets that remain from Medieval times.
These streets are beautiful and fun to walk through, especially early in the morning before they become crowded.
The Swedish Gate is always open so you can visit whenever you like. Though I recommend visiting in the earlier part of the day.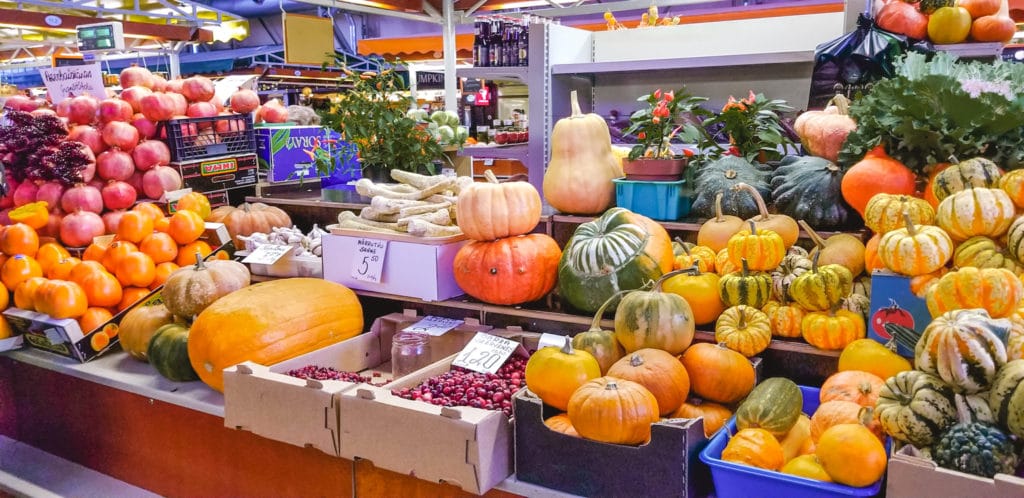 5. Eat your way through Riga Central Market
The Riga Central Market is the largest such market in Europe and the place to go if you'd like to sample traditional Latvian food and get a glimpse of local life.
The Riga Central Market is frequented by Riga chefs and restaurant owners seeking fruits, vegetables, and meat to prepare and serve their customers
The market itself is divided into different sections by type of food. You'll find fruits and vegetables in one building, seafood in another, and meat in yet another.
There are also several stands serving prepared foods as well. It's a great place to walk around, especially in the morning as everyone is getting set up for the day.
The Riga Central Market is open daily from 7:00 a.m. to 6:00 p.m. though some stalls and merchants are not open until a bit later. The market closes at 5:00 p.m on Sundays.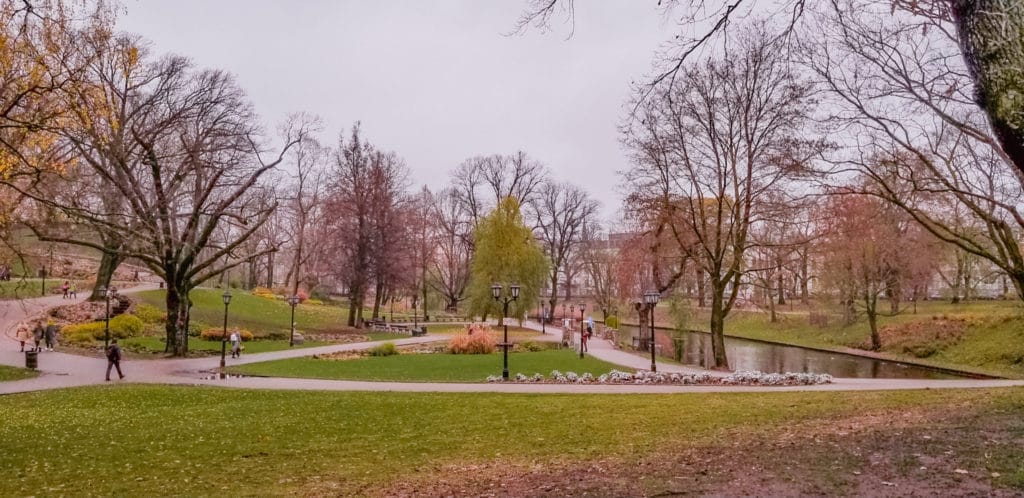 6. Go for a walk in Bastejkalna Park
Bastejkalna Park is a large green recreational space in the center of Riga.
The park features walkways and trails that run alongside the canal. Visitors can rent boats to cruise along the waterways during the warm summer months.
There is plenty of seating to rest or relax along with large grassy areas making the park the perfect place for a picnic.
Just be sure not to bring any wine or beer as it is illegal to drink outside in public in Latvia.
The park also features lots of plants, flowers, and bridges. If you're a photographer, the park is a great place to get some unique photos of the city.
If you're not a photographer, the park is a great place to mingle with locals and get a glimpse of daily life in Riga.
You'll see lots of locals out getting some exercise, taking a walk, or just letting their children run around and play.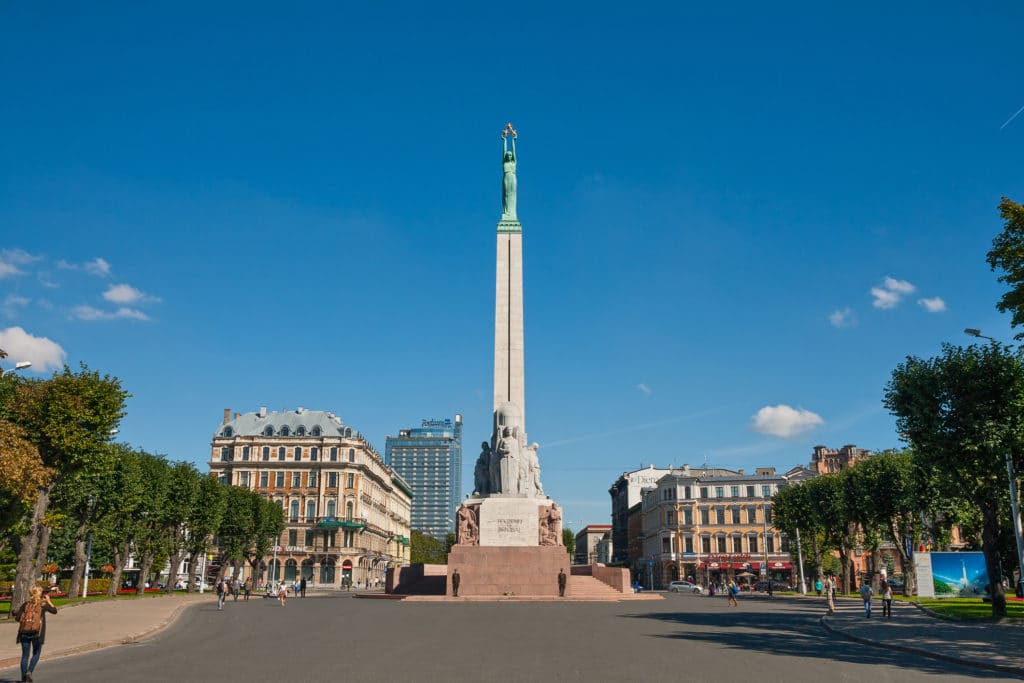 7. Visit the Freedom Monument
You can find the Freedom Monument on the main walkway in the center of Bastejkalna Park a few minute's walk from the historic center.
The Freedom Monument is a memorial honoring the soldiers killed in the Latvia War of Independence which was fought from 1918 – 1920. 
The monument was unveiled in 1935 and is an important symbol of the freedom, sovereignty, and independence of Latvia.
The monument stands 138 feet tall and is made from granite, travertine, and copper.
At the top of the monument stands a copper figure of Liberty holding 3 stars above her head. The 3 stars represent the constitutional districts of Latvia.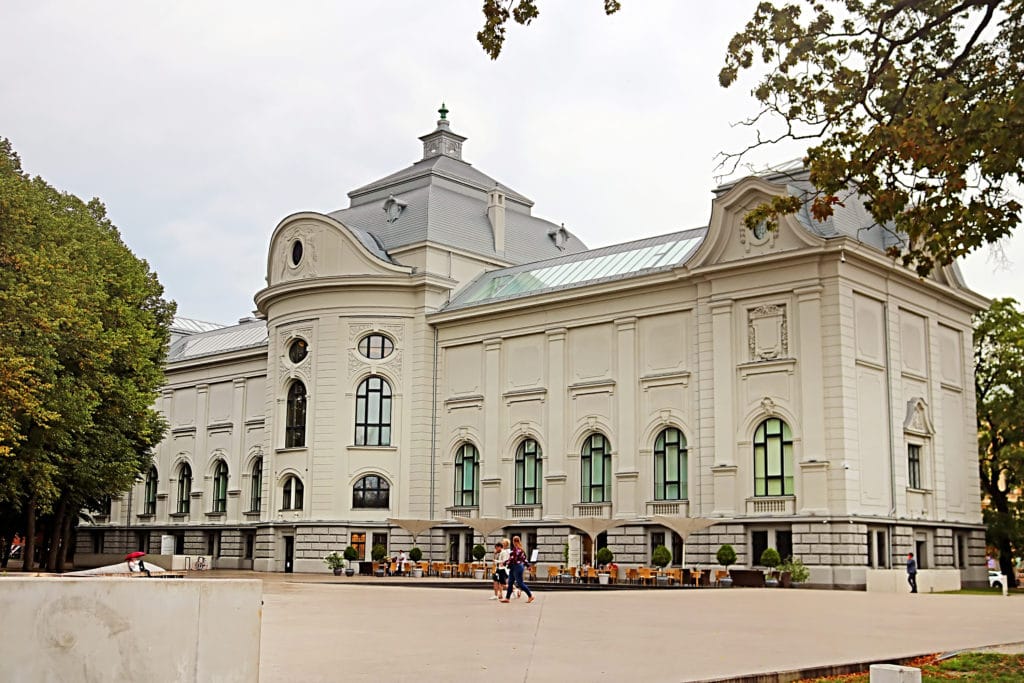 8. See the Latvian National Museum of Art
The Latvian National Museum of Art is located in the northeast corner of Bastejkalna Park. It's home to over 50,000 works of art created from the middle of the 18th century to present.
The museum focuses on Baltic and Latvian art, so a visit or tour at the museum is a wonderful way to learn more about Latvian culture and history.
Latvian National Museum of Art is open from Tuesday through Sunday from 10:00 a.m. to 5:00 p.m.
They are open later on weekdays, so check their website prior to your visit. The museum is closed on Mondays. 
Admission will be about 6 Euros and if you'd like to add the audio tour, it will be 7.50 Euros. Guided tours are also available at certain times and will cost extra.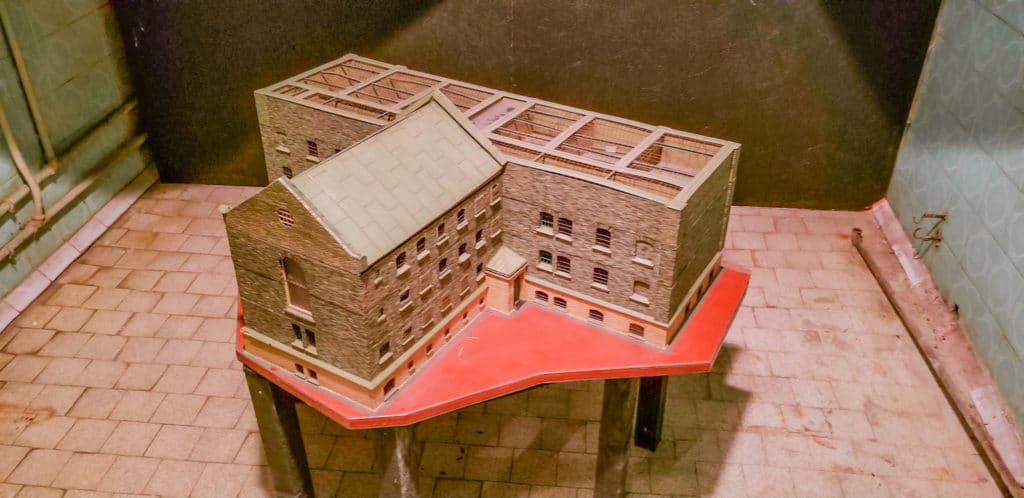 9. Tour the KGB Building
The KGB Museum Riga, or the Corner House, is a museum in Riga dedicated to educating its visitors on the atrocities that occurred there during the Soviet occupation of Latvia.
I encourage anyone visiting Riga to stop by the museum and participate in their guided tour. It was both educational and eye-opening.
I will warn you, a visit to the KGB Building is not light or fun, but you will come away from the experience with more knowledge than you had before.
Admittedly, my eyes teared up a few times listening to the stories of events that occurred there. 
However, I think it's important to continue to educate ourselves on past events like these. We need to understand them in order to prevent them from happening again. 
The museum exhibition is open daily from 10:30 a.m. to 5:30 p.m. Admission is free of charge.
Guided tours of the cell block are held 5 times daily at 11.00, 12.00, 1.00, 3.00 and 4:00 p.m. The guided tours will cost 10 Euro per person.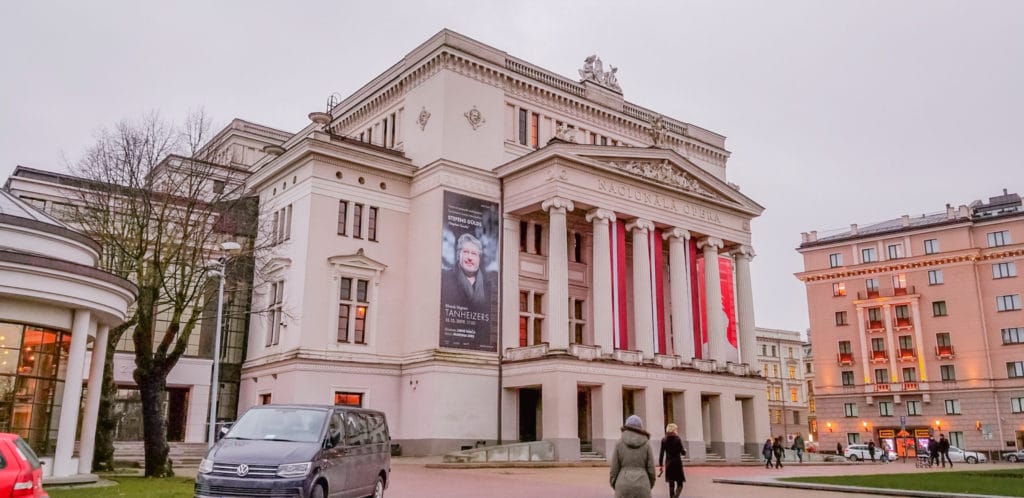 10. Visit the National Opera
If you'd like to add some glamour to your Riga in 1 day itinerary, consider a night at the opera.
The Latvian National Opera is located near Bastejkalna Park. It is home to the National Opera of Latvia, Latvian National Opera Chorus, Latvian National Opera Orchestra, and the Latvian National Ballet.
It is housed in a gorgeous building constructed in the Classicism style in 1863. 
Performances at the opera are seasonal, but there is almost always something scheduled.
Be sure to check their website for tickets before you arrive in town. Despite the opulence of the theatre and quality of performances held here, tickets remain affordable.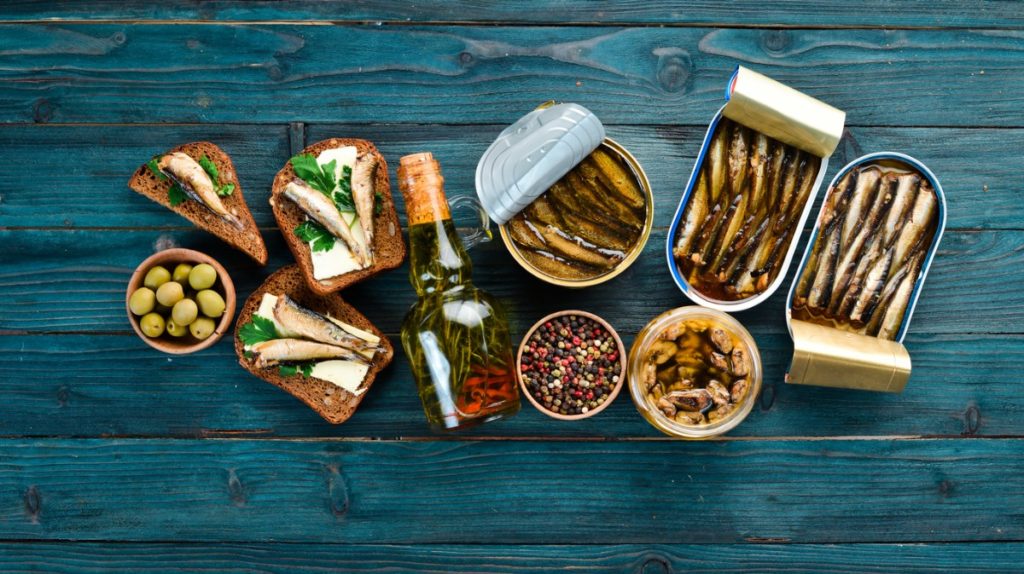 11. Try Latvian cuisine
One of my favorite things about my visit to Latvia was figuring out where to eat in Riga.
One of the things that makes Riga such a hot destination right now is their up and coming restaurant scene. You'll find fantastic dining all over the city, no matter your budget.
To get started, be sure to try 3 Chefs Restaurant, Lido, and Valmiermuiza.
The most common ingredients you'll find in Latvian cuisine are potatoes, fish, cabbage, and rye bread.
During my visit to Riga, I came across a lot of pickled cabbage and beets, and a lot of fried herring. You will too.
If these ingredients are not your thing, I encourage you to give them a try anyway.
Enjoying the local cuisine is an important part of any culture, and certainly one of the best things about traveling.
Be sure to try the Black Balsam before you leave too. It's a licorice flavored liquor, you don't want to miss it.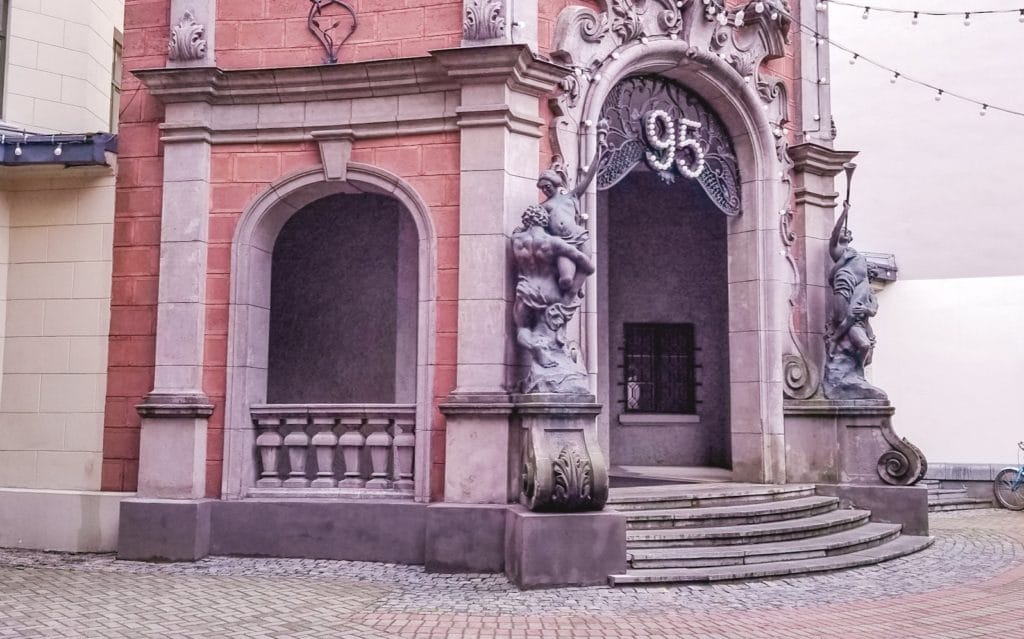 12. See a film at the Splendid Palace
The Splendid Palace Riga is a historic movie theatre in the Latvian capital. The theater originally opened in 1923 and was the first cinema in the Baltics to screen sound films.
Today, visitors can attend Latvian film premieres, international film festivals, live performances, concerts, and more.
Several films from various genres are typically screened throughout the day beginning around noon or 1:00 p.m.
Even if you don't have time during your one day in Riga to attend a film or performance, you can stop by to admire the theater's neo-Baroque exterior and neo-Rococo interior.
If you're in town during the weekend, guided tours of the theatre are held on Sundays at 11:00 a.m.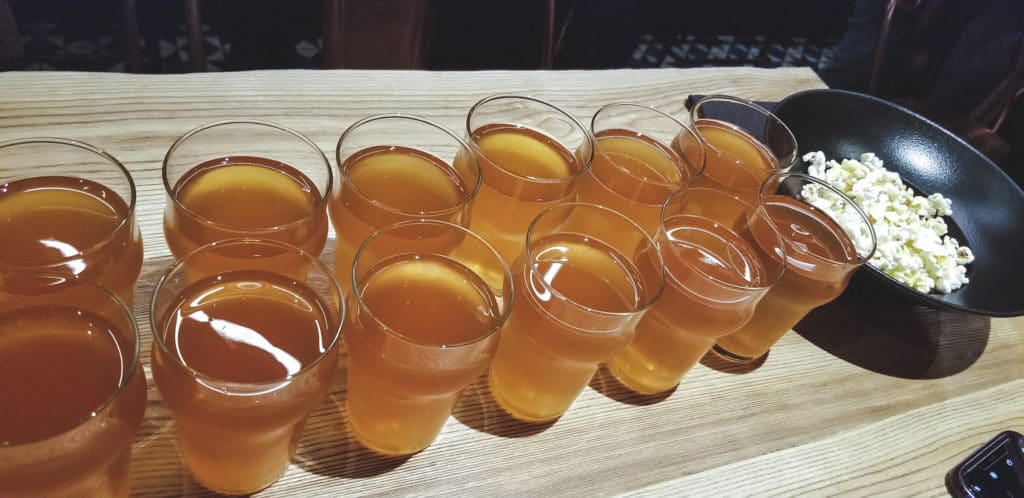 13. Go on a brewery tour
If you're a fan of beer, you're really going to like the craft beer scene in Riga.
There are dozens of breweries in the Riga Beer District which makes the perfect evening destination (or anytime really).
If you'd like to learn about the craft beer scene in Riga, consider taking a guided brewery tour. It's a fun way to end your visit, and a great opportunity to make some new friends.
Here are some of the breweries I visited and recommend:
Ziemelenkurs: A nautical-themed brewery serving beers aptly named such as Mermaid, Propeller, and Icebreaker. They also have great burgers. 
Alkimikis: A fantastic small brewery in the heart of Riga serving unique craft beer and delicious food. They use chili, chocolate, and even coffee beans to craft their beers. 
Labietis: This is a lively pub and brewery where you can watch the beer-making through a glass wall along the inside. They are also located near the hipsterish Miera Iela street. Once you're done sampling the beers, head out to explore the neighborhood.
Valviermuiza: This is a brewery, bar, market, and restaurant all in one. They specialize in perfectly pairing delicious beers with incredible Latvian food. If you do to just one place, go here.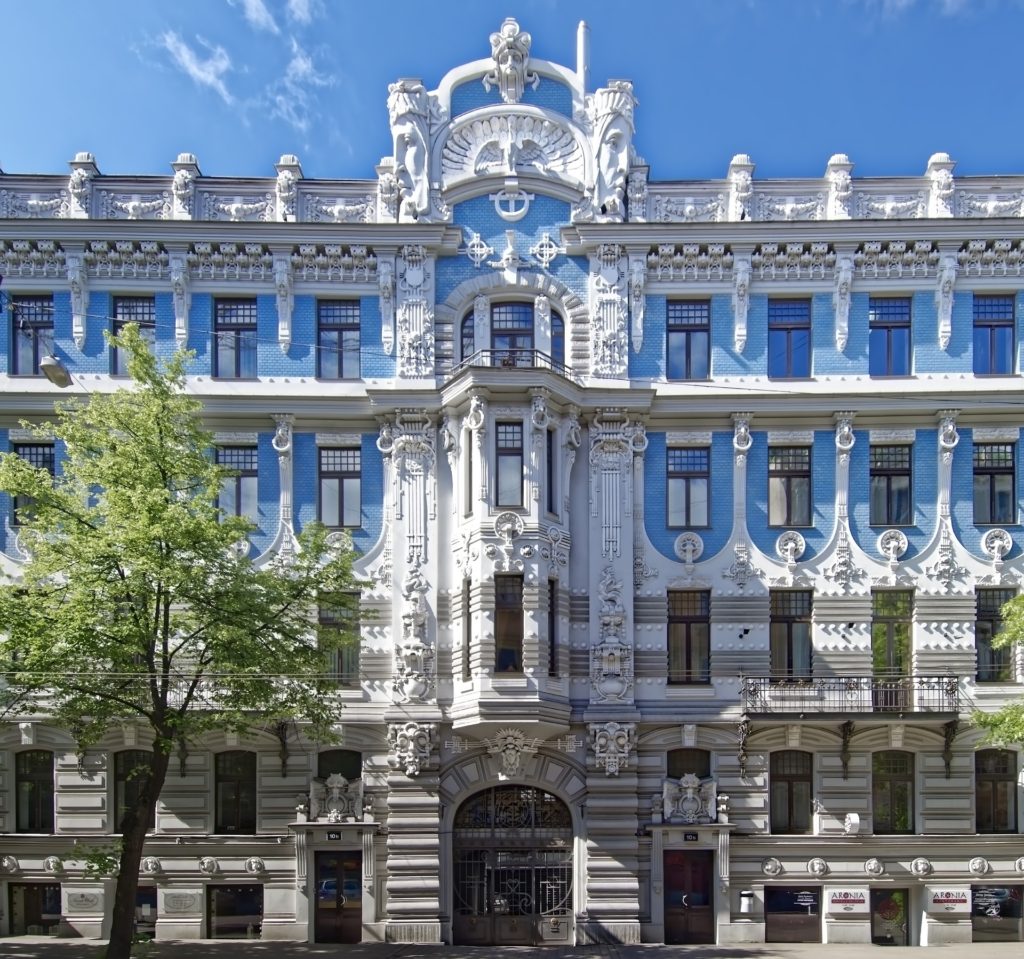 14. Take an Art Nouveau District walking tour
The city of Riga is widely known for its Art Nouveau architecture.
The Art Nouveau movement was popular between 1890 and 1910 across Europe. It featured a design inspired by women, nature, symbolism, and the supernatural.
Today, these buildings remain intact and are on display for all who care to seek them out. In fact, over 40 percent of Riga's city center is comprised of Art Nouveau buildings with over 800 across the city. 
If you'd like to do your own Art Nouveau walking tour, just head over to Albert Street and Elizabeth Street. They are about one block long each and run parallel to one another.
You can find them about a 15 to 20-minute walk from the Riga city center.
It's a peaceful walk and an excellent way to burn off all the delicious Latvian cuisine you've been snacking on during your one day in Riga adventure.
Trust me, it's a beautiful neighborhood and worth the effort to get there. 
One Day in Riga Tips
Here are a few tips to make your one day in Riga itinerary a bit more enjoyable.
Be prepared to do a lot of walking. The city is fairly compact and very walkable, so it's the easiest way to get from place to place.
Book your hotel near the city center. Most of the hotels in Riga are very affordable, so you should have no trouble finding a nice place to stay within your budget.
Make sure your phone is fully charged. Google Maps will take you everywhere you want to go, but it can start to drain your battery. Be sure you're starting the day with a full charge.
Bring a charger and battery pack with you. Since you've only got one day in Riga, you don't want to waste time having to go back to your hotel to charge your phone or camera, so just bring it with you.
Dress in layers. Riga can get chilly in the fall and winter, but once you start moving around you might get warm. Make sure you're able to add or remove layers as you go about your day.
If you've got more time to spend in Latvia, be sure to plan some day trips from Riga outside the capital city. Latvia is a beautiful country and a fun day trip is a great way to see more of it.
I sincerely hope you get the opportunity to visit Riga and that you love it as much as I did. I was so impressed by the city that I am hoping to return when I'm in the area again next year.
Whether you're visiting Riga for the first time from the United States, South America, or the Middle East, you're going to find Riga to be a unique and charming destination.
If you have any questions about this itinerary or about Riga, please send me a message. I'd love to hear from you and am happy to help if I can. Thanks for reading.
Book Your Trip
Find the best flight deals by using Google Flights, then book direct with the airline. This is the search engine I use to compare flights and prices before booking my own trips.

BOOK YOUR ACCOMODATION
I recommend searching for hotels through Booking.com to compare hotels on amenities, location, and price. If you are a member of a hotel's rewards program, always book direct with the hotel. If you are not loyal to a specific hotel brand, using Booking.com for the best price.

TRAVEL INSURANCE
Travel insurance is more important than ever. For just a few dollars a day you can protect yourself and your trip. I personally use World Nomads, but whomever you choose, don't skip out on travel insurance. It can literally save you thousands of dollars.


Want to save it? Pin it.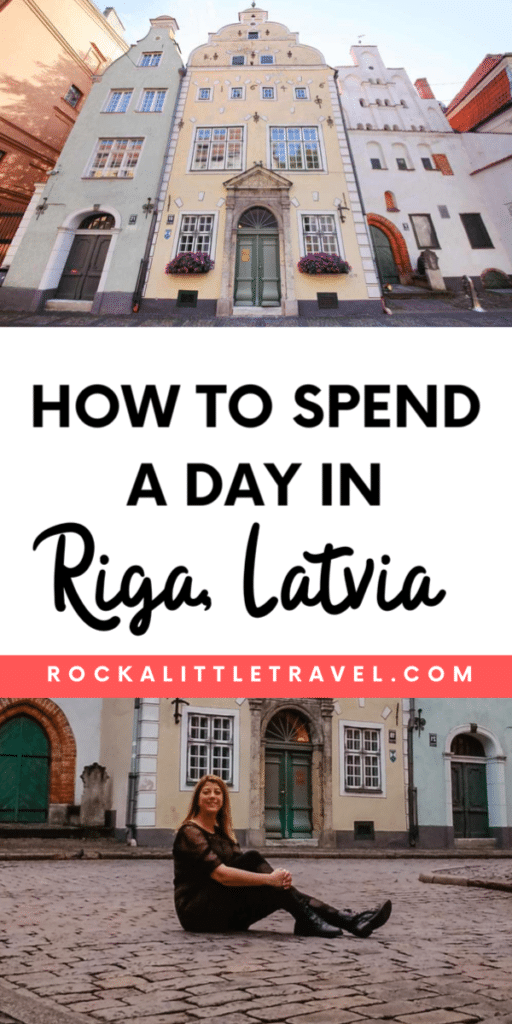 The KGB Museum Riga is unlike any of the other museums you've ever been to….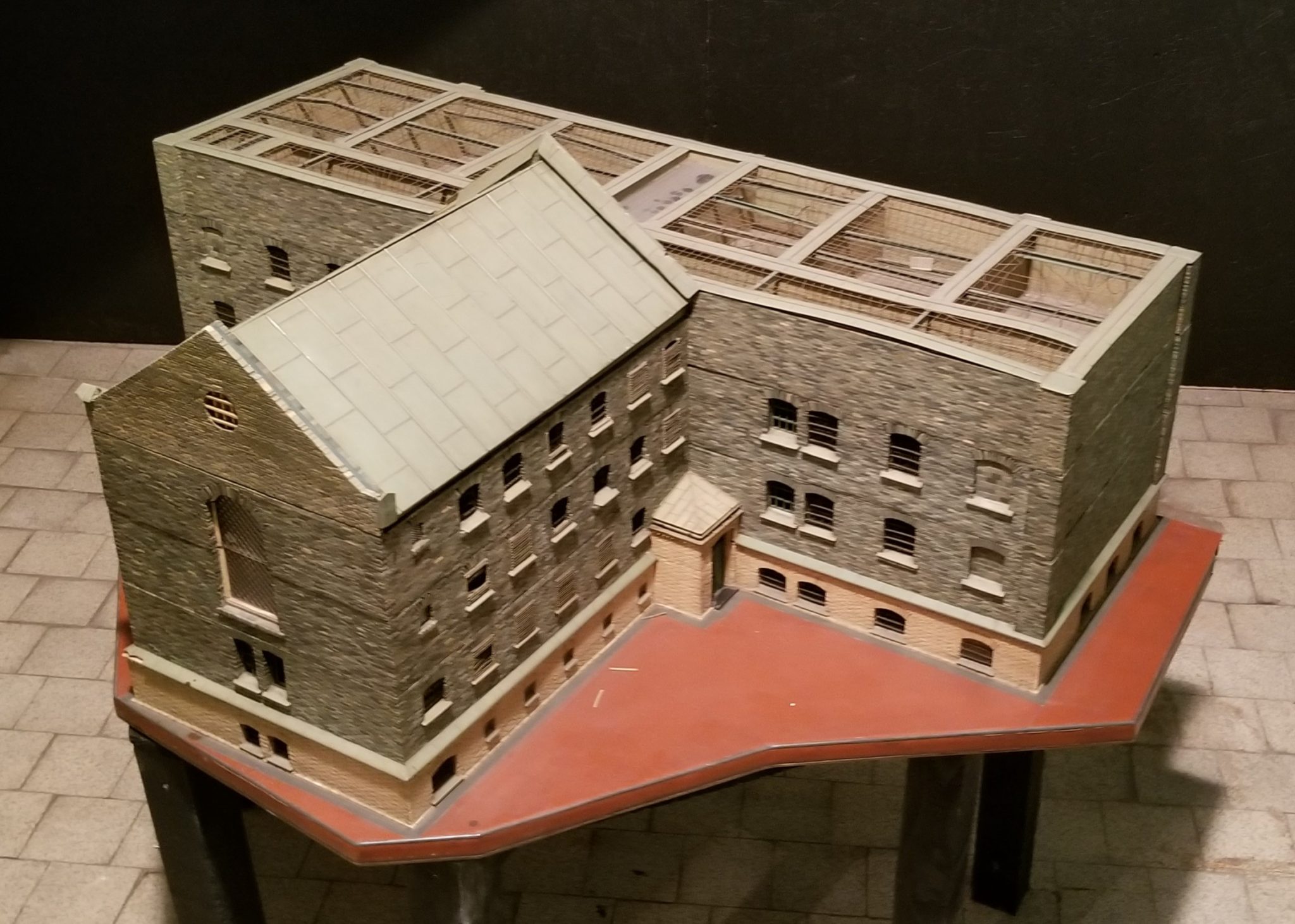 The Splendid Palace in Riga is a must visit destination for film lovers from around…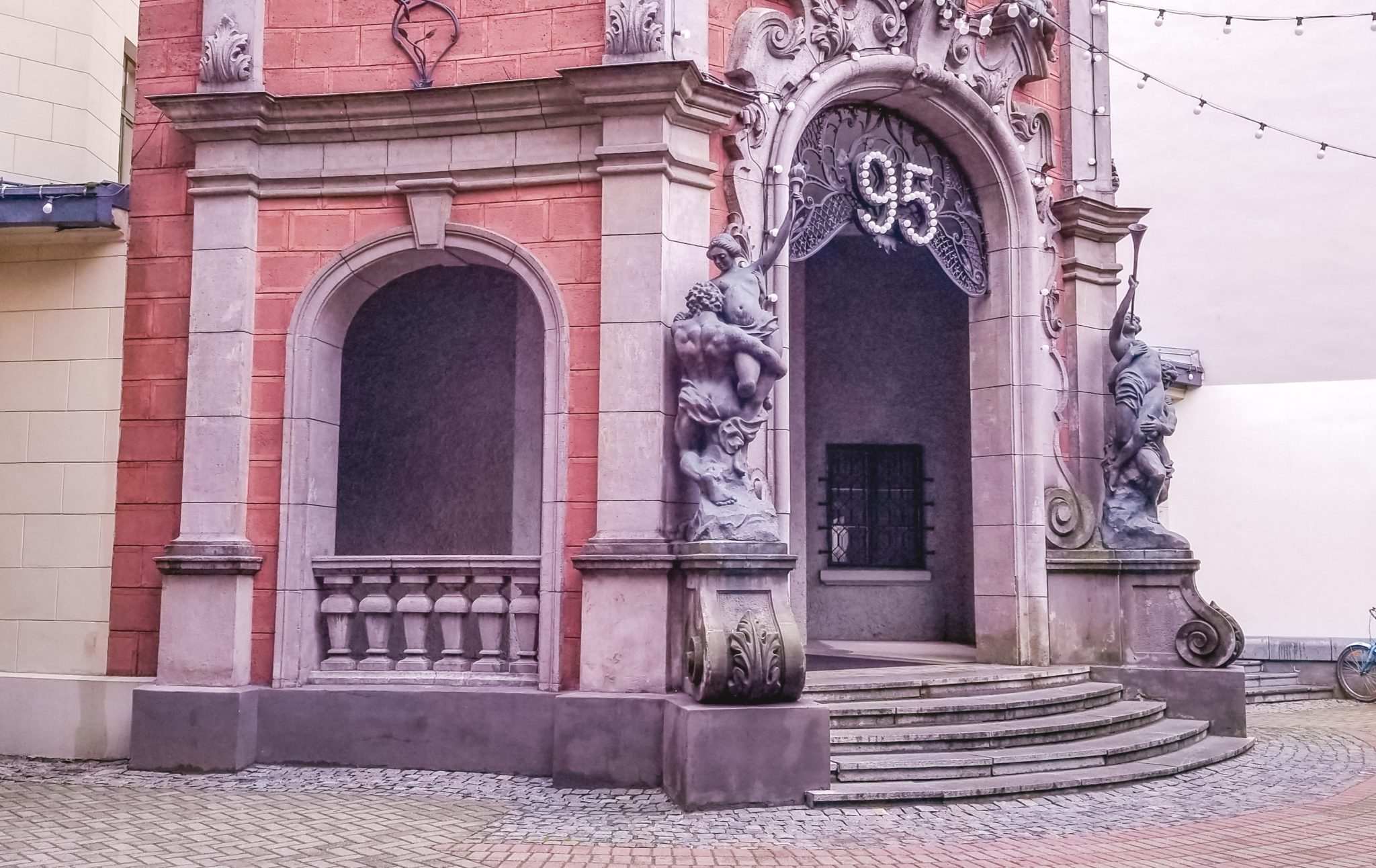 Photo by Pixabay The Three Brothers is one of the most popular destinations in Old…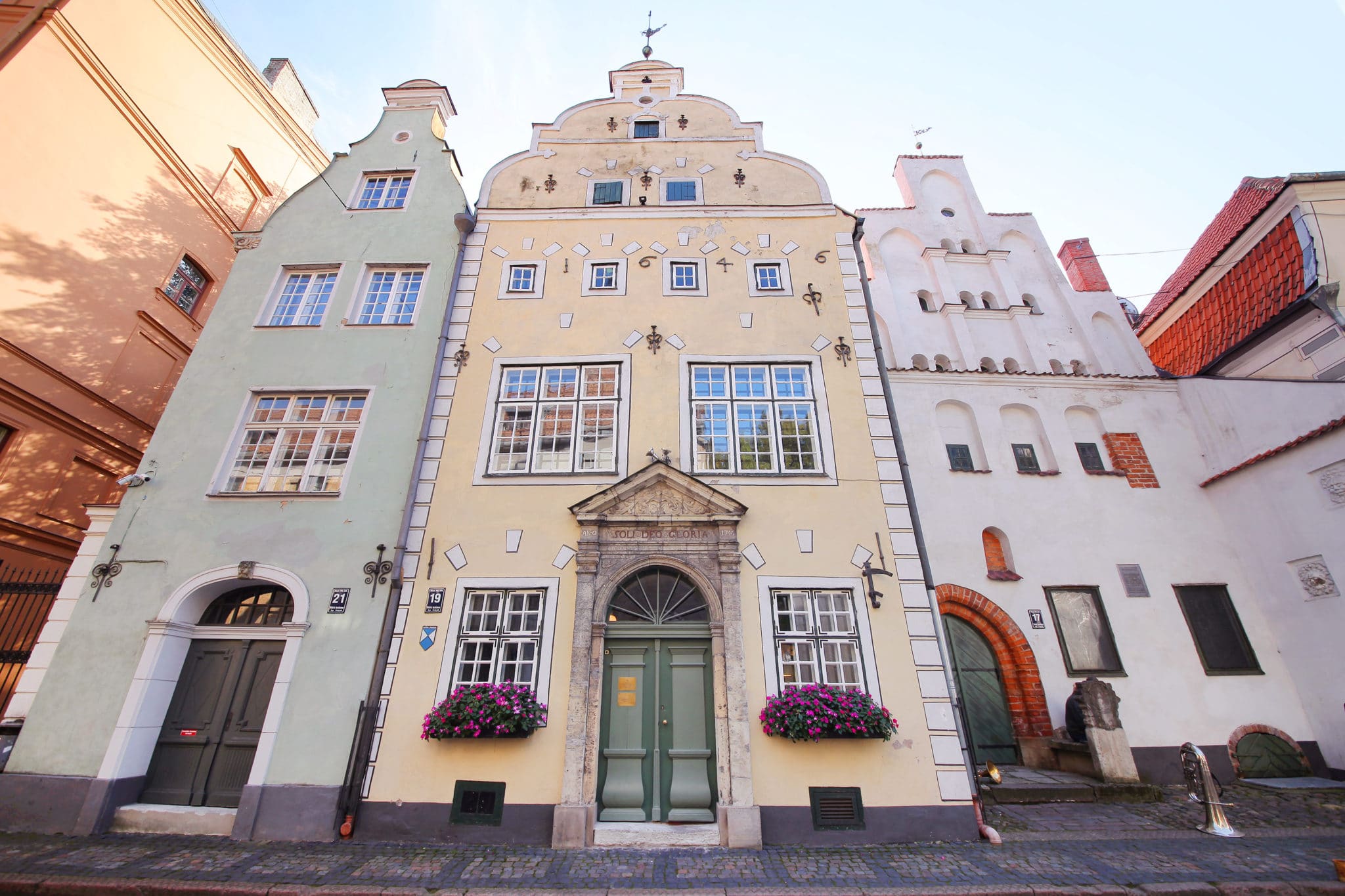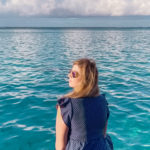 Eden Fite
Part-time Traveler | Dog Lover | Avoider of Crowds
I help busy people find creative ways to travel more.