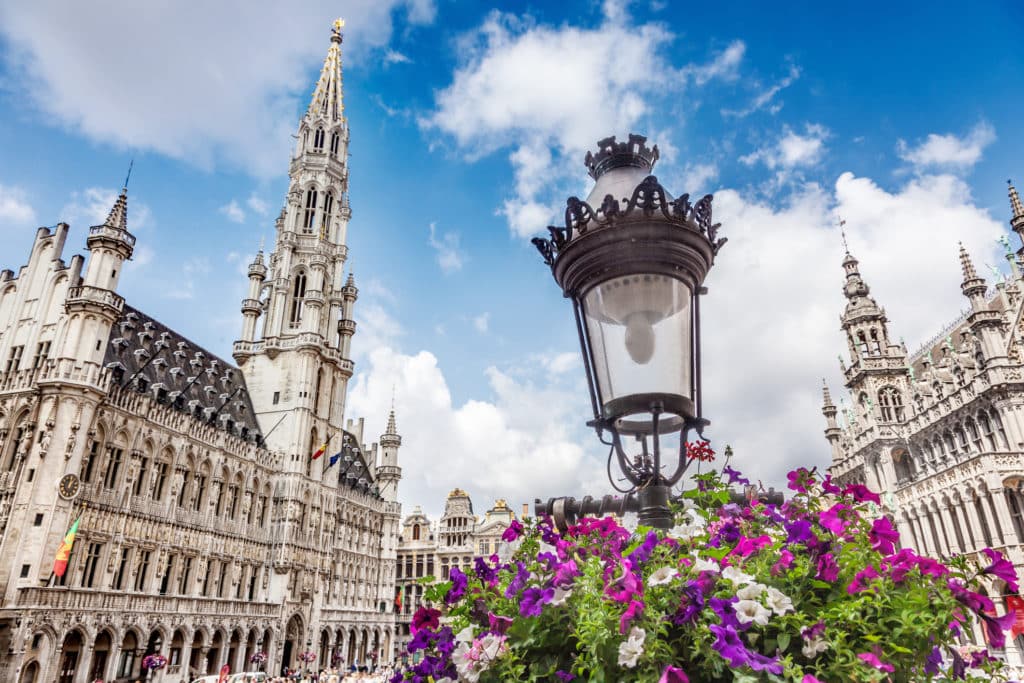 Even with just one day in Brussels, you're sure to fall in love with this wildly fun city.
As home to the European Parliament, Brussels is often referred to as the capital of Europe. People from all over the world come to Brussels for work and vacation, so you'll be surrounded by people of all kinds from all over.
Brussels is a city known for its historical archtiecture, its famous waffles, its decadent chocolate, and of course, its beer.
Brussels has something for everybody, and I think you're going to love it as much as I did. To make the most of your time and have a perfect day in Brussels, don't miss the destinations on my itinerary below.
Some of the links in the post are affiliate links. If you make a purchase through these links it helps to support this site at no extra cost to you.
One Day in Brussels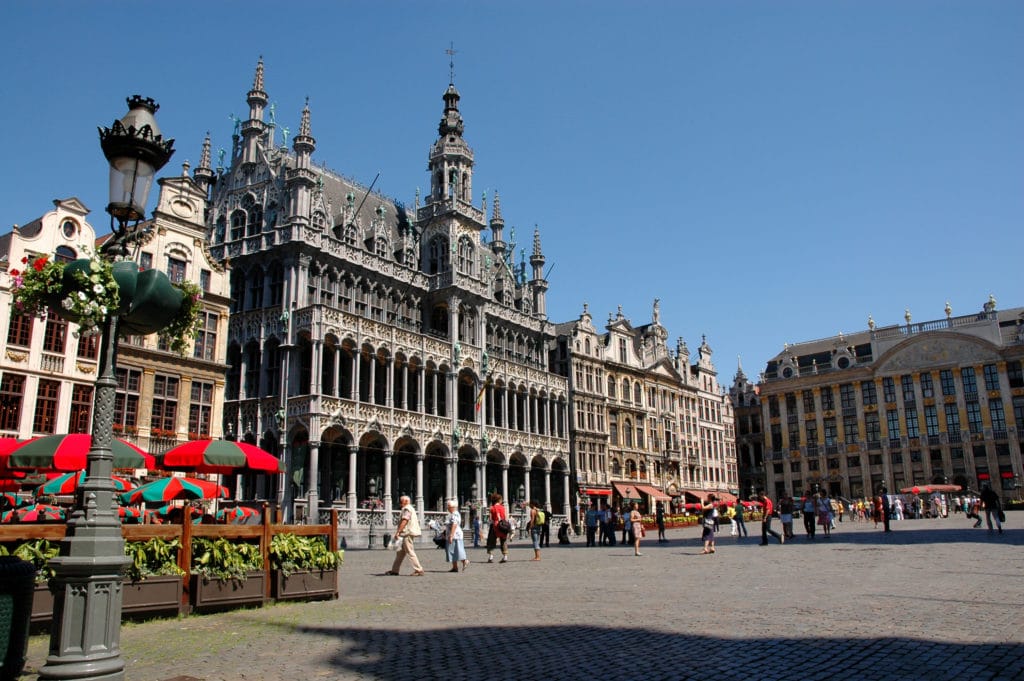 Grand Place
Located right in the heart of the Brussels city centre you'll find Grand Place. Try to make this the first stop on your Brussels one day itinerary so you can avoid the crowds that will arrive later in the day.
Grand Place is one of my favorite places to visit in brussels in one day. This is the main attraction in the city so there's almost always something going on, no matter the time of year.
Grand Place is without a doubt one of the most beautiful town squares in all of Europe.  It was designated a UNESCO World Heritage site in 1998.
Surrounding the central square visitors will find the Town Hall (pictured above), the King's House (currently the Museum of the City of Brussels), and the Houses of the Grand Place.
The majority of the Houses of the Grand Place are guild houses, such as the House of the Corporation of Bakers or the House of the Corporation of Carpenters, while a few remain private residences. 
On the lower level of the houses, you will find cafes with outdoor seating serving everything from coffee to cocktails and Belgian waffles to seafood. 
Taking a seat at one of the outdoor cafes is a great way to take in the scene at Grand Place and is perfect for people watching. 
If you happen to be in Brussels in December, Grand Place is especially fun. The city lights up the entire square with Christmas lights and produces a light show with music and entertainment.
It's well worth the extra effort if you can plan your visit during this time.
Traveling Soon? Don't forget your travel insurance.
Travel insurance is now more important than ever.
Travel insurance is probably less than you think it is. (Ex. For a week in Spain next month I'm paying less than $62.00.)
Travel insurance covers a lot more than you think it does.
It's better to have it, than need it and wish you'd bought it.
See for yourself. Check prices here.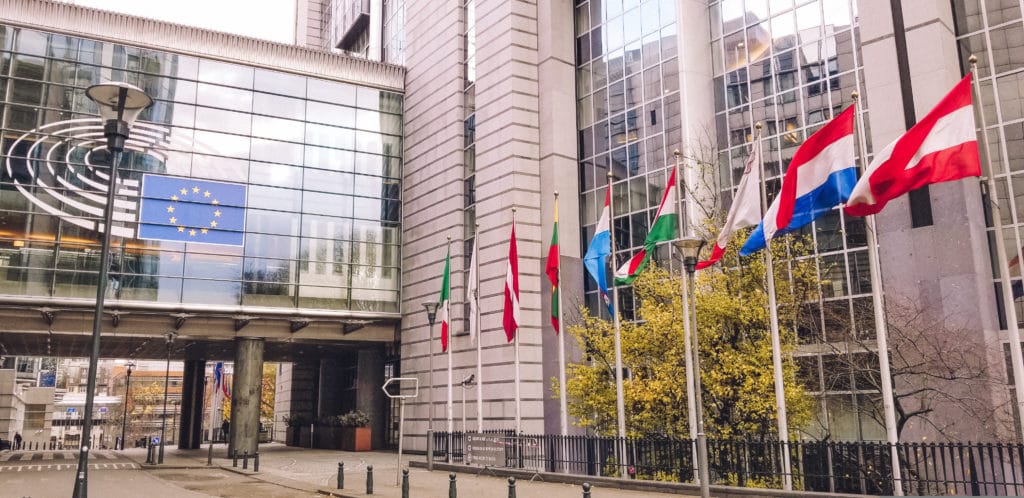 European Union and the European Parliament
Brussels is home to the European Parliament, which explains why it is widely referred to as the capital of Europe.
The European Parliament consists of 705 members (previously 751 before Brexit) directly elected by the citizens of Europe.
The areas surrounding the European Parliament are used frequently for protests and other political activities, making a visit here all the more interesting.
During my recent visit, the Brussels police were launching tear gas canisters at yellow jacket protesters who had apparently gotten a little out of hand. While this might sound a bit scary, I assure you I never felt unsafe. Just don't stray into the protest area and you will be fine. 
Visitors are welcome at the European Parliament during certain hours the week.
You can visit the Parlamentarium to learn about the history and functions of the European Parliament. The Parlamentarium is open daily until 6:00 p.m. You can get more details about planning your visit here.
If you plan accordingly, I also recommend a visit to the European Parliament Hemicycle. The Hemicycle is the large room where the full parliament meets for important meetings and votes.
In order to visit the Hemicycle, you need to arrive at very specific times. Check the website to find the most recent schedule.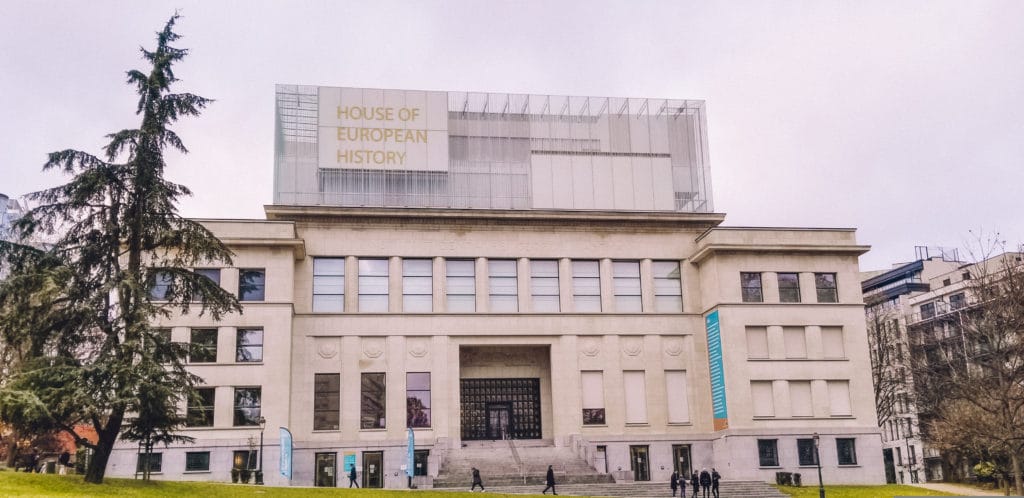 House of European History
Located a short walk from the European Parliament is the House of European History.
Here, you can take a guided audio tour through the six floors of the museum to learn about major historical events in Europe.
The museum focuses on European experiences as a whole and not on individual nations. You'll learn about the impacts of major atrocities such as WWII, but also about the positive impacts of the industrial revolution and the creation of the European Union. 
A visit to the House of European History is free of charge. Your visit will take about 90 minutes if you elect to follow along on the audio tour.
The museum is open seven days a week until 6:00 p.m. You can find more information about planning your visit here.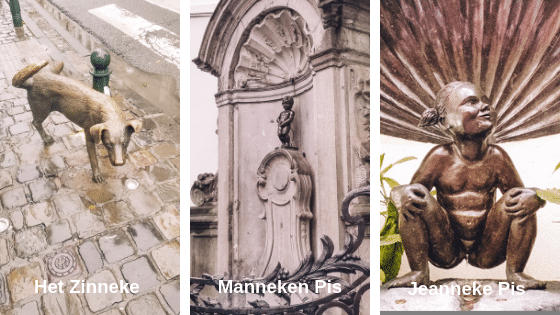 Het Zinneke, Manneken Pis, and Jeanneke Pis
One of my favorite things to do in Brussels in one day is to find each of the three urinating statues. Yes you read that right. Let me explain.
One of the things Brussels is known for is these unique statues named Het Zinneke, Manneken Pis, and Jeanneke Pis. The most famous of the three is Manneken Pis, who even has different constumes placed on him depending on the season. He's somewhat of a national treasure.
My personal favorite of the three statues is Het Zinneke because it's a statue of a dog urinating on a post. Anything having to do with dogs is a plus for me.
The other two statues Manneken Pis and Jeanneke Pis depict a small boy and small girl urinating.
As I stated above, Manneken Pis is the most popular of the three and is often spotted in various costumes.
Mannekin Pis has an extensive wardrobe of hundreds of costumes for just about any occasion. Costumes for Manneken Pis are often gifted by foreign governments and international organizations. Some of the statue's most popular costumes include Elvis Presley, Uncle Sam, and Santa Claus. 
All three statues can be seen free of charge and are within walking distance of each other in the city center.
Exact locations can be found by plugging in the name of the statue into Google Maps. If you're going to walk around the city to find all three, I recommend saving Jeanneke Pis for last.
This way, after you take your picture of Jeanneke Pis, you can turn around and walk right into the doors of Delirium Cafe. You're welcome.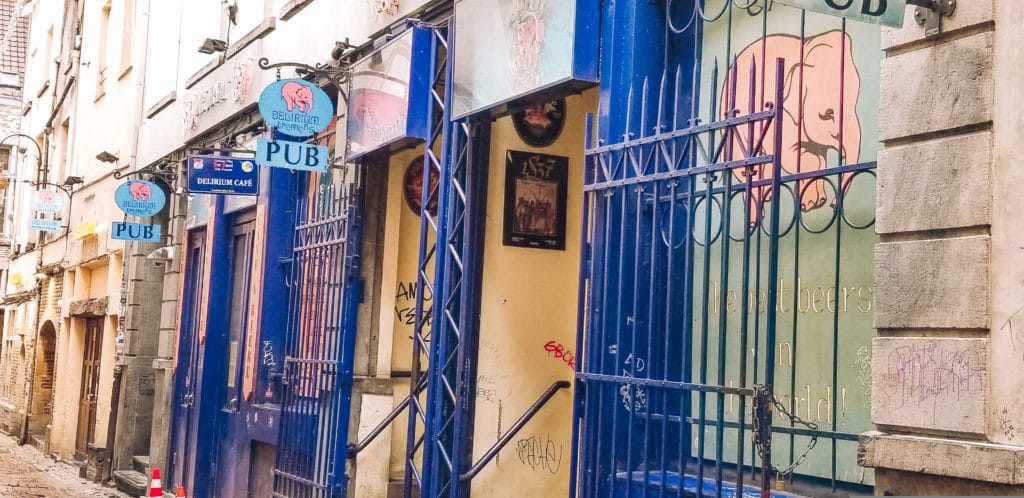 Delirium Village and Delirium Cafe
If you're a beer lover and looking for a good time in Brussels, head over to Delirium Village.
The Delirium Village is a huge pub in the Brussels city center located just off Rue des Bouchers. They serve over 2,000 beers from around the world and even hold the Guinness World Record for having the largest selection of beers in one place.
Delirium Village has two levels and multiple rooms, each with its own specialty. Here is a list of each of the rooms and a brief description of what is served:
Delirium Village is open daily from 10:00 a.m. until 4:00 a.m.  You do not need reservations and seating is first come first serve.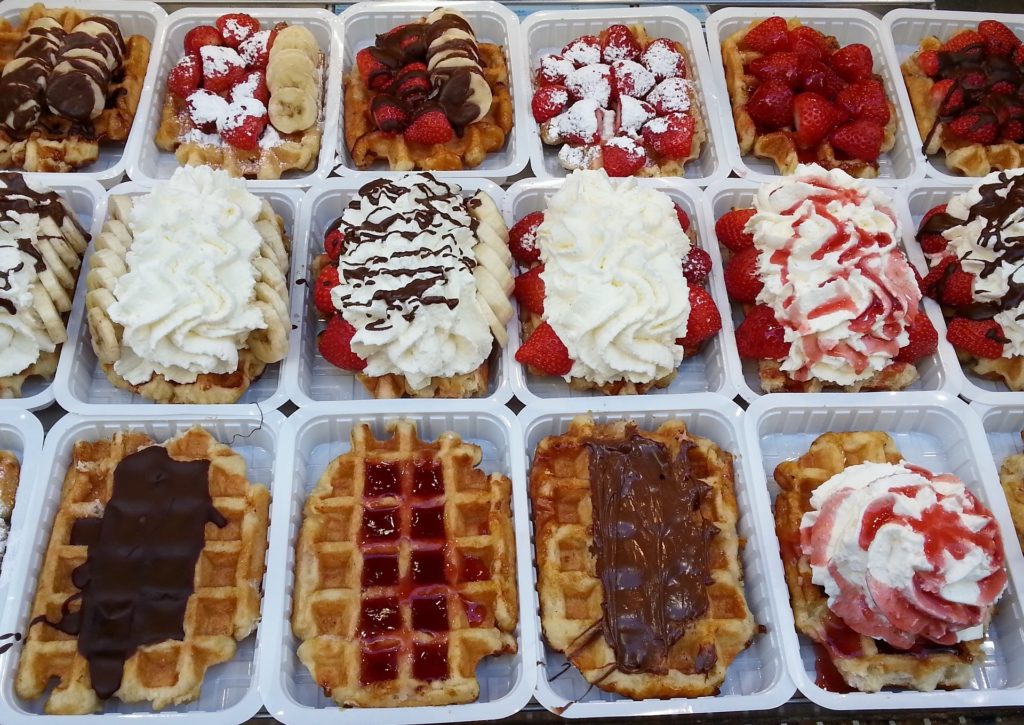 Belgian Waffles
A Brussels 1 day itinerary would not be complete without experiencing a true Belgian Waffle. And nobody does waffles like Belgium.
You can find restaurants all over the city serving waffles with a variety of toppings. The Nutella varieties seem to be the most popular, and for good reason.
I spent the majority of my time in Brussels eating waffles with Nutella, strawberry and whipped cream. They're hot, sticky, and messy and totally worth it.
In fact, I had a waffle for dinner every night I was there. Don't judge.
Everybody seems to have their own favorite place for the best waffles in Brussels. Mine is Los Churros and Waffle pictured above.
After visiting several different places, I found myself wanting to come back to this place over and over again. The waffles are cheap, about 5 Euros, and are always served fast and fresh.
You should give this place a try, but then walk around and find some more.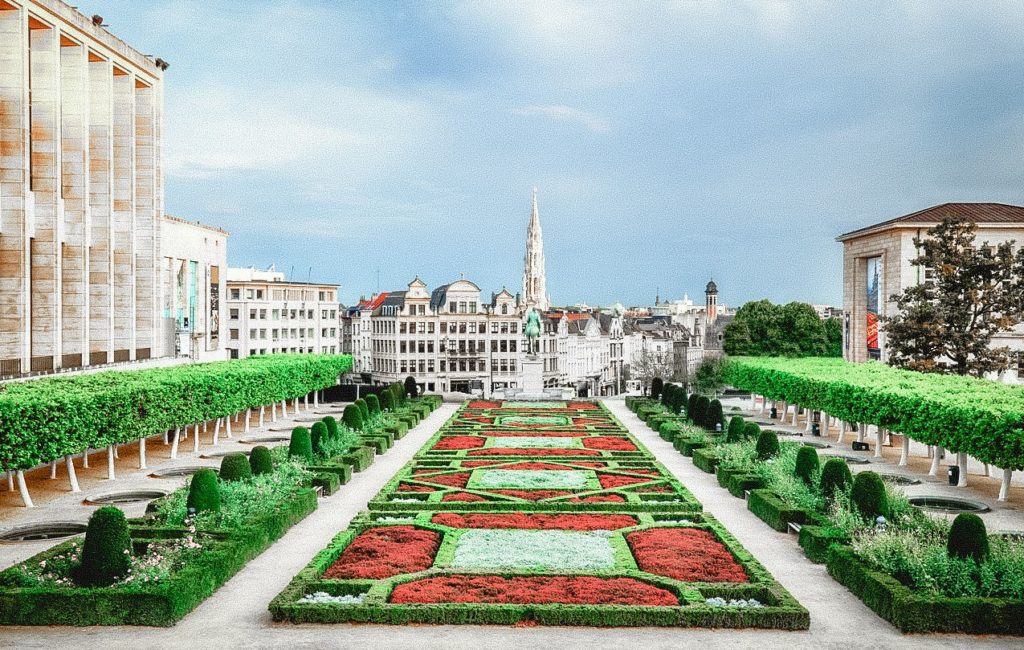 Mont des Arts
The Mont des Arts, or Kunstberg, is a historical center and outdoor garden near central Brussels. This is a nice place to get away from the hectic city center and makes the perfect backdrop for photos.
You'll also get one of the best views of Brussels from this location.
Other notable things to see at Mont des Arts are the Royal Library of Belgium, the National Archives of Belgium, and the statue of King Albert I.
Fries and Sauce
Another must have experience in your Brussels one day itinerary is sampling the city's famous fries and sauce.
Fries (or frites as the locals call them) are one of the most popular dishes in Belgium. Many local restaurants and stands serve them in paper cones and covered in sauce, as pictured above.
Belgians typically eat their frites with a small plastic fork and a variety of sauces. Mayo is a popular option, but there are many sauces to choose from.
Like waffles, frites can be found all over the city. You can get a single order for about 5 Euros. 
What makes Belgian frites so special is the way they are prepared. The potatoes are not frozen, and should not be cut larger than one centimeter thick. They are then fried twice before serving making them extra crispy and flavorful.
If you're visiting Brussels for at least a few days, try the frites at several different places around town. Some of the most popular places in Brussels for frites are these: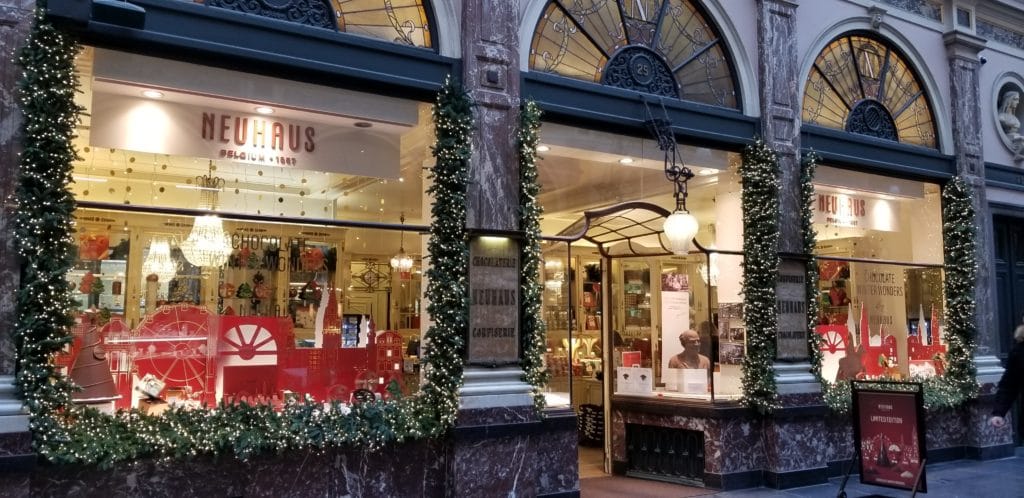 Belgian Chocolate
Belgian chocolate just may be the best in the world.
You will find chocolate shops all over the country, and especially in the major cities. Brussels is no exception.
There are dozens of chocolate shops scattered throughout the city, most of which will also offer free samples before you purchase.
If you're looking for gifts or souvenirs to bring your loved ones back home, consider picking up several boxes of Belgian chocolates. Trust me, your friends and family will be excited to receive these.
I've put together a shortlist of some of the most popular chocolate shops in Brussels here:
Prices at all the shops above will vary, but I found I was able to purchase small gift boxes at any of the chocolate shops for around 10 Euros each.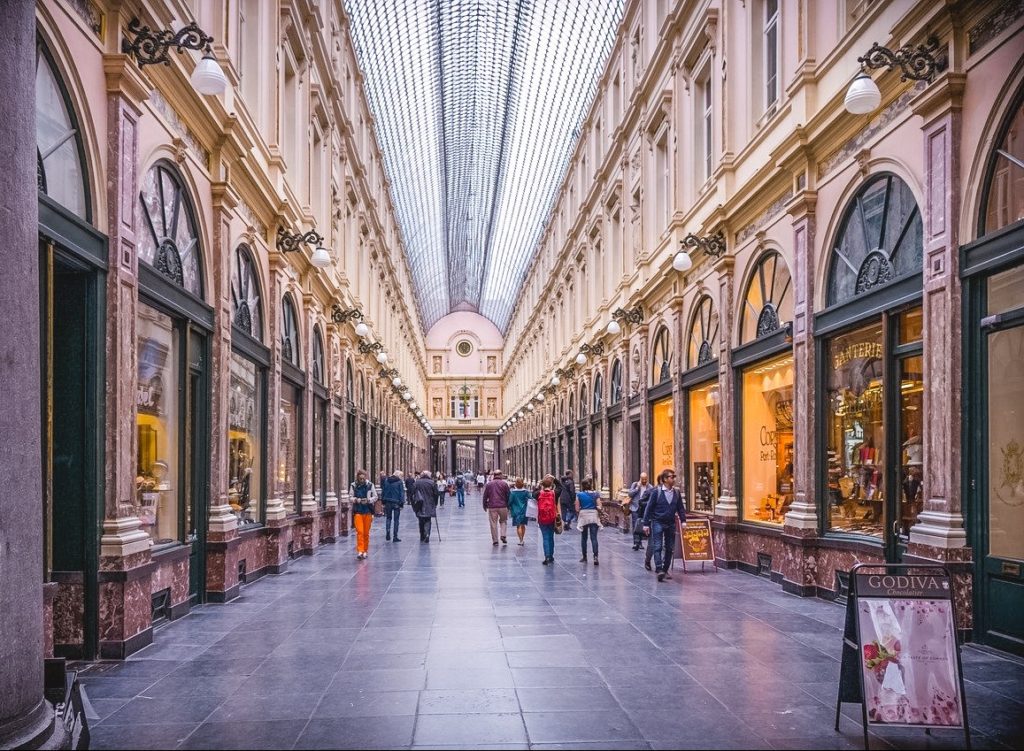 Galeries Royales Saint Hubert
The Galeries Royales Saint Hubert is a beautiful shopping gallery located near the Brussels city center. The shopping gallery was opened back in 1847 and was designed by famous Belgian architect Jean-Pierre Cluysenaar.
Today the Galeries Royales Saint Hubert is home to dozens of chocote shops, cafes, and boutiques of all kinds, making this the perfect stop to pick up some souvenirs or boxes of chocolate to bring back home with you.
If you're not a souvenirs person, the Galeries Royales Saint Hubert is still worth a visit to just walk around, admire the architecture, and do a little window shopping. It's especially beautiful in the evening when the gallery lights up.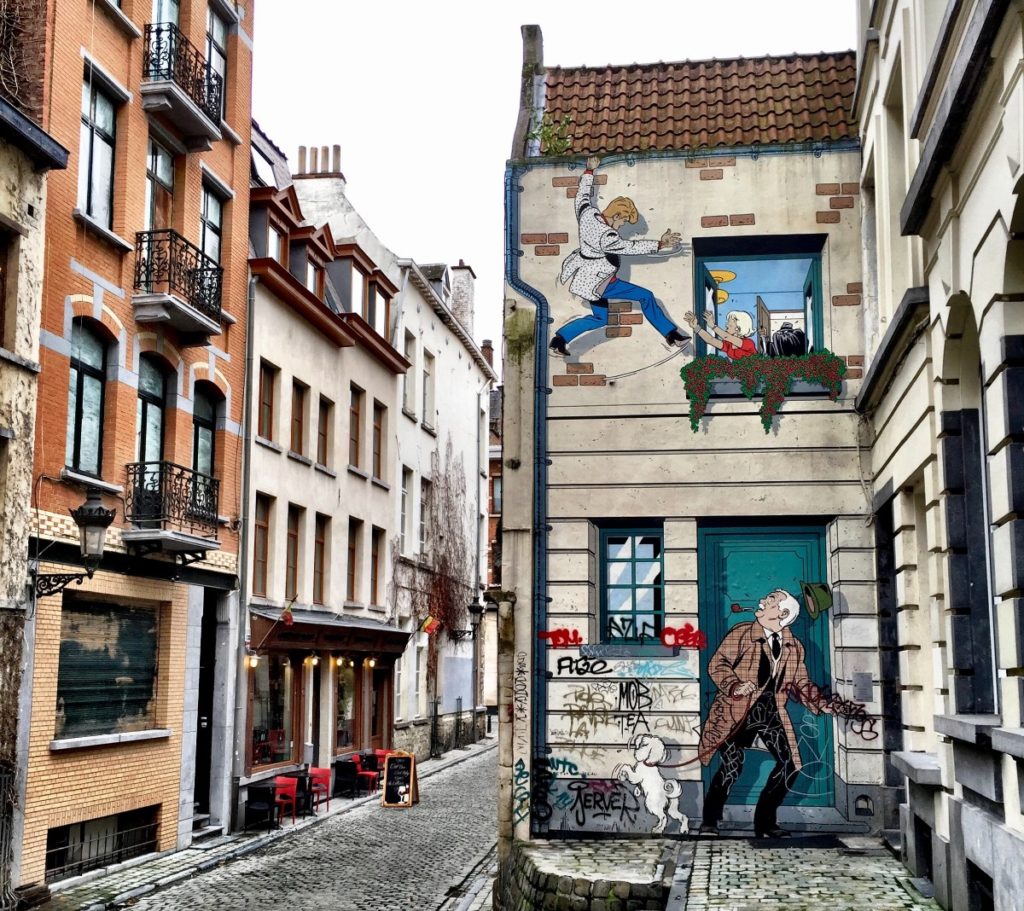 Belgian Comic Strip Walk
If you're a fan of comics or street art, you're going to want to make time in your one day Brussels itinerary for the Belgian Comic Strip Walk.
The Belgian Comic Strip Walk, found in Google Maps as Belgian Comic Strip Wall, is a short street just east of the Brussels city center. If features Belgian comic book characters as street art painted in murals on the local houses and businesses.
For those interested in learning about the history of Belgian comics and comic book characters, you should also check out the Comics Art Museum located on the opposite side of the city center, about a 20 minutes walk away.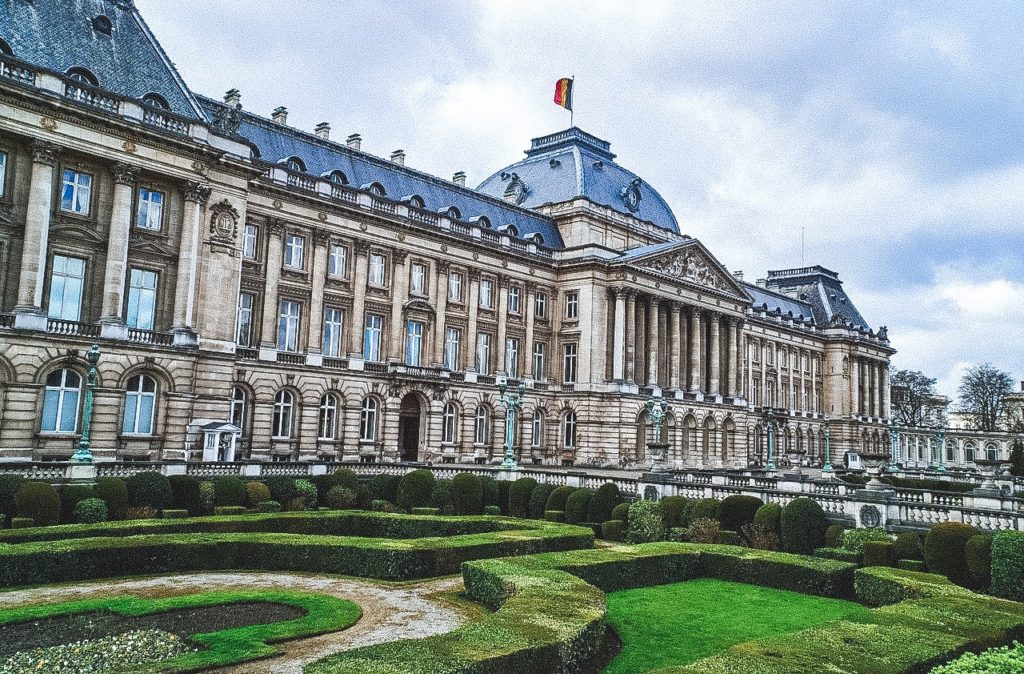 The Royal Palace
The Royal Palace of Brussels, which dates back to the 18th century, is the king's administrative residence and primary workplace. The palace is only open to the public each year between mid July and September.
Visitors to the Royal Palace can join a guided tour of the interior ceremonial rooms, staircases, and halls. For those not visiting in the summer, you can view the exterior of the palace from outside.
The Royal Palace is found a short 10 minute walk west of Mont des Arts.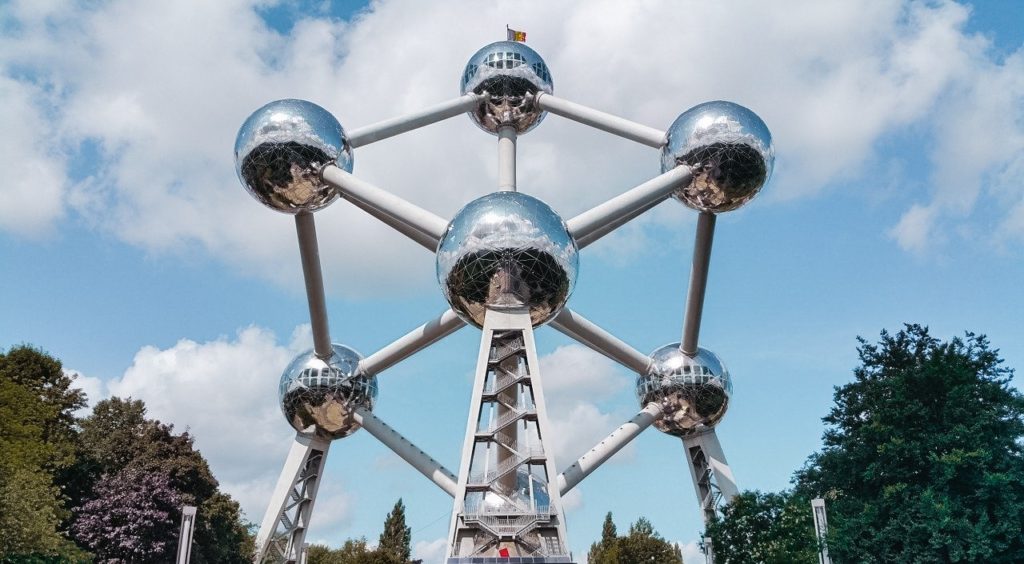 The Atomium
Before you finish up your one day in Brussels itinerary, be sure to stop at the Atomium.
The Atomium is a historical landmark in Brussels built in 1958 for the Brussels World Fair. It is in the shape of an iron crystal enlarged 165 billion times. It was intended to serve as a symbol for the peaceful use of nuclear power.
Today, the Atomium is a popular museum with exhibits telling about the history, construction, and design of the building. Once inside, visitors can travel between the various levels of the musuem on moving escalators.
The Atomium is especially popular with photographers due to its unique shape and mirrored surface, opening up the possiblity for some incredibly creative photographs. Don't forget to snap a few of your own before you leave.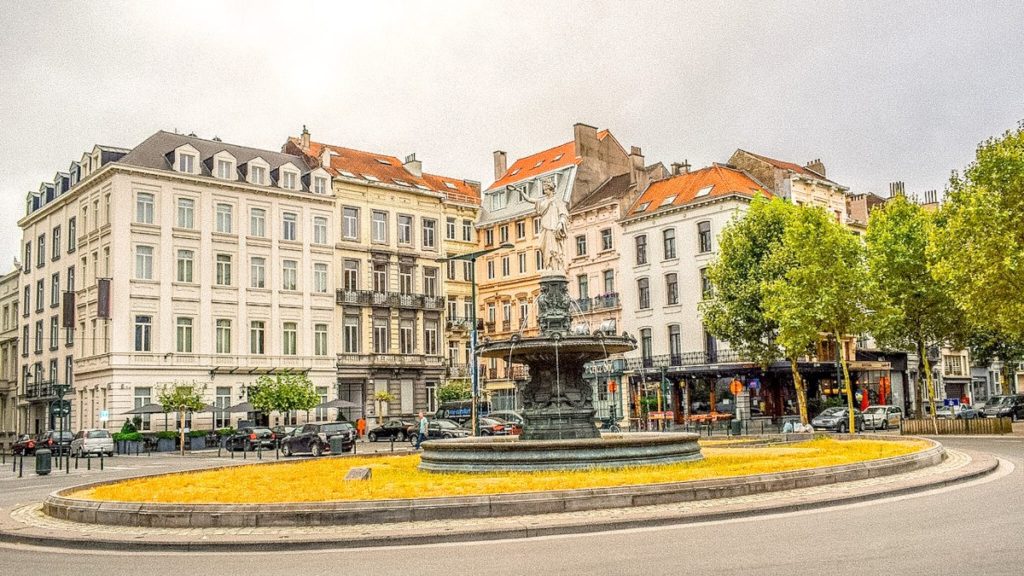 Where to stay in Brussels
If you're wondering where to stay in Brussels, I highly encourage you to select a hotel or other accomocation near the Brussels city center. Since Brussels is such a walkable city, you'll be able to get just about everywhere you want to go on foot.
I would avoid hotels too far outside the historic center unless you plan to stay in Brussels for longer than a day. Otherwise, you'll be wasting valuable time going back and forth from your hotel.
Here are a few recommendations for hotels in Brussels, including the one I stayed at and loved.
Brussels Marriott Hotel Grand Place: This is an upscale Marriott property about a block or two from Grand Place. The rooms were comfortable and service here was fantastic. There is a lounge/bar in the lobby that I found myself ordering ciders from on a daily basis. Ask for an outward facing room so you can see the city during your visit.
Hilton Brussels Grand Place: Similar to the Marriott, this property is just steps from Grand Place, has comfortable rooms and a lobby restaurant. This property is also pet friendly if you're traveling with any four legged family members.
Hotel La Grande Cloche: If you're looking for something a bit more unique and trendy, try La Grande Cloche. Also located near Grand Place but has a younger more artsy vibe. If that's not enough to convince you, they also have an Italian Restaurant onsite called Pasta Madre that serves pizza, craft beer and wine.
Is one day in Brussels enough?
This is a tough question to answer, but I'll say this, it can be. If you're wondering what to see in one day in Brussels, the itinerary above should be a good start. But as always, be sure to consider your own interests.
If you prefer to see more of the city and spend more time in each location, I would recommend more than one day in Brussels as there really is a lot to see. If you've got the time I think three days would be perfect.
Now that you've made the most of your 1 day in Brussels, you may wish to consider taking a day trip to explore some neighboring cities. There are plenty of fun things to do in Leuven. Or perhaps you could spend one day in Ghent, one day in Bruges or one day in Antwerp.
Each of these cities can be easily reached by catching a local train at the nearby train station. If you've only got time for one, I recommend taking the short train ride up to Bruges.
Book Your Trip
Find the best flight deals by using Google Flights, then book direct with the airline. This is the search engine I use to compare flights and prices before booking my own trips.

BOOK YOUR ACCOMODATION
I recommend searching for hotels through Booking.com to compare hotels on amenities, location, and price. If you are a member of a hotel's rewards program, always book direct with the hotel. If you are not loyal to a specific hotel brand, using Booking.com for the best price.

TRAVEL INSURANCE
Travel insurance is more important than ever. For just a few dollars a day you can protect yourself and your trip. I personally use World Nomads, but whomever you choose, don't skip out on travel insurance. It can literally save you thousands of dollars.


Want to save it? Pin it. 
Related Posts
Photo by Xantana from iStock Belgium in Winter is the perfect time to visit if…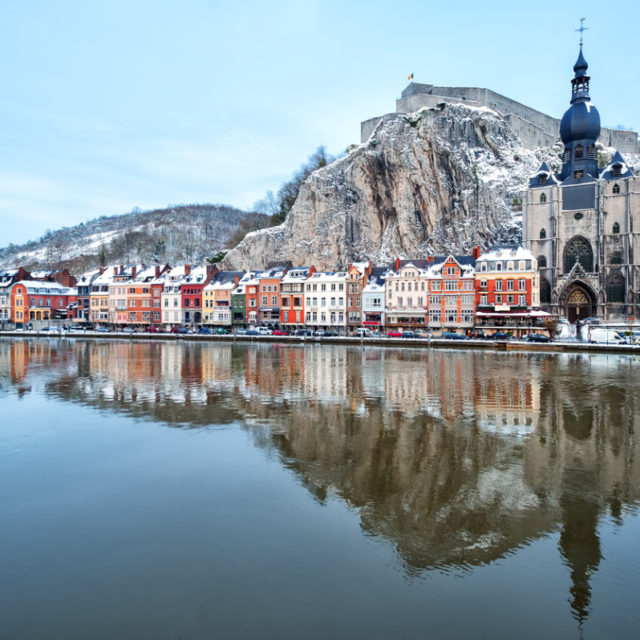 Photo by Shutterstock This Ultimate Belgium Road Trip will take you to some of the…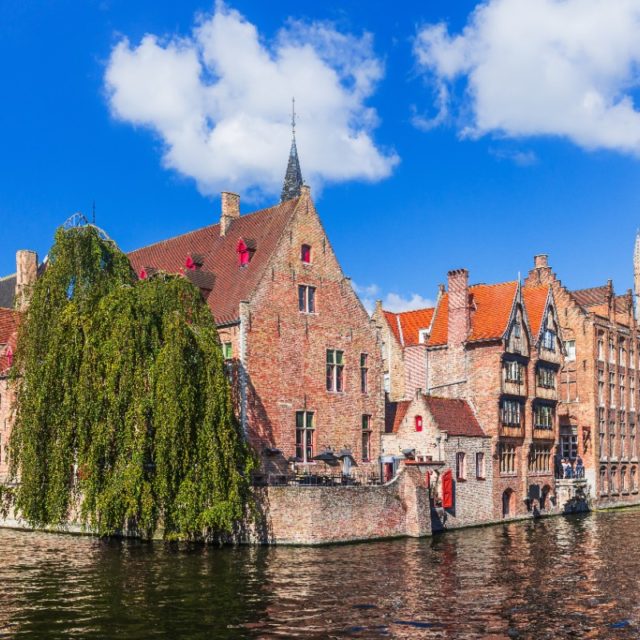 If you're planning a visit to Belgium, chances are you're going to be looking for…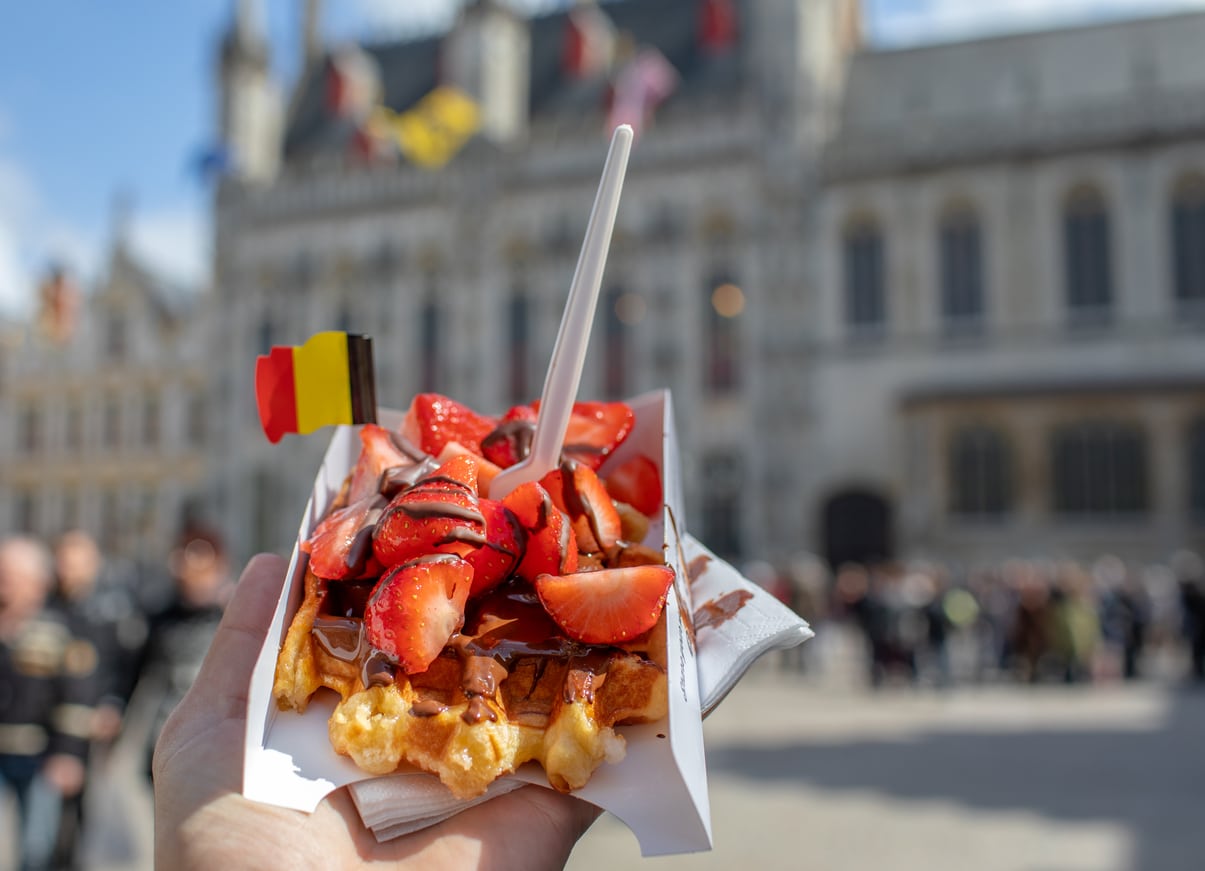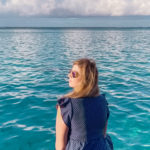 Eden Fite
Part-time Traveler | Dog Lover | Avoider of Crowds
I help busy people find creative ways to travel more.