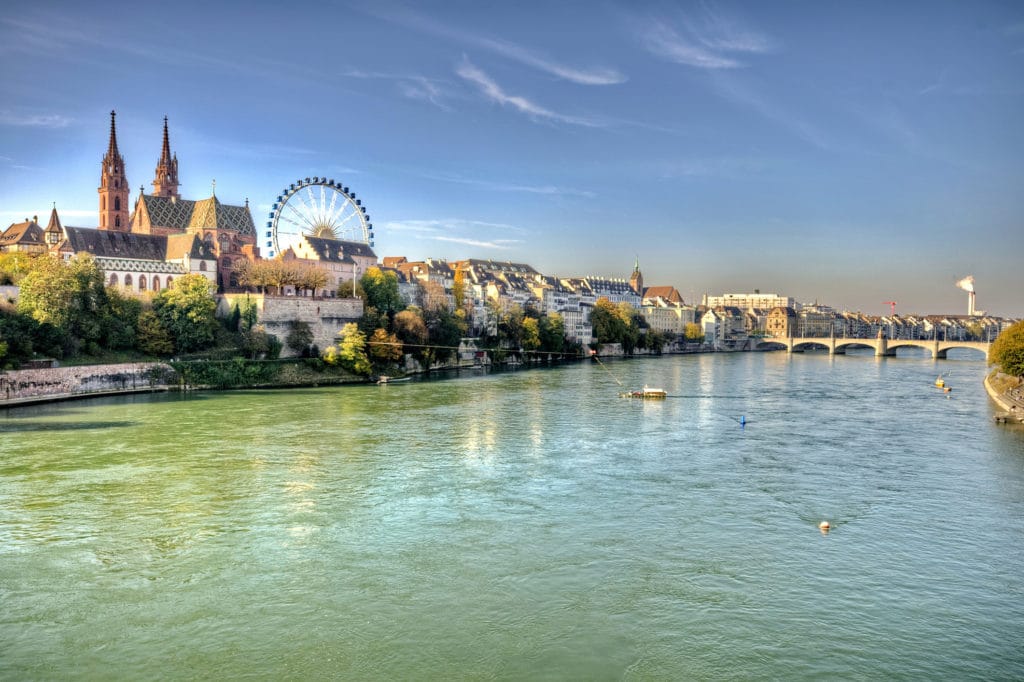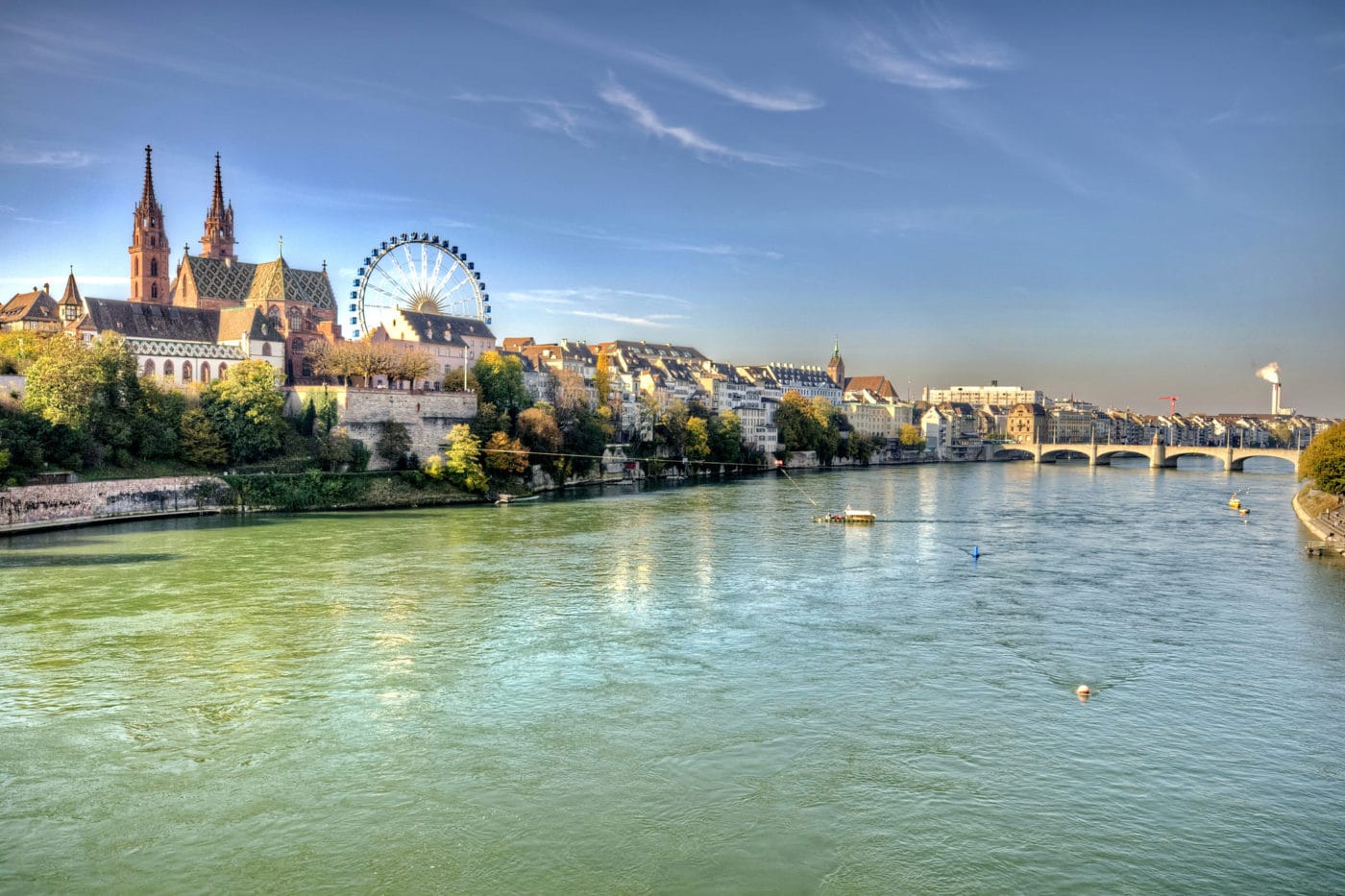 Luxembourg, officially the Grand Duchy of Luxembourg, is a tiny yet beautiful country located between France, Belgium and Germany.
It's known for its many fortifications and castles set atop hillsides and along rivers. It's capital Luxembourg City serves as one of the three capitals of the European Union, along with Brussels and Stasbourg.
Due to its location in the middle of western Europe, there are many other fun European cities close to Luxembourg.
If you're planning a visit to Luxembourg soon and know you'll have extra time to explore the region further, I've put together these fun ideas for day trips from Luxembourg.
Day Trips from Luxembourg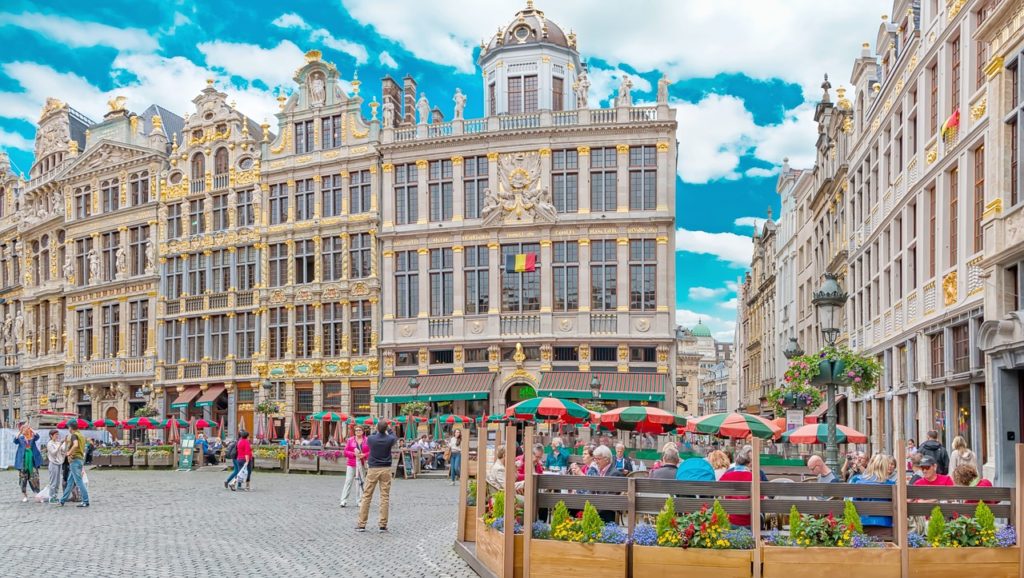 1. Brussels, Belgium
Brussels is one of my favorite day trips from Luxembourg because it has a compact city center with tons of fun things to do.
Plus, it's super easy to get from Luxembourg to Brussels since both destinations are so popular.
Once you've made your way out of the train station, I recommend making a bee line for Grand Place.
It's a beautiful square surrounded by government offices in historic buildings and cafes with outdoor seating.
It's one of the most popular stops for tourists in Brussels. In the area surrounding Grand Place you'll find plenty of shopping and restaurants.
Since you're in Belgium, you'll need to try both Belgium waffles and fries.
A short walk from Grand Place you'll also find the famous Delirium Cafe where you can relax and have an ice-cold Belgian beer.
They have hundreds of beers on tap so there's something for everybody. Just outside the door to Delirium Cafe you'll find one of the three famous statues placed throughout the city.
The one near Delirium Cafe is called Jeanneke Pis, which depicts a little girl urinating (don't ask!). The most famous of the three statues is Manneken Pis, which depicts, you guessed it, a little boy urinating.
Manneken Pis can often be found wearing various costumes gifted to the city by various heads of state during their visits to Brussels.
Before you head back to Luxembourg at the end of your visit, be sure to grab a box of Belgian chocolates.
There are many chocolate shops scattered throughout the city center, most of which will also offer free samples.
Luxembourg City to Brussels travel time:
Car: about 2 hours
Bus: about 3 hours
Train: about 4 hour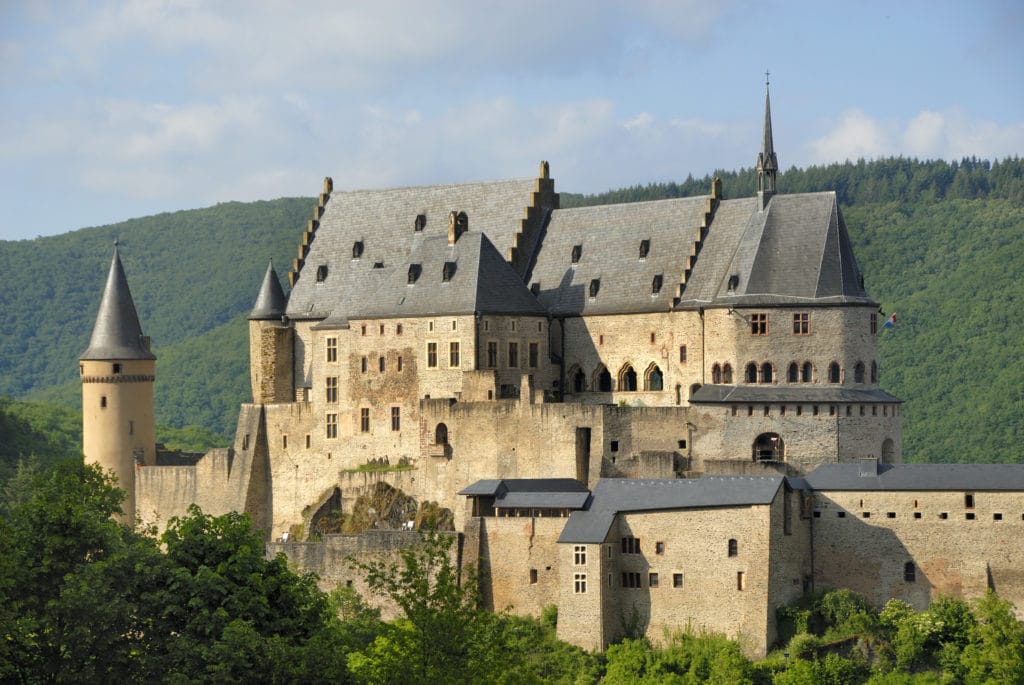 2. Vianden, Luxembourg
Vianden is located less than a 1 hour drive from Luxembourg City. The city is most popular for the Vianden Castle, which was built between the 11th and 14th centuries.
Ownership of the castle changed hands many times over the years but became state-owned in 1977.
After that time, the country restored the castle and it is now considered one of the most significant historical monuments in Europe.
Visitors may explore the interior of the castle on their own or as part of a guided tour. For just a few Euros, there is also a chair lift that will take you up to the castle.
The views of the surrounding countryside are well worth the small fee.
In addition to Vianden Castle, the town of Vianden is a beautiful place to spend a day walking around and exploring.
There are several popular museums in the area along with plenty of shops and cafes.
A guided tour from Luxembourg to Vianden is also available if you'd like to make this day trip stress free.
Luxembourg City to Vianden travel time:
Car: about 40 minutes
Bus: about 1 hour 50 minutes
Train: about 1 hour 20 minutes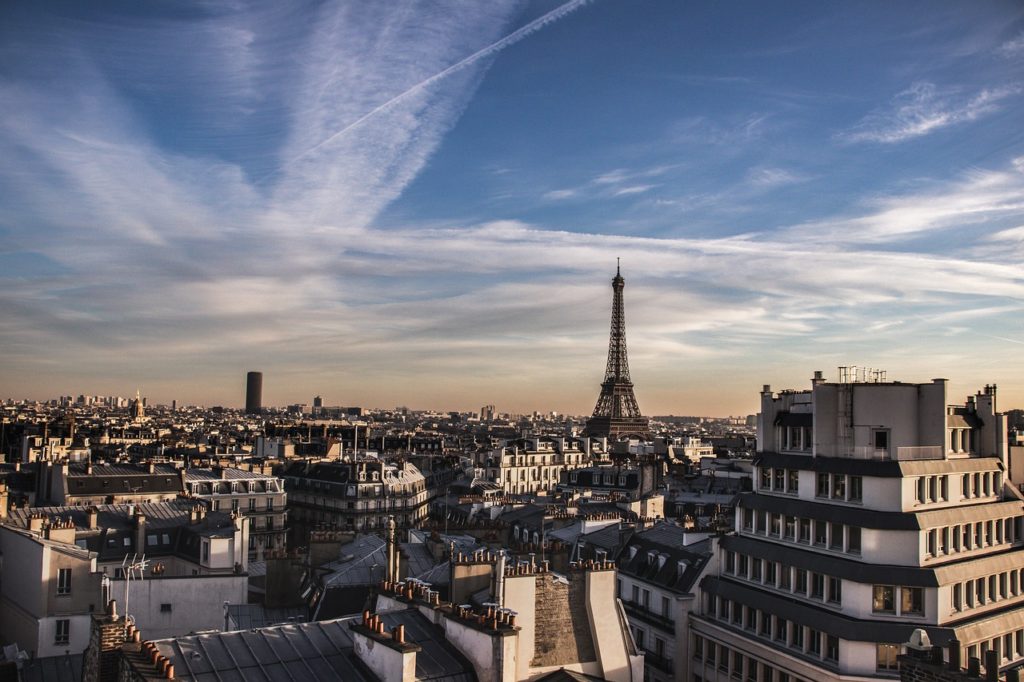 3. Paris, France
If you've never been to Paris, make this your top priority from this list of day trips from Luxembourg.
There's so much you can see and do in Paris in 12 hours, making a day trip here well worth the travel time.
The metro system in Paris is also incredibly convenient, so you'll be able to take the train to just about everywhere you want to go.
I recommend getting an early start if at all possible, so you have the most amount of time.
You'll find the Louvre museum and Notre Dame Cathedral in the city center and about a 20 minute walk from each other.
It's a pretty walk along the Seine, so it's not at all inconvenient. If you're interested in visiting the Louvre during your visit, make sure to purchase your tickets ahead of time online.
You don't want to waste your time standing in line for 2 hours.
I also encourage you to visit the Sacre Coeur if you have extra time. It's an incredibly beautiful cathedral that sits atop a hill in the trendy and fun Montmartre neighborhood.
This is the perfect destination for a sunrise or sunset if you can time it right. There's a large viewing platform down the steps from the cathedral with great views of the city below.
Before you leave Paris, be sure to visit the Eiffel Tower. If this is your first visit, it's worth spending the time and money for a ticket to the top.
These will also need to be purchased online ahead of time. The view from the top is incredible and an experience I recommend for anyone who hasn't done it before.
In the middle of all this, be sure to stop for lunch along the way to try French cuisine.
Don't forget to pair your meal with a glass (or two) of wine or champagne. If you're in a hurry you can always grab a croissant or baguette like the locals.
Luxembourg City to Paris travel time:
Car: about 3 hours 30 minutes
Bus: about 7 hours 30 minutes
Train: about 2 hours 10 minites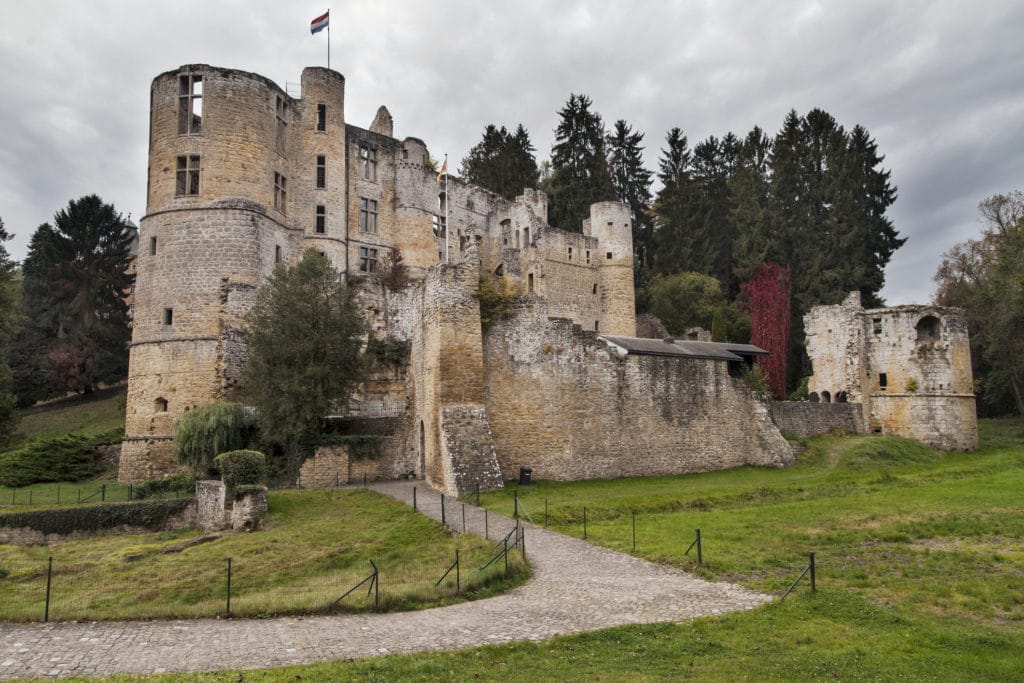 4. Beaufort, Luxembourg
You'll find beautiful Beaufort in eastern Luxembourg surrounded by rolling green hills and pastures. The main attraction in the small town is the Beaufort Castle.
The oldest part of the castle dates back to the 11th century though additional sections were built many years after that.
On occasion, there are special live concert events held at the castle that feature live music, a light show, and food and drinks. These events are free to the public.
I've included a teaser video from the 2018 show up above. Check the Beaufort Castle website for more information and to read about upcoming special events held at the castle.
Luxembourg City to Beaufort travel time:
Car: about 30 minutes
Bus: about 1 hours 40 minutes
Train: about 1 hour 40 minutes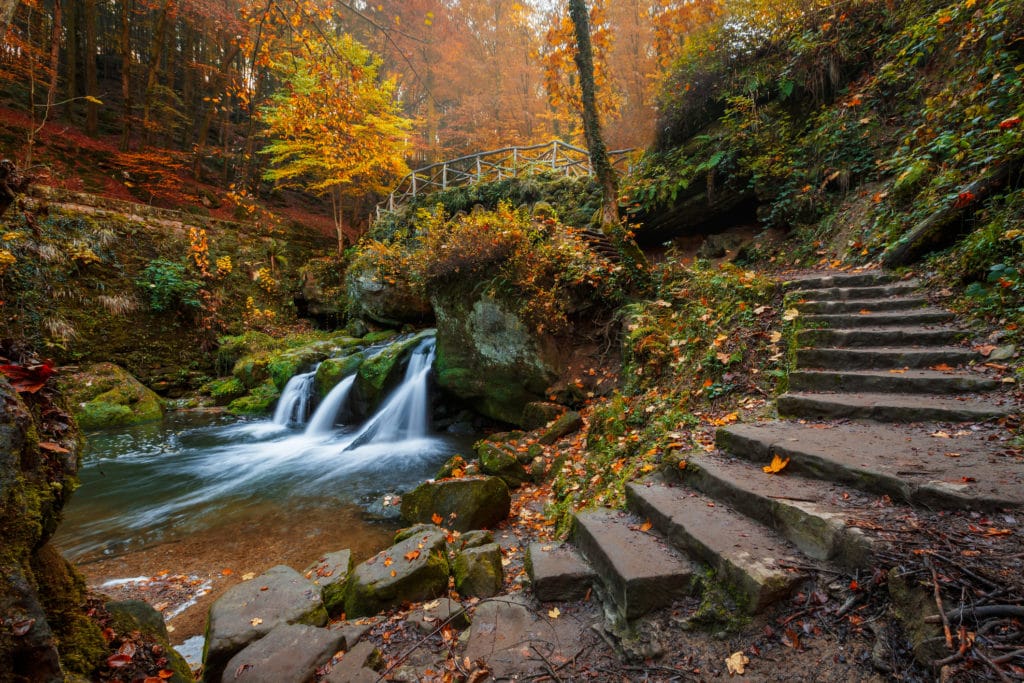 5. Mullerthal, Luxembourg
Mullerthal is another region found in eastern Luxembourg. The area is also commonly referred to as Little Switzerland.
While there are no mountains here, there are lots of hills and rock formations, giving it a bit of a Switzerland feel.
There are tons of hiking trails in Mullerthal and a really cool waterfall you can hike to called the Schiessentumpel waterfall.
Some of these trails in Mullerthal will actually take you past the Beaufort Castle, along with another one a short distance away.
If you enjoy the outdoors but prefer biking to hiking, there are also plenty of bike trails in Mullerthal.
Also, many of the hotels have bikes available for rent if you'd like to bike the trails or explore the city on two wheels.
If you prefer to be on the water, you'll be happy to know there is also the River Sure running through Mullerthal.
Visitors can rent kayaks to take out on the river for just a few Euros.
Luxembourg City to Mullerthal travel time:
Car: about 25 minutes
Bus: about 1 hour 20 minutes
Train: not available
6. Cologne, Germany
One of the most convenient day trips from Luxembourg is to the ancient city of Cologne, Germany.
The city is compact and walkable with the main train station situated right in the city center. You'll find the medieval Cologne Cathedral just outside the train station exit.
The cathedral was completed around 1322 and designated an UNESCO World Heritage Site in 1996. Visitors may view the interior of the cathedral at no cost.
Located right next to the Cologne Cathedral is the famous Romano-Germanic Museum.
This is an archaeological museum home to many Roman artifacts and is actually the original site of a Roman town villa.
In the basement of the museum you will find a large mosaic, still in its original place, dating back to about A.D. 230.
The Roman town villa was actually discovered in 1941 during the construction of an air raid shelter during WWII.
Entrance to the museum is only a few Euros for adults and they are open Tuesday through Sunday.
There are several large shopping districts in Cologne, but the most popular is Schildergasse, which is a pedestrian-friendly outdoor shopping area on one of the city's most popular streets.
Visitors will find small boutique style shops selling unique clothing and accessories along with some larger more popular stores as well.
Luxembourg City to Cologne travel time:
Car: about 2 hours 10 minutes
Bus: about 4 hours 20 minutes
Train: about 4 hours 20 minutes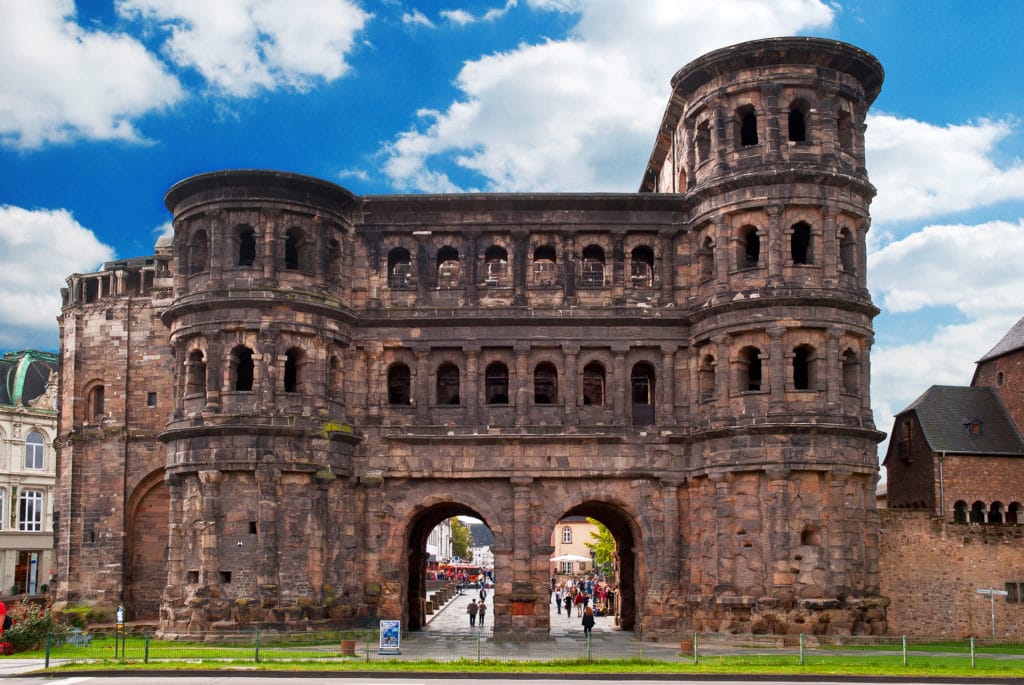 7. Trier, Germany
Trier is located on the Mosel River and happens to be the oldest city in Germany. One of the biggest attractions in Trier is the Porta Nigra pictured above.
The Porta Nigra is a Roman city gate, and is the largest of its kind north of the Alps. The gate has also been designated an UNESCO World Heritage Site.
The interior of the gate is open to visitors, which includes access to the upper floors. Guided tours are also available.
A short walk from the Porta Nigra you'll find the equally impressive Saint Peter's Cathedral.
The cathedral features Romanesque, Gothic and Baroque architecture. It was finished in 1270 and is the oldest church in Germany.
You'll find several other similarly important structures and cathedrals as you walk through the streets of Trier.
You'll also find plenty of shopping opportunities in the city center area, along with plenty of options for coffee and food.
Luxembourg City to Trier travel time:
Car: about 30 minutes
Bus: about 50 minutes
Train: about 50 minutes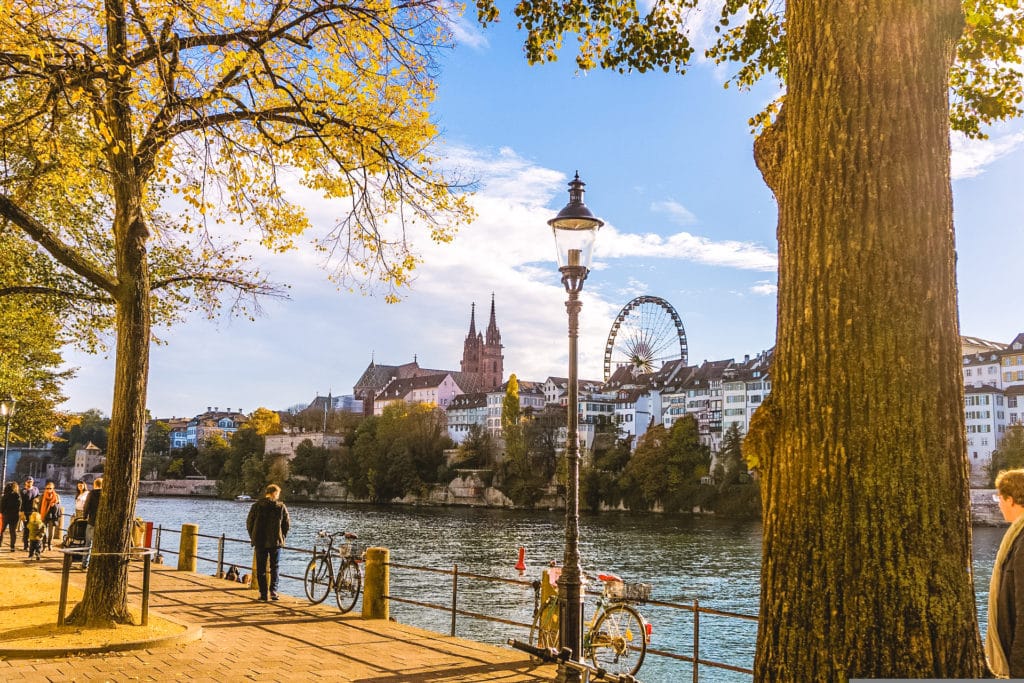 8. Basel, Switzerland
Basel is another beautiful European city just perfect for one of your day trips from Luxembourg.
The city is situated along the Rhine River, which many visitors will float down during the hot summer months.
Vendors sell large waterproof bags to visitors to place their valuables in, which double as a sort of flotation device to carry you down the river.
If you prefer not to get wet during your visit, you can also take a ferry across the river for just a few Euros.
During your visit to Basel, be sure to visit the old city area to view all the Medieval architecture and enjoy the many unique shops lining the sidewalks.
Basel is also home to over 40 museums, including the famous Kunstmuseum Basel which holds the largest and most significant public art collection in Switzerland.
You'll see works from thousands of artists including van Gogh, Picasso, Monet, and many others.
After your visit to Kunstmuseum, head over to the trendy Kleinbasel neighborhood for popular cafes, unique clothing stores and vintage shopping.
Luxembourg City to Basel travel time:
Car: about 3 hours 20 minutes
Bus: about 5 hours
Train: about 3 hours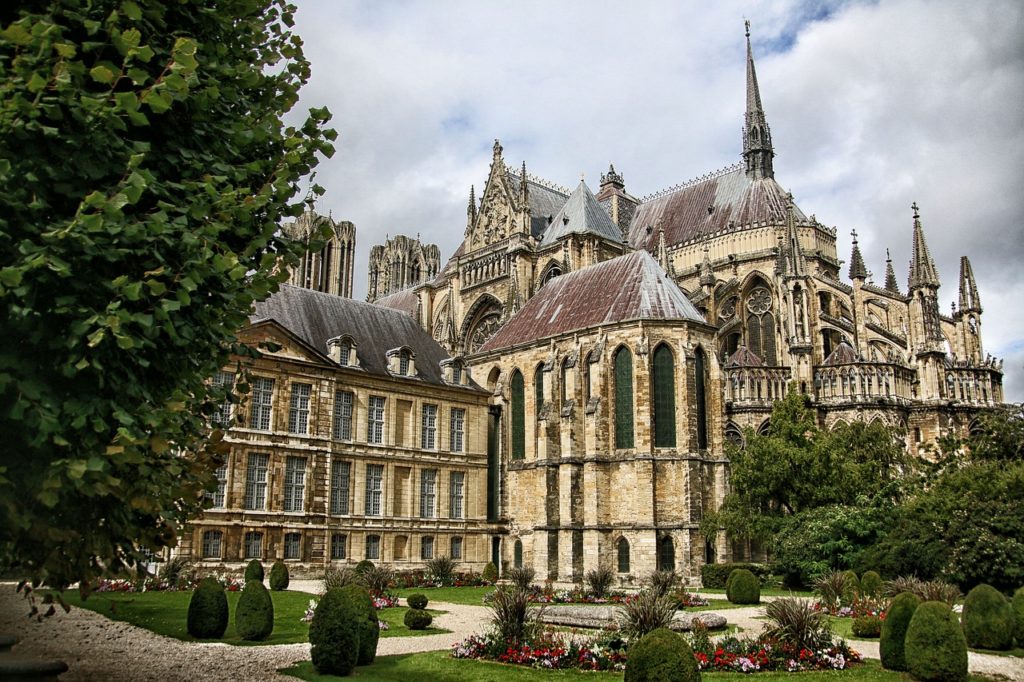 9. Reims, France
Reims is an especially fun choice from this list of day trips from Luxembourg. First and foremost, Reims is the capital of the Champagne region of France.
You'll have the option to take a tour of the cellars and sample champagne from one of the city's many tasting rooms.
Advance reservations are strongly suggested if you're planning to visit here. Some of the most popular cellar tours are offered by Tattinger, Mumm and Veuve Clicquot.
In addition to champagne tasting, you'll also want to explore the impressive Reims Cathedral.
The cathedral was built around 1271 and is quite the remarkable display of Gothic architecture.
Visitors are free to tour both the interior and exterior at no charge, though guided tours are available for purchase from local tour operators.
In the summer months, there is even a sound and light show projected onto the front of the cathedral.
You can view the show from the lawn in front or from the outdoor seating at some of the surrounding cafes.
Following your visit to the Reims Cathedral, take a walk down the popular Rue de Vesle for shopping and cafes.
Be sure to stop into one of the many boulangeries (bakeries) for a fresh baguette or pastry.
Luxembourg City to Reims travel time:
Car: about 2 hours 10 minutes
Bus: about 5 hours 15 minutes
Train: about 1 hour 40 minutes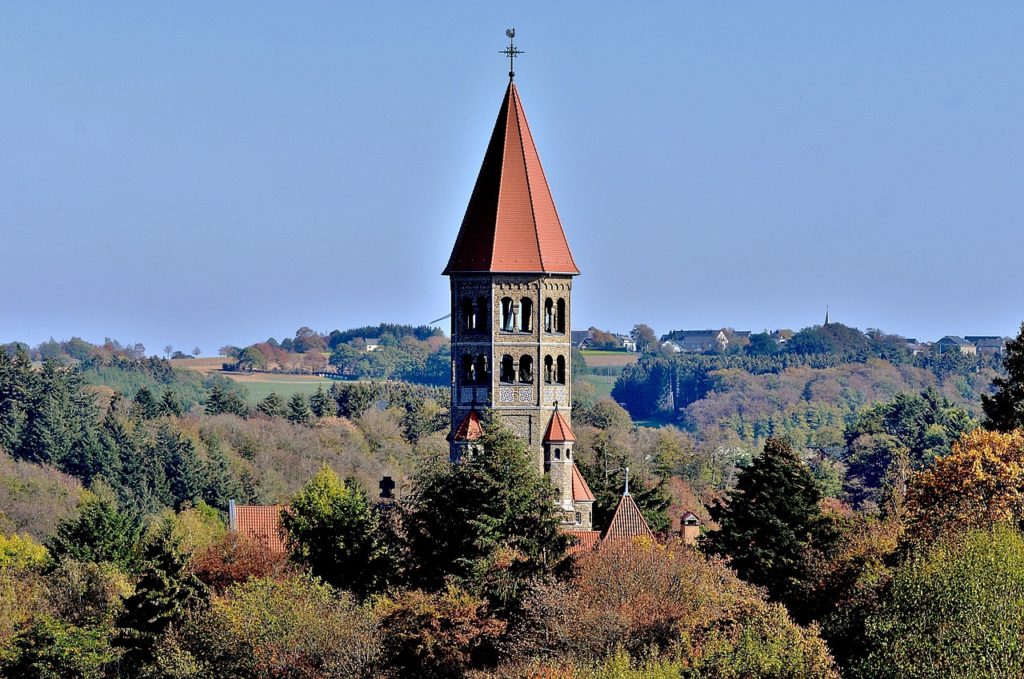 10. Clervaux, Luxembourg
Clervaux is a pretty little town in northern Luxembourg. The town is best known for the Clervaux Castle which sits alongside the River Clerve.
Clervaux Castle was originally built in the 12 century, but burned down during World War II when it caught fire in the Battle of the Bulge.
The castle has since been fully rebuilt and is a popular tourist destination for visitors to Clervaux.
Visitors are welcome to explore the castle on their own or as part of a guided tour.
In addition to the castle, Clervaux is also home to a famous photography exhibit called the Family of Man.
The exhibit can be found inside Clervaux Castle and features 503 photographs by 273 artists from 68 countries.
The exhibition was conceived as a "manifesto for peace and the fundamental equality for humankind."
The exhibit was first presented back in 1955, and was installed permanently inside Clervaux Castle in 1994.
The rest of Clervaux is picturesque and walkable. You'll find small restaurants and cafes in the small city center.
The area is also extremely popular for hikers as there are over 40 trails in the surrounding hills and countryside.
Wear some comfortable sneakers so you can walk the trails as many have some fantastic views along the way.
Luxembourg City to Clervaux travel time:
Car: about 30 minutes
Bus: about 1 hour 15 minutes
Train: about 40 minutes
I hope you've enjoyed reading about these beautiful day trips from Luxembourg. I'd love to know if you've visited any of the smaller towns on this list.
Let me know if you have suggestions for other day trips from Luxembourg and I'd be more than happy to add some new destinations to this list. Thanks for reading.
Book Your Trip
Find the best flight deals by using Google Flights, then book direct with the airline. This is the search engine I use to compare flights and prices before booking my own trips.

BOOK YOUR ACCOMODATION
I recommend searching for hotels through Booking.com to compare hotels on amenities, location, and price. If you are a member of a hotel's rewards program, always book direct with the hotel. If you are not loyal to a specific hotel brand, using Booking.com for the best price.

TRAVEL INSURANCE
Travel insurance is more important than ever. For just a few dollars a day you can protect yourself and your trip. I personally use World Nomads, but whomever you choose, don't skip out on travel insurance. It can literally save you thousands of dollars.


Want to save it? Pin it.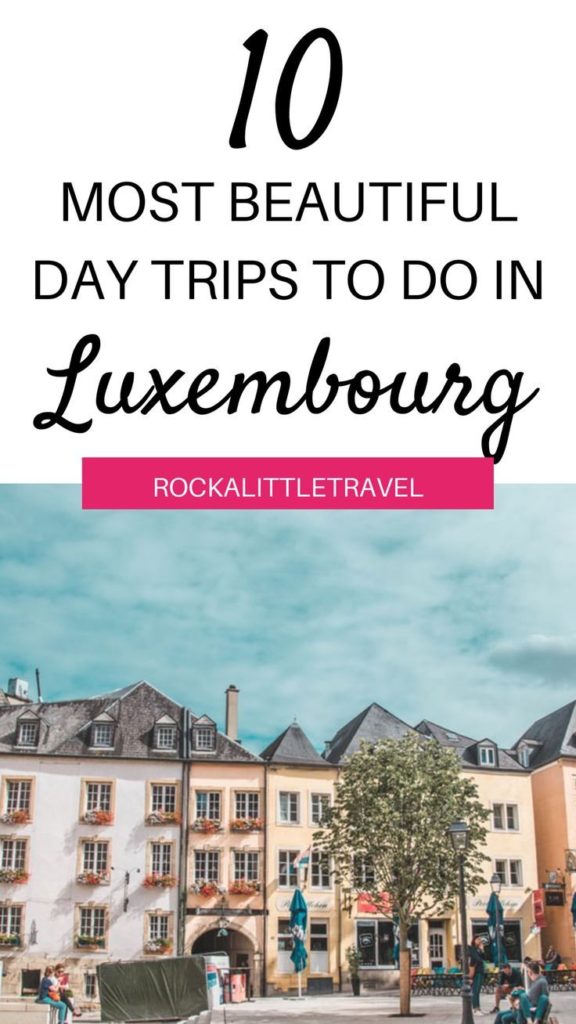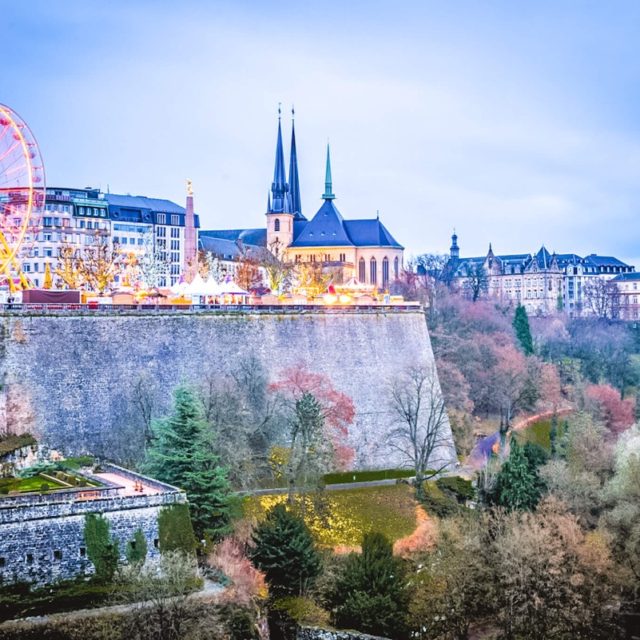 Photo by Sabino Parente The Luxembourg Christmas Market and Winter Lights festival is BACK for 2021! The Luxembourg Christmas Market is a must visit destination when spending …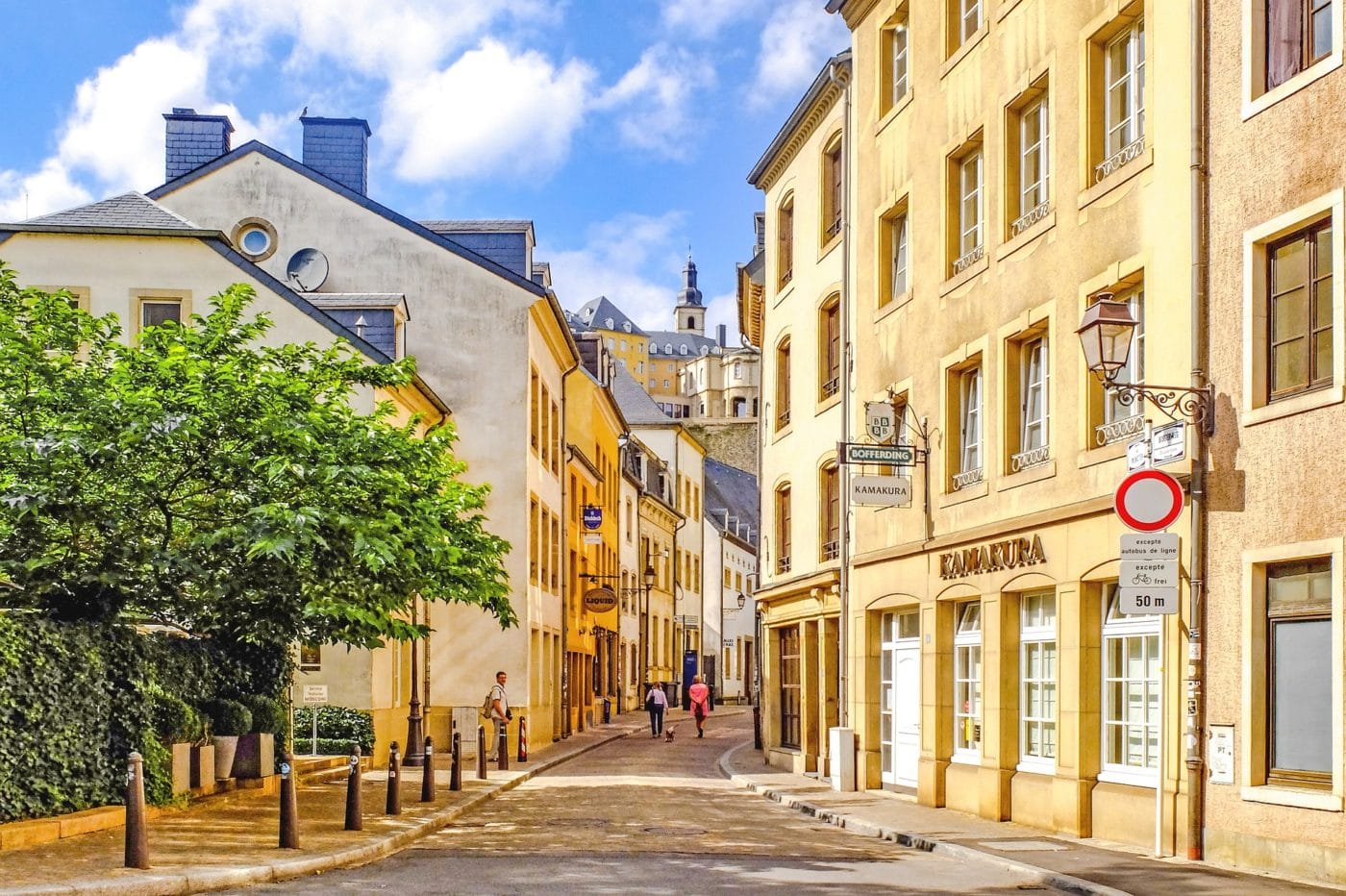 Photo by DJ Edj Looking for the best AirBnB in Luxembourg City? If so, this post will help you narrow down your search. I put together …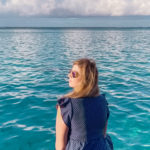 Eden Fite
Part-time Traveler | Dog Lover | Avoider of Crowds
I help busy people find creative ways to travel more.