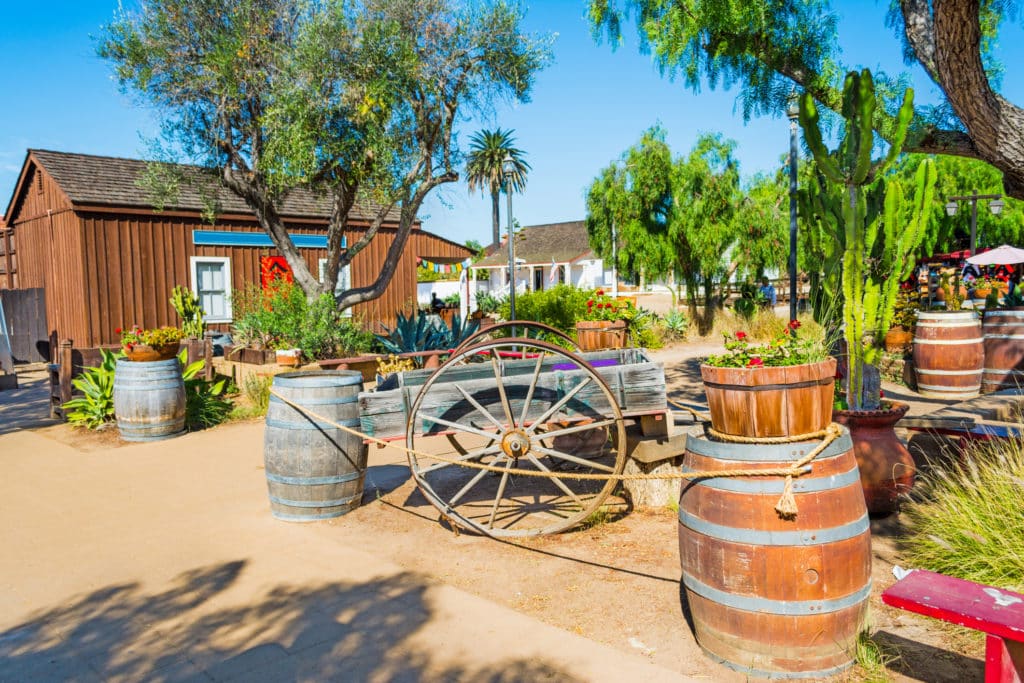 Old Town is a small historic neighborhood in San Diego and one of my favorite places to visit when in town.
The Old Town State Historic Park is where the first of California's 21 missions was established back in 1769 by Junipero Serra.
There is so much history in this little corner of San Diego, it makes exploring Old Town even more fun. 
Today, Old Town San Diego features 32 restaurants, over 100 specialty shops, 12 art galleries, and 27 historic buildings.
There are dozens of cultural events held here throughout the year including San Diego's annual Cinco de Mayo and Dia de Los Muertos celebrations. 
Whether you come for a special event or just to spend time with friends and family on a San Diego vacation, you're guaranteed to have an incredible day eating, shopping, and exploring your way around Old Town San Diego. 
Read on for what not to miss during your visit to Old Town San Diego. 
Planning your visit – Old Town San Diego Hours
Old Town San Diego State Historic Park operates on winter hours from October through April.
During winter, the museums are open Monday through Thursday from 10:00 a.m. to 4:00 p.m. and Friday through Sunday from 10:00 a.m. to 5:00 p.m.
During summer hours (May through September) the museums are open daily from 10:00 a.m. to 5:00 p.m. 
Most of the restaurants in Old Town San Diego are open from 10:00 a.m. to 9:00 p.m. Sunday through Thursday and 10:00 a.m. to 10:00 p.m. Fridays and Saturdays.
The hours for the shops near Old Town San Diego vary a bit, but all open daily at 10:00 a.m. Some of the shops close at 5:30 p.m., but some stay open until 9:00 p.m. 
9 Unique Things to do in Old Town San Diego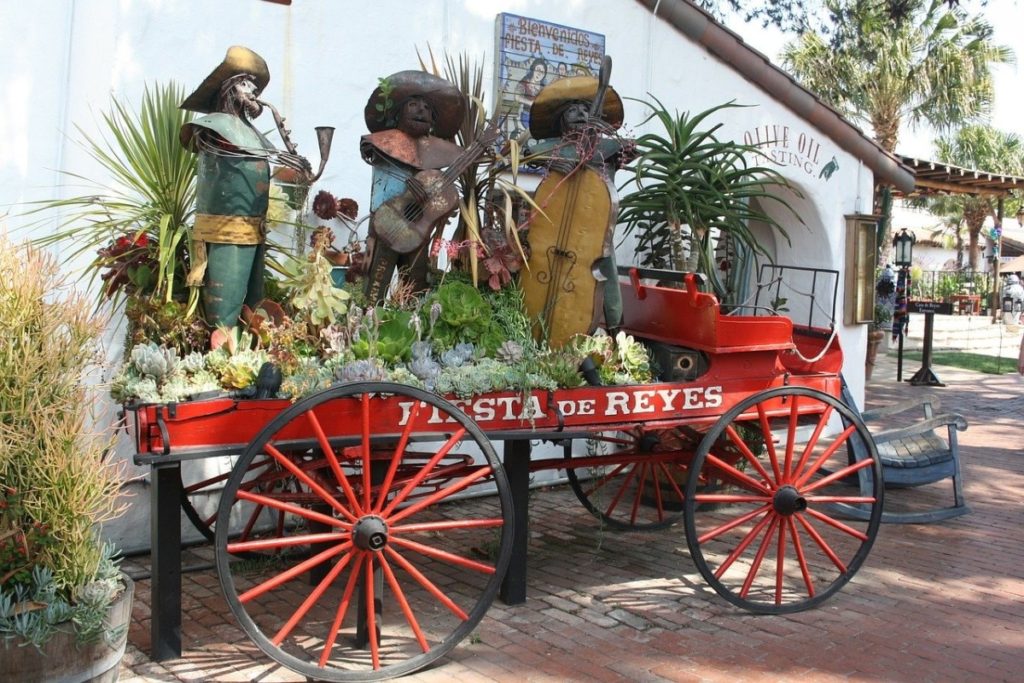 1. Attend an Old Town San Diego Event
San Diego tourism really picks up during the major holidays. One of the biggest reasons is that San Diego does such a great job celebrating.
In my opinion, Old Town San Diego hosts one of the best Cinco de Mayo and Dia de Los Muertos celebrations in the country. They are super fun, and not overly crowded. my favorite combination.
The following is a list of some of the most popular events held in Old Town San Diego throughout the year:
 Fiesta Cinco de Mayo: This is one of the largest Cinco de Mayo celebrations in the country. The celebration features food, live music, dancing, shopping, and plenty of activities for the kids. The dates and times for 2019 are as follows:  Friday, May 3rd from 4:00 p.m. to 9:00 p.m.  –   Saturday, May 4th from 10:00 a.m. to 10:00 p.m.  –   Sunday, May 5th from 10:00 a.m. to 8:00 p.m. 
Old Town Fourth of July: The 4th of July festival features a parade, crafts, and other activities. The dates and times for 2019 are as follows: Thursday, July 4th from 11:00 a.m. to 4:00 p.m. 
Halloween Trick or Treating: Children can go trick or treat at all the shops and restaurants in Old Town San Diego. The event for 2019 will be held on Thursday, October 31st from 4:00 p.m. to 6:30 p.m. 
Dia de Los Muertos: For this event, traditional and contemporary Dia de Los Muertos altars will be set up throughout Old Town San Diego. There will be special altars commemorating those who lived and worked in Old Town in the 1800s. The event also includes face painting, public memorials, arts and crafts, pinatas, dancing, puppets, live music, and more.  The event for 2019 will be held from Friday, November 1st through Sunday, November 3rd from 11:00 a.m. to 9:00 p.m.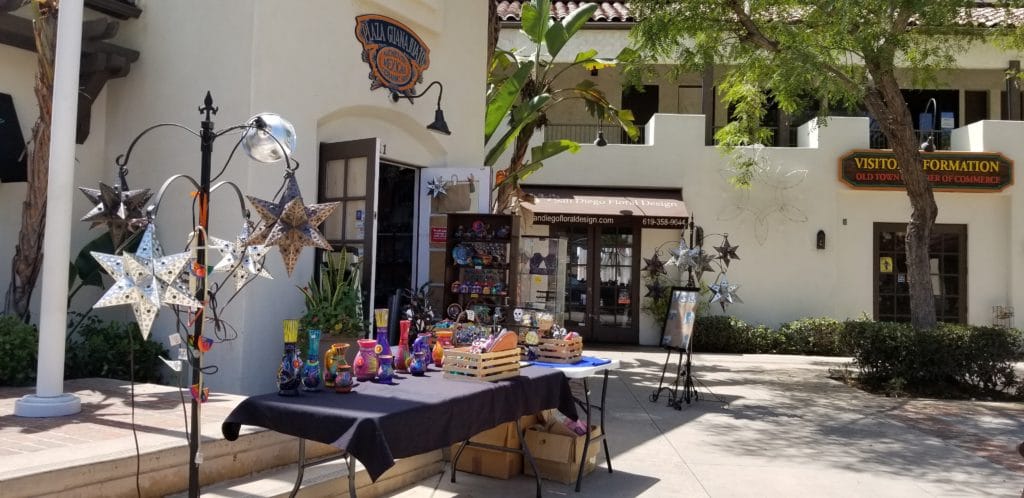 2. Go Shopping in Old Town San Diego
Be sure to make time to visit some of the unique shops in Old Town San Diego.
There are dozens of small, locally-owned stores scattered throughout the Old Town San Diego area. From ceramic shops to blanket shops and even a cigar shop, there is something for everybody.
If you've got little ones with you or you're just in the mood for something sweet, check out Cousin's Candy Shop. Here you'll find barrels of chocolates, caramels, lollipops, gum, you name it, they've got it.
If that's not enough to lure you in, they also have freshly made taffy and fudge. Or, if you're trying to avoid sugar, they even have a variety of sugar-free options.
If you're on the look out for knick knacks or souvenirs, take a walk around Old Town Market. You'll find many locally made and unique items for sale.
Did I mention there is also a wine shop offering both wine and beer tastings?
If this sounds as good to you as it does to me, visit Rose's Tasting Room. They serve craft beer and local wines from San Diego County and the surrounding wineries.
The staff are always super friendly and happy to answer any questions you may have.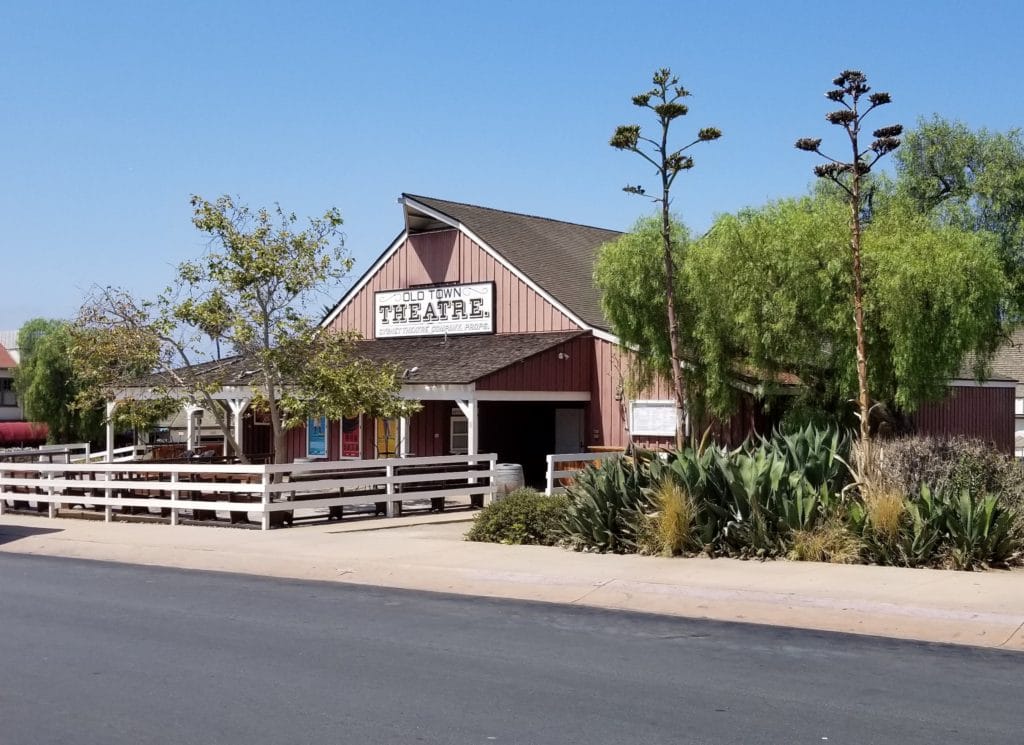 3. See a show at the Cygnet Theatre
The Cygnet Theatre is the place to go to in Old Town if you're looking to take in a show.
Old Town San Diego events are plentiful, but here you'll find everything from tried and true Shakespeare to Spamelot.
The Cygnet Theatre is known for its adventurous and thought-provoking live productions, so you're sure to see something worthwhile during your visit.
The Cygnet Theatre seats just fewer than 250 people and you'll be pleasantly surprised by the closeness of the actors,
It's as if you're part of the show. If you find yourself in Old Town San Diego, be sure to pay a visit no matter what is playing, you will not be disappointed.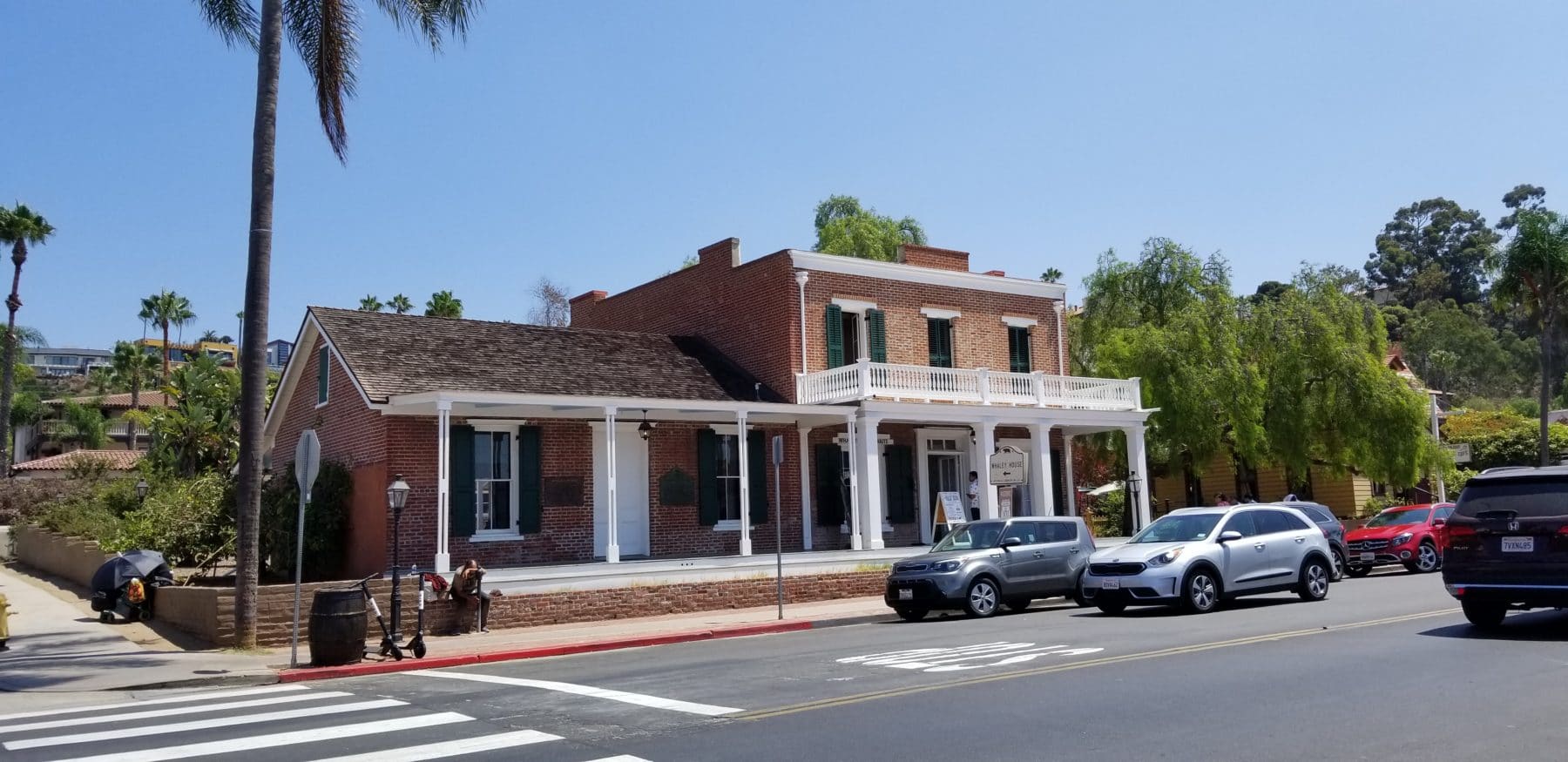 4. Get Spooked at the Whaley House Museum
The Whaley House is considered by many to be the most haunted house in America. 
It was built on a former graveyard by Thomas Whaley in 1857 for himself and his family. 
Over the years, at least six Whaley family members died inside the Whaley House, including their infant son who died at 18 months from Scarlet Fever, and a daughter who committed suicide at the age of 22. 
Today, the Whaley House is believed to be haunted by the Whaley family, including the Whaley's dog.
There are frequent reports of unexplained events including strange noises and the sound of footsteps. 
Even when the Whaley's themselves resided in the home, they had reported hearing footsteps in the attic.
They were reported to have believed it was the ghost of James Robinson, who had been hanged on the property for stealing a boat. 
The Whaley House offers both daytime and nighttime tours year-round. You can get more information about their tours here.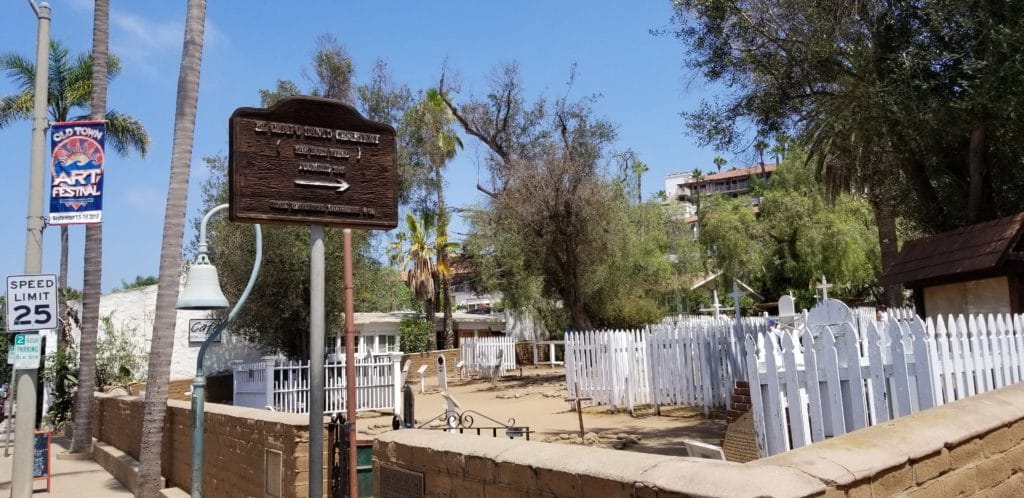 5. Visit the El Campo Santo Cemetery
Any list of things to do in Old Town San Diego must include a visit to the El Campo Santo Cemetery.
Located off San Diego Avenue, the cemetery dates back to 1849 and is the final resting place for 477 souls.
The cemetery itself used to be much larger, but a horse-drawn streetcar line was built right through the cemetery.
It's construction caused the removal of headstones and the inevitable upset of a few spirits.
As a result, grave markers now dot the streets in an attempt to acknowledge the bodies buried below the surface. 
El Campo Santo Cemetery is also rumored to be haunted which makes a visit here all the more fun.
Sightings of ghosts and car alarms going off for no reason run rampant throughout Old Town San Diego.
The cemetery remains open after dark, so feel free to walk around at night, if you're not too scared. 
6. Visit the Junipero Serra Museum
Just above Old Town State Park you can find the Juniperro Serra Musuem.
The musuem tells the story of San Diego's long history, including information and stories about the people who lived in the area in decades and centuries past.
Admission to the museum is donation based. The suggested donation is $5. The Junipero Serra Museum is open Saturdays and Sundays from 10:00 a.m. to 4:00 p.m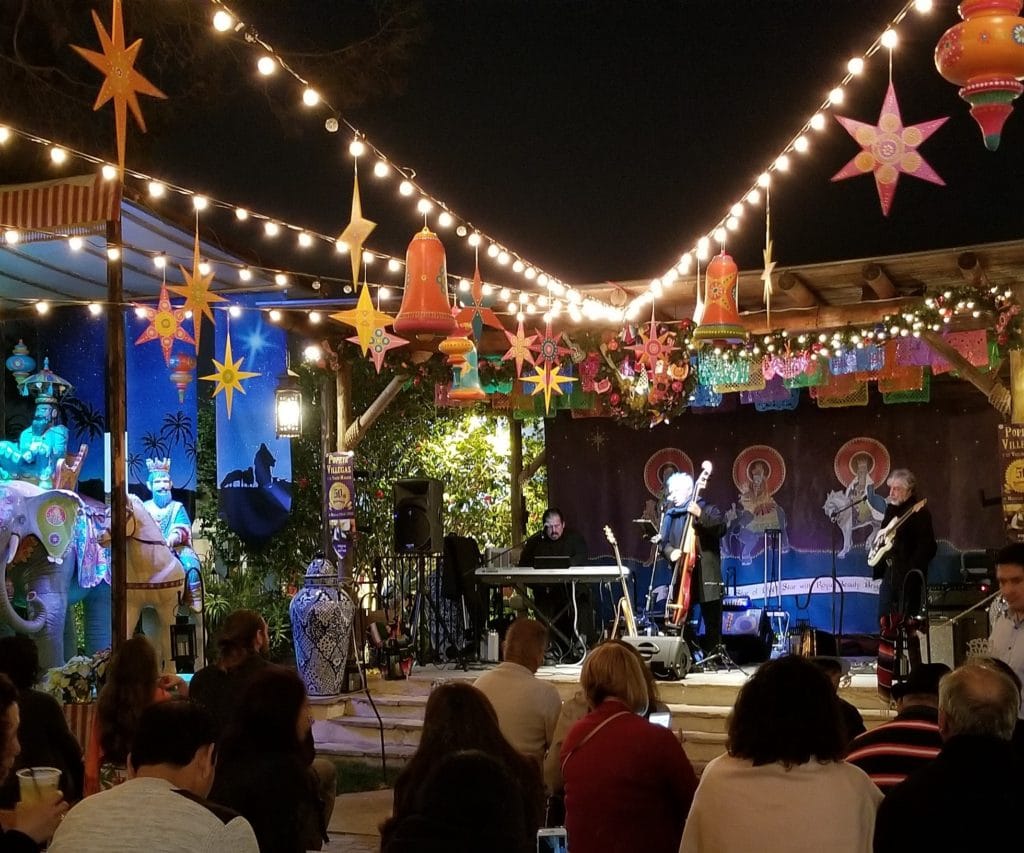 7. Enjoy Music at Casa de Reyes
Casa de Reyes is the perfect date night spot if you're with your partner or some friends.
This restaurant is especially beautiful if you dine outside along the gardens, under the colorful umbrellas and pretty lights. 
There is also live music on most nights making the atmosphere lively and fun. It's the perfect spot to relax, have drinks, and enjoy the show.
Casa de Reyes is honestly my favorite Mexican restaurant in California.
Possibly the best of the Old Town San Diego restaurants, Casa de Reyes is nestled comfortably in Fiesta de Reyes, a bright and bustling plaza packed with shopping, music and delightful food.
Located right in the heart of the neighborhood, you'll find something on the menu for any time of the day.
For an especially good meal,  I highly recommend you try their fajitas, they're what keep me coming back again and again. 
Don't forget to try one of their margaritas if you can. The jalapeno one is fantastic.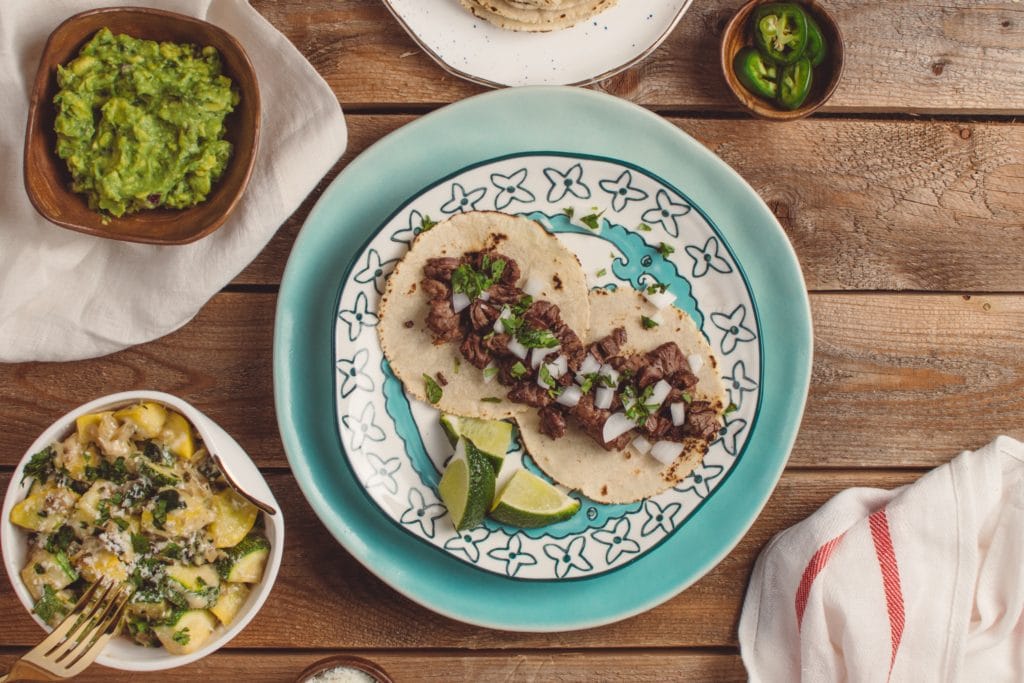 8. Enjoy the Old Town San Diego Restaurants
One of my favorite things to do in Old Town San Diego is to sample all the delicious food.
There are over a dozen delicious restaurants in Old Town San Diego.
If you're lucky enough to be a frequent visitor to the area, you can go on a mission to try them all.
While my favorite restaurant, Casa de Reyes is mentioned above, the other restaurants are equally worth checking out.
Here is a list of the great restaurants you can find while in Old Town San Diego:
Barra Barra Restaurant and Saloon: Mexican eatery offering traditional cuisine, unique margaritas, patio dining, and ample tequila options. 
Cafe Coyote: Serves traditional Mexican food in the heart of Old Town San Diego. 
Casa Guadalajara Mexican Restaurant: Serves traditional Mexican cuisine in a lively and fun atmosphere. Live Mariachi music can be heard on weekends. 
Casa de Maria: Serves traditional Mexican cuisine on an outdoor patio. 
 Fred's Mexican Cafe: Fresh Mexican dishes paired with healthy California cooking. 
 Miguel's Mexican Cocina: Serves fresh Mexican cuisine from fish tacos to the chicken mole. 
 Old Town Mexican Cafe Restaurant: Serving authentic Mexican cuisine with hand made tortillas. 
 Rockin' Baja: Famous for serving traditional Mexican seafood dishes in a lively and fun atmosphere. 
 Cosmopolitan Hotel and Restaurant: Serving Mexican favorites, American grill, and fresh seafood. 
Jack and Giulio's Italian Restaurant: They serve handmade pasta, veal, poultry, meat and seafood dishes. 
Pizza Bella Italian Bistro: Serving thin crust pizza and pasta for both dine-in and take out. 
 Tahona Bar: They serve Oaxacan cuisine and feature mescal tastings.
 Old Town Tequila Factory: Located on the rooftop of the Hacienda Hotel, they serve traditional Mexican cuisine on the rooftop patio. 
Verde Kitchen and Bar: Located inside the Hilton Garden Inn. They serve Mexican inspired dishes with a full bar. 
9. Ride the Old Town Trolley
The Old Town Trolley is one of my best San Diego travel tips. It's an easy and convenient way to see the city.
In fact, the Old Town Trolley tours will take you all around San Diego to explore some of the most popular destinations in the city, from La Jolla Cove to the San Diego Zoo.
The Old Town Trolley stops at the Old Town Market. Visitors can hop on and hop off as they like.
You can purchase tickets in advance at their website. All day tickets start around $37 and includes admission to several musuems.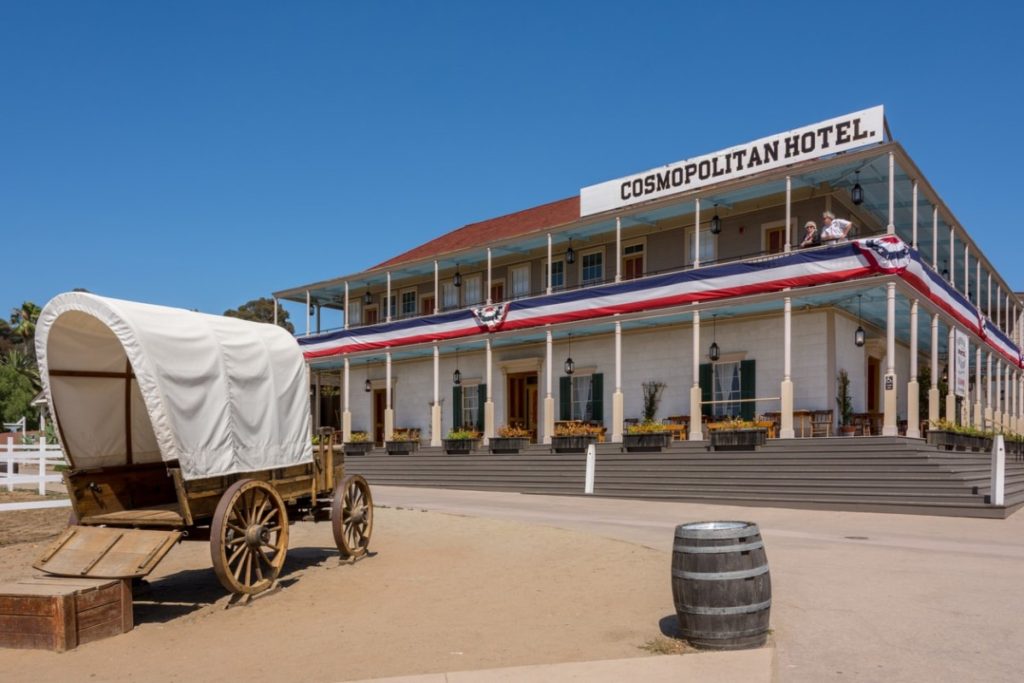 Old Town San Diego Hotels
There are several hotels in and around Old Town San Diego if you'd like to stay in the immediate area during your visit.
Here are a few hotel suggestions:
Cosmopolitan Hotel (pictured above): Historic Inn with Victiorian style rooms
Best Western Plus Hacienda Hotel: Modern rooms with an outdoor pool
Courtyard by Marriott: Modern but affordable hotel with an outdoor pool
HIlton Garden in San Diego: Upscale Colonial style hotel with a pool
If you plan to visit Old Town San Diego during the summer or around a major holiday, make sure to book your room early. They will sell out.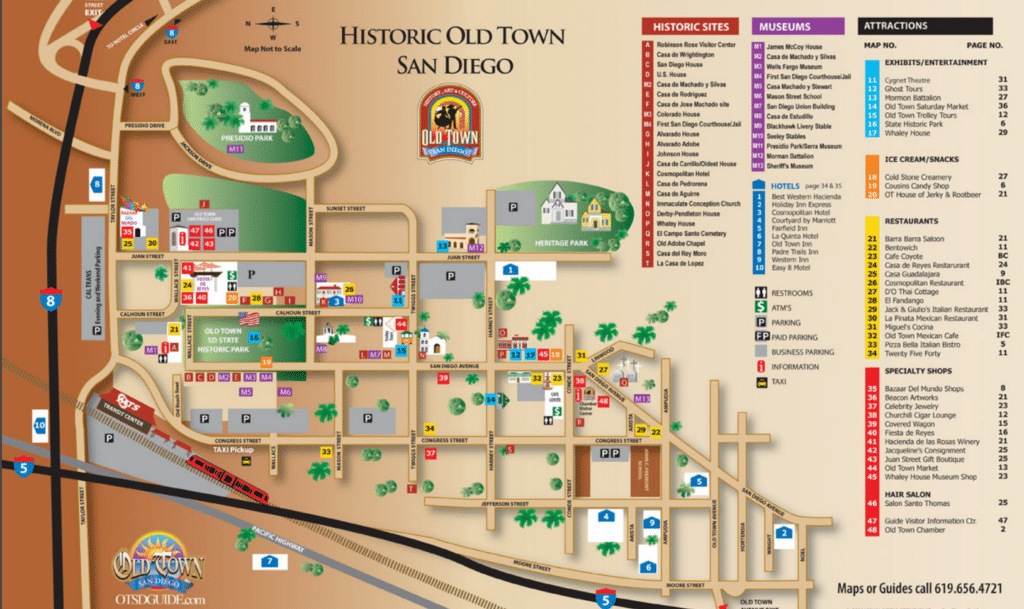 Old Town San Diego Map
I can only hope that my promises of shopping, history, fajitas, and the occasional haunting have convinced you to get your hands on an Old Town San Diego map and do some serious exploring.
Old Town promises a wealth of history, an abundance of mouth-watering food and endless entertainment.
Though not the largest community in San Diego, I can guarantee that you'll marvel at how you wandered every inch of Old Town San Diego more than once and saw something new every time. 
If you're interested in checking out more of San Diego's neighborhoods, check out my post on Barrio Logan San Diego. 
Book Your Trip
Find the best flight deals by using Google Flights, then book direct with the airline. This is the search engine I use to compare flights and prices before booking my own trips.

BOOK YOUR ACCOMODATION
I recommend searching for hotels through Booking.com to compare hotels on amenities, location, and price. If you are a member of a hotel's rewards program, always book direct with the hotel. If you are not loyal to a specific hotel brand, using Booking.com for the best price.

TRAVEL INSURANCE
Travel insurance is more important than ever. For just a few dollars a day you can protect yourself and your trip. I personally use World Nomads, but whomever you choose, don't skip out on travel insurance. It can literally save you thousands of dollars.


Want to Save it? Pin it.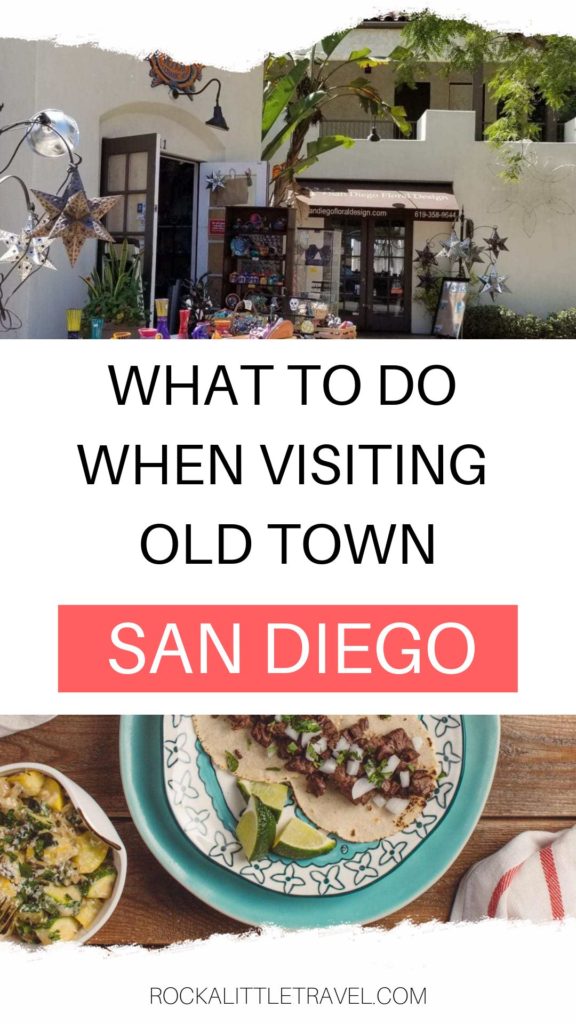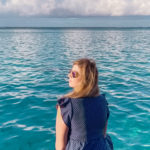 Eden Fite
Part-time Traveler | Dog Lover | Avoider of Crowds
I help busy people find creative ways to travel more.
Related Posts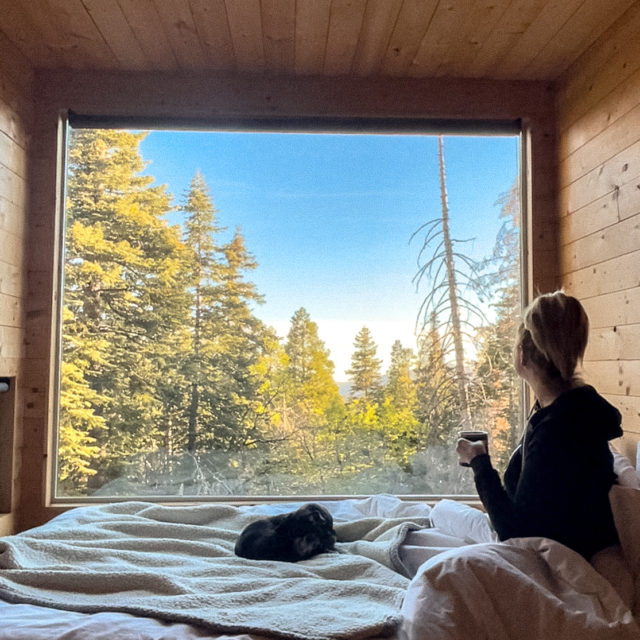 Is Getaway House Big Bear is worth the hype? Let's find out. Just last week I booked a last minute stay at Getaway House …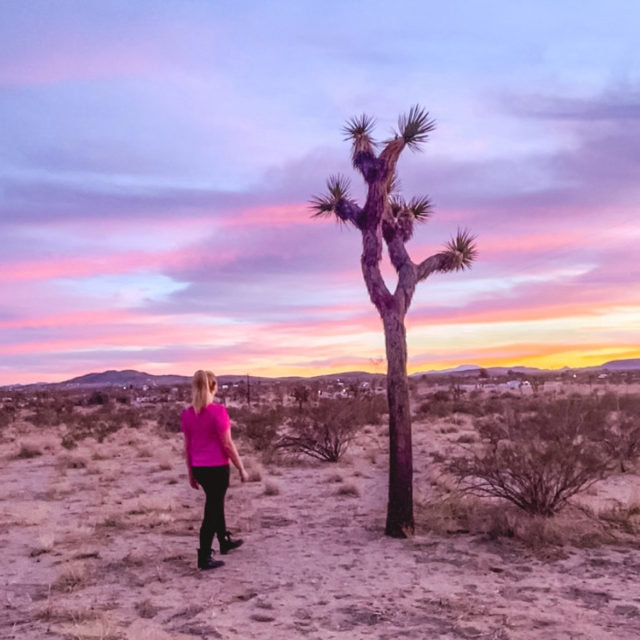 While the best time to visit Joshua Tree National Park depends on what you're looking for, there are a few important considerations when planning your …