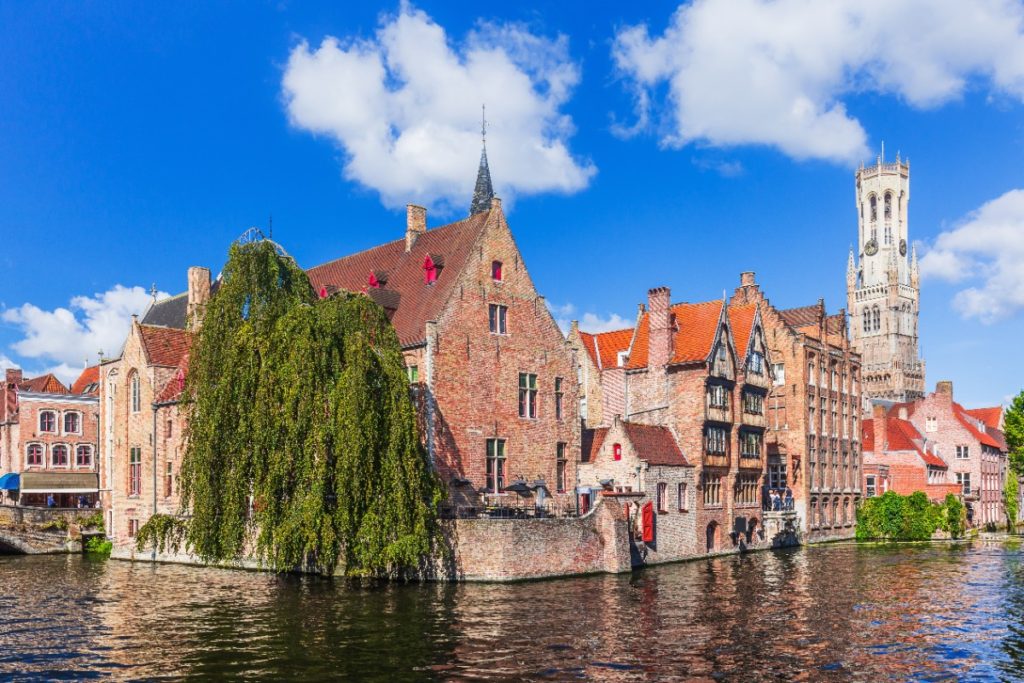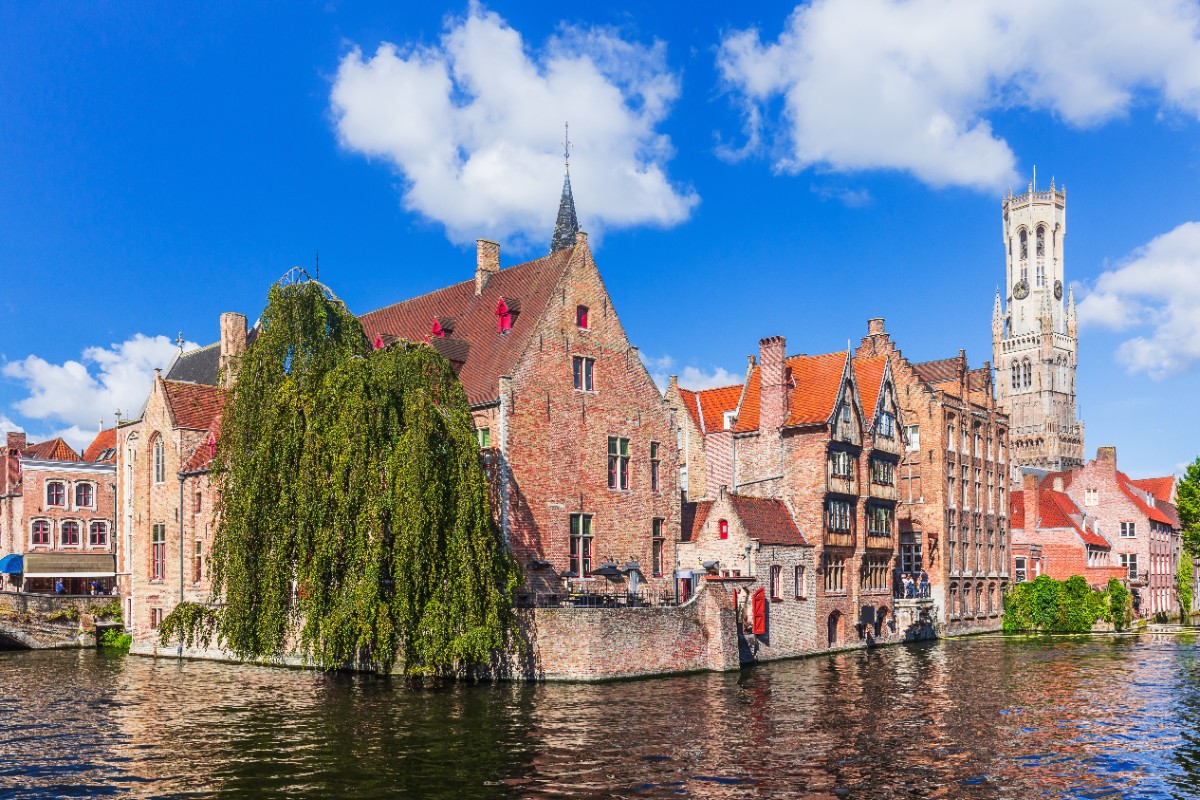 This Ultimate Belgium Road Trip will take you to some of the most picturesque and historic cities in Belgium.
You'll get to sample hot, fresh Belgium waffles in Brussels, float along the canals of Bruges, and dip your feet in the ocean in De Haan.
I fell in love with Belgium during my own recent trip and can't wait for you to have the same experience. I spent hours walking around the historic city centers in Brussels, Bruges, and Ghent, and ate more waffles than I care to admit.
Each of the cities on this Belgium Road Trip has something special, but I'll leave you to figure out what that is.
I really hope you love Belgium as much as I did. Enjoy.
Belgium Road Trip Itinerary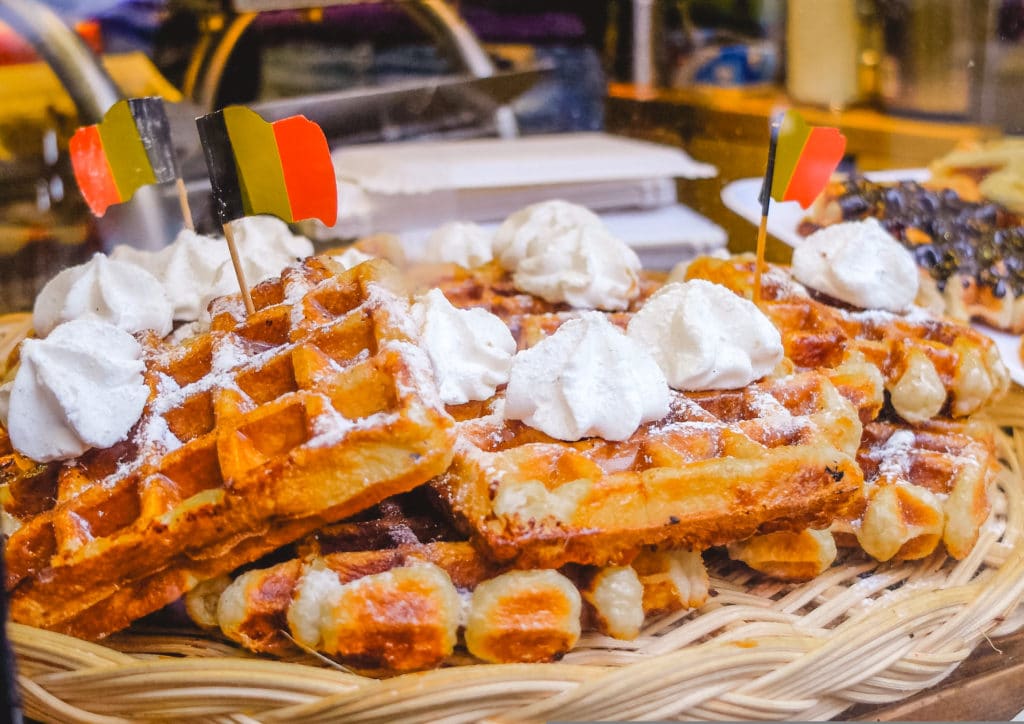 The ten stops on this Belgium road trip are intended to be enjoyed slowly over the course of about one week to two weeks. Depending on the time you have, I would try to spend one full day in each city, arriving in the morning and making your way around the city throughout the day.
Those in a hurry or just short on time could possibly complete the itinrary in as few as four or five days, spending just a few hours or half a day in each city. In addition, each of these destinations could also be visited as weekend trips from Brussels by car or train.
Each of the cities on this Belgium itinerary can be reached easily by car, or even train if you prefer train travel over driving.
Hotel recommendations for each city are also included. I've selected moderately priced, but nice hotels within walking distance of the various city centers and main attractions. Basically, I like to find the nicest hotel I can afford, that's as close as possible to the city centre.
As always, make this trip your own. Stay as long as you please in any location or simply skip the ones that don't interest you. Above all else, have fun. Belgium is awesome and I think you're going to like it too.
Stop 1: Brussels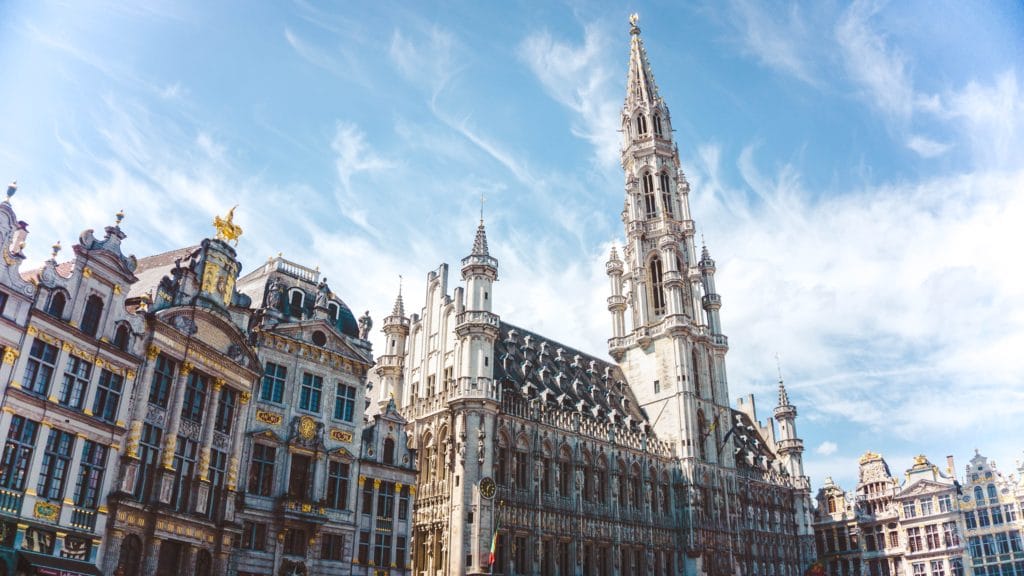 The first stop on your Belgium road trip will be the lively and fun city of Brussels. You'll want to spend at least one day in Brussels, but I'd recommend two to three.
This city has tons to see and do in its city center, from historic Grand Place to the Royal Palace. For those into politics, Brussels is home to the European Union and European Parliament. You can even take a tour of the hemicycle to see European government in action.
Brussels is also home to the famous Manneken Pis statue. This tiny statue depicts a young boy peeing. Despite it's subject matter, the tiny statue is for the city. He even has over XX number of outfits to wear depending on the time of year.
Many of these outfits were gifts from foreign dignitaries. If you venture out to find the Mannequin Pis, be sure to find the other matching statues Hennekin Pis and XX Pis, which are also located in the city center.
For those who came to Belgium for the waffles, you're in luck. You'll find the best waffles in Brussels just a short walk from Grand Place at a local spot called Los Churros and Waffle. They are hot, fresh, sweet, and delicious.
Belgium is also known for its superior chocolate making. You'll find chocolate shops all over the city, with a dozen or so centered around the city center.
If you stop in to look, they will often offer samples. Be sure to buy a few chocolates to take with you. If you're looking for a gift to bring home, a box of Belgian chocolates is the way to go.
In the evenings, head out to Delirium Cafe to sample their many craft beers. This place is huge with different rooms focusing on different types of beer.
This is a fun place to spend an evening while you're in town. They even have live music a few nights per week. Try to arrive early if you want a seat. During the busy season, this place gets packed.
Where to stay
The Dominican: This is the hotel I stayed at and loved how close it was to Grand Place and all the other big attractions in the city. The rooms were nice and the lounge in the lobby had a great selection of local ciders.
Brussels Marriott Hotel Grand Place: Upscale hotel with polished rooms located right in the heart of the city center.
Next Stop: Antwerp
Distance: 55 kilometers
Drive Time: 45 minutes
Stop 2: Antwerp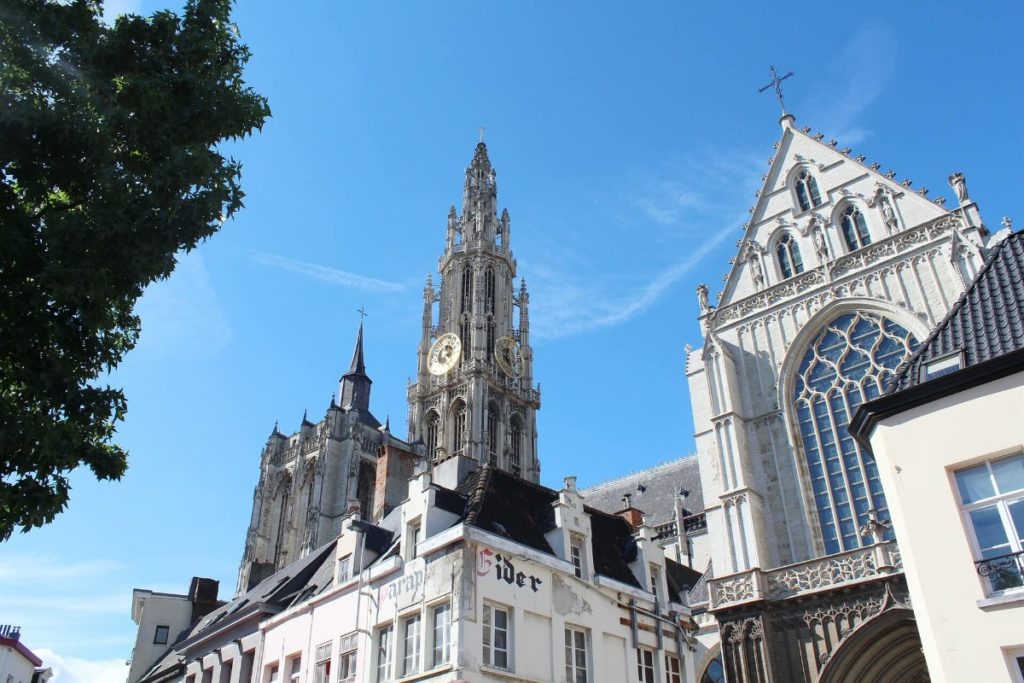 Is Antwerp worth visiting? Absolutely.
Antwerp is the second largest city in Belgium and home to the tallest church tower in Belgium and one of the most impressive train stations in Europe.
Make your first stop in the city at Grote Markt. This is Antwerp's historic city center and is filled with buidlings dating back centuries. The Town Hall is the main attraction and dates back to the 16th century.
Elsewhere in the historic center you'll find restaurants, cafes, souvenir shops, waffle shops, and more. This is the liveliest part of the city, there's always something going on.
After you've finished walking around Market Square in the city center, head over to Cathedral of Our Lady. This cathedral is beautiful from the outside, but be sure to go inside as well.
The cathedral houses a large collection of famous artworks you won't want to miss. For those who would like to learn about the history of the cathedral and the art in the interior, guided tours are available.
For those that appreciate architecture, be sure to make a stop into the Central Antwerp train station. This station is considered one of the most beautiful in Europe. Don't miss the clock in the main hall.
If you're impressed by diamonds, you can also walk around the Antwerp Diamond District. You'll find shops on every corner selling diamonds of all shapes and sizes.
Where to stay
Next Stop: Ghent
Distance: 60 kilometers
Drive Time: one hour
Stop 3: Ghent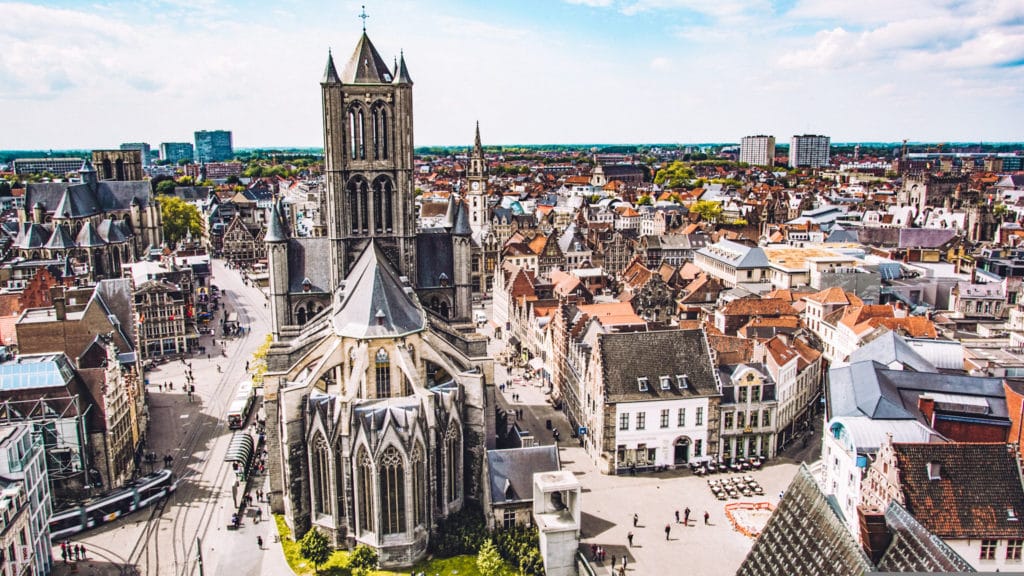 Ghent is one of the coolest places to see when visiting Belgium. This city has both canals and Medieval architecture, so what's not to love?
Some of the top sights to see with one day in Ghent are the Gravensteen Castle, the Belfry, Saint Michael's Bridge, and Korenlei and Graslei,. Each of these attractions can be found within walking distance of each other right in the historic city center.
The architecture in Ghent is seriously amazing, so take the time to get some pictures as you're walking around. You can get some great shots from Saint Michael's Bridge when you're in the area.
For those looking for something a little different, head to Graffiti Street. Ghent is a popular place for graffiti and street art, so you'll find some impressive art in the streets as you're walking around.
You can find Graffiti Street on the north side of the city center. Use Google Maps to get walking directions.
Another popular stop in Ghent is the House of Alijn. This is a local musuem where you can get information about daily life in 20th century Flanders. After you've made your way through all the exhibits, head to the courtyard. There's a pub outside serving local beers.
Where to stay
Next Stop: Bruges
Distance: 48 kilometers
Drive Time: 45 minutes
Stop 4: Bruges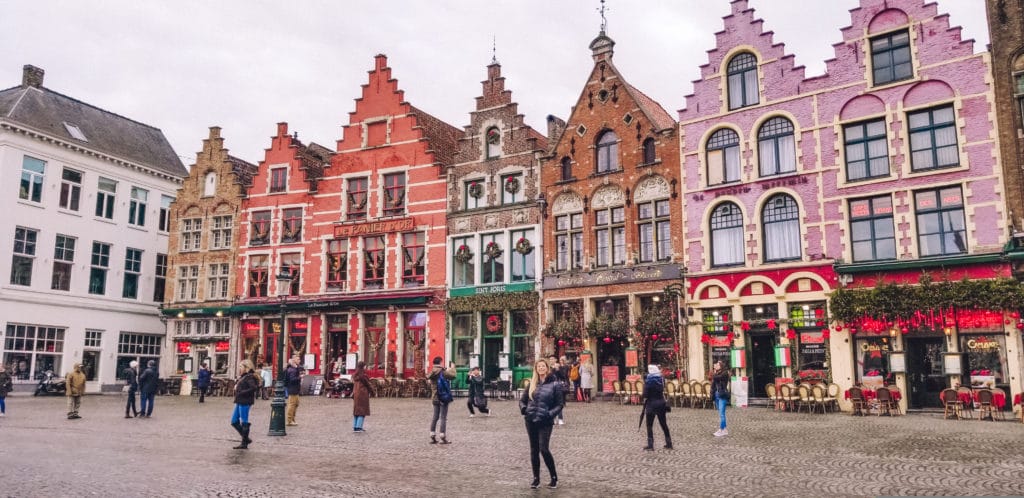 Bruges was one of my favorite cities during my own recent visit to Belgium. Bruges is a small, walkable city with a colorful and lively Market Square. I couldn't enough of these colorful buildings.
Besides Market Square, visitors to Bruges should not miss the Belfry of Bruges, a canal cruise, the Basillica of the Holy Blood, the Historium, and the Salvador Dali Museum. All of these places are within a short walk of the Market Square and can easily be visited with just one day Bruges.
If you're looking to try some traditional Belgian cuisine, there are restarants all around the city center, include several in Market Square. Many of them are catering to tourists, but I found the food to be quite good anyway.
Though to be honest, I don't really know what good Belgian cuisine is supposed to taste like.
After lunch, consider trying some of the local Belgian waffle spots. You'll find several as you're walking around. I recommend getting the strawberry, banana and Nutella with whipped cream.
You'll also find a few Belgium chocolate shops here, including The Chocolate Line. This is a great place to pick up a few boxes of chocolates to bring home with you. Or, if you're like me, you can eat them back in your hotel room.
Where to stay
Next Stop: De Haan
Distance: 18 kilometers
Drive Time: 25 minutes
Stop 5: De Haan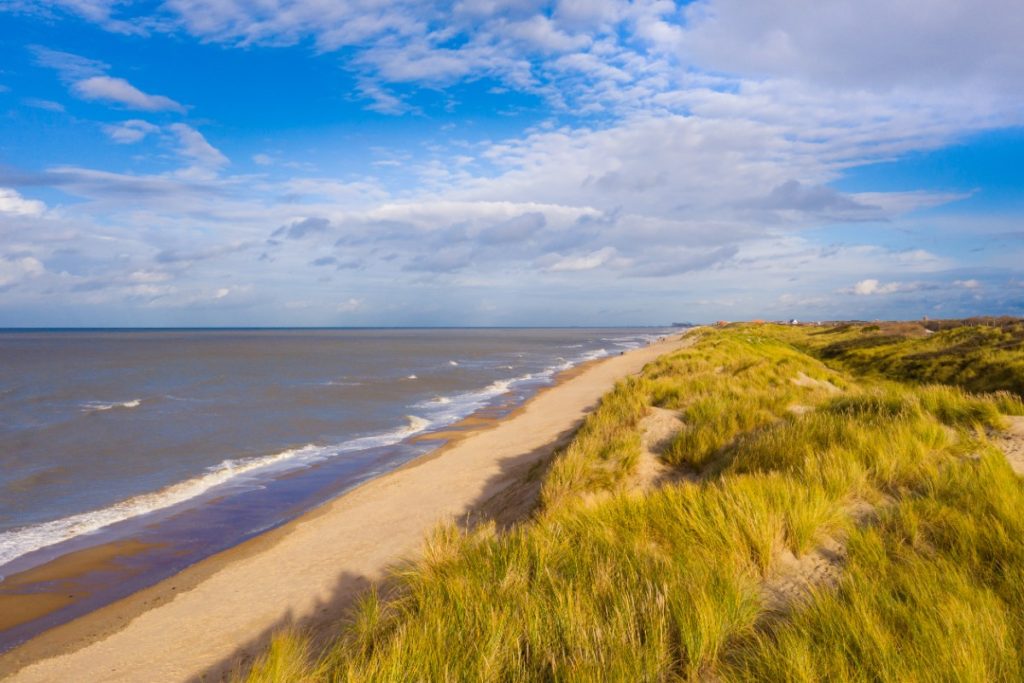 De Haan is a seaside resort town along the North Sea known for its huge sandy beach and its many restuarants.
Some of the most popular destinations are the De Haan beach for sunbathing and swimming and La Potiniere, a large outdoor urban park.
The charming city center is home to local boutiques, souvenir shops and cute Bed and Breakfasts. The town is easily explored on foot and is the perfect break from all the other city stops on your Belgium road trip. Use your time here to relax, unwind, and enjoy the beach.
For those looking for cocktails, you're in luck. There are several beachside bars and restaurants. Some of these spots will even serve you drinks in the sand.
De Haan was also a former home of Albert Einstein, though he only lived there for a couple of months in 1933. Despite his short residency, you can view his house or sit next to his statue on a bench near his former home. You can find his statue just a short two blocks from the beach.
Where to stay
Next Stop: Ypres
Distance: 83 kilometers
Drive Time: 60 minutes
Stop 6: Ypres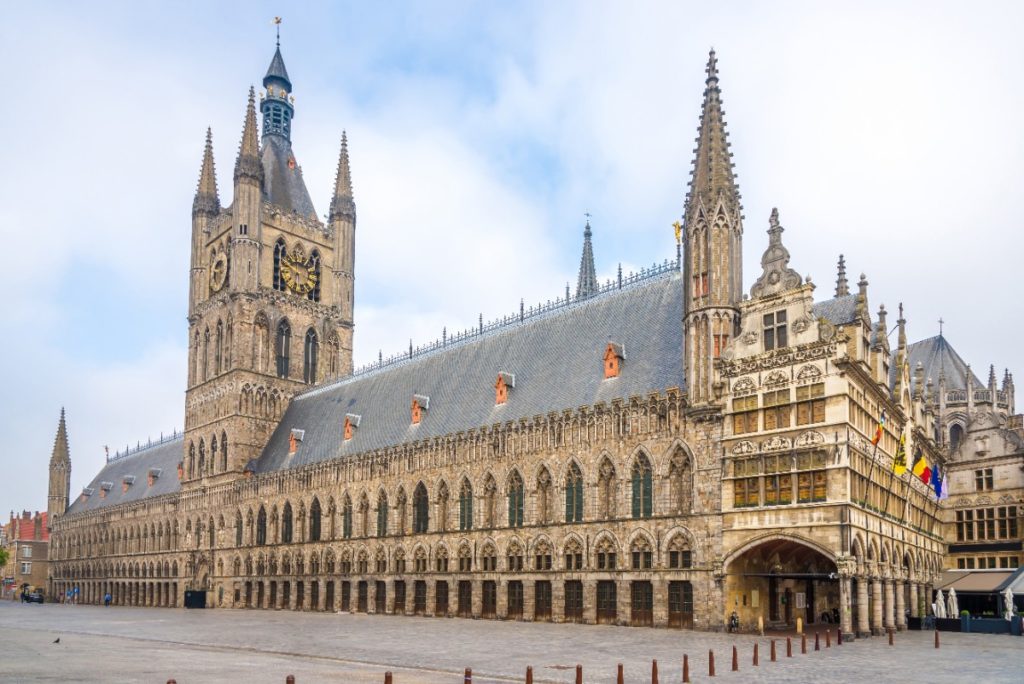 Ypres is located in West Flanders and is surrounded by former World War I battlefields. Today, the area is home to many cemeteries, war memorials, and war museums. Ypres in an important stop on your Belgium road trip itinerary due to its historical significance.
While the original town of Ypres was mostly destroyed during the war, the former buildings were reconstructed in their original Gothic architecture.
One of the most popular destinations in Ypres is the Flanders Fields Musuem. This museum tells the history of WWI through various immersive exhibits. This musuem does an incredible job retelling this history, and a visit here is highly encouraged.
Other important stops in Ypres are the Menin Gate Memorial, Belle Almshouse, Lakenhalle, and the Last Post Ceremony. The Last Post Ceremony takes place at Menin Gate daily at 8:00 p.m. and is a ceremony in remembrance of the soldiers that lost their lives in WWI.
While a visit here may seem a bit somber, this area was one of the front lines of the war. You'll likely have no better opportunity to learn as much as you can about this war and the impact it had on Europe and the rest of the world.
Where to stay
Next Stop: Tournai
Distance: 60 kilometers
Drive Time: 40 minutes
Stop 7: Tournai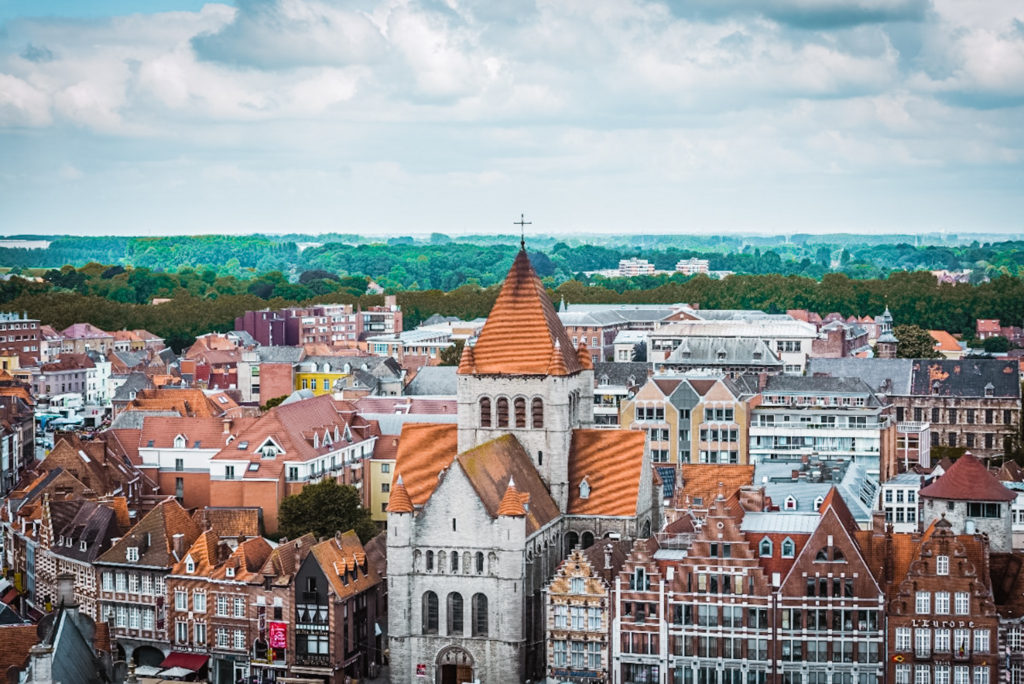 Tournai is located along the French border in western Belgium. The city is best known for its Notre Dame Cathedral with 5 towers. This is an incredibly beautiful cathedral, make this your first stop so you don't miss it.
Tournai is also home to a lively Grand Place, or town square, lined with bars and restaurants, and plenty of historic buildings.
Other popular attractions in Tournai are the Belfry of Tournai, St. Quentin's Church, the Musuem of Natural History, the Museum of Fine Arts, Pont des Trous (Bridge of Holes) and the Medieval Red Fort Tower.
For impressive views of the city, make your way to the top of the Belfry in the evening before sunset. The lighting is perfect and you can see for miles.
Where to stay
Next Stop: Mons
Distance: 49 kilometers
Drive Time: 40 minutes
Stop 8: Mons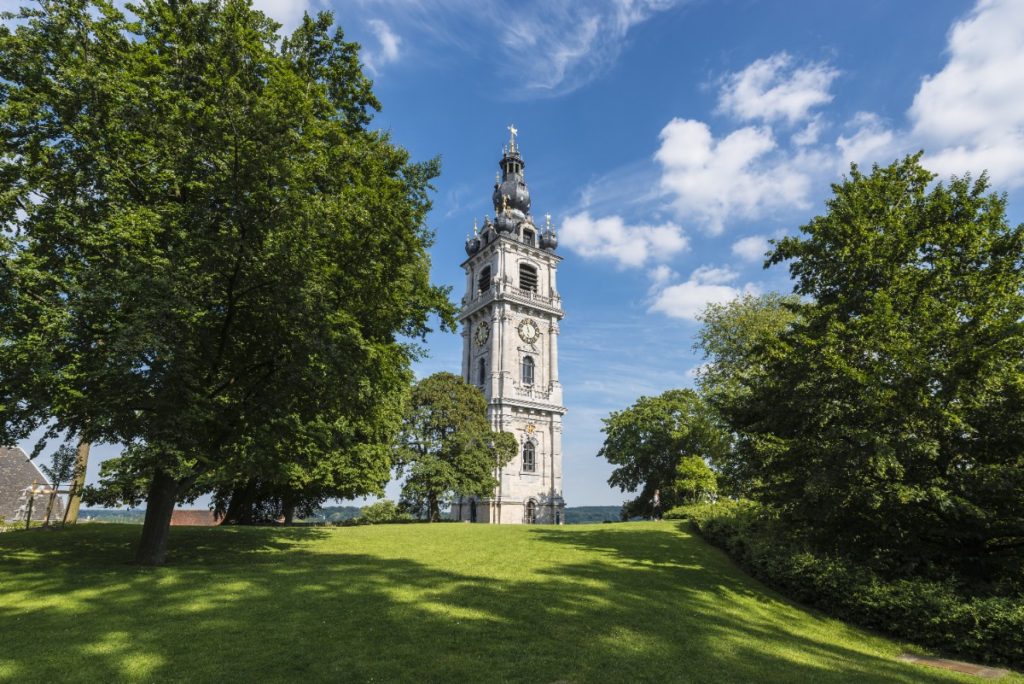 Mons is located in Belgium's Walloon Region about an hour south of Brussels. The city is best known for its Grand Place, lined with centuries old buildings.
Located a short walk from Grand Place you'll also want to visit the elegant Mons Belfry (pictured above), the only Baroque belfry in Belgium.
Other popular attractions in Mons are the Mons City Hall, Church of Sainte-Waudru, Mons Memorial Museum, Château de Beloeil, and Beloeil Park.
If you happen to be in town in May, try to catch the Festival of Le Lumeçon. This lively and fun festival dates back to the 14th century. It includes a procession that begins at 12:30 p.m. at the Church of Saint-Waudru and ends at Grand Place. The procession carries a 9 meter long dragon known as Doudou.
One the procession arrives in Grand Place with the dragon, they act out a fight between St. George (a former Roman soldier turned Christian martyr) and the Dragon. Spoiler… The dragon always loses.
Where to stay
Next Stop: Liege
Distance: 132 kilometers
Drive Time: 90 minutes
Stop 9: Liege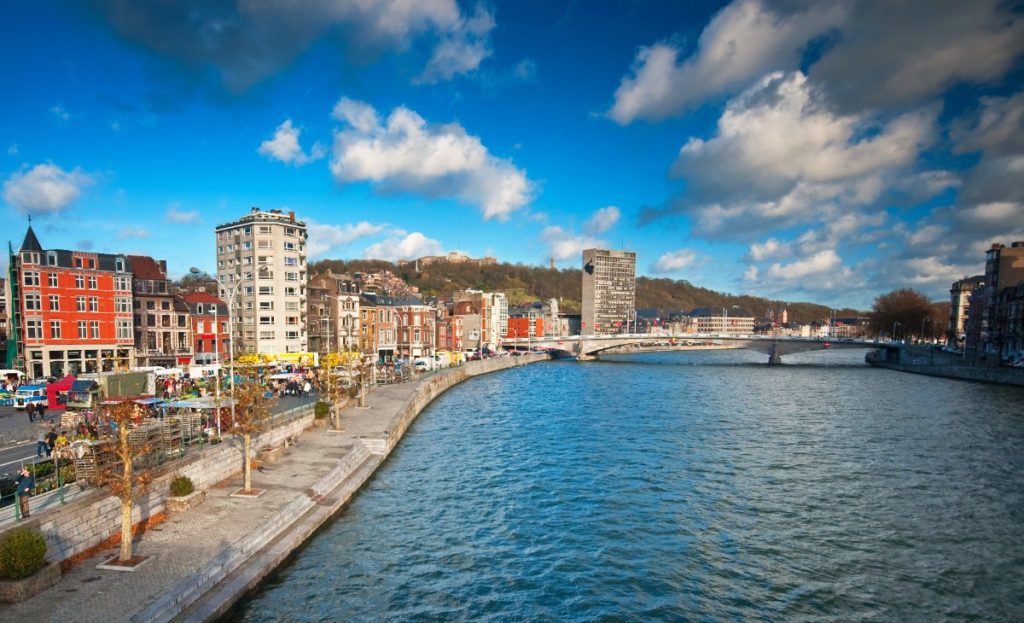 This Belgium travel guide and road trip itinerary would not be complete without a visit to Liege, one of the most beautiful places in Belgium.
Liege is found in the French speaking Wallonia region of Belgium and is situated along the Meuse River. The town is known for its historic center and Medieval landmarks.
Some of the biggest attractions in Liege are the Grand Curtius museum, Liege-Guillemins Station, Musee Des Beaux Arts de Liege, St Paul Cathedral, Church of St Bartholomew, and the Palace of the Prince-Bishops.
If you're looking to get in a little exercise and see the city from a different angle, head to the Stairs of Mount Bueren. The Stairs of Mount Bueren take you high above the city via 374 steps for some impressive views of the surrounding area.
You'll also want to wander around the various passages alongside the staircase. There are beautiful private gardens that you don't want to miss.
Where to stay
Next Stop: Leuven
Distance: 82 kilometers
Drive Time: 55 minutes
Stop 10: Leuven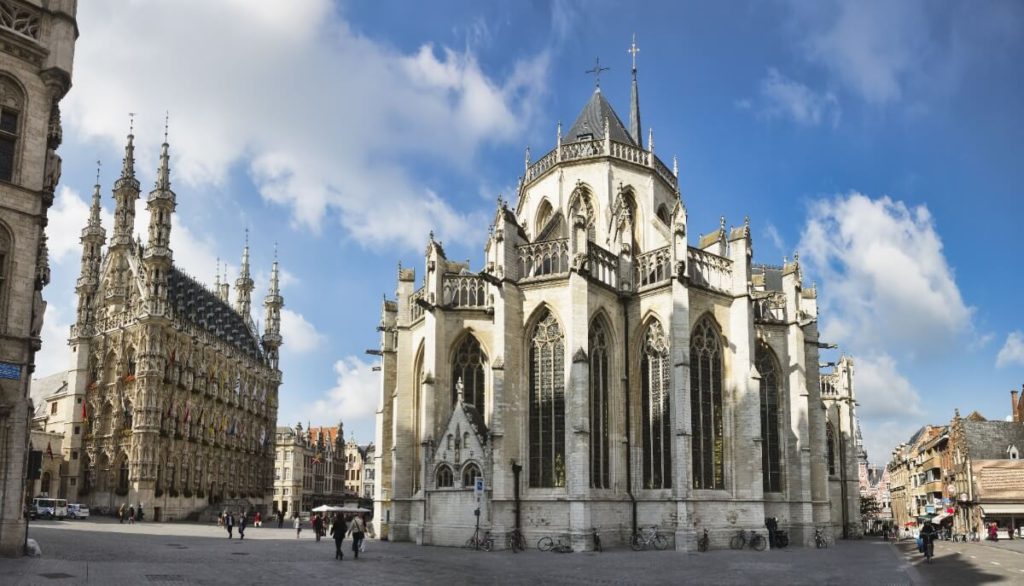 Located just a short distance east of Brussels, Leuven is best known for its historic city center, centuries old architecture, and for its breweries. This is also a fun choice for those looking to spend just a weekend in Belgium.
Other major attractions in Leuven are Stadhuis Leuven (City Hall), Treasury of Saint Peter's, Cloth Hall, Universiteitsbibliotheek (University Library), Museum M, Groot Begijnhof (Grand Beguinage).
Since you're in a brewery town, you should also spend some time sampling the local beers. Start your brewery tour at Oude Markt, the self proclaimed "longest bar in the world."
Oude Markt is a full street of outdoor breweries and restaurants serving local cuisine and regional beers. It's a lively environment and an incredibly fun place to spend an evening.
Where to stay
Next Stop: Back to Brussels
Distance: 29 kilometers
Drive Time: 30 minutes
This completes the Ultimate Belgium Road Trip itinerary. From here you can either return to Brussels before heading home or moving on to your next destination. Or, even better, you could plan to continue your adventure.
Might I suggest a road trip from Belgium to Italy, a road trip from Belgium to France, or even a Belgium Netherlands road trip? Each of these countries would be awesome to visit on a road trip. I'll be honest, I haven't done it, but I'd sure as heck love to.
Tips for Driving in Belgium
After you've picked up your rental car, be sure to adhere to the below driving in Belgium tips during your Belgium road trip. Most of the tips below are common sense and just friendly reminders. Others may be a bit unique depending on where you're traveling from.
The minimum age for driving in Belgium is 18.
Vehicles in Belgium drive on the right hand side of the road.
Vehicle insurance is mandatory. Be sure to request insurance coverage when picking up your rental car. You will need to keep proof of insurance inside your vehicle at all times while driving in Belgium.
Like most places, drinking and driving is illegal. Do not, under any circumstances, drive while intoxicated.
Wearing a seatbelt is mandatory. All passengers need to be wearing a seatbelt when the car is moving. Small children should be in a car seat.
Using your cellphone while driving is against the law unless you have a hands-free option. If you need to make a call and do not have a hands-free option, you should pull over to make or receive the call.
All vehicles must carry a reflective jacket, warning triangle, first aid kit, and fire extinguisher. These items are not optional. Esnure your rental car has these items stowed in the trunk prior to driving away.
You must obey all traffic signs and signals.
You must obey the speed limit at all times. On motorways the speed limit is usually 120 km/h. There is also a minimum speed of 70 km/h on most motorways. Look for speed limit signs while in cities or rural areas.
You may only park in designated areas. Tickets and fines will be handed out for vehicles that are illegally parked. Vehicles may also be towed, so don't make this mistake.
I recommend making your Brussels car rental reservation in advance so you have options for the type of vehichle you'll be driving around. Last minute reservations usually leave you with the least desirable cars.
Best time to visit Belgium
I think the best time to visit most popular destinations in Europe is anytime but summer. The summer months bring with it higher prices, crowds of tourists, and long lines.
I personally love Autumn in Belgium. You'll get to avoid the summer crowds and the fall colors are amazing.
Winter in Belgium comes with holiday festivities and festive Christmas markets.
Spring in Belgium is perfect for getting a jump on your travels before the crowds arrive. You'll also have lighter crowds, reasonable prices, and beautiful weather.
I hope you've enjoyed this Ultimate Belgium Road Trip itinerary and that I've inspired you to take a trip of your own. If you'd like to support this blog, please consider sharing this post. Thanks for reading.
Book Your Trip
Find the best flight deals by using Google Flights, then book direct with the airline. This is the search engine I use to compare flights and prices before booking my own trips.

BOOK YOUR ACCOMODATION
I recommend searching for hotels through Booking.com to compare hotels on amenities, location, and price. If you are a member of a hotel's rewards program, always book direct with the hotel. If you are not loyal to a specific hotel brand, using Booking.com for the best price.

TRAVEL INSURANCE
Travel insurance is more important than ever. For just a few dollars a day you can protect yourself and your trip. I personally use World Nomads, but whomever you choose, don't skip out on travel insurance. It can literally save you thousands of dollars.


Want to save it? Pin it.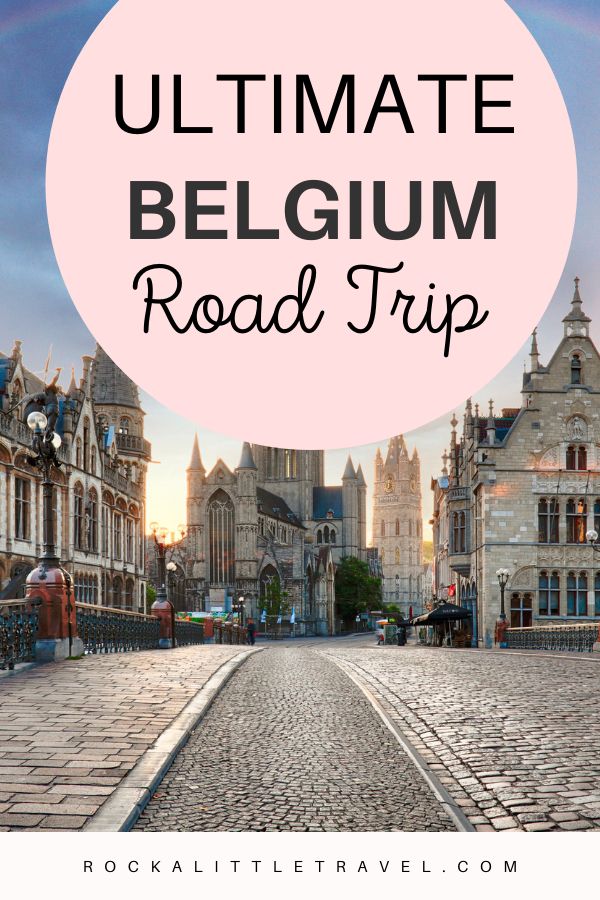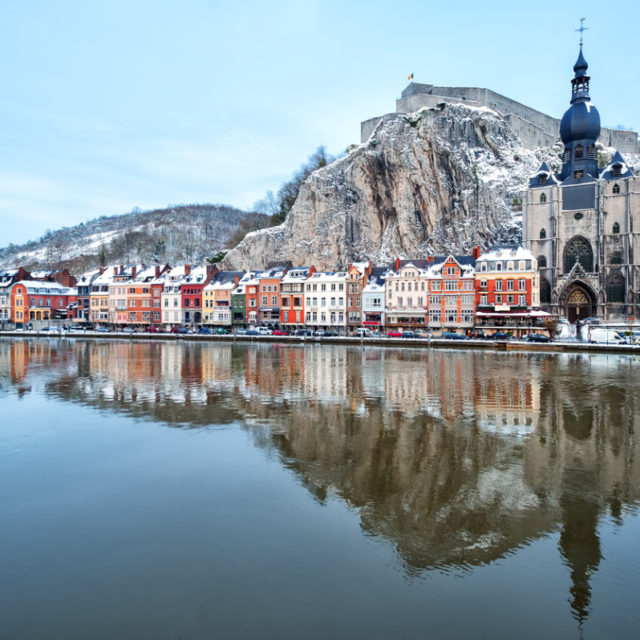 Photo by Xantana from iStock Belgium in Winter is the perfect time to visit if you want to experience the excitement of the holiday season while …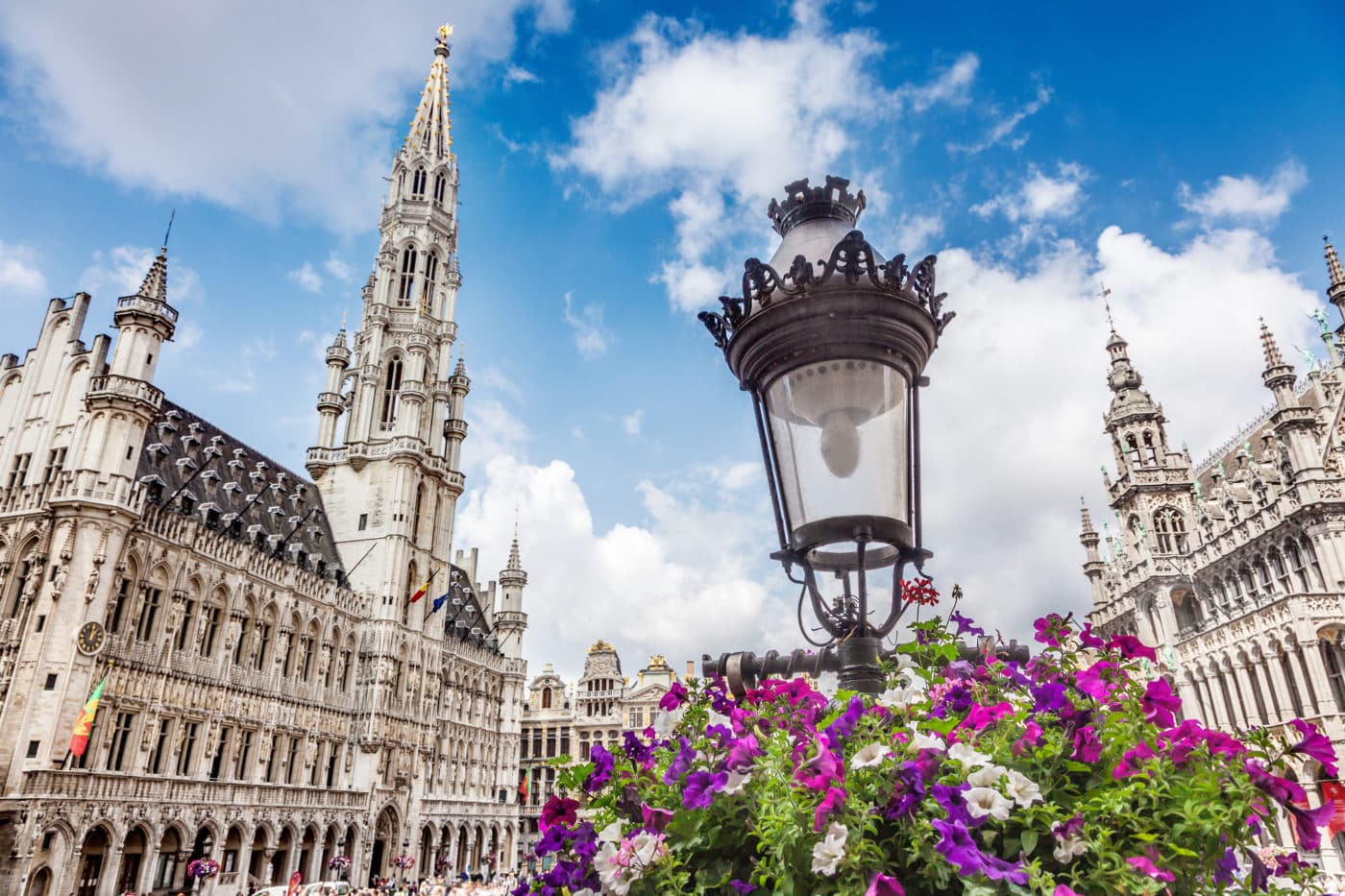 Even with just one day in Brussels, you're sure to fall in love with this wildly fun city. As home to the European Parliament, Brussels …