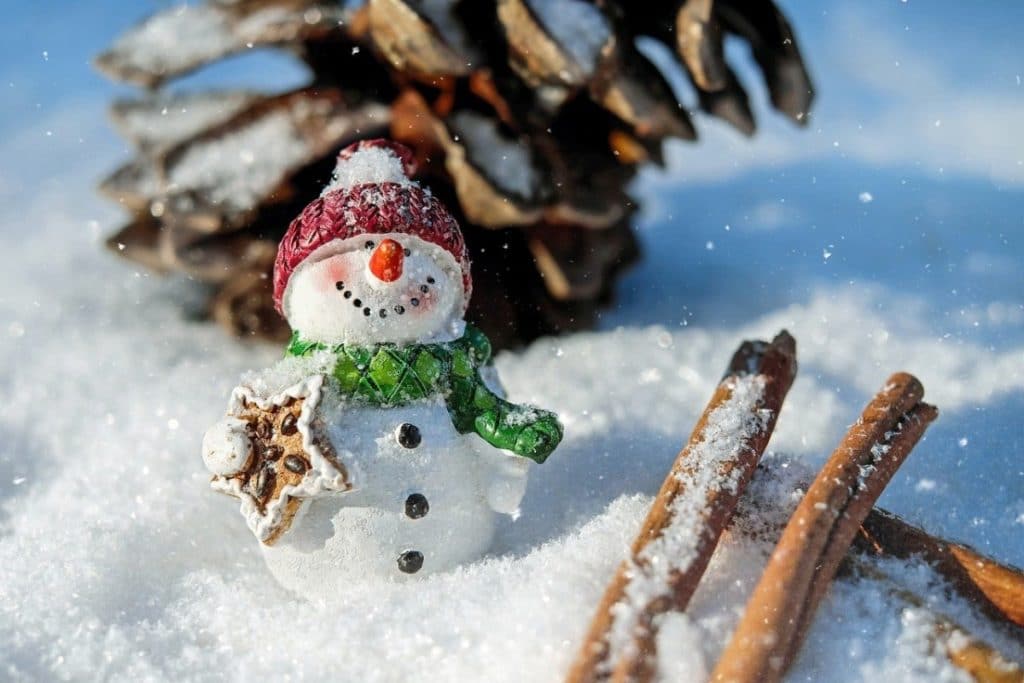 For those of us who work full-time and travel part-time, winter weekend getaways can help get us through those long winter months.
These unique weekend getaways offer the opportunity to explore somewhere new, or maybe even visit an old favorite, without having to use up any of that precious vacation time.
As an added incentive, winter weekend getaways typically come with an affordable price tag due to their shorter duration. 
For this post, I have collaborated with several other up-and-coming travel bloggers to share our favorite winter weekend getaways.
Each destination highlights an easy to get to the location from most major U.S. cities, all of which can be reached within a few short hours. 
Read on to be inspired to book one of the most unique winter weekend getaways you've ever taken.
9 Perfect Winter Weekend Getaways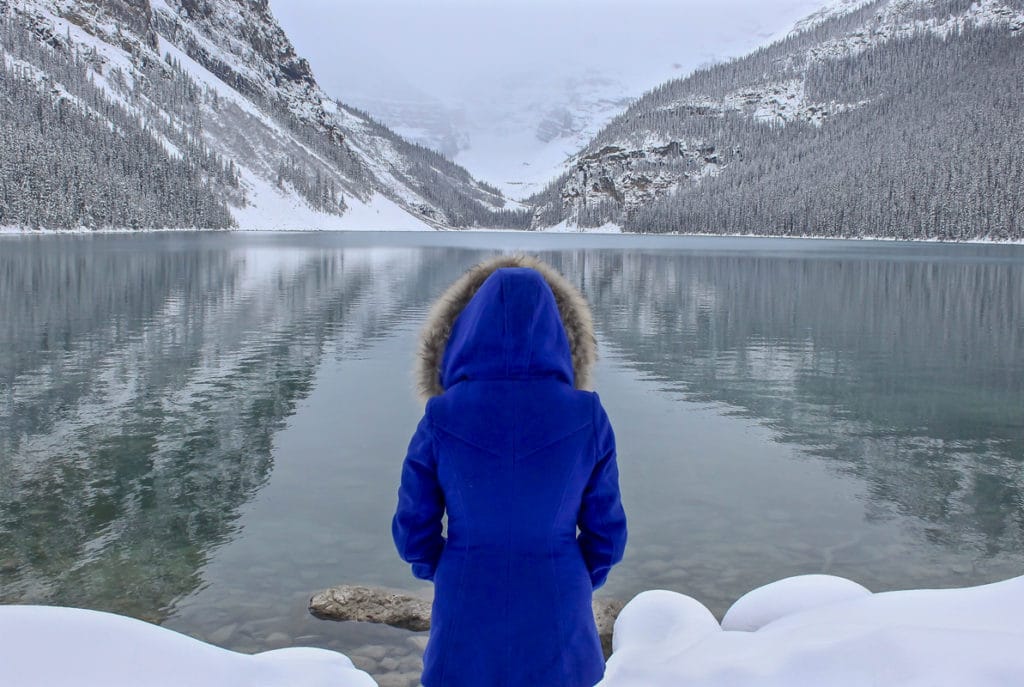 1. Banff, Alberta, Canada – Explore With Lora
Banff is a small, beautiful town surrounded by the rocky mountains that makes for one of the most perfect winter weekend getaways.
It is not only a great getaway for Canadians, but also for Americans since Alberta is next to Montana and the Calgary International Airport (YYC) has direct flights to and from many American cities.
Getting to Banff is an easy one-hour scenic drive from Calgary, with well-marked highways that lead to the main town.
There are a number of activities to do in Banff during winter.
These include world-class skiing, snowboarding, winter hikes (check out the frozen waterfalls of Johnston canyon), dog – sledding tours through the mountains, and hot springs to relax in after a day of playing in the snow.
Banff is also home to the world-famous Lake Louise, which becomes even more picturesque during winter as the snow falls over the mountains and the lake freezes, offering visitors a chance to skate around the lake. 
December is a great time to come to Banff because fresh snow will be on the mountains, and the town of Banff becomes even more picturesque as the streets get decorated with bright and festive lights for Christmas.
Get some of your Christmas shopping done in the charming stores, and warm up afterward with a cup of hot chocolate or a pint at the many local restaurants and breweries in town.
Banff is the perfect weekend getaway to get in the Christmas spirit and embrace the start of winter.
Lora is a solo female travel blogger searching for the best wildlife and nature on the planet. She is currently in Nepal as part of a one-year trip around the world. You can follow her at Explore With Lora or on Instagram.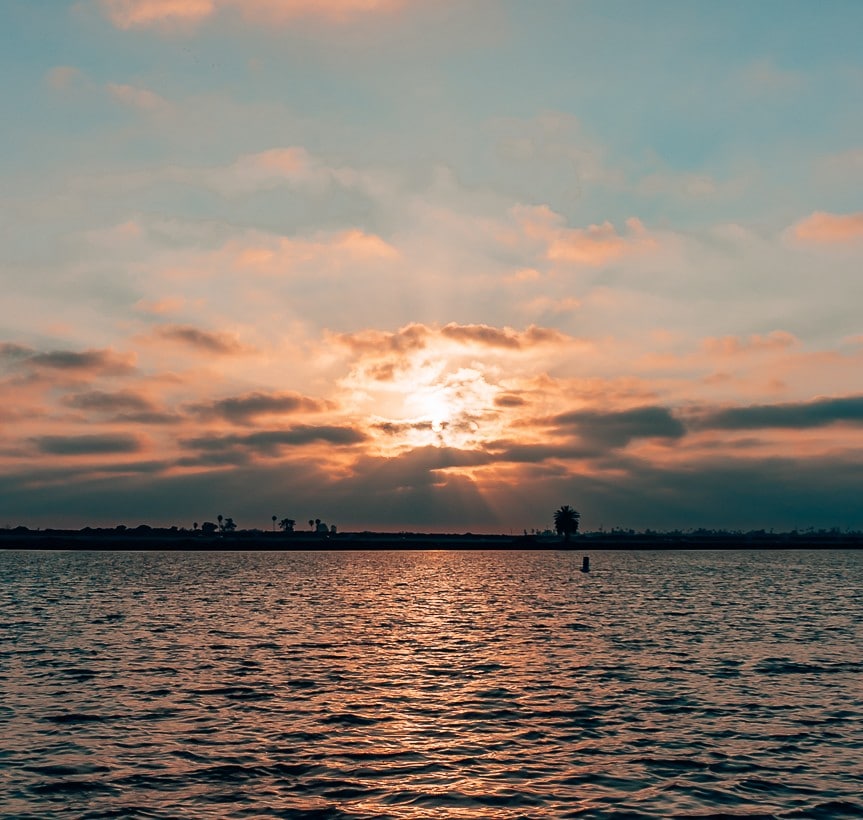 2. San Diego, California – Blue Eyed Compass
Whenever we have friends planning to come visit us in San Diego, we suggest they come in the winter months.
That may sound strange, as San Diego is seen as a summer destination, but for San Diegans, it's summer year-round.
Typically summer flights to San Diego are most expensive and the beaches packed with visitors. December is the undiscovered best time of year to visit San Diego. 
Enjoy an easy flight into our beautiful airport or take a train down through California to arrive in San Diego. You'll be greeted by the downtown skyline and holiday-decorated boats in the harbor.
The weather is mild and almost always sunny (no May gray or June gloom) in December. This means you can enjoy all the outdoor activities you'd like to without the crowds.
Consider stand up paddleboarding on the bay, hiking Torrey Pines, and most uniquely, ice skating on the beach.
You should also be sure to check out weekend festivals and events. This city always has an event going on.
Be sure to include a visit to the Hillcrest farmers market on Sunday mornings. Enjoy fresh fruits and veggies, local vendors selling craft made ginger beer, hummus, vegan food trucks, etc. 
You can't go wrong with views of Christmas lights strung up on palm trees at the beach (be sure to check out Ocean Beach's decked out palm tree-lined main street, it will lead you straight to the beach!).
You can also say you spent the holidays avoiding crowds and snow by strolling along La Jolla's cove beach with the sea lions. 
Laura is the creator of the sustainable travel blog, Blue Eyed Compass. She focuses on capturing the beauty of places through photography and enjoys helping others to make travel decisions that are best for the planet. You can follow Blue Eyed Compass on Instagram.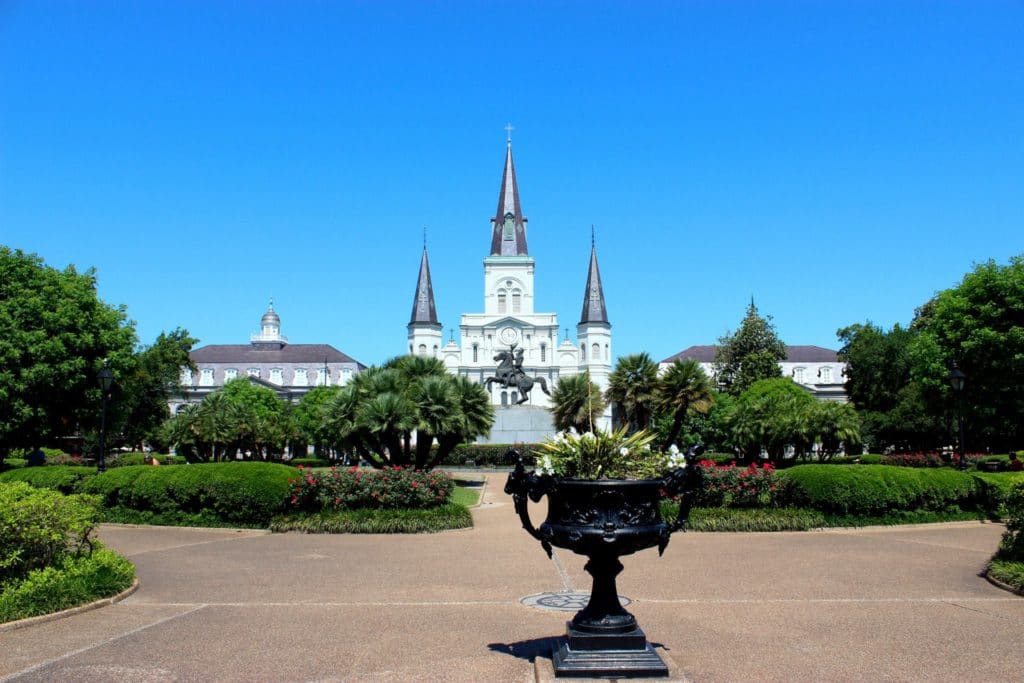 3. New Orleans, Louisiana – Wandering Crystal
New Orleans is the perfect place for unique winter weekend getaways.
December brings cool weather to the city, which makes the normally roasting New Orleans much more enjoyable to walk around.
Your winter weekend will be spent walking around a lively French Quarter, enjoying delicious food and energetic jazz. 
Start your day with a traditional southern meal at the phenomenal Stanley Restaurant nestled into the historic Jackson Square.
This charming part of town is known as the heart of the French Quarter and is home to the picturesque St. Louis Cathedral. 
After filling up on classic dishes, take the New Orleans Tram to the Garden District – the city's most beautiful neighborhood.
Here you can explore the spectacularly colorful double gallery houses built in the French colonial style. 
When you're done exploring the lavish gardens, take the tram back to the French Quarter for an afternoon treat.
Cafe du Monde is known for its delicious deep-fried choux pastries called beignets. They're served warm and dusted in a light shower of powdered sugar. 
A wonderful way to spend the evening is to walk down Bourbon Street, taking in some incredible live jazz performances.
Sit down for a drink and an amazing show at Fritzel's European Jazz Pub, a place that's small and intimate, allowing you to interact with the musicians.
Be sure to request any jazz song you'd like to hear, but know they charge a hefty $20 for requesting the ever-popular "When the Saints Go Marching In!"
New Orleans is the perfect stop for a mini holiday.
It's easily accessible by car from nearby cities and states. You can drive directly into the French Quarter, park your car and leave it there for your entire weekend visit. 
Wandering Crystal is a Canadian travel enthusiast and dark tourist with a love of history, culture and all things macabre. You can follow Wandering Crystal on Instagram.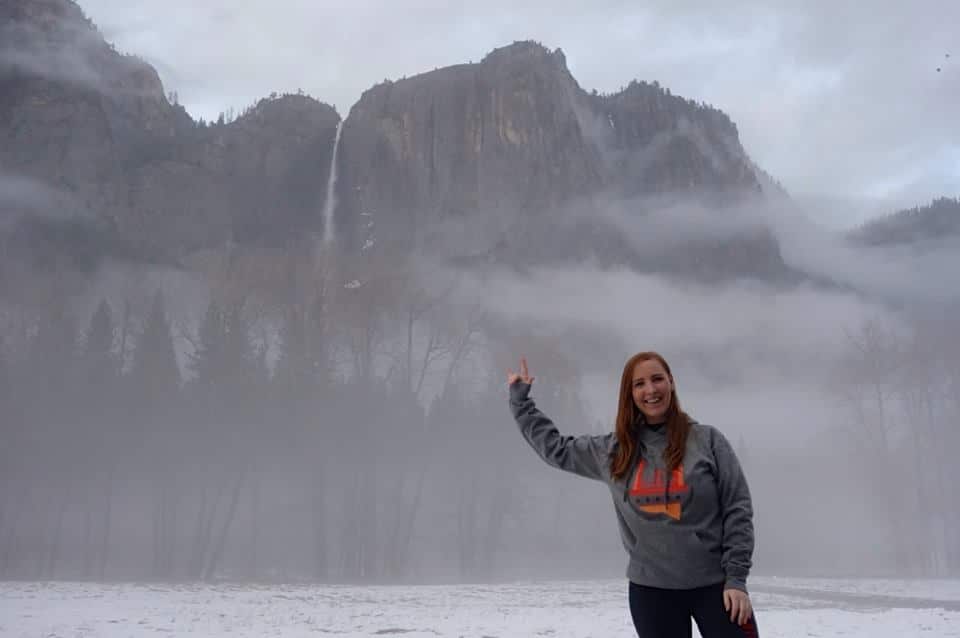 4. Yosemite National Park – White Wolf Private Tours
If you're looking for one of the most serene winter weekend getaways, consider Yosemite National Park.
Yosemite National Park is the first piece of protected land on earth.
When you see this majestic wilderness in person, viewing the giant granite monoliths, deep valleys and stunning wilderness with trees taller than skyscrapers, you begin to understand why.
But in the summer, when the park attracts large and relentless crowds, you can lose the mood of the place – and your own good mood, too.
Instead, consider a visit to Yosemite in winter, when the park is truly what it should be. 
The best way to arrive is in your own vehicle, via Highway 140, the all-weather road.
Because you're in the mountains, you'll need to carry snow chains and keep your eye on the weather. That same weather though, is what makes Yosemite a magical wonder in winter.
The cloud systems can create one-of-a-kind scenes that bring Yosemite Valley to life. Winter, after all, was renowned photographer Ansel Adam's favorite time of year here. 
You'll notice immediately upon your December arrival – because of the cold weather and the fact that kids are in school – that you practically have the park to yourself.
It will be just you and the locals, which include rangers, photographers, and serious rock climbers.
You can book a hotel room for a decent price, and the campground is always nearly empty in December. 
Nine out of ten travelers choose to visit Yosemite National Park in the summer.
That's when you see crowds up the wazoo and a disregard for safety, and you need your Kung Fu skills to not be elbowed off the trails.
In winter though, Yosemite comes to life. It's the beginning of a winter wonderland.
Do you want to share the park with thousands of well-meaning tourists or discover it in its natural wonder?
Think of it: you can enjoy communing with nature, hiking and/or taking advantage of wondrous photo ops with few distractions.
Dress warmly and get ready for the experience of a lifetime. 
Dylan Gallagher has been a tour guide for almost a decade. Dylan began a tour company in San Francisco called Orange Sky Adventures, and recently founded a second, luxury tour company called White Wolf Private Tours, which tailors a personal Yosemite experience to your desires.  You can follow White Wolf Private Tours on Instagram.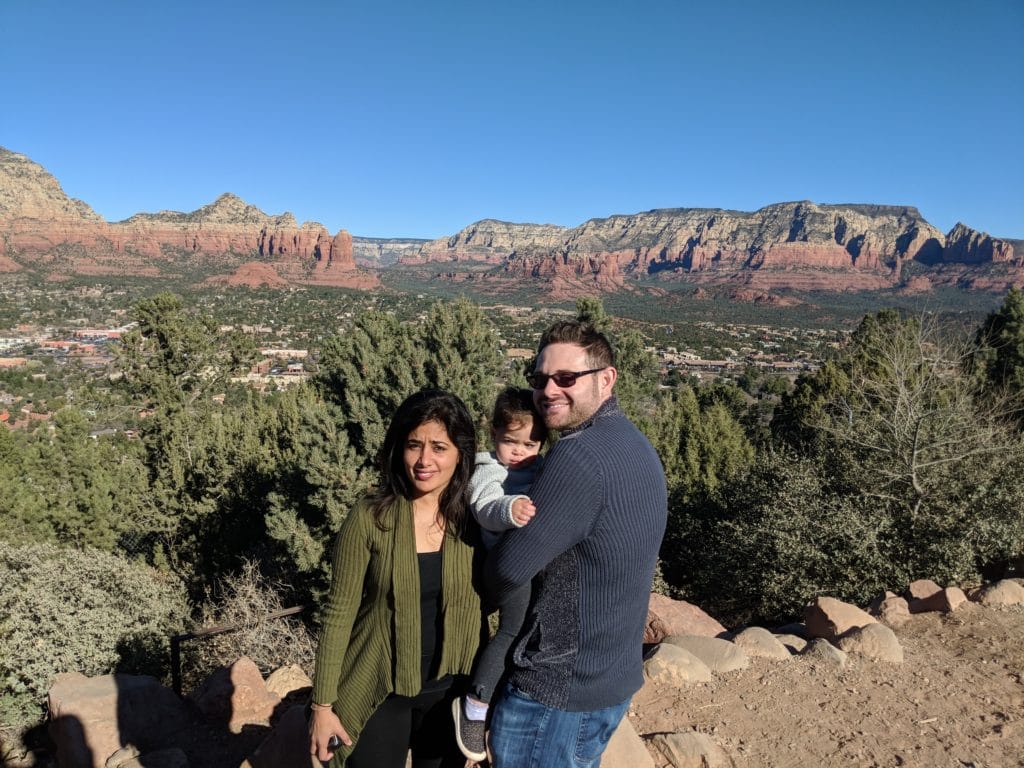 5. Sedona, Arizona – Naan & Challah
If you're looking for winter weekend getaways with plenty of sun, consider Sedona.
Sedona, Arizona, also known as Red Rock Country, is a great destination for winter weekend getaways. On a trip with Challah's family for Christmas last year, we flew into Phoenix and rented a car from there.
It was a short two-hour drive to Sedona with striking landscapes to enjoy all the way. 
There are so many things to do, you could easily spend a week there.
From spectacular places to hike and a vibrant art scene to delicious restaurants to eat in and new age shops to visit, Sedona delivers.
Sedona's terrain is a recognizable feature with red and orange-colored sandstone strutting out from the earth and also boasts a rich Native American history, which you can learn more about at the Palatki Ruins. 
There are a variety of hikes available for novice to more advanced hikers.
If you have a little one, a carrier is a must so leave the stroller at home.
Hiking should be your priority as the red rocks and the energy vortexes are THE reasons that millions visit Sedona annually.
These spiritual vortexes are powerful energy centers that are located at sites throughout Sedona, Arizona and are intersections of natural electromagnetic earth energy. 
Go with an open mind and an open heart as spiritual experiences are sought out and observed in Sedona.
Winter is a great time to visit if you're looking to escape the cold weather yet enjoy cool nights since it enjoys a mild climate year-round.
The winter desert sky provides stargazing that is breathtaking and utterly unknown to you when you're living in the city.
Other highlights were Wildflower Bread Company (breakfast/brunch), Elote Cafe (dinner), Red rock hikes, Tlaquepaque Arts and Crafts Village, Sedona Star Gazing, and Sedona's New Day Spa.
If you're looking for a winter weekend getaway in December that is nature, peace, and relaxation filled, consider spiritual Sedona. 
Naan & Challah have created a YouTube video collection of their travel experiences locally and globally. They love how travel pushes and pulls them out of their comfort zone, to learn new languages, to navigate new landscapes, to meet strangers and make them more open-minded, more culturally aware and more minimalistic. You can follow Naan & Challah on YouTube.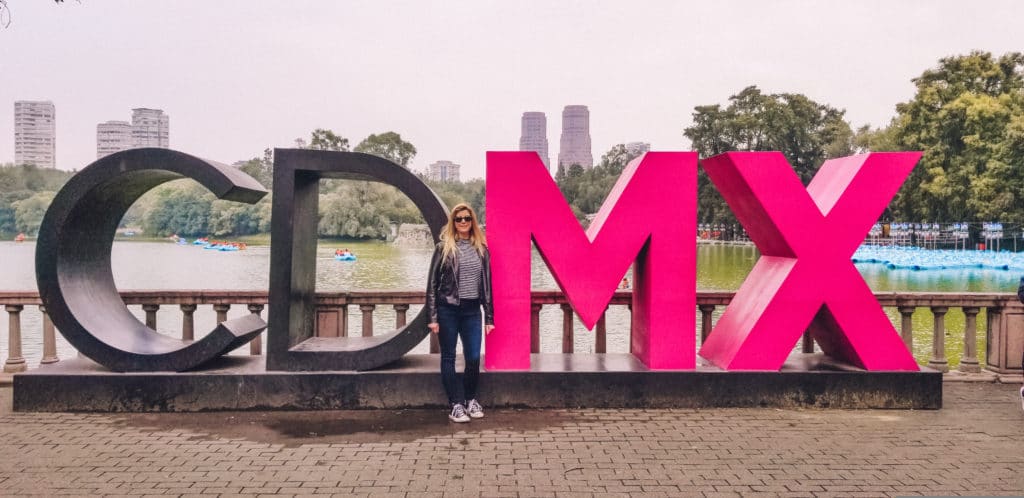 6. Mexico City, Mexico – (Me!) Rock a Little Travel
If you're looking for great food and culture on your winter weekend getaways, consider a trip to Mexico City.
There's just so much to do in Mexico City, it's easily one of my favorite winter getaways and travel destinations.
Getting to and from Mexico City has never been easier. Both frequent and affordable flights are available from most major U.S. cities.
Even transportation from Mexico City airport to your hotel is easy, just use Uber. It's the cheapest Uber you'll ever take from an airport.
Once at your hotel, Mexico City is loaded with fun activities to fill up your weekend.
During any visit, I recommend a visit to at least one of the city's many world-class museums. If you've never been to Mexico City, start with Museo Frida Khalo or the National Museum of Anthropology. 
From here, you can visit either Chapultepec Park or Xochimilco.
Chapultepec Park is one of the largest city parks in the western hemisphere and is home to multiple museums (including the National Museum of Anthropology), the zoo, a lake, and much more.
Xochimilco provides a lively experience where you can ride colorful boats through the neighborhood's small waterways while listening to live mariachi music and drinking Micheladas. 
In the evening, you should get out and experience Mexico City's hot nightlife and dining scenes.
I recommend a night out in the city's Polanco neighborhood where you'll find some of the city's best restaurants.
If you plan ahead (way ahead!), you can make reservations for dinner at Pujol or Quintonil.
However, even without reservations, there are plenty of excellent restaurants to enjoy, especially in the Polanco neighborhood.
Besides the excellent dining opportunities, the city also has a vibrant bar and cocktail scene, which is the perfect way to spend a few hours at the end of your day. 
If you'd like to read more about travel or getaway destinations, feel free to follow Rock a Little Travel and the bloggers above who contributed to this post.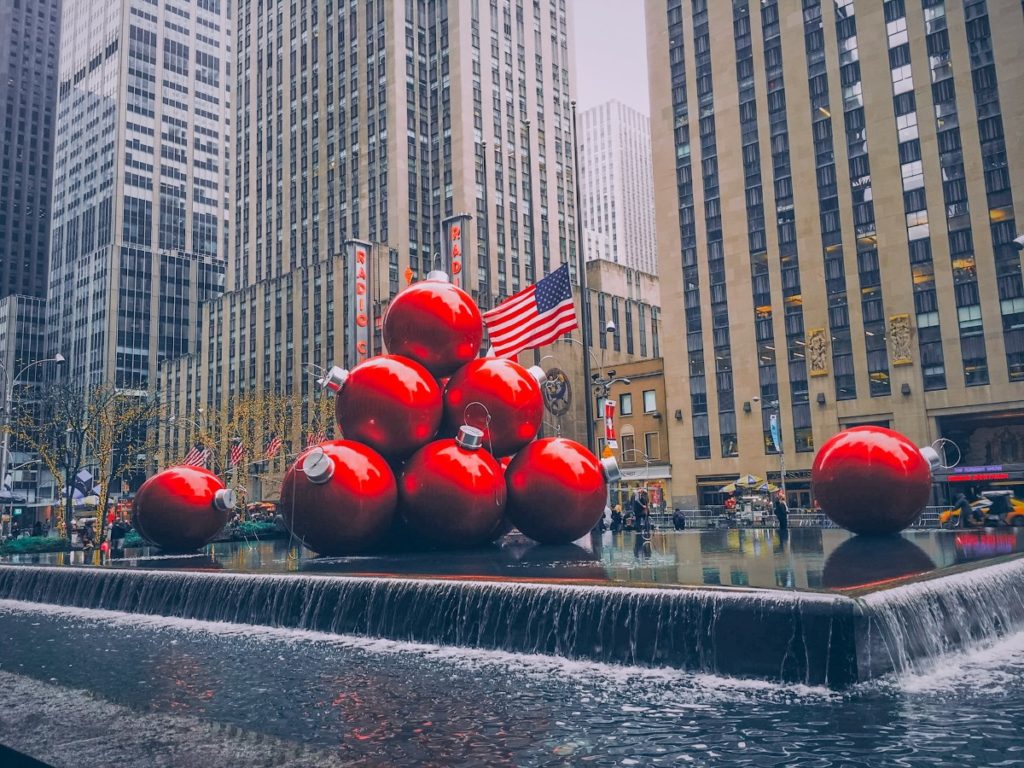 7. New York City
New York City is the perfect romantic winter weekend getaway. There are so many things to see and do in New York City, you'll never run out of entertainment.
The city is especially beautiful with Christmas decorations and a fresh blanket of snow.
Book yourself and your significant other in a nice hotel and take advantage of the great travel deals.
Since you're visiting during the cold winter months instead of summer, you can save a ton of money on both airfare and hotel costs. Use this to your advantage to check this bucket list destination off your list.
During your visit, make reservations at some of the city's most popular romantic restaurants. It will be a little easier to snag those reservations during this time of year.
You can also pick up tickets to a Broadway show, visit the city's many landmarks. or just walk around and enjoy the Christmas lights and decorations near Rockefeller Center.
If big cities aren't your thing but you still like the idea of an east coast winter weekend getaway, consider heading up to Lake Placid instead. There are plenty of activities to keep you busy for a fun weekend.
8. Lake Tahoe
If you're looking for snowy winter weekend getaways, consider making your way to Lake Tahoe in northern California.
This lake side getaway is perfect for a long weekend of skiing and playing in the snow.
Book yourself a cozy room at the ski resort of your choice and make plans to hit the slopes and enjoy some of the city's many great restaurants.
Wine country is not far from Lake Tahoe, so most restaurants will have an incredible wine selection as well.
Be sure to take full advantage of this during your visit. Maybe even grab a bottle or two to bring back to the room with you.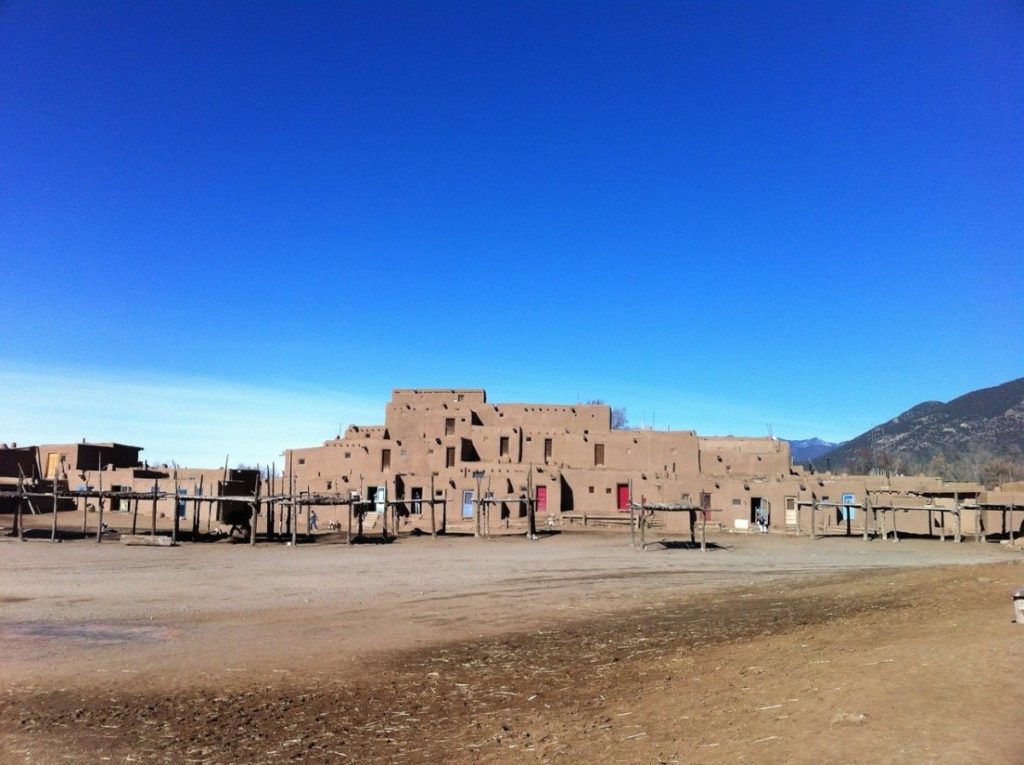 9. Taos, New Mexico
If you're looking for a warm, unique, and artsy winter weekend getaway destination, consider Taos, New Mexico.
Taos is known for its historic adobe style buildings and the Taos Pueblo. The Taos Pueblo is an adobe complex (pictured above) that has been inhabited by Native Americans for centuries.
It was designated an UNESCO World Heritage Site in 1992.
The city of Taos is also known as an artists community and is home to many musuems and art galleries.
For those seeking a quieter, more peaceful experience, consider staying at one of the town's many retreats or bed and breakfasts.
The city also offers some excellent restaurant options including the popular Salt and Wine and the lovely farm to table restaurant Manzanita Market.
I hope you've found some inspiration from this list of Winter Weekend Getaways. If you have any favorite winter weekend getaway destinations, please feel free to share them below.
If you enjoyed this post, please consider sharing it. It helps me a lot. Thanks for reading.
Book Your Trip
Find the best flight deals by using Google Flights, then book direct with the airline. This is the search engine I use to compare flights and prices before booking my own trips.

BOOK YOUR ACCOMODATION
I recommend searching for hotels through Booking.com to compare hotels on amenities, location, and price. If you are a member of a hotel's rewards program, always book direct with the hotel. If you are not loyal to a specific hotel brand, using Booking.com for the best price.

TRAVEL INSURANCE
Travel insurance is more important than ever. For just a few dollars a day you can protect yourself and your trip. I personally use World Nomads, but whomever you choose, don't skip out on travel insurance. It can literally save you thousands of dollars.


Want to save it? Pin it.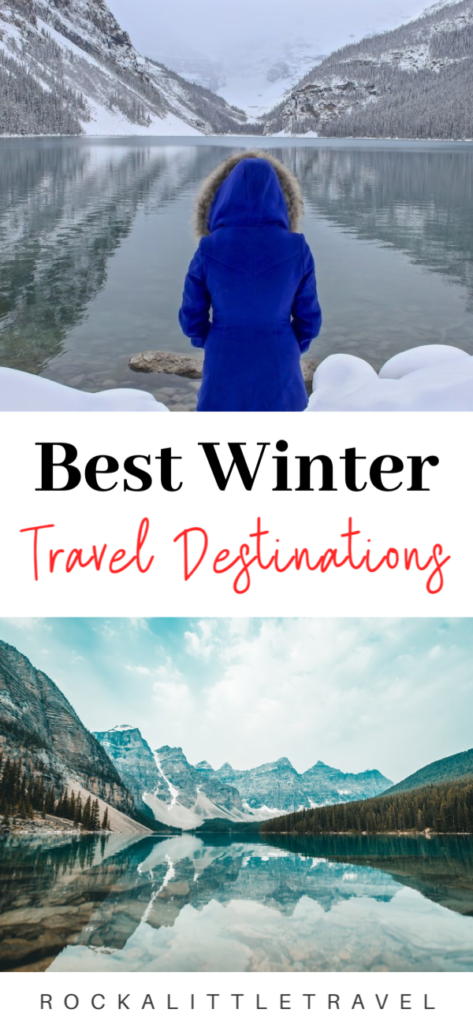 Related Posts
The best day trips from Merida will take you all over Mexico's vibrant Yucatan Peninsula. From the Yucatan's white sandy beaches to its abundance of …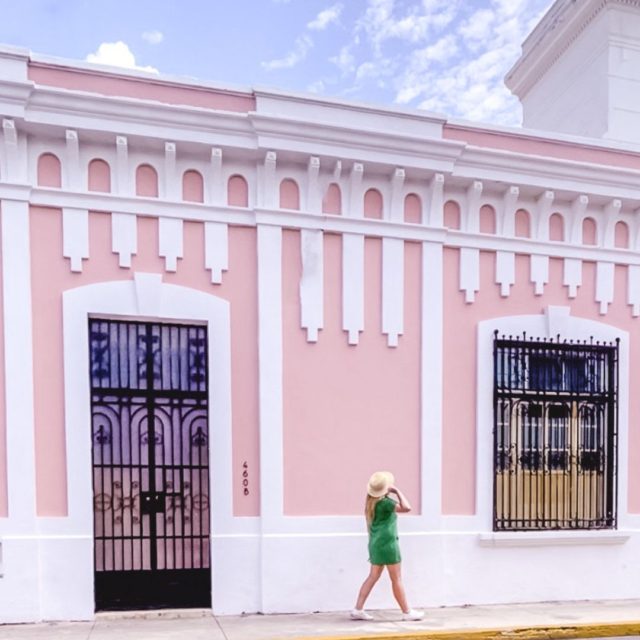 The best things to do in Merida Mexico can all be enjoyed with just a few days in this beautiful, vibrant city. Merida is located …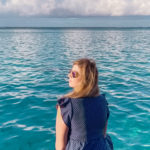 Eden Fite
Part-time Traveler | Dog Lover | Avoider of Crowds
I help busy people find creative ways to travel more.