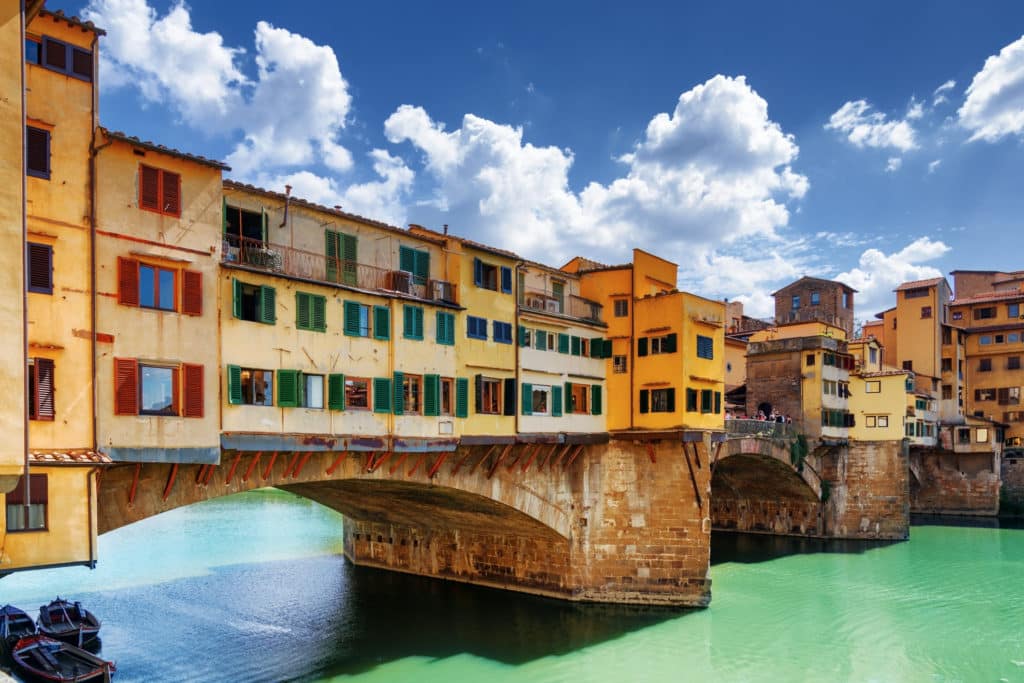 Want to know if it's possible to see Florence in a day? Keep reading.
While I think anyone could easily spend a week here and not run out of things to do in Florence, sometimes we just don't have much time. That doesn't mean we can't make the best of it.
Whether you're in Florence on a day trip or simply moving on to explore the best towns in Tuscany, you can see most of the major sights by following this Florence in a Day itinerary.
Florence is known as the "cradle of the Renaissance" for its architecture, cathedrals, and monuments. It's also known as the place to find some of the best food and wine in the world.
If that's not enough for you, Florence is home to many of the most famous artworks to have ever been created, from Michelangelo's David to Botticelli's The Birth of Venus.
There's something special about Florence. No matter what brings you here, it will remain in your heart long after you leave. 
Florence is the kind of place you can visit for days on end and not get bored. Whether you'll be in town for a few days, or maybe just passing through, this post is for you. 
Read on for the top things to see and do in Florence in a Day.
Top 12 Things to See in Florence in a Day
While you can certainly visit the items listed in my Florence in a day itinerary in any order you choose, I begin the itinerary with the Florence Cathedral and surrounding sights because you can visit these before the crowds arrive.
The closer you arrive to sunrise, the better your chances of having the area to yourself for a while.
Also, the major museums do not open until after 8:00 a.m., so I encourage you to take advantage of the time beforehand.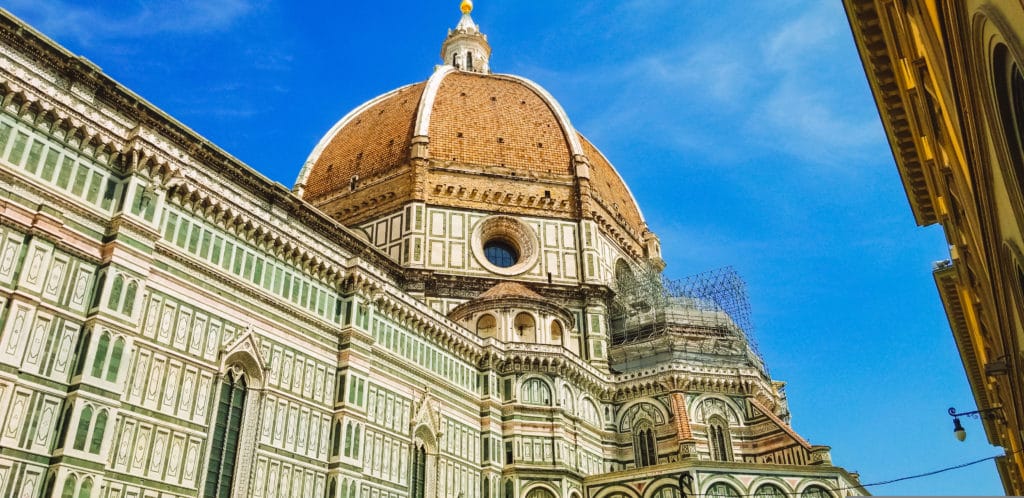 1. Florence Cathedral
The Florence Cathedral, formally the Cattedrale di Santa Maria del Fiore, with its massive bright dome, dominates the Florence skyline.
Construction on the Gothic style cathedral began in the late 13th century, with the dome having been added in the 15th century.
The exterior of the cathedral is covered in white, pink and green colored marble. 
Admission to the Florence Cathedral is free. There is usually a long line to get in but it moves fairly quickly.
If you would like to climb to the top of the dome, you will need to purchase a ticket and reserve a time. Tickets are 18 Euro per person. You can purchase tickets and make reservations here.
There are 463 steps to the top of the dome, so come prepared with the right shoes. The stairway is also very narrow, so if you are claustrophobic, this may not be the activity for you. 
The Florence Cathedral complex is found in the Piazza Del Duomo and is a UNESCO World Heritage Site.
The complex consists of three structures which include the Florence Cathedral, the Baptistry, and Giotto's Campanile.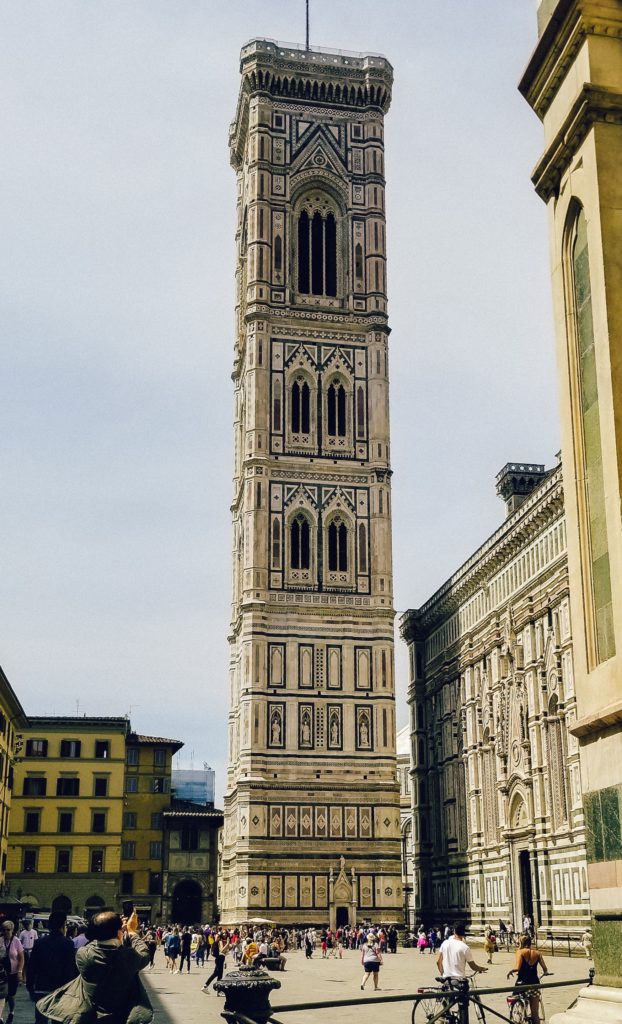 2. Giotto's Campanile
Giotto's Campanile is the free-standing bell tower built alongside the Florence Cathedral.
The bell tower was completed in 1359 and was designed by Italian painter and architect Giotto di Bondone. The tower stands five stories tall and holds seven bells. 
Visitors may climb to the top of the bell tower but must purchase a ticket to do so.
The ticket is 18 Euro but is the same ticket needed to climb the dome. Visitors must climb 414 steps to reach the top of the tower. Tickets can be purchased in advance here.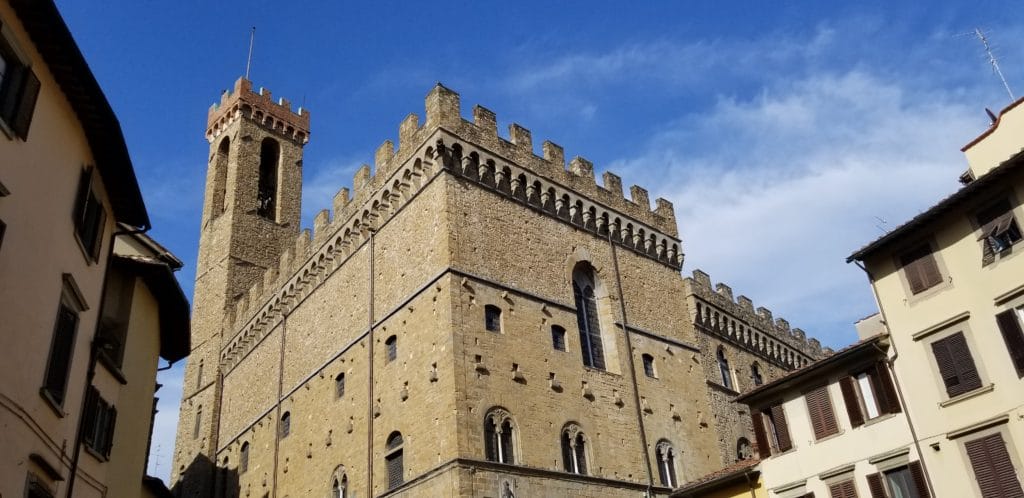 3. Palazzo Vecchio
Palazzo Vecchio is the town hall of Florence and overlooks Piazza Della Signoria. The palace itself is built like a fortress, with the tops of its walls like those of a castle.
Two statues stand in the front, one a replica of Michelangelo's David, the other is called Hercules and Cacus. The building was initially used as a residence and the place of business for the local government, though over the years its uses have varied.
Visitors can view the interior and museum for 18 Euro. Advance tickets are recommended and can be purchased here.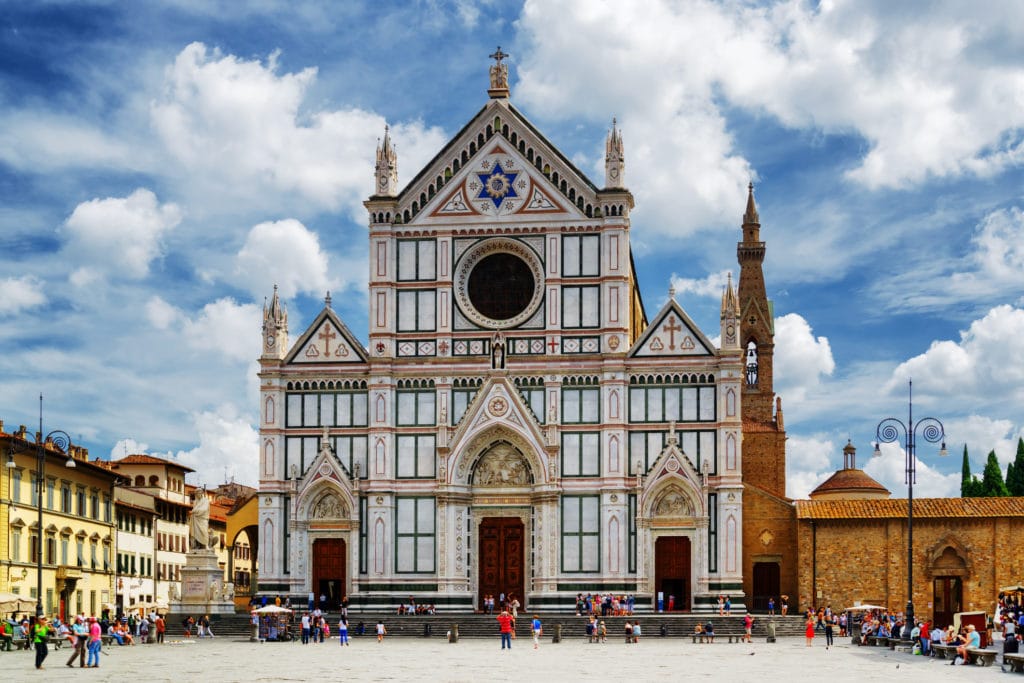 4. Basilica Di Santa Croce
The Basilica Di Santa Croce is a Roman Catholic Church completed in about 1385.
It sits just 800 meters from the Duomo and is the final resting place for many famous Italians including Michelangelo, Machiavelli, and Galileo, to name just a few.
The Basilica Di Santa Croce is open from Monday to Saturday from 9:30 a.m. to 5:00 and closed on Sundays to visitors.
Tickets for admission are 8 Euro per person. The basilica is closed on some holidays, visit their website for more information.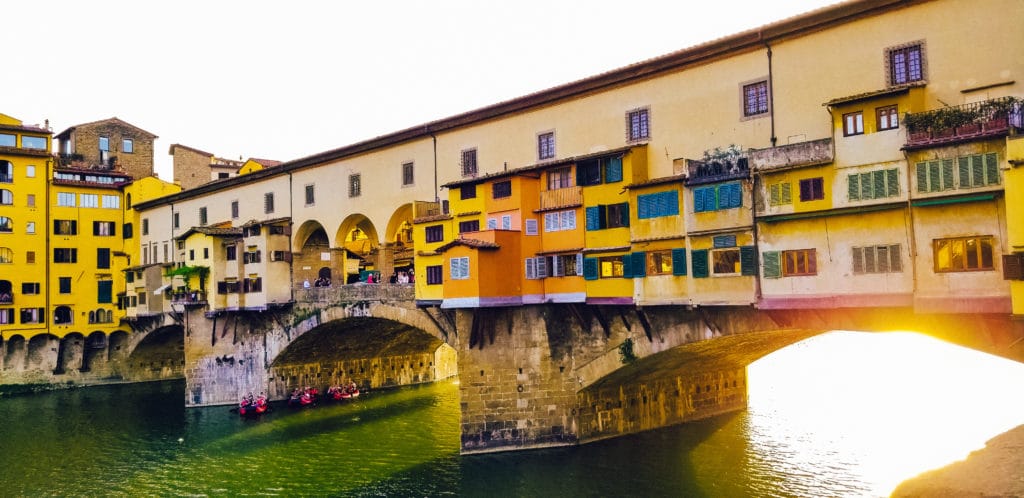 5. Ponte Vecchio
The Ponte Vecchio is the iconic and colorful bridge crossing the Arno river and is a must-see site even with just one day in Florence.
It was built in 1345 and was one of the only bridges in Florence not to be destroyed by the Germans during World War II.
The bridge is known for having shops built into it with merchants selling jewelry, art, and souvenirs. 
You can visit the bridge at any time, though the merchants close in the early evening. Sunrise and sunset are good times to get pictures if you're in the area.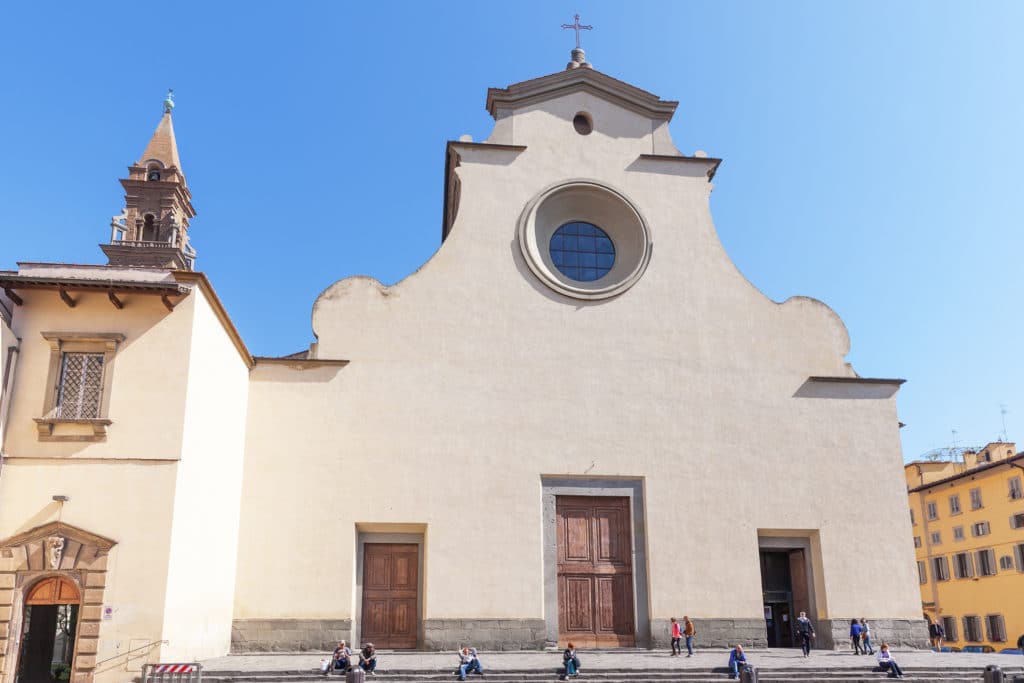 6. Basilica di Santo Spirito
Across the Arno River in the Oltrarno Quarter, you'll find the Basilica di Santo Spirito.
The interior of the basilica is considered a preeminent example of Renaissance architecture. The church was completed in 1487 and took about 40 years to build.
Basilica di Santo Spirito is open Monday through Friday from 8:00 a.m. to 1:00 p.m. and 3:00 p.m. to 6:00 p.m.
Hours may vary on holidays and weekends. Be sure to visit their website for updated visiting hours.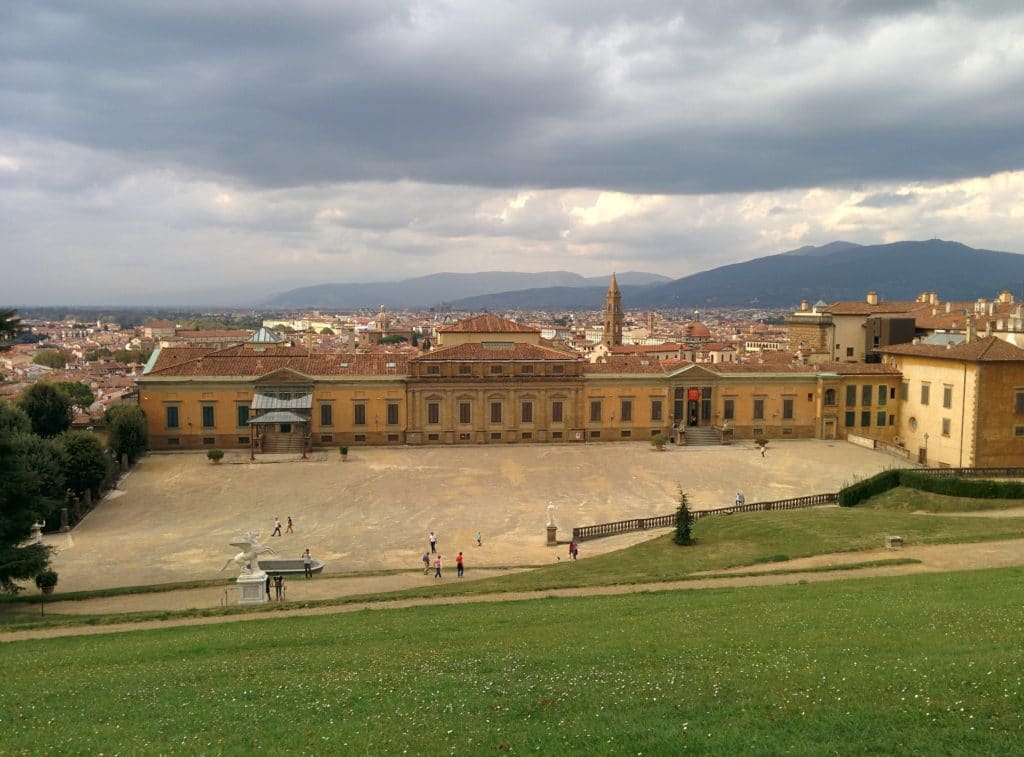 7. Pitti Palace
The Palazzo Pitti, or Pitti Palace, is situated on the south side of the Arno River near the Santo Spirito.
Pitti Palace was the former residence of Florentine banker Luca Pitti. In 1549 the palace was bought by the famous Medici family and became the chief residence of the ruling families of the Grand Duchy of Tuscany.
In the late 18th Century, it was also used by Napoleon.
Today, Palazzo Pitti is the largest museum complex in the city of Florence and is divided into several museums and galleries.
Palazzo Pitti is open from Tuesday to Sunday from 8:15 a.m. to 6:50 p.m.
Admission is 10 Euro per person. You can find more information about the galleries and museums inside the palace by visiting their website.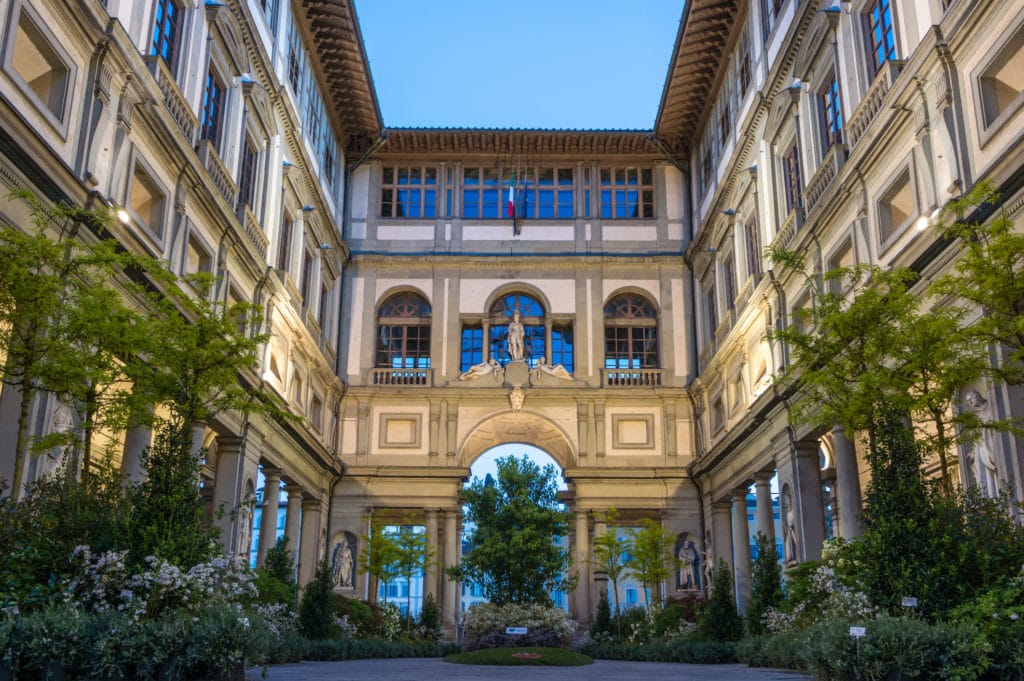 8. Uffizi Gallery
No Florence itinerary would be complete without a stop at the Uffizi Gallery.
The Uffizi Gallery is one of the most famous museums in the world, and home to masterpieces from artists such as Michelangelo, Giotto, Botticelli, and Caravaggio, just to name a few. 
The museum is open Tuesday through Sunday from 8:15 a.m. to 6:30 p.m. It is closed every Monday.
Admission is 20 Euros during high season and 12 Euros during the low season. Audio guides are available for 6 Euro. For more information about the Uffizi Gallery and to purchase tickets, click here.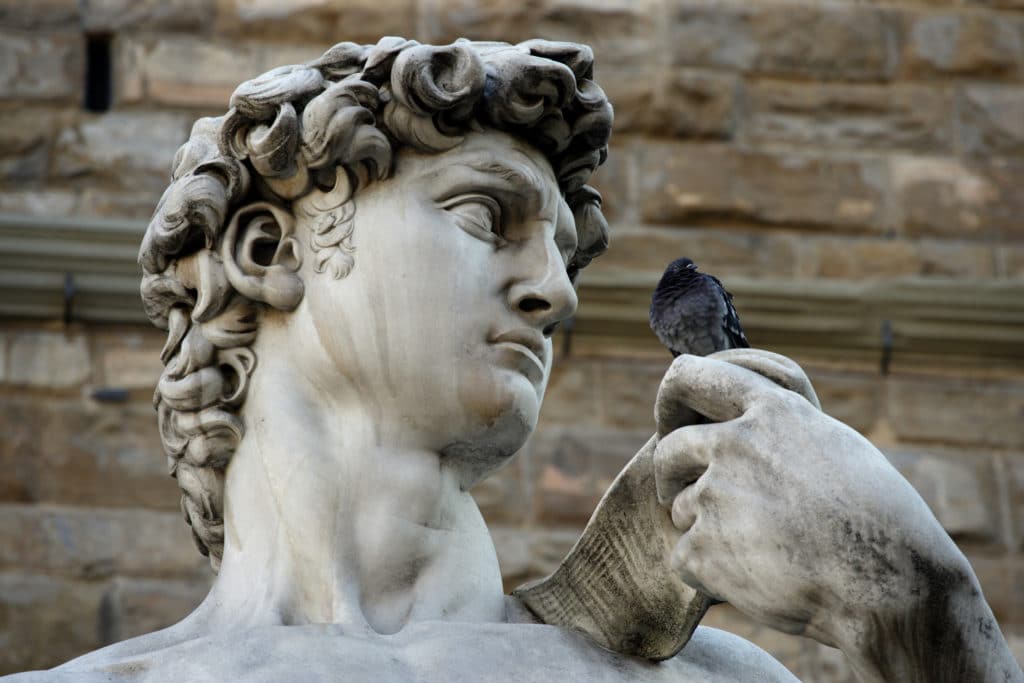 9. Galleria dell Accademia
The Galleria dell Accademia is best known for its many sculptures by Renaissance artist Michelangelo, especially his statue of David.
In addition to Michelangelo, you will also see works from Botticelli, Pontormo, Allori, and others. 
Even if you can only visit for a short time while doing this Florence in a day itinerary, I encourage you to stop in, even if just for an hour or two.
The art and sculptures you'll see on display here are what the city is known for, you won't want to miss it.
The museum is open Tuesday through Sunday from 8:15 a.m. to 6:50 p.m.
It is closed every Monday. Admission is 8 Euro. Audio guides are available for 6 Euro. For more information about the Galleria dell Accademia and to purchase tickets, click here.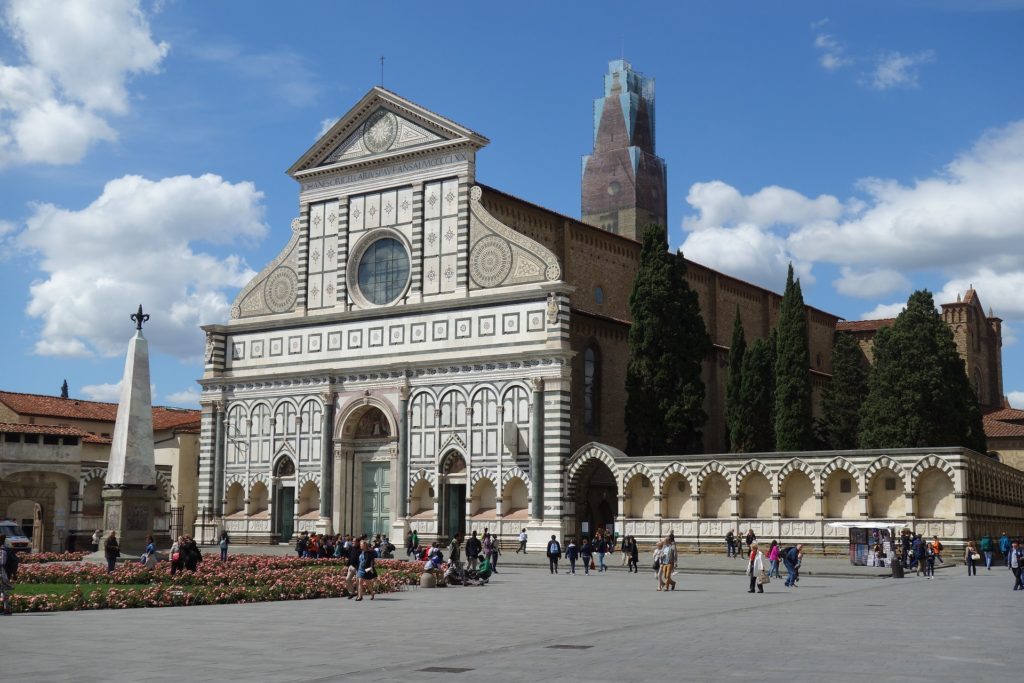 10. Santa Maria Novella
Santa Maria Novella is a beautiful church found across the street from the main train station in Florence, Italy. The building of the church began in the 13th Century and lasted approximately 80 years.
The interior of the church contains many frescoes and other works by famous Italian Renaissance artists such as Domenico Ghirlandaio, Sandro Botticelli, and Filippino Lippi.
Tickets to visit the Santa Maria Novella complex are 10 Euro per person. Hours vary depending on the time of year and day of the week. Visit their website for information prior to your visit.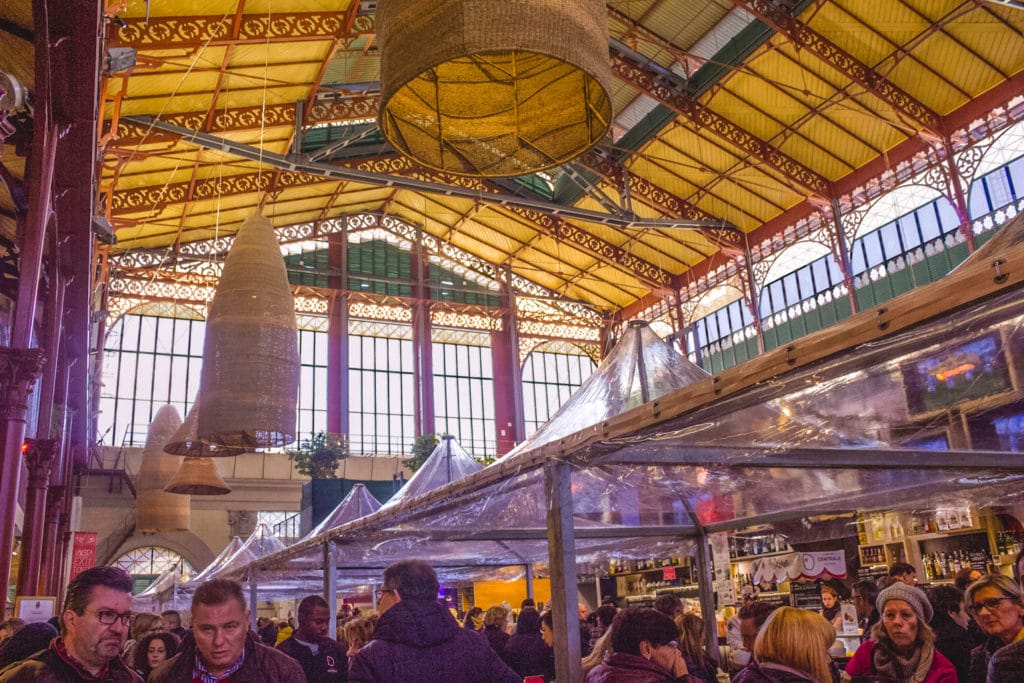 11. San Lorenzo Market
The San Lorenzo Market is one of the most lively attractions in the city.
It consists of two separate markets, an outdoor market with vendors selling leather, clothing, and souvenirs, and the indoor Mercato Centrale, where vendors sell fresh food and produce.
Both markets are worth at least a quick self-guided walking tour, even if you're not interested in purchasing anything.
The indoor market is housed in a beautiful building made from iron and glass. It was designed by the architect who created the Galleria Vittorio Emanuele II in Milan.
If you are planning to purchase any clothing or souvenirs from the market, be prepared to negotiate the price with the vendors.
You are not expected to pay full price for anything, but if you don't bother to negotiate, you're going to overpay for everything.
It is often recommended to go shopping in the market at the end of the day as you are more likely to get better deals.
The vendors will be trying to make a few last-minute sales and will be more likely to accept a lower price.
The San Lorenzo Market is open Monday through Friday from 7:00 a.m. to 2:00 p.m. and Saturdays from 7:00 a.m. to 5:00 p.m. They are closed on Sundays and holidays.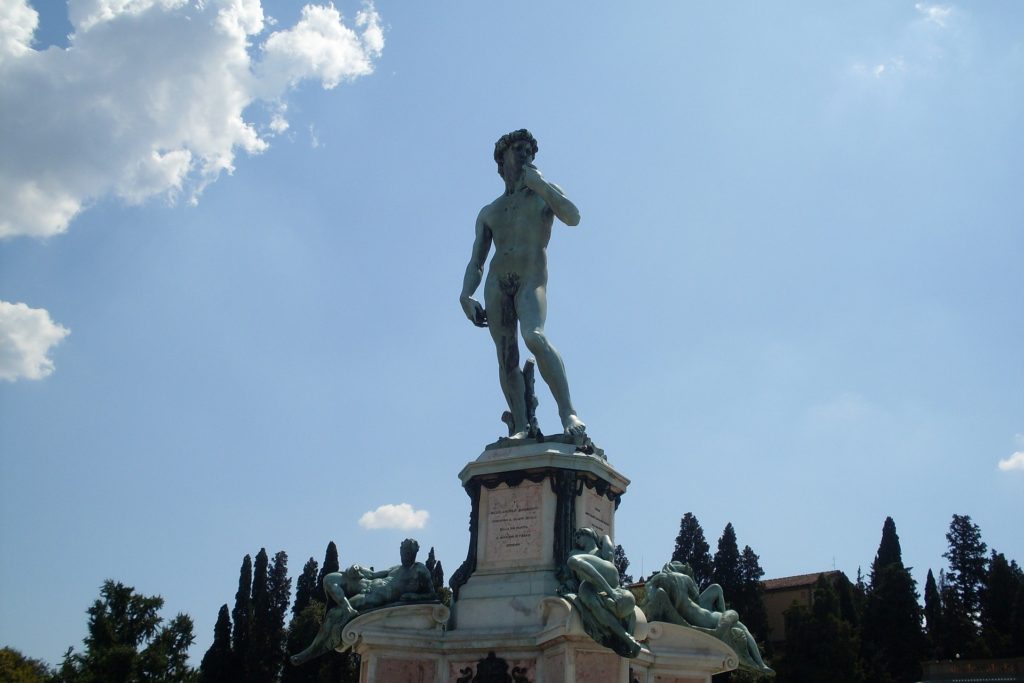 12. Piazzale Michelangelo
The Piazzale Michelangelo is the perfect end to your Florence in a day itinerary. The piazza sits upon a hill overlooking the city of Florence and provides the most incredible view.
This is an especially good place to be at sunset or sunrise if you'd like to get some great photos.
You can get to Piazzale Michelangelo by crossing the Arno River. It's about a 20-minute walk from the Ponte Vecchio or a 30-minute walk from the Duomo.
If you plan on heading north to continue your time in Italy, be sure to check out my Venice in a Day itinerary to make sure you don't miss any sights even if you're short on time.
In the event that you ever get to return to Florence someday, consider taking some day trips outside the city. I highly recommend a road trip to Siena or a food tour in Bologna.
10 Tips for visiting Florence in a day
Florence is one of the most incredible cities I've ever visited and it's definitely one I hope to return to someday. There is so much to see and sometimes we just don't have all the time we need.
I put together this itinerary to help you make the most of a short trip to this beautiful and fun city, but I know it's not an easy itinerary to keep to.
Many of the destinations on the list above definitely warrant more time than just a quick visit, but that won't be possible if you're trying to cover it all.
So here are my tips to keep you on track and help you make the most of your one day in Florence.
Get an early start – You'll need to be out the door and ready to go around sunrise if you want to see everything on this list.
Wear comfortable shoes – You'll be doing a ton of walking, so make sure you've got on your best walking shoes.
Don't linger too long – You'll need to keep moving if you want to hit all the spots on this list.
Bring a few healthy snacks and some water – You don't want to be running around looking for water or something to eat when you could have packed something ahead of time.
Have some Euros on you – Euros are good to have for small purchases along the way or to pay entrance fees.
Bring your good camera – Florence is beautiful. Don't make the mistake of leaving the good camera in your hotel room. Bring it with you.
Don't forget to leave time for lunch – You'll want to enjoy a good meal while in Florence, so don't try to skip it. Plus, it will give you some time off your feet.
Buy tickets ahead of time for museums – In order to save time, get your tickets online ahead of time so you don't waste time standing in long lines.
Take advantage of sunrise and sunset – These are the best times for pictures, so try to be somewhere you can take advantage of the great lighting. I tried to help you by ordering this itinerary in a certain way, so don't miss your opportunity.
Stay near the city center – If you're going to be in Florence for just a day, stay close by. You don't want to waste your time traveling to and from the city.
Book Your Trip
Find the best flight deals by using Google Flights, then book direct with the airline. This is the search engine I use to compare flights and prices before booking my own trips.

BOOK YOUR ACCOMODATION
I recommend searching for hotels through Booking.com to compare hotels on amenities, location, and price. If you are a member of a hotel's rewards program, always book direct with the hotel. If you are not loyal to a specific hotel brand, using Booking.com for the best price.

TRAVEL INSURANCE
Travel insurance is more important than ever. For just a few dollars a day you can protect yourself and your trip. I personally use World Nomads, but whomever you choose, don't skip out on travel insurance. It can literally save you thousands of dollars.


Want to save it? Pin it.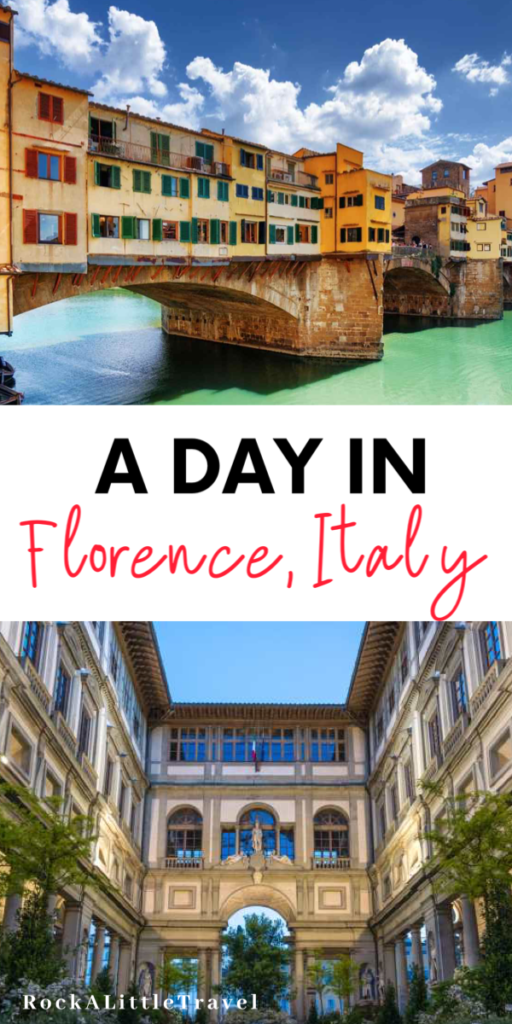 Related Posts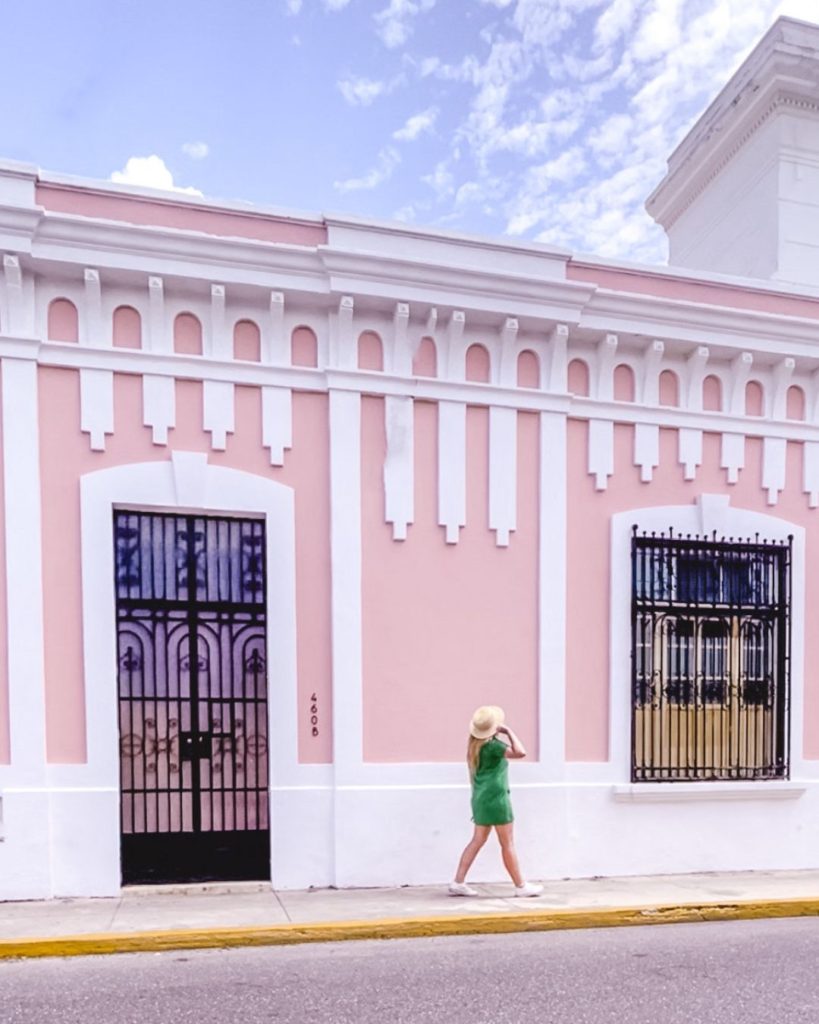 The best things to do in Merida Mexico can all be enjoyed with just a few days in this beautiful, vibrant city. Merida is located …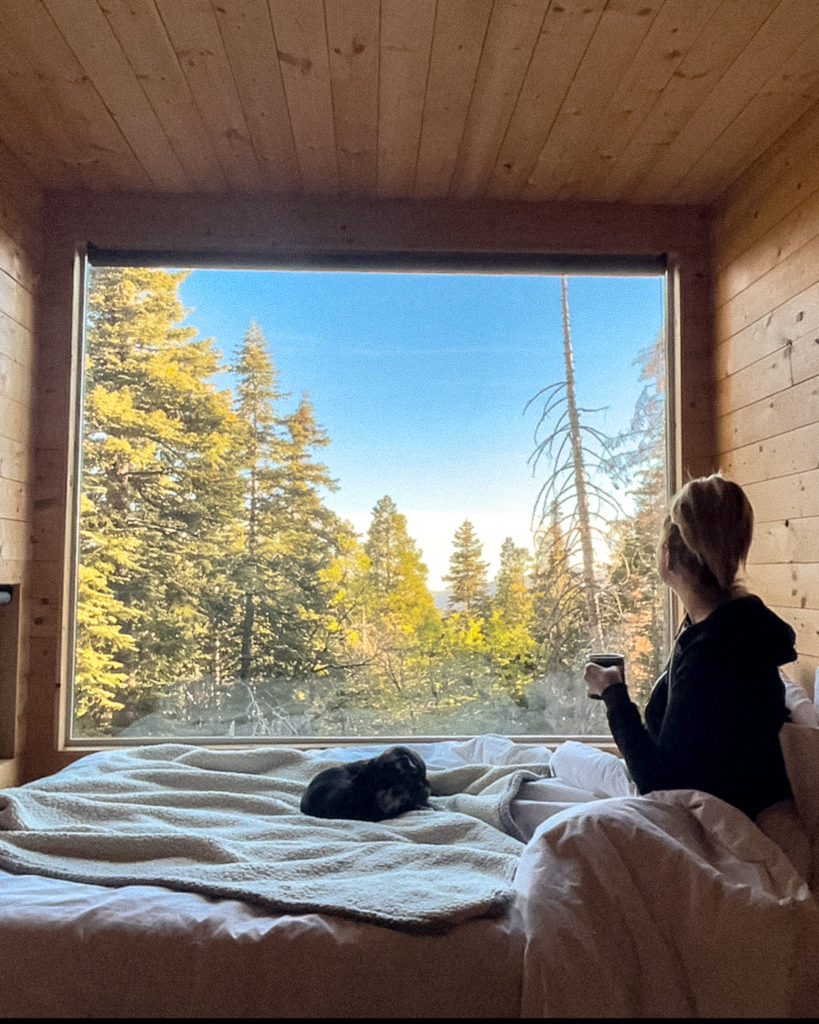 Is Getaway House Big Bear is worth the hype? Let's find out. Just last week I booked a last minute stay at Getaway House …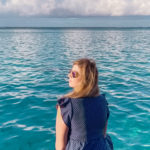 Eden Fite
Part-time Traveler | Dog Lover | Avoider of Crowds
I help busy people find creative ways to travel more.