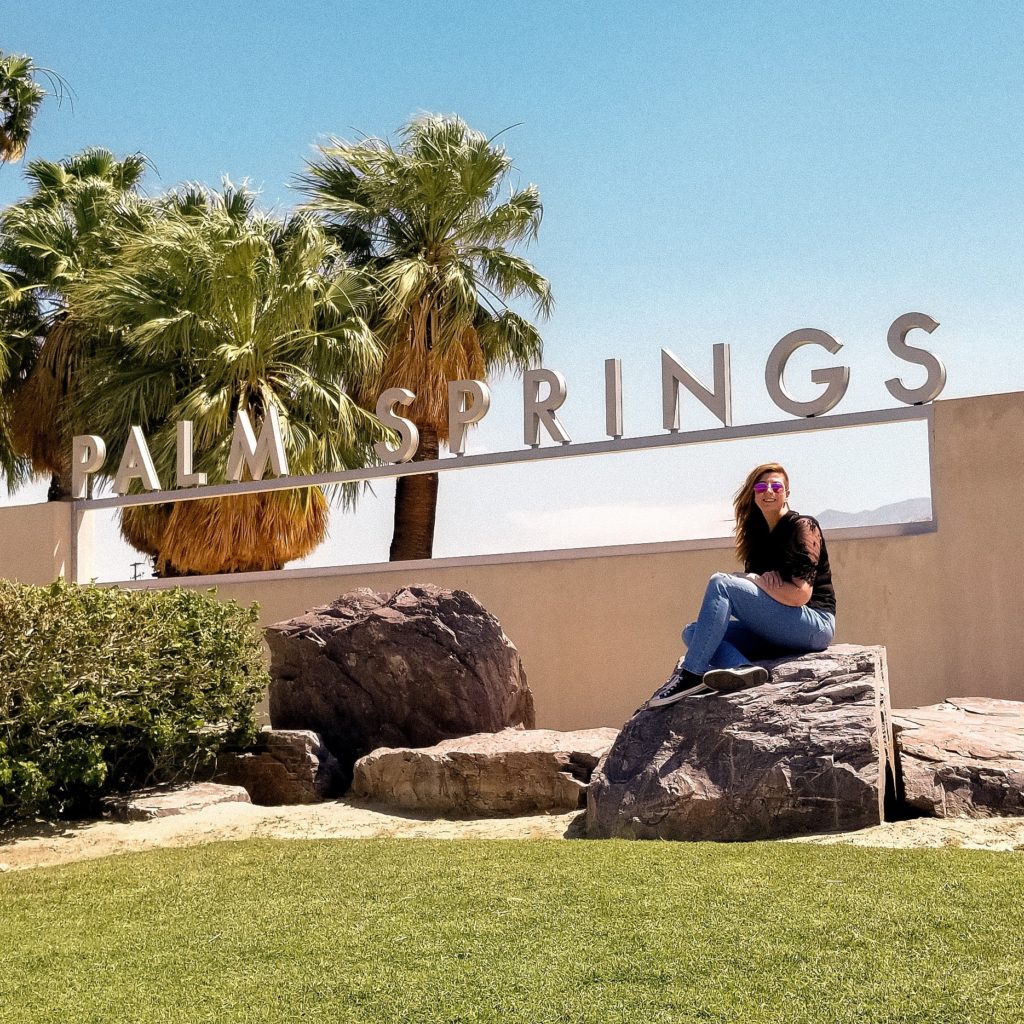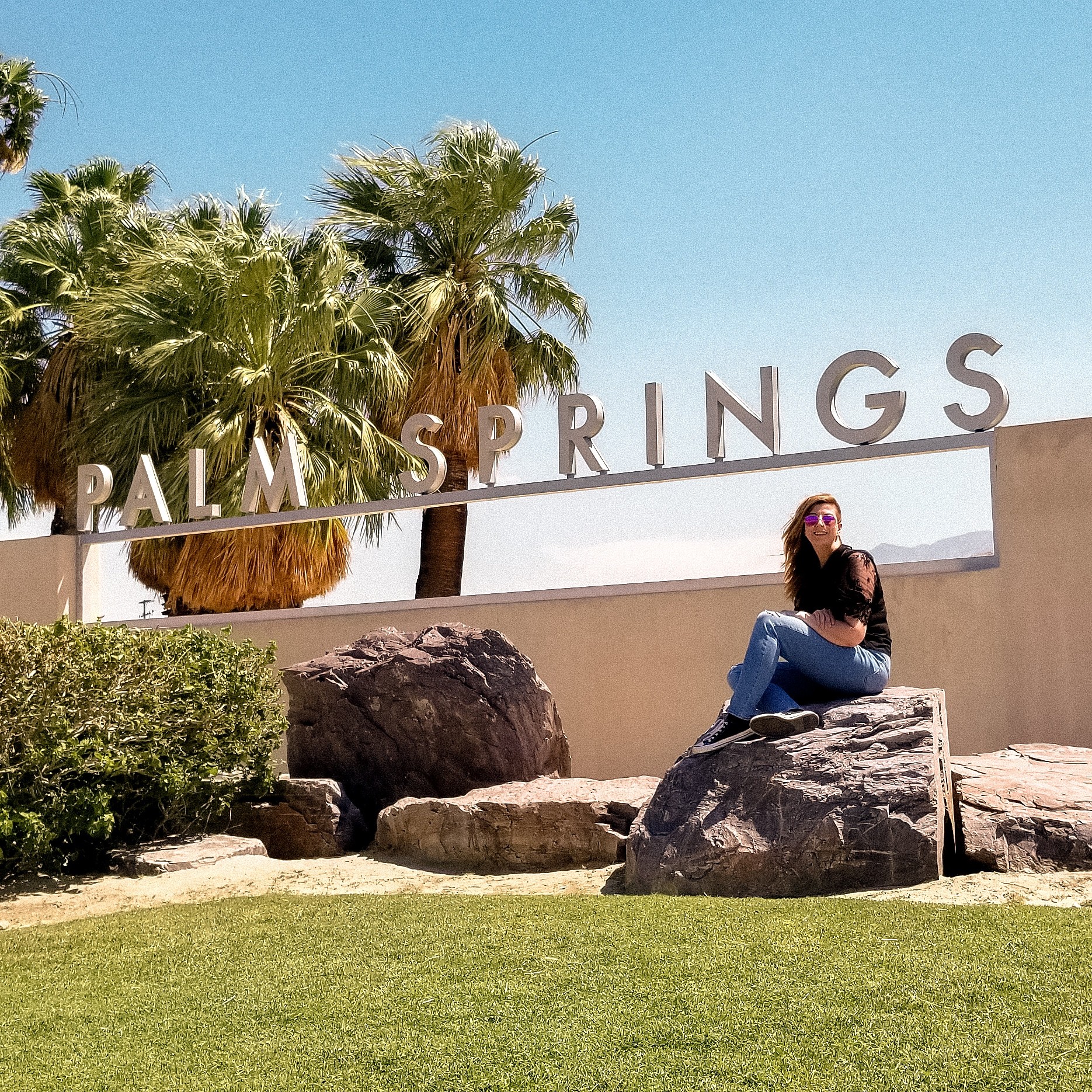 A weekend in Palm Springs is the ultimate Southern California getaway.
This lively cosmopolitan city has been a popular weekend getaway destination for decades and continues to draw millions of visitors year after year.
With its near-perfect weather, gorgeous mid century modern architecture, abundance of highly rated bars and restaurants, and seemingly endless selection of stylish hotels and resorts, a Palm Springs weekend getaway is always a good idea.
As a Southern California resident for the past 20 years I have spent dozens of long weekends here discovering all the best things to do in Palm Springs.
Whether you're planning your first visit, or you've been here many times before, this Palm Springs itinerary is sure to keep you busy during your stay.
Hopefully you like Palm Springs so much you decide to return again, I know I sure will.
Some of the links in the post are affiliate links. If you make a purchase through these links it helps to support this site at no extra cost to you.
Weekend in Palm Springs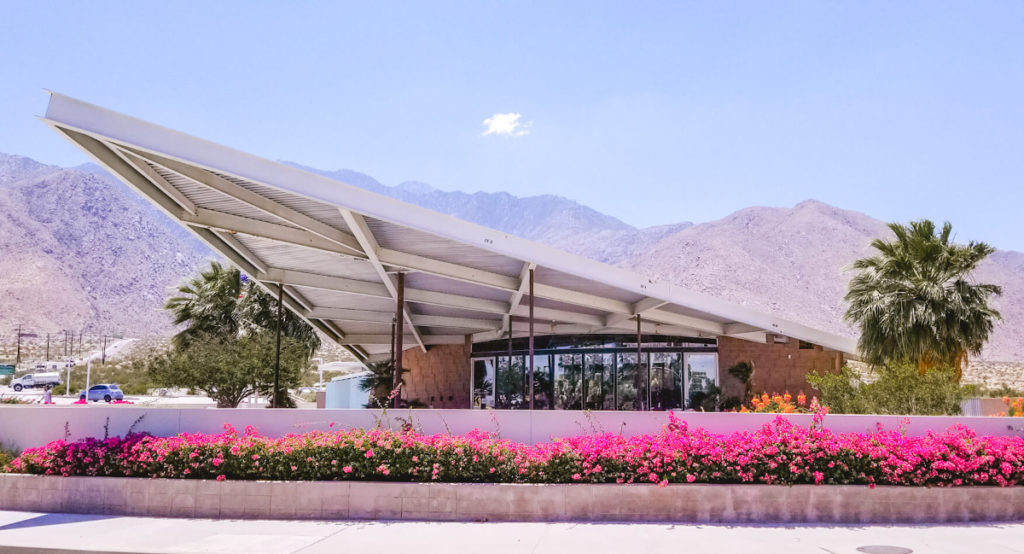 This weekend in Palm Springs guide is intended to help you plan your visit and ensure you have a great time during your stay.
Down below I have included the logistics for planning your trip including how to get to Palm Springs, the best time to visit, what to do in Palm Springs once you're here, and recommendations on my favorite places to stay in Palm Springs.
Whether you're planning to spend 5 days in Palm Springs, 4 days in Palm Springs, or even just 3 perfect days in Palm Springs, there's so much to see and do here I just know you'll have a great time.
If you're wondering how long to spend in Palm Springs I would suggest 2 days in Palm Springs at the bare minimum. However, the more time you have the better.
That being said, I think Palm Springs is an easy destination to return to.
Palm Springs can also be very affordable if you visit during the right time of the year, so don't feel like you have to see everything in one visit.
Where is Palm Springs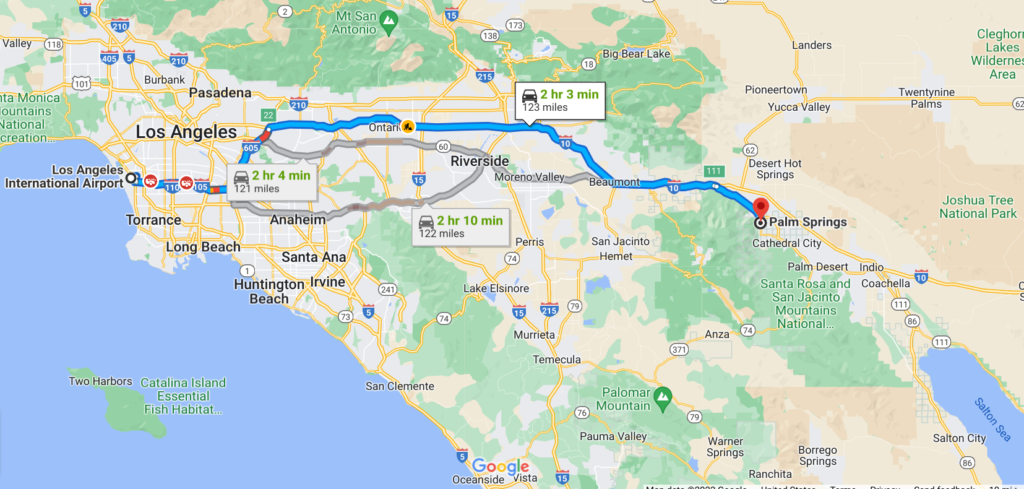 Palm Springs is located in Southern California in the Coachella Valley about 2 hours east of Los Angeles. I've included additional drive times down below between Palm Springs and other popular locations nearby.
If you're planning to visit Palm Springs and you're not already in Southern California, you can book a flight into Palm Springs International Airport.
The Palm Springs International Airport is located just 5 minutes east of downtown Palm Springs. The airport is modern and extremely convenient to fly in and out of when visiting Palm Springs.
Drive time to Palm Springs from nearby locations
Los Angeles to Palm Springs: 2 hours (121 miles)
San Diego to Palm Springs: 2 hours 10 minutes (139 miles)
Las Vegas to Palm Springs: 4 hours 15 minutes (232 miles)
Anza-Borrego State Park to Palm Springs: 1 hour 10 minutes (67 miles)
Joshua Tree National Park to Palm Springs: 50 minutes (37 miles)
Mount San Jacinto State Park to Palm Springs: 1 hour (46 miles)
Best time to visit Palm Springs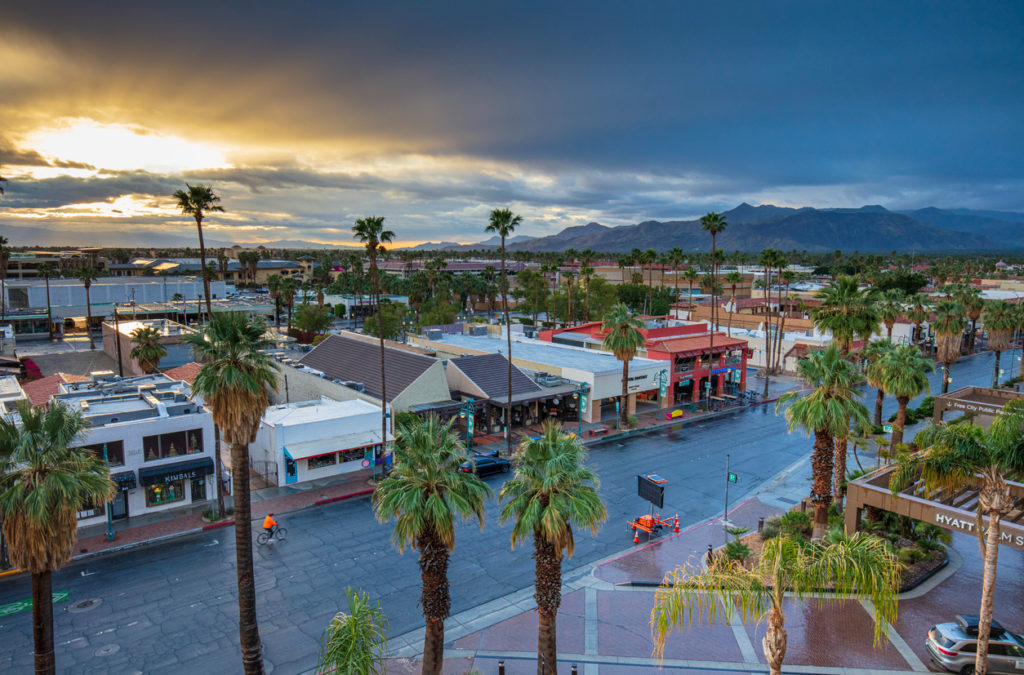 Generally speaking, the best time to visit Palm Springs is during the spring or fall. During the spring and fall temperatures in Palm Springs will be more mild, but you'll still have mostly sunny skies.
The downside to visiting Palm Springs during the spring or fall is that you'll be visiting during peak season. Of course visiting during peak season means that you'll be paying peak prices.
In my experience spring is the busiest and most expensive time of year to visit Palm Springs, but the fall months aren't too far behind.
Those looking to save a little money when they visit Palm Springs should plan their visit for summer or winter. I personally love visiting Palm Springs during the summer because the crowds are gone.
If you don't mind the summer heat, you can get great deals at the city's most popular resorts and hotels in July and August. The Saguaro Palm Springs as my personal favorite.
Weekend in Palm Springs Itinerary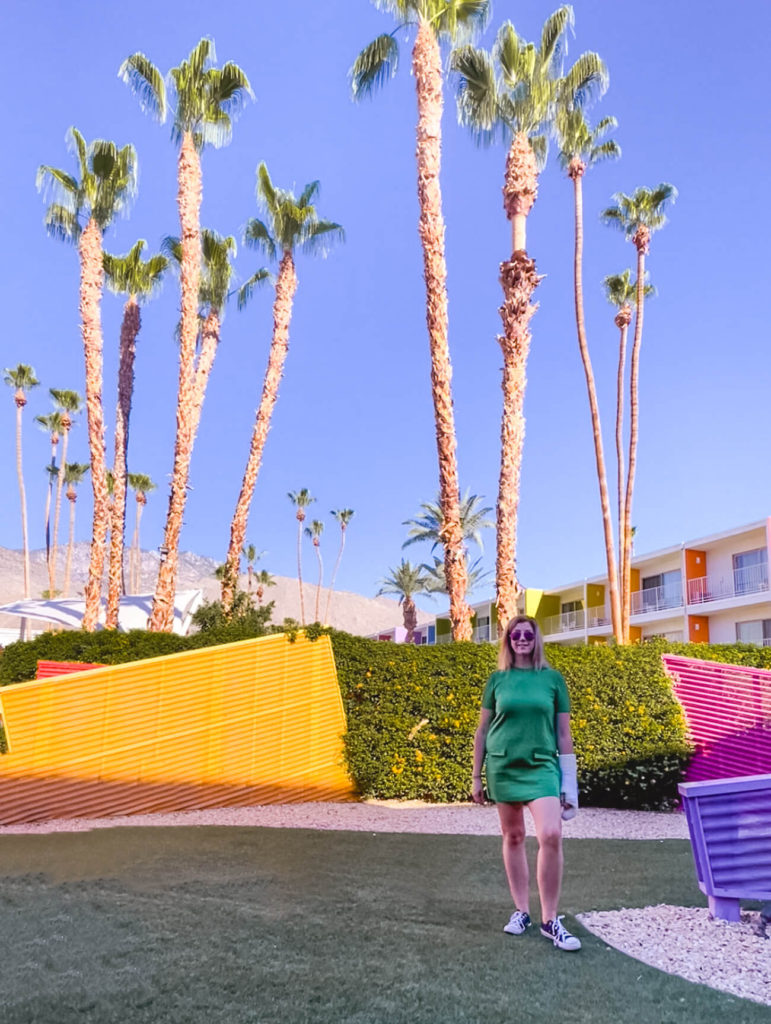 The itinerary below is in no particular order. All attractions mentioned are found in the greater Palm Springs area, none of which are too far from Downtown Palm Springs.
Also, no pressure to do all the things on this list. Your perfect weekend in Palm Springs may look very different than mine, and that's okay.
Either way I hope you enjoy this Palm Springs blog and that you have a fantastic time during your trip.
Palm Springs Aerial Tramway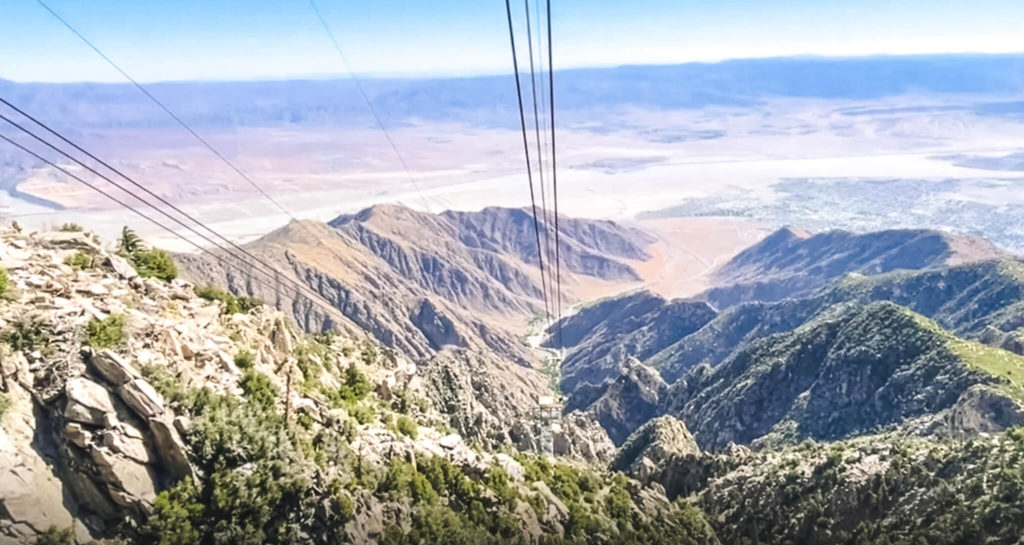 If it's your first visit, a Palm Springs getaway weekend is not complete without a visit to the Palm Springs Aerial Tramway.
The Palm Springs Aerial Tram is easily one of the city's biggest attractions and one of the most unique things to do here.
The circular tram offers 360° views during the 10 minute ride up to the top of the San Jacinto Mountains.
The ride up is about 10 minutes in duration and includes a guide who will share information on the history and construction of the tram.
Once at the top you can enjoy over 50 miles of hiking trails, multiple observation decks, two restaurants, and a cocktail lounge.
The Palm Springs area Tramway is open daily. On Mondays to Fridays the first trim up is at 10 am. On Saturdays and Sundays the first trim up is at 8 am.
It is recommended that you arrive early and purchase tickets in advance to avoid waiting in the long lines.
Moorten Botanical Garden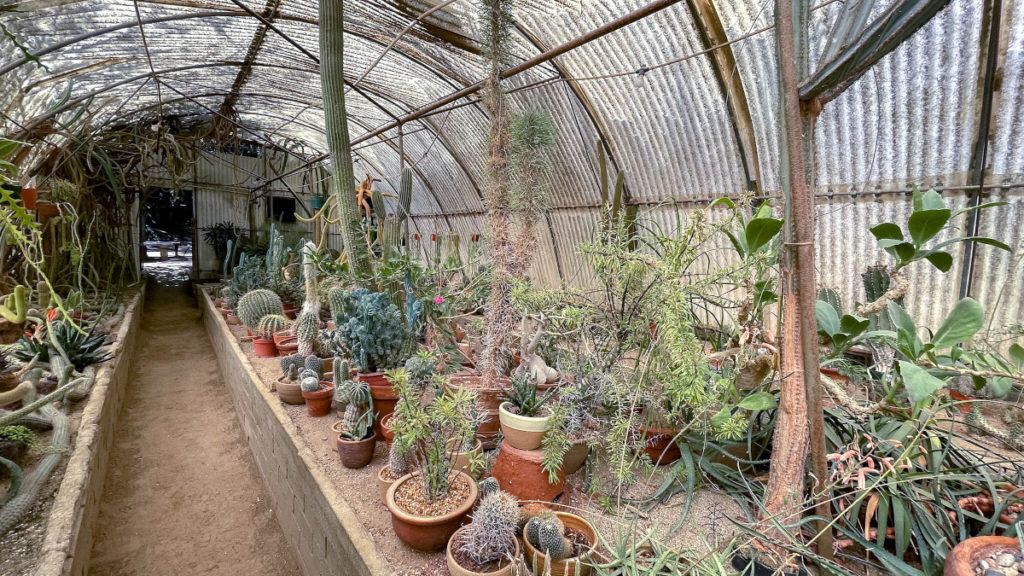 If you enjoy botanical Gardens or just love cacti like I do, consider a visit to Moorten Botanical Garden during your upcoming Palm Springs weekend trip.
The one acre family-owned desert botanical garden features a variety of desert plants and cacti native to the Coachella valley.
This is the perfect place to visit if you're looking for some plants to spruce up your home or apartment, or even just some inspiration for later.
Plan to spend about 30 to 45 minutes enjoying the gardens. I also recommend arriving early to beat the midday heat.
Admission to Moorten Botanical Garden is just $5. They are closed every year for summer in July and August but reopen in September.
Palm Springs Air Museum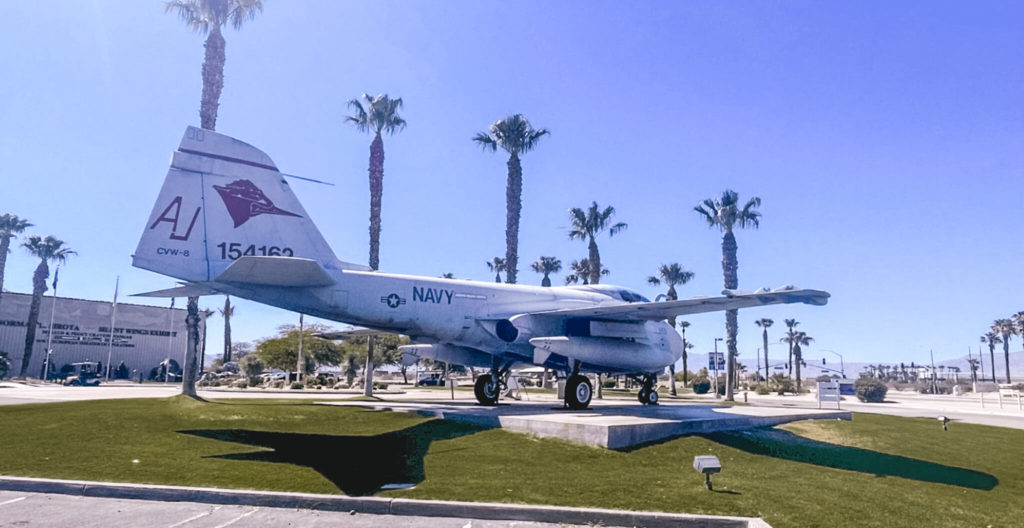 The Palm Springs Air Museum is home to dozens of historical planes, helicopters, and all sorts of aviation memorabilia.
The mission of the Palm Springs Air Museum is to educate the public about the role of air power in military conflicts of the last century.
The museum is home to one of the worlds largest collections of static and flying aircraft in use from World War II through the most recent conflicts in the Middle East.
Visitors can wander freely around the many aircraft on display and take as many pictures as they like. The museum does a great job providing plenty of information about the history of the various aircraft and the pilots who flew them.
My favorite part of the museum is the section dedicated to the role women played an aviation during wartime.
The Palm Springs Air Museum is open seven days a week from 10 am to 5 pm. Admission tickets can be purchased at the entrance. Tickets for adults are currently $22.
Palm Springs Art Museum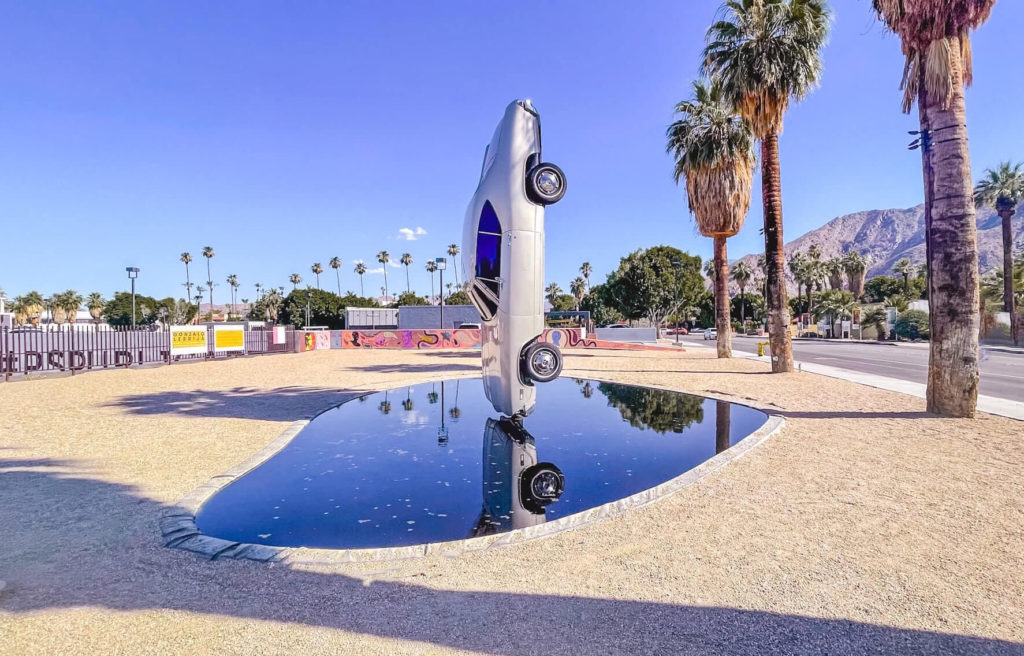 iI you're looking for something artsy to do in Palm Springs this weekend head over to the Palm Springs Art Museum.
I absolutely loved my visit to this museum. They have some very fun and quirky pieces on display and honestly, it's just a fun place to walk around.
The museum features a variety of contemporary and modern art exhibits with both permanent and rotating collections. There are even some fun sculptures outside that you can take pictures with.
I recommend planning your visit to the Palm Springs Art Museum during the middle of the day when it's too hot to be outside. It'll be a great use of your time and the perfect way to cool down.
The Palm Springs Art Museum is open Wednesday through Sunday and hours vary. Be sure to check their website prior to your visit.
Palm Canyon Drive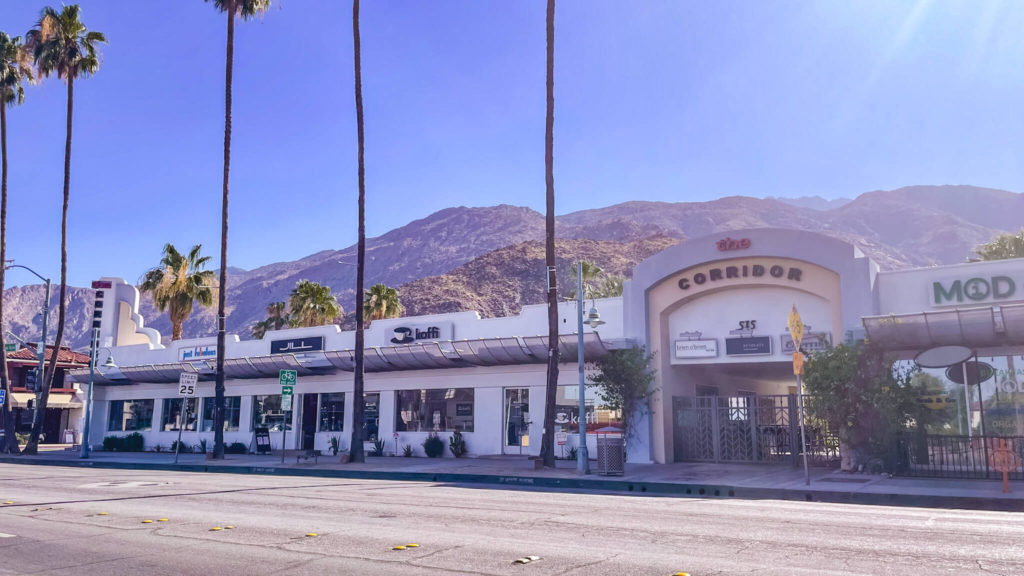 In addition to its many other great attributes, Palm Springs is also known as a popular shopping destination.
The city's most popular area for shopping is found along Palm Canyon Drive. Here you can find upscale chain stores, vintage shops, and furniture stores featuring modern and mid-century modern designs.
For unique locally inspired items head to the Palm Springs Uptown Design District. You'll find some really cool items in the shops here.
Mid Century Modern Architecture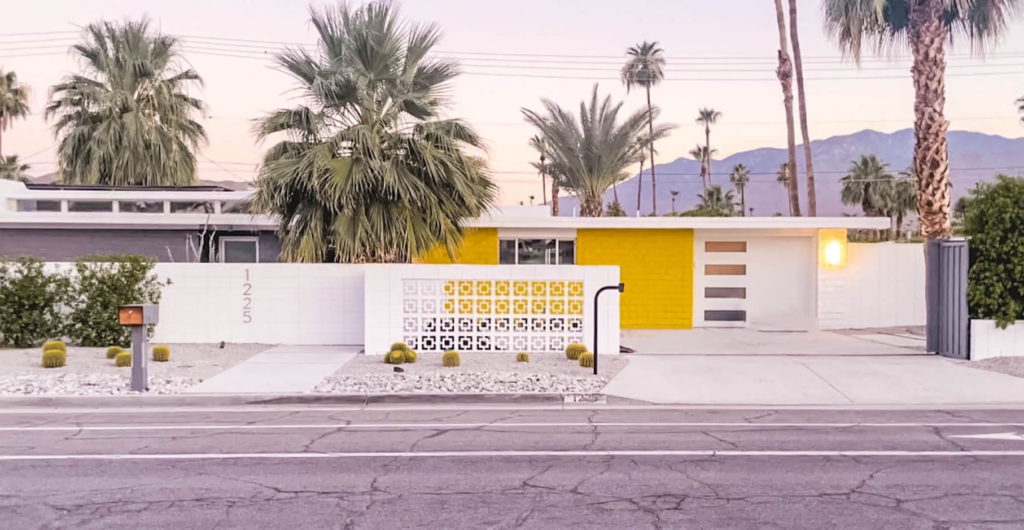 Without its mid-century modern architecture, Palm Springs just wouldn't be Palm Springs. Driving through the local neighborhoods here is a fun activity all in itself. I'm serious, don't leave town without doing this.
You'll find beautifully kept well manicured homes featuring mid-century modern architecture all over the city. I personally love driving around in the local neighborhoods between Palm Canyon Drive and North Sunrise Way.
It should go without saying but please be respectful when doing this. People live in these homes, so keep your voices down, keep your music down, and admire from a distance.
If you'd like to dive a little deeper into the world of mid-century modern architecture while in Palm Springs, there are a handful of guided tours available from the Palm Springs Mod Squad.
Palm Springs Windmills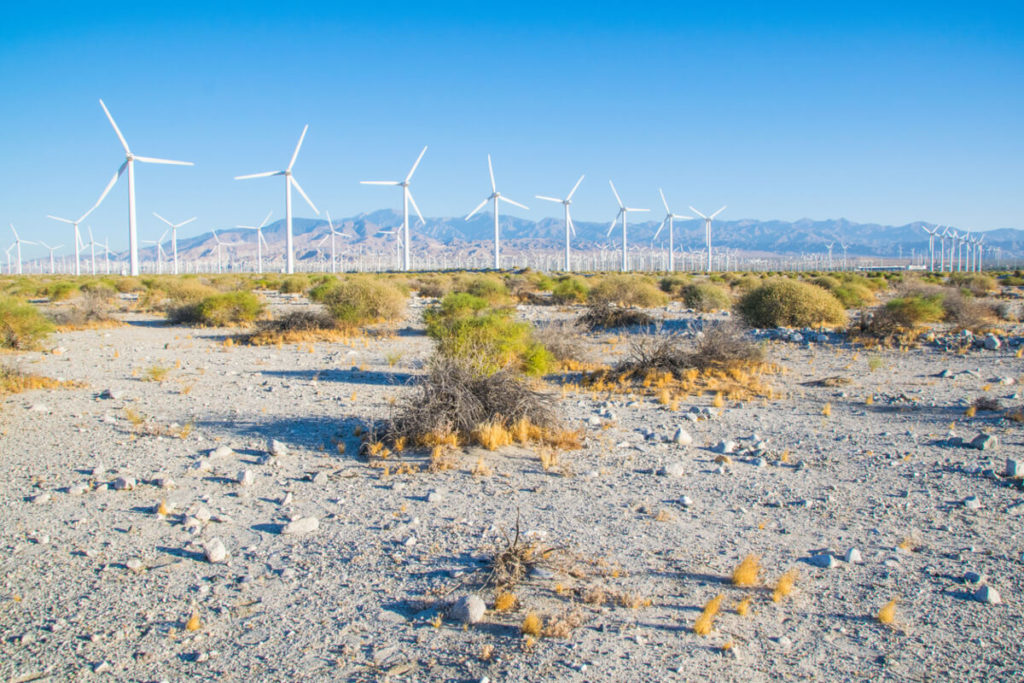 The palm spring windmills are one of the city's most recognizable attractions and a popular place to get photos.
The windmills are actually wind turbine generators that produce electricity for Palm Springs and the Coachella Valley.
The San Gorgonio Wind Farm contains over 4,000 wind turbine generators and produces enough electricity to power Palm Springs and the greater Coachella valley.
If you'd like to get photos with the windmills you can just drive out towards the streets surrounding the wind farm. You'll find plenty of places where you can safely pull over and get photos.
If you'd like to learn more about the wind turbine generators and windmills you can also take a guided tour with Palm Springs Windmill Tours.
Tahquitz Canyon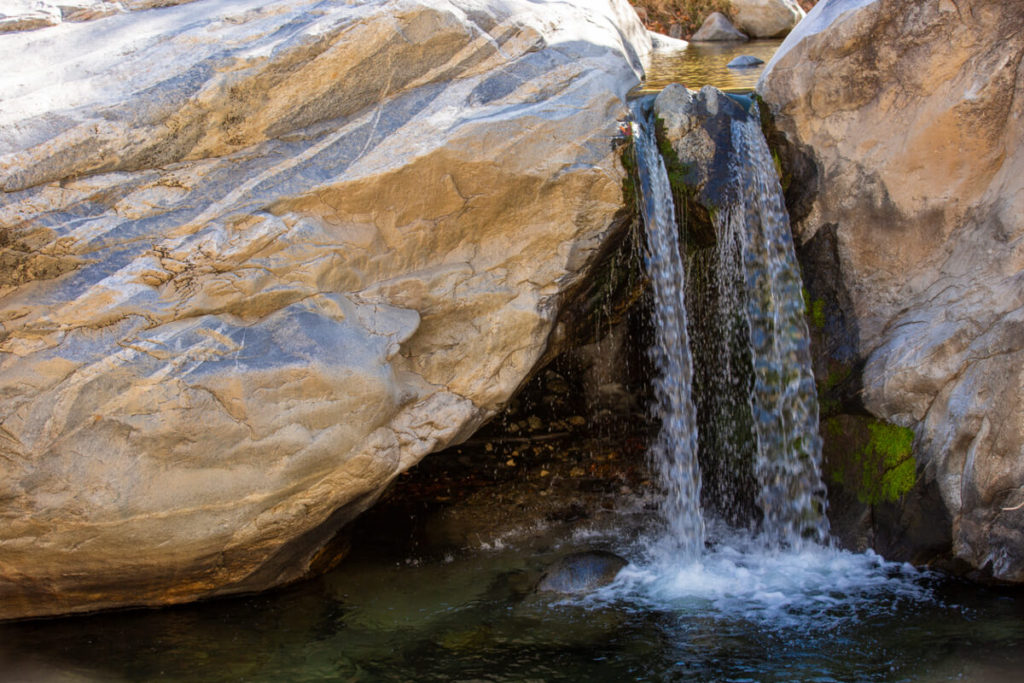 Tahquitz Canyon is one of the most popular hikes in the Palm Springs area. It's located just a few minutes west of downtown Palm Springs so it's close by and easy to get to.
The beautiful 1.8 mile hike features a 60 foot seasonal waterfall. The waterfall generally flows from about February to April depending on the weather that year.
The Tahquitz Canyon Trail begins at the Agua Caliente Tahquitz Visitor Center. The visitor Center includes educational and historical artifacts along with a theater and observation deck.
From the visitor center the trail is 1.8 miles out towards the waterfall. The trail is steep and rocky with a 350 foot elevation gain and is considered strenuous.
Access to the Tahquitz Canyon Trail is only available from 7:30 am to 5 pm and hikers must be on the trail by 3:30 pm.
During the hot summer months from July to September the trail is only open to visitors on Fridays, Saturdays, and Sundays. The rest of the year the trail is open daily.
It is recommended you begin your hike as early in the day as possible to avoid the midday desert heat. Also be sure to wear a hat and bring plenty of water.
Admission to Tahquitz Canyon is $15 per person for adults.
Palm Springs Dining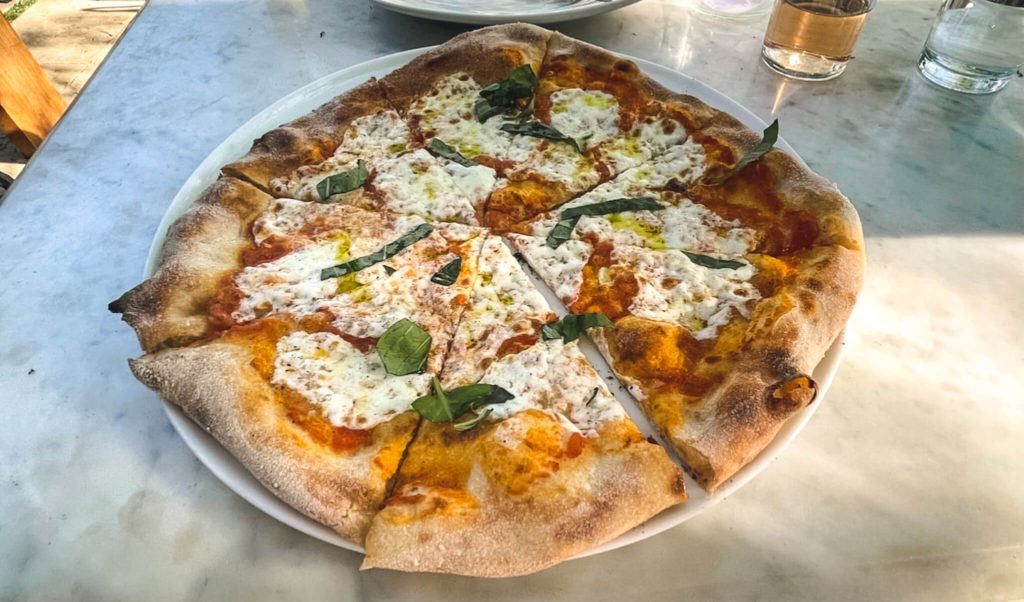 The dining options in Palm Springs are excellent, I promise you won't have a hard time finding a good meal here. There are also plenty of vegetarian and vegan options at most restaurants in Palm Springs, so just about everybody can enjoy the restaurants here.
Palm Canyon Drive is where you'll find most of the cities best restaurants. If you're ever hungry but not quite sure what you want, take a drive down Palm Canyon until you see something good.
Here's a short list of a few of my favorite restaurants in Palm Springs.
Cheeky's: This is everybody's go to place for brunch on the weekends. They serve an excellent breakfast including their famous bacon flight. Be sure to arrive early to beat the crowds especially on the weekends.
Elmer's: This is a classic diner with great good food and excellent service.
Birba: Birba is a delicious upscale Italian restaurant with a very lively outdoor patio. They also have excellent cocktails and desserts.
Spencer's: Spencer's is a local favorite situated at the base of the San Jacinto Mountains. The restaurant serves a variety of dishes including seafood, pasta, burgers, and steak.
Where to stay in Palm Springs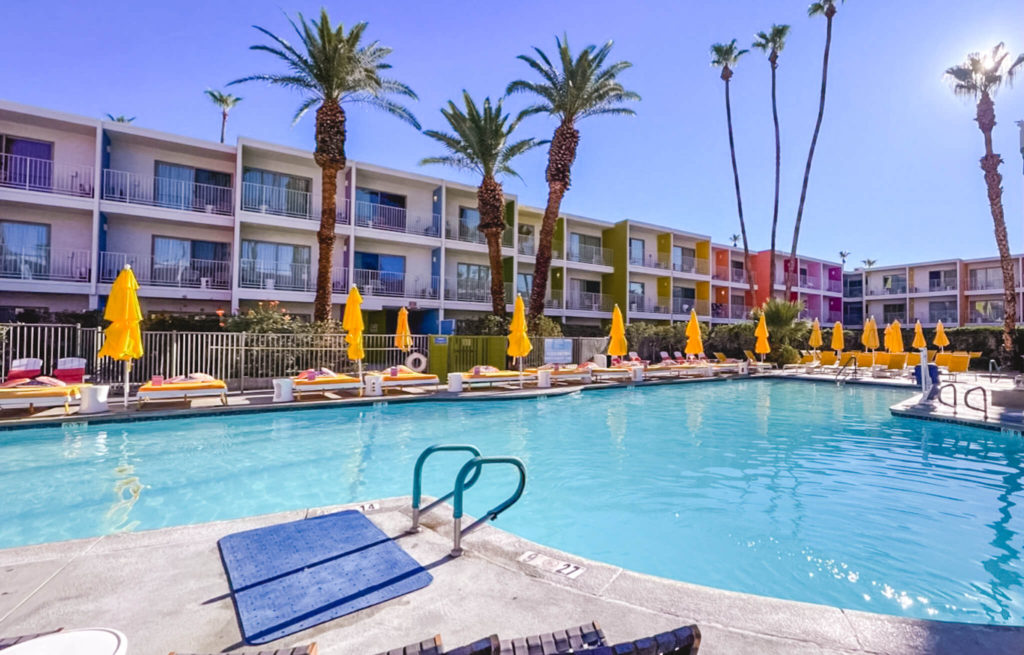 There are honestly so many great hotels and resorts in Palm Springs it's hard to narrow down this list.
While I haven't stayed at every hotel in Palm Springs, after several dozen visits to the city, I have stayed in quite a few of them.
Just about every hotel or resort in Palm Springs is going to have a nice pool, so to narrow down your choices you'll want to decide on your budget and the atmosphere you're looking for.
Some of the hotels in Palm Springs are known for their party vibe and are popular for bachelorette parties and girlfriend getaways. Others are quieter and a bit more family friendly.
Here are a few of my favorite places to stay in Palm Springs along with a brief description of what to expect at each property.
The Saguaro: This is my favorite hotel and I stay here often. I love the affordable price of this hotel along with its colorful midcentury modern decor. This hotel definitely has a bit of a party vibe but it's honestly never bothered me. They also have a fantastic on-site restaurant. Be sure to book the pool view room.
Ace Hotel and Swim Club: The ace hotel also has a bit of a party vibe but it's a bit more upscale than The Saguaro. The rooms here are decorated nicely and are very comfortable. There is also an onsite restaurant.
Avalon Hotel and Bungalows: The Avalon is a beautifully designed hotel with a fantastic restaurant, but what I love most about this hotel is that it has three pools. It's also just one block from Palm Canyon Drive and the Palm Springs Art Museum.
I hope you've enjoyed this guide to a Palm Springs weekend getaway and that I've inspired you to plan a visit of your own. As always, thanks for reading.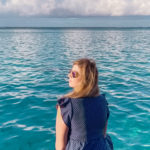 Eden Fite
Part-time Traveler | Dog Lover | Avoider of Crowds
I help busy people find creative ways to travel more.