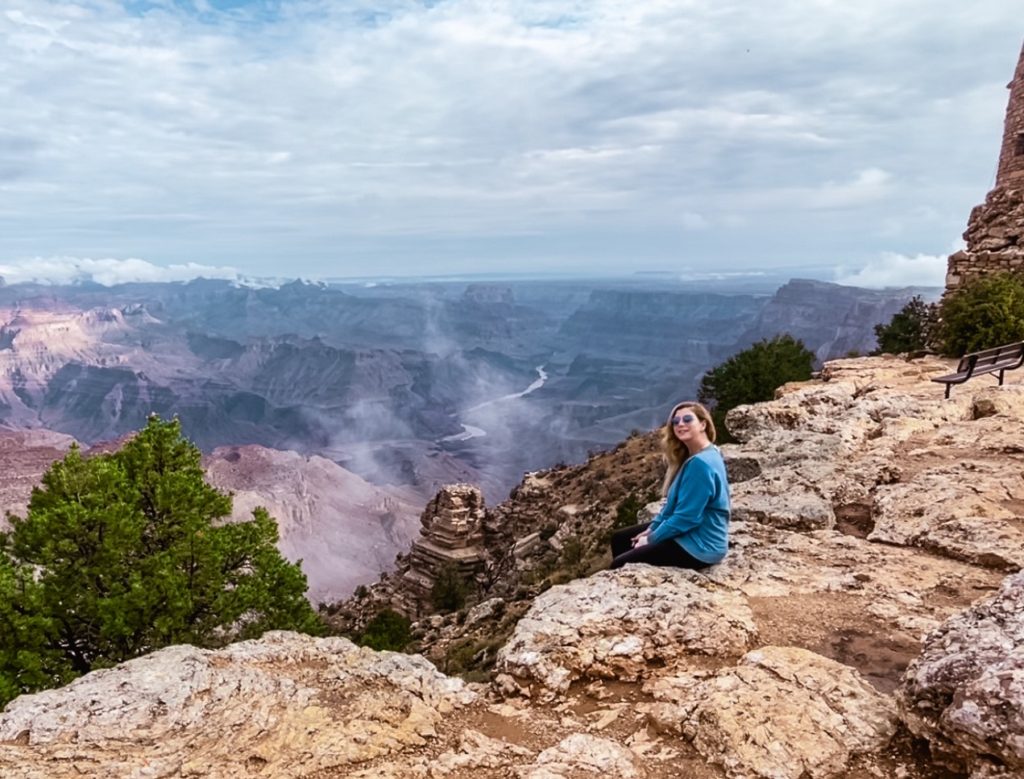 A Las Vegas to Grand Canyon road trip is the perfect addition to your southwestern USA vacation.
After spending a few days in Las Vegas drinking, eating, and exploring the Las Vegas Strip, you'll be more than ready for some time outdoors.
Honestly, I can think of no better place to enjoy the outdoors after a weekend in Vegas than the Grand Canyon.
In addition to having some of the most impressive views in the entire United States, Grand Canyon National Park is also home to dozens of hiking trails and all sorts of other outdoor activities.
You'll find no shortage of fun things to do at the Grand Canyon, I promise.
Some of the links in the post are affiliate links. If you make a purchase through these links it helps to support this site at no extra cost to you.
Las Vegas to Grand Canyon by car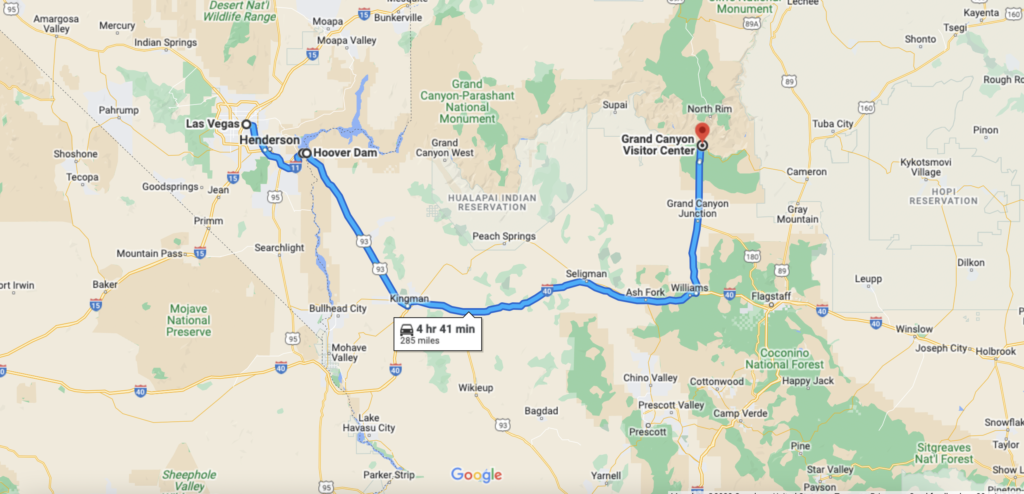 The Las Vegas to Grand Canyon drive by car takes approximately 4 hours 40 minutes without stops. This estimate depends on traffic, weather, and road conditions among other things.
Please note, this estimate is for a drive to the Grand Canyon south rim. There is also the Grand Canyon west rim or Grand Canyon north rim, which I will include drive times for down below.
Once past Hoover Dam, the drive is primarily on four lane highways all the way to the Grand Canyon National Park south rim entrance.
I've included just 6 stops stops along the way that won't add too much time to your Las Vegas to Grand Canyon road trip, but that I think are worth stopping for since you'll be driving right past them.
In total, if you make the drive with the six stops I'm recommending, the trip will take approximately nine hours, including stops for gas when necessary.
Though, if you're efficient with your time, especially at Hoover Dam, you could do this Las Vegas to Grand Canyon National Park road trip in seven or eight hours.
What I recommend is to try to time your drive so that you arrive at Grand Canyon National Park in time for sunset. Catching a sunset at the Grand Canyon is an experience you don't want to miss.
Driving distances to the Grand Canyon from Las Vegas
Las Vegas to Grand Canyon South Rim: 4 hours 10 minutes / 279 miles
Las Vegas to Grand Canyon Skywalk (West Rim): 2 hours 10 minutes / 129 miles
Las Vegas to Grand Canyon North Rim: 4 hours 45 minutes / 265 miles
Grand Canyon Tours from Las Vegas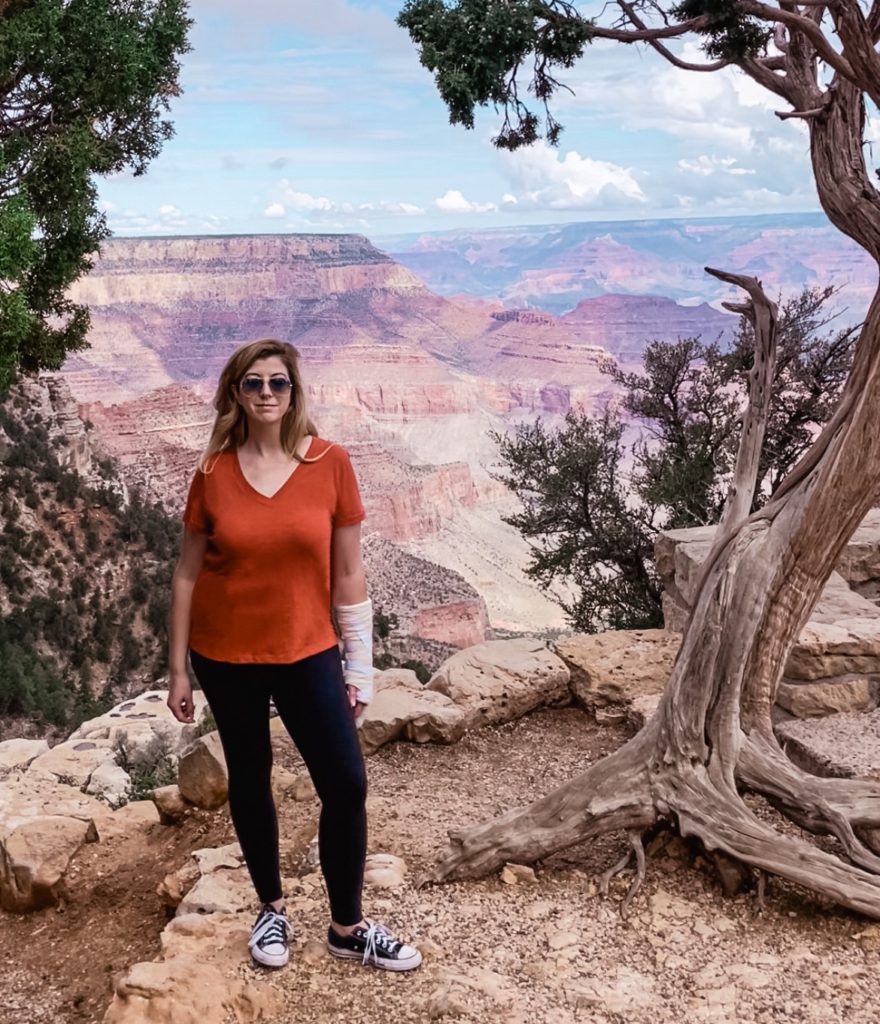 You'll find all sorts of Grand Canyon tours from Las Vegas to choose from if you prefer not to make the drive yourself. Many of the tours available also include stops at Lake Mead and the Hoover Dam.
Here are a few of the most popular Grand Canyon tours from Las Vegas:
Please note, most of these tours also include pick up and drop off from your hotel in Las Vegas.
Las Vegas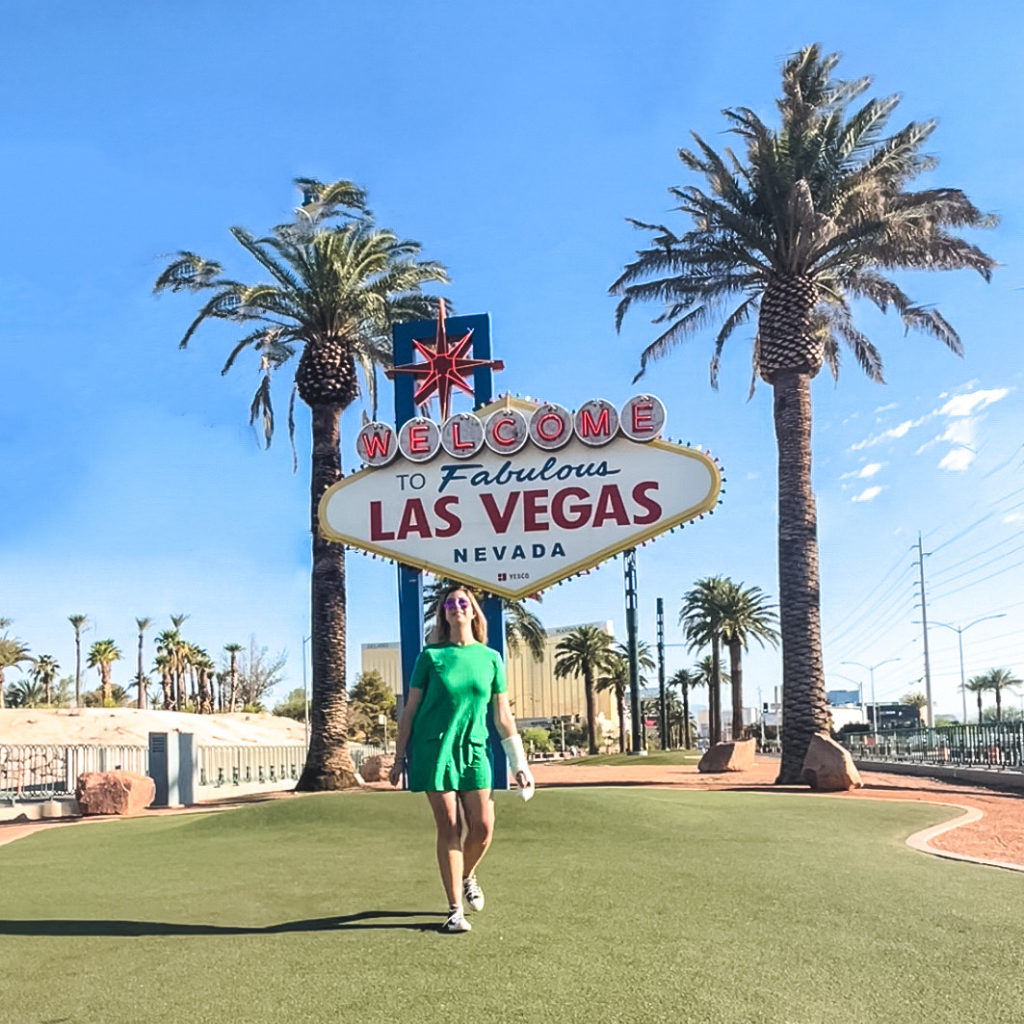 Las Vegas is one of those cities you can visit over and over again and have a completely different experience every time.
During one of my recent road trips to Las Vegas on a solo trip, I made it a point to visit as many attractions as possible that I'd never been to before. Despite having been to Vegas well over a dozen times over the years, it ended up being one of my favorite trips to this city so far.
Whether this will be your first visit to Las Vegas or you've been many times, I'll share a few of my favorite things to do in Las Vegas.
Some of my favorite things in Vegas are the Mob Museum, Neon Museum, Mandalay Bay Aquarium, Pinball Hall of Fame, and Meow Wolf at Area 15.
You'll want to purchase tickets in advance for all of the attractions above except Pinball Hall of Fame, which does not require a ticket to enter.
I also recommend a visit to the Las Vegas Arts District if you're looking for a place to see local street art and grab lunch. Afterwards, head down the street to my favorite Vegas bar, Frankie's Tiki Room.
Valley of Fire State Park is nearby as well if you'd like to enjoy some time outdoors while visiting Las Vegas. The park is known for its gorgeous red rock formations and is a popular destination for hiking and photography.
Next Stop: Lake Mead Lakeview Overlook
Distance: 40 minutes / 37 miles
Lake Mead Lakeview Overlook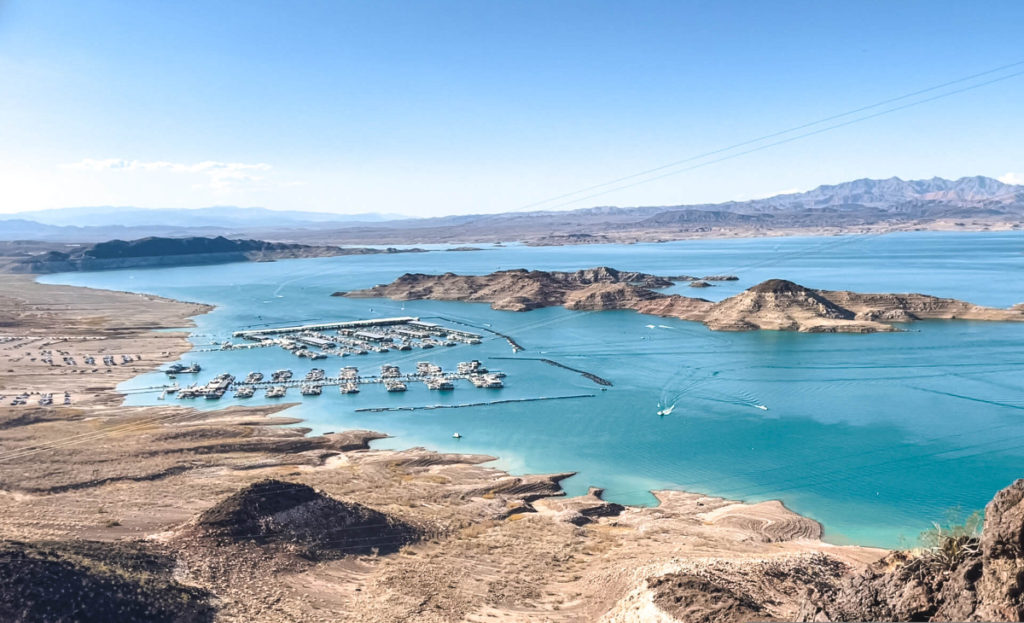 The Lake Mead Lakeview Overlook is located just outside Boulder City, Nevada just before you arrive at the Hoover Dam.
Lake Mead was created by the Hoover Dam back in September 1935 and is the largest reservoir in the US. It sits along the Nevada and Arizona border and is a popular place for boating.
While the overlook is just a quick stop offering incredible views of Lake Mead down below, those wishing to take it slow will find plenty to do here if they stick around a while. There are also hot springs and plenty of local hiking trails nearby.
It's free to access the overlook area and there is plenty of parking. Plan to spend about 5 to 10 minutes here.
Next Stop: Hoover Dam
Distance: 10 minutes / 2 miles
Hoover Dam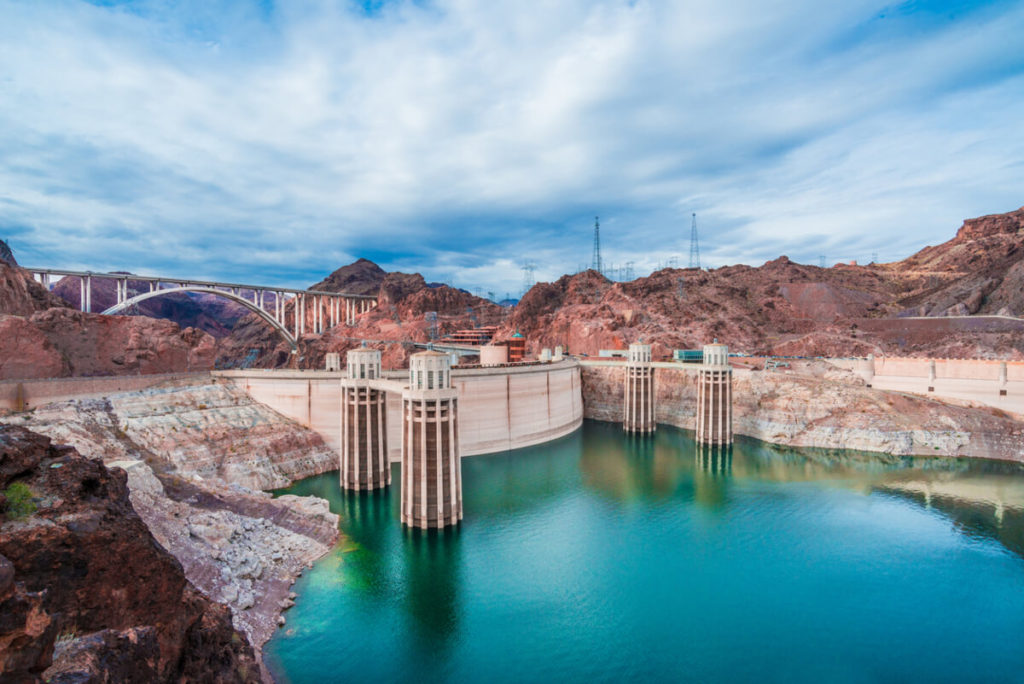 The Hoover Dam is a concrete arch-gravity dam in the Black Canyon of the Colorado River that draws millions of visitors from around the world each year.
Visitors to Hoover Dam can either explore on their own or join one of the guided tours. Tickets for the Hoover Dam tours cannot be purchased online (except by local tour companies), so you'll need to pick these up when you arrive if you want a guided tour.
During my visit I opted out of the guided tour and just explored on my own due to being short on time. I enjoyed my visit even without the tour and learned a lot from the posted signage around the dam.
Plan to spend about 30 minutes to 90 minutes exploring the Hoover Dam.
Important Hoover Dam information for planning your visit:
Hoover Dam hours: 5 a.m. to 9 p.m. daily
Hoover Dam Visitor Center hours: 9 a.m. to 5 p.m. daily
Hoover Dam tickets: Tickets are $30 for the guided tour. Unless you book a guided tour (from Vegas) in advance you cannot purchase Hoover Dam tickets online. If you prefer to purchase your tickets the day of, these are first come first serve.
Next Stop: Chloride
Distance: 1 hour / 60 miles
Chloride, Arizona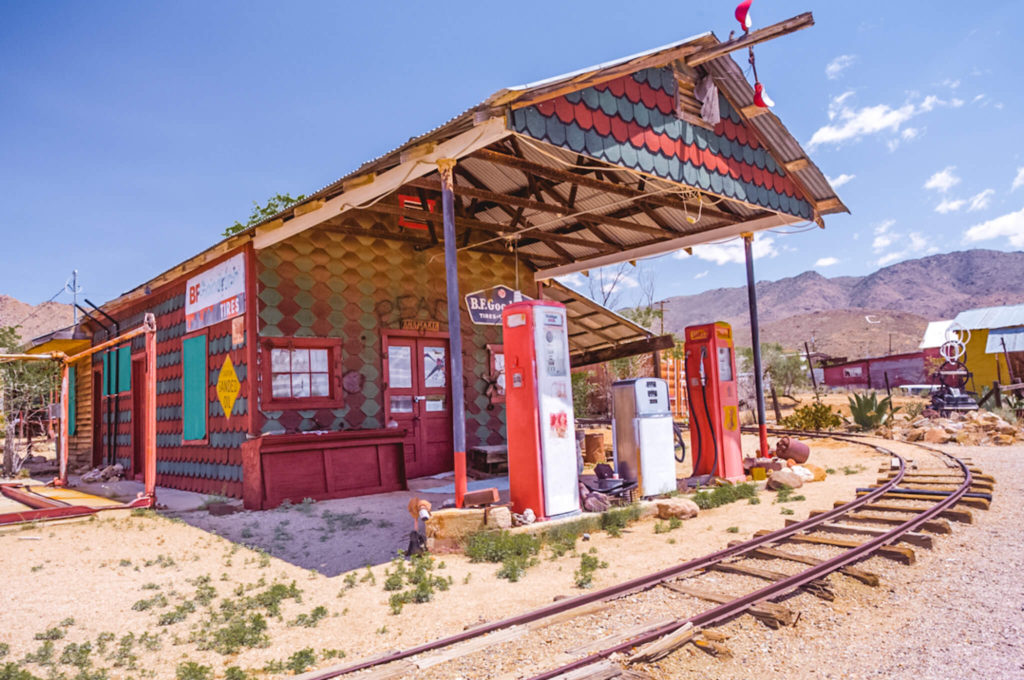 The town of Chloride, Arizona is a former silver mining town founded in the 1860s. While the town's silver mining days are long since past, the town makes for a fun and unique stop on a Las Vegas to Grand Canyon south rim road trip.
Today, the town of Chloride is filled with historic buildings including a saloon and gas station. Chloride makes for a quick stop, but it's a fun place to explore and get pictures. You'll definitely see some interesting things during a visit here.
Next Stop: Williams
Distance: 2 hours / 136 miles
Williams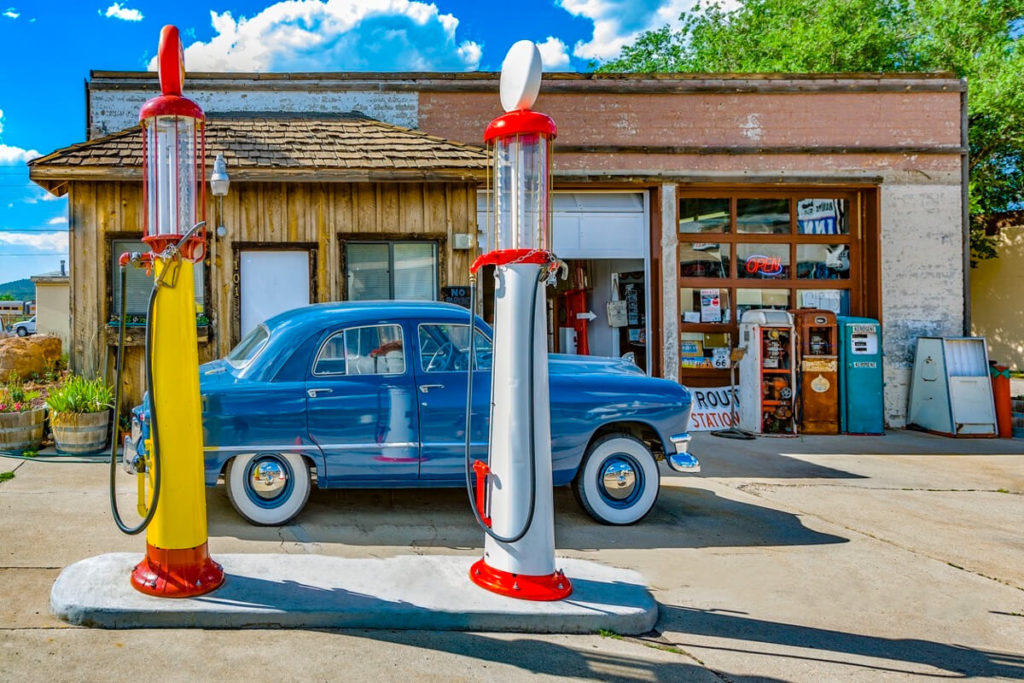 Williams, Arizona is a popular stop along the famous Route 66 and is home to many Americana style restaurants and shops.
Popular things to see in Williams include the Pete's Route 66 Gas Station Museum and Route 66 Zipline.
Williams is also known as the Gateway to Grand Canyon National Park as this is where the Grand Canyon Railway begins. Visitors looking to ride the train into the park will board here.
The train departs Williams daily at 9:30 a.m. and arrives at the Grand Canyon at approximately 11:45 a.m. Once at the park you will have three hours to explore before making the trek back to Williams.
You can purchase tickets for the Grand Canyon Railway here.
Next Stop: Kaibab National Forest
Distance: 1 hour / 46 miles
Kaibab National Forest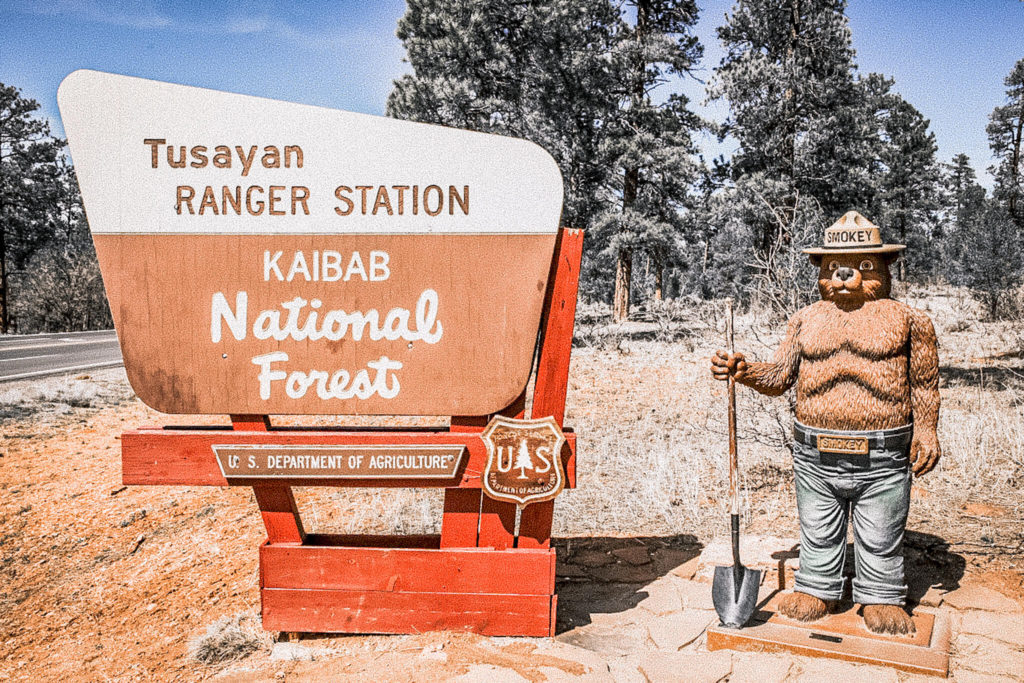 The Kiabab National Forest covers areas both south and north of Grand Canyon National Park. For those heading to the south rim, you'll find Kaibab National Forest just south of the park entrance.
Visitors here can enjoy miles of hiking trails, camping, and fishing. Those looking for accommodations with a slightly less rustic experience than camping can book one of the local cabins.
The National Forest encompasses more than 1.5 million acres which includes canyons, prairies, peaks and plateaus.
Those looking to escape the crowds of the Grand Canyon will certainly find plenty of space to spread out in nature here.
Next Stop: Grand Canyon National Park
Distance: 10 minutes / 1 mile
Grand Canyon National Park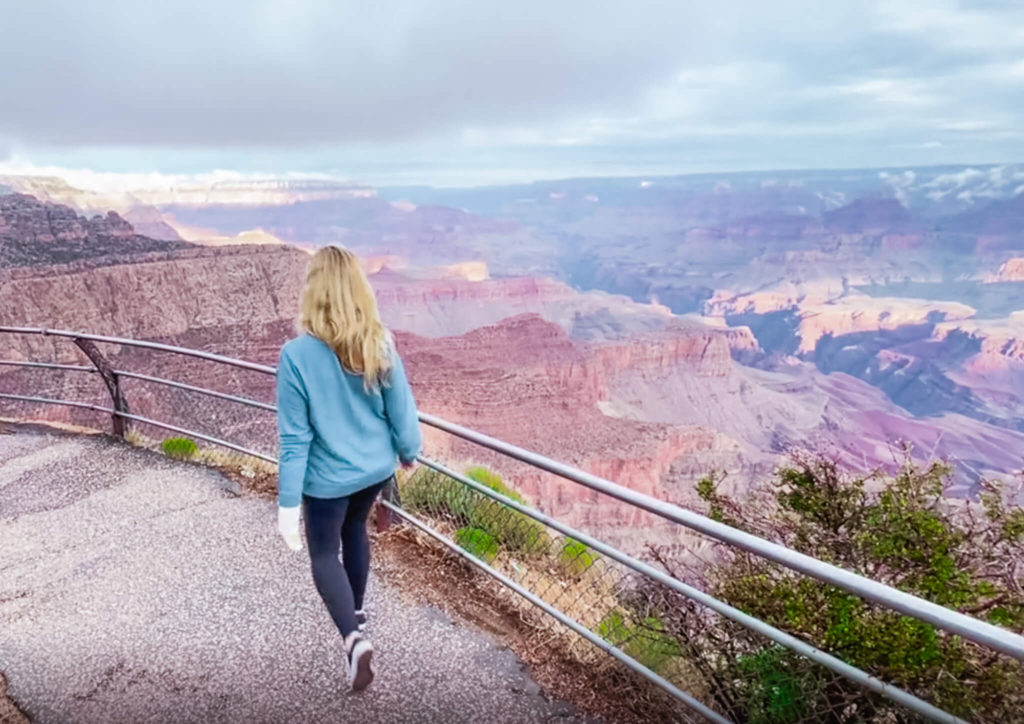 Your Las Vegas Grand Canyon road trip ends here at Grand Canyon National Park. This is one of my favorite national parks and one I hope everyone gets to visit at least once in their lifetime.
There is tons to do at Grand Canyon National Park, including taking a Grand Canyon road trip along the south rim. Mostly though, you're here for those incredible Grand Canyon views.
Hopefully you'll be spending at least a night or two at the park so you can explore a bit.
If so, I recommend visiting as many of the overlooks as you can, hiking some of the local trails, making a stop into the Grand Canyon Visitor Center, and checking out the famous Grand Canyon Railway.
If you're an early riser, definitely don't miss your chance to enjoy a Grand Canyon sunrise. This park is truly magical in the early mornings. In my opinion, it's the best time of day at the park.
Distance to Nearby National Parks from the Grand Canyon
Grand Canyon to Bryce Canyon National Park: 5 hours / 287 miles
Grand Canyon to Zion National Park: 4 hours 10 minutes / 240 miles
Grand Canyon to Monument Valley: 3 hours / 175 miles
Grand Canyon to Vermilion Cliffs National Monument: 2 hours 15 minutes / 128 miles
Grand Canyon to Grand Canyon Caverns: 2 hours / 127 miles
Frequently Asked Questions
I hope you've enjoyed this guide to a Las Vegas to Grand Canyon road trip and that I've inspired you to plan a trip of your own. As always, thanks so much for reading.
Related Posts
A Las Vegas to Grand Canyon road trip is the perfect addition to your southwestern…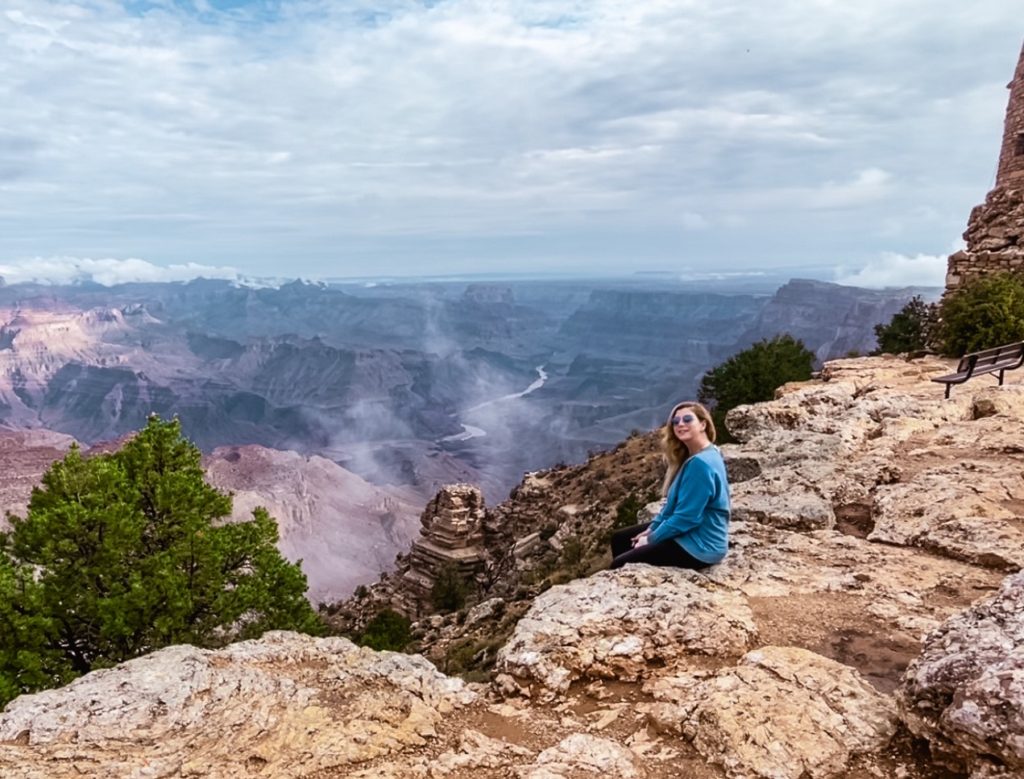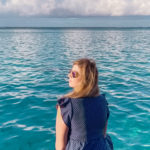 Eden Fite
Part-time Traveler | Dog Lover | Avoider of Crowds
I help busy people find creative ways to travel more.