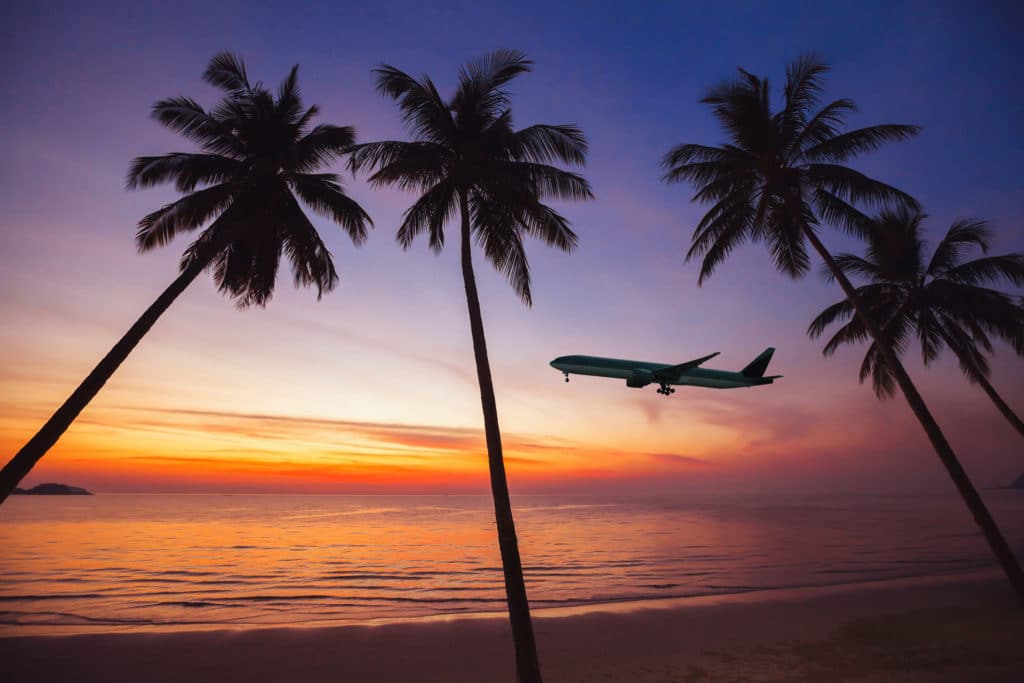 Airfare is typically the largest upfront expense we face when making travel plans. However, there is a lot you can do to lower the cost of airfare if you plan ahead and have a little patience.
These days, there are so many tools out there you can use to track and find great airfare deals, but it can also be overwhelming. In this post, I've narrowed down the process for finding cheap flights based on experience from booking my own flights.
All of these tips for finding cheap flights are the same steps I take when searching for and booking my own cheap flights. 
I hope you find these Tips for Finding Cheap Flights helpful, and that you save a ton of money so you can afford more flights. 
Tips for Finding Cheap Flights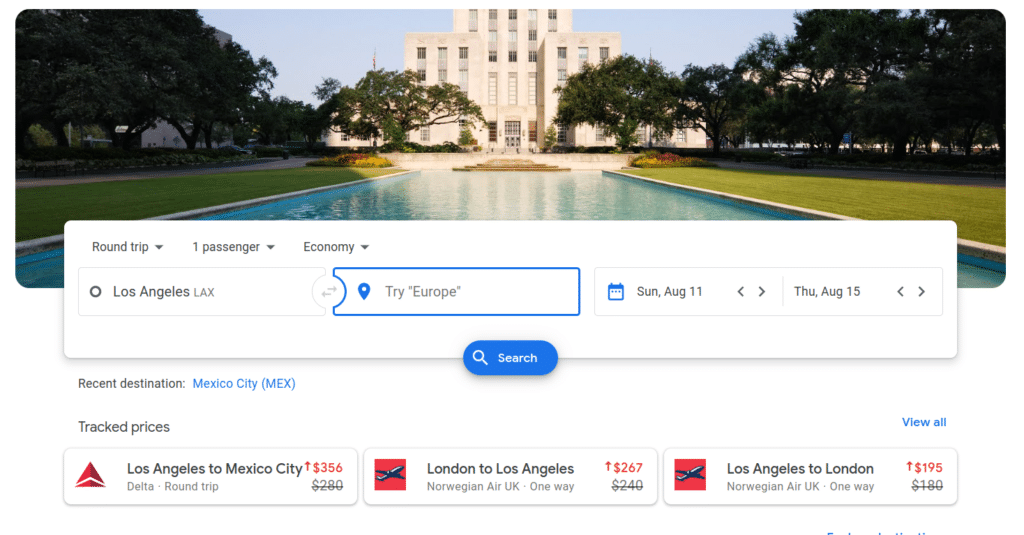 1. Use Google Flights
I believe any search for airfare should begin with a search on Google Flights.  One of the best features of this site is the calendar that shows airfare prices by date.
You will often see that you can often save hundreds of dollars just by traveling a day or two earlier or later. You will also be able to see prices for nearby airports. Sometimes flying into a suburb is cheaper than flying into the metropolitan area, but not always. 
I recommend beginning any search for airfare as soon as you know you will be traveling. There is significant fluctuation in airfare prices throughout the year.
Use the tracking feature that Google Flights offers to monitor the price of the flight you want to take so you can purchase when the price for the flight you want is at its lowest. If you're really looking to save money, try monitoring several flights that fit your travel plans.
For example, you can track flights on different dates, different time, and different airlines. This will give you the most opportunity for scoring a great deal. 
Using Google Flights is my favorite of these tips for finding cheap flights. This is exactly how I find and book my own flights. If you do only one thing from this list, make it that you start your search with Google Flights. 
2. Use a Secondary Flight Search Engine
Once you have found a couple of flights that work with your travel plans, do a secondary search on some of the other flight search engines. I recommend Momondo, Skyscanner, and Kayak.
On occasion, I have found slightly better airfare deals on these sites after completing my initial search on Google Flights. If you have the time, you can conduct your search on all of these flight search engines and compare what you find.
This way, in the end, you can be sure you've found the best deal out there.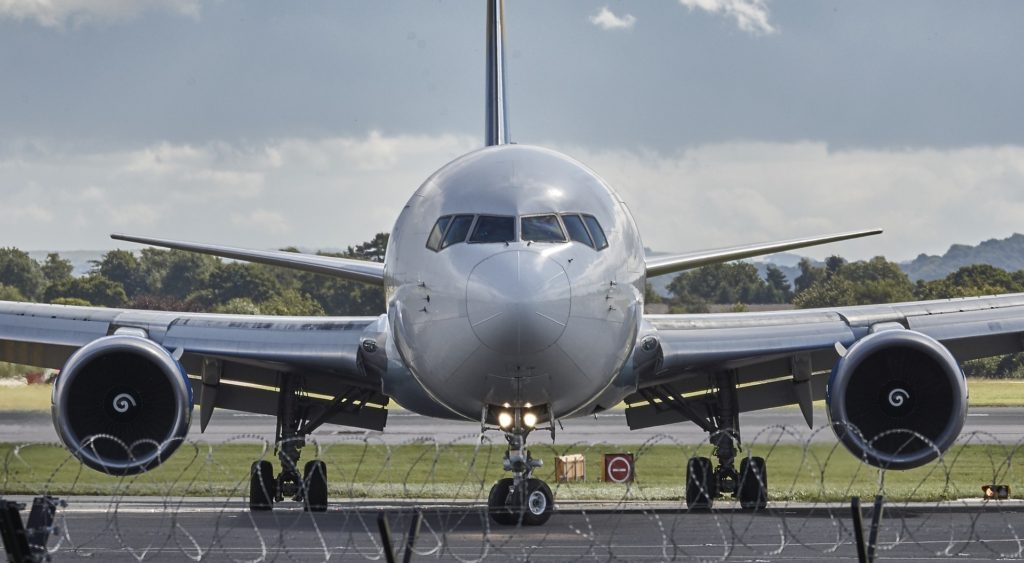 3. Book Directly With the Airline if Possible
This is one of the most important of my tips for finding cheap flights, so whatever you do, don't skip this step. Booking directly through the airline is the best way to protect yourself in the event of a delayed or canceled flight.
It will also be easier if you need to change your travel plans after making your reservation. For most of the secondary search engines, once you book your airfare it is non-refundable.
Some will offer you a credit of sorts if you need to cancel or switch flights, but they may make it nearly impossible for you to use it (Orbitz comes to mind. Never book with Orbitz!).
Another important thing to note is that the ticket price you find on these booking sites will also be available directly through the airline. In fact, many times, when I've gone to the airline's website to book directly, the price has actually been a few dollars lower.
I've found that booking sites will sometimes round up on the ticket prices they find on the airline websites, so you'll usually save at least a couple dollars by booking direct. 
Booking directly with the airline alleviates the middleman in the event there are any issues. It is much easier to modify a flight or get a refund if you are only dealing with one business.
In addition to just being easier, you will also get credit for your miles if you are a member of their loyalty program. 
4. Join the Loyalty Program
Always join the loyalty program of any airline or hotel you frequent. You will acquire points for every purchase you make and every flight you take.
These frequent flier miles will eventually add up and can qualify you for upgrades or free flights. Even if you don't fly a lot, it's worth joining the loyalty program to ensure you aren't missing out on the benefits. 
Equally important, do not forget to provide your loyalty number when you book your future flights.
If you don't give them your loyalty account number, you will not get the points or credit for your flight or purchase. You don't want to miss out on free flights or upgrades, so try to stay on top of this. 
One more thing. Do not forget about your loyalty program memberships. So many people sign up for loyalty programs, earn tons of points, and then never use them. Sometimes people will just forget, sometimes people don't know what to use them for, and some just don't want the hassle.
I totally understand all of these things, life happens. Just don't let this happen to you. Keep a note in your phone with your loyalty program information so you have it on hand and can access it when you need it.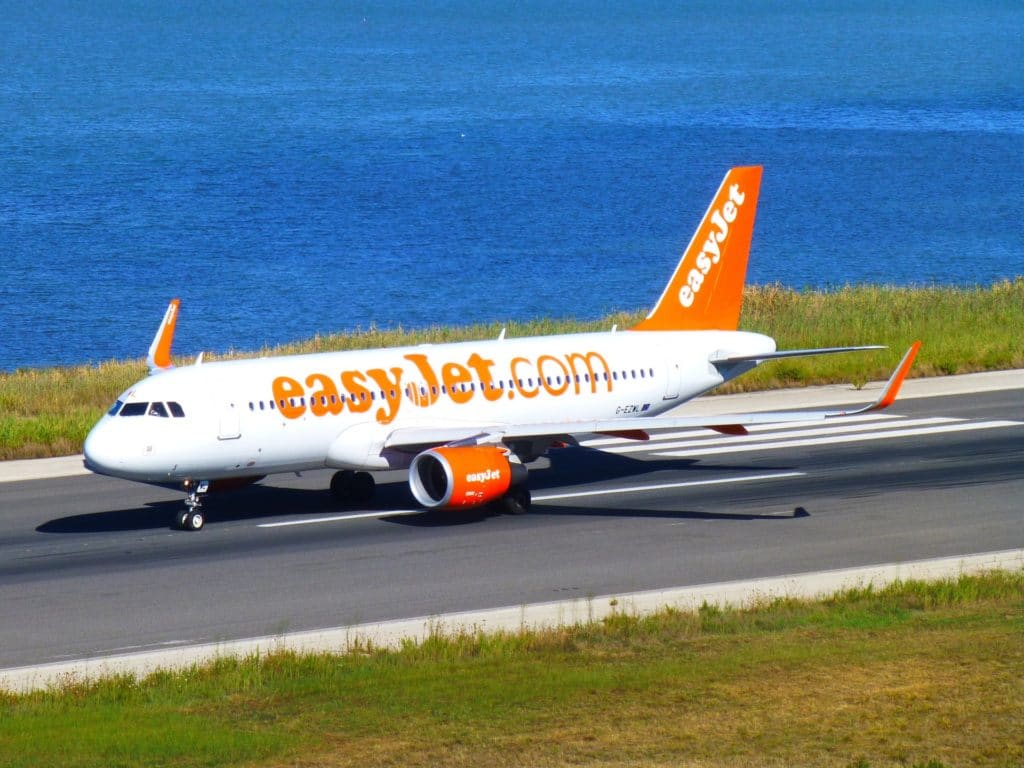 5. Beware the Budget Airline and Baggage Fees
Don't forget there are many budget airlines out there offering tremendously low fares. To make up for these fares they charge steep fees for selecting seats, carry-on bags, and checked bags.
Easy Jet is one that comes to mind, though most airlines are now charging additional baggage fees. Always check the airline's website for the actual cost of the flight with any bags you intend to bring with you. 
To do this, I usually start going through the booking process a bit, just to the page where baggage fees come up. This way you can view the actual fare and determine whether you've found a good deal or not. 
While I encourage you to be mindful of the high fees associated with budget airlines, they are often an excellent and affordable way to get from city to city in Europe. Hopefully, this will catch on in the United States sometime soon. 
6. Be Flexible with your Destination
One of the biggest money-savers from this list of tips for finding the cheapest flights is to be flexible with your destination. Depending on what time of year you are looking to travel, there are going to be some destinations that will be in their peak season for tourism.
For example, if you want to visit Italy in June or July, be prepared for both large crowds and high prices. Airfare will be very expensive this time of year. If you know you want to visit Italy, consider looking for airfare in the spring or fall when better deals can be found.
If you want to travel in the summer months, visit destinations that are experiencing their off-season or shoulder season. You can save a lot of money on airfare this way, not to mention lower hotel costs and lighter crowds. 
7. Be Flexible with your Dates
Once you begin using Google Flights for your airfare research, you'll quickly discover that flying on weekends and holidays is almost always more expensive. Whenever possible, go into your airfare ticket search with an open mind.
Be flexible with the dates you fly our and return if you can. You'll often find that moving your departure or return date by a day or two can save you hundreds of dollars. 
8. Be Flexible with your Flight Times
You can often score some great flight deals by flying at times that others just don't want to fly. These will usually include nights and early mornings.
If you're able to fly during these times, take advantage of it. You'll see some really great deals this way with Southwest Airlines especially. They always offer lower fares for their late night and early morning flights. 
I find this option is really convenient when planning weekend getaways. Instead of flying out on Friday when my weekend begins, I'll book a late-night flight on Thursday after work. This way I'm already in my destination and ready to go on Friday morning. 
9. Avoid Flying During Major Holidays
When making travel arrangements in advance, try to avoid plans that involve flying over the holidays. In the United States, airfare is particularly expensive over Thanksgiving, Christmas and New Year's Eve.
If you can, try to book flights at least two weeks ahead of these major holidays. In some cases, cheap flights can be found if you fly on the day of the holiday. For example, flights on Christmas Day or New Year's Eve can sometimes be found at a big discount. 
In addition to the savings, you also don't want to be in an airport during these holidays anyway. The lines will be long and airport security will most likely take forever. 
10. Plan Ahead Whenever Possible
While it's true that last minute flight deals can be found, it's more likely you will pay significantly more for your airfare if you wait until the last minute to book your ticket.
Try to start looking for your airfare as soon as you know you will be traveling. This will give you time to research flight costs, track flights, and find the best deals. If at all possible, try to book airfare about 2 to 3 months in advance for the best prices. 
11. Look for One-Way Tickets 
When searching for cheap tickets, try looking for one-way flights instead of round-trip tickets. I often find that booking tickets as one-way flights save me a lot of money.
When you do this, you are able to book the cheapest flights in both directions of your travel regardless of the airline. It also allows you to customize your flight times better instead of letting the airline pair up the flights for you.
This is something I do every single time I book my airfare, I never book a round-trip ticket. You'll get so much more flexibility booking your flights separately. Plus you'll have access to the best deals offered by all of the airlines, not just the one you booked your outbound flight with. 
12. Mix and Match Airlines
Don't be afraid to mix and match airlines when booking flights from one destination to another. The more you travel, you'll realize that some destinations are just more expensive to get in and out of.
This may be because they are in remote locations, or maybe they are just not high-traffic places to go. Either way, you may find better flight deals by booking with more than one airline. For example, traveling from Idaho to Los Angeles is much more expensive than traveling from Idaho to Las Vegas to Los Angeles.
Instead of paying $400 to fly from Idaho to Los Angeles I paid $50 to fly from Idaho to Las Vegas on Spirit Airlines and $95 to fly from Las Vegas to Los Angeles on American Airlines. 
You'll find situations like this a lot. Be sure to take your time when booking your airfare and explore all options. 
Also, be mindful of layover times. If you book separate plane tickets on different airlines you want to make sure you have plenty of time on your layover to get to the next flight.
If your first flight is delayed and you miss your 2nd flight, you will not be reimbursed by either airline in most cases. Use this method wisely and consider all possibilities. 
13. Fly Economy
Unless you're using frequent flier miles, traveling for business, or you are rich, there's no reason to pay all that money to fly in first or business class.
Those fares are not meant for regular folks like us, which is why they are so unbelievably expensive. Those fares are often paid by large companies flying their employees around and don't care that they are paying 10 times the cost of a seat on that same plane just a few rows back. 
However, if you have frequent flier miles, by all means, please take advantage of seat upgrades and great deals. I'd love to fly first class on an international flight one of these days but haven't found the opportunity just yet. From what I hear, this can be quite a fun experience. 
14. Avoid Fees for Perks You Don't Need
Airlines are charging fees for just about everything they can these days. This means you will likely have to pay extra to sit in certain rows, have an exit row seat, or even choose your seat altogether.
While sometimes these added perks are worth the few extra dollars, especially on a long flight, I recommend avoiding them whenever possible. If you're flying from New York City to Boston, do you really need to pay an extra $50 to choose your seat?
Probably not, unless it's really that important where you sit on the plane. For me personally, I like to save adding these extras for longer flights. 
15. Consider a Travel Credit Card
If you have good credit and know that you can be responsible for a new credit card, consider getting a travel credit card.
Travel credit cards allow you to earn points with the money you spend on your card. These points can then be redeemed for flights and hotels.
The best travel credit cards will allow you to earn multiple points per dollar for certain categories of purchases. These extra point categories are usually restaurant and travel-related purchase categories.

If you're just getting started with travel rewards credit cards, I recommend starting with the Chase Sapphire Preferred.
This card has a low annual fee and comes with tons of travel perks and benefits. They are also currently offering an initial sign-up bonus of 60,000 Chase points after you spend $4,000 in the first 3 months.
The signup bonus alone is worth $750 towards travel expenses when purchased through the Chase Ultimate Rewards website.
I think the Chase Sapphire Preferred is the best starter travel credit card for just about anyone because it's a great card for daily use. Just be sure to pay off your balance in full each month to avoid paying interest charges. These fees can quickly eliminate any benefit you get from the points you earn.
By now, you should be an expert at booking cheap flights. Down below I walk you through an example of how I search for airfare when booking my own flights so you can see these tips in action. 
Here is a sample search to show these tips in action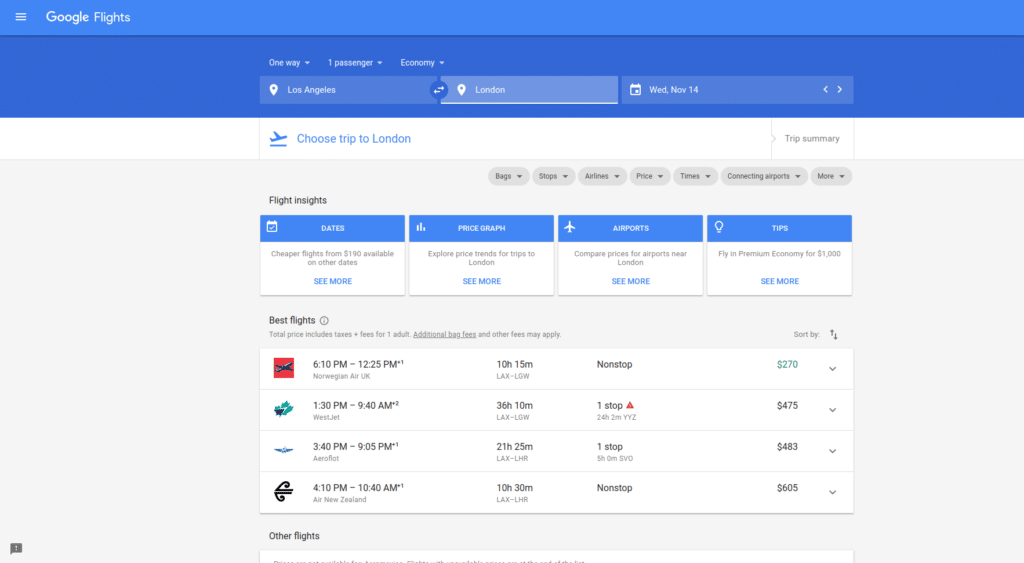 In the image above I searched for a one-way fare from Los Angeles to London on November 14, 2018.
The search results show the four best flight options based on price and duration.
The top result is Norwegian Air at $205 cheaper than the next best price found with West Jet. From here, I select the Norwegian Air price to be taken to their website so I can see the ACTUAL fares.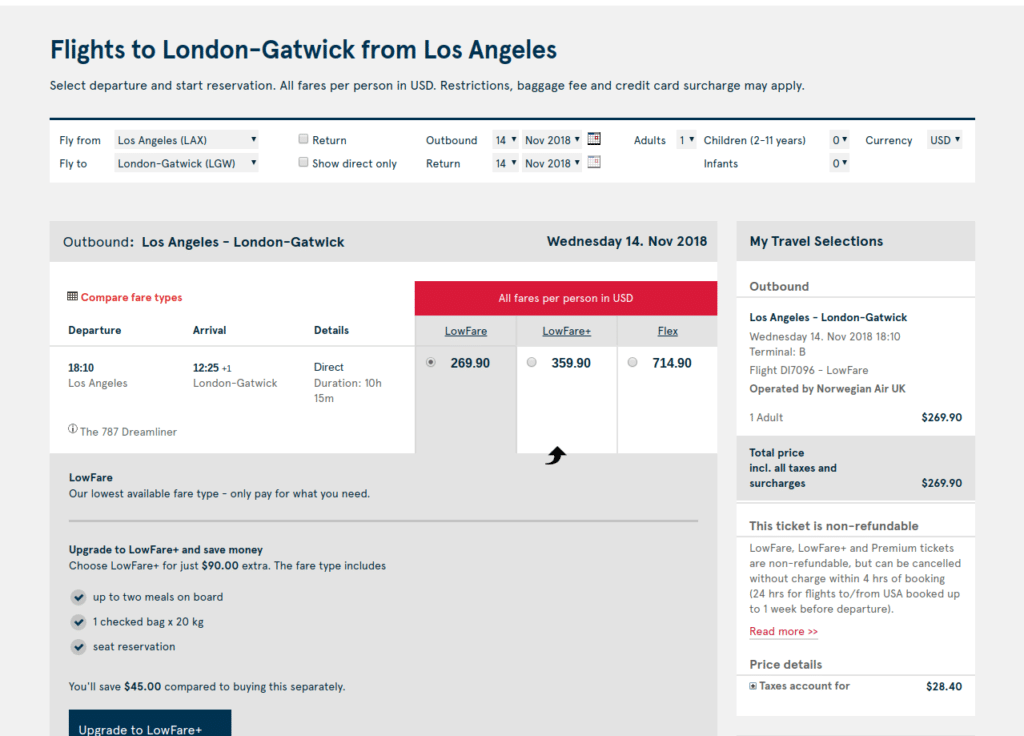 The image above shows the fare options once you arrive at the Norwegian Air website for booking. You can see that the $270 fare we found on Google Flights does not include seat selection, a meal, or a checked bag.
If you would like to include those options, the flight will actually cost you $359.  However, even after being charged for these extra services, the Norwegian Air flight is still more than $100 cheaper than the next best search result we found on Google Flights.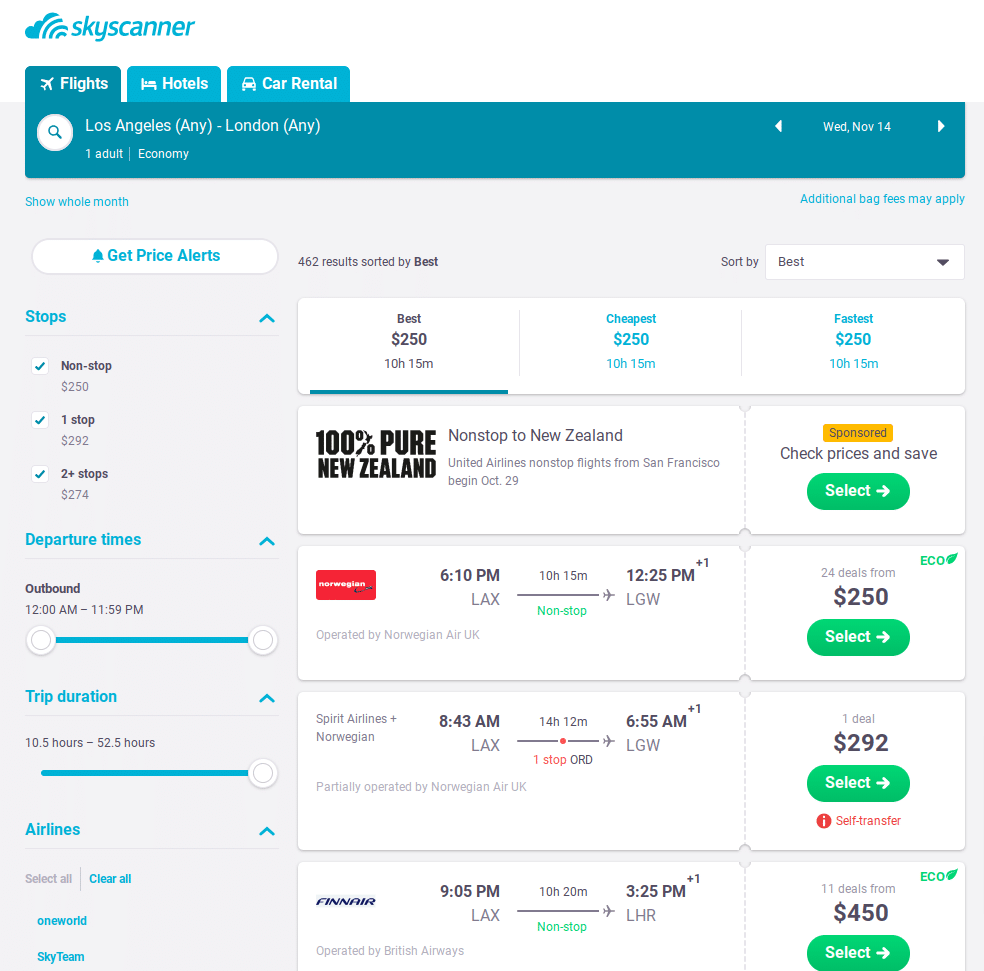 For comparison, we'll take that same search, one-way from Los Angeles to London on  November 14, 2018, to see if we can find a lower fare.
We can see from the search results on SkyScanner, that the cheapest flight is still the Norwegian Air flight. It shows the flight for $250 here, but remember, we already know this price does not include seat selection, a meal, or a checked bag.
If you want those extras included you would still be paying the $359 price we found direct with Norwegian.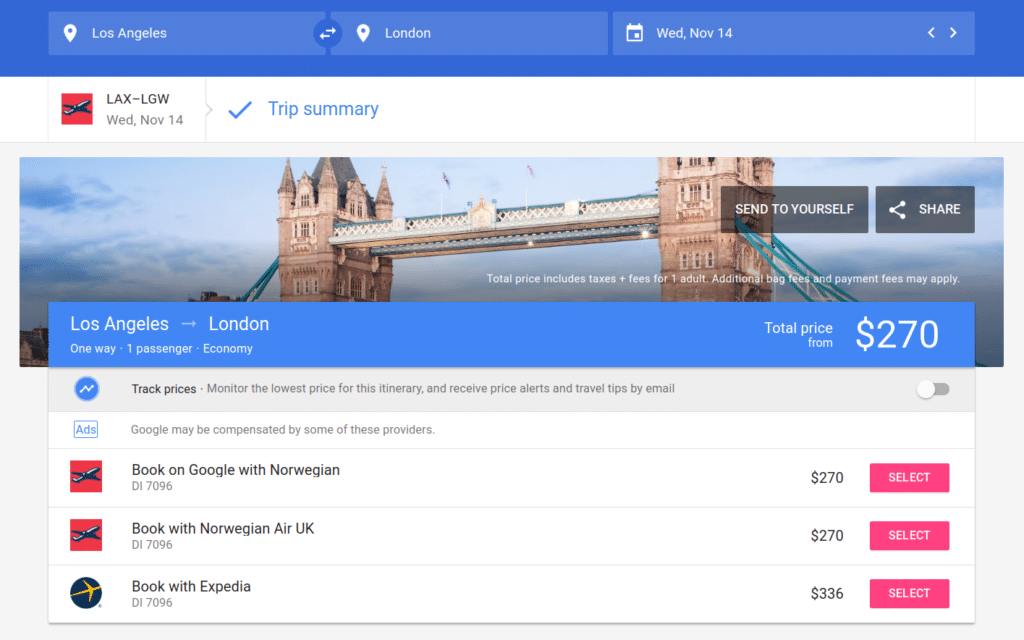 if you have time before your trip, don't forget you can use the price tracking feature from Google Flights. First, select the specific flight you want to track.
In the example above, I have selected the Norwegian Air flight on November 14, 2018.  Once you set up the flight tracker, you will be notified via email every time there is a change in price for that flight. 
Generally speaking, you want to book your flight about six to eight weeks ahead of time.
However, if you are traveling to a destination during their peak season, you will typically want to book the flight at least three months before your departure. 
My Final Thoughts on How To Find Cheap Flights
I think finding affordable airfare can be handled by just about anyone, and especially if you use these tips for finding cheap flights. As long as you have the patience to put in the effort, you should have no trouble finding a good deal no matter where you're headed.
If you'd like to go the extra mile and you're wondering how to get cheap flights last minute, I recommend signing up for Scott's Cheap Flights.
They will send you airfare deals and mistake fare alerts a few times a week. You can often save hundreds of dollars if you're truly flexible about your travel plans. This is one of the easiest ways to be notified of cheap flight deals to score cheap airline tickets. 
I hope you've found my Top 15 Tips for Finding Cheap Flights both helpful and easy to understand.
If you have any questions about finding affordable airfare head over to my contact page and send me a message. 
If you're looking for more travel tips, like how to find the best hotel, I've got you covered. You can find all you need to know over on my Travel Tips page. 
Book Your Trip
Find the best flight deals by using Google Flights, then book direct with the airline. This is the search engine I use to compare flights and prices before booking my own trips.

BOOK YOUR ACCOMODATION
I recommend searching for hotels through Booking.com to compare hotels on amenities, location, and price. If you are a member of a hotel's rewards program, always book direct with the hotel. If you are not loyal to a specific hotel brand, using Booking.com for the best price.

TRAVEL INSURANCE
Travel insurance is more important than ever. For just a few dollars a day you can protect yourself and your trip. I personally use World Nomads, but whomever you choose, don't skip out on travel insurance. It can literally save you thousands of dollars.


Want to save it? Pin it.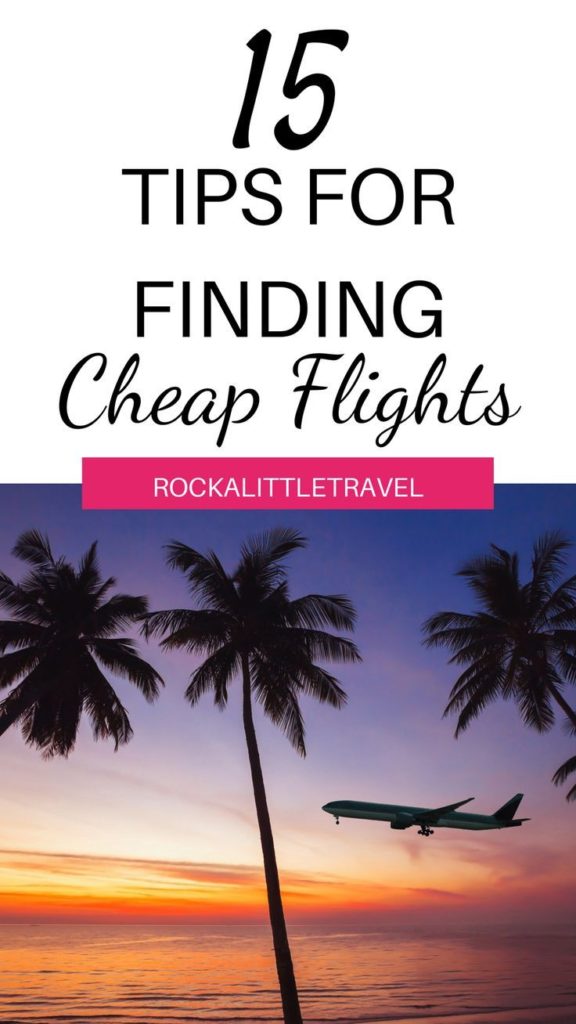 Related Posts
Photo by Canva This post will help you identify the highest currency in the world…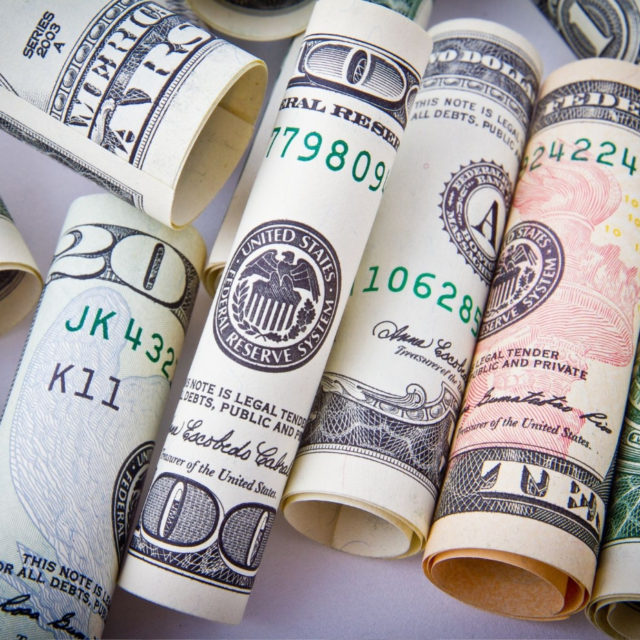 Is Getaway House Big Bear is worth the hype? Let's find out. Just last week…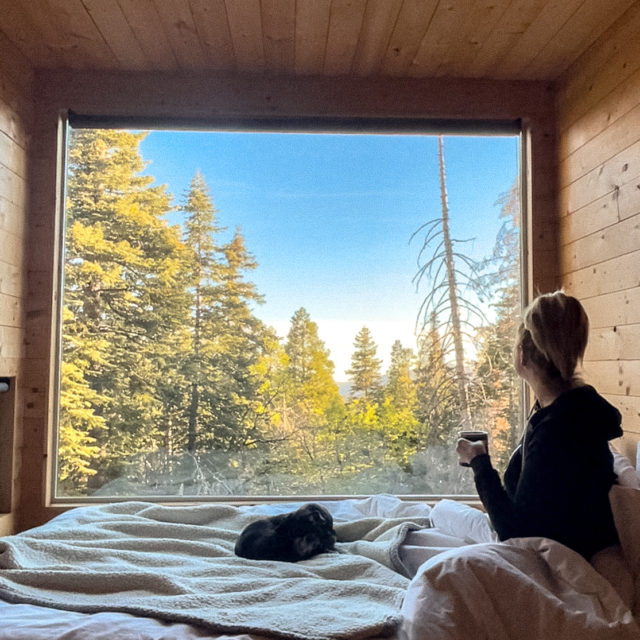 Visiting the Dubai Miracle Garden was one of my favorite activities during my recent trip…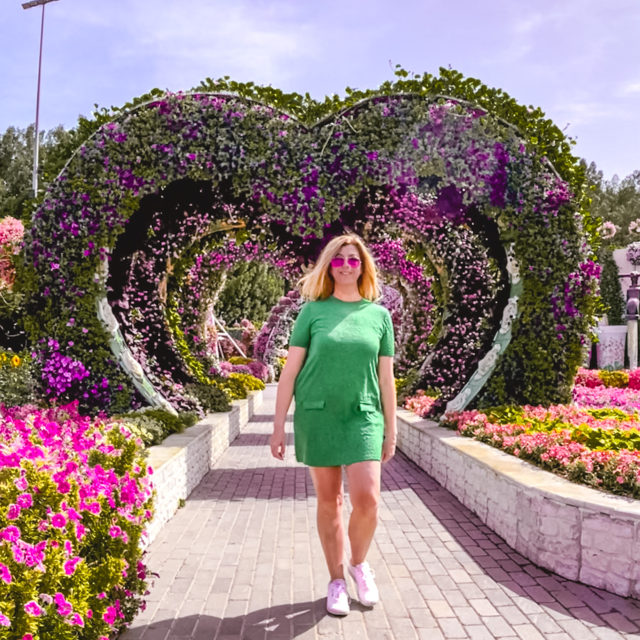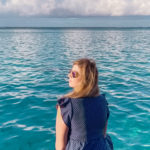 Eden Fite
Part-time Traveler | Dog Lover | Avoider of Crowds
I help busy people find creative ways to travel more.