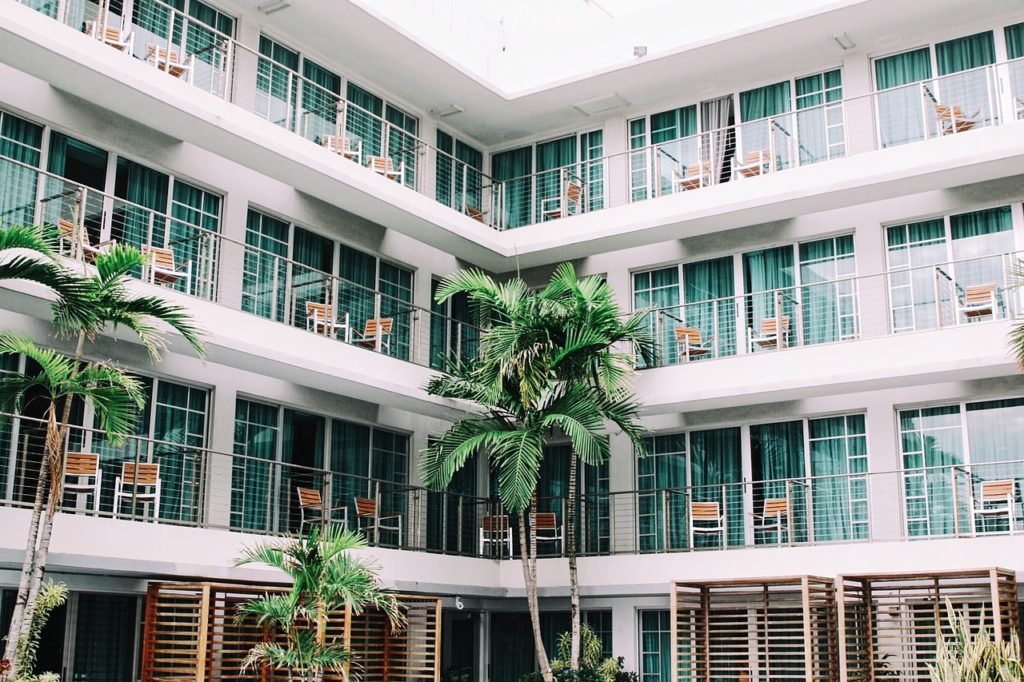 The hotel you stay at on your vacation can really make or break your trip.  Your hotel room is going to be your home base and the place where you rest and recharge. 
There are several important factors to consider before selecting your hotel to make sure you set yourself up to have the best possible experience while traveling. 
Read on for how to score the best possible hotel for your next trip.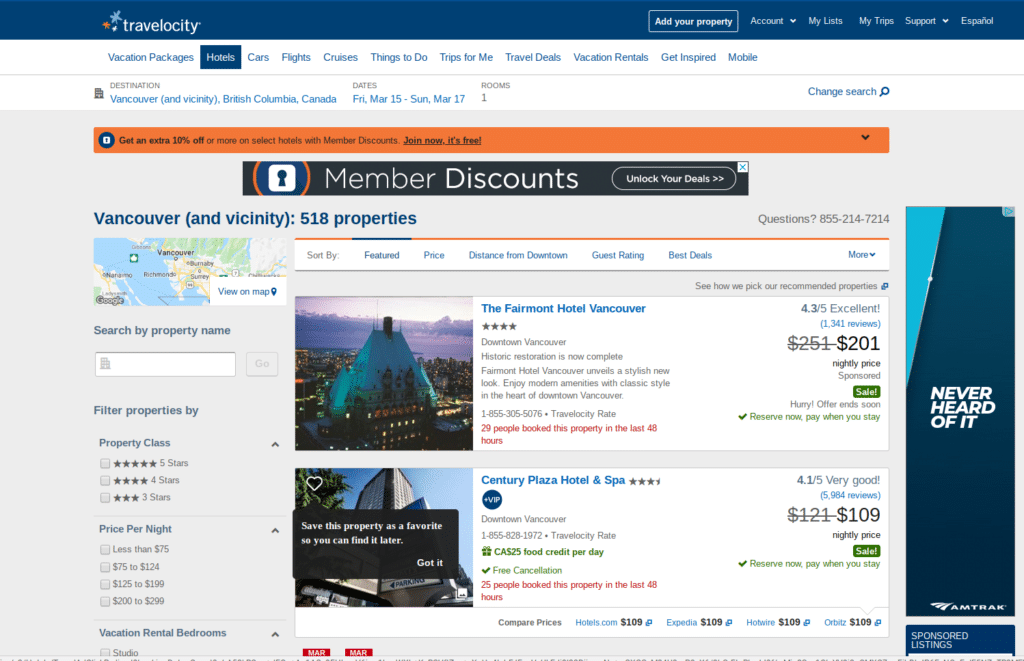 Start your search at Travelocity
Whenever I begin searching for a hotel, I always begin at Travelocity.
I start here so that I can get a general idea of which hotels are available in the area and a rough idea of what hotel prices look like for my travel dates.
Travelocity also tends to have a lot of pictures of each property so I can get an idea of what the hotel experience will be like. Make sure you look at both pictures posted by the hotel AND pictures posted by previous guests.
This will let you know if the pictures posted by the hotel are misleading, or if they are being upfront about what they have to offer. If you can tell that a hotel is intentionally being misleading, keep looking. 
Make sure you use the filters on the left-hand side of the screen to narrow down your search.
You don't want to have to scroll through hundreds of hotels that don't fit your travel style. If you're looking for a cheap hotel, you can filter by price and see them listed from least expensive to most expensive.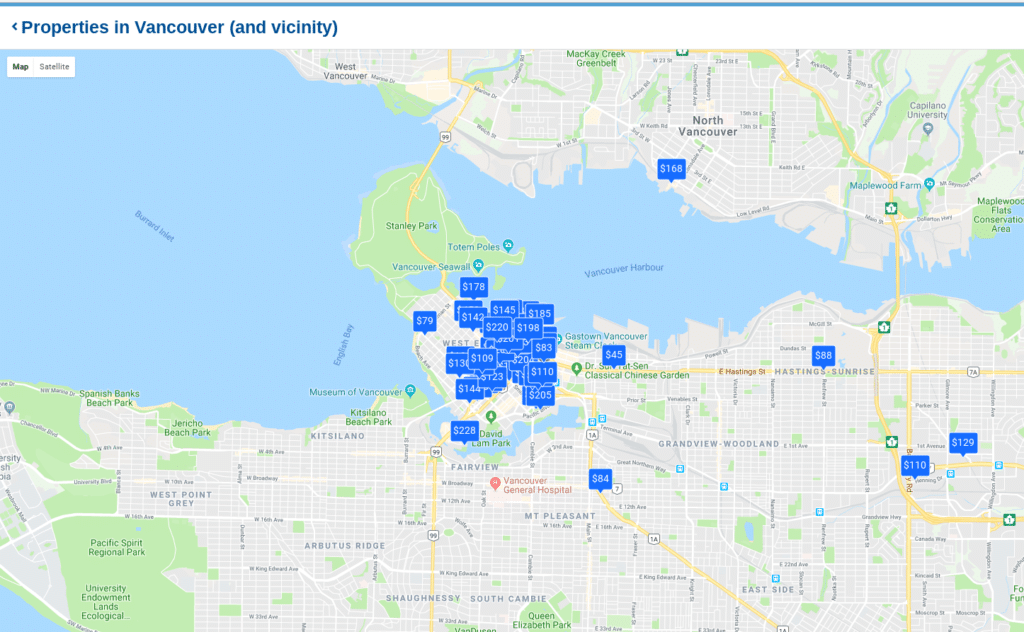 Location, Location, Location
I cannot stress enough the importance of location when selecting accommodations.
Booking cheap hotels 40 miles from where you want to be is an incredible inconvenience and can really ruin a vacation. I know, because I have done this. 
Be sure to consider travel time between your hotel and the places you want to see. Make sure to account for transportation costs as well.
If you need to take a taxi 40 miles each way to get to and from your hotel, you might as well just pay more to stay within walking distance of your destination.
You may also end up losing a significant amount of time going back and forth, cutting into the time you get to spend having fun and exploring. 
Once you've filtered out the results in your hotel search on Travelocity, click on the map view found at the top of your search results.
Use this to figure out where you will be spending the majority of your time, and see if you can find a hotel that meets your needs in that vicinity.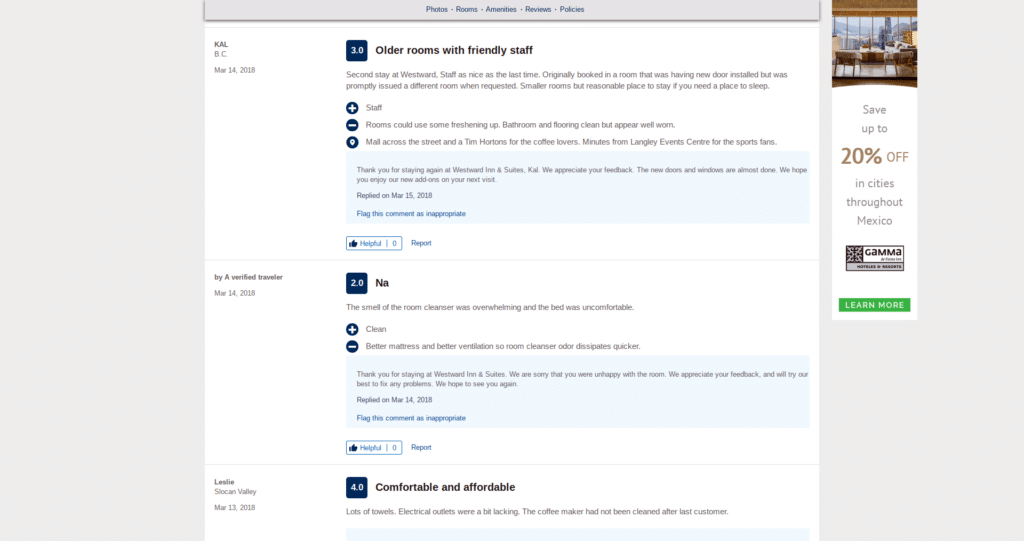 Check the Reviews
Another important reason I recommend starting your hotel search with Travelocity is that there are plenty of reviews posted by other travelers.
Once you've narrowed down your search to just a handful of options, take a few moments to start reading the reviews.
Be sure to focus on the most recent ones first. This step will often help to eliminate a few options from consideration.
Reading these guest reviews will provide helpful information that the hotel would otherwise not share with you.
For example, reviewers will report if there is construction going on nearby if the hotel has a pest problem, if there is a nightclub blasting music all night long, or if the hotel staff are jerks!
This is all really valuable information that you are going to want to consider and will be thankful you were informed of.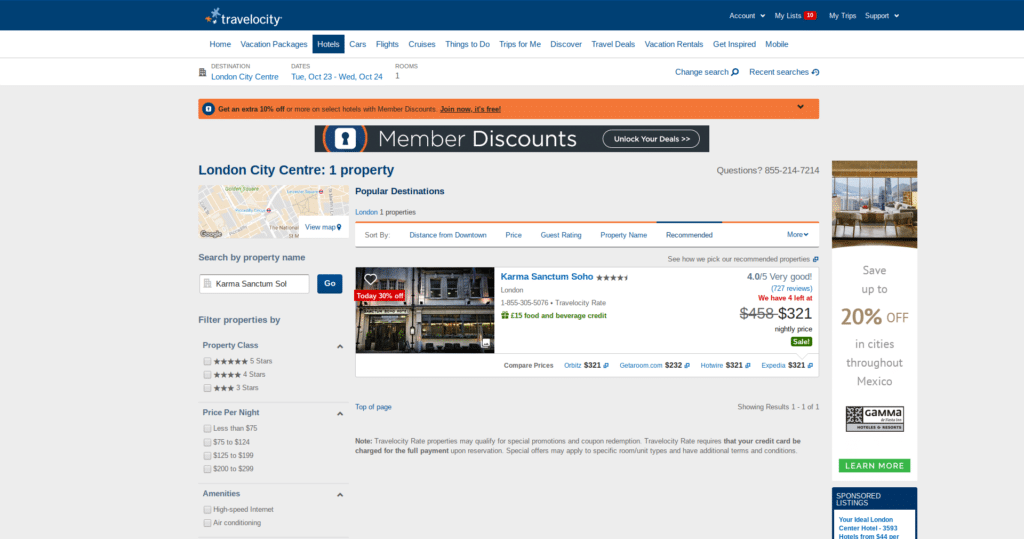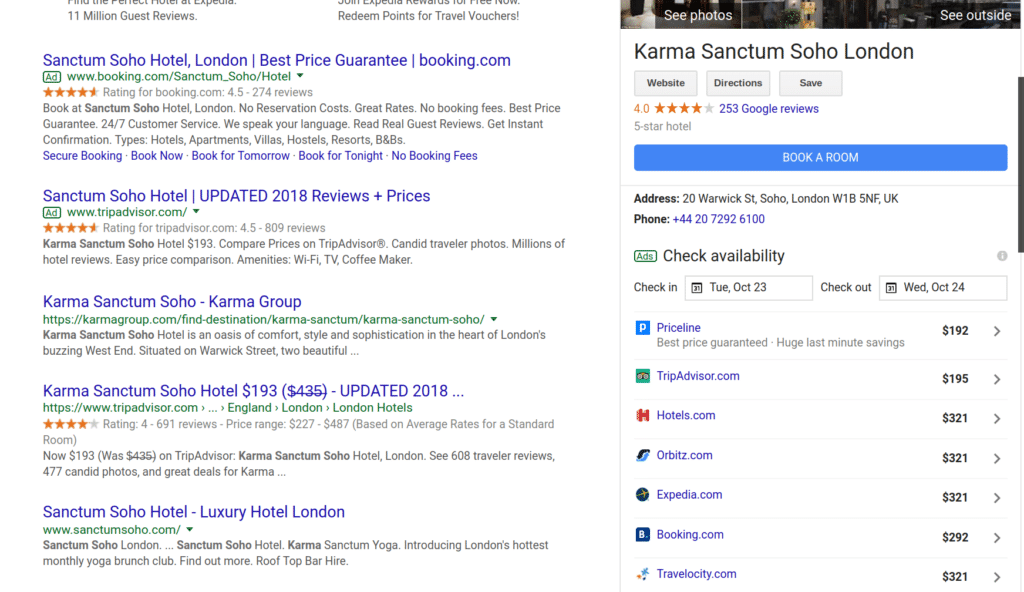 Conduct a Search Using Google
Once you've selected the hotel you want to stay at, move your search over to Google to find the best price.
Do a Google search of the name of the hotel you would like to stay at, then enter the dates of your stay in the area on the right of the screen.
Google will search the web and let you know which website is offering the best price. 
You can see my search above for the Karma Sanctum Soho in London for a single night in October.
Travelocity offered a nightly rate of $321. The Google results on the right show that you will get a better price by booking through Priceline and will only pay $192 for the nightly rate. From here, I would likely use Priceline to book my stay. 
A quick word of caution here…Sometimes the results returned by Google will list good deals at websites you've never heard of. Please use your best judgment when making your booking through the lesser-known sites.
I typically prefer to stay with the more reputable sites like Travelocity, TripAdvisor, Priceline, etc. 
Consult multiple hotel booking sites
Once you've narrowed down your search to just a handful of hotels and the location you'd like to stay in, take a look at some of the other hotel search engines.
I recommend Expedia, Agoda, and even Trip Advisor.
You can use this opportunity to search out last minute hotel deals to find the lowest price.
Book direct if possible
After you've found the hotel you want to book, head over to the hotel's website to check the price if you book direct.
If the price is higher, consider giving the hotel a call and letting them know you'd like to book a room, but that you found a better price elsewhere.
Be prepared to show them where and how you found a better price.
You will be surprised how often they will be willing to match or beat the price you found elsewhere. It is in their best interest to do so, so this is usually not a waste of time.
By booking direct, you protect yourself from numerous things that may go wrong while traveling.
It is much easier to work out a refund or cancellation if you have booked directly with a hotel. That being said, do pay attention to the cancellation policy when making your reservation.
Always join the loyalty programs
Whenever you are staying with one of the major hotel chains, always join the loyalty program.
Hotel points can really add up fast, especially if you are a frequent traveler. You will be surprised how quickly you can qualify for an upgrade or free night.
You are also frequently given better rates as a member of the hotel chains loyalty program, especially if you have a higher status with them. Sometimes, they even offer special reduced rates for loyalty program members only.
Consider a hotel credit card
If you have good credit and you are willing to be loyal to a particular hotel brand, you might seriously consider obtaining one of the many hotel credit cards available with great introductory bonus offers right now.
I personally have multiple Marriott credit cards and have accumulated a significant number of points and free nights.
I try to stay at a Marriott properties whenever I travel and need a hotel. I get a massive amount of points for not just the booking itself, but for using their credit card to pay for the room.
At this point, I've qualified for over two weeks worth of free nights, room upgrades, free breakfast, and free wi-fi, along with tons of other benefits.
It's worth looking into if you travel often enough and are responsible enough to manage the credit card properly.
These points are especially valuable if you frequently travel to higher-priced cities like New York or London.
You can often find rooms to book with your points so you don't have to pay the extra high room rates when visiting these cities.
Keep in mind you want to always pay off these credit card balances or the interest fees will negate any benefits you received from opening up the account in the first place.
Final Considerations
Before you hit that final confirmation button to book your room, make sure to address these  final considerations:
 Added fees. Check with the hotel directly to see if there is a resort fee or parking fee. Both of these can be quite steep depending on where you're staying, so make sure to account for these in your budget.
Safety. Always make sure you consider your safety when making reservations of any kind. Some areas may be fine during the day but not so much at night. Be sure to consider whether you will be coming and going at night and if you will feel safe getting to and from your hotel.
Style. Make sure you book a hotel that suits your travel style. Don't book a resort frequented by retirees if you like to party, and don't book a hotel with an all-night dance club if you like to keep it mellow. Do your research and stay somewhere that you will enjoy. 
Mind your budget. It's no fun to stay at a hotel you can't really afford just because it looked cool in the pictures. It's also not fun to stay in a dingy room when you normally prefer something more chic. My best advice is to always stay at the nicest place you can comfortably afford.  Again, do your research.  
Finally, always enter any travel situation with an open mind. You can do all the research in the world, but you can't possibly account for everything. Relax and have fun.  
If you need to book a flight for your next trip, be sure to check out my post How to Find the Lowest Airfare. 
Book Your Trip
Find the best flight deals by using Google Flights, then book direct with the airline. This is the search engine I use to compare flights and prices before booking my own trips.

BOOK YOUR ACCOMODATION
I recommend searching for hotels through Booking.com to compare hotels on amenities, location, and price. If you are a member of a hotel's rewards program, always book direct with the hotel. If you are not loyal to a specific hotel brand, using Booking.com for the best price.

TRAVEL INSURANCE
Travel insurance is more important than ever. For just a few dollars a day you can protect yourself and your trip. I personally use World Nomads, but whomever you choose, don't skip out on travel insurance. It can literally save you thousands of dollars.


Want to save it? Pin it.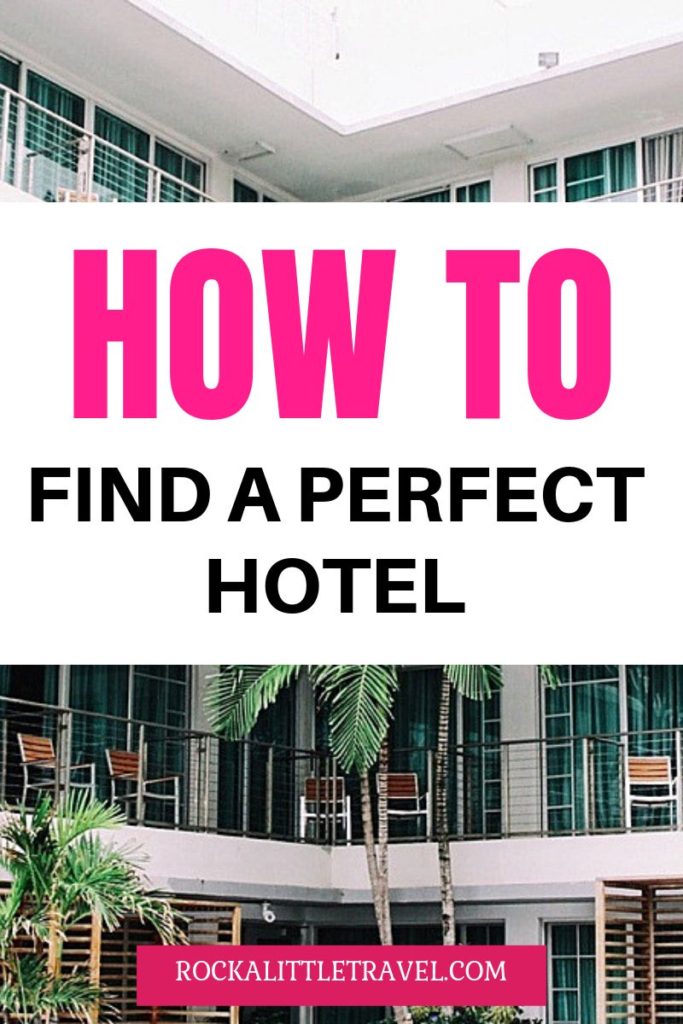 Photo by Canva This post will help you identify the highest currency in the world…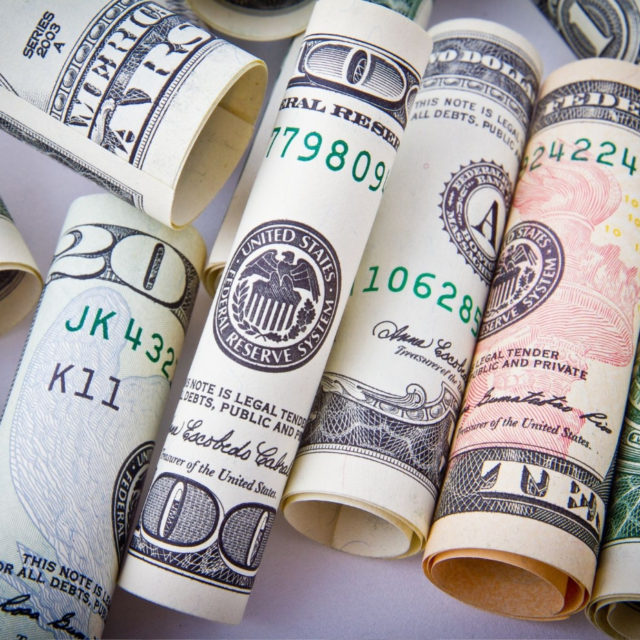 Is Getaway House Big Bear is worth the hype? Let's find out. Just last week…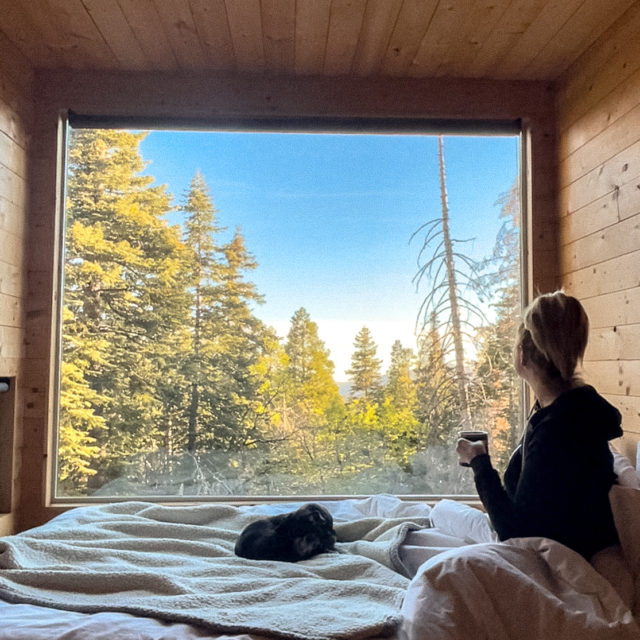 Visiting the Dubai Miracle Garden was one of my favorite activities during my recent trip…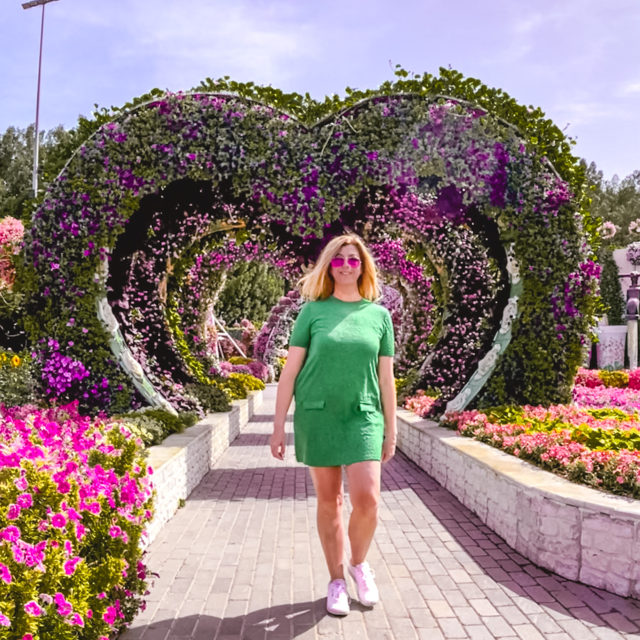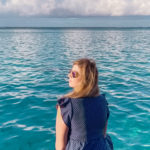 Eden Fite
Part-time Traveler | Dog Lover | Avoider of Crowds
I help busy people find creative ways to travel more.