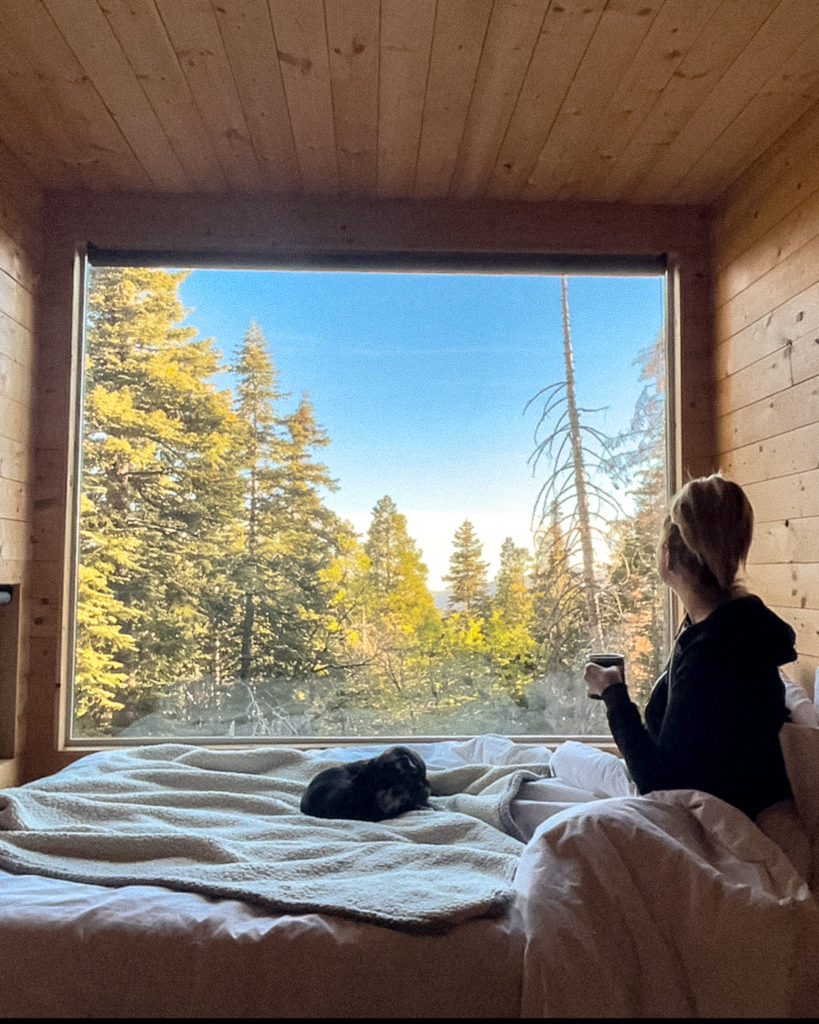 Is Getaway House Big Bear is worth the hype? Let's find out.
Just last week I booked a last minute stay at Getaway House Big Bear, packed up my car, grabbed my dog Melvin, and headed up to the mountains for some quiet time and relaxation.
Having seen Getaway House all over social media in recent months, I had a good idea of what to expect, but wasn't sure I was going to really enjoy the experience. I was also curious if it was truly as pet-friendly as they claim.
Melvin and I were excited nonetheless, and couldn't wait to arrive and check out our tiny cabin in the woods.
What I was looking forward to most was the opportunity to spend some quality time with my dog and take him on long walks. I knew there would be lots of new sights and smells for him to experience, not to mention some much needed fresh air for me.
Some of the links in the post are affiliate links. If you make a purchase through these links it helps to support this site at no extra cost to you.
What is Getaway House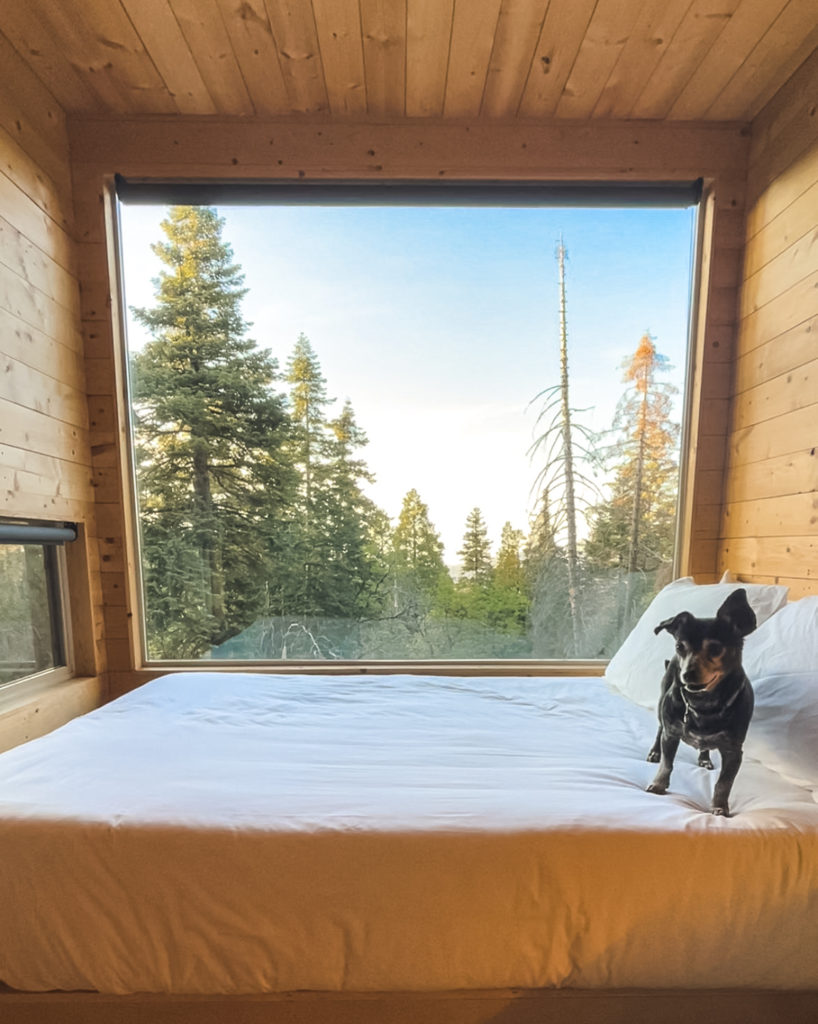 In case you're not yet familiar, Getaway House is a series of tiny cabin vacation rentals located around the United States, each perfectly surrounded by nature.
The company was founded in 2015 to provide nature escapes that create distance from the demands of work, schedules, and technology.
According to their website, their vision is for "their guests to experience unscheduled, unstructured, and uninterrupted free time — not just for rest and rejuvenation, but to foster inspiration, creativity, and connection."
Each of the tiny cabins is around 150 – 200 square feet and is designed to hold everything you need, and nothing you don't.
If you'd like to book an escape to Big Bear of your own, you can use my link here for $25 off your first stay! Spoiler alert, it's a really good time.
Where are the Getaway House Locations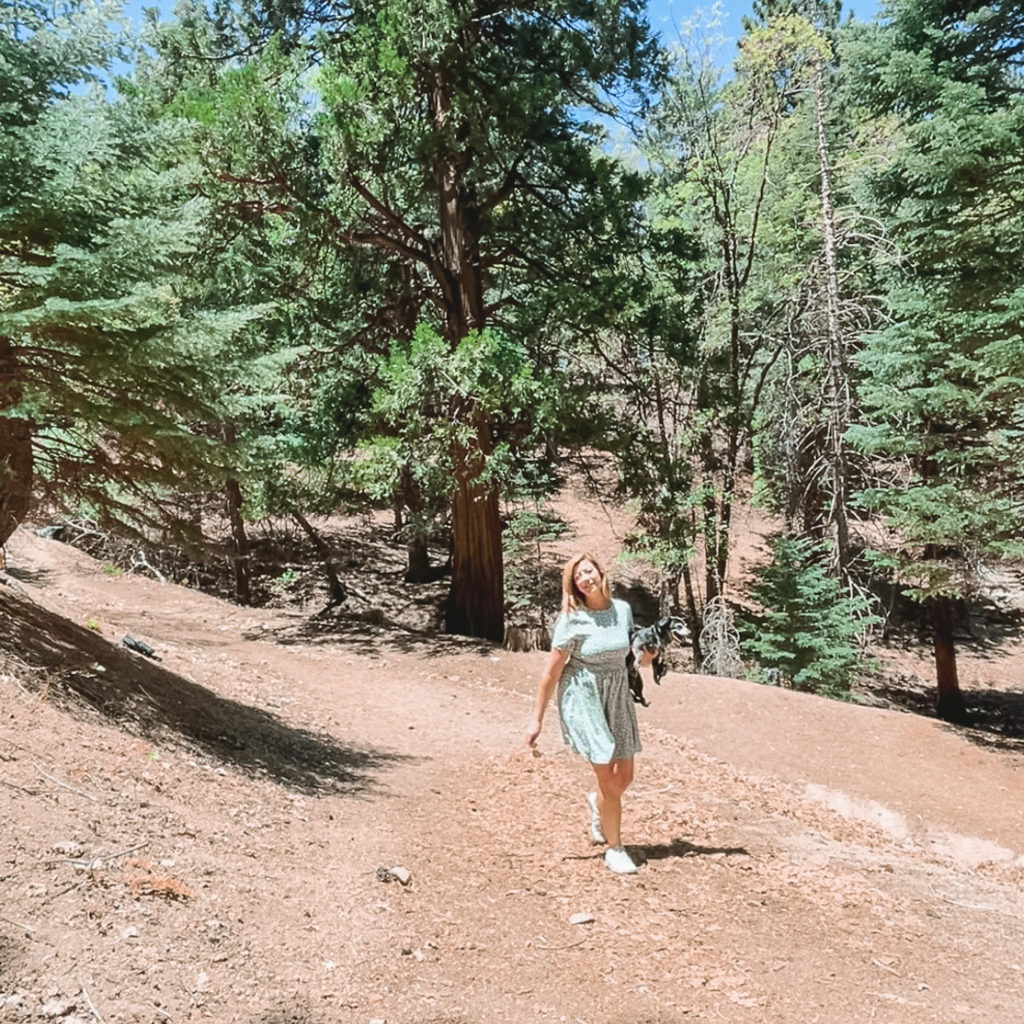 Getaway House outposts are located all around the United States, with the majority of locations being found on the east coast.
The location I stayed at is called Getaway House Los Angeles which is the only Getaway House location in California.
Getaway House Los Angeles is located in a small town in the San Bernardino Mountains. It's about 2 hours east of downtown Los Angeles or 1 hour 40 minutes west of Joshua Tree National Park.
The town is called Running Springs and is near the very popular towns of Lake Arrowhead and Big Bear Lake. Both of these are lakeside communities are popular with LA locals for weekend getaways.
Here is a list of all current Getaway House Locations:
Getaway House Los Angeles (Big Bear)
Getaway Mount Adams (Portland)
Getaway Skagit Valley (Seattle)
Getaway Chattahoochee (Atlanta)
Getaway AsheBoro (Charlotte)
Getaway Dale Hollow (Nashville)
Getaway Homochitto (New Orleans)
Getaway Nashville Campground (Nashville)
Getaway Hill Country (Austin)
Getaway Piney Woods (Dallas)
Getaway Brazos Valley (Houston)
Getaway Machimoodus (Boston)
Getaway Blake Brook (Boston)
Getaway Eastern Catskills (New York)
Getaway Western Catskills (New York)
Getaway Beaver Creek (Pittsburgh)
Getaway Shenandoah (Washington DC)
Getaway New York Campground (New York)
Getaway Barber Creek (Chicago)
Getaway Ozark Highlands (Kansas City)
Getaway Kettle River (Minneapolis)
Getaway Beaver Creek (Pittsburgh)
The Getaway House locations are all found within a two hour drive of the major city indicated.
The outpost locations are strategically placed near major cities, but are far enough away that you are really able to get away and escape the chaos of the city.
So they are accessible, but not so accessible it doesn't feel like a vacation.
What's inside a Getaway House cabin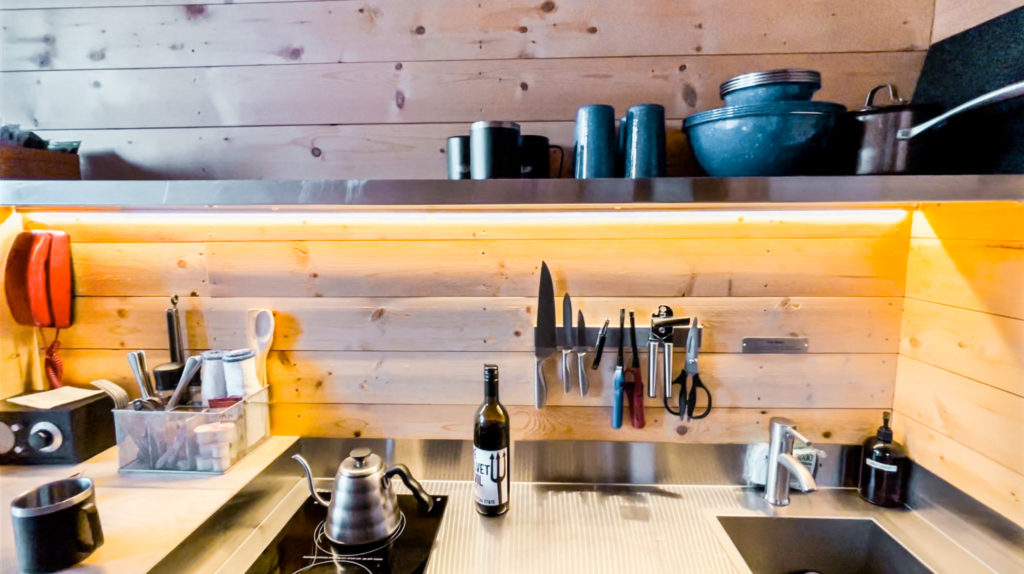 Each Getaway House tiny cabin comes with a well stocked kitchen, bathroom with shower, desk and chair, large comfy bed, and a huge window for enjoying those epic views.
Let's start with the kitchen.
The kitchen comes with everything you'll need to cook meals and make coffee. They do not include any food, though they do offer a few groceries as an add on.
Inside the kitchen you'll find bowls, pots, pans, cups, and coffee mugs. There are also utensils, a kettle to heat water, a small refrigerator, and sink with hot and cold water. A sponge and soap is included for cleaning dishes.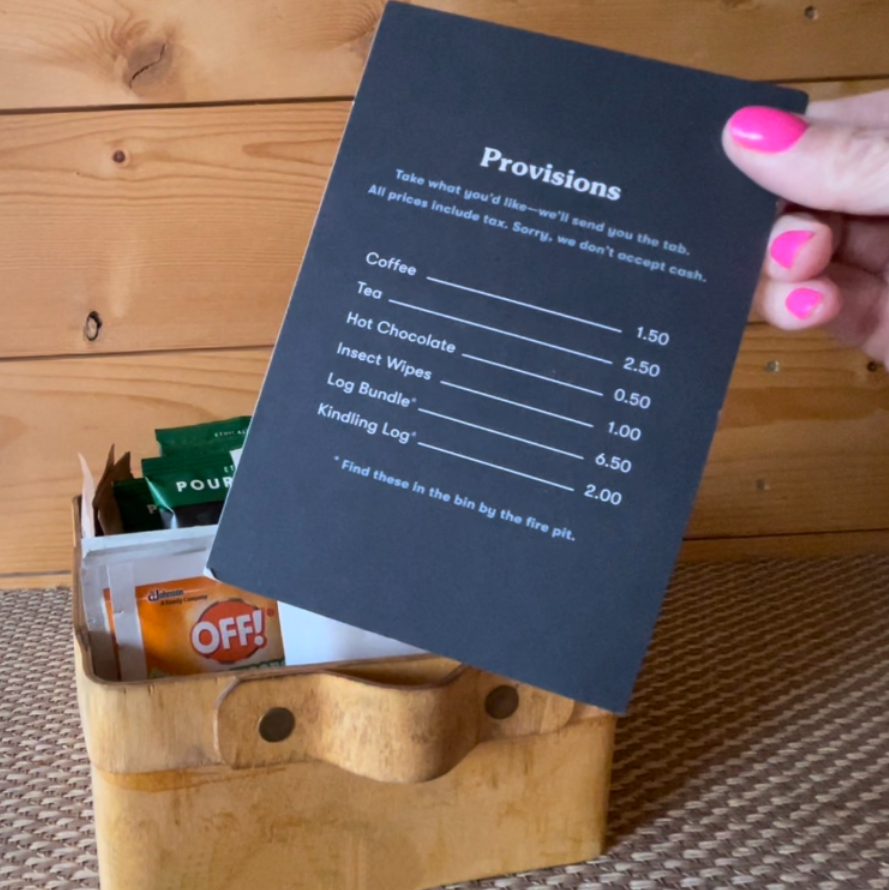 While there is no food, they do include a few beverages available for purchase such as coffee, tea, and hot cocoa.
There are also bug spray wipes, firewood, and kindling logs available for purchase, all of which will come in handy when you're ready for S'mores.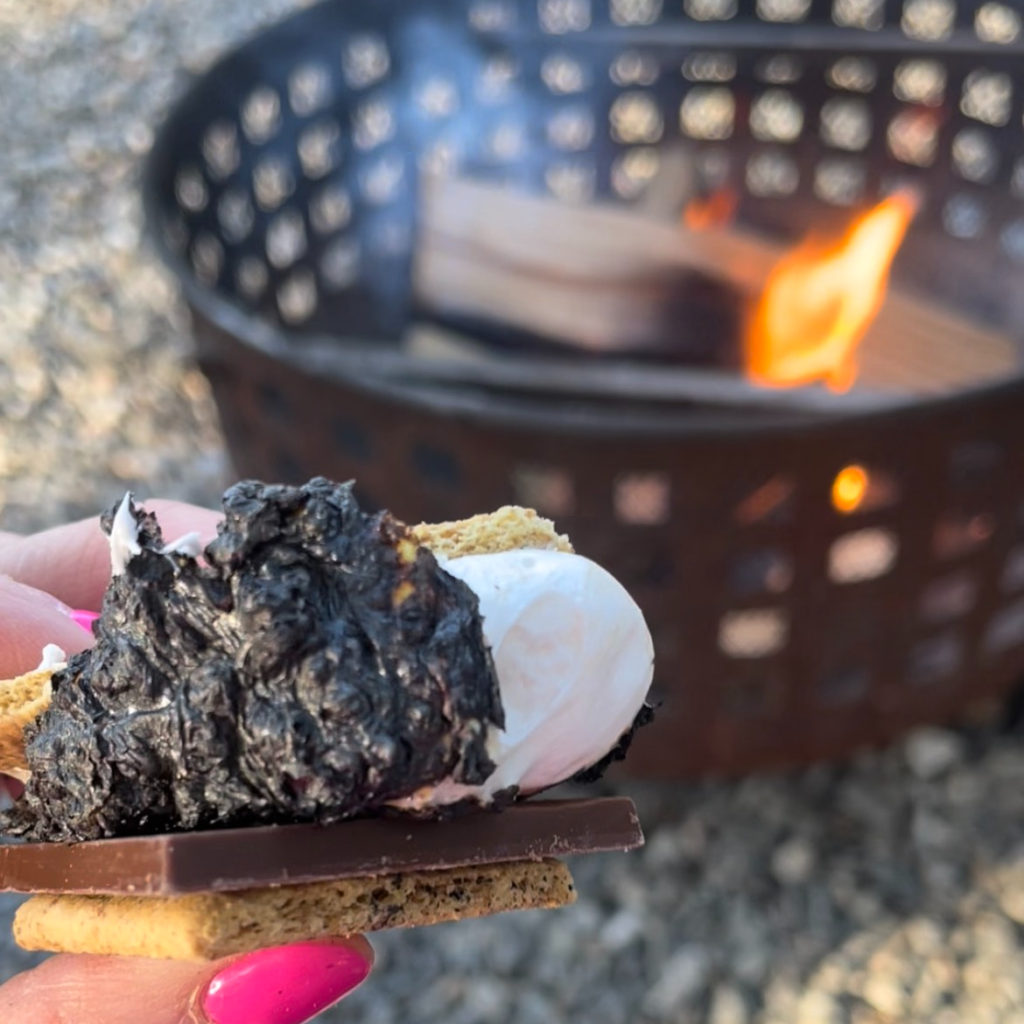 Which reminds me, they also include a S'mores kit which comes with 5 marshmallows, 4 chocolate bars, and 4 sets of graham crackers. They even thought to include sticks to use to roast your marshmallows.
In the restroom, you'll find a toilet (yes a regular one that flushes), and a standing shower stocked with shampoo, conditioner, and body wash. There is plenty of hot water as well, so no cold showers are necessary.
They also have the bathroom stocked with white fluffy towels and wash cloths.
The cabin's best feature is the large picture window located above the bed. It's the perfect place to sit, relax, and just take in the views. If I'm being honest, this is where I spent the majority of my time during my visit.
On the shelf near the bed you'll find a few books, a small radio, and some cards.
The Getaway House cabins also include both heat and A/C, which is a major luxury considering the size and location of the place. Both worked extremely well and heated up or cooled down the cabin in a matter of minutes.
Guests will also find multiple places for luggage storage inside the cabins. Which is perfect considering space is at a premium and it would be annoying to be tripping over your bags the whole time.
I use the carry on size Away Luggage, and my bag fit perfectly in their storage space.
What to bring to Getaway House Big Bear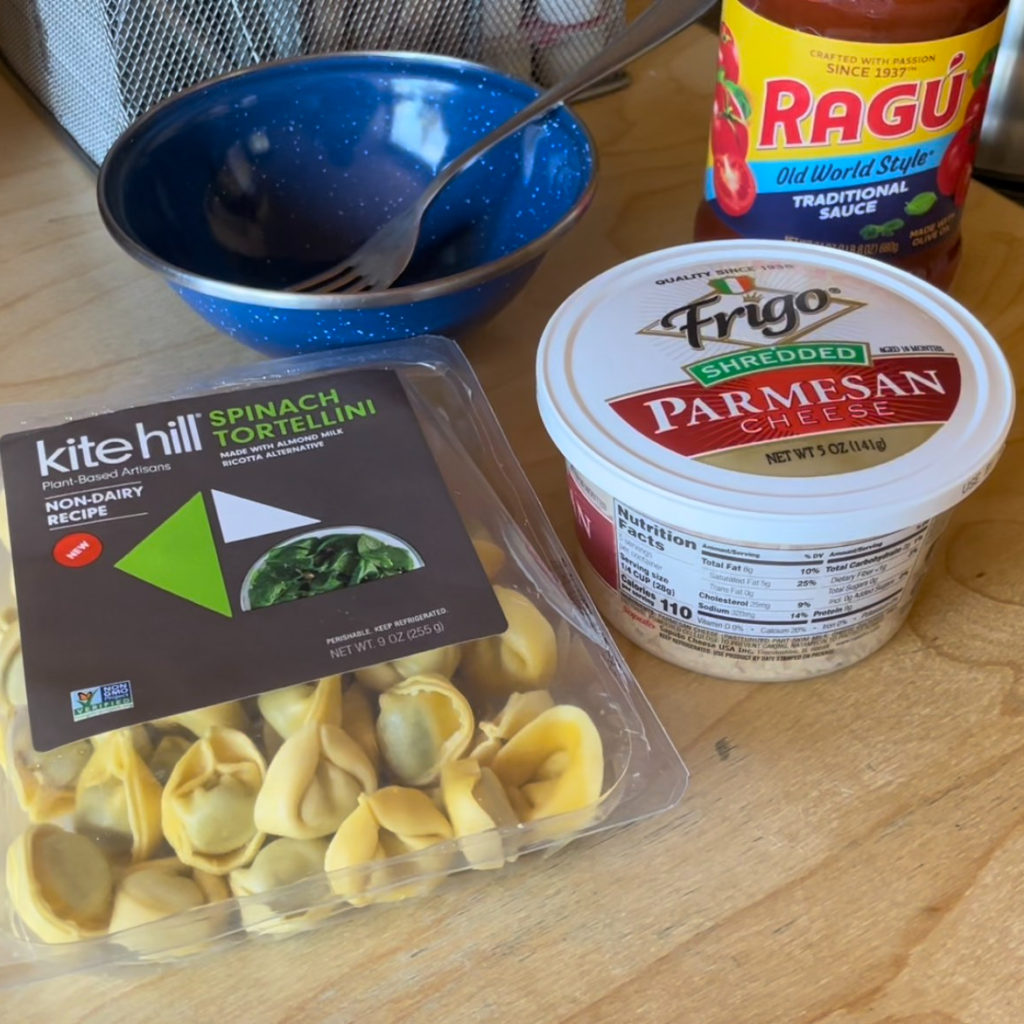 The most important thing you'll need to bring with you is food. I recommend putting a grocery list together a few days before so you can bring the ingredients to make some fun meals.
I decided on a simple pasta dish for dinner, but also brought wine and ingredients for a charcuterie board. If you'll be staying for a while I recommend bringing some fun campfire meals like hot dogs and kabobs.
For breakfast, consider bringing items like eggs, potatoes, bacon and pancakes.
Be sure not to forget drinks. You'll want to bring plenty of water and anything else you'd like to sip on during your stay. Don't forget the adult beverages as well.
What's outside the cabin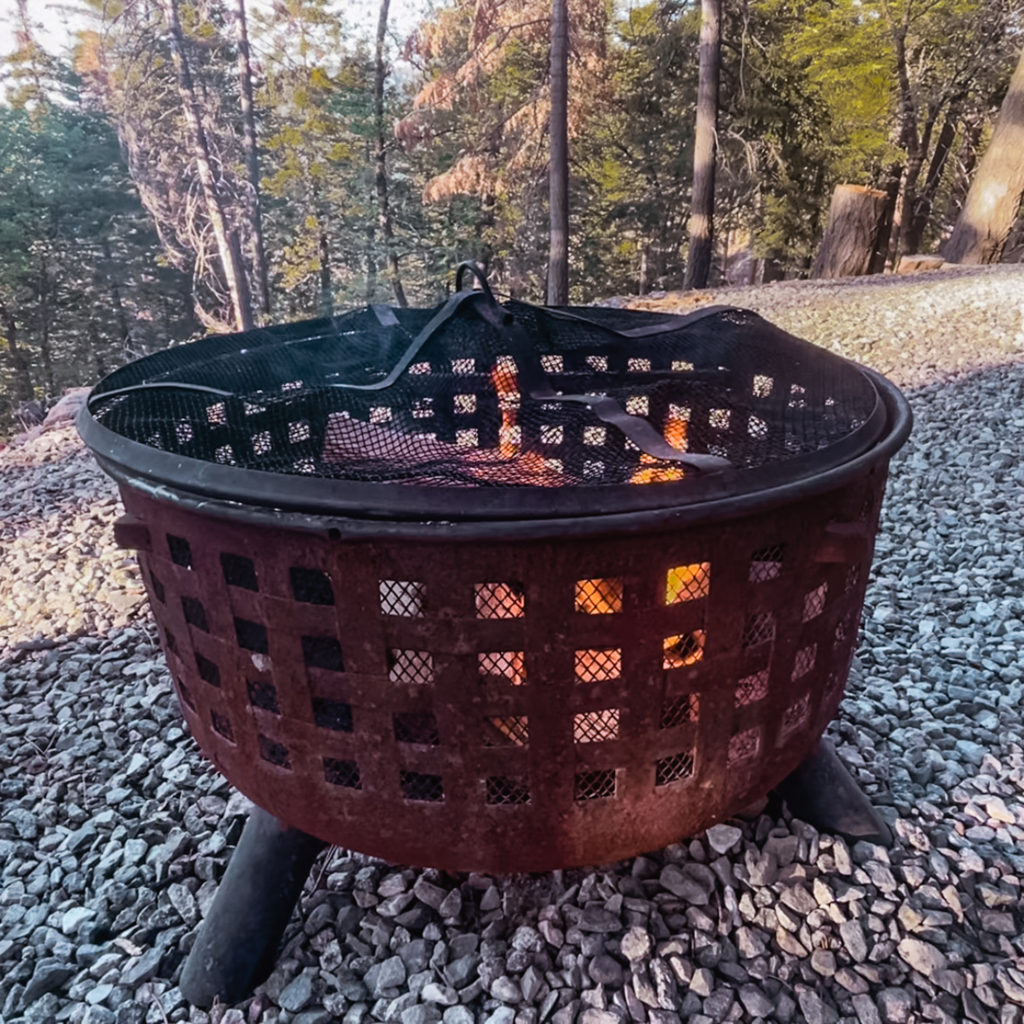 Outside each of the getaway cabins you'll find a picnic table, fire pit, and two lounge style outdoor chairs. There is also a small storage container holding firewood, a kindling block, a fire iron.
Other than those few items, you'll be immersed in the natural surroundings of your chosen destination.
Getaway House Big Bear Review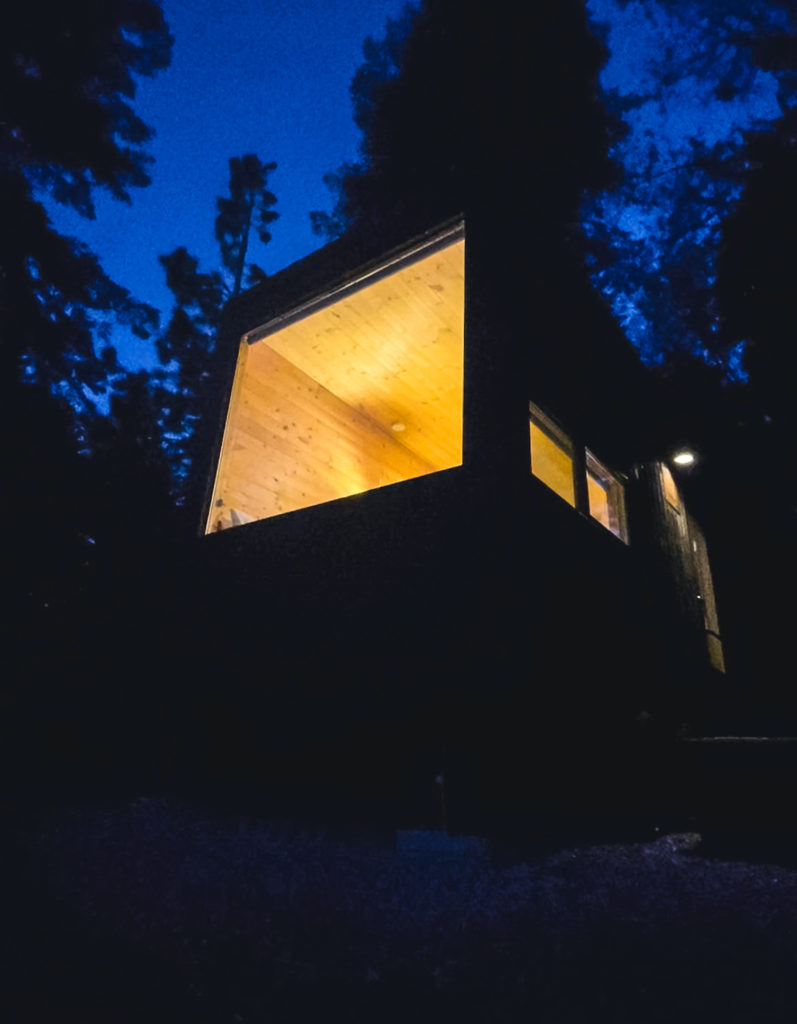 So what did I really think of my tiny getaway cabin the woods?
Honestly, I loved it.
Let me start off by sharing what I liked so much about this experience.
The simplicity: From the initial booking all the way through the end of my stay, the experience was beautifully simple. You're never inundated with unnecessary emails, just enough to convey the information you'll need for your visit. You don't have to interact with anybody, even at check in. You just book, arrive, and enjoy.
The quiet: From the moment I arrived at Getaway House, I was immersed in just the sounds of nature. Sure, you'll hear the occasional car door, people talking, or dog barking, but for the most part you'll only hear the sound of leaves rustling in the wind, the crackling of your campfire, and birds chirping. Coming from Los Angeles, this was a total dream.
The Location: I loved being in the woods yet still just a short drive from LA. In the summer this location is perfect for hikes around Lake Arrowhead and Big Bear Lake. During the winter months you'll be close to Snow Summit and Bear Mountain Ski Resort. Plus, there are all sorts of other things to see and explore in the area.
Final Thoughts on Big Bear Getaway House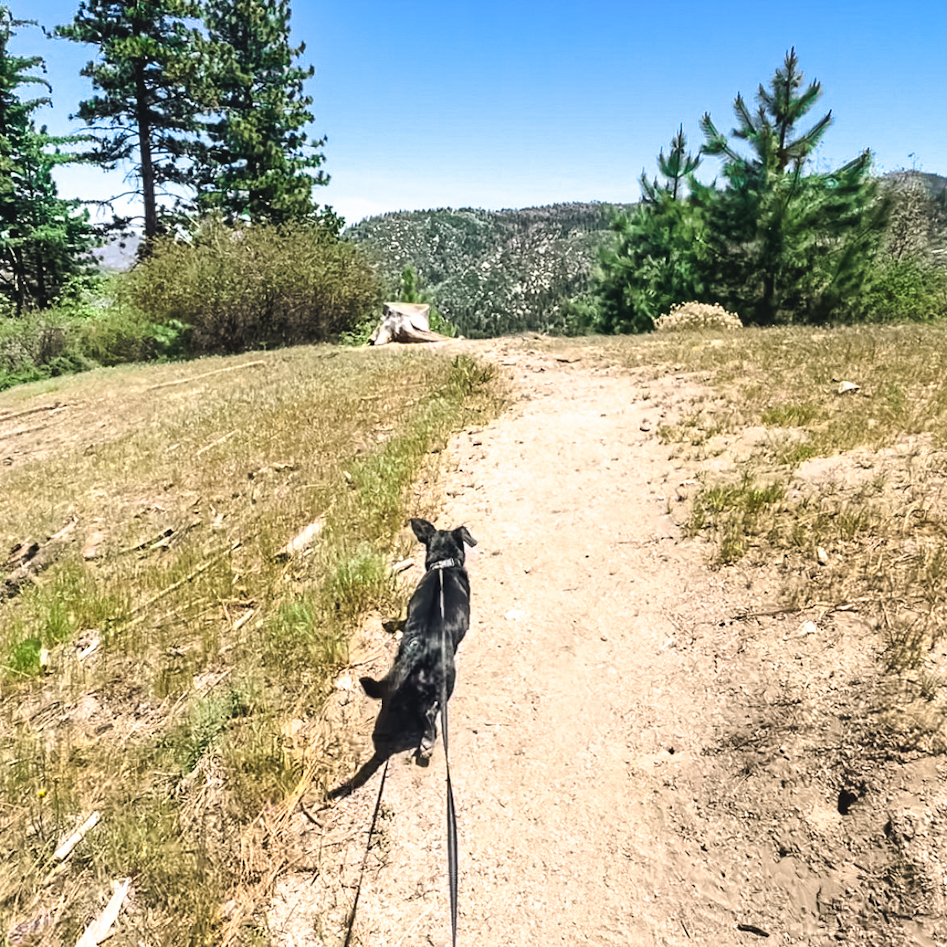 After completing my first stay at Getaway House in Big Bear I immediately wanted to plan a return visit.
What made Getaway LA stand out so much was how easy they made it to just relax and unwind. From the moment I arrived I felt a sense of calm and found the location absolutely beautiful.
I also loved how affordable this experience was compared to nearby AirBnB rentals. Getaway House doesn't charge exorbitant fees for booking or cleaning, the price you see is the price you pay.
Overall I felt I received incredible value for the money I paid, and the experience was enjoyable from start to finish. Give Getaway House a try and see what you think.
Book through this link for $25 off your first stay.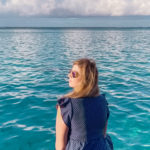 Eden Fite
Part-time Traveler | Dog Lover | Avoider of Crowds
I help busy people find creative ways to travel more.