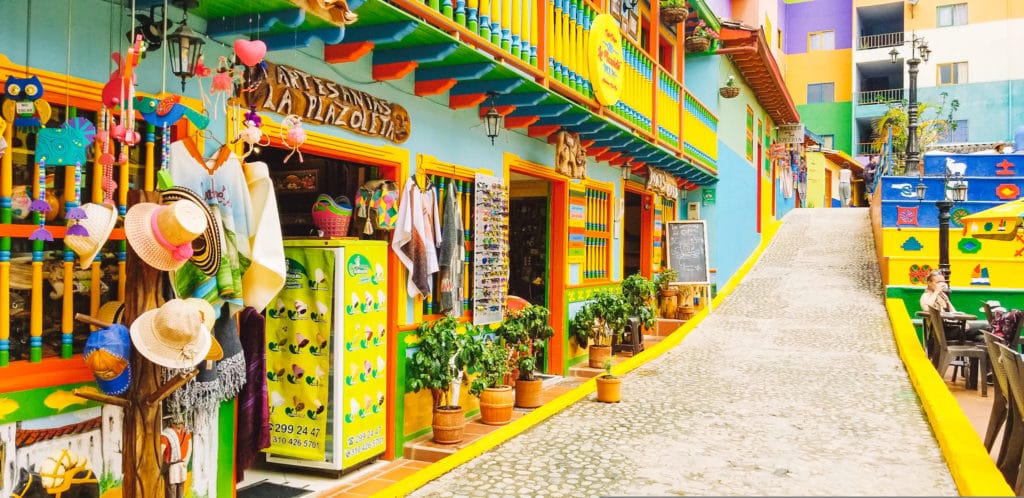 If you're looking for some unique and fun things to do in Guatape, you're in the right place.
Guatapé is one of the most vibrant and colorful small towns in northern Colombia, maybe even all of South America.
If you've been spending time in Medellin and looking to take a few day trips to see more of the country, you don't want to miss Guatape.
The town of Guatape is popular for its brightly painted houses, while the surrounding area is popular for outdoor activities and water sports.
No matter what you're in to, there are plenty of things to do in Guatape.
To help you maximize the time on your day trip from Medellin to Guatape, I've put together this list of my 10 top things to do in Guatape.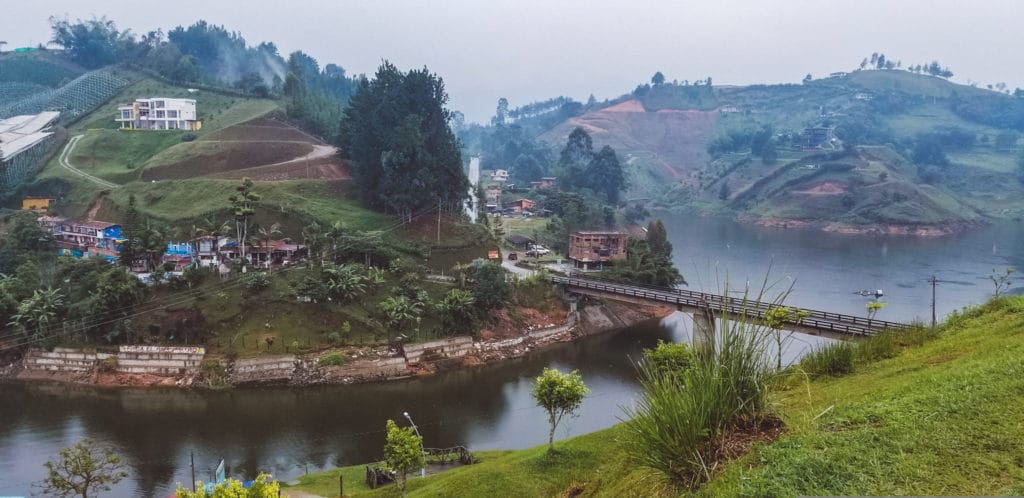 Medellin to Guatape
The drive from Medellin to Guatape takes about two hours.
The roads are well-paved and once you're outside of Medellin, there is not much traffic on the roads.
It's easy to rent a car in Medellin, but there are restrictions on when vehicles can enter the city.
If you want to make the trip from Medellin to Guatape even easier, I recommend hiring a private driver. With a private driver, you won't have to worry about parking, directions, gas, or anything else. 
You'll get door to door service, they will take you wherever you want, and it's not expensive.
Our driver charged us about $100 USD per day, but there were 5 of us, so we each only had to pay $20. It was beyond worth it. 
If you prefer to make the trip a bit more affordable, you can also take the bus from Medellin to Guatape for just a few dollars. The ride will take about 2 hours each way.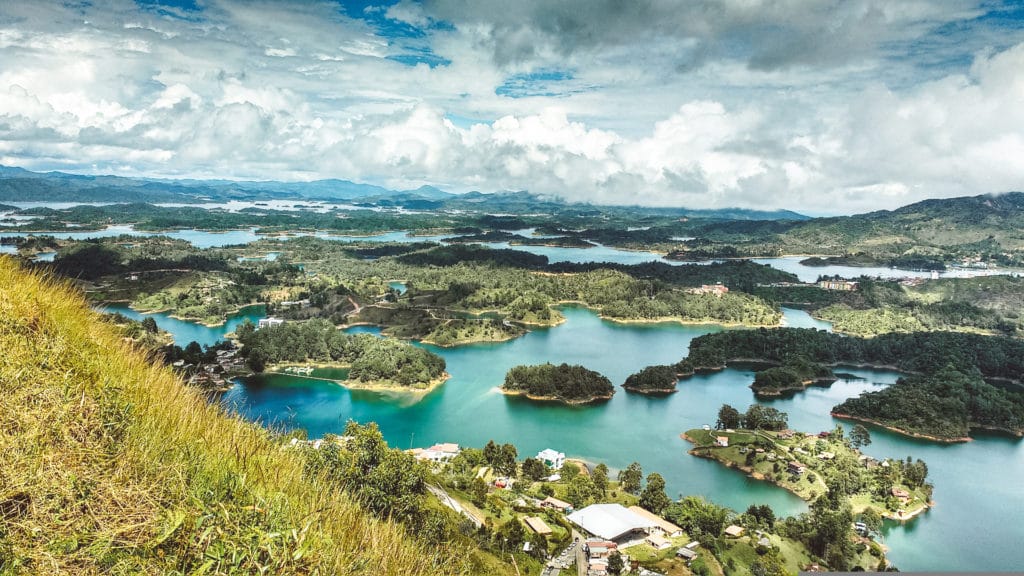 1. Guatape Lake
Guatape Lake, a man-made reservoir, is a popular destination for both locals and tourists.
The lake and surrounding area are known as a popular destination for adventure sports. With so many activities available, one could easily spend a full day here.
Visitors can rent boats, jet skis, kayaks, and even paddle boards to take out on the lake. A
ll of the above can be rented for incredibly reasonable prices. Jet skis, for example, can be rented for about $40 USD per hour. 
For those not interested in water sports, visitors can also go hiking, mountain biking, rappelling, fishing or sky diving.
If you're into history, you can also visit one of the former mansions of Pablo Escobar.
There are several companies that provide rental equipment and tours. Getaway Colombia is one such option with plenty of equipment rentals and fun tours available. 
2. Go Hang Gliding
If you're looking for a unique and adventurous activity, consider hang gliding over Guatape lake with Hang Glide Colombia.
This is surely one way to make you Colombia getaway unforgettable.
I didn't get to try this activity myself, but they get excellent reviews and I wish I had. It's cool that for this type of hang gliding, you take off from the lake on the back of a boat instead of jumping off a cliff somewhere.
I feel like this would be much easier to handle for those of us with a fear of heights.
Prices are reasonable as well, according to reviews it will cost about $100 USD per person. It's recommended that you make reservations in advance, but they can occasionally accommodate walk-ins.
Be advised, this activity is very weather permitting. Inclement weather or especially windy days may result in last-minute cancellations, so always have a backup plan just in case.
Hit play on their video and have a look for yourself.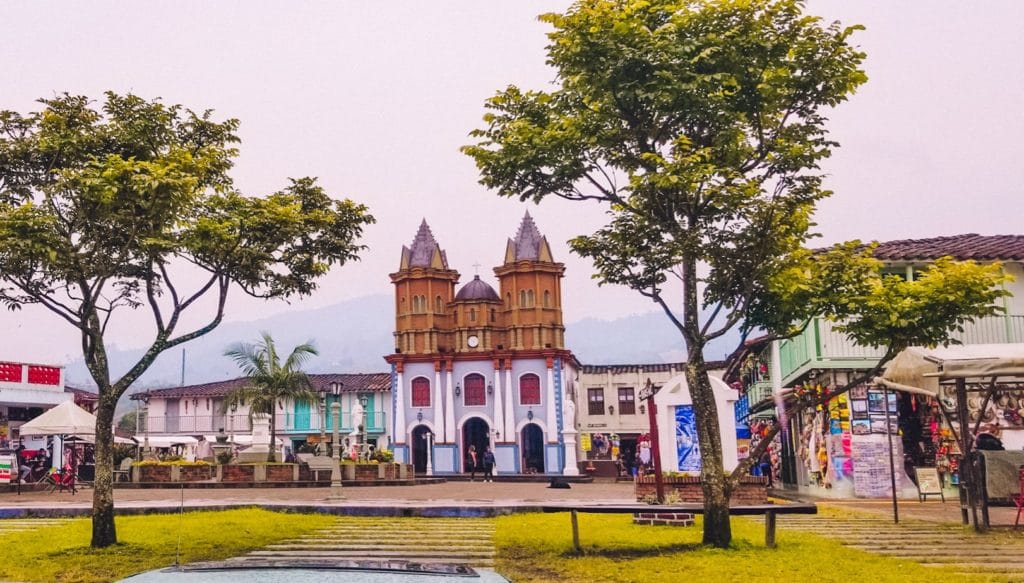 3. Visit Viejo Penol
Viejo Penol is a replica town sitting on a hillside overlooking Guatape lake. The original town of El Penol was flooded and now sits at the bottom of the lake.
You can see a cross from the old cathedral poking out of the water where the original town once stood. While Viejo Penol is just a replica, and primarily a tourist attraction, it is still an interesting place to stop and learn more about the area.
The views from the hillside here are beautiful as well so it makes a good rest stop and opportunity to get some nice pictures of the town and lake.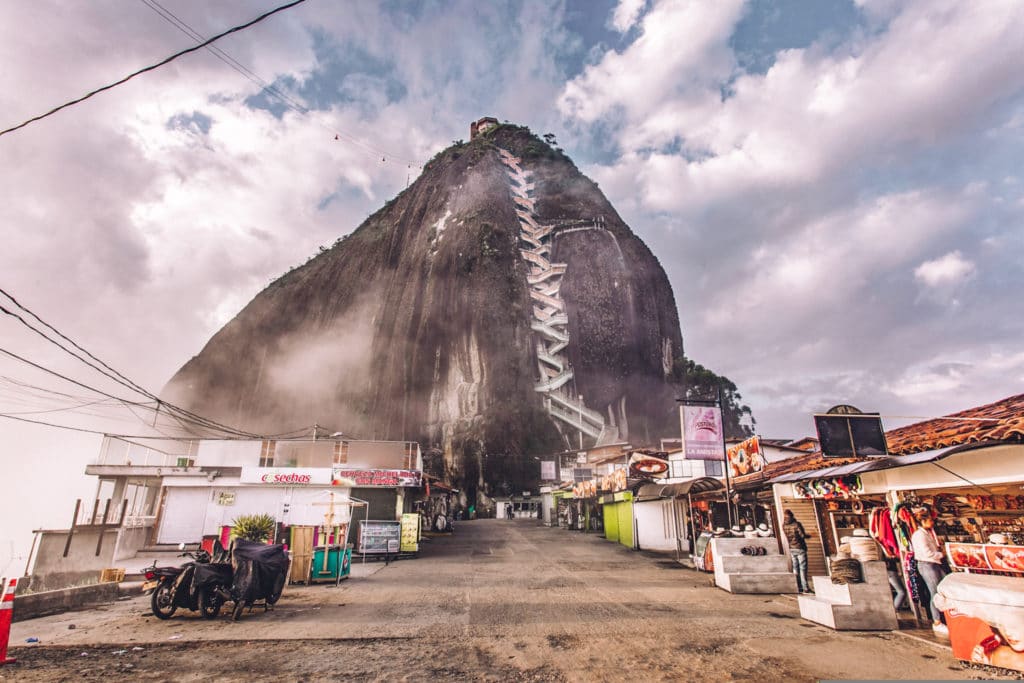 4. Guatape Rock
Guatape Rock, or Piedra del Penol, is a massive rock formation overlooking the lakes of Guatape. Visitors can reach the top by climbing some 740 narrow stairs winding back and forth from the base to the lookout.
The rock stands over 720 feet tall and is the most visited landmark in Guatape. It's a fun excursion and a great workout if you need to burn off some of those extra vacation pounds. Once you reach the top, you'll be happy to find vendors selling snacks, beer and micheladas.
The trip to the top and back down should take about 2 hours or less if you're in reasonably good condition. The cost to climb the rock is about $18,000 Colombian or $6.50 USD.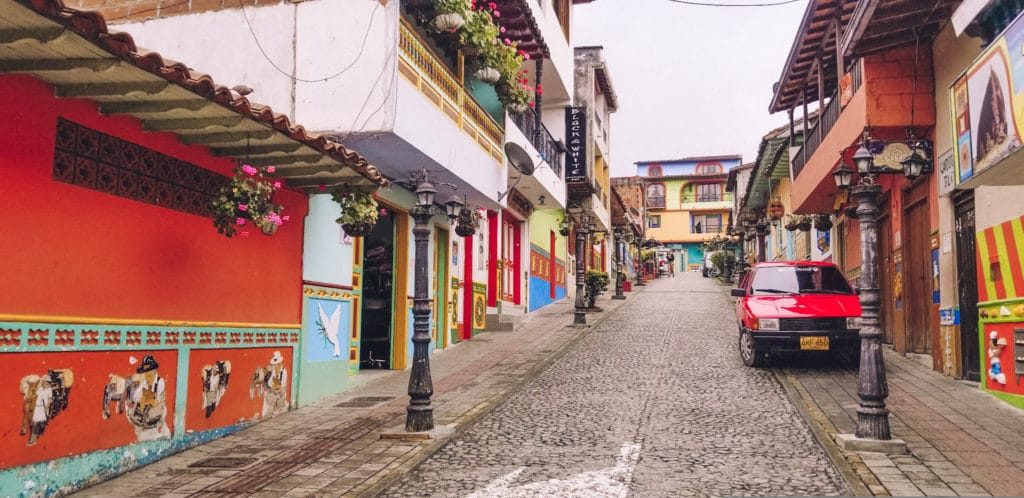 5. Explore the colorful streets of Guatape
Begin your visit to Guatape by just walking around the town and exploring. The entire town of Guatape if filled with colorfully painted homes and businesses.
The town is incredibly photogenic, so take your time and get all the photographs you want. The streets are narrow but well-paved and there's not a lot of traffic.
You'll have no trouble navigating the entire town on foot in just a few hours.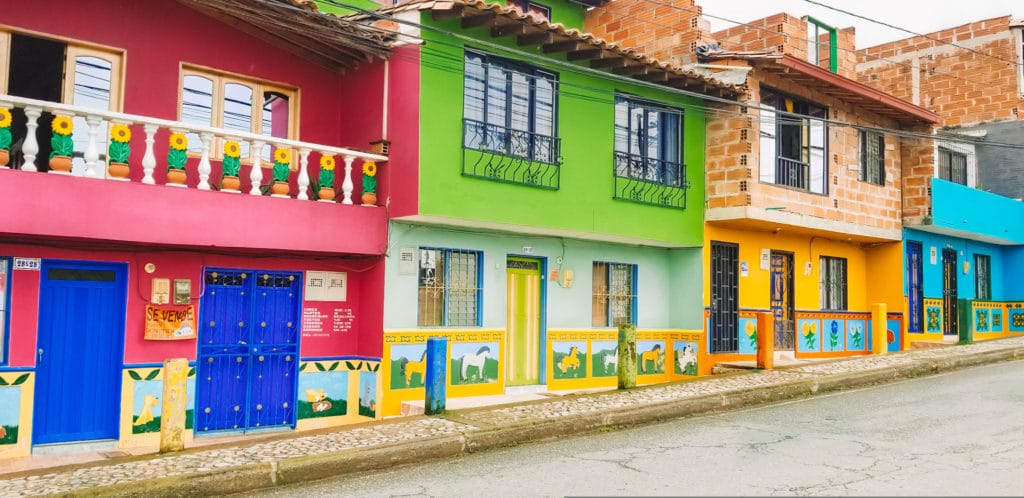 6. Guatape zocalos
As you're walking through the streets of Guatape, pay attention to the small murals (or zocalos as they are called) painted on the side of the houses.
The residents of the town paint their homes in bright colors with small panels at the bottom depicting images. These images can depict an animal or symbol to indicate their family heritage or profession.
For example, the local florist may paint small flowers onto the zocalos of her home, while the local baker may paint small loaves of bread. Walking through the town you'll see a variety of animals, objects and designs painted onto the zocalos. 
It is believed that the tradition of the zocalos started over a century ago, but no one really knows for sure or how it began. Today, the locals maintain the zocalos and brightly painted buildings for the purposes of tourism.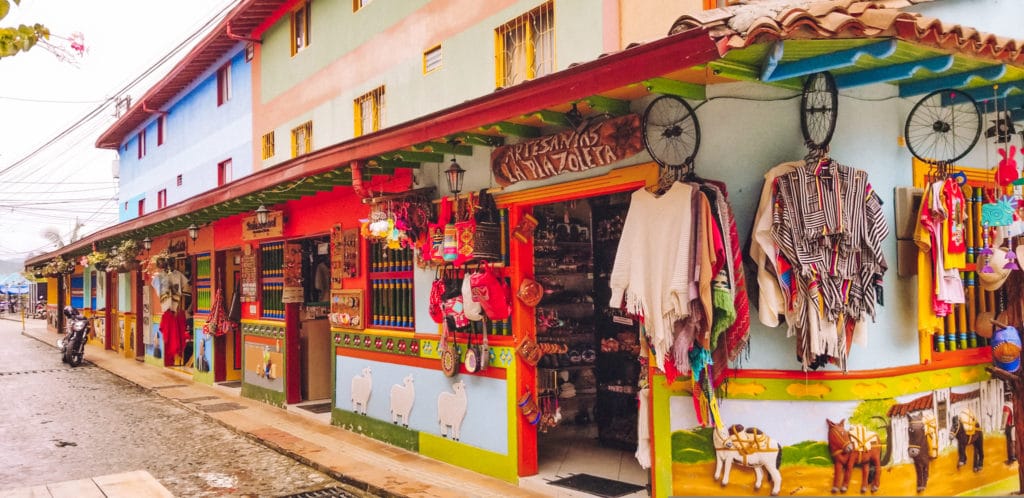 7. Visit the shops of Guatape
You'll find family-run souvenir shops all over the place while walking through the streets of Guatape. The prices here are quite reasonable, so if you're looking to bring some unique and locally made items back to your friends and family, this is the place to pick some things up.
You'll find plenty of handmade clothing, bags, and shoes made by locals or those living nearby. Shopping here is a great way to support the local economy as well. Your dollars will be more appreciated here than they would be at the airport gift shop.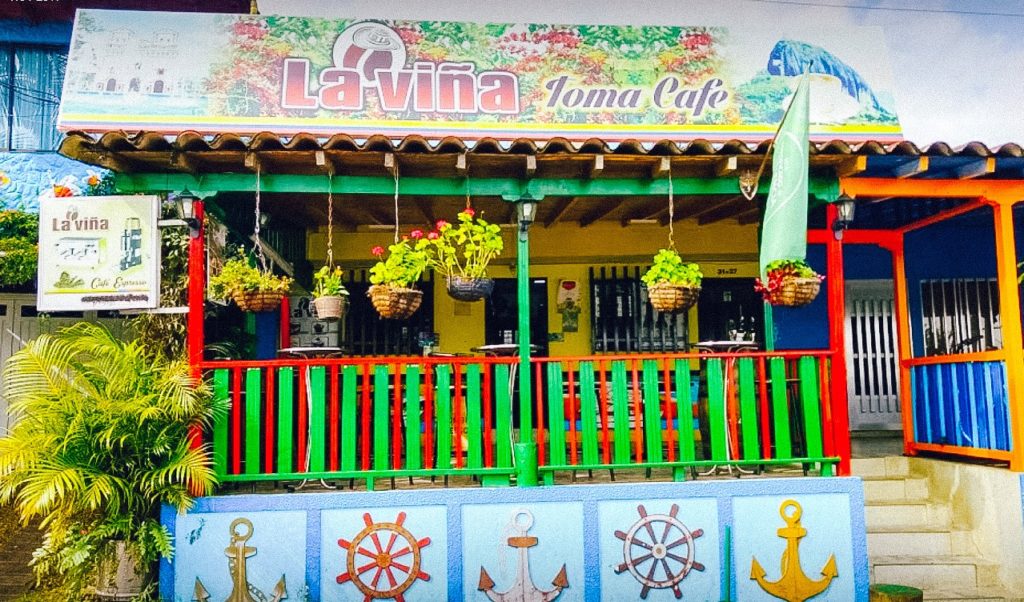 8. Get Coffee at La Vina Cafe
Colombia is known for its fantastic coffee, so Guatape is no exception. The town has several great coffee shops, but this is the one I enjoyed most. You can order just about any coffee beverage you want, from a regular cup of coffee to a cappuccino, or even a latte.
They have some pretty delicious pastries to go with the coffee if you're in the mood for something sweet. You can also purchase beans grown in various parts of the country. The ladies working here are happy to explain to you the differences in the varieties that they sell.
You can order beans in different sized bags, and they can even grind it for you if you like. 
Whether you want to bring beans home or not, I really recommend at least stopping in for a coffee, it's delicious.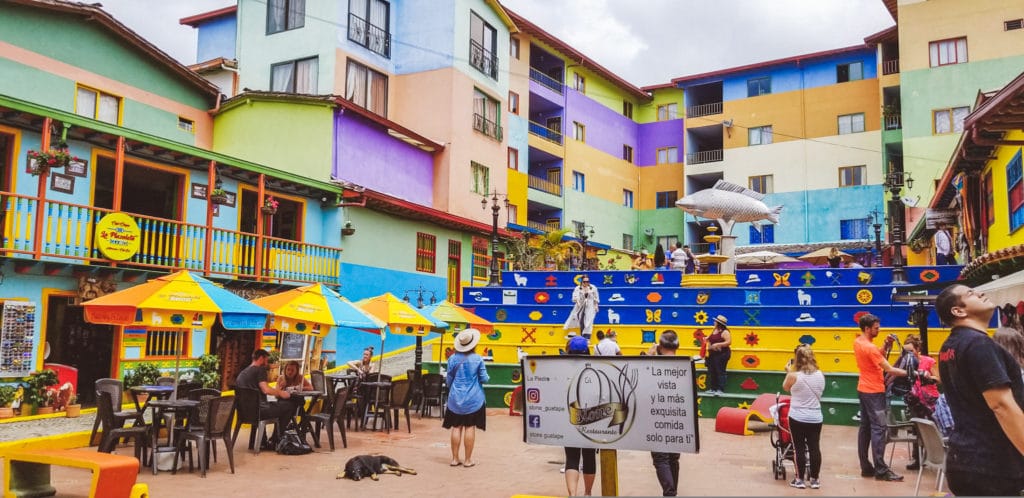 9. Plaza De Los Zocalos
The Plaza De Los Zocalos is the main square of Guatape and the perfect place to grab a cup of coffee or cappuccino and just hang out for a bit.
This colorful plaza is surrounded by cafes, restaurants and souvenir shops. It makes a great place to get to know the character of the town and strike up a conversation with one of the locals.
As an added bonus, you'll also get to hang out with some of the local dogs. They have large bowls of food and water set out for the pups and there seemed to be quite a few of them hanging around.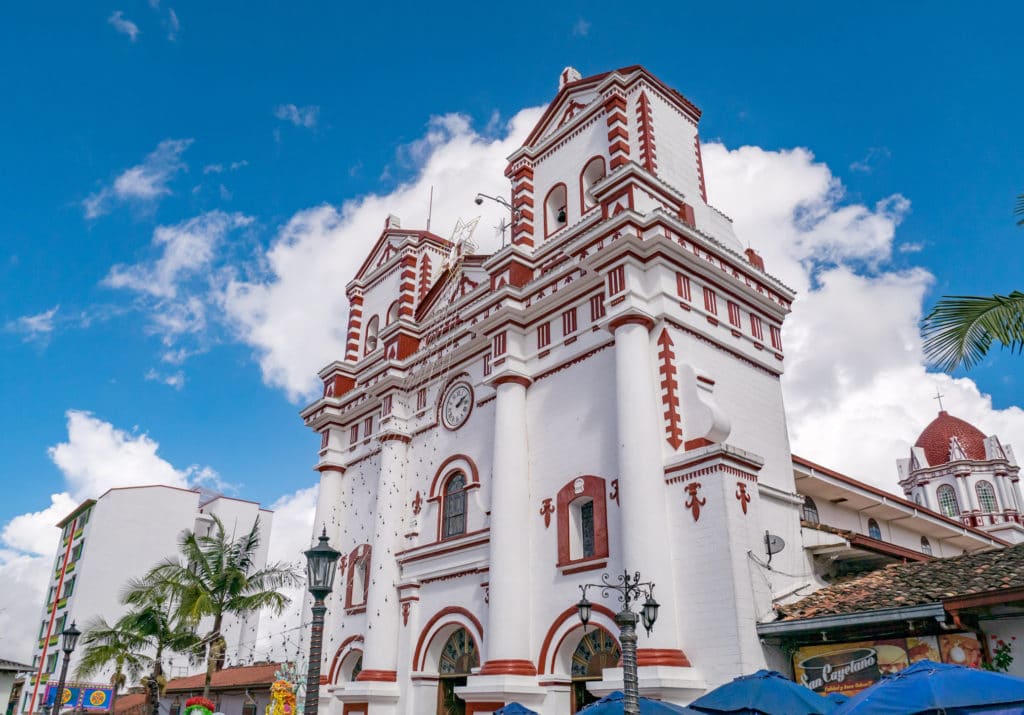 10. Church of Our Lady of Carmen
The Church of Our Lady of Carmen is a Greco-Roman style church located in the town square. The church was built in 1865 but took more than 70 years to build.
The church is known for its beautifully carved wooden altar at the front of the church. The exterior is painted a vibrant white and red, matching the colorful theme of the town. 
Visitors can enter the church and have a look around on most days. Be mindful of services on Sundays and holidays, as visitors are not allowed at this time. Admission to the interior of the church is free.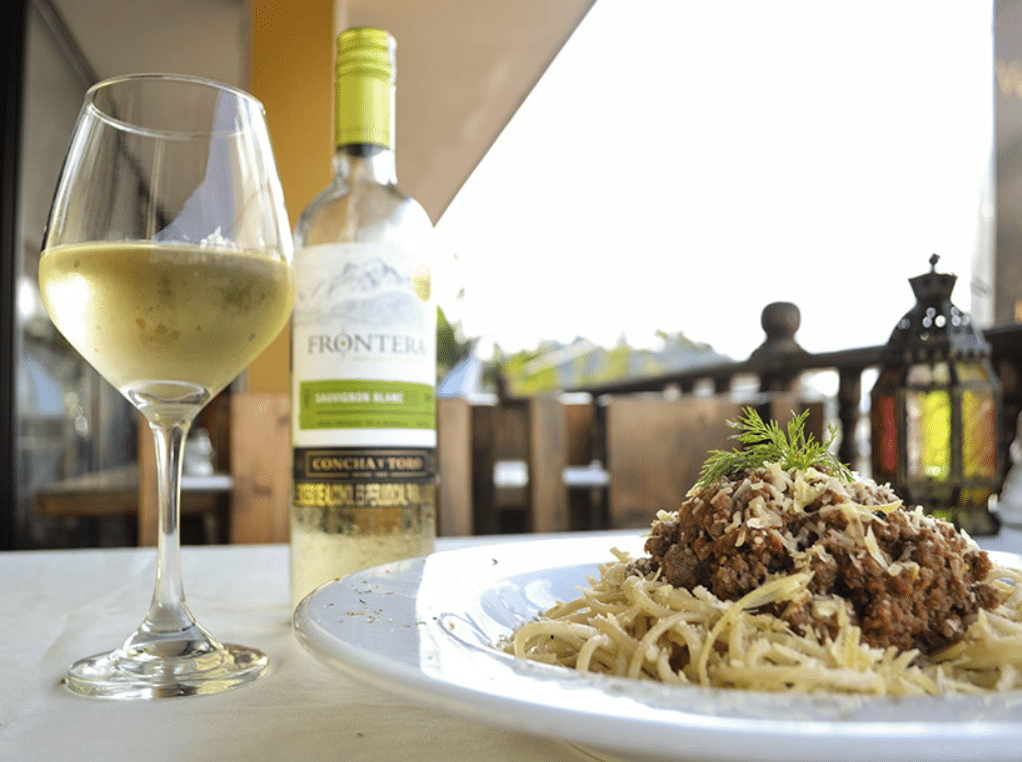 Where to eat in Guatape
Guatape is small, but you'll still find plenty of restaurant options during your visit. See the list below for ideas on where to eat in Guatape:
Pizzeria de Luigi: If you're looking for pizza or Italian while in Guatape, this is where to find it. They serve salads, pizzas, pasta, and wine. 
Don de Sam: A lakeside restaurant serving international cuisine such as Italian, Chinese, Indian, or Thai. They even serve beer and wine. Grab a seat on the outdoor patio overlooking the lake!
La Fogata: This lakeside restaurant serves grilled steak, barbeque chicken, and fried fish. They also serve breakfast and have a full bar. 
Rame: If you're on the hunt for something vegetarian, Rame serves local vegetarian cuisine. They do not have a menu but serve a meal of the day which typically includes a fresh fruit salad, rice and, grilled vegetables, and fresh juice.  
Veccio Forno G: Restaurant serving Mexican, Italian, and American cuisine. You can order anything from pizza to tacos or burgers. 
Thai Terrace: Delicious Thai food restaurant serving traditional Thai cuisine. They have lots of vegetarian options as well.
If you're undecided about what to eat, keep an eye out as you explore the town's colorful streets. There are plenty of family-run restaurants serving fresh homemade meals.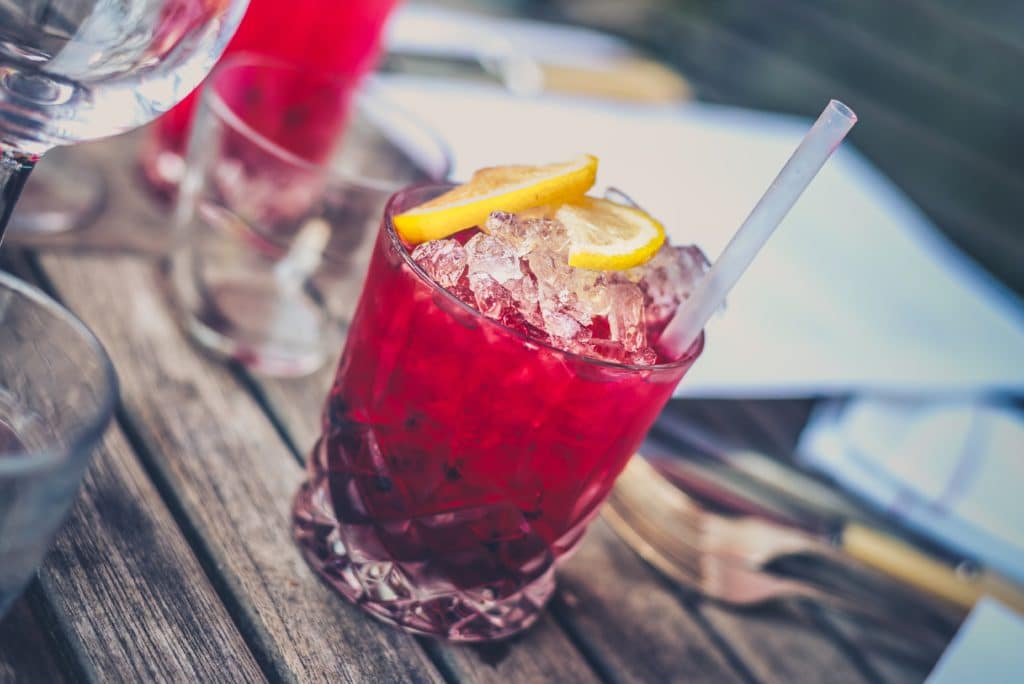 Where to find cocktails in Guatape
Guatape is a super small town with not a whole lot going on in the evenings. But, when there is a will, there is a way. Here are a few options on where to find cocktails in Guatape:
Bar Barojoa: Fun little bar located right next to the zocalo. Both the bar and its owner have received wonderful reviews from other travelers. Stop in and say hi. 
El Zaguan Bar: Another small spot for drinks near the city center. They serve beer, wine, and cocktails. They even have a foosball table if you're looking for some entertainment. 
Discoteka Caribbean Blue: If you're looking to go dancing on the weekend, this is your spot. They have a full bar and play music from a variety of genres.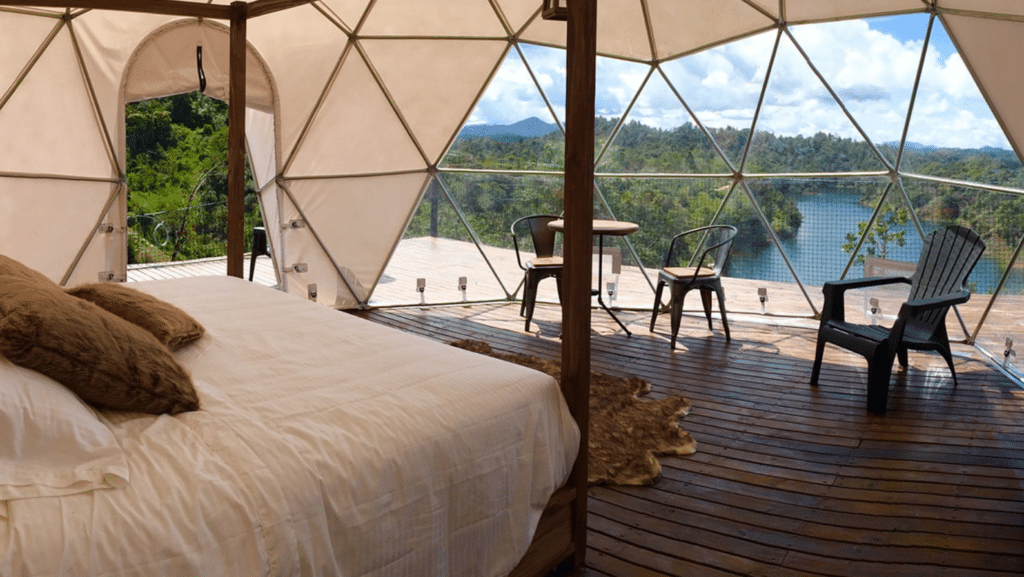 Where to stay in Guatape
There are several nice hotel choices in the Guatape area, some of which are especially cool. Here is a shortlist of recommended accommodations in Guatape:
Budget
Casa Rosa Hostel: If you've got a backpacker's budget and want to be in the center of town, this is your spot. The hostel is located right near the center of town. This is a quiet hostel with comfortable beds and great prices. 
Lake View Hostel: Affordable hostel right on Guatape Lake.
Moderate
Hotel Los Recuerdos: This hotel is located very close to Guatape Rock and overlooks the surrounding lakes. Rooms are comfortable with large windows, balconies, and some even have a private outdoor jacuzzi. There is also a pool and restaurant on site. 
Luxury
Bosko: This hotel is made up of several eco-friendly yet luxurious tents. The property is situated overlooking Guatape lake and makes a unique place to stay during your time in Guatape. The rooms at Bosko feature comfortable beds, large windows, attached individual restrooms and showers. Guests even receive a complimentary breakfast each morning. 
Best time to visit Guatape
I recommend visiting Guatape during the dry season from approximately December to March and July and August.
However, you can visit any time and will likely experience lighter crowds if you visit in the shoulder season or rainy season.
I hope you've enjoyed this post about 10 Fun Things to Do in Guatape and that you've found it helpful in planning your own trip to Colombia. If you enjoyed this post I would love it if you shared it. It really helps me a lot. Thanks for reading.
If you'll be spending more time exploring Colombia check out my Cartagena travel guide for recommendations on things to see and do in beautiful Cartagena. 
Book Your Trip
Find the best flight deals by using Google Flights, then book direct with the airline. This is the search engine I use to compare flights and prices before booking my own trips.

BOOK YOUR ACCOMODATION
I recommend searching for hotels through Booking.com to compare hotels on amenities, location, and price. If you are a member of a hotel's rewards program, always book direct with the hotel. If you are not loyal to a specific hotel brand, using Booking.com for the best price.

TRAVEL INSURANCE
Travel insurance is more important than ever. For just a few dollars a day you can protect yourself and your trip. I personally use World Nomads, but whomever you choose, don't skip out on travel insurance. It can literally save you thousands of dollars.


Want to save it? Pin it.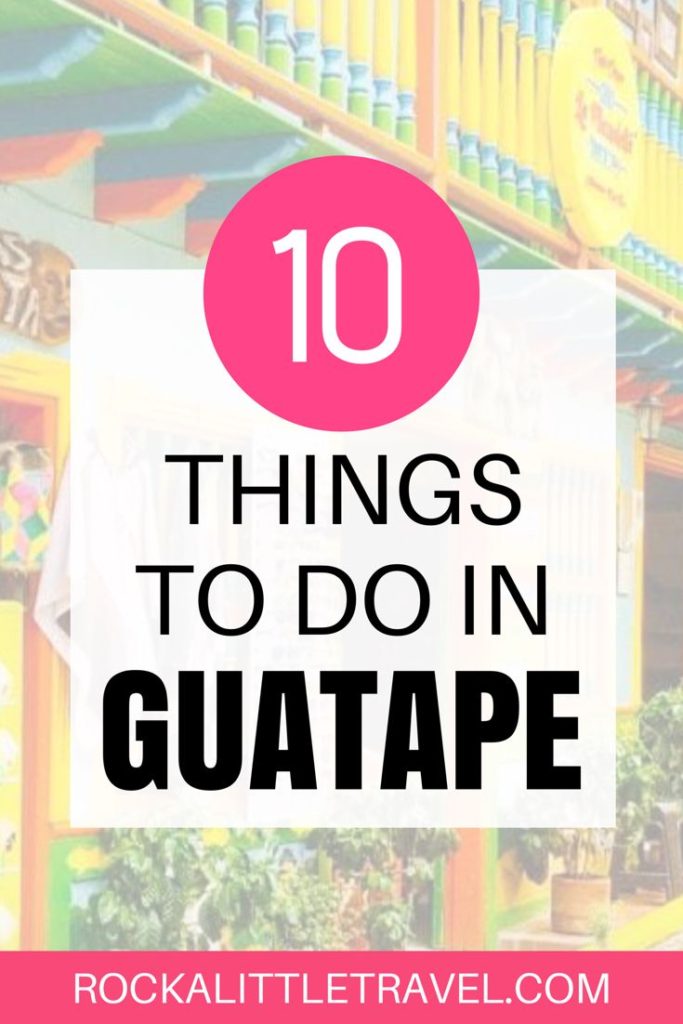 Related Posts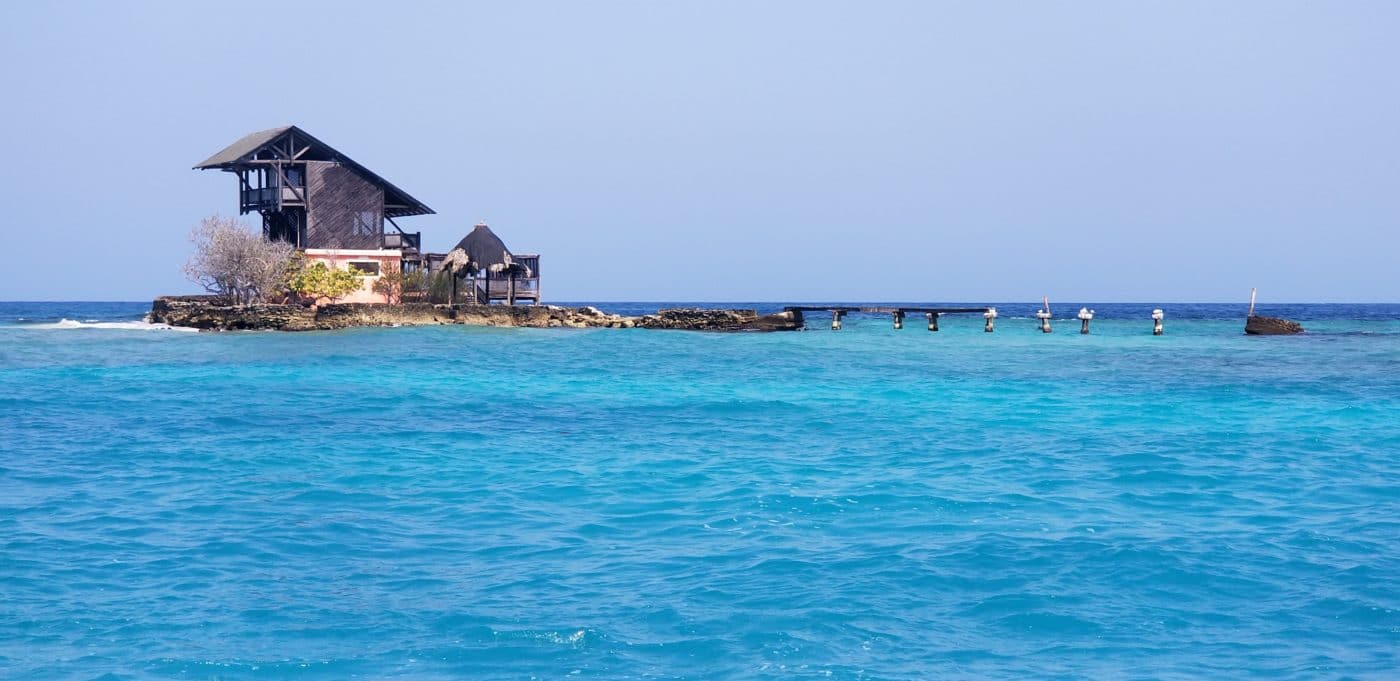 Colombia was one of the most exciting and unique destinations I've visited in a while. I had an incredible time and learned a ton while …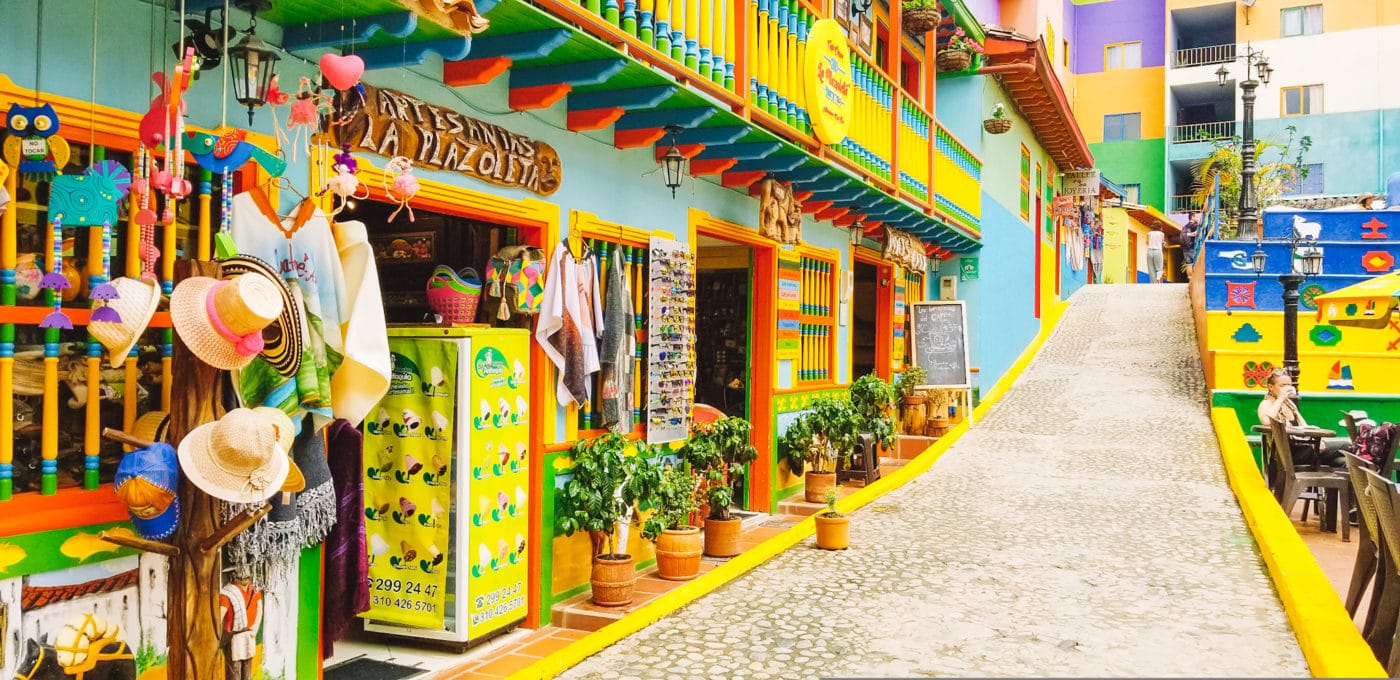 If you're looking for some unique and fun things to do in Guatape, you're in the right place. Guatapé is one of the most vibrant …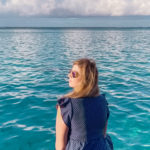 Eden Fite
Part-time Traveler | Dog Lover | Avoider of Crowds
I help busy people find creative ways to travel more.