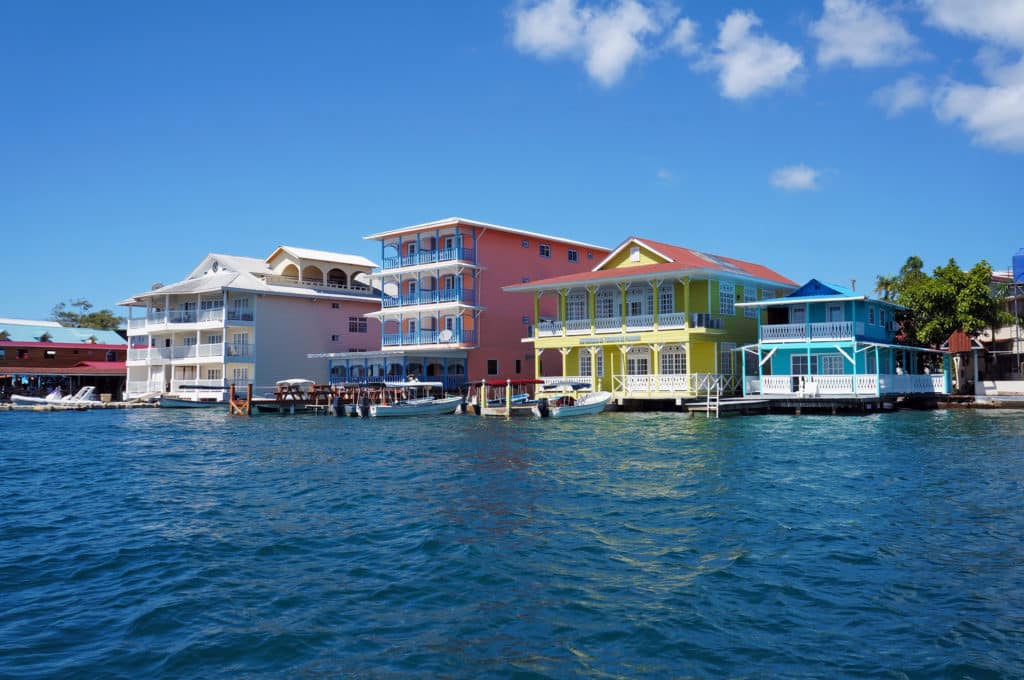 If you're planning the trip from Puerto Viejo to Bocas del Toro, and you want to go the easy way, then this post is for you.
Bocas del Toro can be found in the northernmost region of Panama located along the border with Costa Rica.
It sits along the Caribbean coast of Central America so it's quite a popular beach destination, especially for backpackers and budget travelers.
There are several islands that make up the Bocas del Toro province, and visitors can easily travel between them. 
The trip from Puerto Viejo to Bocas del Toro is a fun one, so I hope you get the chance to make the journey.
I've broken the trip down into several steps to help you understand and navigate the border crossing process, so let's get to it. 
Puerto Viejo to Bocas del Toro – A Step by Step Guide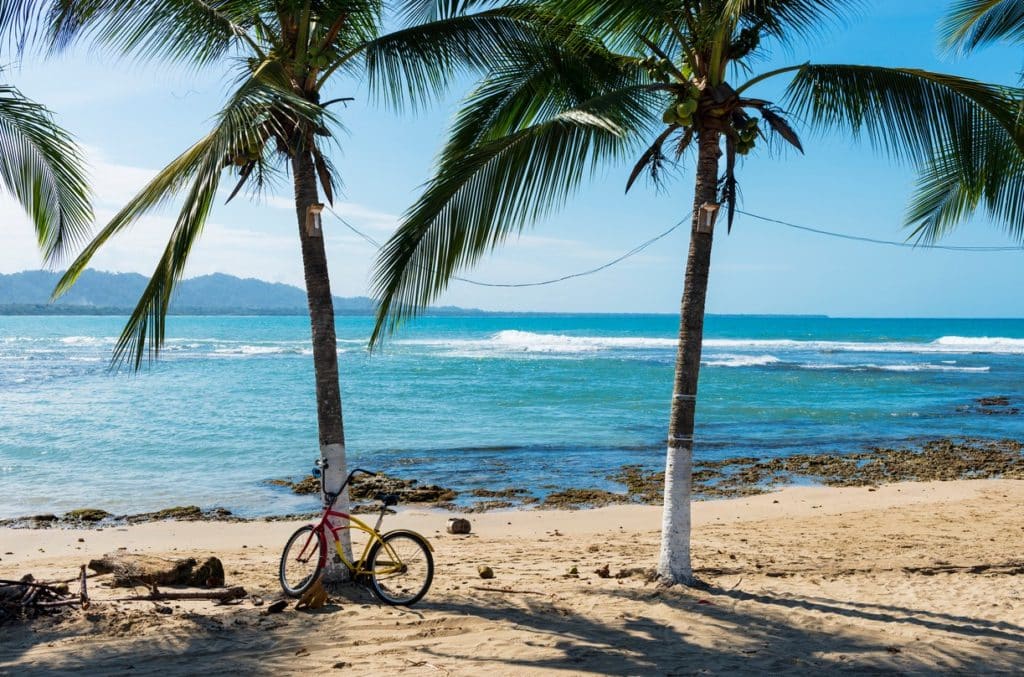 Step One: Make your shuttle reservation online
The easiest way to get from Puerto Viejo to Bocas del Toro is to take a shuttle.
The shuttle service is both economical and convenient. For just $34 the shuttle will pick you up right from your hotel or hostel in Puerto Viejo, take you through the entire border crossing process, and deliver you to the dock in Bocas del Toro.
The entire trip will take about 4 hours in total, from door to dock. 
Once you decide which day you want to make the trip to Bocas Town, you'll want to make your reservation online with Caribe Shuttle.
They are extremely reliable and have been around forever. I recommend making your reservation online in advance if possible, but you can usually secure a spot just a few days out if you're flexible about what time you leave in the morning.
Shuttles depart daily from Puerto Viejo at 6 am, 8 am, and 12 noon. 
Step Two: Be ready for your shuttle on the day of your trip
On the morning of your trip, plan for your pick up window to be about 20 before or 20 minutes after your scheduled departure time.
You will not know how many other travelers the driver will need to pick up or in what order.
Your best bet is to be ready to go a little early, but expect that your driver might arrive a little late. Out of respect for your fellow travelers, try to be ready to go when the driver arrives. 
Step Three: Drive to Sixaloa
Once your driver has picked up all the passengers, you will begin to make the drive to the border town of Sixaloa.
The drive will take about 45 minutes. Once you arrive in Sixaloa, you will hop out of the shuttle and grab your bags.  
Step Four: Pay an exit fee at Costa Rica Immigration
Once you've got your bags, you'll head over to the Costa Rica immigration building.
Your shuttle driver will take you where you need to go so you don't get lost. Once you find your way to Immigration, you will need to pay a $7 exit fee to Costa Rica.
They will give you a receipt for this payment which you will need to present later, so hold onto this receipt.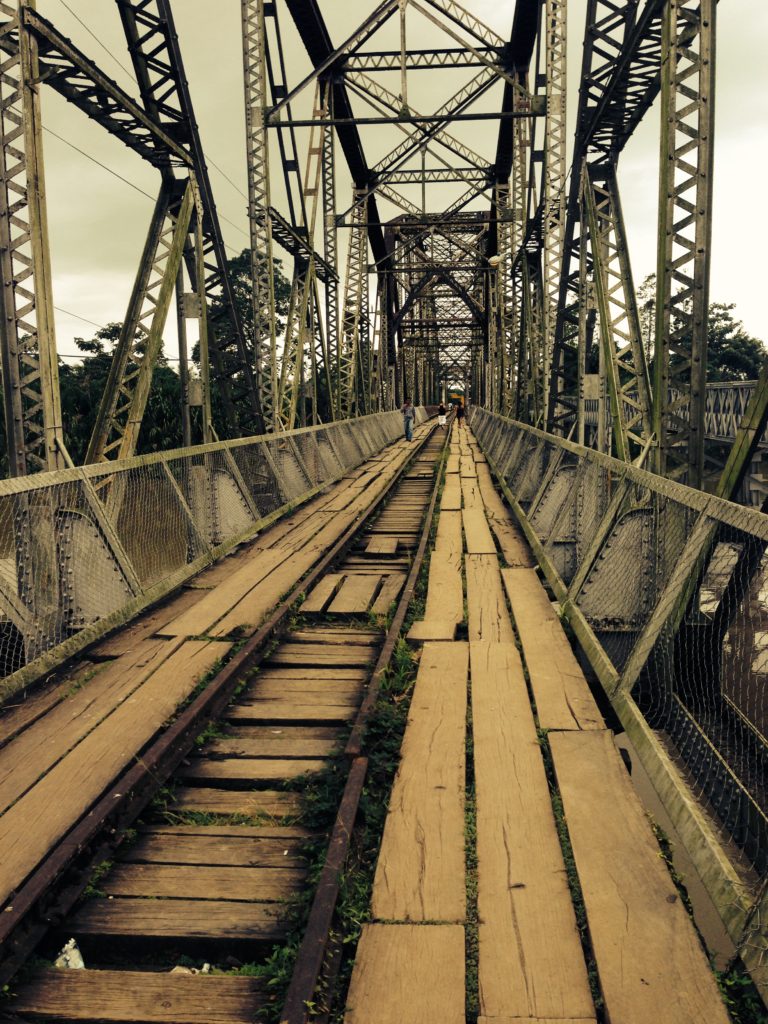 Step Five: Cross the Sixaloa bridge
After you've paid your exit fee with Costa Rica immigration you get to cross the famous Sixaloa Bridge.
The bridge pictured above is the old crossing but has since been replaced by a more modern bridge. It used to be quite the adventure to get across.
The original bridge had uneven surfaces and missing boards back in the day. The new bridge is paved, so if you have a roller back with you, you should be just fine. 
At this point in the trip, your first shuttle driver will introduce you to your second one.
Your Costa Rican driver cannot cross the border with you, so you are getting handed off to a Panamanian driver who will assist you in navigating the remainder of the border crossing process. 
Step Six: Go through Panama Immigration and Customs
Once you've crossed the Sixaloa Bridge with your new driver, you'll be taken over to the Panama Immigration and Customs building.
Be sure to have your passport, Costa Rica exit receipt, and onward travel documents ready to show at the border. Here they will stamp your passport and take your picture.
They may or may not ask for onward travel documents, but be sure to have these ready just in case.
For most people, this will be an airplane ticket out of the country or a shuttle reservation back to Costa Rica. 
Step Seven: Take the shuttle to the pier in Alimante
Once you've cleared immigration and customs into Panama, your driver will take you to your shuttle.
Once settled in your new shuttle, you will begin your drive to the pier in Almirante. The drive from the border to the pier will take about one hour.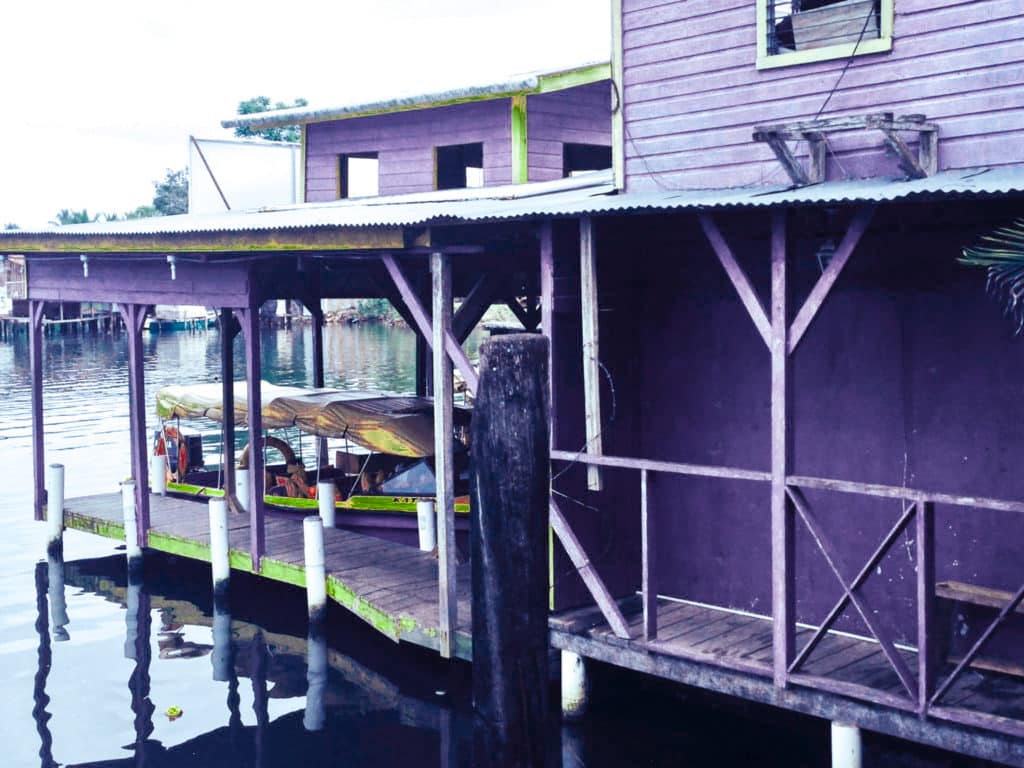 Step Eight: Take the water taxi to Bocas del Toro
Once you get to the pier in Alimante (pictured above), you will board one of the water taxis to get to Bocas Town.
If you didn't take the Caribe Shuttle and you get there on your own, the cost is about $6 per person. If you're with Caribe Shuttle, the boat ride is included in the price you paid.
Boats depart about every half hour, and the ride will take approximately 30 minutes. I recommend bringing a hair tie if you have long hair, it gets super windy on the boat. 
Once you're on the boat, you can just relax and enjoy the short ride. This was my favorite part of the trip from Puerto Viejo to Bocas del Toro. It's not every day you get to take a boat to your hotel.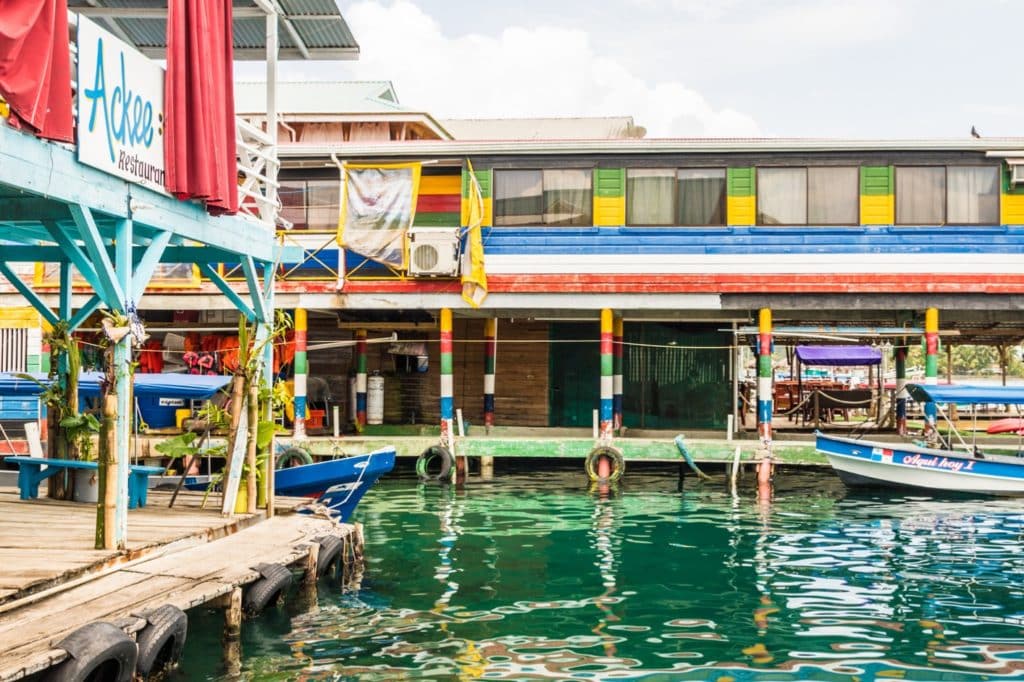 Step Nine: Arrive at the Bocas Town dock
Once you arrive at the dock in Bocas Town you should be able to walk to your hotel or hostel.
Bocas Town itself is quite small, so you would only be walking a few short blocks at the most. If you have reservations for lodging on another island in the vicinity, you can arrange for another water taxi from this same dock.
This additional water taxi should only cost a few dollars. There will be guys with small boats hanging around the dock. If you're too shy to ask for a ride, just look around. I promise you, someone will offer you a ride. 
How to get from Puerto Viejo to Bocas del Toro on the public bus
If for some reason you prefer to take a public bus instead of the Caribe shuttle, here's how to do it. 
 Catch the bus to Sixaloa from the bus station in Puerto Viejo. The bus fare will cost about $3. The ride to Sixaloa will take about one hour. Buses depart every hour starting at 6:30 a.m. The last bus departs at 7:30 p.m during the week and 6:30 p.m. on Sundays and holidays. 
When the bus drops you off in Sixaloa, head over to the Costa Rica Immigration building to pay your exit fee of $7. Keep your receipt. 
After paying your exit fee, make your way across the Sixaloa Bridge. 
After crossing the bridge, head over to Panama Immigration and customs to show your passport and have your picture taken. 
Once through Panama immigration, head over to the shuttle and bus area. From here you can either wait for the bus to the pier in Almirante or take a shuttle for about $5, or whatever you are able to negotiate. If you take a shuttle, the drive will be about one hour. If you prefer to take the bus, it will cost $3 and take about one hour and 40 minutes. 
When you arrive at the pier in Almirante, you will need to pay $6 for a ticket, unless you negotiated the price to be included with your shuttle driver. Boats depart from the dock to Bocas del Toro every 30 minutes or so. 
After 30 minutes you'll arrive at the dock in Bocas del Toro and can walk to your hotel from here. If staying on another island, grab a water taxi at the dock for just a few dollars more. 
Once you arrive at the dock and drop off your bags, you'll find there are plenty of fun things to do in Bocas del Toro.
If you haven't made a lot of plans just yet, you can find lots of tours being sold near the dock. You'll find everything from zip lining to island hopping, or even surfing. Either way, don't forget to leave time for relaxing at the beach. 
What's been your most interesting border crossing so far? Let me know in the comments below! 
Book Your Trip
Find the best flight deals by using Google Flights, then book direct with the airline. This is the search engine I use to compare flights and prices before booking my own trips.

BOOK YOUR ACCOMODATION
I recommend searching for hotels through Booking.com to compare hotels on amenities, location, and price. If you are a member of a hotel's rewards program, always book direct with the hotel. If you are not loyal to a specific hotel brand, using Booking.com for the best price.

TRAVEL INSURANCE
Travel insurance is more important than ever. For just a few dollars a day you can protect yourself and your trip. I personally use World Nomads, but whomever you choose, don't skip out on travel insurance. It can literally save you thousands of dollars.


With its rockin Afro-Caribbean culture, tropical climate and eclectic beaches, a trip to Puerto Viejo…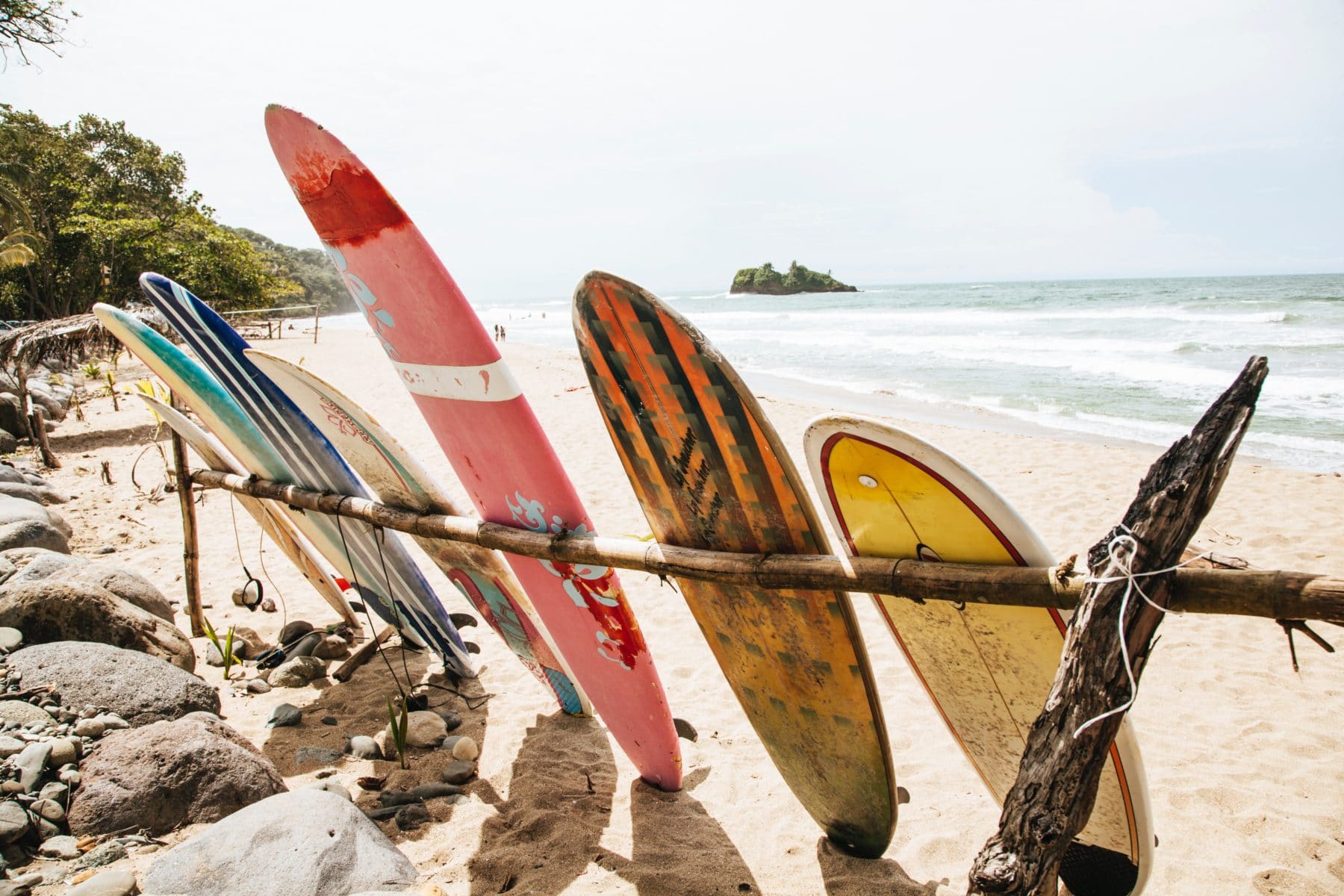 Photo by Pixabay Want to know about things to do in Costa Rica in October?…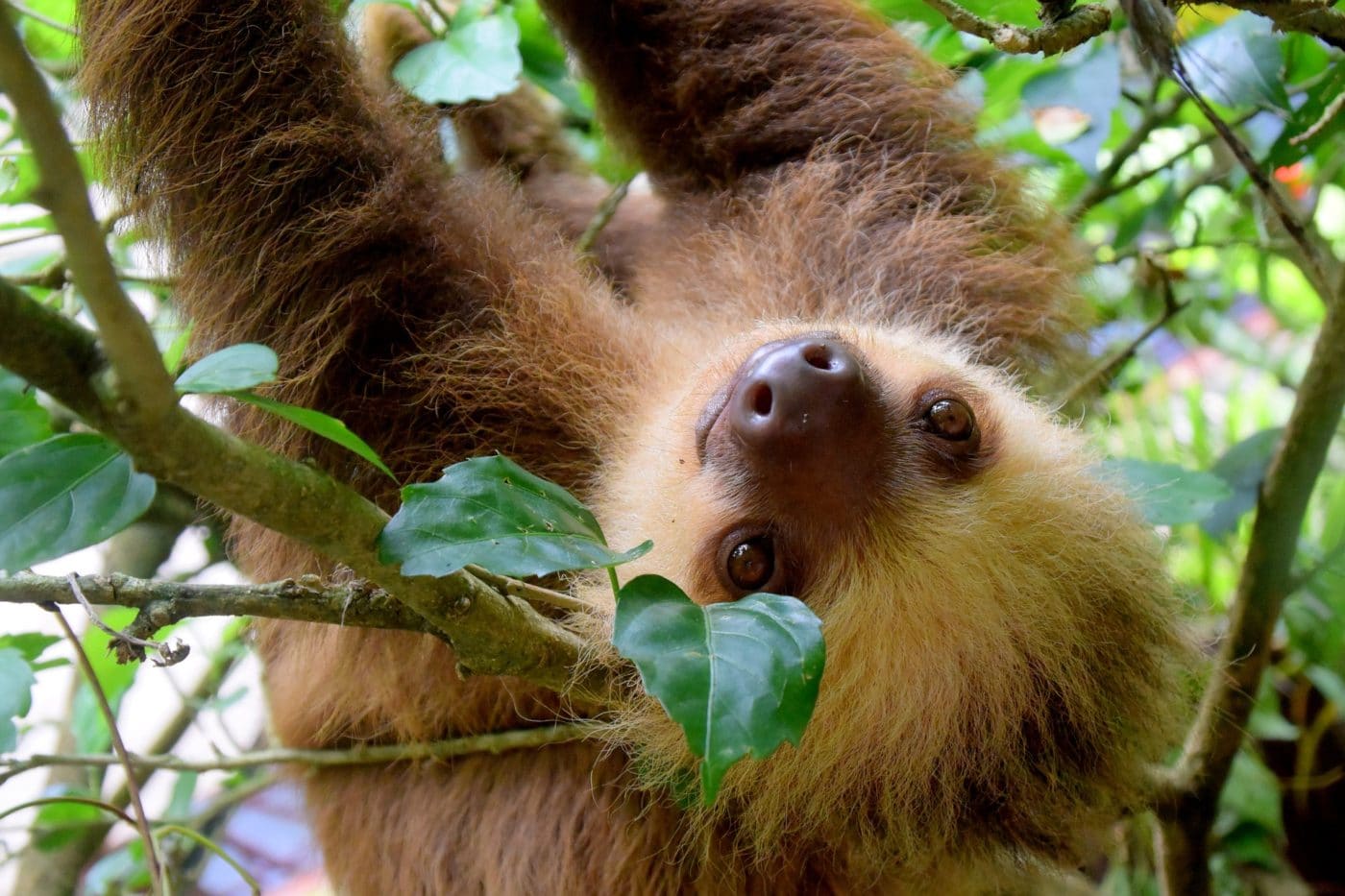 If you're planning the trip from Puerto Viejo to Bocas del Toro, and you want…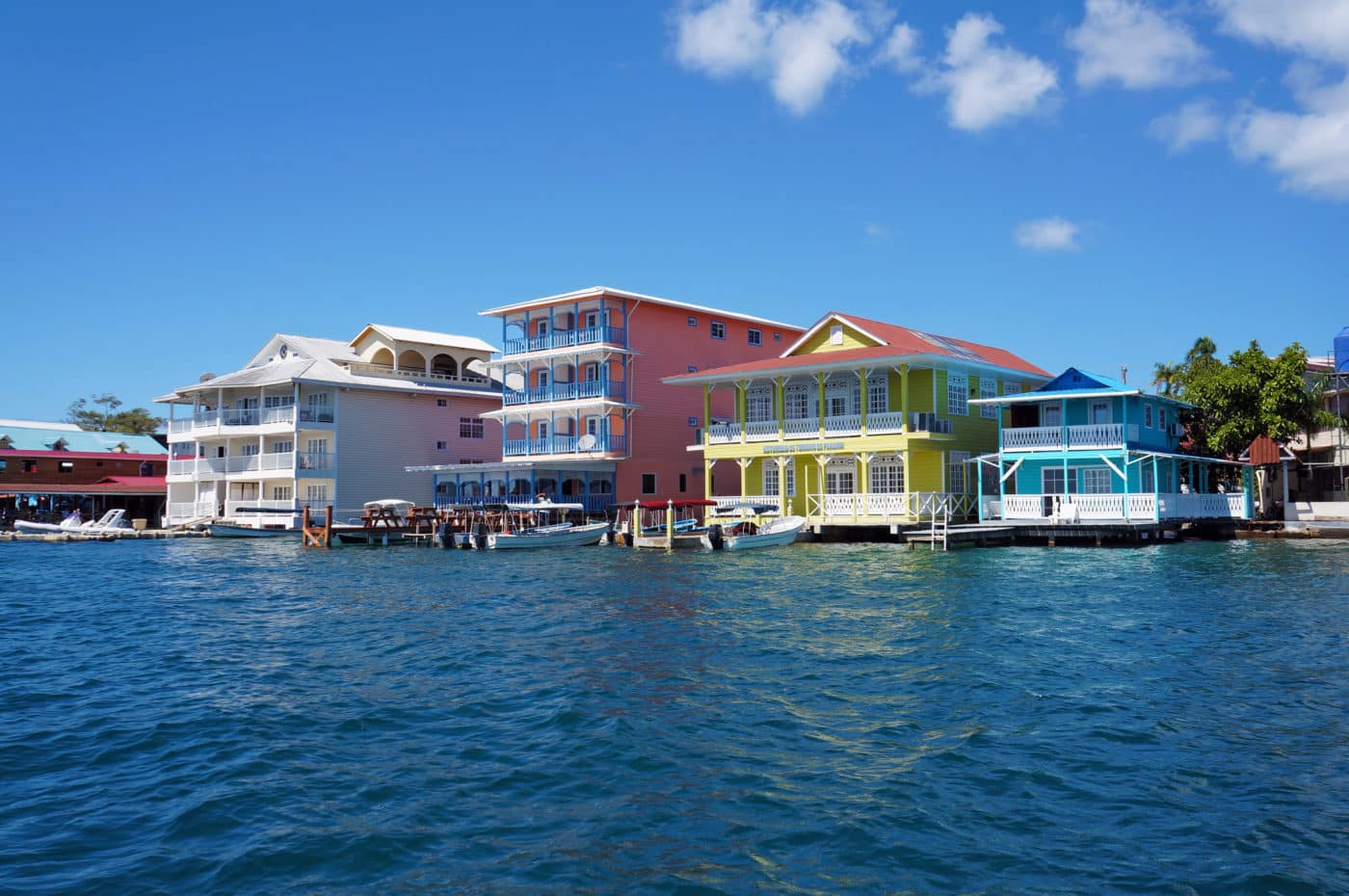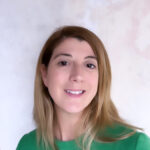 Eden Fite
Part-time Traveler | Dog Lover | Avoider of Crowds
I help busy people find creative ways to travel more.