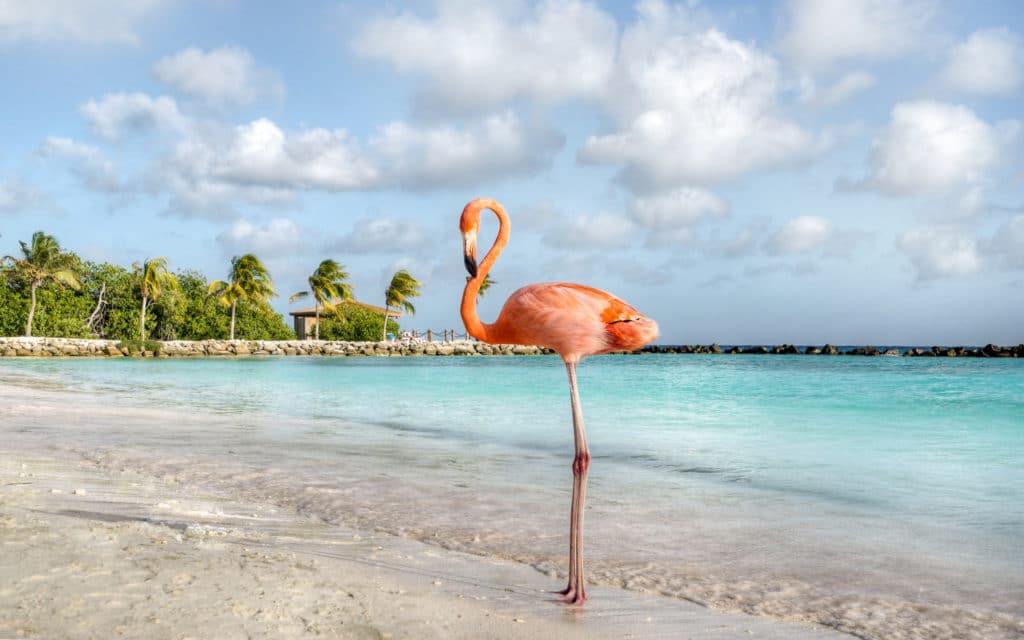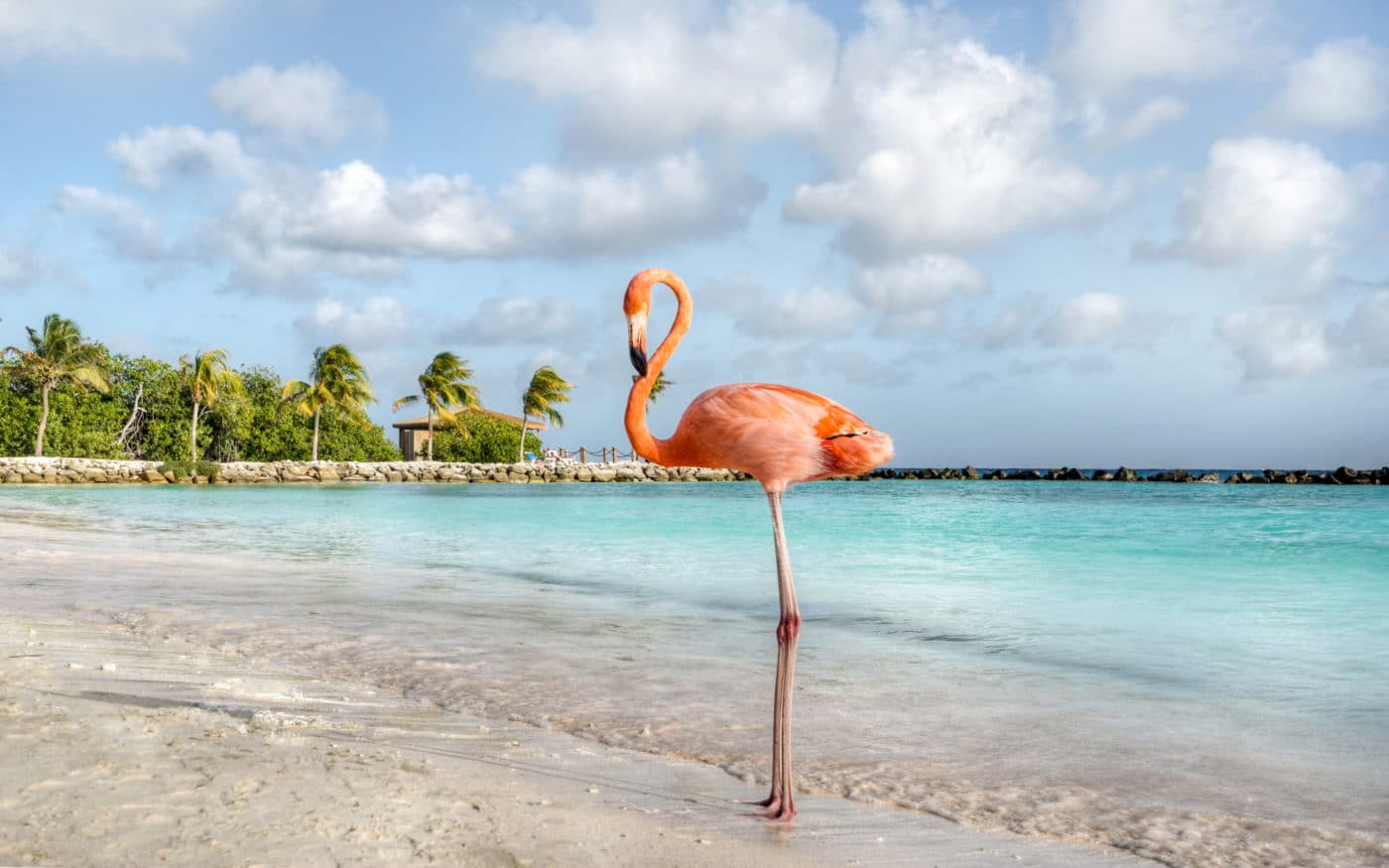 If you're looking for stunning white sand beaches surrounded by pale blue waters, head to Aruba.
This tiny island just off the northern coast of Venezuela is covered in both desert landscapes and tropical beaches.
This variety in landscapes will leave you with a ton of unique Aruba experiences to have during your visit.
You can explore the desert region in the island's vast national park, or take part in the many water activities available along the beaches.
No matter what you choose to do, Aruba is a great place to just relax and enjoy the beautiful weather.
I think all the activities below are well worth your time but please don't overbook yourself. Leave time to just explore at your own pace and go with the flow.
With that, here are my recommended must-have Aruba experiences, perfect for your first visit.
Top 16 Aruba Experiences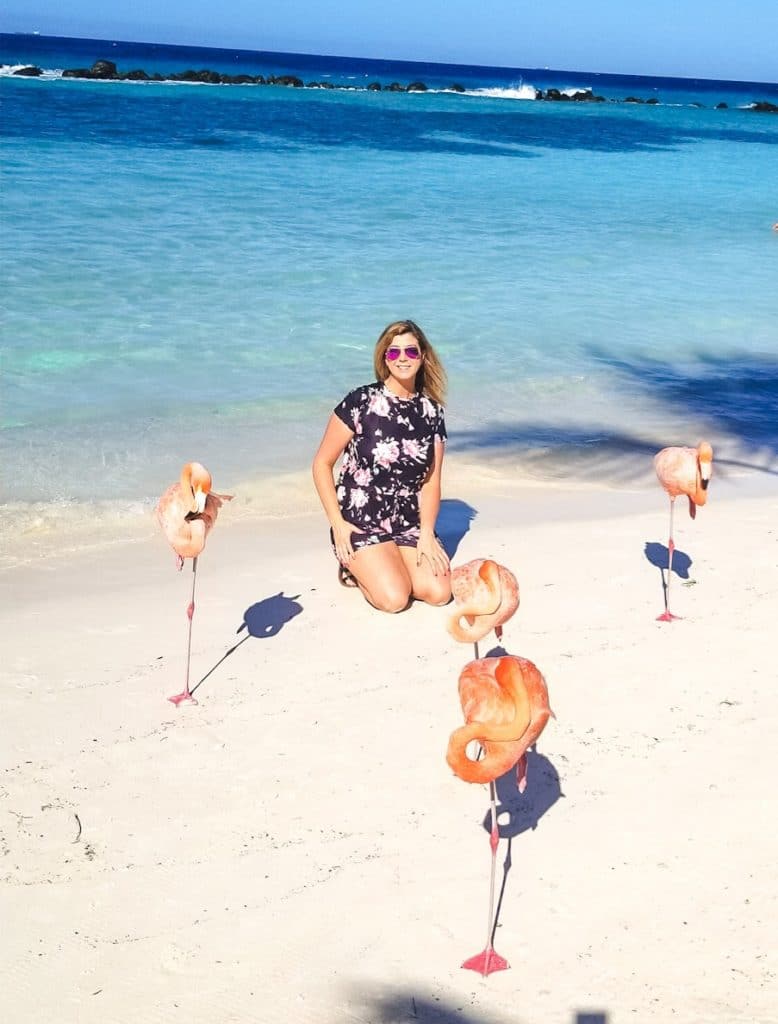 1. Flamingo Beach
Flamingo Beach Aruba is one of the most popular spots in the Caribbean thanks to Instagram and these pretty pink flamingos.
You'll find Flamingo Beach on Renaissance Island, a private island owned by Marriott's Renaissance Aruba Resort.
Guests of the hotel access Renaissance Island at no charge via a boat from the lobby of the hotel. For non-hotel guests, the fee to visit the island is $125 per day.
If you want to visit Renaissance Island, I recommend booking one night at the Renaissance Aruba Resort so your island access is included.
Aside from the flamingos, which are found in a small adults-only section of the island, there is a larger beach section with palapas, chairs, and hammocks. The island also has a full-service restaurant and bar.
Once on the island, guests have access to water floats, snorkeling gear, kayaks, and paddleboards, and a few other water toys and accessories.
There is no fee to rent these items, they are included with your access to the island.
The swimming areas here are separated by a rock barrier from the surrounding ocean, so the water is very calm.
A visit to Renaissance Island is perfect for a half-day visit if you'd like some relaxation time and to see the flamingos.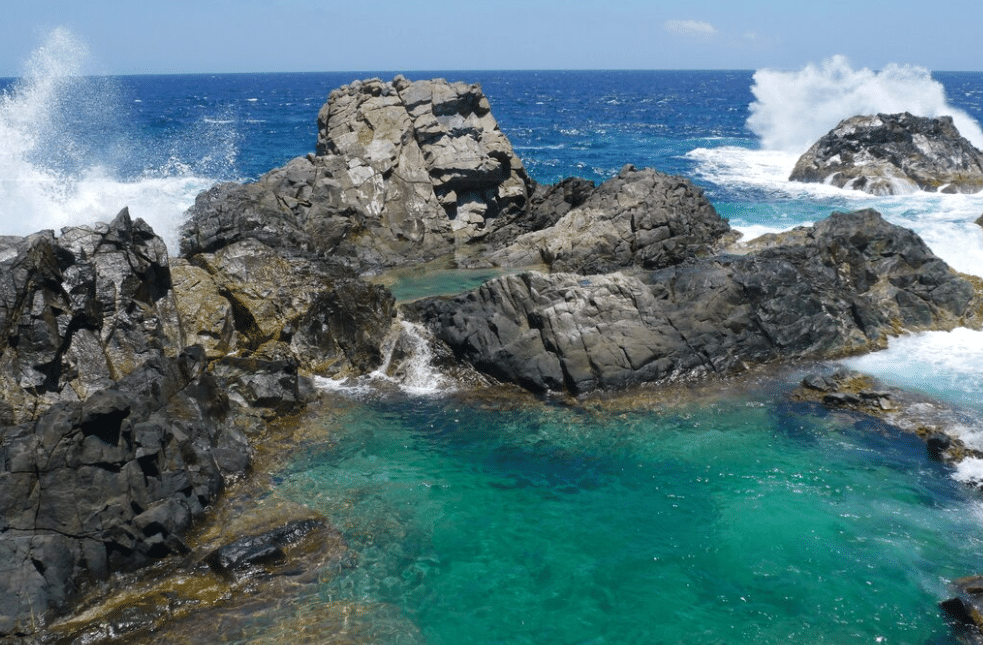 2. The Natural Pool
The Natural Pool, or conchi as it is called locally, was one of the most unique Aruba experiences I had during my trip.
It's a small watering hole along the rocky shore that is perfect for swimming and snorkeling.
In order to get to the Natural Pool, you have to take a jeep or UTV through the rugged terrain of the island's Arikok National Park. I'll be honest, it's a bumpy, wild ride, but it was worth it.
You'll want to get to the natural pool early in the morning to avoid the crowds. The easiest way to experience the Natural Pool is to book a jeep or UTV tour.
These tours include a few other stops as well, but you'll be at the Natural Pool for about an hour.
If you don't want to travel by jeep or UTV, there are also horseback riding tours that will take you through Arikok National Park to the Natural Pool.
These tours are about two and a half hours and cost $109.
I strongly recommend just doing a half-day or four-hour tour. A full day would be a bit much.
Make sure you wear your swimsuit when you get picked up in the morning. The Natural Pool will most likely be your first stop. Don't forget a towel and sunscreen as well.
3. Arikok National Park
You'll find Arikok National Park in the desert region of the island. The park comprises about 20% of the island and features rugged desert terrain surrounded by a beautiful rocky shoreline.
Visitors to the park can explore by hiking, jeep tour, or UTV tour. For the more adventurous, visitors may rent their own jeep and drive themselves around the park.
The Natural Pool mentioned above and the beautiful Boca Prins Beach can also be found here.
4. UTV Tour
UTV tours are available from several different tour companies on the island. These tours make some quite memorable Aruba experiences.
Visitors can book one of several guided tours to explore the Natural Pool, Natural Bridge, and other natural wonders near Arikok National Park.
The most popular tours run about $218 for two people and last about 4 and a half hours. Longer tours are also available that take you to additional stops along the way.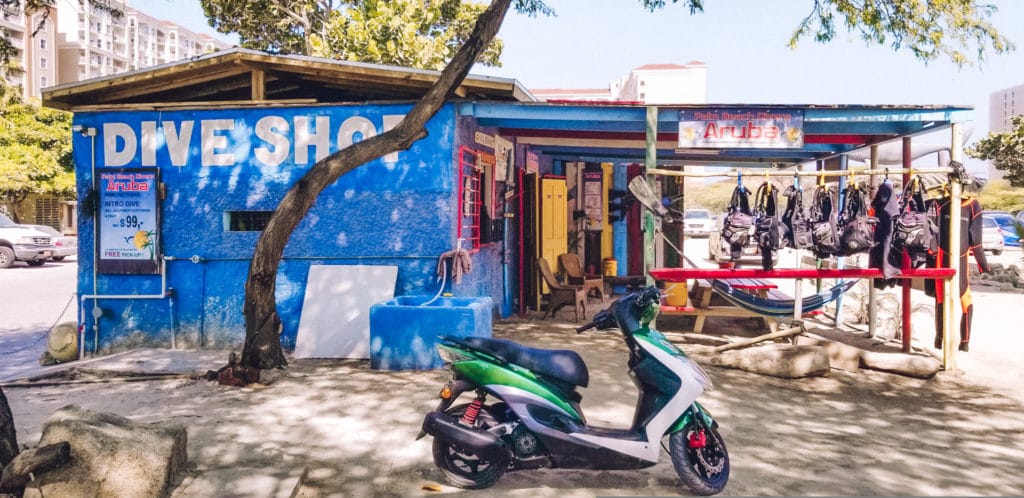 5. Learn to Dive
Diving is a popular activity in Aruba and the perfect place to get dive certified. The waters surrounding Aruba are filled with incredible sea life, including lots of turtles.
There are also many shipwrecks in the area that are perfect for exploring on dives. There are multiple dive operators in Aruba, most of which offer courses and certification for those interested.
Visitors to the island can sign up for an introduction to diving course at many of the resorts.
This introductory course does not come with certification but will give you an idea of what diving is all about to see if you want to move forward with getting certified.
These introductory courses typically last about 4 to 5 hours and cost about $150. Additional offers may be available, you can request current prices at the time of booking.
If you've already decided you want to get certified, the first-level Open Water Diver course is offered at S.E. Aruba Fly n' Dive and will cost about $490.
If you're interested in getting certified during your visit to Aruba, be sure to make reservations with the dive shop ahead of time to ensure they have courses scheduled during the time of your visit.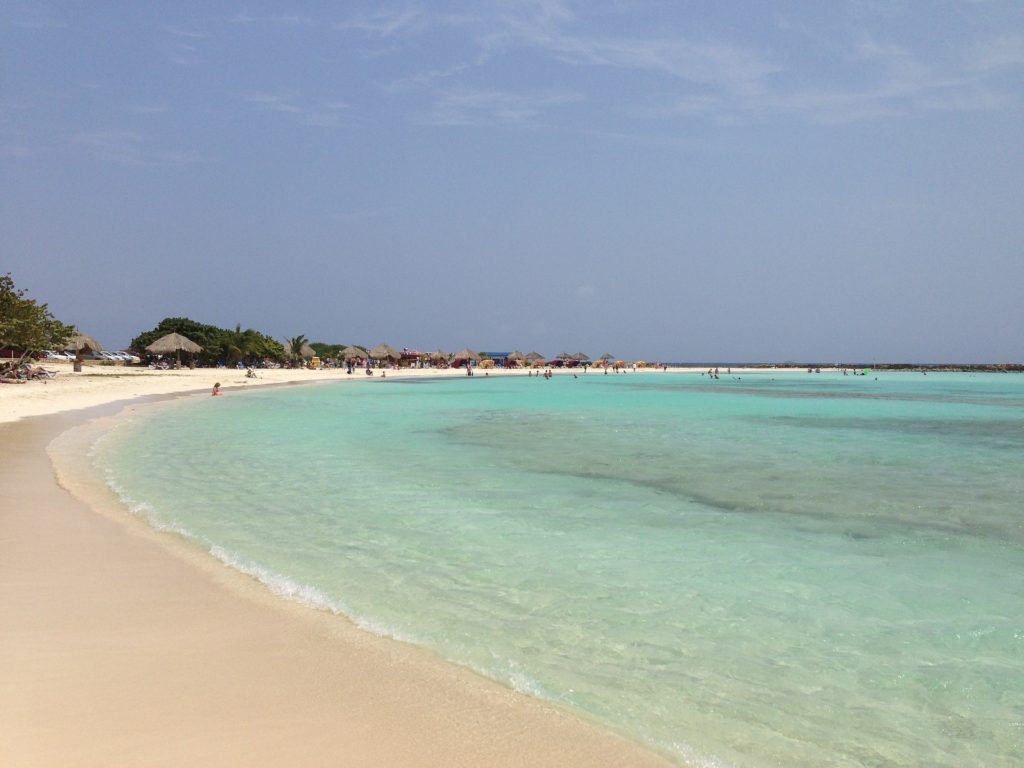 6. Baby Beach
Baby Beach is popular shallow man-made lagoon on the south side of Aruba. The swimming area is protected by barriers so the water is extremely calm, making it perfect for small children, hence the name.
Along Baby Beach, you can find vendors renting out snorkel gear, kayaks, and paddleboards. There is also a dive shop nearby if you'd like to dive in the area.
There is a snack shop selling burgers and hot dogs if you'd like something to eat. You can also find Big Mama's Grill nearby serving local dishes, seafood, and cocktails.
Baby Beach is found on the southernmost tip of the island about 45 minutes from the main hotel zone near Palm Beach.
There are buses that will take you to Baby Beach, but I believe they will take you quite a while. The most popular way to get there is to just rent a car for the day.
Also, if you decide to rent a car to head to Baby Beach, don't miss Zeerovers (read more about this down below) and a stop at the donkey sanctuary along the way.
7. Snorkeling at the Shipwrecks
There are tons of great snorkeling spots around the island of Aruba, but some of the most interesting can be found near the many shipwrecks just off the island's coasts.
Snorkeling at these shipwrecks is one of the most unique Aruba experiences.
There are not many places around the world with so many shipwrecks so close to shore and easy to get to for snorkeling.
One of the most popular shipwrecks is the Antilla shipwreck located just off the coast near Boca Catalina Beach a short distance from the hotel zone at Palm Beach.
There are several snorkeling tours that will take you to the Antilles shipwreck, along with a few other spots in the area. I did the Sailaway afternoon snorkel tour, which was super fun.
The afternoon tour begins at 3:30 in the afternoon so you have the whole day beforehand to do something else.
The Sailaway tour includes 3 stops plus an open bar and some light snacks. You'll also get to be out on the boat for what will likely be a beautiful sunset.
The Sailaway snorkel tour was about $65 and departs from Moomba Beach near the hotel zone.
This was easily one of my favorite Aruba experiences and I highly recommend it if you intend to go snorkeling while you're here.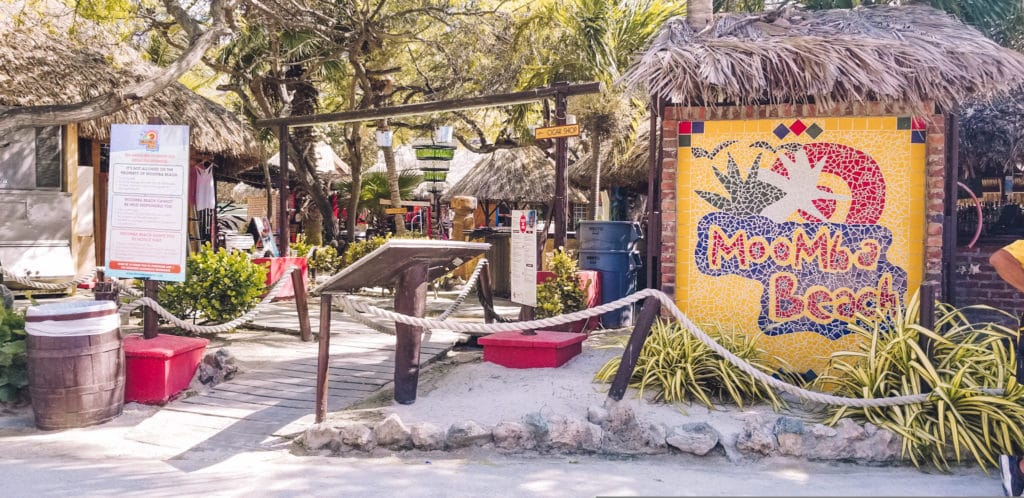 8. Cocktails at Moombas
If you're looking for a fun night out with dancing and cocktails, head over to Moombas on Sunday night.
They have fantastic cocktails, live music, and dancing right on the beach.
You'll be surrounded by both locals and other travelers, so meeting people will not be difficult.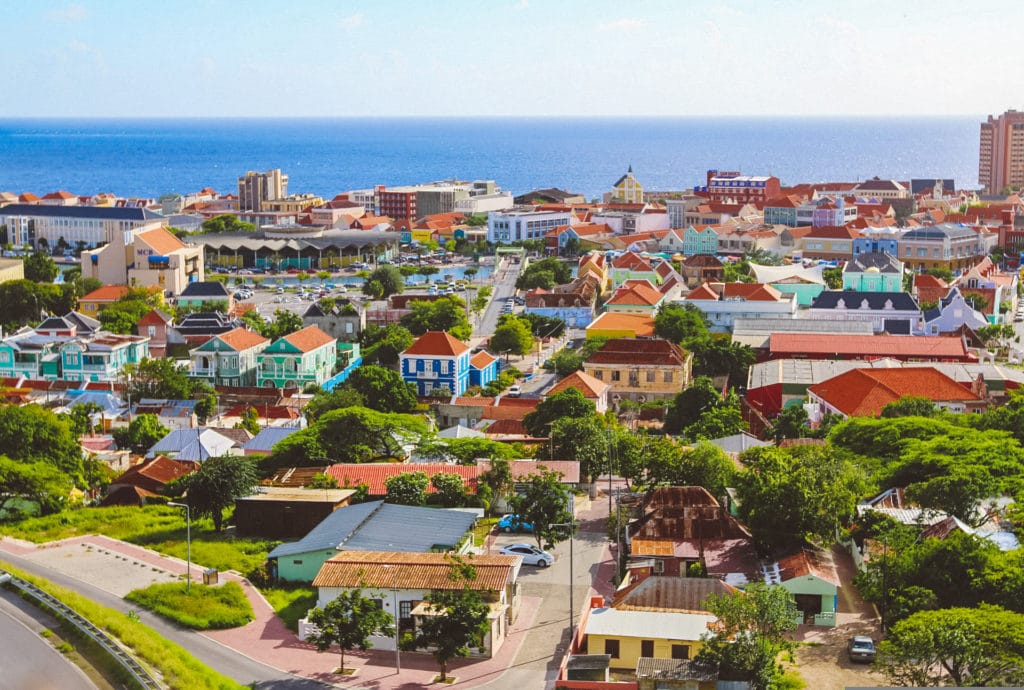 9. Walking Tour of Downtown Oranjestad
Downtown Oranjestad is the perfect place to get to know the island a little better and do some exploring on foot.
The downtown area features unique and colorful architecture, a trolley, plus tons of shops and plenty of restaurants.
If you're interested in doing a tour of the area you can take a food tour called Fusion of the World Food Tour, which takes you to five different restaurants in downtown Oranjestad.
It's a two and a half hour tour where you'll get to try Jamaican, Cuban, Dutch, Italian, and local Aruban cuisine.
The Fusion of the World Food Tour runs on Thursday and Mondays from 7:00 p.m. to 9:30 p.m. The cost of the tour is $79.
If you'd prefer a walking tour of downtown Oranjestad without all the food, you can try the Aruba Daytime Historic and Cultural Walking Tour.
This tour takes you to all the important historic and cultural spots in the city including city hall, the Wilhelmina Statue, Fort Zoutman, the archaeological museum, and more.
The Aruba Daytime Historic and Cultural Walking Tour runs on Mondays, Wednesdays, and Fridays from 9:15 a.m. to approximately 12:00 p.m. The cost of the tour is $39.
Reservations are required for both walking tours.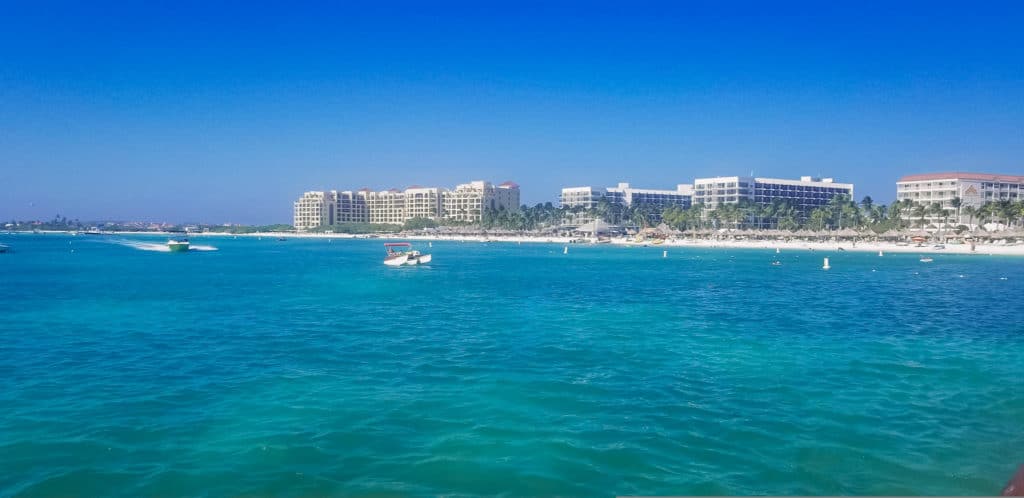 10. Palm Beach
Palm Beach is the main beach found along the hotel zone and will be one of your favorite Aruba experiences.
This area is also known as the high-rise area as this is where the large resorts are located. You'll find anything and everything to do here, including water sports, swimming, snorkeling, boat tours, etc.
Many of the hotels along the beach also offer palapas and beach chairs for rent or for free to their guests. Be sure to ask at check-in if these are available to you.
Palm Beach is also a great spot to just spend a day in the water enjoying the beautiful weather.
It's a busy area so there are tons of things to keep you entertained, but you won't be hassled by people trying to sell you things.
There are also a ton of great beachside restaurants here serving local dishes, seafood, American cuisine, and of course, cocktails.
But best of all, the beaches are clean, the water is beautiful, and a day at Palm Beach is just a lot of fun. Make time for it if you can.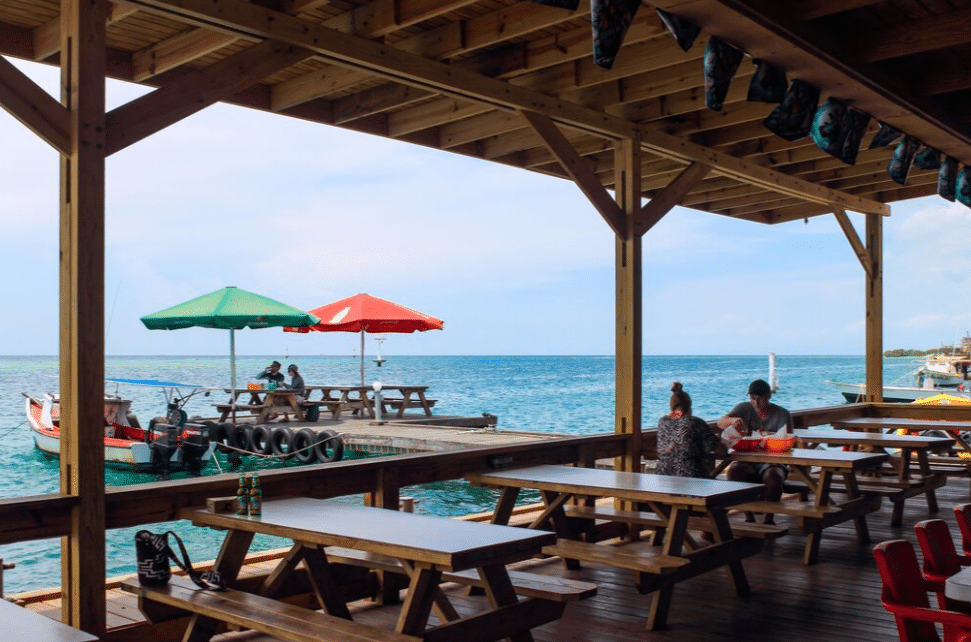 11. Lunch at Zeerovers
Zeerovers is an extremely popular local seafood restaurant found about halfway between Baby Beach and Oranjestad.
They prepare and serve fresh fish caught by the local fisherman along with a few local side dishes. Drinks, including beer, are also available.
Zeerovers is open from 11:00 a.m. to 9:00 p.m. from Tuesday through Sunday. They are a cash-only establishment.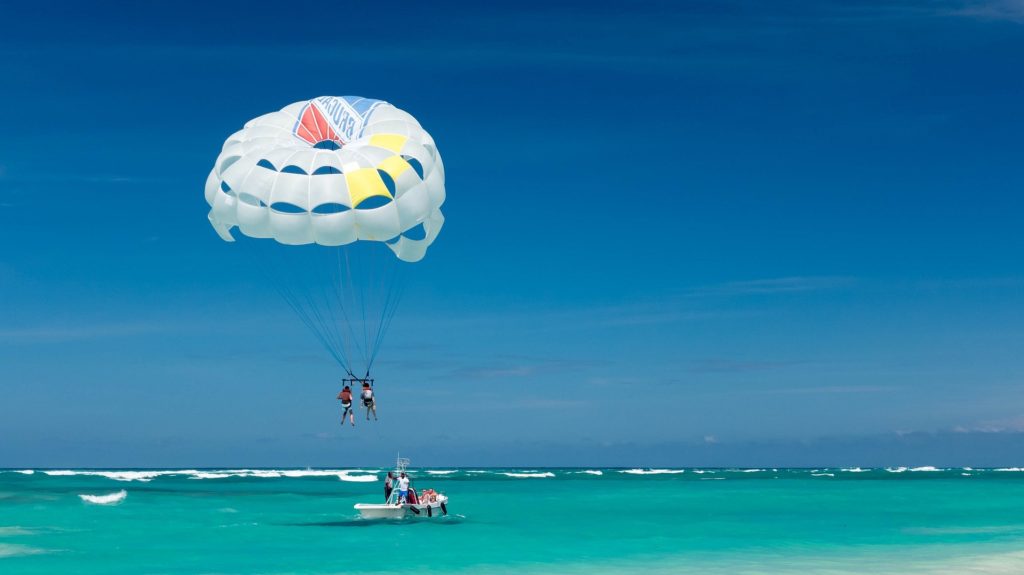 12. Water Sports
If you're looking to add a bit more adventure to your Aruba trip, consider parasailing, jet skiing, or kite surfing. As long as the weather is good, these activities will be available.
You can find vendors working with the companies that offer these services at most of the beaches around the hotel zone on Palm Beach.
I found you do not need to make reservations ahead of time for these activities, as there was almost always space available.
Prices for these activities are fair but often much less than you'd find in other parts of the world. Take advantage of the opportunity if you're interested.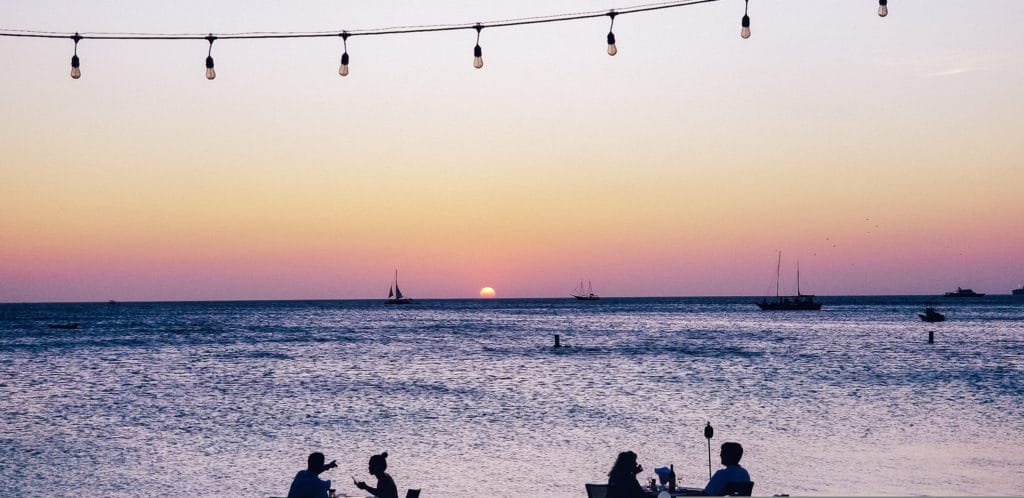 13. Dinner on the beach
If you're looking for a romantic dinner on the beach, you're in luck. There are a few restaurants that serve dinner right on the beach at sunset.
One of the most popular is Passions on the Beach, which is found at popular Eagle Beach. The other option is Atardi, which is at the Marriott Stellaris Hotel and Casino in Palm Beach.
Both restaurants get excellent reviews and offer impressive menus. During my visit, I dined at Atardi as I was staying at the Stellaris.
Overall, I enjoyed the experience and was glad that I got to try it. However, I think this experience would be better if on a romantic getaway or celebrating a special event.
If I were to return to Aruba, I would grab dinner at a livelier spot along the beach where I'd still get a great view of the sunset, but with a much lower price tag.
14. Eagle Beach
Eagle Beach is found a few minutes south of the popular hotel zone on Palm Beach.
It is considered one of the most beautiful beaches in the world for its soft white sand and clear blue waters.
Eagle Beach is located in the low-rise hotel zone and is one of the island's busiest beaches. This beach features shaded areas and plenty of water sports options.
You'll also find the trendy Passions on the Beach restaurant on the beach's north end.
Eagle Beach also makes a great snorkeling destination. There are often many sea turtles here because they nest nearby.
If you're planning a visit to Eagle Beach, I recommend arriving early in the day if possible. This way you'll avoid the crowds and get a good spot in the sand.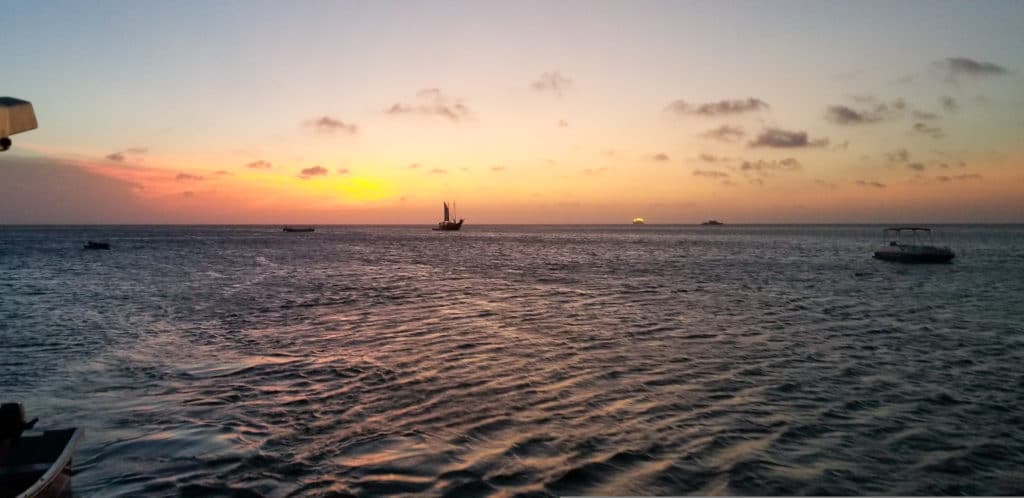 15. Sunset cruise
If you don't get the opportunity to take the afternoon snorkeling tour with Sailaway, then I recommend booking a sunset cruise instead.
The sunset cruise departs from Pelican Pier around 5:30 p.m. and lasts about two hours.
The cruise includes light snacks and an open bar. This cruise has a party vibe, not a romantic one, so make sure that's what you're looking for.
Once the cruise returns to Pelican Pier you'll have a steak or seafood dinner at the restaurant. The cost for the sunset cruise is about $90.
16. Island Tour
If you have more time on the island and you'd like to see more, I recommend trying out the Aruba Full Island Tour.
This is the most comprehensive of my recommended Aruba experiences as you'll be covering a lot of ground in just a few hours.
You'll get to see a lot more of the island and also learn about its culture and history.
The Aruba Full Island Tour will take you to the California Lighthouse, the Ayo Rock Formation, the Casibari Rock Formations, the aloe vera factory, Bushiribana Gold Mill Ruins, and even Baby Beach.
tour takes about six hours and costs $60.
Aruba refers to itself as One Happy Island. I think you'll agree with that after spending some time here.
I hope you've enjoyed this post about the Top 16 Aruba Experiences You Must Have during your vacation.
If you'd like to explore more of the Caribbean, check out my Cartagena Travel Guide.
Book Your Trip
Find the best flight deals by using Google Flights, then book direct with the airline. This is the search engine I use to compare flights and prices before booking my own trips.

BOOK YOUR ACCOMODATION
I recommend searching for hotels through Booking.com to compare hotels on amenities, location, and price. If you are a member of a hotel's rewards program, always book direct with the hotel. If you are not loyal to a specific hotel brand, using Booking.com for the best price.

TRAVEL INSURANCE
Travel insurance is more important than ever. For just a few dollars a day you can protect yourself and your trip. I personally use World Nomads, but whomever you choose, don't skip out on travel insurance. It can literally save you thousands of dollars.


Want to save it? Pin it.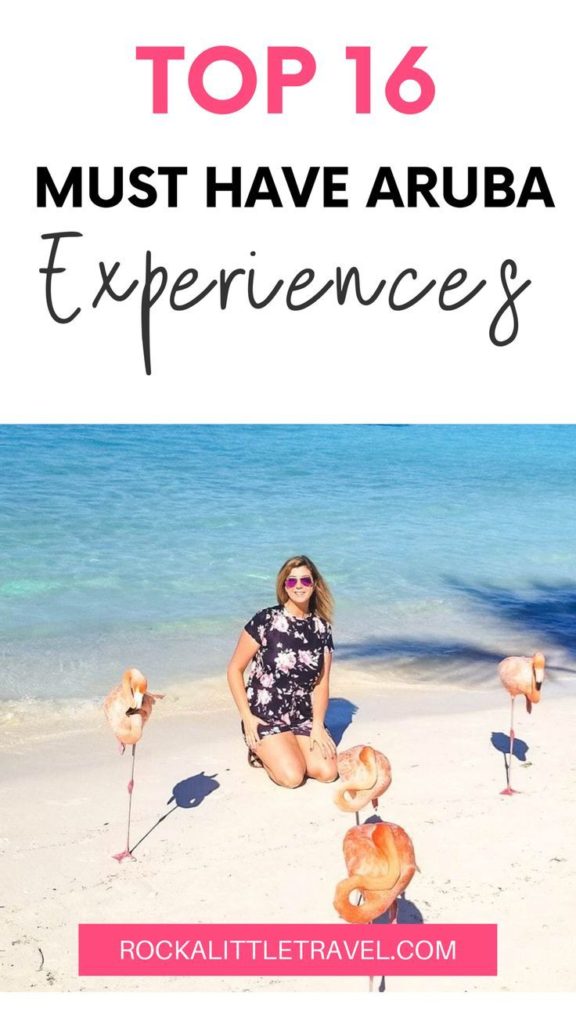 These travel tips for Colombia are guaranteed to make your upcoming trip a great one….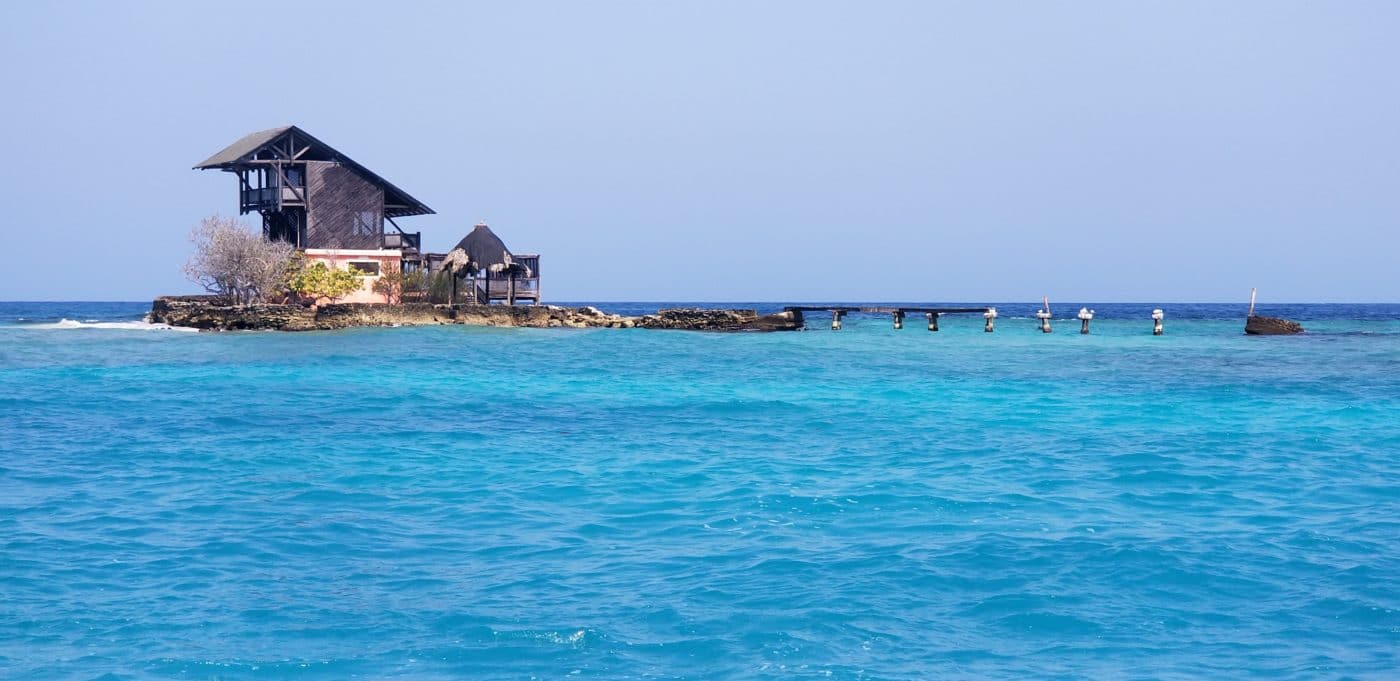 If you're looking for some unique and fun things to do in Guatape, you're in…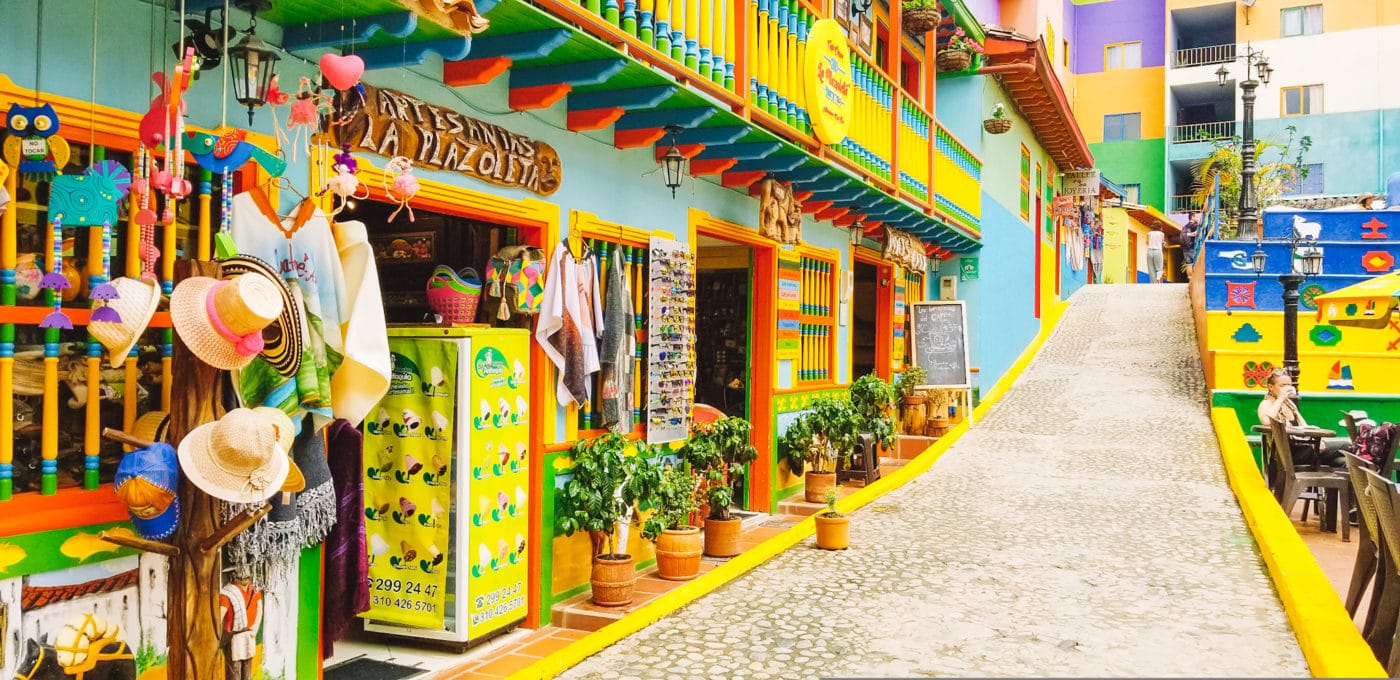 If you're looking for the best things to do with one day in Cartagena, this…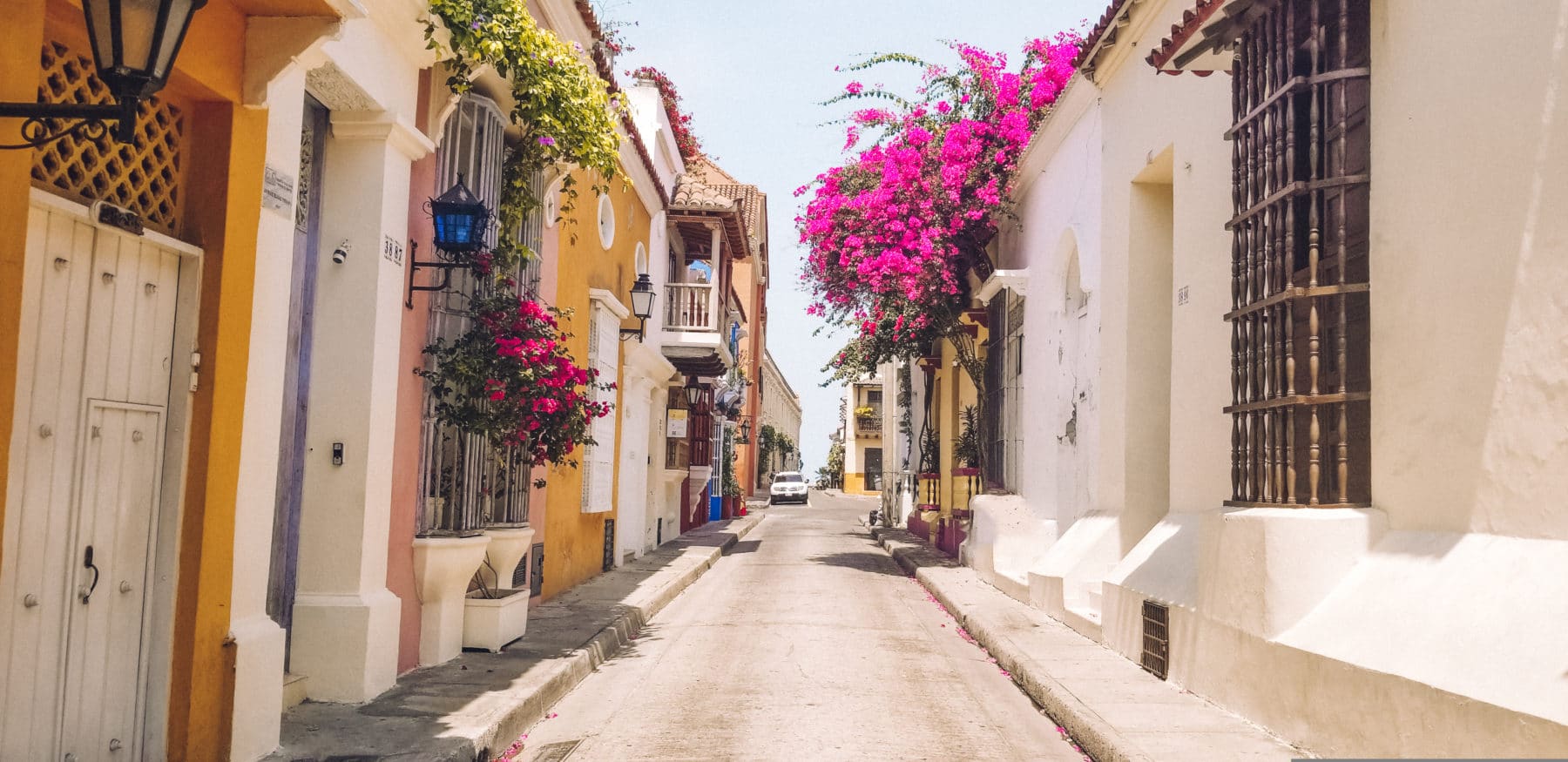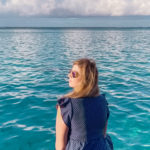 Eden Fite
Part-time Traveler | Dog Lover | Avoider of Crowds
I help busy people find creative ways to travel more.