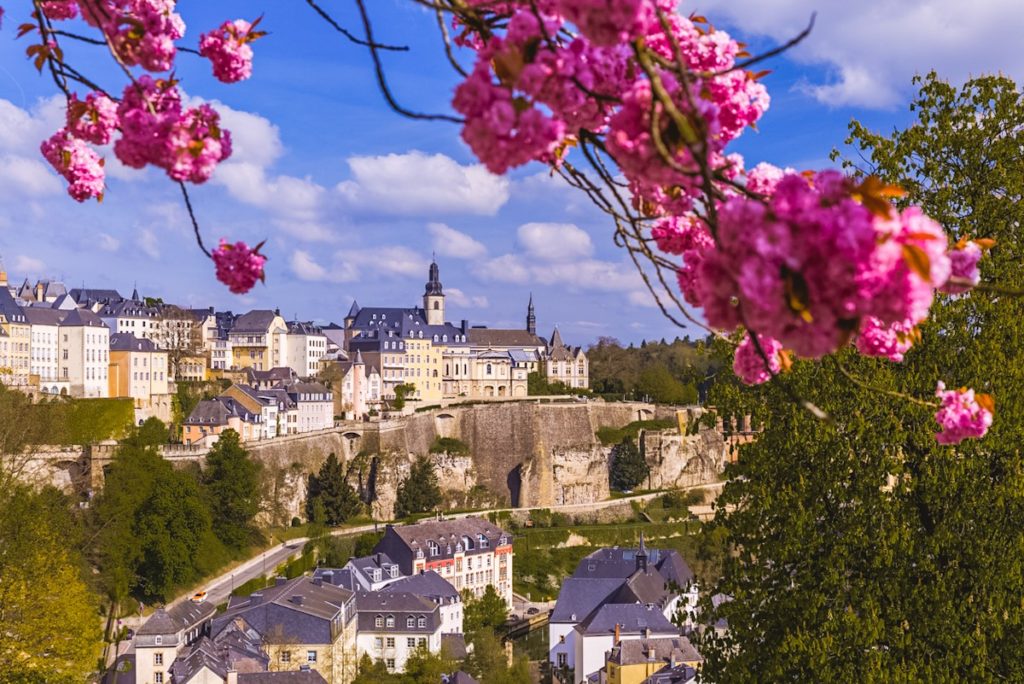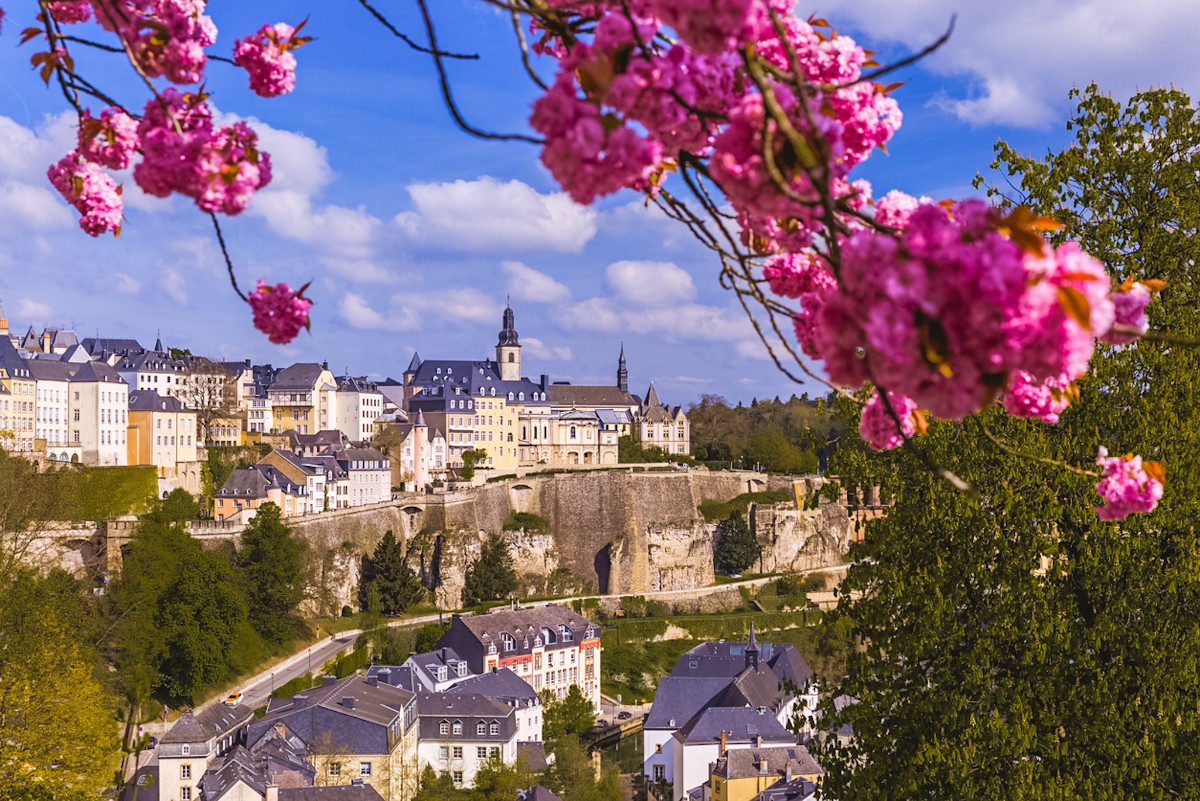 The best time to visit Luxembourg truly depends on what you're after. I personally think Luxembourg can be enjoyed year round, as there are plenty of unique things to see and do across the country.
For those looking to see as much of the country as possible, you should spend at least one day in Luxembourg City then move on and explore other cities. You'll have a different experience in each destination depending on the time of year you plan to visit.
To help you decide when to go, I'll break down what you can expect during each season of the year. This way, you can choose what sounds fun to you.
Some of the links in the post are affiliate links. If you make a purchase through these links it helps to support this site at no extra cost to you.
Best time to visit Luxembourg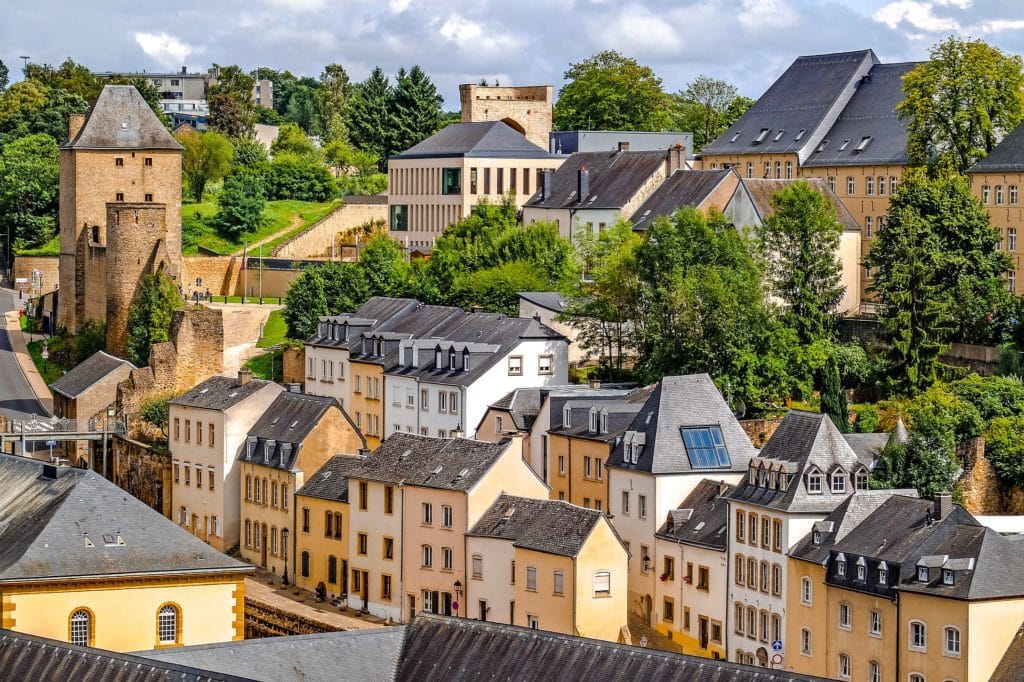 The country of Luxembourg is found in western Europe. It's easy to get to from just about any other European country. It also makes a great day trip from neighboring cities.
You should expect to experience all four seasons in Luxembourg, with moderately warm summers, a cooler autumn, occasional snow in the winter, and longer days and warmer temperatures in the spring.
Overall, the Luxembourg climate is quite moderate, so just dress in layers and you should be fine. Temperatures average in the 60s (Farenheit) in the summer and the 30s (Farenheit) in the winter.
Traveling Soon? Don't forget your travel insurance.
Travel insurance is now more important than ever.
Travel insurance is probably less than you think it is. (Ex. For a week in Spain next month I'm paying less than $62.00.)
Travel insurance covers a lot more than you think it does.
It's better to have it, than need it and wish you'd bought it.
See for yourself. Check prices here.
Spring in Luxembourg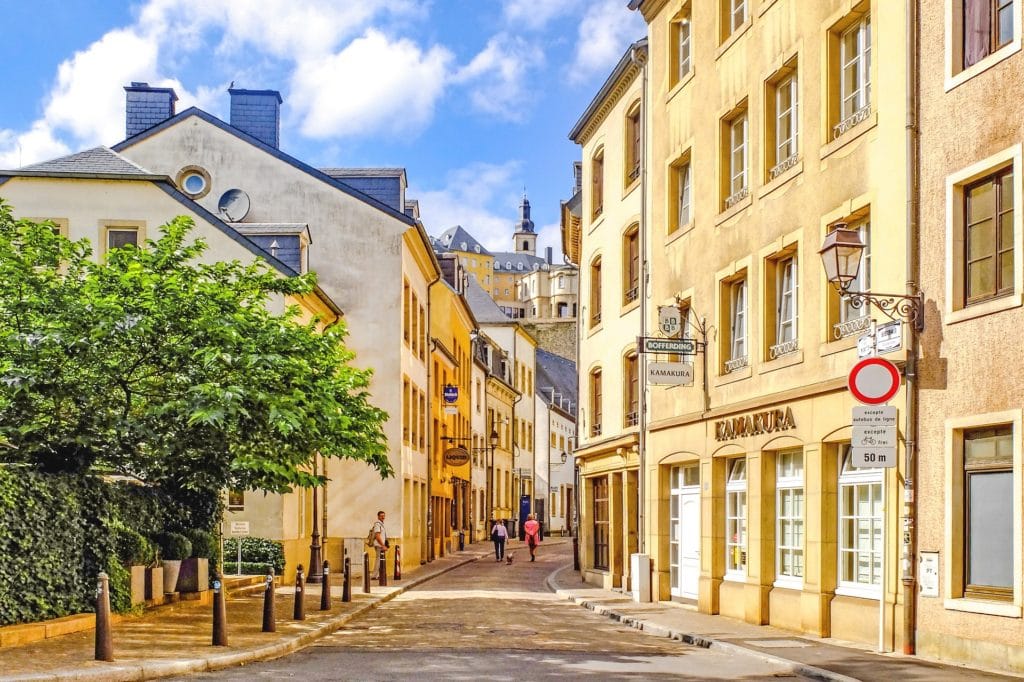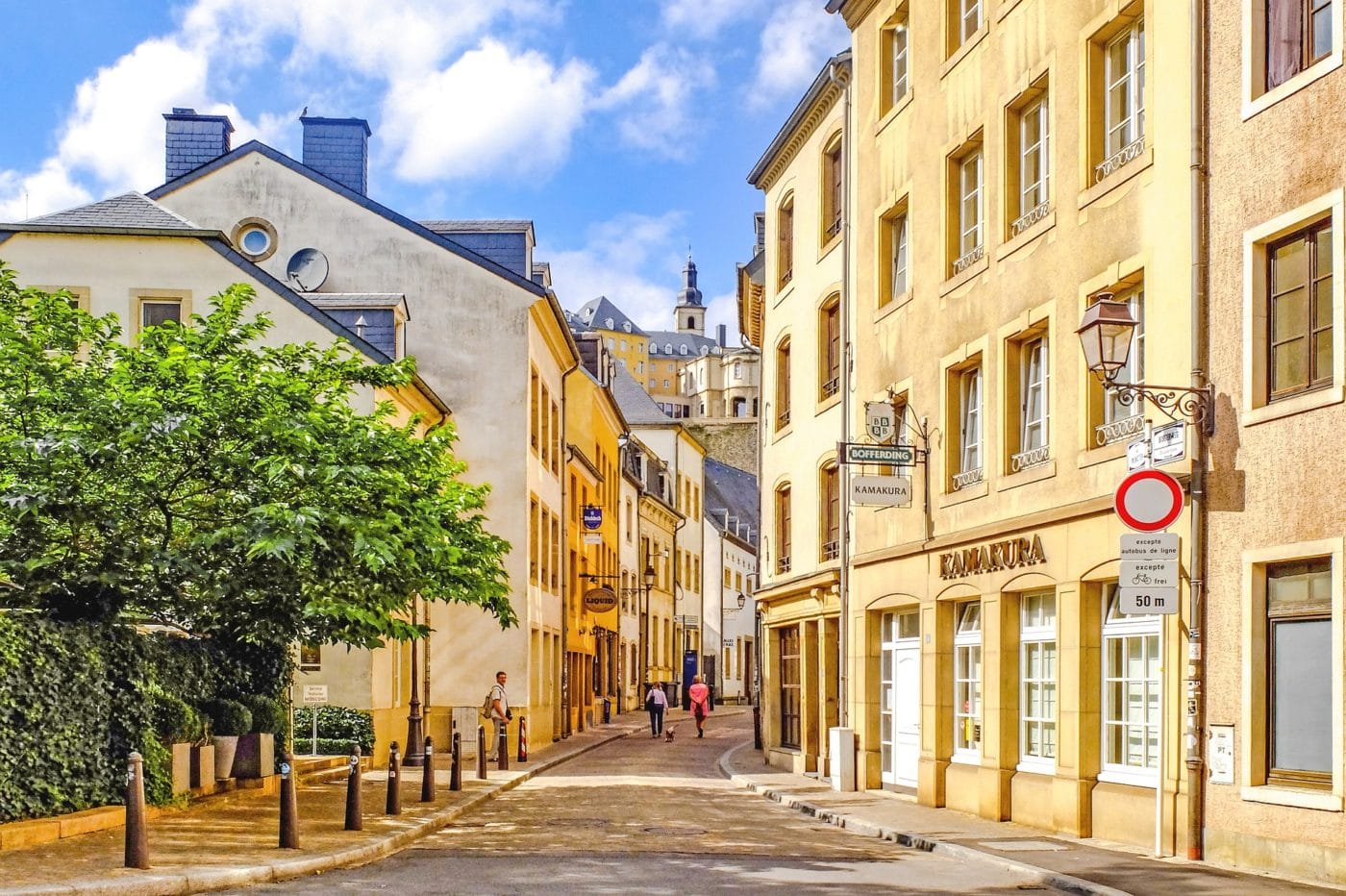 Spring in Luxembourg takes place from March through May.
Spring is a beautiful time to visit Luxembourg if you prefer moderate temperatures and less precipitation.
You'll find cities and towns across the country start getting busier this time of year as families begin venturing out and tourists slowly begin to reutrn. Crowds will remain small in the months before summer, so take advantage of lower prices on hotels and shorter lines at major attractions.
Spring is the perfect time to experience some of the best day trips from Luxembourg City. Many towns in the countryside offer an abundance of outdoor activities like hiking and kayaking that begin to open up come spring.
If hiking sounds fun to you, head to Mullerthal. You'll find tons of trails and a beautiful waterfall. For kayaking, head to the Sure River.
If you prefer history to outdoor adventures, make a trip to Beaufort to explore an 11th Century castle.
Summer in Luxembourg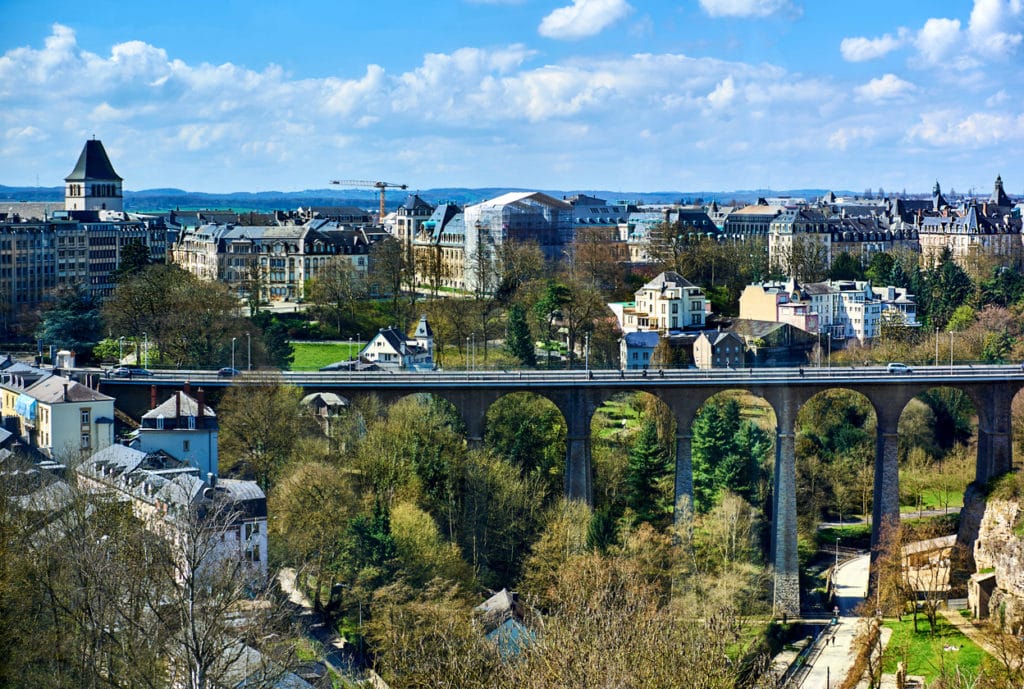 Summer in Luxembourg takes place from June to August.
If you don't want rain or chilly weather, then summer is the best time to visit Luxembourg for you. Along with warm weather, mostly sunny days, and blue skies, June also brings with it the height of the tourist season.
June, July and August are by far the busiest Luxembourg travel months, which means larger crowds, longer lines, and higher prices. But, you'll also get to experience the best weather Luxembourg has to offer.
One of Luxembourg's biggest holidays also takes place each year in June. National Day, the official birthday of the Grand Duke, takes place yearly on June 24th. To celebrate, there are military shows, street processions, live music, and fireworks.
I'd also like to note, that June 24th has never been the birthday of any of Luxembourg's Grand Dukes. I'll leave you to figure that out when you visit. The holiday does sound fun though, so if you can plan your visit during this time, you'll likely have a good time.
Between June and mid September, visitors can enjoy live music festivals in cities across Luxembourg. In the capital, there is the Summer in the City Festival that lasts from June to September. Other festivals can also be found in Eislek, Echternach, Lasauvage, and Beaufort.
Other cool events in summer in Luxembourg are Streeta(rt)nimation and Schueberfouer. Schueberfouer is more of an outdoor carnival with food, music, and carnival rides. Streeta(rt)nimation is an live street art event. Both festivals take place in the capital Luxembourg City.
Autumn in Luxembourg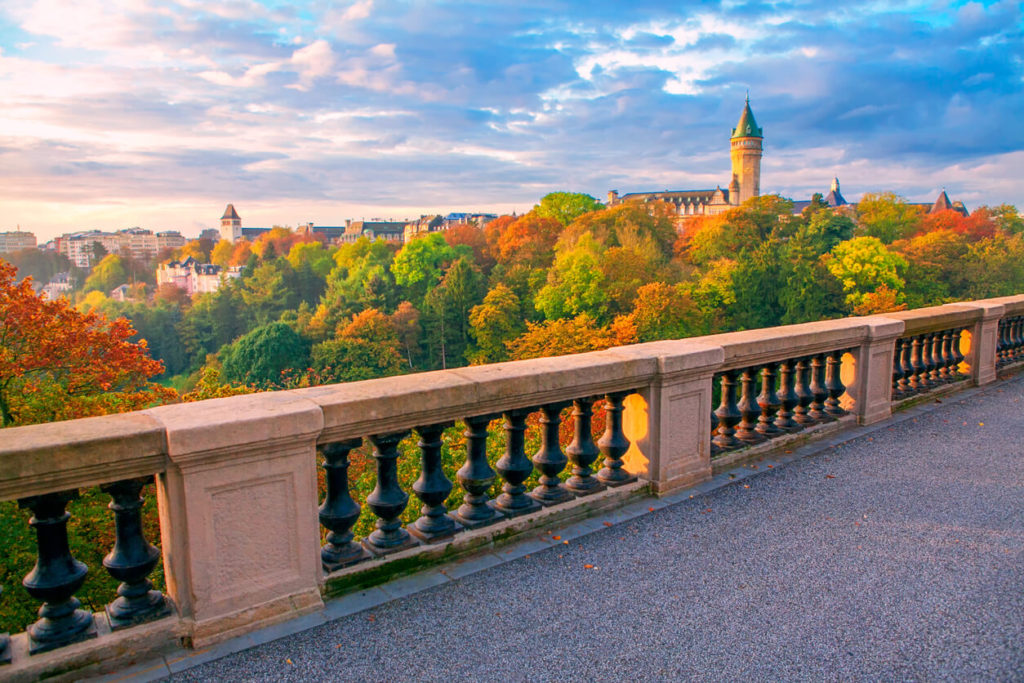 Autumn in Luxembourg takes place from September to November.
Autumn is perfect for travelers looking to avoid crowds and get score great deals on hotel rooms
Fall is my favorite time to visit Europe. The days are getting shorter, but I think the weather is perfect and I love how quiet even the most popular capital cities can be during this time of year.
If you're a fan of wine, you'll want to visit Luxembourg's wine region in Moselle to enjoy some of the country's local wine festivals.
If you're lucky enough to visit Luxembourg in October, you'll be greeted with beautiful fall colors and cozy sweater weather.
Both October and November are the perfect time for a Luxembourg road trip if you'd like to get outside of the big city and see the fall colors. You'll also get the opportunity to see some of Luxembourg's many castles. I recommend Vianden, Beaufort, and Clervaux, all of which are a short drive away.
If you arrive in Luxembourg at the very end of November, you'll also catch the beginning of the Winterlights Festival. More on this below.
Luxembourg in Winter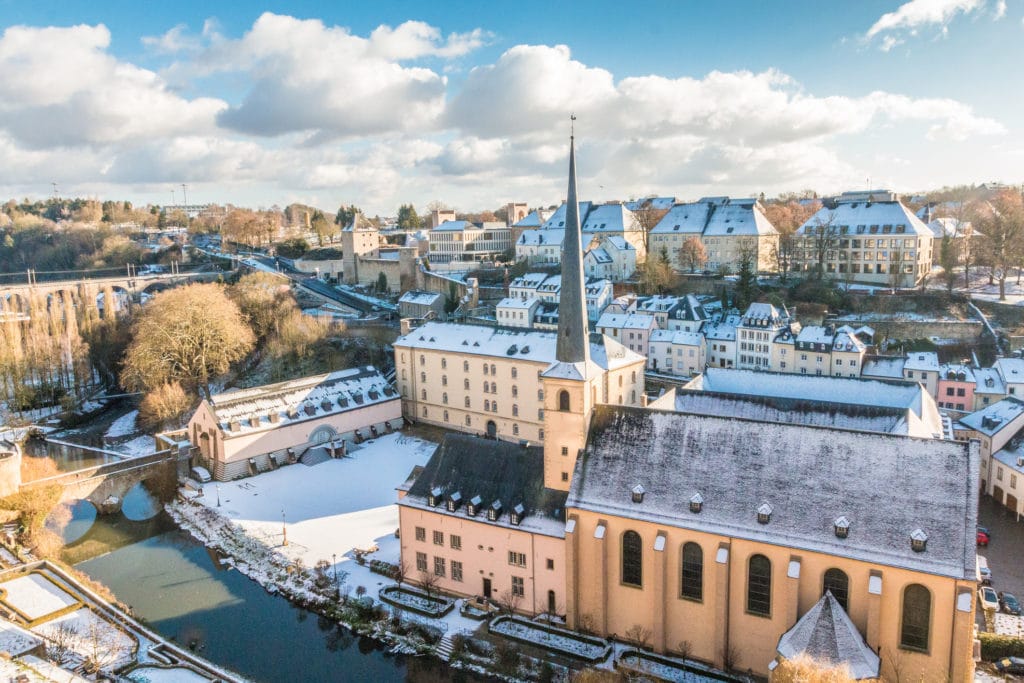 Winter in Luxembourg takes place from December to February.
For me, the best time to go to Luxembourg is in December. While you'll have to deal with the coldest Luxembourg weather, all the fun festivities will more than make up for it.
Winter is when the holidays are in full swing and the Luxembourg City Christmas Market, known as the Winterlights Festival, is open across the city center.
The Winterlights Festival features carnival rides, an ice skating rink, and dozens of chalets selling everything from local food, craft beer, mulled wine, and more. You seriously don't want to miss this.
During winter, cities around Luxembourg are decorated for the holidays and host unique local events with music, food, and fun activities for the kids.
If you're visiting at the end of winter in February, consider heading to Moselle. Moselle is Luxembourg's beautiful wine region that's dotted with Medieval towns. It's a wonderful place to spend a weekend if you're looking for a day trip from the city.
Even better, each February Moselle hosts an fun event called Wine Cheese Enjoy. The event featues, you guessed it, wine and cheese. It's worth the short trek to get there, juse be sure to get those tickets and hotel reservations in advance.
If you're wondering… Does it snow in Luxembourg?
Yes, yes it does. But not a lot. Your best chance to catch some snowfall in Luxembourg would be in December and January. The country is beautiful under a blanket of fresh snow.
I hope I've helped you determine the best time to visit Luxembourg and that you've learned something new about this tiny, but fun country. If you enjoyed this post, please consider sharing it. Thanks for reading.
Book Your Trip
Find the best flight deals by using Google Flights, then book direct with the airline. This is the search engine I use to compare flights and prices before booking my own trips.

BOOK YOUR ACCOMODATION
I recommend searching for hotels through Booking.com to compare hotels on amenities, location, and price. If you are a member of a hotel's rewards program, always book direct with the hotel. If you are not loyal to a specific hotel brand, using Booking.com for the best price.

TRAVEL INSURANCE
Travel insurance is more important than ever. For just a few dollars a day you can protect yourself and your trip. I personally use World Nomads, but whomever you choose, don't skip out on travel insurance. It can literally save you thousands of dollars.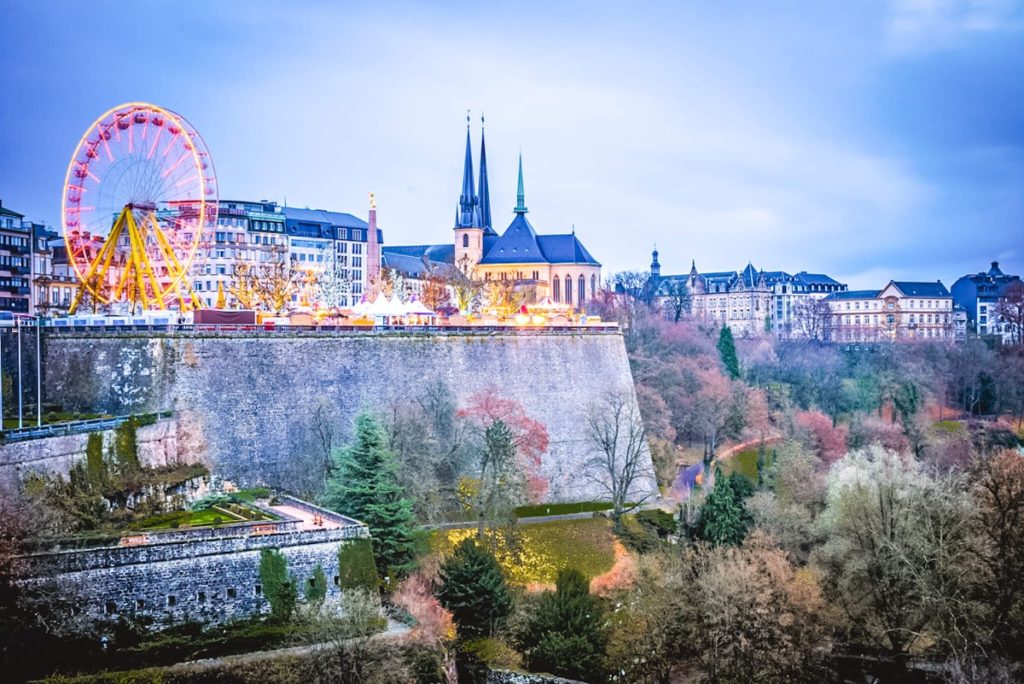 Photo by Sabino Parente The Luxembourg Christmas Market and Winter Lights festival is BACK for 2021! The Luxembourg Christmas Market is a must visit destination when spending …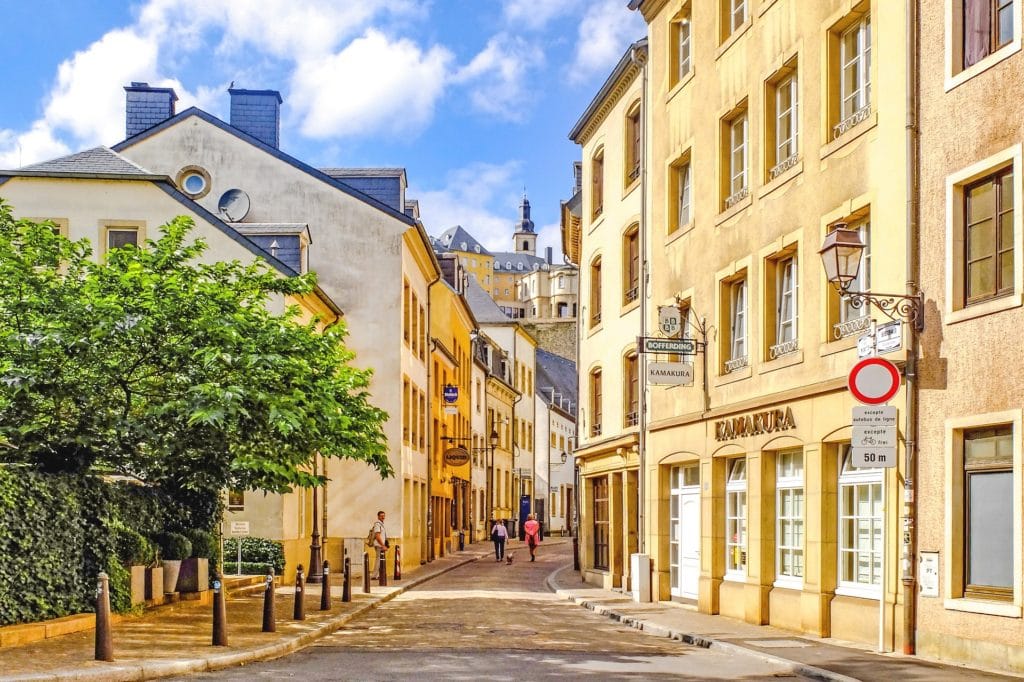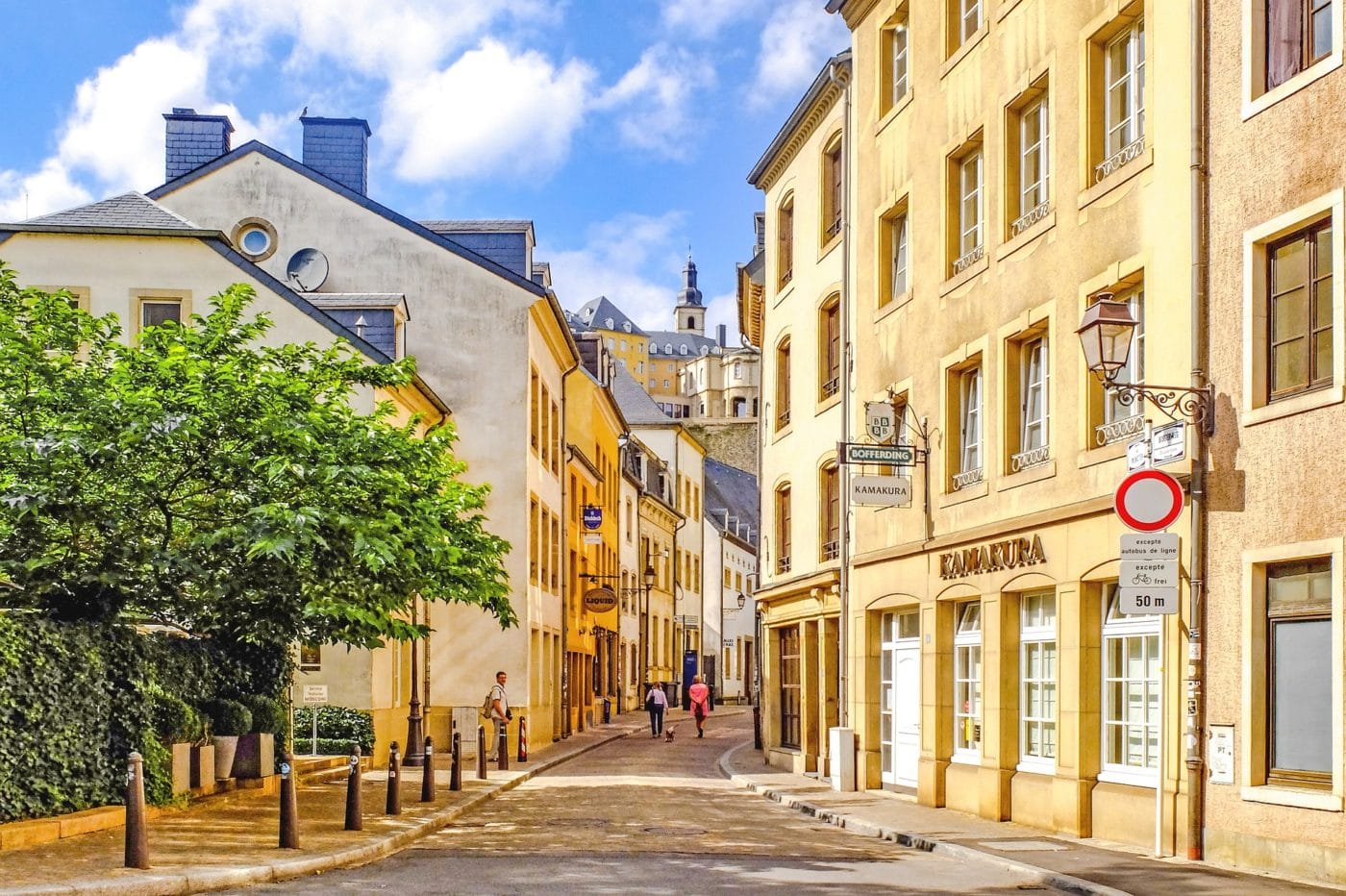 Photo by DJ Edj Looking for the best AirBnB in Luxembourg City? If so, this post will help you narrow down your search. I put together …