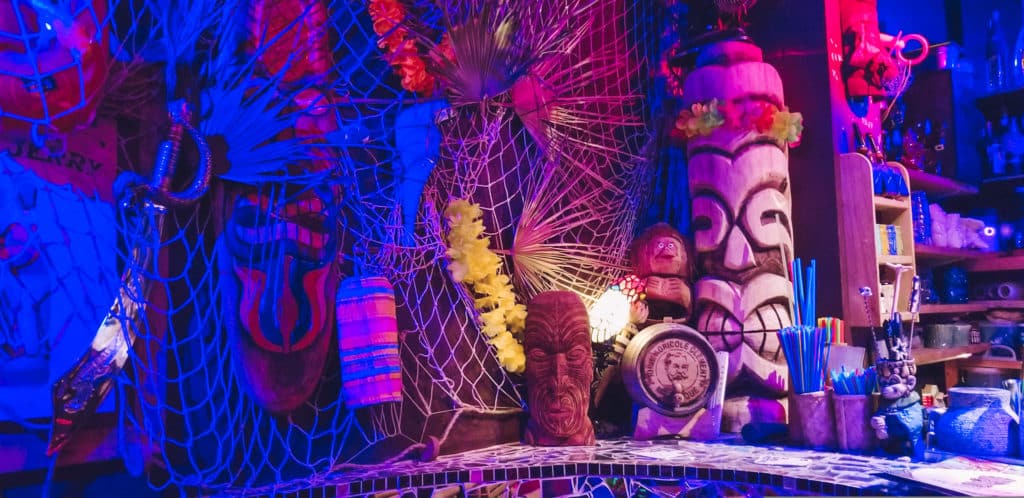 Are you both a traveler and lover of tiki style cocktails? If that's you, then this quick list of my Top 7 Best Tiki Bars in the World is just what you need.
Truth be told, there are likely hundreds of great tiki bars around the world.
This list however, is made up of the best tiki bars that I have personally visited on my own travels. Not all of them, but just the ones I liked best.
For me, the ambiance and quality of drinks really make or break a tiki bar.
In my opinion, all of the establishments on this list have nailed these qualities.  I hope you get the chance to visit each and every one.
Cheers. 
Top 7 Best Tiki Bars in the World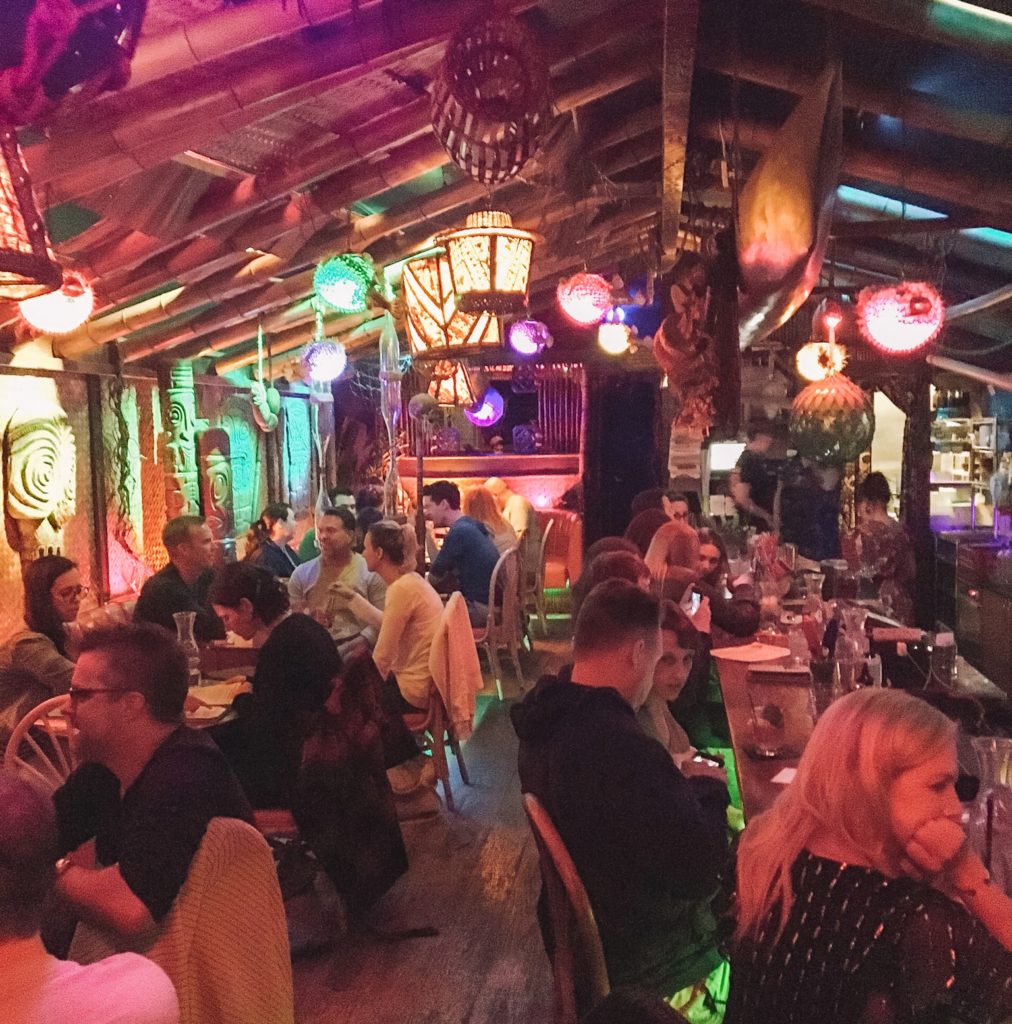 1. Hale Pele – Portland, Oregon
Hale Pele in Portland currently sits at the top of my favorite tiki bars list. This is probably one of the most comfortable tiki bar experiences one can have.
The bar is spacious and everyone gets a place to sit. Meaning, there's no fighting for tables and fear of losing your place when you go grab another round of drinks at the bar.
There's also no standing around if the tables are full. You'll have to put your name on the list and wait until something opens up. 
Service at Hale Pele is excellent. The staff are super friendly and happy to answer any questions or make suggestions.
The ambiance here is fun and energetic with a great selection of Polynesian and surf music playing in the background.
The lighting and decorations are perfect and really set the mood for the perfect tiki bar experience.
The drinks are made with high-quality ingredients and a heavy pour. Watch out for the Jet Pilot, that one really did a number on me.
Unlike most other tiki bars, they also have a small food menu. I can't recommend strongly enough that you try the Hawaiian Bread from the small plates menu. I haven't stopped thinking about these since my visit in 2016. 
Update: I returned to Hale Pele in 2019 and can confirm the Hawaiian Breads are still delicious.
Hale Pele is open daily at 4:00 p.m. They close at 12:00 a.m. Sunday through Thursday and 1:00 a.m. Fridays and Saturdays.
They also have a happy hour every day between 4:00 p.m. and 6:00 p.m. Seating is first-come, first-serve.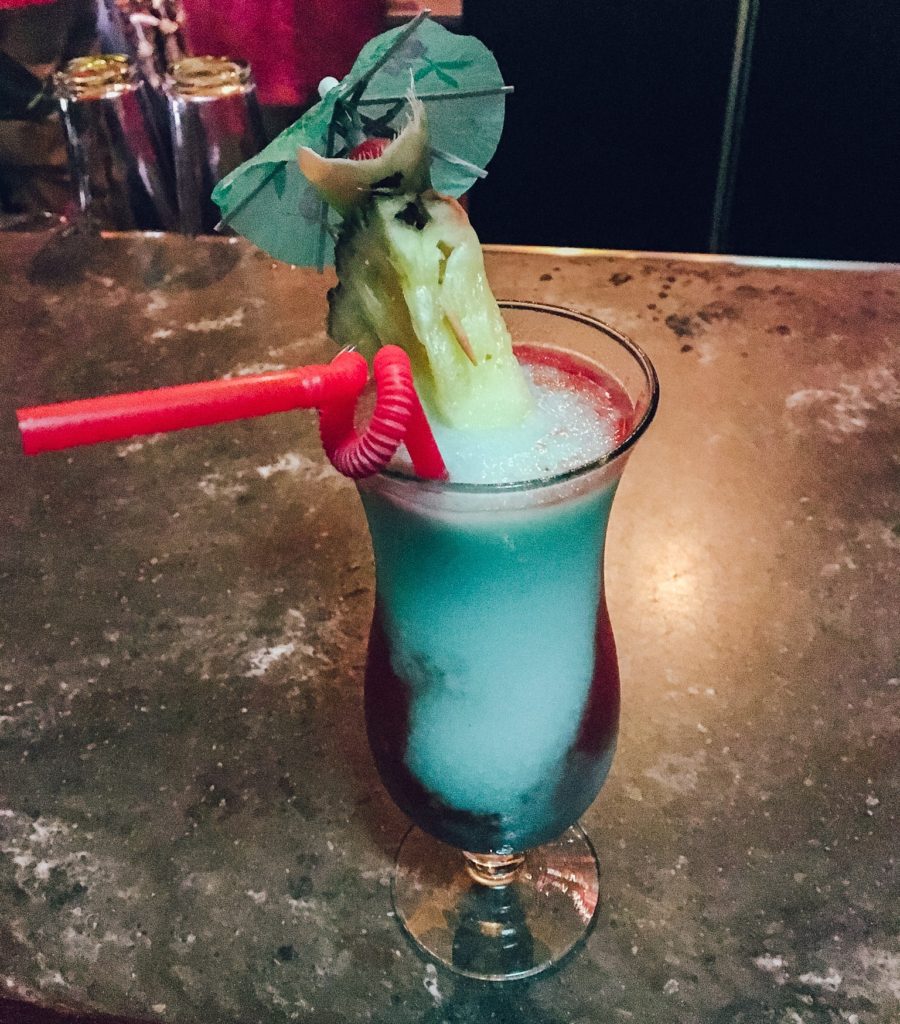 2. Trader Sam's Enchanted Tiki Room – Disneyland, California
Trader Sam's is super fun and easily makes this list of best tiki bars in the world.
Their drink service is both enthusiastic and theatrical. If you're lucky enough to score a seat inside the bar, you'll see what I mean.
Certain drinks on the menu are accompanied by sirens, yelling, chanting, thunder, and even rain.
I'll leave it to you to figure out which action is accompanied by which drink.
But I will say, one of the best drinks on their menu is the Tiki Tiki Tiki Tiki Tiki Rum. This drink is made with Reserve Rum, Cream of Coconut, orange juice, cinnamon, and nutmeg. It's creamy, refreshing, and delicious.
For those of you more experienced in the tiki bar scene,  this drink is a shot or two of rum shy of a traditional Painkiller.
But if you want traditional, just ask. They are happy to make it for you.
Trader Sam's also has a small food menu serving Polynesian inspired appetizers. 
You can find Trader Sam's in the courtyard of the Disneyland Hotel. There will be signs pointing you in the right direction once you're on the property.
Trader Sam's is open every day from 11:30 a.m. to 1:30 a.m. There is seating both inside and outside the bar. Seating is first-come, first-serve.
There is no waitlist, so if you see someone get up, just run and grab the table. If you don't, somebody else will.
While this bar is usually always packed, I've managed to get a seat every time I've visited. Just be patient.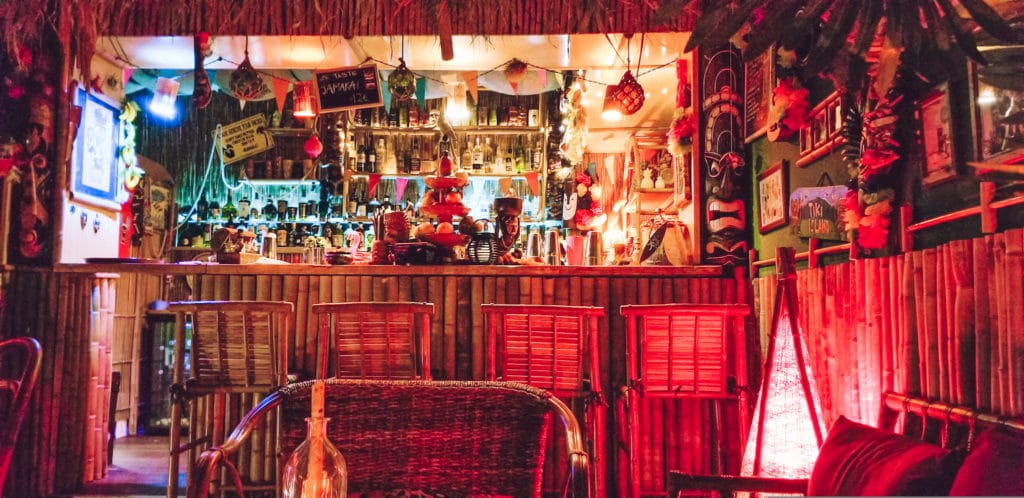 3. Makai Surf and Tiki Bar – Rome, Italy
Makai Surf and Tiki Bar takes the honor of being the first tiki bar in Rome. Let me be the first to tell you, they totally nailed it.
Makai Surf and Tiki Bar is actually two bars, with the Makai Surf Bar on the main level, and Makai Tiki Bar located downstairs. Go downstairs!
The drinks here are made with style using fresh high-quality ingredients. They even serve one of their drinks in whole pineapples, which was one of my favorites.
If you're hungry, you can order from their Polynesian inspired food menu. They serve a variety of snacks ranging from sushi and poke to tiki tacos. 
Makai Surf and Tiki Bar can be found in the Ostiense District, famous for its street art and hipsterish vibe.
You can get here easily from the Historic District with a short Uber ride.
The bar is open from 6:00 p.m. to 3:00 a.m. Most seating is first-come, first-serve. However, there is some reserved seating if you call ahead. 
If you're looking for another great place to explore in Rome, check out the city's charming Trastavere neighborhood.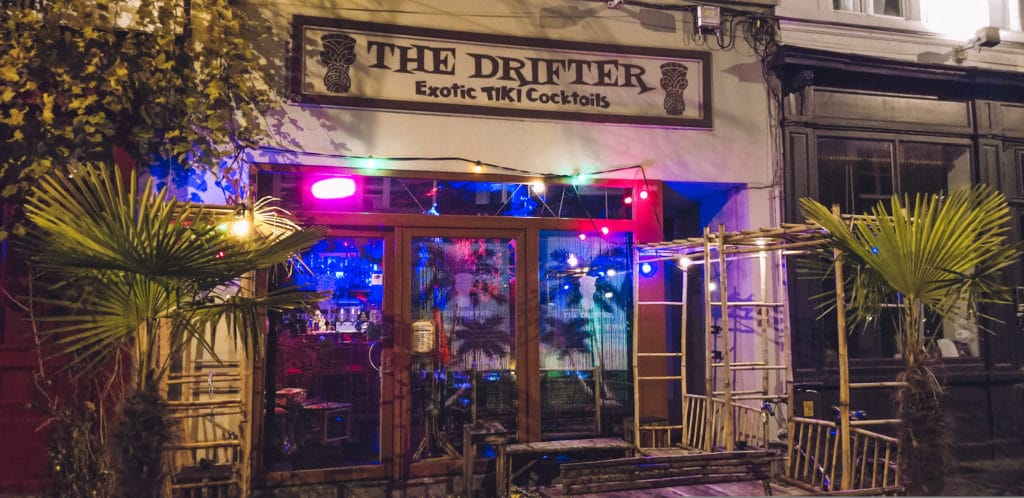 4. The Drifter – Ghent, Belgium
As far as the best tiki bars in the world go, The Drifter surprised the heck out of me and rightfully earned it's place on this list.
I did not expect this place to be so wonderful, but it exceeded my expectations.
The Drifter is a cozy little tiki bar located in lovely Ghent, Belgium. The bar itself seats less than 30 people, but there are a few additional seats outside.
While the venue is small, the drinks and service here are both outstanding. My favorite drink on the menu was the Kinky Colada with Cinnamon Rum, homemade coconut cream, pineapple juice, and lemon.
It was reminiscent of a Painkiller, potent, creamy and smooth.
The bartender on the night of my visit was really friendly and informative.
I was drinking alone, so he took the time to talk with me about the bar and even let me sample one of the new rums that they made. 
The bar is decorated with tons of tiki memorabilia and mugs from other tiki bars around the world. Surf music plays in the background at just the right volume. 
The Drifter is open daily from 5:00 p.m. to 11:30 p.m. Sunday through Thursday and 5:00 p.m. to 1:30 a.m. Friday and Saturday. Seating is first-come, first-serve.
The locals here are friendly so don't be afraid to share a table if the place is busy, you just may make some new friends.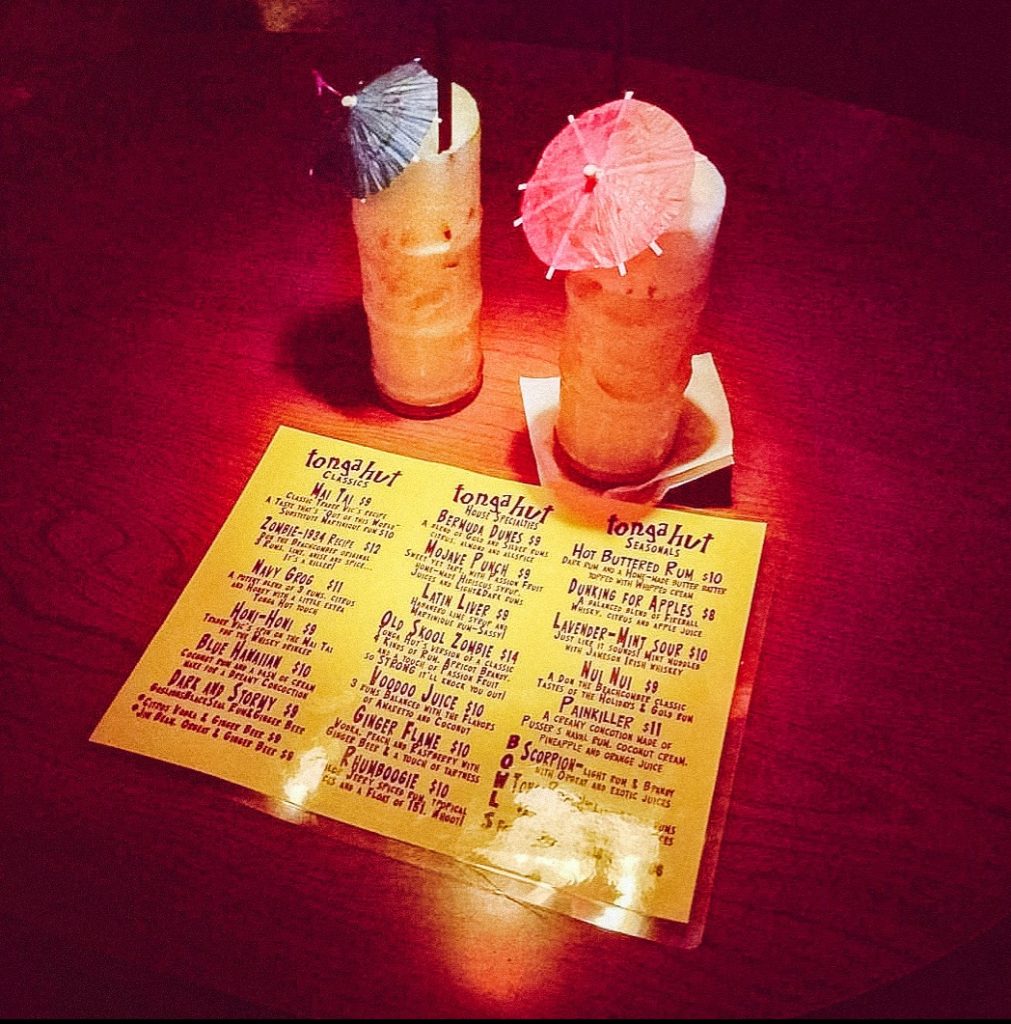 5. Tonga Hut – North Hollywood, California
Tonga Hut is a true Hollywood institution and LAs oldest tiki bar, serving classic tiki cocktails since 1958.
A spacious dark bar adorned with tikis and red candles makes for the perfect tiki bar setting.
What's even better is that they make some of the best traditional tiki cocktails you'll ever have.
The bartenders at the Tonga Hut consistently set the bar really high when it comes to a well made tiki cocktail. You won't be disappointed.
As is customary with tiki drinks, most will be served with a heavy pour, so be sure to pace yourself.
The other great thing about the Tonga Hut bartenders is that they are really nice and know a lot about tiki culture, bartending, and drinks. Strike up a conversation, you just might learn something.
Tonga Hut holds events on many weekend nights. You can see anything from rockabilly to surf bands to burlesque.
It's a really fun place to be on the weekends if you plan your visit accordingly.  Arrive early to get a booth.
Seating is first-come, first-serve. 
Tonga Hut also has a second location out in Palm Springs if you happen to be out that way.
The ambiance is different from the North Hollywood location, but the drinks are just as good.
Tonga Hut is open daily from 4:00 p.m. to 2:00 a.m. Happy Hour is every day from 4:00 p.m. to 8:00 p.m.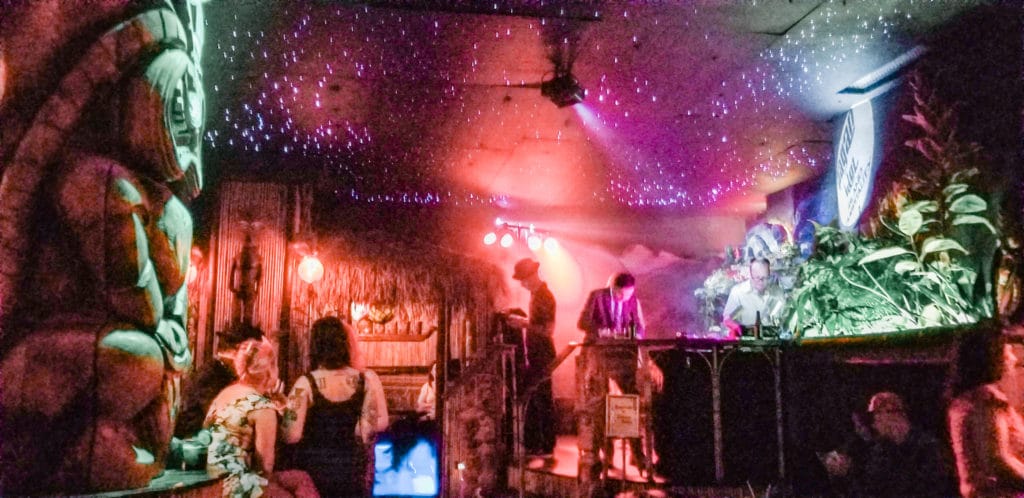 6. Pagan Idol – San Francisco
Pagan Idol is the kind of place you want to end up at after whatever else you decided to do on this night.
It has a very lively and extremely fun atmosphere. During the night of my visit there was a DJ playing Exotica music.
There were lots of people, but it wasn't so crowded that it was uncomfortable.
Pagan Idol would be the perfect place to end up after a girls night out, or it could just be your destination.
Both service and drinks here were fantastic. I'll be honest, I have no idea what I was drinking, but I remember they were good! If I had to guess, I think I had at least one Painkiller, but that's just a guess.
The main bar area is decorated in a nautical theme like the belly of a large wooden ship. The large back room transports you to a tropical island like paradise, complete with an erupting volcano.
There's plenty of seating, a dance floor, and an elevated area for the DJ.
You're going to love this place.
Pagan Idol is located in San Francisco's Financial District. They are open Monday through Friday from 4:00 p.m. to 2:00 a.m. and Saturday from 6:00 p.m. to 2:00 a.m. They are closed on Sundays.
Also, if you're looking for a great Happy Hour spot in San Francisco, head over to the Tonga Room in the basement of The Fairmont Hotel.
They have a rather lively happy hour with tiki themed drinks and appetizers.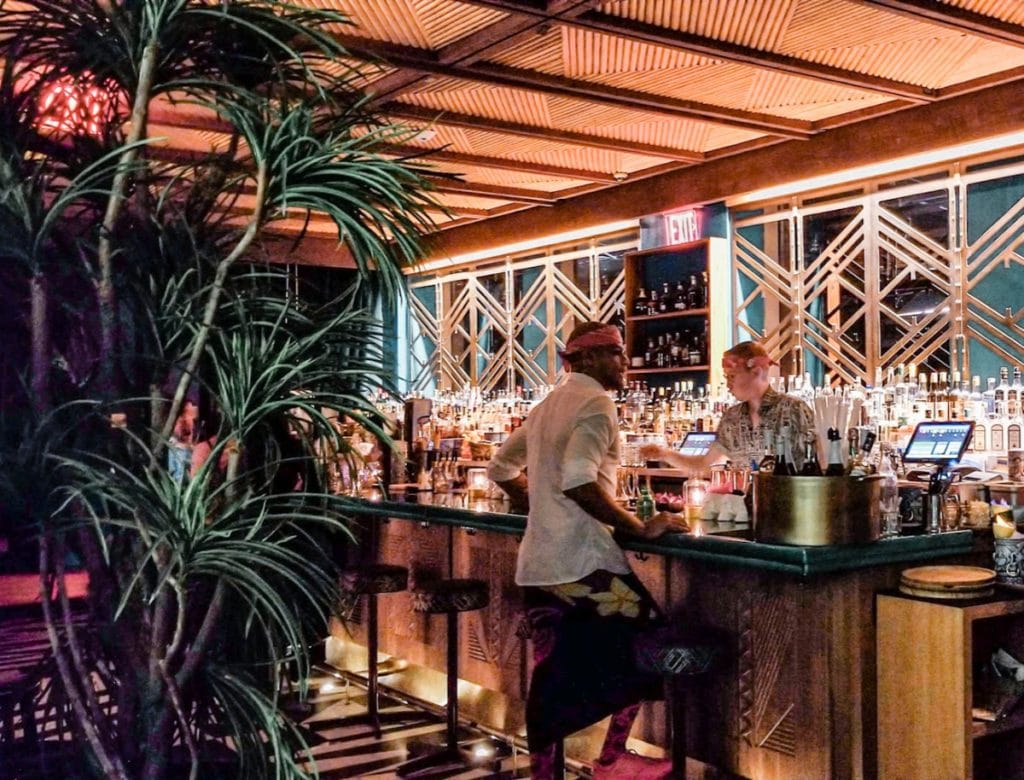 7. The Polynesian – New York City
The Polynesian is one of several tiki themed bars in New York City, but this is the only one I've visited so far.
I loved how spacious this bar was and that there was so much seating. This is a great place to come for drinks with a group of friends before dinner or a show.
Early evenings didn't seem too busy, and the music isn't so loud you can't hear each other.
I thought the overall ambiance of this place was pretty good, sticking with a tropical theme.
During my visit they were playing rockabilly and indie rock style music, which gave the place a lively and fun atmosphere.
As far as the drinks go, The Polynesian had a large menu with both classic tiki drinks like the mai tai, along with some unique original creations.
I started out with the Planter's Punch, which featured plenty of rum, grenadine, bitters and lime. It was light and refreshing, I liked it a lot.
From there I moved on to the Vaya Kon Tiki, which was served in a traditional tiki mug with fire. This drink featured rum, a cayenne coconut cream and fresh juices, it was delicious.
Overall I really enjoyed my experience at The Polynesian. For me the ambiance was better geared towards a place you go before your final destination for the night.
I would come here for drinks before dinner or before a concert nearby.
The Polynesian is located inside the Pod Hotel in New York City. They open daily at 4:00 p.m.
You can make a reservation in advance on their website if you like.
---
That wraps up my current list of the Top 7 Best Tiki Bars in the World. There are still many I have yet to visit but will update this list as soon as I do.
Currently on my tiki bar wish list are the following:
Smuggler's Cove: The San Francisco tiki bar famous for being owned by the incredible Martin Cate
Three Dots and a Dash: Chicago's most popular and famed tiki bar.
Wreck Bar: The famous tiki style bar in Fort Lauderdale complete with a live mermaid show by the enchanting MeduSirena.
Latitude 29: The popular tiki bar and restaurant in New Orleans
Trader Vic's: There are Trader Vic locations around the world, I'd like to get to any of them.
The Inferno Room: Tiki themed bar with delicious Polynesian cusine in Indianapolis.
Psycho Suzi: A tiki inspired bar with tropical cocktails and American bar food in Minneapolis.
Lost Lake Tiki: Another Chicago area tiki bar serving classic drinks and asian cuisine.
What do you think? Do you have any suggestions for this list of best tiki bars in the world? Let me know in the comments below. 
Book Your Trip
Find the best flight deals by using Google Flights, then book direct with the airline. This is the search engine I use to compare flights and prices before booking my own trips.

BOOK YOUR ACCOMODATION
I recommend searching for hotels through Booking.com to compare hotels on amenities, location, and price. If you are a member of a hotel's rewards program, always book direct with the hotel. If you are not loyal to a specific hotel brand, using Booking.com for the best price.

TRAVEL INSURANCE
Travel insurance is more important than ever. For just a few dollars a day you can protect yourself and your trip. I personally use World Nomads, but whomever you choose, don't skip out on travel insurance. It can literally save you thousands of dollars.


Want to save it? Pin it.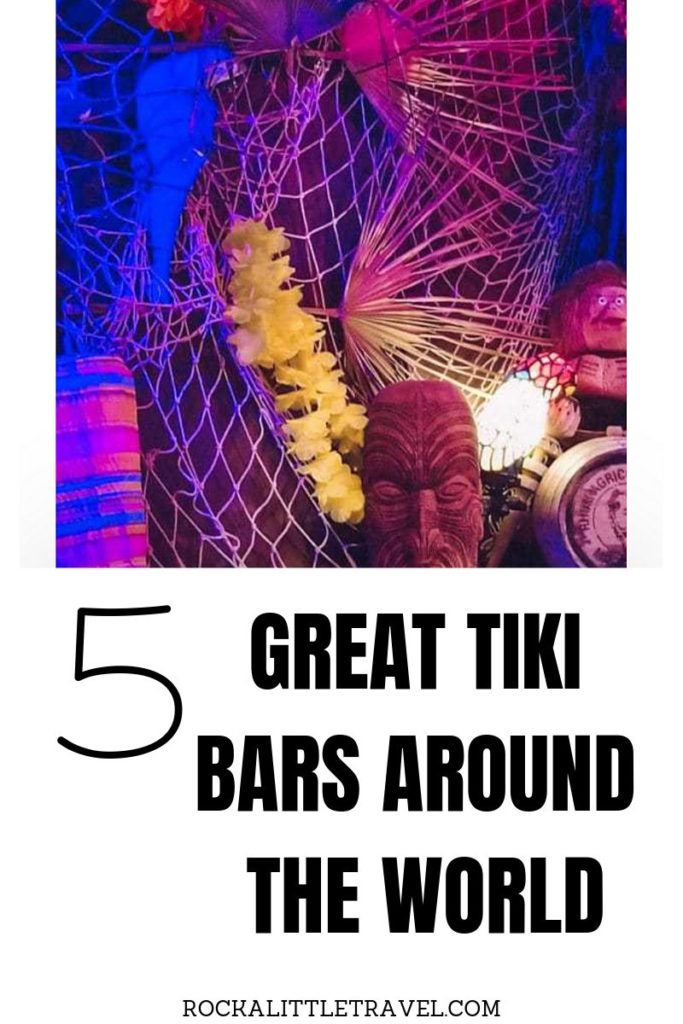 Related Posts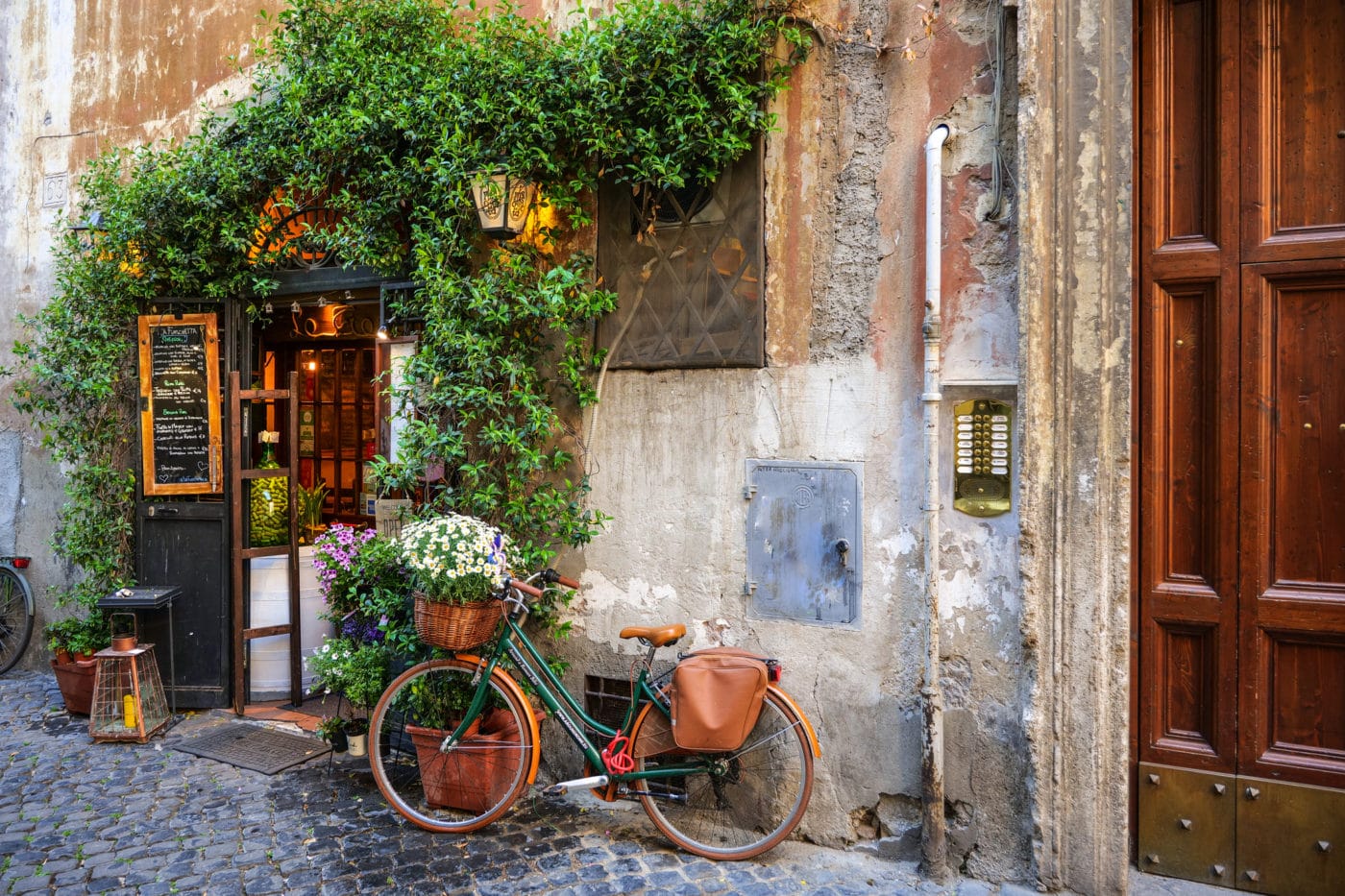 Photo by Photo Beto Is Trastevere worth visiting? You better believe it is. In fact, it's my favorite neighborhood in Rome and why I wanted to …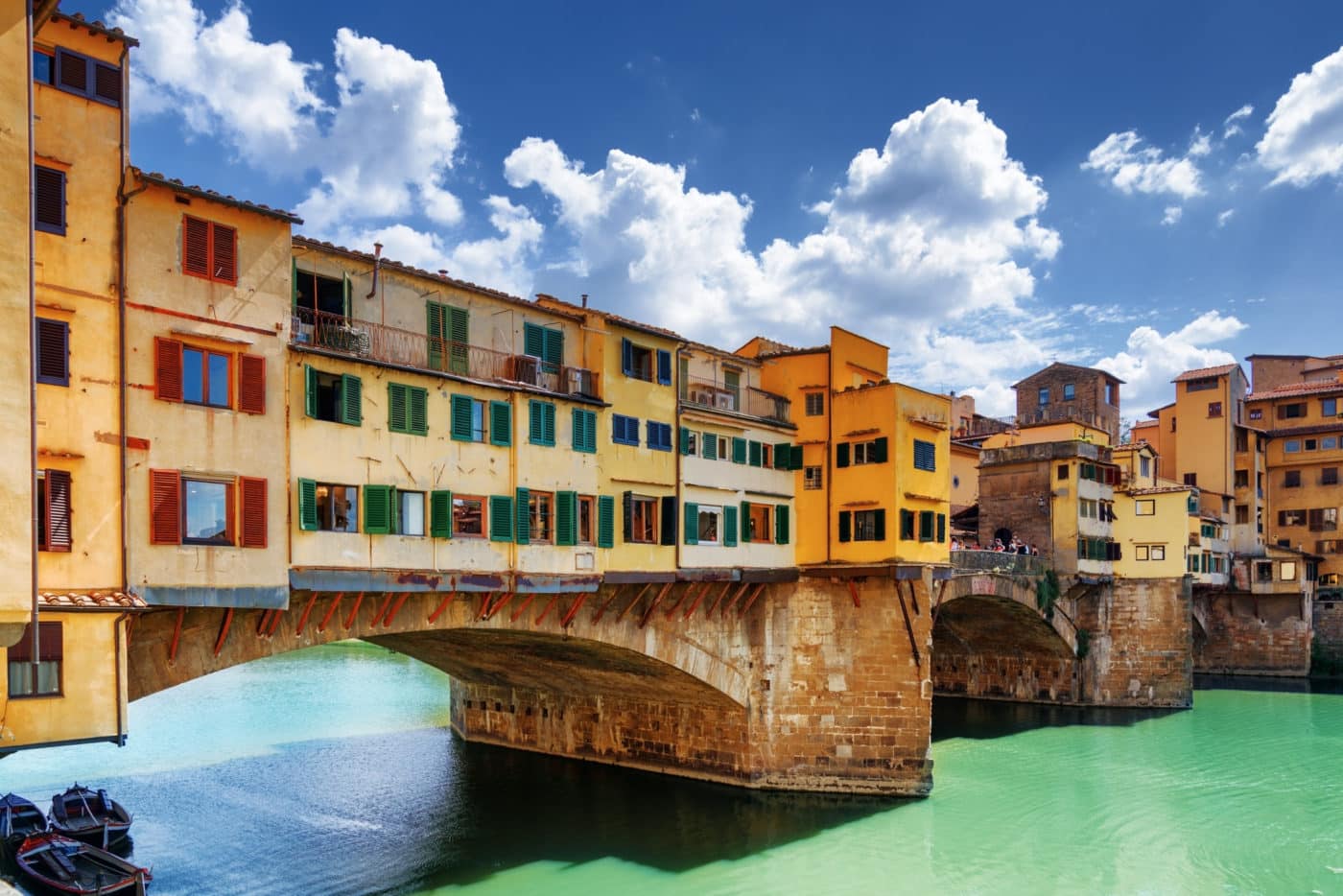 Want to know if it's possible to see Florence in a day? Keep reading. While I think anyone could easily spend a week here and not …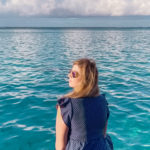 Eden Fite
Part-time Traveler | Dog Lover | Avoider of Crowds
I help busy people find creative ways to travel more.