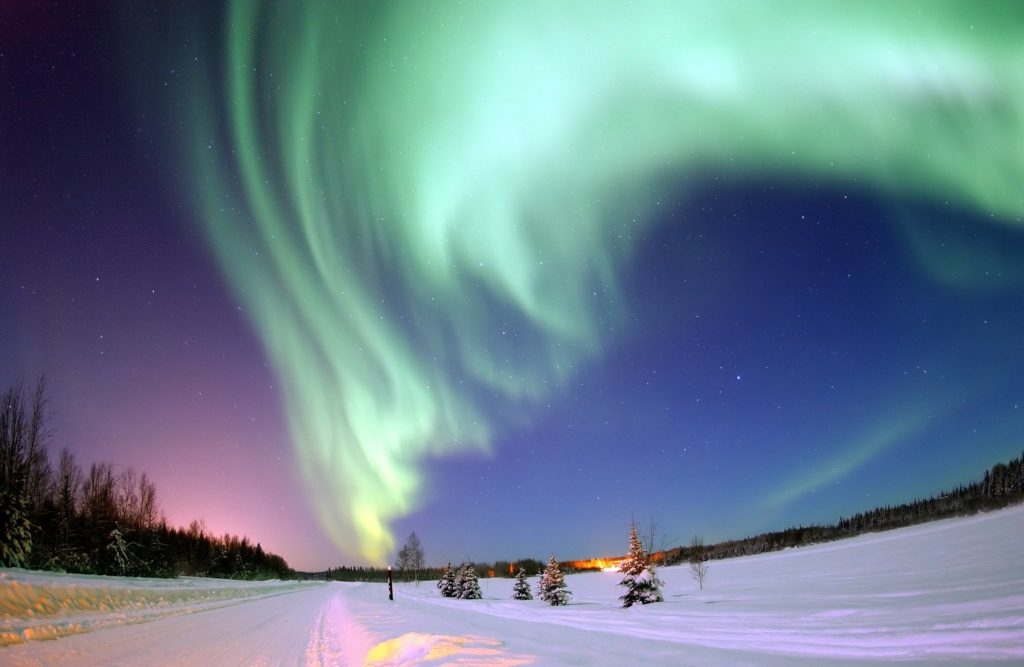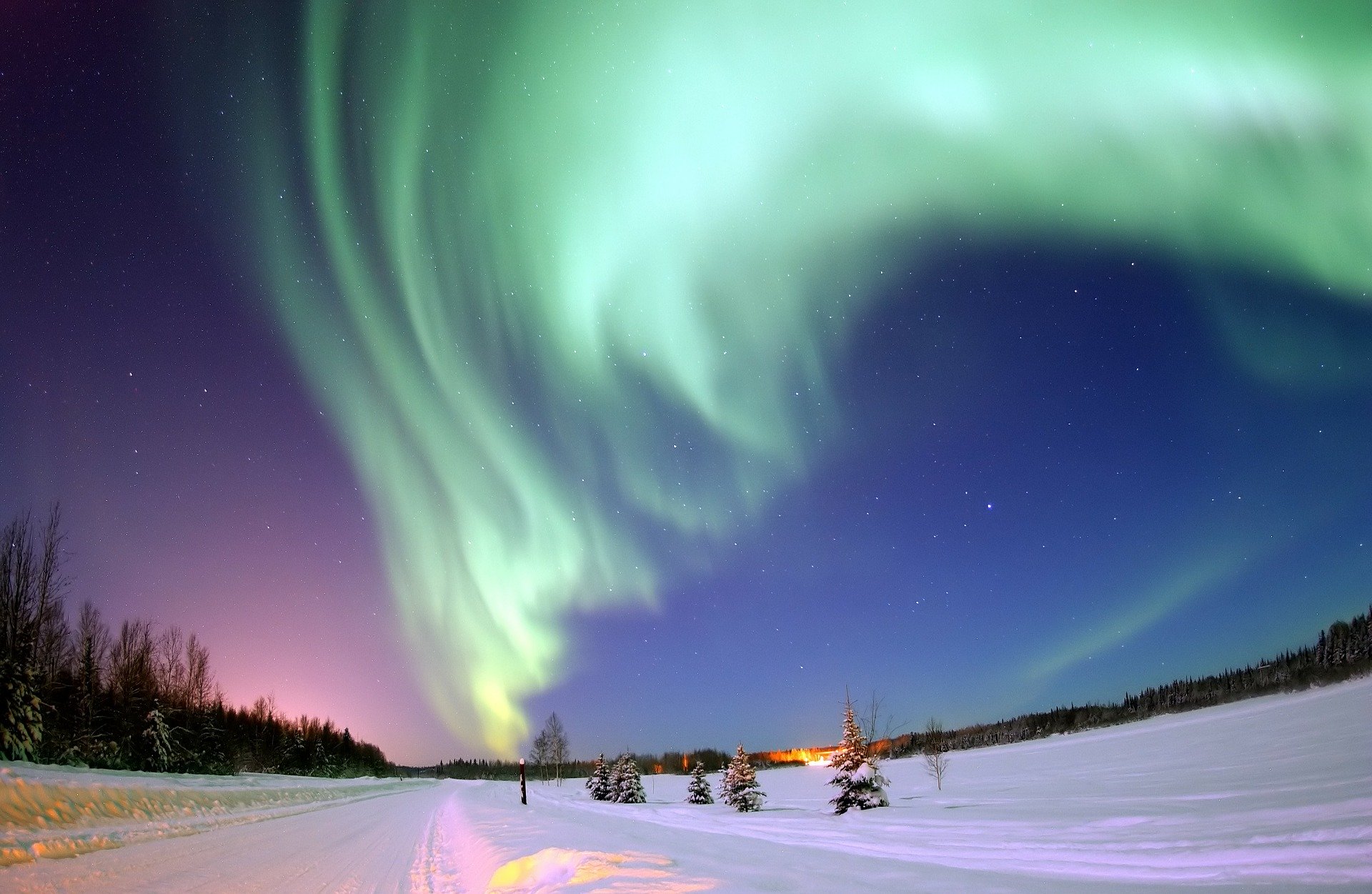 If it's totally helpful travel tips for Iceland you're seeking, then look no further.
Iceland is a total bucket list destination and one I think everyone should visit at least once in their lifetime.
If you're lucky enough to be planning that trip of a lifetime right now, you can use these travel tips for Iceland to make sure your trip is as incredible as the destination itself.
I was just in Iceland recently and got to spend time in Reykjavik, the South Coast, and the Golden Circle.
I highly recommend visiting all three of these destiantions at the very least. But enough about me.
Without further ado, here are my very helpful 20 travel tips for Iceland.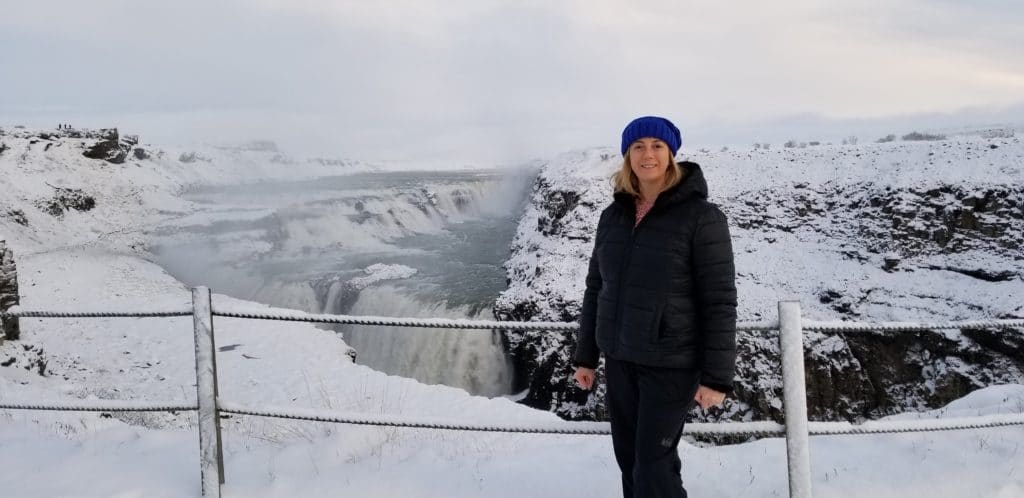 1. Dress for the weather
The weather in Iceland can be unpredictable. One minute its calm and sunny, the next minute it feels like an Arctic storm has come and you're going to die.
The best thing you can do is be prepared for cold weather, especially if you're visiting in the winter.
Invest in a warm jacket, a hat, and some gloves before your trip in case you need them. It's better to be overdressed than underdressed when the temperature drops.
You also want to make sure your gear is waterproof. This goes for both your boots and your jacket.
While you're at it, I recommend investing in waterproof pants as well. Many of the waterfalls you'll likely visit are known to spray visitors who get too close.
Also, don't forget to bring a reusable water bottle with you when out on day trips.
Many of the most popular tourist destinations are quite a ways outside the city and there may not be a convenience store nearby.
2. Make a packing list
Since Iceland is such a unique destination, and one that often comes with severe weather, you'll want to put together an Iceland packing list in the days leading up to your trip.
I recommend breaking your packing list up into several different categories based on the activities you plan to participate in such as Blue Lagoon, Golden Circle, snorkeling, etc.
Use your Iceland packing list as a checklist as you're packing your bag. This way, you will be less likely to forget something important.
3. Be prepared for the wind
Iceland can get extremely windy, which is especially brutal in the icy winter months.
Be prepared for the wind when putting your packing list together and deciding what to wear during your trip.
For example, if you're expecting rainy weather, I would skip the umbrella and just pack a rain coat, rain boots, and waterproof pants.
Chances are it will be so windy your umbrella will be useless, or just blow away (true story).
This prepraration goes for hairstyles too. Don't spend too much time styling your hair every morning. It will not look like that at the end of the day anyway.
You should also bring a hair tie. While we're on the subject, short, flowy dresses may not be such a good idea either.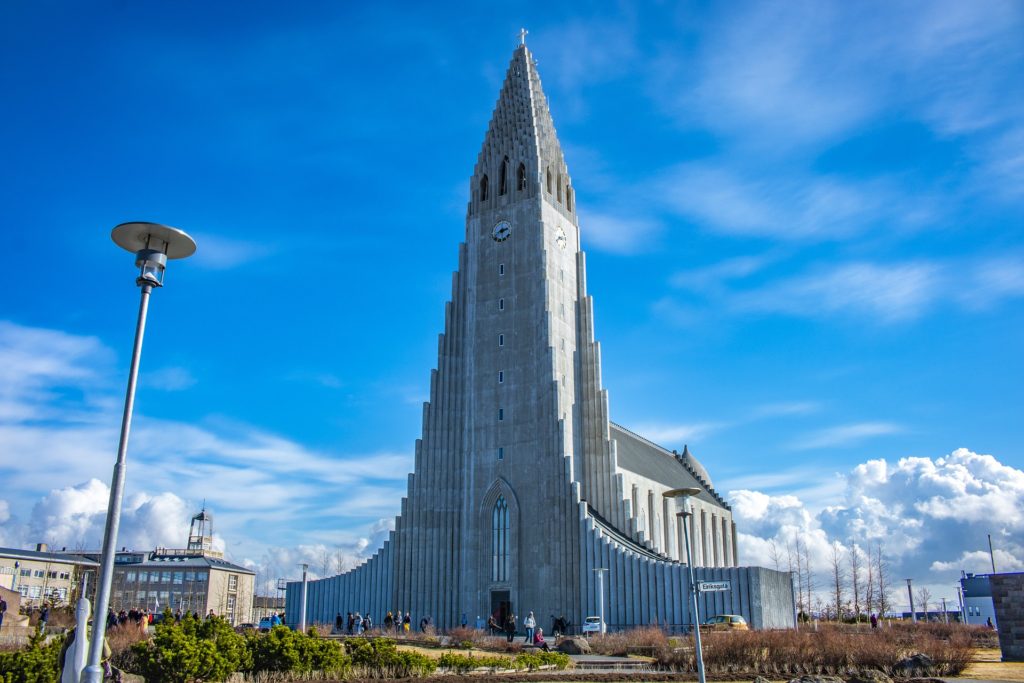 4. Don't skip Reykjavik
Even if you've come to Iceland for its natural beauty or to visit the Blue Lagoon, be sure to spend at least one day in Reykjavik.
Iceland's lively capital is a fun place to spend time, especially after a long day exploring the South Coast or Golden Circle.
Reykjavik has tons of great restaurants and bars to try during your visit. They actually have an impressive cocktail scene as well, so be sure to get some drinks before you leave.
Besides the food and drinks, there are many popular tourist destinations in Reykjavik.
Some of the main spots you'll want to hit are Hallgrimskirkja (pictured above), Harpa Concert Hall, the Sun Voyager, and Laugavegur Street.
Reykjavik is a fairly small, walkable city, so you can hit all those spots in a single day or evening during your visit.
5. Use a travel credit card
Make sure to bring along a good travel credit card when visiting Iceland.
You'll want one with no foreign transaction fees to avoid being surprised when you get your bill after your trip.
Also, try to set up a pin before you leave as well. Some stores or gas stations may ask for a pin when using your credit card.
For the most part, you won't need a lot of cash when traving through Iceland, especially in Reykjavik. Just about everywhere takes credit cards.
I did pull out a small amount of Icelandic Krona during my visit, but this was just to tip our tour guide when taking day trips.
If you decide to take out cash as well, I wouldn't take out too much. No more than $12,000 ISK or so (about $100 USD).
Of all my travel tips for Iceland, this one may very well save you some serious money, especially if you have a good travel credit card.
It's also a great way to earn a ton of points if you happen to own a Chase Sapphire card.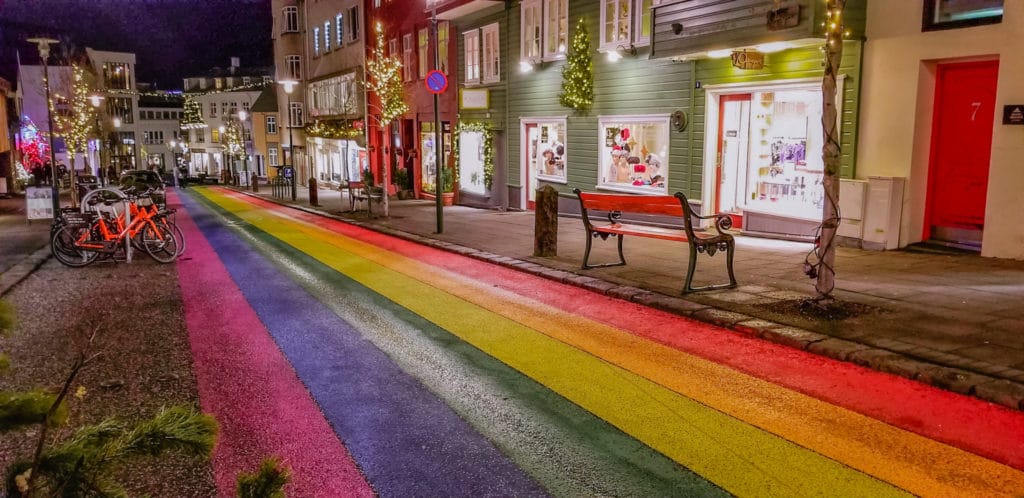 6. Enjoy Reykjavik at night
Reykjavik tends to be on the slow side in the evenings.
It seems everyone visiting Iceland likes to get to bed early in order to wake up for their day trips to black sand beach or the Golden Circle.
So if you don't mind being out a bit later, plan to spend some time at night exploring the city.
I was in Reykjavik for three nights this past December and went out exploring the city every night after returning from day trips to the south coast and other areas just outside the city.
While there were a few groups of people out and about, there weren't that many. I found myself alone at Hallgrimskirkja more than once.
I even had Skólavörðuhæð Street (try to pronounce that!) all to myself at times as well.
If you like to head out alone to get pictures when you travel like I do, nighttime may be the best time to do this if you have day trips planned in the mornings.
7. Visit in the off season
We all know Iceland is a wildly popular tourist destination. So if you'd like to avoid the crowds and high hotel prices, visit in the off season.
The busiest months for tourism in Iceland are between June and August. This is when the weather is warmer and the days are longer.
However, if you don't mind shorter days and colder weather, consider visiting Iceland between November and February. This is when you'll find the lowest airfare and hotel prices.
Much to my pleasure, you'll also often find yourself alone at some of the most popular tourist destinations. I love it so much when this happens because I don't like other people.
Plus you'll save a bunch of money, so its worth the icy temperatures and occasional arctic storms.
8. Stay just outside the city center
If you'd like to save a bit more money on your travel costs, book a hotel just outside the city center.
No matter where you're traveling, you'll almost alway pay more to have a hotel right in the heart of the ciy.
If you want to pay less for your hotel room, find a hotel that is just far enough outside the city that you get a good deal, but close enough that you can still get to the city center in a reasonable amount of time.
It's a delicate balance, but it's worth the time you put into finding the right accomodations. During my visit to Iceland in December I stayed at Cabin Hotel.
It was a budget hotel but plenty nice enough with free breakfast and comfortable beds. It was about a 15 minute walk from the hotel to the city center.
Another benefit of staying just outside the Reykjavik city center is that you'll be able to get picked up directly from the hotel by tour operators.
For many of the hotels in the city center, you will have to walk to a bus stop or other meeting location for your tour pick ups.
Reykjavik does not allow large vans and busses in the middle of the city, so if you're booking a lot of guided group tours, keep this in mind.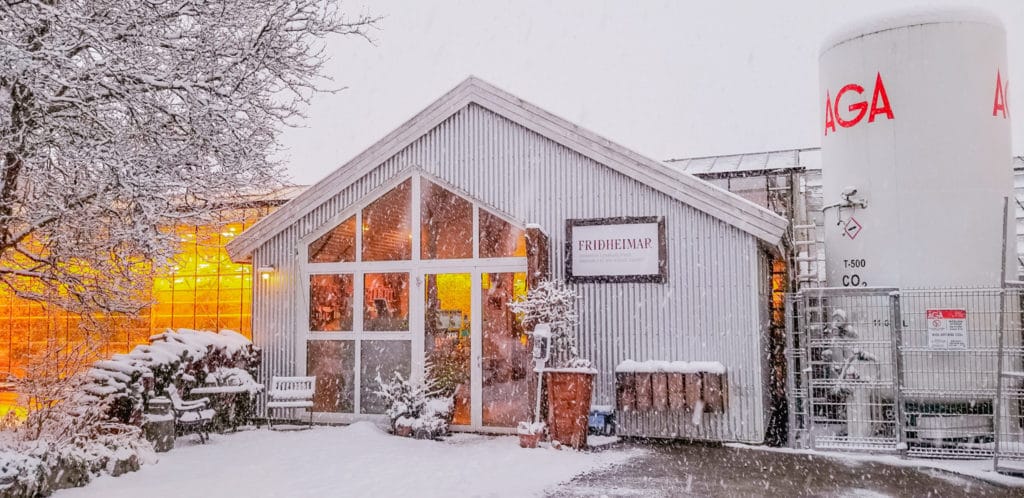 9. Visit Fridheimar greenhouse
If you're going to be visiting the Golden Circle, do not, I repeat do not skip Fridheimar greenhouse.
The Fridheimar greenhouse is one of the more popular greenhouses in Iceland, but it is one of many. At Fridheimar they grow tomates using the natural geothermal heat from the area.
Visitors are welcome to come and see the tomatoes and learn about how they are grown. Short, informative tours are also available upon request.
What's even better though is that they have a restuarant on site where they serve delicious tomato soup, tomato pasta, tomato beer, bloody mary's, and tomato desserts.
Do yourself a favor and make sure you're hungry when you arrive.
Then order a tomato soup and the tomato cheesecake. Both of these are fantastic and you can thank me later. Your welcome.
Fridheimar greenhouse also has a giftshop where they sell their famous tomato soup in jars to take home.
They also sell various sauces and jams. Samples are available so you can taste the items before you buy.
If tomato soup and beer are not enough to convice you… there's more. They've also got Icelandic horses.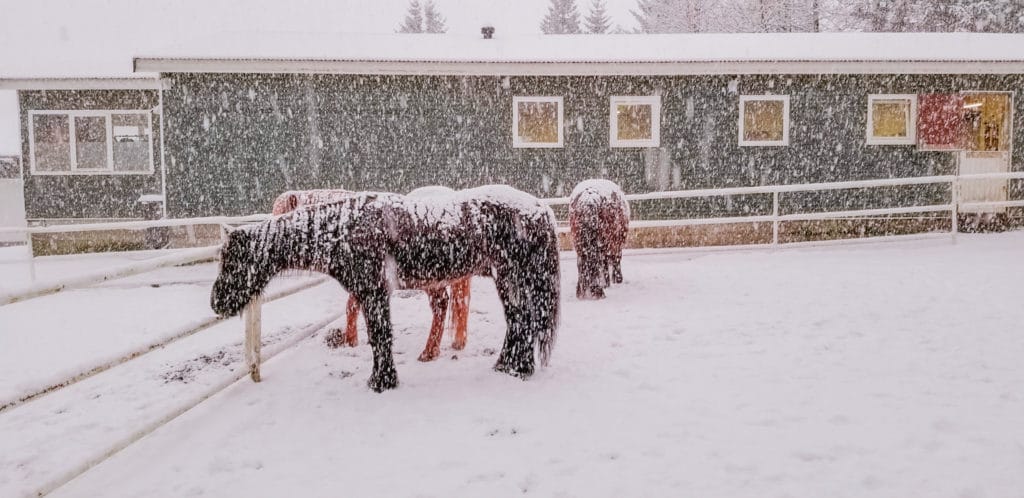 10. Pet Icelandic horses
You'll see beautiful Icelandic horses on farms just outside Reykjavik and in many other areas as you get farther from the city.
But if you'd like to see them up close (trust me, you do), make a stop at Fridheimar greenhouse.
They have a handful of these pretty horses on their propery and guests are welcome to have a look and take some photos if they wish.
If you're friendly (or if they like you) they may even come right up to you and say hi. You're welcome to pet them, but please do not feed them.
This is one of my favorite travel tips for Iceland (because animals are awesome).
I love seeing local animals and wildlife when I travel, it's frequently the highlight of my trips because I prefer animals over people.
So please take a few moments to say hi to these beautiful creatures during your visit.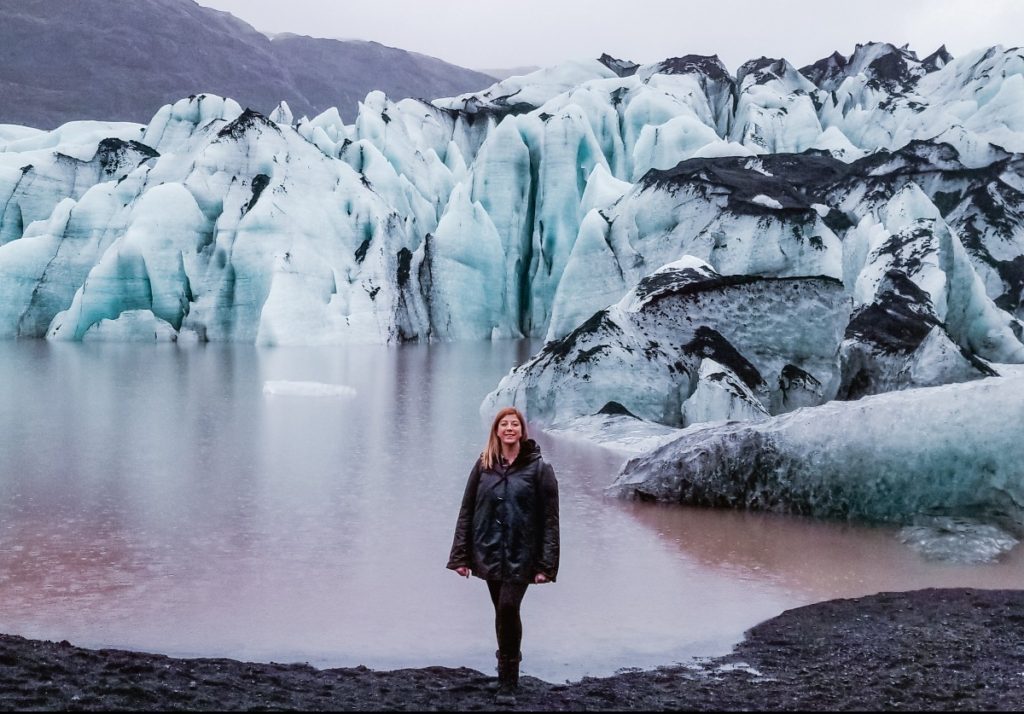 11. Touch a glacier
If you've never gotten up close to a glacier before, I encourage you to sieze the opportunity while you're exploring Iceland.
A visit to Sólheimajökull (or as I like to call it "the glacier") pictured above is part of most of the South Coast of Iceland small group tours. You can also visit on your own of course.
The tour I participated in allowed us to walk a short trail out to see the glacier and we had about 30 minutes or so to explore on our own.
Some tours included an actual hike over the glacier. I was more interested in seeing the waterfalls and beaches on this trip, so I passed on the glacier hiking.
I did see other groups putting on their crampons though and it looked cold and boring fun.
But either way, it's a pretty cool experience to be standing right next to the end of a glacier.
I will point out that our tour guide told us that the glacier used to reach the parking lot and didn't require the 10 minute walk out to see it.
So maybe if you want to see this glacier you should get a move on it (just sayin).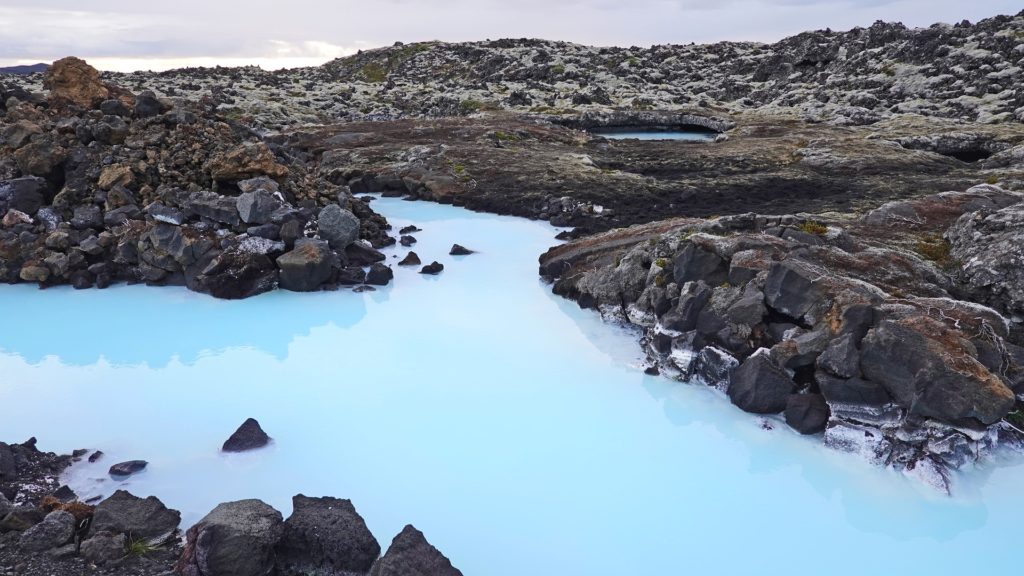 12. Visit the Blue Lagoon when you land
Most international flights arriving at Iceland's Keflavik international airport will arrive in the very early morning, long before you'll be able to check into your hotel room.
So to make good use of this time, I recommend booking your visit to the Blue Lagoon right after you land in Iceland.
There are busses that will take you right from the airport to the Blue Lagoon.
The ride is about 20 minutes or so and tickets can be purchased when you make your Blue Lagoon reservation.
You'll also save money by visiting the Blue Lagoon when you first land since your transportation to and from Reykjavik is taken care of by including it in your Blue Lagoon reservation.
Yes, it's extra for the bus to and from the Lagoon, but its much cheaper than taking a taxi.
Plus, you'll have access to the showers and locker rooms at the Blue Lagoon so you can clean up after your flight and right before you leave to head to Reykjavik.
This way when you arrive at your hotel to check in, you'll be all ready to go.
I also encourage you to get to the Blue Lagoon as early as possible to be one of the first ones there.
They open at 8:00 a.m., so if your flight arrives before then, try to get there when they open.
It's a really unique experience to be floaring around the Blue Lagoon by yourself in the early morning.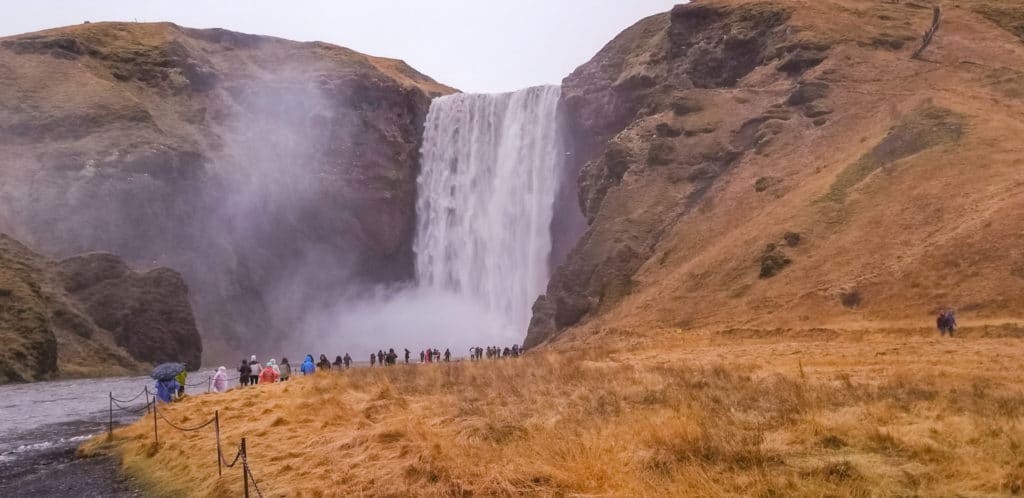 13. Take day trips outside Reykjavik
One of my favorite things about Iceland was its many waterfalls and beautiful beaches.
If this is your first trip to Iceland, you must take a few day trips to experience the south coast, Golden Circle, and national park.
If you don't feel like driving yourself to these locations, you can always book a guided tour with a small group or link up with a private guide.
I think the small group tours are a great option and you'll get to see all the sights without much effort.
Of all these Iceland travel tips, this one can make the difference between a good trip and an amazing one.
You don't want to leave Iceland without having seen all you can. The day trips outside Reykjavik are easy, fun, and you get to see a lot.
Some of the day trips from Reykjavik are more expensive than others, but they're all worth it.
You'll pay a bit more for a smaller group (definitely do this) or longer tour, but just pick the one you think you'll enjoy the most.
I must discourage you from taking a big bus tour. You'll save a few bucks, but it's a far less pleasant experience. Just pay the extra $20 and go with the small group.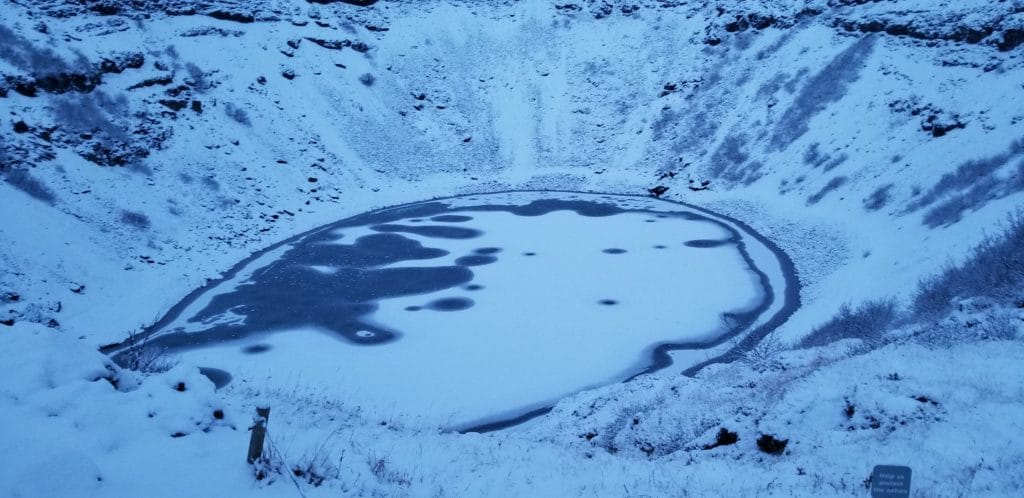 14. Consider taking a road trip
Don't be nervous about driving in Iceland. The roads around the country are paved and well maintained so driving is not tricky, especially in the warmer months.
There are so many beautiful places to see just outside Reykjavik like the south coast and Golden Circle.
Both of which can be seen on day trips, but it will be nice to have your own car so you can go at your own pace and stop whenever and wherever you want.
In addition to all the waterfalls and glaciers, you'll also stumble upon some beautiful wildlife while exploring the country.
If you want to know where to see Puffins in Iceland, head to the south coast. You'll also get to see Icelandic horses along the way.
If you're feeling a bit more adventurous and you have more time, consider taking a road trip around the entire Ring Road.
This will take you about seven to ten days, but I hear it's quite the experience.
Just be sure to do lots of planning before tackling the Ring Road so you know where to find a gas station and lodging when you need them.
15. Be prepared for midnight sun (or no sun)
Depending on the time of year you plan to visit Iceland, you may end up experiencing midnight sun or days with incredibly long hours of daylight.
Midnight sun is a natural occurence during the summer months in places north of the Arctic Circle or south of the Antactic Circle.
This is where the sun does not set and remains visible even at midnight. This occurs around the summer solstice in June.
Now on the opposite side of the calendar, if you're visiting between November and February, you'll experience long nights and short days.
For example, when I visited Iceland in December, the sun was only visible for about 5 hours each day from 11:00 a.m. to 4:00 p.m.
I don't think the sun rising and setting at different times impacted my trip much, but if you're a photographer or planning specific activities that may require certain levels of lightness or darkness, make sure you take into account the time of year you are visiting.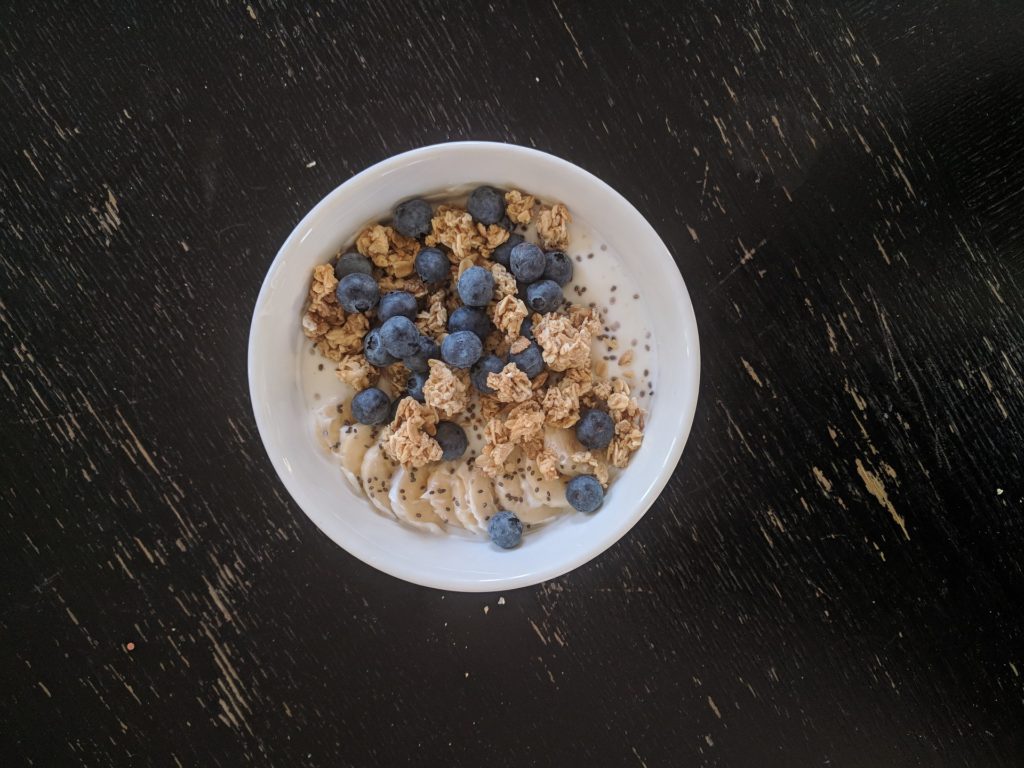 16. Try Icelandic Cuisine
Even if Icelandic cuisine doesn't sound particulary appetizing to you, I encourage you to give at least some local foods a try.
I won't judge you if you skip the fermented shark, the locals don't even eat that stuff. But give some of the more popular local dishes a try at least once during your trip.
Some popular Icelandic foods that locals actually eat include skyr (similar to Greek yogurt), hangikjot (smoked lamb), kleinur (fried pastry), cured meat and fish, and rugbraud (dark rye bread).
If you're a picky eater like myself, go with the Skyr and some of the local pastries.
17. Take advantage of your hotel's breakfast
There's no doubt about it, Iceland is expensive. So if you have something you need anyway that's given to you for free, take advantage.
This is especially true for your hotel's continental or buffet breakfast. If your hotel offers one, by all means, use it.
Restuarants are particularly expensive in Iceland, so if you can get your first meal of the day for free, why wouldn't you?
Plus, many of the guided group tours and day trips start very early in the morning. This means many of the local restaurants are not open yet anyway, so you might as well eat at your hotel.
I also encourage you to get up early enough to be one of the first one's at your hotel's breakfast.
Free food is a popular draw for guests, so it gets very busy in the dining room. If you like to beat the crowd like I do, get up early.
18. Learn key phrases in Icelandic
The Icelandic language is easy to learn and locals will expect to be greeted in their native language. Here are a few simple key phrases to get you started:
Þakka þér fyrir: Thank you
gaman að hitta þig: nice to meet you
Hversu mikið kostar þetta: How much does this cost?
Verðu þér góður: you are welcome
I'm kidding, I'm kidding please don't leave me hateful comments.
Icelandic is actually considered one of the most difficult languages in the world to learn, partially because the words are so hard to pronounce.
While it would be wonderful if you learned a few words in Icelandic prior to your trip, nearly everybody from Iceland speaks perfect English.
Now if you don't speak English either, I would focus on learning some English key phrases instead.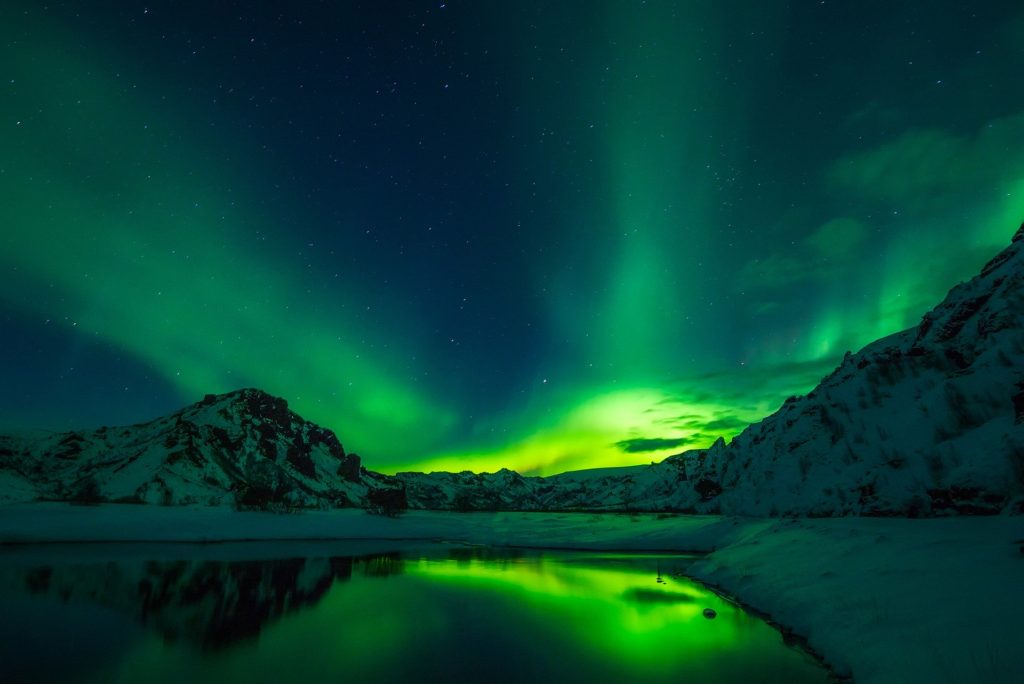 19. Try to see the Northern Lights the first night
These travel tips for Iceland can also help you see the Northern Lights. Does anybody read this far?
If you're visiting Iceland between August and March and you want to see the Northern Lights, sign up for the tour on your first night.
There are so many variables at play when it comes to the Northern Lights, you'll want to increase your odds of seeing them in any way you can.
So book yourself on the Northern Lights tour your first night. If you don't get to see them then at least you got to stand in a field for four hours, you'll be permitted to join each night until you do see them.
The sooner you start, the more chances you'll have.
20. Bring something to do on your Northern Lights tour
There will be many nights where the Northern Lights tours will depart as scheduled but you won't end up seeing the Northern Lights.
This will be for a variety of reasons (mostly weather) but it's quite common.
The Northern Lights tours are typically out for anywhere from three to four hours. They drive you outside the city to an empty field on the side of the road.
Yes, it's as fun as it sounds. So if the Northern Lights are not visible, you'll just be standing in an empty field with 50 strangers.
So to avoid this being as terrible as it sounds, bring your headphones and listen to music or an audio book or something.
Trust me on this one, you don't want to listen to the conversations of those 50 people around you.
And don't forget to bring a bottle of wine your warmest jacket along with you. It gets cold standing in that field.
I hope you've enjoyed these travel tips for Iceland and that you've found them useful. I'd love to hear what travel tips you have for visiting Iceland if you've been. Let me know in the comments below or send me a message.
Book Your Trip
Find the best flight deals by using Google Flights, then book direct with the airline. This is the search engine I use to compare flights and prices before booking my own trips.

BOOK YOUR ACCOMODATION
I recommend searching for hotels through Booking.com to compare hotels on amenities, location, and price. If you are a member of a hotel's rewards program, always book direct with the hotel. If you are not loyal to a specific hotel brand, using Booking.com for the best price.

TRAVEL INSURANCE
Travel insurance is more important than ever. For just a few dollars a day you can protect yourself and your trip. I personally use World Nomads, but whomever you choose, don't skip out on travel insurance. It can literally save you thousands of dollars.


Want to save it? Pin it.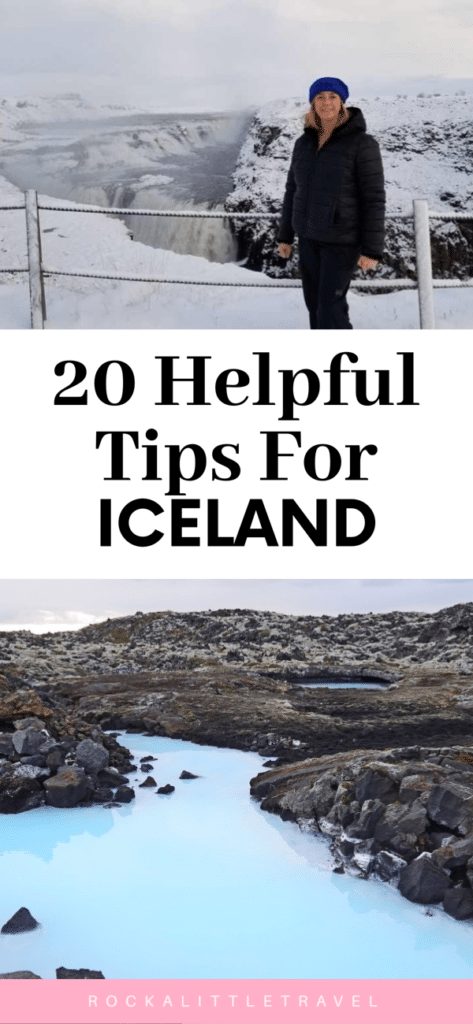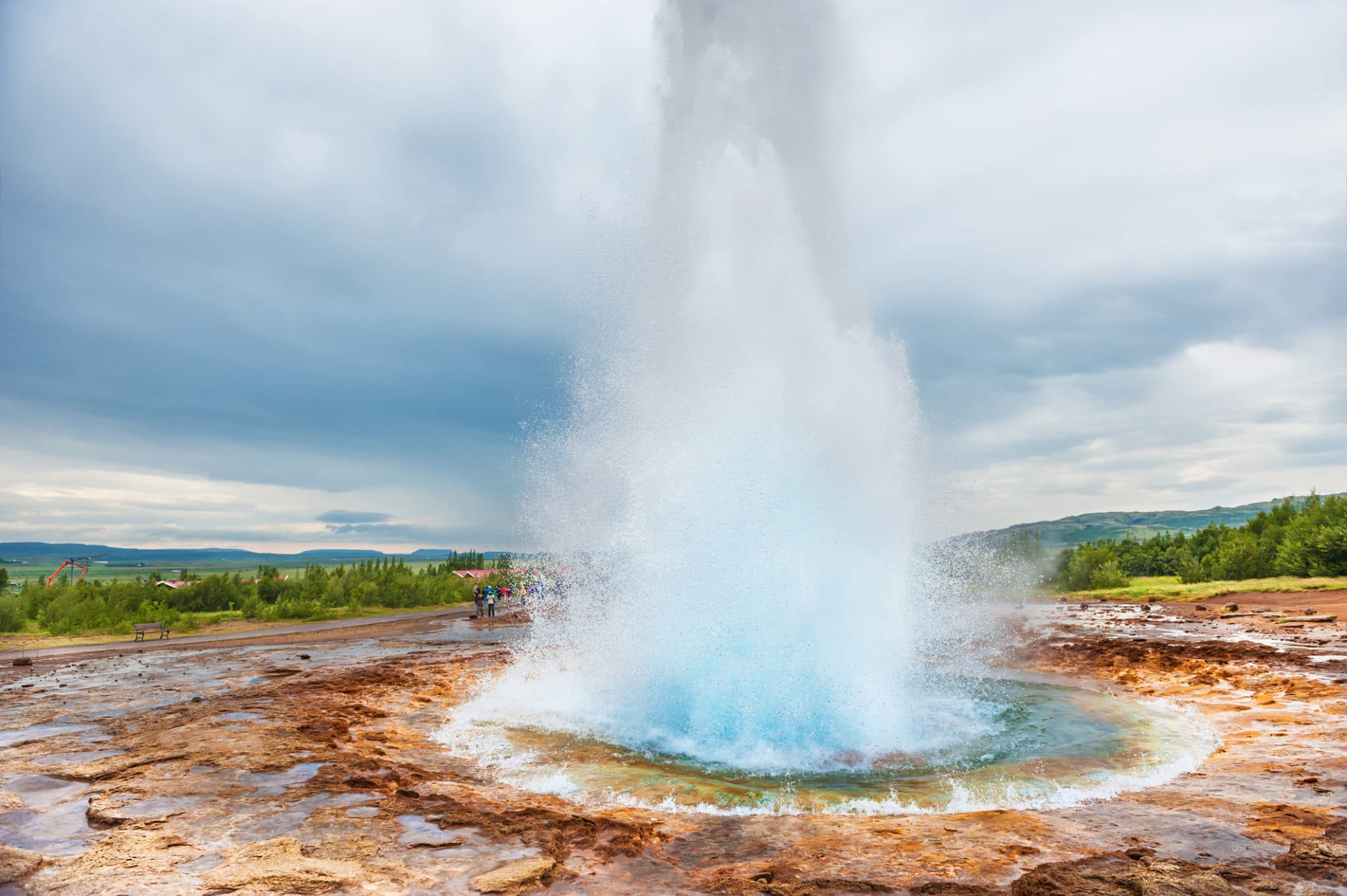 Photo by Olga Gavrilova If you're planning a visit to Iceland, you'll surely be spending some time in Reykjavik. Once you've had atleast one day in …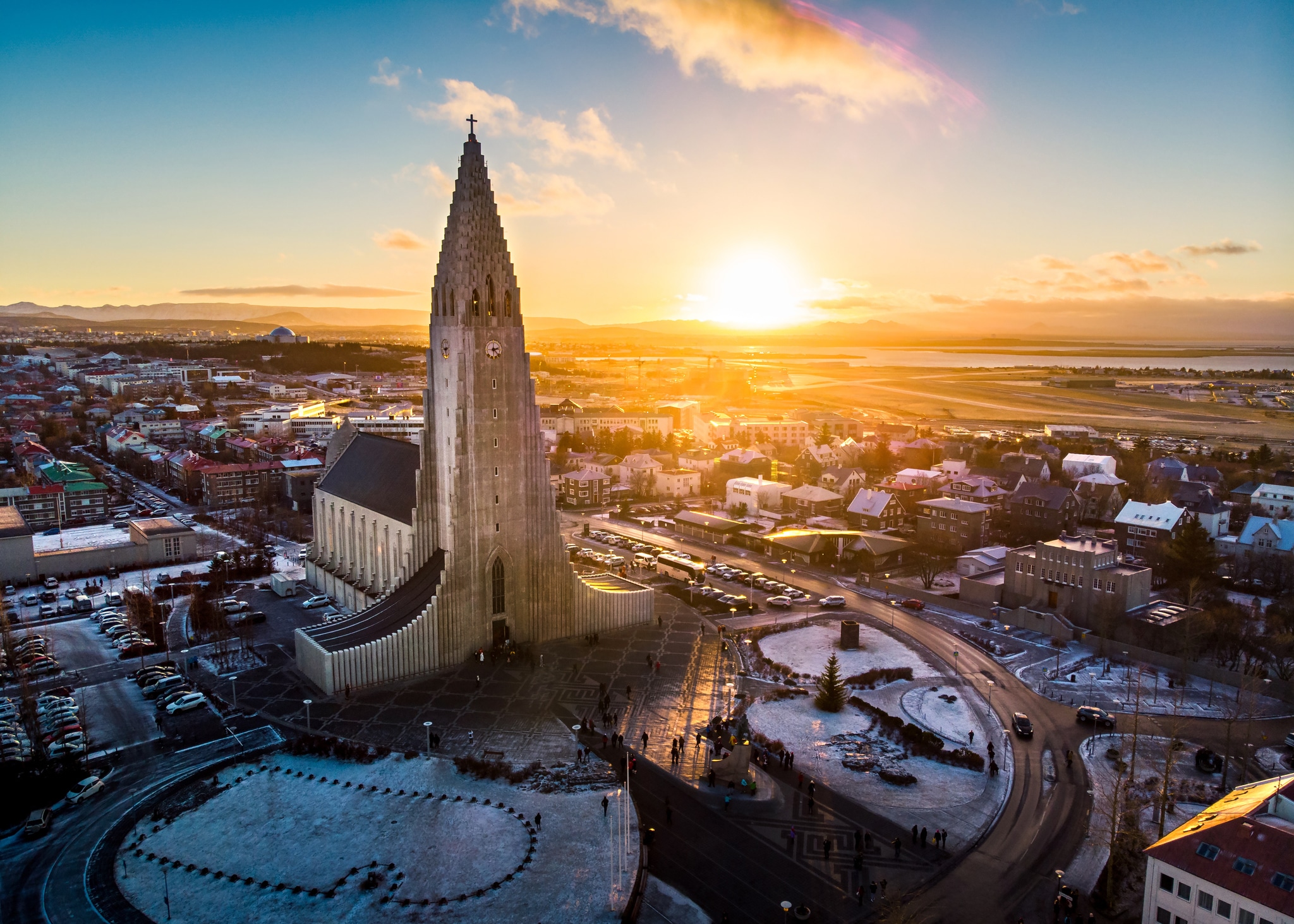 Photo by Creative Family Planning to visit Iceland for your next vacation or maybe just stopping on a long layover? If so, you must spend at …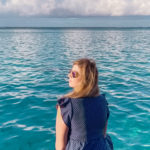 Eden Fite
Part-time Traveler | Dog Lover | Avoider of Crowds
I help busy people find creative ways to travel more.