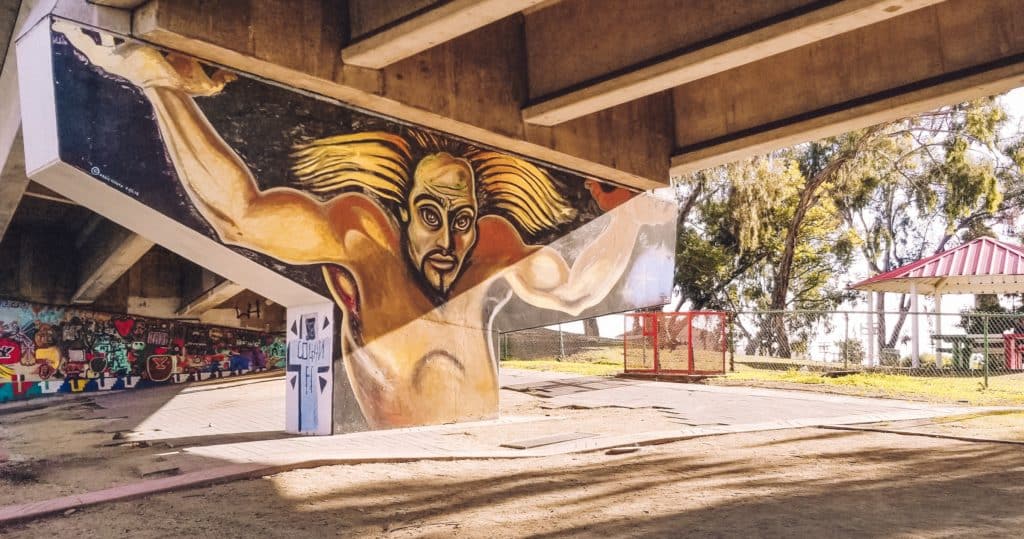 Barrio Logan San Diego is the perfect Southern California destination for visitors who want to experience one of the best neighborhoods for street art on the West Coast.
The Barrio Logan neighborhood is home to a rich history of art, culture, and activism.
Throughout its history, Barrio Logan residents have had to fight with protests and sit ins to retain their neighborhood's culture and prevent the city from taking advantage of them.
It's this history that is exactly what makes Barrio Logan so special today. 
Currently, Barrio Logan is known for its trendy art and restaurant scenes, both of which are gaining national attention.
During a recent visit to San Diego, I spent the day wandering through the neighborhood trying to see what all the fuss was about.
What I found was a friendly and welcoming community eager to show off their neighborhood to curious visitors. 
A Quick Guide to Barrio Logan San Diego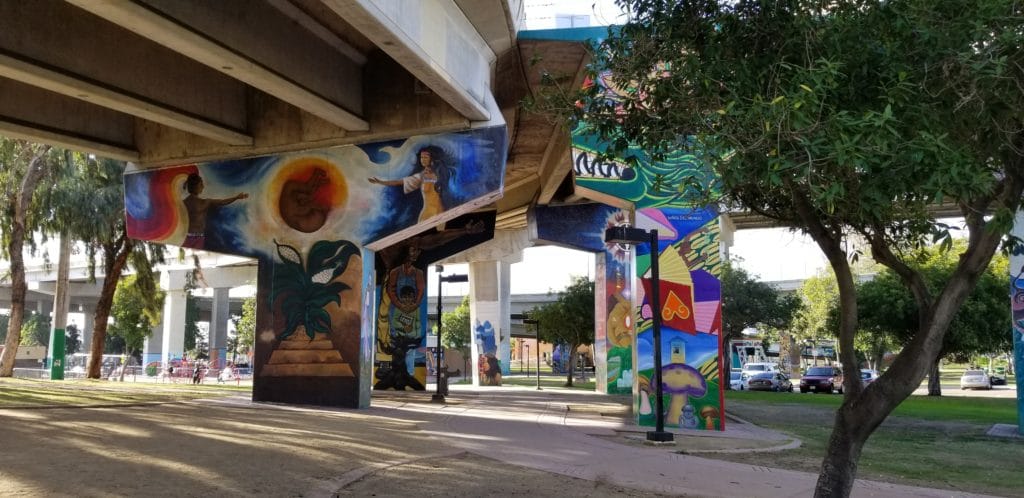 Chicano Park
Historic Chicano Park is a large open space with a children's play area, picnic tables, and a gazebo. This local park is spread out over seven and a half acres beneath the on-ramps for the 5 freeway and Coronado Bridge.
Famously, the park is home to the largest collection of Chicano murals in the world and is a major draw for visitors to the neighborhood.
Chicano Park was established in 1970 after community members got together to protest plans made by the city to build a California Highway Patrol substation there.
This happened after the city had already promised the community a park when they built the freeway through their neighborhood.
When the community got wind the city was attempting to go back on their promise, they came together in protest and demanded they get their park. Fortunately, they won the fight and got their park after all.
Today, on any given day you can see children running, music playing, and families gathering to celebrate birthdays and other special occasions. 
In 2016, the park was designated a National Historic Landmark, a move that not only protects the park but preserves its vibrant history as well. 
Chicano Park is best visited during the day. The highlight of the park is the dozens of murals covering the many freeway support structures.
These murals depict images of historical events and Chicano culture. Trust me, you'll want to take your time to walk through the entire park and see them all.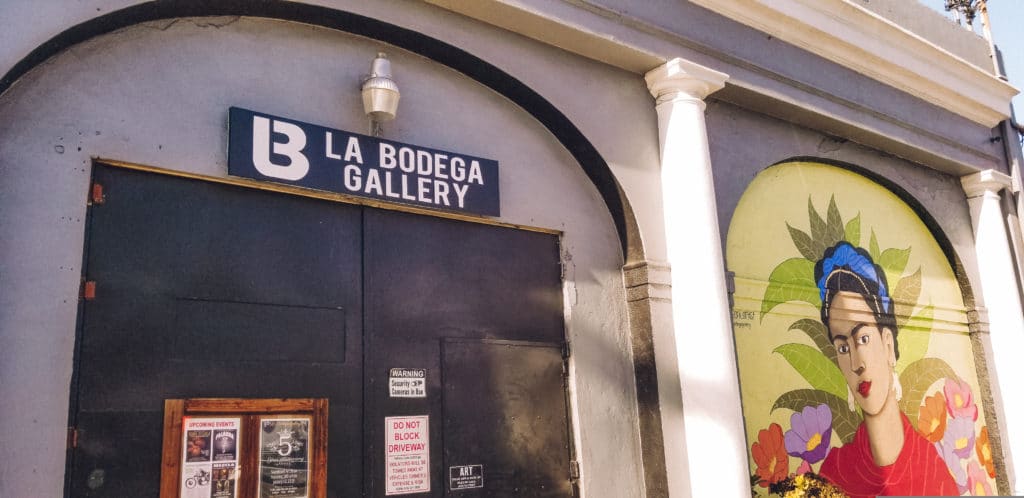 La Bodega Gallery
La Bodega Gallery is located in the heart of Barrio Logan San Diego, a short walk from Chicano Park.
The gallery aims to inspire current and future artists as well as bring the community together and demonstrate the importance that art plays in everyday life.
The space hosts art exhibitions, poetry readings, and more. La Bodega Gallery has won several San Diego citywide awards since its opening in 2013.
Most recently they were awarded Best Art Gallery 2018 by San Diego City Beat.  
Most exhibitions at La Bodega Gallery are free admission. Pets are also welcome. Be sure to check the calendar before your visit, you can find it here.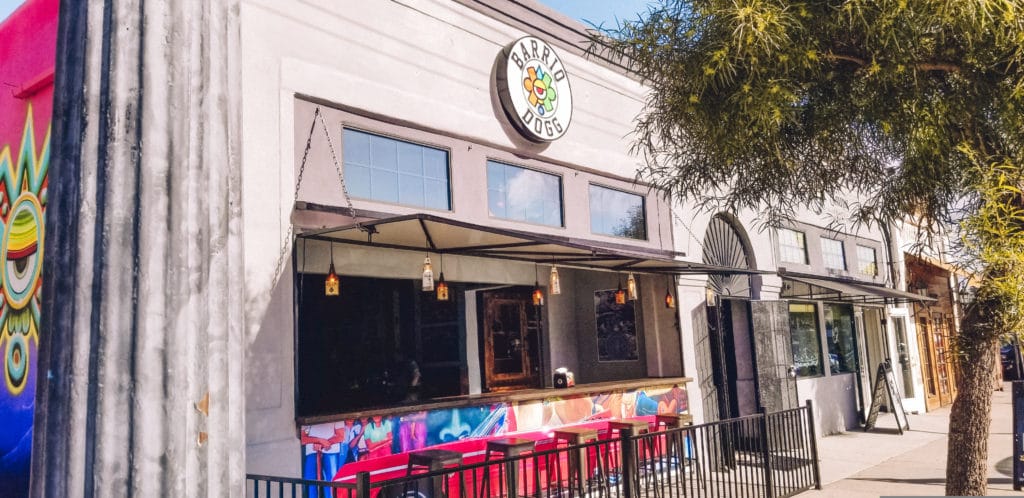 Barrio Dogg
Getting lunch at Barrio Dogg was my favorite part of visiting Barrio Logan.
Barrio Dogg serves Chicano comfort food in the form of street style hot dogs, fries, elote, fideo, aguas frescas and more.
All ingredients are super fresh and they do a killer job of mixing flavors and textures to create some of the best hot dogs you'll ever have. 
The restaurant is extra clean, modern, and decorated with photos of low riders and hot rods.
The staff are super friendly and will even take the time to go over the whole menu with you if it's your first visit.
Seriously, the customer service here is incredible, but just get down here and try these dogs, you can thank me later.
Other standouts on the menu were the fries and the elote, both were incredible.
I'm not usually a fries kind of person, but they season theirs and cook them extra crispy. They're delicious. 
Barrio Dogg is located at 2234 Logan Ave., San Diego, CA 92113. They are open daily from 10:00 a.m. to 9:00 p.m.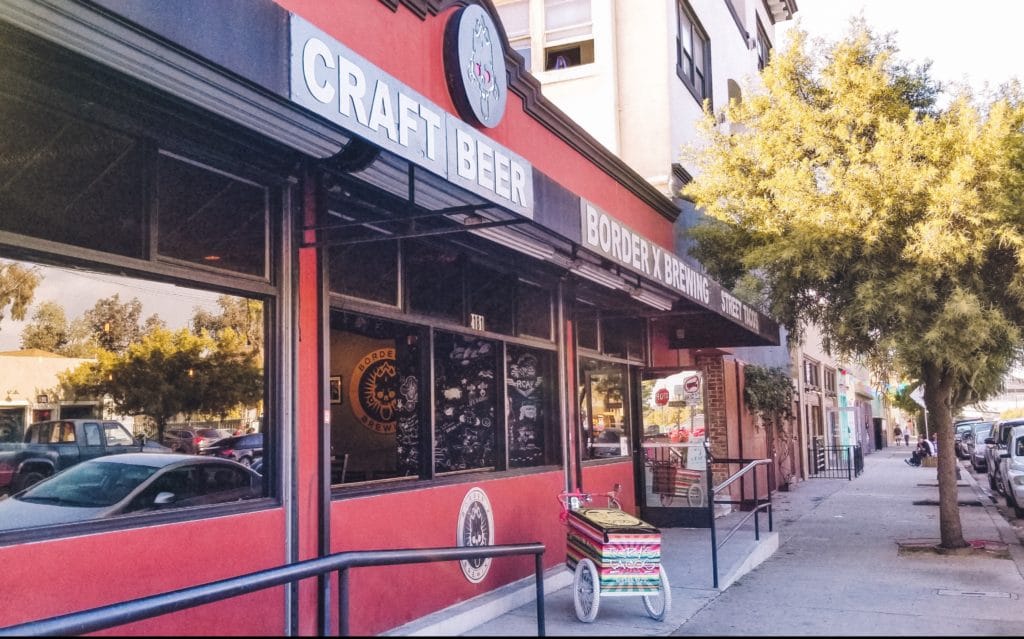 Border X Brewing
Border X Brewing is a lively and fun bar and restaurant found just across the street from La Bodega Gallery. 
Border X serves a variety of Mexican inspired craft beers including the following popular selections:
Blood Saison – Beer inspired by the Mexican drink Jamaica
Gran Jefe – A traditional German wheat beer
Horchata Golden Stout – Featuring hints of vanilla bean and cinnamon sticks
Abuelita's Chocolate Stout – With a cinnamon and chocolate aroma
Border X Brewing has several events throughout the week including Taco Tuesday, Loteria Night, and Cupcake Pairings. 
You can find Border X Brewing at 2181 Logan Ave., San Diego, CA 92113. They open daily at 11:30 a.m. and close between 8:00 p.m. on Sunday and Monday, 10:00 p.m. Tuesday through Thursday, and 11:00 p.m. on Friday and Saturday.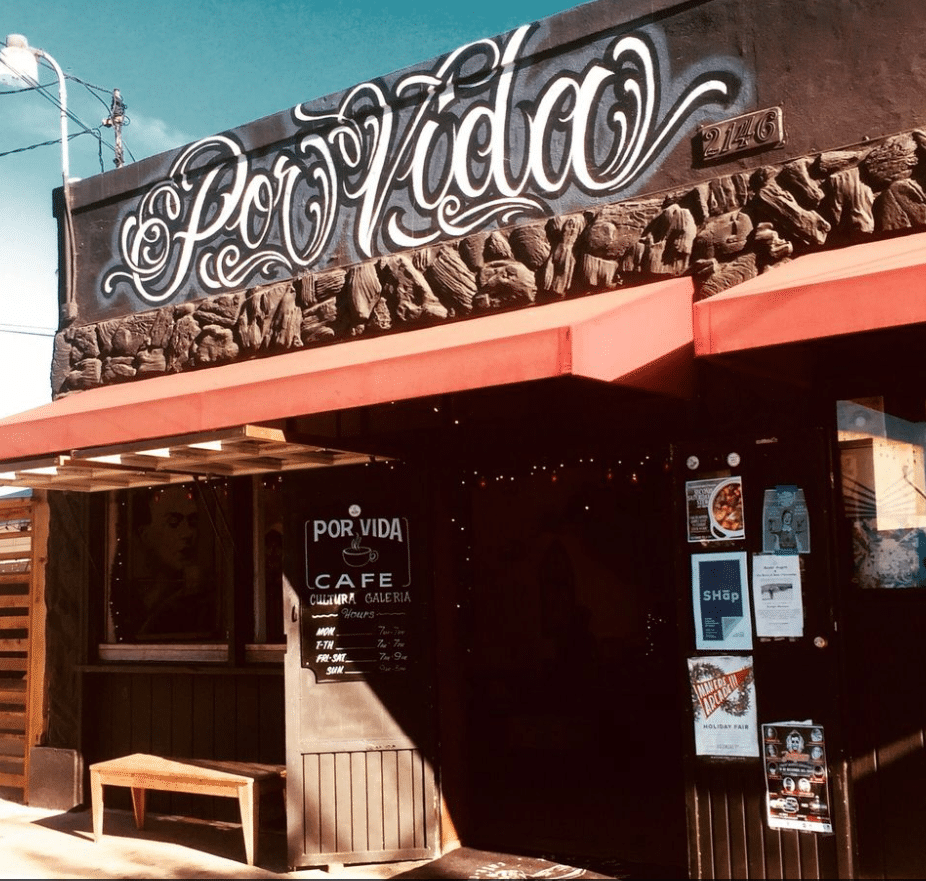 Por Vida
Por Vida is a locally owned coffee shop brewing locally sourced coffee along with Mexican inspired lattes and lemonades. 
Standouts on the menu include the Horchata Latte, Mexican Mocha, and the Spicy Mango Lemonade.
There is a small retail section selling local art and gifts. Plus, they host an Open Mic night every Thursday. 
Por Vida is open daily at 7:00 a.m. They close at 7:00 p.m. Monday through Wednesday and 9:00 p.m. all other days. They also welcome dogs if you happen to be with your pup. Por Vida is located at 2146 Logan Ave., San Diego, CA 92113. 
Here's a short video showing you around Barrio Logan. I hope you're inspired to visit this neighborhood next time your'e in San Diego.
If you'd like to see more of this beautiful and fun city, check out one of my favorite spots in Old Town San Diego. 
Book Your Trip
Find the best flight deals by using Google Flights, then book direct with the airline. This is the search engine I use to compare flights and prices before booking my own trips.

BOOK YOUR ACCOMODATION
I recommend searching for hotels through Booking.com to compare hotels on amenities, location, and price. If you are a member of a hotel's rewards program, always book direct with the hotel. If you are not loyal to a specific hotel brand, using Booking.com for the best price.

TRAVEL INSURANCE
Travel insurance is more important than ever. For just a few dollars a day you can protect yourself and your trip. I personally use World Nomads, but whomever you choose, don't skip out on travel insurance. It can literally save you thousands of dollars.


Want to save it? Pin it.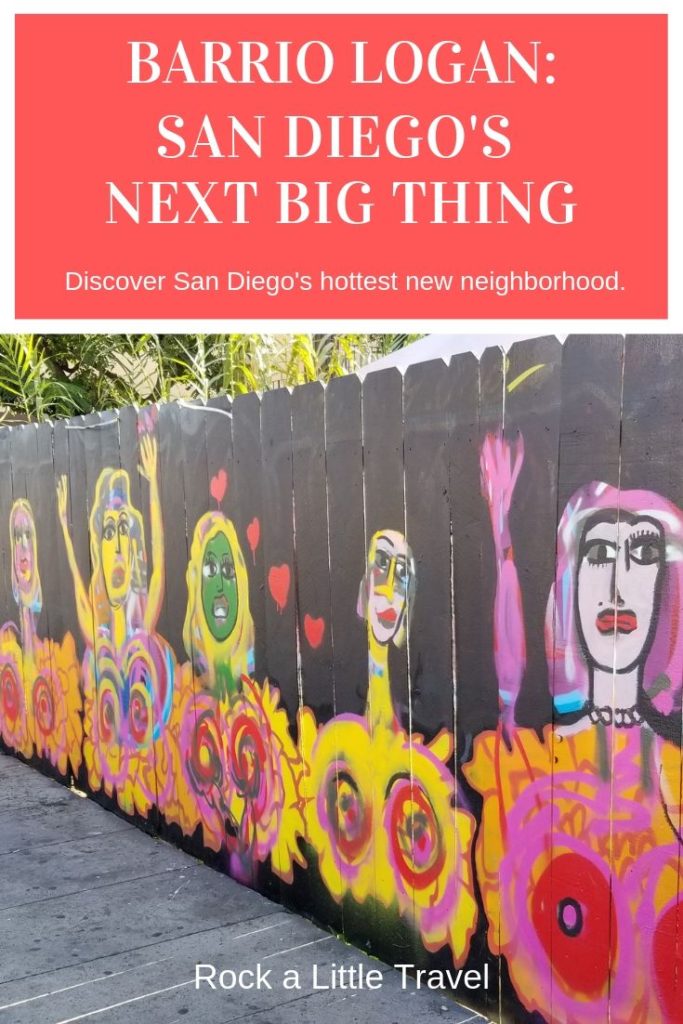 Related Posts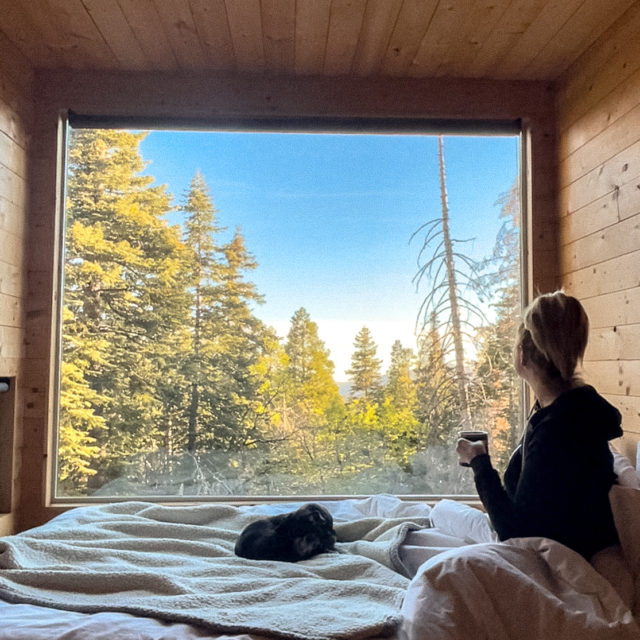 Is Getaway House Big Bear is worth the hype? Let's find out. Just last week I booked a last minute stay at Getaway House …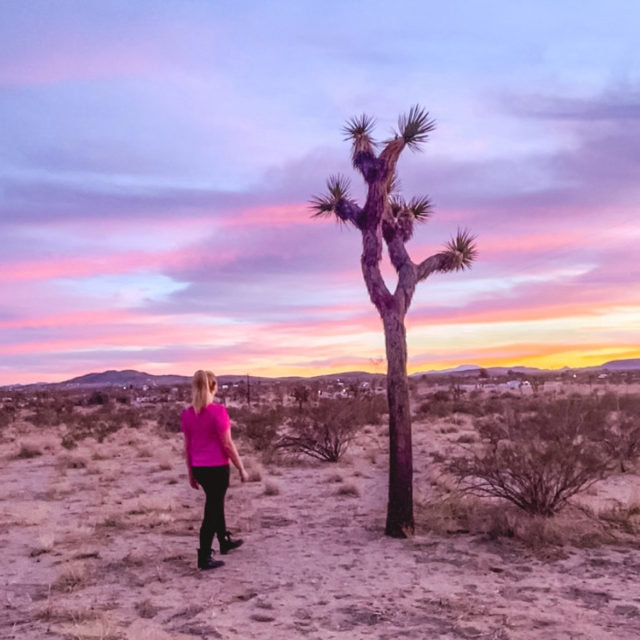 While the best time to visit Joshua Tree National Park depends on what you're looking for, there are a few important considerations when planning your …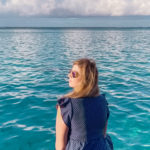 Eden Fite
Part-time Traveler | Dog Lover | Avoider of Crowds
I help busy people find creative ways to travel more.