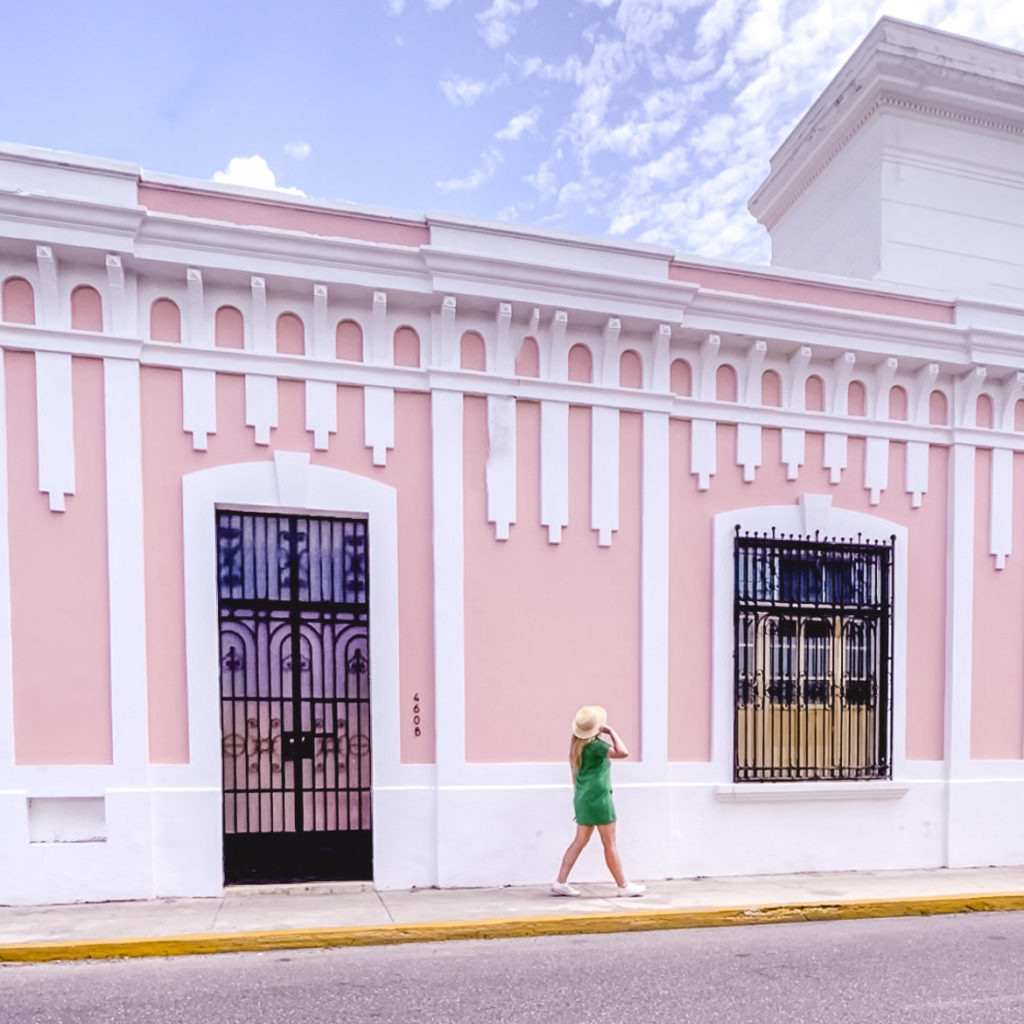 The best things to do in Merida Mexico can all be enjoyed with just a few days in this beautiful, vibrant city.
Merida is located in Mexico's Yucatan Peninsula and is best known for its colorful streets and rich Mayan heritage. Merida's city center is home to numerous historical attractions and is the perfect place to begin your visit.
What stood out to me most during my recent trip to Merida was the kindness of the locals and the delicious food. I share my favorite restaurants with you down below, don't worry.
Merida is known to be very safe, even for solo female travelers. I felt completely comfortable walking around the city, even after dark on my way home from a night out. Obviously normal precautions should be taken, but I never once felt unsafe in this city.
As I explored Merida over the course of several days, curious locals often started conversations with me, inquiring about where I was from and what I was doing in Merida.
Everybody was so kind and always ended the conversation by giving me tips on where to go next.
Seriously, Merida is a friendly place with lots to see, do and eat.
Some of the links in the post are affiliate links. If you make a purchase through these links it helps to support this site at no extra cost to you.
Things to do in Mérida Mexico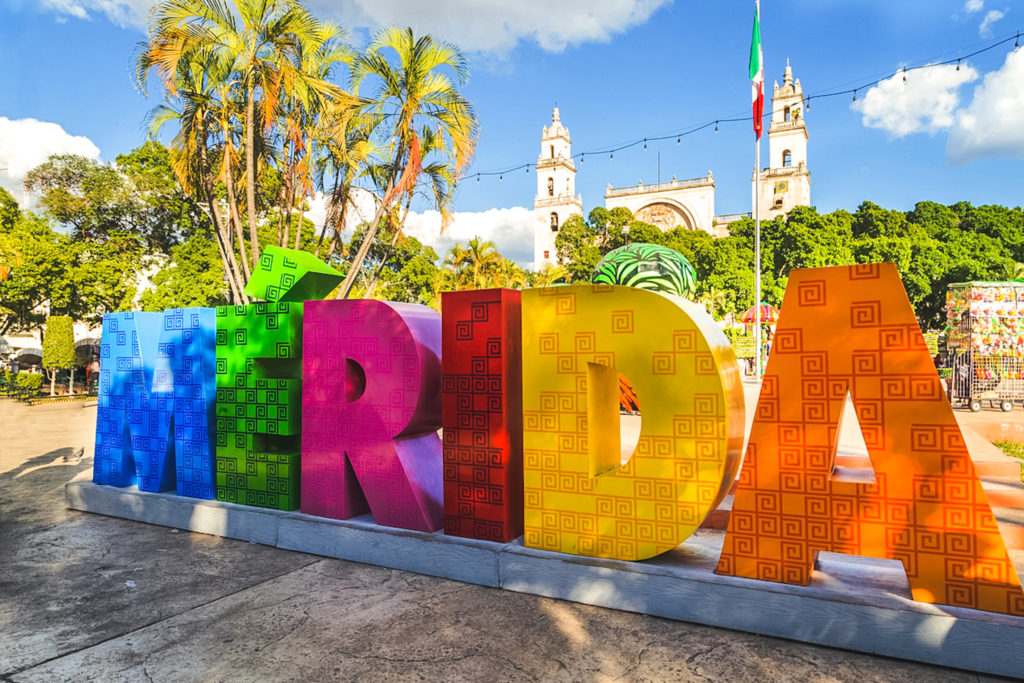 As I mentioned above, you can see a lot in Merida in just a few days. I recommend spending at least three full days in the city if it's your first visit.
The vast majority of Merida things to do can be found in the city's historic center, most of which can be seen on a walking tour of Merida.
How to get to Merida Mexico
You can fly directly into Merida from the United States. You'll find nonstop flights from several major US cities including Houston and Miami.
Once you arrive in Merida, you can get through immigration and customs fairly quickly. This is a small airport, so in most cases you won't have many other flights to contend with in the immigration line.
After you make it outside, the easiest way to the city center is via taxi. The airport is about 15 – 20 minutes from the city center and taxi fares are very affordable.
Now that you know how to get here, let's find out what you can do with your time in Merida.
For this travel guide I'm sharing my top things to do in Merida Mexico and my best tips to help you enjoy your visit.
1. Palacio Municipal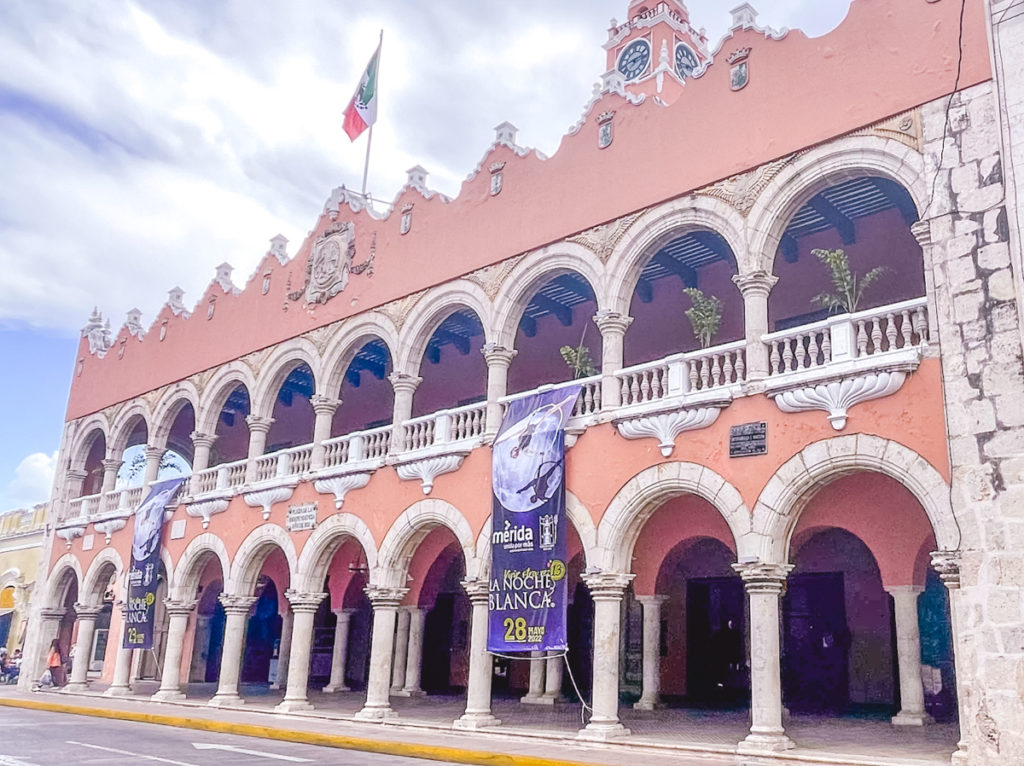 Palacio Municipal is a historic building in Merida's city center which currently functions as the town's City Hall.
It was originally built in 1542, but has since been refurbished on two occasions, once in the 1730s and again in the 1850s.
The pastel pink Colonial style building is dominated by multiple archways which make for great photos if you're a photographer.
Impressive architecture aside, the reason I recommend placing Palacio Municipal at the top of your Merida to do list is because this is where you'll find the Merida tourism office.
The tourism office is located on the bottom floor near the center of the building, you can't miss them.
Head inside for a quick visit to pick up a mini guide guide for the city and get local recommendations on what to see while you're in town. They can also answer any questions you may have about Merida.
If possible, plan your visit for just before 9:30 a.m. so you can join their free walking tour of Merida. The tour is about 90 minutes and takes you to all the historical buildings in the city center.
2. Plaza Grande
Located at the center of Merida's historic district you'll find the city's main square, or Plaza Grande as it is known locally. Plaza Granda is one of the most popular Merida attractions and for good reason, there's lots to see.
Here you'll find the colorful Merida sign, large open spaces for events, a huge Mexico flag, and plenty of park benches to just sit and enjoy the day.
Public events in the city are often held in or around Plaza Grande, so it's a busy area to be in. I recommend arriving early if you'd like to enjoy the plaza before it gets crowded.
If you get hungry while you're here, grab a snack from one of the local street food vendors lining the outer perimeter of the square.
3. Catedral de Merida – San Ildefonso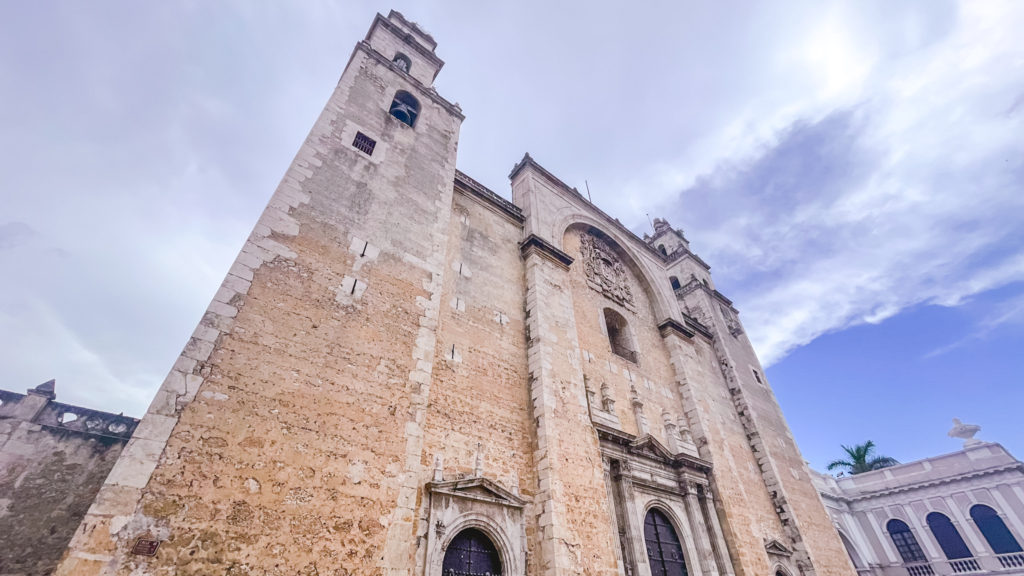 The Catedral de Merida – San Ildefonso, also known as the Cathedral of Merida, is one of the oldest cathedrals in the Americas.
The cathedral was built in the 1600s between 1562 and 1598 and was the first built on the mainland of the Americas.
Mass is held multiple times daily at varying times throughout the week and respectful visitors are always welcome to attend.
4. Museo Casa Montejo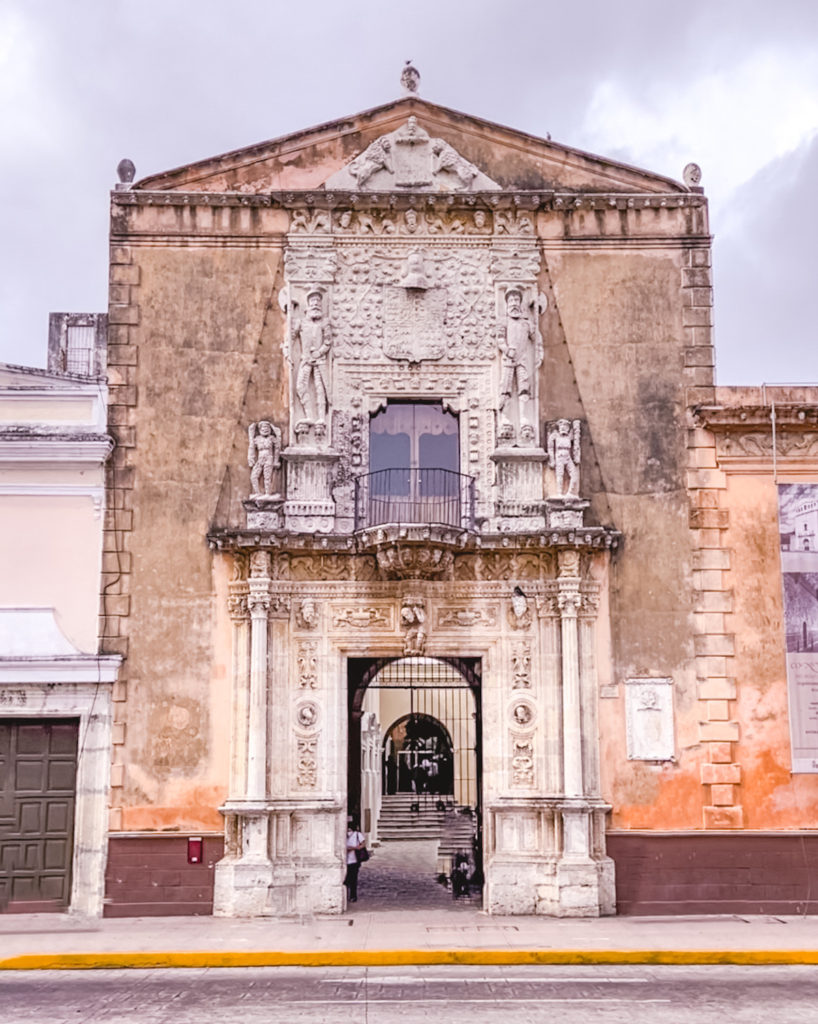 Museo Casa Montejo is a historic Renaissance style home in Merida's historic center. It also happens to be the only such Renaissance style house in Mexico.
The home was built back in the 16th century and today operates as a museum with three galleries, a bookstore, an interactive center, and an educational workshop.
Exhibitions on display vary and change throughout the year. However, the inside is worth a look if you have a little extra time.
If you have time for another museum while you're in the area, the Fernando García Ponce Museum of Contemporary Art, also known as Museo Fernando García, is located just a short walk from here.
5. Merida Government Palace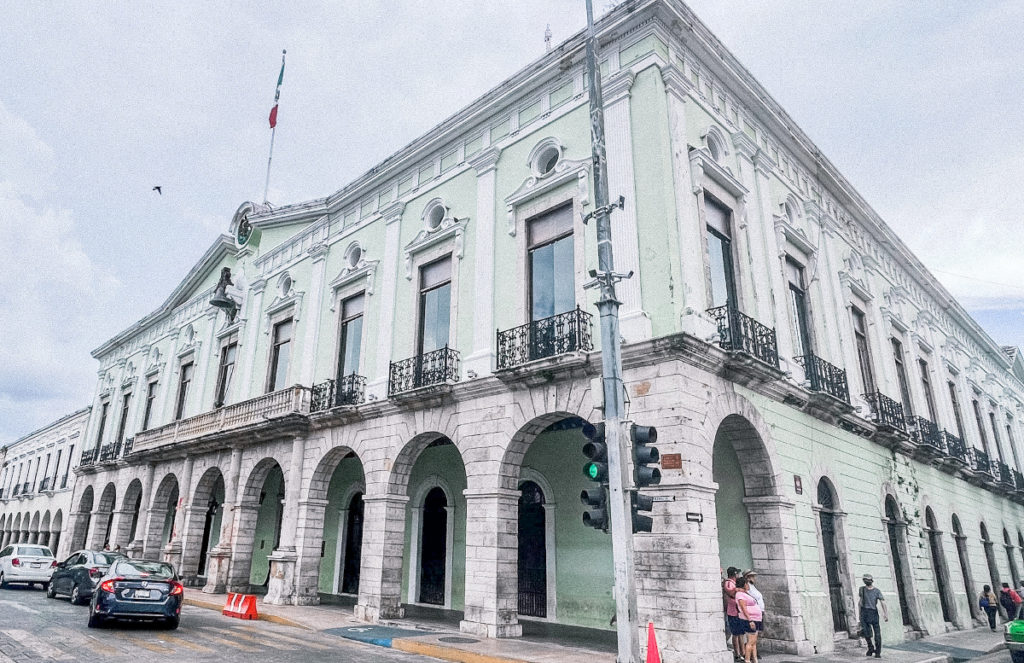 If you have time to visit only one of the buildings around Merida's Plaza Grande, make it this one.
The interior of the Merida Government Palace is gorgeous and definitely worth a look. While the building was previously used for government and administrative purposes, today it is primarily a museum.
On the bottom level you'll find a beautiful interior courtyard.
On the upper level are large gallery style rooms with historically important murals and incredible architecture. Even the stairways are impressive.
The 27 murals inside were painted by renowned Yucatan artist Fernando Castro Pacheco between 1971 and 1978.
A quick stop in will only take a few minutes, but it's worth it.
6. Arco de Dragones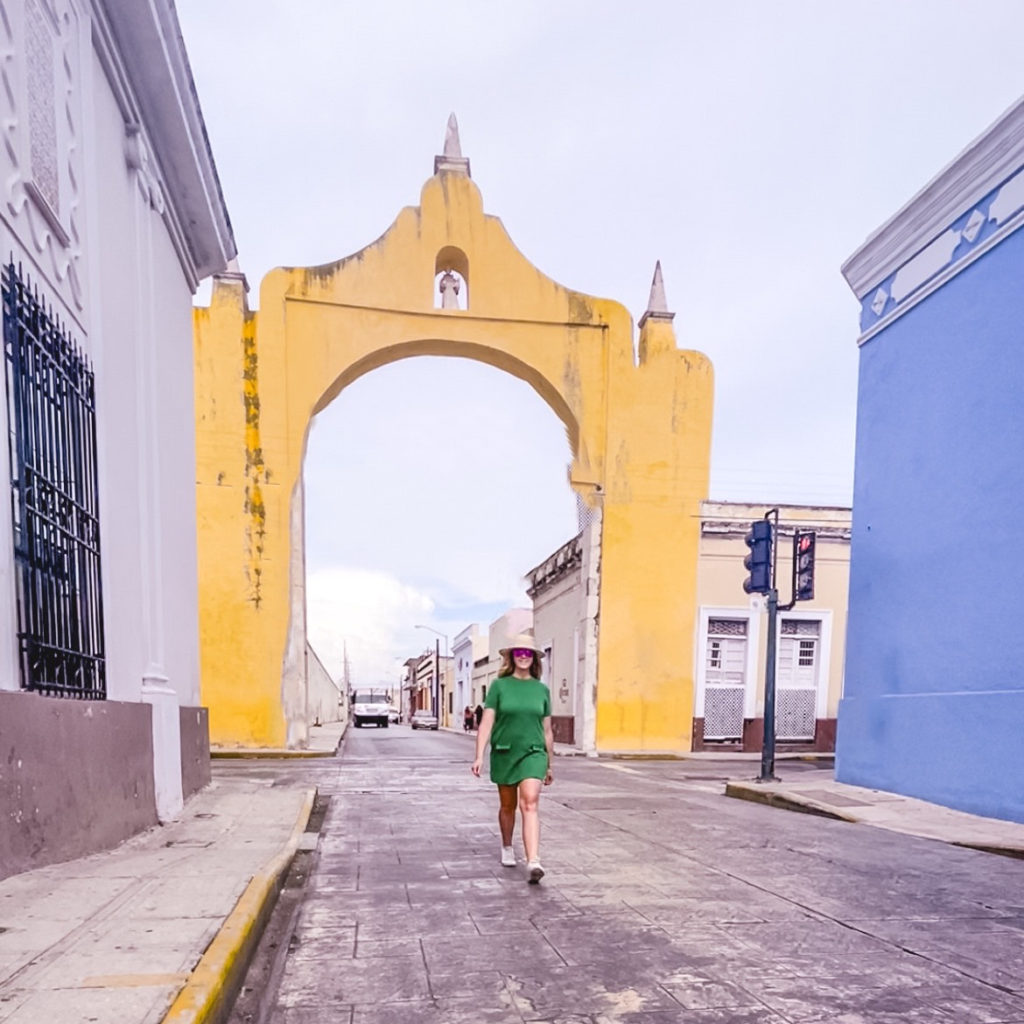 Arco de Dragones is a brightly painted historical arch located at the intersection of Calle 50 and Calle 61 near the Merida historic center. There are a few other arches around the city as well that are similar in design to this one.
The arches were constructed around the year 1690 and served as entrances to the city.
Today, the arches remain and add a bit of character to the city.
The best time to get photos like this is in the early morning when there's no traffic but please be careful and never block traffic.
7. Santa Lucia Park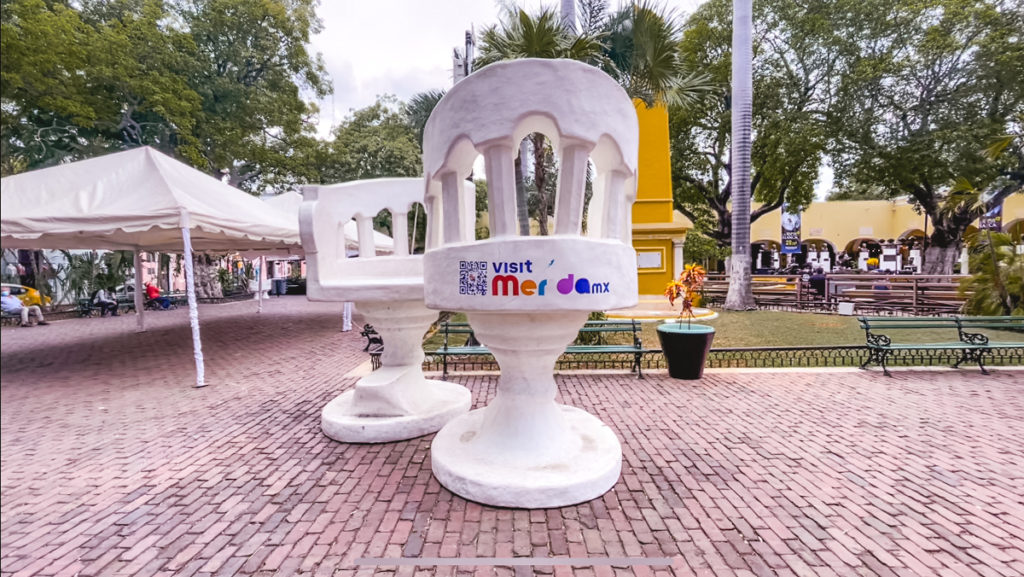 Santa Lucia Park, or Parque Santa Lucia, is a popular local park right in the Merida city center. The park serves as a gathering place for locals and the location of many public events throughout the year.
The park features a small stage for performances, several restaurants with outdoor seating, large open spaces and grassy areas, and plenty of seating.
You'll also find the large white chairs pictured above which make for some great photos.
If you're looking for an affordable activity on weekend nights, come to Santa Lucia Park to enjoy free live music and mingle with the locals.
If you'd like to experience another local park just like this one, head to Parque Santa Ana just up the road.
8. Merida Restaurants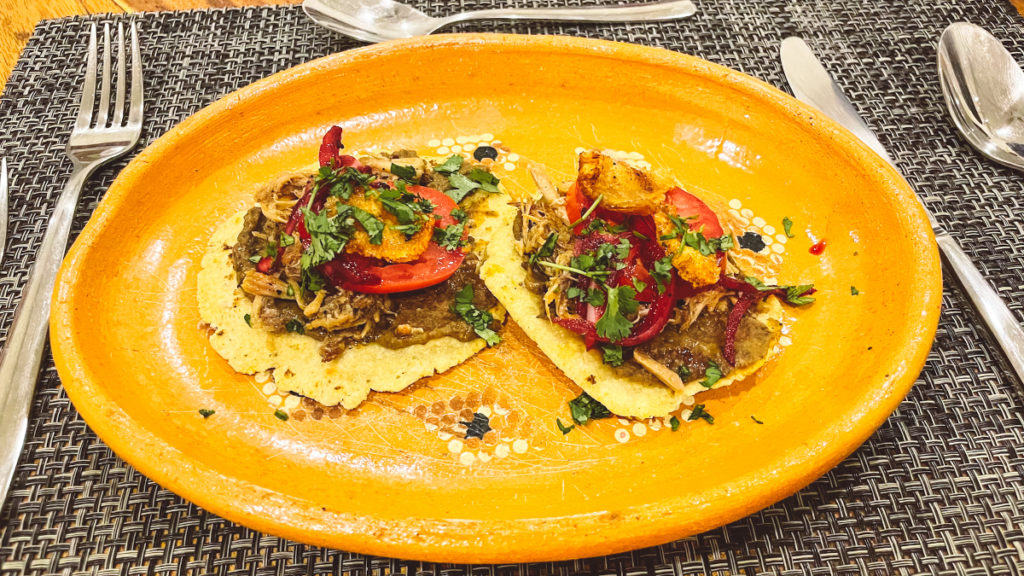 If you're a foodie and planning a visit to Merida you're in luck because the food in Merida is unbelievably good.
After spending several days here exploring I had the opportunity to sample a fair share of the city's best restaurants.
Here are a few of the best Merida restaurants I recommend visiting:
Museo de la Gastronomia Yucateca: This is both a mueum and a restaurant, and the restaurant portion is beautiful and serves excellent local cuisine and cocktails. Make reservations for this one if planning to dine on a weekend night.
La Chaya Maya: This is a popular local restaurant in Merida with multiple locations. They serve traditional cuisine and its delicious.
Apoala: This is a Oxacan and Yucatecan restaurant located in Santa Lucia park. It's the perfect place to eat during live performances on weekend nights. Their food is flavorful and the cocktails are fantastic.
In addition to the few I've listed above, there are also dozens of great rooftop restaurants and bars in Merida. Stop into any place that looks interesting as you're walking around the city. You will likely not be disappointed.
If you're on the hunt for some truly affordable local food, head over to Galvez Market. This is a local food market where vendors sell fruits, vegetables, meats, and other items.
You can stock up on items to make your own food, or purchase something to eat from one of the local vendors.
9. Merida Theatre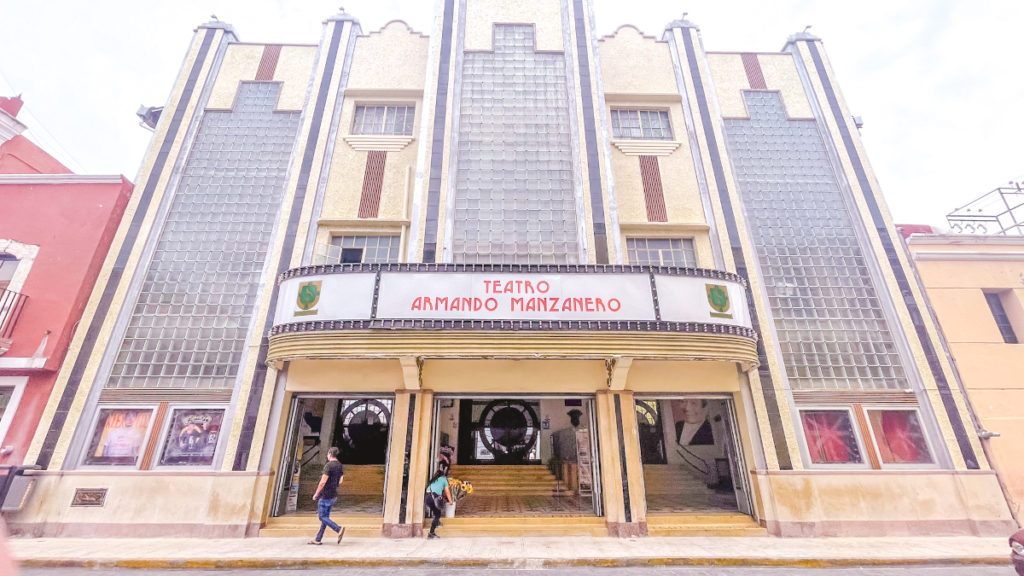 If you're interested in seeing a live performance while in Merida, head to the Teatro Armando Manzanero located in Merida's historic center.
The historic theater first opened on December 9, 1949 as an independent movie theater featuring a 20th century Art Deco architectural style.
Today the theater hosts a wide variety of live performances including plays, musicals, dance performances, and more.
Check the Teatro Armando Manzanero website for the current schedule of events and to purchase tickets.
Just a five minute walk away you can also find Jose Peon Contreras theater which offers similar performances.
10. Merida Festivals and Events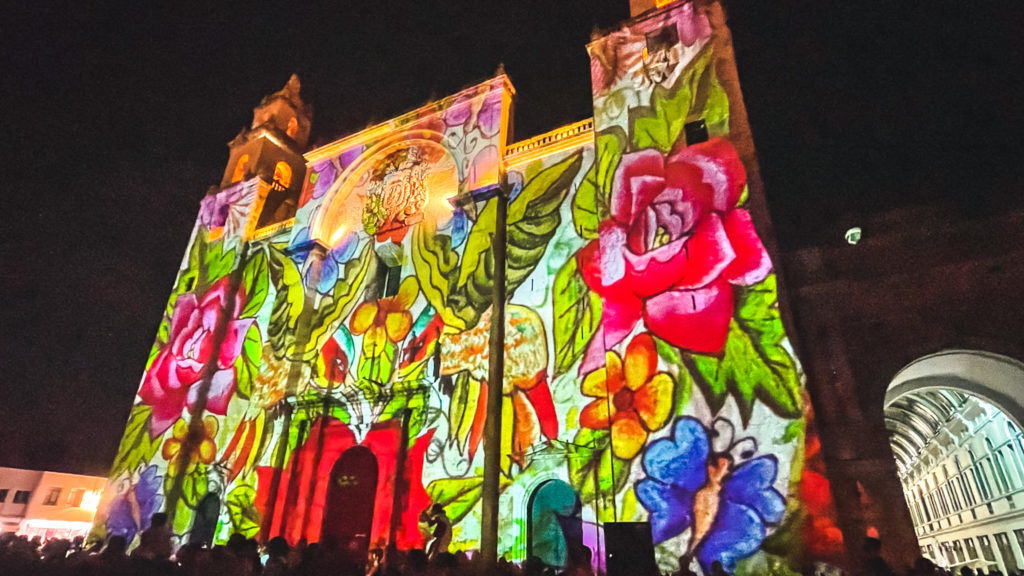 Merida is a lively and bustling city with rich culture. As a result, the city has curated a significant number of live events that take place throughout the year.
If you're planning a visit to the city, stop in at the local tourism board's office, located near Plaza Grande, to inquire about events in the city while you're in town.
During my recent visit the city was hosting an event called La Noche Blanca.
The event featured live music at multiple locations around the city, art exhibits, dance performances, a Mayan ball game, light shows, and more. It was a really good time.
11. Paseo Montejo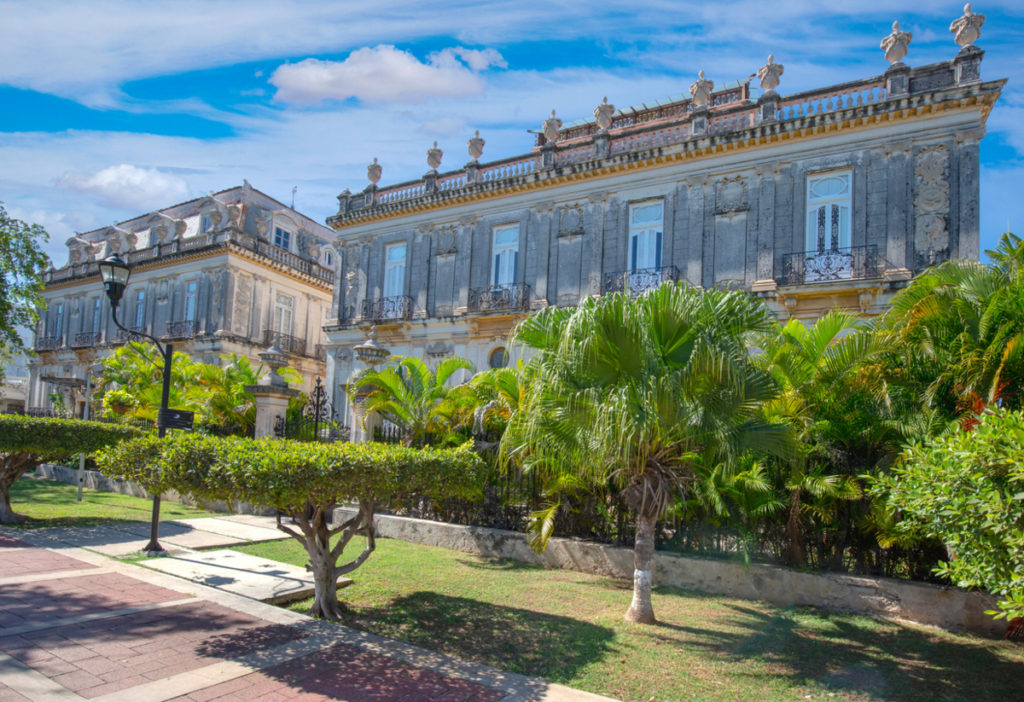 Paseo de Montejo is one of Merida's most beautiful streets and is known for its many impressive mansions and well manicured lawns.
It's one of the longest avenues in the city and stretches just over 6 kilometres from downtown to Highway 231 near the city's Mayan Museum.
In addition to the many mansions and museums, you'll also find multiple local monuments including the historic stone Monumento a la Patria, located in a traffic circle about a 20 minute walk from the city center.
Here are a few of the museums you can visit along Paseo de Montejo:
Casa Museo Montes Molina (Quinta Montes Molina)
Museum of Anthropology and History
Regional Museum of Anthropology / Palacio Canton
12. Mayan World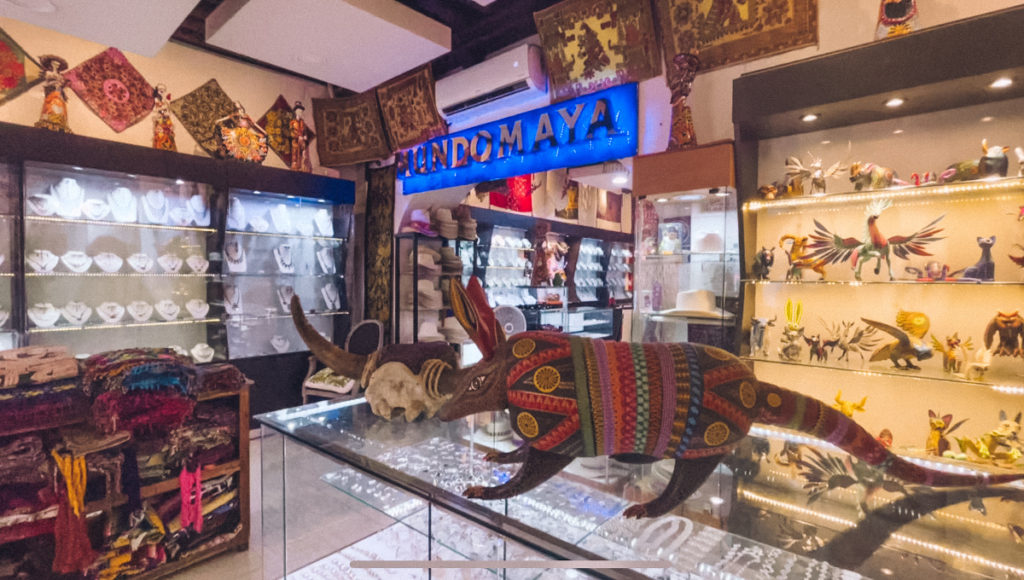 If you'd like to pick up some unique local souvenirs while in Merida, consider stopping into Mayan World, also known as Mundo Maya.
Mayan World is a locally owned shop selling authentic Mayan hand crafted gifts, souvenirs, and jewelry. Even if you're not looking to bring something home with you I recommend a visit anyways.
The items for sale in this shop are absolutely beautiful. They have a price tag to match the quality, but if it's in your budget, this is the best place to pick up items while supporting the local community.
Bonus: Day Trips from Merida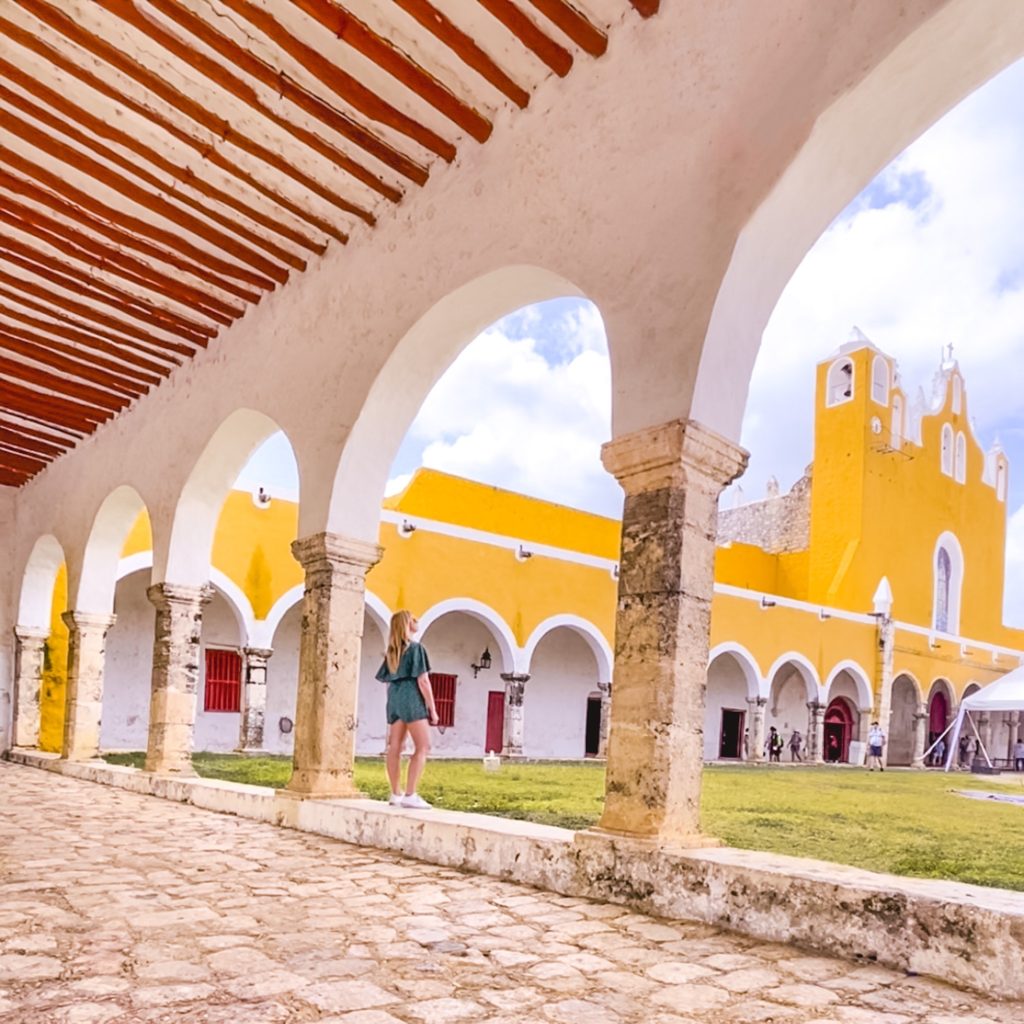 Since Merida is located in the historically and culturally rich Yucatan Peninsula of Mexico, you'll find no shortage of incredible day trips from Merida to choose from.
Popular options include visits to the local ancient Mayan ruins, cenotes, and nearby historic cities.
Here are just a few options to choose from when planning a day trip from Merida:
Cancun: Popular beach side city with numerous resorts.
Izamal (pictured above) Historic city with beautiful architecture and ancient ruins.
Chichen Itza: An important UNESCO World Heritage Site with impressive ancient ruins.
Valladolid: Historic city painted in beautiful pale yellow hues.
I hope you've enjoyed this guide to the best things to do in Merida Mexico and that I've inspired you to plan a visit of your own. As always, thanks so much for reading.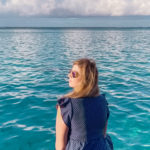 Eden Fite
Part-time Traveler | Dog Lover | Avoider of Crowds
I help busy people find creative ways to travel more.