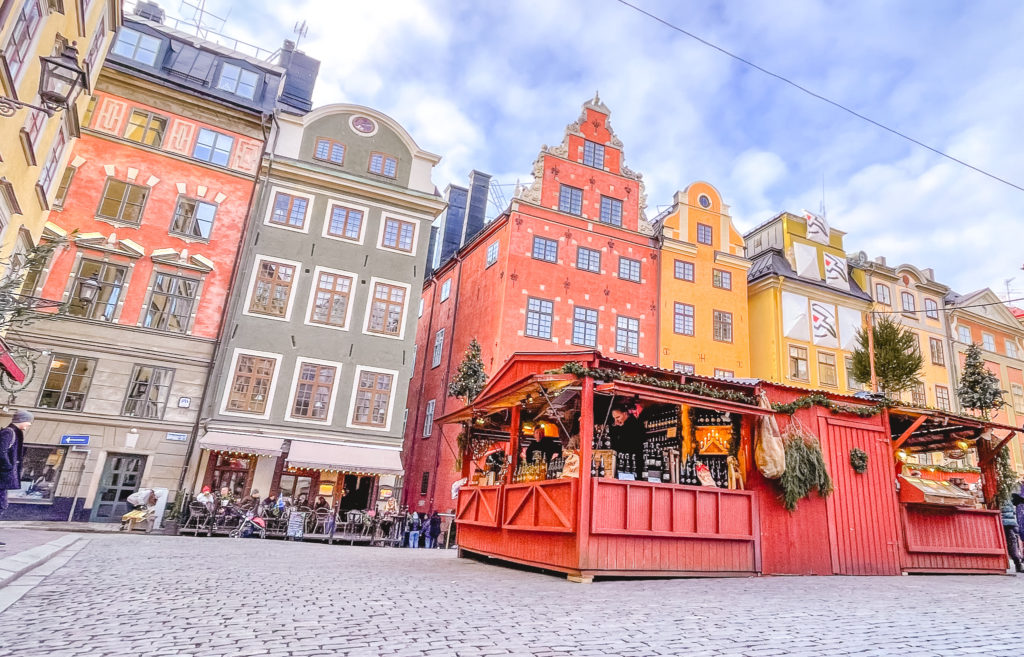 The Stockholm Christmas Market is up and running for 2021.
Visitors to Stockholm during the holiday season will not want to miss spending a few hours wandering around at the Stockholm Christmas Market.
This festive holiday market is located in the city's Old Town area, known locally as Gamla Stan.
I had the opportunity to visit the Stockholm Christmas Market on its opening day and had such a great time I went back again the next day.
Following my recent visit, I put together this Ultimate Guide to the Stockholm Christmas Market to help you plan a visit of your own. I know you'll love it as much as I did.
Be sure to come hungry, there are so many delicious snacks you'll want to try.
Some of the links in the post are affiliate links. If you make a purchase through these links it helps to support this site at no extra cost to you.
Stockholm Christmas Market 2021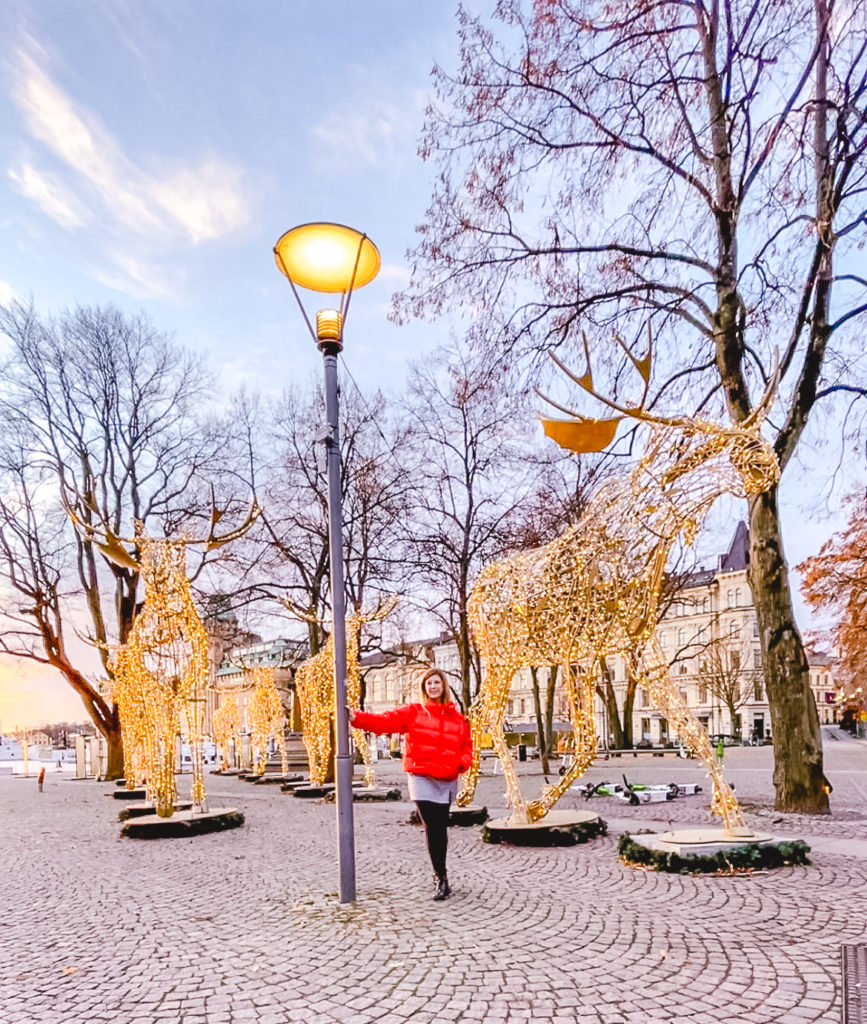 This Ultimate Guide to the Stockholm Christmas Market will help you plan your visit to Stockholm during winter and ensure you have a great experience at the market.
If you've never been to a European Christmas market before, just know that you're in for a really good time. The Christmas markets across Europe are a fun way to experience the holidays, especially when exploring a new city for the first time.
One of the things I loved most during my recent visit to Stockholm was how festive the whole city is. You'll find holiday decorations on nearly all the streets in the city, it's absolutely beautiful.
If this is your first visit to Stockholm in winter, be sure to pack your warmest clothing. This city is cold come November and December. You'll want to pack a winter coat, sweaters, a scarf, a warm hat, and gloves or mittens.
I'm serious about those mittens. I forgot mine and my hands were freezing. Don't forget them.
Traveling Soon? Don't forget your travel insurance.
Travel insurance is now more important than ever.
Travel insurance is probably less than you think it is. (Ex. For a week in Spain next month I'm paying less than $62.00.)
Travel insurance covers a lot more than you think it does.
It's better to have it, than need it and wish you'd bought it.
See for yourself. Check prices here.
When is the Stockholm Christmas Market?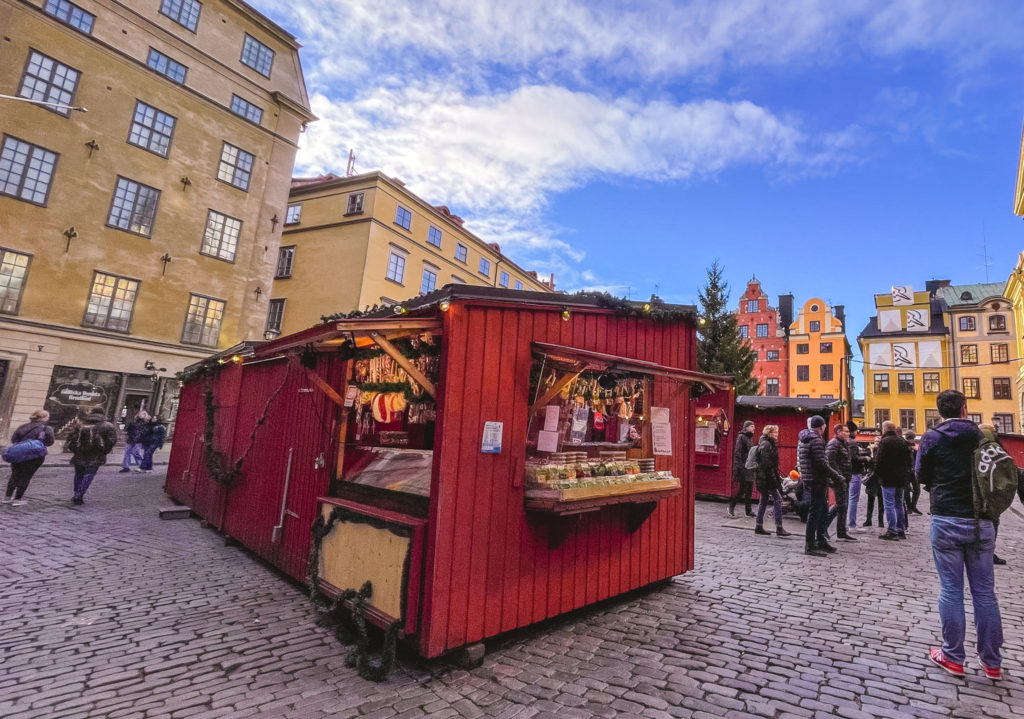 Here are the dates for the market in 2021:
Start: November 20, 2021
End: December 23, 2021
During this time the market is open daily from 11:00 a.m. to 6:00 p.m.
There is no cost of admission, everyone is welcome.
Where is the Stockholm Christmas Market?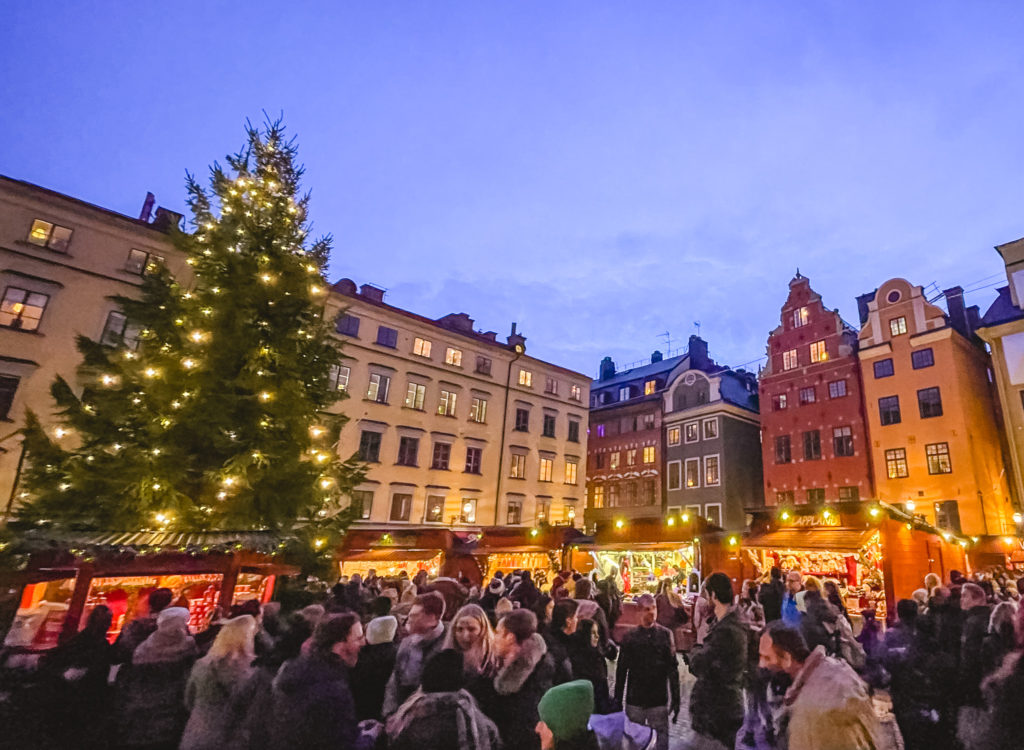 The Christmas market is located in the city's old town area know as Gamla Stan. This is known as the city's Gamla Stan Christmas Market.
Gamla Stan sits on a small island just off the shores of Stockhom. There are plenty of pedestrian friendly bridges, so don't worry if you plan to explore on foot.
The Gamla Stan neighborhood is known for its 17th and 18th century buildings, which you'll see pictured above lining the main square. I loved that these gorgeous historic buildings created such an impressive backdrop for the Christmas market.
Elsewhere in Gamla Stan you can wander the area's cobblestone streets and visit lively local pubs, restaurants serving Nordic cuisine, and plenty of chic cocktail bars.
To summarize, there's plenty to do here after the market closes at 6:00 p.m.
Things to do at the Christmas Market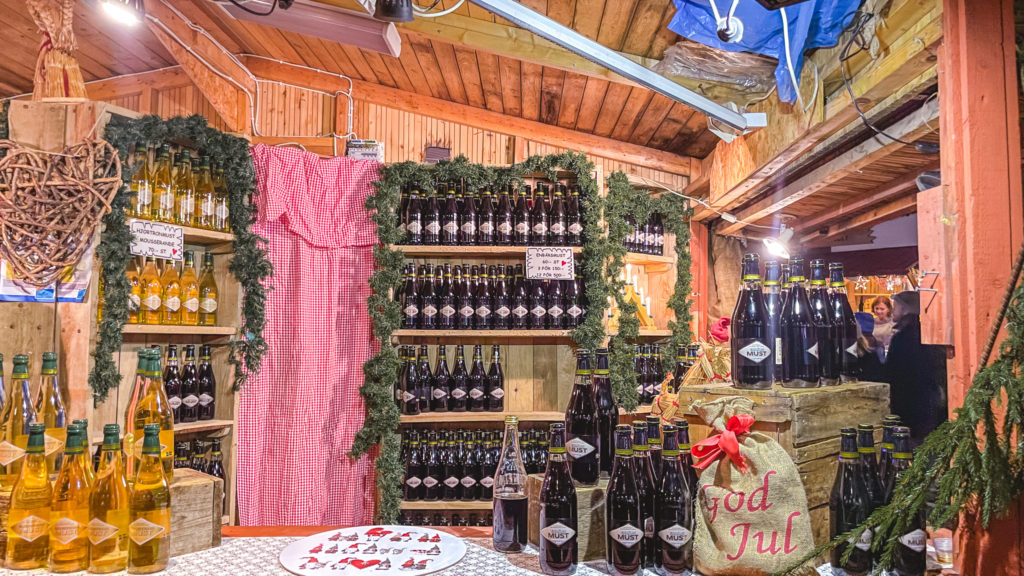 The first thing I encourage you to do at the Christmas market is to simply take in the festive atmosphere. The markets are often filled with local families enjoying the holidays together, so this is the perfect opportunity to just watch and listen.
I think it's important to be an observer when traveling. Take a step back and just take in your surroundings. You'll learn so much about local customs and culture from doing this.
After you've had a chance to take it all in, head over to visit the various chalets (or stalls). Each chalet is selling something different and you'll find plenty of options for unique Christmas gifts.
For an especially good time, make your first stop the mulled wine chalet. You can sip hot mulled wine to stay warm while you're exploring the rest of the market. You can thank me later for this great tip.
Personally, I picked up some Swedish Christmas candies to bring back home and share with family over the holidays. Though, for full disclosure, I ate said candy over the course of the following week. Apologies to my family.
Besides the local candies you can also find locals selling knit clothing, holiday decorations, artisanal goods, and more.
What to eat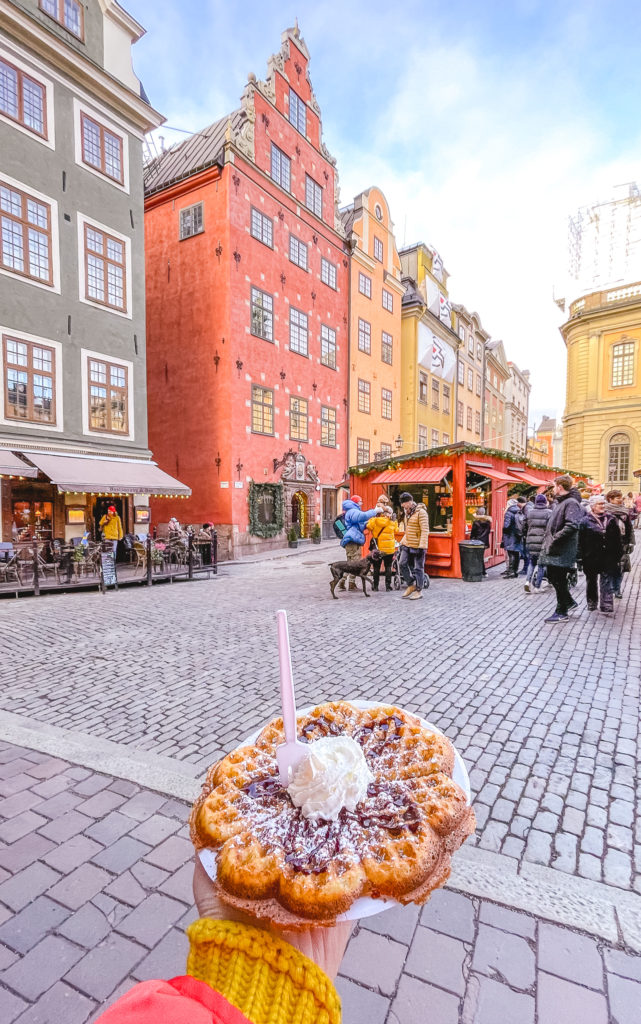 Sampling all the snacks was my favorite activity at the market this year. As mentioned above, I like to start off with a cup of hot mulled wine. I do this to keep warm, but also because it's wine. You get me!
With my mulled wine in hand, I wander from chalet to chalet in search of other snacks. This year they were serving hot dogs, waffles, toasted nuts, chocolates, egg nog, and hot cocoa.
Yes, I tried it all, and all was delicious. If you're wondering, I liked the mulled wine and waffle the most.
If you're interested in learning about other Stockholm Christmas markets you can view the city's official website here. On their website you can also read about the nearby Skansen Christmas market and holiday festival, which is also worth a visit if you have the time.
Where to stay in Stockholm
If you're looking for the best hotels near the Swedish Christmas market, I've included a few of my favorites below including the hotel I stayed at during my visit.
Nobis Hotel Stockholm: This is the hotel I stayed at. It's located in the city center about a 15 minute walk from the city's Christmas Market. This is a chic boutique style hotel located walking distance to public transportation and many city attractions.
Hotel Reisen: This is an upscale modern hotel located as close to the market as you can get. It's about a 2 minute walk to the market from the front of the hotel.
Sheraton Stockholm: The Sheraton is a mid range hotel located right outside Gamla Stan. It's about a 12 minute walk to the market.
I hope you found this Ultimate Guide to the Stockholm Christmas Market helpful and that I've inspired you to plan a visit of your own. If you enjoyed this article please consider sharing. As always, thanks for reading.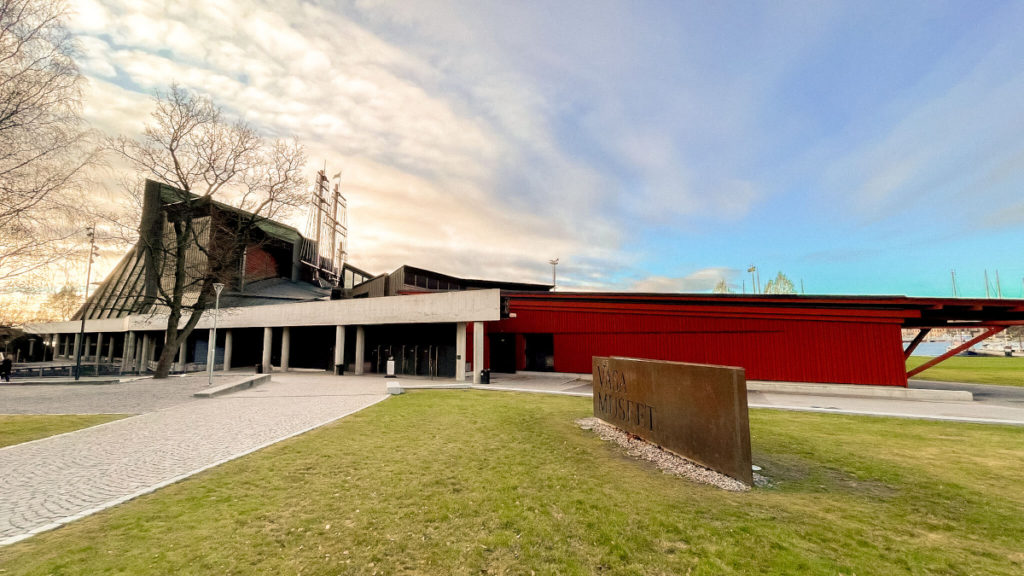 Coming up with a list of the best museums in Stockholm was no easy task. Any past visitor to the city can tell you the …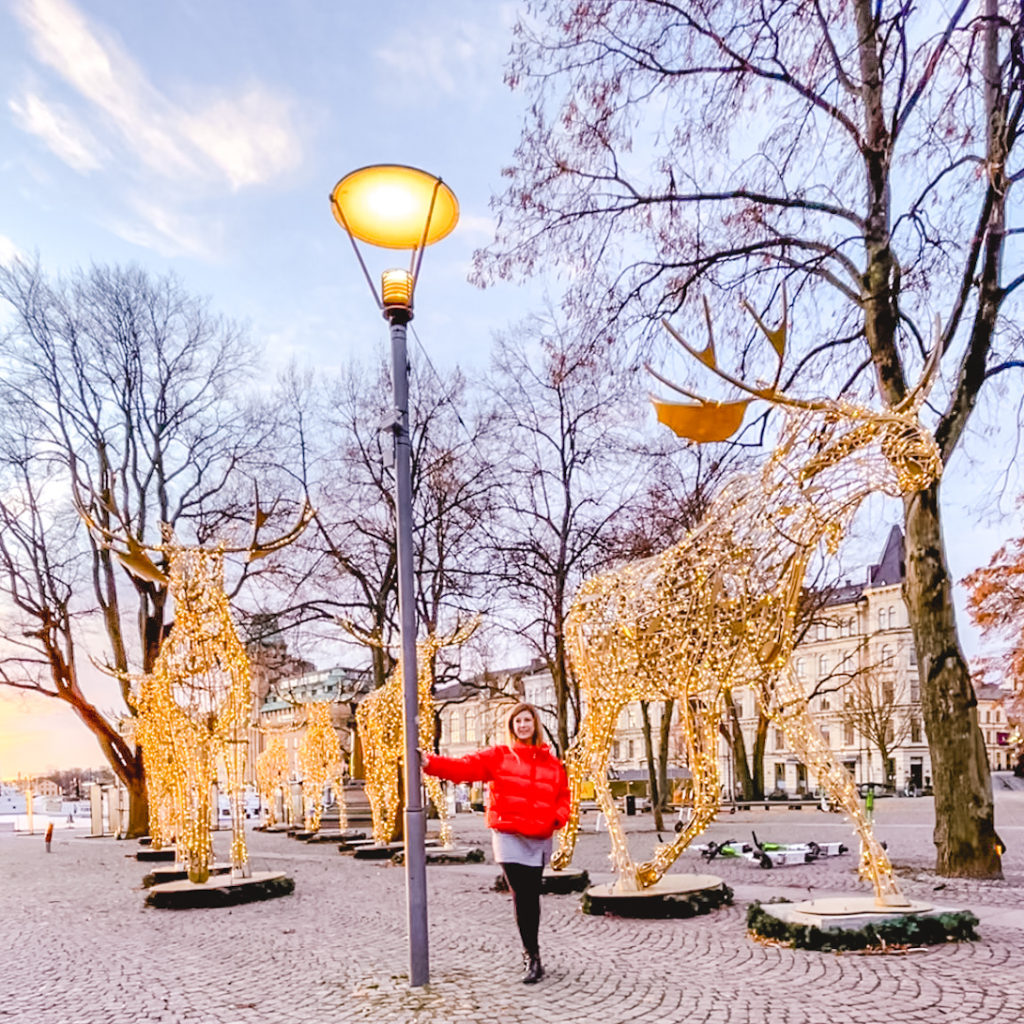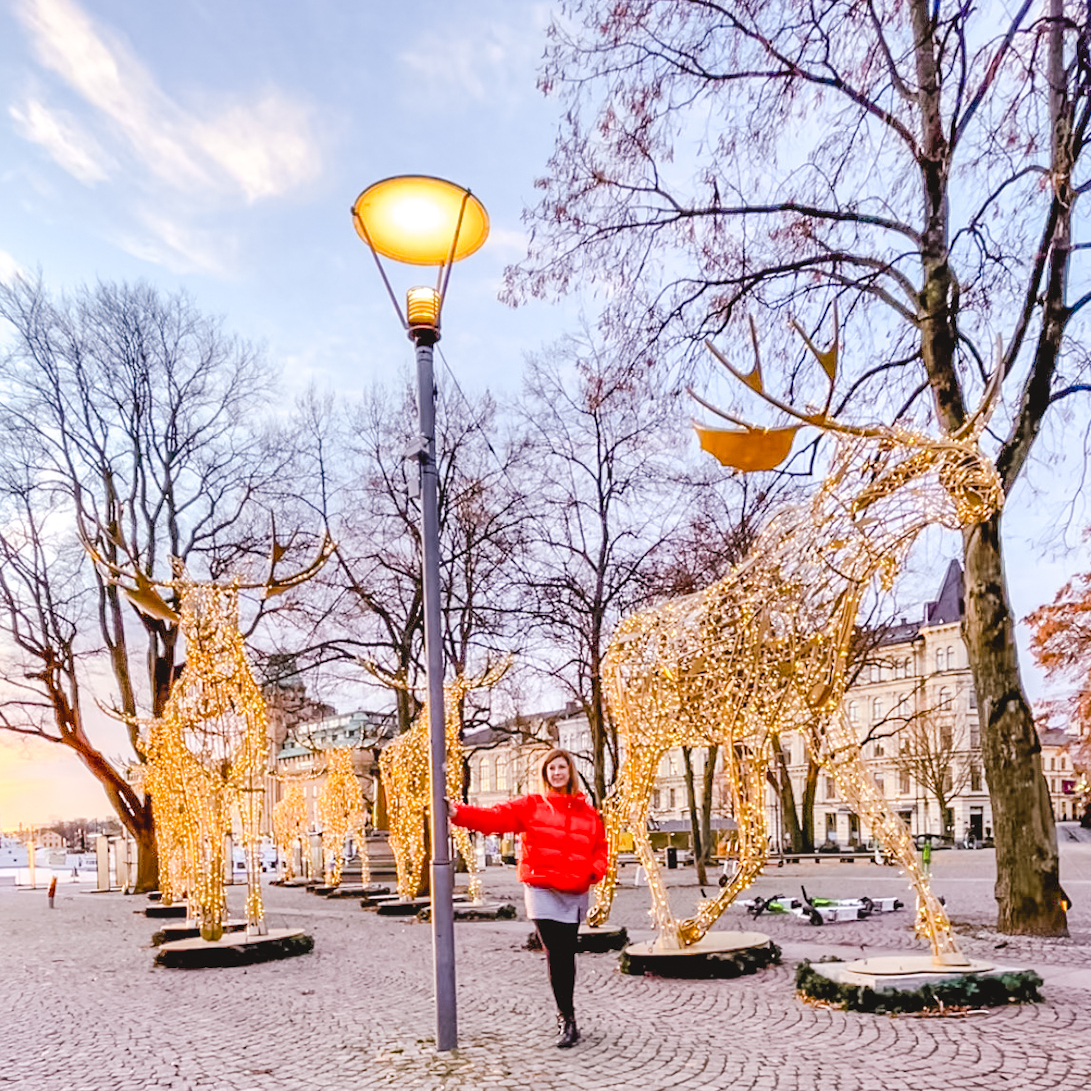 Stockholm in winter is always a good idea in my opinion. Sure, you'll need to bundle up so you don't freeze to death while you're …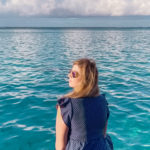 Eden Fite
Part-time Traveler | Dog Lover | Avoider of Crowds
I help busy people find creative ways to travel more.