This SF to LA road trip covers one of the most beautiful stretches of highway on the planet. You'll get to experience stunning Pacific Coast views the entire way, complete with rocky shorelines and incredible sunsets.
Having lived in both San Francisco and Los Angeles over the past 20 years, I have made the trip between these two cities more times than I can count. With that much experience, I know which stops to recommend and which ones you should skip.
This SF to LA road trip itinerary will take you to all my favorite spots for unique experiences and incredible views. I'll even include a few tips along the way.
Let's hit the road, shall we?
Stop 1: San Francisco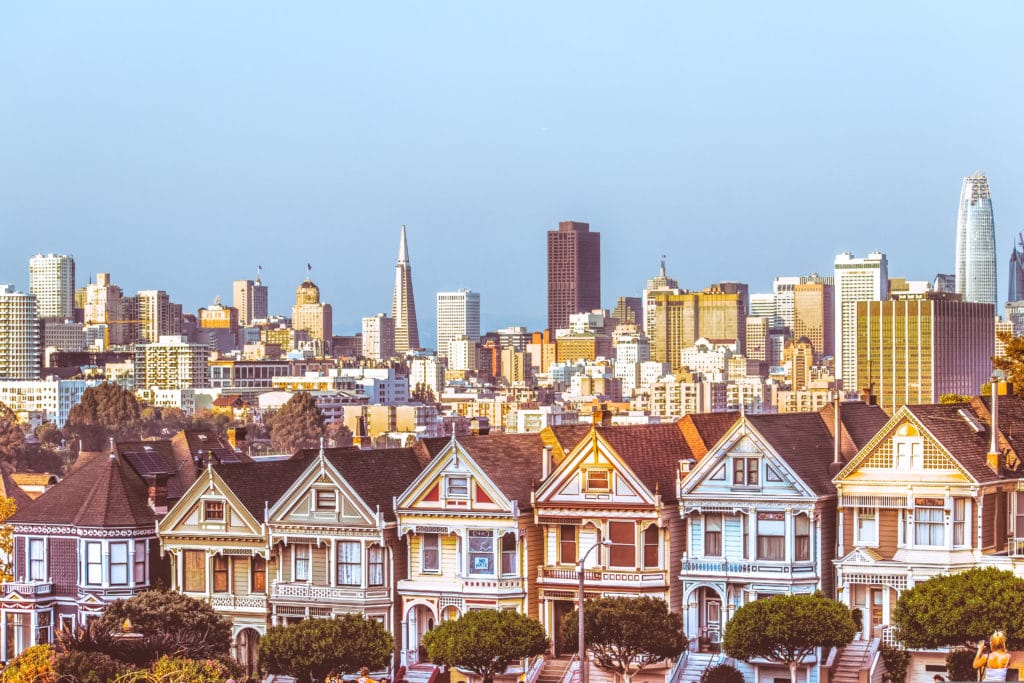 I love San Francisco so much, it's one of my favorite cities in the world. I used to live about 30 minutes from the city and would drive in at least twice a week to hang out with friends, get dinner, see shows, you name it. San Francisco is never boring.
If you've never been to San Francisco before, I encourage you to spend at least 3 days exploring this city before heading out on your SF to LA road trip.
Some of my favorite things to do in San Francisco are visiting the Golden Gate Bridge, thrift shopping in the Haight Ashbury neighborhood, getting Irish coffees at the Buena Vista, walking along the Embarcadero, getting dinner and drinks in the Mission, and seeing live music in the local venues at night.
First time visitors should also consider visiting Golden Gate Park, the Academy of Sciences, and even Alcatraz. Yes, this last one is extremely touristy, but I just love getting out on the water and the history of the prison is fascinating.
San Francisco is also home to some of the best restaurants and coolest bars in the world, so this is not the place to go to bed early.
Stop 2: Pacifica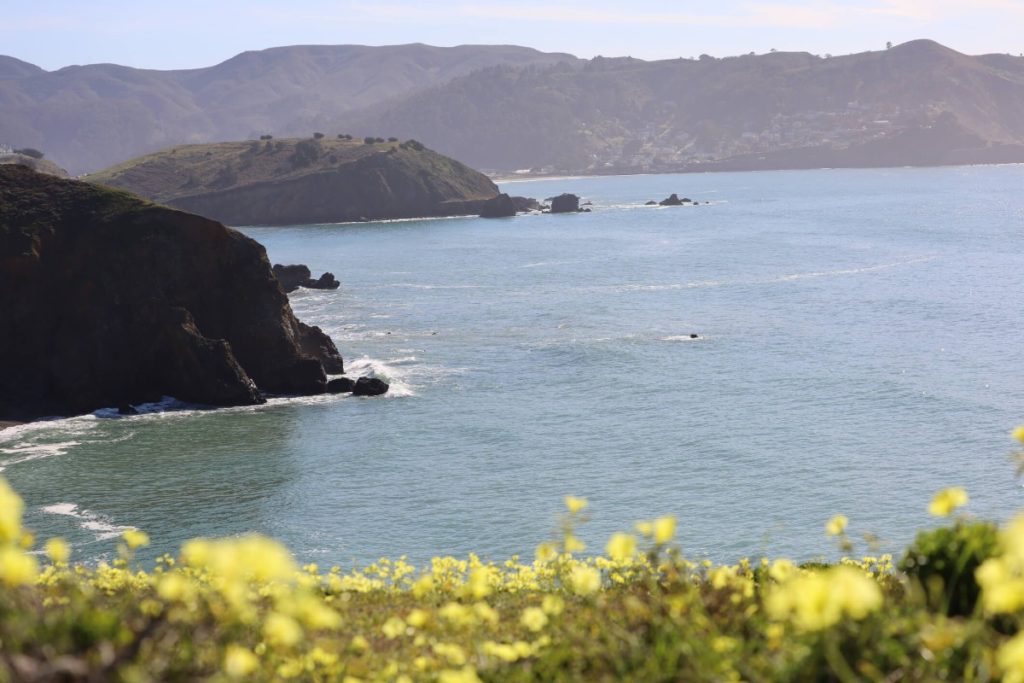 Pacifica is found about 15 minutes south of San Francisco and is best known for its family friendly beaches. Both Pacifica State Beach and Rockaway Beach are popular with locals looking to spend the day swimming, sunbathing, or surfing.
If you've ever wanted to learn to surf, Pacifica is your spot. The small waves here are perfect for beginners. You'll find several local surfing schools in town that will be happy to teach you.
Pacifica is also a popular destination for hikers. The popular Devil's Slide Trail, which offers spectacular ocean views is easily accesible from Highway 1. This hike is 1.3 miles and should take about 1 to 2 hours.
Stop 3: Half Moon Bay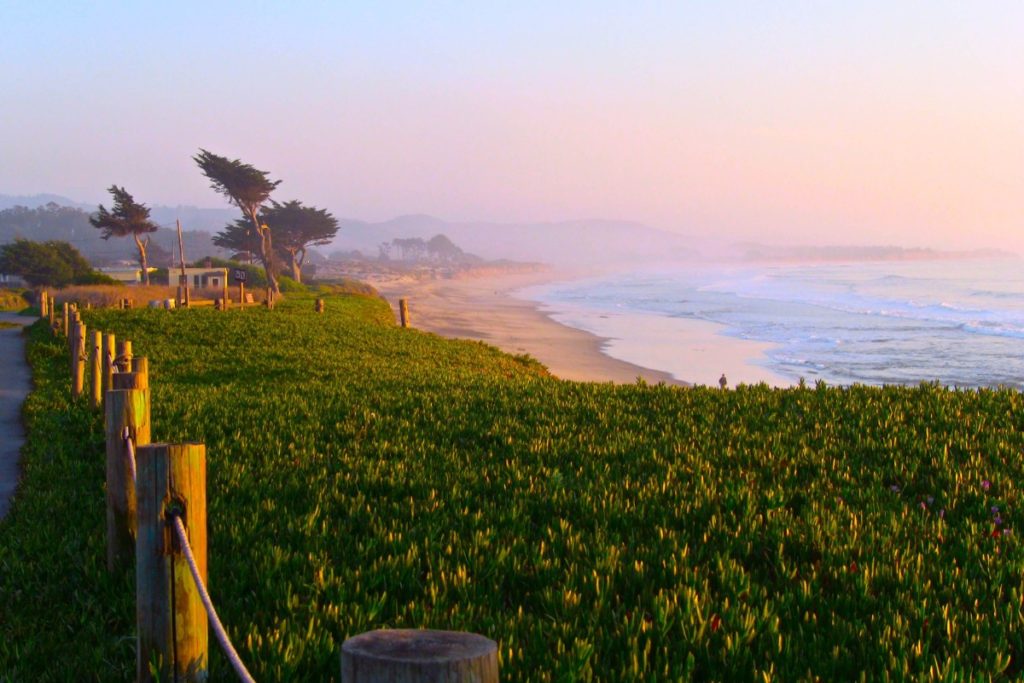 You'll reach Half Moon Bay another 30 minutes down Highway 1. The city is also known for its beautiful beaches, upscale resorts, and trendy restaurants situated along the coast.
Half Moon Bay State Beach and Dunes Beach are popular destinations for swimming and sunbathing.
First time visitors should also head into town for a bit to walk along Main Street. Here you'll find dozens of local boutiques and some fantastic restuarants for lunch or dinner. Pasta Moon is my personal favorite.
Stop 4: Santa Cruz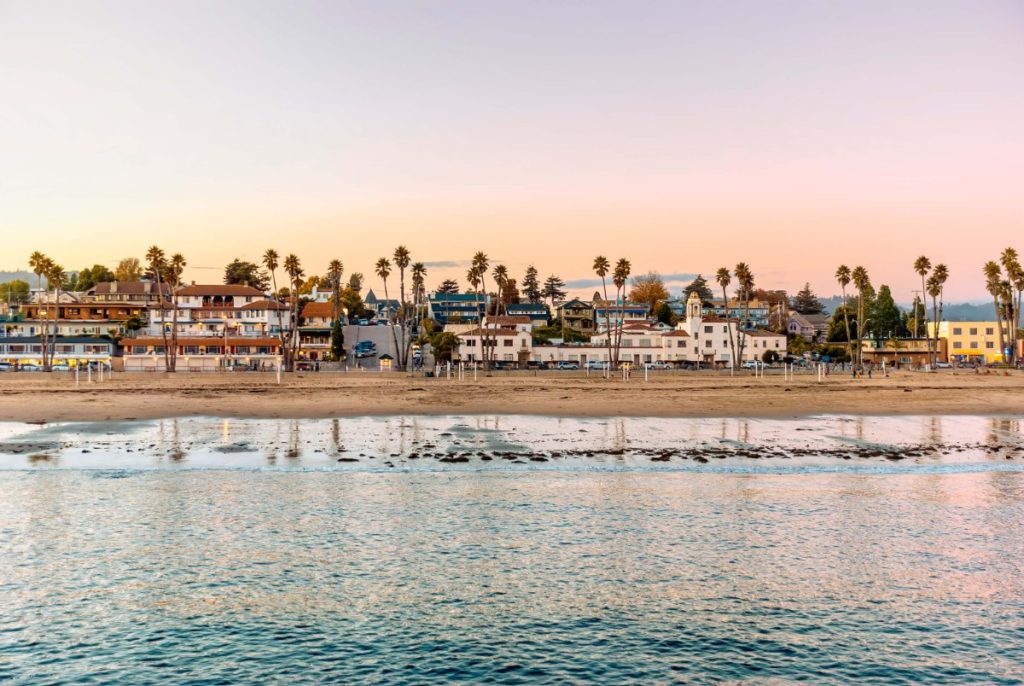 Santa Cruz is located about an hour or so south of Half Moon Bay. I would describe Santa Cruz as an eclectic beachy college town. It's known for its beaches, cafes, records shops, nearby hiking trails, and hippie vibe.
It's also home to one of the state's universities, the University of California at Santa Cruz. In keeping with their town's unique vibe, the university's mascot is the Banana Slug. This bright yellow, banana colored slug is native to the region's many forested areas. They can often be seen while hiking the local trails.
The most popular destination in Santa Cruz is the Santa Cruz Boardwalk. Here you'll find carnival rides, games, food, music, and some very unique forms of entertainment put on by the locals. You'll see what I mean when you get there.
Stop 5: Monterey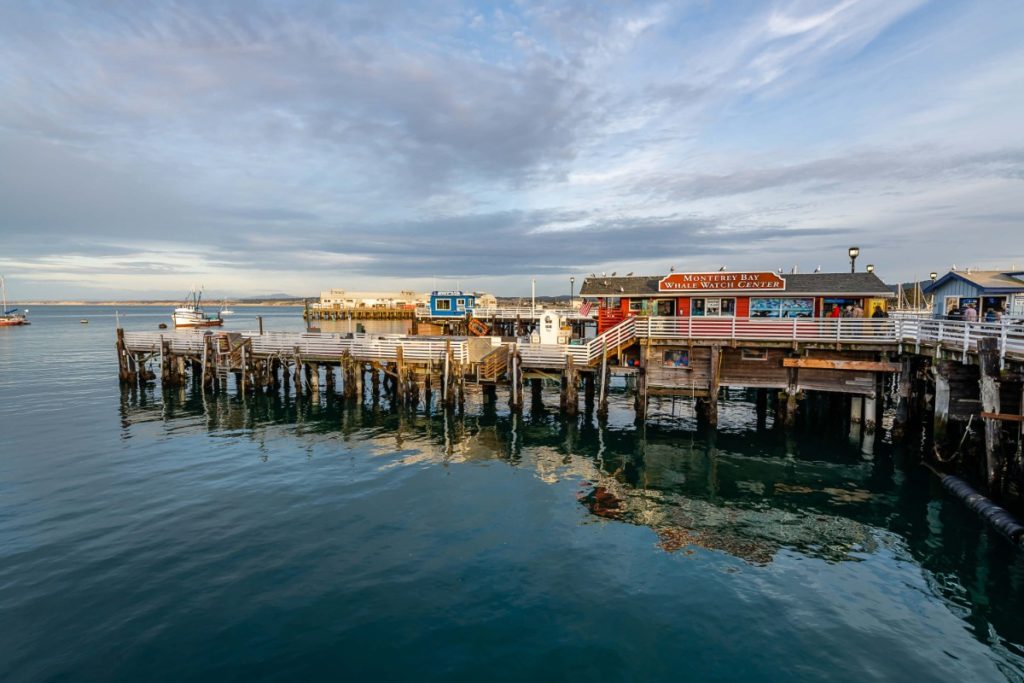 Monterey is found about 50 minutes south of Santa Cruz and is known for its beautiful Monterey Bay and also the wold renowned Monterey Bay Aquarium.
The Monterey Bay Aquarium is absolutely worth the stop if you've never been. The aquarium features impressive exhibits with penguins, sea otters, turtles, jellyfish, and sharks. The Monterey Bay Aquarium is one of the best aquariums on the planet, don't skip this.
Other things to do in Monterey include walking along the beaches to enjoy the stunning views, visiting Cannery Row for the unique shops and restuarants, and watching the sunset over the ocean at Lover's Point near Pacific Grove.
Stop 6: Carmel by the Sea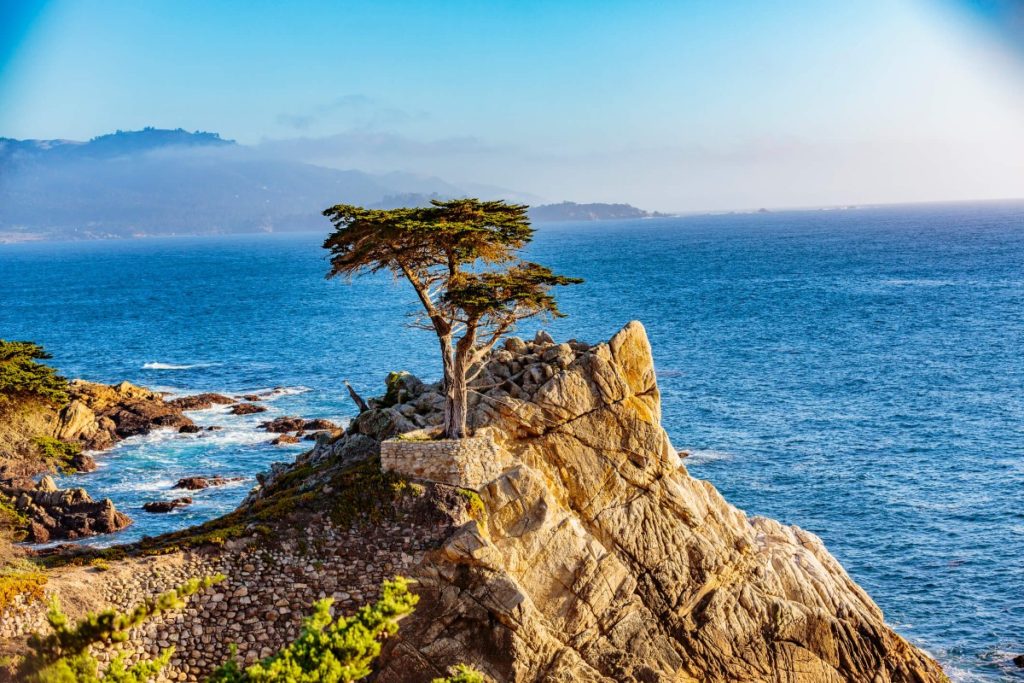 Carmel by the Sea is found 10 minutes south of Monterey and is known as a popular weekend getaway destination for the San Francisco Bay Area's wealthy residents. As a result, you'll find plenty of upscale hotels, restuarants, and boutiques.
That being said, you don't have to be rich to enjoy Carmel. First time visitors should walk around Carmel Village, Carmel Beach, and Carmel Mission.
This area is also known as an up and coming wine region, so consider stopping into one of the local wine tasting rooms if you need a break from the road.
If you prefer a little time in nature, head just south to Point Lobos State Reserve. Here you can spend some time hiking and enjoying the outdoors.
Stop 7: Big Sur
Big Sur is found about 40 minutes south down Highway 1. Big Sur is known for its stunning rocky coastline and is the perfect opportunity to get your camera out.
As you're making the drive along the coast near Big Sur, there are dozens of spots along the road where you can pull over to get out and enjoy the view. Take advantage of these stops, the views are simply gorgeous, and that's not an exageration.
Some popular stops in Big Sur include Julia Pfeiffer Burns State Park, Bixby Creek Bridge, Point Sur Lighthouse, and the Henry Miller Library.
Stop 8: San Simeon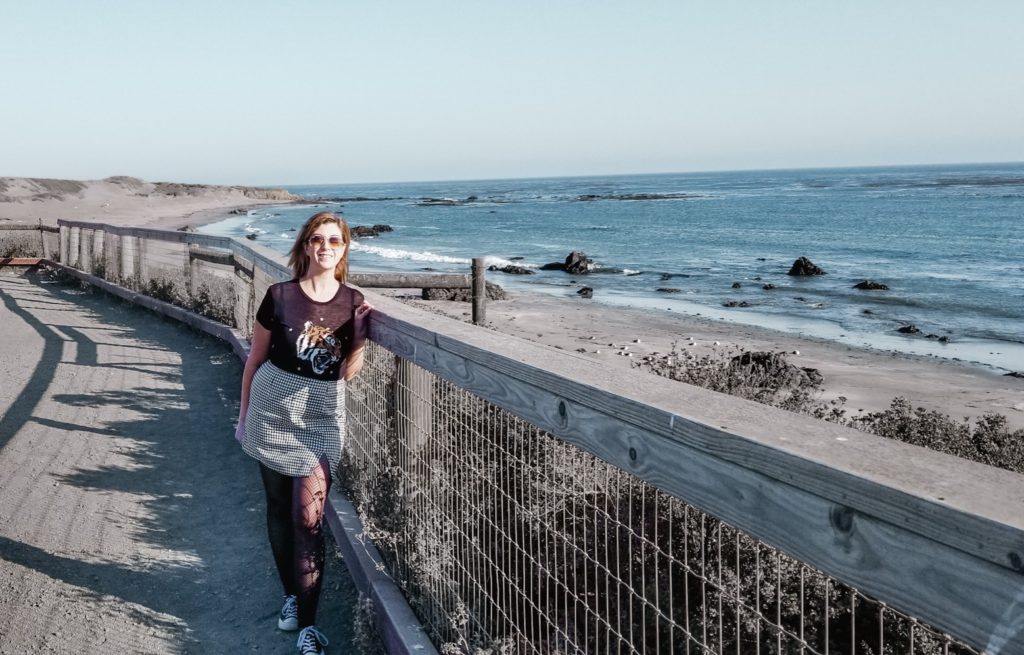 After leaving Big Sur, your California road trip is going to take you through some very windy one lane roads as you head about an hour south to San Simeon.
San Simeon is where you'll find another one of my favorite stops on this epic road trip, the Elephant Seal Lookout. This lookout features a massive boardwalk overlooking the beach. If you look down below you'll usually see a dozen or so huge Elephant Seals laying in the sand or swimming around in the water.
The Elephant Seals are fun to watch because there are so many of them, and they also interact with each other a lot. If you're lucky, you'll even get to see them fighting. The fighting between Elephant Seals is common and part of their natural behavior, so it's quite entertaining to watch.
Most of the time though, the seals are just laying about in the sand and swimming around just off shore. If you listen quietly, you can also hear them calling out from the water.
If you've never been to this area before, you may also wish to consider booking a tour at Hearst Castle. You can find the Hearst Castle Visitor Center about a 5 mile drive from the Elephant Seal Lookout.
Hearst Castle is the former home of the famous publishing tycoon William Randolph Hearst. His opulent home, or castle, was designed by architect Julie Morgan. The architecture and interior design of the castle are, as you'd expect, quite impressive.
The history of the property and Mr. Heart's life is incredibly interesting and I highly recommend a tour if you've never been.
Hearst Castle tours should be booked in advance. You can find information about the tours and pricing at their website linked above.
If you'd like to add an extra stop before arriving at Pismo Beach, consider stopping at Morro Bay to see Morro Rock. This stop is right off the Pacific Coast Highway road so it can be a quick stop.
Stop 9: Pismo Beach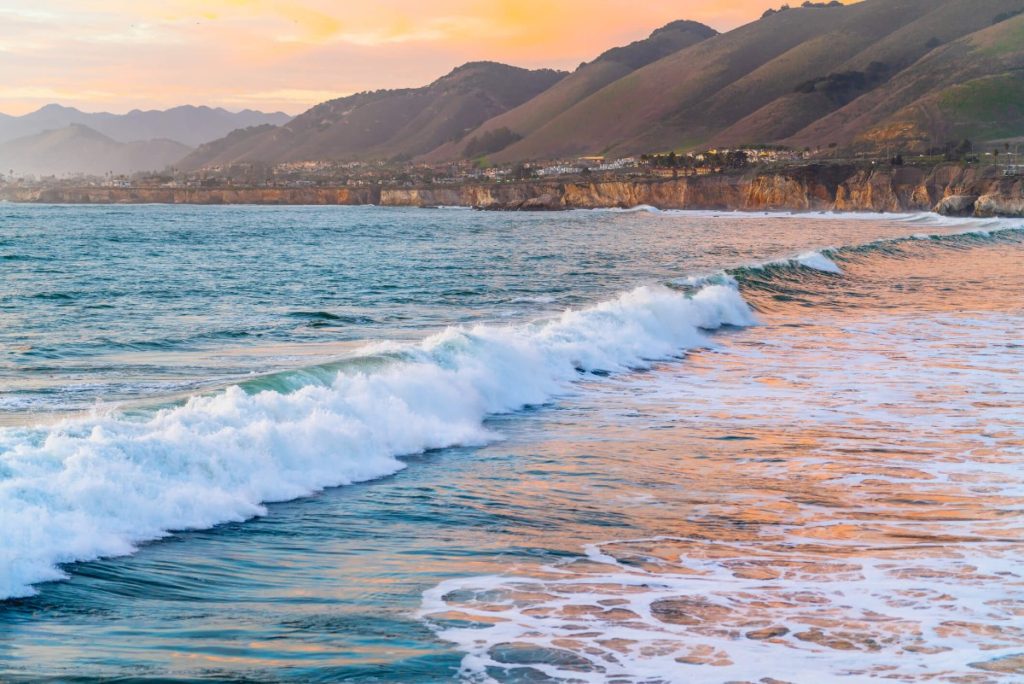 As you leave San Simeon you'll head south towards San Luis Obispo and then on to beautiful Pismo Beach. This drive should take you about an hour and 10 minutes or so.
Pismo Beach is a huge sandy beach perfect for sunbathing, swimming, surfing, and kayaking. There's also a restaurant and bar overlooking the ocean for when you get hungry.
The town of Pismo Beach is home to some popular restaurants and cafes. If you're hungry, try stopping in to Splash Cafe. They often have a line out the door, but I'm told it moves fast and is worth the wait.
Other things to do in Pismo Beach include walking along the Pismo Beach Pier, visiting Dinosaur Caves Park, or walking the Shell Beach Bluff Trail.
Stop 10: Solvang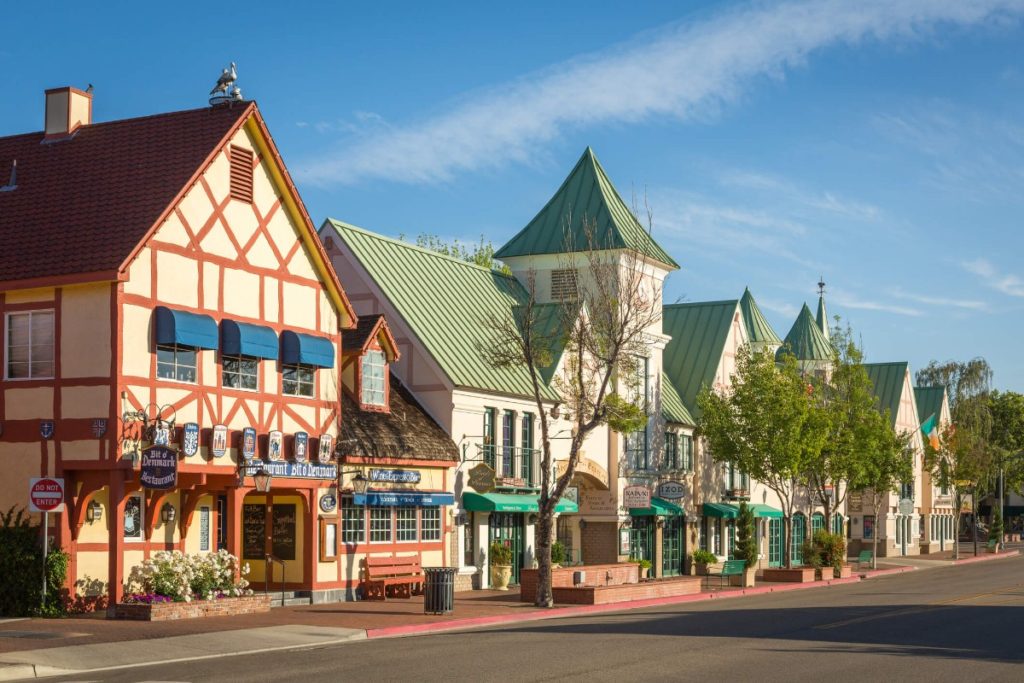 From Pismo Beach you can arrive in Solvang in just under an hour. Solvang is a small Danish style town located in the Santa Ynez Valley. It's a popular tourist destination and a great place to spend an afternoon.
For first time visitors to Solvang, you'll want to walk around the city center, check out the local boutiques, and enjoy the Danish inspired restuarants. Due to the Danish style architecture and windmills, this is a fun place to get pictures.
If you're looking for something a bit different, head over to High Roller Tiki. Here you can sample local Santa Ynez Wines combined with traditional tiki style cocktails. It's a totally unique take on traditional tiki and well worth a visit if you're in the area.
Stop 11: Santa Barbara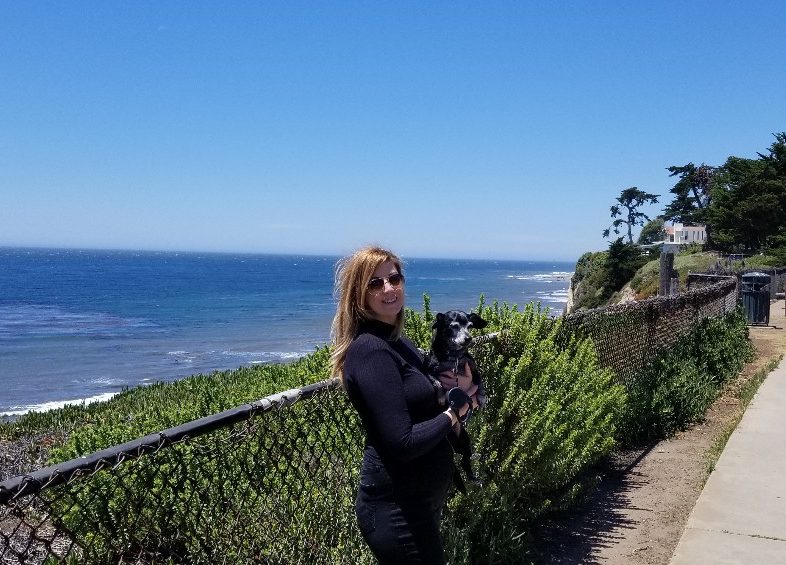 The next stop on your San Francisco to Los Angeles road trip is sunny Santa Barbara. You can get to Santa Barbara from Solvang in about 45 minutes.
Santa Barbara is best known for its pretty beaches. It's also a very popular weekend getaway destination for Californians from across the state.
Santa Barbara is the perfect place to go to spend a day at the beach swimming, surfing, sunbathing, or kayaking. There are biking trails that wind along the beach as well, along with several bike shops willing to rent you a bike to use for the day.
In the evenings, head out to the city's many fantastic restuarants, I recommend Bettina or Honor Bar. After dinner, you can spend your nights enjoying the city's trendy bars and lounges.
Afterwards, take a nighttime stroll along the beach and enjoy having the ocean all to yourself.
Stop 12: Ventura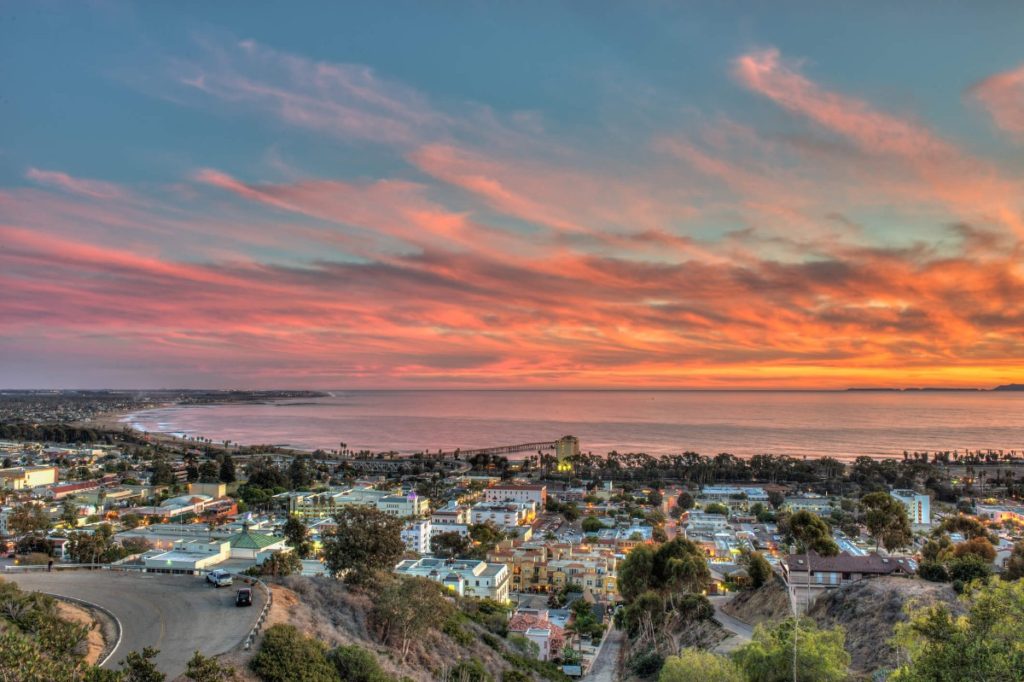 Ventura will be the last stop on your San Francisco road trip before you hit Los Angeles. It will take you about 30 minutes to get to Ventura from Santa Barbara.
Venture is a laid back beach town with a small yet lively downtown area. You can spend a day at the beach and then enjoy the town at night. You'll find plenty of bars and restuarants in town for you to enjoy in the evenings.
Ventura is also a popular and affordable weekend getaway destination for Angelenos looking to escape both the crowds and the prices of LA.
The city has a ton of moderately priced hotel rooms all within walking distance to downtown or the beach. So if you're looking for an affordable place to stay outside of Los Angeles, this is your last and best bet.
Stop 13: Los Angeles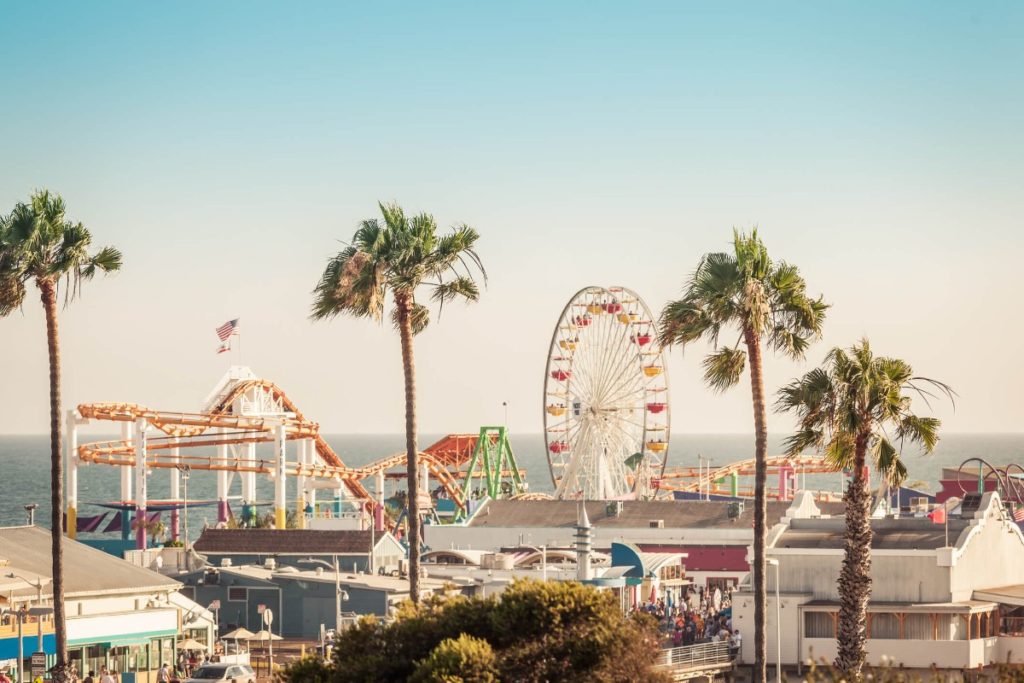 After leaving Ventura, you'll reach Los Angeles after about 90 minutes or so, depending on traffic. If you've never been to Southern California before, I recommend you spend at least one day in LA before moving on to your next destination or heading home.
For first time visitors to LA, you'll definitely want to visit Santa Monica Beach and Venice Beach, Griffith Park and the Griffith Observatory, Downtown LA (I personally love the Arts District), Melrose Avenue, and the Sunset Strip.
You should also be aware that LA is a fantastic destination for foodies, as we have some of the best restuarants in the world. So be sure to try out some of the city's best during your visit. I personally recommend Bestia, Father's Office, Wurstkuche, and Pizzeria Mozza.
I hope you found this SF to LA Road Trip Itinerary helpful in planning a trip of your own. This is truly an incredible road trip with absolutely stunning views of California's Pacific Coast. I promise it will not disappoint. If you would like to support this blog please consider sharing this post. Thanks so much for reading.
If you haven't had enough and you don't want your West Coast road trip to end, you can always keep driving and head down to sunny San Diego. I recommend stops in Old Town San Diego, the Gas Lamp District, Ocean Beach, and La Jolla.
Book Your Trip
Find the best flight deals by using Google Flights, then book direct with the airline. This is the search engine I use to compare flights and prices before booking my own trips.

BOOK YOUR ACCOMODATION
I recommend searching for hotels through Booking.com to compare hotels on amenities, location, and price. If you are a member of a hotel's rewards program, always book direct with the hotel. If you are not loyal to a specific hotel brand, using Booking.com for the best price.

TRAVEL INSURANCE
Travel insurance is more important than ever. For just a few dollars a day you can protect yourself and your trip. I personally use World Nomads, but whomever you choose, don't skip out on travel insurance. It can literally save you thousands of dollars.


Want to save it? Pin in.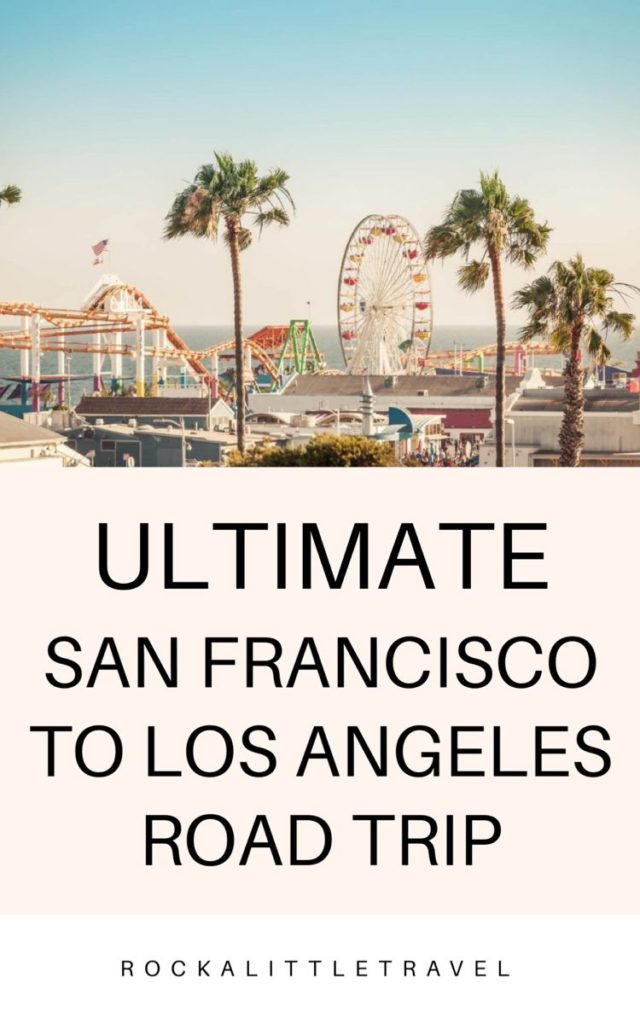 Photo by iStock – Cho Ness If you find yourself in LA and you'd like to drive from one beautiful spot to the next, consider taking …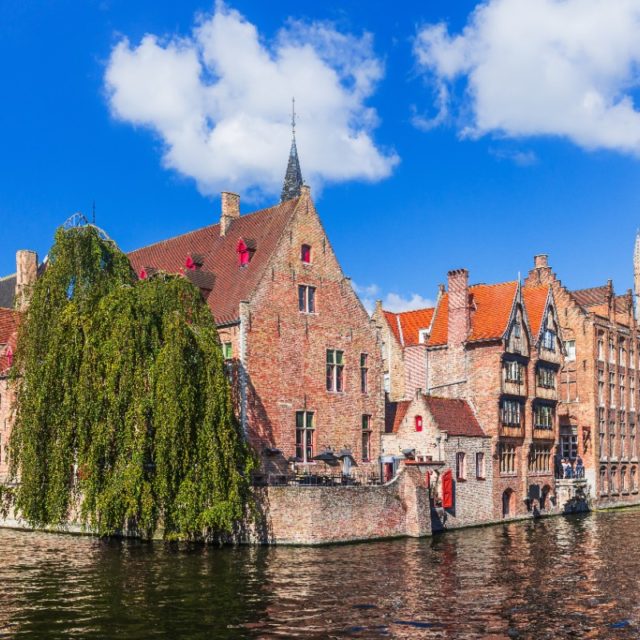 Photo by Shutterstock This Ultimate Belgium Road Trip will take you to some of the most picturesque and historic cities in Belgium. You'll get to sample …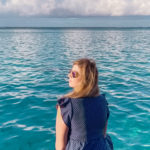 Eden Fite
Part-time Traveler | Dog Lover | Avoider of Crowds
I help busy people find creative ways to travel more.