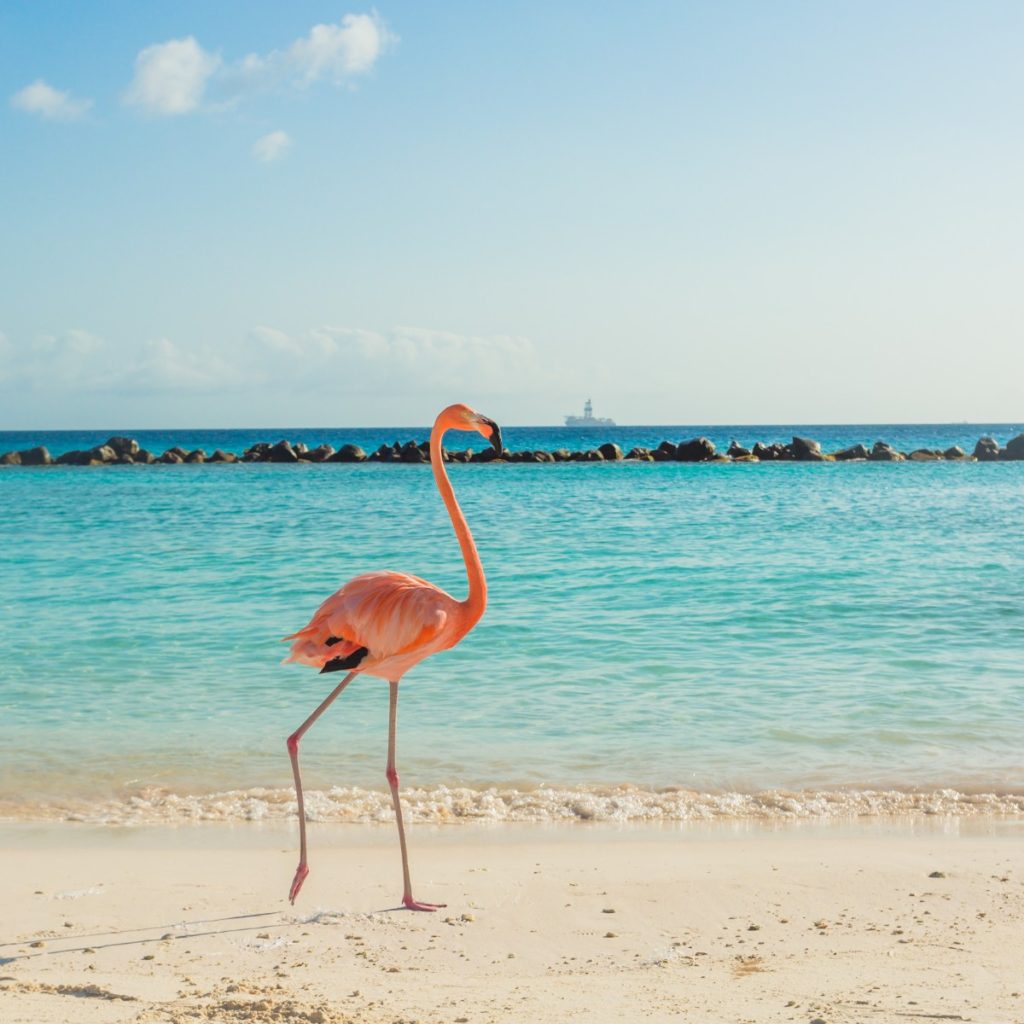 Flaminigo Beach Aruba is one of the most photographed spots in the Caribbean. If you've been inspired to visit due to all the fun and pretty photos of pink flamingos, you're not alone.
Flamingo Beach, otherwise kown as Renaissance Island, is actually a private island owned by the Renaissance Hotel near Aruba's capital, Oranjestad. This is also the only place on the island where you'll find the Aruba flamingos.
If you're hoping to have a photo opp with these beautiful pink flamingos during your trip to Aruba, these 10 Tips for Visiting Flamingo Beach Aruba will help you plan your visit.
How to visit Flamingo Beach Aruba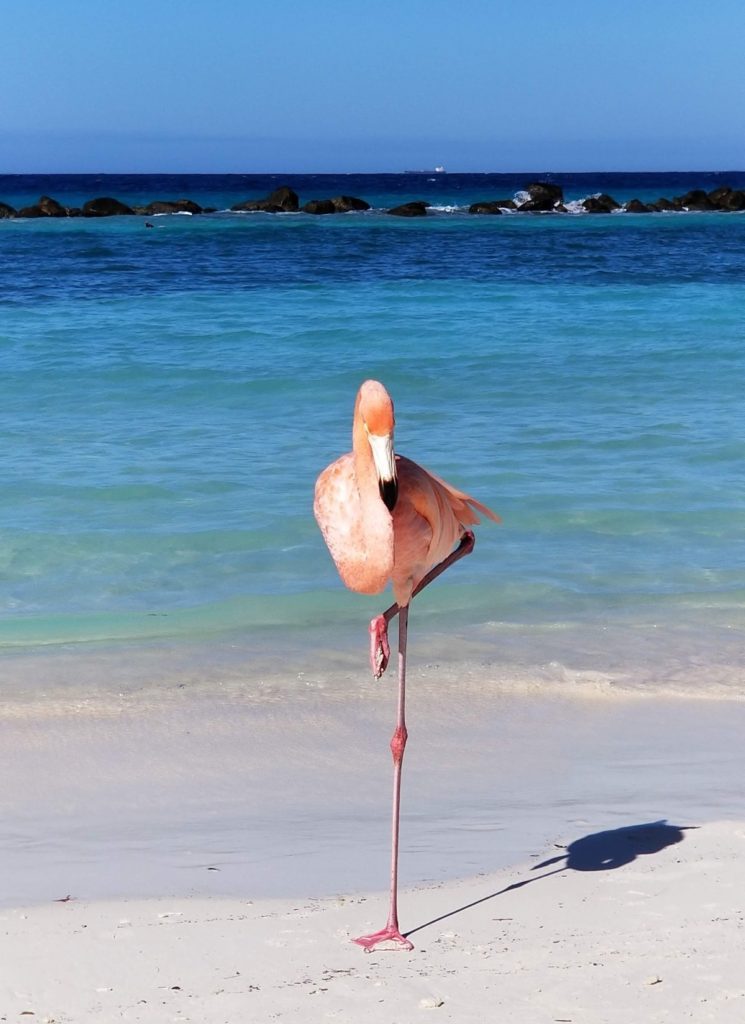 There are two ways for travelers to visit the Renaissance Private Island.
Those electing to go with the Day Pass option should plan to purchase their day pass online the day before. Tickets go on sale at 7:00 a.m. and can sell out quickly.
The quantity of available tickets is dependent on the day's capacity at the hotel. In the event the hotel is at 80 percent capacity on any given day, no Day Passes will be sold to visit Renaissance Private Island.
If seeing the flamingos in Aruba is high on your list of must have Aruba experiences, you should book at least one night at Renaissance Aruba Resort.
1. Book two nights at Renaissance Aruba Resort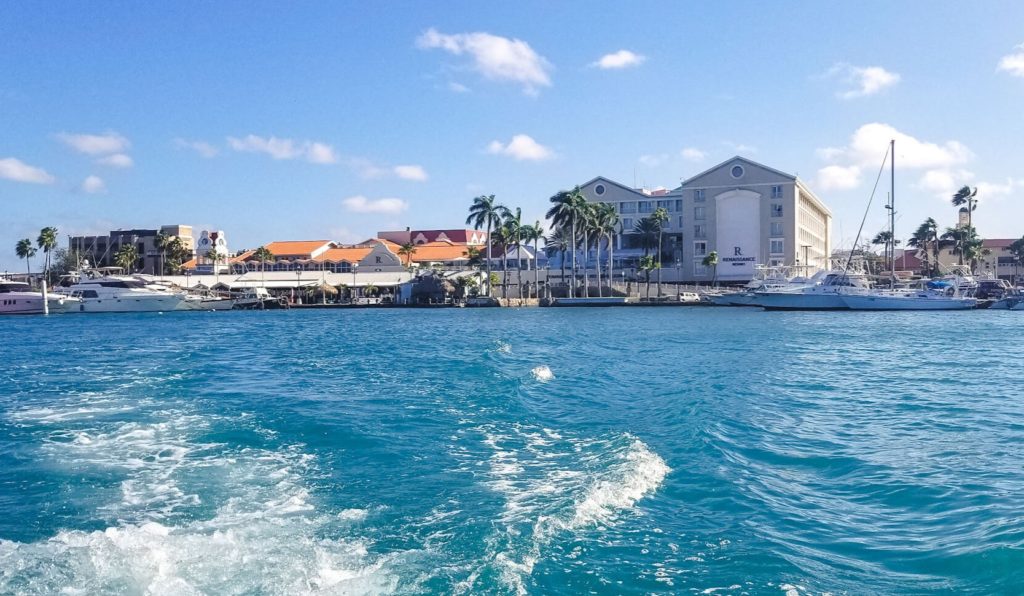 My biggest tip for visiting Flamingo Beach Aruba is to book your first two nights in Aruba at the Renaissance Aruba Resort. This way, you can visit Renaissance Private Island on your first morning in Aruba.
The boat to the island leave's right from the lobby of the hotel, so you can wake up early, grab breakfast, and head down to the lobby early before it gets busy.
I recommend two nights at this resort because it's close to Oranjestad and gives you the opportunity to explore the city a bit in the evening either on the day you arrive or after your day at the island.
Honestly, Renaissance Resort happens to be a really nice hotel, so you won't regret staying there an extra night.
After two nights at the Renaissance Aruba Resort, I would switch over to one of the hotels by Palm Beach. There you'll find some of the islands best beaches, restaurants, and entertainment.
There are also lots of tours that depart from that side of the island. Be sure not to miss your chance to visit Arikok National Park and the Natural Pool, both of which were my favorites.
2. Plan to be on the first boat in the morning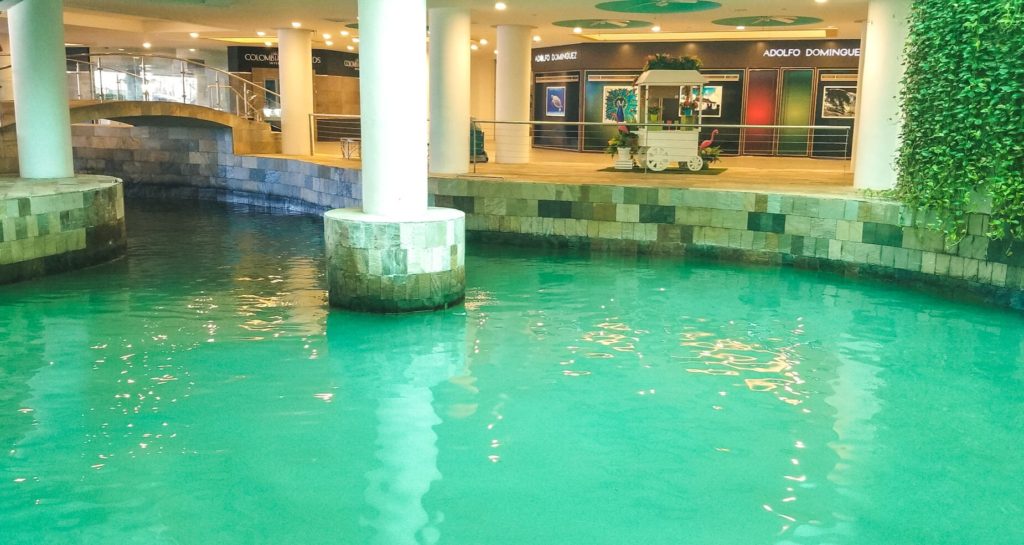 The boats that take you to Flamingo Beach depart from the lobby of the Rennaisance Aruba Resort on the first floor. The first boat departs around 7:00 a.m.
I strongly advise that you try to be on the first boat. This will get you to the island first before all the crowds arrive later in the morning.
There's a coffee shot right next to where to boats depart, so arrive around 6:40 a.m. or so, get yourself a coffee, and then have a seat at the dock while you wait for the boat.
Tip: Be sure to bring your room key with you. You will need your room key to get on the boat.
3. Head to Flamingo Beach first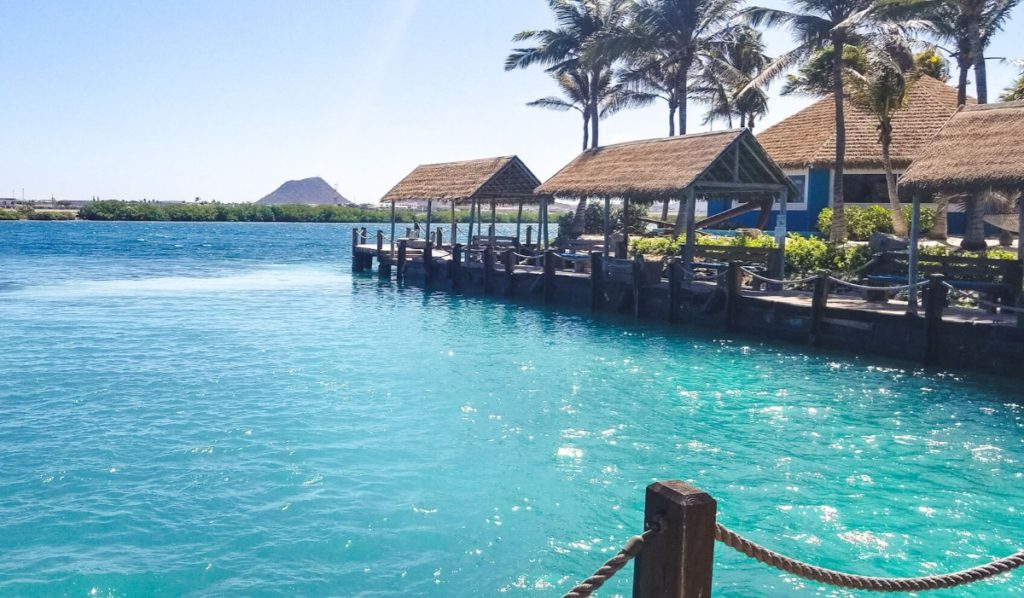 As soon as you step foot off the boat, look for the pathway to the right. This is the path that will lead you to the flamingos.
Since you're on the first boat you'll get to enjoy Flamingo Beach to yourself for a bit.
4. Get your pictures right away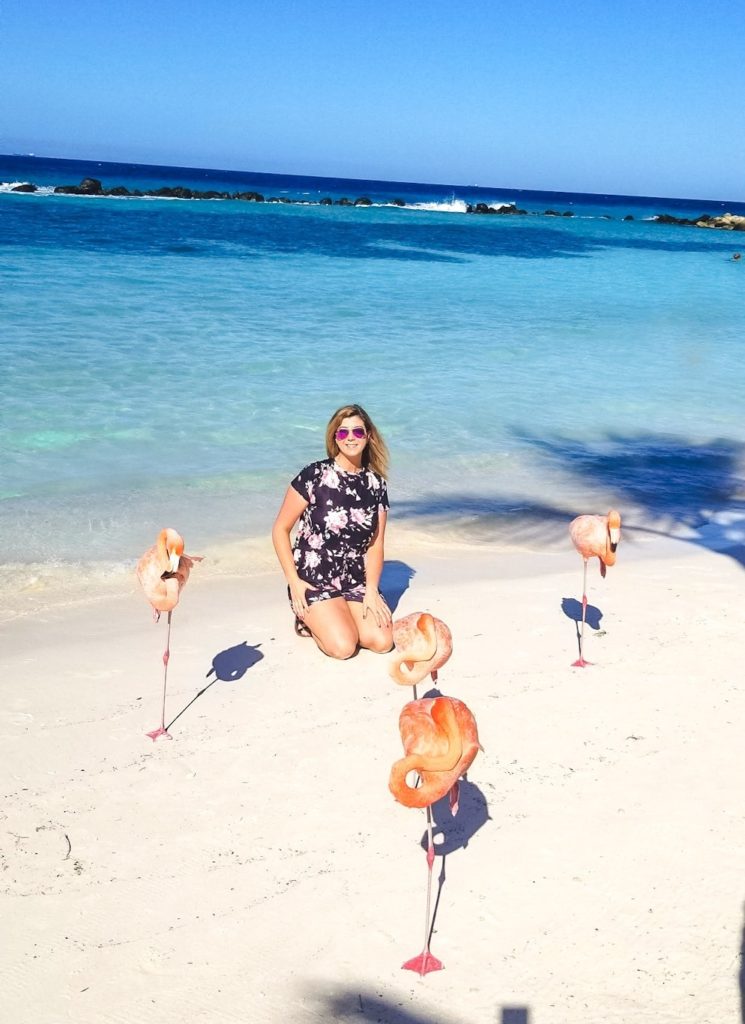 If you're serious about your photos, get your pictures first. Once people start to arrive, it will become very difficult to get shots without people in them.
So get acquainted the birds for a few minutes, then get to posing for your pictures. You'll have to work around the birds of course, so get creative if you have to.
Do give the birds their space as well. You should not touch them or try to influence where they move around to. Be respectful.
5. Don't forget to feed the flamingos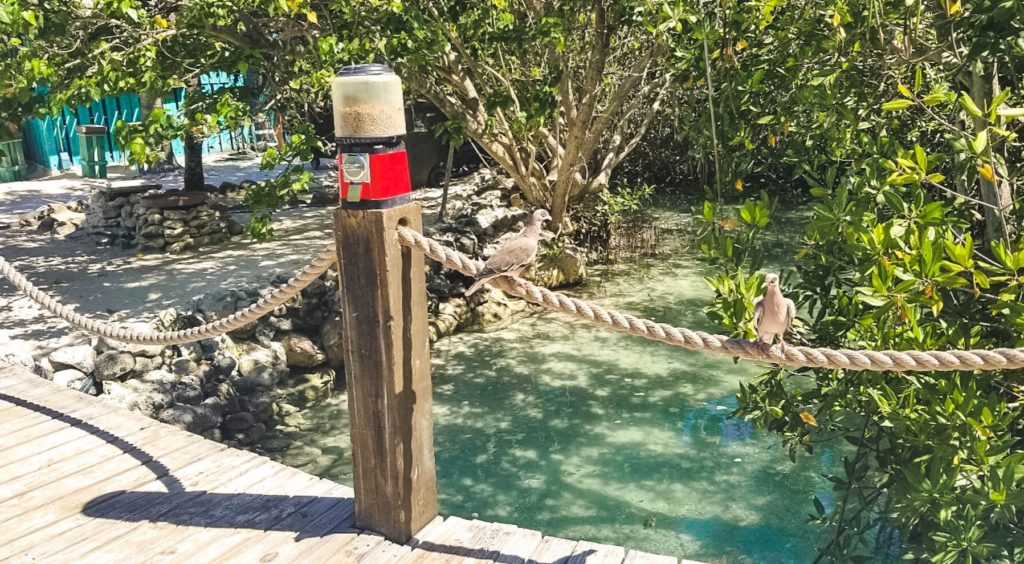 Be sure to experience feeding the flamingos as well. There are a few vending machines filled with bird seed placed near the beach. They take quarters (USD), so bring some change with you too.
The flamingos will eat right out of your hand, which is a great way to get their attention if they're being a bit aloof. Have your camera ready, they're pretty quick.
6. Enjoy Flamingo Beach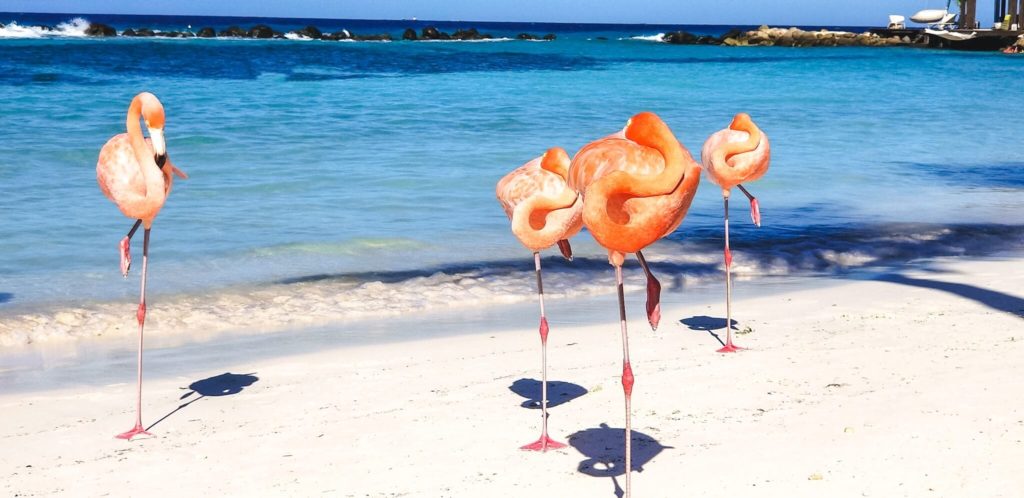 After you've gotten your photos and fed the birds, put your camera down and just enjoy the view.
The beaches in Aruba are picture perfect, this one included. Be sure to leave some time to just take it all in. If you're in the mood, head to the Mangrove Beach Bar to grab a fruity cocktail to enjoy while you sit and watch the flamingos.
7. Grab a spot at Iguana Beach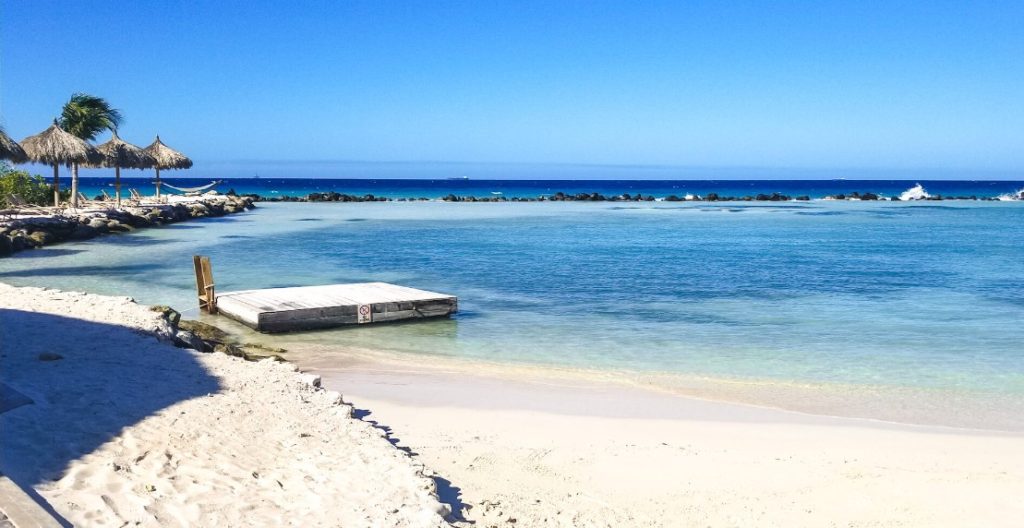 Iguana Beach is the larger of the two beaches on Renaissance Island. Iguana Beach does not have flamingos but is less crowded, especially in the earlier part of the day.
So after you've enjoyed the flamingos, head over to Iguana Beach and secure your spot. You'll find chairs and palapas spread all around. Try to pick the spot with the best view of the ocean and palm trees. Since you're arriving early, you'll likely have the chance to get the best spot.
8. Take advantage of the amenities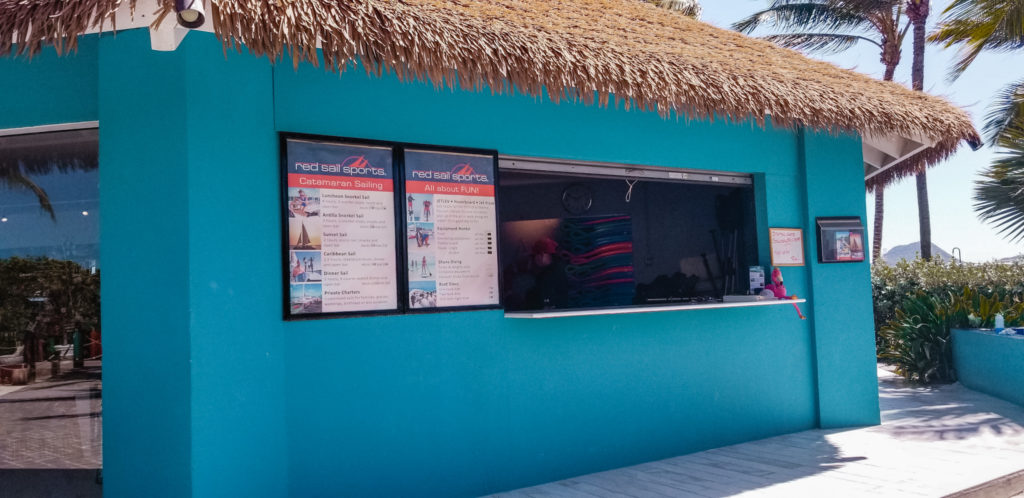 After you've picked out your spot for the day, make your way over to the equipment cabana. Here you can get beach towels and floating loungers to take into the water with you.
They also have kayaks and stand up paddleboards if you'd like a bit more action in your day.
There are snorkel masks and fins too, but honestly there's not that many fish here. I recommend saving your snorkeling for another day.
9. Consider reserving a cabana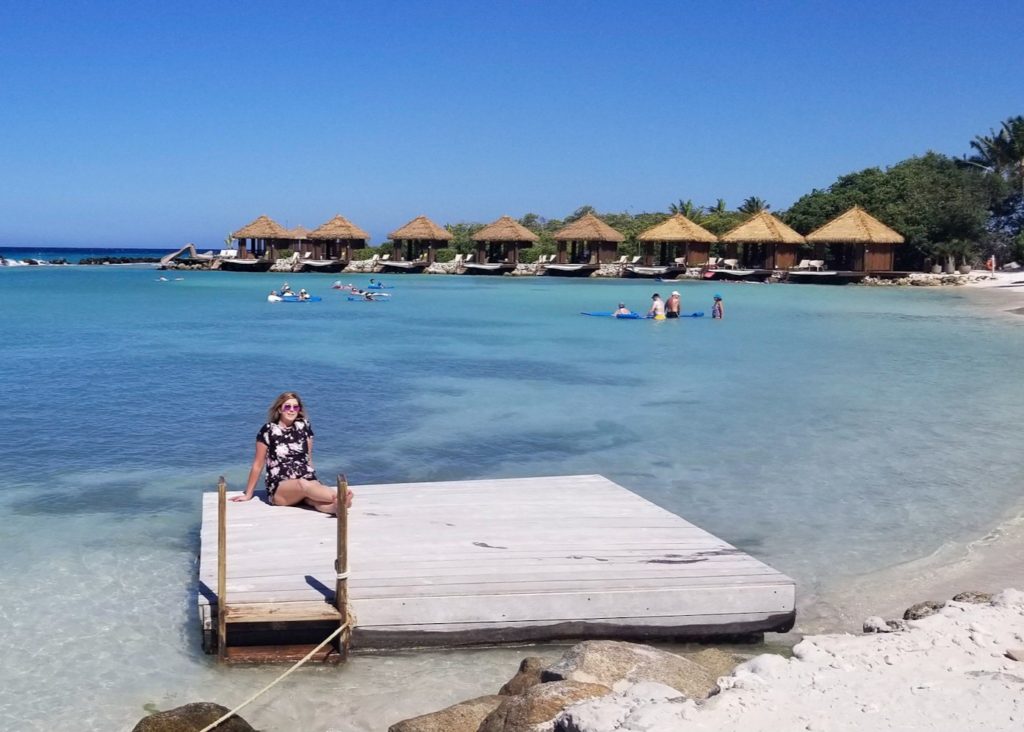 You can see some of the Renaissance Private Island cabanas behind me in the photo above. There are those pictured there on Iguana Beach, and several more over on Flamingo Beach.
The cabanas go for $370 per day and come with two bottles of Voss still water, two bottles of Voss sparkling water, a bottle of sparkling wine, food, and personalized cabana butler service.
This is probably not a bad deal if you've got a small group of people to share it with. Plus, it would be really nice to have your space away from the crowds if you're visitng during the high tourist season.
10. You only need one day at Flamingo Beach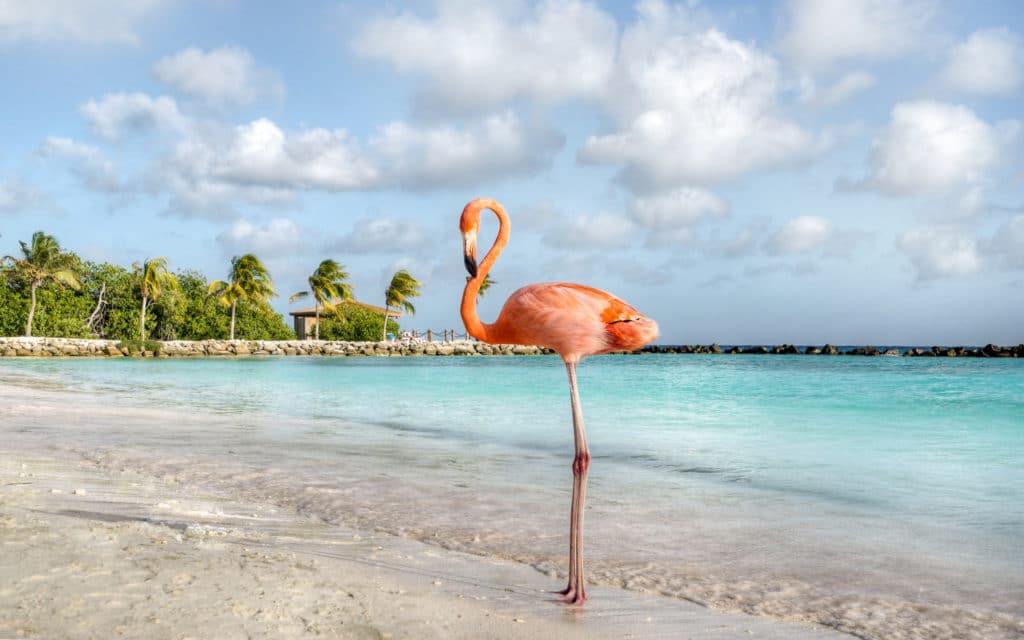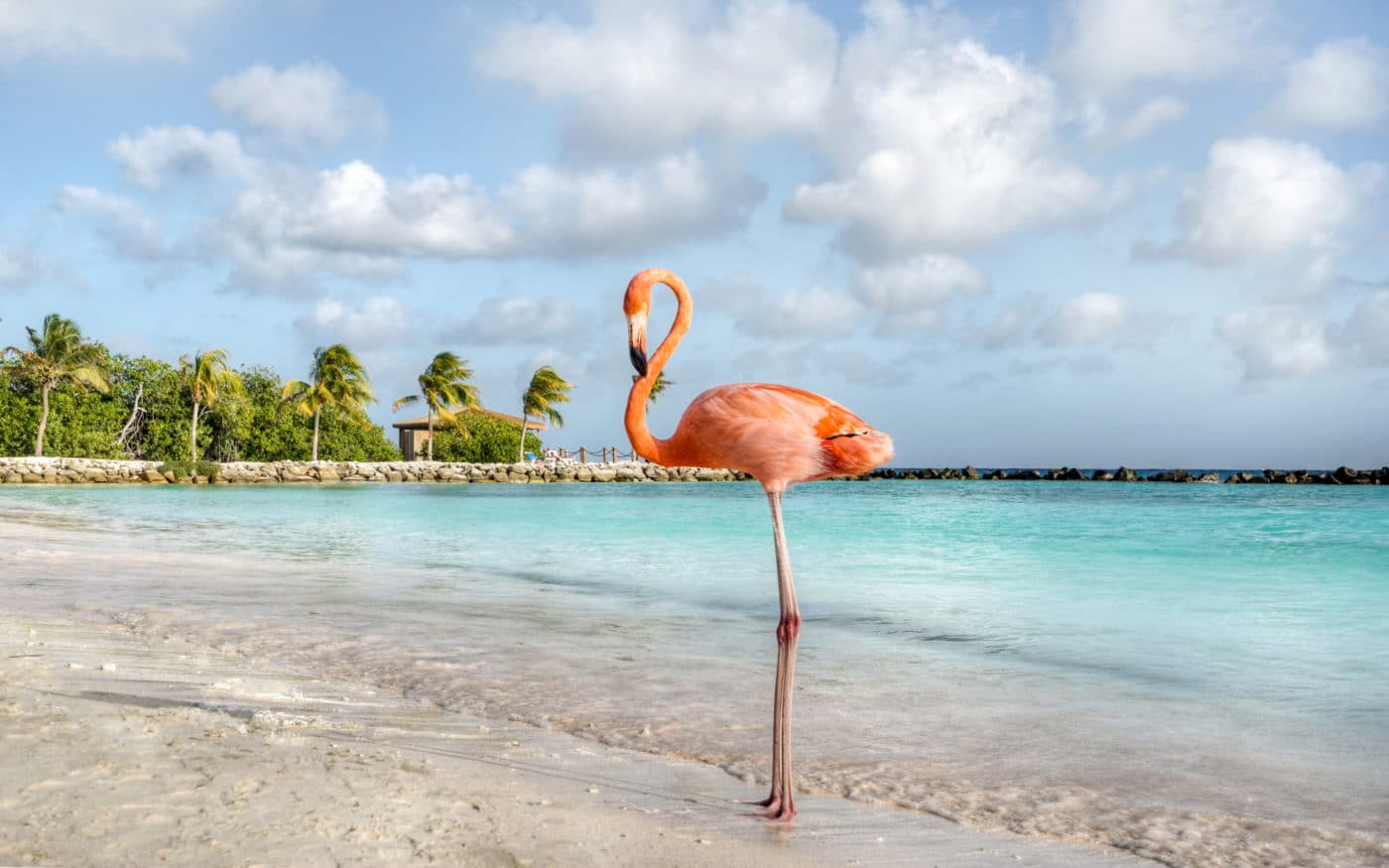 One day at Renaissance Aruba private island is all you need. As stated above, I recommend arriving on the first boat of the day at 7:00 a.m. and just staying until you've had enough beach for the day.
The remainder of your time in Aruba should be spent exploring this beautiful island and enjoying the many other amazing beaches.
I hope you have as much fun at Flamingo Beach as I did. It's such a fun and unique experience and is the perfect way to spend your first full day in Aruba.
I'm including the answers to some commonly asked questions below. If you have more questions, feel free to reach out to me via my Contact page. I'm always happy to provide recommendations.
Is Flamingo Beach Aruba worth it?
Absolutely! I had a great time during my visit to Flamingo Beach last year and would definitely return again. If this if your first time visiting Aruba, you should plan to visit, even if just for half a day.
Where is Flamingo Beach Aruba?
Flamingo Beach Aruba is found just off the southern coast of Aruba near the island's capital Oranjestad.
Can anyone visit Flamingo Beach Aruba?
Yes, of course. But you have to either be a guest at the Renaissance Aruba Resort or purchase a Day Pass ahead of time as I explain in detail at the top of this post.
How much is Flamingo Beach Aruba?
Either $125 per person or the cost of a room for one night at the Renaissance Aruba Resort. Resort rooms range anywhere from about $150 to $300 per night. I personally got a great deal by visiting in September, which is outside the high season.
Book Your Trip
Find the best flight deals by using Google Flights, then book direct with the airline. This is the search engine I use to compare flights and prices before booking my own trips.

BOOK YOUR ACCOMODATION
I recommend searching for hotels through Booking.com to compare hotels on amenities, location, and price. If you are a member of a hotel's rewards program, always book direct with the hotel. If you are not loyal to a specific hotel brand, using Booking.com for the best price.

TRAVEL INSURANCE
Travel insurance is more important than ever. For just a few dollars a day you can protect yourself and your trip. I personally use World Nomads, but whomever you choose, don't skip out on travel insurance. It can literally save you thousands of dollars.


Want to save it? Pin it.
Photo by Ultima Gaina In case you weren't sure you wanted to visit Aruba, here…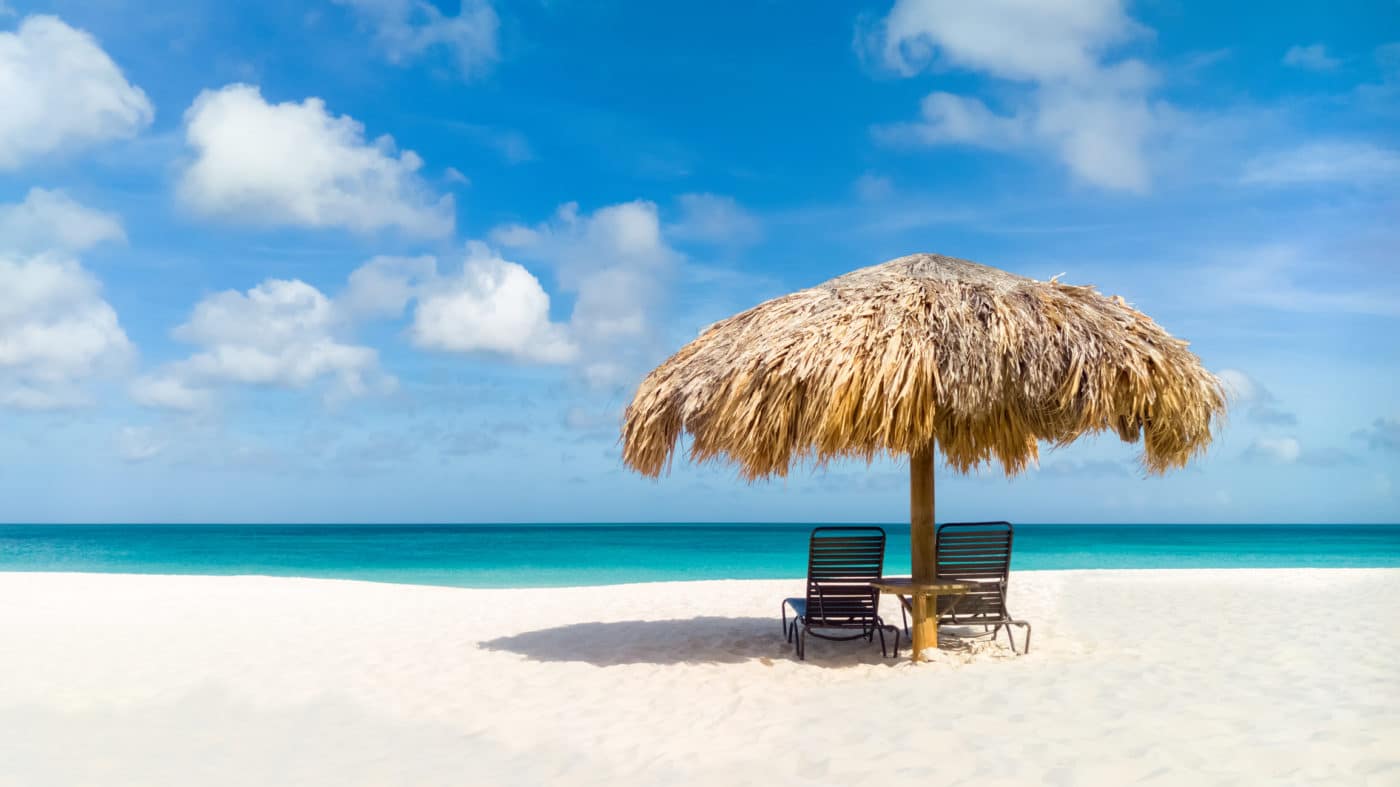 Renaissance Island, Aruba I just returned from 5 incredible days on the island of Aruba….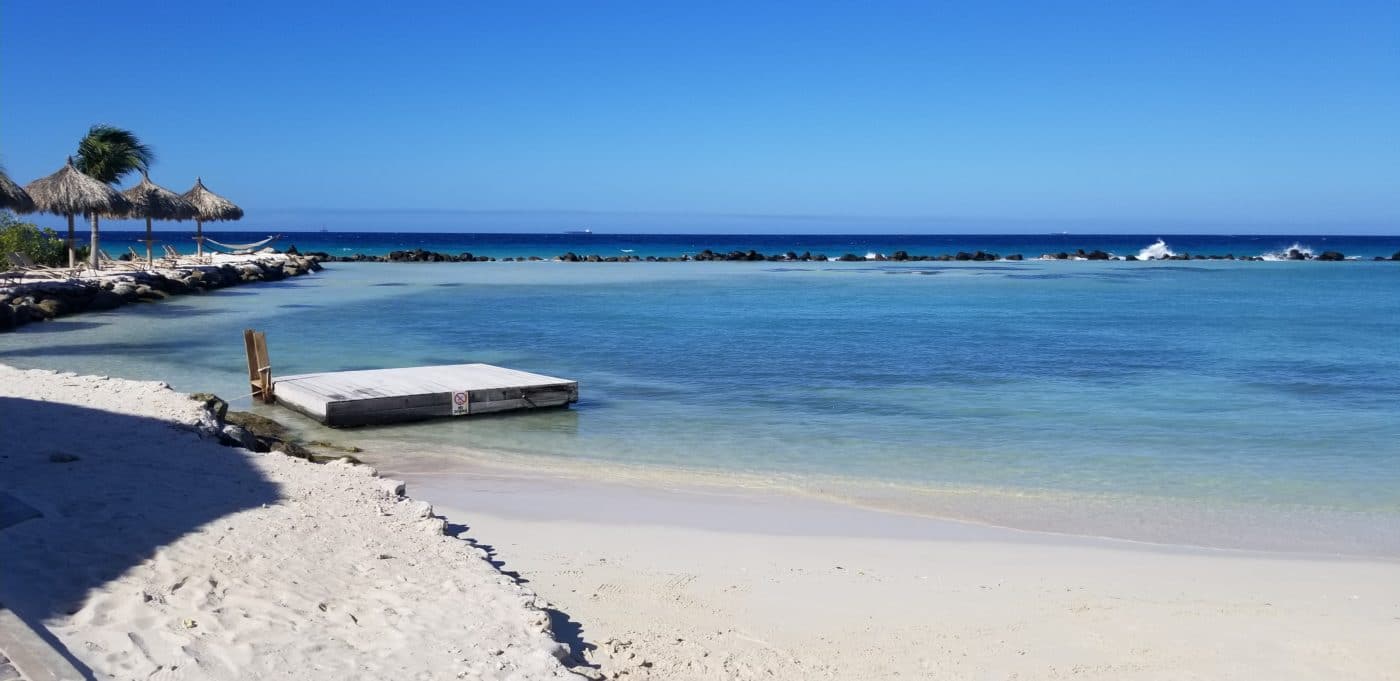 Photo by Chirag Yadav If you're looking for stunning white sand beaches surrounded by pale…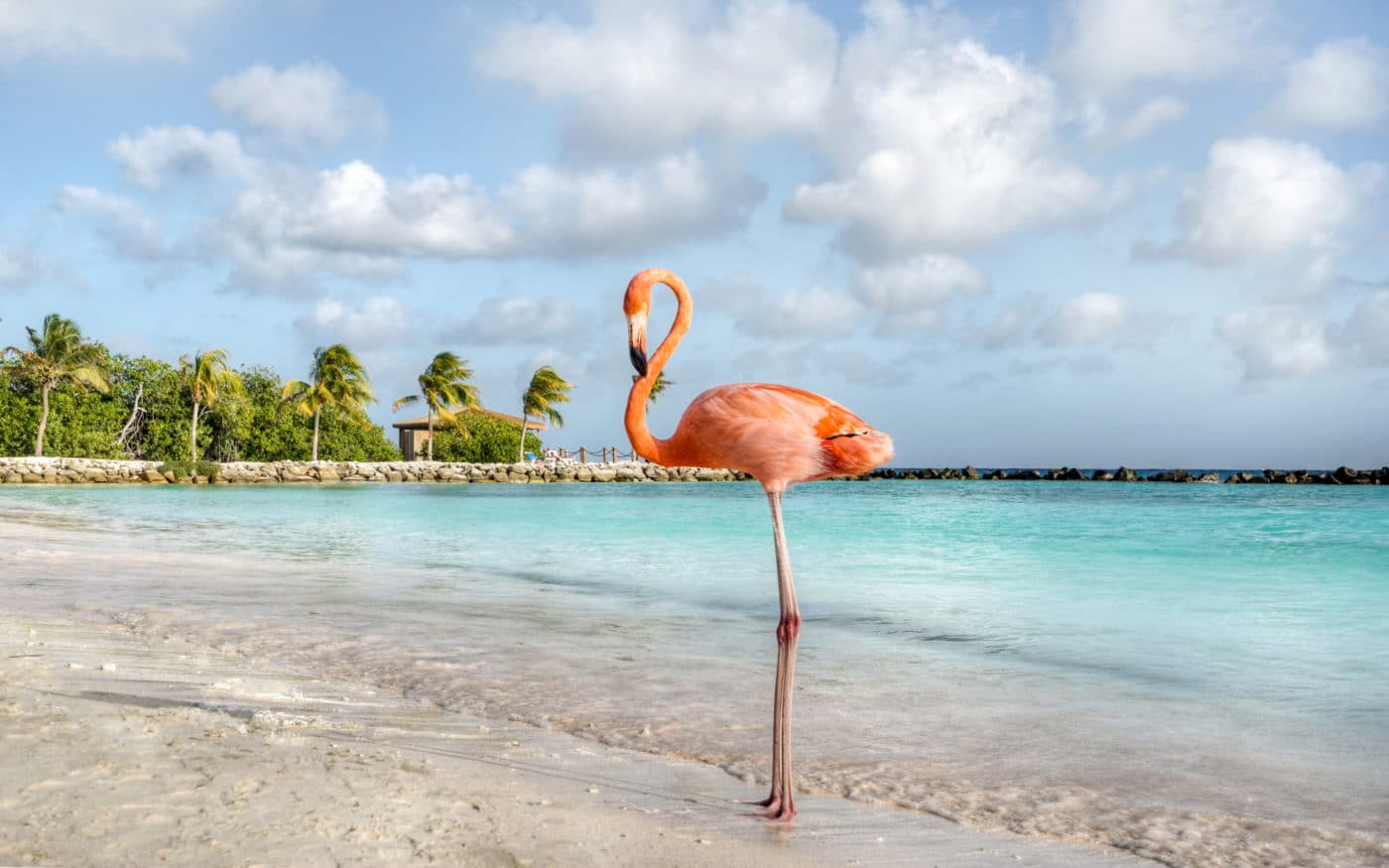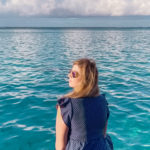 Eden Fite
Part-time Traveler | Dog Lover | Avoider of Crowds
I help busy people find creative ways to travel more.