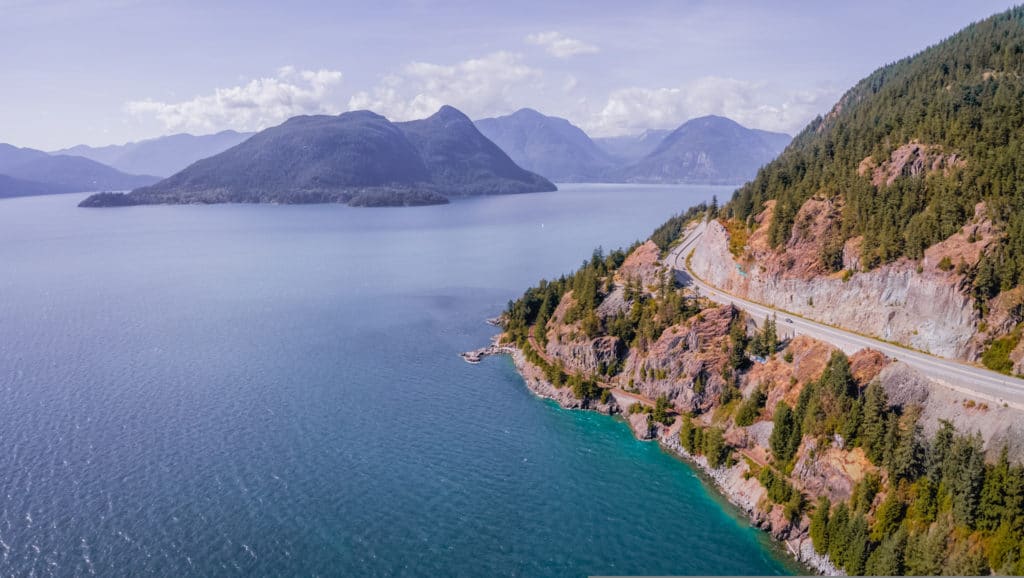 For those looking to experience some of British Columbia's natural beauty outside Vancouver, a Sea to Sky Highway road trip is the perfect way to do it.
The Sea to Sky Highway spans 254 miles beginning at Canada's southern border, winding north through Vancouver and Whistler, and all the way up to Cache Creek where it runs into Highway 97.
The Sea to Sky Highway road trip is considered one of the most pictuesque in the world. For those visiting Vancouver, it's the perfect opportunity to get a taste of the natural beauty that Canada is so well known for.
This Sea to Sky Highway road trip itinerary will take you to all the best spots between Vancouver and Whistler.
Fill up your tank and let's get going.
Sea to Sky Highway Road Trip
A few notes about this road trip.
You can complete this road trip in one to three days. I personally completed this road trip in just one day, driving from Vancouver to Whistler and back again, ending at Capilano Suspension Bridge in north Vancouver.
If you prefer to take it slow, I recommend at least two to three days in Vancouver. From there you can find hotels along the route in both Squamish and Whistler. Outdoor lovers will really enjoy extra time in either of these locations.
The stops along this itinerary are in order based on location, starting from Vancouver. So the order you see them below is the order you will come across these locations on your road trip as you drive north.
The exception to this is Capilano Suspension Bridge Park, which I intentionally placed last on this itinerary. I find the park less crowded at the end of the day, but you can visit there first if you like.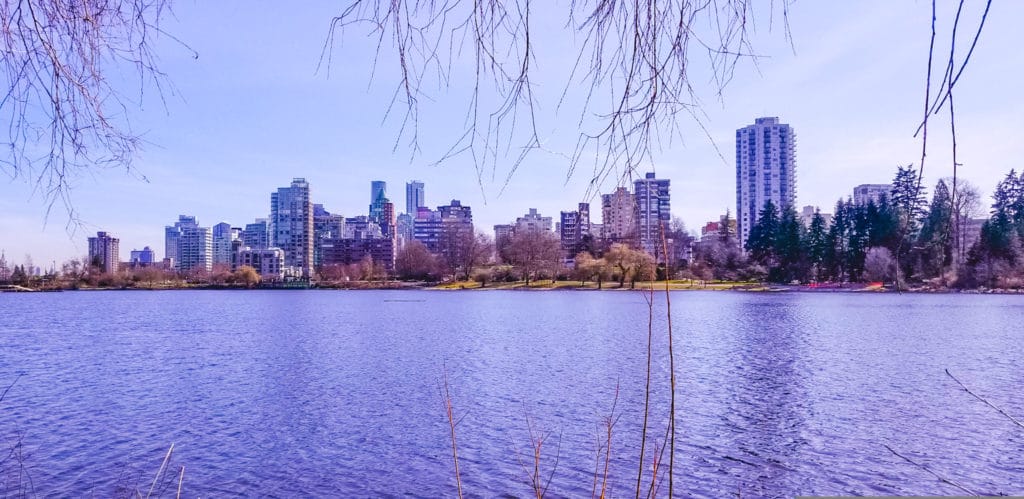 Stop 1: Vancouver
Before you head out on your Sea to Sky Highway road trip, make sure you spend a little time in Vancouver. If you don't have two or three days, you can still see a lot of Vancouver in one day.
I recommend starting your day early and hitting up Canada Place for the spectacular views, Stanley Park for outdoor activities, and Gastown for dinner and drinks.
Be sure to find some Poutine while in the city as well. You'll find it all over town, so it won't be hard to find.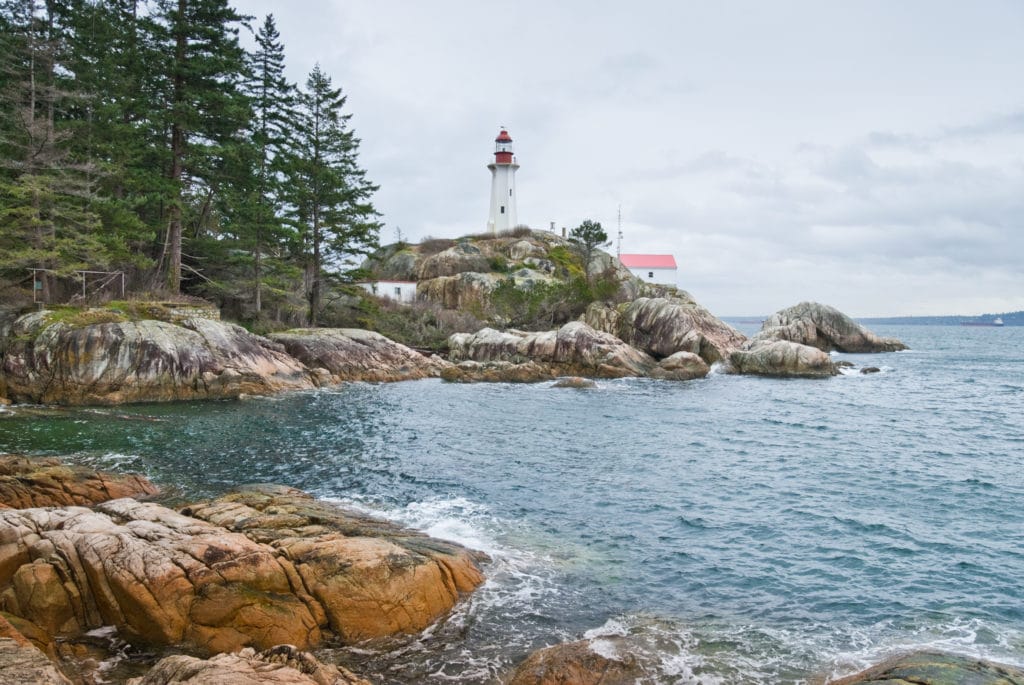 Stop 2: Lighthouse Park
Lighthouse Park is a peaceful neighborhood park found in West Vancouver across the Lions Gate Bridge.
You can get there in about 30 minutes from downtown Vancouver. Lighthouse Park is a perfect early stop on your Sea to Sky Highway road trip.
If you arrive early, there will be plenty of parking. I'm told finding parking later in the day is not easy.
Lighthouse Park consists of about 182 acres of rainforests, hiking trails, and the Point Atkinson Lighthouse found along the shore.
The park is full of massive trees creating plenty of shade along the trails.
Most people bring their dogs to the park too, so if you're like me, you'll be overjoyed watching all the dogs running past you on the trail. 
The hike out to the Point Atkinson Lighthouse is the perfect distance to get in a little physical activity before the long drive ahead.
The hike there and back will take about 20 minutes if you keep moving. Be sure to stop at the end to get some pictures near the lighthouse.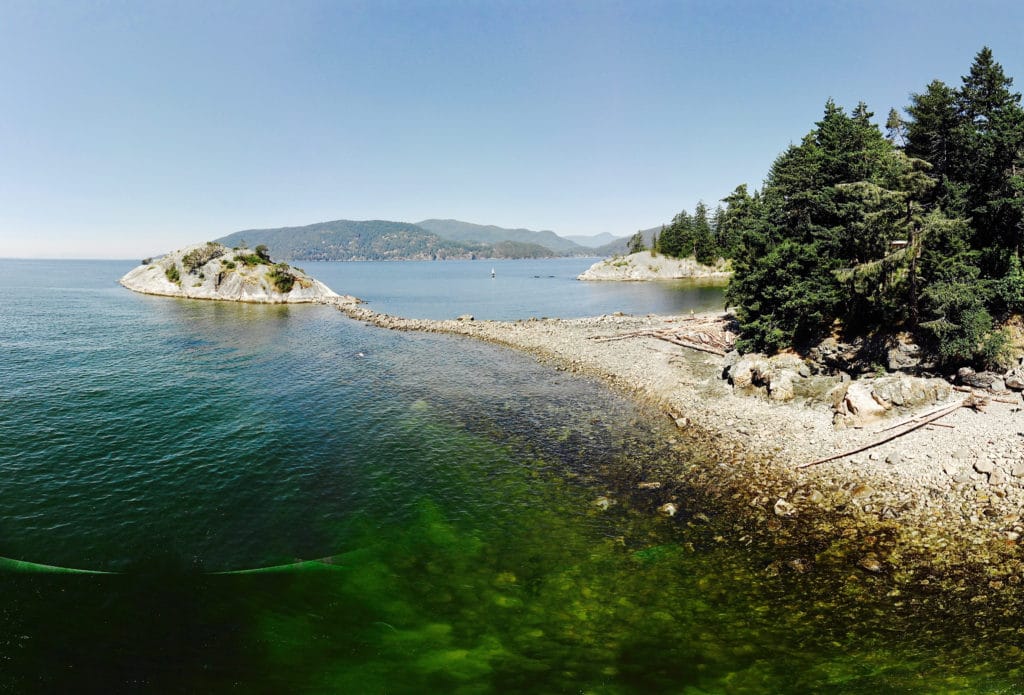 Stop 3: Whytecliff Park
Another 22 minutes up the Sea to Sky Highway, you'll find Whytecliff Park which is also in West Vancouver.
The park is known for its incredible views of the surrounding Horseshoe Bay and also as the home for over 200 species of marine animals.
This area was the first marine protected area in Canada. It was designated as such in order to preserve the unique marine environment and wildlife of the bay.
You'll also be happy to know this is a great spot to catch sea lions sunbathing in the summer months.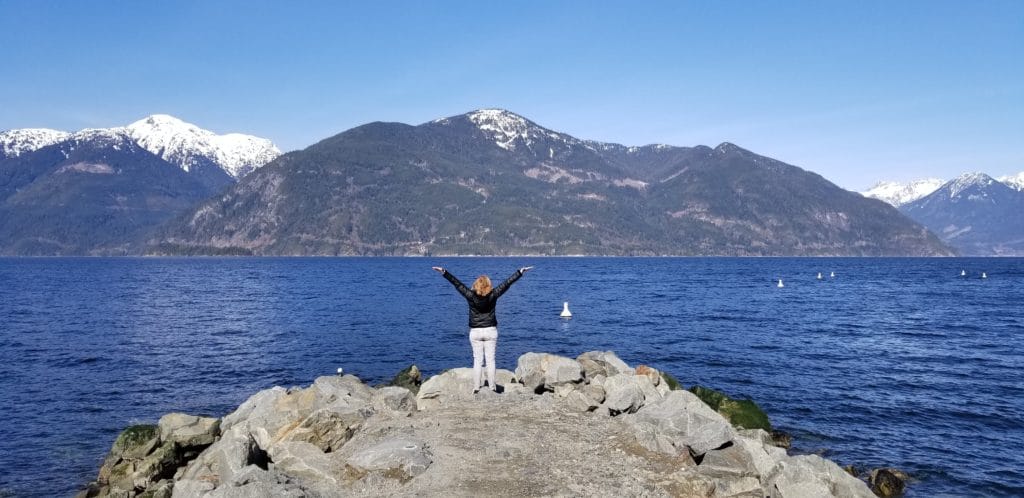 Stop 4: Porteau Cove Provincial Park
Another 25 minutes up the Sea to Sky Highway will bring you to Porteau Cove Provincial Park.
The cove sits along Howe Sound and offers stunning views of the surrounding mountains. In my opinion, this is one of the best Sea to Sky Highway stops, just for the views alone.
Porteau Cove is a popular spot for boating and diving, so there's typically a lot going on here in the summer.
If you visit in the early spring like I did, you may get the place to yourself. There are several viewpoints along the water that are perfect for pictures. Try out a few different spots to get different angles.
Be warned the cove gets very windy. You might want to bring a warm coat and a hair tie with you just in case.
Quick Tip: There are restrooms here if you need to use them.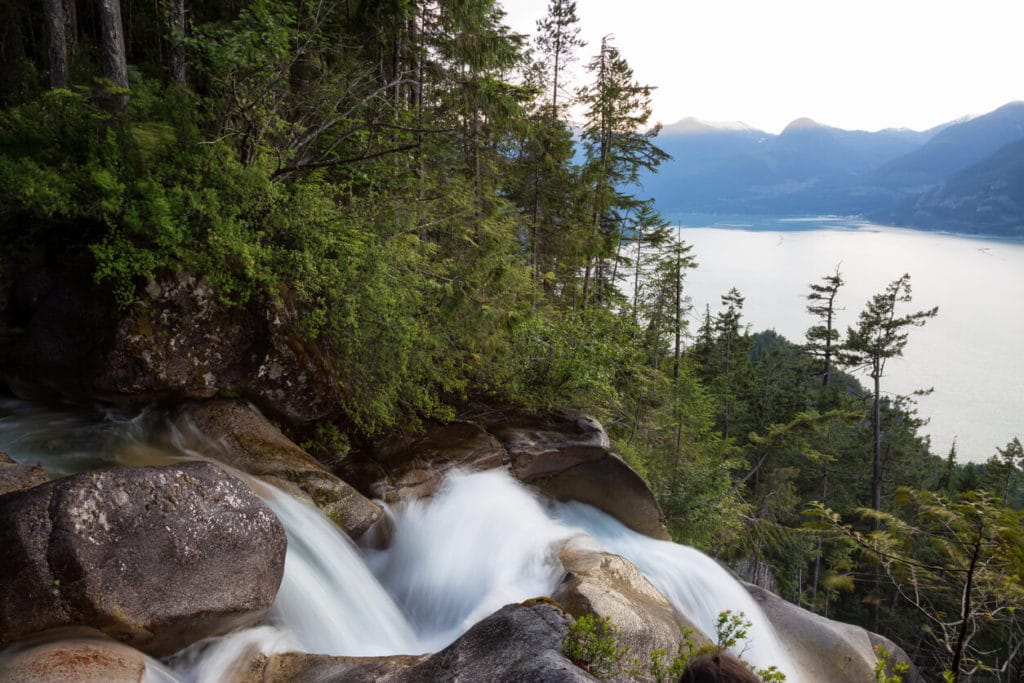 Stop 5: Shannon Falls Provincial Park
You'll find Shannon Falls Provincial Park 15 minutes north of Porteau Cove.
Shannon Falls is a beautiful waterfall found just off the Sea to Sky Highway. It's the third highest waterfall in British Columbia and is easily accessible via a short quarter mile trail from the parking lot to the base of the falls.
If you have a few more hours to spare, you may wish to consider hiking the Upper Shannon Falls Trail. This trail will take you to the top of the falls for a darn good workout and some impressive views of Howe Sound.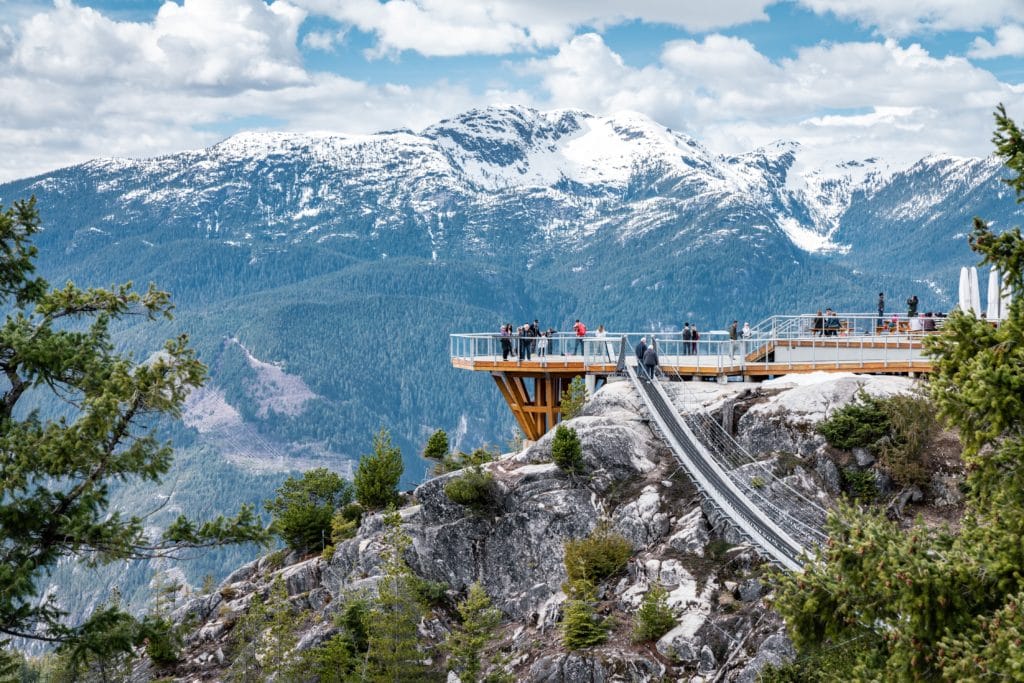 Stop 6: Sea to Sky Highway Gondola
You'll find the famous Sea to Sky Highway Gondola about 2 minutes up the road from Shannon Falls. The gondola will take you to the top of the mountain overlooking Howe Sound.
The area at the top of the mountain features a large viewing deck, a suspension bridge, a restaurant, a gift shop, and hiking trails.
In the winter you can even go cross country skiing or snowshoeing. The ride on the gondola will take about 10 minutes carrying you up about 850 meters. 
The Sea to Sky Gondola is open daily from 9:30 a.m. to 6:00 p.m. Sunday through Wednesday and 9:30 a.m. to 8:00 p.m. Thursday through Saturday. Tickets for adults are about $46 CAD.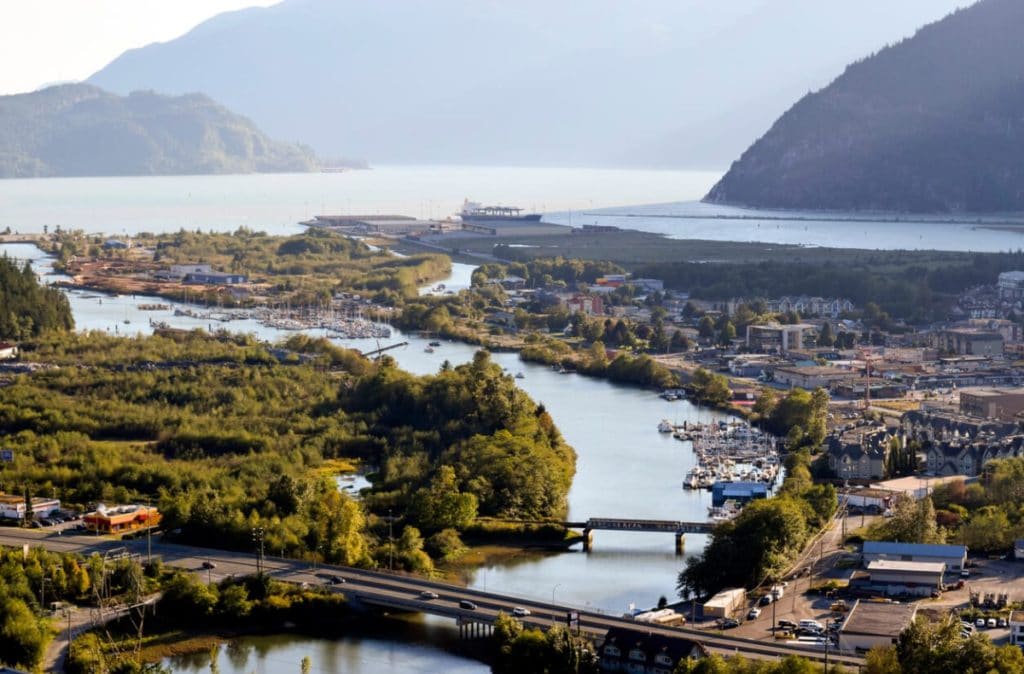 Stop 7: Squamish
Squamish is a small town perfectly situated between Vancouver and Whistler along the Sea to Sky Highway.
The town is a popular destination for windsurfers, hikers, rock climbers, and mountain bikers.
Some of the most popular Squamish attractions are Stawamus Chief, the Oceanfront Loop Trail, Newport Beach, and nearby Brackendale Eagles Provincial Park.
Squamish also happens to be a great spot for craft beer, making it the only place you should consider stopping for lunch during your Sea to Sky Highway road trip. Just maybe go easy on the beer.
Here are my suggestions for lunch:
 Howe Sound Inn and Brewing Company: The food here is delicious and I encourage you to order the Poutine. It may change your life. 
Backcountry Brewing: You'll find good pizza here with unique topping combinations. I recommend trying the Mexican Street Corn pizza or the Wake-n-Bacon. 
A-Frame Brewing: If you're not too hungry but would like to try the local beer, consider stopping into A-Frame Brewing. Beer flights are available along with a light snack menu.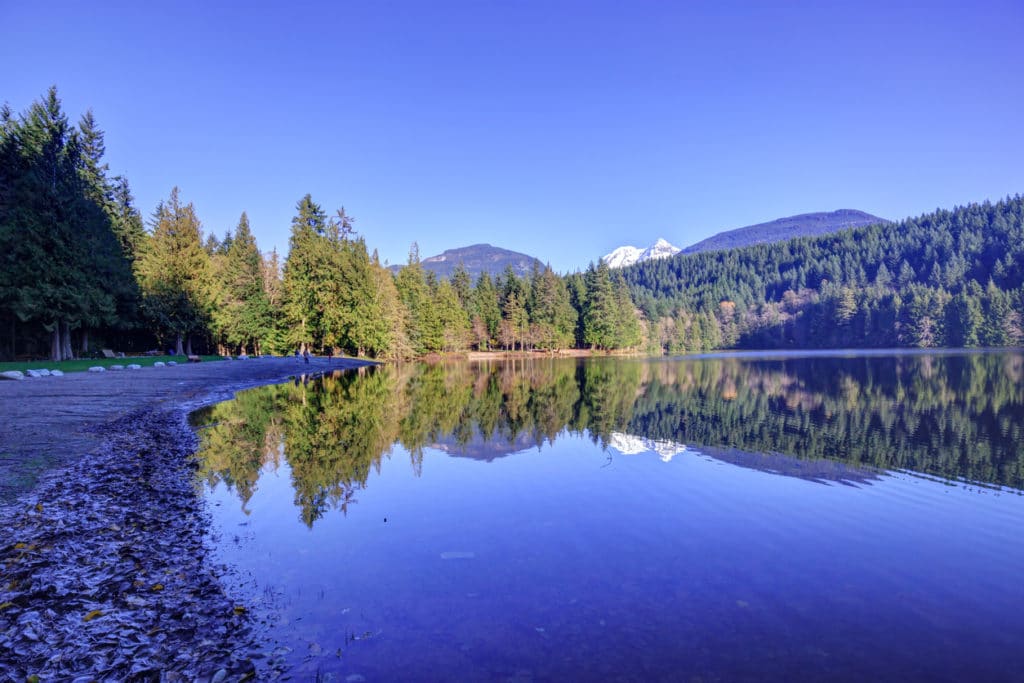 Stop 8: Alice Lake Provincial Park
You'll find Alice Lake Provincial Park 17 minutes up the road from Squamish. This park is located on beautiful Alice Lake.
Popular activiites at the lake include canoeing, cycling, fishing, hiking and swimming, There is equipment available for rent along the lake for those interested.
Otherwise, the park is a nice place to walk around and just enjoy the scenery. It's also a nice place for a picnic if you've brought your own food for the trip.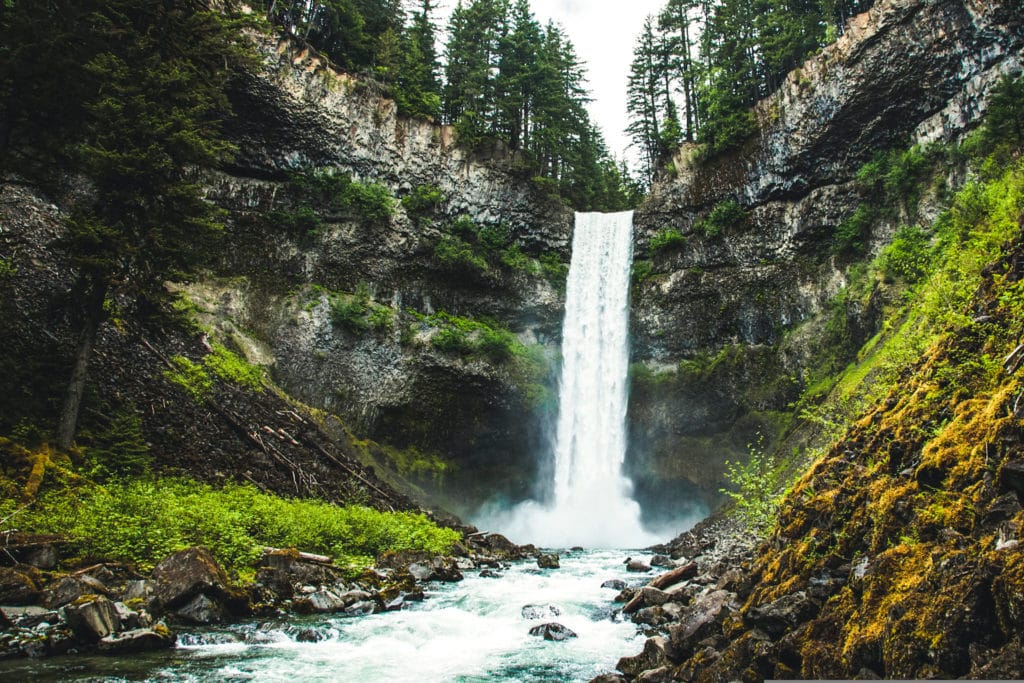 Stop 9: Brandywine Falls
Brandywine Falls is located about 20 minutes south of Whistler on the east side of the Sea to Sky Highway. These falls are some of the most photographed in the area, and for good reason.
The falls are best viewed from the viewing platform found 15 minutes or so down the trail from the parking area.
From the viewing platform, you can see both Brandywine Falls and the surrounding Daisy Lake.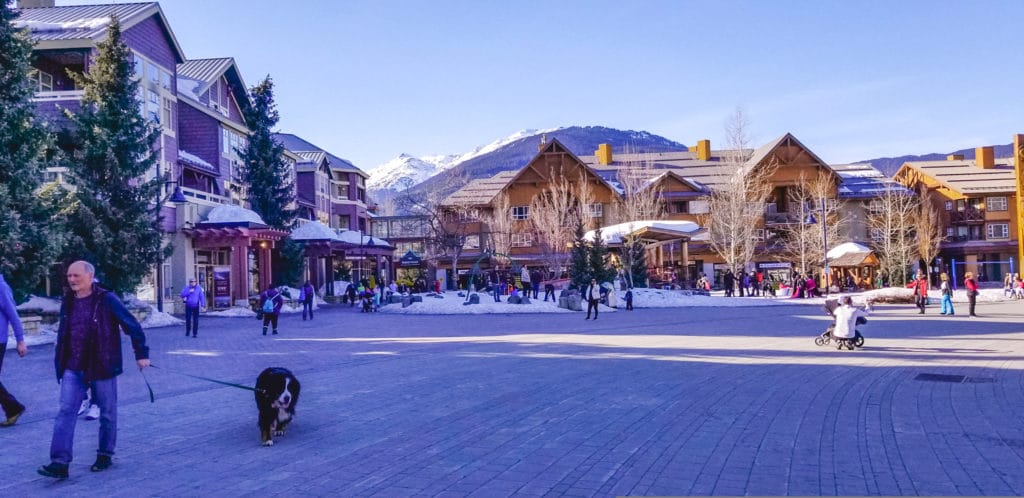 Stop 10: Whistler
Whistler is best known as a ski destination and is home to one of the largest ski resorts in North America.
People come to Whistler from all over the world to go skiing and snowboarding on Whistler and Blackcomb Mountains. Even if you're not into skiing, there are plenty of things to do in Whistler.
At the very least, I recommend taking a walk through Whistler Village. It's beautiful in the wintertime, though it can also be quite crowded.
Whistler Village is a good spot to grab a nice dinner before making the drive back down the Sea to Sky Highway to Vancouver. You'll find plenty of restaurants and bars in the village to choose from.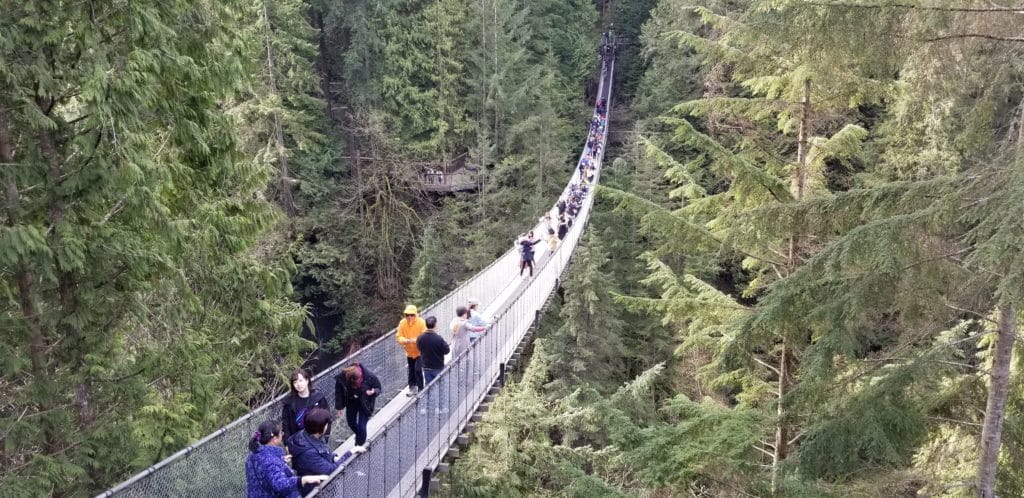 Stop 11: Capilano Suspension Bridge
The Capilano Suspension Bridge is one of the most popular tourist spots in all of Vancouver. Due to this fact, the Capilano Suspension Bridge Park tends to be very crowded.
I include this as the last stop on this Sea to Sky Highway road trip so you can avoid the crowds.
There's lots to see at the park besides the suspension bridge, so be sure to walk around and explore the living forest, the cliffwalk, and tree tops adventure. Plan to be at the park for about an hour.
If you time your visit just right, you can get back to North Vancouver around 5:00 p.m. or so. They are currently open until 6:00 p.m.
This marks the end of the Sea to Sky Highway road trip itinerary. You'll find additional information below about how to plan your trip along with some other important road trip essentials.
---
Sea to Sky Highway Road Conditions
The road along the Sea to Sky Highway is in excellent condition and is well-maintained. There were few, if any potholes or other unexpected obstacles encountered during my recent visit in the spring of 2019.
Sea to Sky road conditions should be good during the spring, summer, and fall seasons. As you would anywhere, drive with caution if it is raining or visibility is low.
Driving conditions in the winter months may prove more challenging.
Winter tires are required on all vehicles traveling on the Sea to Sky Highway from October 1st to March 31st. There are additional times when snow chains may also be required.
You can find the specific requirements about tires and chains on the Whistler Tourism website.
Be sure to also check the Sea to Sky Highway weather forecast before you depart on your trip.
Sea to Sky Highway Cams
There are a dozen or so cameras set up along the Sea to Sky Highway between Vancouver and Whistler.
The cams are a good resource to check road conditions and traffic. You can look here for the Sea to Sky Highway Cams.
There is also a live cam at the Sea to Sky Highway Gondola. You can check that before your visit to ensure visibility at the top of the mountain.
Sea to Sky Highway Traffic
During the spring and fall, traffic on the Sea to Sky Highway tends to be light unless you are traveling during peak times on weekends and holidays.
The ski season in Whistler usually begins around the third week of November and runs until about April.
Expect traffic to be higher during this time, especially on opening weekend and around holidays and special events.
Without traffic, the drive from Vancouver to Whistler will take just under 2 hours. This assumes you are not stopping along the way.
During some of the busiest weekends, poor driving conditions, or a vehicle accident, the drive can take much longer.
I hope you love this Sea to Sky Highway road trip to Whistler just as much as I did. If you've enjoyed this post please consider sharing. Thanks for reading.
Want to save it? Pin it.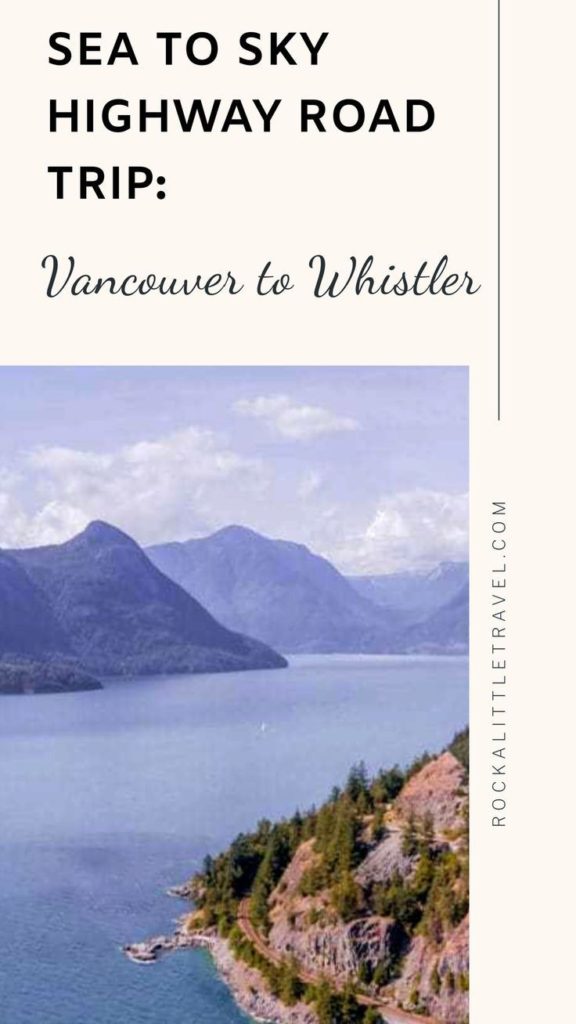 These 8 Capilano Suspension Bridge facts are perfect for first time visitors to Vanouver and…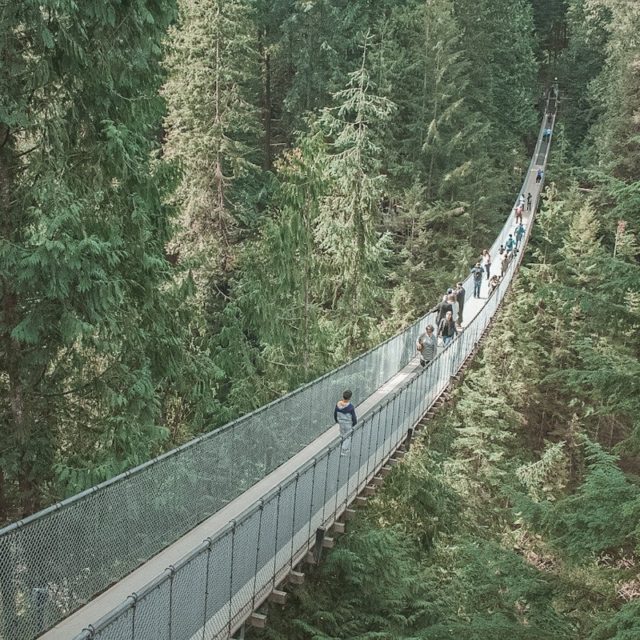 Photo by Pixabay If you're planning a trip along the famous Sea to Sky Highway…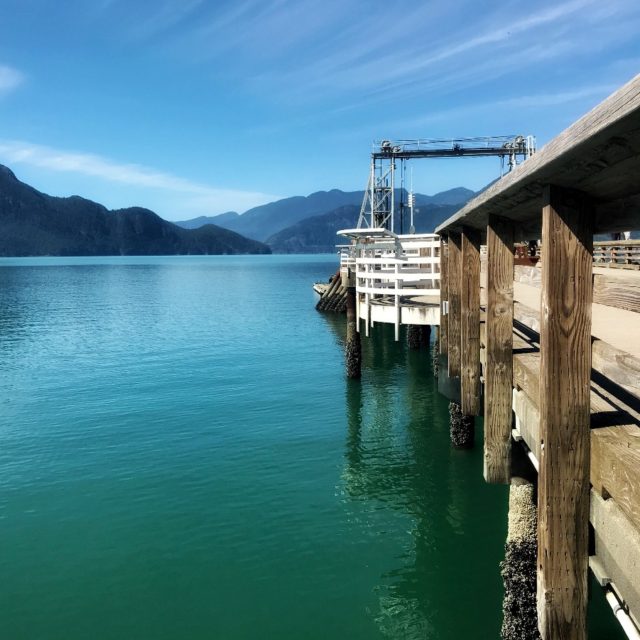 If you're lucky enough to be planning a Sea to Sky Highway road trip, be…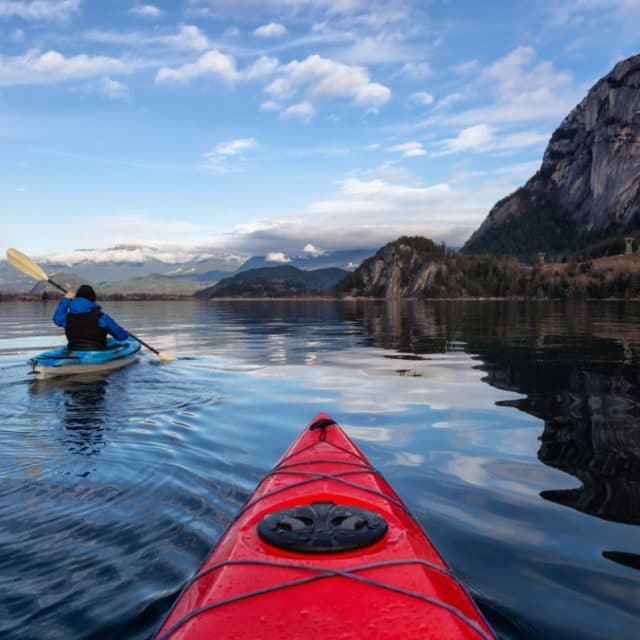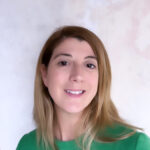 Eden Fite
Part-time Traveler | Dog Lover | Avoider of Crowds
I help busy people find creative ways to travel more.