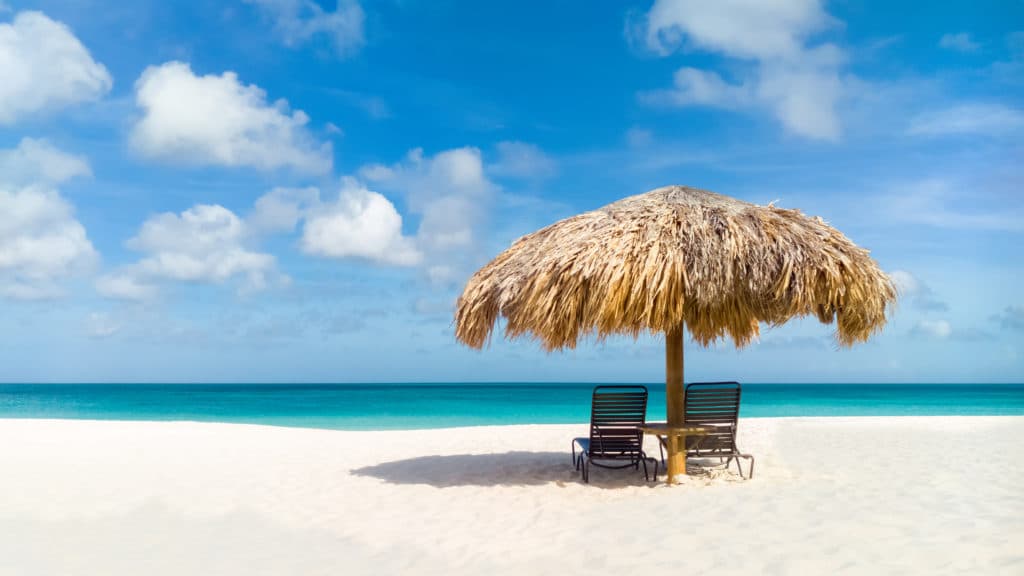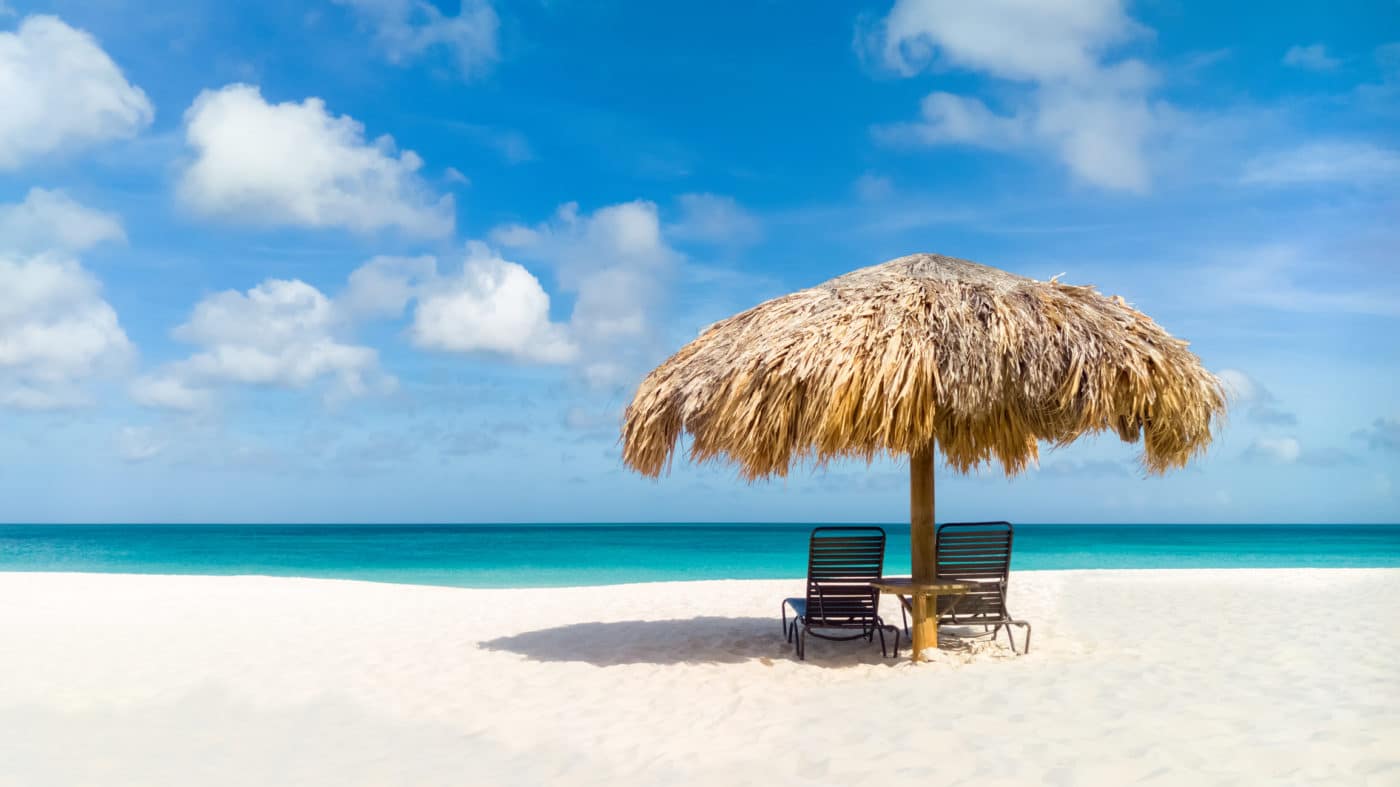 In case you weren't sure you wanted to visit Aruba, here are 15 photos to inspire you to book your trip right now.
There are so many things to experience and enjoy in Aruba, I hope you love these 15 photos to inspire you to visit Aruba.
Even more, I hope to inspire you to use all your vacation days this year, every last one of them.
15 Photos to Inspire You to Visit Aruba
Just a quick note here, while I think the 15 spots I list below are fantastic places to get pictures of your time in Aruba, be sure to venture out around the island.
There's not a bad looking place on the island, so photo opportunities are everywhere.
Get out there, be creative, and have fun.
1. The I love Aruba sign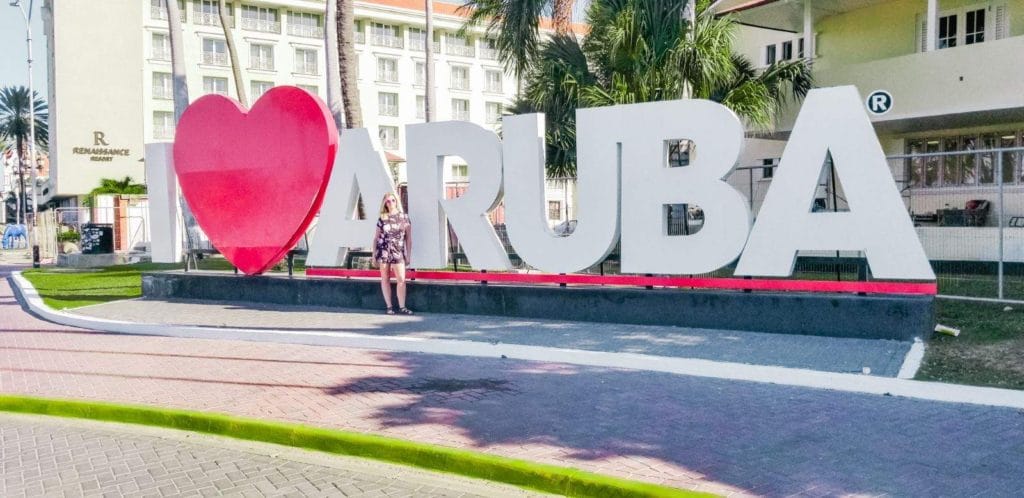 You can find the I Love Aruba sign right outside the Renaissance Aruba Resort and Casino near downtown Oranjestad. In many other cities around the world with signs like these, there is a line or crowd of people wanting to get a picture with the sign.
In Aruba, there was nobody else around and this was taken in the middle of the day. Another reason I loved Aruba so much. There weren't any crowds.
2. Flamingo Beach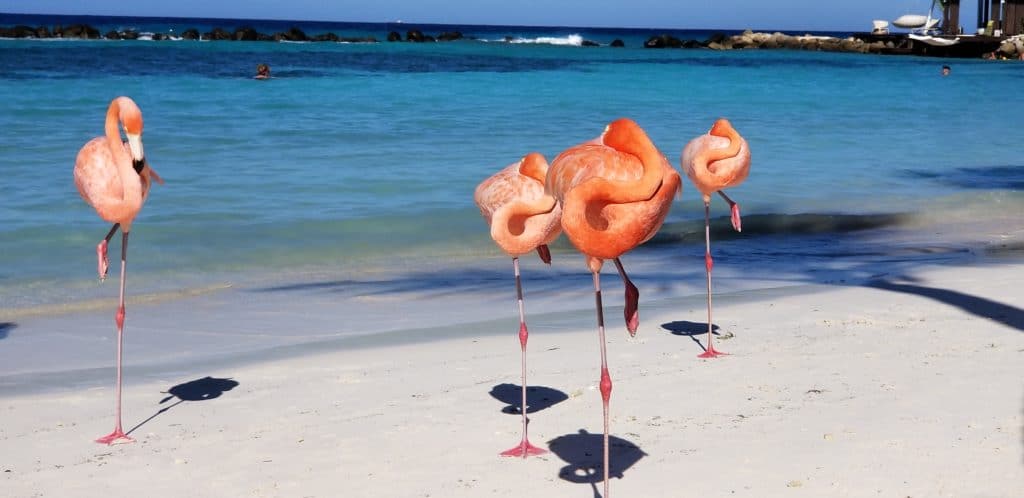 Flamingo Beach on the private Renaissance Island is one of the most popular destinations in Aruba, or at least Instagram led me to believe that.
My friend and I arrived early, around 7:00 a.m., and were able to get pictures of these little cuties before the crowds arrived.
3. The Palm Trees
This is what you see when you look up as you're walking on Palm Beach. This is where the high-rise hotels and resorts are along the beach.
There's a nice path you can walk on down the beach to get from hotel to hotel or to any of the cafes along the sand.
To be honest, the beaches were not that busy this time of year. I was not bothered by crowds a single time during my visit.
Plus, there is no one to hassle you to buy things when you walk around in Aruba. Waitstaff might offer you a cocktail, but who is going to complain about that?
4. Renaissance Aruba Resort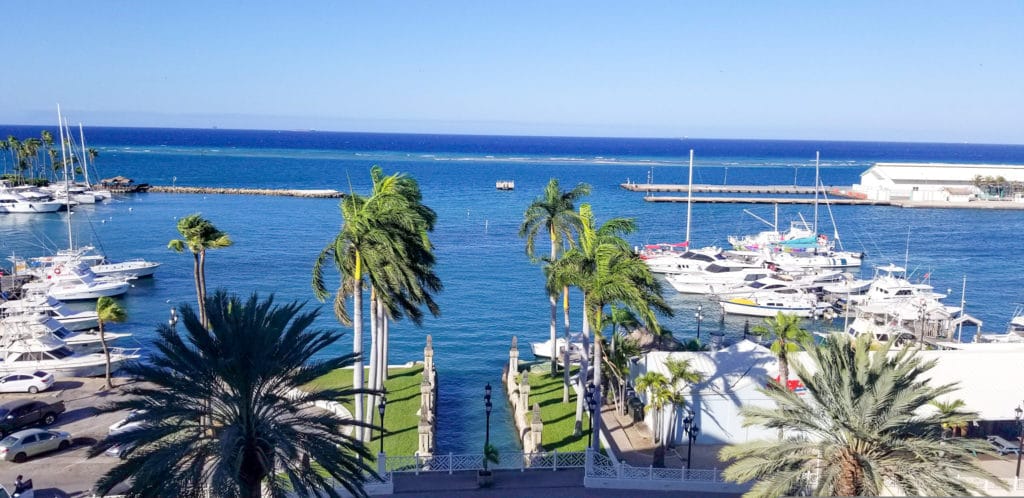 This was the view from my room at the Renaissance Aruba Resort and Casino. I reserved a partial ocean view room, but I guess this had to do.
This hotel was really nice and had a super fun lobby bar with fantastic drinks. They have a happy hour in the evenings too along with some pretty good snacks.
This hotel is located near downtown Oranjestad, so it's a perfect place to stay if you want to explore the city a bit. Also, staying at this hotel gives you access to the hotel's private Renaissance Island, which is where the flamingos live.
5. Moomba's on Palm Beach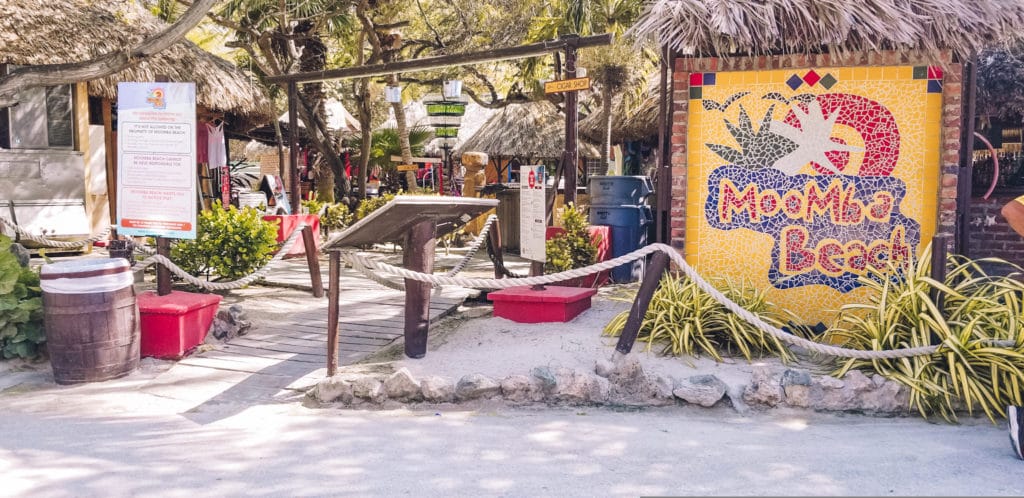 Moomba's is a really fun cafe and bar right on the beach. This is the place to be on Sunday nights. They have live music and dancing right in the sand.
The drinks are really good here and it's an all-around fun place. I'm not much of a dancer but had a fantastic time nonetheless.
6. Sunsets on Palm Beach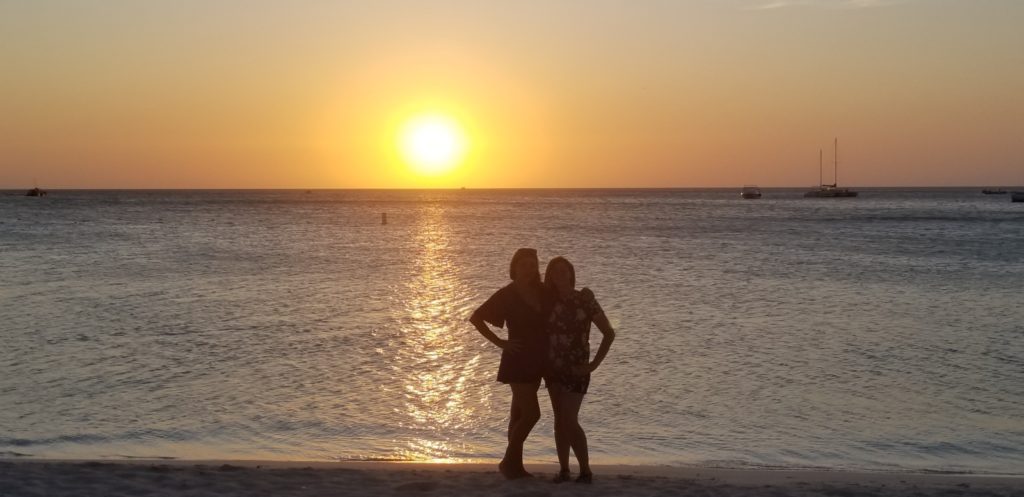 Me and my travel buddy on our last night in Aruba. The sunsets here are just gorgeous, so when you visit, make sure you don't miss them.
7. Arikok National Park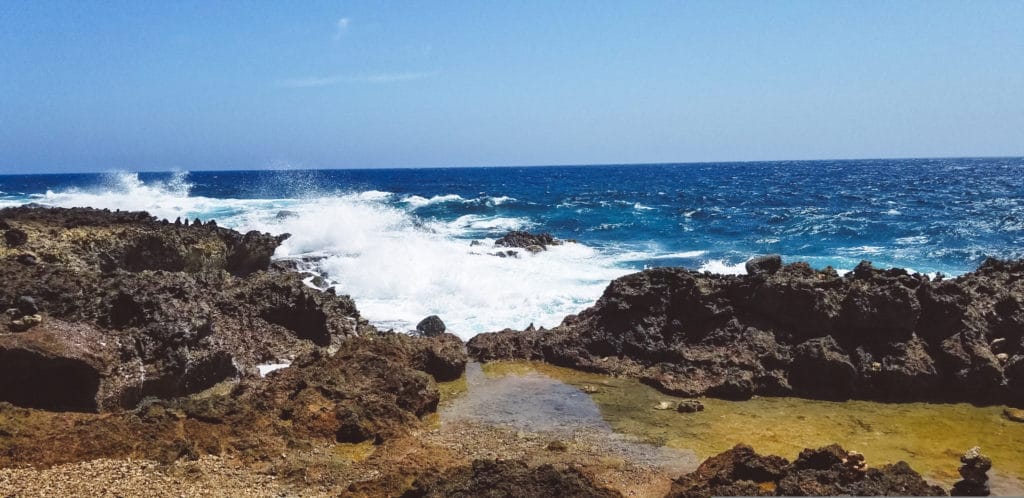 This photo was taken near the rocky beaches in Arikok National Park. The Natural Pool is right next to here (though I somehow forgot to get a picture of that).
You can't go swimming right here, but the Natural Pool is a natural swimming hole along the rocky shore. Once inside, the water is calm and there are tons of fish swimming around. It's perfect for snorkeling.
The Natural Pool is incredibly popular, so you'll want to make sure you get here first thing in the morning to beat the crowds.
8. Alto Vista Chapel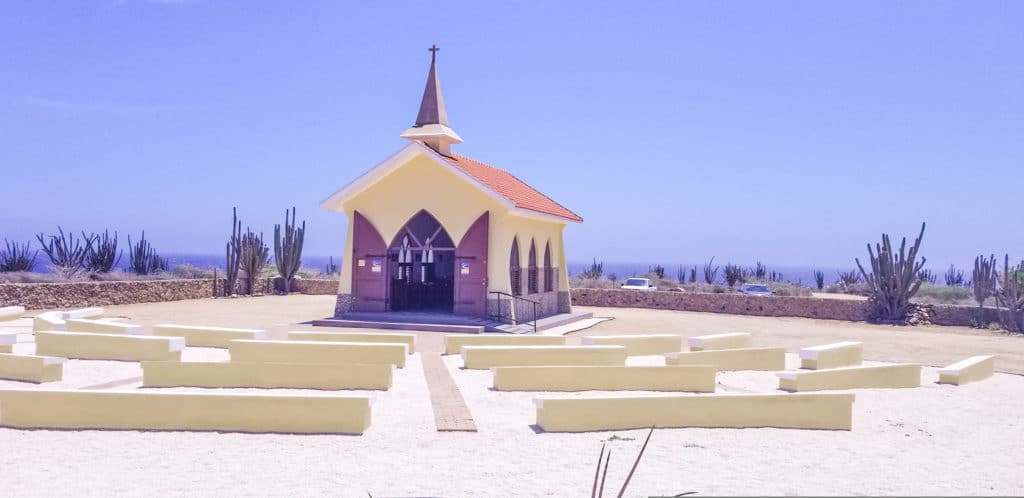 This is Alto Vista Chapel located near Arikok National Park. We were taken to this as part of an island jeep tour we signed up for.
The chapel has a lot of history for the island and services and special events are still held here.
9. Iguana Beach on Renaissance Island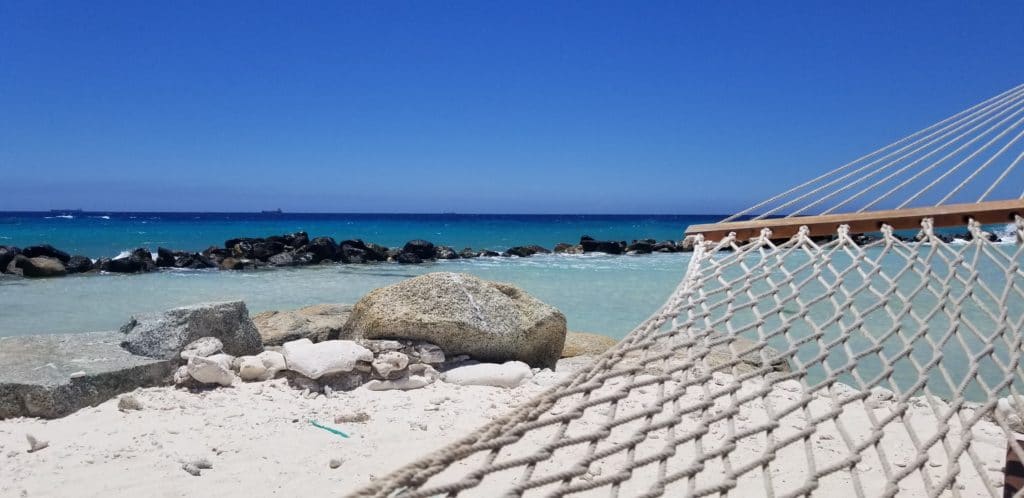 This was the view from my hammock on Renaissance Island. I did not use a filter on this photograph, those colors are all real.
10. From a hammock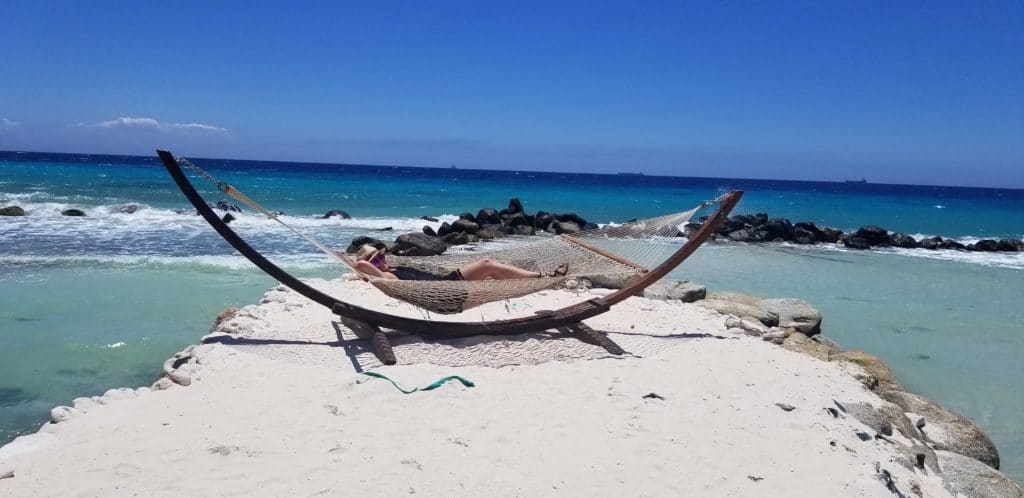 That's me attempting to look graceful on a hammock. I'm terrible at posing for pictures, which I'm sure many have noticed by now, but I try to make light of it.
There were hammocks placed all around the island and very few people were using them. So if you really want to spend your day in a hammock, this is the perfect place to do so.
11. From the dock at Iguana Beach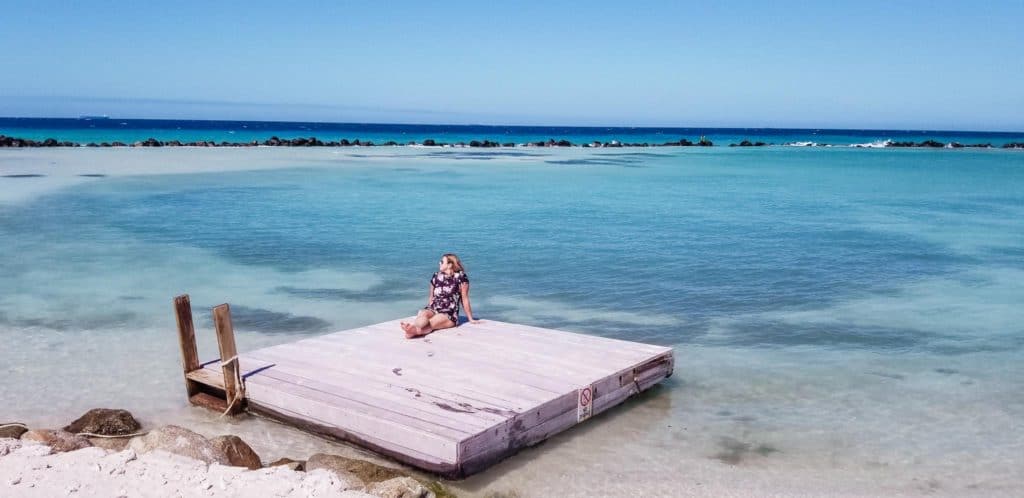 This photo is also taken on Renaissance Island. The main swimming area is behind me.
Again, be sure to arrive early and you'll be the only one around. In fact, get here early to get the beach chairs you want, then head to the restaurant and grab a nice breakfast. The breakfast here was really good and it wasn't overpriced.
12. From a boat in the Caribbean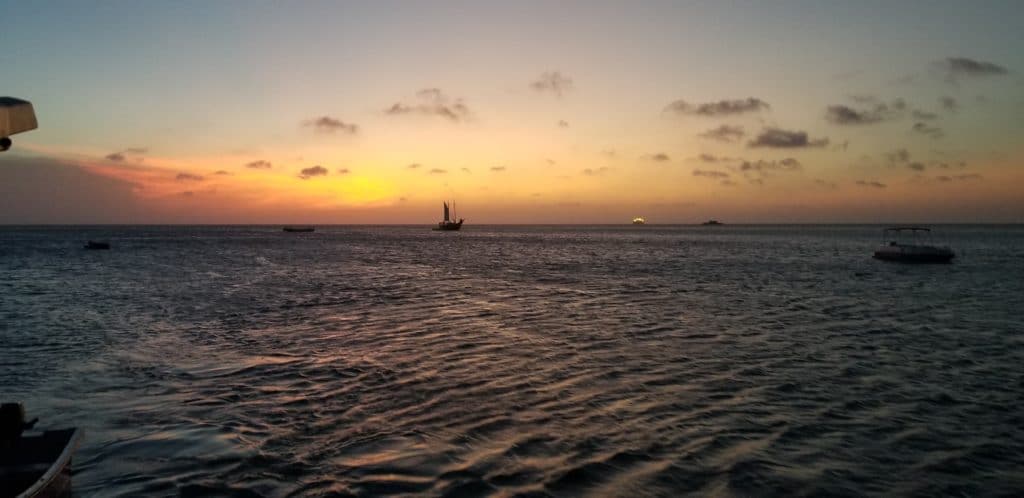 This is a photo I snapped from the deck of the boat on a snorkeling cruise. As I stated earlier, the sunsets in Aruba are spectacular, so don't miss them.
Also, do the evening snorkeling cruise if you can. It doubles as a sunset sail and you also get to enjoy the open bar.
13. With flamingos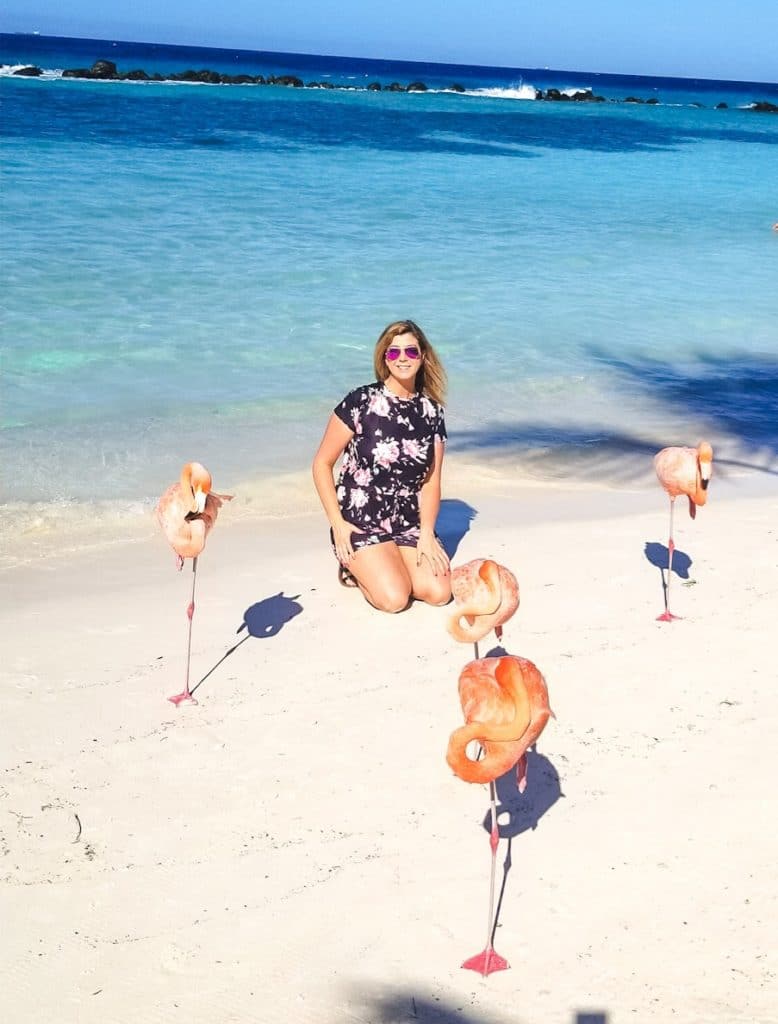 Me and the famous flamingos at Flamingo Beach on Renaissance Island. Get here before 9:00 a.m. if you want pictures without crowds of people in them.
14. Palm Beach Pier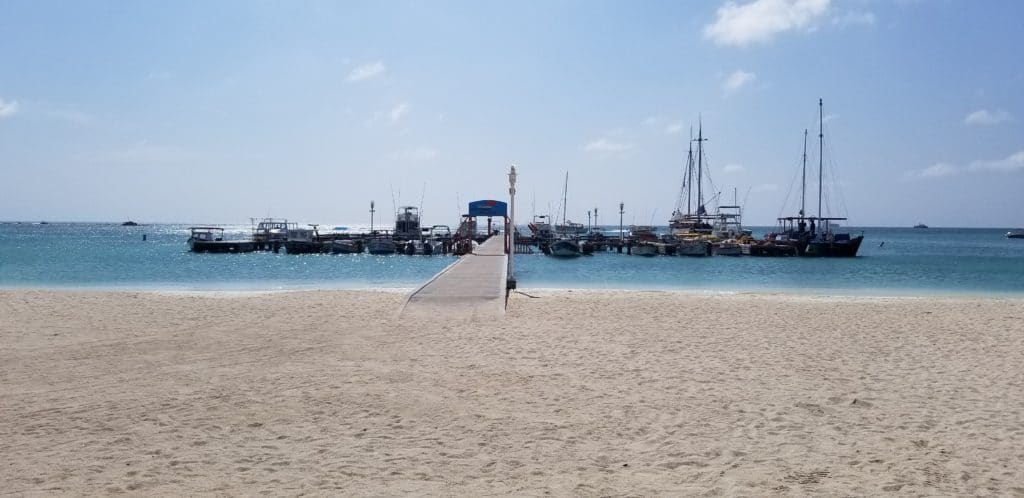 This is the pier on Palm Beach where most of the snorkeling tours leave from. This is also right in front of Moomba's which I mentioned above.
All of these things were a short 5 to 10-minute walk along the beach from our hotel.
15. The Aruba sign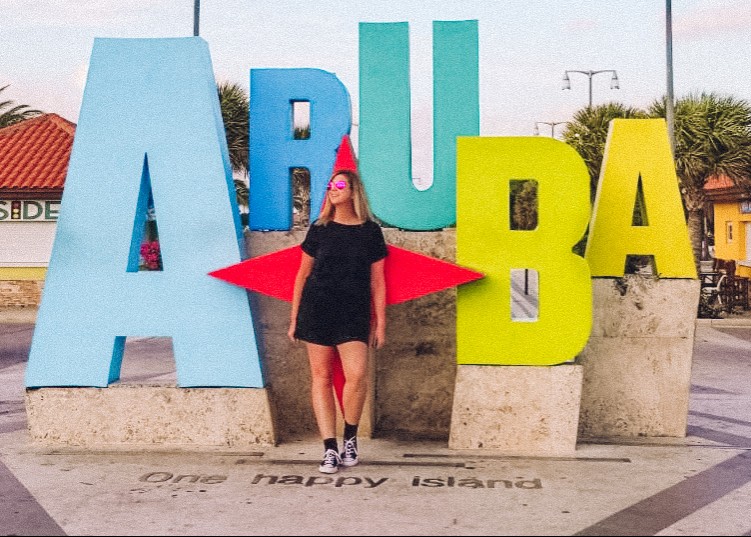 So I actually asked the taxi driver to take us here on the way to the airport on the morning we left. This sign is a bit out of the way, but it's by the airport, so it was a convenient stop along the way.
I don't know why, but I love these signs and always want to get a picture with them.
I truly hope you've enjoyed this post and found these 15 photos to inspire you to visit Aruba have done just that. If you're in the process of planning your trip, be sure not to miss these Aruba experiences during your visit.
Book Your Trip
Find the best flight deals by using Google Flights, then book direct with the airline. This is the search engine I use to compare flights and prices before booking my own trips.

BOOK YOUR ACCOMODATION
I recommend searching for hotels through Booking.com to compare hotels on amenities, location, and price. If you are a member of a hotel's rewards program, always book direct with the hotel. If you are not loyal to a specific hotel brand, using Booking.com for the best price.

TRAVEL INSURANCE
Travel insurance is more important than ever. For just a few dollars a day you can protect yourself and your trip. I personally use World Nomads, but whomever you choose, don't skip out on travel insurance. It can literally save you thousands of dollars.


Want to save it? Pin it.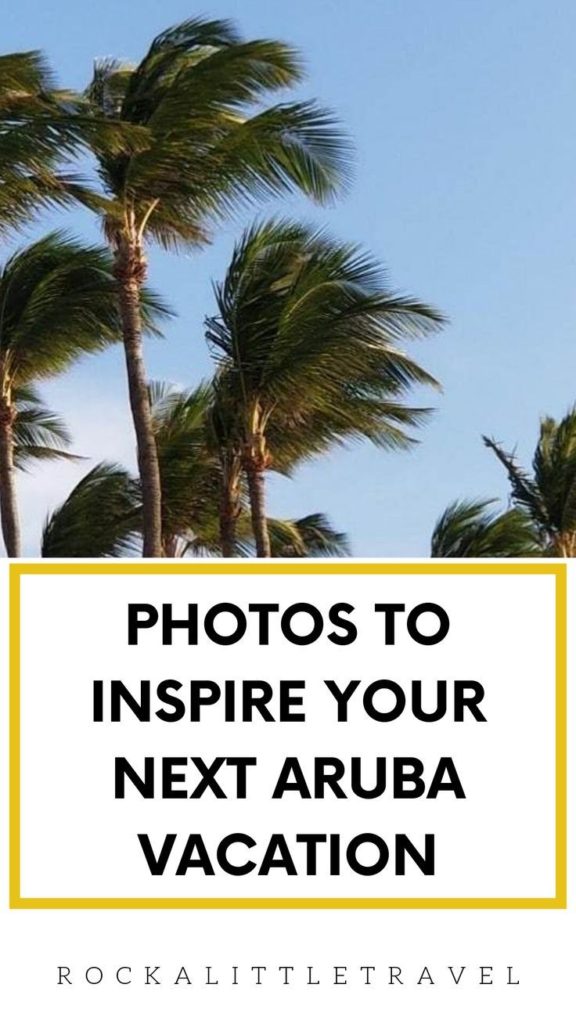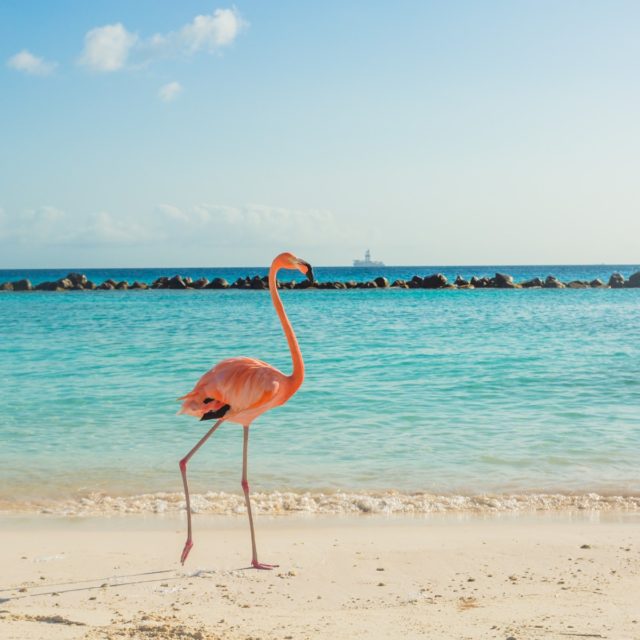 Photo by Sergey Flaminigo Beach Aruba is one of the most photographed spots in the Caribbean. If you've been inspired to visit due to all …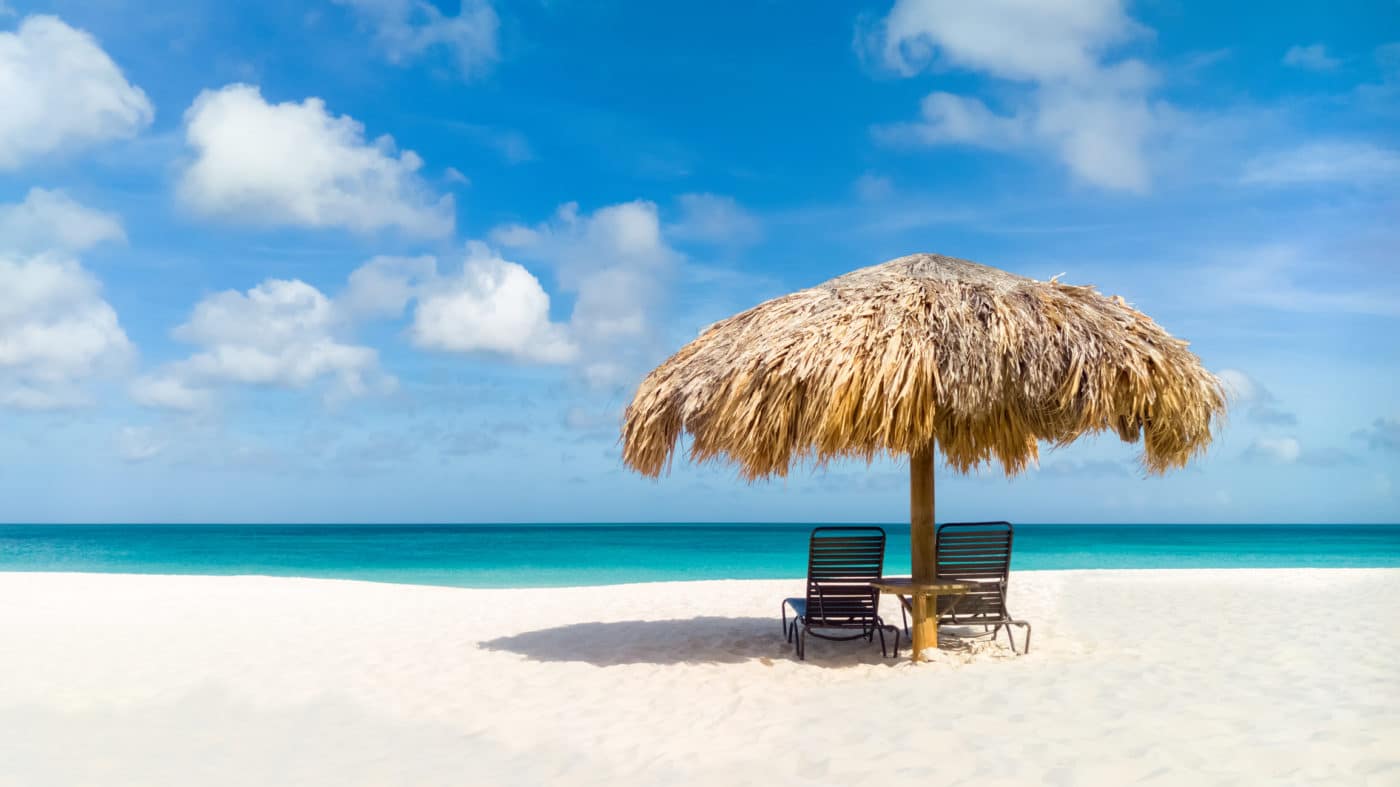 Photo by Ultima Gaina In case you weren't sure you wanted to visit Aruba, here are 15 photos to inspire you to book your trip right …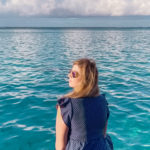 Eden Fite
Part-time Traveler | Dog Lover | Avoider of Crowds
I help busy people find creative ways to travel more.