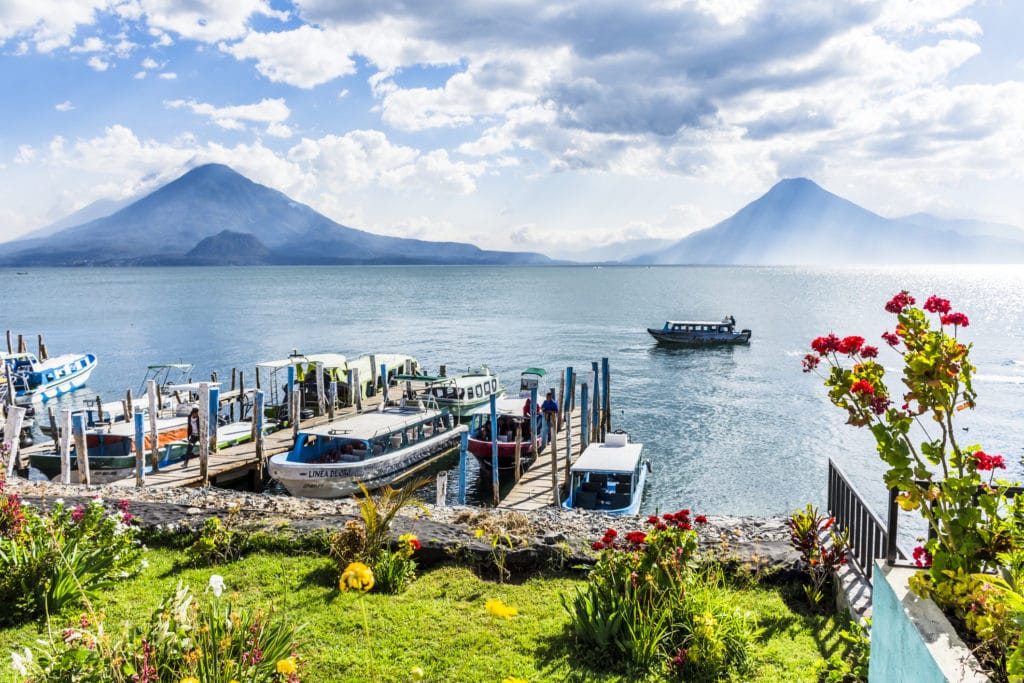 During a recent trip to Guatemala I got to spend time driving around the countryside between Guatemala City, Lake Atitlan, and Antigua.
What I enjoyed most about my visit was finally getting to see Lake Atitlan itself.
It was so much bigger and more beautiful than pictures had led me to believe. It's also one of the reasons Guatemala is one of my favorite countries in Central America.
I spent two days exploring the lake and surrounding area before moving on to Antigua, but I could have easily spent a week there.
Whether you have two days or two weeks, Lake Atitlan is meant to be enjoyed slowly. 
Here are my top things to do in Lake Atitlan. I hope you have as much fun as I did.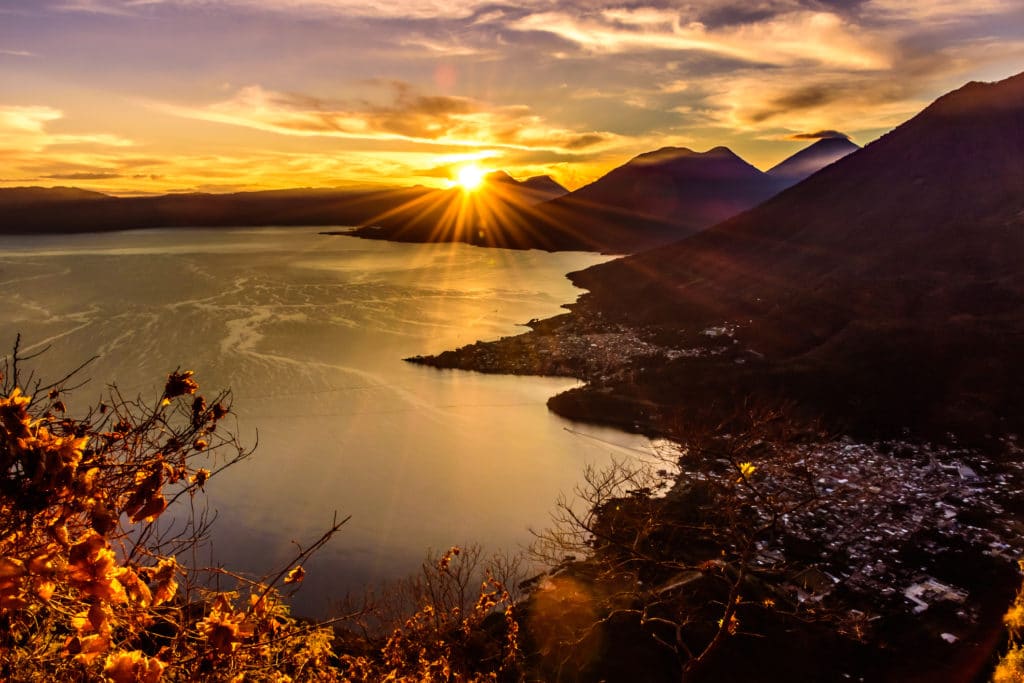 1. Indian Nose sunrise hike
One of the most adventurous and unique things to do in Lake Atitlan is to tackle the Indian Nose sunrise hike.
Those who do will be rewarded with some of the best views of the lake you can find.
The Indian Nose hike starts from the base of the hills near San Juan La Laguna. The hike is about 1.2 miles round trip. You'll want to get a very early start if you'd like to be at the top by sunrise.
The trail is quite steep and includes lots of stairs. After about 20 minutes into the hike, there is a nice lookout point with a large cross.
You can stop here if you like, but the view from the very top is much better. Besides, you've only got about 90 more minutes to go. 🙂
Sunrise at Lake Atitlan is typically around 6:30 a.m. year round. Be on the trail by about 4:30 a.m. in order to catch sunrise from the top lookout.
There are local tours available that include pick up from your hotel and a guide that will take you to the trail head and guide you up to the top.
A guided tour is a popular option since you'll be setting out before sunrise in the morning and the trail head can be a bit hard to find.
Inquire at your hotel or hostel and they should be able to assist you wth signing up for a guided tour.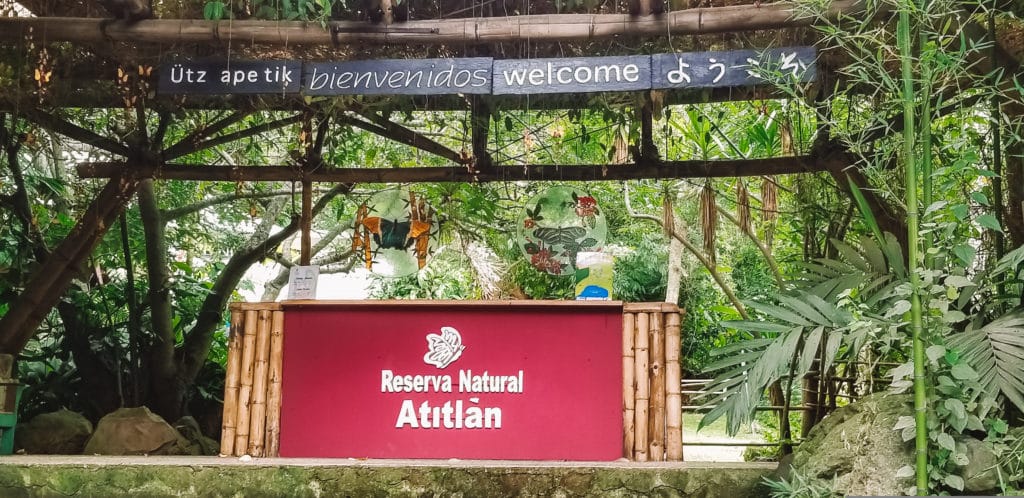 2. Visit Reserva Natural Atitlan
The Reserva Natural Atitlan is located in Panajachel and makes a great stop in the morning local wildlife.
The reserve features hiking trails, hanging bridges, zip-lining, a butterfly geodome, waterfalls, and more.  If you're lucky, or just patient, you might even see monkeys swinging in the trees above. 
Reserva Natural Atitlan works to preserve and promote the sustainability of Lake Atitlan and the wildlife that surrounds it.
Any money you spend here goes to support the work that they do.
The reserve is located just up the hill from Panajachel and can be reached via tuk-tuk in about 10 minutes for just a few Quetzales.
The reserve is open daily from 8:00 a.m. to 5:00 p.m. and the entrance fee is 70Q per person.
If you're looking for a more immersive experience, they have rooms available if you'd like to stay overnight. There is also a cafe onsite serving coffee and breakfast.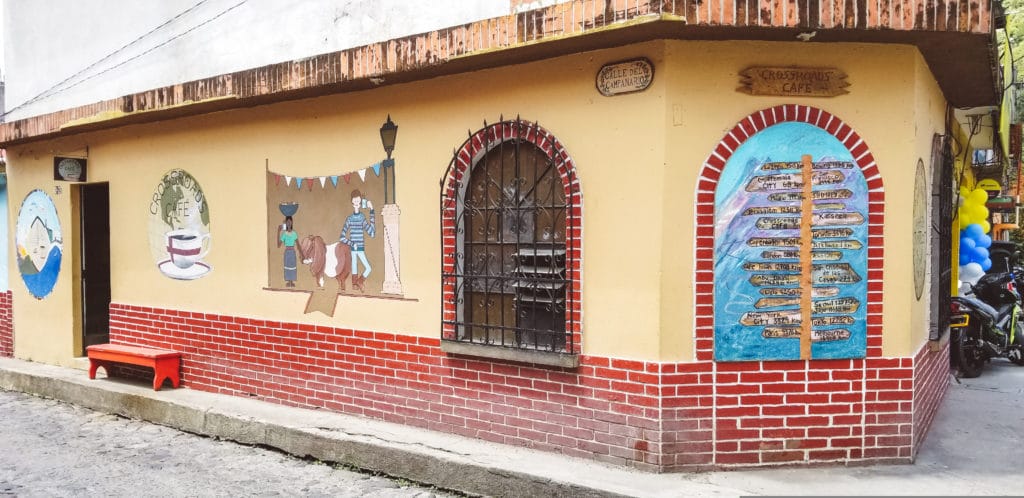 3. Get coffee at Crossroads Cafe 
I absolutely had to add a great coffee shop to this list of things to do in Lake Atitlan. This is also the perfect place to start your day and meet some wonderful local people.
If you're in Panajachel and happen to be a coffee drinker, you must stop at Crossroads Cafe.
The owner's name is Mike, and he's an expat from the States. He's also extremely friendly and loves to talk.
If you're looking for some company or conversation, order a cup of coffee and have a seat at the bar. The other customers will likely strike up a conversation with you.
Mike sources his coffee beans locally and roasts them in house. He takes pride in his coffee and it shows.
He roasts several varieties, depending on what's available, and most can be bought by the pound. These make perfect gifts if you have friends or family that love coffee.
The cafe is open Tuesday through Saturday from 9:00 a.m. to 1:00 p.m. and 2:30 p.m. to 6:00 p.m.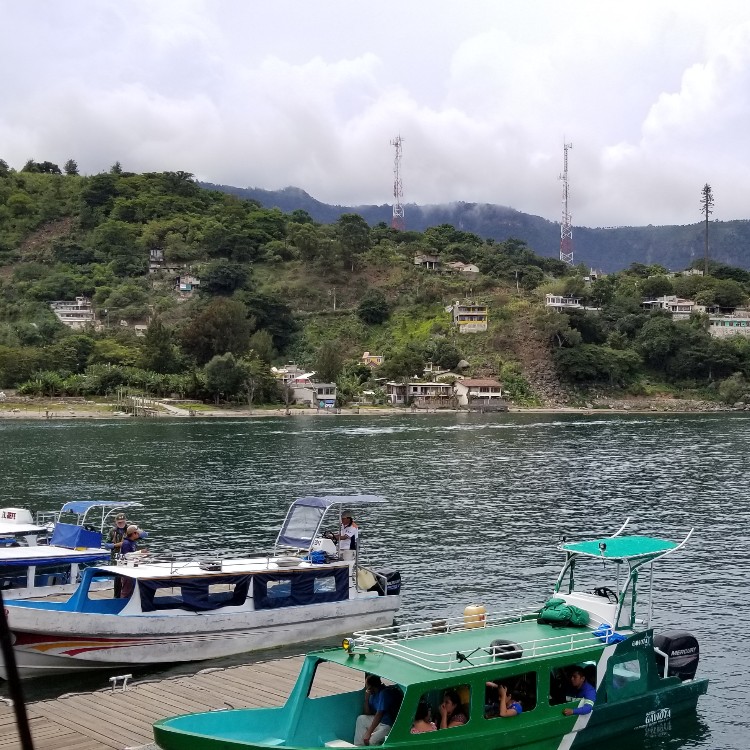 4. Explore the towns around the lake
One of the most unique things to do in Lake Atitlan is to take the boats around from town to town. If you can, try and visit at least two during your visit as each town has its own character.
I visited San Pedro and San Marcos but wish I'd made time to visit them all.
Towns around Lake Atitlan
Panajachel: This is the busiest of the towns around the lake and also where you will find the best shopping. This is also where most tourists are, as this is the main hub between Lake Atitlan and the rest of the country for most visitors. 
San Pedro La Laguna: San Pedro tends to have the lowest accommodation prices around the lake and as a result has become a backpacker destination. This is also the place to head in the evenings if you are looking for a lively nightlife scene. 
San Marcos La Laguna: San Marcos is known as the hippie town on the lake. It's tiny, but beautiful. It's also full of natural food stores, healthy restaurants and yoga retreat centers. You can even participate in a cacao ceremony.
San Juan La Laguna: A quiet Mayan town perfect for exploring when you want to get away from the tourists. If you're interested in learning how local women create those beautiful Guatemalan textiles, you can do that here.
Jaibalito: This is one of the quieter and less-visited towns around the lake, but a good place to visit if you're looking to relax. There are some nice accommodations with pools and some good restaurants. 
Santa Cruz: Santa Cruz is a predominantly Mayan town. You will find some businesses catering to tourists along the lake by the docks. This is also one of the steepest towns, so if you're looking for a workout, just walk around these streets for a while. There's also a really fun hostel here called La Iguana Perdida if you're looking to meet other travelers.
Santa Catarina Palopo: One of the quieter towns around the lake good for hiking or visiting the local hot springs.
San Antonio Palopo: Another quiet Mayan town located on the eastern shore of the lake.
You can take local boats across the lake for a few dollars each way. Just walk down to the dock and let them know where you are headed. They will point you to the correct boat.
I had no problem getting around the lake on the public boats and there was always a boat available at the dock when I was ready to leave.
You may have to wait a few minutes for the boat to fill up before it leaves, but I never waited for more than a few minutes.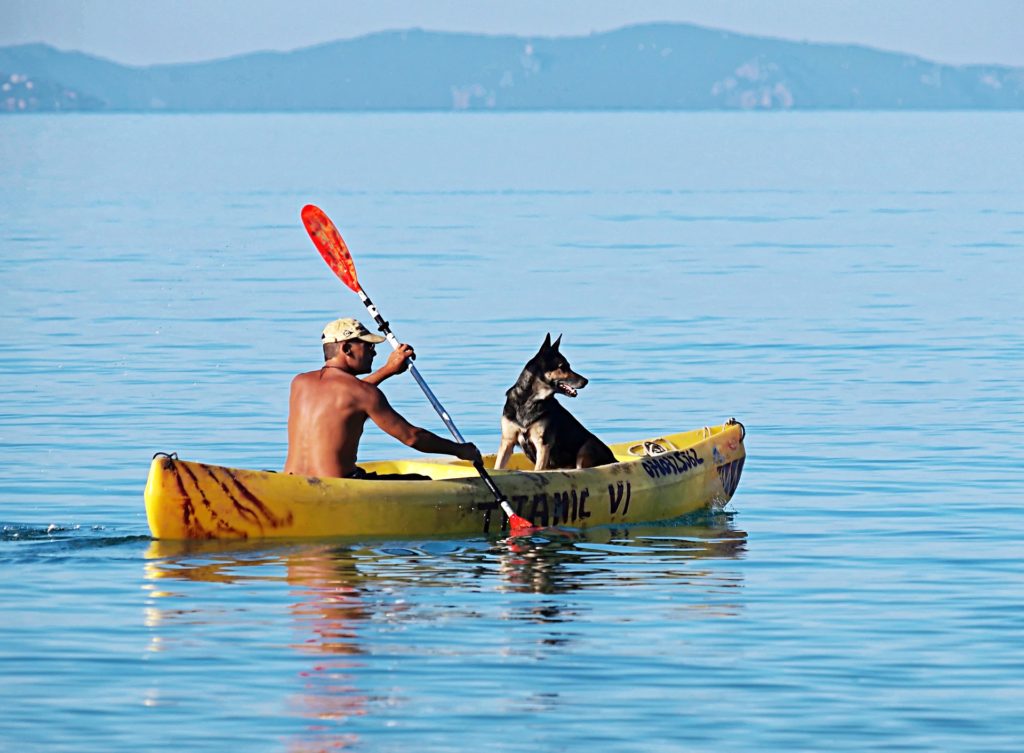 5. Go kayaking or paddle boarding
One of the most popular things to do in Lake Atitlan if you want to get onto the water, is to go kayaking or paddle boarding.
The water is very calm out on the lake (most of the time) so if you've never tried kayaing or paddle boarding before, Lake Atitlan is a good place to do it. Plus, it'll also be one the cheapest places you'll ever do it.
A kayak or paddle board rental will be just a few Quetzales. You can find rental places around the lake when you get by the water.
There's no need for reservations or anything formal. Just walk up and ask.
6. Explore Panajachel
Panajachel is the main city around Lake Atitlan and one of the first places you'll see when you arrive. This is also where you'll find most of the shops, restuarants, bars, and cafes in the area.
It's a neat little town, albeit a bit touristy. But it's still a great place to come if you want to do a little shopping or find something good to eat outside of your hotel.
Be sure to take a walk down the main street Calle Santander. This is where most of the action is (okay mayble ALL the action).
This is basically their Main Street, so you'll find pleny of restaurants and cafes here. Though to be fair, you'll also pay a bit more for spending money here as well.
Either way, its worth the time to take a stroll down the street and see for yourself.
If you walk down to the end of Calle Santander, you'll also find the main dock if you're looking for a boat ride to any of the other cities around the lake.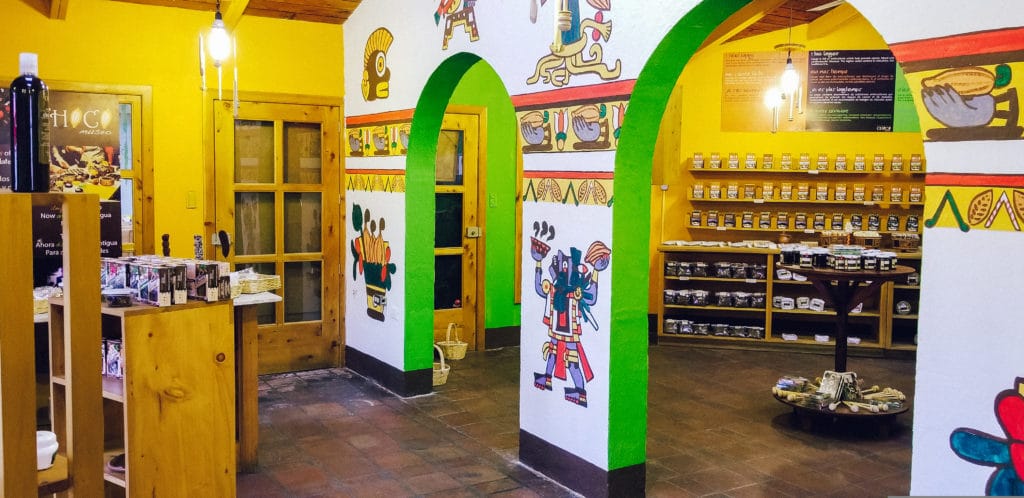 7. Sample the chocolate at Choco Museo
Choco Museo Panajachel is located on Calle Santander, the main street in Panajachel. What's so great about this place? The free samples of delicious Guatemalan chocolate of course.
Guatemala is known for both its coffee and its chocolate, so you might as well indulge in both while you are in the country.
Plus, they have plenty of items that will make great gifts for friends and family back home.
The staff here are super friendly and happy to answer any questions you might have about their products. The museum also offers several workshops including chocolate bar and truffle making if you'd like a more hands-on experience during your visit. 
Choco Museo Panajachel is open daily from 11:00 a.m. to 8:30 p.m. Admission is free. 
8. Ride the Tuk-Tuks
You're going to find tuk-tuks everywhere in and around Lake Atitlan. These will be the most convenient method of transportation in the local towns around the lake.
The tuk-tuks are loud, bumpy, and a lot of fun. You catch a tuk-tuk the same way you would a taxi. Just wave at a driver when you see an empty one. If they're available they'll stop for you.
You can negotiate the price of your trip prior to climbing in, but short trips will only cost a few Quetzales.
If you're at your hotel or in another area where you don't see any tuk-tuks, ask someone to call one for you.
Most hotels and local businesses will have the number of a reliable driver, and most will be happy to call someone for you.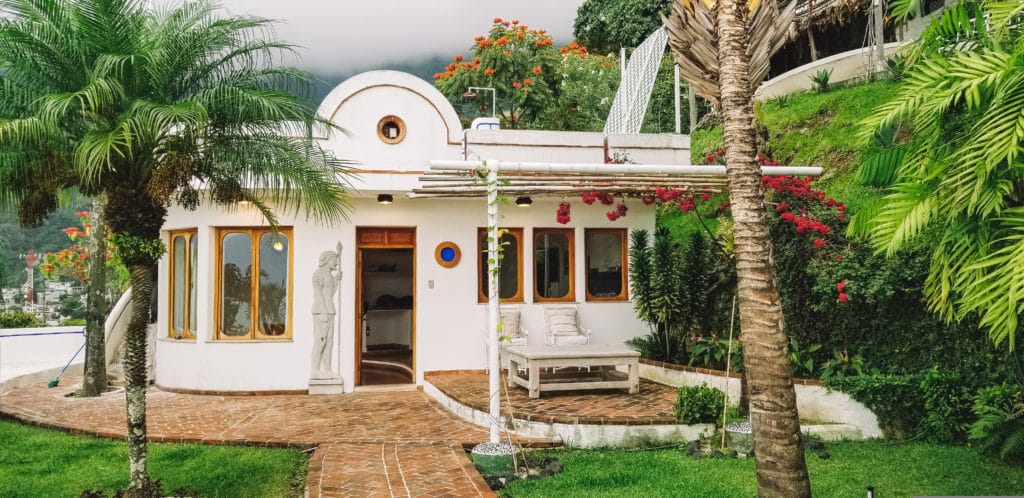 9. Stay at a resort around the lake
A large part of what made my experience at Lake Atitlan so incredible was choosing to stay at Tzampoc Resort.
The property is perched on a hillside overlooking Lake Atitlan with Volcan San Pedro and Volcan de Atitlan creating a stunning backdrop.
I kind of booked the place on accident, but I'm so happy I did. It's a beautiful place to wake up to each morning, especially with the delicious Guatemalan breakfast they serve each day.
There's even an infinity pool to cool off in when the weather is warm and some cute dogs running around the property to keep you company. Trust me, they're adorable.
Whether you choose to stay here or somewhere else, I encourage you to get a spot right on the lake. It's so worth it.
Most of the properties in Lake Atitlan are very affordable, even the ones right on the lake.
Plus, most will come with a fresh Guatemalan breakfast every morning. Trust me, you don't want to miss these.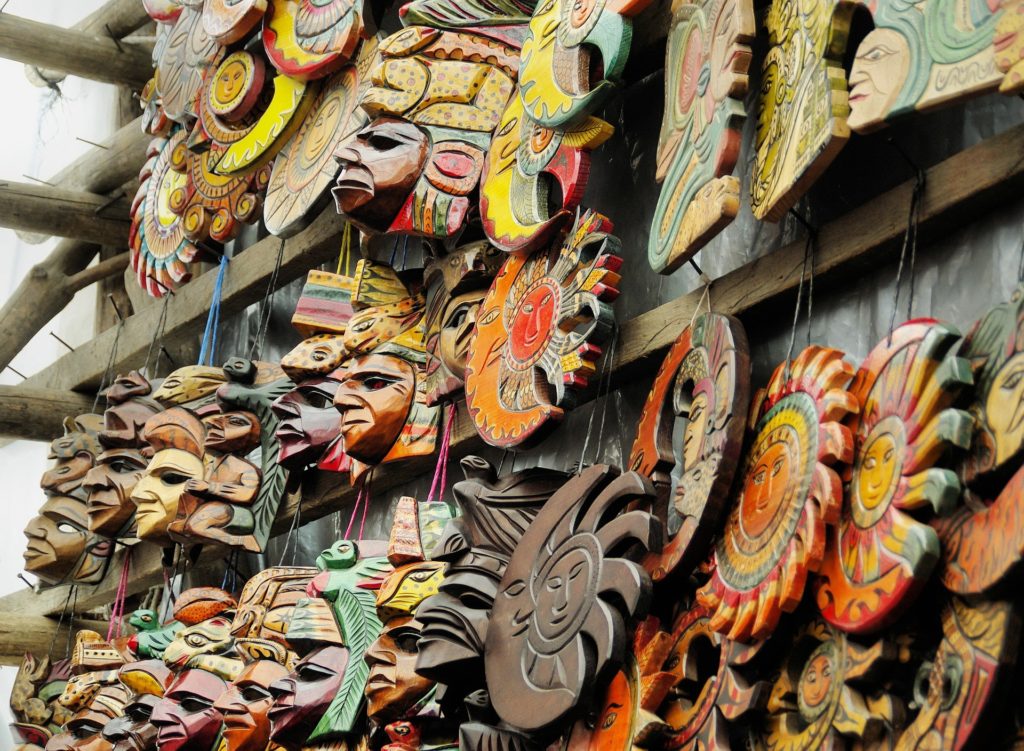 10. Visit Chichi Market
The Chichicastenango Market, or Chichi Market as it is commonly called, is a large street market held in the Mayan town of Chichicastenango.
The Chichi Market is held every Thursday and Sunday. Locals from nearby towns and villages all head there to sell their handmade textiles, clothing, produce, art, knickckacks, you name it.
It's a great place to pick up something unique for yourself or a loved one back home.
The town of Chichicastenanngo and the market are found about 90 minutes north of Lake Atitlan, so it's a good day trip destination if you have the extra time.
There are shuttles that run between the towns around Lake Atitlan and the market. The cost for the roundtrip shuttle is about 75Q.
You do not need advance reservations for the shuttles. Inquire with your hotel or hostel and they should help you make arrangements for a shuttle.
Also, make sure you bring Quetzales with you when you visit the market. You should also have small bills.
I hope you've enjoyed reading my top things to do in Lake Atitlan Guatemala and have found it useful for planning your trip.
If you have time to visit other areas of Guatemala, I recommend reading the top things to see in Antigua. 
Book Your Trip
Find the best flight deals by using Google Flights, then book direct with the airline. This is the search engine I use to compare flights and prices before booking my own trips.

BOOK YOUR ACCOMODATION
I recommend searching for hotels through Booking.com to compare hotels on amenities, location, and price. If you are a member of a hotel's rewards program, always book direct with the hotel. If you are not loyal to a specific hotel brand, using Booking.com for the best price.

TRAVEL INSURANCE
Travel insurance is more important than ever. For just a few dollars a day you can protect yourself and your trip. I personally use World Nomads, but whomever you choose, don't skip out on travel insurance. It can literally save you thousands of dollars.


Want to save it? Pin it.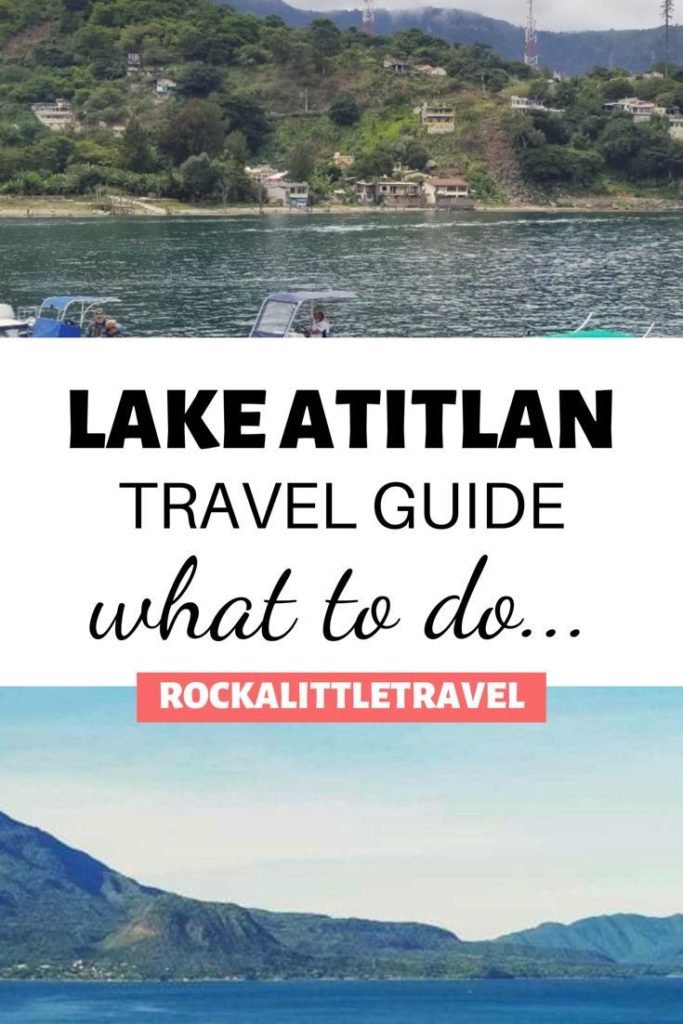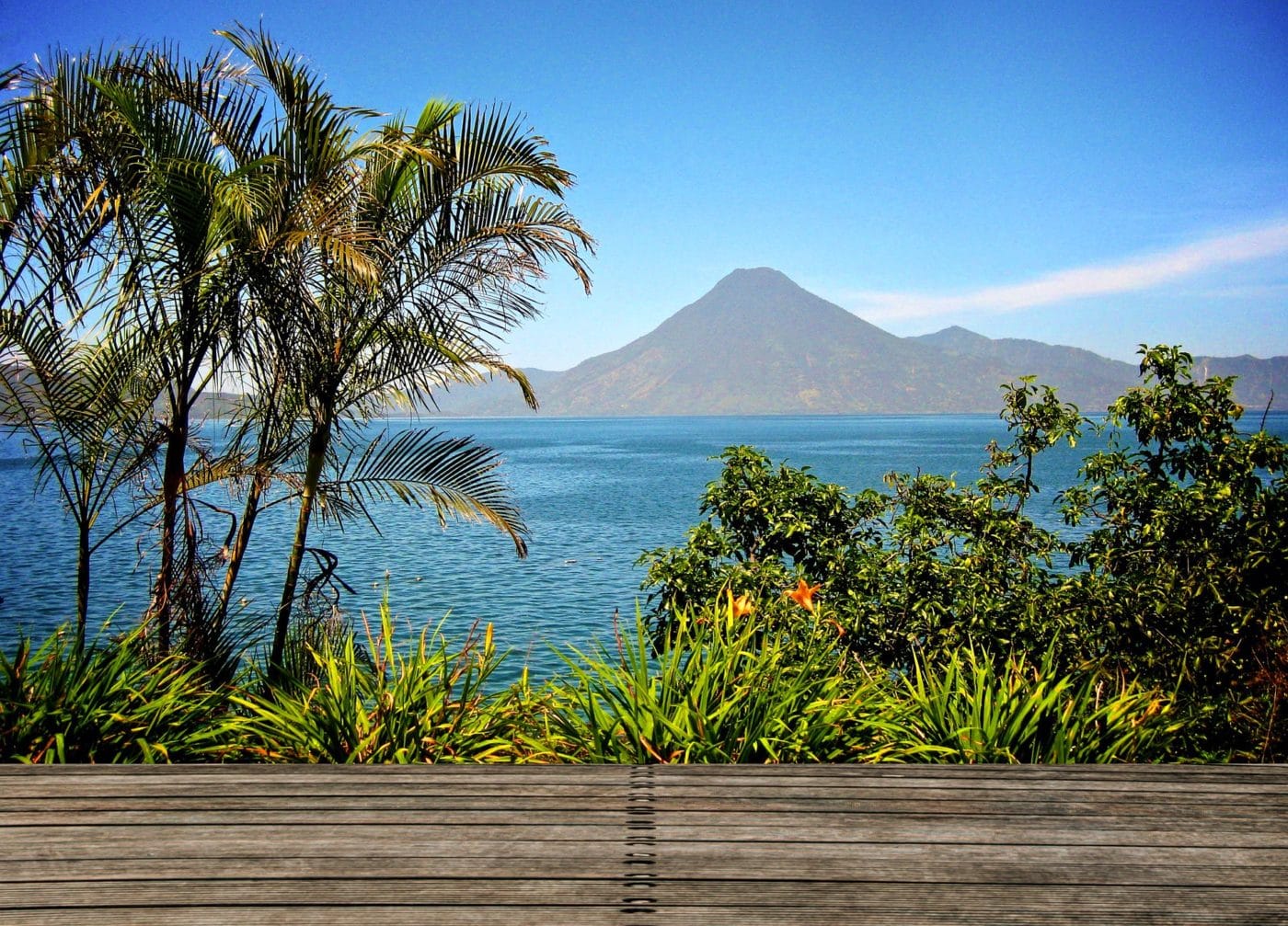 Photo by Marco Antonio Reyes Guatemala was one of the most surprising destinations I've ever visited. When in the planning stages figuring out what to do …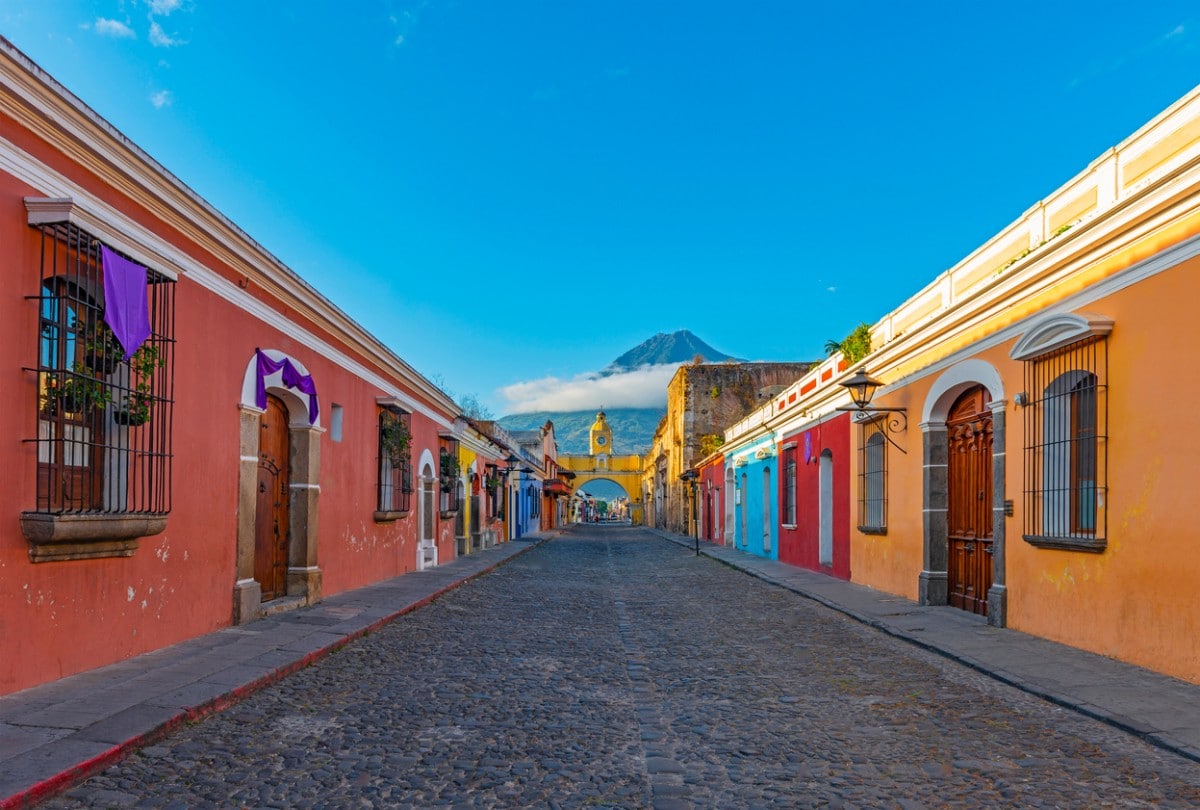 Wondering about things to do in Antigua Guatemala? Well you're in the right place. The city of Antigua is one of the top tourist destinations …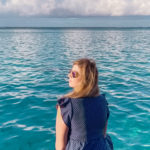 Eden Fite
Part-time Traveler | Dog Lover | Avoider of Crowds
I help busy people find creative ways to travel more.