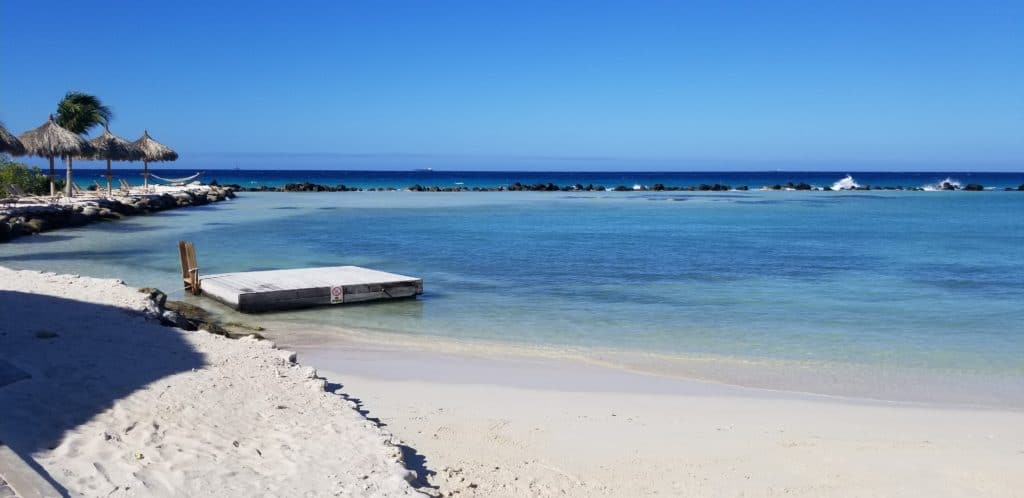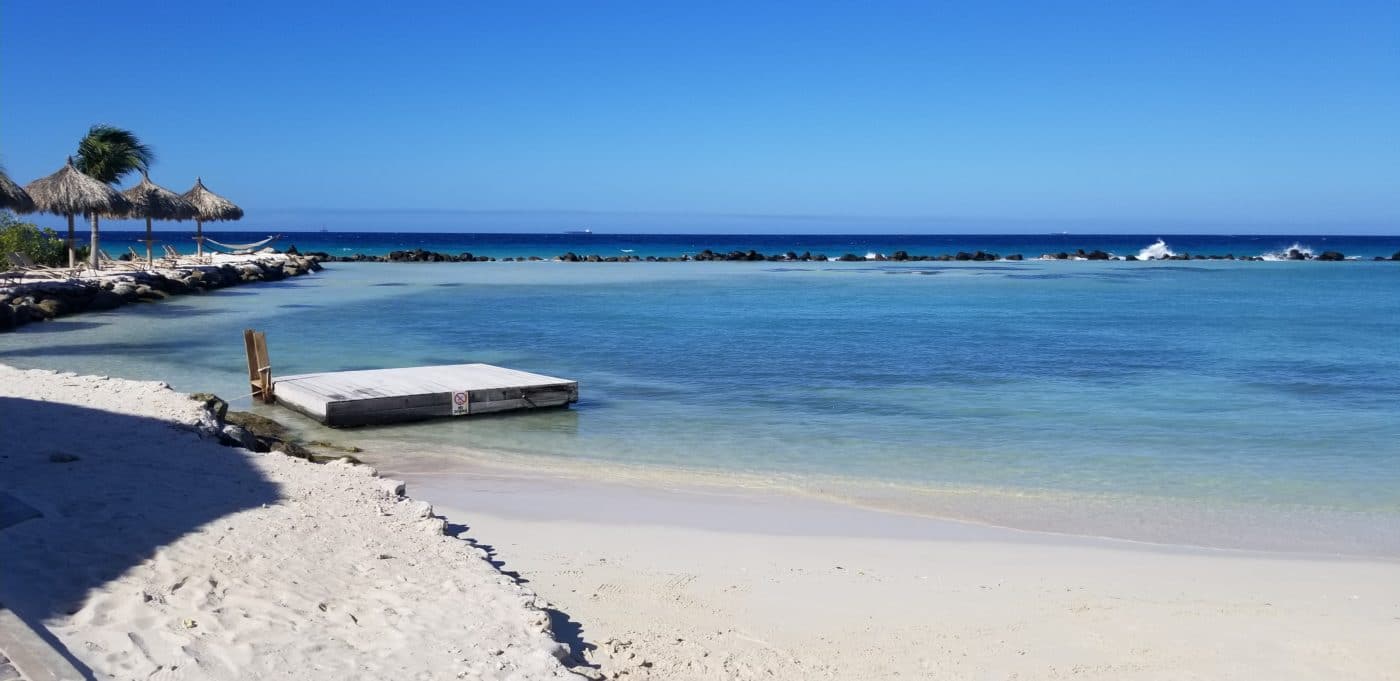 I just returned from 5 incredible days on the island of Aruba. This was the first island vacation I have taken in many years, and the only island I've been to besides Hawaii.
In fact, I had such a great experience in Aruba that I'm hoping to visit the remaining ABC islands (Bonaire and Curacao) next year.
So, after spending several days exploring Aruba, including the desert region and many of its beaches, I put together these 15 Travel Tips for Aruba to help you get better prepared for your trip.
I hope you find these travel tips for Aruba helpful, and that you have as good of a time as I did.
If I happen to have missed anything or you have questions about planning a trip to Aruba, send me a message. I'd be happy to help you find what you're looking for.
15 Travel Tips for Aruba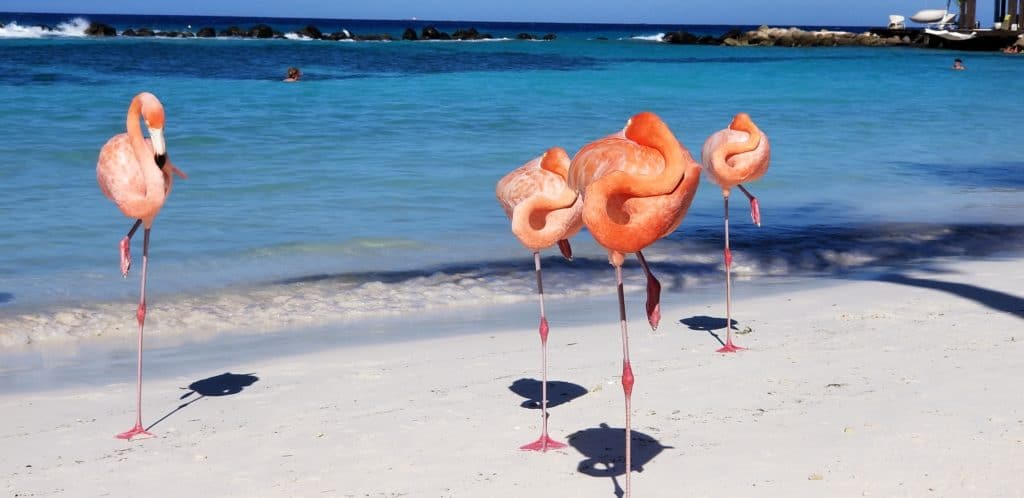 1. Book one night at Renaissance Aruba Resort & Casino
If you're a guest at the Renaissance Aruba Resort & Casino, you get access to Renaissance Island at no additional cost. For non-hotel guests wishing to visit Renaissance Island, the cost is about $125.
Renaissance Island is where you'll find Flamingo Beach. This is a popular destination in Aruba thanks to Instagram, but honestly, the island was not at all crowded when I visited.
Flamingo Beach is in its own area, but the rest of the island is worth a half or full-day visit as well.
There are plenty of beach chairs and hammocks, a very calm and swimmable beach, plus a restaurant with great food and cocktails.
Guests of the island also have access to free rentals of towels, snorkel gear, floaties, paddleboards, and kayaks.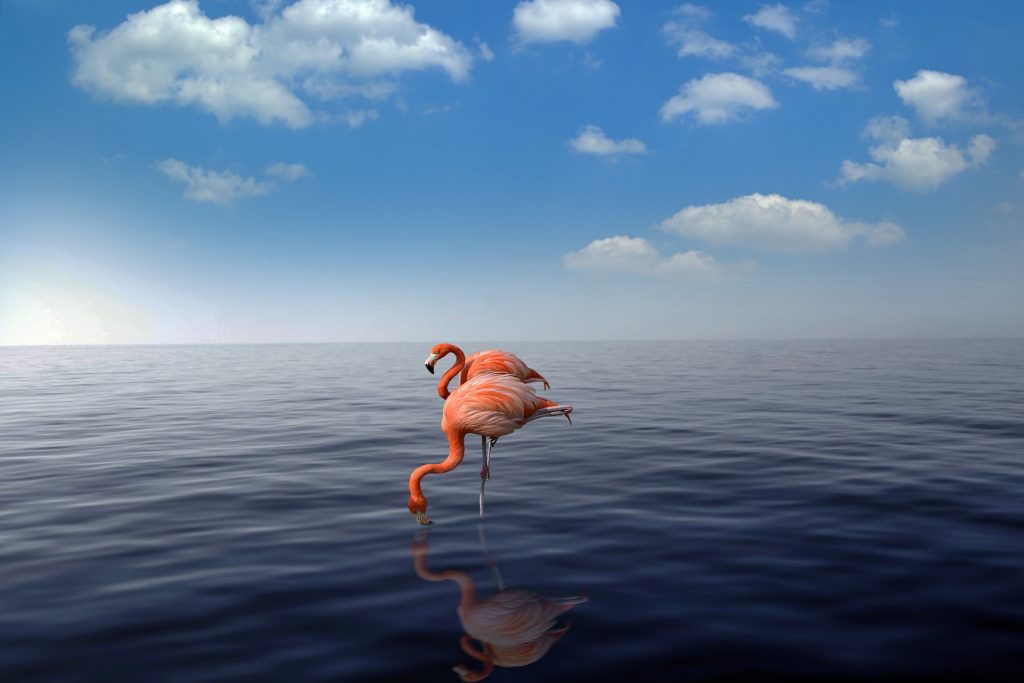 2. Get to Flamingo Beach early
If you want to see the flamingos at Flamingo Beach and get pictures, plan to arrive early.
The first boat leaving from Renaissance Aruba Resort & Casino leaves at 7:00 a.m. You will need your room key to get access to the boat, so make sure each guest has a room key.
When you arrive at Renaissance Island, head to the right to get to Flamingo Beach.
Spend 10 minutes or so getting your pictures and feeding the flamingos, then head to the main beach to the left of the dock.
If you plan to arrive at Renaissance Island late in the day, you will have a difficult time getting photos without strangers in them. Plus, all the beach chairs will be taken.
3. Ask the price before getting in a taxi
The taxis in Aruba do not have meters, at least not any that I took. But they do have set prices for travel between the different areas of the island.
Like most places in the world, it will be a bit more expensive going to and from the airport. The 10-minute taxi ride I took from the airport to the Renaissance Aruba Resort & Casino was $21.
However, I was also charged $21 to go from the Renaissance Aruba to the high-rise section of the island near Palm Beach, which is also about a 10-minute ride.
I overheard others on a tour I took that they took the same trip for about half that price. So I suggest asking before you enter the taxi to make sure you're getting a fair price.
Also, finding a taxi in Aruba is incredibly easy. There are taxis waiting outside all the major hotels and there are taxi stands everywhere.
4. Pack for hot and humid weather
Aruba is beautiful, but it's also hot and very humid. As such, this is one of the most important travel tips for Aruba.
You will want shorts, rompers, dresses, tank tops, a sun hat, at least two swimsuits, sunglasses, and sandals.
Now I am totally a jeans and sneakers kind of girl, but I found exactly zero opportunities to wear either of these things.
Also, you'll likely be taking a ton of pictures while you're in Aruba, so try to pack outfits that will look nice on camera.
Now I am honestly the last person who should be giving fashion advice, but I packed four different rompers so that I had a full outfit without putting any effort into it and was happy with how I looked on camera (for the most part).
5. Reapply your sunscreen
The sun is brutal in Aruba and you'll be very close to the equator. I suggest using at least an SPF 50 on your face and body and reapply every hour if possible.
I also recommend using reef-safe sunscreen to protect the beautiful marine life you traveled so far to see. I used the Sun Bum brand during my trip and it worked perfectly.
6. Wear a sunhat
To protect your face, you should wear a sunhat or visor whenever you're laying out on the beach or walking around.
I did this to make sure I didn't get burned and also to protect my eyes as they are very light-sensitive.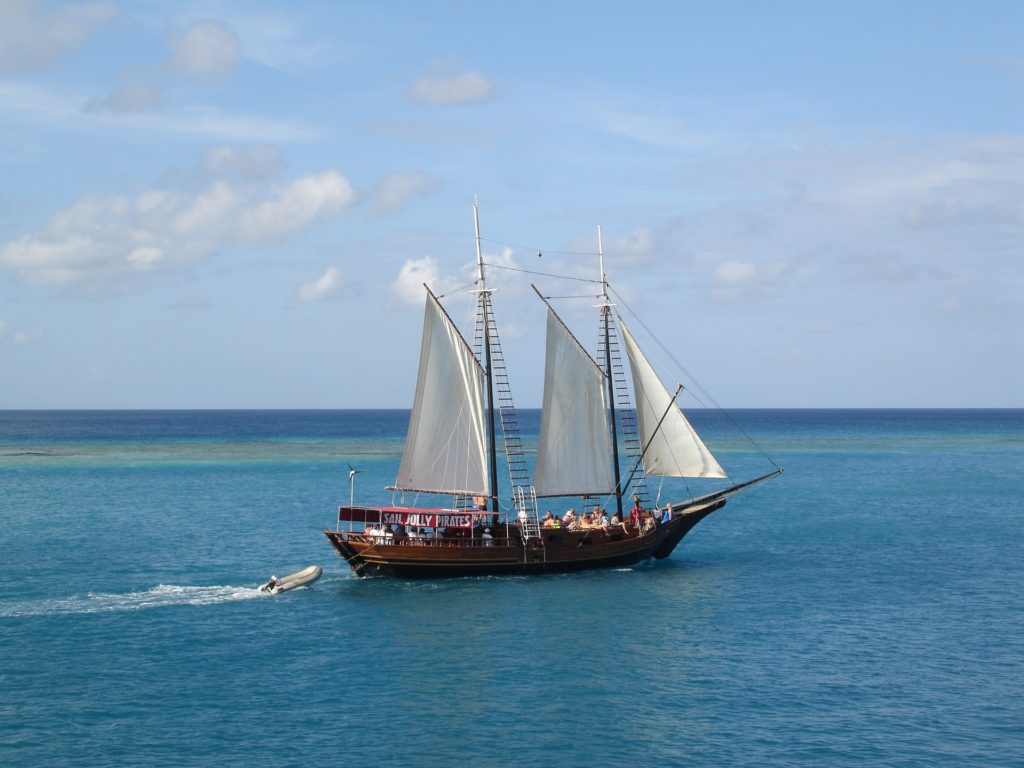 7. Try the snorkeling
There are many great places to see fish and other marine life around the island. There are even several shipwrecks near the shore which make great spots to snorkel.
There are several tour companies offering snorkel tours around the island. I did the Sailaway evening tour and loved it. It even came with an open bar.
If you don't want to get on a boat or do a tour, you can also just rent snorkel gear and head out to some of the great snorkel spots on your own.
However you choose to do it, don't miss the chance while you're here.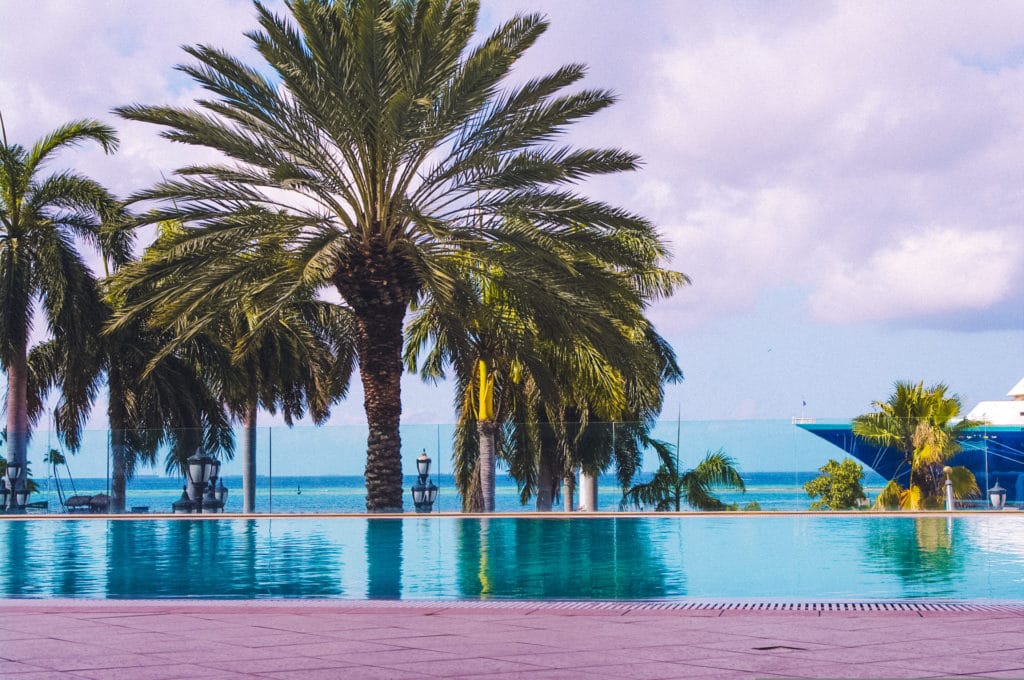 8. Consider staying at more than one resort
If you're going to be visiting Aruba for several days and you don't mind switching hotels, stay at two different resorts during your visit.
During my trip, I spent two nights at the Renaissance Aruba Resort & Casino and two nights at the Aruba Marriott Resort & Stellaris Casino.
The Renaissance Aruba gave me access to Renaissance Island for free, but also placed me near downtown Oranjestad and the marina.
I enjoyed being able to explore these areas on foot in the evenings.
My second two nights at Stellaris were right on beautiful Palm Beach and near the other high-rise hotels. This was a super fun area and I loved this beach resort.
The property was incredible, the staff were friendly, and it was close to everything. Plus, I got to wake up every morning to a view of the Caribbean right outside my window.
Most of all, I enjoyed getting to experience two different parts of the island.
Also, if you're a Marriott Bonvoy member, these are both Marriott properties so you can collect your points and get credit for these stays.
If you're not loyal to just Marriott properties, here is a shortlist of other Aruba hotels to consider while visiting the island:
Of all my travel tips for Aruba, this is the one I really appreciated the most during my own trip.
Getting to experience different areas of the island made the trip more interesting and fun for me. I honestly think you'll feel the same way.
9. Visit Arikok National Park
Make sure to plan to visit Arikok National Park during your visit to Aruba.
Arikok National Park is in the desert region of the island and is a major contrast to the beachy areas near the resorts.
One of the most popular activities in the park is to visit the Natural Pool.
This is a natural swimming hole created along the rocky shore of the park. The setting is gorgeous and it's a great place to snorkel. Just be sure to get here early to beat the crowds.
To reach the natural pool and to explore the park, you will need either a UTV or a jeep if you want to explore on your own.
The easiest way to go about this is to take either a jeep tour or UTV tour. These are half-day tours that will take you to the natural pool in the morning, and to several other areas of interest in and around Arikok National Park.
Full disclosure, I did a four-hour jeep tour in the morning. I enjoyed the tour, but in hindsight think the UTV tour would have been more fun.
That being said, just make sure to plan a visit at some point during your trip. It's worth it to see such a different side of the island.
10. Visit multiple beaches
There are many great beaches in Aruba, all with their own unique characteristics. Plan to visit more than one, and as many as you can during your visit.
My personal favorite Aruba beach was Palm Beach. I loved how calm the water was and that there was so much to do nearby.
Palm Beach is where the high-rise section of the island is, so you'll likely get the opportunity to visit here.
Here are some other beaches you should make time to visit as well:
Flamingo Beach: This beach is on Renaissance Island and where you will see the popular flamingos.
Eagle Beach: This beach is found just south of Palm Beach near the low-rise section of the island. It has been rated as one of the best beaches in the world.
Baby Beach: This beach is found on the southern tip of the island and is a man-made lagoon with incredibly calm waters. It's perfect for babies and small children.
11. Talk with the locals
Aruba's motto is One Happy Island, and it's an accurate one. The locals in Aruba are wonderful and very friendly.
They love to tell you all about the island, it's history, and give you tips on what to see during your visit.
So if given the opportunity, strike up a conversation with your bartender or tour guide, or whomever else you come into contact with.
Most will be happy to talk with you and you'll get to know the people and the island in a more intimate way.
12. Visit Aruba in the offseason or shoulder season
Aruba can be an expensive destination to visit, especially if you're visiting during the high season from January to March.
For me, I like to travel when there will be lighter crowds and lower prices, so I tend to travel in the fall.
My visit this year was in September, and there were enough people on the island to keep things exciting and meet fellow travelers, but I didn't experience overcrowding anywhere during my trip.
What I also loved about Aruba this time of year were the great prices I got on airfare and hotels.
If you're going to plan a trip to Aruba, start planning early and make reservations outside of the high season.
Of all my travel tips for Aruba, this one will easily save you the most money. Always travel in the should season or off-season whenever possible. You'll save so much money and get to travel more often.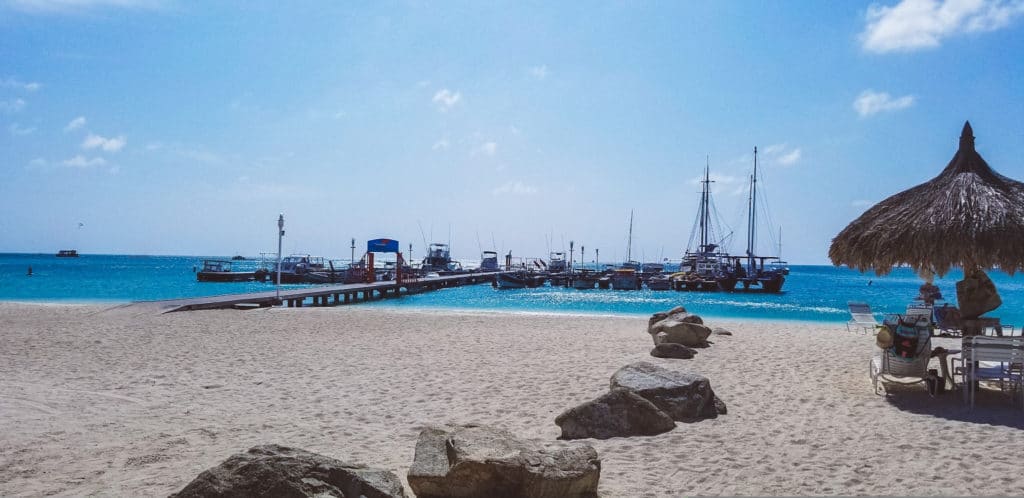 13. Take advantage of the activities and tours
There are dozens of activities and tours available once you arrive in Aruba. Take advantage of your time here and take part in the ones you're interested in.
I found the prices for tours and activities to be quite fair. You'll have some unique opportunities for diving and snorkeling, along with several other adventurous activities.
Kite surfing is quite popular since Aruba is such a windy island. You can also go parasailing and rent jet skis too.
The Aruba Caribbean waters are calm on most sides of the island, so you'll have the perfect opportunity to try new water activities here if you're a bit nervous in the ocean.
I recommend trying at least one new thing while you're here, it'll make your trip that much more memorable.
14. Try the local cuisine
Aruba is known for its fresh fish and seafood. You'll find local dishes with Spanish, Caribbean, American and Dutch influences.
At most of the restaurants around the island, you'll be able to order local dishes along with whatever the primary menu consists of.
I encourage you to try out some local spots away from the tourist areas if you can.
You'll find plenty of spots in downtown Oranjestad. Here are some popular local dishes to try during your visit:
Fresh fish and seafood: From fried fish to ceviches, you'll find fresh seafood options anywhere you go.
Pastechi: This is a fried pastry filled with gouda cheese. It remained me of an empanada.
Hot papaya sauce: This is a sauce made with sweet papayas and spicy peppers. It is served alongside many meals.
Fried plantains: Banana-like fruit served fried as a side dish with rice and meat or fish.
Ayaca: This dish consists of steamed meat in a banana leaf with cashews and dried fruit.
Pan Bati: This is a slightly sweet and fluffy flatbread that is served with stews or soup.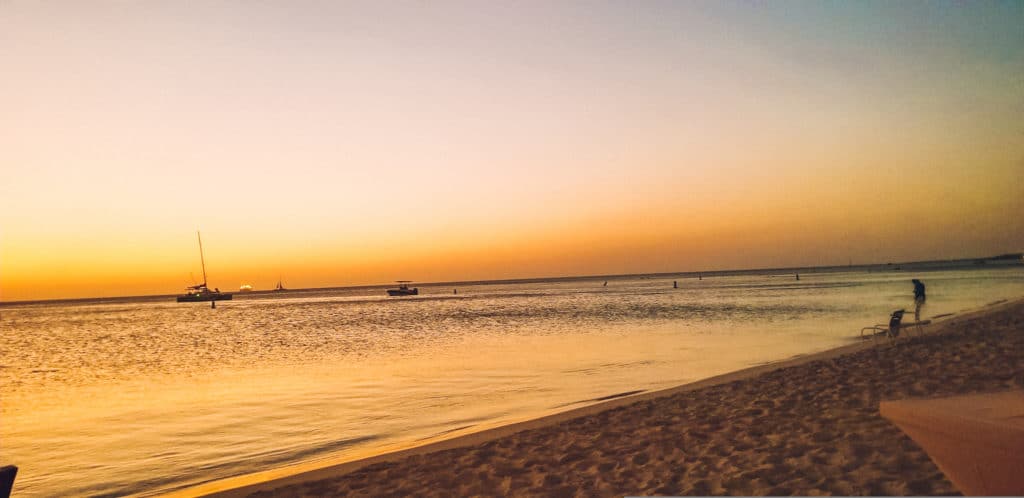 15. Enjoy the sunsets
The sunsets in Aruba are incredible. Make sure you're outside as the sun is going down so you don't miss them.
Take advantage by signing up for one of my own favorite Aruba experiences, the evening snorkel tour with Sailaway.
Watching the sunset from a boat on the water was one of my favorite memories from the trip.
If snorkeling is not your thing, you can always do a regular sunset cruise, or just grab dinner or drinks at one of the many cafes along the beach.
Either way, don't miss those sunsets.
I hope you've enjoyed these 15 Travel Tips for Aruba and that you've found them helpful in planning your own trip.
I had such a good time on the island that I've already been considering returning next year.
Whether you're coming from the west coast, New York City, or even South America, Aruba is an easy island to visit.
Once you're here, wherever you came from will seem very far away. It's the perfect destination to get away from your every day and just enjoy being in a beautiful and peaceful place.
If you have additional questions or think I missed something important in my travel tips for Aruba, please send me a message. I'd love to hear from you.
Book Your Trip
Find the best flight deals by using Google Flights, then book direct with the airline. This is the search engine I use to compare flights and prices before booking my own trips.

BOOK YOUR ACCOMODATION
I recommend searching for hotels through Booking.com to compare hotels on amenities, location, and price. If you are a member of a hotel's rewards program, always book direct with the hotel. If you are not loyal to a specific hotel brand, using Booking.com for the best price.

TRAVEL INSURANCE
Travel insurance is more important than ever. For just a few dollars a day you can protect yourself and your trip. I personally use World Nomads, but whomever you choose, don't skip out on travel insurance. It can literally save you thousands of dollars.


Want to save it? Pin it.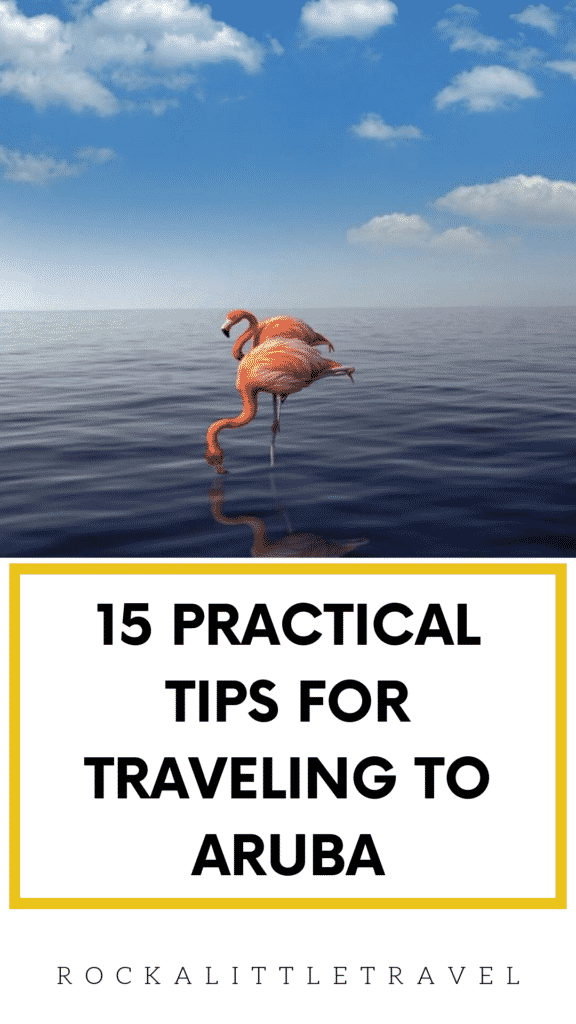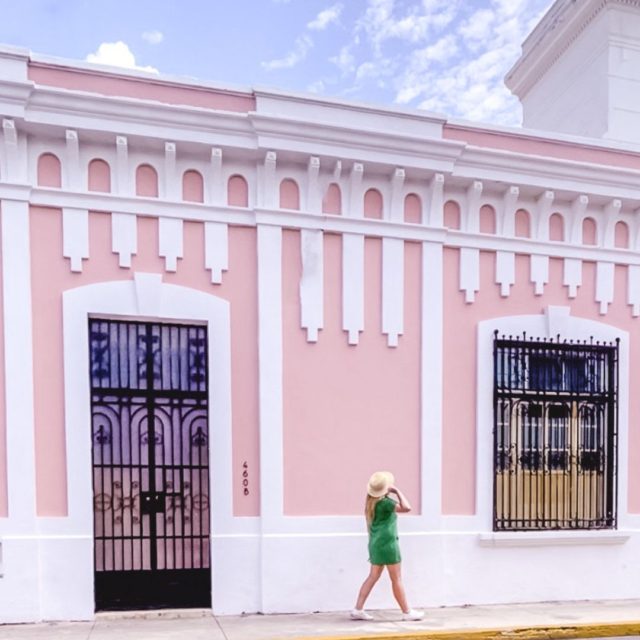 The best things to do in Merida Mexico can all be enjoyed with just a few days in this beautiful, vibrant city. Merida is located …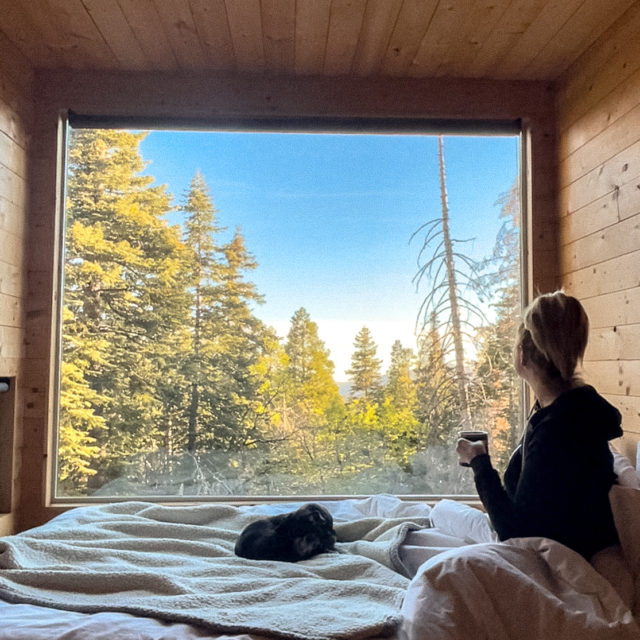 Is Getaway House Big Bear is worth the hype? Let's find out. Just last week I booked a last minute stay at Getaway House …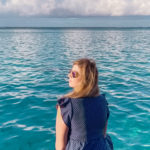 Eden Fite
Part-time Traveler | Dog Lover | Avoider of Crowds
I help busy people find creative ways to travel more.