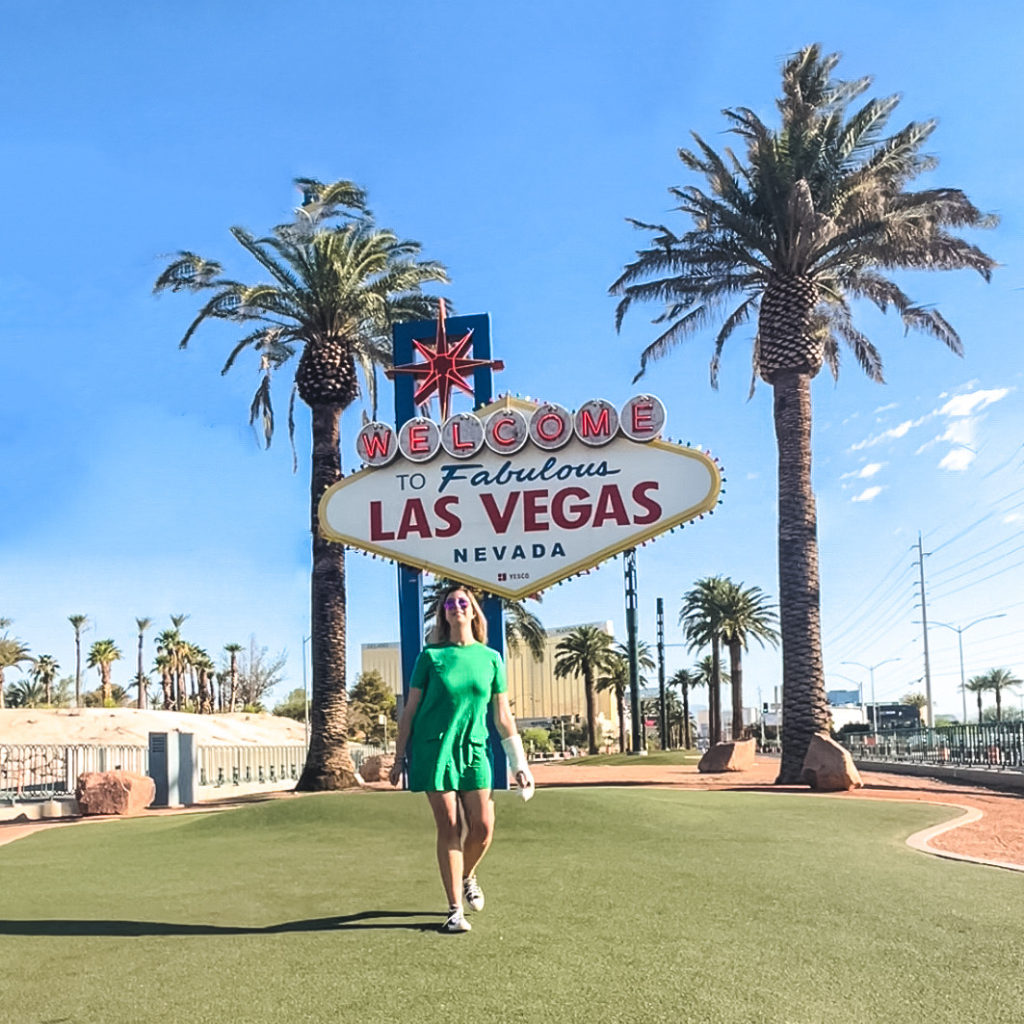 A Palm Springs to Las Vegas road trip is a perfect vacation idea for those looking for a little adventure in the US this year.
While each of these cities has a distinctly different character, both make for great getaway destinations when on the west coast of the United States.
Conveniently enough, a Palm Springs to Las Vegas Drive is just about four hours. However, there's so much to see along the way you'll definitely want to take your time to explore along the way.
Being a Southern California resident for the past 20 years, I've made the drive from Palm Springs to Las Vegas more times than I can count.
With that much experience, I've got lots of thoughts on how to make this road trip an incredibly good time.
So pack up that car and let's hit the road to Vegas.
Some of the links in the post are affiliate links. If you make a purchase through these links it helps to support this site at no extra cost to you.
Palm Springs to Las Vegas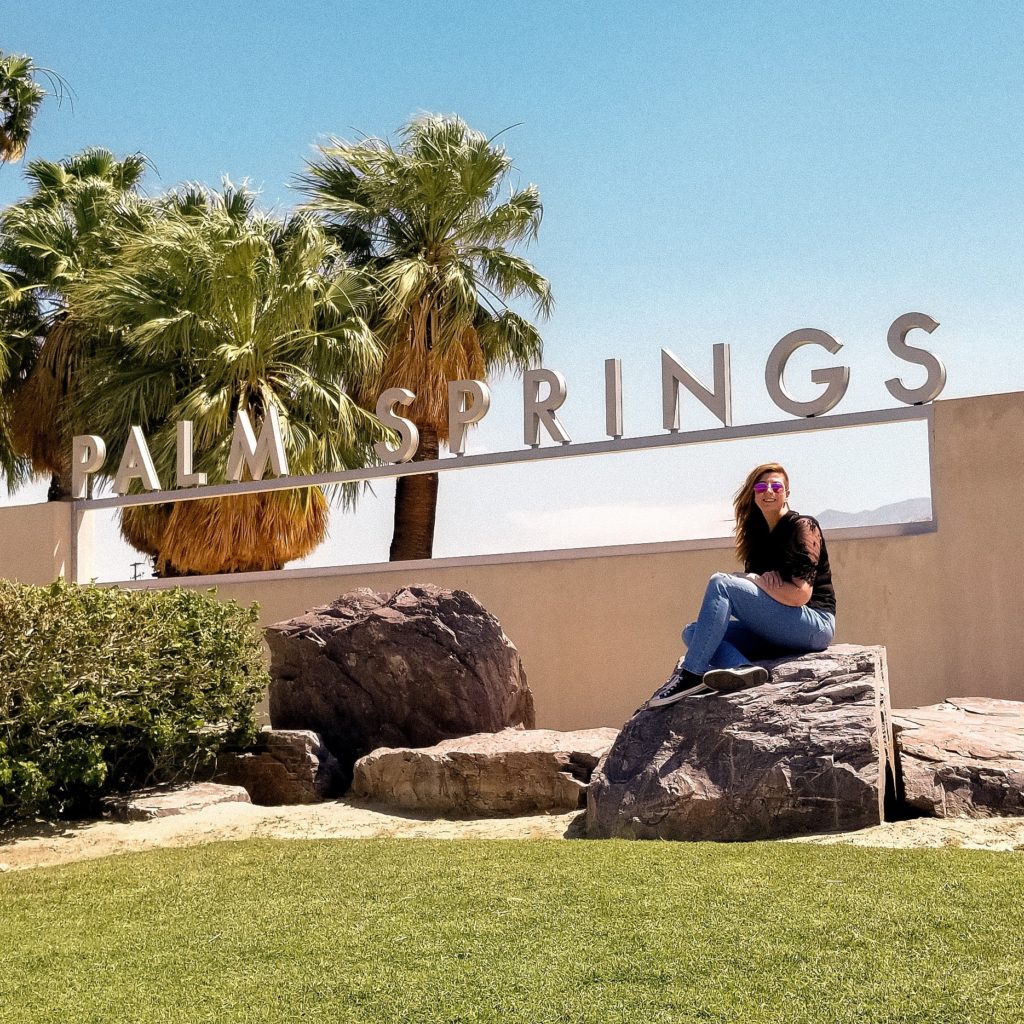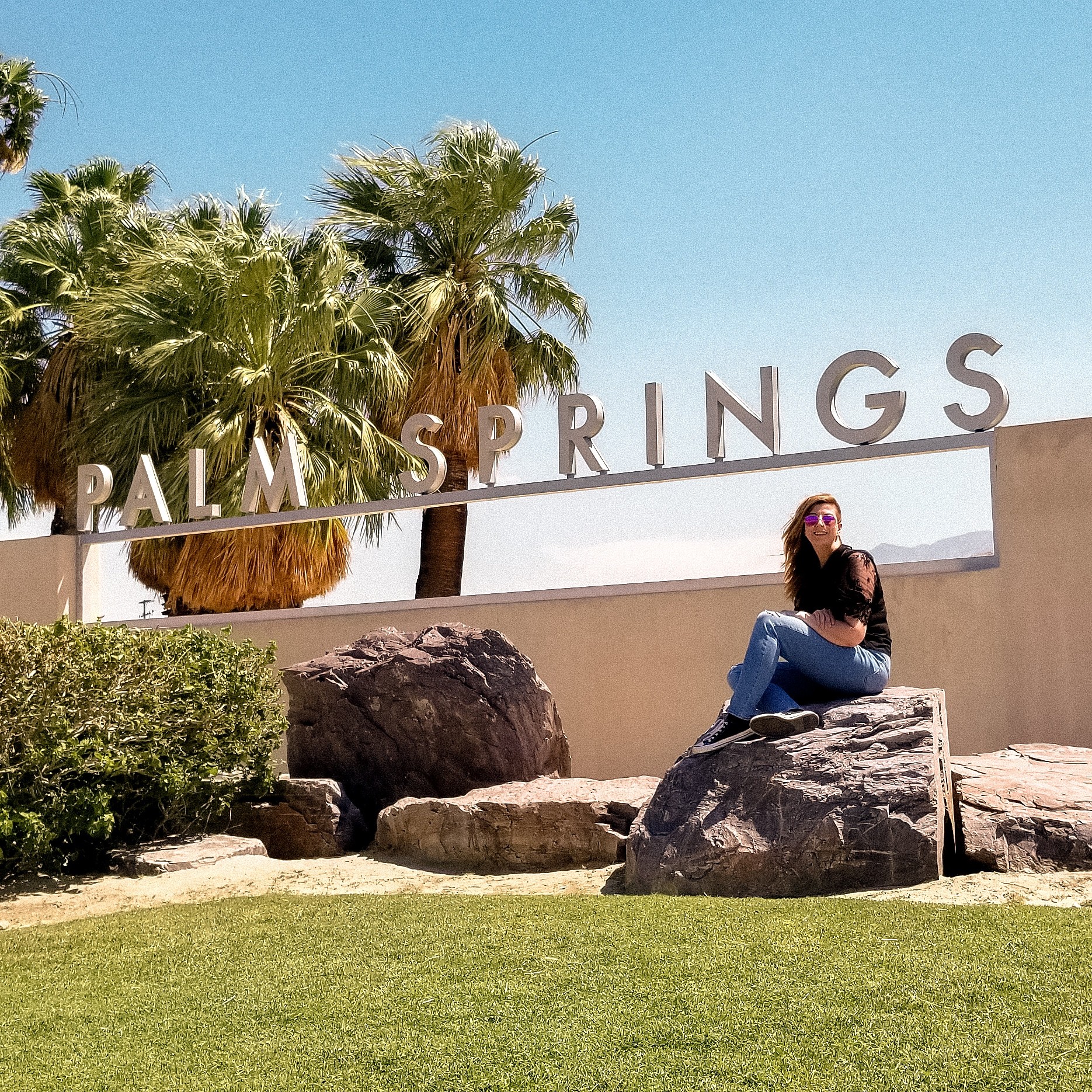 In this Palm Springs to Las Vegas road trip itinerary I include all my favorite stops between these two cities.
You'll get to experience quirky old west towns, beautiful desert landscapes, and life-size art exhibits. I even include a few great restaurant recommendations in case you get hungry along the way.
In this Palm Springs to Las Vegas travel guide I include the approximate driving distance between each location. I also include a rough estimate of how much time you might wish to spend in each location.
Of course the best thing about doing a road trip in the first place is getting to move at your own pace, so please understand these time frames are merely suggestions to help you plan your day.
Before heading out on your Palm Springs to Vegas road trip, be sure to fuel up the car and pack lots of cold water.
One of the biggest cons for desert travel during the summer months is the excessive heat, so be sure to plan ahead.
Try to avoid being outside during the hottest time of the day, and be sure to wear sunscreen and a hat.
Since you'll be traveling through the desert, having extra water should also be a priority. It's always better to have too much, than not enough.
Palm Springs to Las Vegas flights
If for some reason you prefer to fly from Palm Springs to Las Vegas, multiple airlines fly this route. You can generally find affordable flights on Southwest Airlines, United Airlines, and American Airlines.
Between each of these airlines you'll find multiple Vegas flights per day so you should be able to find a departure time that fits your itinerary.
While airline fares will vary depending on the season, a quick search in July 2022 showed one way fares at about $150. Round trip fares were actually about the same and in some cases a little less around $125.
Both the Palm Springs airport and Las Vegas airport are each located near the city center, so getting to and from the airports should not be difficult or time-consuming.
A friendly reminder if you're flying Southwest Airlines, be sure to get to the boarding area early since your seat on the plane is not assigned. Nobody wants to get stuck in the middle seat, so try to be on time.
The Palm Springs to Las Vegas flight time is 1 hour.
Palm Springs to Las Vegas Drive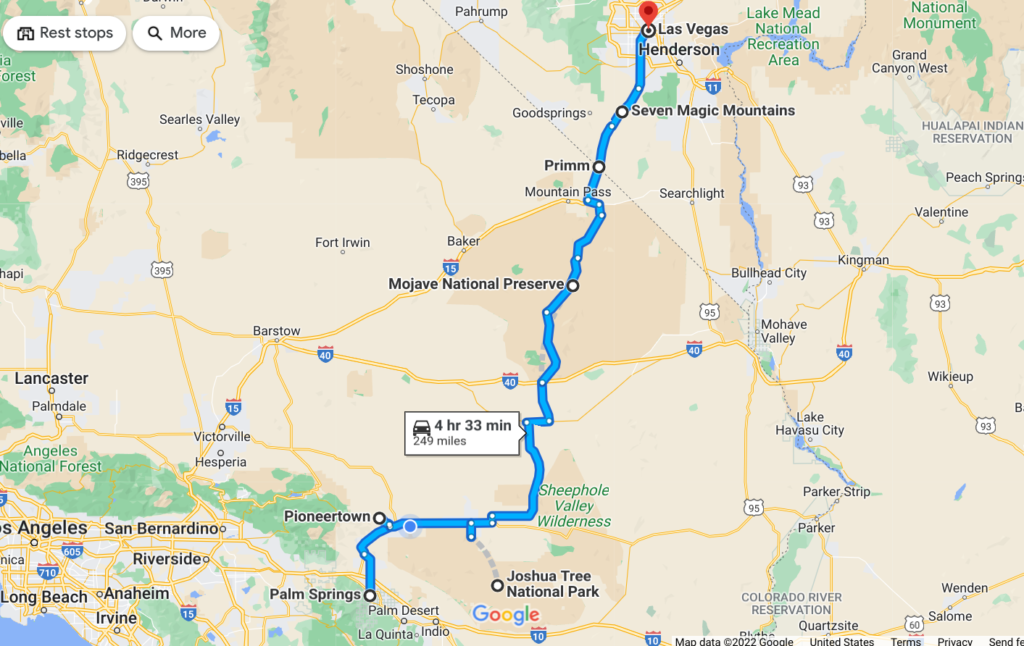 The drive from Palm Springs to Las Vegas is a fairly easy one.
Essentially, you'll be taking just two highways, California State Route 62 and Interstate 15. You'll also be driving along Amboy Road out of Twentynine Palms and Kelbaker Road through the Mojave National Preserve.
In my opinion this is the best route from Palm Springs to Las Vegas. It's a straightforward drive with plenty of to see along the way.
You'll take California State Route 62 from Palm Springs to Twentynine Palms, then hop over to Amboy Road which takes you north up to Mojave National Preserve.
Once inside Mojave National Preserve you will primarily be driving along Kelbaker Road. After exploring the Mojave National Preserve you'll take Kelbaker Road until it meets up with Interstate 15 which takes you north into Vegas.
California State Route 62 is a four-lane Highway. This highway is mostly straight except when it curves around Joshua Tree National Park.
Interstate 15 is also a four-lane highway with two lanes going in both directions. Interstate 15 is pretty much a straight shot all the way up to Vegas.
Do be advised that on Fridays, Sundays, and holiday weekends the Interstate 15 can get backed up between Las Vegas and Los Angeles, so this drive may take longer than expected on some days.
To avoid traffic on busy weekends, try to leave very early in the morning or later in the evening. In most cases you'll have minimal traffic on Tuesdays through Thursdays.
You'll experience minimal if any traffic on Amboy Road and Kelbaker Road which makes for a relaxing drive through this beautiful section of California.
Palm Springs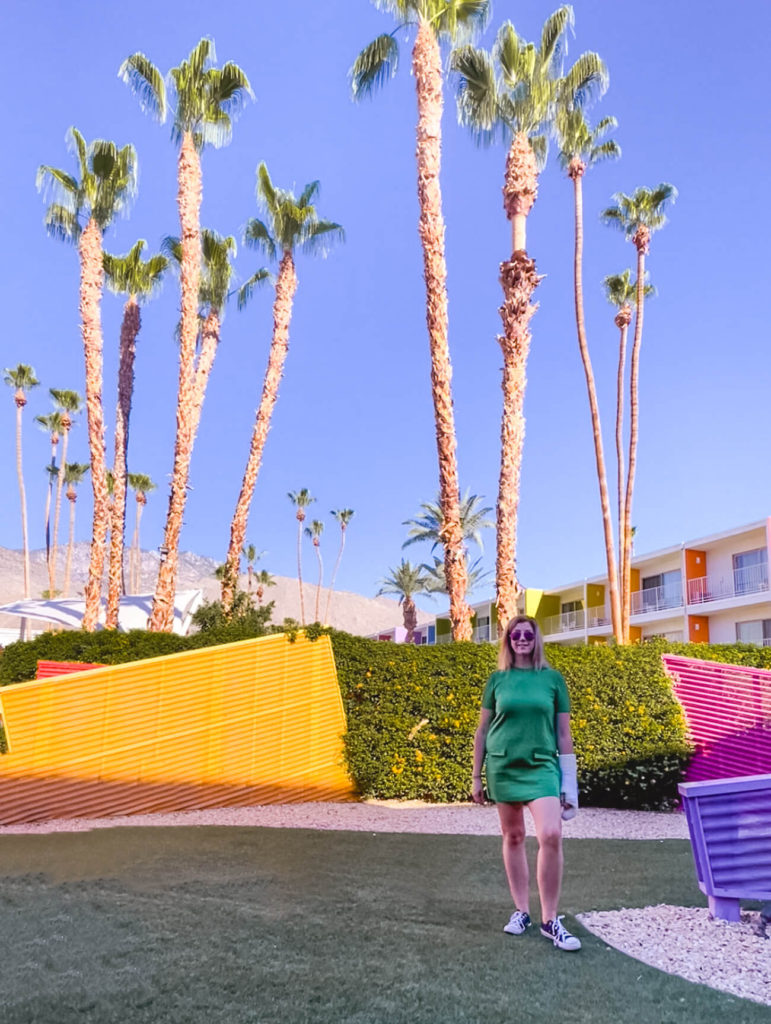 Anyone from Southern California loves a weekend in Palm Springs, myself included.
Palm Springs is easily one of the prettiest cities in California, but don't tell San Francisco!
The city is best known for its abundance of gorgeous mid-century modern architecture.
Palm Springs' mid-century modern architecture can be seen on prominent display across private homes, public buildings, museums, and anywhere else you can think of.
Modern and More Bike Tours are a popular way to see some of the city's most impressive mid-century modern homes and businesses.
Seriously, after being here for a while you're going to really want one of those homes for yourself.
In addition to its impressive architecture Palm Springs is also known for its many great restaurants and bars.
Head to Palm Canyon Drive when you get hungry, this is where you'll find many of the city's best restaurants. Birba is one of my favorites for fresh Italian cuisine in Palm Springs.
Another big attraction in the city is the Palm Springs Aerial Tramway. The Aerial Tram takes visitors up into the mountains just outside Palm Springs.
The ride to the top is fun, educational, and offers incredible views of the valley and greater Palm Springs below.
At the top you'll find a restaurant, multiple observation decks, and a few hiking trails for those looking to explore deeper into the mountains.
One popular hiking option is the Mount San Jacinto hike, which is a popular yet challenging 12 mile round-trip hike to the summit of Mount San Jacinto.
Don't skip this one if you've never been, it's well worth the cost of admission.
If you have extra time in Palm Springs you can also consider taking day trips to nearby destinations like Idyllwild or Julian.
If you're looking for more hiking destinations consider San Bernardino National Forest or Anza-Borrego Desert State Park.
Duration: Spend at least two days here before beginning your road trip.
Palm Springs to Pioneertown distance: 40 minutes / 30 miles
Pioneertown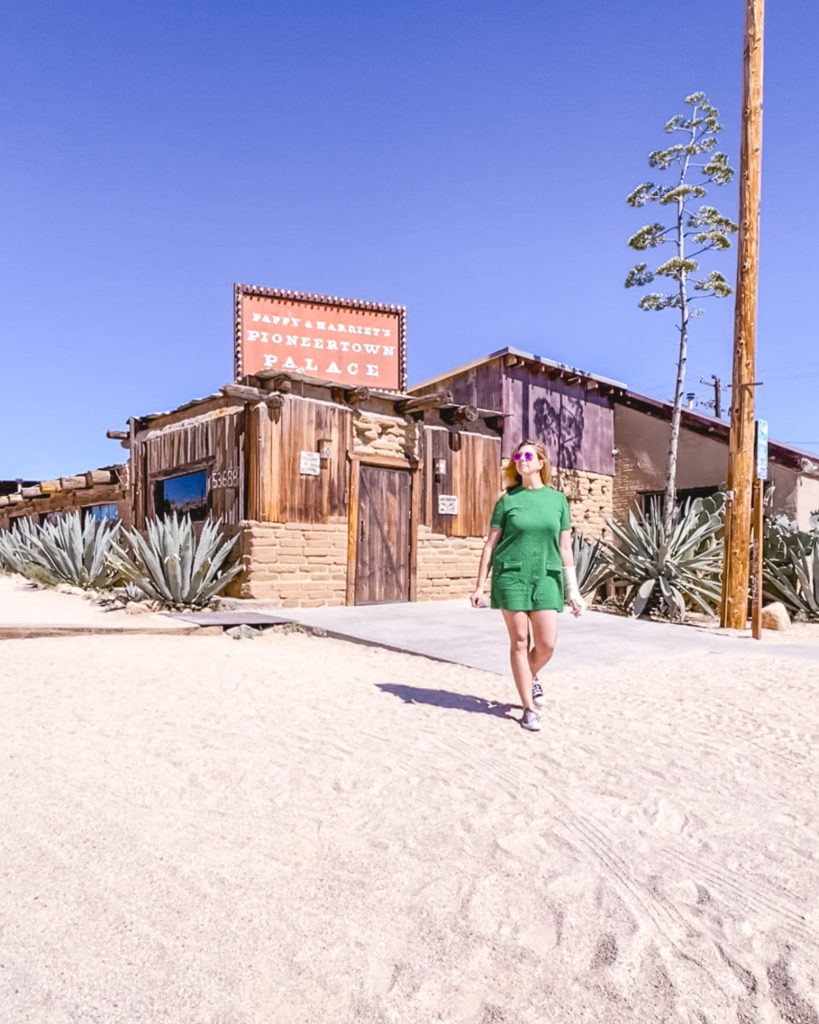 As you make your way north out of Palm Springs you don't want to miss your opportunity to stop at Pioneertown.
Pioneertown is a historical old west mining town complete with a saloon, bank, and motel.
When you visit be sure to take a walk down Mane Street to see all the historic buildings. You'll definitely want to bring your camera for this as their photo opportunities everywhere.
Just next door if you'll find one of my favorite places in all of Southern California, called Pappy and Harriet's.
Pappy and Harriet's is part live music venue, part barbecue restaurant, and part neighborhood bar. Their food is fantastic.
If you're able to get lunch here before heading out on the rest of your Palm Springs Las Vegas road trip, I highly recommend it.
Even better, if you can catch a show here in the evenings you won't be disappointed. Visit their website before your trip to see who is playing during your travel dates.
Confirm their hours before you visit, but at the time of writing Pappy and Harriet's is currently open for dining at 11:00 a.m. Thursday thru Sunday and for dinner only on Mondays at 5:00 p.m.
Duration: 30 minutes – 90 minutes
Pioneertown to Joshua Tree distance: 24 minutes / 16 miles
Joshua Tree National Park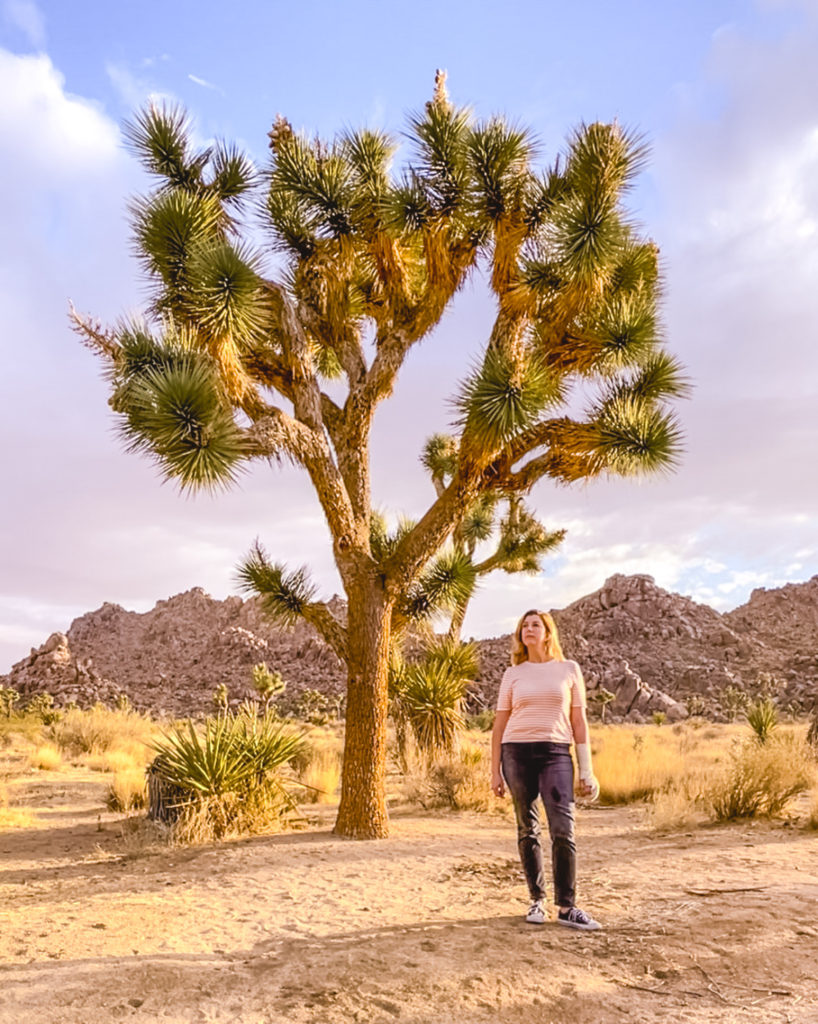 I love Joshua tree so much and I think it's one of my favorite national parks in the US.
Over the past few years have been visiting this park more and more often and always find something new to love. The beautiful rock formations and Joshua Trees never get old.
Most recently I've discovered how great this park is at sunrise and sunset.
In fact, I think the best time to visit Joshua Tree National Park is just before sunrise. At this time of day the campers will still be sleeping and day-trippers will have yet to arrive.
This means you'll have the park almost completely to yourself for a few magical hours before other visitors arrive. I promise it's so worth getting up early for this experience.
Now I realize this post is a road trip itinerary from Palm Springs to Las Vegas so you'll probably just get there when you get there.
BUT… if you're planning to go slow and spend the night nearby don't miss your opportunity to get up for sunrise.
While in Joshua Tree National Park be sure not to miss Cholla Cactus Garden, Skull Rock, and Keys View.
Duration: 90 minutes to 2 hours
Joshua Tree National Park to Mojave National Preserve distance: 90 minutes / 92 miles
Mojave National Preserve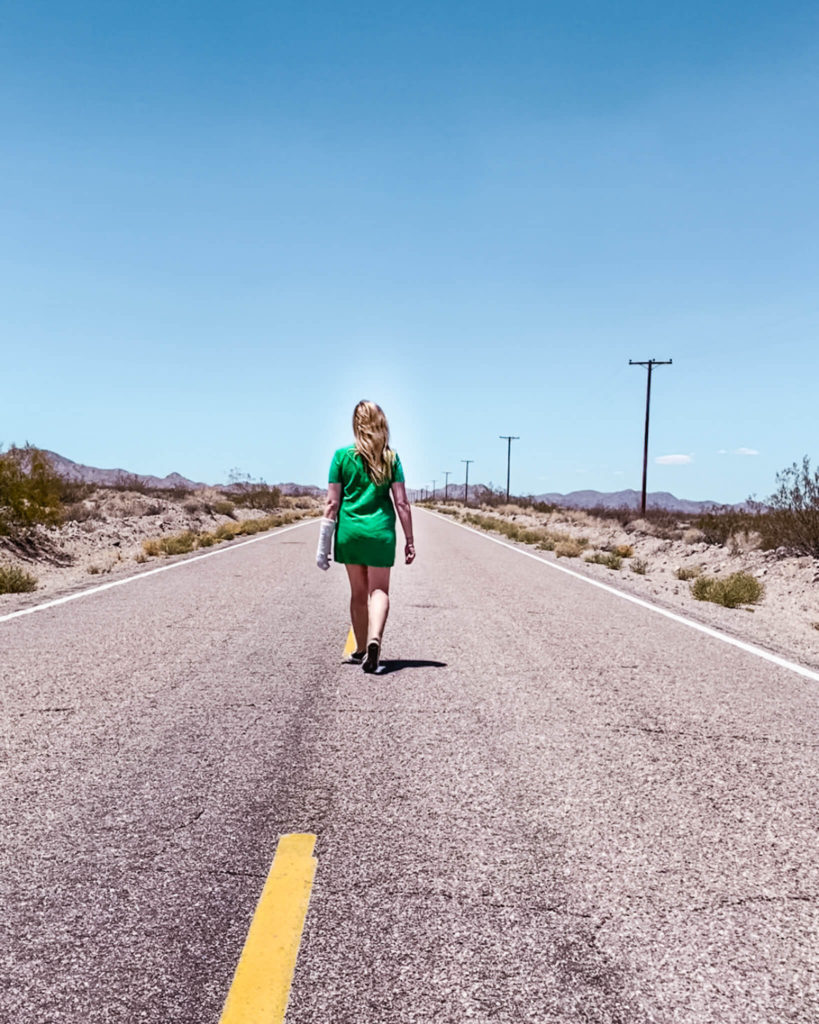 I'll be honest, this is my first visit to Mojave National Preserve so I really didn't have any idea what to expect or even if the drive here would be worth it.
Fortunately the results are in and the drive is totally worth it.
Now, you may be thinking, how many national parks does one really need to visit on the way to Vegas from Palm Springs. However, let me just say you don't need to venture that far off the main road to enjoy your visit here.
The main road through Mojave National Preserve is Kelbaker Road, which is the road you'll driving on. So basically, you can make as few, or as many stops as you like as you make your way through the park.
Some of the most popular attractions in Mojave National Preserve includes Kelso Dunes, Mojave Cross, and the lava tubes.
Be advised, some of the roadways in the park are unpaved and very bumpy so proceed with caution. Also remember that you are in a desert, be sure to bring plenty of water with you when you enter the park.
Duration: one hour to 90 minutes
Mojave National Preserve to Nevada state line distance: 50 minutes / 51 miles
State line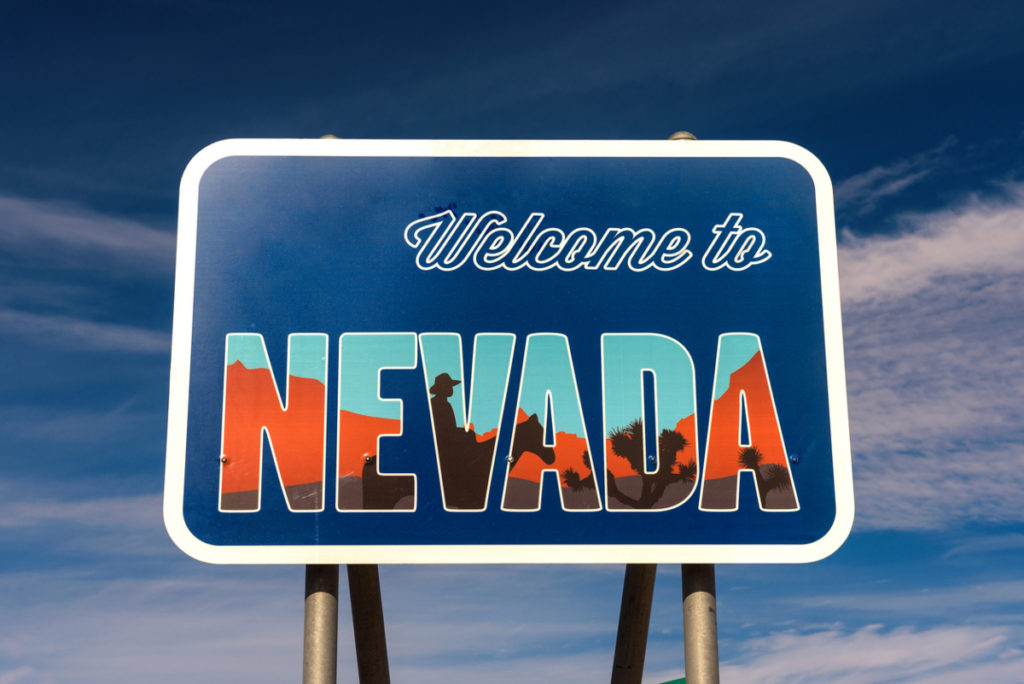 For those of you who just can't wait to get to Vegas or are just looking for another interesting stop along the way, a a quick stop at the California Nevada state line.
At stateline you'll find a few casinos including Whiskey Pete's, Buffalo Bill's, and Primm Valley. Buffalo Bill's also has a roller coaster, which I admit, is kind of fun.
In addition to the three casinos mentioned above, you'll also find a handful of chain restaurants and a few gas stations.
There's not a whole lot more going on at stateline, but this is a popular stop for drivers between California and Nevada.
The three casinos here at stateline are known for having lower limit tables, so those looking to gamble on a budget like to stop here.
Duration: 30 minutes to 1 hour
Nevada state line to Seven Magic Mountains distance: 1 hour 5 minutes / 68 miles
Seven Magic Mountains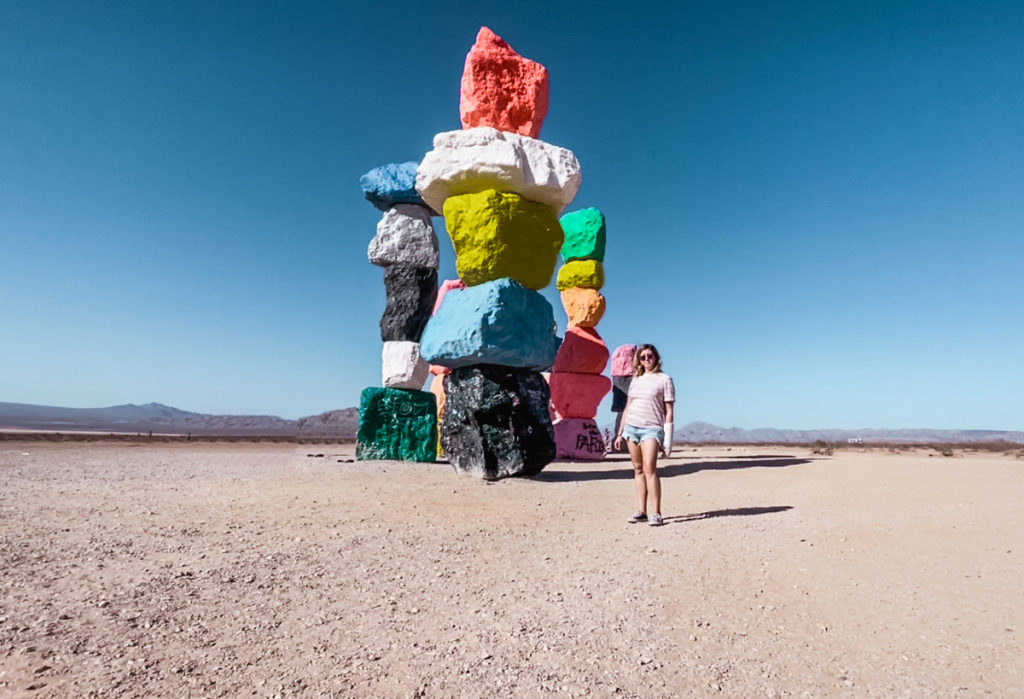 Seven Magic Mountains is a popular stop just outside Vegas.
This is an outdoor art installation by artist Ugo Rondinone that features seven painted boulder totems, each standing about 35 ft tall.
This is a quick and fun stop and a great place to get some photos before heading up into Las Vegas.
Duration: 15 to 30 minutes
Seven Magic Mountains to Las Vegas distance: 27 minutes / 26 miles
Las Vegas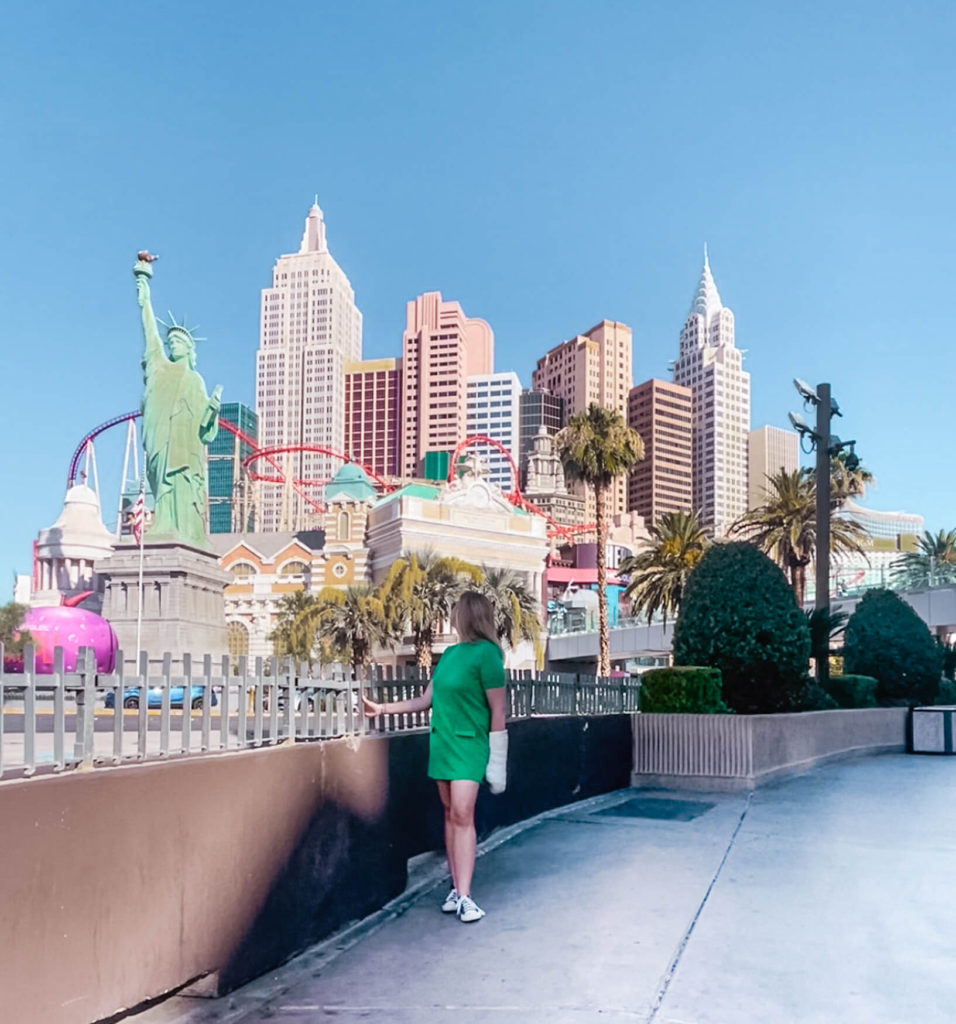 My recent Las Vegas solo trip was a blast and I can't wait to go back. Honestly, I didn't expect Vegas to be so fun when traveling alone, but it turned out to be one of my favorite trips to the city so far.
Now I know everybody's idea of a great Vegas trip will be different from one person to the next. However, having visited Las Vegas dozens of times over the last several years I've got a pretty good idea of what's worth seeing.
So whether you have 24 hours in Las Vegas or you plan to be in town for several days, here are a few of my favorite things to do in Las Vegas:
Explore the Las Vegas Strip
Mandalay Bay Aquarium
the Mob Museum
the Neon Museum
Meow Wolf at Area 15
Frankie's Tiki Room
Pinball Hall of Fame
I also encourage you to try Las Vegas' many great restaurants. This city has some of the best food in the world, so don't miss it while you're here.
If you have extra time in Las Vegas consider day trips to Hoover Dam and Grand Canyon, Valley of Fire State Park, or Death Valley National Park.
Duration: about 2 to 3 days
I hope you've enjoyed this Palm Springs to Las Vegas road trip itinerary and that I've inspired you to plan a trip of your own. As always thanks so much for reading.
Related Posts
If you're looking for the best wineries in Sedona then you've come to the right…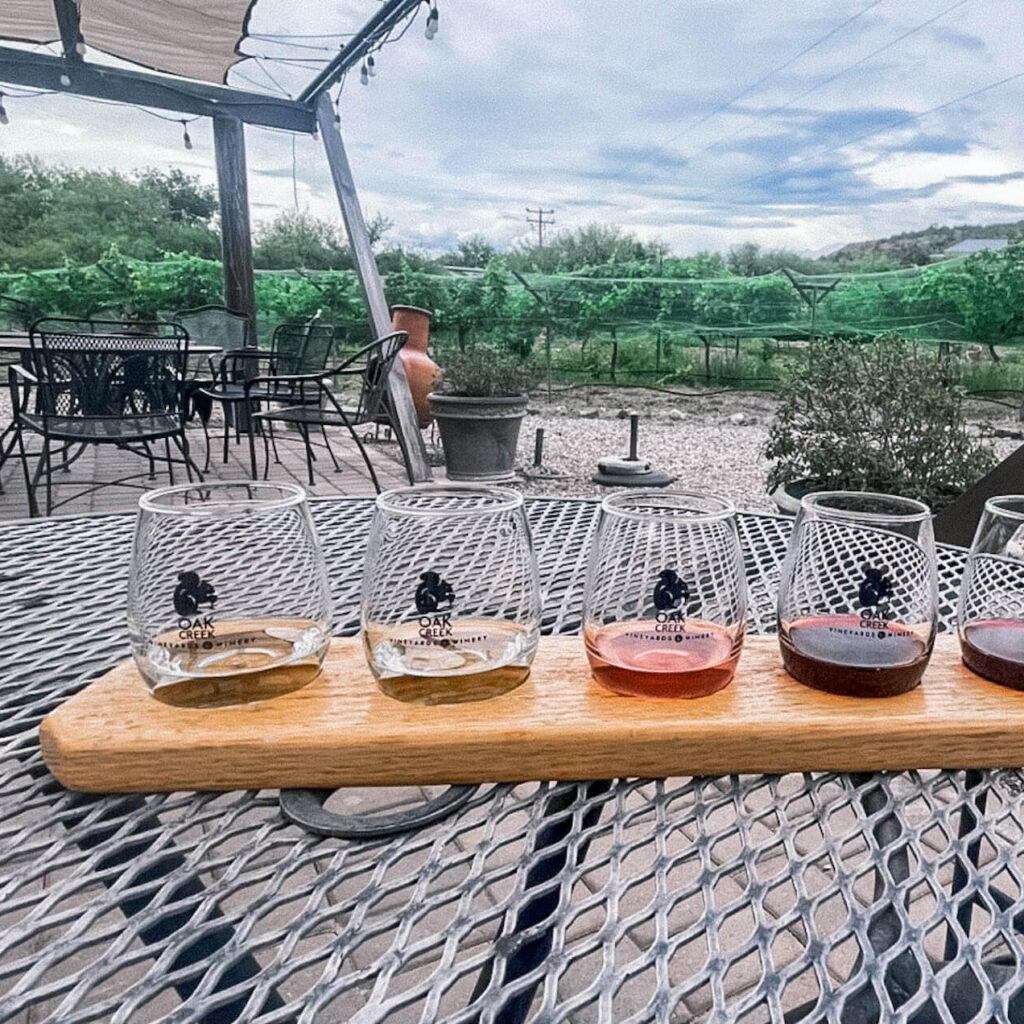 The drive from Flagstaff to Sedona is one of the most beautiful drives in the…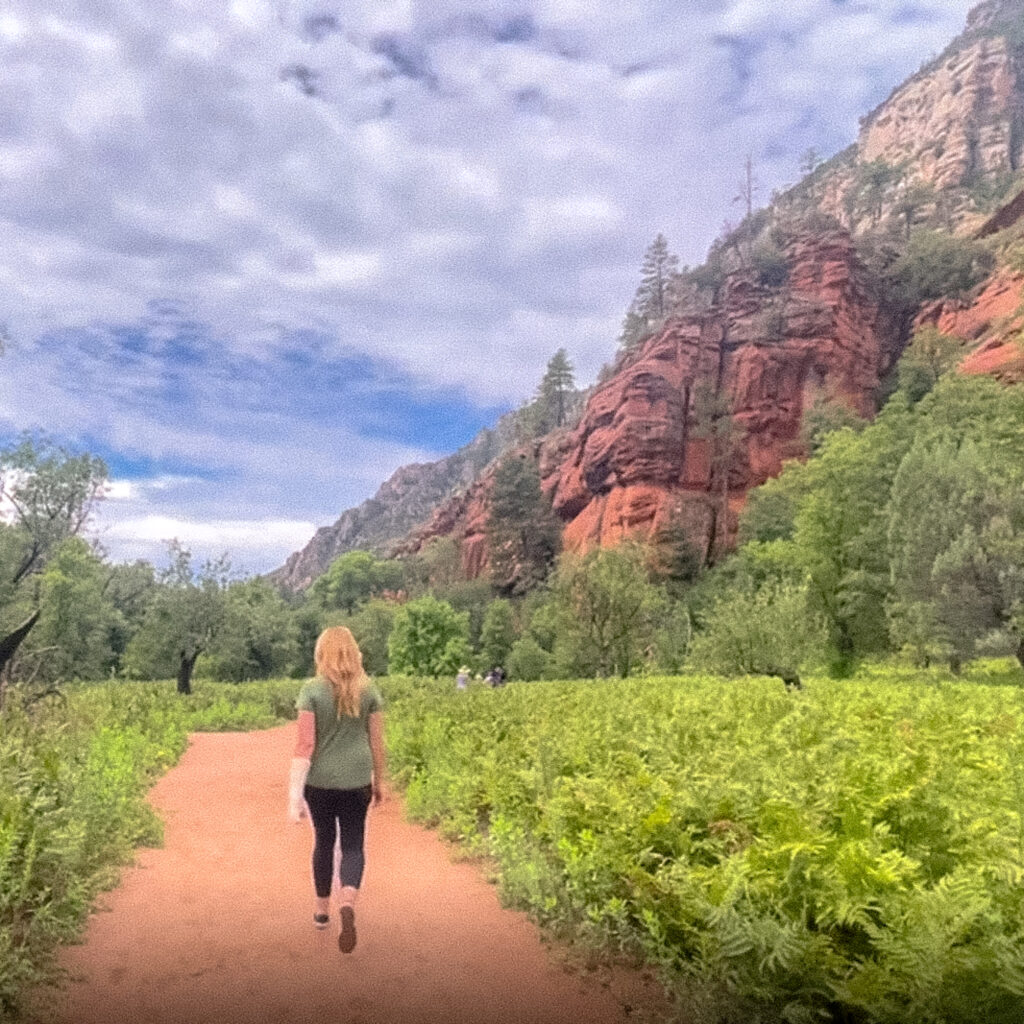 The meteor crater in Arizona makes for a fun and unique stop when visiting popular…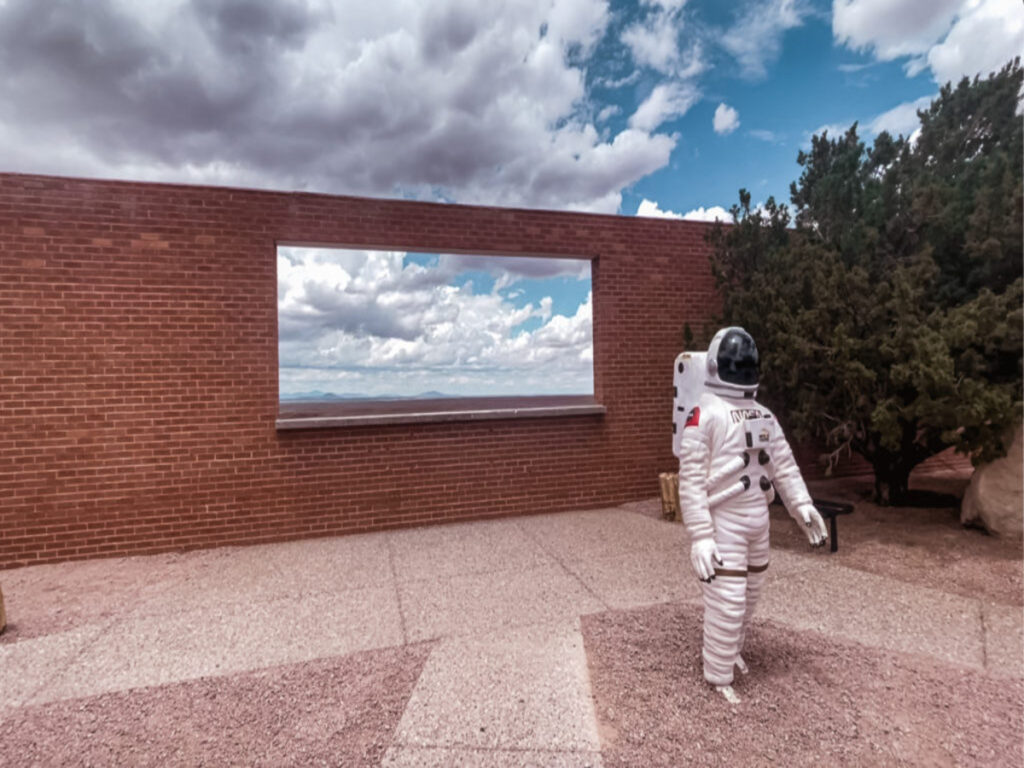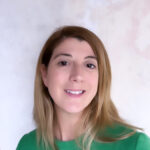 Eden Fite
Part-time Traveler | Dog Lover | Avoider of Crowds
I help busy people find creative ways to travel more.