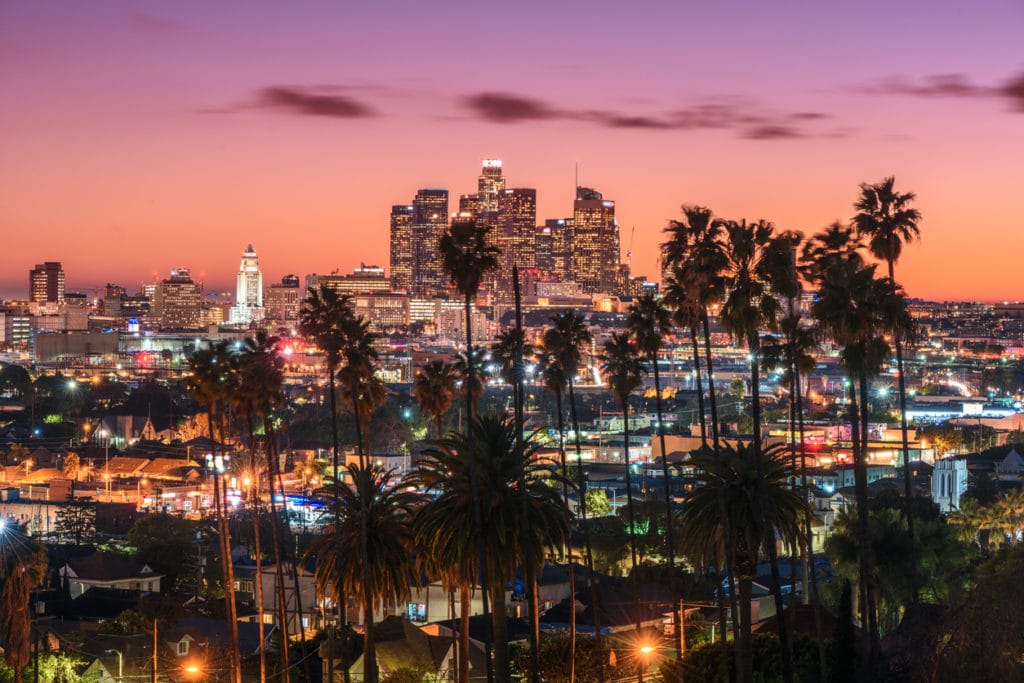 Planning a visit to Southern California and have just one day in LA?
Having lived in LA for almost 20 years, I know where all the best spots are for first time visitors. I also know how to avoid the crowds and tourist traps to help you have a truly enjoyable visit.
This one day in LA itinerary will take you to some of the prettiest and most famous places in Los Angeles all while avoiding the tourist traps that aren't worth your time. With just one full day in LA, you'll experience everything from the stunning California coast to the trendy downtown Arts District.
Let's go.
One Day in LA for First Time Visitors
A quick note on this itinerary.
I am intentionally leaving out tourist traps like Hollywood Boulevard, the Hollywood Walk of Fame, star tours in the Hollywood Hills, and any mention of a studio tour.
These things are expensive and not fun, and I don't want you to waste your time. If you'd like to know more about why I'm leaving these activities off this itinerary, you're more than welcome to contact me. I'd be happy to give you the details.
1. Runyon Canyon Hike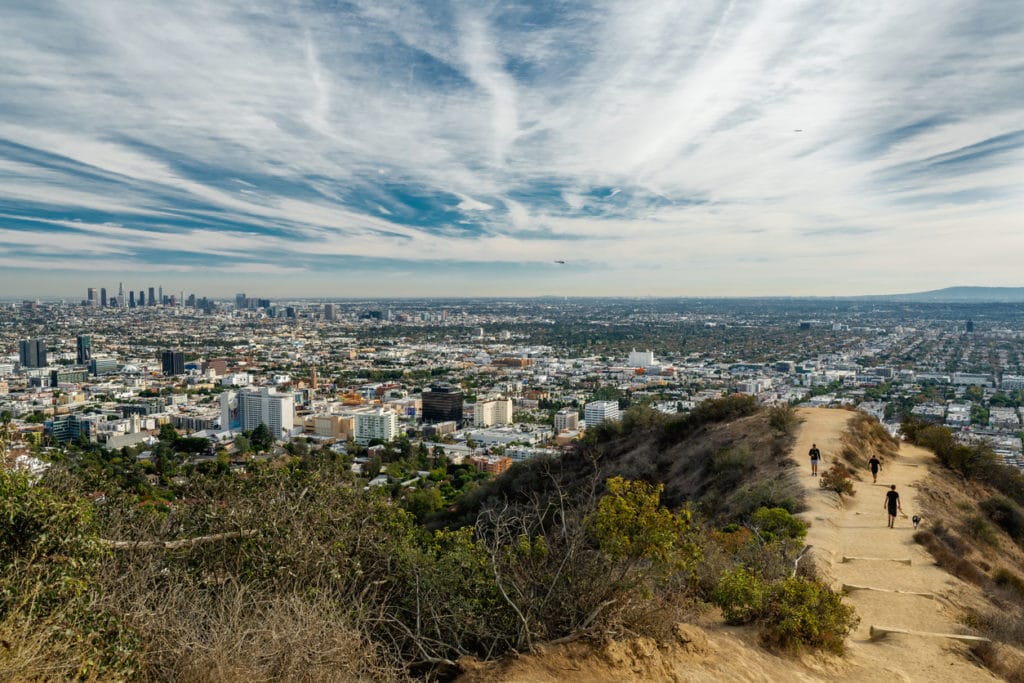 If you want to get in some outdoor time and a good workout, wake up early to hike Runyon Canyon. From the top you'll get a beautiful view of the Hollywood sign and the surrounding city.
This local hike is found in Hollywood and is one of the most popular hikes for locals in LA. If you have any interest in spotting celebrities during your visit, this is the place to do it. Just be sure not to bother anybody.
If you're in decent shape, the full Runyon Canyon hike will take about 90 minutes, though there are some shorter alternatives. There are also some steep sections, so plan to get your heart rate up a bit as well.
A big bonus is that this park is also dog friendly, so you'll have dogs of all kinds running past you on the trail.
Be sure to pack a few bottles of water and plan to arrive early. The park opens at 6:00 a.m.
If you're interested in other hikes in LA, check out my friend Monica's book 52 Hikes in Southern California. She's an LA local and knows all the best hiking spots around SoCal.
2. Santa Monica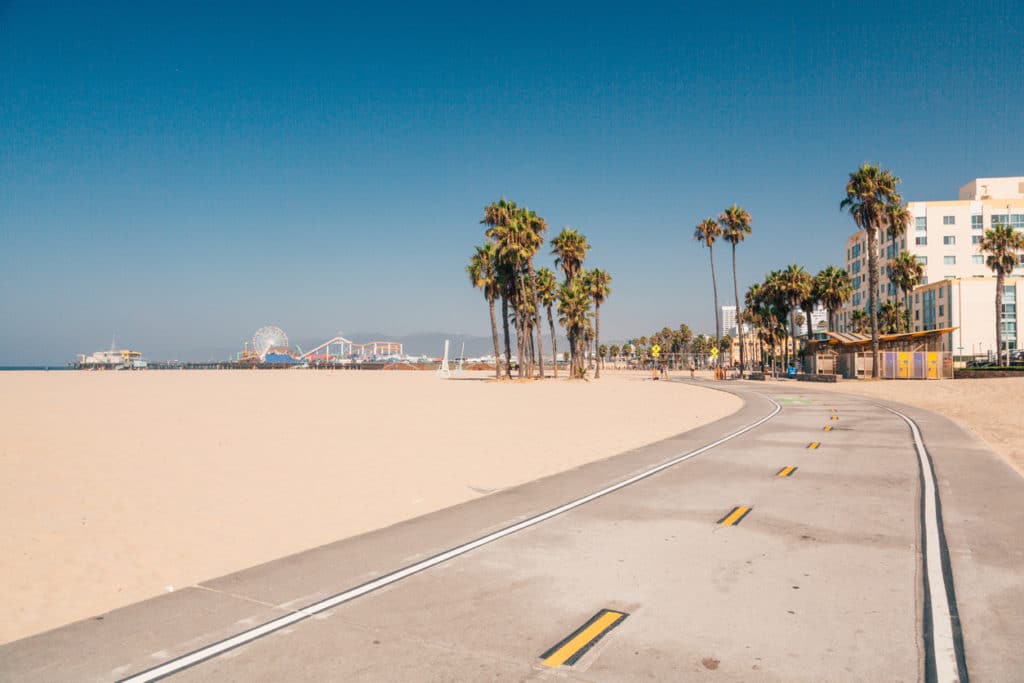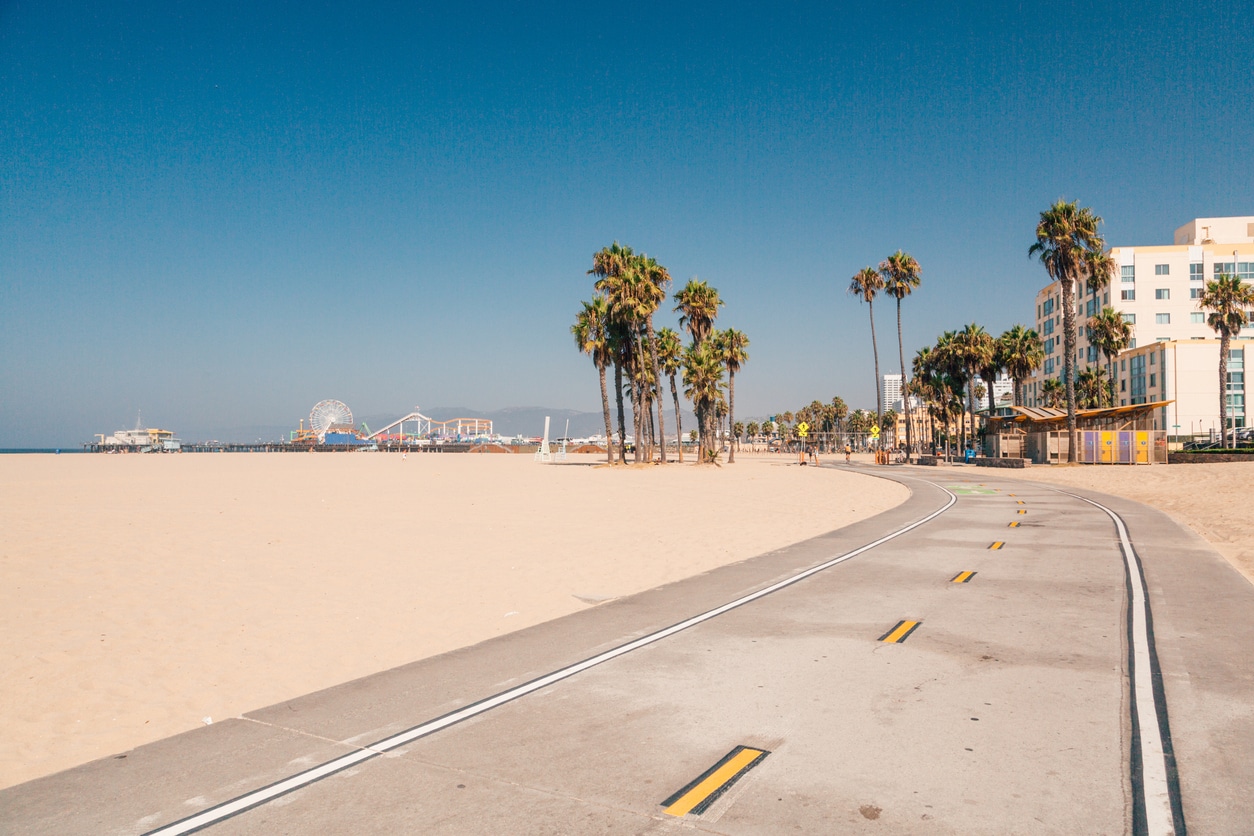 One of the first stops I recommend for first time visitors to LA is Santa Monica. Situated right along the famous Pacific Coast Highway, Santa Monica is one of the prettiest areas of Los Angeles.
You'll find the famous Santa Monica Pier located just south of Santa Monica Boulevard. Be sure to take the time to walk out onto the pier. There's a lot to see and it's a lot of fun.
Have some cash on hand as well so you can play a few games in the arcade and get on one of the rides. I recommend the roller coaster.
Once you've finished walking the pier, head down to the beach and find a place to rent some bicycles. This is the best way to enjoy the beach boardwalk and see the sights of Santa Monica.
3. Venice Beach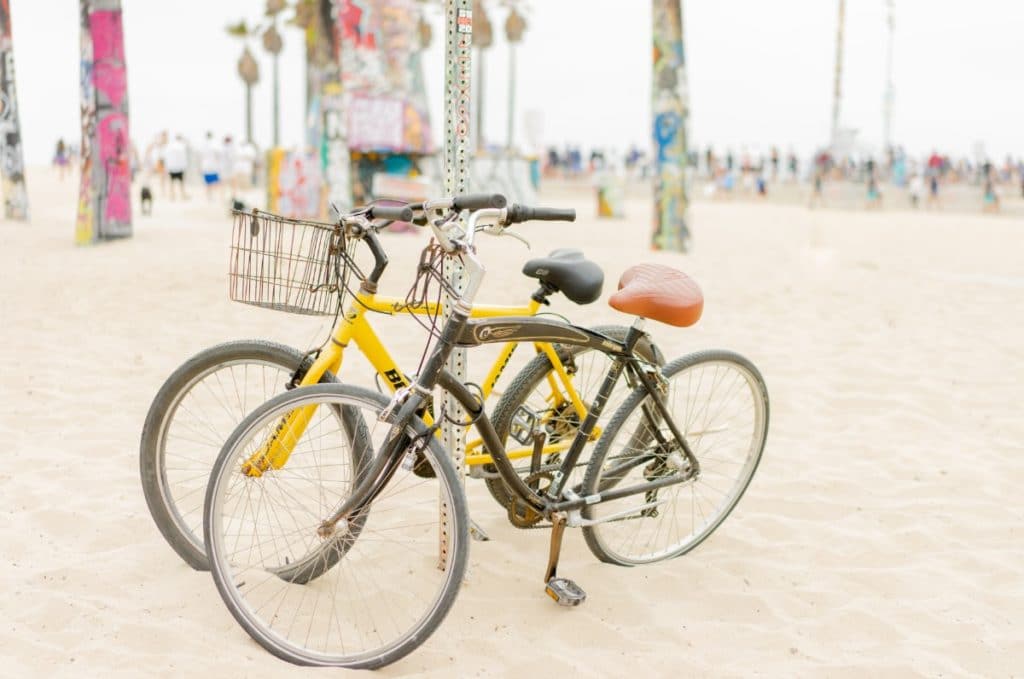 Once you've secured your bike along the Santa Monica beach, make your way south along the paved bike path towards Venice Beach. Be sure to stick to the bike lanes and watch out for pedestrians, skaters, surfers, and dogs.
The bike path will take you right along the beach past the famous Venice Skate Park and Muscle Beach. If you see something interesting, pull over and get a closer look. Venice is an interesting place, you'll see things here you might not see anywhere else. You'll see what I mean by this when you get there.
If you'd like to do a little shopping in Venice, head away from the beach towards Abbott Kinney Boulevard. On Abbott Kinney you'll find upscale local boutiques, cafes, and several health conscious restaurants. If you like vegan fare and fresh juices, you'll find plenty of that here.
4. Los Angeles County Museum of Art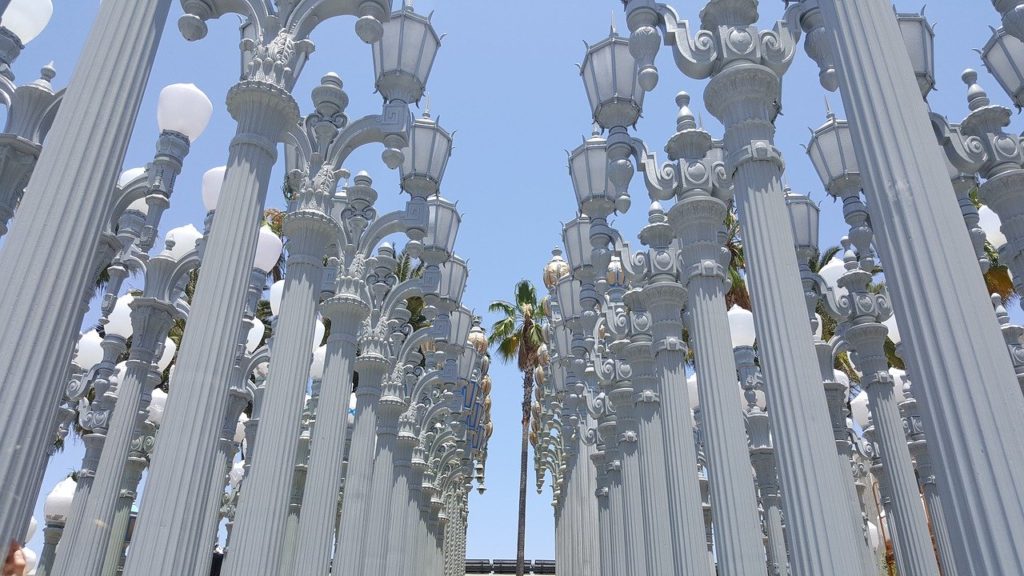 If you want to add a museum visit to your one day in Los Angeles itinerary, head to the Los Angeles County Musuem of Art (LACMA).
This is one of the most popular museums in the city and it's right in the heart of LA, so it's easy to get to. The musuem features both modern and contemporary art from all over the world. They even have exbibitions on the outside of the building that are free to the public.
One of the museum's most famous exhibits is Urban Light, pictured above. This exhibit sits outside the musuem. It consists of 202 restored vintage street lamps from the streets of LA in the 1920s and 1930s. It's especially impressive at night when the street lamps are lit up.
5. Melrose Avenue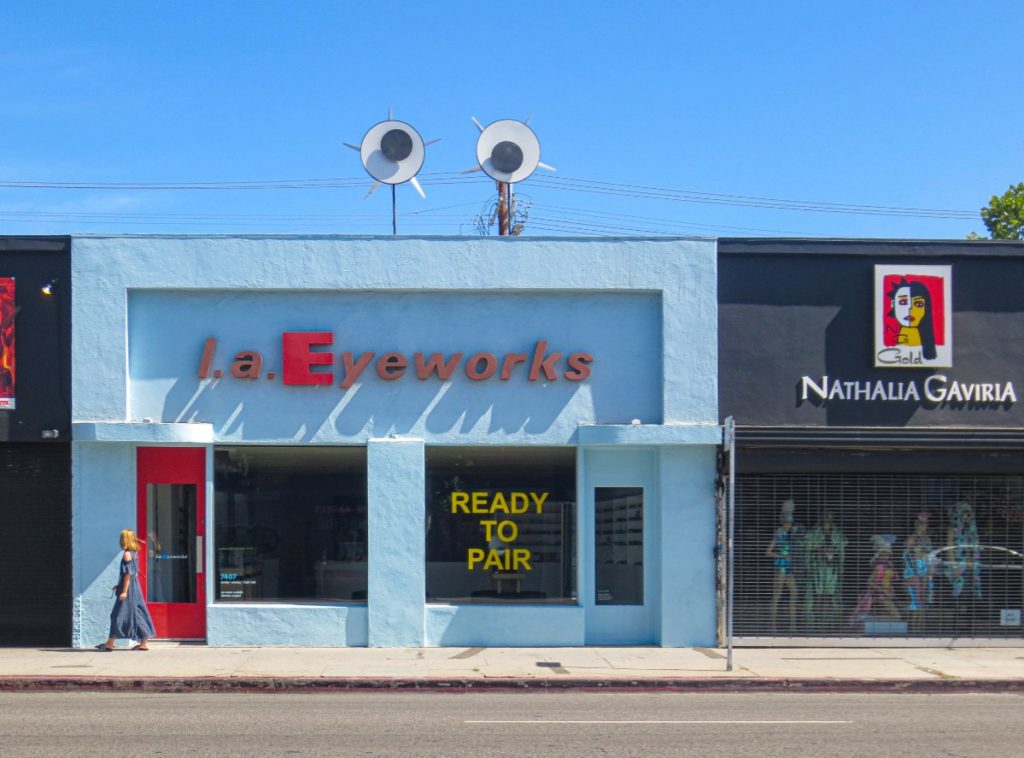 If you've been wanting to do a little shopping during your one day in Los Angeles, consider heading over to Melrose Avenue.
Melrose is a popular shopping district for fashionable locals. You'll find everything from vintage clothing shops to upscale boutiques. There's even a huge swap meet on the weekends that's incredibly popular.
The Melrose Avenue shopping area runs between La Brea Avenue to the east and La Cienega Boulevard to the west. You'll find the more budget friendly and moderately priced stores closer to La Brea. The more upscale boutiques, along with some designer stores like Marc Jacobs, can be found closer to La Cienega.
If money is no object for you and you'd like to shop designer, consider making the short drive over to Beverly Hills instead to shop along Rodeo Drive. If you can afford it, and you've never done it before, it's probably worth it.
If you can't afford the designer shopping, but you still want to see Beverly Hills, just park your car in the neighborhood and walk up and down Rodeo. The street isn't that long and it's fun to window shop too.
6. Food Trucks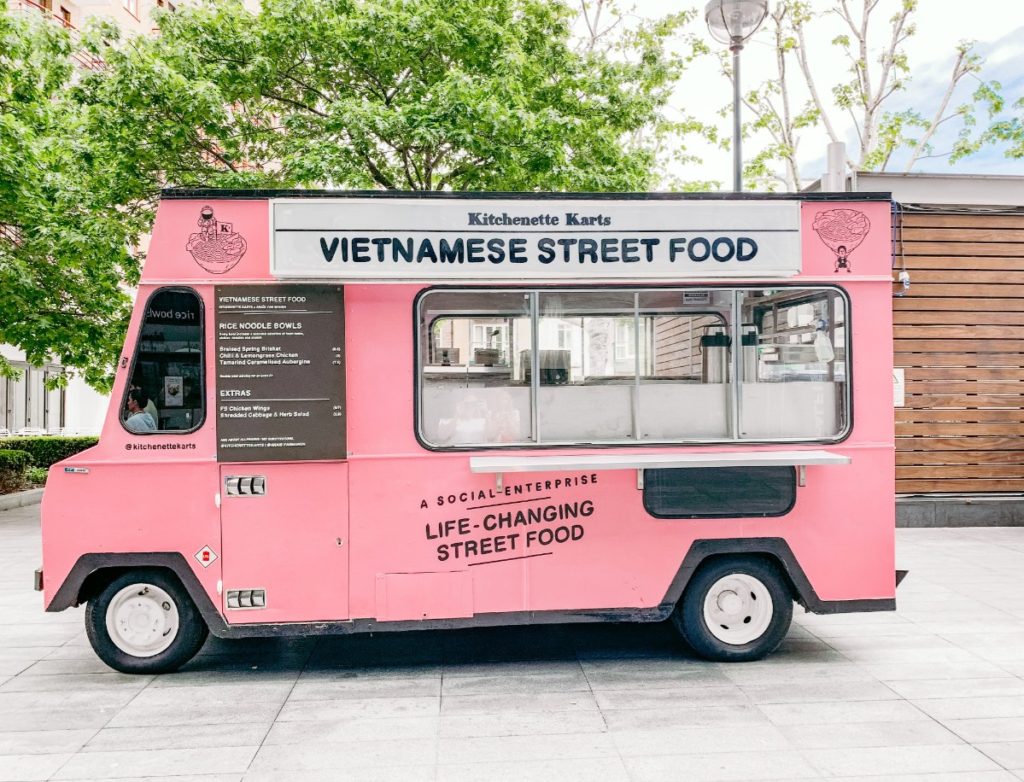 Los Angeles has an incredible food and restaurant scene. You can literally find any kind of food in the world being sold on the streets of LA.
If you're looking for something unique when lunch time rolls around, consider trying one of the city's many food trucks. LA has a massive food truck scene, so you'll likely see them dotting the streets as you're driving from place to place.
If something strikes your interest, pull over and give it a try. Otherwise, you can do a little research on the best food trucks in LA ahead of time. This way, when your 1 day in LA rolls around, you'll know exactly what you're getting.
7. Arts District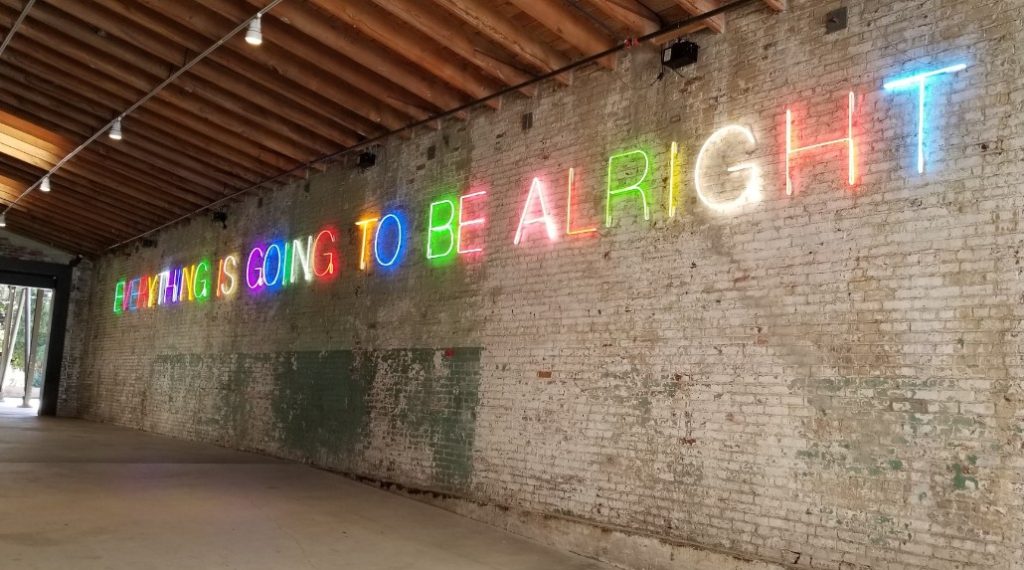 If you're looking for something unique to do during your 1 day in Los Angeles, make your way over to the LA Arts District. This uber artsy neighborhood is filled with bars, breweries, fashionable boutiques, artist lofts and galleries. There's even an arcade bar if you're a fan of vintage arcade games and pinball.
If it's the art that you're interested in, head to Hauser & Wirth. Be sure to stop by the chicken coop in the courtyard, it's my favorite part.
The Arts District is also the perfect place to get lunch if food trucks aren't your thing, Try Wurstkuche for German inspired sausages, or Father's Office for burgers. Both of these restaurants have fantastic vegan and vegetarian options as well.
8. Griffith Observatory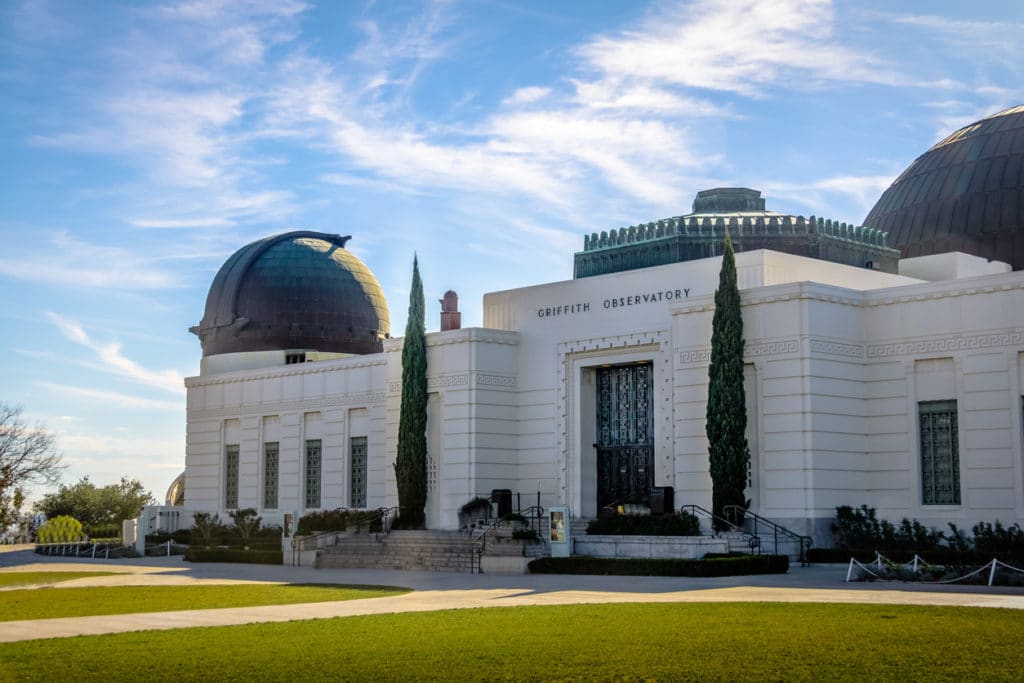 If you're looking to add a little science to your one day in LA itinerary, head to the Griffith Observatory in Griffith Park.
The Griffith Observatory features telescopes, a planetarium, space exhibits, and spectacular views of Los Angeles and the Hollywood sign. This is a lovely place to be at sunset if you can time it right.
If you would like to view the stars and use the telescope, plan to arrive well after sunset. The Griffith Observatory is open daily (except Mondays) until 10:00 p.m.
9. Sunset Strip
One of my all time favorite places to go out in the evenings is the Sunset Strip. The Sunset Strip is the section of Sunset Boulevard where you'll find all the rock n roll bars and clubs.
Some of the hottest places to hang out on the Sunset Strip are the Viper Room, The Roxy, and the Whisky a GoGo.
My personal favorite place for dinner and drinks on the strip is a place called the Rainbow Bar and Grill. They play rock n roll music, have strong drinks, and a better than expected food menu. Believe me, you'll want to eat something after you've had a few rounds here.
Also, keep an eye out while you're here. This bar is a known hang out for musicians.
10. Disneyland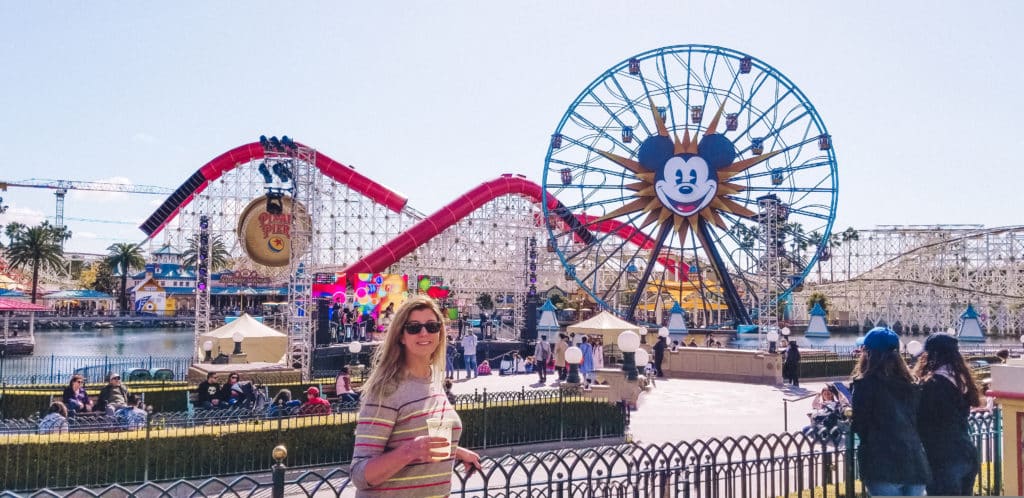 If you're wondering how the heck I expect you to be able to do all the things above, plus spend the day at Disneyland, you can't. BUT… you can do most of the things above during the day, then spend your night at Disneyland.
For Southern California locals, this is an easy day trip from Los Angeles and a common way to spend an evening. Since many of us have been to Disneyland so many times, we love to stop by the park after the day time crowds have gone home.
Disneyland is often open until midnight, so if you arrive any time before 7:00 p.m., you'll still have plenty of time to enjoy the park. In fact, I actually prefer Disneyland after dark. It's cooler, quieter, and prettier with all the lights on.
Just be sure to plan out your ride strategy in advance.
Hint: Save Space Mountain until just before closing. This is when you'll find the shortest lines.
I hope you've enjoyed this post and that it's helped you put together your own one day in LA itinerary. If you liked this post, please consider sharing. Thanks for reading.
Book Your Trip
Find the best flight deals by using Google Flights, then book direct with the airline. This is the search engine I use to compare flights and prices before booking my own trips.

BOOK YOUR ACCOMODATION
I recommend searching for hotels through Booking.com to compare hotels on amenities, location, and price. If you are a member of a hotel's rewards program, always book direct with the hotel. If you are not loyal to a specific hotel brand, using Booking.com for the best price.

TRAVEL INSURANCE
Travel insurance is more important than ever. For just a few dollars a day you can protect yourself and your trip. I personally use World Nomads, but whomever you choose, don't skip out on travel insurance. It can literally save you thousands of dollars.


Want to save it? Pin it.
A Las Vegas solo trip makes for a perfect weekend getaway if you're looking for…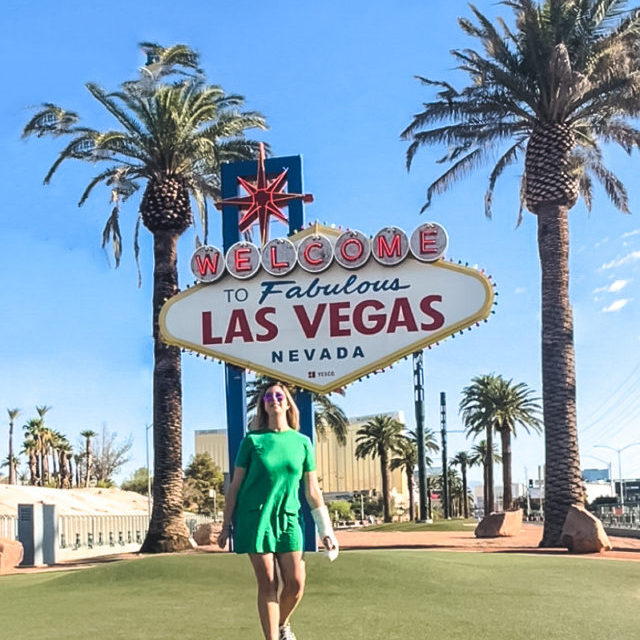 A Las Vegas to Grand Canyon road trip is the perfect addition to your southwestern…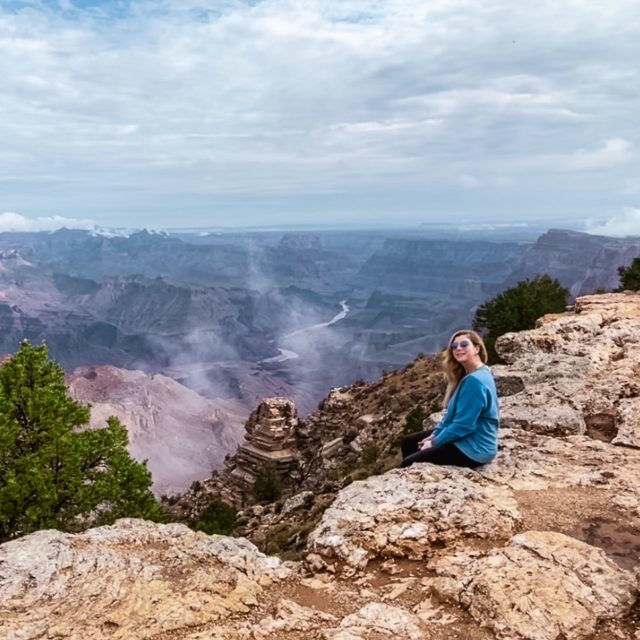 A weekend in Palm Springs is the ultimate Southern California getaway. This lively cosmopolitan city…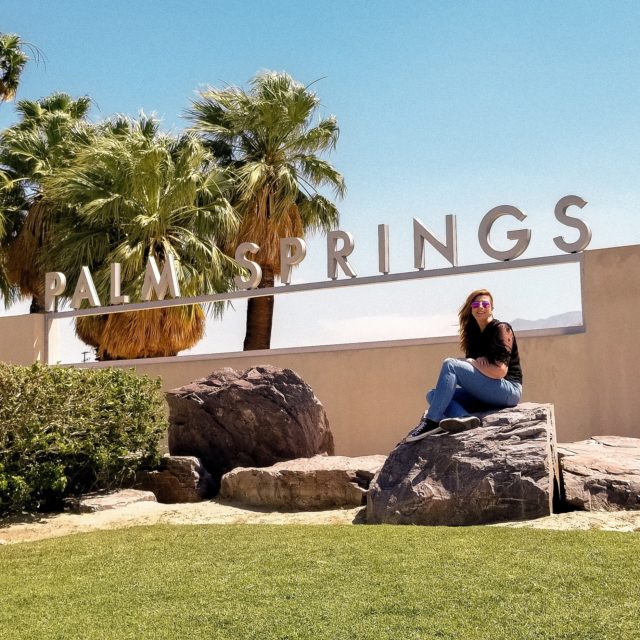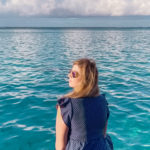 Eden Fite
Part-time Traveler | Dog Lover | Avoider of Crowds
I help busy people find creative ways to travel more.