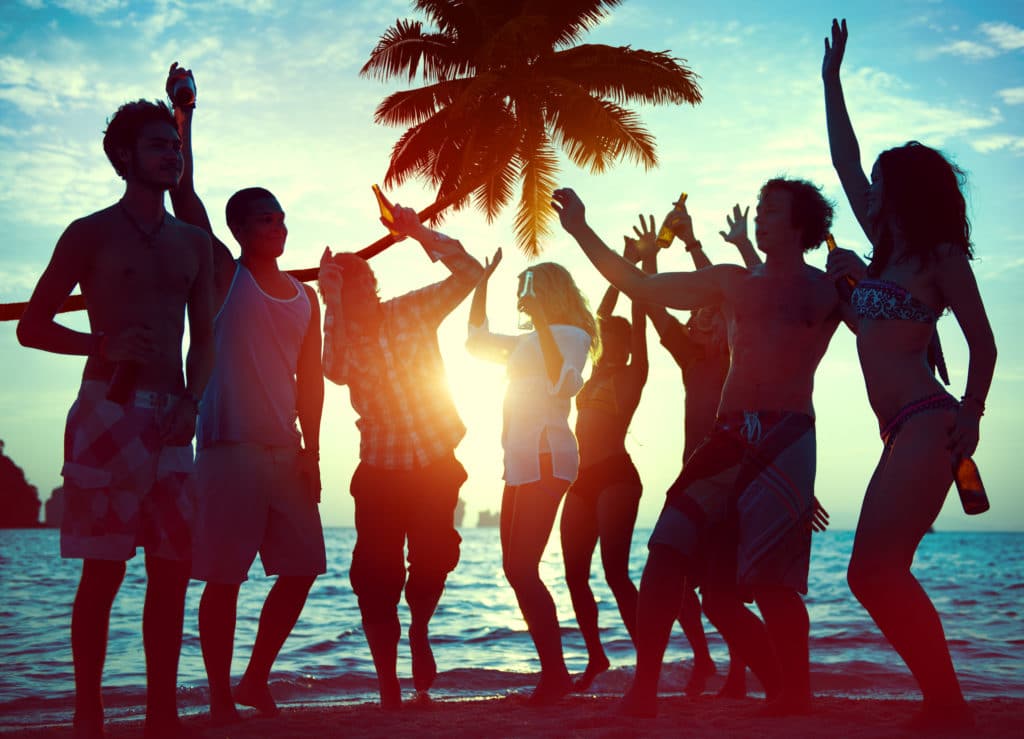 With spring right around the corner, now is the perfect time to start planning those Spring Break Getaways.  Why not make this year your best Spring Break yet?
Whether you prefer to spend time on the beach or exploring a new city, Spring Break is the perfect time to let loose and seek out new adventures.
To help you narrow down your long list of options, I've collaborated with several other adventurous travel bloggers to come up with some unique Spring Break Destinations.
Together we've put together this list of 11 Unique Spring Break Getaways for 2020. 
Read on for some serious inspiration for those Spring Break Getaways. 
11 Unique Spring Break Getaways for 2020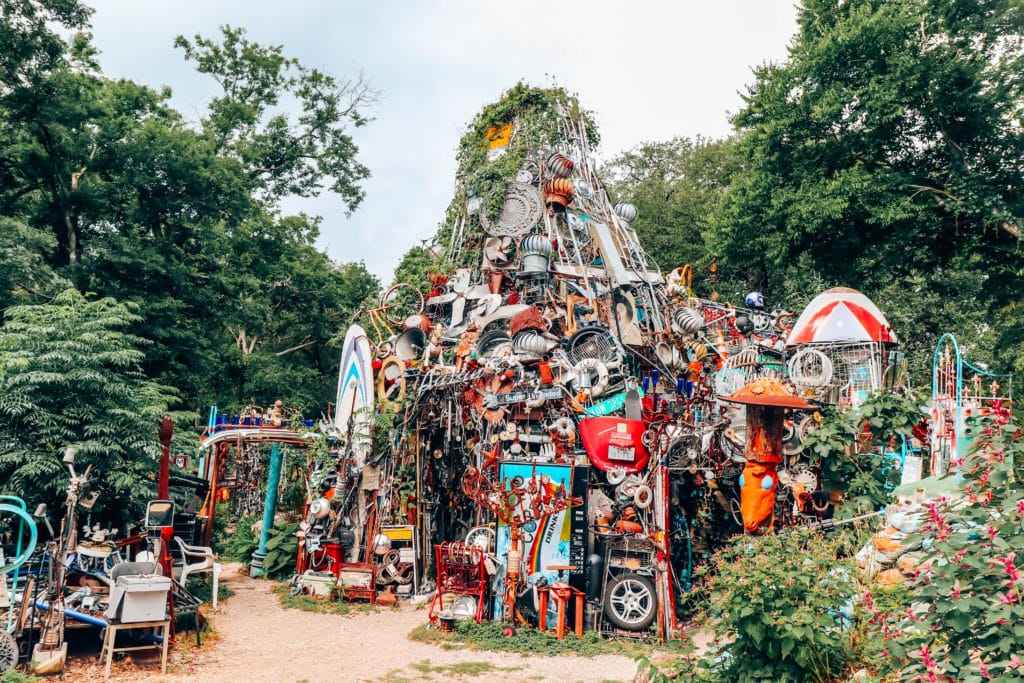 1. Austin, Texas – Bonnie Clyde Worldwide
For one of the closest Spring Break Getaways on this list, head south to Texas.
From intriguing art structures and amazing waterfalls, to amazing restaurants and bars, not to mention, one of the most lively music scenes in the country. There's something different for everyone to discover. 
For those of you looking for a truly unique and artsy experience, check out the city's famous Cathedral of Junk.
The backyard of a small suburban house contains a quirky Cathedral of Junk.
This massive structure is made up of over 60 tons of junk. Owner and creator, Vince Hannemann, started building the cool cathedral in 1988.
Today, the different platforms of the junk masterpiece can be climbed through creative spiraling staircases. It definitely keeps Austin weird!
Here's a quick video with some more ideas for things to do while you're in Austin.
For those looking to experience some nature right in the center of town, head over to the botanical gardens.
Frozen dinosaurs, towering bamboo, and a lush waterfall make the Zilker Botanical Garden feel out of this world.
This serene garden oasis is an unexpected place to see in downtown Austin. It recreates a natural dinosaur habitat, making the dinosaur sculptures look frozen in time.
For those looking to get out of the city for a bit, head about 40 minutes west of Austing to Hamilton Pool. Here you'll find a scenic nature preserve with a 50-foot waterfall that sits in the hills near Austin.
The emerald swimming hole is surrounded by rocky canyons and a collapsed grotto. Secluded and outdoors, it's the perfect spot to enjoy a swim or go for a peaceful hike.
Once you've finished exploring Austin's natural beauty for the day, head out for a night on the town. Austin is famous for its incredible music scene, with live music available at venues all across the city.
Be sure to check out some of Austin's incredible restaurants and bars too. If you're looking for an authentic Austin experience, be sure to try some Texas Barbeque while you're in town.
You can read more from Bonnie Clyde Worldwide by visiting their website here. You can also find them on Instagram.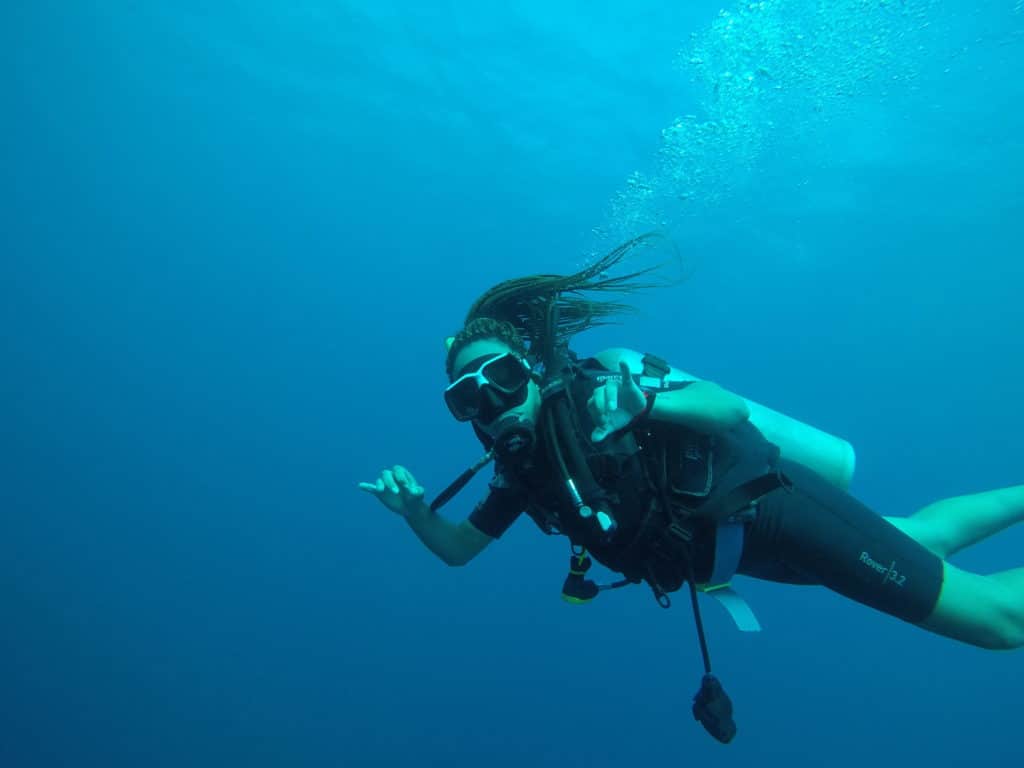 2. Utila, Bay Islands, Honduras – Stellas Out
For one of the most affordable Spring Break Getaways, make your way to Central America.
The Bay Island of Utila is the perfect place to spend your Spring Break. Located off the coast of Honduras, this island is the smallest of the three Bay Islands.
Don't let its small size deter you though because this island has a big personality. Imagine spending your break lounging on a white beach as the sun glints off the turquoise water. If it sounds like paradise, that's because it is. 
In addition to crystal clear water and beautiful beaches, the island is a major destination for diving. In fact, the second-largest barrier reef in the world sits just off the coast.
Expect to get up close and personal with all sorts of creatures including moray eels, eagle rays, sea turtles, and even whale sharks.
Spend your Spring Break diving by day, and of course, partying by night. There are plenty of bars that offer specials, and even one where you can do shots for free t-shirts.
If you are looking for a Spring Break destination that is off the usual tourist path, look no further than Utila in Honduras. 
You can read more from Stella's Out by visiting her website here. You can also find her on Instagram.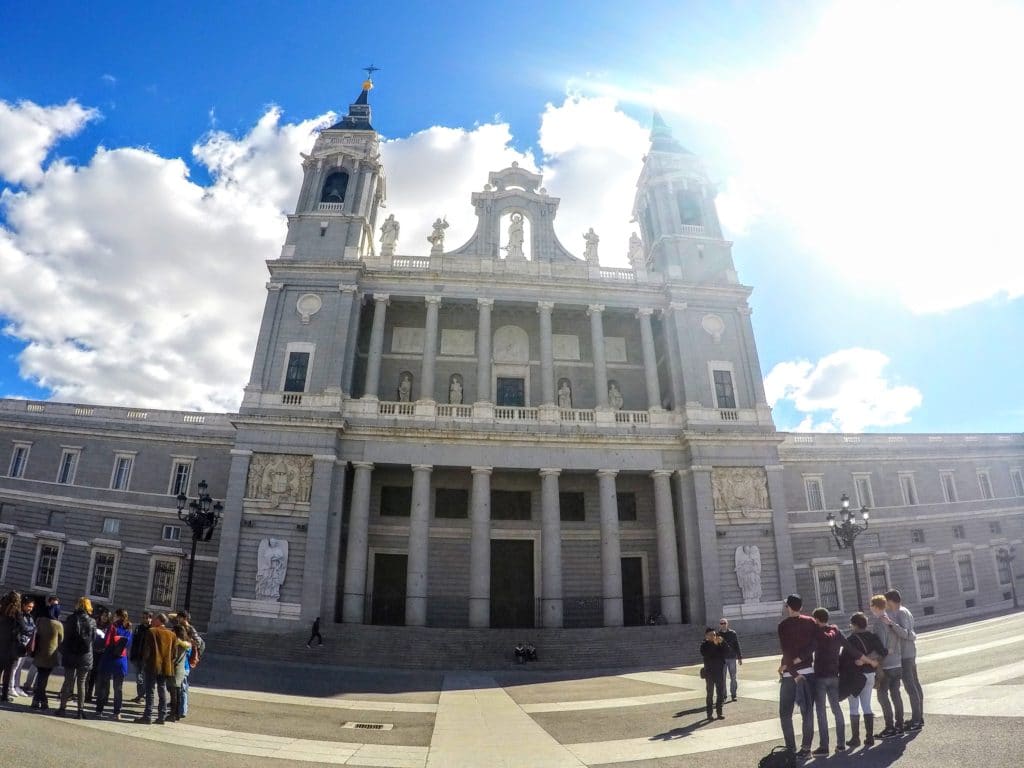 3. Madrid, Spain – Crashed Culture
Beautiful weather, tropical landscapes, and a low budget: Madrid, Spain is awesome for Spring Break.
The city is known for its beautiful, relaxing climate, and thanks to its economy, you don't need to break the bank to enjoy your stay.
Depending on your travel style – whether you like to travel for history, food, culture, or just to get a few good Instagram shots – there are plenty of options for things to do in Madrid. 
If you want to drink with and like the locals, go bar hopping at night and share some tapas with new friends.
If you plan your time right, you can see all the most famous museums for either cheap or free, and you can even sign up for a walking tour and get a taste of history from the locals.
The clubs are open til sunrise, the streets are pedestrian-friendly, and there are so many different kinds of people that there's no way you'll leave without making a new friend. 
My suggestions? Come up with a loose itinerary before you get there, but keep your options open.
Madrid is so full of energy and opportunities that you don't want to miss out on your ultimate experience. Plus, hey, Spring Break is about relaxing and a little bit of adventure, right?
Madrid is a big international city, so your opportunities are just about endless!
You can read more from Crashed Culture by visiting their website here. You can also find them on Instagram. 
4. Jamaica – Sunsets and Roller Coasters
If you're seeking family Spring Break vacation ideas, consider a visit to Jamaica.
Getting away from the ice and snow is a favorite activity for our family every spring.
The last three years we've visited beautiful Jamaica on a family vacation and have had new incredible experiences each and every time.
We travel as a family but there are loads of activities for people of all ages whether traveling as a family, couples or singles.
If you're staying on the North Shore around Montego Bay, Runaway Bay or Ocho Rios, you have to check out the waterfalls.
Dunn's River Falls is the most well known, but we prefer Konoko Gardens and Falls. Make sure you don't miss swimming at the Blue Hole or floating down the White River on a river raft.
If you're lucky you may be able to captain it yourself!
Jamaica is filled with beautiful and unique locations like the Green Grotto Caves and Luminous Lagoon and Discovery Bay where Columbus landed years ago.
While you explore, make sure you try ackee and saltfish (the national dish) and stop into Scotchie's for some amazing jerk chicken.
With temperatures averaging 85 F all year round, you're bound to enjoy your tropical vacation in Jamaica. 
You can read more from Sunsets and Roller Coasters by visiting their website here. You can also find them on Facebook.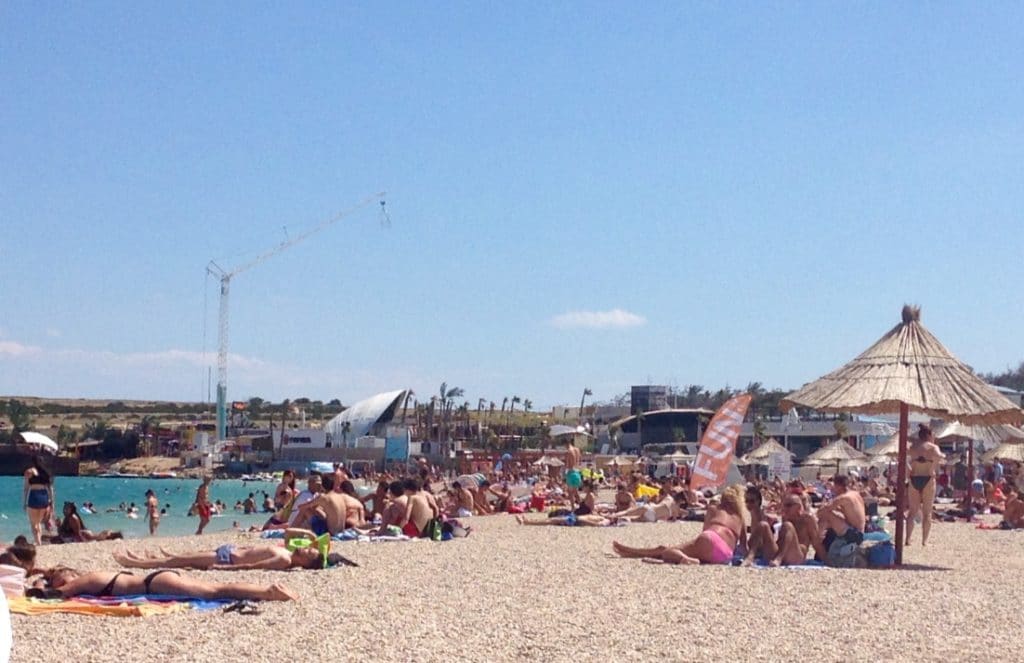 5. Zrce Beach, Croatia – Niche Travel
If you'd like to spend Spring Break doing a little partying, head to Croatia.
Arriving on the island of Pag in Croatia, you hear birds singing, insects humming and see water shimmering like blue stones on either side of you.
It is a beautiful, tranquil feeling. That is until you arrive at Zrce Beach. Zrce Beach is Pag's party central. 
The main town on Pag is Novalja. Novalja is like every adorable beach town I've ever been to, a mix of tee shirt shops, restaurants, bars, and surf shops.
It is literally crawling with 20-somethings there to meet up, celebrate, and dance the night away on Zrce Beach. 
Zrce Beach stretches out before you with its beachfront nightclubs and bars inviting you to party all day and night.
Over the last decade, Zrce has become synonymous with Spring Break, bachelor and bachelorette parties, girls and guys trips, and hedonism among the young European crowd.
Hosting music festivals and 24-hour parties, Zrce has become one of Europe's most popular destinations and Spring Break vacations. It is easily one of the most photographed beaches in the world.
Zrce is Instagram heaven day or night. Plus, Zrce Beach boasts having the biggest Spring Break event in Europe for 9 years running with guests from over 50 countries. That's a lot of people to meet and party with!
The most famous music venues and nightclubs are Aquarius, Kalypso, Noa, and Papaya.
If you can't make it to Zrce for Spring Break, not to worry, each of these clubs hosts a variety of music festivals all summer long. Check here for more information on upcoming festivals. 
If by chance you tire of all the partying, you can also work out on the beach, rent every type of water activity, bungee jump, or join a boat party.
Hope to see you there this spring. I'll be the one dancing!
You can read more about Niche Travel by visiting their website here. You can also find them on Instagram.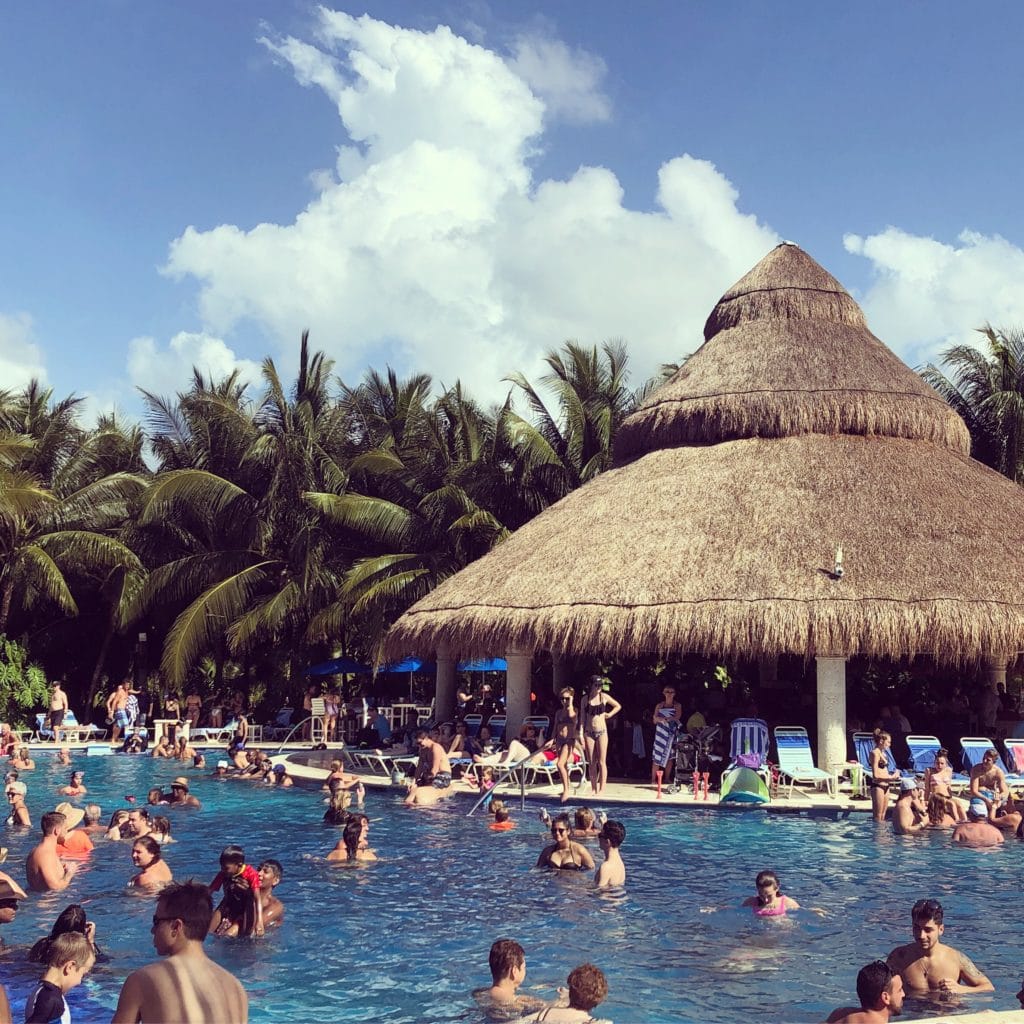 6. Cozumel, Mexico – Life Well Cruised
Cozumel makes the perfect destination for some lively Spring Break getaways.
Surrounded by clear turquoise water, you'll find beautiful beaches and some of the best snorkeling and diving in the world.
However, there's so much more to do, that you're bound to have an awesome time. 
Cozumel is the perfect combination of fun (think lively bars) and culture (Mayan Ruins). The people are nice, the drinks are good and the prices are reasonable too. 
Cozumel has some great all-inclusive resort hotels as well as beach resorts that offer day passes.
Popular spots to eat, drink and have full access to the beach, pools and other activities include Mr. Sanchos, Playa Mia and Nachi Cocum. 
If you prefer the same beach and pool day, but would rather order a la carte, check out Paradise Beach. With an entry fee of only $3 (which includes the lounger), you won't find a better deal.
The pool and beach are beautiful, the facilities are clean, and you can try one of the very best mojitos you'll ever have, at Freddy's Mojito Cart.
If you love getting out on the water, try a catamaran sail and snorkel tour. You'll be able to snorkel off the Palancar Reef with colorful fish. Back on the boat, you'll enjoy complimentary drinks including rum punch. 
If you've always wanted to swim with dolphins (or manatees), Chakanaab Beach and Snorkel Park offer this in a natural setting.
It's really a must-see where you can also snorkel right off the beach.
For something unique and cultural, consider a day trip to the Mayan Ruins in Tulum.
Just 45 minutes away by ferry in Playa del Carmen, this archaeological site is perched above the Caribbean Sea, making it a great photo opportunity. 
Finally, book the tequila tour, which includes tastings, a margarita, and a taco. Can anything be more fun?  These are just a few ways you can enjoy Cozumel while on a Spring Break getaway.
You can read more from Life Well Cruised by visiting their website here. You can also find them on Instagram.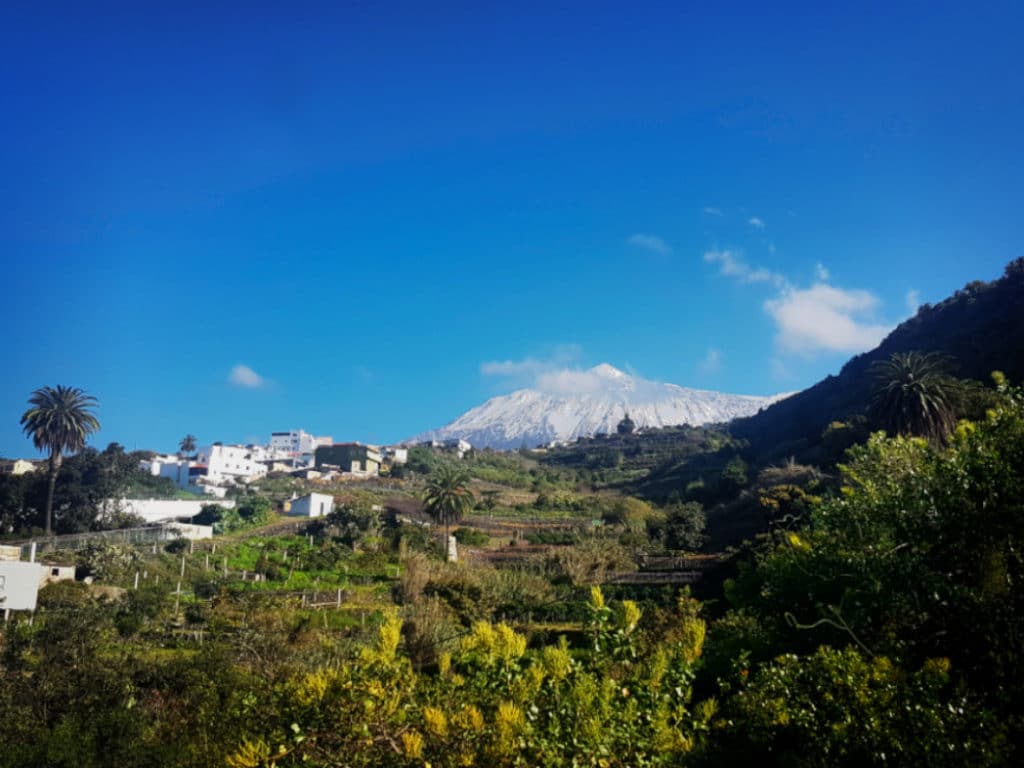 7. Tenerife, Canary Islands – Sunday in Wonderland
Since spring can be unpredictable when it comes to weather, it is great to take a break in a warm place and catch some sun rays before the real summer comes.
I propose you choose Tenerife on the Canary Islands for one of the most relaxing Spring Break getaways you'll ever have. 
Tenerife is the biggest Canarian Island which has a lot to offer.
Its landscape is incredibly diverse, including wide yellow beaches, black sand beaches, the cosmic desert around the volcano, deep and green forests of Anaga, and lovely Spanish towns with lots of interesting spots. 
Tenerife is also small enough to visit all of its most popular attractions during a single stay. This makes it a perfect destination for Spring Break getaways.
The temperature is high enough to take a sunbath and lay on the beach, but at the same time, you will still have the opportunity to do some hiking on the snowy peak of Teide Volcano.
Tenerife sometimes is considered as a senior's island, since lots of European retirees spend their golden years there.
You can meet them usually in Puerto de La Cruz, but there are a few other cities which also have their own unique atmosphere.
If you are looking for nightlife and huge parties, Costa Adeje will be your dream destination.
But if you're a fan of modern architecture, you will appreciate Santa Cruz de Tenerife with amazing Calatrava's Auditorio buidling.
If you're in love with typical Spanish architecture, you will surely enjoy San Cristobal de La Laguna, which has its place on the World Heritage Site's list.
All of this can be done during a single, short trip to Tenerife. 
You can read more from Sunday in Wonderland by visiting their website here. You may also follow them on Instagram.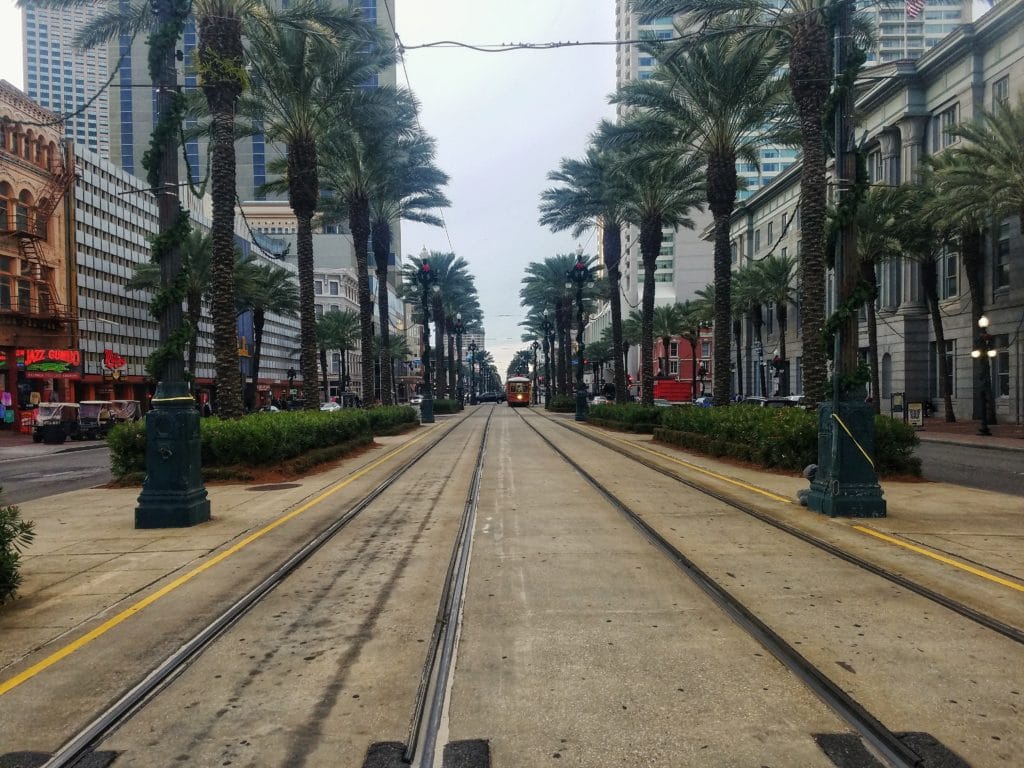 8. New Orleans – The Hangry Backpacker
Spring Break getaways are usually associated with sun, sand, and sea. For spring breakers seeking warm weather and something different, New Orleans should be on your radar. 
Already a popular destination, New Orleans is the perfect Spring Break getaway setting for travelers who want a little substance in their vacation.
Visitors can soak in the local culture and still get their Spring Break party fix. 
There is always a reason to celebrate in New Orleans. The infamous Bourbon Street is a fun place to start any day, and it has a party going year-round.
If Spring Break comes early, visitors can join in on the Mardi Gras fun.
Parades and parties go on for weeks leading up to Fat Tuesday, transforming the already lively city into one giant celebration. 
New Orleans is also known for its music. Jazz is the genre that first comes to mind, but the city has live music of every kind.
Jazz Fest (end of April) is a world-renowned festival that attracts hundreds of thousands of visitors. The music ranges from superstars to local acts, truly unique to New Orleans. 
With all of the partying, the best way to pace yourself is with some of the best food in the world. New Orleans is a food city unlike any other.
Visitors can sample famous favorites down in the French Quarter, surrounded by centuries-old historical buildings, or venture a little farther out for more local flair. Great restaurants are aplenty in New Orleans. 
Other fun areas: Frenchman Street, near the French Quarter – for bar-hopping and live music. Magazine Street (Uptown), lined with local shops and restaurants, is a favorite of natives and tourists. 
New Orleans has something for every traveler, and Spring Break is a great time to be in the Crescent City. 
You can read more from the Hangry Backpacker by visiting their website here. You can also find them on Facebook.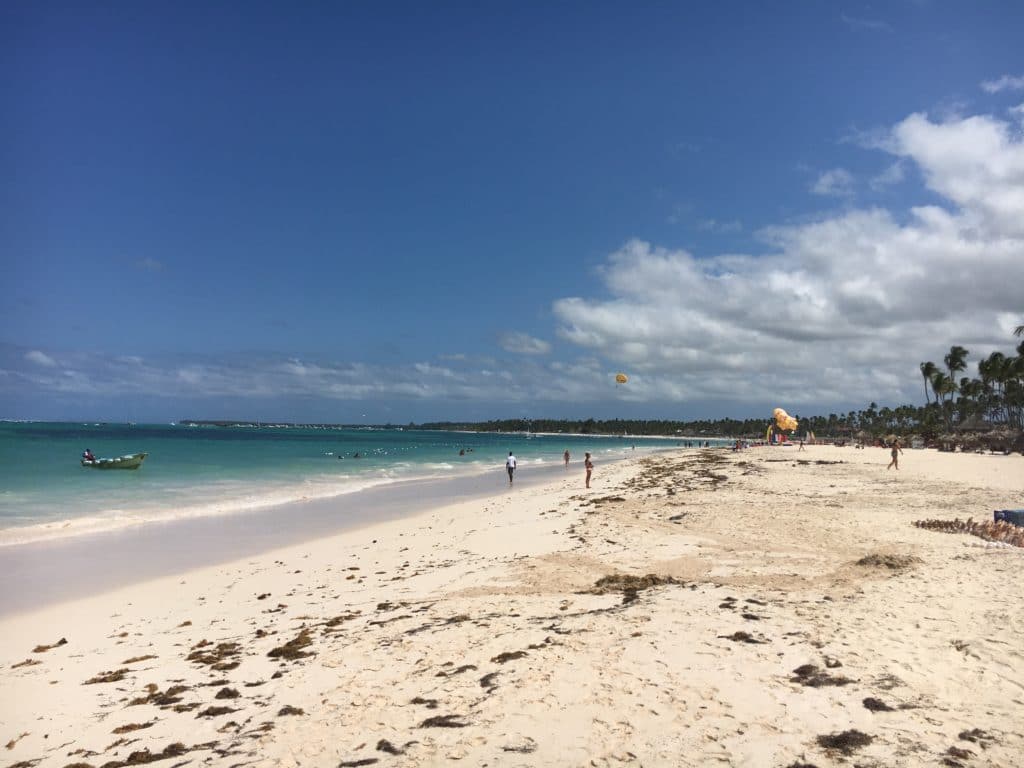 9. Punta Cana, Dominican Republic – Four Around the World
One of our favorite destinations we have traveled during Spring Break was Punta Cana in the Dominican Republic.
This was not a destination on our radar, since it is halfway around the world for us from Australia. However, we were lucky enough to have a reason to visit over Spring Break and it was such an incredible destination. 
Punta Cana is a resort town, with luxury beachfront accommodation and plenty of budget-friendly options too.
Bavaro Beach is beautiful with white sand and crystal blue water, plus the temperature is pretty much perfect all year round with no major difference between summer and winter. Even in spring, it feels like a summer getaway. 
There are plenty of things to do in Punta Cana itself, with many different day trips to visit the natural jungle areas.
We had a fun experience at Monkeyland getting up close with squirrel monkeys, which was a fond memory for our two daughters.
There is also plenty for adventure seekers too, such as zip-lining and water sports, making it especially fun for families with kids. 
Punta Cana is a relatively affordable destination with great food, friendly locals, and it's pretty easy to get around.
It is also family-friendly, which is super important to us for when considering Spring Break getaways. 
You can read more from Four Around the World by visiting their website here. You can also find them on Facebook.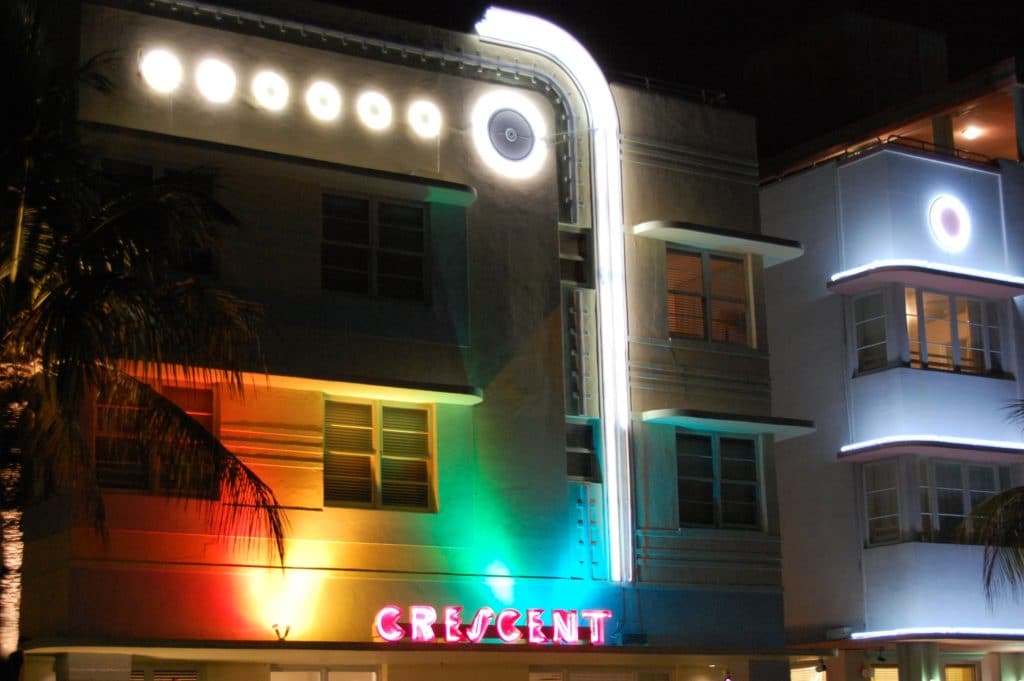 10. Miami, Florida – Gadsventure
How great is South Beach, Miami?
From the hippest nightclubs to the coolest day bars, DJs playing pool parties on the strip, and oversized cocktails, South Beach definitely has all the ingredients for the best Spring Break getaway you've ever had. 
The weather is perfect most of the year and even when it's too hot, you can cool off under the water jets which keep the sidewalks virtually air-conditioned.
When you get sick of sipping massive cocktails and watching hot cars and cool people cruise up and down the strand, head to the stunning white sand and azure blue water and get down with some serious beach time.
Or, take your own segway or roller blades down the esplanade yourself if you are brave.
This is a great party town, day and night there is action and atmosphere.
At night time, the fabulous art deco motels come alive with brightly lit neon adding yet another dimension to your vacation.
South Beach is definitely my top choice for an awesome Spring Break getaway.
You can read more from Gadsventure by visiting their website here. You can also find them on Instagram.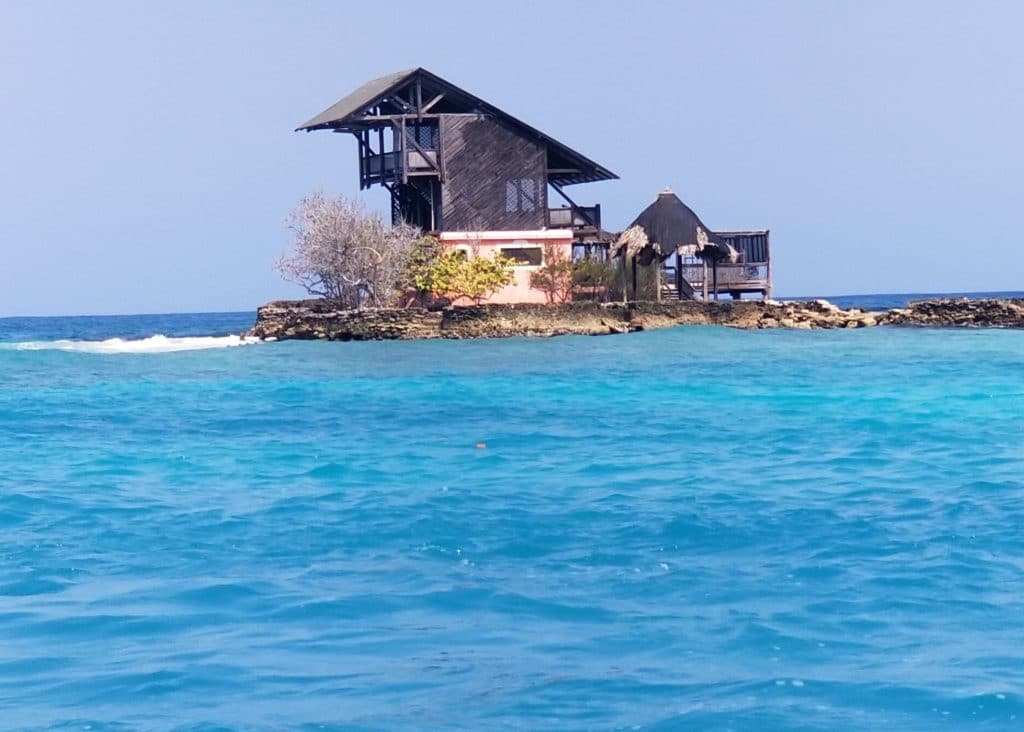 11. Cartagena, Colombia – Rock a Little Travel
One of my favorite spring break getaways is to sunny Cartagena. This vibrant Caribbean beach town is full of culture with plenty to do on a Spring Break getaway. 
For starters, you and your friends can rent a private boat and spend a day exploring the Rosario Islands.
The islands and beaches are located about one hour off the coast of Cartagena. You can see how beautiful and blue the water is from the picture above.
You can also spend the day walking through the historic walled section of the city, viewing the architecture, cathedrals, monuments, and fortress.
The fortress and walled city have been designated a UNESCO World Heritage Site.
This is also the part of the city where you'll find the vibrant colorful buildings and cobblestone streets, the perfect backdrop for photos.
After you've explored the islands and the walled city, head over to the Getsemani neighborhood for the cafes and street art.
This neighborhood used to be known for its high crime but has since become popular for its many murals lining the streets and buildings. 
In the evenings, there are endless places to grab dinner and drinks. From salsa joints to rooftop bars with swimming pools, there's something for everyone.
There are also plenty of clubs if you'd like to go dancing late into the night. 
Cartagena is a hot destination right now, but travel is still cheap. Hurry up and get there before everybody else catches on.
More Ideas for Spring Break Getaways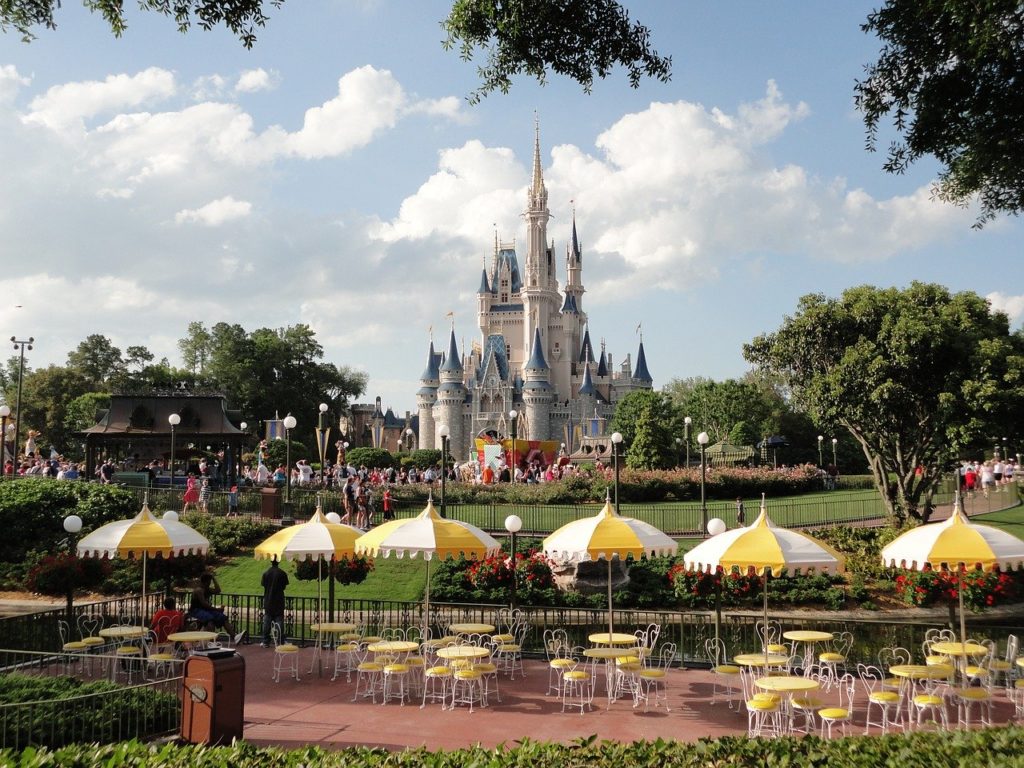 Bonus: Disney Theme Parks
Spring Break getaways can also happen at one of the many Disney theme parks around the world.
I am personally a big fan of Disneyland in California. Though one can also plan a visit to Disney World in Florida, Disneyland Paris, one of several Disney locations in Asia. You can even take a cruise with the Disney cruise lines.
The parks are open daily year round and provide the perfect destination for families with kids, or without.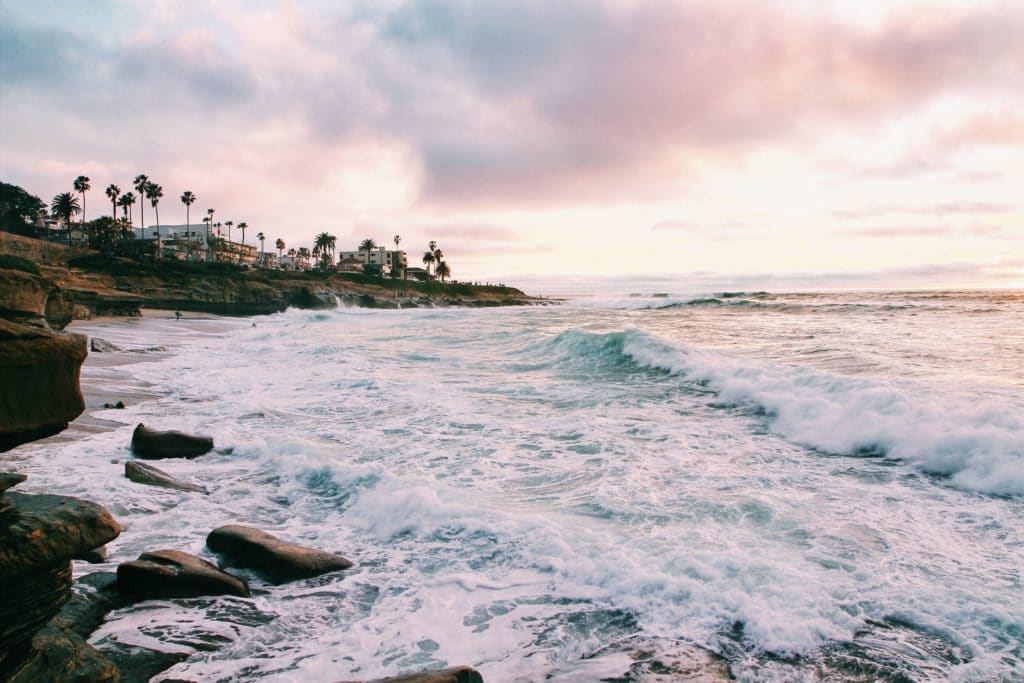 Bonus: San Diego, California
If you're looking for a warm California style Spring Break getaway, make your way to sunny San Diego.
This beautiful coastal city is blessed with great weather nearly year round, but it's especially pleasant in the spring.
The city is lined with amazing beaches, seaside cliffs, and boardwalks. If you are interested in water sports or sufing, you're going to love San Diego.
If you'd like to take the kids to a water park, you can visit Aquatica just south of San Diego.
San Diego is also home to the massive Balboa Park. Inside the park you'll find walking paths, gardens, cafes, museums, and even the famous San Diego Zoo.
If you're visiting in March, the park also holds its annual Cherry Blossom Festival on March 7, 2020. Don't miss this if you happen to be in town this week.
After you've finished spending the day on the beaches and in the water, get ready to enjoy some of San Diego's many great restaruants and bars.
I recommend Little Italy for dinner and the Gas Lamp district for cocktails at night. You'll find plenty of options in both locations.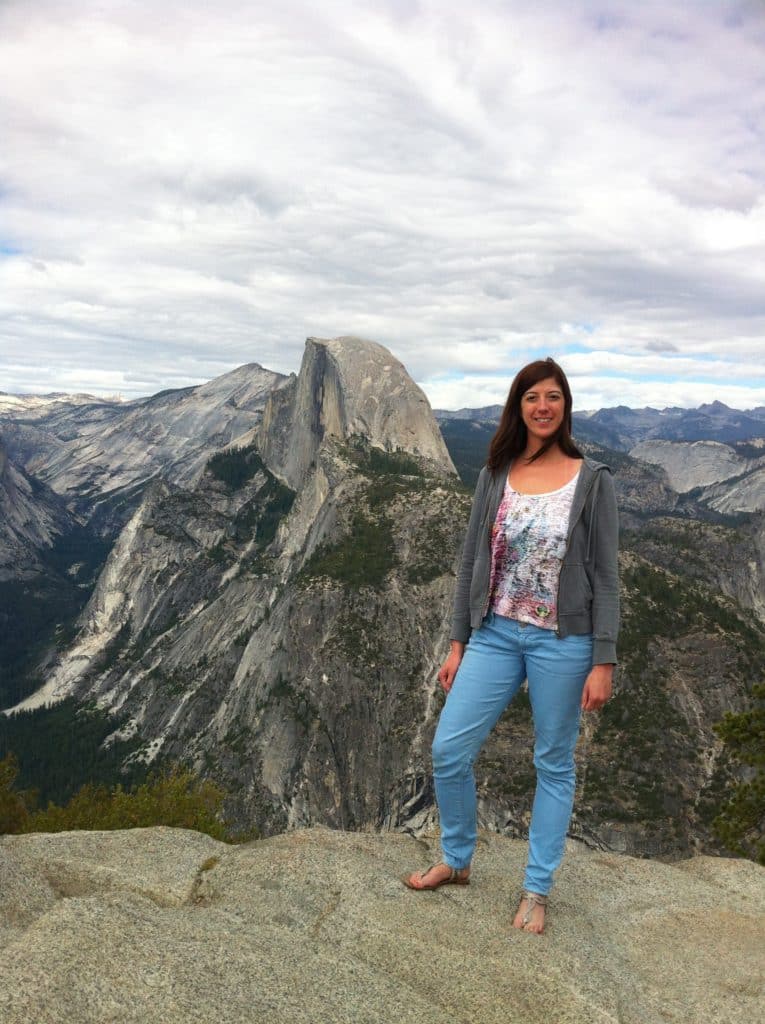 Bonus: Visit a National Park
There are so many National Parks across the United States, from Park City to New York City, there's almost certainly one near you.
My own favorite is Yosemite National Park, located in central California. It's known for its stunning cliffs and rock formations, most notably El Capitan and Half Dome.
Yosemite, and just about all the national parks, are perfect destinations for a Spring Break getaway. The weather is just beginning to warm up and flowers are beginning to bloom.
What's even better, the summer crowds have yet to arrive. In my opinion, the srping time is the perfect time for a National Parks visit.
You'll have the place to yourself in many locations, especially if you're willing to get up and out the door early during your visit.
As an added bonus, you'll also save a ton of money visiting the National Parks in the spring. Hotel prices are significantly lower this time of year.
Hotel rooms and camp sites are also easier to find at this time as well. Many accomodations will be booked up for summer if you didn't book in advance.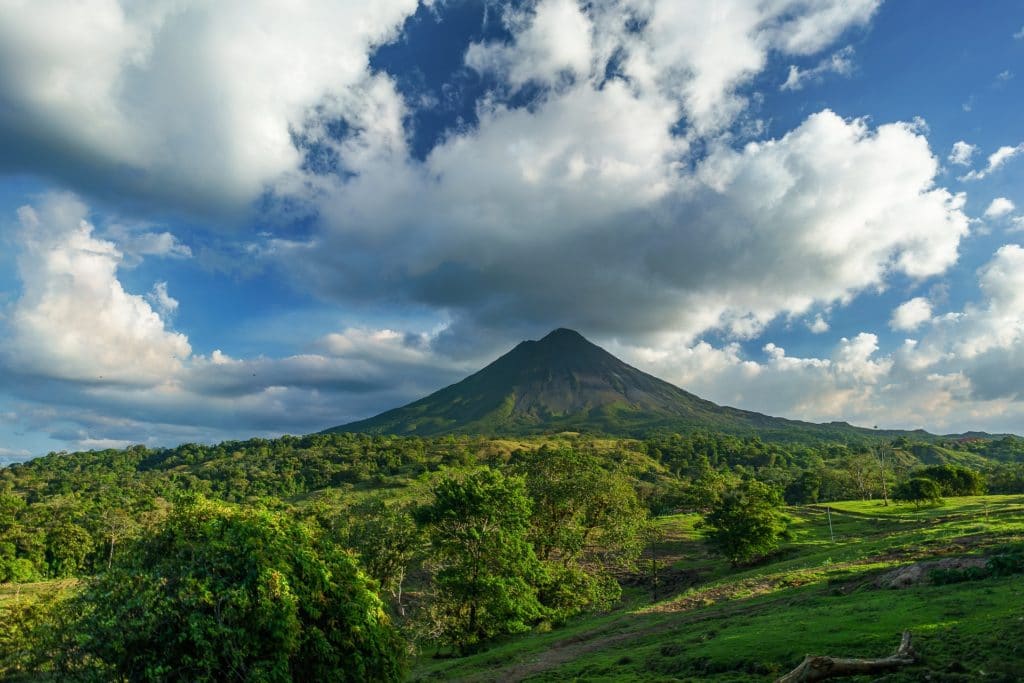 Bonus: Costa Rica
If you're looking for an affordable international destination with tons of wildlife and natural beauty, Costa Rica is the Spring Break getaway for you.
Costa Rica is an entire coutnry covered in lush green rainforests brimming with amazing wildlife. If you've never been, I promise it'll be a vacation you'll never forget.
You can hike volcanoes, take walks through the cloud forests, go ziplining, visit turtles, learn to surf, and go swimming in blue Caribbean waters, all in one vacation.
Plus, a visit the the country is extremely affordable. Both hotels and airfare are reasonable no matter what time of year you choose to visit.
If you're on a budget, consider staying in the many hostels dotting the country. You're sure to meet plenty of friends along the way if you do.
If you're looking for even more ideas for Spring Break Getaways, have a look at my destinations page.  There you'll find inspiration for trips all over the world.
I hope you've enjoyed this list of unique Spring Break Getaways and that I've inspired you to consider a new destination this year. If you enjoyed this post, please consider sharing it. It really helps me a lot. Thanks for reading.
Book Your Trip
Find the best flight deals by using Google Flights, then book direct with the airline. This is the search engine I use to compare flights and prices before booking my own trips.

BOOK YOUR ACCOMODATION
I recommend searching for hotels through Booking.com to compare hotels on amenities, location, and price. If you are a member of a hotel's rewards program, always book direct with the hotel. If you are not loyal to a specific hotel brand, using Booking.com for the best price.

TRAVEL INSURANCE
Travel insurance is more important than ever. For just a few dollars a day you can protect yourself and your trip. I personally use World Nomads, but whomever you choose, don't skip out on travel insurance. It can literally save you thousands of dollars.


Want to save it? Pin it.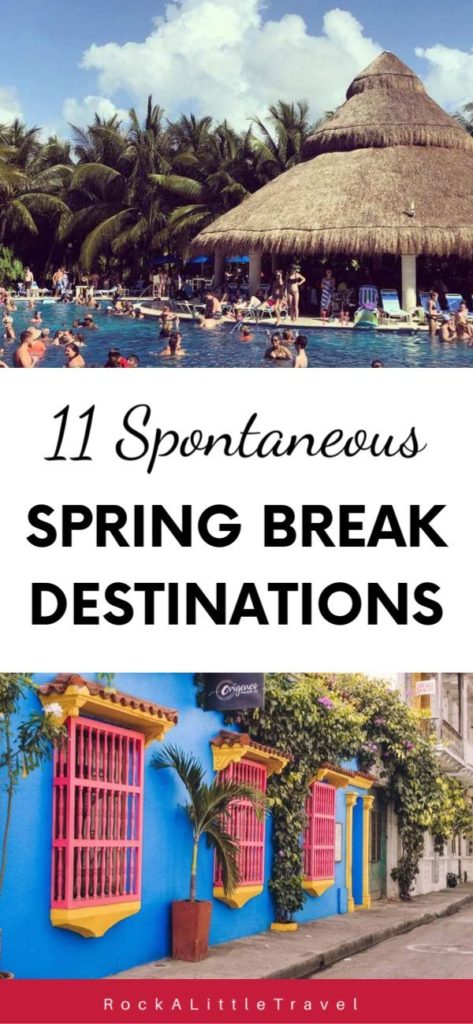 Related Posts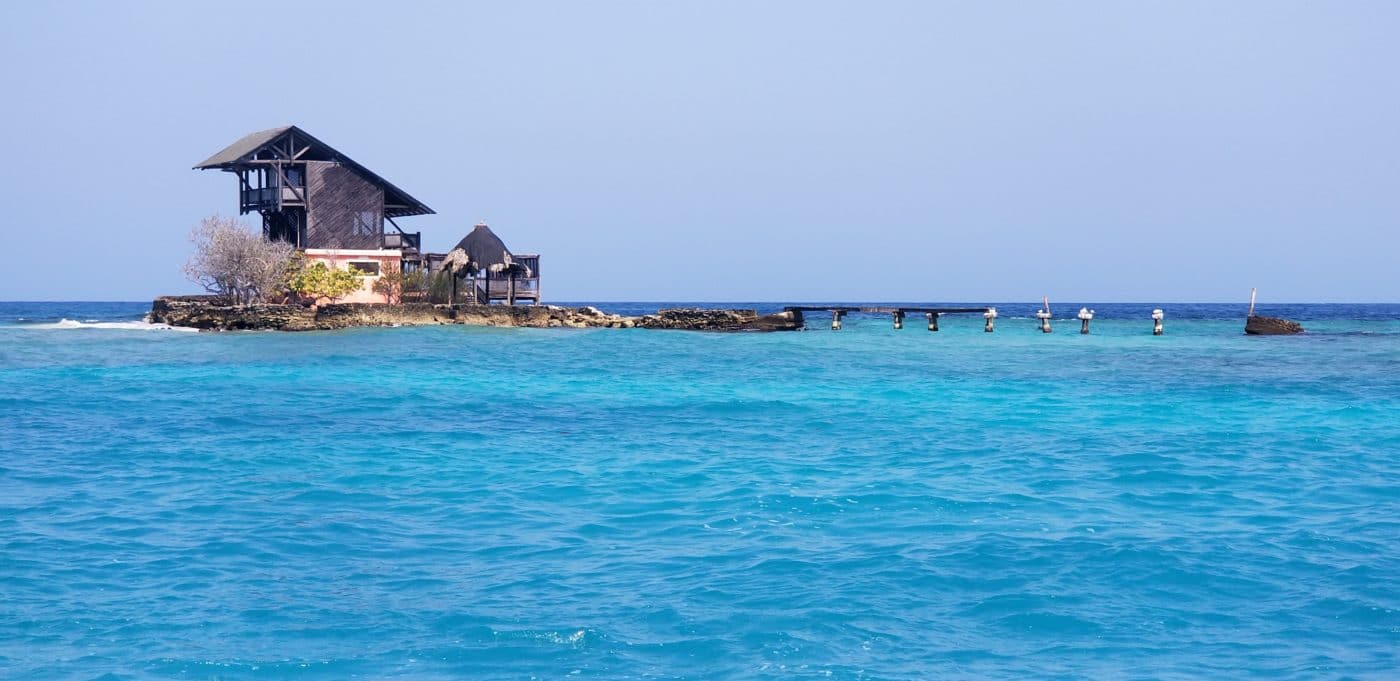 Colombia was one of the most exciting and unique destinations I've visited in a while. I had an incredible time and learned a ton while …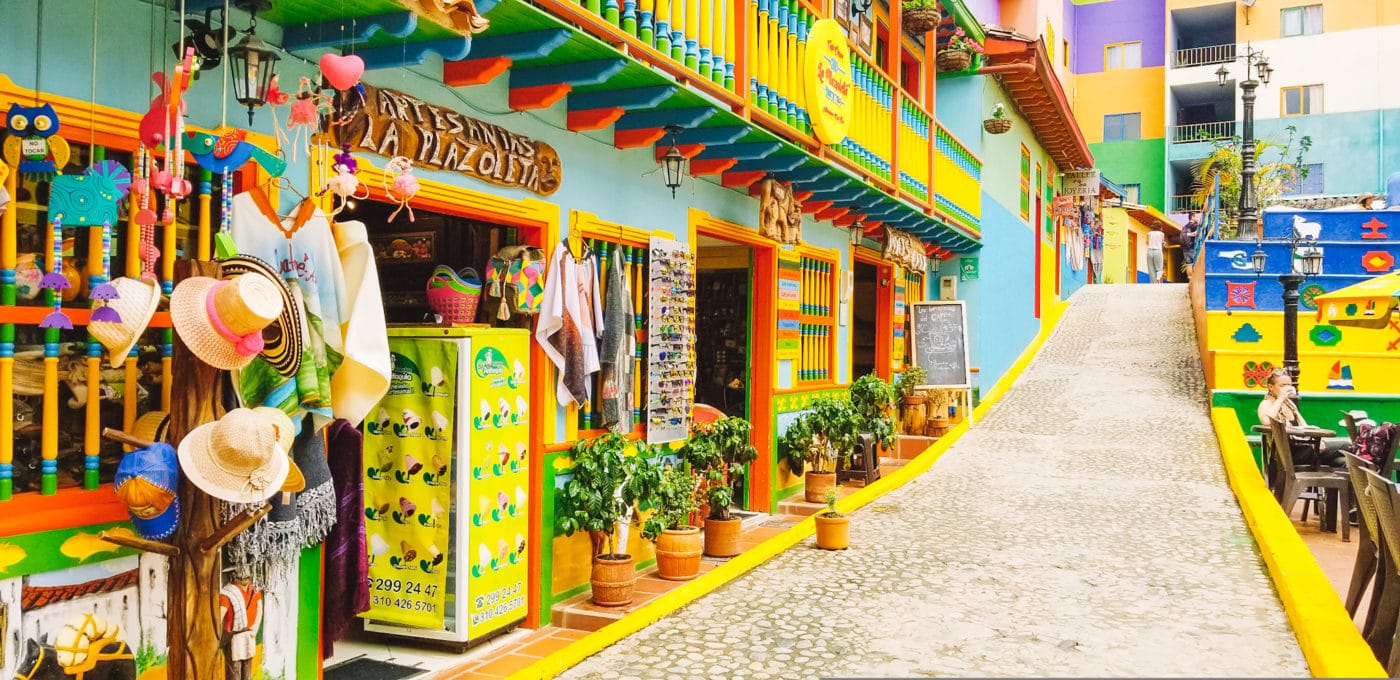 If you're looking for some unique and fun things to do in Guatape, you're in the right place. Guatapé is one of the most vibrant …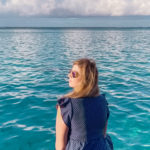 Eden Fite
Part-time Traveler | Dog Lover | Avoider of Crowds
I help busy people find creative ways to travel more.