During my visit to Morocco in November, our group spent an incredible night out under the stars camping in the Sahara.
Before arriving we spent two days traveling south from Marrakech towards the desert. After a five hour drive and a night in stunning Quarzazate, we spent the next evening immersed in the vast Sahara at Erg Lihoudi Desert Camp.
This was an experience I will never forget and one I'd recommend to every last one of you. If you're planning to visit Morocco, book at least one-night camping in the Sahara desert, you'll be so happy you did.
Read on to find out what desert camping in Morocco is really like. 
Desert Camping in Morocco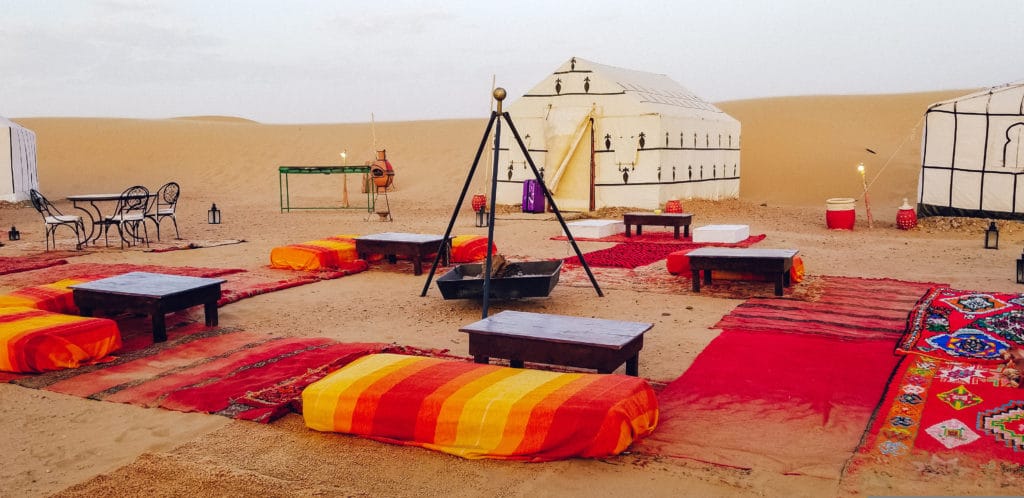 Sahara Desert Camp Amenities
Most Sahara desert camps come with similar amenities. At Erg Lihoudi desert camp, guests are served traditional Moroccan mint tea and a few light snacks upon arrival.
Both dinner and breakfast are always included. Dinner will typically include two or three different tagines (a traditional Moroccan dish) along with salad and several sides.
Breakfast will usually include eggs, bacon, pastries, juice, and coffee.
Most camps have several seating areas spread throughout the campsite to relax and watch the stars once the sun goes down.
Some camps will have sandboards on hand for those wanting to give sand boarding a try. From what I could tell during my visit, this is much harder than it looks. All desert camps will have a campfire at night.
If you plan ahead, you can even have S'mores. You can thank Becky from We Are Travel Girls for this genius idea. Note: If you plan to visit a desert camp and make S'mores, marshmallows will be almost impossible to find once you arrive in Morocco.
Pick them up at home and toss them in your suitcase.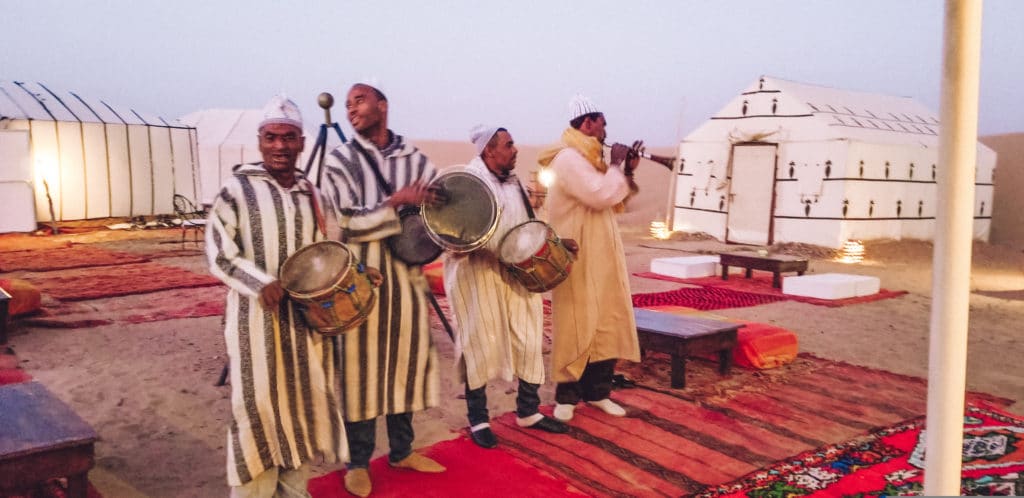 Live Berber Music
Live music will be included as part of the entertainment during your stay in most of the Sahara desert camps.
The majority of these musicians will be playing Moroccan Berber music, which you will hear a lot during your time in Morocco.
Berber music is the traditional music of the Berber people, which are native to Morocco and other areas of northern Africa.
This music is typically played with a variety of African drums, castanets, an oboe-like instrument, and vocals.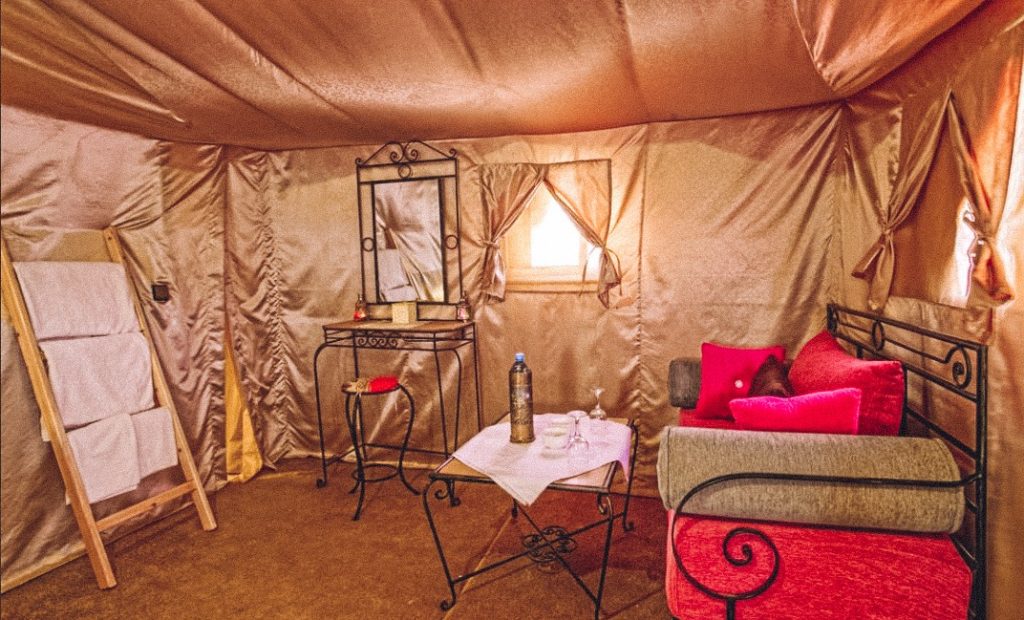 Inside the Sahara desert tents
The interior of the Sahara desert tents is quite spacious, about the size of an average hotel room. Inside you will find a bed, a small seating area, a vanity, and a restroom.
The tents are set up to have electricity, so you will have some lights and be able to charge your phone at night. The floor of the tent is covered in a thick red carpet.
There will be sand everywhere from the desert, but they do a good job of keeping it to a minimum. 
The restroom is equipped with a sink, a toilet, and a shower. The water in this camp did not get warm and was actually freezing cold.
If visiting during the fall or winter I would plan to go without a shower in the morning, unless you happen to be here during the warmer summer months. I visited in November, and it was so cold in my tent at night, I slept with all my clothes on. Literally,
ALL the clothes in my suitcase. After a night like that,  I was not about to jump into a freezing cold shower in the morning. I recommend bringing a warm jacket or a sleeping bag if you visit in the fall or winter.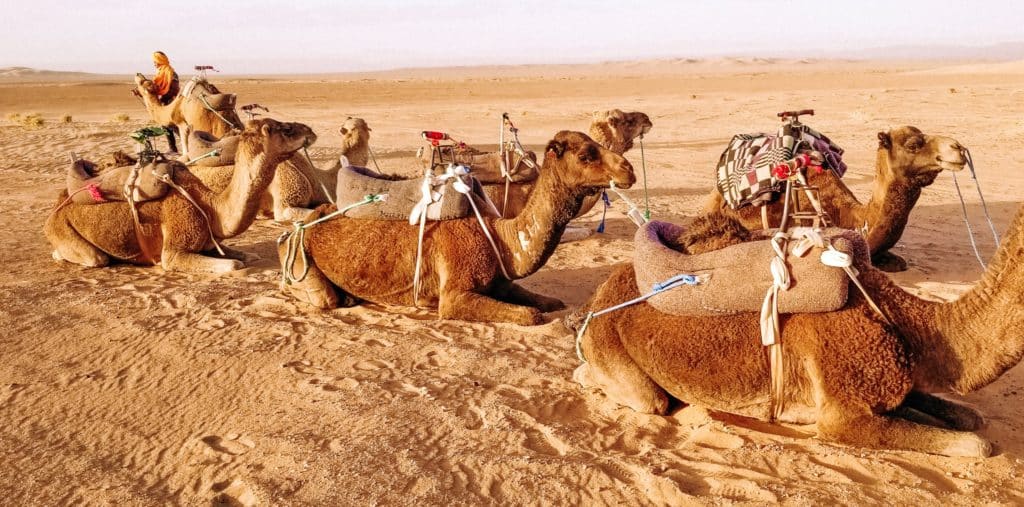 Morocco Camel Trekking
Most Sahara desert camp packages include camel trekking. You will take a jeep out a short way into the desert and meet up with a small group of guides, and enough camels for your group.
The camel ride will take about one hour as you're led through the desert by the guides to the location of your camp. Your luggage will stay with the vehicles you drove out to the desert in, and will be dropped off at your camp while you finish your camel ride.
You'll want to wear pants and bring a light headscarf. The desert can get quite windy and the scarf will help keep sand out of your mouth and hair. 
If you do not wish to participate in a camel ride, you can easily get to your desert camp by vehicle.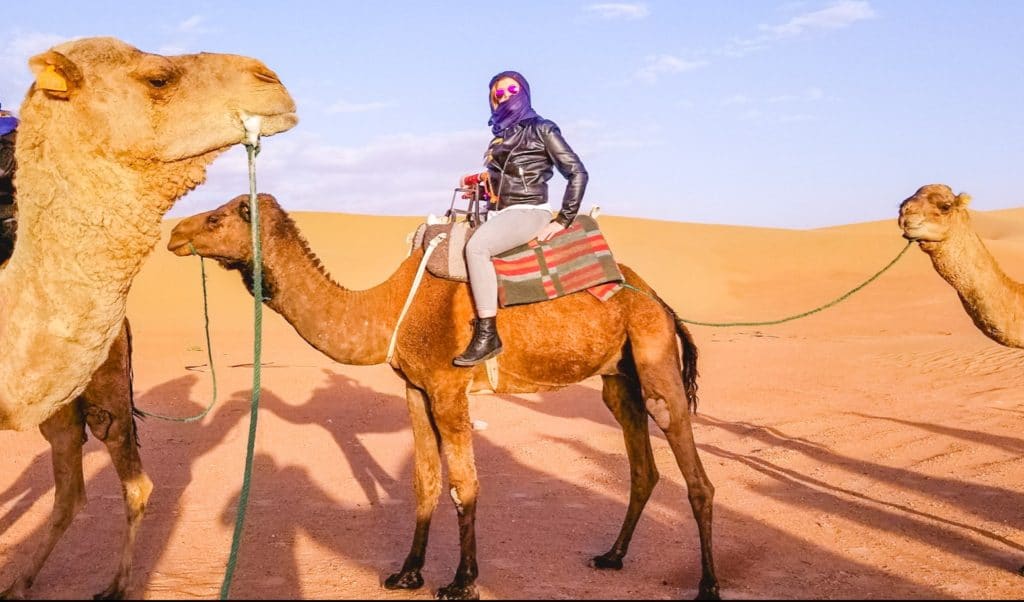 What to expect at a Sahara desert camp
Being out in the middle of the Sahara is the very best part of the desert camping in Morocco experience. You can walk to the top of nearby sand dunes and see the desert go on for miles and miles in every direction.
It's very peaceful, and if you wander away from the campsite a little, you'll find almost complete silence. This is especially powerful at night if you're lucky enough to have clear skies.
The stargazing was like nothing I've ever seen before. It's also what made that nine-hour drive totally worth it. 
The accommodations are relatively comfortable and spacious. The bathroom area is separated by only a curtain, so privacy will be minimal if you are sharing your tent.
The inside of the tents are not temperature controlled, so if it's hot outside your tent will be hot, if it's cold outside it will be cold inside. Temperatures in the desert can be extreme, so research average temperatures for both day and night prior to your departure and plan accordingly.
The inside of the tent will also be fairly dusty due to all the desert sand, so if you have allergies be prepared for this. 
The food served at the desert camps is decent, but will not be your best meal in Morocco. If you find you don't particularly like Moroccan food, I suggest you bring yourself something to eat. There may not be any food or snacks available for purchase. 
The live music in the camps is interesting and I did enjoy it but think they could have limited it to just 30 minutes. After a while, our group started getting a bit restless so people started wandering off.
At times they may attempt to persuade you to dance with them. I'm not much of a dancer so found myself slowly backing away, but I definitely enjoyed watching everyone else attempt to dance to this style of music. 
Overall, I think the experience of camping in the Sahara is totally worth it, even with the nine-hour drive to and from Marrakesh.
I think this part of your trip is best completed at the beginning of your visit in order to get the long drives out of the way.
This way,  you can spend the rest of your trip just relaxing and enjoying this beautiful country from places like Marrakesh and Essaouira, both of which are wonderful.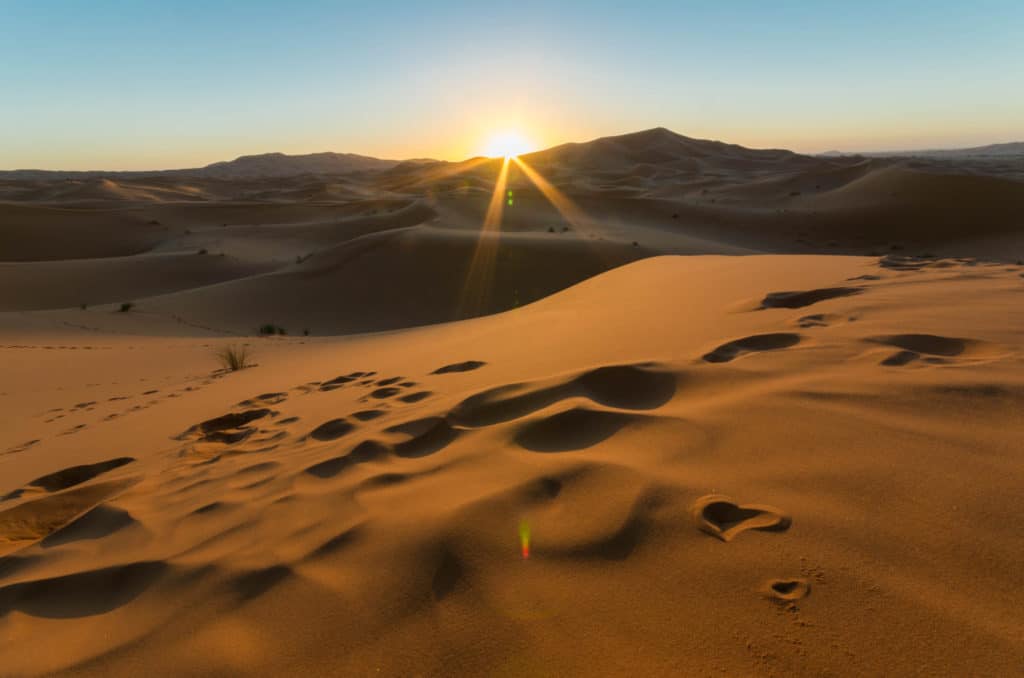 Sahara desert sunrise
There are certain places in the world that are just perfect for viewing a sunrise or sunset and the Sahara is one of them. Set your alarm for the wee hours before you go to bed so you can get up early to catch the most magnificent and peaceful sunrise you'll ever experience.
The sun rises slowly up over the rolling sand dunes, and it's an incredible sight to see. It's soft, golden light, which is perfect for photographs.
If it's not too windy, grab a cup of coffee or tea and walk to the top of a nearby sand dune. You'll have the perfect vantage point to watch the sunrise up over the horizon. 
If you can, try to catch the golden hour just before sunset the night before as well. This will be a great opportunity to get some really great photographs of what is likely a once in a lifetime opportunity for you.
Just be careful if you bring out your good camera, you do not want to get sand in your gear. 
What to wear to the Sahara desert
If you plan to participate in the camel trekking you will want to wear long pants. For shoes, I recommend sneakers or boots, whatever will not fall off while you're on the camel.
You should also bring a light scarf to cover your face and hair. The desert can get very windy, so the scarf will prevent you from getting sand in your mouth and your hair. Bring your sunglasses with you as well to protect your eyes. 
No matter what time of year you plan on desert camping in Morocco, you'll want to pack extra warm clothing. During my visit in November, the evening was absolutely freezing cold.
I wore a winter ski jacket during the evening after the sunset, which I ended up sleeping in as well.  So, prepare for chilly evenings in the fall, winter, and spring. During the summer evenings can also be cool, so packing a light jacket will still be a good idea.
Having too many options will be a good thing, especially if the temperatures really drop. If you're traveling during the warmer summer months, pack light-colored and loose-fitting clothing.
You will also want to keep in mind that even though it may get extremely warm in the Sahara, you are still in a conservative country, so the appropriate dress will be expected. 
Planning your visit to the Sahara
How to get to the Sahara
The easiest and most relaxing way to get to the Sahara is to make arrangements with a tour company. They will arrange for transportation to pick you up at your hotel in Marrakech and take you all the way to the Sahara.
Many tours will stop in the town of Quarzazate for one night, then continue on the next morning. Quarzazate is about 4 hours from Marrakech. This is a great way to break up an otherwise very long drive.
Plus, Quarzazate is famous for its many movie studios and ancient Berber village Ait Ben Haddou, which is well worth your time to see.
If you're looking for a good dessert tour company, I recommend Experience Morocco. They were fantastic and took care of all the details. Plus their tour guide was excellent, ask for Shasha. 
If you're considering a night in Quarzazate, be sure to get up early the next morning so you have time to stop at Ait Ben Haddou before you make your way out to the Sahara.  
If you have a car and prefer to drive, be advised that the roads will be windy and narrow. In order to get to the desert, you must pass through the Atlas mountains.
If you leave straight from Marrakesh, the drive will take about eight hours.  Please be advised that during your drive you may encounter locals walking along the road, and lots of goats. Please drive carefully. 
Desert camps in Morocco
There are literally dozens of options for desert tours and desert camping in Morocco throughout the Sahara.
As I stated above, most of the luxury desert camps offer similar amenities, so I recommend finding the one closest to where you're headed next, or the one offering the best price.
Here is a brief list of available desert camps to get your search underway:
Erg Chebbi Luxury Desert Camp: Nights at Erg Chebbi run 200 Euro per person each night and include dinner and breakfast. If you book two or more nights they offer a discount and also include lunch. A campfire, music, and non-alcoholic beverages are included. Camel rides can be added at an additional cost. 
Sahara Luxury Camps: Packages start at 350 Euro per night for one tent. The price includes a camel ride, dinner and breakfast, water, mint tea, and live music. 
Erg Chigaga Luxury Desert Camp: Prices here are 235 Euro per night with a two-night minimum. This price also includes all food and drinks. 
Azawad Desert Luxury Camp: Tents here start at 120 Euro for a private single. They also have a campfire and live music. Camel rides, 4×4 rides, and sandboarding are also available for an additional fee. 
Merzouga Luxury Desert Camp: Packages for one night start at 460 Euro and include pick up from your hotel in Marrakech and one night in their luxury desert camp. The price also includes some meals, beverages, and a camel trek. 
Book Your Trip
Find the best flight deals by using Google Flights, then book direct with the airline. This is the search engine I use to compare flights and prices before booking my own trips.

BOOK YOUR ACCOMODATION
I recommend searching for hotels through Booking.com to compare hotels on amenities, location, and price. If you are a member of a hotel's rewards program, always book direct with the hotel. If you are not loyal to a specific hotel brand, using Booking.com for the best price.

TRAVEL INSURANCE
Travel insurance is more important than ever. For just a few dollars a day you can protect yourself and your trip. I personally use World Nomads, but whomever you choose, don't skip out on travel insurance. It can literally save you thousands of dollars.


Want to save it? Pin it.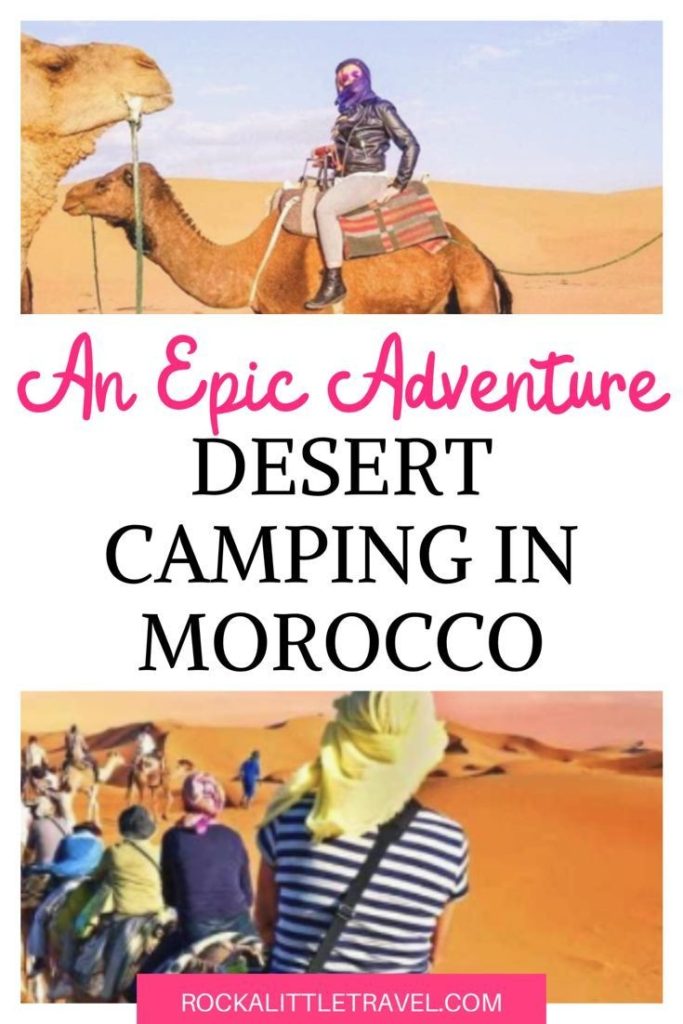 Related Posts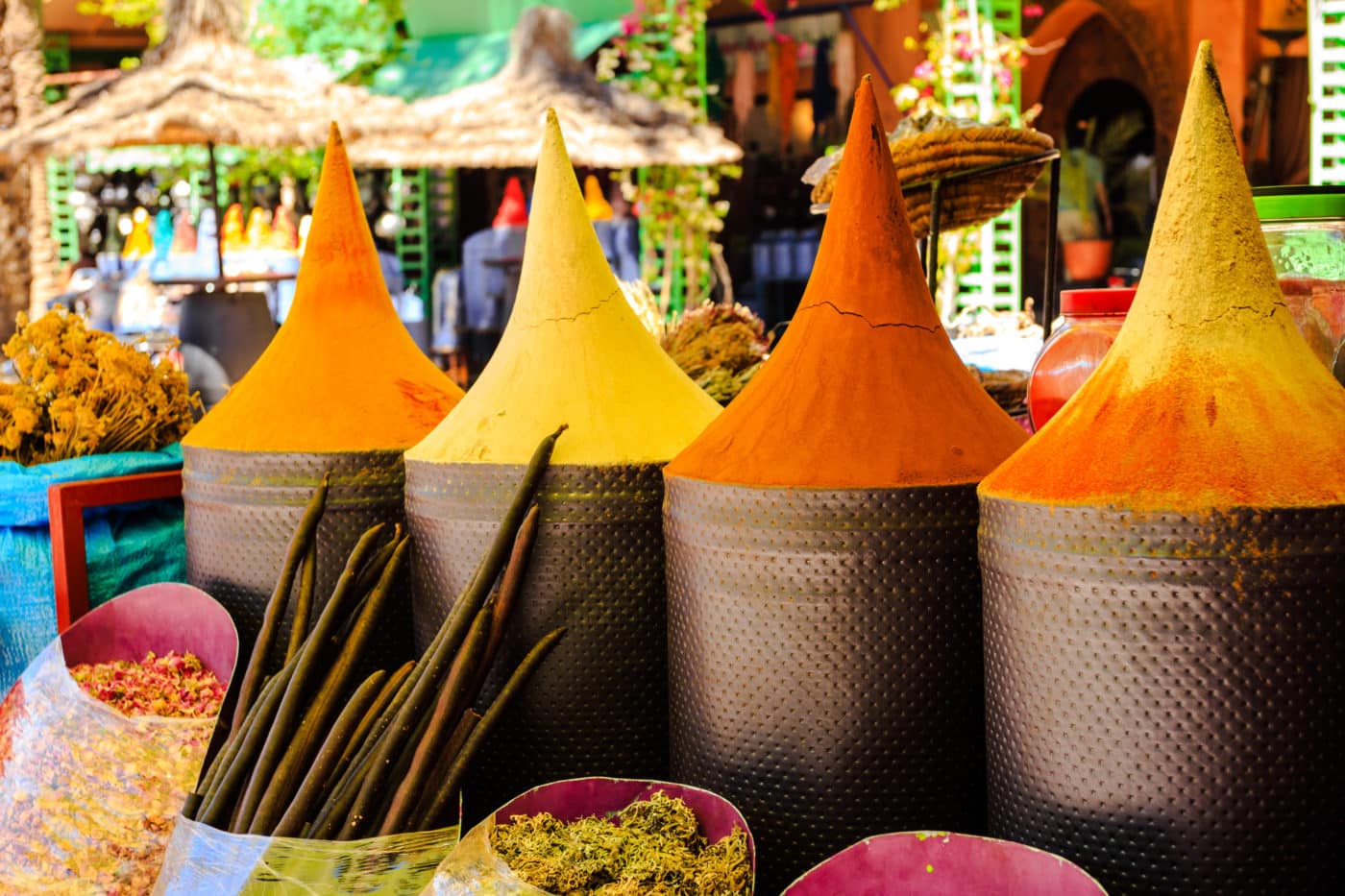 Photo by Getty Images Any trip to Morocco should include at least one day in Marrakech. This vibrant and bustling capital city offers a total sensory …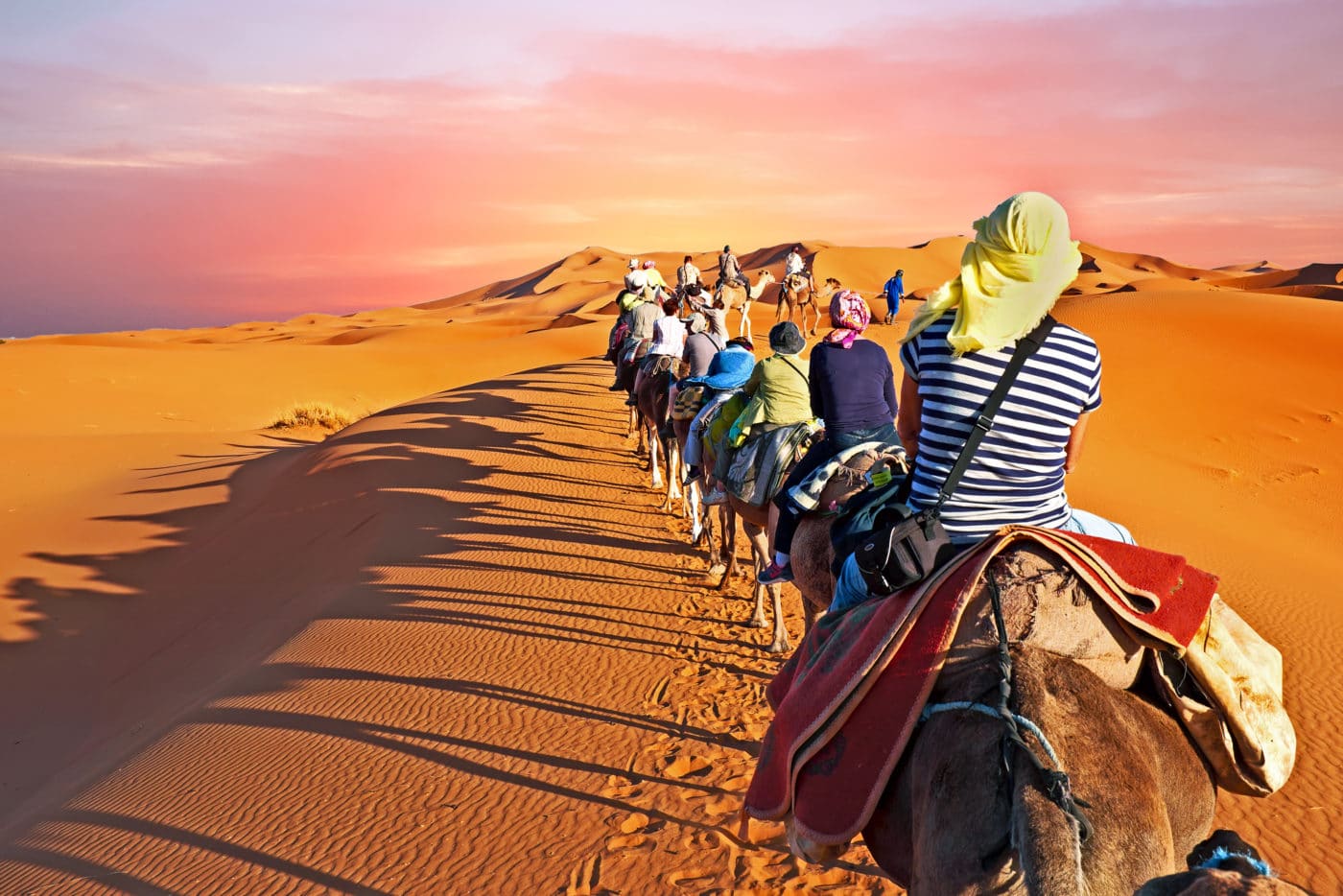 During my visit to Morocco in November, our group spent an incredible night out under the stars camping in the Sahara. Before arriving we spent …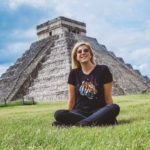 Eden Fite
Part-time Traveler | Dog Lover | Avoider of Crowds
I help busy people find creative ways to travel more.